预订前记得看 预订须知 哦!提前联系房东确认是否有房,否则可能接受调换房间。入住确认房客身份信息,配合房东做好登记。 专业保洁清扫,一客一扫,品质床品,让您住的安心 房屋配置智能密码锁,一客一密码,出入无需钥匙门卡 全年优酷会员免费观影。 采光良好,独立卫生间。 冷热空调、电热水壶、电视、冰箱、电热水器、高速Wi-Fi等设施齐全。 我们提供毛巾、全套浴室洗漱用品,且一次性水杯、手纸等日常消耗品齐全,请放心使用。 楼内24小时安保巡查,走道宽敞明亮。民宿区别在于温度——家的温度、人的温度、交流的温度。我们会尽全力给您一个温暖、干净、舒适的家。 有任何问题或者需求,您都可以先和我们沟通,希望您能把我们当做朋友、家人。
What guests are saying:
"perfect! Clean, comfortable, convenient for eating and shopping, close to the subway. Very quiet at night. Every time I contact the landlord, I have a second back. I have a good attitude and help solve the problem in time. I am very satisfied."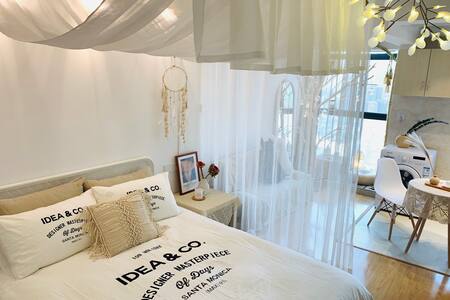 SUPERHOST
Entire flat · 2 guests · 1 bed · 1 bathroom
地铁口ins文艺小清新,直达武汉站/高铁站/汉街,近欢乐谷东湖绿道,百寸投影家庭影院。邂逅心樾爱果汁
Sexual insults in the literary style, beautiful and suitable for taking pictures, but also to meet your pursuit of comfort! Smart password lock, full self-check-in without any interruption. Room size 45 square meters, separate bathroom open kitchen, providing disposable toiletries, disposable slippers, brand shampoo, shower gel, hand soap, hair dryer kettle, hot and cold air conditioning, 100-inch screen professional projection equipment, lying in bed Enjoy a private cinema. It is close to Renhe Road Subway Station and the subway directly to Wuhan Station is only three stations, which leads directly to Chuhe Han Street and Wuchang Railway Station. Transfer to Tianhe Airport and take the No. 2 line. There is no traffic jam in the whole subway! It is two minutes away from Happy Valley Maya Beach Bus. The entrance to the East Lake Greenway is also on the side of Happy Valley. On a good day, riding along the greenway and enjoying the view of the East Lake is definitely a wonderful experience. There are 24-hour security guards in the community. There are 24-hour convenience stores and pharmacies downstairs in the community. All kinds of gourmet snacks are early and late, and life is very convenient! It takes 10 minutes to walk to Jindi Plaza, a large shopping mall, and AEON Supermarket on the first floor. Starbucks, Nai Xue's Tea, Pizza Hut, KFC... Leisure Food Entertainment Studios meet all your needs. The kitchen in the room does not allow cooking and there is no wok rice cooker. Only the cooking pot can be cooked, only the instant noodles can be cooked, the dumplings can be frozen, and the soup can be cooked in a convenient way. After cooking, please clean the kitchen utensils to facilitate the use of the next tenants. Thank you.
What guests are saying:
"A super nice looking hostel lady is super super enthusiastic! People are very nice too! There are also many shops downstairs, and the transportation is very convenient. It is not too far away to go to Happy Valley with friends, and it is very recommended!"