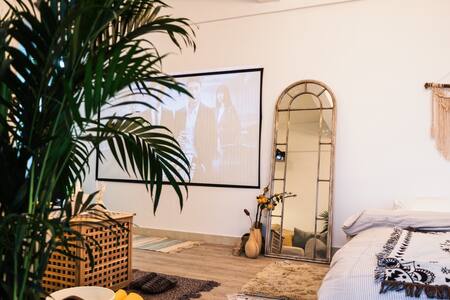 SUPERHOST
Entire apartment · 3 guests · 1 bed · 1 bathroom
<已消毒•可正常接待>月月•波西米亚投影落地窗/地铁4/7号线/武昌火车站/昙华林/长江大桥/黄鹤楼
The white bohemian style, I hope you can like it ~ My room is located in the center of Wuhan, with convenient transportation. Downstairs is Metro Line 4 and Line 7, the bus terminal, adjacent to the train station and bus station, and is close to major attractions. The room has a full-length floor-to-ceiling window, the sun can spill on every corner, and the 1.8 bed can accommodate 3 people to sleep. The room is equipped with a microwave oven, Yunmi washing and drying machine, Xiaoai classmates, wireless charger, etc. It is convenient for guests to use ~ Smart door locks are installed to provide protection for your safety. If you do not reply to the message in time, please don't worry, you will reply immediately when you see it. Thanksgiving ~
What guests are saying:
"The room was very neat and clean, just like the picture, it was smaller than the picture, but it was very warm. It is very comfortable to watch the projection on the small sofa, there is Tmall's magic box, you can connect your own iPad and mobile phone. Room plugs are also more convenient. The location is easy to find. The subway station entrance is less than 50 meters downstairs, which is very convenient. The landlord missed the news and she was very nice. One small suggestion is that the small rugs in the room are a bit old and easy to wrinkle. The overall experience is very good, the price is also very high, is a good choice, very suitable for girlfriends or couples to live."
This is a crane-themed Japanese-style room. [super convenient location] In the downtown area, there is a bus stop near the two subway stations of Yue Jia Zui and iron machine road. [complete room facilities] 100 inch large screen projector. Trillion WiFi Electric heating kettle, water heater, heater fan bathing, heating and cooling air conditioning [New Bed! Comfortable sleep]
What guests are saying:
"The location of the house is easy to find and convenient to check in. Entering the room is a feeling of Japanese style, you can see the elaborate design of the landlord, very suitable for taking pictures. The bed is very simple, but it can be rolled around. Leaning on a small table on the tatami, eating snacks and drinking tea, watching the projection is also particularly relaxing, a good experience"
At any time waiting for your visit, I hope we can bring you a very convenient and comfortable environment. 24-hour security patrols, doors and windows imported from Italy, after the closure is not afraid downtown noise. Life is very convenient! The first floor is the parking lot and upscale crowd light Square (you can enjoy the store's lady's tenderness lady elevator) and supermarkets. Go downstairs to do Line 2 line 8 subway. There are many lines of public transport across and across the road. Close to the second ring. Surrounding and opposite are bustling business district. Wuhan University can look home, Huazhong Normal University next door. , The back is Wuhan University of Technology, the location is very good. From the East Lake Scenic Area, East Lake Greenway, Meiyuan, Botanical Garden, Chu Han Street, the Yangtze River Bridge, Huxiang Lane, Yellow Crane Tower, Bao Tong Temple, are very close. Cyclist can come. Subway can also make direct access to major bus stations in Wuhan, the train station. It takes only a dozen minutes to drive across the river to Hankou it! Hope that you can feel at home in Wuhan, the same warmth. IKEA's minimalist style gives you the convenience and comfort you expect. Central air-conditioned room, a full set of TOTO bathroom supplies, millet smart appliances. Indoor also installed the imported blower (filter PM2.5 purifying air) A kitchen is available for free to showcase your culinary skills. There is free WiFi, free internet TV. Smart washing machine. As convenient as home. If you have any special needs, can tell me, try to meet you!
What guests are saying:
"The host was very nice, the location, the cleanliness of the house is very good. I hope the landlord can add some chess and card light entertainment facilities at home. Overall I enjoyed it."