我们的屋子位于恩施高铁|火车站500米路程,距离汽车客运站300米路程,许家坪机场10分钟车程,交通极为方便。 多雨管家是北京三丰户外俱乐部的一名户外领队,多次带队全国各地的小伙伴儿在恩施游玩,对恩施大小众景点较为熟悉。我们可以为你做的:免费为你提供恩施的旅游路线规划,带你去寻找和探索那些藏在深闺人未识的景点,让你在本店多住几晚再走![奸笑] 房源细节 【优势一】土家女儿城(乘坐31路公交车约20分钟)、恩施土司城(乘坐30路公交车约30分钟)、恩施大峡谷(汽车客运站搭乘直通车,约1.5小时)、梭布垭石林(汽车客运站搭乘直通车,约1小时)、腾龙洞(乘坐动车40分钟即可到达) 【优势二】家里所有东西都齐全,来了即可入住,不需要带其他多余但又必备的东西,增加行李重量~ 【优势三】交有故事、素质高的朋友~ 根据【恩施公安局规定】每一位住客都需要在入住前登记身份证信息,还麻烦来宾配合。在入住时让管家登记身份证信息。
What guests are saying:
"It takes about ten minutes to take a taxi from the airport. It is close to the high-speed rail station and bus station, and can be reached on foot. It is a good choice as a stop for travel. The description of the room is the same. There are also clothes racks, foot massagers and mobile phone charging cables (scan code consumption). Bathroom hardware, this is really going to blow up. I have stayed in a lot of hotels, and the showers in this place are really amazing. It's so comfortable and cool to wash in a day! PS: I hope the shopkeeper will see it and can tell me the model of your shower. It will be arranged when you plan to renovate your new home."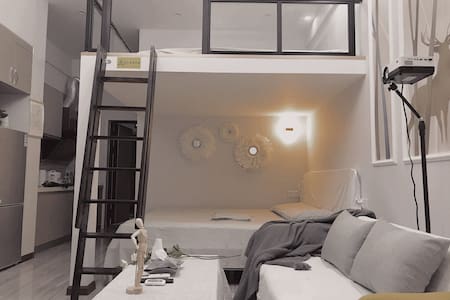 SUPERHOST
Entire loft · 4 guests · 2 beds · 1.5 bathrooms
梦幻loft100寸大投影房 女儿城/新天地/机场/火车站/茶城/民院 /欧若拉酒吧交通便利
A fairy who is full of fairy tales is a fairy fairy. The room's main white tone, a white gauze around the faint illusion, as if entering the wonderland There are two beds in the room and two 1.8-size beds are also equipped with a projection. After the leisure, the little fairies can shake the screen to watch the movie. In addition to the basic toiletries, we also prepared facial cleanser cream, body milk, electric heating, tea, ironing, sewing kit, etc., and some of them have the same comfort as your own home. The house is located in Timesang Apartment, Jingui Avenue, less than ten minutes drive from the railway station and airport. There are Xintiandi shopping district, Selenium Tea City, Shinan Ancient City, shopping, cinema and entertainment are very convenient, convenient transportation, go out It is a bus stop, very good for taxis, and it is very convenient to travel. The room is fresh, sunny and comfortable. There is a convenience store opposite the home, which compares the small breakfast shop of Enshi.
What guests are saying:
"The room is very comfortable and the facilities are complete, especially the hot water five-star projector is a bit stuck to connect to your mobile phone"
The main color of the rocking chair sofa, comfortable big bed, flowers and green plants, pink and gray will bring you to the warm and a little romantic nest, complete with daily necessities: refrigerator, hair dryer, sewing kit, medicine box, shampoo, conditioner , body wash, cleansing water, facial cleanser and more. The environment is beautiful, 24-hour security patrol, free indoor parking, close to the airport train station, and there is a supermarket fruit shop cash machine food night market within 100 meters outside the community.
What guests are saying:
"The homestay is really great, everything is available, especially good, just hope that if there is another microwave oven, it will be perfect! Anyway, it has exceeded my expectations too much! Must like"