SUPERHOST
Entire flat · 2 guests · 1 bed · 1 bathroom
KYMODO Seaview (19) Apartment with Large Balcony
Enjoy the sunrise from your own balcony. This is an apartment with a large balcony and lots of light.
What guests are saying:
"In short - an amazing room. If I ever travel to Nha Trang I wouldn't even look for anything else if this room is available again. The view is just fabulous. Walk to the beach. Generous size room. BATHTUB!!! HUGE balcony. It is so lovely to have dinner on the balcony with the ocean in the background! Very comfortable king-size bed. Modern design in the room. The building has a gym and a pool. For me and my gf the accommodations were just perfect - couldn't have asked for anything more. Ricky's associate has met us in person and took us to our room. Our return plans got postponed and I asked if it would be possible to extend our stay. Our room was already rented out to the next guest but we were offered another room with an even greater ocean view. Ricky was very accommodating. We didn't have to wait between the check-out and check-in times - Ricky's associate took us from our first room straight to our next one as soon as it was cleaned. Overall this was a fantastic place to stay and I would most certainly stay there again."
【我们不一样】:我们的2个卧室,客厅,阳台全部都是直接可以看海的哦(不同于其它的只有一个卧室可以看海)。躺在床上或者坐在客厅就能直接看日出,可以提前加V信咨询哦:L9725793426,免费给大家提供实用可行的旅游攻略。 【房间优势】:2个房间 80㎡套房&2房2厅 ,360°无死角看海景,纯实景拍摄 ,在家里坐着就可以看:海景 山景 市景,不比喜来登酒店(Sheraton)的海景效果差。坐在客厅就可以看来芽庄必去景区----五指岩。楼下就是沙滩,大海游泳0距离,楼下还有超大干净的游泳池。 【方便快捷】:厨房/洗衣机/电冰箱等等一应俱全,可以去旁边的菜市场买海鲜,自己做美美的海鲜大餐。楼下便利店,特产店,SPA会所,咖啡厅,餐厅等等一应俱全,楼下4路公交车到达所有主要景区,7*24小时楼下有Taxi。 【安全优势】:全天候7*24小时保安值班,电梯卡:一卡一层(只能到自己所在楼层电梯),最大限度保障家里的安全。 【语言优势】:中文/英文/越南语等等,多语言服务,沟通0障碍 【听觉/视觉】:晚上伴着海浪入睡,白天叫醒你的是:初升的太阳(坐在家里就能看日出)
What guests are saying:
"The house is very beautiful, and there are spare beds in the living room that are suitable for our family of five. The location is quite good. There are a lot of cars downstairs, and it is easy to go anywhere. The key landlord and younger brother are very enthusiastic. Just for two days, the toiletries and paper towels in the middle were not enough. However, the house is in an apartment with a large number of Chinese people. I would like to remind my friends who are planning to stay here that there are many Vietnamese who speak a few Chinese in this area. They have encountered various pits when buying food and special products. When buying durian downstairs, the small vendor first opened it up or looked at it. Later, even the two were broken. Later, he actually cursed swear words in Chinese. At this time, the key is that you have a strong attitude, the price is higher than other places, and the quality is still bad, so we go straight. I have been to Vietnam three times. Nha Trang is the place where the most conditions are encountered. Everyone must be careful!"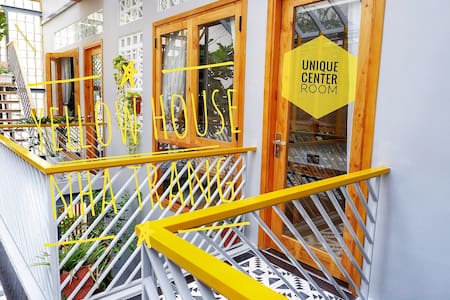 SUPERHOST
Private room · 2 guests · 1 bed · 1 private bathroom
CENTER ROOM[YellowHouse]-Downtown,200m to beach
YELLOW IS ALL AROUND ! Located in the heart of Nha Trang city - "Western Town", just 3 minutes on foot to the most beautiful beach on Tran Phu street with smooth sandy. Nearby is Vincom Tran Phu Plaza, Sailing Club, Olivia restuarant and many shops that serve all day. Our house offers a peaceful, cool and safe place with local life atmosphere. Simple room, full of basic amenities enough to help guest rest and recover after discovering. Every room is unique with private access to the entrance.
What guests are saying:
"I'm worried that I haven't seen many Korean reviews, but I'll write more. It's the best here. The location is really good. It's so pretty first. It's wide enough for two. The bathroom is also really good. Good water pressure and hot water. There is also a refrigerator. I can't find this quality at this price. Resolve any misbooked details and leave your luggage at checkout. Really nice and good communication !!! And the cleaning is also good !!! I was worried because I didn't see a lot of Korean reviews, but I'll write it down. It's the best here. The location is really good. First of all, it's so pretty. It's big enough for two. The bathroom is really nice, too. The water pressure is good and the hot water is good. It's convenient because there's a refrigerator. You can't find this quality anywhere at this price. He takes care of all the wrong reservations and takes care of my luggage when I check out. He's so kind and communicates well !!!"