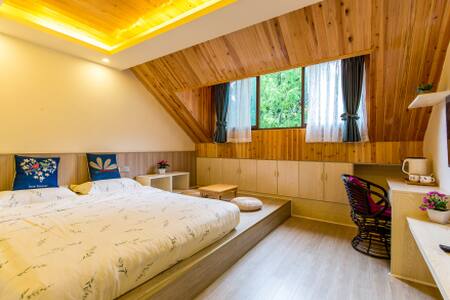 SUPERHOST
Room in boutique hotel · 2 guests · 0 beds · 1.5 bathrooms
峨眉山风景区博睿雅居408精品阁楼汉式禅意榻榻米大床房茗休闲度假屋高铁免费接送报国寺/黄湾/温泉代售
Borui Yaju is a modern antique-style bed and breakfast built by local residents and combining modern and Chinese style. The host is a new generation of young people who are active in entrepreneurship after the 80s, and treats every visitor with enthusiasm, kindness, and integrity. Sincerely provide every guest with the services they can. In this materialistic society, they hope that the guests living in Borui Yaju can find ordinary happiness during the journey, or talk, or listen, or sing and dance, or ask questions and doubts, and they hope to bring each guest Come happy! Welcome to Borui Yaju! ! Borui Yaju provides free parking space, 24-hour hot water, full network coverage, ultra-clear Internet TV, and air conditioning for every guest staying! Towels, towels, toothbrushes, and other personal items should be available! Emeishan Boruiyaju Homestay is located at the bridgehead of Fuhu Temple in Emeishan Scenic Area. Search for "Emeishan Fuhu Temple Bridgehead" on your Baidu or Gaode map, or you can search for "Emeishan Hanshan Jingshe" Next to the hotel, you will first see my home-Borui Yaju when you come! If it is a high-speed rail, you can take the No. 12 bus directly after getting off the high-speed rail station, get off at the terminal Fuhu Temple, get off the bus and walk along the road for 3 minutes to reach my house, when you can call me, I will Pick up at Fuhu Temple Station! If it is a train, you can take bus No. 8 and get off at Tianxia Mingshan Station. Call me after getting off the bus and I will pick you up!
What guests are saying:
"Yuanyuan and her husband are the best homestay owners I have ever met! People are really good! To Emei Mountain, the homestay is at the foot of the mountain, away from cars and noise. When you look up, you can see the mountain and you can hear the stream. Because it is not the peak season, there are still relatively few tourists. Go to the nearby temples earlier. It is very quiet, and the air and environment are refreshing. The hotel downstairs is a restaurant where you can order food, which is better than the high-rated restaurant on the Meituan that evening. Recommend ordering downstairs. Yuanyuan's husband came to pick us up at the station, and also took us to the station when we left. In the morning to Mount Emei, we were taken to the bus station by car. Yuanyuan's breakfast for us, eggs with noodles. Moving! Thank you Yuanyuan and her husband Yuanyuan, thank them for their caring and lovely two children, a warm family! Highly recommend! It was a wonderful journey to stay at Yuanyuan'home. She and her husband took care of us and provided a lot tips to us. The location is perfect, close to the temple, forest and away from city noise. Thanks to Yuanyuan and wish her a happy life with her husband and two adorable kids!"
The property is located in the Qiliping International Resort: about 43 square meters (including public stalls), a balcony of about 30 square meters outside the house and a small garden under construction; the air in the resort is high in negative oxygen ions, which is a holy place to avoid; Strolling in the resort feels relaxed and fresh, and the flowers are fragrant in the four seasons. If the weather is good, you can see the golden dome sparkling and looming; after May 1st, there are Huahai Festival, famous or unnamed. The flowers are all in full bloom, and in this intoxicating world of flowers, you will forget all the troubles; the winter is white and snowy, the white is everywhere, and occasionally a few birds are called, and there is another flavor; you can climb In the inter-forest path, you can also call friends to go to the bubble hot springs, or you can stop and talk about three or five friends. Route 1: Self-driving tour route 2: Emei-Gaomiao direct train, get off at Yunting Hotel, Qiliping International Resort. Route 3: All roads lead to Qiliping in the middle of the mountain. Come, friends, enjoy your time and age in your free and capable season! Life has been infinite for generations, and Jiangyue is only similar in years; I don't know who to stay in Jiangyue, but see the Yangtze River to send water!
What guests are saying:
"The room is located in Qiliping Yunting Hotel. It is a serviced apartment with a good location. The rooms are clean and tidy and the equipment is relatively good. Since it is not the weekend and just after the National Day holiday, there are very few tourists and the entire Qliping resort area is very quiet. Morning and evening walking is still very comfortable; the only inconvenience is that the zero-kilometer road is closed, and the private car cannot be driven in the past and can only take a shuttle bus, so the wish to go to Jinding to open the sunrise is missed, but the passage should be fine Already."
What guests are saying:
"Very nice stay experience, the environment is very beautiful, just in the Qiliping scenic area, the climate is pleasant and the air is fresh. The landlord is a gentleman, a knowledgeable book, a master of the chess and calligraphy, and sincere, good communication. We have a group of nine adults and two children. The house is just right. The upstairs is the rest area. The downstairs is the entertainment and leisure dining area. It does not affect each other. The layout is very reasonable. I especially like the small lawn in front of the window, play, take pictures, Catching grasshoppers, adults and children are happy! I am very happy every day! Thank you to the respectable Mr. Landlord!"