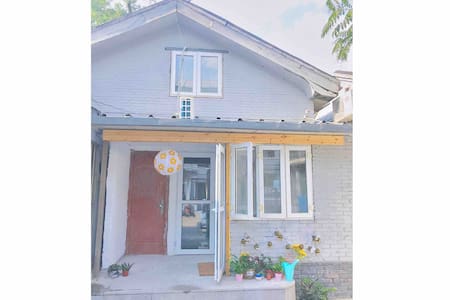 SUPERHOST
Entire townhouse · 4 guests · 2 beds · 1.5 bathrooms
胡同里后海旁小木屋,城中心独栋小别墅,北海什刹海南锣鼓巷故宫钟鼓楼烟袋斜街雍和宫
The second floor of a two-story building on the waterfront of the downtown area of Erhuanli Hutong, Beihai North, Shichahai Double Subway. Up to now, it has been renovated for half a year. There are surveillance cameras in the courtyard. The door-to-door communication room is on duty 24 hours a day. It is absolutely safe. The neighbors are old Beijingers and can fully experience the customs and humanities environment of Beijing. Next to it is Gongwang Palace, close to Nangugu Lane, Bell and Drum Tower, Yantai Street, and the Lama Temple, which is minutes away. It is very convenient.
What guests are saying:
"The host is very nice ~ can communicate and feedback in time ... the room is small and exquisite, the surrounding is quiet ... PS: Remind the guests who stayed here ~ The water heater is an electric water heater ... Take a bath every ten minutes or so, the water temperature will be better, in winter and girls use more water, I did n't know at first, the washing was frozen, the landlord is also very fast feedback of… Very good ~ especially suitable for 3-4 people, traveling together to live ... Venue: Back to Shichahai and Houhai ~ there is Prince Gong's Mansion in front ... like! ! !"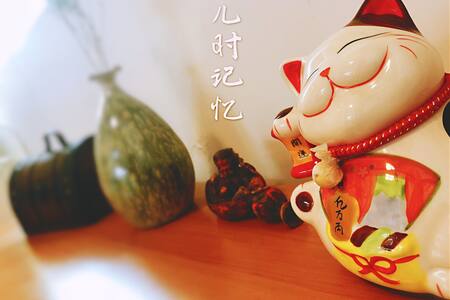 SUPERHOST
Entire bungalow · 4 guests · 2 beds · 1 bathroom
《儿时记忆》深度体验老北京胡同市井生活,暖气空调2分钟北海北站地铁5分钟北海恭王府酒吧街近锣鼓巷故宫
Metro Line 6 arrives at Beihai North Station in 2 minutes. If the date of your booking is full, you can click on the landlord's picture to view other landlord's listings. This room is located in Shichahai Scenic Area, only 2 minutes walk from Beihai North Station of Metro Line 6, 5 minutes walk from Beihai Park, 4 minutes walk from Gongwangfu Mansion, 10 minutes walk from Shichahai Bar Street and only one minute from Luoguxiang Subway Station, only a dozen minutes drive from Xidan, Wangfujing, Forbidden City. The house is located in Beijing's large courtyard, quiet and quiet, with a loft structure, which is especially suitable for experiencing the well life of old Beijing.
What guests are saying:
"The location of the house is particularly good! Close to the subway, and 5-10 minutes walk to Shichahai, Houhai, Nanluoguxiang, Yantai Xiejie, Gongwangfu... With children in the old alleys of Beijing, it is perfect to feel the atmosphere of old Beijing. The house is fully equipped, even the facial cleanser! The two beds on the upper and lower floors are very comfortable and very homey! The landlord sister is also very good!"
Dear foreign friends,according to the Chinese Counterterrorism Law, we are not able to provide any legitimate registration procedures for foreign guests. We are so sorry and wish a great trip in China. 立秋而至,[一更小院] 在北京最美的季节和你相见了。幸会哦! [一更小院]是我们继[三条院子]后再次爆改设计的四合院民宿,是的!!! 这是我们第二个院子了,大家有需求可以咨询我们帮忙规划预订呀。 这一次依然是房东姐姐Abby和房西弟弟小熊🐻的混合双打热情接待❤️三条管家兼大厨小布偶尔带着橘猫鸣人过来串串门… [一更]地理位置优越,出门即是恭王府;坐上人力拉车,可以到后海吹吹小风喝点小酒儿,到烟袋斜街逛吃买手办;步行600米到北海公园,划着小船游北海,惬意的旅行就是这么悠哉!!距离南锣鼓巷1500米,蹬个共享单车10分钟就到了~ 步行500米左右可达北海北地铁站,两站地铁直达故宫。
What guests are saying:
"Location is terrible! Within the Second Ring Road, Beihai North Subway Station is 500m away, and it is adjacent to King Gong's Mansion. It is within walking distance to Nanluoguxiang, Drum Tower, Houhai, and Huguo Temple. There are two subway stations in the Forbidden City. 15 minutes from Sanlitun. · ✨ Intimate home: The design of the room uses rounded corners, which is particularly safe for small children. 智能 The smart millet series humidifier, water dispenser, air purifier, TV, air conditioner, etc. have no inconvenience. The bathroom is also smart light heating, it will not be cold at all. · The host is very attentive online anytime! Teach us take-away food delivery. After cooking porridge for the baby in the kitchen in the morning, I will play in the room and the yard. The attractions are very close. I took the baby out and played in many places. This way is alleys, celebrities' residences and Wangfu buildings. Experience the pure Beijing-style architecture and culture ~ ⛰I will go to more places with my baby in 2020 ~ Bring her a wonderful and interesting world."