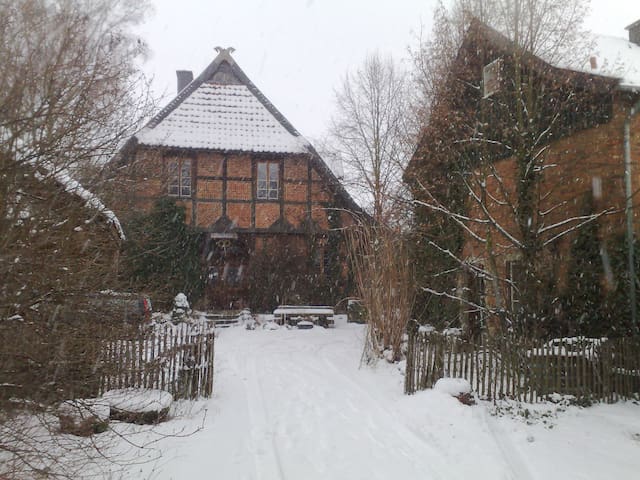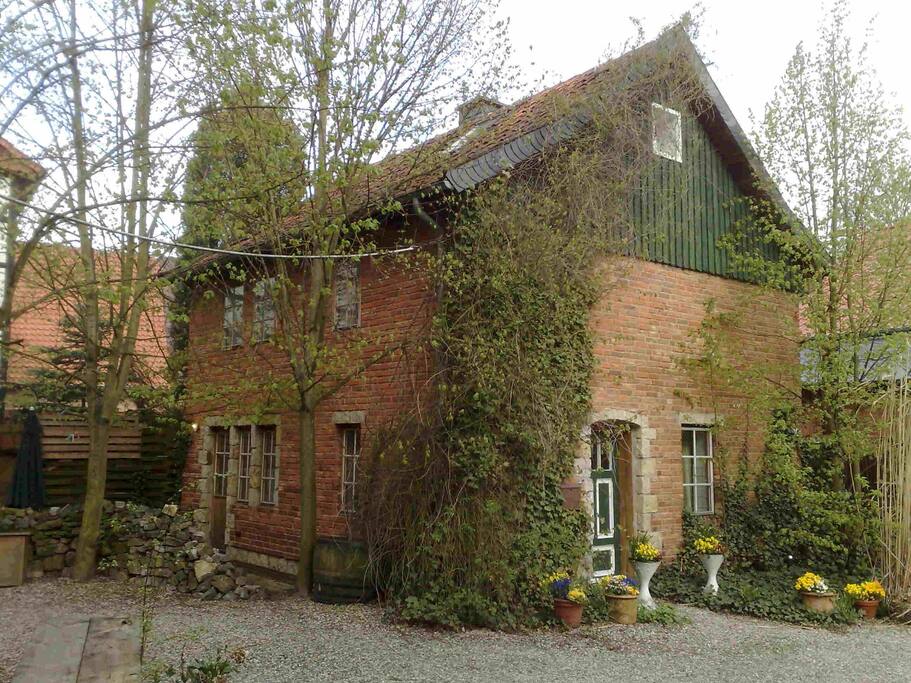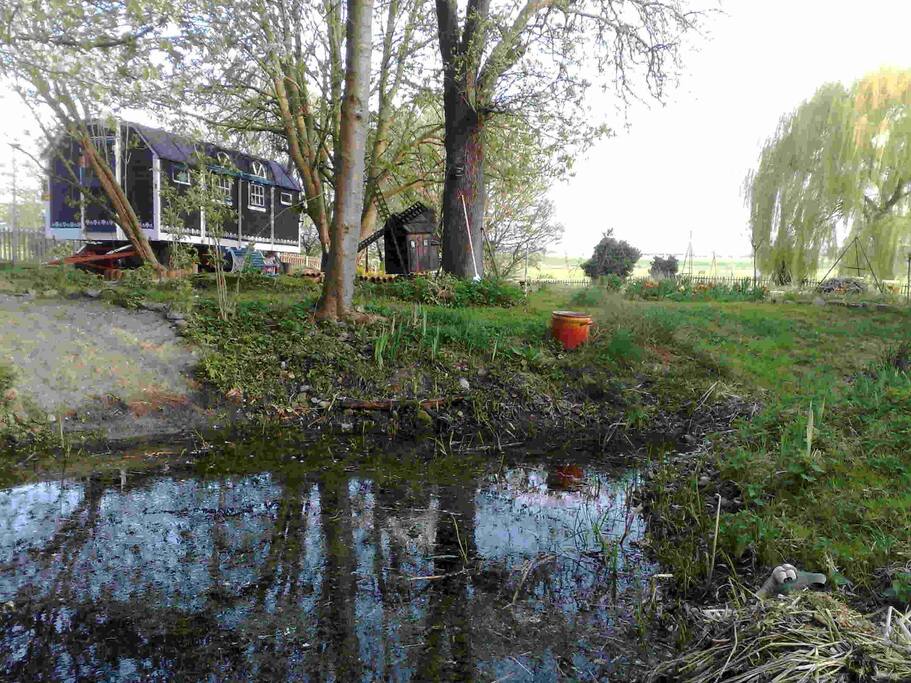 The space
Max 50 people sauna, whirlpool, WLAN, washing machines, riding and hall
Farm, newly built according to biological principles by the owner (construction biology, wood and object designer).

Bio farm, contact for the BUND (Federal Office for Environment, Nature Protection Germany). Member of German falcon fraternity. Art and culture Hildesheim.

Animal farm no. 37 (races threatened by expiration (red list)

Holiday apartment. Total living space 500 m2 with (Phone number hidden by Airbnb) m2 farm. Apartment with 14 rooms 5 separate entrances. Completely furnished, individual and antique. Fireplace oven in hall, kitchen. Robust oak, cherry, birch, maple, hornbeam, ash, chestnut and pine floors, visible ceiling beams, wood doors, stone mosaic floors, natural colour wall designs. Bathrooms with robust natural stone floors or water-resistant locust wood floors. Typical Lower Saxon half timbered house Built in (Phone number hidden by Airbnb) according to medieval image. On the far there are multiple buildings. Bordering pastures.
Location: Germany
Nearest Airport : Hildesheim at 10 Kilometres
Nearest Train : Sarstedt at 3 Kilometres
Nearest Motorway : BAB 7 at 5 Kilometres
Nearest Beach : Sarstedt at 1 Kilometres
Nearest Ski : Harz at 35 Kilometres
Nearest Golf : Gleidingen at 3 Kilometres
Car: recommended
Lower Saxon half-timbered house Bio sheep farm, built/restored according to biological principles: central between Hannover and Hildesheim, directly on the B6 and the BAB 7 on a bio farm. - Animals: breeding and holding of old races. Natural cultural landscape operation on the second most important natural reserve in Lower Saxony. Riding school with boxes and hall Open view of the Harz, Deister, beginning of the Leine and Weser mountain area. A lot of historical cultural sites, castles, burgs. Riding, canoeing, golf course, gliding airfield. Gyroplane and ultra light plane school, sailing school, swimming fun. By train within 30 min. to all attractions: Harz, Leine mountain land, Braunschweig land, Hannover, manors gardens, Derneberg castle with Derneburg ponds. Natural reserve guides, bird watching. Seminars: Wood, pastures, wild herbs, carriage rides.
•Daily rental is possible for (Phone number hidden by Airbnb) Euro per person. Weekly prices on request. For the specified rental prices, there is the charging of a basic cleaning fee of 80 Euro. With larger groups, we demand a security deposit for possible damages. Festival tent for a fee. We rent our beautiful, individual apartment, the excellent, natural meadow and garden areas for family and company festivals of all types. Catering and music service for the extraordinary, tasty food and ideas for extraordinary events ! From balloon rides to evenings by the camp fire with animals - herb seminars - clay - pastures - building bales of hay. Cooking over an open fire !! You can participate in the dog training for herders or just relax in our historic sheepherder's cart in the middle of open nature. Riding school w/outdoor riding space, stable and boxes for a fee.
•Seminars, natural hiking paths for a fee.
Horse riding and natural hiking paths on our pastures, which are in the FFH and natural protection regions, only done in small groups in consideration of nature protection. During the breeding seasons, our instructions must be strictly followed, otherwise the hikes will be cancelled immediately. On our farm all animals have superior (Website hidden by Airbnb) may be that a chicken walks by or a sheep comes by. Please do not feed the animals. On our meadows, nettle also (Website hidden by Airbnb) children watch out when playing. The nettle forms the basis for the development of a lot of butterflies.
Accommodation and Amenities for this vacation farmhouse rental in Gödringen, Germany
Property Type:
farmhouse (detached)
------------------------
Floor Area:
600 m²

------------------------
Location Type:
rural

------------------------
Theme:
farm holidays
romantic

------------------------
General:
safe
laundry soap
mosquito magnet
activities guide
bottled water
filtered water
local activities guide
toilet paper
whirlpool
linens provided
towels provided
massage
private chef
hair dryer
soaps basic
cold water dispenser
firewood
restaurant dining guide
shampoo
events allowed
central heating
chauffeur
telephone
fax
staff
sauna
alarm clock
local maps
paper towels

----------------------
Kitchen:
refrigerator
freezer
2 ring stove
kitchenette
blender
coffee grinder
spices
microwave
washing machine
clothes dryer
coffee maker
oven
stove top burners
dish washer
toaster
ice maker
refrigerator mini size
iron & board
cooking utensils
grill
4 ring stove
hob

-----------------------
Living Room:
fireplace
sofabed
comfy seating for 30 people

---------------------------------
Dining:
dining area
child's highchair
seating for 4 people

------------------------------------------------------------------
Bathrooms:
6 Bathrooms, 1 Half Bath
Bathroom 7 - Combination Tub/Shower, Bidet, Toilet, Shower
Bathroom 2 - Combination Tub/Shower, Toilet, Shower
Bathroom 3 - Toilet, Shower
Bathroom 4 - Toilet, Shower
Bathroom 5 - Toilet, Shower
Bathroom 6 - Toilet, Shower
Bathroom 7 -
Badezimmer 8 - HolzuberAussenanlage mit Holzofenheizung
Badezimmer 9 - Toilet, Humustoilette im Schäferkarren

------------------------------------------------------------------
Bedrooms:
18 Bedrooms, Sleeps 50
Bedroom 15 - 1 King, 1 Child Bed
Bedroom 2 - 1 King, 1 Child Bed
Bedroom 3 - 1 King, 1 Child Bed
Bedroom 4 - 1 King, 1 Child Bed
Bedroom 5 - 1 King, 1 Child Bed
Bedroom 6 - 2 Twin/ Single, 1 Child Bed
Bedroom 7 - 2 Twin/ Single, 1 Baby Crib
Bedroom 8 - 2 Twin/ Single, 1 Baby Crib
Bedroom 9 - 2 Twin/ Single, 1 Sleep Sofa /Futon
Bedroom 10 - 2 Twin/ Single, 1 Sleep Sofa /Futon
Bedroom 11 - 2 Twin/ Single, 1 Sleep Sofa /Futon
Bedroom 12 - 2 Twin/ Single, 1 Sleep Sofa /Futon
Bedroom 13 - 2 Twin/ Single
Bedroom 14 - 2 Twin/ Single
Bedroom 15 - 2 Twin/ Single
Schlafzimmer 16 - 2 Twin/ Single
Schäferkarren 17 - 1 King, 2 Twin/ Single, nur Sommermonate, mit Kanonenofen
Schäferkarren 18 - 1 King, nur Sommermonate, mit Kanonenofen
Heuherberge 19 - 3 Twin/ Single, Heulager mit Schaffelllager

Entertainment:
foosball
games adults
audio tape player
TV
stereo system
piano
pool table
video library
radio
books
books kids
ping pong table
toys kids
DVD
satellite or cable
books adult
game room
games kids
music library
VCR
CD

------------------------
Internet Access:
wireless broadband
dialup access
broadband access
ISDN access
computer available
internet access

-------------------------------
Communication / Internet:
computer PC
cell phone

---------------------------------
Outside:
outdoor grill charcoal
sand box
boat
child's swing
deck wood
porch/lanai
canoe
bike
terrace
balcony
gated community
parking off street
screened porch/lanai
outdoor grill
parking on street
unscreened porch/lanai
walkway to water
garden
barbecue
parking
car
40 garden chairs
40 beach chairs
5 bicycles

--------------------------------
Suitability:
suitable for elderly or infirm
pets considered
children welcome
non smoking only
low allergen environment

--------------------------------
Local Activities:
scuba diving or snorkeling
swimming
tennis
walking
sailing
cycling
fishing
horseback riding
skiing
golf
wind-surfing
water skiing
mountain biking
mountaineering
paragliding
roller blading

---------------------------
Pool / Spa:
whirlpool
indoor hot tub
outdoor hot tub

---------------------------
Onsite Services:
housekeeper optional

---------------------------
Onsite Equipment:
boat+paddles
cooler large
golf clubs
telescope
thermos bottle
binoculars
backpack
cooler small
inflatable boat
automobile optional
beach chairs
beach towels
crows nest

--------------------------
Attractions:
arboretum
ATM/bank
autumn foliage
babysitting
botanical garden
caves
churches
cinemas
eco tourism
equestrian events
fitness center
forests
groceries
hospital
laundromat
library
marina
museums
playground
pond
recreation center
theme parks
water parks

------------------------
Leisure Activities:
bird watching
fly fishing
freshwater fishing
gambling casinos
hiking
hunting big game
hunting small game
ice skating
mountain climbing
paddle boating
pier fishing
rafting
sight seeing
sledding
spelunking
surf fishing

------------------------------
Nearby Attraction / Facility:
restaurants
ruins
scenic drives
synagogues
waterfalls
winery tours
zoo

----------------------------
Nearby Activities:
golf privileges optional
ski privileges optional

----------------------------
Nearby Services:
babysitting
massage therapist
medical services

----------------------------
Further details for this vacation farmhouse rental in Gödringen, Germany
Information attractions: Attractions and highlights in the region Hildesheim - Hannover - Hameln - Braunschweig - Vorharz/Harz Our region has the name Ostfalen - beginning of the Leine and Weser mountain area, Vorharz Everything else about the interesting cultural landscape 'Ostfalen', about geology, history, fauna and flora, the Romans and Cherusk, Luidolfinger, bishops, emperors and kings. Events can be seen online through the 'Ostfalenportal' Current digital map material, cycling and hiking paths can be printed out over 'geolife' online. By bicycle in the train to all regions From the train station Sarstedt you can reach all attractions in our region within only about 20 minutes. Either go by car or bicycle to the train station or order by telephone through the taxi system - teleph (Phone number hidden by Airbnb) recommendation: about 1.5 hours before desired departure) Schedule info, ask for prices from the Deutsche Bahn.

Information about the nearby environment: Attractions/interesting things nearby (within (Phone number hidden by Airbnb) km) more information through Wikipedia, enter the name of the attraction through (Hidden by Airbnb) , for example, 'Erdfall Königsdahlum, Wikipedia' Panorama view Tonkuhle Moorberg about 112 m above sea level and local street between Hotteln and Ingeln - region of the German Mittelgebirge begins, Hannover region - Braunschweig - Harz to Brocken Mühle Malzfeldt Sarstedt - Brauhaus Ruthe - Canoeing from Bruchgraben to Gödringen through Innerste into the Leine - nature preserve area Giesener Teiche FFH Fauna Flora Habitat - Sarstedter tree tour Nature protection alte Linde Gödringer Strasse 15 -Sailing region and water areas 'Giftener Teiche' in Sarstedt -Sachsenfriedhof Nullpunkt Sarstedt (only memorial) - Müllinger Tivoli - Delm - nature preserve- Forest region ' Die Wehme' (a lot of deer) - manor Bolzum ,built in (Phone number hidden by Airbnb) by Münchhausen- Schloss Marienburg -manors gardens Hannover

Information attractions surrounding: Zoo Hannover - Wildgatter Hildesheim - Knochenhauer Amtshaus Hildesheim - Cathedral Hildesheim Cathedral library Hildesheim - Hildesheimer look out tower -Sternwarte Hildesheim - Magdalenen garden with rose museum in Hildesheim - Machtsum ,Alte Bockmühle - Barienrode monastery and Bockmühle - castle Derneburg, Glashaus, Lavespfad - Rittergut Brüggen - Gut Steuerwald, Himmelsthür - Castle Oelber - Manor Söder - Burg Wohldenberg - Castle Wriesbergholzen - Apenteichquelle Winzenburg - Burg ruins Winzenburg - Glass museum Grünenplan - largest depression in Niedersachsen in Königsdahlum - Castle Fallersleben - Wasserburg Gebhardshagen - Königsturm - Königsweg - burg ruins Lichtenberg, built by Heinrich des Löwen, 12th century - graves between Heyersum and Betheln - Sennhütte with forest lake and sand stone cliffs between Eldagsen and Coppenbrügge towards Dörpe

Ski: The Harz is the most northern low mountain range in Germany. We do not have the highest mountains, but our countless slopes are still nice. Tip: Those who like to sled should not forget about the sledding lift in Torfhaus. New: As of immediately, the lift cards from Sonnenberg can also be used for the small Sonnenberg (Sonnenblick lift).

Golf: Five minutes away you will find: •light-flooded driving range with partially heated tee off •demanding 6 hole course •27 hole championship course with island green and stadium green according to USPGA •for the winter, a green in summer quality •international golf school •Golf club memberships •a pro shop with high quality products Light flooding over driving range and putting green. Heated tee offs and winter greens add to making you being able to forget the season by us. Real professionals will find their home, along with visitors who only know of golf from hearing about it. Whether a short beginners class or as a lifetime member - by Golf Gleidingen you are always welcome!

Other Activities: Glider, ultra light flight, gyroplane.
| | |
| --- | --- |
| | Unavailable: Carbon monoxide detector |
The host hasn't reported a carbon monoxide detector on the property.
Beschallung auf den Aussenflächen mit eigenen Audioanlagen ist nicht gestattet. Die Regelungen bezgl. Schall/Ruhe des Niedersächsischen Nachbarrechtes müssen ab 22.00 Uhr, sowie an Sonn- und Feiertagen eingehalten werden.
Vita: Axel Gieseke 51 Jahre alt, ungewöhnlich, nicht stromlinienförmig Selbstständiger Objektdesigner/Techniker -Lebensraumgestalter FS Hildesheim (früher Werkkunstschule) Holzdesign -. Groß- und Außenhandelskaufmann mit Abschluss 3-jährige Tätigkeit ltd. Angestellter - Ges…
Always communicate through Airbnb
To protect your payment, never transfer money or communicate outside of the Airbnb website or app.
Things to do near this home
Explore other options in and around Sarstedt
More places to stay in Sarstedt: