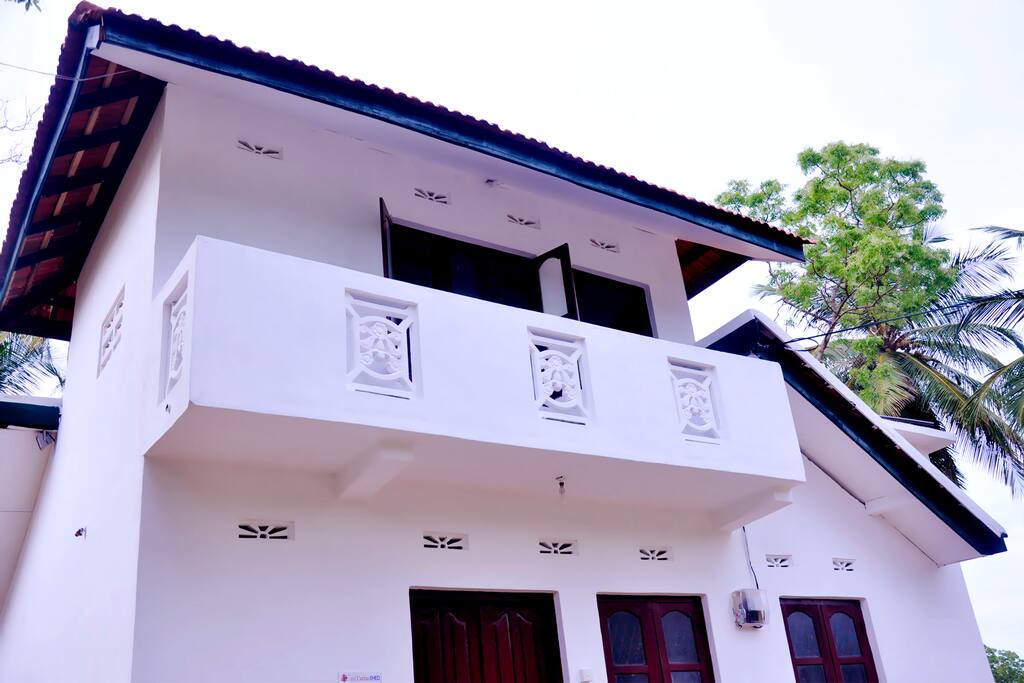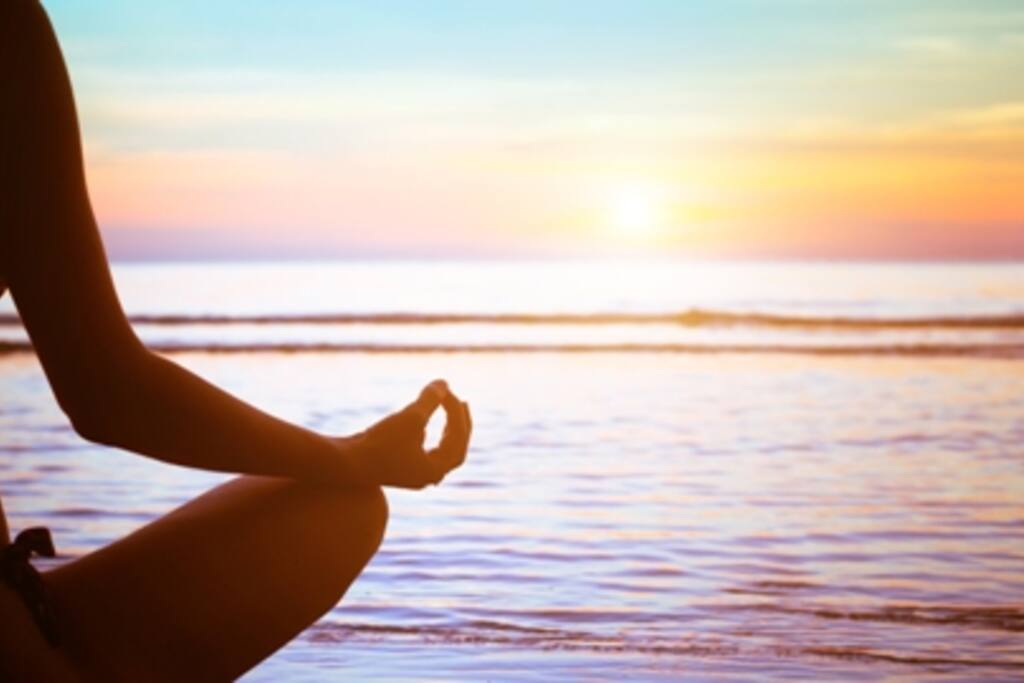 The house is adapted for relaxation. There are hammocks available in the nearly 1000 square metre garden, as well as seating both indoors and out and a large dining table located in the garden. The Batticaloa Lagoon is at the end of the garden.
The space
This property is a two bedroom holiday villa in the fishing village of Navalady, located across the lagoon from the city of Batticaloa. All rooms are equipped with a mosquito curtains and roof fans, in order to ensure the comfort of all guests. Along with this, there is a well-furnished living room downstairs, as well as a bathroom with special inside and outside shower. Additionally, a veranda with Maldives beach sand and spacious comforting chairs in typical Sri Lankan style offers our guests to discover the way real Sri Lankan fisherman are relaxing. Finally, the newly built extraordinary dining and kitchen area is an open space, where you can cook, grill or fry fresh vegetables, seafood or fish.
This house is located in a fishing village. Hence, fisherman boats are landing on a regular basis at the island, with freshly caught fish and seafood. You can use the opportunity and buy it for a bargain price directly of the fisherman in order to cook it at your own kitchen.
Guest access
Our villa is the ideal place to enjoy a Sri-Lanka Holiday, with access to the beach, lagoon and the local countryside via bicycles that are held on site. The large beach is located 300m of the villa. Every morning you can walk there to view the astonishing sunrise. The place ideal to do Yoga during the sunrise or having a swim. We provide yoga mats for your comfort. Every evening you can see directly from our garden the mesmerizing sunset over the lagoon. The lagoon is also an ideal place to bath and avoid waves.
If you are looking for a more adventures stay and you are interested in watersports like Jet Ski or diving, please tell us in advance, so we can organize a courses with professional instructors for you.
Additionally, local food can be delivered daily, and the local village produces freshly caught seafood delicacies that are not to be missed. Alternatively, we recommend that you visit local restaurants to experience the legendary hospitality of the people of Batticaloa.
Interaction with guests
Relaxation is also assured by the availability of a Yoga teacher for all guests. Enjoy daily sessions with a master, with the option of attending a local Hindu temple. Full Ayurvedic sessions (Ayurveda massage included from professional doctors) are also provided if desired, so that guests can feel healthy and contented during their stay with us. Security is ensured by the presence of a caretaker, who lives next door and who is available on call 24 hours per day to respond to the needs of guests.
Other things to note
Reference of one of our guests:
"I would like to say thank you, your Dad and Mr. Benet for our nice holidays. I feel as if I were to my brothers. They took care of us as if we were crystal or so!
Now I feel to be a small part of your family!
Natalia"
The villa is adapted for relaxation and rejuvenation. With access to the beautiful lagoon, the nearly 1000 square meter garden offers hammocks, sun benches, as well as seating both indoors and out. From here you can view the most beautiful sunset of Sri Lanka. Additionally, a new open dining and kitchen area has been added in July 2015.
---
---
Extra people $18 SGD / night after 4 guests
Security Deposit $142 SGD
Always communicate through Airbnb
To protect your payment, never transfer money or communicate outside of the Airbnb website or app.
Learn more
---
Common spaces
2 floor mattresses, 3 hammocks
---
Check in time is flexible
Self check-in with doorman
WiFi is available for you.
---
---
---
Our stay at Sri Lanka Holiday was great! We relaxed a lot and enjoyed the nice garden and the beach. We loved driving around with the bikes and also the food in the nearby restaurants. Sugath, the gardener and our Tuktuk driver were really friendly and helped us when we needed something. We really can recommend that place and if possible we will come over again.
---
Really nice villa located on the Batticaloa lagoon but not far from the beach either (5 minutes) Comfortable and clean but a bit remote (15 minutes by Tuktuk from town) ! Which on the end was really relaxing ! No AC but several Efficient fans. A few lovely places to eat around the villa especially the lovely SOUL CONNECTION Highly recommended for a relaxing quiet break Communication was also really easy
---
Navallady, where the house is located, was largely destroyed by the Tsunami in 2004. Big parts of the village are still ruined or deserted. The water of the Batticaloa lagoon is not very clean, there are jellyfish and also the local people do not swim in the lagoon. From our point of view, the house is not suitable for more than 4 guests (we were 5). Comparable accomodation in the neighbourhood is considerable cheaper. The village people are very friendly and nice, lately 2 small restaurants were opened who serve nice meals.
---
If you are looking for a quiet getaway from the civilization this is the perfect spot! The house is located in a quiet area bordering the lagoon. The ocean is just 100 feet away, the beach is really long and empty which gives you a unique opportunity to have the whole beach for yourself. The ocean is warm and the bottom is flat, the beach itself is unguarded but it still possible to swim and jump the waves. The surrounding are is a bit secluded but Sugath, the house manager who speaks English is always in touch and is really helpful. We stayed there with our parents so the house is perfectly fit for a 4-person retreat. I would definitely recommend this place to anyone seeking Robinson-like experience.
---
Nice place, but a little remote (few shops or places to eat) - perfect if you're looking for some quiet time away from the world, however! The internet is the best around, but it's slow so not ideal if you have any work do to while here. I would also say that the sea is quite rough and while there is a lagoon out back there are jellyfish and crocodiles in it (though not too near - it's a swim at your own risk kind of situation). Batticaloa itself isn't too far from a few nice places and it's not too hard to take overnight trips to them - Sugath and co will help with travel arrangements.
Response from Sri-Lanka. Holiday:
Greetings Dave – Thank you very much for taking the time to review our holiday villa in Batticaloa. Your input, and the feedback from all of our guests is vitally important to us and we always want guest expectations to be met upon arrival. Per your comments, we have updated our listing at Airbnb to ensure that future travellers know that while authenticity, exclusivity, restfulness, tranquility, hospitality, service and cleanliness are our top priorities, the well-being of our guests are particularly important to us. Our main aim is to provide a glimpse of eco tourism and to show you the real Sri Lanka. We know exactly how it is to live in a busy city. So with this holiday villa, the climate and in this location, we try to provide all of our guests an insight into a restful and relaxing life style. We have added a working station in the living room, so our new guests can work on their laptop. Having said that, we really want you to visit our holiday villa to be able to switch off, forget work and regenerate. This can be easily done by waking up, swimming in the morning in the Indian Ocean, doing some yoga, receiving an Ayurveda massage and just relaxing in a hammock. We hope to see you again in the future and you can reach us via our own website Sri-Lanka.Holiday, if we can be of any assistance. Your Sri-Lanka.Holiday Team
---
Hi, we are the team of www. sri-lanka. holiday

I am Sugath from the paradise island Sri Lanka. I am currently managing a few places in Sri Lanka (Badulla and Batticaloa). My current favorite is the place at the beach in Batticaloa. I am travelling frequently between Badulla and Batticaloa.
In the past I was working as a manager at different major five star hotels in Dubai, Germany and Sri Lanka. So I know, what is important for a guest to feel comfortable.
When I have guests coming to stay, I make their visit a pleasure by thinking ahead and offering the same courtesies I would like to be shown. Sometimes, I elaborate fruit baskets and floral arrangements. The following characteristics will walk you through what you can expect at the properties I manage.
I check off guest room essentials. We don't need to be outfitted like a four-star hotel, but certain basics should be in place to make your visitor comfortable. It's amazing how easy it is to forget something fundamental (like curtains!), so I peruse the lists below before my guests arrive.
The essentials: fresh sheets and blankets on the bed, coverings on the windows, a working light, bath towels, a wastebasket, an extra blanket and a cleared shelf or drawer.
Bonus items: A fan, clock, snacks, mini toiletries and a surge protector for charging devices.
I double check dates. Again, so simple, but ... I just do it. Miscommunication about when my guests are arriving or leaving can start their visit off on the wrong foot. If I am picking them up at the airport or train station, I make sure I have all of their travel info, and agree on a place to meet.
I ask ahead about key issues. If my guests have food allergies or follow a specific diet, knowing in advance I have time to prepare. If I am not sure what to get, I ask them to list a few favorite foods that I can pick up before they arrive. That said, I don't drive myself nuts tracking down esoteric ingredients I would never normally buy. The important thing is to make an effort and have something in the fridge my guests can eat.
If my guests have kids, it is kind to see if they would like me to track down any baby gear to borrow for their stay, and I ask about any favorite foods to have on hand for the little ones.
I let my guests know what I have planned. If I have activities in mind, I am sure to tell my guests in advance so they can pack appropriately. This would also be a good time to check in and see if there is anything they would like to do or see while they are in town.
I save my best parking spot. If parking in my neighborhood is limited, I make sure to reserve my off-street spot for my guests, if they are driving. I go out ahead of time and track down an elusive street spot if I need to — I just don't make my guests spend their first hour at my place looking for a spot.
I offer a warm welcome. Even if a guest is coming in on a late-night flight, providing a cozy, well-lit space to come home to is the least I can do. I make sure lamps are turned on, candles are lit and a place for plopping down and relaxing is at the ready.
I offer a snack and beverage. Again, this advice applies no matter the time of day or night. Traveling makes you hungry! Folks traveling from a different time zone may be feeling way off — a pot of hot water for tea or coffee, plus a selection of chilled wine and beer and a few little nibbles, should cover all the bases.
I show them to their room and help carry bags. I bring my guests to their room and give a little tour of the space. I point out where the extra blankets and pillows are kept, which shelf or drawer they can use to put their things, and where extra toiletries are in case they have forgotten something.
I explain any of my home's quirks before they need to ask! After living in your place for years, you may have forgotten how difficult it was to work the shower that first time or flush the toilet so it doesn't run all night — I save my guests the agony and show them clearly how everything works.
I help set up their bed in the evening, show them where they can change and stow their stuff, and let them know what time you typically wake up, so they won't be surprised. Just as in a guest room, I make sure that all of the essentials are at hand, including windows with shades.
I empower guests to help themselves. Guests can feel awkward having to ask every time they need something. I make things easier — on me and them — by giving a little self-help tour early on in their stay.
At the minimum I show my guest where the coffee- and tea-making supplies, snacks, drinks and dishes are kept. I show them where my garbage and recycling cans are, and where to put what. If they will be staying longer, I provide a small laundry basket and show them how to work things in the laundry room.
I make guests feel like a part of the household ... to a point. Asking my guest to wash salad greens, chop veggies or dry dishes can help make them feel included and useful. Taking out the trash, scrubbing greasy pans and other dirty jobs are best left to myself.
I allow for downtime. Cushion your scheduled events and outings with unplanned time so that everyone has a chance to relax. I am open to suggestions from my guests, but don't panic if there is a morning or afternoon spent just hanging out at home; we all need a break once in a while!
I speak, English, German, Italian, Spanish, Tamil and Sinhalese and can write French.

Languages:
Deutsch, English, Español, Français, Italiano
Response rate:
100%
Response time:
within an hour
Explore other options in and around Batticaloa
More places to stay in Batticaloa: