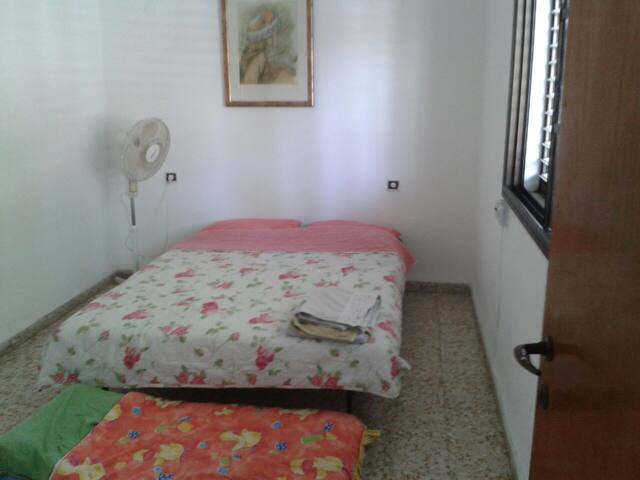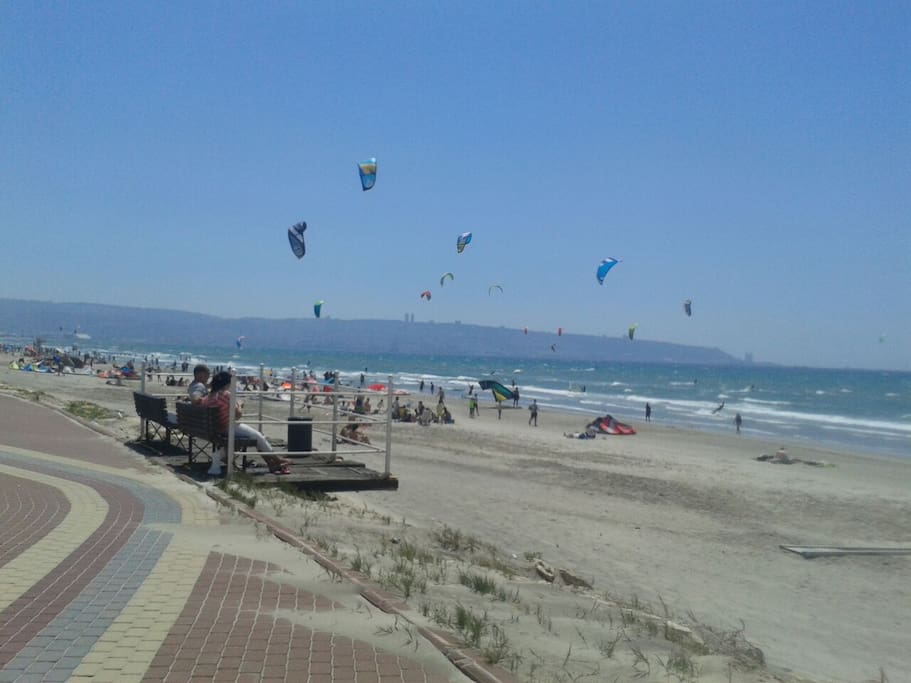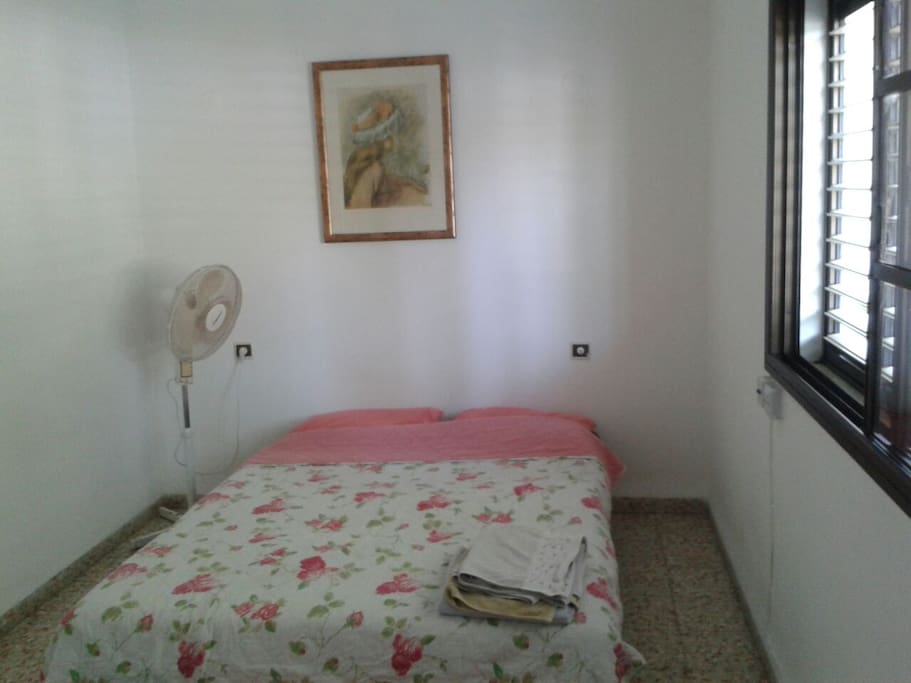 I am a single mother with a non-white child. We speak Spanish at home. My landlord in the upper floor is a Polish Holocaust survivor of 95 years (and I wish I would be as fit as he is). He has several Russian care takers. The neighbors are a mix of French Maroccans, Chihuahuas, huge dogs of unknown race, street cats, Russians and Argentinians and local Israelis. This is the best area of town with two story family homes and gardens. We talk to each other and visit for coffees.
The space
We live in the ground floor in a three room apartment. You and your partner and/or child will sleep in the guest room on a bed sofa, toddler size mattress respectively. If you prefer the child sleeping with you, I can provide a border so that the child will not slip off the bed. The bed can be placed against the wall for the child to be protected by the wall from falling off.
Only a ventilator/heater in the room (depending on time of year), no air conditioning. Air-conditioning only in the living room. The surrounding trees keep the place fresh in the summer. Mosquitoes may be an issue, but I try to do my best to keep them away from ourselves and my guests with protections of different types.
You may use the kitchen and have your own guest toilet with a sink. I can provide you with a toilet seat to add to it for a toddler. If your child still uses nappies, feel free to use the sofa bed with a towel underneath for nappy chance. I will provide you with a bin to discard the nappies.
Please check with me when you want to use the shower, as you have to step into our dormitory to do so and you may trespass on our privacy when doing so, or I may be in the bathroom myself.
A chair will be there for you to place things or sit, as well as a commode.
If you wish, I can place a car seat we don't currently use as a toddler's sofa there. My child likes to use the old baby seat such. A tall seat for a toddler or baby may be available to you for feeding. I don't have a baby bath any longer as I gave it away. But I have a bath tub, which you can use to wash a child, along with toys and child proof bathing products.
There is a big screen TV in the room, but no TV access. It is set up to connect to your laptop from which you can stream films from the Internet at your convenience. If you need help setting that up, someone will do that (not me though, as I am not really a Tech person for the most part).
You get access to the garden and terrace, where your breakfast will be served to you, if you don't opt out of it when you book.
The "garden" cats are not supposed to come into the house. They try though to beg food though. We chase them out, but we do sometimes feed them on the terrasse, as this prevents them from being a pest when we want to eat outside.
We have recently acquired an in house kitten, so if you are allergic to cats, this may not be the right place for you.
Guest access
You have the run of most of the house, except my dormitory, which you can cross when agreed upon to shower. Please do not enter it at will. Usually the door of the dormitory will be partly closed to indicate that we are either sleeping, getting dressed, showering or doing other things in the bathroom...But please note that toddlers tend to open doors at will and leave them open, so it is best to call out before you approach a dormitory or bathroom.
I ask you to respect our privacy and not disturb us once we have retired, unless it is an urgency. (Since my time as airbnb host has taught me that not everyone has the same concept of emergency as I do, let me give you some examples what I regard as one: E.g. you being cold and needing more blankets in the winter after everyone has gone to bed, soldiers invading the country, someone bleeding profusely and requiring urgent medical care, the police at the door requesting entry, etc.). In that case, you may knock the door and wait until it is answered to let me know about the nature of the emergency.
The reason is fairly simple - I don't want to spend the rest of the night convincing a small child again to go back to sleep, after I finally successfully managed this gargantuan task all parents know about.
Please do NOT come close to the child until you have been properly introduced and the child has made signs that it wishes any interchange with you. Touching is not generally appreciated as the child is not a doll. Especially if you are fascinated by the child's hair. It is a hell of a work to get those curls in order and while I don't like the work involved, the child doesn't like the beautiful hair touched (including by me, by the way).
You get a key to the house, so you can come and go as you please, when you please.
We only ask you not to bang doors. It breaks them and it is a very unpleasant way to wake up at night hours.
In no way do you have access to any technology you see in the house unless expressly stated, since most of these are work related for me. This does not apply to the water heater or other kitchen appliances you may need (though you may need to ask me for where I store some of them).
If you come with children, please do not simply use toys and books you see in the living room without express permission. Many of the toys and books came from outside the country and are difficult to find and cost a fortune. But if you need something to entertain yourself (book) or your child (toy/book) I will be happy to find something suitable for you (meaning in the right language for your child, if available). In the summer months your kid is welcome to also share the pool in the garden. Toys in the garden can be happily used, but careful, not always is my child in the mood for sharing and may rip it out of your child's hands. Like all single children, we have to still work a lot on the idea of sharing.
Interaction with guests
I interact with guests on arrival and if there are questions, as long as it does not interfere with my work or mother duties. I am on the whole happy to explain about Israel and sightseeing, or culture of the country in general. If you let me know about your travelling plans I will give you tips what to visit. This may include things you have never heard about, or festivals that are taking part just at the time of your visit. It definitely will include information on fun places to visit for children, different playgrounds in and outside and the likes.
I expect guests to have at least one language in common with me for communication.
Please note that during your visit, you do not have a green card to act as if you owned the house. This also relates to opening the door and letting other people in. I am the landlady. If someone knocks, you let me know and I open the door. I take the security of my family and my guests very seriously, which is why I want to check who is let in and who isn't and when.
Since you are not familiar with my friends, the neighbors, people who work on the premises or complete foreigners to be a good judge in this case, and have the room closest to the entrance, it is important also for your own safety and that of your property that you let me handle things.
Under no circumstances let someone into the house, no matter if they are someone you know. At the very least please introduce me first to the person and let me decide if I want this person to have access to the house. I do not wish to come home one day and find a complete foreign person on my premises. (Once I was just in the process of undressing and staying in my pants due to the heat thinking I was alone with my female airbnb guest, when I heard a man's voice. I went to investigate and brought my guest a cup of tea and find a man I had never seen sprawled on my guest bed who addresses me with my first name and tells me he wants a tea as well.) Another thing I would have thought did not need explaining, but I discovered that it does when hosting, is that any person you wish to sleep with you during your stay needs to be introduced prior to your arrival at the time of booking, as an additional person does cost additional money (e.g. water and food consumption).
Note that if you come with your toddler child, the child is free of cost.
As a mother I understand issues when travelling with a small child, so I will try to accommodate other single mothers as best I can. I may entertain your child for instance, so that you can have a shower in peace.
This is though my decision and depends on my availability. Please don't count on me being your child's babysitter while you are my guest. But I will be happy to discuss with you possible payable solutions for child care if you want to go out on your own at some point during your stay.
Please note that I work in the living room most of the time. Thus occupying the living room may not be possible if I am working.
If my child approaches you and I am fine with it, you can interact. You are not to try to approach the child upon your arrival, as this will probably freak the child out, nor are you to touch the child. Not even the cute hair.
This is especially a rule for white people. Let me explain you why.
One reason is that it is a hell of a work to get the knots out of it. The other reason is a simple issue of racial respect: You would never allow foreign people to put their hands all over your child's hear or body. Neither is my child freely available to foreigners at their will, only because of the different skin color. Unfortunately I have and still experience other foreign white people on the street just touching my child because they are curious to see how the hair feels. Since they would never let me touch their white children's or grandchildren's hair if we don't know each other, and would probably even call the police, if a non-white person tried to touch their hair to find out how it feels, it means that by behaving thus towards my child, white people show in their comportment an unconscious racism. They think that because the child is not white, it is OK to cross its bodily boundaries. This racism is even there when a white mother or father is standing or sitting next to the child. It is not the end of the world, but I would like airbnb guests to behave in a non-racist way and I hope that you don't mind sharing here with you the extents of what this can be in daily life.
Other things to note
I offered a guest room both in Haifa and in Netanya with sea view. You will be able to read the feedback left me from those two apartments.
While the sea view is gone, I know live in a house with garden. But unfortunately the location is not of big interest to tourists, despite it being really close to Haifa and the public transport there being superb.
For the most part my past guests here or almost bookings have been of people who have family living close by who did not have the space to have them over.
But I would like to interest single mothers with children to this place, as well multi-ethnic people.
Kiryat Yam is a lot smaller and quieter than the big cities, but it is not a village. It boast the cleanest beach in the area. It is also the only place in the area that does not suffer from pollution. Apparently the wind blows such, that it does not bring the exhaust from the chemical factories of the Haifa area into our location. (It was on the news half a year ago).
The population is comprised of Russian immigrants, Maroccan immigrants and Ethiopian immigrants for the most part, with some others thrown in.
Many a Russian woman is a single mother, so it is not uncommon to meet single mothers with children of differing ages here.
It is also a place where children can be left a bit out of sight in the city center, because there are no cars and someone will probably keep an eye on the kid, even if they don't know the child or its parent.
This makes it just the ideal place for a family with children or a single mother from the city who wants to have a rest. Please note that I especially welcome adoptive families, as well as bi- or multiracial families.
Bedroom 1
1 sofa bed, 1 toddler bed
Check-in time is flexible
I expect at least one of the guests to be able to communicate with me fluently in a language I speak.
No breakfast will be served between 7.30 and 8.30, and neither am I available to guests between 16. 00 and 17.30, as those times are reserved to prepare my child for her creche or to pick her up. Please make sure your arrival times do not coincide with those hours.
Do not use food in the kitchen other than what is put out for you for your breakfast during breakfast. It is expected that you will be quiet between 21 p.m. and 7.30 a.m. to fit with the child's sleeping hours. The same rule goes for us, to ensure that you can sleep in peace.
Smoking is not allowed, pets should be discussed on a case to case base. We do have one kitten currently inside the house, and the neighborhood street cats have the bad habit to descend regularly upon the house's garden and terrace.
After many travels and wonderful experiences without and with Airbnb, now the center of my life is being a single adoptive mom. Every day brings new experiences and surprises and while I don't always have the patience I wish I did have, I love every second of this wonderful gift …
Languages:
English, Español, Français, עברית
Explore other options in and around Kiryat Yam
More places to stay in Kiryat Yam: