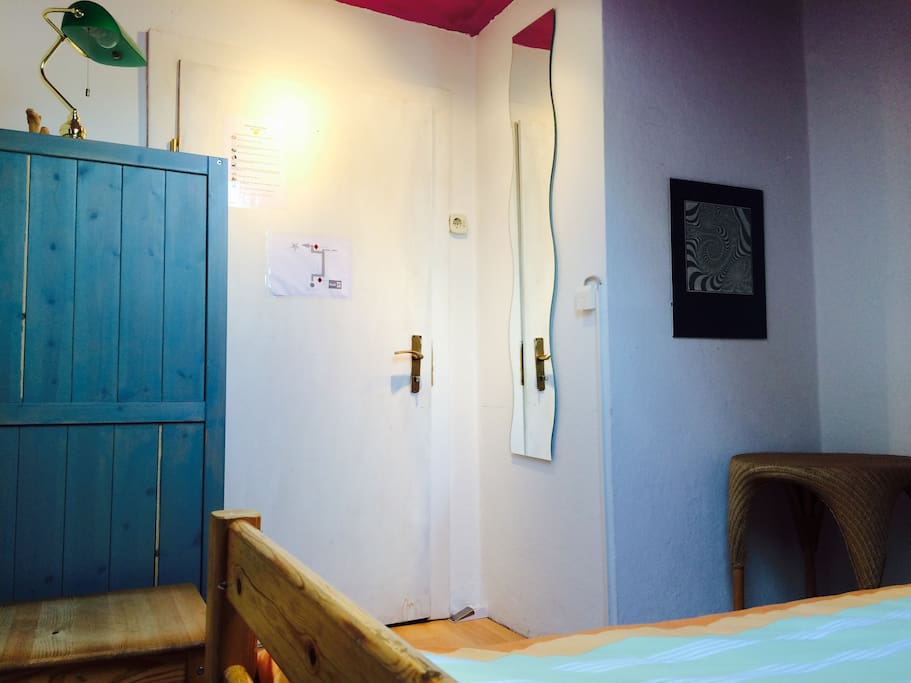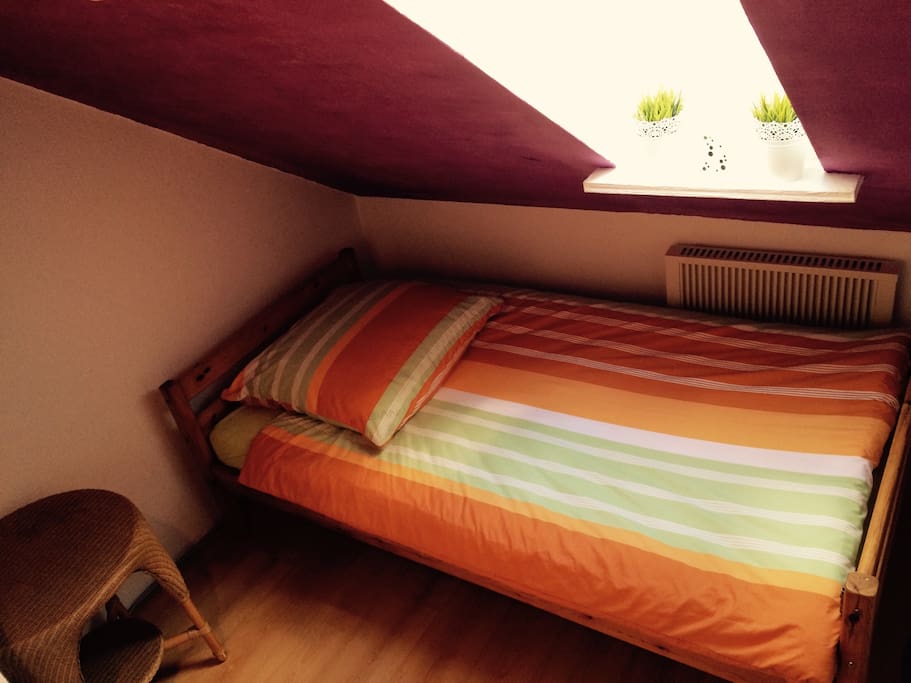 Bem-vindo à nossa casa "Bat Perfect - Zur Fledermaus"
Munich Airport (8 minutos).
Encontre perto de Munich Airport (MUC mais perto se trata quase não)
um oásis celestial de paz e relaxamento e desfrutar
como um viajante turista, profissional ou de negócios, o
ambiente rural idílico ou as cidades vizinhas de Erding, Freising, Munique.
Teremos o prazer em recebê-lo em casa com a gente.
The space
Welcome to our guesthouse "Perfect Bat - Zur Fledermaus"
Munich Airport (8 minutes).
We offer in our house a total of 3 rooms.
2 of them are also suitable for business.
The 3. room (which you book) is small.
As a special service we offer copying and printing facilities and a shoe shine machines.

Breakfast and meals are not sold commercially by us;
but there is a snack 100m from here and a good Italian restaurant.
You can to eat like to share our dining room and the terrace / garden.

We offer our guests a comfortable at an affordable price
Accommodation in cultivated rural location with private idyllic garden, which invites with wooden terrace and access to the river Villages to relax.
Guests have beautiful, well-lit rooms available and secure parking at the house.
In the immediate vicinity are meadows and forests that invite for biking, jogging and relaxing.
Experience Bavarian hospitality connected to the world.
Our house is an 8-minute drive from Munich Airport.
There is a bus-transit from the airport to near the house.
The center of Munich and the Allianz Arena are public
Transport in about 30 minutes; the romantic city of Freising and Erding with Europe's largest thermal baths in about 15 minutes.
And then the Lufthansa Training Center (LFTC) is only 1 km away from us.
Your hosts have experience in the hotel industry and work
service-oriented and yet familiar.
Our experience with more than 200 guest bookings with guests from over
40 countries are documented in our mostly positive reviews.
We speak German, English, Spanish and Portuguese.
Internet and high-speed wireless internet access are available for free.
Business travelers are welcome!
Messe München is only 30 minutes away, very convenient for fair guests!
Check please not later than 23:00
and in the evening from 22:00 to avoid noise in consideration roommates and neighbors.
n security, we place great value and lead out an annual safety inspection;
Advanced security features are:
- Well audible smoke alarms in every room
- Video camera at building entrance
- Various home automation
Bed size: 190x90 cm
The heating is automatically controlled centrally and the heating temperature can be adjusted to the needs of the guests upon request.
The heating is automatically deactivated when the window is open.
Guest access
In addition to the rented rooms, guests have access to the shared kitchen, bathroom, guest toilet, dining room, hall, terrace, and garden.
The bathroom is equipped with shower and bathtub.
Thank you for your cleanliness and order in the common spaces.
Interaction with guests
We try to be available around the clock for our guests by telephone, mobile, Whats App and of course email and strive to respond quickly.
Other things to note
Please do not confuse the DORFENSTR upon arrival with the DORFSTR.
That's 5-kilometer away.
Some modern navis "correct" automatically Dorfenstr to Dorfstr!
[EnEV 2014. Year building 1955; Electric Heating of 2005; official energy consumption certificate with characteristic value 132 kWh / (m2 a), Register Number BY-(PHONE NUMBER HIDDEN)]
For long-term guests important:
In Erding / Oberding / Schwaig no second home tax is due!

Shared bath / shower / toilet is one floor lower ground floor!
---
---
Weekend Price $58 SGD / night
Always communicate through Airbnb
To protect your payment, never transfer money or communicate outside of the Airbnb website or app.
---
Check-in time is 6PM - 10PM
Self check-in with lockbox
Hausregeln / House Rules / reglas de la casa / regras da casa
english: see below ==>
Español: véase más adelante ===>
português: veja fundo ====>
Deutsch:
Allen Gästen möchten wir gerne erholsame Stunden und einen ungetrübten Aufenthalt in unserer Unterkunft bieten. Im Interesse aller Anwesenden werden Sie höflichst gebeten, alles zu vermeiden, was die Gemeinschaft in und um die Unterkunft stören könnte. Beachten Sie daher bitte folgendes:
* Der Gast und seine Begleiter sind verpflichtet, die geltenden Gesetze, die Hausregeln und die Anweisungen der Gastgeber zu befolgen
* Der Gast muss einen Meldeschein mit seinen persoenlichen und Reisedaten ausfuellen und unterschreiben (gemaess Bundesmeldegesetz P 28 - 31 BMG, auch Implementation des Schengen Abkommens)
* Es darf nur die Person anreisen, die gebucht hat (ausser Firmenbuchungen) und es die in der Buchung genannte Personenanzahl darf nicht ueberschritten werden
* Bitte im Haus keine Strassenschuhe benutzen;
wir stellen Hausschuhe zur Verfügung.
* Bitte nicht im Haus rauchen, nur draussen.
* Ab 22:00 Uhr bitte angemessene Lautstärke in allen
Zimmern sowie auf den Fluren und draussen einhalten.
* Bei Beschädigung oder Verschmutzung des Gebäudes oder
Inventars ist der entstandene Schaden durch den Verursacher zu ersetzen.
* Diebstahl wird unverzüglich zur Anzeige gebracht.
* Der Gebrauch von illegalen Rauschmitteln ist im Haus strengstens
verboten.
* Betrunkene Gäste können des Hauses verwiesen werden.
* Bei Verstößen gegen einen oder mehrere der oben
genannten Regelungen sind wir jederzeit berechtigt, den
Beherbergungsvertrag fristlos zu kündigen.
Die Pflicht des Gastes zur Bezahlung der gebuchten Übernachtungen
bleibt bestehen.
* Sie können Ihr Zimmer am Anreisetag ab 14:00 Uhr beziehen.
Am Abreisetag checken Sie bitte bis 10:00 Uhr aus.
* Am An- und Abreisetag haben Sie die Möglichkeit,
Ihr Gepäck kostenfrei in unserem Gepäckraum zu verstauen.
Wir machen Sie jedoch ausdrücklich darauf aufmerksam,
dass wir für Wertgegenstände und Gepäck keinerlei
Haftung übernehmen.
* High Speed Internetnutzung (WLAN, WIFI) ist als Vodafone Homespot
realisiert.
Die Nutzung von Internet im Haus ist kostenlos.
Durch Kenntnisnahme des WLAN-Passworts verpflichtet sich der Gast zu

- Weitergabe der Internetzugangsdaten ist strikt verboten.
- Die Benutzung ist nur im gebuchten Zeitraum, dann fuer alle
- Zimmergaeste zulaessig.
- Die geltenden deutschen Nutzungsrechte und Verordnungen sind
- einzuhalten.
- Filesharing, Downloads, illegale Plattformen und Versenden von
SPAM ist verboten.
- Kostenpflichtige Abmahnungen werden an den Gast weiterberechnet.
- Zu Beweiszwecken werden alle Internetaktivitäten protokolliert.
Schutz des Gastgeraets vor Viren, Phishing, ... ist vom Gast zu
realisieren und wird nicht durch unseren Internetaccesspoint geleistet.
* Salvatorische Klausel: Sollte eine Bestimmung dieser Hausregeln unwirksam sein oder werden, oder eine notwendige Regelung nicht enthalten sein, so wird dadurch die Wirksamkeit der übrigen Bestimmungen dieser Ordnung nicht berührt. Anstelle der unwirksamen Bestimmung oder zur Ausfüllung der Regelungslücke gilt eine rechtlich zulässige Regelung, die soweit wie möglich dem entspricht, was der Aufsteller der Ordnung gewollt hat oder nach Sinn und Zweck gewollt haben würde, wenn er den Mangel erkannt hätte.

====== english =====
We ask you to behave in our house so that neither other guests nor neighbors are disturbed. Also note the following rules:
* The guest and his companions are obliged to apply the law, the house rules and the instructions of the hosts to follow
* The guest must have a registration card with his personal and travel data fill in and sign (according to the Federal Registration Act P 28-31 BMG, also implementing the Schengen Agreement)
* It may only be the person arrive, which has booked (except Corporate Bookings) and number of persons must not be exceed the number of guests
* We ask you to behave in our house so that neither other guests
nor neighbors are disturbed. Also note the following rules:
* Please do not use street shoes in the house;
We provide slippers.
* Please do not smoke in the house, only outside.
* At 22:00 please appropriate volume in all
comply rooms and in the hallways and outside.
* In case of damage or contamination of the building or
Inventory of the damage is to be replaced by the polluter.
* Theft is reported to the police.
* The use of illegal narcotics in the house is strictly
prohibited.
* Drunken guests can be expelled from the house.
* For violations of one or more of the above
Regulations mentioned we are entitled at any time to
Accommodation Agreement without notice to terminate.
The obligation of the guest to pay the nights booked
remains.
* You can check in on arrival from 14:00.
On departure please check in from 10:00.
* On arrival and departure, you have the option
Their luggage to stow our luggage room.
We do, however, attention explicitly,
that we have no for valuables and luggage
Assume liability.
* High Speed internet access (WLAN, WIFI) is implemented as Vodafone Homespot.
The use of Internet in the house is free.
By taking note of the Wi-Fi password, the guest is obliged to

- Disclosure of Internet data is strictly prohibited.
- Its use is only for the booked period, allowed then for all rooms.
- The current German laws and regulations must be observed.
- Filesharing, downloads, illegal platforms and sending SPAM is prohibited.
- Chargeable warnings will be charged to the guest.
- For evidential purposes all Internet activity is logged.
- Protection of the host device from viruses, phishing, ...
must be implemented by the guest and is not provided by our Internet access point.
* Severability: If any provision of these House Rules are or become invalid, or a necessary regulation not be contained, so this will not affect the validity of the remaining provisions of these regulations. Instead of the invalid provision or to fill the loophole applies a legally admissible provision which as far as possible corresponds to what the stand of the order willed or would have intended from the meaning and purpose, if he had recognized the lack.

====== Español =====
Todos los huéspedes que nos gustaría ofrecer unas horas de relax y una estancia ininterrumpida en nuestro alojamiento. En el interés de todos los presentes se ruega evitar cualquier cosa que pueda perturbar la comunidad en y alrededor de la propiedad. Por lo tanto, tenga en cuenta la siguiente notas:
* El huésped y sus compañeros están obligados a cumplir con las leyes aplicables, las reglas de la casa y las instrucciones del huésped
* El invitado debe tener una tarjeta de registro con sus datos personales y de viaje rellene y firme (de acuerdo con la Ley Federal de Registro P 28-31 BMG, también se aplica el Acuerdo de Schengen)
* Puede que sósea la persona llegue, que ha reservado (excepto Reservas de empres) y el nú de personas no debe ser excedido el nú de invitados
* Por favor, no use los zapatos de calle en la casa;
Ofrecemos zapatillas.
* Por favor, no fumar en la casa, sólo el exterior.
* A las 22:00 limitar el volumen apropiado en toda la casa
y exterior.
* En caso de daños o Perjuicios del edificio, responsable
del daños.
Inventario de los daños va a ser reemplazado por el responsable.
* El robo se reporta a la policía.
* El uso de narcóticos ilegales en la casa es estrictamente
prohibido.
* el imcumplimiento de las normas, puede llevar a la expulsion de casa.
Para violaciónes de uno o más de los anteriores
Reglamentos mencionados tenemos derecho en cualquier momento para teminar el
* Contrato de hospedaje sin previo aviso.
La obligación de los hospedes al pago de las noches reservadas
persiste.
* Puede registrarse a la llegada desde las 14:00.
En la salida por favor Entrada desde las 10:00.
* A la llegada y salida, usted tiene la opción
de guardar su equipaje en la sala de equipaje.
Nosotros, sin embargo, de manera explícita, no nos hacemos responsables
por objetos de valor.
Que no tenemos para objetos de valor y el equipaje
Asumir la responsabilidad.
* Acceso a Internet de alta velocidad (WLAN, Wi-Fi) se implementa como
Vodafone Homespot.
El uso de Internet en el hotel es gratuito.
Al tomar nota de la contraseña de Wi-Fi, el cliente está obligado a

- La divulgación de datos de Internet está estrictamente prohibido.
- Su uso es solo para el período reservado.
- Se deben respetar las actuales regulaciones de uso de derechos alemanes.
- Se prohíbe el intercambio de archivos, descargas, plataformas ilegales y envío de spam.
- Advertencias con cargo, se cobrará al cliente.
- Como medios de prueba se registra toda la actividad de Internet.
- Protección del dispositivo de acogida de los virus, phishing, ...
- debe ser implementado por el anfitrión y no es proporcionado por
nuestro punto de acceso a Internet.
* Divisibilidad: Si alguna disposición de estas normas de la casa está o queda inválido, o un reglamento necesario no estar contenido, por lo que esto no afectará a la validez de las restantes disposiciones de este reglamento. En lugar de la disposición inválida o para llenar el vacío legal se aplica una disposición legalmente admisible que en la medida de lo posible, lo que corresponde a la posición de la orden querido o hubiera previsto a partir del significado y propósito, si se hubiera

====== Português =====
Todos os hóspedes que gostaria de oferecer algumas horas relaxantes e uma estadia ininterrupta no nosso alojamento. No interesse de todos os presentes que são convidados para evitar qualquer coisa que possa perturbar a comunidade e em torno da propriedade. Portanto, observe a seguinte nota:
* O convidado e seus companheiros são obrigados a cumprir as leis aplicáveis, as regras da casa e as instruções do hospedeiro
* O cliente deve ter um cartão de registro com o seu data pessoal da viagem e assinar (de acordo com o Registro Federal Act P 28-31 BMG, também Aplicação do Acordo de Schengen)
* Pode (exceto empresarial Reservas) e ele disse que o número da reserva de pessoas não deve ser excedido, apenas a pessoa que chega, que reservou
* Por favor, não fumar em casa, somente fora.
* Quando utilizar regulamentos legais WIFI / Internet devem ser observados.
* A partir das 22:00 por favor volume adequado em todos os quartos e nos corredores e manter fora.
* Se o edifício ou inventário danos ou contaminação do dano deve ser substituído pelo poluidor.
* Roubo é relatado para a polícia.
* O uso de bebidas alcoólicas ilegais é estritamente proibido na casa.
* Ébrio os hóspedes podem ser expulsos da casa.
* Violações de um ou mais dos regulamentos acima, temos o direito a qualquer momento para cancelar o contrato de alojamento sem aviso prévio. A obrigação do cliente para pagar as noites reservadas permanecerá.
Você pode verificar no momento da chegada a partir das 14h00. Na partida, por favor check-in a partir das 10:00.
* Na chegada e partida você tem a possibilidade de deixar a sua bagagem na nossa bagagem para fazer verstauen.Wir expressamente livre de salientar que nós não aceitamos nenhuma responsabilidade por objetos de valor e bagagem.
* Por favor, não use sapatos de rua no apartamento; Nós fornecemos chinelos à sua disposição.
* Separação: Caso qualquer um destes Regras da Casa é ou se tornar inválido, ou um regulamento necessário não ser contido, então, assim, a validade das restantes disposições destas regulamentações não é afetado. Em vez de a disposição inválida ou para preencher a lacuna aplica uma disposição juridicamente admissível que, tanto quanto possíveis corresponde ao que o suporte da ordem querida ou teria a intenção do significado e propósito, se tivesse reconhecido a falta.
You must also acknowledge
Must climb stairs - Zimmer ist vom Hausflur ueber eine Treppe erreichbar
Some spaces are shared - Kueche, Bad, Gaeste-WC, Wohnzimmer, Terasse und Garten werden gemeinsam genutzt
---
---
---
Weltoffene Familie mit Erfahrung in IT-Management, IT-Consulting, Hotelmanagement, Hausverwaltung.
Languages:
Deutsch, English, Español, Português
Response rate:
100%
Response time:
within an hour
Explore other options in and around Oberding
More places to stay in Oberding: