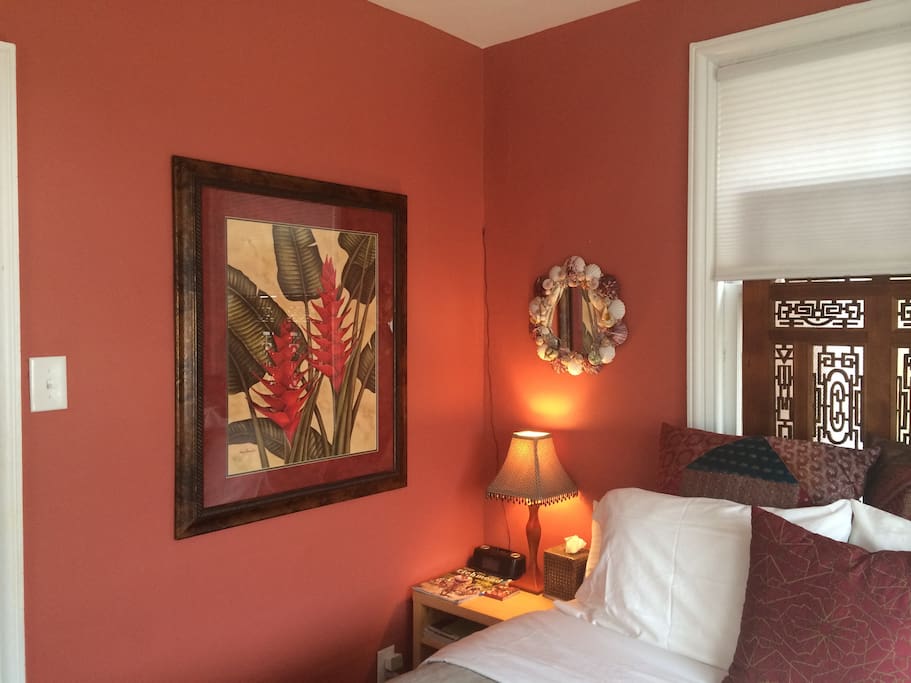 REQUIRED: READ THE LISTING DETAILS. Click on "+ More" keep reading before sending your reservation request. Wouldn't you like to know what time someone will be at your place? Same here. REQUIRED: Approx check-in time AND check-out time. Please. Our front-desk clerk quit buggerit. We are IN Carytown--you won't find a neighborhood like it--close to everything. We love hosting our AMAZING Airbnb guests. ¡Bienvenido! Accueil! Wilkommen! Hun yaow! See our profile for our listing at the same location
The space
About to skip reading the listing details, the house rules, or your confirmed reservation with contact information & directions? We have spent MANY hours and have put in CONSIDERABLE thought and effort into writing, editing, re-writing, re-editing, revisiting, re-working, updating, and revising the details. It takes a mere few minutes to read them. Thank you.
Many thanks to those travelers who take the time to read the listing details and who, along with other gracious guests and hosts, make the Airbnb experience AWESOME, AFFORDABLE and FUN: THANK YOU!! We have made some of the most amazing connections though our Airbnb experiences (both as hosts and guests) and now have lifelong friends from all over the US, and around the world!
Please note: We have been in our 90-year-old home a little over 4 years: It is an in-progress work-of-art lovingly being improved and upgraded for your comfort and enjoyment (new bathroom with heated floor & towel warmer, for example, is in progress--currently working on restoring (not merely fixing) the beautiful window). Please pardon the dust/signs of upgrade projects (tools, paint, landscaping material).
Thanks for taking the time to read the listing details:
This is a listing for a room in our home (so ... no front desk clerk on duty 24/7 ... buggerit). Please be so kind as to let us know your rough arrival AND departure timeS. This information allows us to plan and prioritize our time and our tasks, and something we REQUIRE--even if it's only a guesstimate (you can always update us later/on the day of your arrival). On top of that, we often receive requests from guests for earlier/later check-in and check-out times other than those posted. We like to accommodate these requests as much as possible, including yours if this applies. MANY THANKS!

The room is roughly 9 x 11 (100 sq ft) located on the 2ND floor at the end of a hallway at the back of the house. You can see Cary Street and the Byrd Theatre from the room. It has it's own corner gas-log fireplace for the winter weather and a Hunter fan for those who like air circulation along with their AC. The room has 4 windows so it's a bright and welcoming space. For your convenience, there's a mini fridge and Keurig single-cup brewer stocked with a variety of teas and coffees, both caffeine-free and regular (let us know if you'd like cider and/or hot chocolate) in the room. The shared bathroom is the room next to your private bedroom.
Breakfast is self-serve so you can eat when it best suits your schedule. Along with the regular types of breakfast fare, we may have on hand dairy-free, gluten-free, and vegetarian options. Please let us know if you have special dietary needs.
The house is a 1920s house that's recently been almost completely renovated but which has retained it's charm and many original details. (We continue making upgrades, so please check with us regarding in-progress construction projects, and pardon our mess if we're in the middle of a project.) We have a wonderful front porch that faces the south so on a pleasant winter's day it's nice to sit and soak up the sun and in the summer time, to sit in the shade and take a break. We recently added a ceiling fan on the porch and plans to install mister are in the works. We have all the modern conveniences including central air, amazing radiant heat, high-speed internet, and a dishwasher. We have a fully-functioning office set up with printers, a scanner and other office accouterments should you need access to any of it.
As you can see from our reviews, we're hospitable and accommodating. Knowing BOTH your rough check-in and check-out timeS helps us prioritize--you must include these details in your request. Much appreciated.
We look forward to hosting you! :-)
If you're out late, we'll leave the light on for you.
PROCEEDS: Part of our proceeds provide much needed funds for 2 sets of sisters who live near the dump in Managua, the capital of Nicaragua, so the 4 girls can go to school. Our monthly contributions pay for their entire year's schooling, including supplies, uniforms, and shoes for school. Thank you!
For fun and interesting things to see and do, make sure you check out our guidebook on the map at the bottom of the listing!
Guest access
. Private bedroom room (~100 sq ft 9x11)
. Full size/double bed
. Shared bathroom next to room
. Free on-street, unrestricted parking
. High-speed Wi-Fi
. IF possible, early check-in fee = $30
. We may be able to arrange baggage drop off
. HALF a block from cool Cary Street
. And all of Carytown's awesome offerings
. Breakfast items provided, self-serve
. Mini-fridge in room
. Keurig single-serve coffeemaker in room
. Coffee/tea/hot chocolate supplies
. Gas fireplace in room to cozy up by
. Hairdryer in your room
. Hunter ceiling fan in room for added comfort
. Flat screen TV in room with cable & Roku
. We provide robes so leave yours at home
. Lots of windows, so it's a cheery space
. Iron & ironing board downstairs
. Heated floor in bathroom
. Towel warmer in bathroom
. Half-bath on main floor
. Charming 1920s house
. Bikes for rent @ $10/day (we have 4)
. 4 blocks from Virginia Museum of Fine Arts
. 1 block from Downtown Expressway
. 1 block to public transportation to downtown
. 4 blocks to an amazing park system!
. 1.5 miles (2.4 km) to VCU main campus
. 3.0 miles (4.8 km) to VCU MCV campus
. We enjoy our Airbnb guests!
. We look forward to hosting you too!
Other things to note
Welcoming hosts ready to help you as needed.
Quiet time is 10 pm - 7 am, but you are welcomed to come and go as you please.
PARDON OUR MESS! My motto: There's always room for improvement (whether personally, or where one lives or works). Maybe it's an asset, maybe it's a liability. Nevertheless, I have it: A keen ability to see where I can improve. We adore our recently acquired 90-year-old house which has become an in-progress work-of-art. We are constantly tweaking and upgrading the house to make it more accommodating and functional for our guests (for instance, installing a heated floor, towel warmer, and claw foot tub in our complete demolition and remodel of the 90-year-old bathroom). You may see signs of our work in the common areas: tools, in-transition tasks, in-progress projects, etc. Your space, however, is a relaxing room that's always clean, comfortable, and welcoming.
If you're out late, we'll leave the light on for you.
PROCEEDS: Part of our proceeds provide much needed funds for 2 sets of sisters who live near the dump in Managua, the capital of Nicaragua, so the 4 girls can go to school. Our monthly contributions pay for their entire year's schooling, including supplies, uniforms, and school shoes. Thank you!
---
---
Always communicate through Airbnb
To protect your payment, never transfer money or communicate outside of the Airbnb website or app.
---
Check-in time is 10PM - 12AM (midnight)
THANK YOU FOR TAKING THE TIME TO READ THE FOLLOWING.
We require each of our guests to:
> READ (yes please!) the listing details and house rules then message us to
> CONFIRM you have READ & shared (as appropriate) the LISTING DETAILS, and that you
> AGREE to our house rules
> SHARE WITH US your rough arrival AND departure times when requesting to stay with us. If you don't yet know them or something changes, you need merely update us. This information enables us to plan our time and to continue hosting our awesome Airbnb guests!
THE GOLDEN RULE: Treat the space of your hosts and they want it to be treated, and how they would treat yours--were the roles reversed--with respect and consideration.
Please be cognizant of your footprint: Because you walk away does not mean whatever you were doing before you walked away ceases to exist.
REGARDING OUR TOWELS: NO CLEANING OR WIPING OFF ANYTHING with towels--they are for DRYING off of water only. We GLADLY provide towels for our guests. Even though I attempt to keep our towels and washcloths free of stains and discolorations and do my best to make prior guests aware to use the towels for drying off of water only, some guests use them to wipe off creams, lotions, potions, benzoyl peroxide products (often found in acne treatments), food, dirt--and even bicycles! We ask you to rinse or wash your hands prior to using towels or washcloths and to use makeup/facial wipes (in bathroom), cleaning rags (in bag in bottom drawer of dresser) or paper towels for cleaning or wiping off anything other than water. Should you encounter a stained or discolored/bleached-out towel, please be assured it is clean but that someone before you has used it to clean off makeup, dirt, or other staining substances including acne medicines or creams that contain BENZOYL PEROXIDE (this chemical bleaches colored towels--and makeup stains white towels). We have plenty of cleaning rags and will leave a bag of them in the bottom dresser drawer for dirt or spills. Feel free to these or the paper towels we provide for you in the room then drop rags in front of the washing machine in the hallway. [Unfortunately, our time is jam-packed with many items on several to-do lists, so we (that is, I) don't have any time to spare to dedicate to special laundering needs and don't want to turn good towels into rags merely because they're unsightly :( ]. Thanks for your understanding.

RULES RULES RULES--you have rules?!
RULE # 1: Enjoy your stay with us! REALLY!! We truly want you to enjoy your time with us. Come and go as you please; take in the evolving and grown-up RVA scene & culture--ESPECIALLY COOL CARYTOWN!
RULE #2: After you have checked in and you realize you have a question or concern, contact us! We are available in person, by text, by Airbnb message, or on one of the mobile/cell phone numbers that should be included in your reservation details. We can't help you if you don't let us know what you need or what's not working for you.
RULE #3: If you decide to stay with us, please READ your reservation details--it contains all of our CONTACT INFORMATION, including our address and phone numbers, detailed directions to our home, and parking information. Print it and bring it with you if necessary. If you've done your best and can't locate the information, message us.
RULE #4: Quiet time is 11 pm-7 am. You are free to come and go whenever you please regardless of the hour of the day or night. We have had the pleasure of hosting fabulous guests who are incredibly thoughtful and considerate, so people's comings and goings have been no worries at all. We merely ask you to be aware of noise levels during quiet time 11pm-7 am--thanks! Close doors quietly. Keep your voice quiet when speaking. Tread gently so as to minimize any thumping of feet. So far, in 700 stays, we've had absolutely wonderful experiences with the vast majority of our über amazing guests!
RULE # 5: LIVE WITH INTENTION AND PAY ATTENTION TO YOUR FOOTPRINT
If you open it, CLOSE it.
If you turn it on, turn it OFF.
If you drop it, pick it UP.
If you dirty it, CLEAN it.
If you borrow it, RETURN it.
If you break it or lose it, REPAIR it or REPLACE it.
If you slide it out (the chair, for example), slide it BACK in, etc.
And other generally basic rules of CARE and CONSIDERATION for people and their things.
RULE #6: Smoking outside only please. Please place cigarette butts in the container provided rather than toss them (again, it's a matter of being aware of your droppings/footprint and being considerate of others (our neighbors for example).
RULE #7: We recycle! The bin is next to the refrigerator.
RULE #8: Accept our thanks and appreciation! We may not always get the chance to thank you in person, but your thoughtfulness and consideration is very much noticed, and very much appreciated. THANK YOU!
Other than that, I'm sure we'll figure things out as we go!
THANK YOU (very much!!) for taking the time to read this information--trust me, not everyone does. Getting to this point means you're going to being a fantastic Airbnb guest who's one of a select group that continues making sincere and genuine Airbnb hosts delighted to open up their homes and invite you in. Welcome to OUR humble home (with ALWAYS! LOTS going on). We look forward to your presence in our home and to sharing it with you on your travels :)
You must also acknowledge
Must climb stairs - Guest room is on the 2nd floor.
Some spaces are shared
---
Richmond, Virginia, United States
Joined in August 2012
The amount of interaction is up to our guests. You are welcomed to come and go as you please and to interact as much, or as little, as you need to make your stay enjoyable and productive.
ABOUT FIONA: She first used Airbnb when traveling overseas on a business trip, and loved it! When she returned to the States, Fiona was instrumental in getting the family on board to host on Airbnb.

She's educated, well traveled, respectful and fun, and a transplant from Australia. Fiona has diverse tastes in music, food, and friends. She loves different cultures and connecting with people from all walks of life. She's just as happy dancing on a dirt floor in Mexico as she is dancing on a ballroom floor in Washington, DC (hmm ... maybe that's because she loves dancing! Fiona's credo: Who needs the gym when you can DANCE!)

Fiona grew up by the shores of the Pacific Ocean and in the the middle of the Sonoran Desert. She's lived in cities with populations in the millions and a one-horse town with a population of ... oh, around ... fewer than one hundred (yikes!). Fiona is open to adventures and new experiences. She is easy to get along with, and fun to travel with. Fiona is open to most lifestyles and understands there's not one exclusive formula for success--there are an infinite number of ways in which to successfully navigate relationships, the world, and life's ups and downs.

Fiona likes to keep a balance: She's quite happy taking time to be with herself as well as spending time engaging with others. Her native language is English, but Fiona is fluent in Spanish. She's studied smatterings of other languages and also speaks conversational Persian (Farsi) and elementary Arabic (current language of study). Besides having owned & run an online editing business, Fiona is multi-talented and knows how to sew, knit, crochet, paint (fine arts & walls), read music and play basics on a smattering of instruments, write, install a computer network, fix a computer, repair, dig up and replace plumbing, lay tile, replace a wax ring and the innards of a toilet, do other types of handyperson work around the house, change the oil and fuses in a car, diagnose (some) car problems, panel beat and spray paint a car, etc. Very shortly she will be taking the exam to get her contractor's license. A friend and colleague has described Fiona as a renaissance woman.


ABOUT THE FAMILY: Keith is a born-and-raised Richmonder, so if there's anything you need to know about Richmond or the surrounding area, go no further. Keith is a warm and welcoming individual and enjoys meeting and hosting his Airbnb guests. The children: one is grown and is working on her medical degree at Trinity College in Dublin, Ireland. The other has successfully completed her first year at college and very much enjoys meeting and engaging with the diverse mix of people we have the good fortune to host through Airbnb.

FOR OUR AIRBNB GUESTS: Fiona & Family don't discriminate based on anything--not race, not religion, not language, not culture, not sex, not sexual orientation, not education, not socioeconomic status, not political leanings, and not how much $ is in your bank account (as CPAs, both Fiona & Keith know appearances are not necessarily reality). We have friends from Central America who don't have more than a 6th grade education, and we have friends with multiple PhDs. We are equally comfortable conversing and engaging with them--and everyone in between. Whatever your background, we look for the things we have in common through which we choose to connect and engage.

PROVISO: Regardless of the genitalia, Fiona & Family have two deal breakers: 1) bullies--in every sense of the word--including those who intimidate, ostracize, belittle, or emotionally and/or physically abuse others, and 2) people who are not respectful of others and/or their belongings (which is very closely related to bullying: They're both disregarding the sovereignty and rights of another individual). We practice what we preach, so you can be assured that at all times we will be respectful of you, your space, your privacy, your wishes, and your possessions. We leave it up to our guests how much, or how little interaction you would like.

We've met some inspiring people and have made lifelong friends through our Airbnb hosting and traveling! We look forward to meeting you and, if the timing's right, to having whatever interesting conversations you may have time to fit in.

MOTTO 1: Remember to be spontaneous occasionally--it maintains balance in your life between order and chaos.
MOTTO 2: Take calculated risks (and not dumb ones)--it keeps the adrenaline in your system, and the fun in your life!
MOTTO 3: Educate yourself--it enlivens your brain: Our classroom is all around us, all the time--and it's FREE!

MAY YOU FOREVER BE THE BENEVOLENT RULER OF YOUR DOMAIN THAT IS YOUR LIFE!

WISHING YOU SAFE TRAVELS AND AMAZING ADVENTURES!
Languages:
English, Español
Response rate:
100%
Response time:
within an hour
Explore other options in and around Richmond
More places to stay in Richmond: