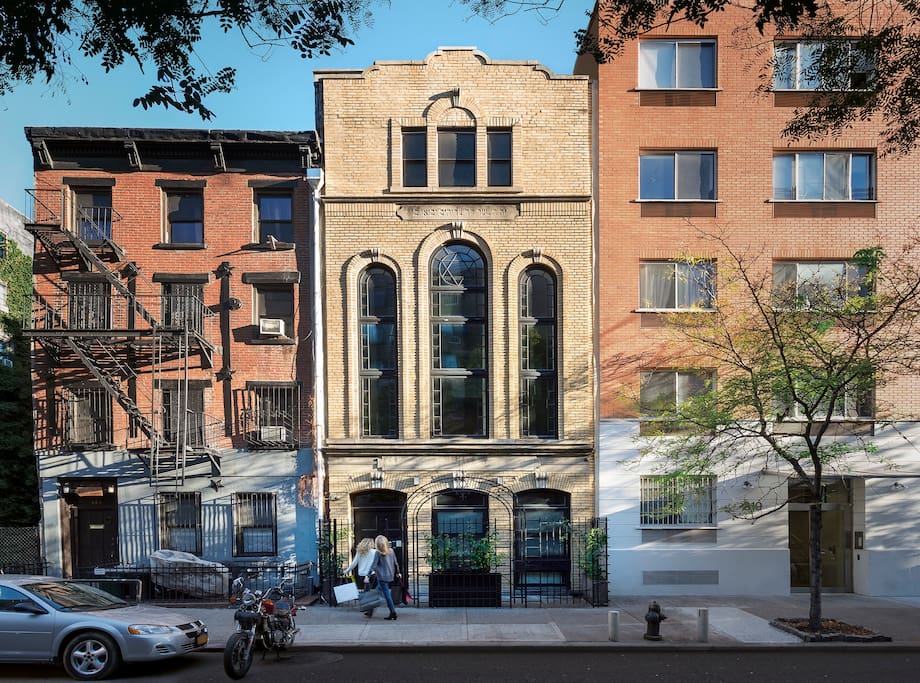 Architecturally Stunning Former Synagogue
Spectacular townhouse, formerly a synagogue, brilliantly transformed into a magnificent home by world-famous designers immaculately-designed, 3 bedroom (possible 4), 2.5 bath fourplex that boasts 3 outdoor terraces w hot tub, chef's kitchen and more!
The space
Spectacular townhouse in Historic East Village that was formerly a synagogue! One of the city's last tenement Shuls, now a chic landmarked building, this former synagogue was brilliantly transformed into a magnificent home in 2005 by world-famous designers from the Ian Shrager Hotels – earning recognition in Architectural Record for its extraordinary transformation, and attracting the likes of press, politicians and entertainment figures. Yours to rent is the exquisite result of their top-of-the-line gut renovation: an immaculately-designed, 3 bedroom (possible 4), 2.5 bath fourplex that boasts 3 wonderful outdoor terraces, the finest finishes and fixtures, plus the most advanced automated central audio/visual, lighting, HVAC and integrated security systems. Other distinctive features that make this sun-drenched residence such a unique work of art are its custom-made windows that are exact replicas of when the building was a synagogue (including the Star of David!), and luxurious touches that include Brazilian hardwood cherry floors, hand-poured Brazililan glass mosaic tiles by Vidrotil, beautiful Wenge wood paneling, radiant floor heating, floor-to-ceiling steel cased windows and doors (the list goes on).
Entertaining is anyone's dream in the dramatic living area with 22' cathedral ceilings, floor-to-ceiling walls of restored and repointed exposed brick (east) and Wenge wood paneling (west), and a Cantilever balcony with a built-in projector for showcasing art. The ultimate open chef's kitchen wows you with its Italian granite counters, 20' island, floor-to-ceiling custom-built Wenge cabinets, Thermadore double ovens and separate cook top with grill, Sub-Zero main refrigerator plus 2 extra fridges in the island, Bosch dishwasher and separate Fisher Paykel double-drawer dishwasher, built-in temperature/humidity-controlled wine cooler. From the elegant dining area with the original restored 19th Century backlit Star of David sits a rear dining terrace beyond a wall of glass and steel windows and doors.
On the 3rd level, relax in the gorgeous library with custom-built floor-to-ceiling Wenge wood bookshelves, an Italian marble fireplace and a wet sink/wet bar with plumbing. Two guest bedrooms with custom wall-size closets and built-in stereo speakers ensure comfort and privacy. The 4th story presents a special floor-to-ceiling glass hallway and secluded master bedroom with a custom-built working fireplace, huge walk-in closet, and opulent master bath with an oversized Jacuzzi tub, walk-in shower with steam unit, rain shower, waterfall and separate hand-held shower. Enjoy quiet time on the delightful terrace off the master with a hot tub for 8, or ascend the glass stairs to the top floor sun-drenched lounge/media room (possible 4th bedroom) and terrace that also has Ipe wood floors and planters, copper rainspouts, a custom sound system and security cameras. 3235 interior sf and 982 exterior sf. Live-in caretaker and housekeeper provided on-site in separate apartment.
Guest access
Guests have access to three large outdoor spaces including:
** 400 Sq Ft Roof Deck -- South Facing with lovely flowers and herbs. Chaise Lounge Chairs for sunbathing and dinning table
** 400 Sq Ft Party Deck with HOT TUB for at lease 6 people Lovely flowers and dinning table as well
*** 200 Square Foot Outdoor Dinning Terrace off the main dinning salon w gas BBQ grill and flowers and home grown herb garden
*** Steam Room
*** Wine Cellar/Cooler
*** Jacuzzi Tub
Interaction with guests
There is a caretaker on premises to attend to any special needs during your stay.
Other things to note
This is one of the most unique homes in all of New York City with a lot of valuable art and furnishings. I am very cautious about who I rent to, so please be sure to include a bit about yourself and your party.
And please enjoy the HGTV special on the Shul! (website hidden)
---
---
Extra people $140 SGD / night after 6 guests
Security Deposit $7016 SGD
Always communicate through Airbnb
To protect your payment, never transfer money or communicate outside of the Airbnb website or app.
Learn more
---
Common spaces
1 queen bed, 1 couch, 2 air mattresses
---
Not safe or suitable for infants (Under 2 years) - Home is not baby proof
Check in time is 5PM - 9PM
There is no smoking and no pets allowed.
Non Overnight Guests are limited to eight additional people, any larger parties must be pre-approved in writing by Owner and will be subject to additional charges.
All guests must sign definitive Lease and Lease Addendum at time of making reservation.
Please contact me directly and I will email a pdf copy of the Lease and Lease Addendum.
No cancellations after booking.
APARTMENT LEASE
Landlord and Tenant agree to lease the Premises at the rent and for the term stated:
PREMISES:___ E. 8th Street, New York, NY 10009 UNIT:2nd- 5th floor Apartment of Premises
LANDLORD:Martin Davis TENANT:
Date of Lease:
Total:
Lease Term:
Commencement Date:Security Deposit: $5,000.00 USD and an additional Security Insurance Policy of $5,000.00
Termination Date:


1. Use and Occupancy
The Unit may only be used strictly for residential purposes and may only be occupied by ____, _____, for a total of __ occupants.
2. Inability to Give Possession
The failure of Landlord to give Tenant possession of the Unit on the Commencement Date shall not create liability for Landlord. In the event that possession of the Unit is not delivered on the Commencement Date, Weekly Rent hereunder shall begin on the date that possession of the Unit is delivered to Tenant and shall be prorated for that portion of the month in which possession is delivered.
3. Rent
Upon signing this Lease, Tenant shall pay Landlord the entire amount of the rent due for the lease term along with the Security Deposit and premium for Additional Security Deposit Insurance in immediately available US Funds.
"Additional Rent" may include, but is not limited to any additional insurance premiums and/or expenses paid by Landlord which are chargeable to Tenant as stated hereinafter. Additional Rent is due and payable with the Monthly Rent for the next month after Tenant receives notice form Landlord that Additional Rent is due and payable or Landlord may, at Landlord's option, collect all Additional Rent upon expiration of the Lease Term and deduct same form the Security Deposit.
Past due rent is subject to a one time charge of $500.00 plus 2% per month, compounded daily
4. Condition of Unit
Tenant acknowledges that Tenant is accepting the Unit in its "as is" condition. Tenant further acknowledges that Tenant has thoroughly inspected the Unit and has found the Unit to be in good order and repair and that the appliances, if any, are in good operating condition. Tenant further states that Tenant knows how to operate the appliances and shall do so in accordance with the manufacturer's instructions.
5. Security
The Security Deposit is due upon the Tenant signing this Lease. The Security Deposit shall not be used for the payment of Monthly Rent unless agreed to, in writing, by Landlord and Tenant. Landlord shall deposit the Security Deposit in a bank insured by the FDIC and same will accrue interest if mandated by law. Within thirty (30) days after Tenant surrenders possession of the Unit at the expiration of the Lease Term, Landlord shall return the Security Deposit, less any cost of repairs and/or Additional Rent as authorized by this Lease, to Tenant at an address Tenant provides.

6. Services and Utilities
From ______ through ______, Landlord is responsible for paying all electric, gas, water and sewer, telephone, cable TV, internet, alarm monitoring and any other utilities allocated to the Unit. In the event that Tenant does not vacate Unit on _________, Tenant will be responsible for paying and or reimbursing Landlord for all utilities including those mentioned in the previous sentence. In addition, the Tenant shall be required to give access to, and use the Landlord's Caretaker________ or Landlord's designee, as directed by landlord for cleaning the Unit. The Caretaker will clean unit twice during working hours during the week and may inspect Unit on daily basis. Tenant responsible for paying Caretaker $20/hour for cleaning services at the time such services are rendered. Caretaker will ring doorbell or intercom before entering and if no answer, will be permitted to enter Unit without Tenant permission
Landlord will supply (a) heat, in such quantity and for such time as mandated by law, (b) hot and cold water, (c) air conditioning, if already existing in the Unit, (d) garbage removal from the Premises (the "Services"). If the Services are temporarily interrupted due to an accident, emergency and/or repairs, Tenant's obligation to pay rent, in full, shall not be affected thereby.
Landlord will also supply a refrigerator, stove/oven, dishwasher, clothes washer and clothes dryer (the "Appliances"). Any damage to the Appliances which is caused by the willful and/or negligent acts of Tenant may be repaired by Landlord, the cost of which shall be Additional Rent.
7. Furnishings
Tenant acknowledges and agrees that the Unit is being rented furnished and that all furniture has been video recorded prior to the date of occupancy. In addition, Landlord has given an inventory of the furnishings which inventory has been signed by Tenant and Landlord. Tenant acknowledges that said furnishings are in good condition and Tenant accepts same in "as is" condition.
8. Repairs and Alterations
Tenant acknowledges and agrees that any and all damage to the Unit or the Premises, including but not limited to, the furniture, carpet, rugs, art, lighting, walls, ceilings, appliances, plumbing, electrical and HVAC systems, shall be the sole responsibility of the Tenant.
Tenant shall maintain all appliances, equipment, furniture, furnishings and other personal property included under this Lease and, upon the surrender of the Unit on the Termination Date, Tenant shall surrender same to Landlord in the same condition as received, reasonable wear and tear excepted. Tenant shall make all repairs which become necessary due to Tenant's acts and/or negligence. If Tenant does not make such repairs, Landlord may do so, the cost of which shall be Additional Rent. In the event that Tenant defaults under the terms of this Paragraph 8, Landlord may make necessary repairs or replacement, the cost of which shall be deducted from the Security Deposit.
Tenant shall not make any alterations, additions, modifications and/or changes to the Unit during the Lease Term.
9. Maintenance of Unit
Tenant shall maintain the Unit in a neat, clean and presentable condition.
10. Pets
Pets of any kind or nature shall not be allowed in the Unit.
11. Damage, Fire or Other Catastrophe
In the case of fire damage or other damage to the Unit not caused by Tenant, Tenant shall give Landlord immediate notice of same. Upon receipt of such notice, Landlord may either (a) repair the Unit or (b) terminate the Lease. If Landlord makes repairs to the Unit, Landlord shall have a reasonable time in which to do so. If the damage to the Premises or the Unit renders the Unit uninhabitable, Landlord shall give notice to Tenant, after repairs are made, of the date on which the Unit may be reoccupied. Monthly Rent for the period that Tenant can not occupy the Unit because of the damage shall be forgiven.
In the event that Landlord terminates this Lease because of the damage, Landlord shall give Tenant three (3) days notice of Landlord's intent to so terminate, in which event, Monthly Rent shall be due for the period up to the date the Premises or the Unit incurred the damage.
Notwithstanding the provisions of Section 227 of the New York Real Property Law, if the building in which the Unit is situated is substantially damaged by fire or other catastrophe (the "Occurrence"), Landlord has the absolute right to demolish, renovate or rebuild the Premises. Landlord may cancel this Lease, in such event, upon thirty (30) days written notice to Tenant of Landlord's intent, which notice shall include the date on which the Lease terminates, which shall, in no event, be less than thirty (30) days from the date of said notice. By canceling this Lease in accordance with the terms of this Paragraph, Landlord is not obligated to repair, renovate or rebuild the Premises. Monthly Rent and Additional Rent shall be paid by Tenant up to the date of the Occurrence.
12. Liability
Landlord shall not be liable for any loss, damage or expense to any person or property except if such loss is caused by the willful acts of Landlord.
Tenant shall be liable for the acts of Tenant, Tenant's family, guests and/or invitees or Caretaker/Housecleaner. Landlord's cost and expense in repairing any such damage or from any claim resulting from such acts shall be billed as Additional Rent and shall be paid by Tenant to Landlord.
13. Landlord's Entry
Except in an emergency, for the purposes of repair, inspection, extermination, installation or repair of any system, utility or appliance or to do any work deemed necessary by Landlord, Landlord may enter the Unit on 24 hour notice. Notice by Email or SMS text message, even if not acknowledged by Tenant, shall be deemed acceptable to Tenant.
14. Assigning or Subletting
This Lease may not be assigned by Tenant nor shall Tenant sublet the Unit.
15. Subordination
This Lease and Tenant's rights hereunder are subject and subordinate to all existing and future leases for the land on which the Premises stand, to all mortgages on said leases and/or the Premises and/or the land and all renewals, modifications and extensions thereof. Upon request by Landlord, Tenant shall execute any certificate to this effect.
16. Landlord's Consent
If, under the terms of this Lease, the consent of Landlord is required, such consent shall not be unreasonably withheld.
17. Keys, Locks
Tenant shall give Landlord keys to all locks for the Unit. Tenant shall not change any locks or add any locks to the Unit without obtaining Landlord's consent, and if given, Tenant shall provide keys to Landlord for these locks.
18. Signs
Tenant shall not place any signs on the Premises or upon the grounds on which the Premises stand or in the Unit so as to be seen from outside the Unit.
Landlord shall have the right to place or cause to be placed on the Premises and/or upon the grounds on which the Premises stand or in or on the Unit, "For Rent" and/or "For Sale" signs.
19. Compliance with Authorities
Tenant shall, at its own cost and expense, comply promptly with all laws, rules, ordinances and directions of governmental and/or municipal authorities, insurance carriers and/or homeowners' associations. During the Term of the Lease, Tenant, including the Studio co-signer, shall purchase and maintain renter's insurance along with liability insurance in the amount of 2 million per occurrence. Each policy shall name Landlord as an additional insured and Tenant shall provide same prior to occupying the Unit.

20. Tenant's Defaults, Landlord's Remedies
A.Landlord must give Tenant notice of default (except for a default in the payment of Monthly Rent and/or Additional Rent) and Tenant, upon receipt of such notice must cure the default within the time stated hereinafter:
1. a default under Paragraphs (phone number hidden) or 21 of this Lease, ten (10) days;
2.a default under Paragraph 30 of this Lease, thirty (30) days.
(website hidden) the event that Tenant fails to cure a default within the time stated therefore, Landlord may terminate this Lease. In such event, Landlord shall give Tenant notice stating the date upon which this Lease shall terminate, such date being not less than three (3) days after the date of such notice at which time this Lease shall then terminate. Tenant shall be responsible for Monthly Rent and Additional Rent as set forth in this Lease up to the date of termination.
C.If this Lease is terminated or Tenant vacates the Unit prior to the Termination Date, Landlord may enter the Unit and remove Tenant and any person or property and/or commence summary proceedings for eviction. The aforesaid actions are not the sole remedies of Landlord.
D.If this Lease is cancelled or Landlord takes back the Unit:
1.Monthly Rent and Additional Rent for the unexpired portion of the Term immediately becomes due and payable. In addition, any cost or repair expended by Landlord shall be the obligation of Tenant and shall be deemed Additional Rent.
2.Landlord may re-rent the Unit and anything in it for any term and at any rental and any cost in connection therewith shall be borne by Tenant which may include, but is not limited to the cost of repairs, decorations, preparation for renting, broker's fees, advertising costs and attorney's fees/court costs. Any rent recovered by Landlord for the re-renting of the Unit shall reduce the amount of money that Tenant owes to Landlord.
Tenant shall reimburse Landlord for any and all attorney's fees and costs associated with any Tenant default during the Lease Term, including but not limited to, collection and/or litigation to recover monies owed by Tenant to Landlord for any breach under this Lease.

21. Landlord's Rules
Tenant shall comply with these rules (the "Rules") at all times. If there is a change in the rules, Landlord will give Tenant notice of same. Landlord shall not be liable to Tenant for another Tenant's violation of the Rules. The rights afforded under the following Rules are for the sole benefit of Landlord:
(a) the quiet enjoyment of other tenants shall not be interfered with;
(b) sounds, odors and lights which are annoying to other tenants are not allowed;
(c) floors within the Unit must be covered over 70% of the area of each room except for the bathroom and kitchen;
(d) all posted rules must be followed;
(e) smoking is not permitted in the Unit or hallways;
(f) All flammable or dangerous items may not be kept or stored in the Unit;
(g) no one is allowed access to or the enjoyment of the roof;
(h) nothing shall be placed on or attached to the fire escapes, windows, doors or in the hallways or common areas;
(i) elevators, if any, are to be used by tenants and their guests only. Bicycles are not allowed in the elevators. Tenants and their guests are not to leave any garbage, trash and/or debris in the elevators;
(j) moving of furniture in and out of the Unit must be scheduled with the Landlord;
(k) all deliveries must be made by means of the service entrance, if any;
(l) laundry machines, if provided, may be used at tenants' risk and cost, may only be used at reasonable hours and all instructions for their use must be strictly followed;
(m) cleaning of the exterior of the windows from the outside is strictly forbidden;
(n) if parking is provided, improperly parked vehicles may be immediately removed at tenant's cost;
(o) tenant may not leave any baby carriages/strollers, bicycles, boxes, cartons and/or any items in hallways;
(p) tenant shall use its best efforts to conserve energy and water;
(q) hot plates or means of cooking other than the stove are not permitted.
22. Warranty of Habitability
Landlord warrants that the Unit and Premises are suitable for living and that they are free from any condition that is dangerous to health, life and/or safety. However, Landlord does not represent or warranty that the Unit is appropriate for or modified to accommodate infants or young children. If Tenant intends to have an infant or young child live in the Unit, it shall be the Tenant's responsibility to insure the safety of the child and to take whatever steps necessary to prepare the Unit for such use. Any modifications or alternations of or to the Unit must be first approved by Landlord in writing and Tenant shall be responsible for returning the Unit to its original condition.
23. Limitation of Recovery
Should Tenant obtain a judgment or other remedy from a court of competent jurisdiction for the payment of money by Landlord, Tenant's remedies shall be limited to the total value of the rent for this Lease for the collection of same.
24. Construction and Demolition
Construction and/or demolition may be done in or near the Premises and if same interferes with the ventilation, view and/or enjoyment of the Unit, Tenant's obligations under this Lease shall, in no way, be affected.
25. Demolition of Premises
Should Landlord deem it necessary to demolish the Premises, Landlord may terminate this Lease upon six (6) months written notice to Tenant provided such notice is given to all other tenants in the Premises. In such event, Tenant shall surrender the Unit to Landlord upon such date as set forth in the notice.
26. Terraces and Balconies
If there is a terrace or balcony as an adjunct to the Unit, such terrace or balcony is subject to the terms of this Lease.
Tenant shall keep the terrace or balcony clean, clear of snow, ice, garbage and other debris. No alteration or additions may be made to the terrace or balcony. Tenant's property may not be stored on the terrace or (website hidden) on the terrace or balcony is prohibited.
Tenant shall maintain the terrace or balcony in good condition and make all repairs at Tenant's cost, except those of a structural nature which is the responsibility of Landlord.
27. Common Recreational Areas
If applicable, Landlord may give Tenant use of any playground, pool, parking or other areas, the use of which will be at Tenant's own risk and Tenant shall pay any charge imposed by Landlord for such use. Landlord's permission to use these areas may be revoked at any time.
28. Landlord's Employees
The employees of Landlord shall not perform any work for Tenant at Tenant's request. Such employees may not do any personal chores of Tenant.
29. Condemnation
If any or part of the Premises is taken or condemned by any governmental authority, Landlord may cancel this Lease on notice to Tenant and Tenant's rights hereunder shall end as of the date the authority takes title to the Premises which cancellation date can not be less than thirty (30) days from the date of Landlord's notice. Tenant shall be liable for Monthly Rent and Additional Rent to the date of cancellation and shall make no claim for the unexpired term of the Lease. Any award for the condemnation is the property of Landlord and Tenant assigns to Landlord any and all rights, interest and/or claim in and to such award.
30. Bankruptcy
Should Tenant file a voluntary petition in bankruptcy or an involuntary petition is filed against Tenant, or should Tenant assign any property fro the benefit of creditors or should a trustee/receiver be appointed of Tenant and/or Tenant's property, Landlord can cancel this Lease upon thirty (30) days written notice to Tenant.
31. Notices
Any notice to be given under this Lease shall be in writing addressed to the party at the addresses set forth herein by certified mail or overnight courier service. Notice by Landlord to one named Tenant shall be deemed given to all Tenants and occupants of the Unit. Each party hereto shall accept notices sent by the other. Any change of address by one party must be given, by notice, to the other. Notice shall be deemed given when posted or delivered to the overnight courier service.
32. Waiver of Jury Trial, Set-Off or Counterclaim
The parties hereto waive trial by jury in all matters except for personal injury or property damage claims. In a summary proceeding for eviction, Tenant waives Tenant's right to any set-off and/or counterclaim.
33. Broker
Tenant shall be responsible for all broker fees, including those due and owing Air BnB. Tenant agrees to indemnity, defend and hold harmless Landlord from any and all claims, damages or losses (including but not limited attorney's fees) made with respect to any broker claiming a fee in anyway related to this Lease.
34. Inability of Landlord to Perform
If Landlord is unable to perform any of its obligations to be performed hereunder due to governmental orders, labor strife or inability to secure goods or materials, through no fault on the part of Landlord, this Lease shall not be terminated or cancelled and such inability shall not impact upon Tenant's obligations hereunder.
35. Illegality
Should any part of this Lease be deemed illegal, the remaining portions of this Lease shall not be affected thereby and shall remain in full force and effect.
36. Non-Disturbance
So long as Tenant pays the Monthly Rent and Additional Rent and there exists no defaults under any of the terms of this Lease, Tenant may peacefully occupy the Unit for the Lease Term.
37. Non-Waiver
Any failure by Landlord to insist upon Tenant's full compliance with the terms of this Lease and/or to enforce such terms shall not be deemed to be a waiver of Landlord's rights to insist upon or so enforce the terms of this Lease at a future date.
38. Parties Bound
This Lease is binding upon Landlord and Tenant and their respective assignees and/or successors in interest.
39. Paragraph Headings
Paragraph headings are for reference only.
40. Effectiveness
This Lease shall become effective as of the date when Landlord delivers a fully executed copy hereof to Tenant or Tenant's attorney.
41. Entire Agreement
Tenant states that Tenant has read this Lease and Lease Amendment and that it fully incorporates all understandings, representations and promises made to Tenant by Landlord and/or Landlord's agent and that this Lease supercedes all prior representations, agreements and promises, whether oral or written.
42. Amendments
This Lease may only be changed or amended in a writing signed by the parties hereto.
43. Riders
Additional terms are contained in the riders annexed hereto and designated Amendment.
44. Surrender of Premises
On the Termination Date, Tenant shall deliver the Unit to Landlord vacant, in good condition and broom clean. Prior to such delivery, Tenant shall have vacated the Unit, removed Tenant's property, repaired all damages caused by Tenant and return the Unit in the same condition as received, reasonable wear and tear excepted. Notwithstanding the foregoing, in the event that Tenant does not remove all personal property from the Premises, or if packages or mail is delivered to the premises after Tenant surrenders or vacates (whether voluntarily, as a result of a court case, abandonment, or otherwise), Landlord may discard such personal property without any liability or obligation to the Tenant; if Landlord elects to ship or deliver such personal property to the Tenant or Tenant's attorney (if same is known), then the costs of same shall be deducted from Tenant's security deposit.

This Lease has been entered into as of the Date of Lease.

LANDLORDTENANT

Martin DavisBy: ______________________
Name:
Title:
GUARANTY
The undersigned Guarantor guarantees to Landlord the strict performance of and observance by Tenant of all the agreements, provisions, terms, conditions and rules in the attached Lease. Guarantor agrees to waive all notices when Tenant is not paying rent or not observing and complying with all of the provisions of the attached Lease. Guarantor agrees to be equally liable (including but not limited to rent, property damages and attorney's fees) with Tenant so that Landlord may sue Guarantor directly without first suing Tenant. The Guarantor further agrees that his guaranty shall remain in full effect even if the Lease is renewed, changed or extended in any way and even if Landlord has to make a claim against Guarantor. Landlord and Guarantor agree to waive trial by jury in any action, proceeding or counterclaim brought against the other on any matters concerning the attached Lease or the Guaranty.
Dated, New York City: _____________
______, Individually, as Guarantor:
________________________________
__________, Individually, as Guarantor:
______________________

Witness Guarantor
Address
ADDENDUM:
AMENDMENT ("AMENDMENT") TO APARTMENT LEASE ("LEASE") DATED _________, 201_ BY AND BETWEEN MARTIN DAVIS ("LANDLORD") AND ______, __________("TENANT") FOR THE SECOND FLOOR APARTMENT ("UNIT") LOCATED AT ___ EAST 8th STREET, NEW YORK, NY 10009 ("PROPERTY")

The Lease for the Property is hereby amended and supplemented with the following provisions:
1.Tenant shall have no first right of refusal in the event Landlord sells the Property.
2.Tenant is not allowed to have any pets in the Unit or on the Property without prior written consent from Landlord.
3Tenant agrees to keep the terraces clean and in good order and to replace propane gas, hot tub supplies and firewood if used.
4.Tenant agrees to indemnify and hold harmless Landlord for any and all liabilities, claims, demands, obligations or damages related to any claim by any other person made against Landlord resulting from Tenant's use of Unit, actions or negligence during the term of the Lease.
5.This Lease shall be interpreted in accordance with the laws of the State of New York and venue for any claim is the Borough of Manhattan in the State of New York. The prevailing Party in any dispute shall be entitled to the recovery of all fees and expenses, including but not limited to the reasonable legal fees associated with the claim, from the non-prevailing Party. In the event that Landlord is required to or desires to serve lawful process on tenant, he may do so in the City of New York by delivering such papers on ________________________________ located at ________________________ during business hours, or by overnight (or if outside the US, then by priority) mail to the tenant at ______________________________________. Such delivery or mailing shall fully satisfy all requirements regarding the Landlord serving process on Tenant and obtaining personal jurisdiction on them in accordance with New York or Untied States law.
6.Tenant acknowledges that Unit and its contents including, but not limited to furniture, televisions, A/V equipment, security systems, hot tub and all appliances are being provided in "as is" condition.
(website hidden) furniture, fixtures, art or curtains or drapes can be moved or removed without the express written permission of Landlord.
8.Tenant to allow Landlord to store files in the Fifth Floor file cabinet, and to have exclusive use of one closet in the guest room on the third floor, the A/V closet on the third floor and the wine cooler in the kitchen. Tenant agrees not to remove or consume any of Landlord's wine stored in wine cooler. Tenant can share other closets and storage areas with Landlord but agrees not to use or remove Landlord's clothing or other personal property.
9.________,____________ are the only persons permitted to occupy the Unit, except for non-overnight guests pursuant to paragraph 11 below.
10.Tenant will not use or permit Unit to be used for parties, photo shoots or filming of any kind without the express written permission of Landlord.
11.Tenant agrees to no more than 4 additional non-overnight guests and not to make excessive noise and to limit guests on premises after 11 PM on weeknights and midnight on weekends. In the event that tenant violates this provision, landlord has right to immediately terminate lease, demand immediate surrender of the Unit, and Tenant shall be liable for the full rent and forfeiture of the Security Deposit.
12.Tenant shall not assign or sublet the Unit.
13.Tenant to provide certificate of insurance listing Landlord as additional insured on Tenant's personal policy. Tenant is obligated to maintain renter's insurance for both Tenant's property and Landlord's property in the Unit ((in amount of (phone number hidden) per occurrence, (phone number hidden) in the aggregate)) throughout the Lease term and provide a copy of same to the Landlord. Tennant is also required to name Landlord as additional insured on Tennant's insurance policy.
14.Tenant covenant's that it will vacate the Unit on January 1, 2014 no later than 12:00 PM and acknowledges that it is of upmost importance to Landlord and without Tenant's promise to vacate on January 1, 2014 by 12:00 PM, Landlord would not have entered into this Lease. In the event that Tenant does not vacate Unit by January 1, 2014 by 12:00 PM, rent will be charged at a rate of $5,000 per day and be considered past due, subject to 2% interest per month and a breach of this Lease. All costs associated with the collection of aforementioned rent and penalties will be bourn by Tenant.
15.Tenant security deposit shall be held at Citibank located at 50 Ave. A, New York, NY 10009 in Landlord's principal non-segregated account.
16.Landlord or his representative to walk through following Tenant vacating Unit and provide detailed statement within 14 days of walk through.
17.Landlord and Tenant to keep terms of this Lease and Tenant's occupancy of Unit confidential.
18.Tenant to purchase or reimburse Landlord for damage insurance coverage of $5,000 from the (website hidden)/(website hidden) ((website hidden)) website in advance of occupancy for the full Lease term. This insurance is in addition to the Security Deposit required in the Lease Agreement and Landlord can deduct premium from Tenant's Security Deposit.
19.Landlord or Landlord's representative to have access to Unit for purpose of cleaning and or inspecting Unit on daily basis during the Lease term. Tenant agrees to permit Landlord access at mutually agreeable times during the day. If Tenant is unreachable or unresponsive to Landlord request, Landlord or Landlord's representative may enter the Unit.
20. Tenant agrees that attached inventory and attached DVD video of each room of Unit represents the current condition of Unit and its contents and Tenant agrees to return in same condition at termination of Lease.
21.Tenant expressly acknowledges Unit is not child-proofed and agrees to use extreme care with all children and never to leave children occupying the Unit unsupervised and agrees to indemnify and hold harmless Landlord for any and all liabilities, claims, demands, obligations or damages related to any claim resulting from injury or death of any person while occupying the Unit during term of the Lease, in every instance, even in the event that Landlord is deemed to be negligent or grossly negligent. Any child proofing improvements are the sole responsibility of Tenant and at Tenant's expense.
22.Tenant acknowledges that nightstands covered in cloth in 4th floor bedroom, chairs in second floor dining room, Orange Velvet couch and pillows in library, and couches, pillows and chairs in the 2nd floor living room cannot be restored if there are any spills and tenant agrees to take all precautions to not allow anyone, including children, to consume any food or beverages on the furniture in the house.
22.If there are any inconsistencies between the Lease and this Addendum, the Addendum controls.
_________________________________________
Tenant Date
__________________________________________
LandlordDate
You must also acknowledge
Must climb stairs - This is a four-plex apartment and first level is one flight up.
---
---
The minimum night stay for this listing varies.
---
Martin and his people were great hosts. They were very helpful and the place is great. The only small gripe I'd have is the bed in the master kind of sinks in the middle but otherwise the place was fantastic and couldn't have been happier.
---
Martin´s place is amongst the very best we have ever stayed. The former synagogue is full of lovely details, it is thought thru completely, the interior design is amazing. To have an outside jacuzzi on a terrace is such a treat, as are the two additional terraces. To find such an exciting gem in the heart of Manhattan was really extraordinary and we were really lucky to stay. The neighbourhood is both trendy and calm - the street is quiet and safe, we didn´t hear any noise from the outside, yet great restaurants and bars around Tompkins Square Park are in walking distance. East Village is perfect to be the base for discovering New York - as it is so central that it takes just 15mins to Meatpacking, Battery Park, SoHo and even Brooklyn. Martin himself was truly lovely, he responds to questions in no time. I highly recommend him, it was a true pleasure! Thanks much, looking forward to return.
---
Thank`s again Martin and the crew for the fantastic stay at your beautiful place! Communication was quick and easy all the time. House was fully and very well equiped. The home isn`t noisy at all - we all slept well every night. We really enjoyed our stay to the fullest. I would definitely stay again and highly recommend Martin as a host and his awesome former synagogue!
---
I used Martin's townhouse for a media event in April. The house is spectacular and looks the same, if not better, than it does in photos. Martin was very accommodating and let us do multiple walk-throughs prior to the event. He worked seamlessly with our caterer to ensure that we pulled our event off exactly how we wanted it. The East Village location is great and has a more neighborhood-y vibe. I would recommend staying at Martin's place if you are coming to NYC or planning a dinner party.
---
I split my time between New York City and Aspen, Colorado So when I'm not in one, others are welcome to stay at one of my homes.

Both places are great fun, great neighbors and great local feeling.
Languages:
Español, Français
Response rate:
100%
Response time:
within a few hours
Explore other options in and around New York
More places to stay in New York: