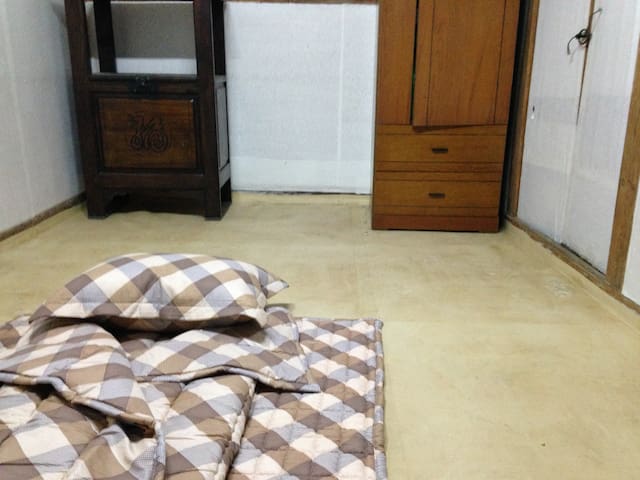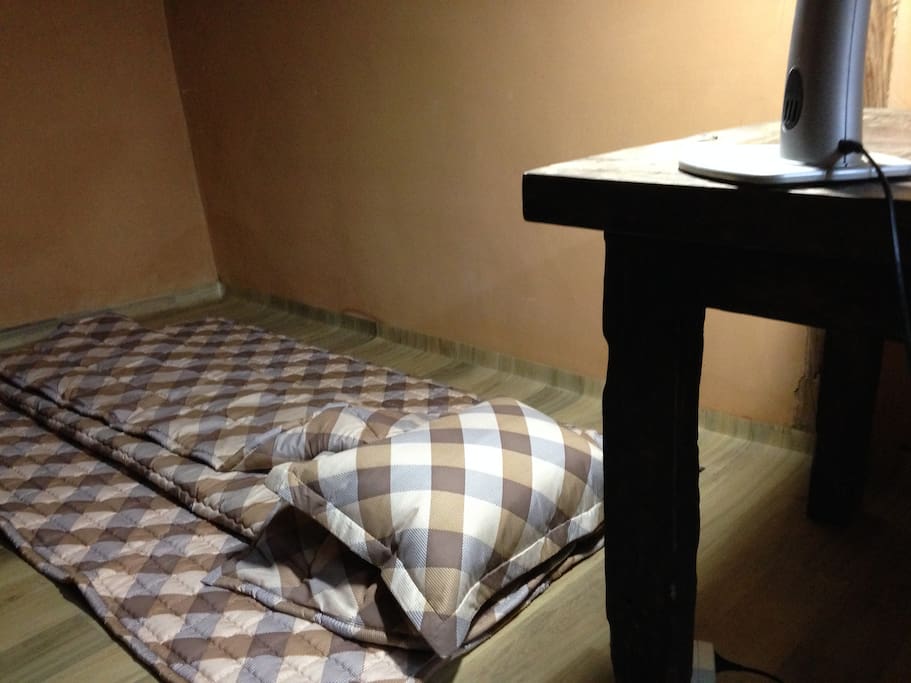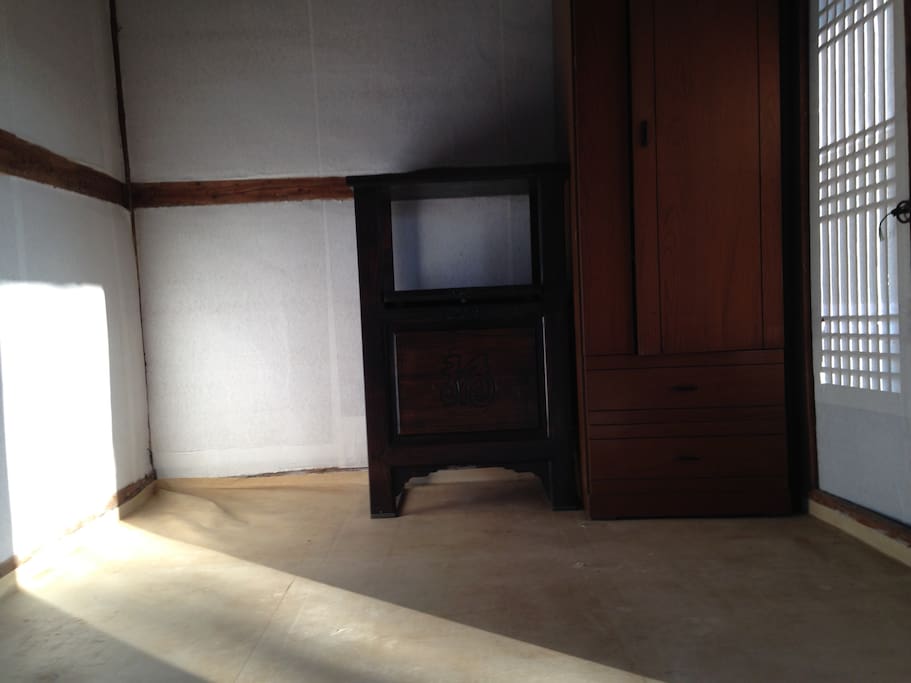 The space
조선왕조를 대표하는 한사람의 학자 율곡이이와 그 가족의 산소가 있는 곳이다. 산의 흐름이 어질고 부드럽고 열린 모양이며 아름다운 개천이 산소의 뒷쪽 능선을 따라 우리 마을로 흘러내리고 있다.
1950년대에서 1980년까지 한국 도시와 농촌사회에서 볼 수 있는 중의상계층이 살아왔던 집으로 정치학을 가르치는 한 교수가 구입하여 연세대학생들의 지역사회 조직훈련을 10여년 해왔다. 이 집은 7식구의 아들 둘 딸 셋 가족이 살던 집으로 그 시대 경기도 가옥구조와 삶의 형세와 행색을 생각해 볼 수 있는 아름다운 집이다.
정남향을 갖추고 좌우와 남북에 풍수설을 뒷받침할 수 있는 위치에 놓여 있으며 두 대문과 우물과 마루들이 이집을 이용하는 사람들에게 강한 인상을 남기리라고 생각한다. 이집 옛 대문 앞에 있던 동네 연자방아는 집안으로 들어와 있어 좋은 볼거리를 제공하고 있다.
원래 있던 두 방을 합친 긴방이 부엌과 식당을 겸하고 있다. 동남아산 희귀목으로 만든 식탁이 돋보인다. 안방은 넓고 크고 듬직한 돌팍으로 구들을 놓은 부엌이 딸린 온돌방을 즐길 수 있다. 굼불을 때는 시간은 길 수밖에 없으나 남은 숯불로 밤, 옥수수, 고구마익는 향기를 즐기며 어린시절로 돌아갈 수 있다. 사랑방은 운치가 있는 작고 포근한 방이다. 안방과 마찬가지로 천정석가래의 군무를 누워서 따라 즐길 수 있다. 집 전체를 치유의 바탕이라할 황토로 천정과 벽을 도색한 정서가 깊은 잠을 불러올 것이다.
연자방아와 우물은 이집을 방문한 기념비적 기억이 될 것이다.
우물의 여름 수박은 식히고 연자방아 멧돌을 쓰다듬으며 도정을 하던 소들의 숨결을 느끼면서 급격하게 달라져가는 시대상을 그려볼 수 있다.
실내주방에 가스레인지, 수저, 그릇, 냄비, 후라이팬, 식칼, 머그컵이 비치되어 있으며 냉장고는 바깥에 있다.
캠핑등록가능: 마당에 사용자가 가져온 천막을 2개 칠수도 있다.
전기담요와 매트리스요가 제공되지만 시트, 베개등 침구는 본인이 가져와야 한다. 온돌과 장작사용은 사전신청자에 한한다.
쓰레기는 비치된 봉투에 분리수거하여 있는 길 건너 개울 언덕 하적장에 놓고간다.
check in time 12:00 check out 11:00
Laptop friendly workspace
Check-in is anytime after 12PM (noon)
좋아하는 것은, 바다물결이 한번 지나간 모래위를 걷는 것/ *여행지/천막 캠핑/ 지리산 왕시루봉(지금은 허물어졌슴),덕적도에 속한 굴업도 (자연 다양성 보고),하조도에 속한 나배도(방갈로 수련장 캠핑장)벵쿠버와 씨애틀사이의 Orcas섬 /*못가본 그러나 가볼 그리스의 Knoxos섬/*쇼팽듣기/*뉴스보기/*다시 곧 가볼 개인적인 이유가 있는 인도 남부 Kerala의 Aranmula. 그러나 이 시대 세계의 가장 생동적인 것을,미래의 전조를, 모은 곳은 젊은날들을 지낸지낸 Manhatta…
Always communicate through Airbnb
To protect your payment, never transfer money or communicate outside of the Airbnb website or app.
Explore other options in and around 파주시
More places to stay in 파주시: