Das Studio ist komfortabel gibt es eine schöne Terrasse, wo man grillen und an der Sonne zu entspannen. Die Terrasse ist mit einem Tisch und Stühlen ausgestattet.
Bienvenue à Marseille! Je serais heureuse de vous recevoir dans ce charmant studio. Il a été complétement refait à neuf avec beaucoup de goût. Le studio fait 28m2 avec une grande terrasse. Il se situe à 15 minutes de Cassis et des calanques. Le studio est équipée d'une petite cuisine avec un frigo, des plaques à induction, un micro-ondes et un lave linge. Dans la salle de bain, il y a une grande douche à l'Italienne, des toilettes et une petite vasque. Le canapé lit qui se trouve dans le salon est très confortable. Durant l'été, il y a la climatisation pour rafraichir le studio. Vous pouvez prendre vos repas sur la terrasse car il y a un salon de jardin. Les draps sont fournis Possibilité de location bateau pour visiter les calanques. Il faut absolument une voiture pour circuler dans la région, et pouvoir aller dans le centre ville de Marseille ou de Cassis. Rien n'est possible à pied. Si vous venez en train, la gare de marseille est à 20 minutes en voiture du studio. Disponible à partir du 1 juin 2012
Das Studio in einem ruhigen gelegen, umgeben von viel Grün, ist das Parken vor dem Haus einfach. Am besten ist es, ein Auto zu haben, das Beste aus Ihrem Aufenthalt zu genießen.
When I arrived saturday evening Elaine was so nice to guide me to the next supermarket and she generously offered me to use the pool since she and her husband were gone for the rest of the evening. The sunday morning she checked in with me very early, because she would be gone for the rest of the day. Unfortunaltey I wasnt quite awake by then, so I could not ask her to switch on the Wi-Fi, or borrow me some kind of machine to prepare a morning coffee. The Studio is new, maybe that is the reason it is not properly equipped. Elaine built a wall at the terrace, so the view of the garden you see on the pictures is gone. The studio is situated just underneath one of the main roads that lead to Marseille, but you dont hear the cars, only the big trucks and morotcyles. And since the studio comes with an air condition you can also just switch it on and close the terrace doors at night.
Patricia
2012-06-26T00:00:00Z
It was a really amazing week in Eliane's studio! We looked something cosy and quiet and close to Cassis. So this studio locating in the calm village (15 min on auto/bus to Cassis and Marseille). It's better if you have or rent a car, we hadn't and we took a bus everytime. But it's ok. Studio is separate and better in real life then on photos! Very clean and comfortable! There are all devices to live, like a air-conditioner. Eliane and her husbund Rene are very pleasant and kind people!!!!! They makes our holidays better! Though they doesn't know English and we doesn't know French, it wasn't a big problem. They accompany us in Cassis on car, and when we check out, they helps us to drop to train station in Marseille. Eliane helps me with medicaments when I catched cald, also they allow to swim in the pool when they was n the rest. Really amazing flat in beautiful and beauty spot! I recommend it everyone who wants relax in the mountains. Thank you Eliane and Rene!!! We missing this place.
Ksenia
2012-08-01T00:00:00Z
The reservation was canceled the day before arrival. This is an automated posting.
Jérôme
2014-06-06T00:00:00Z
Super acceuil très chaleureux, appartement très bien situé pour visiter les calanques, à 5-10 min de marseille mais dans un endroit très calme,juste le chant des cigales la nuit. Propriétaire attentionée, à l'écoute et serviable,appartement propre,récent,fonctionel et très bien agencé, ou rien ne manque (machine à laver,climatisation,vaiselle ect...) Nous recommandons vivement cette appartement et espérons avoir l'occasion de revenir.
Laura
2012-06-18T00:00:00Z
C'était génial à Marseille et surtout à cause d'Eliane, qui a nous donné des super informations sur les calanques, qu'elle n'a pas arretée de nous conseiller sur notre voyage, et on a eu beaucoup des questions, ca c'est sûr ;o). Même toute la famille était toujours là pour nous, pour responder tout de suite aux nos questions. Le studio est tout neuf et sympa!!!! C'est vraiment un enspace top, et je le conseille à tout le monde avec une voiture, qui veut decouvrir les calanques, et aussi Cassis et bien sûr Marseille. Top top top. Je vous embrace tous, merci beaucoup!!!!
Thomas Tiberius
2012-07-15T00:00:00Z
Nous avons passé un séjour magnifique dans ce studio idéalement situé pour nos excursions et escalades au cœur des Calanques. A mi-chemin entre les accès de Luminy et de la Gardiole, il se trouve suffisamment dans la périphérie de Marseille pour éviter tout problème de trafic. L'accueil des propriétaires (habitant juste à côté) est très sympathique, ils sont toujours près à aider.
Pierre
2017-03-18T00:00:00Z
Super studio, propre, au calme. Eliane et son mari sont très accueillants et chaleureux . Je les recommande fortement.
manon
2017-03-29T00:00:00Z
Le studio est confortable et bien situeé pour des balades à pied dans le Parc des Calanques (bien que je n'ai pas pu en profiter pendant mon séjour)
Bogdan
2017-03-24T00:00:00Z
Room Type
Entire home/apt
---
Property Type
Apartment
---
Accommodates
2
---
Bedrooms
Marseille, Provence-Alpes-Côte d'Azur, France
Guest friendly inhabitants and with views. transportation convenience, near St. Margaret Hospital and Paoli Calmette, next to the Clairval clinic, access ease University of Luminy and creeks. leafy private residence and shops. Wireless. To access subway st Charles Dromel -Ste Marguerite more Bus Bus 24 of the 521 night at 9:25 p.m., 22H, 10:25 p.m., 10:50 p.m., 11:25 p.m., 23h 45 Casino open from 8:30 am to 20h.
Apartment on the 14th floor with an unobstructed view of all Marseille and the sea. Close to the hills to go to walk around and gineste, Cassis access.
leafy and quiet area, close to shops, quiet residential area. Easy free parking.
Francoise is an amazing host and her home is charming. I got in very late and she stayed up waiting for me and even picked me up. The room was clean and quiet and everyone was very friendly. I can recommend Francoise's place highly enough.
Lisa
2016-08-02T00:00:00Z
The home was really nice and artistic. Françoise was very accommodating to me even when I came back late. The location is good with a supermarket, bakery and other shops within 2 minute walk down the apartment. Also, the views afforded from the apartment is amazing. Highly recommended.
Richard
2016-07-18T00:00:00Z
Frwncoise is absolutely an amzing host. I was in France for two days only to watch the Eurocup game. She made me feel very welcome and she went out of her way to ensure i can get to her place after the game. Traffic was horrible in the city and i was very late. She stayed up and waited for me. That was very nicr of her. Her apartment is very cosy and clean. It's very unique as well. Def recommend staying here. Can't beat the price! This is a great value stay!
Agata
2016-07-02T00:00:00Z
Nice place for visiting Marseille; ) cozy and convenient. Recommended
Christine
2016-03-31T00:00:00Z
Françoise was very kind, and the house was very clean. Most of my trip to France was in hostals, so it was very nice to stay in an actual apartment for one night.
Diego
2016-05-11T00:00:00Z
The place was exactly as described. Calm and peaceful. The host was very accommodating and helped me out in every way possible. My stay was only for a day and I would love to go back there again.
Farhan
2016-09-05T00:00:00Z
Françoise est d'une très grande gentillesse et la vue du balcon est à couper le souffle !!!
Nacim
2016-08-16T00:00:00Z
Excellent accueil de Françoise, très affable... Prix modique de la location... Très bonne situation de la résidence de Françoise, à deux pas du Stade Vélodrome pour les amateurs de foot (20 minutes à pied, 10 grosses minutes via les transports en commun) et des calanques de Luminy-Sugiton pour les passionnés de rando et de nature (30 minutes à pied, 10 minutes en transport en commun). Agréable séjour garanti.
Renaud
2015-04-06T00:00:00Z
Room Type
Private room
---
Property Type
Bed & Breakfast
---
Accommodates
1
---
Bedrooms
Marseille, Provence-Alpes-Côte d'Azur, France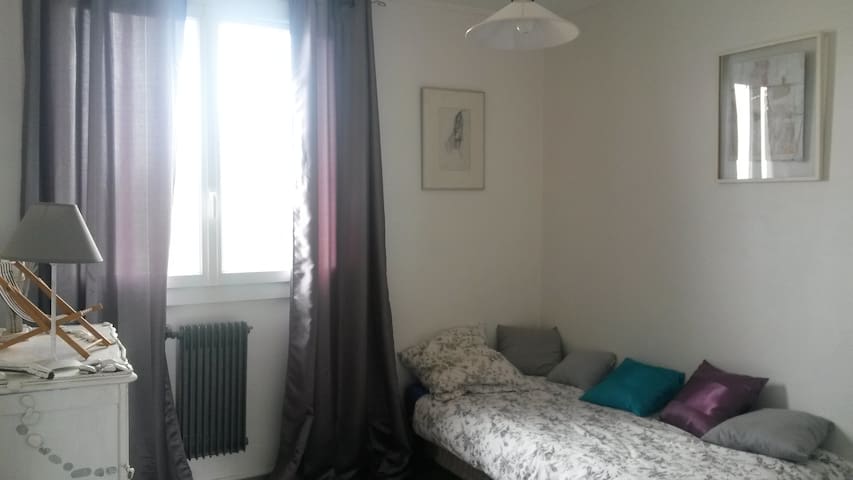 Although located a few minutes from the Metro to the Velodrome, fairground, beaches, racecourse, University of Luminy, creeks, Borély Park. quiet and secure residence.
The host canceled this reservation 7 days before arrival. This is an automated posting.
Emma
2016-08-27T00:00:00Z
Host was very welcoming and kind. We received all the possible attention and services we needed!
Len
2016-10-24T00:00:00Z
If you want to feel like at home, to be welcomed by very nice family, you should choose this accommodation. location very nice, especially if you need to live near Velodrome. bus stop in opposite side of the road, so 5 min by bus to the Velodrome and metro station (or 10-12 min by foot) This family done my stay in Marseille very nice.
alisa
2016-10-31T00:00:00Z
I really enjoyed my stay at Christine's place. Christine and her family made me feel like at home and even invited me for lunch and dinner. This is probably my best experience with Airbnb, Christine's family embodies the airbnb family, they are welcoming, friendly and interested in getting you know better and feel at ease. The room is as per description, but it is bigger in size and it is very quiet and comfortable. The house is conveniently located close to the city center (and far from noises), 15 minutes walking distance and 5 minutes by metro. If I return to Marseille i would not hesitate to get back to Christiane's house.
Raffaele
2016-10-13T00:00:00Z
Tout est parfait !! Ils sont adorables , l'appartement bien situé et propre... je reviendrai avec grand plaisir !!
Stephanie
2016-10-26T00:00:00Z
Accueil très chaleureux,des personnes très aimables, serviables et conviviales. Chambre très bien, logement propre, la terrasse très agréable. Bien situé à Marseille. En prime ils proposent des balades en bâteau pour visiter des calaques. Séjour extraordinaire!!!!A refaire !!!!
Agnes
2016-09-03T00:00:00Z
Très bel appartement et un accueil 3 étoiles !!! Merci beaucoup
Nicolas
2016-10-06T00:00:00Z
Séjour parfait ! Si vous voulez une chambre agréable et des hôtes parfaits, ne cherchez plus: venez chez Christiane ! Petit déjeuner fabuleux en sus
Loic
2016-09-01T00:00:00Z
Room Type
Private room
---
Property Type
Bed & Breakfast
---
Accommodates
2
---
Bedrooms
Marseille, Provence-Alpes-Côte d'Azur, France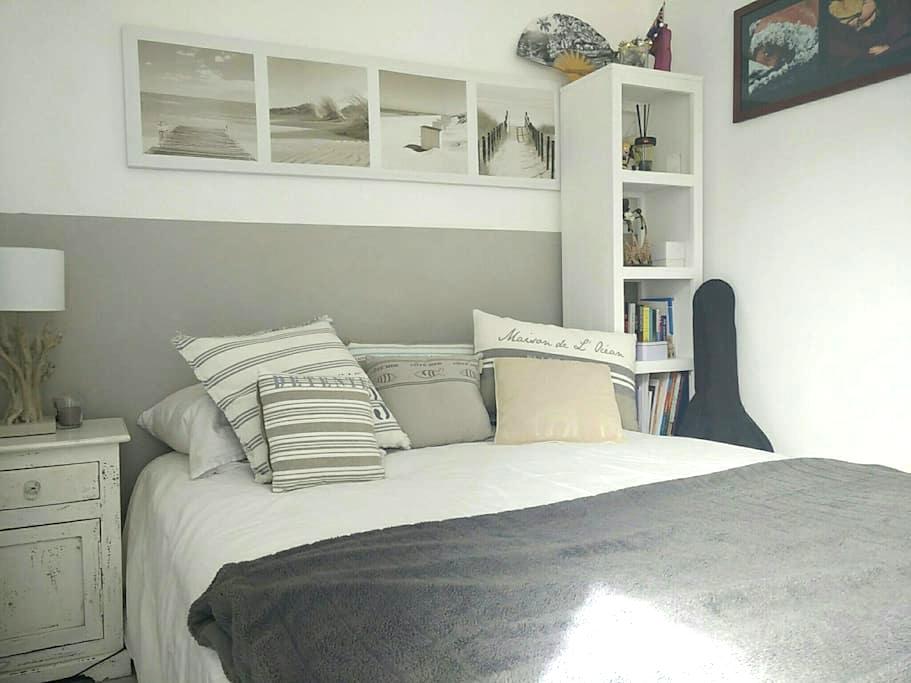 Quiet double room with private terrace and bathroom in a nice city villa. Breakfast included. Easy free car/motorbike parking. 5 min walk to the metro, Vélodrome stadium and Exhibition Center. Close to the beaches and the magnificent Calanques, "fjords" of the Mediterranean. I can pick you up at the airport. Here we speak Dutch, French, English, German and Spanish.
Julia was away for the duration of our stay so her father, Jean, was looking after the place in her stead. The room is great, it is very private and modern but still with a rustic feel to it. The bathroom is private too and we were never unwantingly disturbed. There is a nice patio connected to the room where we had breakfast the next morning prepared by Jean. The breakfast was probably equal to the best of any airbnb (over 10 places) I've stayed at to date and it felt like we had as much food as we needed and as if we were in a casual restaurant. Jean also shared many helpful travel tips with us. The location of the flat is also great if you arrive by car, free parking everywhere and very close to the metro station to access downtown quickly. Overall 10/10 and would stay again.
Tom
2016-08-27T00:00:00Z
Everything as described in the advertisement. Five minute walking to the metro. Jean and his wife are very nice. The breakfast is good.
凡
2016-06-30T00:00:00Z
I was so lucky to find this place at the last minute - when I landed at Charles De Gaulle in Paris and before taking the TGV to Marseille! Booked it while waiting for the TGV. The host's father, Jean, sent me a text to confirm I had the booking. This was nice, since I knew then that I had a place to stay in Marseille. Jean via text told me how to get to their place by metro and even picked me up at the metro stop. The home is wonderful. Bedroom was spacious, clean and I had access to my own bathroom and use of their terrance. Huge window and a separate door to the terrace provided a nice breeze and lots of light for the room. The tile floors are nice. Jean and his wife Josie were very accommodating and made me feel at home. Their English is quite good, but they were gracious enough to speak with me in French so I could improve my French a bit. I had some issues with getting into my new apartment in Marseille. Jean was tremendously helpful with this and helped me deal with a less than helpful real estate group that spoke no English. I don't know what I would have done without his help. He also took me and my luggage to the apartment when it was finally ready, after I had checked out of his AirBnB. He went above and beyond what can be expected of an AirBnB host. He and Josie also invited me to join them for some wine and food one evening. A special treat as I was able to practice my French, but also get to know them a bit. Breakfasts were ample: bread, cheese, fresh fruit, coffee, yogurt, croissants, and even soft boiled eggs (my request) were provided. Along with milk and juice. You won't need to eat until dinner after their breakfasts! Jean and Josie's place is great. I highly recommend without any reservations whatsoever. If you want to see Marseille, and do so without breaking the bank, this is a excellent choice. Also, it's 5 minutes walk from a metro stop. Enjoy!
William
2016-09-07T00:00:00Z
The appartment was so light, clear, big and nice. The private bathroom and terrace was really big. The place is situated close to the metro&bus stations(3 mins by foot). There you can fully relax. John and his wife are so nice and helpful. John gave us very valuable advices about the city and places where we should go. They told about a wonderful place near with Marseille Les Goudes and when we went there John gave us his masks and tubes for swimming under the water. It was really enjoy for us to stay in this place.
Nady
2016-07-23T00:00:00Z
Top marks. All was as described in the advert. Great breakfast and very helpful when I wanted advice on exploring the palanques. Thank you!
Duncan
2016-06-24T00:00:00Z
The julia's family is very kind and helpful, the room is cozy and comfortable a short walk from the metro.
Fabrizio
2016-08-04T00:00:00Z
Nice room in a nice apartment with nice hosts :) The apartment is a good choice if you have a car as you can leave the car in the free parking in front of the apartment and reach the Marseille city centre in few minutes taking the metro at 5 minutes waling distance. The room was clean and comfortable. Julia and his family were very nice. Recommended!
Andrea
2017-03-12T00:00:00Z
This was my first time using air b&b, and I was traveling on my own, I had a great two night stay, very welcoming, and very helpful. Location isn't ideal, but once you get your head around the metro getting in and out of the centre is easy. The room is very spacious and comfortable. Would definitely recommend.
Calum
2016-12-03T00:00:00Z
Room Type
Private room
---
Property Type
Townhouse
---
Accommodates
2
---
Bedrooms
Marseille, Provence-Alpes-Côte d'Azur, France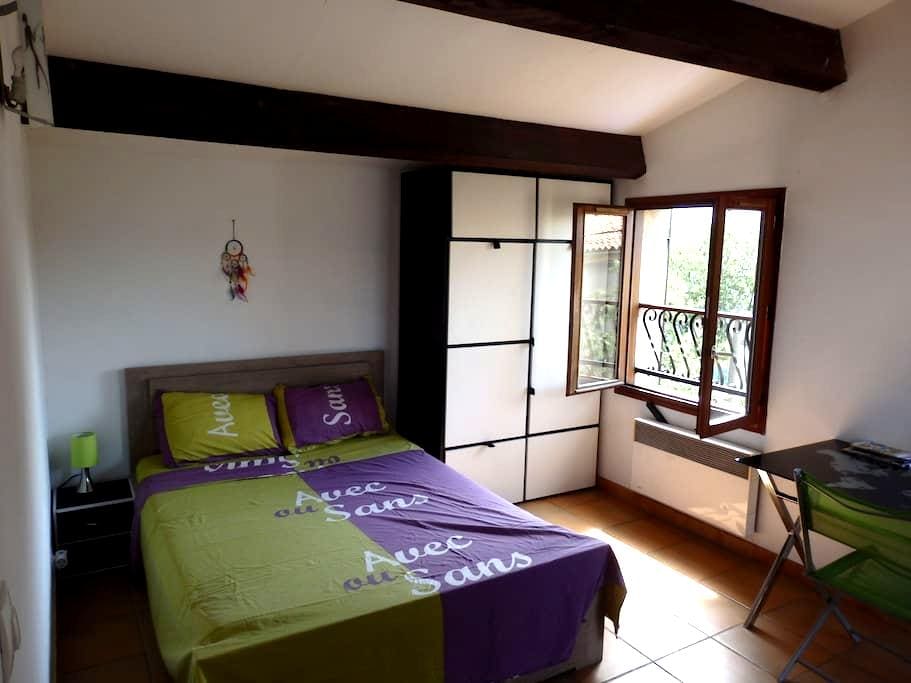 200m from the beach of the old chapel, separate studio (access is by stairs of a townhouse) and very bright 30m2environ (it comes to the floor area and not a measurement according to law square). Very quiet with a sea view and gardens. It is designed for 2 persons but there is possibility to add a mattress for a 3rd person. You can park without any difficulty in the street in front of the house.The studio is very bright (the skylights are fitted with curtains) Many bars and restaurants and a few shops and a bakery, supermarket not far (Casino and Lidl) Various beaches along the coastline with cycle track (you can follow it to the city center) and several public bicycle stations (subscription to € 2 per week). playgrounds and climbing rocks for children 2 steps. Near the park Borély also, the Hippodrome and golf. Possibility of water sports on the nearby beach (windsurfing, canoeing, diving ...) wifi internet 19 bus (stop old chapel) or 44 (stop up Bonnefon) approx. 300m Your host speaks French, German and English
Can't say enough great things about Martin! Was super accommodating about our late arrival and was such a tremendous help when our luggage got stolen. He accompanied us to the police station, got us sorted with the officers! Couldn't ask for a better host! Space is tight, low roof can be a hazard if your tall!!! Great shower, good kitchen, bit sparse for kitchenware! Bed was comfy, location is great, view from skylights is amazing! Hugely recommend just for Martin alone and the space is great!
Dean
2015-10-29T00:00:00Z
The studio is asolutely perfect...the situation is great, 5 minutes to the sea, there are a lot f bars, restaurants near...beautiful place for some days in marseille. Thank you very much Martin
Jennifer
2014-06-02T00:00:00Z
The apartment is very close to the beach with a very nice view. Martin was a great host, gave me the tour and the keys on the first day, and was very discreet afterwards. The neighborhood is quiet and lovely. Bus 19 will take you downtown and to the metro quickly.. The ceiling is a bit low, but wasn't a problem for me.
Pascal
2013-08-10T00:00:00Z
We really enjoyed staying here during our trip to Marseille. We chose this area as it is close to the skate park and beach. It's easy to get a bus or bike into town or to the nearest metro line. The apartment itself is set in a loft space so you need to be mindful of not hitting your head on the ceiling beams. The bedroom, kitchen and bathroom are all set in one room, without doors (though the loo is around the corner). You need to be comfortable with that level of intimacy with your partner. We found the space good enough for what we needed. It was comfortable and clean, though not immaculate. The bed was very comfortable. There was a hot plate for light cooking, a microwave, coffee maker and a fridge. Towels were supplied. No TV or radio, but there was wifi. Martin was a nice host and we would stay here again.
Selena
2014-05-06T00:00:00Z
Great experience - the place was as listed and Martin was very accommodating and a great host!
Zaeem
2016-07-09T00:00:00Z
Martin was a very good host. He responded to any questions or concerns very quickly. The apartment was just as described and worked well for us. We really enjoyed the location and its proximity to the beach and restaurants. Overall, we had a great stay. Would recommend.
Nick
2015-10-24T00:00:00Z
We had a brief but great stay! Martin was really helpful and so kind! It is in a safe hood and not far to go to the Calanques. I am petite, so the apt size was perfect for me - it is bright and nice, feeling like in a ship! Liked it al lot.
Tara Marie
2014-06-07T00:00:00Z
We stayed one night in Marseille while visiting to watch a game at euro 2016. Martin was very helpful and his communication with us was good. The appartment is very well located for the beaches and there are also good bus links into the metro system to get into the centre / port. The only slight downsides for us were that the air conditioning was not working (although we were not too hot with the windows open) and you have to walk though the rest of the house to get to the top floor studio. There is no separate lock for the studios which was also a slight surprise, just a lock for the front door of the house. This made it feel a little bit like a private room in a house rather than a seperate appartment. All in all, our stay for the night was good and I would recommend the studio for a short stay close to the beach! Thank you Martin.
Matthew
2016-07-02T00:00:00Z
Room Type
Entire home/apt
---
Property Type
House
---
Accommodates
3
---
Bedrooms
Marseille, Provence-Alpes-Côte d'Azur, France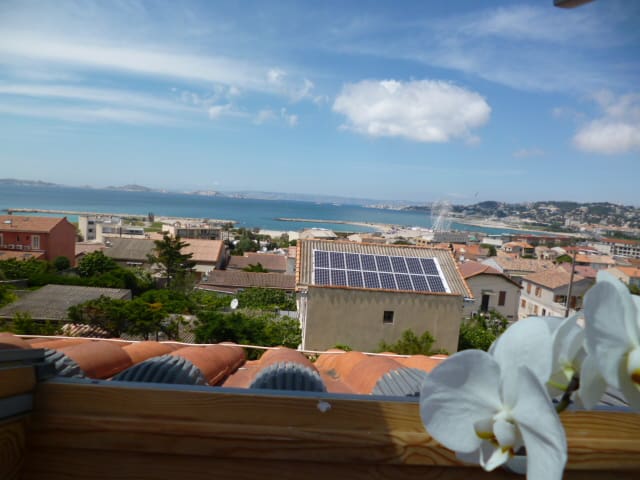 My accommodation is close to creeks Park. Enjoy my accommodation for Peace 5mn and 20mn coves the small port of Cassis. My accommodation is perfect for couples, solo travelers, business travelers and families (with children).
Room Type
Entire home/apt
---
Property Type
House
---
Accommodates
2
---
Bedrooms
Marseille, Provence-Alpes-Côte d'Azur, France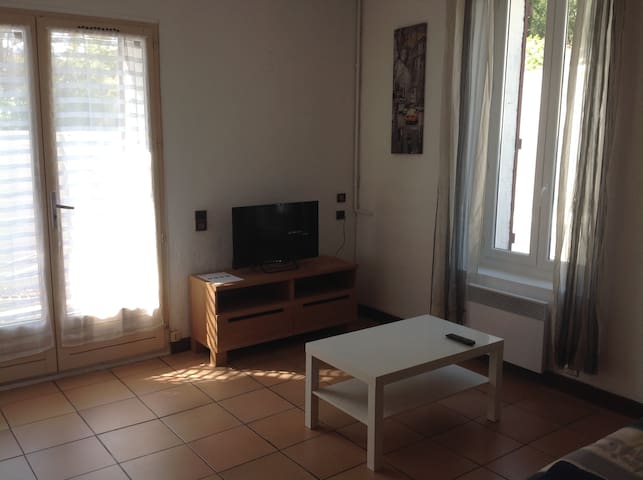 Dans un style des années 50/60, cette chambre de 15 m2 dispose d'une entrée indépendante, d'une climatisation/chauffage par le sol, d'une salle d'eau privative et d'une terrasse extérieure. Les premiers sentiers de randonnées se trouvent à 5 mn
Située au pied d'un patrimoine exceptionnel, le Parc National des Calanques entre Marseille et Cassis
La chambre d'hôtes se trouve après le quartier de Mazargues sur le chemin de la Calanque de Morgiou. Elle se situe au pied du massif des calanques.
William's place is right at the entrance to the Calanque national park. This made it the perfect spot for us, as we really wanted to do a longer hike. William provided us maps of the region which really facilitated the hiking. The room is really an aesthetic treat, like an artistic collage. We really enjoyed all the artsy details. The best pizzeria in the city is just a block away :) William was helpful in suggesting we book the restaurant for dinner one of the nights. The neighborhood in general is a bit quiet and desolate but was great for our purpose. It might be less convenient if your main purpose is to visit Marseille, as you need to take a bus and metro to get to city center and need to get back by 9pm if you don't want to take a taxi back. This was fine for us when we went for a short outing in the city center one of the afternoons. William was very accommodating about check in and check out, more working with our times than sticking to the official listed time. Overall great experience!
Natalia
2016-10-24T00:00:00Z
William is a great and very friendly Host. He was very communicative and gave us very useful tips how to access the calanques, and where we could go for dining. The nice room he rents out here accesses by a private door. It has a nice private bathroom as well. We could even cook an Espresso with the machine provided, and received some ice bars to cool some drinks in an antique fridge. We enjoyed our coffee on the nice terasse in front, where you can sit nicely outside. Summing up, the place is very tidy, with very stylish nice details ( if you like photography you have to stay here!). The entrance of calanques national park is reached in 5min walking. We had a very good time and highly recommend to stay with William in Chambres d'hotes dans les Calanques.
Juliana & Tobias
2014-06-10T00:00:00Z
William is a great host. Room is clean and well kept. Close to the calanques and easiily accessible by bus from Marseille city center.
caitlin
2016-08-30T00:00:00Z
The room is really nice, quiet and perfectly located: close to the Calanques and with decent public transport to Marseille. The kitchen is not a kitchen, though, rather a possibility to prepare some coffee. But William is a superb host and made up for this slight disappointment by helping us out with kitchen utensils. Totally recommendable for a weekend, but if you plan to stay longer keep in mind it's not an apartment. In any case, we had a great time :)
Karsten
2016-06-27T00:00:00Z
Amazing experience there, we recommend to everyone! William take care of every detail in the room, and these details, the decoration, the comfort, it is all superb! Our highest recommendation!
Rafael
2016-09-02T00:00:00Z
Nice place to start a beautiful walk into Les Calanques park. The room was cosy and the host gave all necessaries info.
Serena
2017-02-01T00:00:00Z
William was an excellent host and his home was well kept. The room had great decor, was very clean, had a small fridge, an ensuite washroom, and was separate from the rest of the home (but used the same entrance). The location is great depending on what you're looking for. It is not closer to the city centre, but there is a bus that goes there (although you should note it only runs until 21:00). It is great for anyone who wants to check out the Calanques. Overall I had a great stay.
Ankur
2016-06-13T00:00:00Z
The room was totally charming and really set us up for a short (unfortunately) stay in the calanque-walkable area of Marseille. William was very helpful in advising how to access the walks as well as advising on different eating options in the area. We really enjoyed the stay with William.
Adele
2016-07-19T00:00:00Z
Room Type
Private room
---
Property Type
Bed & Breakfast
---
Accommodates
3
---
Bedrooms
Marseille, Provence-Alpes-Côte d'Azur, France
Moi et mon ami nous vous accueillons dans notre appartement. Nous souhaitons faire de nouvelles rencontres, et partager de bon moments. Nous sommes à votre dispositions pour que votre séjour se passe au mieux. Si vous le désirez nous pouvons partager les repas. Nous avons un chat c'est pourquoi nous n'acceptons que les chats. Maloune n'est pas méchante, elle est discrète. Accès au parking sécurisé. Bus au pied de la résidence.
My accommodation is close to parklands with several outdoor activities, the exceptional view of the creeks and the sea, 10min drive creeks, 20 minutes from cassis drive, Line 22, 22s, 23 to the bus ( journey of about 20mins) so the velodrome 20min and 30 min from the old port with the metro. Undoubtedly one of the most beautiful districts of Marseille with all amenities at the foot of the building (bakery, pharmacy, food, snacks, tobacco, newspapers, halal butchers and Leclerc at 5 min walk. Enjoy my home for it offers beautiful views from the terrace, the room. it is an apartment transversant so bright it is very nice to live in. in the sun room until about 13h and 14h on the terrace of the fallen night. We try to make it a very friendly place. There is a park in the residence with parking. There is also a lift. the apartment is on the 8th floor.. My home is perfect for couples, solo travelers and business travelers. the breakfasts and aperitifs on the terrace are terrible.
Vous êtes aux pieds des calanques de Morgiou et Sormiou. Plusieurs randonnée à faire, escalade, kayak, voile, bateau ... Accès à la ville en 20-30min avec les transport en communs. Un plaisir de revenir au calme et à la nature. Quartier calme et voisins sympathiques. Vous serez reçu comme nos amis.
J'ai réservé la chambre pour notre fils qui est venu nous rejoindre pour un weekend de randonnée-escalade dans les Calanques (nous avions déjà loué un petit studio). Son commentaire est le suivant : " Maman tu peux être dithyrambique ! Tout est top, l'accueil, la chambre, la vue depuis l'appartement. Romy a vraiment été très attentionnée et disponible".
Christine
2016-10-31T00:00:00Z
Romy est une hôtesse remarquable, très prévenante. L'appartement correspond à la description, chambre très commode car contigue à la salle de bain/wc. Quartier calme. Vue magnifique sur le massif à l'arrière et Marseille et le port sur l'avant. Sympathique couple très accueillant que nous recommandons.
Michel
2016-10-23T00:00:00Z
Merci Romy. C'était parfait! Hôte très attentionnée et très sympa. Je recommande vivement! Vous pouvez y aller les yeux fermés. En plus, le logementest vraiment tout à coté des calanques de sormiou et morgiou :-)
Corentin
2017-03-31T00:00:00Z
Room Type
Entire home/apt
---
Property Type
Apartment
---
Accommodates
2
---
Bedrooms
Marseille, Provence-Alpes-Côte d'Azur, France
40sqm charming renovated apartment in the popular area of Vaufrèges! In a quiet condominium. Private parking. 5min creeks of Luminy and 15min from Cassis! shaded terrace ideal for outdoor evening. cot on request
Near creeks and quiet. new housing.
claudette is very very nice and communicates very well. the place is exactly as shown and has alot of small cute little things. I can see the care that was put into the place and everyone should put the same level of care and respect into it also! The only minor thing is that driving with a car into the gate is slightly difficult if there is alot of traffic as the entrance is very narrow and quick. But that is not a big issue for me as I'm an experienced driver.
Howard
2016-10-14T00:00:00Z
Very friendly and a great apartment to relax in. The scenary was beautiful and only located just 15mins outside of Marseille. Highly recommended for those with a car.
Rebekah
2016-07-14T00:00:00Z
x
Isabelle
2017-03-26T00:00:00Z
Superbe appartement tout est nickel, propre et accueillant. Claudette est très aimable, serviable et sympathique c'est très agréable. A l'intérieur de l'appartement il y a plein de petites attentions je recommande !
Gauthier
2016-02-25T00:00:00Z
Claudette nous a très bien accueilli chez elle, et nous a demandé si tout allait bien durant notre séjour! Appréciable! Appartement au top, neuf et bien agancé! Description réelle! Nous vous le recommandons Antonine et Anthony
Antonine
2016-05-03T00:00:00Z
Très beaux volumes pour ce logement, situé dans un quartier calme. Idéalement situé (plages et centre ville de Marseille, Cassis...). Nous avons étés bien accueillis par Claudette. Tout le nécessaire pour passer un bon séjour était présent dans l'appartement
Arnaud
2016-09-05T00:00:00Z
Nous avons été très bien accueillis et très bien conseillés. L'appartement est très spacieux, bien équipé et très propre. Idéalement situé pour visiter Marseille, Cassis, les calanques. À refaire sans hésitation.
Audrey
2016-06-18T00:00:00Z
J'ai été la première utilisatrice de ce logement et j'en suis très heureuse. C'était parfait pour quoi, il correspondait tout à fait à mes attentes: proche de luminy, avec parking et internet. L'appartement est bien décoré, très propre, avec tout le nécéssaire ainsi que des petites attentions. Parfait! Merci encore Claudette pour votre accueil.
Lola
2016-01-30T00:00:00Z
Room Type
Entire home/apt
---
Property Type
Apartment
---
Accommodates
4
---
Bedrooms
Marseille, Provence-Alpes-Côte d'Azur, France
You want to spend a peaceful stay in Marseille? You found the apartment for you. In the heart of a pine forest, not overlooked and quiet, our apartment has everything you need to stay at Marseille PLEASE CLARIFY FOR ANY REQUEST THE ARRIVAL TIME FOR CHECK IN
The apartment contains a bedroom with a double bed and a child's bedroom with a single bed. So you can stay in three Equipped kitchen Nespresso coffee maker / toaster and kettle available Reversible climate control We can provide you with a baby bed and child and a high chair The neighborhood is very quiet. The apartment is surrounded by pine trees not overlooked. A 3 minute drive you can access the car parks to go to the creeks of Sormiou and Morgiou (summer only accessible on foot or by car, but late at night or very early (URL HIDDEN) are paths of even closer hikes. The beaches of Marseille are a 10 minute drive to the city center in 20 minutes. The city center can also be reached with public transport in about 45 minutes (watch over bus that runs down the apartment from 21h) The Velodrome stadium is ten minutes by car via the Boulevard Michelet The campus of Luminy (with various university or school as KEDGE) is also within 10 minutes drive Center Leclerc 2 minutes by car and bakery and scoop reached on foot in a few minutes walk. The property is accessible by car with seats in the closed residence A bus stop is at the bottom of the house (22s who takes the metro Rond Point du Prado) Cassis and La Ciotat are quickly accessible via the road of Gineste (with stunning views of Marseille and Cassis) We will be present at check in for a warm welcome and advice if you wish on restaurants / outputs We provide coffee, tea, milk, chocolate, jam, butter, orange juice for breakfast No smoking / No pets
The neighborhood is very quiet. The apartment is surrounded by pine trees not overlooked. A 3 minute drive will get you to go to the parking creeks of Sormiou and Morgiou. There are ways of even closer hikes. Warning summer access to creeks is regulated. Every day indicated on this site if access is allowed or not: (website hidden) The beaches of Marseille are a 10 minute drive to the city center in 20 minutes. Leclerc center in 2 minutes by car and bakery and scoop reached on foot in a few minutes.
Candy welcomed us upon our arrival. The place itself was clean and tidy. She was very patient to wait for us as we didnt get our car rental on time at the airport. She was super helpful and provided lots of travel tips. Candy, you did a great job. We left the stamps collection at her place and she was willing to post them to us which is a super bonus. We are much appreciated.
jason
2016-07-31T00:00:00Z
Very nice apartment, beautifully located if you wish to visit the Calanques or Marseille. Helpful and welcoming host. Highly recommended!
Annalisa
2015-07-19T00:00:00Z
We were welcomed nicely, although the evening traffic in Marseille delayed our arrival. The apartment inside is equipped with modern fittings and one feels at home. Candy was very helpful and quick in response.
Syed Monjur
2016-06-24T00:00:00Z
Enjoyed staying at this apartment. It's located near the calanques, also you can rech city center by bus, the bus stop is just outside the apartment. Shoping center is about 1 km away. The apartment itself is very cosy and well furnished, you can leave your car in secured territory. Candy was helpful with the info about Marseille and very flexible with check-in and check-out times. Recommend this place to everyone who is looking to stay in Marseille.
Karolis
2016-09-12T00:00:00Z
We had a wonderful stay at this apartment. it was very clean and nicely decorated. It worked out great for our family and we would recommend it to anyone wanting to spend time in Marseille.
Scott & Erin
2015-07-25T00:00:00Z
We really enjoyed our stay in this modern, cozy and clean apartment close to Marseille. My boyfriend and I got to Marseille, and David and his wife had given us directions so we called them and she came to get us, they are both very nice and gave us tips on where to go for dinner and visits. The beach is about 10 mins by car, so the location is great. The apartment is modern and cozy, and there was everything one may need, and also a nespresso machine :) if you are planning to go to Marseille we absolutely reccommend it.
Claudia
2014-09-27T00:00:00Z
Once again Candy was a really pleasant host and it was great to meet David when we coincidently went to the same beach (les Calanques) as each other. Les Calanques is a great place to visit and we wouldn't have know about it, if it wasn't for Candy. The location was closer to the Veledrome than the other apartment and there is a lovely little town close by that has a great restaurant to eat at!
michael
2016-07-02T00:00:00Z
Candy provides useful information of our stay. Description about listings is accurate. Neighbourhood is friendly. A car would make your stay more convenient
Thomas
2015-07-04T00:00:00Z
Room Type
Entire home/apt
---
Property Type
Apartment
---
Accommodates
3
---
Bedrooms
Marseille, Provence-Alpes-Côte d'Azur, France
Large family apartment of 70m2 with beautiful 50m2 terrace at the doors of the calanques, of cassis and the beaches of marseille
Stay in the South of Marseille! In this large apartment with large living room, very nice kitchen, and 2 bedrooms, a nice bathroom and a beautiful terrace of 50m2 to enjoy the nice Marseilles days ... First bedroom with 1 double bed + 1 single bed (rather suitable for A young) and the second bedroom with 1 double bed. Possibility also to sleep on a large sofa (not convertible but very comfortable)
Very quiet and peaceful neighborhood! Snooze with the cicadas rocking guaranteed !! Luxury residence in Marseille
Room Type
Entire home/apt
---
Property Type
Apartment
---
Accommodates
5
---
Bedrooms
Marseille, Provence-Alpes-Côte d'Azur, France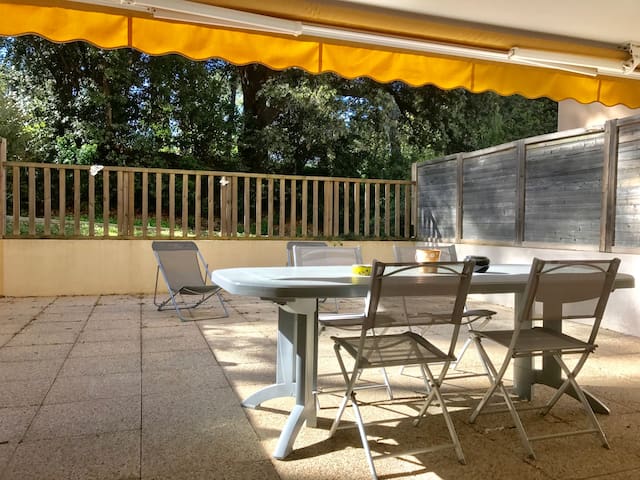 Thank you to read the description and time !!! Small surface 24m2 apartment on the 3rd floor without elevator in Marseilles OLD building on Bvd Schloesing (see photos and internet slot) Sheets and towels provided, wifi, TV Free parking on FERDINAND BONNEFOY Facing the Stade Velodrome. Dromel nearest metro (500m), Prado, 26th Centennial Park, 13 minutes from the Vieux Port metro and beaches 15/20 minutes. Carrefour City and Bio shop 500m on Bvd Rabatau.
Located in OLD building (staircase and decrepit facade), the 3rd floor without lift small clean and functional apartment with new equipment (need to cook, dishwasher, refrigerator, engineered coffee, kettle, toaster, stove, fan, wifi, via freebox TV, radio). Complete housing, large closets for clothing and luggage, small bathroom with linen, sofa mattress Bultex DIMENSIONS 115X185CM thickness 7CM so do not expect the comfort of a king size bed (we have already commented on the bed) . We are easily reachable, so do not hesitate to call us to make your stay as pleasant as possible.
T1 overlooking Schloesing Boulevard, near metro DROMEL STE MARGUERITE, Parc Chanot, Stade Velodrome, Prado Boulevard, Park 26th century.
Dimitri and his wife Olga were very kind. Good communication. The apartment has everything that you need for a stay. Thank you very much!!!
Isa
2016-12-07T00:00:00Z
super
daniel
2016-10-04T00:00:00Z
Olga and Dimitri were wonderful! The apartment was clean, nice and tidy, we had everything we needed. Our stay was amazing and Olga was super helpful with everything. I highly recommend their apartment because it's in a really safe neighborhood, a nice scenic park is 5 min away, metro is 5 min away and supermarkets are 10 minutes away. Also, you can walk to the beach for around 30 minutes. All in all I would recommend their apartment to anyone coming to Marseille, Thank You!
Matea
2017-03-29T00:00:00Z
Dimitri and his wife were very kind to me, the flat was pretty clean and much better than on the pics! I felt very comfortable. The area is safe and not 15 min far from the city centre from the tube station. Buses on the same road if you want to be to nice beaches like Oriol Corniche, lovely! Thanks for everything.
Marian
2016-09-22T00:00:00Z
Great flat with absolutely everything you need. Clean, bright and nicely furnished. Dimitri and Olga are kind and polite hosts. Highly recommended
Igor
2016-11-02T00:00:00Z
Dimitri was polite and very helpful upon our arrival, and gave tips for the city. The apartment was clean and exactly as described, thankyou for letting us stay!
Sean
2016-07-02T00:00:00Z
Great apartement, great host, ok location.
Jukka
2016-09-12T00:00:00Z
Dimitri and his wife was friendly and helpful. The apartment was clean and tidy. Thumbs up!
Nina
2016-07-08T00:00:00Z
Room Type
Entire home/apt
---
Property Type
Apartment
---
Accommodates
2
---
Bedrooms
Marseille, Provence-Alpes-Côte d'Azur, France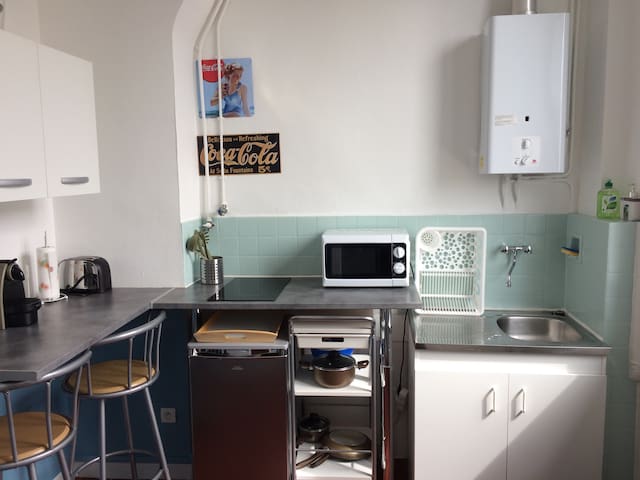 Pretty studio of 19 square meter great. With equipped kitchen, fridge, microwave, hot plate, cookware ... Quiet and relaxing with passing car without a balcony and a lovely view of the hill. The cadenelle Marseille is one of the most quoted of homes you come across little being of "people" staying here;). Throughout the residence and parking is under video surveillance, also accessible easily by public transport and private shuttle buses that will take you to different points of rallies. In addition there are 2 restaurants with swimming pool. Happy travels
Ideally located a few hundred meters from the beach and near the velodrome in one of the most beautiful district of Marseille with secure access 24/24
The greenery, calmness, kindness of neighbors, security, location, proximity to the beach and the city center and the velodrome ...
Nickel
Lilian
2017-02-27T00:00:00Z
.
Léo
2017-04-09T00:00:00Z
Des idées, de la créativité, de la bonne volonté. Résidence calme et sûre.Très bon accueil et relationnel. Avec nos encouragements. Rapport qualité/prix parfait.
Gilles
2017-02-26T00:00:00Z
Karim a été disponible et très accueillant. L'appartement est agréable et bien situé dans une résidence sécurisée et calme. À recommander!
Julien
2017-02-24T00:00:00Z
Karim est très accueillant, et près à vous rendre service. Le contact facile et le sourire généreux, bref, un bon hôte.
thomas
2017-03-02T00:00:00Z
Room Type
Entire home/apt
---
Property Type
Condominium
---
Accommodates
2
---
Bedrooms
Marseille, Provence-Alpes-Côte d'Azur, France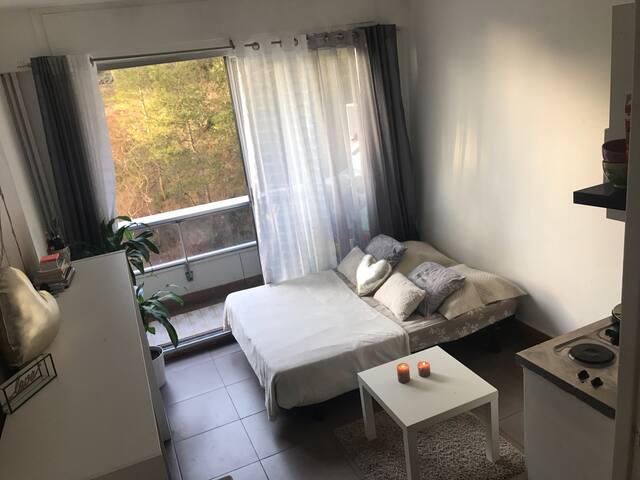 Welcome to Marseille Provence ! Our large bright and sunny duplex apartment is ideally located in the city of Marseilles (Mazargues residential and quiet area). We are located at walking distance to the really spectacular « Calanque's National Park » the first national park suburban of Europe. Downtown is less than 8 kilometres from our home . You can reach this place by public transport (metro and bus) 30 to 40 minutes (1,60 EURO) depend traffic. We start Airbnb experience in April 2011. Welcoming travelers from around the world is great and we love a lot! You will find below the details of our apartment, its amenities, environment and attractions. From the apartment, the view over the hills of the "Calanque's National Park" and the bay of Marseilles is really nice. The environment is quiet, wooded and safe. We rent the bedroom #1 suite with own TV and with private toilettes and bathrooms. Exceptionally if you are more that 2 people we can rent un bedroom in extra (e.g. if you are a family with childrens and grandparents, friends, etc..,). We never welcoming more than one guest/family at a same time, so the only persons in the apartment are my wife and I, and sometimes one of our sons or daughter. Depending on the dates you'll even get the entire flat all to yourself! APARTMENT DESCRIPTION : At the first level of the apartment, there is the entrance, then on the right is the portion reserved for guests : a private corridor which distributes Private bedroom # 1 - New King size bed very confortable, flat screen TV and with one private bathroom and one private WC (restroom). Straight ahead from the entrance there are an open plan fully equiped kitchen (sure you can use), a living room with large bay window and a south-facing balcony. On the left of the lobby there is stairs to the second level where there are Private bedrooms #2, #3 and also a bathroom (shower) and WC (toilet). AMENITIES : Breakfast and free Wi-Fi are included in the price. Of course you can use the kitchen to prepare meals. We provide all linen and bath towels. Safe private parking included. AMENITIES AROUND APARTMENT : - At 2 kms you have two hypermarkets (Leclerc and Carrefour), shops, cinéma, restaurants, McDonalds, banks, pharmacies, post office, library, medical center, Train Tickets office, etc. - Bakery & pastry shop at 200 m Bus stop lines #22 to downtown, is close (200 metres from apartment) Our apartment is ideal for lovers of hiking and rocks climbing (Les Calanques / Cliffs) and of course discover downtown of Marseilles (Vieux-Port and MUCEM) only 8 kms from home (30 minutes by bus and subway). The beautiful sea port of Cassis is only 15 km from home (20 minutes by car). Ideal also for families with children or babies (playground for children inside the résidence) Young couples, small groups of people or even business travellers are welcome. ATTRACTIONS AROUND APARTMENT (distances in km) All these places of interest are accessible by walking, public bus, or car - The "Parc National des Calanques" very close (Just a few minutes walk). Wonderful protected natural site (1 km) Ideal for hiking. - Notre Dame de La Garde (The La Garde Hill) is the highest point of the city of Marseille (154 m). Enjoy the panorama from this place. The silhouette of the edifice (The Basilica) has become inseparable from the image of Marseille. (7 kms) - Downtown of Marseille (Vieux-Port and MUCEM) about 25 minutes by bus/Subway, 8 kms where you can eat culinary specialities as "La Bouillabaisse", "L'Aïoli", "Les Pieds Paquets", "La Soupe au Pistou", "Les Navettes" and also make a tour in the Old Marseille and "Le Panier". From Le Vieux-Port, you can take a boat to Chateau d'If and Frioul islands or "Pointe-Rouge". - "Les Goudes" Wonderful and lovely harbor of fishermen. Good restaurants for seafood ; 15 minutes by car ; accessible also by public bus. - Beaches (La Pointe-Rouge, Escale Borely) where you can find clubs sailing, kayaking, diving, horse club, etc. ) 4 kms. - The 9-hole "Golf Club Marseille Borely" (3 kms). - "Stade Vélodrome" Veledrome Stadium, the famous football team, Olympique de Marseille/OM) (4 kms). - "L'Estaque and its painters" in the north part of Marseille ; a walking tour presents inspiration place of majors figures as Cézanne, Braque and also Renoir, Derain, Dufy, Marquet) 50 minutes by bus/Subway (15 kms) - The "Cité Radieuse" Le Corbusier, work of the famous swiss architect Charles-Edouard Jeanneret, better known as Le Corbusier (3 kms). - Pharo, Corniche and the seaside ; beautiful walkway overlooking the sea running from the Catalans cove to Prado beaches, close our home ; lelong these walkway a lot of magnificent villas built in 18th century by rich bourgeoisie merchants and ship-owners (Villa Valmer, Chateau Berger, Villa Gaby, Chateau Talabot, etc.) and also the longest bench in the world ... as stated in the Guinness Book of Records (4 kms). - Museum : "Musée d'Art Contemporain", "Musée de la Porcelaine / de la Céramique" (2 kms). Depending on the day and time of arrival at Marseilles, we can help you and waiting you at the train or bus station. We can also pick up at the airport if necessary (depending on the availability of our schedule). Your hosts Robert and his wife will do everything to make sure your stay will be as comfortable and relaxed as possible Welcome to Provence, at home!
Quiet - tranquillity - Close to Calanques NP
Hello everybody, we stayed in Roberts Apartment at the end of June. Robert and his family were extremely friendly and always available to share their local knowledge. The house is exactly like the picures: spacious, bright, clean and well furnished with every comfort and it is located in a charming neighborhood. The breakfast was fantastic with home-made bread and applejuice from the alpes. The landscape is amazing, especially the calanques were the highlight of our trip to provence. I would recommend this to anyone visiting Marseille and stay at Robert and his family!
Dimitri
2012-06-30T00:00:00Z
We stayed for 4 nights in Robert's cute duplex. The bathroom is huge and gorgeous, and the bedroom is comfortable. We spent many mornings and nights eating on the balcony. You must be aware that the place is 1 hour by public transportation to the center of the city, and the buses stop at 9:20. You are, however, incredibly close to the calanques for daily hiking and swimming. Do stay here if you want to see incredible beaches or you have a car. Unfortunately we did not get to stay with Robert and his wife, but his 22 year old son made us breakfast and worked to be accommodating.
Bretton and Kate
2011-07-23T00:00:00Z
Robert and Marie are sooooo brilliant! They picked us up from the train station and gave us lots of valuable recommendations. Because of them, we saw many beautiful view that far beyond our expectation! The apartment was very cozy and nice, just like our own home! And the breakfast was delicious~ Thanks Robert and Marie! Next time we will also choose yours without hesitation!
九霄 Jiuxiao
2015-10-27T00:00:00Z
Mr. Robert and his wife are very nice person! The room is beautiful clean and homelike. Mr. Robert knows their home is a little far away from central Marseille. So he ask me if he is free,he can drive car to take us all to their house. Because we are all girls and foreigners,he take care about our danger. But finally we went their house by ourselves,because we had another plan. Mr. Robert is really like a gentle papa!!!And his wife is cute and kind,too. I'm so jealous to be their child. And autrully we just spent 25min to take the bus to their house. It's really good to stay with them if you go to Marseille.
liao
2011-06-24T00:00:00Z
I was not getting hotels during the period I wanted to be in Marseille and with some hesitation I ventured to stay with family for the first time and it turned out to be a great experience! Robert and his wife Marie-Christine, and son Aymeric made me feel very comfortable. They knew India fairly well and guessed what my needs were. They told where to go where not in the city, picked from and dropped me to the airport and one day even cooked rice for me! I would strongly recommend anybody to stay there.
Ghulappa
2012-03-18T00:00:00Z
Absolutely amazing! I can't comment on how easy it is to get into Marseille and back but Robert & Marie-Christine have a wealth of information on things to do in the area. If I had one complaint, it would be I didn't get to stay longer! My friend and I, spent most of our time hiking/driving around Les Calanques and would have loved to spend some more time. We also went to Cassis and both my friend and I would agree that we were a little disappointed. Granted, it's still a beautiful small town on the coast but from everything we had heard, we expected more. If you do go to Cassis, I'd suggest either renting a car and driving along D191 (I think) or taking the yellow trail. Absolutely stunning views of Cassis from there!
Logan
2013-06-19T00:00:00Z
Robert and Marie are perfect host and their house is lovely in all aspects which includes location, interior, view, parking. Organic breakfast is simply remarkable, its tasty and freshly prepared. We enjoyed spending time with Robert over drinks discussing about random things. It was a perfect stay, best so far from Airbnb.
Nakul
2016-09-16T00:00:00Z
The Family's were extremely accommodating for our every need and very helpful with directions! It's located a little distance from the main city but is very quite and charming. I definitely recommend them as hosts.
Heather
2013-06-07T00:00:00Z
Room Type
Private room
---
Property Type
Apartment
---
Accommodates
4
---
Bedrooms
Marseille, Provence-Alpes-Côte d'Azur, France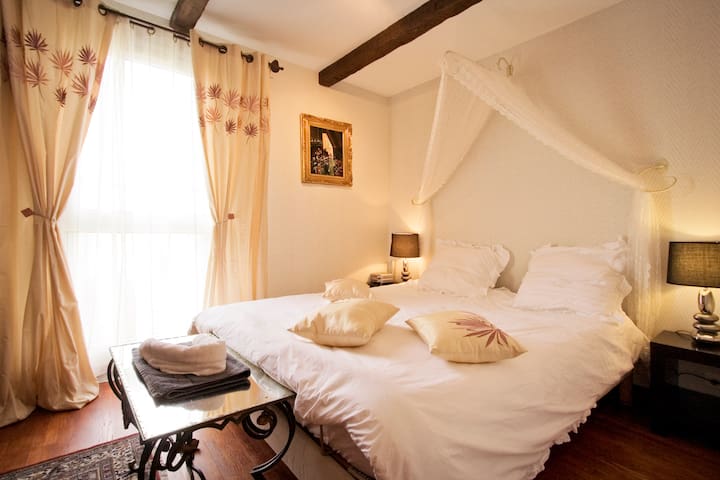 Pretty T2 54m ds quiet and secure residence. Near creeks, cassis, Velodrome stadium, hospitals, shops. Living room with a sofa bed for 1 to 2 people, open kitchen (Nespresso Machine, dishwasher, ...), nice terrace of 10m² not overlooked. Room modern water with Italian shower, separate toilet, large dressing room with tv. Private parking in basement Smoking inside Sheets and towels provided
My home is located in a quiet area 5 minutes from the national park of the creeks where many walks smelling Provence, waiting for you! The Luminy campus is 5/10 minutes drive and is also accessible by bus. The Stade Vélodrome is 5/10 minutes by car or bus.
Très agréable, fonctionnelle, belle terrasse et belle vue, proche toute commodité et résidence très sécurisé le top
Youcef
2017-04-07T00:00:00Z
Room Type
Entire home/apt
---
Property Type
Apartment
---
Accommodates
3
---
Bedrooms
Marseille, Provence-Alpes-Côte d'Azur, France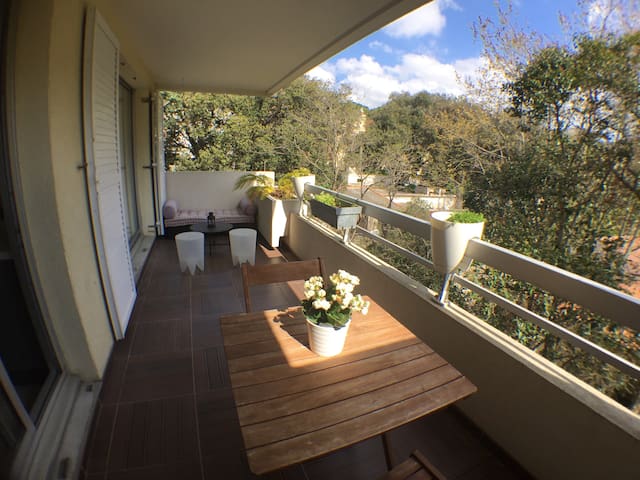 My home is close to the Calanques National Park. The port of Cassis is 20 minutes by car. Bus nearby. Enjoy my home to a large sunny terrace of 50m2 exposed south east. The studio is very clear. It is the 5th and last floor. Some shops in the residence The residence is quiet, secure, raised and closed the private nuit.Parking The residence is close to the hospitals: Clairval, Ste Marguerite and Paoli Calmette.
Bed linen and towels are provided
The area is quiet. Near creeks and Luminy university complex
Merci Joelle pour votre accueil et votre gentillesse. Votre appart est chaleureux,très mignon,bien équipé,propre,ensoleillé et vraiment agréable. Je reviendrai, c'est une évidence .
Benoit
2017-03-29T00:00:00Z
C'était une première pour nous et nous avons étaient agréablement conquis. Joëlle et très accueillante et à notre écoute. C'est sûr ! On reviendra.
Cin
2017-02-05T00:00:00Z
Une adresse à conseiller! Superbe studio avec une hôtesse très sympa et accueillante.  Très bonne literie, propreté nickel, cuisine très  bien équipée et une grande terasse bien ensoleillée tout au long de la journée. Nous reviendrons avec plaisir
Sydney
2017-02-19T00:00:00Z
Joëlle est une hôte sympathique, chaleureuse et disponible.
Etienne
2017-02-26T00:00:00Z
Accueil parfait. L'appartement est plein de charme et très fonctionnel et rempli de petites attentions qui embellissent le séjour. Je reviendrais sans hésitations !
Nadège
2017-04-06T00:00:00Z
Studio très agréable avec une belle vue. Joëlle est une hôte très accueillante et disponible. Nous y avons passé un excellent séjour. Je recommande!
Carina
2017-02-12T00:00:00Z
Joëlle est très accueillante, et à l'écoute de ses hôtes; nous avons apprécié les petites attentions, la propreté du logement, le calme, la proximité des Calanques ( accessibles en bus ), la grande terrasse.
Florence
2017-03-31T00:00:00Z
Adresse à conseiller pour l'accueil, l'appartement beau et très bien soigné. Vraiment une très bonne adresse!
Isabelle et Tanguy
2017-02-10T00:00:00Z
Room Type
Entire home/apt
---
Property Type
Apartment
---
Accommodates
2
---
Bedrooms
Marseille, Provence-Alpes-Côte d'Azur, France
Room and private bathroom in a bright and spacious apartment on the Prado, with huge terrace. quiet and very well located residence. 10 minutes drive creeks, 5 minutes walk from the Prado beaches, the cycling stadium and the Metro.
The apartment is spacious, clean and well located in Marseilles. Very close to the beach and the stadium. Marie was welcoming and had no problems at all.
Samidh
2016-07-09T00:00:00Z
Apartment was clean and spacious! Had minimal trouble finding it and the host was very welcoming and friendly! No complaints - pictures are accurate and it is in an ideal location for the stadium or for the beach.
krishan
2016-06-13T00:00:00Z
Marie was a great hostess, she really makes you feel right at home! I really enjoyed spending time with her. She is really diligent helping you navigate around Marseille and makes your stay really good. The house and bedroom are very cozy and I would highly recommend this place to anyone staying in Marseille. I wish I had more time there.
Erin
2016-08-20T00:00:00Z
A brilliant place! The apartment was ideally located just a 5 minutes walk from the beautiful beach and is either a gentle stroll or short taxi ride into the bustling city centre. The spacious double room had an en suite bathroom and was the ideal base for our relaxing and enjoyable stay in Marseille. Above all our host Marie helped really make out stay a pleasure, was very understanding, and provided excellent tips on where to go and what to do.
Richard
2016-07-02T00:00:00Z
Super séjour à Marseille. Appartement propre,joli et grand dans une résidence calme vers le prado. Quartier bien desservi. Plage à 5 minutes. Propriétaires accueillants et très agréables. Hipster leur petite chienne est calme, bien élevée. Appartement lumineux, spacieux. Chambre confortable avec salle de bain privée. J'y retournerai sans hésiter.
nanouche
2016-08-25T00:00:00Z
Marie est très accueillante et arrangeante, l'appartement est spacieux avec une très belle vue sur le massif des calanques. Le quartier est aussi très calme. Je recommande !
Roland
2016-05-17T00:00:00Z
sehr große Altbau-Wohnung mit tollem Ausblick auf ganzes Tal bis zu den Bergen in großer, stark gesicherter Wohnanlage (3 Schlüssel für Zutritt) mit kleiner Parkanlage, angenehme Fußbodenheizung im Parkett und eigenes, separates Badezimmer, das bis 22h30 benutzt werden darf, Bäckerei und Einkaufsgeschäfte 15 Minuten zu Fuß
Simone
2016-11-13T00:00:00Z
Мари - очень гостеприимный хозяин, всегда готова пойти навстречу пожеланиям своих гостей. В моем случае это касалась времени заезда и выселения. Апартаменты расположены в удобном месте - на тихой улочке рядом с бульваром Прадо: 10 минут пешком до метро и стадиона "Велодром" и 15 минут до пляжа. Комната светлая и чистая с отдельной душевой и умывальником - все, как и было заявлено. Всем рекомендую.
Eduard
2016-06-23T00:00:00Z
Room Type
Private room
---
Property Type
Apartment
---
Accommodates
2
---
Bedrooms
Marseille, Provence-Alpes-Côte d'Azur, France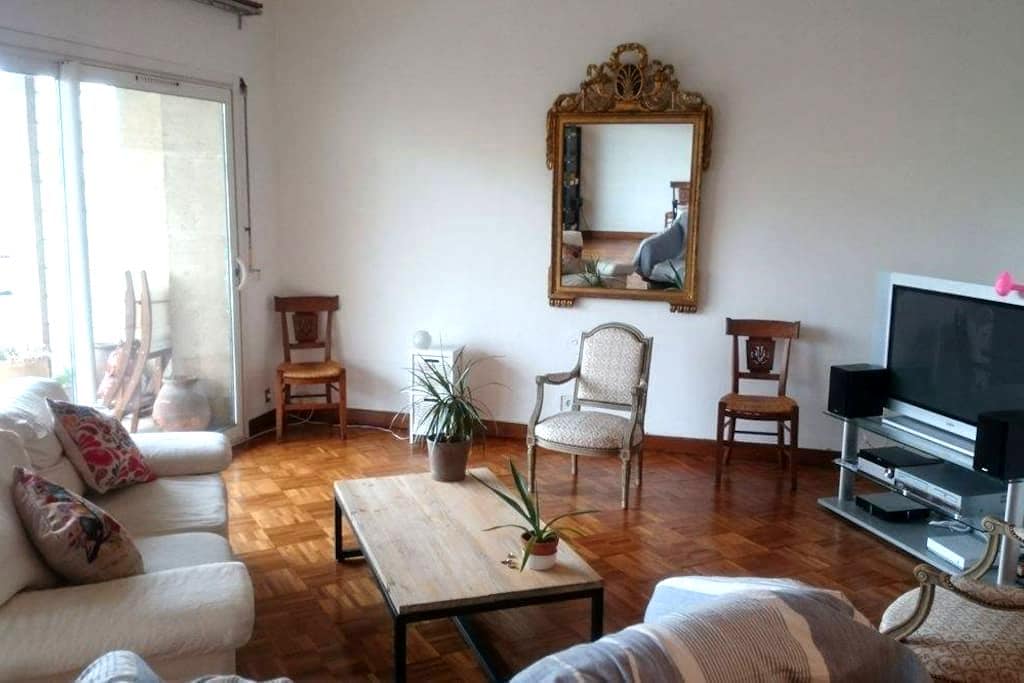 My property is located in the natural park of the Creeks of Sormiou, near the beach, not far the city center, near a large supermarket / pharmacy / restaurants. exceptional view of nature. Enjoy my home for calm and comfort (35m2 studio), the landscaped outdoor terrace, barbecue, parking, location very close to nature, the sea, ideal for climbers, hikers, nature lovers but also travel pro ..
The host canceled this reservation 16 days before arrival. This is an automated posting.
therese
2016-12-06T00:00:00Z
The host canceled this reservation 3 days before arrival. This is an automated posting.
Samuel
2016-09-15T00:00:00Z
Close to the Calanques, so a helpful overnight stopping point for walkers doing the GR98.
Eric
2017-01-06T00:00:00Z
Everything was great
Amehd
2017-04-02T00:00:00Z
Super!
Angelo
2016-12-31T00:00:00Z
Tres bon séjour Sophie et super sympa à refaire !!!
Fabrice
2016-10-16T00:00:00Z
Sophie était une hôte parfaite, disponible, aimable et prête à aider. L'appartement est parfaitement située au pied des calanques, idéel pour visiter le parc ou bien la ville de Marseille. L'ambeublement correspondait à nos besoins : accueillir 3 personnes pour une bonne nuit de repos. Merci encore !
Katarina
2016-09-06T00:00:00Z
Très beau studio, tout proche des calanques. Très propre et conforme aux attentes. Je vous le recommande!
Axel
2016-09-07T00:00:00Z
Room Type
Entire home/apt
---
Property Type
House
---
Accommodates
4
---
Bedrooms
Marseille, Provence-Alpes-Côte d'Azur, France
Enter dates to see full pricing. Additional fees apply. Taxes may be added.