5 minutes from I-20 Exit 22 - 3B/2B getaway on beautiful small lake! Dock for fishing, swimming, kayaking, small-boating (30hp max) Sorry, no jet skis. Quiet, peaceful haven convenient to quaint downtown Aiken, Augusta, GA, and not too far from Columbia, SC. Amenities include fireplace and adjacent indoor fireplace grill, full kitchen, washer & dryer, gas grill on back deck - all the comforts of home! Come restore your souls at "Beside Still Waters" Restful Country Cottage! Eclipse Friendly Too
Cute 3 bedroom home on quiet lake 5 minutes from I-20 exit 22. Beautiful! Peaceful! Fun!
Once you drive up our long driveway, you find yourself in a very nice lakeside community. But down where our houses are, you feel like you are away from it all
Great spot, and wonderful hosts. We were only there one night, but were greeted warmly, and Matt and Denise did everything to make our stay enjoyable. We grilled out on the back porch and enjoyed the serene lake setting. Definitely recommend to anyone visiting Aiken or Augusta (about a 30 minute drive).
Ryan
2017-04-03T00:00:00Z
We enjoyed a one-night stay but would have been thrilled to stay longer. Matt and Denise were super friendly and accommodating. They take hosting/hostessing very seriously and they do a great job. You'll enjoy every interaction with them. The house is recently refurbished and they've put a lot of care into making it comfortable. Beds were clean and comfy, and we slept great in anticipation of a day at The Masters--it was about 40 minutes to the course.
Mike
2017-04-04T00:00:00Z
Room Type
Entire home/apt
---
Property Type
House
---
Accommodates
6
---
Bedrooms
Aiken, SC, United States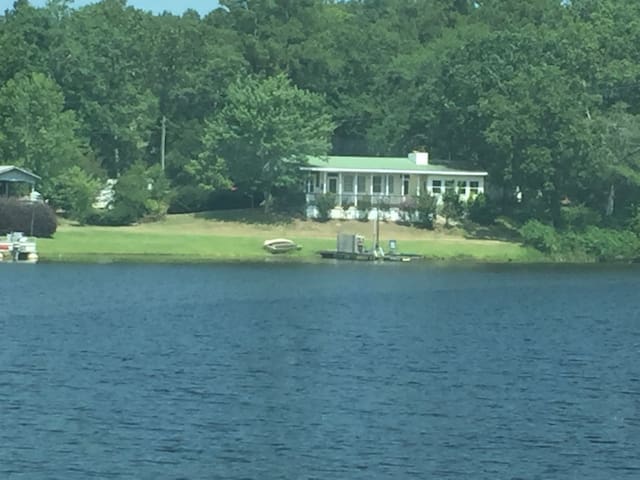 Upstairs private apartment w/ queen bed, full bathroom, kitchen w/ full size appliances, open dining & family room. Two large closets. Quiet area. Private entrance, parking is separate from the house. Fully furnished kitchen, towels & linens.
Lovely wooded and quiet neighborhood which is centrally located. We are about 10-15 minutes to downtown Aiken, 15-20 minutes to the horse venues, 15-20 minutes to the SRS and conviently located to Augusta, GA, home of the Masters. (Maximum 2 Adult guests, pets allowed but there may be a small fee.)
It was a very enjoyable place to stay and very quiet.
Marcia
2016-10-10T00:00:00Z
This home is in the most beautiful area. It's surrounded by trees and trails, in a quiet, extremely nice neighborhood. The home is gorgeous with horses and cats that make you feel as home as Lori does! It's an area I would return to just for myself, for relaxation and reading. However, it was perfect for the family with both space, privacy and amenities. Highly, highly recommended.
Minde
2016-03-29T00:00:00Z
I enjoyed my stay, the apartment was clean, well equipped and very comfortable. My stay was quiet and peaceful, I would have no problem staying here again. Lori and her husband are great people and always asked if everything was ok whenever I saw them. "GO BEARS!"
Jabin
2015-12-16T00:00:00Z
Beautiful location--quiet and peaceful. Great owners. Reccomend!
Kate
2017-04-03T00:00:00Z
We were very fortunate to be able to stay @ Lori's place. The neighborhood we very quiet, and beautiful. Th directions to this location was spot on! The neighborhood was about 40 mins. from the family members that we were visiting, but the apartment was so amazing that th commute was well worth it.
Stephen
2015-12-29T00:00:00Z
My wife and I were in the area to house hunt so we didn't get to personally interact with Lori. However, everything worked out great; she was very accessible by text and did great in being communicative. The apartment was clean, comfortable, and worked out great. Thanks Lori!
Kevin
2016-03-22T00:00:00Z
this place was GREAT! nicer than you can tell from the pictures and well equipped. VERY quiet tranquil apartment on a horse farm. If you are in Aiken for horse sports, you will love this place. Its close enough to downtown to easily go shopping or out at night. and the hosts were very helpful and friendly.
Rachel
2017-03-12T00:00:00Z
This apartment is amazing. It's so pretty and scenic and super quiet. Lori is a great host. ️️️️
Anne
2017-02-26T00:00:00Z
Room Type
Entire home/apt
---
Property Type
Apartment
---
Accommodates
2
---
Bedrooms
Aiken, SC, United States
Glamping Tent at Happy Earth Farm!! Want to go camping without roughing it? Come join us at Happy Earth Farm and try out our "glamping" tent!! Our tent is built on a platform, keeping you up above the ground and the creepy crawlies. The tent measures 14' by 16', plus an 8' covered porch, and has two queen sized beds with real mattresses and pillows, along with a small futon/couch. You'll also have access to our luxury "outhouse" - with a real toilet and sink and outdoor shower.
Our glamping tent includes two queen-sized beds with real mattresses and pillows, a futon/couch, and a covered porch with adirondack chairs for relaxing. The tent has power, so there are lights and fans, and you can recharge all your gadgets. The property has wireless internet, but you may need to move closer to the main house to get a good signal. You'll also have access to our luxury "outhouse" - full sized toilet and sink with hot and cold water, electricity and an outdoor shower. We'll provide the bed linens for the beds; please bring your own bath and pool towels, and if using the futon for sleeping, bring a sleeping bag. You may also want to throw in a bathing suit, as the outdoor shower has limited privacy. Since you'll be camping, the tent does not have a kitchen. There is, however, a charcoal grill available and a fire pit, and you're welcome to bring your own camp stove and cooler.
Happy Earth Farm is a 30 acre farmstead set in the beautiful countryside, 8 miles from picturesque Aiken, South Carolina. This unique location allows us to offer the quiet and solitude of farm country, while being just minutes from the great restaurants, shopping and historic attractions of Aiken and nearby Augusta, GA. Aiken is the quintessential small southern town, with quaint shops, great restaurants, large tree-lined boulevards and the friendliest folks you can imagine.
I do completely loved my stay in the tent! The first night of stay the temp was a low of 28, but with electricity available I was able to plug in a space heater. I was plenty cozy despite the chill outside. The beds are very comfy and the tent is rather spacious. The "outhouse" is hands down the nicest outhouse I've ever been in with a real toilet and sink, along with a mirror and hot water. The outdoor shower is rather private with lattice surrounding and a curtain. I couldn't have had a better stay. Steve and Karen are also very welcoming and flexible. They certainly went above and beyond to make me feel at home.
Amanda
2017-03-06T00:00:00Z
Fantastic stay. Steve was more than helpful and answered any questions we had. The farm is beautiful and inviting. The bedding inside the tent was also excellent, better than most hotels. We will absolutely return for the summer.
David
2017-03-19T00:00:00Z
We absolutely loved getting to stay in the tent at Happy Earth Farms!! We loved getting to see the animals and play with their friendly pets. The beds were incredibly comfortable and the tent was very spacious. The outhouse was clean and very close to the tent. Everything was perfect and I would love to go back one day!!
Lindsay
2017-03-30T00:00:00Z
Farm is very beautiful & scenic! Steve and his wife were so warm and welcoming. I can't wait to go back!
Kelsey
2017-02-06T00:00:00Z
We enjoyed our stay on Happy Earth Farms glam tent! The beds were super comfy and we enjoyed listening to the guineas cluck happily in the morning! Steven is easy going and was an wonderful host.
Mariah
2017-03-25T00:00:00Z
Room Type
Entire home/apt
---
Property Type
Tent
---
Accommodates
5
---
Bedrooms
Aiken, SC, United States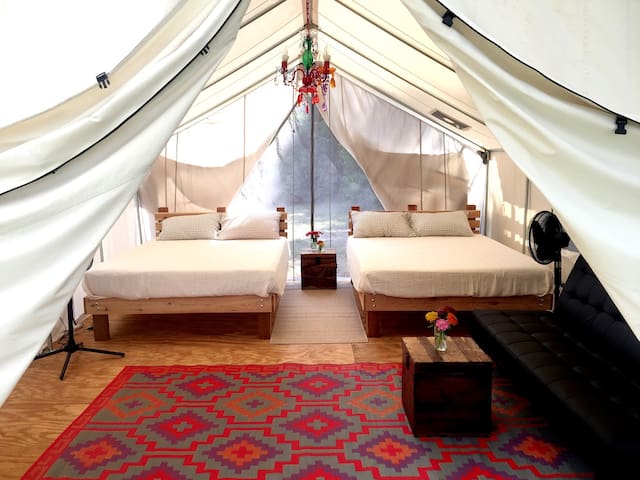 Historic cottage to make your stay in Aiken a wonderful experience. High ceilings, refurnished floors all hardwood throughout, lots of natural light and charm. 3 bedrooms, 1,5 bath. Front and back covered porches. Large yard. Walking distance to all downtown Aiken restaurants and shops.
We are travelers ourselves, and we know the importance of staying in a cosy, clean, and affordable place when away from home. We aim for this goal: to give a warm experience to our guests. There are 3 bedrooms with one queen size bed, one full size, and two twin beds that can be put together. Two of the bedrooms are communicating through a door opening that is closed with a curtain, an important note for sound privacy between the rooms. Being a 1800's house, the size of the bathroom is smaller than contemporary houses, though it is more than adequate. The kitchen is fully equipped with a new fridge, oven, and stove. You have access to a laundry room with a new washer adjacent to the kitchen. There is a grill on the back porch for your use as well.
Quaint and charming house in a superb location ! A wonderful bottle of wine and some chocolate goodies were waiting for us when we checked in. House was pet friendly . We enjoyed our stay!
Robin
2017-03-05T00:00:00Z
Room Type
Entire home/apt
---
Property Type
House
---
Accommodates
6
---
Bedrooms
Aiken, SC, United States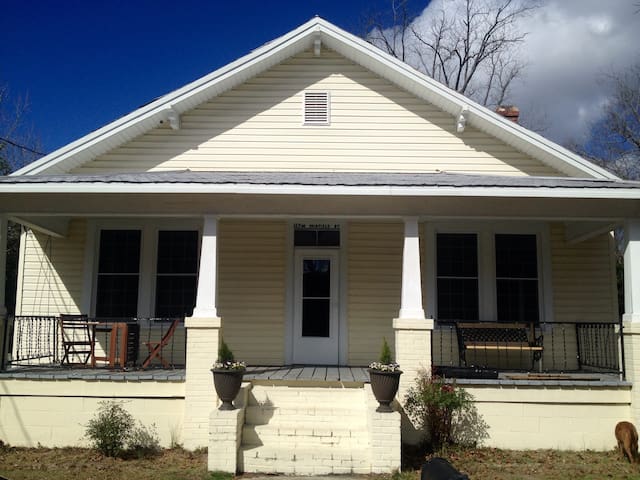 Historic Aiken, SC, the heart of horse country to home of many thoroughbred champions and world-class equestrian events is also rich in the arts scene offers a home in the historic district only a short walk or drive to downtown beautiful Aiken. This quaint home offers the feel of home away from home. Accommodations include private bath, kitchen access, and television room. It is a welcomed experience you will enjoy!
Room Type
Private room
---
Property Type
House
---
Accommodates
2
---
Bedrooms
Aiken, SC, United States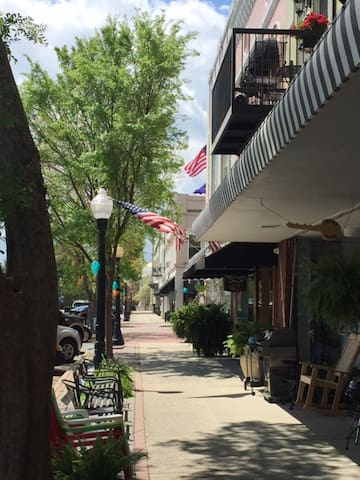 5 minutes away from downtown Aiken. This is a very quiet neighborhood and family friendly! We do have a play area located in the neighborhood as well and a pool. We are also 30-45 minutes away from Augusta. Downtown Aiken was voted the best Southern Town in SC last year 2016. It's our favorite place to go! We have a Queen size bed with the softest sheets I could find. You have your own bathroom as well as a TV with Netflix and Playstation Vue!
It has a private bathroom and a private bedroom all secluded from the main of the house. 2 guest can fit very comfortably in this room. Children are more than welcome to stay! We will try very hard to make sure you are comfortable. In your bedroom you have a T.V that is mounted to the wall and can be moved/tilted. It's a Smart T.V with Netflix and Playstation Vue already connected. So watch away! You have your very own bathroom that the main of the house does not use, a walk in shower as well. Right outside the bathroom is the laundry room so you have direct access to the laundry as well. Feel free to use the kitchen! I clean the space with essential oils and natural remedies but I do have Clorox wipes on hand when needed.
Our neighborhood is very quiet. We do have dogs right behind us that like to bark but they don't bark through the night. You may not hear them in your room as well as I can hear them in the living room. We have a manual in your room with our favorite places to eat.
Genevive was very responsive and thoughtful even tho she was sick. Making prvisions for me to ensure i stayed away from any possible illness and had everything i needed.
marcia
2016-12-24T00:00:00Z
Genevieve is a lovely, kind, personable and gracious host who is most accommodating. The spacious bedroom has the most comfortable bed! The space is open, the neighborhood quiet and slumber comes quickly! Great restaurant recommendations too. Definitely a great place to stay and I will be returning quite often!
Elizabeth
2016-12-06T00:00:00Z
A great stay for one or two people needing a bed and bathroom for a few nights!
Warren
2017-03-19T00:00:00Z
Accessible location for Aiken stay. Amenities as described, with a private entrance and bathroom. Enjoyed spacious shower and used the Wi-Fi. This was my first stay in Aiken. Friendly atmosphere in the Aiken Brewing Company, crowded and cheerful on a day after Christmas. Loved Americano coffee and homemade muffin at Ridgecrest Coffee Bar.
Mikolaj
2016-12-27T00:00:00Z
Well worth the cost
marcia
2016-12-30T00:00:00Z
Super comfortable bed and pillows, excellent walk in shower. Area is separated from rest of house like an in-law suite but close to the kitchen and front door. Home is warm and welcoming. Great family! Location is quiet residential neighborhood but near everything including an excellent authentic Neapolitan pizza house. Thoroughly enjoyed stay. Will be returning next week!
Elizabeth
2016-12-08T00:00:00Z
Nice and quiet place.
RJ
2017-01-23T00:00:00Z
Very Good value and nice folks
marcia
2017-02-12T00:00:00Z
Room Type
Private room
---
Property Type
House
---
Accommodates
4
---
Bedrooms
Aiken, SC, United States
Stand-alone cottage w/comfortable queen-sized bed, large windows, bathroom/shower, closet, refrigerator, microwave, coffee maker, and TV. Swimming pool. Very quiet neighborhood.
Quiet space with gardens, birds, half mile walking trail, and pool outside the door. The cottage is set back away from the main house and the road. Parking on site is just outside the front door.
Quiet. Somewhat rural. Walkers, bikes, and horses are commonly seen on these quiet neighborhood roads.
Great hosts, great place, and would recommend staying here to all.
Keith
2016-09-26T00:00:00Z
This cottage is very welcoming. It is simply and comfortably decorated; everything is extremely clean and organized for easy usage. Parking is very easy, right outside the door. Also, right outside the door are beautiful woods, landscaped lawn and sparking pool. If you like peace and quiet, waking up to nature, yet near town...then this is the place! Anthony has taken special care to foresee any travel needs, and we felt well provided for in this rural haven. Thank you for all your kindness in hosting us!
Brian
2016-09-10T00:00:00Z
Anthony texted me a few days prior to my stay, was very willing to answer questions, even to the details of where the closest grocery store is! He showed me around the cottage thoroughly. He was available anytime, by phone, if I had any problems, which I did not have .
Jane
2016-02-25T00:00:00Z
Our stay was very quiet with lovely surroundings. We look forward to staying there again. Sheila and Anthony are great hosts.
Janis
2017-04-01T00:00:00Z
Great location and very nice accommodations - clean, well-maintained, comfortable. Anthony and Sheila were lovely and very helpful!
Wally
2016-05-16T00:00:00Z
This cottage was beautiful and the neighborhood was great! The host family were extremely friendly and were as hands on as you wanted them to be.
Aisling
2016-02-28T00:00:00Z
We appreciate the assistance during evacuation from Hurricane Matthew. Sheila and Anthony and the entire Aiken community were wonderful!
Dena
2016-10-09T00:00:00Z
We were greeted by Anthony upon our arrival; we found him to be very friendly and courteous. We met Sheila a few days later, she was very pleasant and we had a very nice conversation. I think I would love to have them as neighbors. If you are looking for peace and quiet, this is the place. We loved it and will definitely try to come back.
Patricia
2016-08-28T00:00:00Z
Room Type
Entire home/apt
---
Property Type
House
---
Accommodates
2
---
Bedrooms
Aiken, SC, United States
Private apartment like attic bedroom and private shabby chic bathroom. Queen bed in main bedroom and queen mattress in private nook. No kitchen but includes Mini fridge,microwave,coffee maker. Very spacious. Private courtyard pool area. 6 blocks to historic downtown.
We bought the house last summer and the first thing we did was finish the Attic. It was a true labor of love! It is a renovated attic so to access you go up a flight of stairs. It really has the feel of a private apartment more than just an extra bedroom. There is a door at the bottom of the stairs so the space is closed off from the rest of the house. The front of the house is separated from the back of the house which adds to the very private feel of the space. I am always available but if you don't need me you most likely will not see me during your visit after you get the keys. If you arrive after midnight I might not see you at all as I'll just leave the door unlocked and leave the keys in a little basket in the foyer, leaving you to lock the door after your arrival. The style of the place could be described as Upscale Shabby Chic. There is a queen platform bed at one end of the space and a queen mattress on the floor of a little nook at the other end. The nook is at the other end of the room which adds to its very private feel. The nook space is not high enough to stand up straight in if you are an adult. It is about 5 feet high at its highest point. The attic area is about 8 feet high so plenty of space to stand in the main room. The room is large and airy and has 4 skylights. There is a separate thermostat so that you can adjust the heating and cooling as you like. There is a mini fridge, microwave, and coffee maker and all the needed accessories. We are very close to the quaint downtown with a variety of restaurants and shops. It is about 6 blocks, there are sidewalks all the way. The horse district is also very close by, maybe a mile or so. The neighborhood is very nice and quiet.
I live on a quiet tree lined street in the Historic District. We are about 6 blocks from the quaint downtown. There are many great restaurants nearby to choose from. The neighborhood is very quiet. We are about a mile from the horse district. There are many options for Grocery nearby.
Laura made us feel very welcome. The space was even better than the photos! She was a wonderful host and made the trip even more enjoyable. The neighborhood is very quiet, but also close to a downtown main street with plenty of great things to do and places to eat. She gave us two outstanding dining recommendations and both were great. We had all the comforts of home and were very well taken care of during our stay. We hope to be back!
Robert
2016-04-10T00:00:00Z
We just needed a place to rest for late arrival and early check out on fast trip after work Friday from Knoxville to Cumberland Island ferry departure at 9am Saturday. Aiken, SC was exactly between. We lucked up on a too spectacular Air BnB for just a quick overnight stay! Oh my!!! It was wonderful!!!! My 18 year old loved the little nook sleeping room with little magical lights and carpet!!! She wished we could have stayed longer! We were soooo impressed by the remodeling and design and clean white look of the place!! It was quaint and posh!!! The oversized luxuriously tiled shower was simply amazing!!!!! The beds slept comfortably!!!! Oh my goodness! This host - though we did not have the opportunity to meet - was an Ace Air BnB host!!! Definitely recommend anyone to stop in and stay a while here!!! Especially if you are in need of a quiet and beautiful get away!!!! Top notch!!!!!!!!!!!!!
Victoria
2016-05-08T00:00:00Z
Very nice space for us to use, the nook was a bit low, but not a problem, beds super comfy, and everything super clean. Will definitely be returning for future trips to the area.
Deloise
2017-02-11T00:00:00Z
Loved our weekend stay here. The alcove bed area was perfect for our two teen daughters, with charming little lights surrounding them. Everything was clean with a nice aesthetic; pretty colors and a lot of light through the skylights.
Savita
2017-02-05T00:00:00Z
The host canceled this reservation 7 days before arrival. This is an automated posting.
Alexis
2016-06-24T00:00:00Z
A great/comfortable space! We will certainly stay again if we travel back to this part of the country. Host was very accommodating and welcoming.
Drew
2016-04-08T00:00:00Z
Very accommodating host. Our plans changed a few times and Laura was quick to respond to our requests. The space was very cozy and comfortable. My partner insists we need to go mattress shopping because the bed was so great! We will definitely book this space again if we find ourselves in Aiken. Thanks Laura!
Julianna
2016-05-30T00:00:00Z
Very nice, clean, cozy accommodations in a lovely neighborhood. very conveniently located a few blocks from a charming downtown with shops , restaurants and historical buildings.
Barbara
2016-04-06T00:00:00Z
Room Type
Private room
---
Property Type
House
---
Accommodates
4
---
Bedrooms
Aiken, SC, United States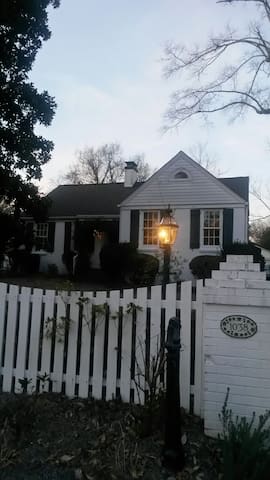 Lovely 3 BR/2 bath Cottage with walking distance of Downtown Aiken. Kitchen, Dinning room, Living room, Laundry room, fenced back yard and Double carport for inside parking
Room Type
Entire home/apt
---
Property Type
House
---
Accommodates
5
---
Bedrooms
Aiken, SC, United States
Lovely state of the art cottage attached to a beautiful polo barn in one of Aiken's premier gated equestrian communities. Barn is currently empty so enjoy privacy and tranquility with modern amenities and beautiful surroundings.
Room Type
Entire home/apt
---
Property Type
House
---
Accommodates
5
---
Bedrooms
Aiken, SC, United States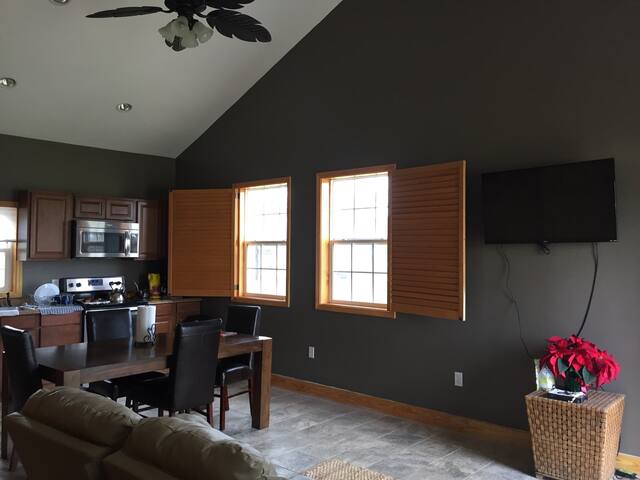 131 Westwinds is Sparkling Clean and comfy. We are only 3 miles from downtown Historic Aiken. We are fully furnished including a fully stocked kitchen and wonderful crisp white linens. Our guest love the quite evenings and the wonderful views of the woodlands and pines. You'll love Westwinds because of the views, the location, the people, the ambiance, and the outdoors space. 131 is a great place for couples, solo adventurers, business travelers, and furry friends (pets).
Pipers Home Away will always be sparkling clean and feel as though no on else has lived there. To assure this, we have a professional cleaning group deep clean after each guest stay. The livingroom boost Italian Leather Sofa and Chair. Kitchen has full size fridge, dishwasher, microwave, stove and Keurig Coffee Maker. Bedding in bedroom is an expensive mattress and soft white linen. We have high speed wi fi for streaming and Netflix plus Sling (basic cable on internet).
Great host, beautiful cottages clean, private, and cozy. I have traveled a lot this past year and have found many landlords go into your apartment almost every other day when you are not home. This is not the case with Debbie, they are very respectful of your privacy and if they need to show cottage they ask you ahead of time with plenty of advance notice. I would definitely recommend staying here.
Lynn
2017-03-31T00:00:00Z
Room Type
Entire home/apt
---
Property Type
Apartment
---
Accommodates
2
---
Bedrooms
Aiken, SC, United States
This tiny house on Harmony Hill Farm is in a bucolic setting yet minutes to the center of Aiken, and Hitchcock Woods. Boarding for your horse is available. An outdoor pavilion with fireplace and grill compliments your stay on this pastoral farm.
The Honey House on Harmony Hill Farm serves as a guesthouse in direct proximity to our main home. With its 384 square feet it is the ultimate tiny house! Yet, it has almost all the comforts of a regular home. We trust that the many interior shots of the Honey House will convince you of its unique charm. The library ladder to access the upstairs bedroom and bath is suitable for guests with a high mobility and an appreciation for adventure and the unconventional. The bed is Full Size. A kitchenette with a bar sink, microwave, toaster oven, wine cooler/refrigerator, electric water kettle, and a French press add to the convenience of this 'home away from home'.
Edward and Dorothee were wonderful hosts and were extremely accommodating, even though we contacted them with very short notice. Their property is beautiful; the horses and chickens make it feel rustic, even though you're only minutes away from downtown. The Honey House itself was lovely--very cozy and nicely decorated. It was an excellent place to stay for a few nights; we would definitely stay here again if we were passing through Aiken and we recommended it to many of the other guests at the wedding we attended.
Andrew
2016-04-25T00:00:00Z
This was maybe the best AIRBnb experience to date. Dorothee and her whole family could not have been sweeter or more fun to be around. I'm actually thinking about planning a trip just to visit them! I'd definitely stay there again and recommend them as hosts!
Micah
2016-09-05T00:00:00Z
Great little spot for a single person or couple. Very good location close to town but still has that farm feel. Definitely recommend this place!
Ka'Aina
2016-06-02T00:00:00Z
Dorothee and Edward were so hospitable and kind and helpful - a true joy to stay with! We could not have asked for a better place to stay in Aiken. The house itself is gorgeous and charming and really a one of a kind experience. It is just close enough to downtown that the drive is super short yet you feel like you've escaped to relax in small luxurious home on a farm. We would definitely love to come back again and would suggest it to anyone looking to stay in Aiken!!
Sarah
2016-10-09T00:00:00Z
My time at The Honey House was the perfect getaway. The hosts were wonderful, their property is peaceful and serene. I was made to feel like family, even sharing a glass of wine with my hosts one evening. And believe me, the photos just don't do it justice. The Honey House might be small, but it doesn't feel small, the decor is lovely- and the bed.... Is so comfy! I haven't slept like that in ages! I will be back often! Five stars folks.
Nicole
2016-07-26T00:00:00Z
Dorothee was very accommodating, and the Honey House was great. Clean, beautiful, quiet, and the horses were a plus!
Zack
2016-08-01T00:00:00Z
I stayed at the honey house on my trip to Ironman 70.3 in Augusta. It was the perfect place to relax before and after the race. My girlfriend loved seeing the chickens and petting the horses. The house is a short drive to downtown Aiken where there are many restaurants and shops. It is also not too far from Augusta. It took us less than 30 minutes to get there. We really enjoyed our stay and would love to comeback some day!
Henrique
2016-09-26T00:00:00Z
Dorothee was great! What a cute little house. Fun for a night or two to get away. Clean, well kept place. Be aware that cooking here is limited to a microwave, toaster oven, and outdoor grill. Aiken is a cool little town, too
Ryan
2016-07-04T00:00:00Z
Room Type
Entire home/apt
---
Property Type
Other
---
Accommodates
2
---
Bedrooms
Aiken, SC, United States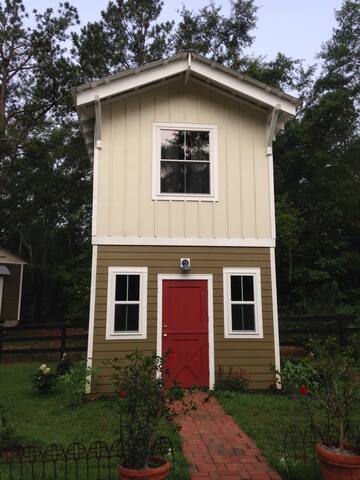 Southern Living Home in historic downtown Aiken, SC. Convenient to restaurants and several nearby Aiken golf courses (approximately 20 miles to Augusta National Golf Course). All the charm of Historic Aiken with all of the convenience a new home offers.
Room Type
Entire home/apt
---
Property Type
House
---
Accommodates
6
---
Bedrooms
Aiken, SC, United States
Lamplight Cottage & Stables boasts an adorable, recently renovated, 2/2 cottage, a solid 2 - 14x14 stall barn, tack/feed storage shed, wash rack, arena with sand footing, 3 paddocks, has easy parking for trucks & trailers, and is close to just-about everything. This 3 acre farmette is perfect for foxhunters, eventers, h/j, polo, and other horse-traveling people. Fenced in back yard & kennel for well behaved dogs.
Lamplight C&S is under 5 miles to Hitchcock Woods, Aiken Hounds, Whitney Polo Field, downtown Aiken, Bruce's Field and Highfields. The Vista, Stableview, New Bridge, and many other equestrian venues are easily accessible from this location.
The cottage is gorgeous - very nicely updated, and the location was great. It was very easy to get to any equine related activity. The stalls are large and comfortable. The hosts were very nice and answered all questions very quickly.
LeeAnn
2017-03-06T00:00:00Z
Super cute little house in a quiet area, but a short drive from downtown Aiken. Katherine was great to work with. Great set up for dogs or horses. :)
Erin
2017-02-20T00:00:00Z
Room Type
Entire home/apt
---
Property Type
House
---
Accommodates
6
---
Bedrooms
Aiken, SC, United States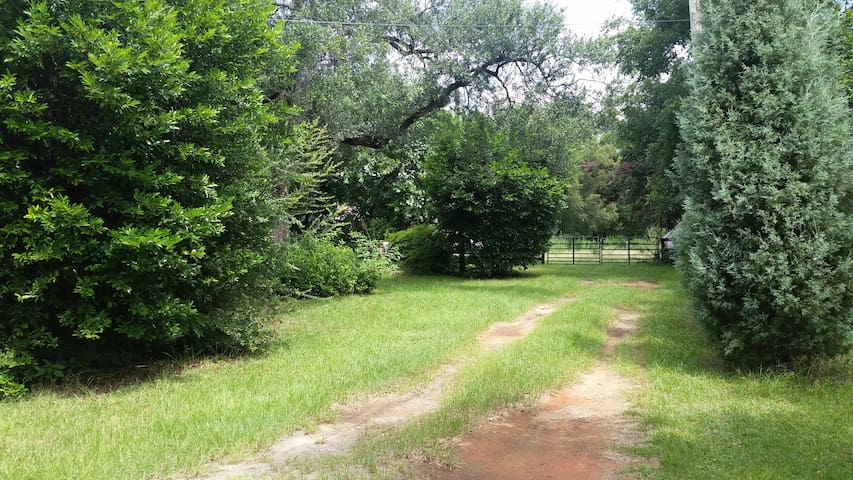 Cozy cottage on tree lined street in Aiken historic district.2bedroom 1 bath.perfect for 2 singles or 2 couples.Walking distance to downtown restaurants and shopping.Across the street from Rose HIll Estate with restaurant and walking gardens.Screened porch and deck.Nicely furnished.Plentiful parking.
A wonderful home in Aiken! Very comfortable and convenient...could not have asked for a better place.
Liz
2016-08-15T00:00:00Z
Cottage was really cute & comfortable. I never met Bobbie but she made sure check-in was easy & convient.
Hannah
2016-11-21T00:00:00Z
I would highly recommend this home to anyone wanting a quiet comfortable enjoyable visit to Aiken, SC.. truly a pleasant experience in all aspects!
Lee
2017-02-27T00:00:00Z
We spent an extended stay while looking to buy a home in Aiken and Bobbie was great. The cottage was so comfy and accessible to the historic district it gave us the chance to really feel Aiken. We were able to cook and entertain friends comfortably. Adorable getaway and Bobbie Ann loved our dogs - totally worth staying there just for that!
Beth
2017-01-13T00:00:00Z
The house is super cute, tucked away. We enjoyed our stay with our pets. We had to leave Charleston because of hurricane Matthew and this turned out to be a lovely alternative to a hotel. We will come back.
Margarita
2016-10-09T00:00:00Z
We needed a place to stay over Thanksgiving while visiting family and found this lovely listing. Pictures accurately and clearly described what amenities were included, so we took the plunge. Bobbie communicated with us right away and made us feel at home upon arrival.
Eric
2016-11-30T00:00:00Z
Super easy check in. The house was really private and comfortable. The yard was awesome for privacy. The neighborhood was quite and safe. The location was also great. The "downtown" is blocks away.
lori
2016-08-07T00:00:00Z
The cottage is comfy, cozy and perfectly located for walking to enjoy the shops and restaurants of downtown Aiken. Loved the screened porch and the large yard.
John
2017-01-22T00:00:00Z
Room Type
Entire home/apt
---
Property Type
House
---
Accommodates
4
---
Bedrooms
Aiken, SC, United States
My place is close to golf, family-friendly activities. You'll love my place because of the coziness and the location. My place is good for couples, solo adventurers, business travelers, families (with kids), big groups, and furry friends (pets).
The Inn Houndslake was a delightful surprise! It has gorgeous views, was spotless and very hospitable. A great stay!
Carrie
2017-03-18T00:00:00Z
The host canceled this reservation 3 days before arrival. This is an automated posting.
Jane
2016-10-04T00:00:00Z
Room Type
Private room
---
Property Type
Bed & Breakfast
---
Accommodates
4
---
Bedrooms
Aiken, SC, United States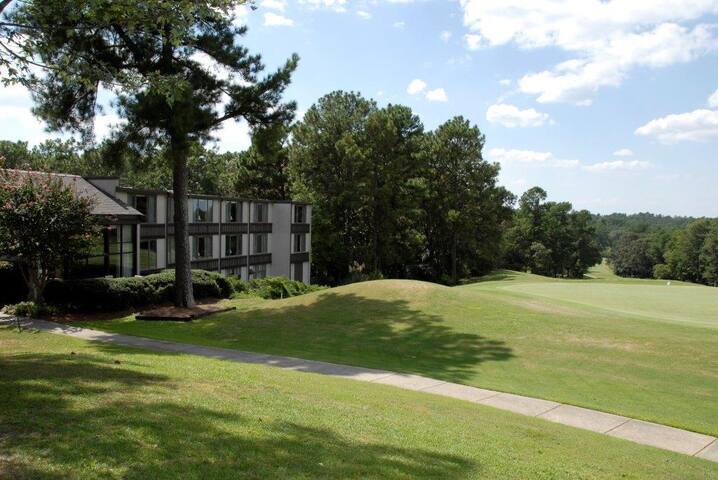 Charming townhouse for the Masters! Stay in beautiful Aiken, SC (25 minutes from Augusta) for your Masters experience this year. Aiken is a lovely town with gourmet restaurants, unique nightlife, and eclectic shops.
Room Type
Entire home/apt
---
Property Type
House
---
Accommodates
4
---
Bedrooms
Aiken, SC, United States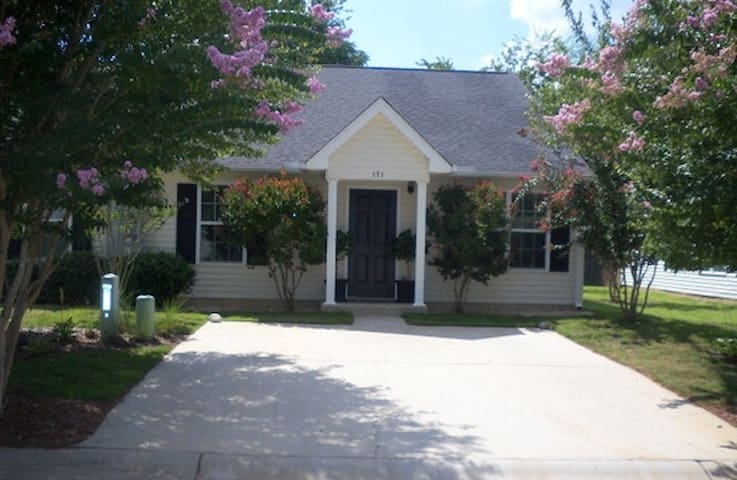 Located close to downtown restaurants and shopping. 2 minute drive to Bruce's Field or Hopeland Gardens; 15 minutes to local horse shows. Its located on the edge of Aiken horse district. I love waking up to the peace and quiet of the country, but the convenience of living in town. Sitting surrounded by gardens, with a cup of coffee (or glass of wine) listening to the birds is the perfect way to start and end a day. Fenced for the safety and enjoyment of your four legged traveling companions!.
The cottage has a shared driveway, but separate building in the back yard.
A wonderful small cottage! Beautiful garden that nestles it. We will definitely stay here again! Colleen is wonderful host!!
Susan
2017-02-25T00:00:00Z
This is hands down the BEST place to stay in Aiken! Colleen has great communication with her guests, and was available for checking in. The neighborhood is very quiet and the cottage itself is a cozy and comfortable cottage with all the necessities. The bed was SUPER comfy, so after a long day of horsing around it was a dream to sleep in. There were fresh flowers, fruit and cookies when I arrived. The only thing missing were carrots for my horse (but there were apples!). I plan on staying here again on my trips to Aiken.
Amanda
2017-02-08T00:00:00Z
The Dogwood cottage was perfect for our weekend in Aiken! A pristinely landscaped and well-lit path takes you to the cottage. The cottage is beautifully decorated and very clean. It has everything you need: coffee, cream, condiments, oatmeal, local honey and even dog biscuits! C was a lovely hostess. We had a wonderful stay and recommend you stay here.
John
2017-01-15T00:00:00Z
Please use the review I send to Colleen for the public review
Kristin
2017-03-30T00:00:00Z
Wonderful stay in this quaint cottage. Very well landscaped property. Comfortable bed & everything we needed for a great stay. A short 5 minute drive to Downtown with some great food. Would definitely return should our travels bring us back.
Jim
2017-04-06T00:00:00Z
Room Type
Entire home/apt
---
Property Type
Guesthouse
---
Accommodates
2
---
Bedrooms
Aiken, SC, United States
Enter dates to see full pricing. Additional fees apply. Taxes may be added.