100 year old stone country home, in the heart of Aloney Abba Templer village. Recently renovated. One bedroom, living room with pull out double couch. Complete kitchen and dining area facilities. Bathroom with shower. Laundry facilities. Parking available. Beautiful country surroundings. 60 sq. meters. Limited bus service to the area, car recommended.
4 guests maximum. 60 meter square. Private entrance. Quite street. Tastefully decorated - boutique style.
Most beautiful area in the north.
We had a great time at the old, yet superbly renovated, Templar house. A really great way to spend your weekend on the the lush forest scenery of the western Yisrael Valley
Yoav
2016-05-15T00:00:00Z
Eran's unit is lovely! It is just as described, private and quite. The kitchen is spacious and fully equipped. Eran left us some home-made cookies, olives and tea mix that were great. The village itself is nice, conveniently located near shopping centers and main roads in the area (all short driving distance). Eran was very nice and welcoming, made sure everything was in order and gave us recommendations on local restaurants. We had an amazing experience and have already recommended this unit to all our friends.
Orly
2016-06-05T00:00:00Z
We enjoyed staying at Eran's house so much! Absolutely everything was perfect - lovely quiet neighborhood, clean, comfortable, cozy, fashionable house with the little private yard, teas, coffees, everything you need in the kitchen was there, we even had complimentary food and sweets! Eran made us very welcome, met us upon arrival, showed everything, helped with all we needed any time we wanted to ask him anything. Everything is new inside the house, the hosts really put a lot in it to make the place suiting every need the guests might have. It's a place you don't want to leave for sure!
Sasha
2016-11-18T00:00:00Z
Eran and his wife were very welcoming and friendly hosts. The house we were staying in was very charming, clean and tastefully decorated, to my opinion above Israeli average. As this house is over 100 years old and very well built, we had no need for the air conditioning (which was available, though). Our hosts left us in the kitchen home made olives, great self-made cookies and tea and a bottle of wine. In addition, they drew a map for us to easily explore the neighborhood. The house is located in a small, charming and very peaceful community. The house was exactly as described. We had no problems of any kind and enjoyed our stay very much. Unfortunately we booked only for two nights, as we had other plans, and all of our were sad we had to leave so soon. I hope we'll manage to come again and stay longer. I warmly recommend both Eran and his place!
Amir
2016-05-21T00:00:00Z
My parents also been at eran's place, and they enjoyed of curse, they like the house and area, and probably more people from my family will come to visit!
Avi
2016-05-08T00:00:00Z
We had a great experience at Eran's place. The unit is beautifully designed, well equipped, and there were a lot of delicious extras waiting for us in the kitchen...:) Eran is a wonderful host and made sure we had everything we needed. The village is also beautiful and quiet, and a lot of things to do and places to see around. Very much recommended!!
michael
2016-06-13T00:00:00Z
We had a great time at eran's appertment! Great kitchen and bedroom, beautiful area to travel in!! We will come again for sure!
Avi
2016-02-16T00:00:00Z
Everything was great. Eran and Debby were very nice and took care on all we needed. Highly recommended.
Ronen
2016-08-12T00:00:00Z
Room Type
Entire home/apt
---
Property Type
Apartment
---
Accommodates
4
---
Bedrooms
אלוני אבא, מחוז הצפון, Israel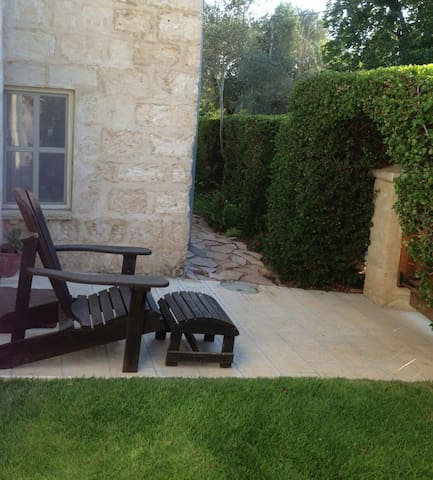 My home is a beautiful privet house with a yard located in an idyllic Village called Beit Lechem Haglilit adorned with beautiful European-styled stone houses, set deep into the hilly countryside of the Galilee. The Village is wonderful to explore all week long. There are great restaurants and wineries nearby and it is a short drive to Haifa, Nazareth, Sea of the Galilee and Acre. I've been living in this area for more than 30 years and would love to share my knowledge with this amazing area.
The house is fully renovated, 130 sq.m with a big and beautiful garden and a great deck balcony. The kitchen is big and well equipped, the living room is big and comfortable and acquitted with a big cable tv. 1 room is a master bedroom - you will enjoy a spacious room with luxurious bathroom, comfortable quin size bed, a closet to put your stuff and a privet exit to the yard. The 2nd room is perfect for a single person or 2 small kids. With a privet bathroom (down the hall). Or The 2nd room is a big and comfortable room suitable for 2 persons. you will have your own privet bathroom (down the hall). you'll have a big double bed a closet to put your stuff your own desktop in the room. The place is equipped with free wifi. In general this is aperfect place to rest after a long day travelling around. I have a sweat dog called Chita which is very friendly and stays in the back yard (not in the house), and a gorgeous cat name Ginger that goes in and out as he likes.
Beit Lechem Haglilit is an idyllic town adorned with beautiful European-styled stone houses. Interestingly, some scholars have even suggested that this town might have been the actual birthplace of Jesus, due to its proximity to Nazareth, approximately 25 minutes away. Its European roots stem from its establishment as a farming village by Christian Templars in 1906. Over the next two and a half decades the village atracted an additional 20 Templar families. Two oterh neighboring villages, Waldheim and Arnhem also attracted a Christian german population and together the three towns became the heart of what would later be during the rise of Hitler, a resident enemy population. The Village is wonderful to explore weekdays and on weekends (Fridays and Saturdays). Most of the restaurants are opened on the weekends, and one particularly interesting stop is the Derech HaTavlinim (the Spice Farm) There you can taste a variety of different spices that are locally grown. The spring is particularly beautiful in this area with numerous varieties of flowers growing all over the surrounding valleys. There are varies local restaurants, an art gallery and also the gallery of the Templar settlement (which tells the history of the place) , a luxury spa you can enjoy with a minute walk distance and more.
Nice place with good help from Tami.
Edgar
2017-04-01T00:00:00Z
We could not have dreamed of a better host than Tamar. She welcomed us in her beautiful home and made us feel comfortable right away. Her home is very large and with a beautiful garden, nicely equipped, perfect for a family. We had a fantastic stay and hope to meet Tamar again.
Iris
2017-03-17T00:00:00Z
We stayed at Tammy's house with our 1 year old daughter for 3 days, 2 nights and enjoyed every minute of it. We had an excellent time and would really recommend it for anyone who is looking for a place at Yizrael Valley. The house is fully equipped. For the adults - cable TV, WIFI, fully equipped kitchen, relaxing shower and everything is sparkling clean and beautifully decorated. For children - this is a little piece of heaven with enormous amount of books and toys, both indoors and outdoors. It was also a pleasure to play with the friendly dog and cat. Tammy was available for any question at any time and made us feel home from the first minute. We'll definitely come back to visit!
Nir And Maytal
2017-03-12T00:00:00Z
Overall good value for money.
Kate
2016-12-22T00:00:00Z
Room Type
Entire home/apt
---
Property Type
House
---
Accommodates
4
---
Bedrooms
Bethlehem of Galilee, North District, Israel
My place is close to nazareth and haifa. In our suite you can find 2 rooms and a kitchen, and all you need for your vacation. In the entry to the place you will find a big jacuzzi.
We are in the old templer village in the north of israel
Not far from us a big pretty forest
הגענו למקום קסום ויפייפה כשקיבלו את פנינו, נורית וקובי המקסימים. חוויה מפנקת הכוללת ארוחת בוקר,מיקום מצוין והאווירה מיוחדת מאוד ומלאת היסטוריה וסיפור מרתק. נורית דאגה להשאיר לנו ג'קוזי חם שללא ספק היה מעולה. ממליצים בחום להגיע להתארח במקום זה. נשמח לשוב לכאן גם בעתיד :) נורית וקובי תודה על חוויה מעולה !
Guy
2016-11-26T00:00:00Z
Room Type
Entire home/apt
---
Property Type
Bed & Breakfast
---
Accommodates
4
---
Bedrooms
Bethlehem of Galilee, North District, Israel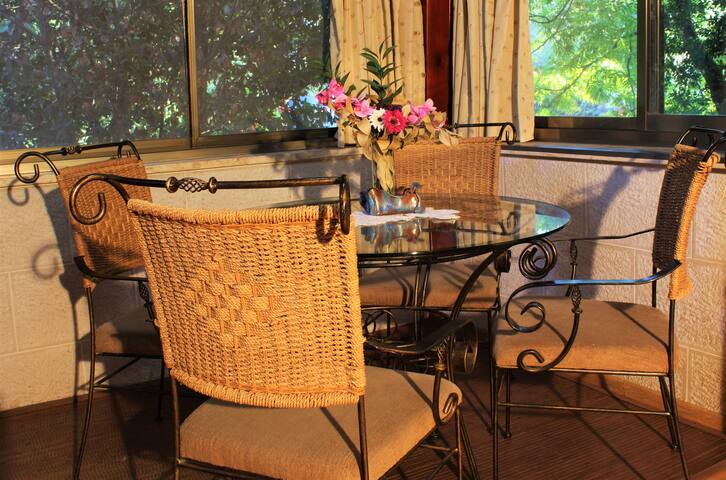 the house (ground floor of 2 floors-we live on the top one ) has a bedroom, kitchen with a large seating area, shower and bathroom and its adjacent the studio where 4- 7 people can sleep. outside you have a large yard with sitting corners.
our house is an Ancient stone house built during the Templar period (early twentieth century). placed in nature -close to Nazareth, haifa. we have large garden with chill out corners. the atmosphere is quiet and relaxing.
Our environment is quiet and peaceful countryside yet close to shopping centers, tourist attractions and the beach
A good night in a nice place, in nature. Eran and Nurit are very nice and welcoming. A good place if you want to visit this part of Israel !
Clément
2015-08-16T00:00:00Z
Eran the host was very welcoming, helped us in everything we needed and gave us some great tips for nice springs to swim in, around the village. We stayed in the ground floor which was very spacious, and enjoyed the garden and its tea herbs. The kitchen was quite well equipped. The house is very near to a cow farm and from time to time you can smell it. The shower water overflowed to the kitchen once, and Eran took care of that.
Yoav
2015-08-22T00:00:00Z
My wife, myself and our 3 children stayed at Eran and Nurit for 2 nights in August. The historical old Stone house is very special and full of atmosphere, clean and organized. located in the beautiful Alonei Aba (a former German-Templar Village). The house is quite and Isolated from the other houses. we had our coffee in the garden. Eran and Nurit were very very nice and helpful. The place is located nearby (driving distance) the Northern attractions: Galilee, Beit Lehem Ha Glilit (1 kilometer) and Haifa. We had a wonderful time.
Rami
2015-08-24T00:00:00Z
Eran was very nice and welcoming. We found the apartment clean and cozy.
Michel
2015-04-27T00:00:00Z
Nurit and Eran are friendly hosts. The stone house offered one big workshop room with beds for our kids and one bedroom for parents. The kitchen allowed us to prepare a simple meal. We did not use the garden.
Herman
2016-05-02T00:00:00Z
Eran was very welcoming. The house is located in a charming, serene and historic village (moshav) right next to a farm (cows) and a place where you could rent bikes.
Joan
2016-04-21T00:00:00Z
Hreat for young kids (1-5). The house has a large studio space inside with mattesses and pillows that allows kids to play around, have fun without being worried about tables and beds. The garden is nice with 3 outdoor sitting places in the shade to sit back, relax, have yor meals. We opend also a small inflatable pool for the kids and had lots of fun on a hot day. The hosts we're wonderful, gave us a warm welcome and everything we needed and also a lot of privacy.
Oded
2016-10-02T00:00:00Z
The area is lovely, lot to do with kids, Eran's place has a very very enjoyable garden. 2 problems, one immediately solved, there are a few delicate things in the rooms that my kids could have destroyed but we removed them. Second problem, hard to make the rooms completely dark as there are no blinds. But we enjoyed our stay very much.
michele
2016-08-26T00:00:00Z
Room Type
Entire home/apt
---
Property Type
Apartment
---
Accommodates
7
---
Bedrooms
allone abba, Haifa District, Israel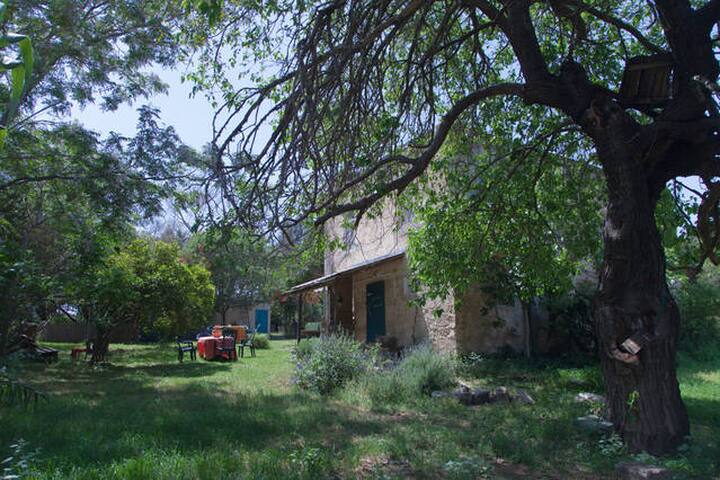 brand new apartment in a very quite place. Includes a bed. kitchen, Bathroom, washing machine,small garden. In the center of Ramat-yishay. by walk to public transportation. 12 km from Nazareth. full week stay will give 1 free reflexology treatment.
Yoshi was great, a very nice person, took care of us from the beginning until the end. The neighborhood is in a very good place, has everything you need. Thank you Yoshi!
Ruth
2016-08-23T00:00:00Z
The loft is as described, in city center, quiet nice area, in front you can relax in a swimming pool after work (if you are there for business). Yoshi is always available to help. Toda raba and see you next time, I will repeat.
Josep
2016-07-24T00:00:00Z
the apt was clean and quiet in a nice and safe neighborhood. the host and his family were very welcoming and made sure that i have everything i need even late at night
Moran
2016-09-18T00:00:00Z
Very pleasant stay!
Danijel
2016-12-01T00:00:00Z
Warm and cozy little place in a quiet and family-friendly neighborhood, hosted by a great family!
Julia
2017-04-01T00:00:00Z
Yoshi was a great host. Very nice comfortable place. Very clean. Close to Haifa, Galilee.
Dana
2016-12-16T00:00:00Z
Thank you , all was good
Moshe Zucker
2017-01-08T00:00:00Z
We needed a place to stay one night in the North and this was perfect. Yoshi recommended a great bakery which we went to twice. He communicated well and we felt the place was a good value.
Janet
2017-02-25T00:00:00Z
Room Type
Entire home/apt
---
Property Type
Apartment
---
Accommodates
2
---
Bedrooms
Ramat Yishai, North District, Israel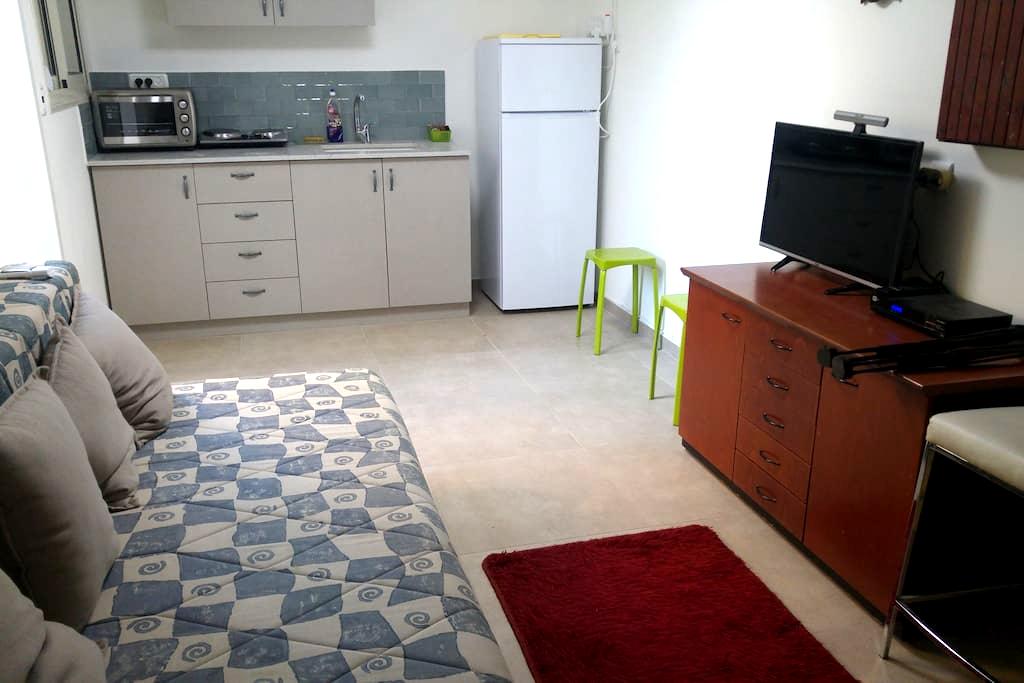 3 nights min. 2 double beds, kitchenette, newly renovated. separate entrance, outdoor patio, close to lovely Tivon shopping , cafes& archeological sites. 20 m. from Haifa, 20 m. from Nazareth & 35 m. from Sea of Galilee. We'll help plan your trip!!
Apt. with everything you need to make your stay comfortable. Groceries and restaurants walking distance away. Public transportation . Special requests? just ask.
beautiful park atmosphere. Walking distance to variety of stores including fully supplied grocery store open from 7:00 t.o 11:00 pm
This is indeed a perfect place! Comfortable and clean two room apartment exactly like is was described. Quiet surroundings and easy access with suitcases - and parking right outside the door. Aircon, cable TV and Wifi - and a great bed and warm blanket for Israeli autumn. Thank you - Susan and Yaakov - for making my stay so enjoyable.
Caroline
2015-11-17T00:00:00Z
Very nice hosts. They greeted us and invited us the first evening to their house for a tea and a talk. They provided spot on recommendations about the places to visit nearby. Chocolate chip cookies were excellent (free refills,too). We still enjoy the clementines from her garden. Thank you very much. Recommended to everybody.
Tomasz
2016-01-06T00:00:00Z
Very nice clean apartment with homemade cookies and fresh milk in the refrigerator. Large flat screen TV. Very nice couple who took extra steps to accommodate our stay.
John
2014-09-19T00:00:00Z
Yaakov and Sussan were super friendly, they have really made an extra effort to make us feel comfortable. The apartment was clean and ready for us, and also equipped with delicious hand made cookies of Sussan. The neighbourhood is quiet and peaceful, well located for trips in the north of Israel.
Shai
2015-04-09T00:00:00Z
A very good experience. A quiet neighborhood. Close to supermarket and public transportation. Had my wife's parents visiting us and staying here and it was very convinient as we are living 15 min walk from the place. Very good communication with the hosts.
Eitan
2016-11-18T00:00:00Z
I felt welcome and overall the listing description is accurate. The neighborhood is typical for Tivon - quiet and peaceful. Thank you, Nate
Natanel
2016-02-28T00:00:00Z
Everyone should visit the north and this is the way to do it. Our lodgings were clean, fully stocked, comfortable, and in a great location. Our hosts made us feel welcome and were thoughtful about anticipating anything we would need to know about traveling during national holidays. Hope to do it again someday.
Amy
2014-05-07T00:00:00Z
wonderful hosts, warm and welcoming down to the home made cookies, highly recommend for a clean and quiet spot in northern israel!
ronit
2015-06-21T00:00:00Z
Room Type
Entire home/apt
---
Property Type
Apartment
---
Accommodates
4
---
Bedrooms
Kiryat Tiv'on, Israel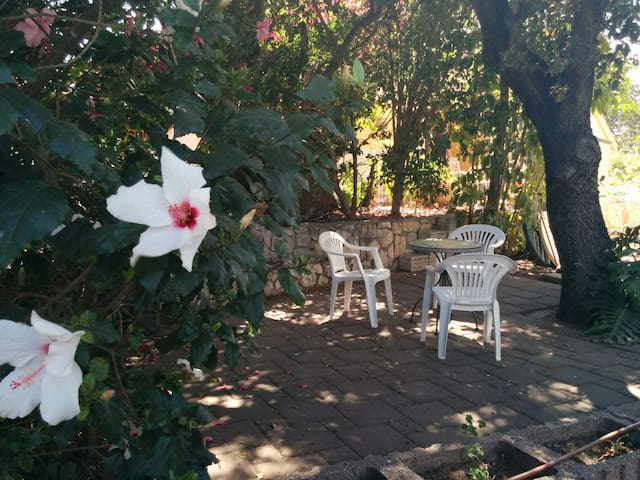 דירת שניים וחצי חדרים בקומה השנייה של בית אבן חדש בבית לחם הגלילית. כניסה נפרדת, מטבחון, מקלחת ושירותים, מרפסת גדולה.
The apartment is on the second floor of a new stone house. It has a bedroom, living room, kitchenette, bathroom and a large terrace. It is suitable for a single person or a couple. In the apparent there are Flat TV with cable, wifi, air conditioners, iron and ironing board. A kitchen with a refrigerator and stove. Bethlehem of Galilee is located in the Jezreel Valley, 7-minute drive from the commercial center of Alonim, 10 minutes drive from Ramat Yishai or Tivon and 25 minutes from Haifa and Nazareth. There is parking lot. In the summer, it is possible to enter the swimming pool of the village, half a kilometer away, at a cost of NIS 35 guest. הדירה נמצאת בקומה שניה של בית אבן חדש. יש בה חדר שינה, סלון, מטבחון, שירותים ומקלחת ומרפסת גדולה. היא מתאימה ליחיד או לזוג. בדירה טלוויזיה עם כבלים, wifi, מזגנים, קרש גיהוץ ומגהץ. מטבח עם מקרר וכיריים. בית לחם הגלילית ממוקמת בעמק יזרעאל, 7 דקות נסיעה מהמרכז המסחרי של אלונים, 10 דקות נסיעה מרמת ישי או מטבעון ו -25 דקות מחיפה ומנצרת. ההגעה למקום אפשרית עם רכב פרטי בלבד. ישנה חניה בשפע. בקיץ, ישנה אפשרות לכניסה לבריכת השחייה של המושב, במרחק חצי קילומטר, בעלות של 35 ש״ח לאורח.
Great place, spacious,clean and new.
Omer
2017-02-25T00:00:00Z
This is an amazing place! Very nice, cozy and clean. Great for couples. Our host, Adi, was helpful and made us feel at home. This place has a large and beautiful garden with Petting Zoo. We even saw a baby pony.
Maria
2017-03-25T00:00:00Z
lovely apartment with carying hosts. they took care for everything we needed and always interested with our satisfaction. I truly recommend!
ori
2016-09-24T00:00:00Z
I would be happy to stay here again!
Natanel
2016-09-17T00:00:00Z
Room Type
Entire home/apt
---
Property Type
Apartment
---
Accommodates
2
---
Bedrooms
Bethlehem of Galilee, North District, Israel
Our nice little house is all about the feeling of comfort and coziness. Starting with our colorful living room that is fit exactly for watching late night movies. Our fully stocked wooden kitchen is designed for making delicious homemade and healthy food. Our guest bedroom, with its walls painted light turquoise, is warm and cozy ,allowing you to fall asleep easily and dream beautiful dreams.
Only one night, from evening till morning, but my stay was amazing: magic people, magic place. I was treated like a special guest, a family friend. Also by three friendly pets. Arriving with public transport, I started liking the surroundings, nature, farms, very quiet village, no bar/coffe shops/food stores ... nothing! ... beautiful! ... (for me)! The house, at this season, is surrounded by a maedow of yellow flowers and some orange trees. I was greated with soup, sage tea, and shakshuka, a tipical dinner dish. And then a few hours of chatting, exchanging interesting experiences (i.e. "how is it to live one month non-stop inside a submerged submarine?" or how to grow cannabis for medical purposes), and information about Israel from a professional archeologist tour guide. The living room is cozy and my room was roomy, comfortable, quiet, I had a good restful sleep. And in the morning, from the windows of my room, yellow flowers all around.
Georges
2017-02-01T00:00:00Z
Room Type
Private room
---
Property Type
Apartment
---
Accommodates
2
---
Bedrooms
Bethlehem, North of Israel, Israel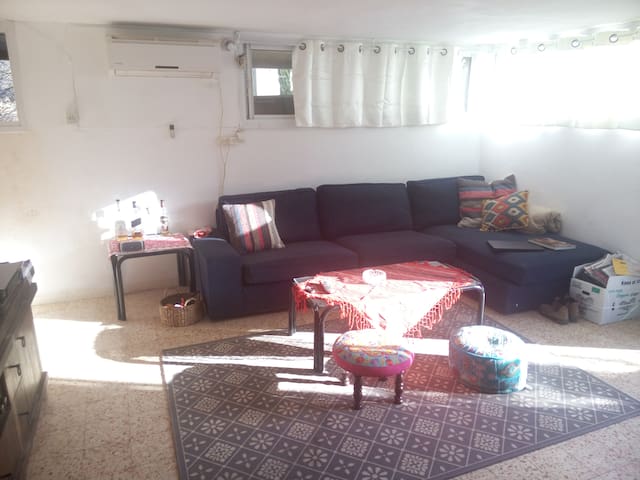 A very beautifull and comfortable house at a ground floor. 20 minutes from Nazareth,30 minutes from Tiberias,20 minutes from Haifa. Excellent for families with children, couples and groups. : 2 private bedrooms, each room has double sized beds, living room with a fully equipped kitchen, and sofa that open for 2 pepole .bathroom and a 20m large balcony . There's a Supermarket open 24/7 3 minutes from the apartment. Available WIFI connection. there are alot of places to go out at the day night
There is a gas boiler for hot water all the time.the boiilr on. It is possible to wash and dry laundry at my house. Smoking is allowed outside on the balcony. It is also possible to get iron or hair dryer if necessary. Other things they need during your stay, please contact me and see if is possible to get to you. You can obtain additional charge: Massage by appointment. Movie Projector and sing karaoke Brecfest
Ramat - Yishay is a quiet and a peacfull place perfect for traveling and relaxing. There are tourist attractions in the area such as; Sugways, Buggie's , Horse riding , Escape Rooms , Karaoke and cafes. There's a shopping center just 5 minutes walk from the house and there are alot of places to go out to at the night that are just a short walk away.
Great appartment great host. We came with 2 dogs. They gave us a worm welcome
אליה
2017-02-11T00:00:00Z
שכרנו את הדירה כדי לחגוג מסיבת רווקות לחברה, המקום ענה על כל הציפיות שלנו. מעוצב, מרווח, מאובזר (מקרן, מערכת שמע, רמקולים בכל חדר, תאורת אולטרה ועוד) וממש קרוב למועדון המרפסת! הנוף והשקט בבוקר הפכו את סיום השהות שלנו במקום למושלם. תמר היתה זמינה וענתה על כל הצרכים שלנו והכל ברוח נעימה ובאדיבות. אז תודה רבה!
Ilana
2017-04-01T00:00:00Z
Room Type
Entire home/apt
---
Property Type
House
---
Accommodates
6
---
Bedrooms
Ramat Yishai, North District, Israel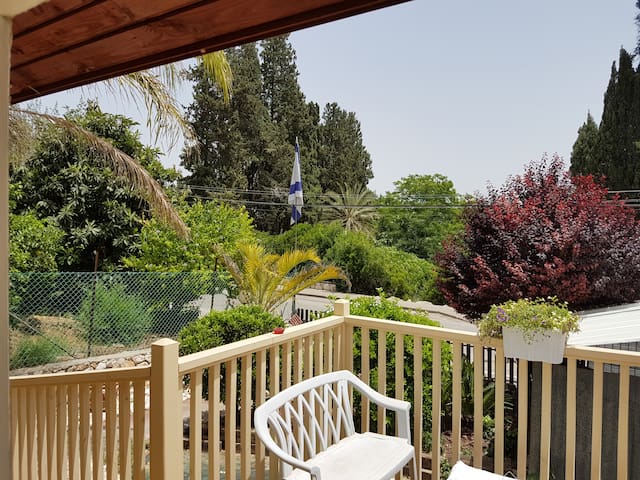 Our cool and comfortable one bedroom apartment has a true rural village feeling! it comfortably fits two and is centrally located on a guiet street . kiryat tivon is near the major northern urban center .
Room Type
Private room
---
Property Type
House
---
Accommodates
2
---
Bedrooms
קרית טבעון, מחוז חיפה, Israel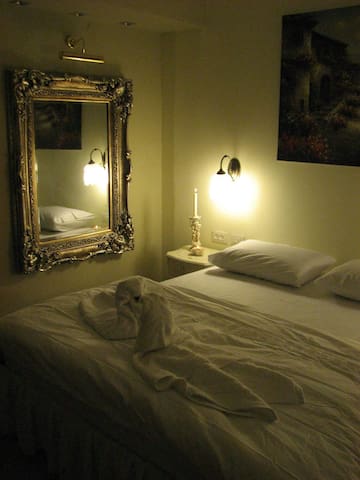 My lovely place in Kiryat Tivon is a nice quite close to nature and cosy place in the Izrael Valley in the north of Israel. I have a beautiful big veranda, going strait to the forest so the out door is vast and wild...
The place has one bedroom, a living room and a beautiful kitchen well equiped with vast Gorgeous green windows overlooking the forest.. You can use everything n the kitchen for cooking a home healthy meal..
Tivon is a lovely neighborhood, with a getaway to nature in any corner.. its surrounded by forests, and 5 minuts away is the beutiful Iarael vally where you have many nature parks, walks and more... There are many nice small cafe's and restuarants and local shops is 5 minuts walk from my house..
Room Type
Entire home/apt
---
Property Type
House
---
Accommodates
4
---
Bedrooms
Kiryat Tiv'on, Haifa District, Israel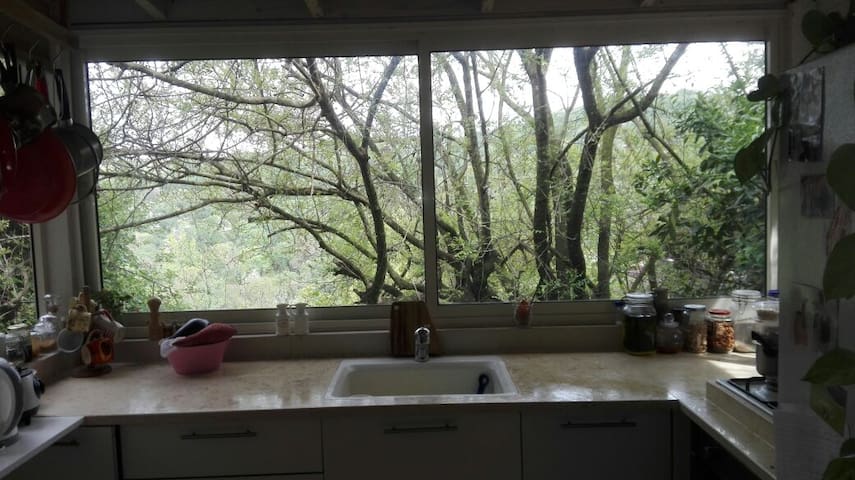 I live in a modern house located on a quiet road in the rural community of Bethlehem of Galilee, a former Templer colony and mentioned in the Bible. My house is set in a beautiful garden surrounded by fields and with views of the nearby wooded hills of Lower Galilee. There is ample parking and wi-fi throughout the house . We are 20 minutes by car from Nazareth and Haifa and the location is a perfect base for touring the Galilee and Golan Heights.
I am offering 2 newly furnished bedrooms, each with a double bed , writing desk , ample cupboard space and comfortable chairs to relax in . One room has a TV and en- suite bathroom with a walk-in shower . The other room has a private bathroom next to it with a full sized bath , fitted with a shower . Both rooms lead out to a charming patio with table and chairs overlooking a vast fields that changes colors with the seasons . A delightful place to relax with a cool drink after a long day of touring and listen to the birds . I have a spacious kitchen and I am looking forward to receiving my guests there . I am offering a full Israeli breakfast , which if you wish you can enjoy eating in the garden while taking in the fragrance of the lemon tree. There is a barbecue in the garden which you are most welcome to make use of . I have a cat who is rather old and spends of the time sleeping on his favorite cushion.
5 minutes by car is a recreation area with lots of shops , restaurants and pubs . There are many historical sites in the area of interest to all three religions .
Room Type
Private room
---
Property Type
Bed & Breakfast
---
Accommodates
2
---
Bedrooms
Bethlehem of Galilee, North District, Israel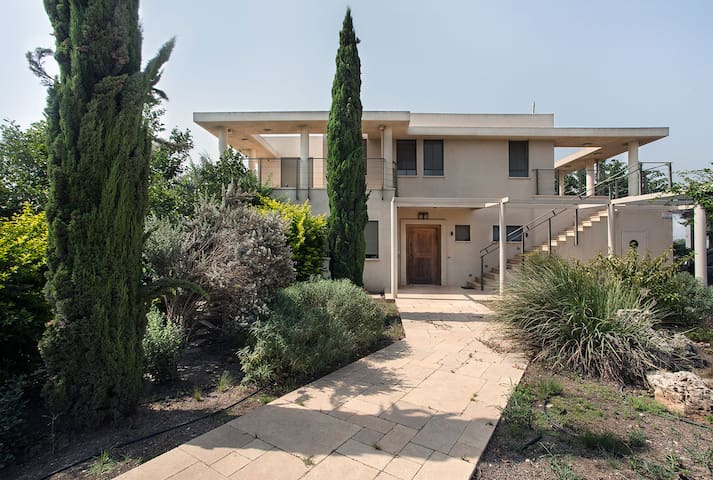 Ground floor of a stone house 100 years old placed in a green area between vineyards and fields. 25 min. from nathareth and 20 min. from haifa. our house has large garden where you can eat, read and relax. we offer israel countryside atmosphe
our house is an Ancient stone house built during the Templar period (early twentieth century). placed in nature -close to Nazareth, haifa. we have large garden with chill out corners. the atmosphere is quiet and relaxing. In addition to the private room with a separate entrance We offer yoga studio which can sleep up to 5 people on a sofa and 2 on mattresses aloney abba in vikipedia: (URL HIDDEN)
We live in a rural community and all around fields and unique nature reserve of ancient oak trees. Our home is at the edge of community and its very quiet here. The voices you hear are the birds around....
Eran was very helpful over my stay! Ask for directions for the secret well!
Jia
2014-06-16T00:00:00Z
Eran and Nurit are very nice and reasonable people. The communication flew easily. The house is nice and easy to find in the country side. All good.
Bianca
2015-08-13T00:00:00Z
Nurit and Eran were excellent hosts and Alonei Abba was a beautiful location. Eran is very knowledgeable about the sites in the area and gave us some great recommendations.
Emily
2015-03-05T00:00:00Z
the hosts are a very nice couple and the location is excellent. Unfortunately we were not completely satisfied with the cleaningness and with the room arrangement- there is no door(!) between the accomodation and the studio inwhich some workshops are taking place... To their credit it should be said, that after we complained they gave us back a part of the payment
eynat
2017-03-22T00:00:00Z
Eran's place is in a perfect spot in Israel. Enjoy the great location, the views and the special building
Yael
2017-02-04T00:00:00Z
the room is located in a beautiful area, under a big Morus tree. it's cozy, warm and has all you need as a start point to a trip at the north of Israel. the hosts are very welcoming and helpful. you can feel their love to the nature. i would defiantly come again in my next trip to the north of Israel.
Nir
2014-05-17T00:00:00Z
Both the place and the hosting couple are very calm... we really liked the place which is surrounded by a lot of green and offers relaxing quietness. Room is very clean and nice to stay at. Pictures on site are reflecting true essence of the place.
Yaniv
2015-08-30T00:00:00Z
The place was quiet and well-equipped and our host Eran was as helpful as could be. The only downside was the smell from the cowshed across the street.
Haim
2016-05-14T00:00:00Z
Room Type
Entire home/apt
---
Property Type
House
---
Accommodates
2
---
Bedrooms
Alonei Abba, Israel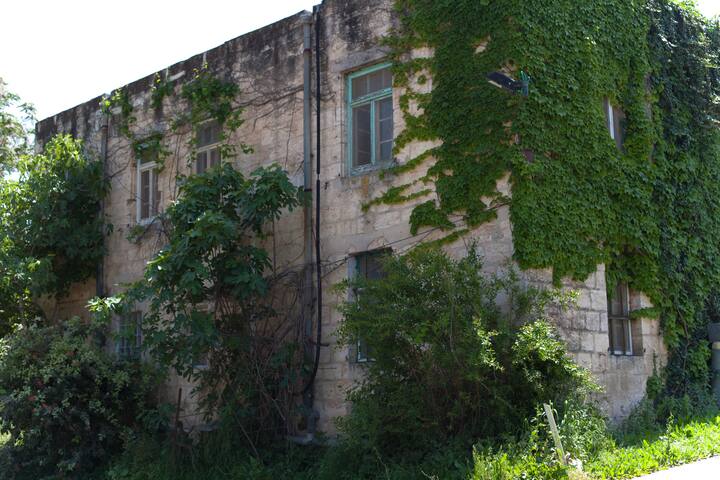 an extraordinary house located at the edge of a beduein village,looking at a beautiful view. Ten minutes walk from the Tzipory stream. The house surrounded with a vegetable garden and has a beautiful sitting space under a huge Atlantic terebinth tree. the main area of the house , is an open space with high ceiling and a small gallery . The house has an unusual atmosphere ,inspired by the aristic charectere of the owner.
Room Type
Entire home/apt
---
Property Type
House
---
Accommodates
6
---
Bedrooms
Ka'abiyye-Tabbash-Hajajre, North District, Israel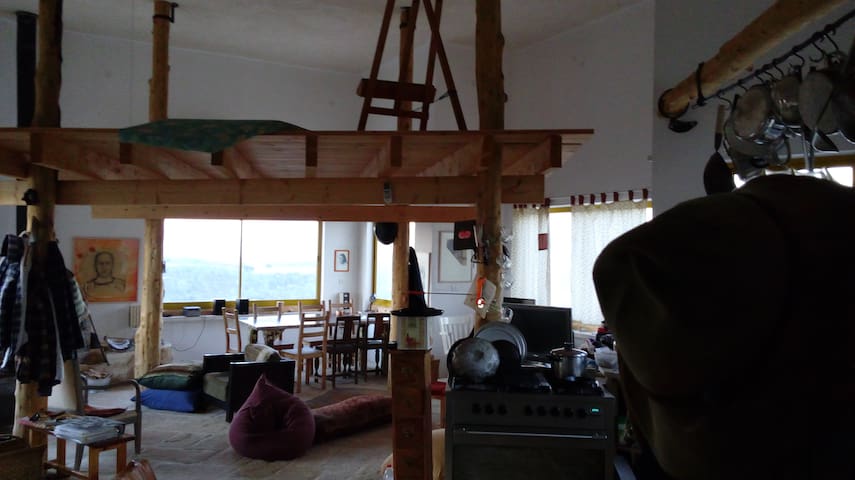 Premium room in Family spa resort half an hour from Nathareth in the galilee, we combine Specially designed rooms for couples, with a profetional massage. more abuot as (URL HIDDEN)
Room Type
Private room
---
Property Type
Bed & Breakfast
---
Accommodates
2
---
Bedrooms
Bethlehem of Galilee, North District, Israel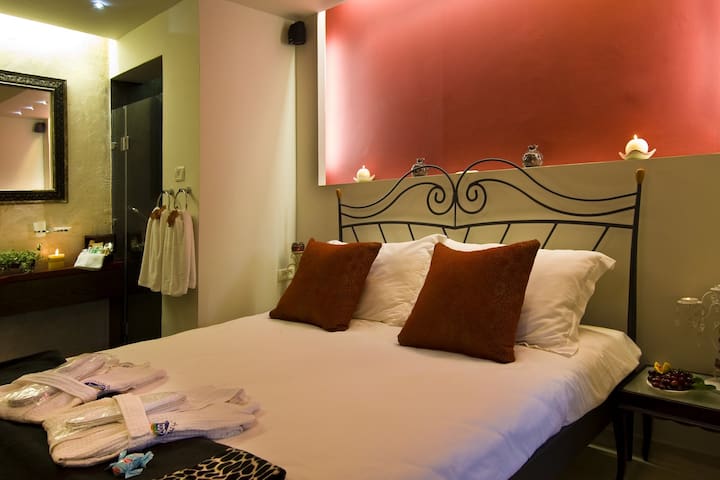 Deep in the heart of nature, A large indulging Bedouin camp tent. Located up above Zipori stream, 30 min. drive from Haifa, 20 min. from Kiryat Tivon. Accommodates up to 30 people. Ideal for groups and courses (can host up to 50 people).
The tent includes: Kitchen, Heating Stove, Mats and mattresses, Music, Bathroom and toilets, and a yard full of plenty relaxing spots. We also have some farm animals (A horse, Donkey, Chickens ets.)
North to the tent you can find Zipori stream (a great hiking area) and the beautiful Alonim reseve (Oak tree forest) to the south.
We found a very nice and peacfull place. The yard is graet. The hostilty was also graet.
Tali
2016-10-23T00:00:00Z
Room Type
Shared room
---
Property Type
Other
---
Accommodates
16
---
Bedrooms
Ka'abiye Tabbash, North District, Israel
Our cool and groovy loft is located in the end of the road in a very charming templers village. Surrounded by nature. The place is very quite and comfortable
The place is perfect for bachelor and bridesmaids party's and special events. Very suitable for several families or small groups . There is a fully equipped kitchen , a large dining table , fire place, back yard BBQ and outdoor seating . There is plenty parking, all around area attractions and perfect walking path to an ancient oak forest .
This an old templars village and all houses on main road were built at the beginning of last century so you can walk and it is very beautiful. There's a herbs&species farm, near by restaurants and many other attractions.
Great place for a relaxed stay with a large group. We used the loft to get away with the extended family for a weekend and had a great time. Ping pong table and dartboard (and the archery lot next door) kept eight kids busy and happy. Dagan is an excellent host!
Yael
2016-04-24T00:00:00Z
Dagan's partner welcomed us warmly and helped us feel comfortable as well as gave us great recommendations. We came to the loft for a bachelor party weekend and it was perfect for that. It's really big, it has lots of place to sit. The ping pong table and other games available added a lot. The biggest gem of the place was the amazing and large backyard which had lots of nice areas to sit in including one place for making a bonfire. We were provided with the wood for that as well as the cozy and unifying fireplace inside. The loft was at the edge of the village with a beautiful valley to look at and lots of peace and quiet. This was truly the ideal "bachelor pad" as well as also being a great getaway for families as well. It really does its job at unifying everyone. Highly recommended!
Raphael
2016-12-10T00:00:00Z
We stayed here for one night for a bachelor/dinner party with a group of friends, and had a really good time. The location really fit our needs, with a large and well equipped kitchen and dinning area. It has a fire place inside and a fire pit in the garden, which served us well in the chill of a January night. The location in quiet and allows for a nice walk in the nearby fields. The host was very friendly and helpful. Overall a good experience and I would recommend if you're look for a place for a few days getaway with a group of friends.
Paul
2017-01-21T00:00:00Z
Dagan was very helpful and nice. The loft is located at a beautiful place and full of character. There's plenty of space and a very comfortable back yard as well as a convenient kitchen. Overall we had a really good time. As was advertised, there's no air condition in the loft. This would have made things even better in a hot August day.
Eyal
2016-08-21T00:00:00Z
Great place, had a wonderful bachelor party. The kamin and the fire place kept us warm in the cold winter. All Enjoyed. Thanks
Alon
2017-02-18T00:00:00Z
Great huge place. It has everything you need. Wonderful garden for a fire/bbq and great nature to walk arround in just outside. Dagan was very nice ane hospitable.
Nimrod
2016-09-18T00:00:00Z
Dagan is a very nice person and he left us a clean and really cool place to stay in. he was available for every inquiry we had and was happy to help. The place is very big and it was really a very good choice, we all had fun and everyone enjoyed (especially the homey fireplace and the ping pong table) :) the fee through the website was a little confusing though, since airbnb charges a commission, a fact that we both didn't really realize as new users, but all was settled in the end the best way possible. Thanks Dagan for everything!
Hilla
2016-01-29T00:00:00Z
Dagan was very kind and helpful. he told us about many beautiful places to travel around. the loft has super lovely back yard with nice garden, and hammock to chill out. the house himself is a big nice room, and a big kitchen. we were impress of the old furniture. there is no aircon at the flat, and it quite hot in mid august. overall, it was a wonderful place.
Or
2016-08-25T00:00:00Z
Room Type
Entire home/apt
---
Property Type
Loft
---
Accommodates
16
---
Bedrooms
Bethlehem of Galilee, North District, Israel
A Nice cozy room FOR YOUR STAY IN THIS BEAUTIFUL TEMPLER VILLAGE, WE OFFER YOU GREAT BREAKFAST, And a big garden
Great location, unique set up, warm and close hospitality.
Gideon
2016-12-03T00:00:00Z
Room Type
Private room
---
Property Type
Bed & Breakfast
---
Accommodates
2
---
Bedrooms
Bethlehem of Galilee, North District, Israel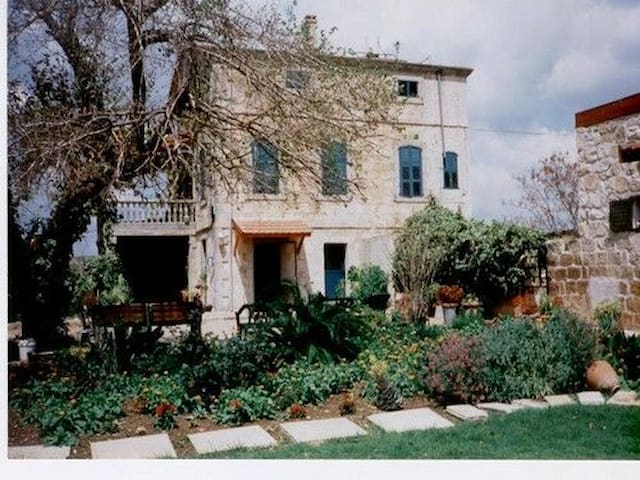 Enter dates to see full pricing. Additional fees apply. Taxes may be added.