Walking through the woods and orchards, mountain bikes, a few kilometers from Lake Orta. Comfortable accommodation and shopping you can come in my biodynamic vegetable garden, where you can see my cultivation of Cannabis low THC, my zafferaneto and all my niche crops. In my farm "Old apple trees" will enjoy peace and tranquility in the midst of my pet donkeys, there are loads of healthy energy. The apartments are suitable for all the people of nature lovers.
Room Type
Entire home/apt
---
Property Type
Holiday home
---
Accommodates
9
---
Bedrooms
Breia, Piemonte, Italy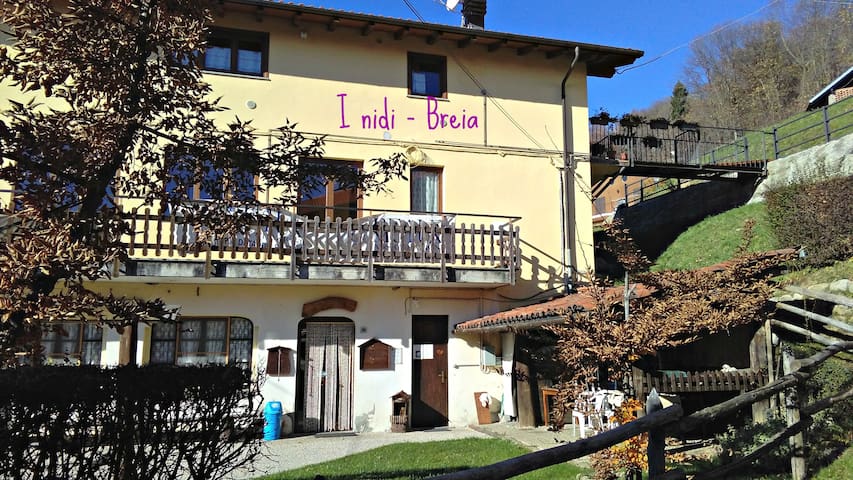 Casa fine 700, ristrutturata, a circa 700 metri di altezza, circondata da boschi e prati. Al mattino darà la sveglia il cinguettio degli uccelli sugli alberi, che segnano l'arrivo di una nuova giornata e noi vi saluteremo con le nostre deliziose colazioni: marmellate fatte in casa, torte della nonna, burro di montagna. Ideale punto di partenza per gite naturalistiche e culturali, attività sportive, passeggiate a piedi o in bicicletta e giri in moto. Infatti la zona in cui ci troviamo offre la possibilità di visitare posti incantevoli come il lago d'Orta, con le sue piccole spiagge e borghi romantici, il lago Maggiore con le splendide Isole Borromee, il Santuario di Boca e Oropa, Alagna e i catini del Sesia. Per gli amanti dello sport: canoa sul fiume Sesia. Offriamo un'ospitalità di tipo familiare in un'atmosfera di completo relax. Consigliamo questo ambiente solo a chi ama gli animali e tollera la loro presenza in casa. Offriamo 2 camere da letto matrimoniali e una singola.
Room Type
Private room
---
Property Type
House
---
Accommodates
2
---
Bedrooms
Cellio, Piemonte, Italy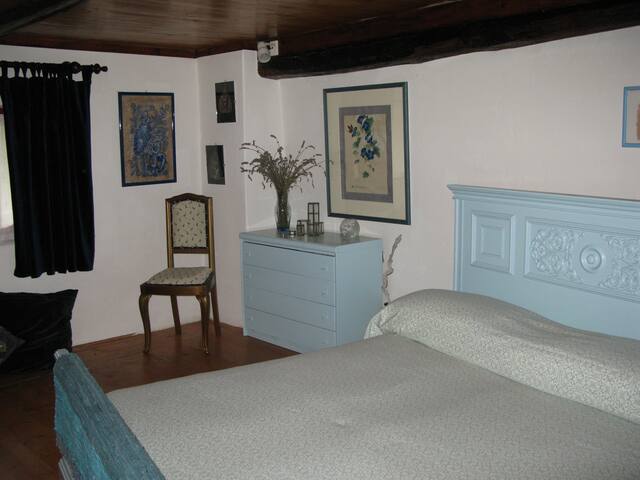 This villa overlooks beautiful panoramic views, from here walks in the woods and orchards, there is a typical restaurant to 2 km, is 10 km from the Lake Orta, 30 km from Lake Maggiore and the Alps. You will like my lodging for the location, atmosphere and especially my vegetable garden and permaculture in my cultivation of low-tHC Cannabis. My accommodation is suitable for couples, families and groups. They are available to you visit the establishment and provide local products :)
Set in an ancient village surrounded by nature, it has a large garden where you can sunbathe, play ping-pong and discover a biodynamic vegetable garden. Services: private parking, garage if necessary, fireplace, heating, hot water, dishwasher, washing machine, WI-FI, stereo, computer needs and so many books!
Less than 100 inhabitants in the outdoors with millions of inhabitants, what else to say?
Very nice moment in Francesco ´s villa, his home is absolutly typical and his welcome is very friendly. We recommand you to visit his country for the panoramical view on the mountains at your wake up !
Gaël
2016-08-15T00:00:00Z
We arrived in a very cute small town where Francesco met us and showed us to his home. It's his family home which is really cool and original. We stayed in the top floor room with a beautiful view. The room is quite large with a nice bathroom. We really enjoyed ourselves and Francesco was a nice guy. We didn't stay as long as we planned as we were visiting friends and could stay with them. The town didn't look like there was much there so bring your own food etc. I guess.
David
2016-08-22T00:00:00Z
Super petit village perdu dans les montagnes. Superbe vue depuis la maison. Francesco est venu nous chercher sur la place du village pour faciliter notre arrivée. Il a été très agréable, présent. Vraiment chouette !
Mathilde
2016-08-19T00:00:00Z
Venue en vacances avec mes deux filles (9 et 13 ans) pour s'évader dans la région des lacs, nous avons découvert Zuccarro, joli petit village niché à flanc de montagne au calme dans son écrin de verdure et sommes tombées sous le charme de l'ancienne trattoria, maison de famille typique où Francesco, très sympathique et conciliant sur les horaires nous a accueillies et aidées à monter les bagages. (flanc de montagne + 3e étage = escaliers!!!!) Échange en anglais très facile avec lui si on ne maîtrise pas l'italien. Nous avons rencontré quelques membres de sa famille qui se sont montrés également très accueillants et dont certains parlent français. Grande chambre avec grande salle de bains et balcon au 3e étage avec vue magnifique sur les montagnes et coucher de soleil. Wifi gratuit, possibilité d'utiliser l'ordinateur, cuisine et jardin à disposition. Place de parking à 100m. Voisinage sympathique. Étant plutôt indépendantes et adeptes de l'improvisation nous avons apprécié qu'on nous confie un trousseau de clés afin de pouvoir aller et venir à notre guise sans avoir à se soucier des horaires. Une maison où on se sent de suite chez soi et où on a envie de rester! Petite anecdote au sujet du parking : accueil assuré par une famille de sangliers (mignons mais craintifs) en cas d'arrivée nocturne! bref ce petit séjour chez Francesco nous a énormément plu :)
Marie
2016-09-03T00:00:00Z
Luogo bellissimo, camera molto comoda con vista stupenda e ottima accoglienza. Il posto ideale per rilassarsi e staccare dalla città, un bel paesino vicino a paesaggi meravigliosi di ogni tipo, sia lago o montagna.
Marco
2016-08-30T00:00:00Z
Sistemazione confortevole ed per il prezzo pagato. Ci torneremo.
Fabrizio
2017-03-26T00:00:00Z
Super accueil et très bon séjour, Francesco est vraiment un super hôte ! L'endroit est très sympa à visiter, il vaut mieux avoir sa voiture cependant.
Pauline
2017-03-23T00:00:00Z
Très bien ! Un réveil sur les montagnes à couper le souffle. Francesco est adorable, à la cool. Je recommande fortement. (et petit village fort dépaysant)
Gigi
2016-08-24T00:00:00Z
Room Type
Private room
---
Property Type
Villa
---
Accommodates
7
---
Bedrooms
Zuccaro, Piemonte, Italy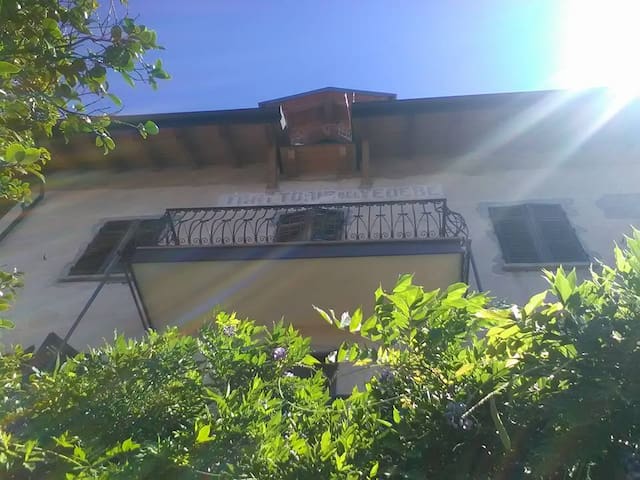 The mill of the end "800 is located in a magical atmosphere, at the foot of Monte Rosa, nestled in the woods of Valsesia (650mt asl) ............. a magical and wonderful, an ancient area with legends and traditions that has ancient origins, probably Etruscan, Celtic certainly ... through the narrow streets and the woods, there are various legends that you whisper, repeating. Silence, tranquility, privacy, make our location, the ideal place for moments of true relax, passion and magician. Surrounded by a creek and woods, the mill is equipped with all amenities: satellite TV, free wi-fi, telephone, tiled stove, fireplace, shower overlooking the river, etc. Our service is expressed through confidentiality, care and preparation of the house ... ..... you will be greeted by a warm and welcoming and the flame of the fireplace. Feel like at home without having to ask anybody anything except when it is necessary (a person will be at your disposal for any request). We wish you a memorable stay at the center of one of the few left in the world supervolcanoes. Ski at 20 minutes on Alpe di Mera Go shopping in cashmere area, visiting the various factories and outlets famous all over the world (Loropiana, Agnona, etc). Visit the romantic surrounding area ......... mill is located between Borgosesia and Varallo, to 10Km from both, 20Km from Lake Orta, to 40Km from Lake Maggiore ........ near at the small city of Rimella Walser, Fobello, Carcoforo, Rima, Red, Rassa, Riva Valdobbia, Alagna, etc. The Monrosa area........famous all over the world for its traditional activities including skiing, extreme skiing, off piste skiing and mountaineering (the Regina Margherita hut with its 4.554mt It is the highest in Europe). The river Sesia, ............ among the most beautiful in the world for fans of kayaking, rafting, canyoning, hydrospeed, etc ... Going back to the mill, it was completely renovated in 2010, thanks to the use of materials of bio-architecture (cork, wood, stone, brick, lime, etc.), it has retained its original charm. The mill consists of four levels: - the ground floor with kitchen-living room and a loft with sofa bed and bathroom-room with sofa bed and a second fireplace- loft with 4 beds and exposed roof. The private walled garden of about 1,000 sq m releases all of its magic after dark when the spot lights switch on. Some info: On September 5, 2013, on the occasion of the 12th European Geoparks Conference, thanks to the research of Prof. Silvano Sinigoi (Trieste University) and Prof. James Quick (Auburn University), has been certified the fossil supervolcano Valsesia, the only case world where you can see the deepest parts of a volcano (recognized by UNESCO): Agnona, Pratosesia, Balmuccia are some of the sites closest to the mill where to observe the mega rocks of this supervolcano. Quarona: the nearest village to the mill, where you can find various supermarkets, pizzerias, tobacconists, post office, etc. Borgosesia: of Roman origin, best known for its textile industry. On Mount Tucri, it is the church of St. John the Baptist 398DC, one of the oldest of Valsesia. Varallo: historical cultural capital of Valsesia. Take a tour for its narrow streets and shops. Also worth seeing is the sacred mountain (called the little Jerusalem). Lake Orta: to visit especially the island of San Giulio (with his way of silence). Carcoforo: among the smallest Italian towns, located in one of the most beautiful valleys of fir and larch. From which many paths treeking. Rassa: village was immaculate with houses overlooking the river, also known for its traditional cuisine. Alagna: last village in Valsesia, at the foot of Monterosa, ancient Walser community. Valsesia is also known to Fra Dolcino and heretics apostles, these, already under suspicion of heresy and condemned by Pope Honorius IV in 1286, they were repressed by the Catholic Church. Dolcino was burned at the stake enduring all the torments with uncommon strength, never cry or complain.
We arrived to the beautiful mill welcomed by a lovely warm fire, bottle of wine, and the very kind Guido. The mill is wonderful and even more charming than in the photos. We had a wonderful time and highly recommend it to anyone looking for a spot to relax. The shower is fantastic and looks out onto a gentle waterfall. The only hiccup I would point out is the extra fees at the end, I think the cost of electricity needs to be made clearer as it is quite expensive. The tariff is for a second house therefore we paid about 50 euros for 6 days, plus the cost of firewood. Marco was very understanding about our confusion, and kindly paid for our lunch. Wonderful place, great host.
Caroline
2015-01-03T00:00:00Z
Fantastic locations in the lower mountains of the Alps. Many walks, for example to Mount Briasco from right by the house. Also great just to relax in the old house and its gardens and stream. Super house , rustic and simple as described, there is a picture book detailing the renovations a few years ago. It has everything, but still rustic and simple and original. Basically made of 4 levels or platforms within the mill building, to create the living and sleeping spaces. Highlights: delicious water, gardens, waterfall, stream, barbeque, peacefulness, mountain view, wild flowers, lizards, stone steps, stone shower inside and outside - even with hot water! Also helpful and friendly local guide, Guido, to show you round when you arrive
Chris
2016-08-13T00:00:00Z
What a beautiful place to stay. The Mill was as described, clean, charming, and the garden was great for the kids to play in. We are a family with three young children 7, 3, and 2, and it was great fun for them too. We also saw lucellini (glowing flying insects) which I am told is testament to the very clean air. The drive into the Mill is just as spectacular. Check out Insta #theindigocrew_themillhouse for some of our pics
Daniel
2015-06-28T00:00:00Z
We spent 2 beautiful and peaceful summer weeks at the Mulino di Cavaglia. Valsesia is a gorgeous place, even in the peak of summer. The mill itself is very charming, tastefully decorated and rustic. We are a young couple with a whippet and the size of the mill was perfect for the 3 of us. (more people would have been a bit crowded) The kitchen is well equipped, but the grill outside makes the most perfect summer BBQ. The shower is fantastic especially in the morning when the sun shines through the glass window. You can always hear the rush of the small waterfall on the property's grounds. Take a dip on those really hot days because the water is freezing but so refreshing. The water that runs from the tap is amazingly soft and almost sweet tasting compared to big city tap water! There's a great pasticceria Delgrosso and fruits and vegetable place Orto Frutta in Borgosesia, about 10 min drive away. We cooked every single meal and didn't try any local restaurants. Lago d'Orta is only a 40 min drive away and the town Omegna has beautiful public beaches. Lago Maggiore is a lot more touristic with big hotels and restaurants, and that is about an hour drive. It's quiet up in the mountains but occasionally you will hear the cars and trucks that drive past the road nearby. Everyday around dust, you can hear the bells of the herd from the poor shepherd from the hill. That would usually be our cue for dinner... The only thing to keep in mind is the low ceiling heights. My boyfriend of 1,93m bumped his head on a daily basis. The additional cost of utilities is also a bit of a special arrangement. Upon booking we were confused by it, but Marco and Guido kindly explained the system and it worked out to be quite reasonable. Guido is the kind old man who picks you up from Piazza Liberta and brings you to the mill. We had his delicious garden tomatoes everyday… Marco, the owner is easy to communicate with and very efficient. Grazie per tutto Marco e Guido!
Di
2015-08-14T00:00:00Z
Most beautiful house in magnificent surroundings. Very peaceful - here one can truly breathe. Thank you for shearing this little peace of heaven with us.
Henriette
2014-07-30T00:00:00Z
We've spent a wonderful week at Marco's place. Guido guided us through the house and explained everything properly. He was always reachable in case we would have a need or a question but we never had to call as everything was as expected. Our two girls (6 and 1 year old) enjoyed it very much too. They played in the garden, visited the donkeys etc etc. The house is extraordinary and we liked it very much. Congratulation to Marco and grazie 1000 for accepting us as guests. We became a fan of Valsesia and will definitely come back one day.
rebecca
2015-07-24T00:00:00Z
This was the perfect Holliday home for us. It is in a beautiful and isolated location partway up the mountains. It impressed that, at night it was pitch black outside showing how little else is around. Even so isolated, it was a short drive down the mountain roads to the nearest villages and not far away is the historical town of Varallo. Good selection of restaurants and bars and supermarkets within this short drive. The garden and stream are great assets and we spent much daytime enjoying the afternoon sunshine within the garden. The barbecue facility worked really well too. The house had everything we needed to live for the week ( pots, pans, crockery, cutlery, towels, bedding and so on). The mill has been refurbished to give an excellent holiday home. There is a book of photos showing the works done which is good to see. Marco responded quickly to our requests prior to getting there and had Guido meet us on arrival - we would not have found the mill on our own. Guido was a big help introducing us to all the facilities and advising on the local area. This holiday was a truly relaxing experience and we can only recommend others to try a stay at The Ancient Mill. Thank you Marco for making your home available to us.
Kevin
2015-09-10T00:00:00Z
This ancient mill is simply fantastic! The beautifull decorated house is full of atmosphere, the garden is a cheer delight with the campfire, the small river, the waterfall and the donkeys as neighbours. The hospality was also great. We had one little inconvenience which was served immediately by Guido, the guy who welcomed us. We highly recommend this wonderfull place!
Kees
2013-07-28T00:00:00Z
Room Type
Entire home/apt
---
Property Type
Cabin
---
Accommodates
8
---
Bedrooms
Varallo Sesia, Vercelli, Italy
Il mio alloggio è vicino a boschi e sentieri . Ti piacerà il mio alloggio per questi motivi: posizione tranquilla e gradevoli spazi esterni.E' adatto a coppie, chi viaggia per lavoro, famiglie (con bambini) e amici pelosi (animali domestici).
Room Type
Entire home/apt
---
Property Type
Apartment
---
Accommodates
4
---
Bedrooms
Quarona, Piemonte, Italy
Alloggio nel cuore della VALSESIA, equidistante da Milano e Torino (100 km.circa). 20 KM da Autostrada MI/TO e Laghi A26. Ti piacerà il mio alloggio per questi motivi: tranquilla posizione collinare a 45 km dal comprensorio sciistico Monterosaski, vicinanze lago d'Orta, lago Maggiore e Varallo Sesia città d'arte con il Sacro Monte e la pinacoteca ed un'ampia scelta di bellezze naturalistiche: boschi, fiumi, monti selvaggi ove praticare attività come ciclismo, mountainbike, canoa e camminate.
L' alloggio recentemente ristrutturato al piano terra di casa d'epoca, comprende ampia e luminosa zona giorno con attrezzata cucina,graziosa camera con 2 letti, bagno con grande doccia.Possibilità in soggiorno di altri 2 posti su comodo divano letto.Fruibile da portatori handicap su carrozzella
nelle immediate vicinanze del piccolo borgo si trovano un ristorante ed un agriturismo.
Room Type
Private room
---
Property Type
Apartment
---
Accommodates
4
---
Bedrooms
Quarona, Piemonte, Italy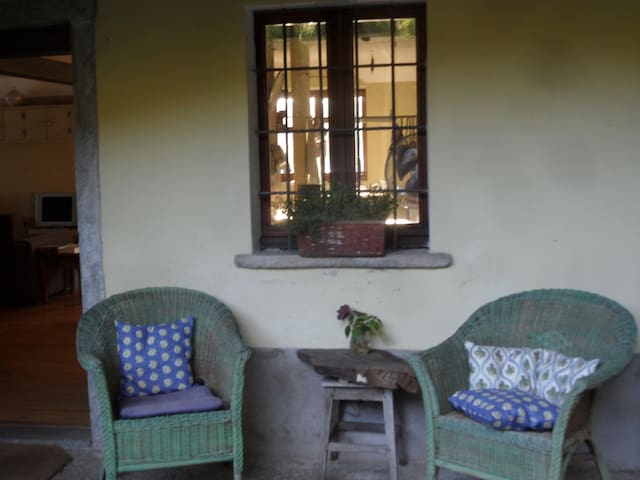 Cucina attrezzata autonoma, connessione WiFi, TV satellitare 32" in ogni una delle due camere, ricovero biciclette. La località Prerro di Pogno si trova sul versante novarese dello spartiacque tra il Cusio e la Valsiesia.
A 15 km dal casello di Arona della A26/A8 e 20 Km dal casello di Borgomanero della A26. Per i Bikers è disponibile su prenotazione una navetta per le risalite o la gita sui sentieri della Valsesia, Coggiola, Riverosse, Oasi Zegna e Mottarone. Guida MTB e Maestro federale su prenotazione tramite MTB i GUFI. Vi aspettiamo!
Piccola frazione tranquilla.
Room Type
Entire home/apt
---
Property Type
Apartment
---
Accommodates
5
---
Bedrooms
Prerro, Piemonte, Italy
Splendido rustico nei boschi di Madonna del Sasso, a 15' dal lago d'Orta (VCO). Affittiamo casa su 3 piani. Piano 2: due camere (3 letti) e bagno con vasca. Piano 1: living con cucina e salotto con camino. Piano terra: ampia camera (2 letti aggiuntivi su richiesta) e bagno con doccia. Giardino con tavolo in pietra, sentieri nei boschi per chi ama passeggiare. Dalla fine della strada asfaltata, 300 mt. di salita su una strada montana carrabile. Sconsigliamo di venire con station wagon basse.
E' un posto ideale per chi ama stare in mezzo alla natura. Ottimo per vacanze di famiglia anche con bimbi piccoli. D'estate per i bagni al lago, in autunno per raccogliere i funghi nei bellissimi boschi di castagno tutto intorno. Si può stare tanto all'aperto, fare grigliate, bagnarsi nei torrenti, rilassarsi sull'amaca. Raccomandiamo di arrivare con la luce del sole, perchè la salita nel bosco al buio non è consigliabile, la prima volta.
Room Type
Entire home/apt
---
Property Type
House
---
Accommodates
4
---
Bedrooms
Madonna del Sasso, Piemonte, Italy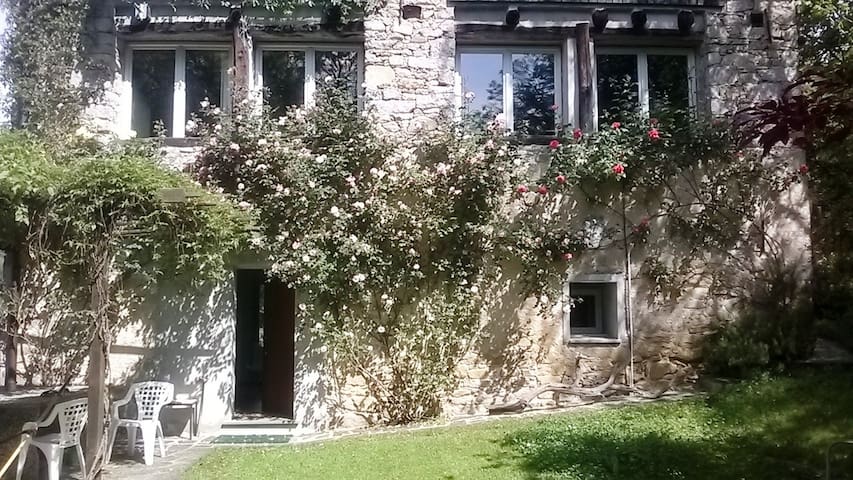 D'estate potrete rilassarvi in giardino o sull'amaca. Il piccolo Borgo della frazione e il suo verde che lo circonda vi inviteranno a passeggiare respirando profumi e colori. Una buona colazione e se gradite vi dedicheremo la passione per la cucina preparando una cenetta nella vecchia stalla. A piena disposizione il vostro piccolo appartamento indipendente al pian terreno con camera, camino bagno e disimpegno e condivisione con gli altri spazi relax.
The accommodation is located on the ground floor of our farmhouse. The silence and tranquility with nature that surrounds you in the small village will surely be a pleasant note.
We are in Caggi small fraction of Borgosesia. If you like, little paths connect you to the surrounding villages and a few kilometers lakes, art cities, mountain villages or towns.
Barbara was absolutely charming. Nothing was too much trouble. I arrived stressed from a road block that caused me three hour's delay and she was so reassuring and helpful with everything I needed. She and two friends helped carry my bags to my room making sure I was comfortable and at 'home'. Lovely stay, thoroughly recommend.
Sofia
2016-05-10T00:00:00Z
Barbara's flat is incredibly beautiful in this natural, minimalist wabi-sabi kind of way. It is important to note that the kitchen and living room are shared spaces, and there's not much privacy in terms of sound in those rooms. She made us hot tea upon our arrival, set up breakfast for us in the morning, and made sure that the warmth of the space was to our liking. The bathtub is a dream, and the natural surrounds are just breathtakingly lovely.
Elise
2015-09-18T00:00:00Z
Beautiful house!!!We really enjoyed our stay at Barbara's house, the individual rooms, the lovely Garden, the healthy environment and the kindness of Barbara and her friends, who were so helpful in many ways. So if you would like to get a great impression of lovely Borgosesia, the Barbara's house is a good choice to start with.
Irene
2015-09-22T00:00:00Z
Barbara was an absolutely amazing host, wonderful chef and beautiful person. She made us feel warmly welcomed and had many suggestions for insider activities around the area: restaurants, wine tastings, hikes etc. I can't wait to return to the modern rustic house, it was a dream.
Abigail
2016-03-30T00:00:00Z
Barbara was a wonderful host. She offered to show me around her town (Borgesesia), but was also respectful of my time and privacy. She introduced me to some of her friends, who were great and fun to hangout with. Barbara's home, located at the end of the cul-de-sac is a only a few min drive or 15min walk from the town centre. Her home is AMAZING!! Its recently renovated in a modern/rustic style and I loved it. Barbara has a wonderful eye for interior decoration. I highly recommend both Barbara as a warm and fantastic host, and her home, which is beautiful.
Daniel
2015-09-07T00:00:00Z
Barbara was a wonderful host, open- minded, helpful in every way and easy to get along with. The appartment was as nice as on the photos, especially the garden was lovely for our little son and for us, the countryside and the lake were great- we'd love to come back one day!
Hanna
2016-08-18T00:00:00Z
The experience in Borgosesia was excelent. All result such as was said in the description. Barbara's place was wonderfull. We hope to return here some day. Barbara was travelling and we didn't meet her, but her friend Laura Was so kind to us.
marina
2015-12-20T00:00:00Z
We loved everything about our stay with Barbara and Maurizo. They were so welcoming and friendly and couldn't have been more helpful in telling us where to go, what to visit, wrote out directions, took us to the market and helped us with our way back to the airport by phoning friends to give us directions. Breakfast was delicious each morning. We sat out on the terrace eating fresh fruit, good coffee, toast, yoghourt, muesli(which Barbara bought especially for my husband!). The room was spacious, beautifully decorated, with linen sheets on the bed. The whole interior of the house was very beautiful. Barbara definitely has an eye for design. The little village up the hill from Borgesesia,where the house is, is surrounded by fields and trees and very green and lush. There is even a delicious Pizzeria that you can walk to through the fields. We couldn't speak more highly about our stay with Barbara. We absolutely loved it. Thank you so much!
Annick
2016-07-06T00:00:00Z
Room Type
Private room
---
Property Type
House
---
Accommodates
3
---
Bedrooms
Borgosesia, Piemonte, Italy
Il lago d'Orta, visto dall'alto della nostra terrazza, è meraviglioso, divertente e rasserenante: le luci, le ombre, i riflessi, i disegni che si creano sulla superficie dell'aqua cambiano continuamente dall'alba al tramonto.
L'edificio a 3 piani è stato costruito come Hotel e successivamente è stato trasformato in Condominio. L'appartamento è stato progettato e ristrutturato da un architetto-designer (il proprieterio) ed è disposto su 2 livelli. Ha una grande terrazza verso il lago e una piccola terrazza posteriore verso il bosco; ha 2 camere da letto (con letti singoli o matrimoniali), un ampio e luminoso soggiorno con divano letto matrimoniale, 2 bagni (uno con vasca e uno con doccia), 2 posti auto privati.
Il lago d'Orta con la sua bella piccola isola di san Giulio è situato a 350 m. sul livello del mare, a 18 km dal lago Maggiore ( li separa il monte Mottarone sopra Stresa, alto 3400 m), è a 80 km da Milano e 90 km da Torino. E' un piccolo lago molto pittoresco, tranquillo, poetico. Il nostro appartamento si trova in un piccolo condominio che negli anni passati è stato un Hotel e un Ristorante molto conosciuto nella zona. Il panorama che si gode dalla nostra grande terrazza, situata a 300 m sul livello del lago, è molto ampio (nei giorni sereni si arriva a vedere lo skyline di Milano) e mutevole ( si osservano dall'alto i continui cambiamenti di colori e disegni che si formano sulla superficie del lago). Nelle vicinanze ci sono piccole spiagge, ristoranti tipici, passeggiate per sentieri panoramici, giardini botanici, musei di arte locale. In particolare voglio segnalare il Sacro Monte di Orta, le cui 23 cappelle dedicate agli episodi della vita di san Francesco sono state costruite in un bosco da artisti e bravi artigiani nel sec. XVI e XVII. Questo luogo è stato recentemente restaurato e qui troverete non solo spiritualità, ma architettura, pittura, scultura, arti minori, ecologia, poesia, serenità. Si può visitare l'isola di s. Giulio prendendo il battello nel porticciolo più vicino (s. Filiberto) e parcheggiare lì l'automobile. Nella piccola isola c'è una antica basilica del sec. XII e molte opere d'arte antica di grande valore. A Vacciago, sulla riva opposta del lago, c'è la Fondazione Calderara che è una interessante Casa-Museo dedicata all'arte astratta del '900. Alle spalle del nostro lago, vicinissimi alla nostra casa, ci sono numerosi sentieri tra i boschi di castagni e faggi verso la Vasesia ed il Monte Rosa. A pochi chilometri oltre Omegna c'è il Parco Naturale della Val Grande, noto perchè è una delle zone più selvagge e incontaminate in Europa. Nella zona di Omegna, sulla riva settentrionale del lago, si trovano rinomate fabbriche di articoli casalinghi con i relativi (e prezzi convenienti!) outlets: Alessi, Lagostina, Bialetti, Calderoni, ecc. Nella vicina zona di Ghemme e Gattinara si trovano gustosi itinerari enologici che passano per aziende vinicole e distillerie con degustazioni e vendite al dettaglio di vini e liquori.
Lauras und Fabios Wohnung ist eine Oase, wie man sie als Tourist selten findet. Nach 1/4 Stunde Serpentinenfahrt mit traumhaften Eindrücken vom See, kommt man an, in Italien. Trotz der Wallfahrtskirche der Madonna del Sasso, 5 Gehminuten entfernt, trifft man fast nur Italiener und keinerlei Touristenschwärme und hat es dementsprechend ruhig. Die Wohnung ist sauber und gepflegt und sehr wohnlich eingerichtet. Das obere Stockwerk mit Wohnzimmer, integrierter Küche und kleinem Gäste-WC, lebt mit und von der Terrasse, mit traumhaftem Blick über den See. Morgens in der Sonne frühstücken, abends den Blick auf den See mit all seinen Lichtern genießen, Urlaubsfeeling pur. Laura und Fabio haben wir leider nicht persönlich kennenlernen können, doch haben sie dafür gesorgt, dass wir sehr nett empfangen wurden und dass unsere fehlenden Italienischkenntnisse weder beim Ankommen, noch bei der Abfahrt zum Problem werden konnten. Auf unsere Nachrichten, reagierten sie immer schnell und sehr hilfsbereit. Wir haben die knapp zwei Wochen genossen und können die Wohnung jedem empfehlen, der etwas abseits vom Trubel und doch nicht davon abgeschnitten, Urlaub machen möchte. Claudia, Gero, Jeannine
Claudia
2016-08-28T00:00:00Z
Appartamento molto carino e arredato con gusto, con una terrazza con vista bellissima sul lago di Orta. Siamo a circa 600 metri di altezza in un paesaggio di montagna, dove si respira un'atmosfera quasi mistica, a contatto con la natura e in assoluta tranquillita. Fabio e' un ospite molto premuroso con tanti consigli e suggerimenti. Anche la nostra cagnolina ha soggiornato con noi e si e' trovata benissimo. Ci sono tante passeggiate da poter fare intorno all'appartamento. A pochi chilometri si raggiungono i negozi e centri abitati, cosi come le piu belle attrazioni paesaggistiche e turistiche.
Linda
2015-08-20T00:00:00Z
La casa de Fabio est une excellente adresse. La vue panoramique est exceptionnelle même si elle se mérite (15 minutes en voiture du Lac). L'appartement est personnalisé de petites touches créatives et est équipé de façon fonctionnel pour passer de bonnes vacances... Enfin Fabio, le propriétaire est facilement joignable et en français biensûr. Nous avons beaucoup aimé le lac d'Orta et son île nous ayant permis de passer de très bonnes vacances dans cette merveilleuse région des Grands Lacs.
Florent
2015-08-07T00:00:00Z
Room Type
Entire home/apt
---
Property Type
Apartment
---
Accommodates
4
---
Bedrooms
Madonna del Sasso, Verbania, Italy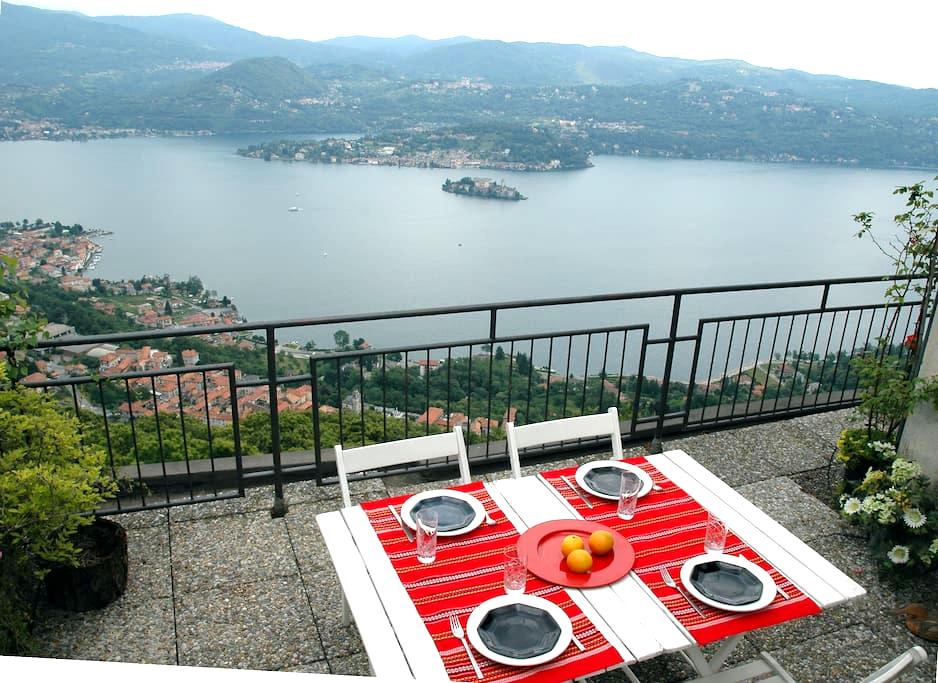 Lovely little apartment, in a beautifully renovated mansion, nested on a hillside with a fantastic view over the valley of Borgosesia. A perfect hideaway in the Piedmonte region, at the feet of the Western Italian Alps.
Cosy but with enough space to fit 3 guests, the brand-new apartment in this over 200 year old mansion rests warm and inviting overlooking the valley of Borgosesia. Original stones still show in the thick walls, with an authentic vaulted ceiling overhead.
Above all, the view! It is a very quiet neighbourhood and the house is nicely situated between the Alps (30 min drive), the big lakes of Northern Italy (45 min) and Milan (1 h). In summer you can go rafting and in winter you go skiing, both about 30-50 min drive away. The Alps are minutes away, and offer you plenty of locations for hiking in the nature. Every weekend there is a nice little market in the city centre of Borgosesia.
Our stay at Laura's was outstanding and we would recommend it to anyone. When we first arrived we met Laura's mother who was super helpful and the nicest person to meet. Everyone was great and even though we spoke no Italian Laura's boyfriend helped us tremendously and so did Laura's mother and father. GREAT experience and wonderful people...thank you for a great experience!!!
Denise
2016-09-27T00:00:00Z
We had a short and sweet stay. The host was really helpful and available for any needs we had. Our apartment was comfortable,clean and quiet with beautiful features throughout, Immersed in beautiful surroundings. We surely will be back again. Thanks
osvaldo
2015-04-05T00:00:00Z
Laura was really kind and flexible with our schedules. We had a very nice time in the apartment, it's even better than in the pictures, everything was very well taken care of. The house was clean, and well decorated, and Laura provided fans, blankets, anything we needed. No aliments were stored in the house, just some instant coffee and tea; but the house had all the small equipment needed, such as pans, toaster, microwaves, etc. The house is fairly close to beautiful Lago d'Orta, a lake you must visit if you are ever in the area, and other cute towns in the Alps. Overall, we had a great time and we would definitely stay again at Laura's apartment. Riassumendo, in italiano, raccomando l'appartamento, Laura è stata molto gentile.
Davide
2015-08-30T00:00:00Z
It was reat pleasure in this suit. Nice neighborhood and sweet atmosphere. If you have a car, it could be wonderful choice to stay in Borgosesia and access easily. Hope you to enjoy your days in this suite.
SAEYOUNG
2015-07-25T00:00:00Z
Laura and Simone are very friendly and eager to help you in all matters. The place is beautiful, peaceful and quiet. As we were travelling by car it was easy to move around (on foot the city center is approx 15-20 mins walk). Parking is available nearby (2 mins walk).
Peeter
2015-05-21T00:00:00Z
The host canceled this reservation 82 days before arrival. This is an automated posting.
Tameem
2017-01-17T00:00:00Z
We had a realy nice stay at Lauras place. The place is beautiful and Laura and her husband Simone are both very nice people. We can recommend this place to anyone who likes beautiful surroundings.
Pia
2016-10-10T00:00:00Z
Wow - we we're pretty excited to discover this appartment because of the nice and promising pictures. But what we actually found was totally outstanding! This location is newly renovated and has been furnished with a lot of love and sense for detail. It's a place to feel like home. This truely is a bargain at this price!! Great for anyone looking for some relaxed days near the alps. Sesia valley is just awesome for any outdoor-activities. The flat is in absolutely quiet neigborhood at the end of a small street located in the hills above Borgosesia - the view is priceless...
Nicolas
2016-10-01T00:00:00Z
Room Type
Entire home/apt
---
Property Type
Apartment
---
Accommodates
3
---
Bedrooms
Borgosesia, Piemonte, Italy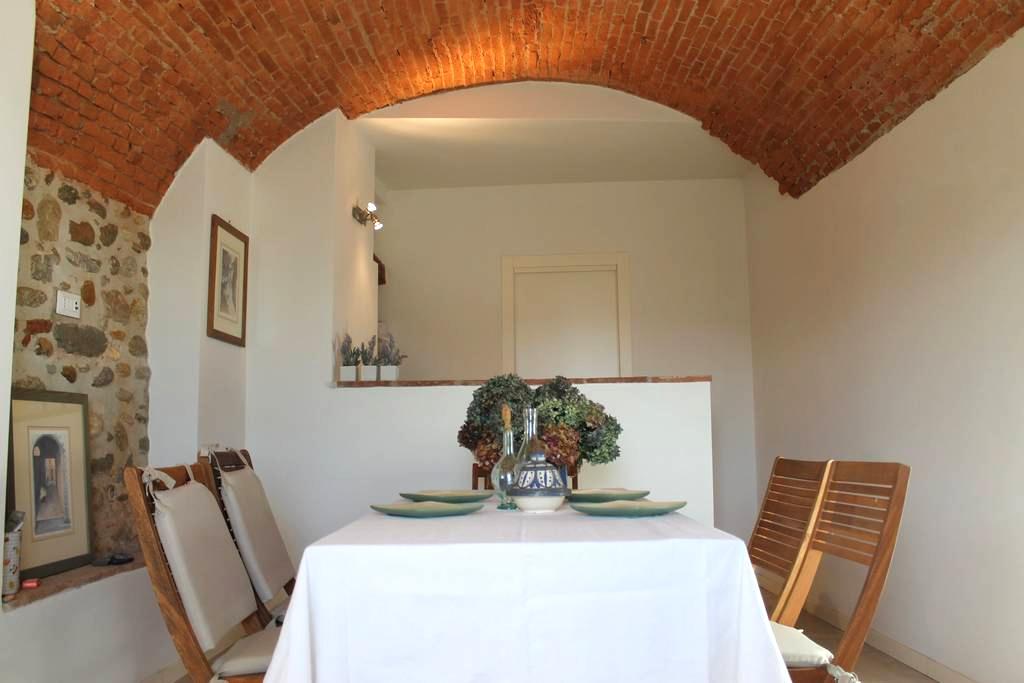 L'appartamento Ginetta, è una piccola chicca, arredato e rifinito con cura, vi accoglierà in un ambia zona giorno, da cui si raggiunge la zona notte con letto matrimoniale (lettino disponibile) ed un bel bagno con ambia doccia, bidet, lavabo e vc
L'appartamento è la scelta giusta per una coppia che ami la bellezza e il confort. E' possibile a richiesta avere anche il lettino per un bebè. A disposizione degli ospiti il servizio wi-fi
La casa si trova nel centro storico di Boleto in Madonna del Sasso. Paesino sulle alture del lago d'Orta, molto tranquillo e sereno, con un ottimo clima nel periodo estivo
Logement très grand et très agréable. Petit pb d'eau chaude pour la douche... Vilma est très sympathique.
Muriel
2016-05-24T00:00:00Z
Vilma è stata molto gentile e disponibile. Comunicazione veloce e chiarissima. Casa perfetta, in un piccolo paesino a due passi dal lago d'Orta. Pulizia ineccepibile.
Alessandro
2016-09-18T00:00:00Z
Vilma è stata molto gentile e ospitale ci ha indicato anche alcuni sentieri nel bosco per poter fare qualche passeggiata! La casa e' accogliente e molto pulita la zona è ottima per chi ama stare in mezzo alla tranquillità della natura e ama fare passeggiate nel verde. Ringraziamo Vilma per la sua disponibilità e cortesia! Sicuramente l'esperienza è stata positiva e lo terremo presente per un prossimo soggiorno! Grazie di cuore!
Alessandra
2016-09-11T00:00:00Z
Sehr nettes Apartment auf einem Berg nahe des Lago d'Orta. Es ist alles vorhanden, sauber und die Gastgeberin war stets erreichbar, um uns bei der Urlaubsplanung zu unterstützen. Kann ich nur weiterempfehlen!
Sven
2016-05-17T00:00:00Z
Vilma ist eine ganz bezaubernde Gastgeberin! Zur Bergrüßung standen Blumen und Wein auf dem Tisch. Sie hat uns tolle Restaurant-Tipps gegeben und war jederzeit für uns ansprechbar. Auch die Anreise nach 15 Uhr war überhaupt kein Problem. Die Wohnung liegt in einem kleinen Ort über dem See und ist sehr ruhig. Man hört nur die Kirchenglocken und ab und zu ein paar bellende Hunde. Wunderschön! Wir haben das Appartamento als Ausgangsort für Wanderungen und Ausflüge ins Valle Grande und nach Valstrona genutzt. Der Gardasee und der Lago Maggiore sind uns zu laut und zu touristisch. Keine zwei Minuten enfernt gibt es einen kleinen Laden, in dem man alles bekommt, was man so braucht. Die Käseauswahl ist bestens! :) Wir können also den Ortasee samt Vilma und ihrer Wohnung nur empfehlen!!!
Eybe
2015-08-15T00:00:00Z
Room Type
Entire home/apt
---
Property Type
Apartment
---
Accommodates
2
---
Bedrooms
Boleto, Piemonte, Italy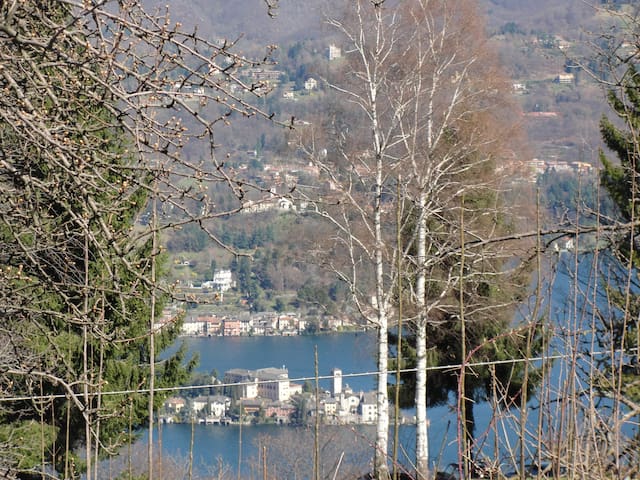 Una residenza rinnovata sul versante collinare occidentale del lago D'Orta, all'interno di un parco/giardino di 14.000 mq. a 600 mt dall'abitato di Boleto. Base logistica per escursion ai laghi, alle vallate alpine e alle città di Milano e Torino
What a superb place to stay! Tucked away within lovely gardens and mature trees but with gorgeous views down to lake Orta below, Piero's house is very well equipped and comfortable. Plenty of space and nice and cool in the hot days. The view from the master bedroom is breath taking - sleeping with windows and shutters open to see it on waking was imperative! Our hosts were incredibly helpful, easy to contact and very welcoming. We were able to see and do a lot in our trip staying here and particularly recommend the Agriturismo Barchetto just up the road, where we enjoyed a delicious meal on our arrival. Wouldn't change a thing! We hope to return! Thank you Alberto and Piero.
Zoe
2016-07-24T00:00:00Z
The house in Boleto is a charming location with a breathtaking view of Lago d'Orta. Its remote position provides a peaceful stay. The wonderful garden with huge trees is amazing, although they make the terrace a bit shady, which is great in the summer. All facilities inside are fine and comfortable. If you are lucky, you will meet Pieros delightful mother with whom you can practice your Italian.
Udo
2016-09-25T00:00:00Z
Wir wurden sehr herzlich empfangen. Der Kühlschrank war mit diversen Getränken gefüllt, auf dem Tisch stand ein frischer Strauss Blumen und ein Gebäck aus der Region. Die Unterkunft entspricht genau den Fotos im Internet und die Nachbarschaft ist sehr angenehm. Die Aussicht auf den See ist atemberaubend und der grosse Garten mit den vielen Pflanzen und Tieren sehr beruhigend. Dank der grossen Bäume ist das Klima immer sehr angenehm. Unsere Familie hat sich sehr wohl gefühlt. Wir werden die zwei Wochen Ferien am Lago d'Orta in guter Erinnerung behalten. Vielen herzlichen Dank!
Marc
2016-07-17T00:00:00Z
Een absolute aanrader! Wij werden door de broers Piero en Alberto en hun moeder hartelijk ontvangen in een paradijselijke tuin vol bloemen met fantastisch uitzicht op het Ortameer. De gastheren stonden altijd klaar voor advies en hulp. Het gezellige huisje biedt alle comfort, met perfecte ligging tussen water en bergen. De slaapkamer met adembenemend zicht op sterrenhemel en het meer is een oase van rust en schoonheid. Mille grazie per una vacanza indimenticabile!
nele
2016-08-11T00:00:00Z
Un accueil d'une extrême gentillesse et d'une grande générosité de la part de Piero et de sa famille. La maison, nichée sur les hauteurs boisées du lac d'Orta, est pleine de charme, située au sein d'une magnifique propriété arborée et fleurie qui offre une vue imprenable sur le lac d'Orta. Tout est rassemblé pour permettre confort et bien-être. Emplacement parfait pour visiter la région, spécialement les alentours du lac d'Orta et du lac majeur. Outre la vue, le fait d'être légèrement en altitude permet aussi de bénéficier d'un peu de fraîcheur. Cadre bucolique, environnement calme et reposant, découvertes de toutes sortes, nous avons passé un excellent séjour (de 15 jours) avec nos deux petits. La dolce vita! Un immense merci à Piero et à sa délicieuse maman, ainsi qu'à son frère!
Cécile
2016-08-29T00:00:00Z
Ein sehr schön und geschmackvoll renoviertes gut ausgestattetes Haus in einem verzauberten Garten mit traumhaftem Blick auf den See. Sehr zuvorkommende, liebe Gastgeber. Wir haben uns sehr wohl gefühlt und würden jederzeit wieder buchen. Vielen Dank an Piero, Alberto und Signora Isodora!
Susann
2016-06-14T00:00:00Z
Wij hebben genoten van de vakantie in het hele mooie huis met een geweldige tuin en super uitzicht op Lago D Orta. Het huis is ruim, netjes en is van alle gemakken voorzien. Verhuurders Piero en Alberto staan voor je klaar als er iets mocht zijn en natuurlijke lieve moeder die op het terrein woont. Het is een echte aanrader! Si tratta di una bella casa in un bel posto . Grazie mille per la vostra ospitalità
Fred
2016-07-03T00:00:00Z
Le cadre et la maison ainsi que la vue sur le lac d'Orta sont magnifiques. Les enfants et les parents ont adoré l'environnement de la grande plage et son plongeoir.
Naceur-Eddine
2016-07-31T00:00:00Z
Room Type
Entire home/apt
---
Property Type
House
---
Accommodates
4
---
Bedrooms
Madonna del Sasso, Piemonte, Italy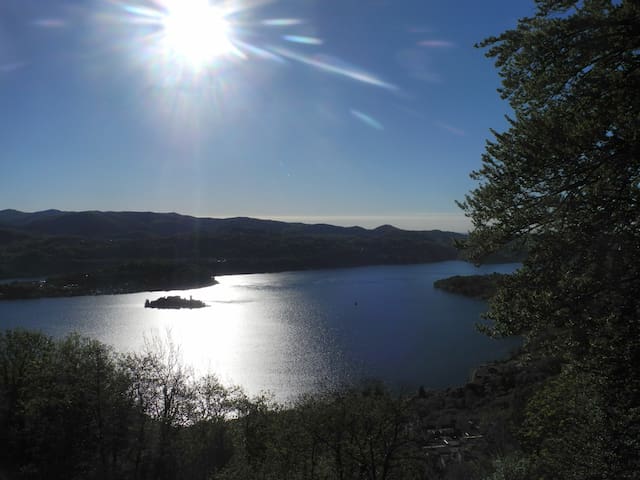 Minutes from the Lake Orta, the Bed & Breakfast Melizio is an old stone mill with a large garden crossed by a stream, where you can spend a relaxing holiday in a simple and familiar environment.
Minutes from magical Lake Orta, the Bed & Breakfast Melizio is an old stone mill where lovers of peace will be won over by the charm of the simple things and the wild nature of a territory to discover, away from the main tourist circuits. Surrounded by a large garden crossed by a stream, the B & B Melizio is the ideal place for those looking for a relaxing holiday in a simple and familiar environment populated by many animals, including dogs and cats who live at home but not in the area intended to the guests. The Melizio offers accommodation in three double rooms, each with private bathroom and with the possibility of single beds in addition. The rooms provide an intimate atmosphere, with simple but evocative ambience, characterized by warm colors, wooden floors, mezzanine floors, roof beams and stone walls. Each room has access to the quaint wooden balcony overlooking the large garden. The breakfast is particularly rich and careful, with an eye towards tradition: jams, cakes, and biscuits, local honey, sweet and savory specialties typical of the area In B & B Melizio, electricity and hot water are produced by photovoltaic and solar thermal panels. NB: we recommend staying at our B & B only to people who love animals and tolerate their presence.
Room Type
Private room
---
Property Type
Bed & Breakfast
---
Accommodates
3
---
Bedrooms
San Maurizio d'Opaglio, Piedmont, Italy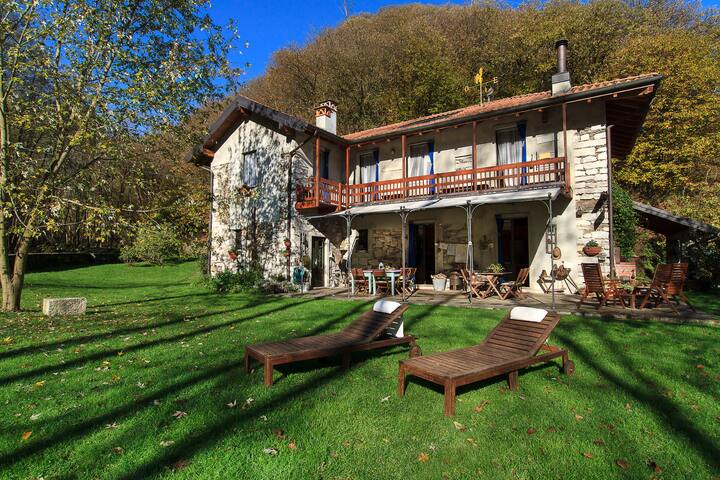 Located on the western shore of Lake Orta, a few minutes away from the highways of Borgomanero, Arona, Gravellona Toce. A 85 km from Milan and 120 km from Turin. Nearby Lake Maggiore, Val d'Ossola and Valsesia. A spectacular unobstructed view over the entire lake, very quiet, large outdoor spaces usable in complete privacy, beach just a few minutes walk. In the vicinity excursions to suit every type of walker.
Room Type
Entire home/apt
---
Property Type
Apartment
---
Accommodates
4
---
Bedrooms
Pella, Piemonte, Italy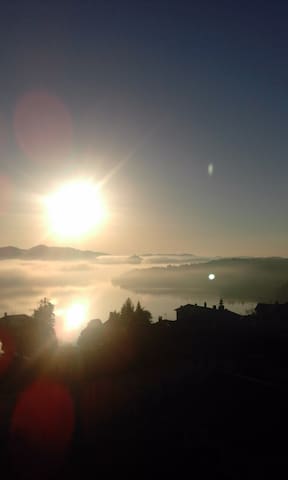 Grazioso bilocale in grado di ospitare sino a 3 persone,recentemente ristrutturato,si affaccia su un giardino di proprietà, sito in un piccolo borgo molto tranquillo anche se situato al centro di innumerevoli possibilità culturali,sportive, shopping
Tranquillità, pulizia e comodità
Quartiere centrale del paese,tranquillo e sito in borgo antico
Sehr saubere, praktisch eingerichtete Unterkunft im Dorfkern von Boleto mit einer sehr netten Gastgeberin. Trotz unserer mangelnden Italienisch-Kenntnisse hat mit der Unterkunft alles gut geklappt, tiefergehende Konversationen waren uns dadurch aber nicht möglich.
Philipp
2016-08-19T00:00:00Z
Ornella estuvo atenta antes y durante nuestra estancia a todas nuestras necesidades. Las fotos del anuncio corresponden exactamente a la realidad. Ornella nos ofreció información interesante y útil sobre la región, nos recibió a una hora muy intempestiva y se mostró en todo momento extremadamente amable con nosotros.
Guadalupe
2016-08-21T00:00:00Z
Ornella è una signora davvero super gentile e disponibile. Risponde molto velocemente ai messaggi e nonostante il traffico mi abbia impedito di arrivare all'ora in cui speravo non ci sono stati problemi nel mettersi d'accordo per un arrivo in tarda serata. L'appartamento è davvero molto carino e dotato di tutto ciò che serve. Il paesino è davvero super tranquillo e se si è alla ricerca di relax è davvero il posto giusto
Giacomo
2016-06-26T00:00:00Z
Ornella è stata molto gentile e disponibile per ogni necessità. Appartamento è tale e quale a come descritto, piccolo ed accogliente, ottima posizione per apprezzare il Lago dall'alto.
Stefano
2016-08-29T00:00:00Z
Ornella é molto disponibilie e sempre pronta a assisstere gli ospiti. Contatto molto rapido, informazione completa, accoglienza simpaticissima. L'appartamentino rifatto nuovo é pulitissimo, tutto equipaggiato con utensili nuovi e teuto molto proprio. Il paesino é calmo, fuori rotta dei turisti, ha conservato il suo charme e tranquillità. Bell'arietta grazie alla sua posizione sopra il lago d'Orta. Il tutto conforme e anche meglio dela descrizione... Da ritornare
Dorota
2016-07-18T00:00:00Z
Accueilli comme en famille, merci Ornella !
Denis
2016-08-15T00:00:00Z
Room Type
Entire home/apt
---
Property Type
Apartment
---
Accommodates
2
---
Bedrooms
Boleto, Piemonte, Italy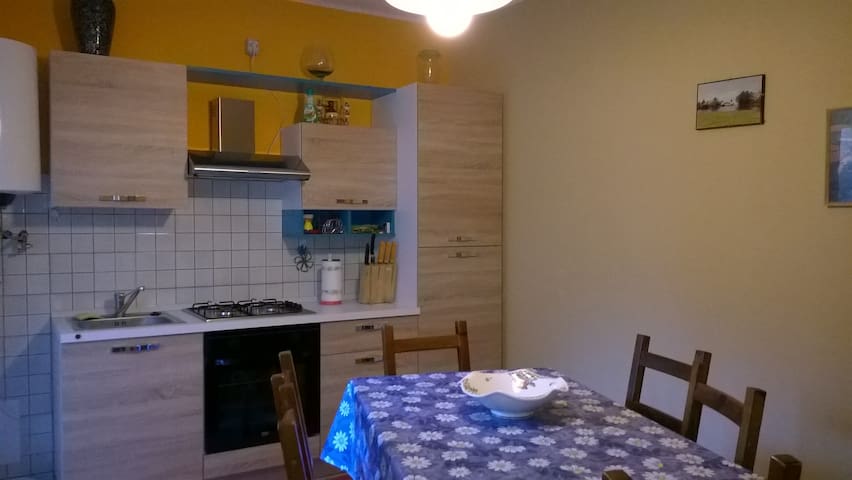 Beautiful original Italian house, renovated 1950 house with all new electrical things. You can spend a night in an old house whit modern commodity.
It is a very quiet place next to the beautiful woods of the ferera mountain, perfect for long walks in the woods
The neighbors are really nice and peaceful
Room Type
Entire home/apt
---
Property Type
House
---
Accommodates
4
---
Bedrooms
Valduggia, Piemonte, Italy
Cozy apartment perfect for families and couples. Direct access to the park and private beach.
Room Type
Entire home/apt
---
Property Type
Apartment
---
Accommodates
4
---
Bedrooms
Lagna, Piemonte, Italy