Two storey house, 47m2. Old Mediterranean style interior and warm family feel with 30 meters from sea. Suitable for 5 persons. Small village, quiet and secluded fishermen/tourist place. Promotional video on youtube under name "Bigova village, Montenegro".
Nice and tucked Mediterranean style house with wooden interior.
The house has a warm family feel with vintage Mediterranean style and the back garden provides a beautiful sea view and romantic sunset. There is also a grill in the garden. The neighborhood is very quiet and welcoming in good spirit.
Our family spent vacation in Bigova in Jovans' house, in Aug 2015. We enjoyed both Bigova and particularly the house. Liked Bigova for being a small, quite and lovely place. Fresh fish in the mornings, 2 restaurants, small beach, small grocery shop, a church. Really quite and welcoming place away from major roads and tourist routesActually you have to go over the hill (8 km) to get to the major road connecting Bigova to Kotor (~17km, 30 min drive), Budva (~20 km, 40 min drive), Dubrovnik, Croatia (~70 km, 1.5-2h drive), 10 km, ~ 20 min drive) to the supermarket. We loved to stay in a Little House In The Bay mainly because of 2 reasons. 1) comfortable interior. There is everything you need to spend your holiday. House is fully equipped, conditioned. Private car parking lot near the house was an important thing for us since we hired a car in Dubrovnik airport for the whole stay and there is not much public car parking space available in Bigova. and 2) Milka, Jovans' mother. She was very welcoming, supplied us big delicious tomatoes from her garden, grapes. Provided her open terrace with a sea view for our dinners, helped to get our kid back on his legs when he got sick for a day. Hint. Tap water is good for the shower but you better drink only tap water in Bigova. This was the only concern for us when staying there with a kid.
Mihails
2015-08-26T00:00:00Z
This is an excellent house and location! Clean and functional, comfortable and very nicely appointed. Clearly the owners have paid attention to lots of details: beds are comfortable, the AC in the bedroom is great, the screens on the windows keep bugs and mosquitos out, the linen and towels are of good quality and plentiful, etc. Most importantly, your hosts are very gracious, and Milka, Jovan's mother is going to take care of you. Even made us crapes and washed out clothes for us! Bigova is a nice, quiet village on the waterfront, with a great restaurant just steps away, Grispolis, where the view and the fresh fish prepared on order are excellent. A great base to drive up and down the coast of Montenegro, into Kotor, as well as exploring inland and into Croatia. Take the ferry which runs every five minutes and costs 4.50 Euro and cuts the journey from Tivat to Herceg Novi by at least one hour.
Eugen
2015-07-15T00:00:00Z
We had a wonderful time at Jovan's little house. His mother Milka welcomed us and took excellent care of everything that we needed. Bigova is a very beatiful and secluded village. The house is tucked in and very cosy and comfortable . Backyard is amazing, we enjoyed the sea view and barbecue with fresh fish and organic fruits from the garden. The beach is very close by, the store is just outside house, accross the street. There are also very nice restaurants at seaside. We highly recommend A Little House In The Bay, all the best!
Jelena
2016-09-25T00:00:00Z
We had a really wonderful stay at Jovans apartment l, so much that we went back for a second night! The apartment is gorgeous, the town is a quaint gem away from the more resort style towns around. His mother Milka welcomed us with fresh figs from her garden, and helped us prepare the most delicious fish dinner with more vegetable from her garden, which we are on the terrace overlooking the bay. It was the best night we had in Montenegro. Book now!!!
Lucy
2015-08-29T00:00:00Z
A lovely quiet haven. A beautiful appartment. We were well looked after by Mikka. Given fresh grapes and tomatoes. Clean house and well equipped. A lovely holiday
Catriona
2016-08-21T00:00:00Z
Me and boyfriend had amazing stay at the lovely little house in Bigova in September. Bigova is a charming little village perfect for a getaway from the city buzz. The house itself is very nice and I would definitely go back there when in Montenegro :)
Ingeborg
2016-09-06T00:00:00Z
A lovely little house in a lovely little village at the lovely bay at the sea. Thank you very much for the hospitality and the superbe pancakes of your very kind and helpfull mother Milka. We hope to come back one day ! Greetz, Wim, Valeria, Kamilla and Joseph.
wim
2016-04-06T00:00:00Z
We had an amazing time in Bigova. This little village was the best place where we stayed during our trip to Montenegro. The little house was great, well equiped and clean. Milka, Jovan mum, living in a little house uphill is an amazing host. Jovan was responsive, very easy and fully available to answer any questions.
Safia
2016-07-11T00:00:00Z
Room Type
Entire home/apt
---
Property Type
House
---
Accommodates
5
---
Bedrooms
Bigova, Montenegro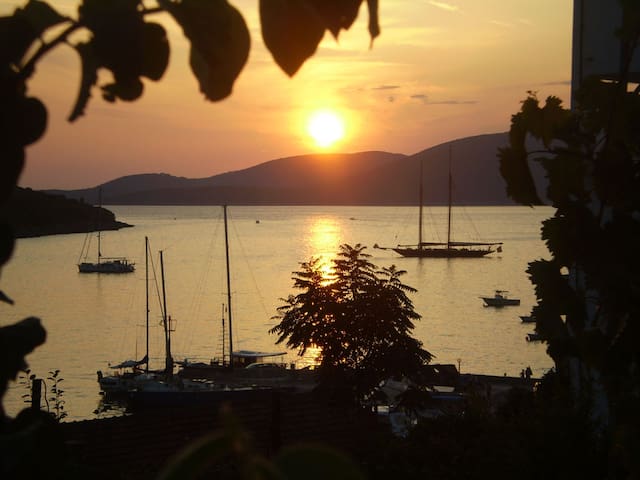 A charming two-bedroom Architect-designed house close to sea just outside the unspoiled village of Bigovo. The village is located within a half-hour drive of the main tourist sites of the Montenegrin coast, but still has the feeling of isolation. FOLLOW US ON INSTAGRAM @bigovobushhouse
Our award-winning, architect-designed house is arranged on two levels. On the ground floor is an open plan living space incorporating a large, fully-equipped kitchen with electric hob and oven, a dining area seating six people, and a living room with a double sofa and two armchairs. The ground floor back onto a small terrace with a view of the sea. Large folding doors allowing the outside space to be brought inside. There is also a small utility room and a toilet downstairs. The garden is arranged in a series of terraces with Mediterranean planting. There is an outside dining area under a pergola which also has space for hanging a hammock. Upstairs, via a spiral staircase, are two bedrooms; a larger double bedroom with a small walk-in closet, and a smaller single bedroom with a view of the sea. The single bedroom contains one bed and a spare mattress, allowing accommodation for up to two persons. For larger groups there are two camp beds allowing the house to accommodate up to six people in total. The house is air-conditioned and guests have use of a double sea-kayak.
Our house is located outside the beautiful village of Bigovo, which boasts a locally-famous fish restaurant and cafe, who's proprietors catch all their own fish. There is a small shop in the village and larger supermarkets are located within a 15 minute drive. The World Heritage site of Kotor, and the party city of Budva, are both within a half-hour drive, as are Tivat Airport and the restaurants and shops of Porto Montenegro. The house is twenty minutes from Tivat Airport and about two hours from both Dubrovnik and Podgorica Airports by car.
We loved the house, the surroundings, the cozy atmosphere of the house and the village nearby.
Luca
2016-08-12T00:00:00Z
Wonderful house as described - it really gives the feeling of being remote, from the garden and the terrace you can't see another building just the lush green hills. The kitchen is fully equipped and we enjoyed cooking and eating out on the terrace, which is perfectly designed to be in the shade during the afternoon when you don't want to be in the heat of sun. It is a short drive away (5-10 mins) to the bay with two good restaurants in the village and a few good spots to dive in sea and swim. The property agent was very helpful at ensuring we settled in safely. Finally the library in the house is a rich and varied collection - I'd happily spend a week in the house just with the books!
Joel
2016-08-26T00:00:00Z
Beautiful and very comfortable house. We loved iT! Because of the daily walks to the village, iT would be better if we had one extra bike! There are two Nice restaurants in the village and the, bumpy but adventurous way up, to the beach was fun (be carefull when you want to avoid scratches on your car). Caretaker Sandra is very helpfull and Nice! Just as Meryanna, the owner! Go there!
kirstin
2016-09-02T00:00:00Z
Absolutely beautiful house, wonderful garden- we thoroughly enjoyed our stay. It is perfectly comfortable for our family of 4 - comfy beds. It's off the beaten track but we loved this!
Clare
2016-08-02T00:00:00Z
L'accueil fut charmant, la maison est spacieuse et très bien équipée, il ne manquait rien. Pas un voisin aux environs, très calme et à 3 min de la mer en voiture. Splendide !
marie
2016-08-05T00:00:00Z
Room Type
Entire home/apt
---
Property Type
House
---
Accommodates
6
---
Bedrooms
Bigova, Kotor, Montenegro
House Lara is located in the small village of Bigovo, 13 km from Kotor and 15km from Budva. The nearest airport is Aerodrom Tivat Airport, 5 km from the property. The nearest beach is 200 metres away.
House is surrounded by rocky beaches and clear blue sea, also there is beautiful garden. Free WiFi access and free private parking are available.
The host canceled this reservation 27 days before arrival. This is an automated posting.
Emmanuel
2016-07-03T00:00:00Z
Room Type
Entire home/apt
---
Property Type
House
---
Accommodates
4
---
Bedrooms
Bigova, Tivat, Montenegro
Комфортабельная двухэтажная вилла с 4-мя спальнями и бассейном находится в закрытом коттеджном поселке "SUNTIME Bigovo". Поселок располагается в сосновом лесу, в 250м от моря. Бигово - старинная рыбацкая деревушка, где открытое море в сочетании с заливом создают уникальный микроклимат. Западный уровень культуры и архитектуры. Причал для яхт, галечный пляж, прекрасный рыбный ресторан. Близость к основным культурным центрам Черногории. Тиват, Котор, Будва находится в 12-15 км от Бигово.
Villa. Montenegro. Bigova. A new two-storey house of 218 sq. mt.in a closed-type villa community. Description of Bigova locality: - 10 minutes by a picturesque and modern road from Tivat airport! and you see an ancient fisherman's village, where the Western culture is in full harmony with primeval natural beauty of Montenegro and clear waters of Adriatic Sea. Open sea in combination with a small bay creates a unique microclimate in Bigova. Bigova is a paradise for yachtsmen – they could find here a cozy wharf for boats and yachts adding some spirit of romance to this locality. International yachting regattas are often held here. There is a perfect fish restaurant at the sea promenade. A quiet natural reservation Bigova is situated not far from the major cultural and historical points of interest of Montenegro - 20 minutes by car to Budva. - 15 minutes to Kotor – (Bay of Kotor). Closed-type villa community has 11 houses. 250 meters to the sea. 100m2 free access swimming pool is on the territory of the community. Check point and car barrier. The guard-manager lives in the community 365-days a year. Architecture – Mediterranean style. Ancient olive-wood garden and century-old pine trees are on the territory. The community is maintained and supervised by a management company. Community was constructed and put into operation in 2008. Within walking distance there is a small shop, 2 restaurants on the beach and beach bar. There are 9 km to the closest mall.
Место Бигово: - 10 минут от аэропорта Тиват по живописной современной дороге - и перед Вами открывается потрясающий вид на тихий залив, яхты, море и будто сказочные домики, утопающие в зелени. Это и есть местечко Бигово - старинная рыбацкая деревушка, где западный уровень культуры гармонично сочетается с девственной красотой Черногории и чистейшим Адриатическим морем. В Бигово - открытое море в сочетании с маленьким заливчиком создает уникальный микроклимат,которыей буквально притягивает людей возвращаться сюда снова и снова. Бывалые туристы снимают в Бигово жилье из года в год! Бигово - настоящий рай для яхтсменов, здесь расположен уютный причал для лодок и яхт, придающих этому месту дополнительную атмосферу романтики. Здесь проходя международные яхтные регаты. На набережной у моря прекрасный и очень известный рыбный ресторан. Заповедное и тихое местечко Бигово находится совсем недалеко от известных культурных и исторических центров Черногории. " SUNTIME Bigovo" Коттеджный посёлок закрытого типа состоит из 11 домов с общим бассейном . Домик охраны и шлагбаум. В поселке постоянно проживает охранник-управляющий, владеющий английским языком. Архитектура - средиземноморский стиль. На территории поселка находятся старинная оливковая роща и вековые сосны. Обслуживание посёлка управляющей компанией. Поселок закончен. В пешей доступности - небольшой магазин, 2 ресторана на берегу моря и пляжный бар. До ближайшего крупного супермаркета - 9 км. Пляж: не городской, средняя галька, на пляже возможен прокат шезлонгов.
We loved our stay at this villa! it is perfect quiet paradise 20 minutes away from Tivat or Budva. It has 4 bedrooms, but we only used 3 bd upstairs. All rooms were nice, clean, with everything we needed. Aircon worked great and we were very happy it was there! It was hot! Bigger towns are just about 15-25 min drive from Bigovo, and offer a lot in terms of dining and entertainment, but are so busy and loud! Coming back to villa was a pleasure every time! Beach is 10 minutes down (and up when coming back) VERY steep hill. it wasn't an easy walk. i wish owners provided more specific description about that. Beach is very rocky (need water shoes), basic, no shower, hard plastic sunbed for 4 euro type of place. We only went there once, as it wasn't really nice. We went to larger private beaches other days. But the restaurant that is at the edge of the beach is superb! Ivan (property manager) introduced us to the owners and arrange for us to have dinner on the deck, with the most spectacular sunset views! We dined there 2x and loved it both times. This is a perfect place to explore Montenegro from (Porto Montinegro, Tivat, Budva, Kotor... we even drove to Dubrovnic one day.) For the negative, we had an issue with bees when having breakfast on the terrace, as well as ants in the house on both lower and upper levels, but it wasn't a huge issue for us as we didn't spend much time at the house during the day. Was just annoying. All of Montenegro has tiny flies that come out in the second half of the day. They are super small and you don't really even see them, but their bites are vicious! Use mosquito repellent and bring after bite cream! Once we started using mosquito repellent we were fine, but bites we got first two days tortured us for a while. but it is not something just at the villa. we got bitten in Budva and at the outside restaurant in Tivat. Our kids loved the pool, which is right outside of villa. We never seen any people there, so felt like it was private :) Overall - great place and we would love to come back!
ilona
2016-07-28T00:00:00Z
Дом полностью соответствует описанию. В доме есть все для нормального отдыха и проживания, в доме все чистое и новое, кондиционеры есть во всех спальнях. Прямо рядом с домом - общественный почти всегда пустующий бассейн приличного размера , которым мы пользовались постоянно (дети из него не вылезали). Все бытовые вопросы (лампочка перегорела, помочь с барбекью и пр.) немедленно решает постоянно находящийся в поселке управляющий (его зовут Иван, он серб, ему отдельный респект, он отзывчивый и помогал нам во всех бытовых вопросах). Можно еще отметить, что до моря идти не 250 метров а побольше (наверное метров 400-500 до поселкового пляжа), и дорога сильно в гору, что особенно расстраивает когда идешь обратно. Галечный пляж в поселке совсем маленький, но каменная набережная поселка также вовсю используется для купания. Машина рекомендуется (чтобы ездить в магазин и на другие пляжи) Нам все понравилось.
Dmitry
2016-07-03T00:00:00Z
Room Type
Entire home/apt
---
Property Type
House
---
Accommodates
9
---
Bedrooms
Bigova, Montenegro

This beautiful stone house renovated to a high standard is situated in the charming Village of Ljesevici. Ljesevici is in close proximity to the beach at Bigova with the airport at Tivat being only a 10 min drive away.
The villa is great, new , modern and comfortable. It was great to seat on open terrace with a terrific view of the mountains. Even in hot days we had our 3 meals on this terrace, because of nice breeze through the villa. Cooking is easy, because all necessary appliances and utensils are provided and they are good quality. Car is definitely needed to go nearby towns, beaches and supermarkets. The only discomfort we had it was from poor insulation between the lounge and bedrooms (they are downstairs) But if you go to bed with all guests at the same time and your sleep is not sensitive, than you will be fully satisfied with your stay at this villa. There are to big fig trees in the front yard. So, it was a bonus to enjoy these delicious fruit.
Liubov
2016-08-26T00:00:00Z
This amazing villa is a wonderful blend of traditional stone and modern fixtures. It is much bigger than the profile picture shows, as the bedroom floor is located out of the photo. The large open plan living space has a really high ceiling with usable terraces both and back. The bedrooms are a good size and open out directly onto a walled courtyard with a lovely plunge pool. This villa is perfectly base for touring, as it is located a short drive from Porto Montenegro, Tivat, Bigova and Kotor Bay. The is very good supermarket nearby, but I would recommend have a car. The key swap and welcome we spot on, as was the extensive response to the many questions I asked of Peter (host). I definitely recommend staying and very much hope to book again.
Piers
2016-07-04T00:00:00Z
Really enjoyed our stay at Peter's beautiful villa. On arrival we were greeted by Peter's local agent Sandra who was extremely friendly and gave us advice on places to visit. As others reviews have mentioned the location is ideal for the airport, several supermarkets, roadside fruit & veg sellers, beaches and all the tourist attractions. The terrace provided amazing views whilst having breakfast and evening BBQ'S. As it was very hot the ceiling fans & air conditioning were most welcome. Peter was a great host answering our queries and gave us some helpful tips. Would highly recommend his villa and would love to return to this stunning area & villa.
Andrew
2016-07-15T00:00:00Z
Great location in a very small hillside village a short drive up the valley from the airport but far enough for the planes not to bother you. The house is well placed for getting easily to beaches, Tivat or Kotor (by the pass or tunnel). A quick drive over the hill takes you to Bigover for a relaxed breakfast or evening dinner. There is no local shop in the village but there are supermarkets on the way from the airport or a friendly village shop in Bigover. When you first arrive you wonder where the rest of the house is as at first appearances it's quite small but being on a slope the bedrooms are cleverly placed on the lower floor you can't see from the road. We were warmly greeted on arrival. The house itself is well looked after and everything was at hand. Traditional feel inside and out with a fully modernised interior. The pool is small but secluded. A slight downside is whilst the terrace provides amazing views over to the Kotor pass you can't see the sea but we didn't miss it and the evening sun across the valley is beautiful. Bedrooms are of a good size, each with a clean bathroom. Being on the lower floor they open out to the pool. Upstairs the kitchen is big and a large sofa in the open plan just what you need after a long day. Hope to be back there one day.
Nigel
2016-09-16T00:00:00Z
We had a great stay in this property. It was well located, near Tivat and the airport, Kotor and Lustica. The stone house itself is beautifully renovated and in a pretty village. My son enjoyed splashing around in the little pool. It was very clean, everything was in good working order and looked just like the photos. Peter the host, made sure everything ran smoothly. Would recommend this property and will definitely be returning!
Natalie
2016-06-20T00:00:00Z
We genoten met ons gezin (3 kinderen) van deze mooie villa gelegen in een schitterende en rustige omgeving. Bij aankomst kregen we onmiddellijk de sleutel van de buur zo konden we direct het huis verkennen. Na een halfuur kwam Sandra (local contact) aan en verwelkomde ons hartelijk. Ze gaf enkele nuttige tips voor bezienswaardigheden in de omgeving. Ook met andere vragen kon je steeds bij haar terecht. De villa is zeer goed uitgerust en van alle comfort voorzien. Ook zijn er enkele basisproducten (zeep, afwasmiddel, vaatwastabletten, specerijen,...) aanwezig wat handig is bij aankomst. Zowel voor als achter het huis is er een groot terras waar je kan genieten van het ontbijt of het avondmaal. Het kleine zwembad (afmetingen worden exact weergegeven op de site) biedt een leuke afkoeling voor de kinderen. De airco en ventilators zorgen voor de nodige afkoeling in de living en de keuken. Ook is er in 1 slaapkamer airco voorzien. Deze ruime villa is zeker een aanrader om te ontsnappen aan de dagelijkse drukte. De luchthaven van Tivat ligt dichtbij maar zorgt zeker niet voor overlast! Een wagen is wel een must om van hieruit uitstappen te doen (Kotor, Lovcen, Skadarlake,...)
Godfried
2016-07-25T00:00:00Z
Room Type
Entire home/apt
---
Property Type
House
---
Accommodates
6
---
Bedrooms
Ljesevici, Montenegro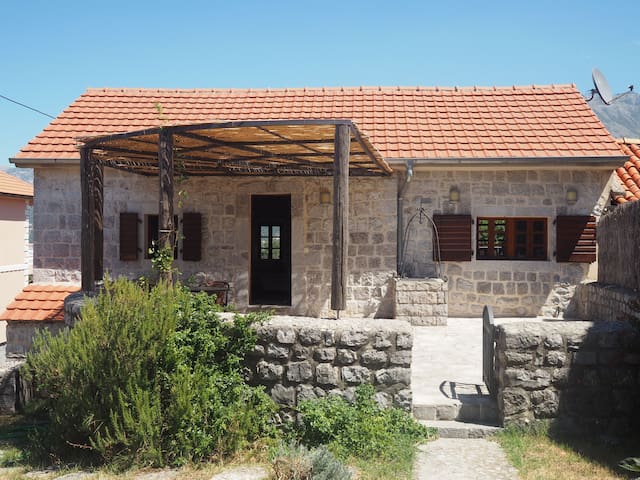 Lovely 2-bedroom house with a separate guesthouse. 3 bathrooms. South facing terrace. Private garden for outdoor dining. 3-min walk to Sea and Restaurants. Secure car parking. Sleeps 4-6.
The entire accommodation will be for your exclusive use. On arrival, our caretaker will meet and greet you. They will show you around the house and explain how to use the appliances.
C'est avec regret que nous avons quitté Bigova. Durant notre séjour, un orage a coupé l' électricité alimentant la pompe à eau desservant la maison. Le nécessaire a été fait très rapidement pour rétablir le système. Logement idéal pour partir à la découverte du Monténégro, un pays "qui a tout d'un grand" Idéal pour 2 couples. Merci à notre hôte et à Sandra, son assistance locale, pour leurs précieux conseils. Nous reviendrons avec plaisir.
MICHEL
2016-08-26T00:00:00Z
Nous avons passé un super séjour, la maison est très cosy et idéalement située : au calme dans un très beau village de pêcheur et à 3 min d une baignade en mer. Olga et Takaaki ont été des hôtes parfaits et de bons conseils. La terrasse est très agréable.
Olivier
2016-07-31T00:00:00Z
Room Type
Entire home/apt
---
Property Type
House
---
Accommodates
6
---
Bedrooms
Bigova, Montenegro
Villa Tara is a newly renovated, four bedroom, detached house built on three levels. Located by the sea, it is delightfully enveloped by own landscaped gardens and enjoys stunning views of Bigova Bay. The house has own parking and plenty of space and privacy. It comprises: a large living room, 2 kitchen-diners, 2 bathrooms and 4 bedrooms (sleeps up to 8 people); and makes an ideal holiday home for a family or a group of friends.
Villa Tara's is a beautiful, fully equipped 'home away from home', with large terraces, a lovely gardens and spectacular sea- views. The house is ideally suited for a group of 7/8 people (4 bedrooms, 2 bathrooms and 2 kitchen-diners, a large living room). There is also a summer kitchenette with BBQ and an outdoor shower. The house is just two minutes walk from the beach, local harbour, shop, bars and restaurants.
Bigova is Montenegro's best kept secret. An idyllic, authentic fishing village, just outside the Bay of Kotor, it sits in its own quiet bay, offering clear, calm water for enjoyable swimming, snorkelling, diving and other water sports such as fishing and sailing. The area has a mild Mediterranean climate, and Bigova enjoys ideal weather conditions with plenty of sunshine during the summer - around 240 sunny days each year - and the days are hot and dry There is one grocery shop and two bar/restaurants in Bigova- Grispolis and Podvolat. There are 2 large supermarkets located approximately 10mins drive from Bigova. An intimate pebbly beach is about 2min walk away from the house. Bigova is a short drive away from the best Montengrin beaches which are found along Budva Riviera. Tese are long, sandy beaches with gentle, clear waters.
Room Type
Entire home/apt
---
Property Type
House
---
Accommodates
8
---
Bedrooms
Bigova, Montenegro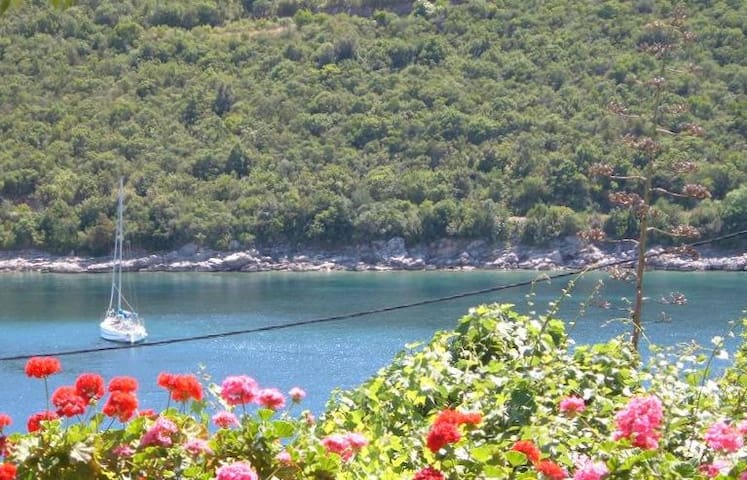 House on 2 floor facing the sea, in a protected bay: Lustica bay. warm and transparent sea. Preserved village of fisherman. kitchen, 2 bedrooms (1st floor: a double bed, 2nd floor: 2 singles). Large terrace facing the sea.
Room Type
Entire home/apt
---
Property Type
House
---
Accommodates
4
---
Bedrooms
Bigova, Montenegro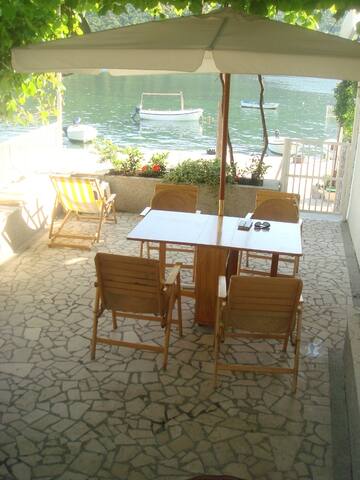 250m2,to sea 10m, 4 bedrooms, 9 Max sleeps, balcony and terrace with a gorgeous sea view, Equipped kitchen, Dishwasher, Microwave,3 Bathrooms, Jacuzzi, Washing machine, air conditioning, Parking, green yard, BBQ, fenced area
Luxury 3-storey house for 9 persons, in Bigova, area of 250m2, with 3 large living areas, 4 bedrooms, 4 bathrooms, two balconies with a gorgeous sea view, with terrace and barbecue area, with garage, 10 meters from the beach
Room Type
Entire home/apt
---
Property Type
House
---
Accommodates
9
---
Bedrooms
Bigova, Montenegro
Renovated ancient house 20 m from the Sea, OLD STONE HOUSE BY THE SEA are all air-conditioned and have a fully equipped kitchen and a balcony. Come equipped with a satellite TV,a shared washing machine Perfect for peaceful holidays far from crowed.
Old house by the sea for perfect peaceful holidays with sound of the sea
Friendly neighborhood
Room Type
Entire home/apt
---
Property Type
House
---
Accommodates
12
---
Bedrooms
Kotor, MONTENEGRO, Montenegro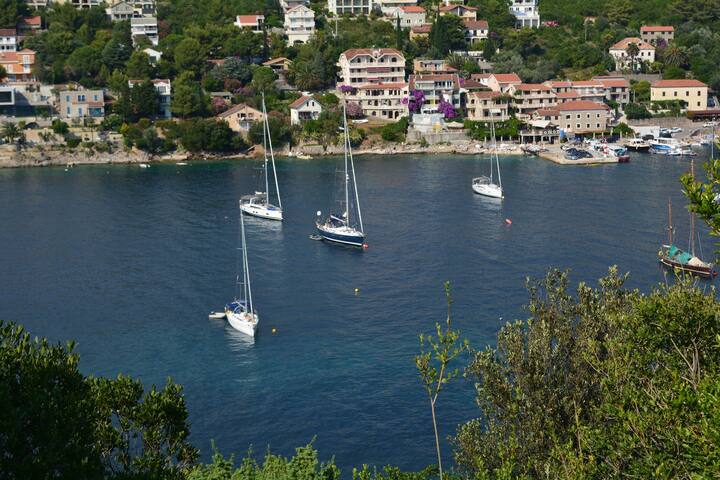 2-stor. 3-bedr. villa lux 180m2 for 8 pers. + 1bedr ap for 4 pers. in Bigova. 5 min from the beach. Sea-view terrace, 3 bathr. Sat. tv, A/C, wi-fi, wash. and dishw. machines. Garden. 2 garages. Rest. and shops -5 min. walk.
Room Type
Entire home/apt
---
Property Type
House
---
Accommodates
12
---
Bedrooms
Бигово, Montenegro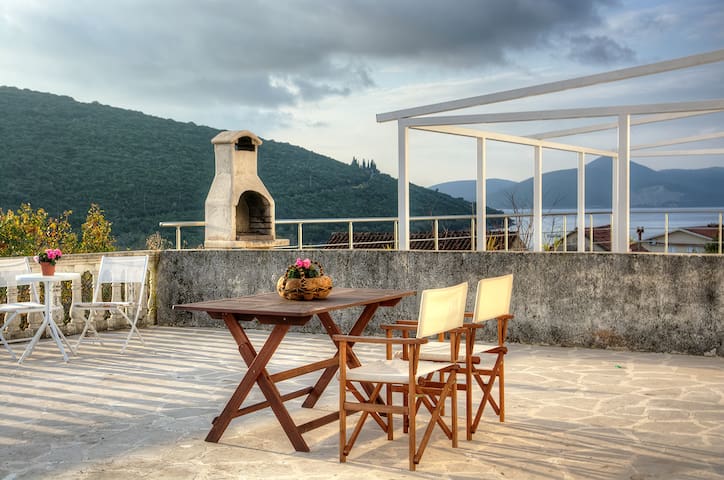 Cette maison située à 10 minutes de belles petites plages offre une vue époustouflante sur l'Adriatique et les montagnes environnantes.  Au coeur d'une luxuriante végétation méditerranéenne, elle est un havre de paix.
Ce logement offre une vue époustouflante sur l'adriatique et est un havre de paix.
La végétation luxuriante, la vue époustouflante, les habitants du village.
Room Type
Entire home/apt
---
Property Type
House
---
Accommodates
6
---
Bedrooms
Glavaticici, Monténégro, Montenegro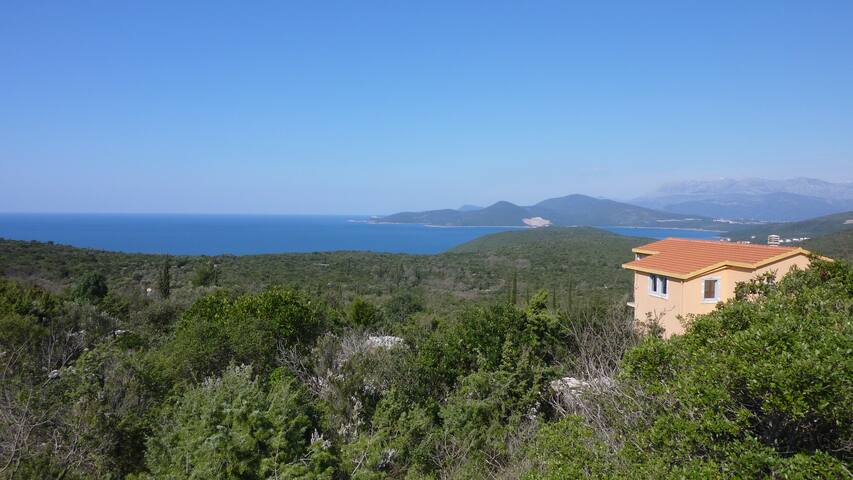 A moderate-sized countryhouse big enough for two or three families to accomodate. We have a stunning seaview with world's most beatuful sunsets, fresh air, no noisy neighbors and plenty of room to park cars. Nearby restaurant serves fresh seafood.
The villa Is very comfortable and useful although it wasn't very clean when we came in. The house Is not easy to find, but the seaview is wonderful and worth it. You have to come with a solid car because the road is rough. Montenegro Is a beautiful country, we recommand ivan's villa to discover it.
Cédric
2016-08-22T00:00:00Z
Room Type
Entire home/apt
---
Property Type
House
---
Accommodates
6
---
Bedrooms
Glavaticici, Montenegro
Adventure House is a home-like destination for backpackers, travelers, families and small groups, a home for all those who view life through a prism of adventure. Overlooking the Adriatic, Adventure House is one kilometer from both the sea and the bay. Amenities include private bathrooms and two fully equipped guest kitchens. In partnership with adventure sports outfitter Montenegro+, bicycle, kayak and paddle-board rental is available, as are adventure sports tours to great destinations locally
AH Lord Byron features a double bed (140cm wide) with an 80cm single bed on top. The bathroom features a square stone lined tub suitable as a bath for a child. This room leads onto a spacious terrace overlooking the Adriatic Sea. Natural stone with underfloor heating, exposed brick walls and wood paneling are some of the features. This room is ideal for a couple with a child.
Our accommodations are simple, comfortable and clean, away from large roads and light pollution. The sea can be heard at times at night. There are wild ferrets, fox, jackals and turtles. There are good hikes and road biking in the area. There is a supermarket in the nearby village of Radovici.
We had a wonderful stay at Jeffrey's house, which sits in a quiet village, a somehow more authentic experience than the busy cities on the coast. Jeffrey was very kind to pick us up at a flexible time in Budva and even dropped us off in Kotor when we left, which made our stay possible and convenient even if we didn't have a car. From the house, the good bikes that were available allowed us to reach the next village and the small fishermen harbours on the sea. The rooms in themselves fits the description and the photos, being rather simple but comfortable, clean and very recently renovated. Our room had access to a balcony with a view on the sea, which was a real pleasure at night to watch the stars and listen to the nature. The shared kitchen was also clean and sufficiently equipped. Jeffrey was quite available during our stay, and made sure we had a great and fun time. He helped arrange a kayak excursion on the sea and paddling in the marina (for free!), where we were lucky enough to go around dolphins. Amazing! Overall, I would say we had a great stay at Jeffrey's, in a much more quiet and nature-oriented atmosphere than on the coast, and for a price that makes it a great deal.
Vincent
2015-08-15T00:00:00Z
Jeffrey was an amazing host who really went beyond his responsibilities to help with activities and making sure our stay was enjoyable. The place is hard to find and really in the middle of nowhere. That might be a positive for some or a negative for others. Coordinate with Jeffrey before your arrival to make sure you can find the place as there is no official address so a taxi driver won't find it.
Johnny
2015-08-11T00:00:00Z
Jeffrey was not there, one of his colleagues Mario welcomed us warmly. He is the best host we have ever met in our Airbnb history. He is very friendly, attentive and considerate. He has a big heart. Whatever question we had he was always there to help. We were also impressed by his historical knowledge. His positive energies fill the whole place. A must visit house if you want a peaceful accommodation near Kotor bay.
Szilvi
2016-07-13T00:00:00Z
I stayed at adventure house for 3 nights and had the best time! Jeffrey exceeded my expectations from the moment I arrived by (very kindly) collecting me from the airport in his speedboat. During my stay I was able to take part in a range of activities, organised/provided by Jeffrey - paddle boarding (SUP), mountain biking and wakeboarding, as well as a kayaking tour of the Blue Caves - these activities were discounted as I was staying there. The room was en suite with access to a huge balcony looking out to the Adriatic Sea, the bed was really comfortable. Jeffrey drives from place to place running tours and things so is able to give you a lift to places. Jeffrey and the people working for him made me feel very welcome and I will definitely return to Adventure House next time I go to Montenegro! Thank you so much for your hospitality especially Jeffrey, Uli and Zak!
katy
2016-07-05T00:00:00Z
The adventure house was just so great. Friendly, easygoing and fun! We did kayaking, hiking and paddle boarding, which were all very cool. There are so many options for having an active holiday, and Jeffrey and his staff are easy to arrange these things with. It was possible to cook dinner/any meal in the small kitchen and the view and the silence was great. There is a shop down the hill in the small village which was easy to find. We would recommend others to have a car if you decide to go to the adventure house. It is a 25 minute walk to the beach, where you can also do paddle boarding from. The beach is, however, really nice and quiet, calm and definitely not crowded at all. We give our highest recommendations for the adventure house!
Diana Sofia
2016-07-27T00:00:00Z
Fenomenal location house and most of all the host! Very relaxing atmosphere, good facilities and fantastic views! Highly recommended ;)
Agnieszka
2015-08-23T00:00:00Z
This year I had the pleasure to visit Montenegro for the first time with my husband and we stayed at Jeffrey Adventure house. Rooms are simple but very clean and comfortable, our had access to a large balcony with a beautiful view of the bay. The house is away from the hustle of the city and surrounded by greenery, offering peace and tranquility. Nearby beaches are fantastic and from the marina we had a little trip with the boat with Jeffreys colleague Bojan so we had the chance to see the bay from that perspective too. If you are a fan of outdoor activities or water, Jeffrey can offer you a lot. Budva, Tivat, and Kotor are close and we had the opportunity to explore their beauty. We had a wonderful time in the house and we will definetly go there again!
Biljana
2015-09-22T00:00:00Z
The location of this place is wonderful: away from the bustle around the bay itself, yet in a way very centrally located. Balcony views on both the bay and the Adriatic and both in walking distance (30 and 10min. resp.) to go swimming. A supermarket and busstop 15 min. away makes this place not quite totally isolated, but bike or car would be recommended if you would like to explore the surroundings. The house is still under construction, but all the basics were there and functioning. Kitchen, and showers were good, and I liked the floor. However, hot nights do require sleeping with the room door open, which might limit your privacy. We did not meet Jeffrey who had sort-of delegated responsibility to a colleague and long-term guests during his absence. This did hamper the communication when toiletpaper and bikes proved to be absent. However, all-in-all, I recommend this place whole heartedly, especially if your interested in more outdoor activities. You just might want to get a montenegrenian prepaid phonechip :)
Fardo
2015-07-28T00:00:00Z
Room Type
Private room
---
Property Type
House
---
Accommodates
3
---
Bedrooms
Đuraševići, Tivat, Montenegro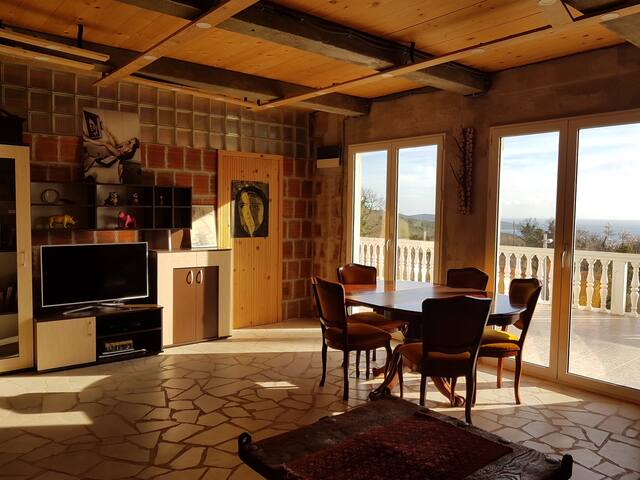 Spacious and comfortable house with sea view and mountain view offers a seasonal outdoor pool, barbecue and a sunny terrace surrounded by a garden with fruit and vegetables free to pick. The house offers a private beach less than a kilometer from the house for its quests, equipped with sun umbers and (URL HIDDEN) house is 20 min drive from Tivat, Porto Montenegro and Kotor Old town,the airport Tivat is a 10 minute drive from the house, free pick-up from Tivat Airport is possible upon request.
Spacius house Private pool Close to beaches Private beach less than a kilometer from the house for its quests, equipped with sun umbers and chairs. house is made of 3 apartmens: The two bedroom apartment is very spacious on the ground floor, consisting of a living room, dinning room, kitchen with all the modern devices, two bedrooms and a bathroom. This apartment can accommodate 6 persons(URL HIDDEN)The one bedroom apartments are in the attic, modern and fully equipped and suitable for 4 persons Each apartments has a balcony with sea view and mountain view. sunny terrace garden with fruit and vegetables free to pick
This outstanding house is located in a small village Djurasevici, on the Lustica peninsula. The house is set in a perfectly quiet surrounding, assuring maximum privacy and great comfort.
Room Type
Entire home/apt
---
Property Type
House
---
Accommodates
10
---
Bedrooms
Tivat, Tivat, Montenegro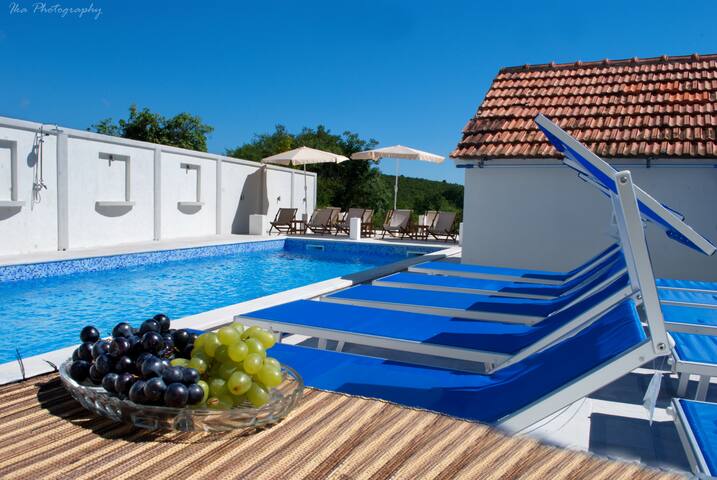 2-stor. 3-bedr. villa lux for 9 peop. in Bigova. 5 min from the beach. 1 double bed ,5 single beds, baby cot. Sofa-bed in the lounge. Sea-view terrace, 2 bathr. 2 kitchens. Sat. tv, AC,wi-fi, wash. and dishw. mach. Garden. Rest.and shops -5 min.
Room Type
Entire home/apt
---
Property Type
House
---
Accommodates
9
---
Bedrooms
Бигово, Montenegro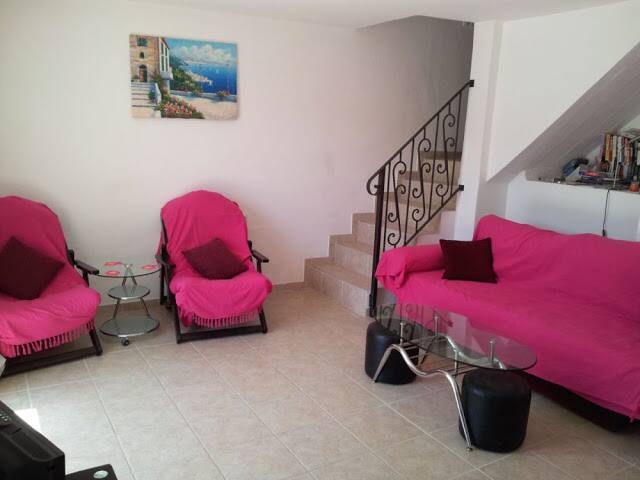 House with private beach.Located on coast Djuraševići,8 kilometers from center Tivat and 4 kilometers from airport. House that provides all opportunities for a holiday on the coast.
Superbe accès privé à la mer avec tranquillité et tout le confort. Accueil très sympathique de Goran et Néna.
Nadia
2016-08-15T00:00:00Z
Room Type
Entire home/apt
---
Property Type
House
---
Accommodates
6
---
Bedrooms
Tivat, Tivat, Montenegro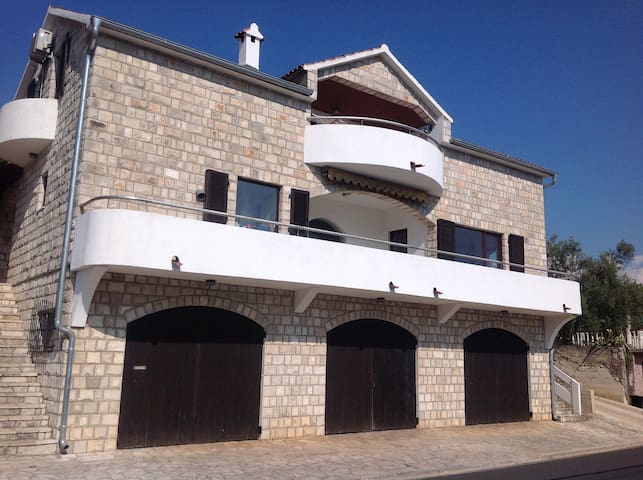 One bedroom cottage with garden. Belveder cottage is situated in little, peaceful place called Glavaticici, 15 km from Budva.
One bedroom cottage of 60 m2 with garden of 600 m2, consists of a 1 bedroom, bath, living room and kitchenette. The cottage can host up to 3 persons ( bedroom double bed for 2 persons, living room flip bed for 1 persons) and perfectly fits both for families or company of friends. In front of the cottage is a garden perfect for enjoying the shade and outdoor barbecue. The cottage has: - everything for cooking at home; - fridge; - barbecue; - fireplace; - washer. Belveder cottage is perfect if you want a quiet vacation away from city noise.
Wow !!! This place was really what we need ! Small village, wild small beach with friendly local people ( 15 minutes drive from the house ) and a plesant bar where you can drink a cold beer ( cheap price ). The house is very confortable with all you need, nice and quiet. The garden is perfect for the summer evening with barbecue. 5 minutes walk there is an authentic restaurant with REALLY good food ( tomatoes from garden, fresh fishes etc.. ). Mijlana is very friendly and will help you from anything you need ! We really enjoy our stay !
Victor
2015-08-09T00:00:00Z
Room Type
Entire home/apt
---
Property Type
House
---
Accommodates
3
---
Bedrooms
Glavaticici, Montenegro, Montenegro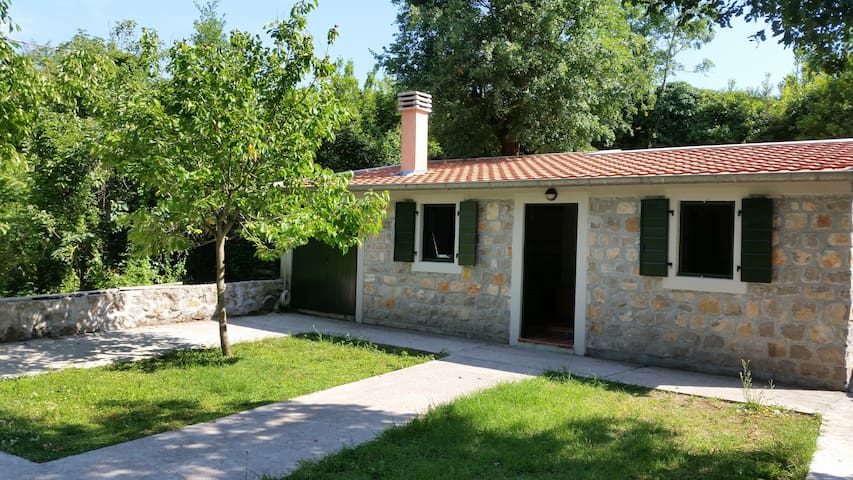 1

–

18

of

101 Home Rentals
Enter dates to see full pricing. Additional fees apply. Taxes may be added.