Lakeside paradise! Master w/King bed-french doors looking out to sunrise. 2nd floor has a queen bed, bunk beds and a chaise. One full bath with claw foot tub. Fishing directly across from Cranberry Bog. Close to Denison Univ., Nat'l Trails. Less than 2 mi off I-70. Parking for three carswith plenty of seating. Quite street, private location. Wi-Fi available. Fully furnished includes washer and dryer.
Our cottage is located on Buckeye Lake facing east which provides for amazing sunrises...that is if you're up early enough after taking in the spectacular sunsets and star gazing! Enjoy lake side meals or simply relax and read a book while enjoying the beauty of the water.
Cranberry Bay is a relaxed, fun-loving neighborhood. Everyone loves the lake and is there to enjoy and appreciate it. The community is made up of full time residents and weekenders.
Great relaxing place to stay! Hosts were very accommodating. Location is perfect.
Ethan
2017-03-25T00:00:00Z
Great place to stay! Nicely decorated lakeside cottage and beautiful view of the lake. Randy and Kim were easily accessible and willing to assist in anyway, if needed. I will certainly be back!
debi
2017-02-05T00:00:00Z
We had such a good time at this property. The views are spectacular, the place was very clean. The lake is low right now do to the damn. But we still enjoyed just relaxing and fishing. We loved that we could bring our dog with us. Which was so nice. We would go back again.
Lisa
2016-08-26T00:00:00Z
The host was great and added personal touches by having a gift for our children upon arrival and mentioning games to play. Our main reason to stay here was easy access for my wife's grandfather to be able to fish and not have to leave the property. We used the kayaks and played provided board games and for that weekend life slowed down for us and we enjoyed family time. We would most likely use this home again when the lake is full because it was a great location and neighborhood.
Adam
2016-08-01T00:00:00Z
The stay at this location was very comfortable and relaxing. The lake in the morning is a nice scene and the location of the house is about 10-15 minutes away from the restaurants we ate at. Randy and Kim were very attentive and always maintained clear communication over the weekend we stayed over.
Aaron
2017-03-05T00:00:00Z
This is a great location on the lake. Communication with the host was very quick and thorough. The outdoor space is lovely and spacious.
Audra
2016-08-21T00:00:00Z
Very nice place! Cozy and comfortable
Kevin
2016-10-02T00:00:00Z
This is a rough review for me to leave. I am a long time airbnbr, and normally have absolutely wonderful experiences. I greatly value both host and guest feedback, and have great respect for Airbnb as a community, so I feel it necessary to be 100% honest with my reviews. I will start with the good. The hosts seem like wonderful people. They were very communicative, very open with options and check in/check out etc. The home is adorable, quiet, and has wonderful views of the lake, as well as very well stocked and clean. Now, for the bad. First of all, Buckeye lake is 100% unuseable right now. Not only is it extremely low due to dam repairs, but actually has a current toxic algae bloom. I felt very misled that we paid more for "lakefront" property, on a lake that was basically worthless, at the hottest time of the year. The DNR actually states you shouldn't even come in contact with the water, so kayaking isn't even recommended. Also, we travel with pets, and this type of algae is literally lethal for them. Be wary if you have the type of dogs that jump right into water. It's so misleading to talk about the wonderful lake and dock and activities, only to arrive and find that this information isn't accurate at all. Secondly, the AC, although functioning, doesn't do much. There was a heat advisory the weekend we were there, so between the unuseable water and not great AC, it was pretty miserable. My last issue is a very serious one to me. The hosts actually had a wi-fi security camera going in the main part of the home, that they did not disclose. They are new Airbnb hosts, but this is simply not ok. We ended seeing the light on the camera, and figuring out what it was/disconnecting it, but what an awful invasion of privacy. I have stayed in over 50 Airbnb properties and have never had this issue, and it's a super serious one. I hope that the hosts address this promptly. It was unfortunately not a great overall stay for us. We made the best of it by checking out local breweries and wineries, but the home wasn't at all what we expected. I think with a price drop, and remedy to the camera situation, as well as renters that are only interested in "lake views" this may be an ok spot. But for us, it unfortunately wasn't.
Mandy
2016-08-29T00:00:00Z
Room Type
Entire home/apt
---
Property Type
House
---
Accommodates
8
---
Bedrooms
Buckeye Lake, OH, United States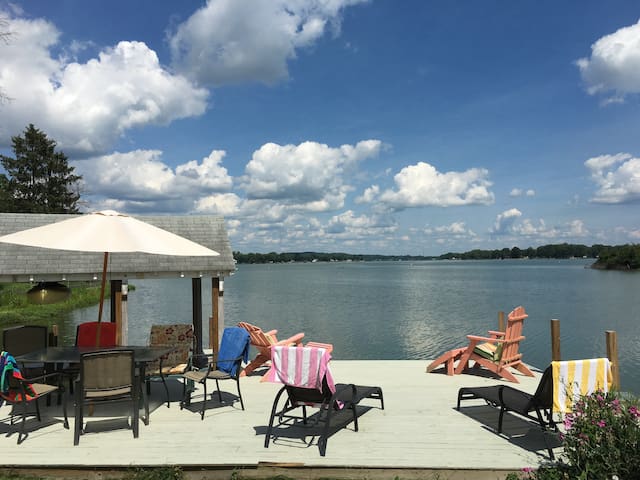 Our place is steps from Buckeye Lake & all it has to offer. Private boat dock and great open concept in a new build! You'll love our place because of the quiet and relaxing Crane Lake neighborhood and time you can spend outdoors.
Open concept kitchen with granite peninsula and bar seating! New stainless appliances and Keurig Coffee Station. Large windows and French door to let in plenty of light and views of the water. Two bedrooms and two full bathrooms. Master bedroom has an en-suite bathroom attached and a large walk-in closet. The living room has a sleeper sofa to accommodate up to 2 more guests. 47" flat smart tv with Netflix and Cable TV. Wi-Fi is also available for our guests. Steps from private dock and access to the main lake by boat! Minutes from state park boat slip. Paved parking.
Very safe and quiet neighborhood in between Crane Lake and Main lake! Great walkability or for biking! Neighbors are very friendly and a great place to enjoy the outdoors! Buckeye Lake is a great place to enjoy fishing, boating, restaurants on the water, live music and water sports- no motor restrictions.
Super clean, very spacey, everything you could possibly hope for and more.
Diana
2017-03-05T00:00:00Z
Room Type
Entire home/apt
---
Property Type
House
---
Accommodates
6
---
Bedrooms
Buckeye Lake, OH, United States
The guest house is in the quaint village of Granville, home of Denison University. Easy walking to art galleries, museums, restaurants, and the best ice cream around. The Columbus, Ohio airport is 28 miles away. It is a bright and cheery efficiency apartment with a double bed, full size stove in the mini kitchen, air conditioning, and rocking chair. Bathroom has a shower (no tub); it is small and not handicap accessible. Wi-fi and Smart TV connected to internet (NETFLIX available)
The guest house is located in the charming village of Granville. Please park at the top of the driveway in the turn around. You will be able to see the cottage directly behind the main house. 435 W Maple Street, 43023
Granville is home to Denison University. Easy walking to art galleries, museums, restaurants, and the best ice cream around--Whit's. The Columbus, Ohio airport is 28 miles away. The guest house adjoins a 20 mile- long bike path.
Mindy's cottage made for the perfect vacation. It's very cozy for two or fewer. She and Bob were very welcoming and gifted us fresh eggs that we ate both mornings and was delicious. It was very easy to get to and from Denison. We enjoyed very much the coffeemaker and the basic Smart Tv that connects to Netflix in the room. They were both very kind the entire stay and very well stocked in the room. The only thing I was slightly disappointed with was the set up and size of the bathroom (small and hard to get around) but it was managable and had everything we could have needed. I appreciated that they were only text away and still kept our privacy in spite of the cottage being a few steps from their back porch. Will definitely stay again! Thank you Mindy and Bob
Alina
2017-02-19T00:00:00Z
A comfy, unique setting - quiet residential area close to main street of charming small Ohio village. Yellow Bird backs up to 'countryfied' area occupied by a flock of 1/2 dozen chickens. Friendly, helpful hosts respect your privacy. Yellow Bird is cozy comfort. My second time there provided same positive experience as the first. Couldn't ask for more.
wanda
2017-03-21T00:00:00Z
Great place!!
Eli
2017-02-26T00:00:00Z
Such a great, secluded location within minutes of great bakeries and coffee shops! I came here to do my yearly planning and it was just perfect. Quiet and yet close enough to things I could walk and take a break!
Atalie
2017-01-22T00:00:00Z
This was an absolutely perfect weekend getaway! The town is charming and within about a five minute walk from the cottage. We will definitely be returning soon.
Phoebe
2017-03-25T00:00:00Z
I enjoyed a peaceful & productive stay @ Mindy's with the added benefit of getting to see beautiful chickens up close.
Dennis
2017-01-30T00:00:00Z
Mindy's cabin is so tranquil and pleasant. The chickens and roosters are out in the yard behind the cabin making it a beautiful country respite. In my opinion, it is soooo much more friendly and quaint than staying in a hotel on the highway. Thank you Mindy and Bob!
Molly
2017-04-02T00:00:00Z
Your pictures don't do it justice ! The place is amazing , so comfortable, and so affordable. The open view gives it a warm start to your day with light shining through from all over. Definitely a place to go back to.
Carmen
2017-01-17T00:00:00Z
Room Type
Entire home/apt
---
Property Type
Guesthouse
---
Accommodates
2
---
Bedrooms
Granville, OH, United States
This is a PRIME location Lake House right on the water at Buckeye Lake. This is an extremely clean and luxurious lake house for a weekend getaway! Game Tables! Over 2,000 sq ft. Foosball Table! **Due to the construction on the lake this year, there is a fence preventing direct access to the lake from this home. You do however have INCREDIBLE views and a public access ramp right up the road for boat access. This home is great for families/events, and you will have a great time!
Room Type
Entire home/apt
---
Property Type
House
---
Accommodates
7
---
Bedrooms
Millersport, OH, United States
Coming to Granville for business? Visiting children at Denison or family at Kendal? Our ground-level, private apartment is just minutes from the charming village of Granville and even closer to the Kendall Retirement Community. Our space features your own private entry, off-street parking, enclosed patio, bath with shower, kitchenette, sleeping accommodations for up to three, and access to a Japanese-style sitting garden. Spring Valley Nature Preserve is easily accessed by foot from our home.
This is a ground-level studio apartment in our home, located on an acre-sized, well-established and manicured property. Completely furnished sitting/sleeping room with wi-fi, separate dining and kitchen area, bath with shower. You are welcome to relax in our hammock or sit under our large shade trees and enjoy our Japanese garden.
We are located in a quiet neighborhood of homes with acre-sized lots. A nature preserve with walking trails can be accessed by foot from the apartment.
Perfect location and cozy home. Artistic, quaint and very convenient to town! Jenny and Dick were very kind and provided us with privacy as well as conversation. We will recommend to family and friends that will be visiting!
Christine (Tina)
2016-04-19T00:00:00Z
I pretty much used the B&B just for sleeping and showering because I had a busy schedule at Denison University for my daughter's graduation. But the place was great. It was clean and neat, felt safe and secure in a quiet, leafy suburb-like neighborhood away from the main downtown neighborhoods of Granville. Although it's not downtown, it's about a 3-5 minute drive to downtown and the Denison campus. Jennifer and her husband are great hosts. They gave me a quick and thorough tour of the living area and I could tell they had worked hard to make the place comfortable. The space is a basement apartment but is at grade. The bed is fine, the bathroom is clean, the shower is fine and has plenty of hot water. I didn't use the kitchen, but it seemed fine and the fridge had water, sodas, and some snack things. The only negative thing, and it isn't even really negative, is that one of the window curtain rods suddenly fell off during the night. Strange. But overall, the place was comfy, the hosts were gracious, and I highly recommend it to everyone.
Michael
2016-05-16T00:00:00Z
The place was perfect for our needs and would be wonderful for anyone. It is located in a tranquil neighborhood, with a great yard. Easy access to the space is a real plus. We were greeted upon our arrival and shown the lay of the land and excellent amenities. There was coffee, tea, and food available for breakfast the next day. There was even access to a washer and dryer. Everything about the place was great. We would love to stay there again!
Tom
2016-09-11T00:00:00Z
Jennifer and Dick are great hostesses. Their basement apartment is warm and very cozy. Absolutely perfect for me and all I could ask for. They have really put a lot into making this space all that it can be. Even when my husband and 18 yr old son came to visit they were accommodated completely. There was room for all and plenty towels and usufructs of the utility room right off of kitchen sure is useful. There are many luxuries of home and plenty of room to store your things even when living in this apartment for months at a time. I have been very comfortable and thankful to have found this perfect place to live during this time working away from home.
Mary Jo
2015-12-31T00:00:00Z
I had a lovely stay-- I was very comfortable and slept well, which is just what I needed before a long drive! Jennifer was gracious and helpful, and gave advice on local hikes and restaurants. Thank you!
Henry
2016-04-03T00:00:00Z
When I arrived my hosts were playing music in the garden with friends, it was delightful. My hosts were very nice, polite and informative. The location was very quiet and serene. The room was nice, and set up for a long stay. I only stayed one night, but I would certainly stay again.
Jeffrey
2016-06-27T00:00:00Z
Wow! Can't say enough good things about this wonderful space. Jenny and Dick were welcoming and friendly and very thoughtful. The decor was eclectic and fun with a mix of antiques and IKEA that just worked great. It was cold outside, but so cozily warm inside. The photos don't do this apartment justice, as it was unexpectedly spacious and comfortable. The breakfast and beverage options provided were generous and varied enough to suit anyone's palate. I especially appreciated the large closet to hang clothes and stash my suitcase out of the way. It snowed during my visit and I exited the apartment one morning to find a trail of salt melting the ice between the door and my car. The property is on an easily accessible park-like lot and once I even spotted deer on the grounds. Jenny and Dick were easy to communicate with while respecting my privacy. If this space is available, I'll be staying here on all my future trips to Granville.
Charlene
2017-02-12T00:00:00Z
We were so happy to find Jennie's place. The house was even more beautiful and peaceful, was perfect for us. Loved staying with Jennie, she made us feel at home. Thanks Jennie and for everything!
Lisette
2016-09-18T00:00:00Z
Room Type
Entire home/apt
---
Property Type
Bed & Breakfast
---
Accommodates
3
---
Bedrooms
Granville, OH, United States
Our place is good for solo adventurers, business travelers, and furry friends (pets). Let us be your host in our spacious one-level home set among two acres of property with many miles of nature trails out back following the Salt Run Creek, and two miles from the picturesque town of Granville. The quaint downtown area, features antique stores, local bars, restaurants, live music, library, post office, bike and foot trails; plus Hudson Lake for summer swimming.
I will be vetting your questions and be your host contact. The home belongs to an elderly scholar. He was once a teacher and philanthropist. He is in his 80s and welcomes guests from all over the world. We like to participate in many of the cultural activities held at Denison University and OSU. The home is spacious and you will have plenty of privacy unless you want company. We welcome your visit and any questions you may have about the accommodations. Cheers!
We are two miles from the picturest idealic town of Granville. The two block downtown area, features antique stores, gift shops, local bars, restaurants, live music, library, post office, bike and foot trails, and Hudson Lake for summer swimming. Denison University is in the town of Granville and OSU branches within 5 miles.
Elena was a gracious host. It was the perfect location for visiting my daughter at Denison. The house is quiet and the room comfy! Thanks for a great stay!!
Amy
2017-03-28T00:00:00Z
This expansive house is quietly nestled into the woods but is just minutes away by car from a charming downtown that is vibrant and friendly... a nice flavor of Americana, but also current and fresh. The room was perfect for my comings and goings and Elena was the perfect hostess... available, accommodating, but also unimposing. The house was much bigger than it looks in the pictures and anything I could have needed (toothpaste, another pillow) was there with just an ask. I will definitely stay here again!
sheila
2017-02-12T00:00:00Z
Room Type
Private room
---
Property Type
House
---
Accommodates
2
---
Bedrooms
Granville, OH, United States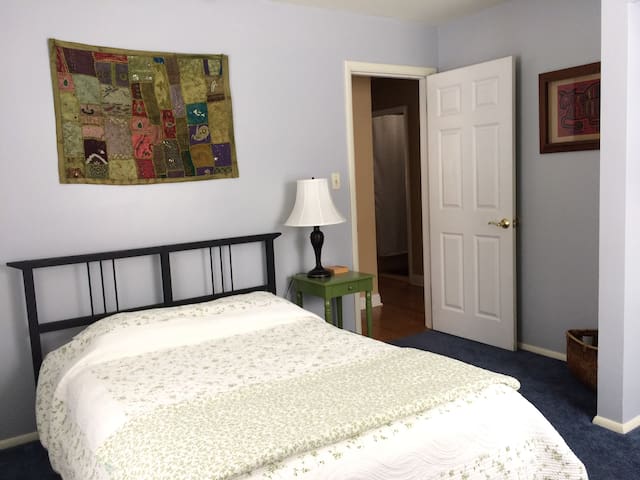 "Salvaged in Ohio", this extraordinary cabin is located in the quaint village of Rushville, Ohio. Featured in the 1991 Fine Home Building magazine, the Kennedy Cabin is built with only salvaged local materials. Hike in the Hocking Hills, check out nearby historical sites, then relax and rejuvenate at the cabin.
Experience the uniqueness and appreciate the fine craftsmanship and love that an artist/contractor and his wife built into this astounding cabin.
Listed as a District on the National Register of Historic Places, Rushville is also the birthplace of composer Benjamin Hanby who is famous for the songs "Darling Nelly Gray", "Up on the Housetop", and "Jolly Old Saint Nicholas". Rushville Road is the main road through the village that follows the same route as the historic Zane's Trace. Visit all of Fairfield County's historical sites and public property. Or take Rt. 664 out of Rushville to Hocking Hills and visit Old Man's Cave and do some hiking, zip lining. Shops are in nearby Lancaster or Logan and there's a large flea market on Rt. 33.
A wonderful cabin near Lancaster and Hocking Hills. Truly one-of-a-kind, complete with pistol bays, stained glass windows, and gorgeous antique lamps+lighting fixtures. Ideal weekend retreat for a couple or resting spot for a small group of hikers. Breakfast is delicious!
John
2017-02-12T00:00:00Z
The cabin was beautiful!! Anita was a welcoming hostess. Perfect weekend away!
Michelle
2017-02-19T00:00:00Z
It is not easy to describe just how cool this cabin is. There are so many artistic details to savor. The landscaping is amazing. We loved our time there. I slept better there than I have in ages.
Nicole
2017-04-02T00:00:00Z
Our family decided at the very last minute to have a weekend getaway before school began. We found the Kennedy Cabin on Airbnb and luckily it was available. What a gem! This cabin is like stepping into a fairytale. Every detail in this home has a rich history and story. Anita was a wonderful hostess and we truly loved our visit. The cabin is beautiful and close to lots of nearby activities and places to eat. Just the respite we needed. We will definitely be back!
Shannon
2016-08-15T00:00:00Z
Anita was a wonderful host!! The cabin is so warm and cozy and the craftsmanship is beyond compare. We definitely recommend a visit and plan on coming back in the future.
Joanna
2017-03-19T00:00:00Z
Great time! Property was beautiful and Anita was a wonderful host
Anita
2016-08-07T00:00:00Z
Anita made us feel welcome in her lovely log home. We were greeted with a bottle of chilled wine, chocolates and nuts. She gave us a brief tour and some of the history of the home. It far surpassed our expectations. The country breakfast was delicious. We will be returning in the fall.
Darla
2016-05-23T00:00:00Z
We had a great family getaway weekend staying at Anita's place. The cabin is charming, peaceful and unique. Anita is a great host, made us feel very welcomed and at home. The breakfasts served at the door were delicious. Highly recommended.
Avital
2016-08-01T00:00:00Z
Room Type
Entire home/apt
---
Property Type
Bed & Breakfast
---
Accommodates
6
---
Bedrooms
Rushville, OH, United States
Dragonfly Woods is an updated 1870s shabby chic farmhouse on 3 acres. Located between Granville and Pataskala, it conveniently sits just off Route 16, tucked beneath mature trees. The property is enveloped in lush landscape, secret gardens and abundant wildlife. There is a natural pond right out back- perfect for swimming, fishing or just floating around in the paddle boat. Enjoy organic berries, fruits and other wild edibles found along the pathways.
Dragonfly Woods is a shabby chic farmhouse with quirky spaces and rustic charm with an eclectic attitude.
My place is close to Denison University, Alligator Mound, Polo at Bryn Du Woods, Denison Museum, The Avery-Downer House & Robbins Hunter Museum, Dawes Arboretum, Midland Theatre, Newark Earthworks, The Works, National Trails, Racoon International Golf Course, Driving ranges, Bike Trails, Hudson Lake, Moundbuilders Park, Heath Airport, Downtown Granville & the Farmers Market.
Heidi was very responsive. She made me feel very welcome. She addressed any concerns promptly. The house is very cute and appointed in a country motif. It was clean and well -organized.
Carol
2016-10-17T00:00:00Z
I don't think there's enough words to describe how wonderful Heidi's place is!! The photos definitely don't do it justice. First off it's HUGE and the decor is so eclectic and well thought out. It's such a comfy and relaxing environment! The outdoor areas are equally as amazing and very private! It's definitely worth the price!
Danielle
2016-06-27T00:00:00Z
My wife and I, plus two other couples stayed here for a wedding that was in nearby downtown Granville. The property is beautiful inside and out. Heidi was always quickly responded when we contacted her, and I would recommend her incredible home. My wife and I also loved the paddle boat out back!
Joe
2016-08-15T00:00:00Z
There were plenty of spaces to hang out in this home! We loved seeing all the decorations from the past. Especially enjoyed the jet tub upstairs and the view out the kitchen window in the morning! Will be a great summer retreat place!
Bridget
2017-04-02T00:00:00Z
Great place for family's! Would stay again.
Tyler
2016-12-27T00:00:00Z
The host canceled this reservation 486 days before arrival. This is an automated posting.
Mary
2017-01-17T00:00:00Z
We had a wonderful 8 night stay at Dragonfly Woods. Heidi sent clear instructions ahead of time and even though I never met her in person, she was always just a text message away if I needed anything. You can see all the love and work Joe and Heidi are putting into this property and the place is only going to get better. Great home, good location, fantastic hosts, wonderful week.
Loretta
2016-06-23T00:00:00Z
The home, location and host were super. Heidi is very responsive and communicates well. The house was clean and neat. We especially enjoyed the screened porch. The grounds and pond were beautiful. Granville is a wonderful town filled with small shops, all kinds of restaurants and a great library. We would highly recommend Dragonfly Woods.
Roy
2016-08-07T00:00:00Z
Room Type
Entire home/apt
---
Property Type
House
---
Accommodates
7
---
Bedrooms
Granville, OH, United States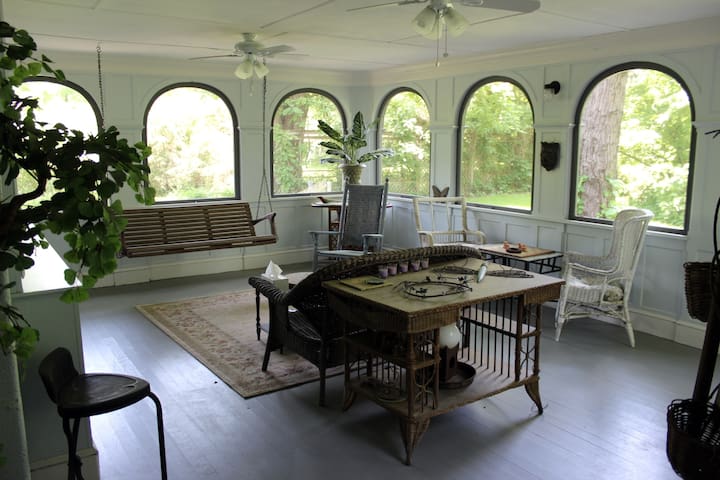 Relax while enjoying the lake breeze. Bask in the sun on the canal-front deck. Enjoy the bug-free screened-in patio. Bike to the Buckeye Lake Winery. Lakefront walking nearby. Canal's End Cottage is a cozy getaway from the city, perfect for girlfriends groups, small families or couples. Private, but close to all the Buckeye Lake action. Short walk to 2 restaurants/bars, live music and karaoke. Enjoy nightly bonfires in the fire ring. Park in back of the cottage on the grass, 2 cars maximum.
Peace and quiet. Nothing to do but relax.
Vintage resort community of the 1950s.
It was as described and perfect for my needs. I was in the area for a work project and Dawn's place was clean, quiet and cozy.
Mike
2016-11-12T00:00:00Z
Your cottage was perfect for what we needed! Thank you for being extremely accommodating.
Carey
2016-07-10T00:00:00Z
Our visit to Dawn's cottage on Buckeye Lake was ideal for our 3 days in Ohio attending the Mopar Nationals. It was a convenient location to the event with restaurants within walking distance of the cottage. The cottage itself was as Dawn described it, with space to spread out and relax upon our return each evening. The screen porch was excellent in the evenings. As this was our first visit to Ohio and the Buckeye Lake region, it was a wonderful introduction. We appreciate Dawn sharing her great cottage with us.
Marsha
2016-08-14T00:00:00Z
Dawn's place is perfect if you're looking for a quiet, cozy place to relax for a night or more. She was very easy to communicate with and her home was very accommodating. It has everything you need, besides food- bring your own. Would definitely stay here again.
Marina
2016-11-21T00:00:00Z
Room Type
Entire home/apt
---
Property Type
House
---
Accommodates
4
---
Bedrooms
Thornville, OH, United States
Large studio apartment with 2 large east windows and large west bay window. Double doors open onto an upstairs private deck. Situated 6 blocks from Buckeye Lake on Fairfield Beach. Newly renovated. Outside is second downstairs deck with grill. Fire-pit to the east. Guests may use these facilities. Room to park a boat and trailer.
This is 30 x 30 studio apartment over a garage and is just renovated with new ceiling, walls and hardwood floor. It has new tub, tub decking and toilet. A large cedar lined closet has been added.
This is pleasant residential neighbourhood with minimal traffic. While we do not have side-walks, roads are pleasant for walking and biking due to minimal traffic. If you like to bicycle I can recommend nice 4 mile, 7 mile or 10 mile rides. Buckeye Lake was a big vacation destination in it's heyday. It is man-made as reservoir for canal system circa 1830. There is a very nice park at one end of the beach with playground and exercise equipment, basketball hoops and soccer field. A smaller playground with swings, monkey bars and slide is next to the lake.
Daria was a lovely and thoughtful host. It was wonderful to wake to the roosters crowing and to see the wild turkeys in the morning.
Mary
2016-09-26T00:00:00Z
Daria's place is ideally situated not far from the lake and really like a little paradise. The studio is totally independant, gigantic, very new and beautiful and got everything you need, and had the nicest view on her garden. Daria made everyhting for us to feel at home and he's a very warm and welcoming person.
sébastien
2016-07-24T00:00:00Z
Awesome.
ira
2016-07-10T00:00:00Z
What a cute place to stay! Our host was very accommodating and easy to work with. We were arriving late in the evening and she welcomed us like family. The space seems much larger than it is and we, a family of 4, we're very comfortable
Danielle
2016-07-18T00:00:00Z
We had a great stay at Daria's. Reserved the apartment because it was close to Buckeye Lake Winery and we were scheduled for a wine tasting there. The apartment was very cute, clean and comfy. Daria brought us rolls and orange juice for breakfast and made sure that we had everything we needed. Would definitely recommend it for anyone needing to stay at Buckeye Lake.
Jo
2016-11-26T00:00:00Z
Room Type
Entire home/apt
---
Property Type
Apartment
---
Accommodates
5
---
Bedrooms
Thornville, OH, United States
We are a working farm just out side the village of Granville. Our newly renovated 1800's farmhouse is quiet and welcoming. The fresh air and serene country side makes your warm cup of coffee taste that much better.
Our Farmhouse is 4 miles to Granville, 4 miles to Denison and 19 miles to Port Columbus Airport. We serve bacon from our farm, homemade biscuits & orange marmalade. The Kuerig is also in the kitchen to use at your leisure. We live nearby. Enjoy the peace and quiet.
The neighborhood is quiet and rural.
Room Type
Entire home/apt
---
Property Type
House
---
Accommodates
6
---
Bedrooms
Granville, OH, United States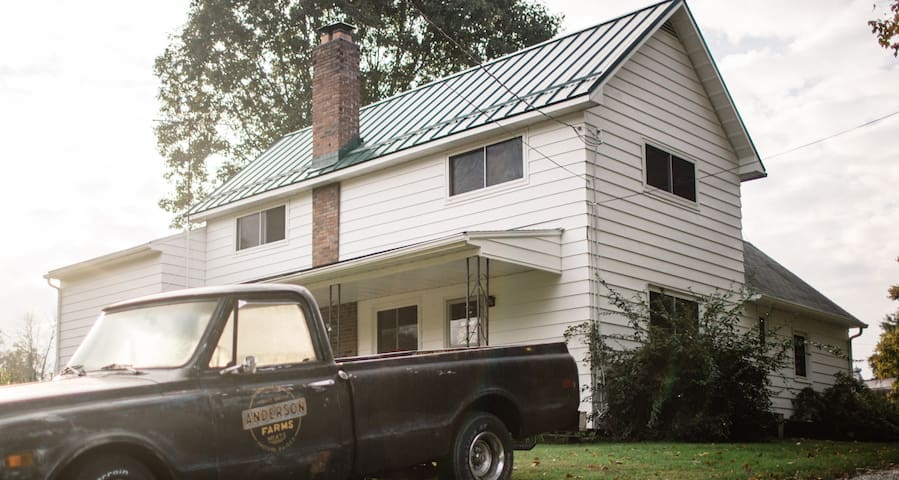 Hello, thank you for your interest in our lovely home! Our place is located in a nice, quiet neighborhood right off of 21st street in Newark, Ohio. We are a 10-15 minute drive from Denison University and Indian Mound Mall. There are many shops and restaurants in Newark and Heath but we are conveniently 2-3 minutes from the 161 highway which will take you into Columbus, The Ohio State University, Easton Town Center, Polaris Fashion Place and more!
House was very comfortable! Just as advertised. Everything we needed was provided, as well as breakfast!
Elize
2017-03-05T00:00:00Z
The house was a good location for our needs, but a bit out of the way if you need to be in Columbus. The fridge was stocked with a few essentials for breakfast, which we appreciated, and groceries were just a quick trip down the street. The place wasn't as clean as we prefer; the kitchen and bathroom could use a deep clean and better maintenance. But overall it was a good value.
Jill
2017-01-08T00:00:00Z
Nice older home in quiet neighborhood. Great value...lots of space. However the house was not very clean: dirty toilets & sinks,mold in shower,kitchen stove covered in grease, entire house dusty. We did not cook while we were there so we cannot comment on what was available. This was 1st experience with AIRBNB so I came prepared with vinyl gloves & Lysol wipes. I rated this a 3 due to value & safety;had the house been clean I would have rated it higher. I did not complain to host about cleanliness as I didnt have time to deal with that. very convenient to grocery stores,restaurants (go to Bummies Pub), & highway.
Jerri
2017-01-02T00:00:00Z
The house was great. Very clean and quiet. The host was great, very welcoming. It is less than 10 min from the mall, movies, restaurants and stores, but yet in a nice quiet neighborhood.
Lucy
2016-11-13T00:00:00Z
Host was excellent: clearly and quickly communicated with us. Space was great and accommodating! Would definitely stay here again.
Manuel
2016-11-26T00:00:00Z
Room Type
Entire home/apt
---
Property Type
House
---
Accommodates
8
---
Bedrooms
Newark, OH, United States
Spacious private room, with new mattress (Dec 2016) in large brick home with views of tree-filled backyard. Delightful, Quiet & Safe neighborhood. Large bathroom is shared only if the other bedroom (see Beautiful Sunny Bedroom) is rented at the same time as your stay. There is an additional shared half-bath downstairs.
Comfortable brick 2-story ~2500 square feet home, this charming, welcoming property is a great place to relax. All bedrooms are upstairs. The back porch is a lovely place to breathe and admire nature. There are always plenty of birds and squirrels to discover and sometimes you will even catch a sight of deer walking through the gardens.
Located in a very friendly, rural neighborhood in Heath Ohio close to Newark & Granville, Ohio. We are only 40 miles east of Columbus. Enjoy the natural beauty surrounding our home on the back deck with a cup of coffee or see the local attractions such as Dawes Arboretum, the Midland Theater, Newark & Granville Farmer's Markets, Denison University and the biking trails. The city of Heath offers beautiful scenery at every turn. Relish in the natural beauty as you take a short drive to Amish country for antiques, to Hocking Hills Nature Preserves for gorgeous hikes, into Columbus for shopping & events or to one of the many beautiful lakes for swimming, boating or fishing. This region truly has a little something for everyone!
I stayed at Melanie and Steve's for a month while in town for training. They have a awesome home in a great neighborhood! Made me feel at home and had no problems with living arrangements. Great people! Would definitely recommend their home if you ever need a place to stay near Heath, Newark, Columbus, etc:)
Daniel
2017-03-03T00:00:00Z
Melanie and Stephen are very gracious hosts. The place is very clean and the bed is super comfortable. I have already booked to stay with them again.
Bahiy
2017-01-20T00:00:00Z
Melanie and Steve's place was perfect. I arrived a little early and Melanie was extremely accommodating. Their puppy Maggie is such a sweetheart. I felt included but was given privacy. I was in on business so wasn't able to chat and hang out, but it was a comfortable place to rest my head and I felt included. It's just far away enough to feel quiet and secluded but close enough to any amenities you might need.
Brittany
2016-10-05T00:00:00Z
Room Type
Private room
---
Property Type
House
---
Accommodates
2
---
Bedrooms
Heath, OH, United States
Our home is close to Hocking Hills, Granville, Buckeye Lake, Historic Lancaster, art and culture, great views, restaurants and dining, parks.. You'll love our place because of Privacy, Walking Trails, Getting Away From It All!. Our place is good for couples, solo adventurers, business travelers, families (with kids), and big groups.
The home offers 4 bedrooms each with their own bath. Two bedrooms are on the main floor. One upstairs and One in the finished walk out lower level.
We are located in the country down a private lane.
We were completely blown away when David gave us a tour of his beautiful home. Beyond that, the entire stay was a wonderful experience. The home was very clean, everything was easy to find, and we had absolutely no problems. Our expectations were exceeded in every way. I hope we will be able to book David's place for our next trip to the area.
Ryan
2016-08-14T00:00:00Z
WE HAD A NICE TIME THIS WEEKEND. DAVID HOUSE IS BEAUTIFUL. YES,WE WILL STAY AT DAVID HOUSE AGAIN.
Duane
2016-08-02T00:00:00Z
David was awesome with his communications before & during and also shared with us the history of the home; which was quite interesting. There were 4 couples and plenty of room for all to enjoy each other's company or have our own private space. The home is filled with beautiful furniture & furnishings (cd's, dvd's, games, a ton of books, musical instruments) and David was very expressive stating things were to be used and enjoyed. The yard/landscape and patio were just lovely and well maintained and great for coffee in a.m. and yard games. We felt very safe and it was located right off a main road and easy to find. He was helpful answering a ton of questions about the house and places to go eat or see in the local area. There are a lot of great places within a reasonable distance (Hocking Hills being the furthest we went). I'd highly recommend staying at this unique & lovely home- you won't regret it. David, each of us thank you for being such an excellent host and wish you/yours many happy days ahead. Blessings
lauren
2016-09-26T00:00:00Z
Wow! David's home is truly an amazing place to stay! It was an honor to be able stay in such a unique home, which has been carefully and impeccably restored. The home is quite large, with plenty of space for everyone. We only had ourselves and our two girls stay, so we only utilized the bedrooms on the main floor. There are two bedrooms on the main level (very comfortable queen beds), one up (king) and one down. The one upstairs has a brand new amazing bathroom (but all are great)! The linens are all lovely, and the house is so clean!!! The main floor has a cozy family room that is perfect for reading or watching tv, and a huge living room with a piano that our daughter loved giving us "concerts" in! The kitchen is very well equipped and big! The large table in the kitchen with very comfy chairs made it the room that we probably spent the most time in (and there is a nice TV in there too)! The grounds are beautiful, and hopefully we can explore more on future trips. David was a great host, he met us at the home and gave us an awesome tour. My daughter just loved him! He answered questions quickly and was very responsive. I really wish we could have spent more time there on this trip. Hopefully we will be able to stay there again! The location is amazing, very safe and quiet!
Hollie
2017-01-15T00:00:00Z
Great House! Secluded property. Very comfortable for large group. Well equipped kitchen.
Vivek
2016-12-26T00:00:00Z
We spent Thanksgiving weekend (4 nights) at David's Country Estate in Pleasantville, Ohio - it was a fantastic experience which we would repeat in a heartbeat. If you love the character of a gloriously and carefully updated 200 year old home which thoroughly reflects the love and life of its history, this is the perfect Airbnb to book - our stay was great !! We were all very comfortable. The setting is peaceful and calm, but we enjoyed making music in its midst - singing and playing the piano in the living room. Although our Thanksgiving meal was hosted elsewhere, we did serve breakfast for our nearby relatives one morning, eating beside a fire in the kitchen fireplace, and overlooking the picturesque landscape. We wanted them to enjoy a small experience in David's house and encourage them to recommend it for visiting friends and relatives in the future - which they will do !! This home is a historic and tranquil sanctuary.
Martha
2016-11-27T00:00:00Z
If you are looking for a beautiful escape from the hustle and bustle of the city, this is the place for you. This historic home is filled with books and antiques, as well as modern amenities. There are several living areas and a big gathering table in the kitchen. The hosts were available for any questions and needs we had. Ricky, the sweet outdoor cat, was there to greet us every morning and evening. I stayed there with three friends for a workshop nearby - we had a wonderful experience and we are going back!
Kerri
2016-10-16T00:00:00Z
The property was beautiful and secluded. The house is full of character and charm. David was very accommodating and quick to respond to our needs. My wife and I had a wonderful time.
Joe
2016-10-23T00:00:00Z
Room Type
Entire home/apt
---
Property Type
House
---
Accommodates
10
---
Bedrooms
Pleasantville, OH, United States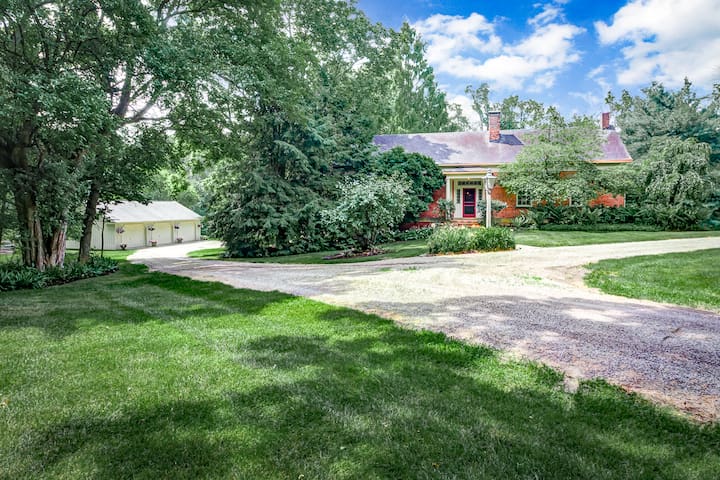 Enjoy the quiet of the country while staying on a small family farm. Walk the wooded trails, feed the chickens or curl up with a good book and watch the birds. This wonderful apartment is fully furnished, 10 minutes from downtown Granville and Denison University or be in the city in just 25 minutes.
We are a working hobby farm, with chickens, dogs and children. Beautiful gardens and wooded trails, amazing bird watching, quiet running creeks. This cozy private apartment with all the amenities is just what you need to regroup, get away or experience nature at its finest. Fully equipped kitchen, comfortable living space with 50 inch tv, access to direct tv and wifi - but why watch tv when nature is at your finger tips?
We are just a 2 min drive to Kroger or downtown Pataskala. The local pizzeria is perfect for a quick bite or drive just 10 mins and enjoy all that Granville has to offer.
Room Type
Entire home/apt
---
Property Type
Apartment
---
Accommodates
2
---
Bedrooms
Pataskala, OH, United States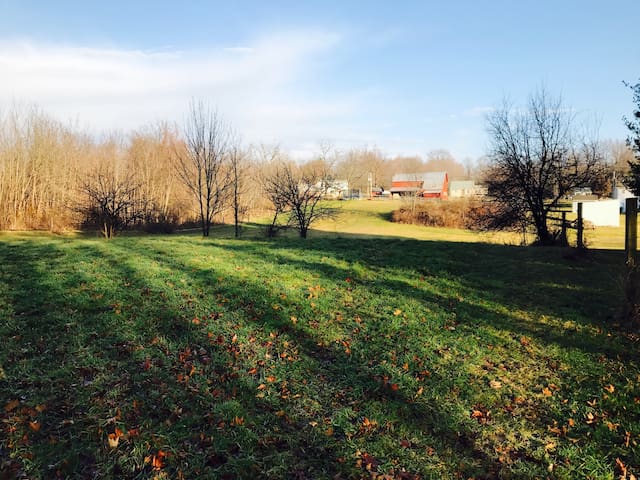 Spectacular home on the water with multi-level views, decks and patios. Palatial windows, spiral staircase, boathouse and dock, Located on South Bank Rd on Buckeye Lake: 20 minutes east of Columbus OH. easy walk to nearby by marina or state park
Room Type
Private room
---
Property Type
Other
---
Accommodates
2
---
Bedrooms
Millersport, OH, United States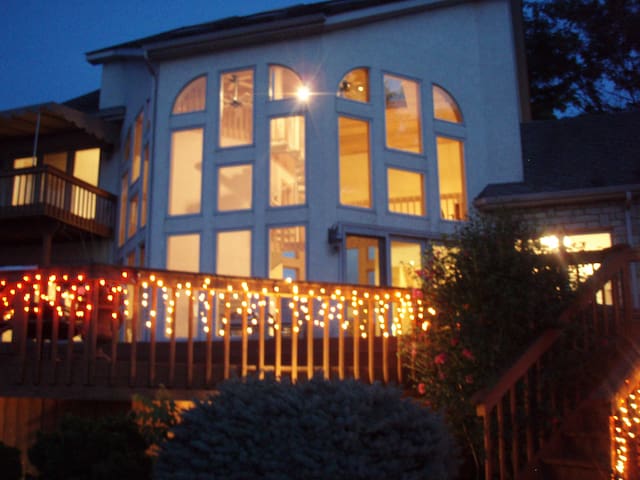 On 12 beautiful acres just outside the historic and picturesque Village of Granville, Orchard House Bed and Breakfast blends farm style with modern comforts - cosmopolitan country. Our wholesome gourmet breakfasts are sourced from our farm and gardens and highlight products from our partner businesses. We is close to family-friendly activities. You'll love our place because of the outdoors space, and the ambiance - perfect for couples, families with kids, big groups, and furry friends.
This romantic room opens up to the courtyard - lay in bed and listen to the bubbling of the fountain and the chirping birds in the morning. The Carriage House is decorated in a light equestrian theme with shiplap and terra cotta floors.
Orchard House is an 1850's Stucco Italianate Manor on a working farm just 2 miles outside of Granville, voted Ohio's most charming village.
Just like a home. When I come here, i feel relax and the only thing that I want to do is living in this house forever
颂阳
2017-01-29T00:00:00Z
Room Type
Private room
---
Property Type
Bed & Breakfast
---
Accommodates
4
---
Bedrooms
Granville, OH, United States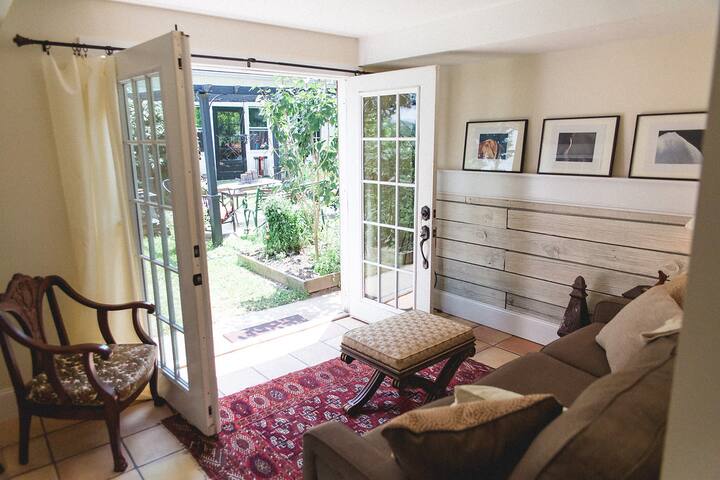 The room is private with it's own bathroom. The bed is a Tempur-Pedic® Mattresses and it adjusts for added comfort. Our home is good for couples, solo adventurers, and furry friends (pets). Let us be your host in our spacious one-level home set among two acres of property with many miles of nature trails out back following the Salt Run Creek, and two miles from the picturest idealic town of Granville. Welcome!
The house is spacious and you will have as much privacy as you choose. We like to participate in many of the cultural activities held at Denison University and OSU. I share the home with an elderly scholar. He was once a teacher and philanthropist. He is in his 80s and welcomes guests from all over the world. We welcome your visit and any questions you may have about the accommodations. Cheers!
The house has miles of nature trails out back following the Salt Run Creek, and it's two miles from the picturest idealic town of Granville. The two block downtown area, features antique stores, gift shops, local bars, restaurants, live music, library, post office, bike and foot trails, and Hudson Lake for summer swimming. Ask us about our favorite restaurants.
My wife and I loved staying at Elena's, and we will be back. Perfect location for visiting Granville and Denison University. Her home is clean, comfortable and lovely. We enjoyed the breakfast snacks and her warm hospitality. And--the most important thing--the bed was great and we slept like rocks. Definitely a fabulous value all-around!
Jeff
2017-03-05T00:00:00Z
I was so happy I was able to stay at Elena and Terry's home during a recent visit with my daughter at Denison University. The location is just minutes away from the village and university and I felt so well taken care of. I would definitely stay here again and recommend it to others! Great breakfast, too! Thank you so much for helping to make my visit a wonderful experience!
Mimi
2017-04-02T00:00:00Z
My first experience staying in an airbnb may have spoiled me for any future stays. This house is in a beautiful wooded neighborhood that is surrounded by large, open fields, yet it's less that 2 minutes away from the heart of downtown. The house itself is huge, with a beautiful central sitting area and workout gym radiating to different living, dining and bathing spaces. The house seems to be designed very decisively for communal living but also utmost privacy. All the furnishings and finishes are warm, upscale and a bit exotic. The home is an obvious collection that spans a lifetime of travel and a love for art and music. Even down to the coffee mugs and utensils, the creature comforts express a unique, selective aesthetic that's classic yet very personal. The host provided everything needed to have a full spa experience. With my room having a private bath, it was easy to lounge in the tub filled with soothing bubbles and epsom salts. I was also treated to a long walk in the woods and then wonderful romp in the Granville downtown area filled with shops, eateries, and various places for entertainment. Although I stayed in the one room I will be back again and again to try out the other airbnb rooms in the house. It's a place that has so many interesting nuances you can't possibly see it all in one stay. My only lament about this experience is that I can only give 5 stars of a rating. If I had my way, I'd give 100! Sincerely. Becky Linser
Dino and Becky
2017-02-12T00:00:00Z
We had a wonderful stay in this lovely house. It was great to chat with Elena about a variety of shared interests. The breakfast fruit and breads were an unexpected treat. We will surely be back the next time we are in the area!
Kevin
2017-02-18T00:00:00Z
Room Type
Private room
---
Property Type
House
---
Accommodates
2
---
Bedrooms
Granville, OH, United States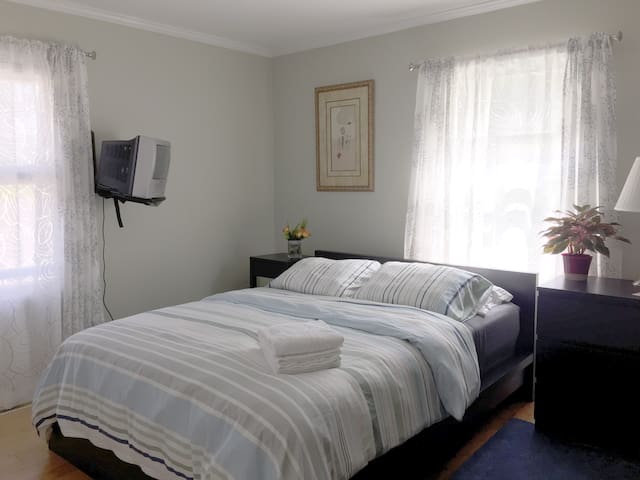 Enter dates to see full pricing. Additional fees apply. Taxes may be added.