Self contained appartment with free parking place. We are 20 minutes ride from Malpensa airport mxp and 30 minutes from Milano,45 from Como, The appartment is self contained ,wi fi ,free parking . We can pick you up from the airport and back if (URL HIDDEN) extra charge. thre is also a mall restaurant near.
Nice place self contained appartment
As i allready said the flat is near the centre is quiet and taking 5 minutes walk you will find a little food shop a restaurant, bar .
It was quite cozy and comfortable. I don't speak Italian but Luciano speaks English and that was enough to make my stay good. It was exactly what I needed.
Aaron
2017-03-04T00:00:00Z
This apartment was so much better than expected. It was very clean and very homey feeling. We really enjoyed exploring the small town of Buscante the night we were there. Isa warmly greeted us and even though she does not speak English we were able to communicate well. Luciano speaks English and was available to answer questions and give us a suggestion for a place to eat. They even left us water and beer! I highly suggest this wonderful apartment, especially if you are leaving/arriving from Malpensa (it is only 15 minutes away!)
Ellis
2017-04-04T00:00:00Z
Nice accommodation.
Anthony
2015-05-29T00:00:00Z
The stay was amazing - the hosts were so so so amazing. We were really looked after and they would even check in to make sure we weren't lost. AMAZING PEOPLE!!!
Ben
2016-12-09T00:00:00Z
Place was great, great pizza spot nearby. Easy to find!
Erik
2016-10-22T00:00:00Z
My mother and I had such a wonderful experience at this Airbnb! It was our last night in Italy, and we wanted to be near the airport for our departure the next day so we chose this place. Isa&Luciano's daughter, Jessica, picked us up at the airport (we took the train in from Rome and went there as a meetup spot), and even though I wasn't able to communicate the time of our arrival because lack of internet, they replied almost right away and drove over within 20 minutes. Jessica is the sweetest person and even stopped in the middle of the road so we can watch a gorgeous countryside sunset! We were so surprised later because Jessica even brought us dinner that her parents had cooked for us (an authentic Italian homecooked meal!! SO GOOD!!!), and her adorable 3 and 9 year old sons came later with cups of fruit for breakfast the next morning. The Airbnb itself is very large, and there is a bathtub if you want a bath! The first time I've seen a bathtub in Italy, and we stayed at 3 other Airbnbs during our time there. It is well equipped with pots/pans, towels, soap, etc. Staying here was the best way we could've ended our trip to Italy! Jessica drove us to the airport the next day and all the communication was prompt. My mother absolutely loved it all and wishes she could stay again soon :). Highly recommend!
Laura
2017-04-07T00:00:00Z
We didn't get to meet Lucian but Isa was here to welcome us so nicely, even late at night! She is a person with joy. The apartment was really nice, we did not expect it to be so big! The surroundings are quiet and beautiful, you're a little lost in the countryside it's amazing!
Camille
2015-05-27T00:00:00Z
Lovley and warm hospitality.I would like to recomand this app to everyone who goes to Milano and need place for sleep!
Stjepan
2015-06-13T00:00:00Z
Room Type
Entire home/apt
---
Property Type
Apartment
---
Accommodates
2
---
Bedrooms
Buscate, Lombardia, Italy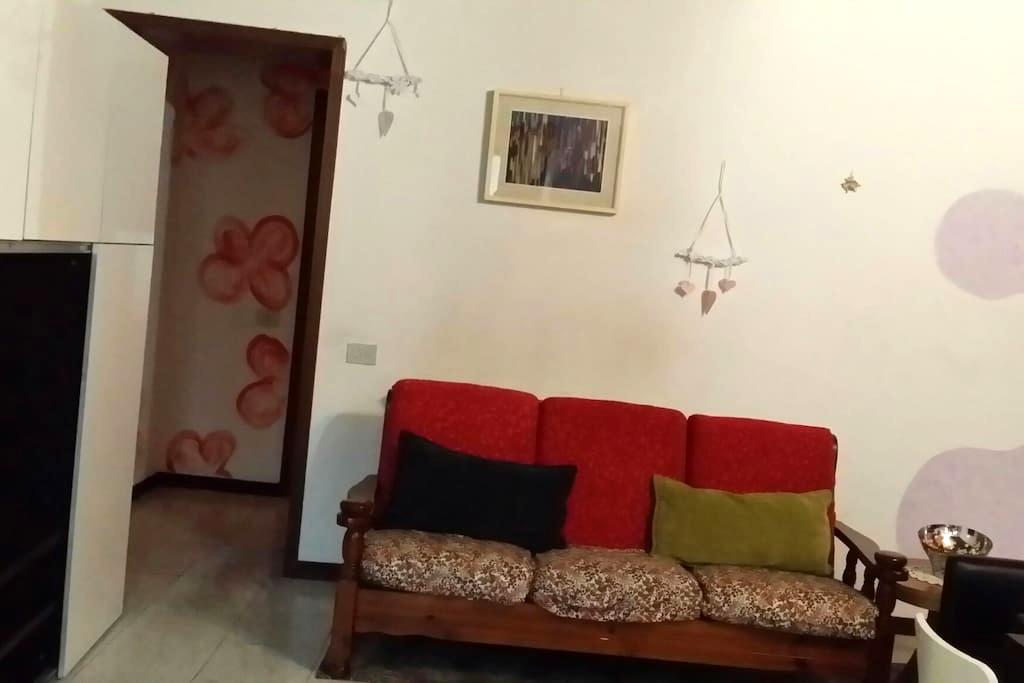 Il mio alloggio è adatto a coppie, chi viaggia per lavoro, famiglie (con bambini) e grandi gruppi. E' un appartamento al piano terra in una corte signorile di una tranquilla località nelle vicinanze dell'aeroporto di Malpensa (10 minuti in macchina) e a 30 minuti di macchina dalla città di Milano. L'appartamento è a pochi passi dal centro del paese dove si può trovare un minimarket, bar, ristoranti, pizzerie, ufficio postale, banca, farmacia,lavanderia automatica.
L'appartamento offre una camera matrimoniale e una camera singola. Inoltre nel soggiorno cucina è disponibile ulteriore divano letto matrimoniale. La cucina è dotata di tutte le attrezzature ed elettrodomestici (frigorifero, forno, lavastoviglie). Il bagno con doccia è fornito di lavatrice, utilizzabile su richiesta. Televisione e rete wifi sono disponibili. All'esterno sulla strada principale è possibile parcheggiare comodamente l'auto.
Quartiere tranquillo e in centro al paese
This place was sooo clean and very well equipped. We had everything we needed for a great stay. We did not get to see the township so cannot comment on it because we needed to travel to Cameri. We have booked again in June to have a look around. It is on the ground floor, so no carrying heavy bags up steep steps. All good and as described!!
Sandy
2017-03-26T00:00:00Z
It is a very new place with carefully chosen decor. It has a well-equipped kitchen and lovely bedrooms. The bathroom is quite huge! However, if there is more than 3 people, then some have to sleep on the kitchen sofa and when it is in bed position, it is quite crammed in the kitchen. Not a problem if you just stay a night and do not plan a big meal. We loved the board games! I wish more places had board games! The ones in the apartment are good for childern and ours played a lot. The library was interesting, too.
Helen
2017-03-20T00:00:00Z
Many thanks to Annalisa for hospitality and assistance. The apartment is comfortable with the full equipment, we needed. Kind regards, Denis
Denis
2017-03-30T00:00:00Z
Great place for late flight! Everything was just fine! Though we arrived around the midnight and it was rainy, one of the hosts waited for us in the street to help us with the parking. You cannot find better!
Leon
2017-04-02T00:00:00Z
Room Type
Entire home/apt
---
Property Type
Apartment
---
Accommodates
5
---
Bedrooms
Buscate, Lombardia, Italy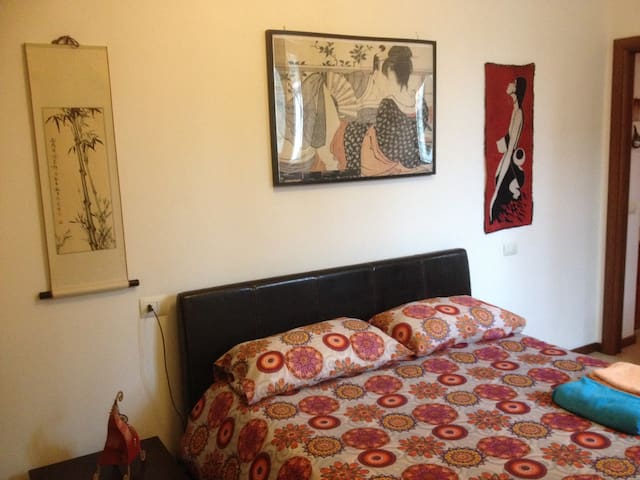 Studio with double bed, full kitchen with oven, fully furnished. Expenses utilities included in the price. Linens for guests. Located just 20 minutes from Milan (fairground). Rent only for short periods, minimum of one week, the maximum one month. Large balcony.
inside the complex there is a bar / restaurant
Room Type
Entire home/apt
---
Property Type
Apartment
---
Accommodates
2
---
Bedrooms
Arconate, Lombardia, Italy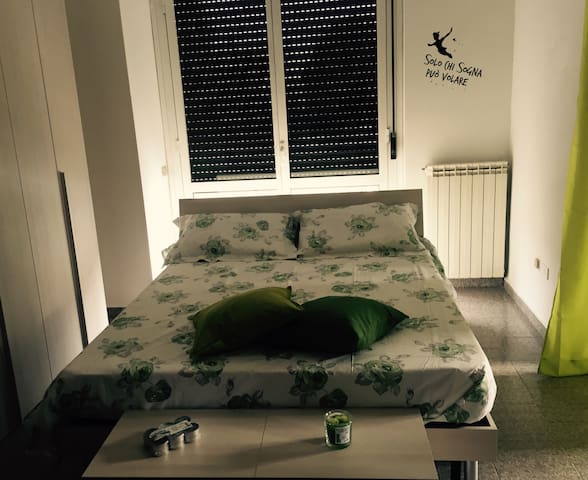 Located in Ticino Park, 10 miutes from the Airport, near the Railway Station, the flat overlooks the woods and can easily host 5 guests in the 2 bedrooms, 2 bathroom, a kitchen and a big sitting room with the terrace where you could enjoy breakfast.
All rooms are spacious and equipped with all conforts, the apartment is bright, paceful and noiseless.
City is very nice, verdant and relaxing, with a bicycle path all along the Villoresi canal.
We had a wonderful vacation during our stay in Emanuela appartment. Thanks Emanuela
SAAD
2015-08-16T00:00:00Z
We spent two nights in the apartment, arrived late on a Saturday evening. Emanuela couldn't be there, but she organized the keys to one of the neighbours, she was really nice and flexible about the arrival. They both spoke english, and this was important for us. The apartment is just like on the pictures, nice, tidy and clean. The beds were comfortable, and the bathrooms were also fully functional and clean. It is close to the airport, and you can see the planes take off and land, but there was no disturbing noise. The free parking lot was half-empty, it was always easy to park, and it is 50m away from the house, which also had an elevator to carry the heavy packages to the third floor. The easy WIFI access was a nice to have. We did not see much from the area, maybe next year ;)
György
2015-08-11T00:00:00Z
Emanuela was a wonderful host. We had trouble finding the place and she graciously came to our rescue. The apartment was very clean with everything we needed. We would stay there again if in the area and definitely recommend this apartment.
Gaetano
2015-10-19T00:00:00Z
Emanuela is delightful and thoughtful. The condo is actually extremely convenient to Malpensa airport. It is private, gated, with views of the forest in a nice town. Great authentic restaurant she sent us to a couple blocks away -wonderful food and people. It is a nice sized condo with a big balcony- too bad we could only use it to sleep and go to the airport-literally less than ten minutes away.
Philip
2015-10-05T00:00:00Z
We received a warm welcome from Emanuela and Lucca - and had a very comfortable night's sleep in the spacious, light and comfortable apartment, which had been beautifully prepared for us. Our 15minute drive the the airport the following morning was straight forward and hassle free.
Julie
2015-06-27T00:00:00Z
Appartamento come da descrizione,pulito,spazioso e completo di tutto quello che serve. Padroni di casa molto disponibili e cortesi. Zona tranquilla Sicuramente lo consiglierei.
Daniele
2016-09-11T00:00:00Z
Tutto perfetto! Appartamento lindo, grande e comodo Grazie Manuela
Francesca
2015-10-11T00:00:00Z
Não tive contato direto com a proprietária que estava em viagem. A pessoa indicada pela proprietária para nos receber foi bastante atenciosa e flexível quanto ao nosso horário de chegada, uma vez que tivemos um atraso devido ao transito intenso nessa época do ano nas estradas da Europa. O apartamento estava limpo e dispunha de todos os equipamentos e eletrodomésticos necessários para os visitantes, além de estacionamento público gratuito ao lado do prédio. O apartamento tinha disponíveis os itens básicos para quem chega em um novo local em viagem: água e leite na geladeira, café, açucar e torradas, leite e geléia, além de papel higiênico e material de limpeza, o que, no nosso caso, foi muito útil em função do nosso horário de chegada onde os mercados já se encontravam fechados. Acho um excelente local para conhecer a região norte da Itália. Além disso, a cidade é bonita e a vizinhança do prédio muito boa.
RICARDO
2016-08-23T00:00:00Z
Room Type
Entire home/apt
---
Property Type
Apartment
---
Accommodates
5
---
Bedrooms
Castano Primo, Lombardia, Italy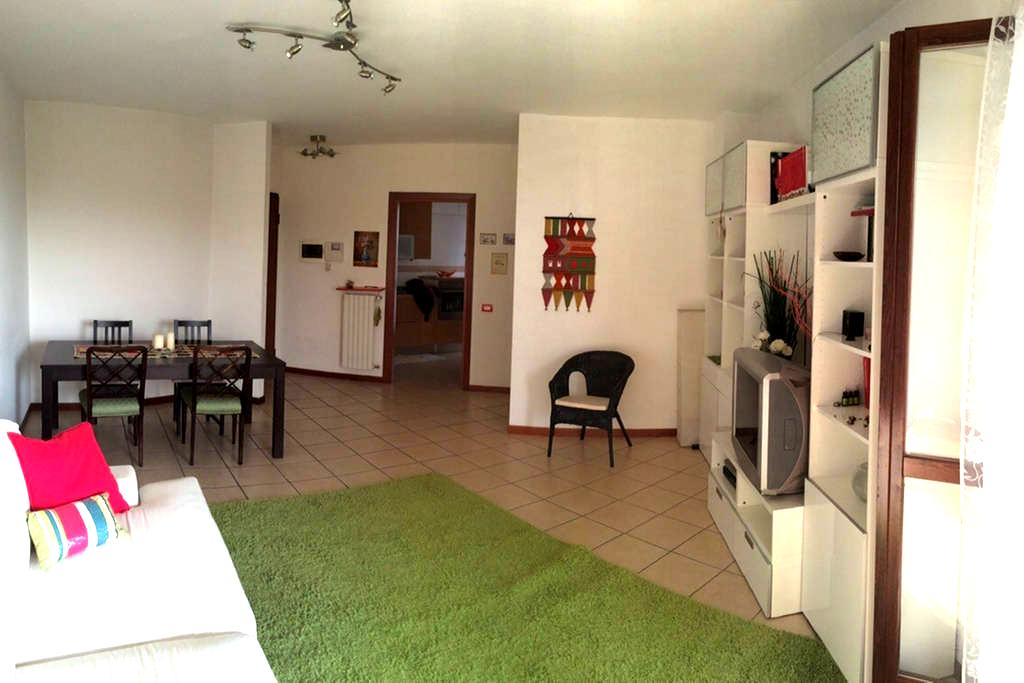 Cozy studio in the very centre of Castano Primo, the main square is 2 minutes walk, there you can find all the shops. A supermarket is very close. 8 minutes away from Malpensa airport terminal 1 and the highway can take you to Milan in 30 min
The studio provides everything you need, induction cooking, microwave, fridge and freezer, oven and any cooking utensils. The bathroom provides a shower, towels and soap.
The position of the flat is very quiet
Alloggio comodo vicino al centro
Debora
2017-01-29T00:00:00Z
Le logement est bien aménagé et très propre. Il y a des places de parking gratuites aux alentours. Le train à proximité pour aller dans Milan centre est commode à 4,80 euros par personne et par trajet. Le seul point négatif est la ville de Castano Primo: très peu de bars et de restaurants, pas d'animation.
Anh
2015-08-18T00:00:00Z
Room Type
Entire home/apt
---
Property Type
Apartment
---
Accommodates
2
---
Bedrooms
Castano Primo, Lombardia, Italy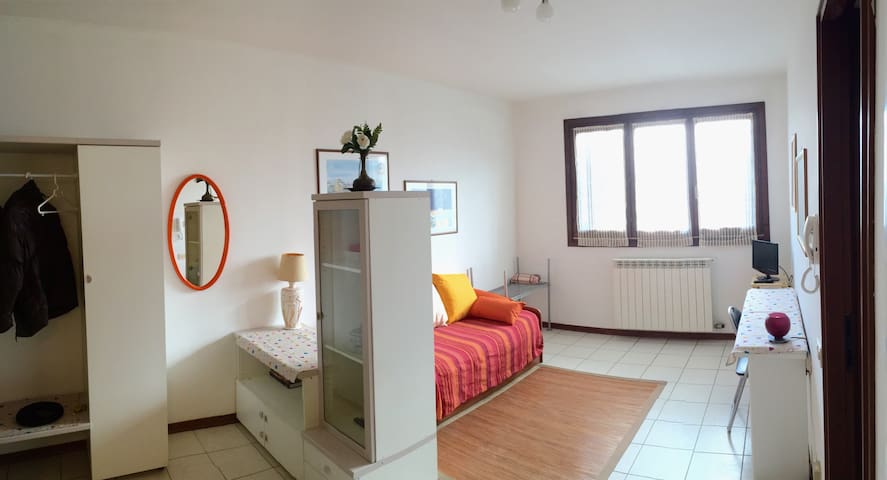 Bilocale colorato e accogliente con giardino e terrazzo a due passi da Malpensa, Milano, Rho Fiera, Varese, Lago Maggiore e di Como. Vi sentirete come a casa vostra. Può ospitare fino a 3 persone.
L' appartamento è indipendente in un piccolo quartiere tranquillo e accessibile a piedi (5 minuti) al centro cittadino, centro commerciale e (15 minuti) stazione ferroviaria e fermata bus per Milano, Novara. La posizione è strategica per raggiungere Rho fiera, Milano e l'aereoporto di Malpensa (10 min dall' autostrada A4 e 20 min dalla A 9/A8) oltre ad essere nel Parco del Ticino, oasi naturalistica per brevi escursioni e attività sportive (canoa, cicloturismo, trekking).
Tranquillo ma di comodo accesso a mezzi e servizi
The host canceled this reservation 4 days before arrival. This is an automated posting.
Александра
2016-08-29T00:00:00Z
Paola was an excellent hostess. I would certainly recommend staying with her!
David
2015-06-05T00:00:00Z
Paola is a extremely lovely and welcoming host. She even brought breakfast for us, that's really sweet~Her apartment is comfortable and lovely, not far from train station. Five star experience!
Jingjing
2015-09-07T00:00:00Z
Останавливались с семьей на одну ночь, перед отлетом. Все очень понравилось.Очаровательная квартира с маленьким, уютным двориком. Паола гостеприимная и отзывчивая хозяйка. Квартира очень удобно расположена. В 15 мин аэропорт Мальпенса , в 30-40 мин. оутлет Виколунго. Есть место для парковки. Паола, большое спасибо!
Arman
2014-06-19T00:00:00Z
La casetta de Paola est tout à fait conforme aux photos, elle dispose de tout ce qu'il faut pour y séjourner quelques jours. Nous n'avons pas pu profiter du jardin car il pleuvait !! et c'est surtout l'automne !! J'ai particulièrement aimé la salle de bains et sa grande douche :) Paola nous avait aussi préparé de quoi faire le petit déjeuner, jus de fruit, yaourt et pains au chocolat ! Nous avons pris le train pour nous rendre à Milan, il faut compter 45 mns de la gare de Castano Primo. Nous n'avons malheureusement pas pu visiter Castano Primo car nous ne sommes restées que 2 nuits et les journées étaient déjà bien chargées, mais c'est très calme. Je recommande la casetta di Paola. Merci Paola
Evelyne
2015-10-30T00:00:00Z
Semplicemente FANTASTICA!!!!...ho trascorso un fine settimana con la mia compagna a casa di Paola...un appartamento intimo, accogliente e curato nei minimi dettagli, dagli accessori in cucina all'arredamento dell'intera casa...piena di splendidi e utili oggetti che ti fanno sentire proprio "A CASA"!!!la zona é tranquillissima e c'è anche il parcheggio per l'auto...insomma, la consiglio a tutti per un periodo di relax e tranquillità!!!Paola è stata gentilissima e super disponibile.. Speriamo di avere di nuovo l'occasione di farle visita!!!!
Michele
2015-02-08T00:00:00Z
Appartamento carino, in una posizione strategica per raggiungere Milano in treno e poi girarla con la metro! Bagno nuovissimo e pulito. Paola è stata davvero gentile, host davvero super con le due indicazioni siamo riusciti a raggiungere Milano senza problemi....grazie ancora!! Alla prossima!!
Davide
2015-10-25T00:00:00Z
Tutto una Meraviglia!!!!Un weekend romantico a casa di Paola.Zona Zona tranquilla,un appartamento accogliente e pulito ... con tutti i confort per farti sentire proprio come a casa!! Paola è molto carina, gentilissima e super disponibile. Consigliatissima!!!!*****
Michela
2015-09-27T00:00:00Z
Room Type
Entire home/apt
---
Property Type
Apartment
---
Accommodates
3
---
Bedrooms
Castano Primo, Lombardy, Italy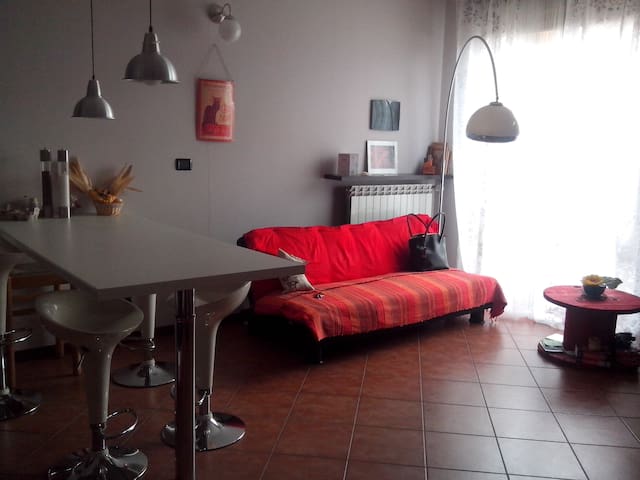 Welcomes to this worm fashionable two -room, we are the garden of Milan City, we are a few kilometres from Expo/Milan Fair and Malpensa airport. The flat is 70 sqm, with large living/dining area and open space functional kitchen, with balcony or terrace in the bed room. Led tv, free wi-fi, kitchen, air conditioning autonomous heating controllers and parking included.
Antonella and Sant'Anna apartments is glad to offer you a home away from your house. The apartment are very spacious end brighting, every guest told that the bathroom are very big and gorgeus. Free Parking, air conditioning, free Wi fi in all the residence, independent heating, tv led, included, other services described in the apartments section.
We are in the main street of Cuggiono in a historical Lombardy court, in front of us, you find a quaint trattoria and easy walk distance, restaurants and tipical foods shops. Different bar, bank, post office, museum about the life and agricolture of the habitant of Ticino Valley. In the same block there is an Historical Himmigration Center, for the descendants of italian families that went in USA in the last century. You can visit the Villa Annoni Park that is the second importan Park of the Lombardy. You reach us at 10 minutes by car from Malpensa airport, 15 minutes from Milan Fair and Expo Milan, the hospital of Cuggiono is reachable in few minutes to feet, 35 km away from the center of Milano.
I've booked two Antonella's apartments for a 6 ladies during Salone del Mobile in April 2013. First of all it was easy to communicate with Antonella and she answered very quickly. The apartments to my mind are the best choice near Milan for its price and location. The ladies has booked a car and it was not a problem to reach Rho, Malpensa airport and the Milan city. Antonella was very polite and always ready to help. I want to thank Antonella for this good and comfortable trip. Thanks a lot!!
Petr
2013-04-13T00:00:00Z
Antonella è stata gentile e disponibile fin da subito. L'appartamento è davvero carino, pulito, ben curato e ottimi servizi. Sicuramente sarà un piacere collaborare nuovamente in futuro.
Angela
2016-11-07T00:00:00Z
Ottima accoglienza e disponibilita'. Appartamento spazioso, pulitissimo e arioso. Bagno bellissimo. L'aria condizionata funziona benissimo. Ci tornerei senza dubbio!
Marco
2015-07-19T00:00:00Z
ANTONELLA E'STATA DISPONIBILE GENTILE E PUNTUALE, LA CASA E' ESTREMAMENTE PULITA E SPAZIOSA.OTTIMO LUOGO PER EXPO, IL PAESE E' VICINO A MAGENTA DOVE C'E' LA STAZIONE PER LA FIERA RHO DIRETTAMENTE COLLEGATA ALL'EVENTO.
maria teresa
2015-09-28T00:00:00Z
Antonella è stata gentilissima e molto disponibile sin da subito. L' appartamento è molto grande e ben fornito.Letti comodi e bagno pulitissimo. Se capitasse l'occasione ci tornerei sicuramente!
Anna
2015-10-14T00:00:00Z
Room Type
Entire home/apt
---
Property Type
Apartment
---
Accommodates
4
---
Bedrooms
Cuggiono, Lombardy, Italy
Accommodation with garden in the late nineteenth century building, furnished with period furniture, separate entrance on the ground floor, in center village in a quiet street. Hosts two people in a double room and 2 in the living room sofa bed.
The accommodation, warm and welcoming, has a garden where you can spend time relaxing. The period furnishings allow guests to take a dip in the past, in reality Lombard country of late nineteenth century.
the accommodation is in a quiet street, but just a few minutes walk from the center, with all services available. Guests should definitely visit the park of Villa Annoni, according landscaped park of Lombardy, and the small village of Castelletto di Cuggiono in the protected area of the Park of Ticino river, crossed by the Naviglio Grande, waterway designed by Leonardo da Vinci, along which were transported the marble factory of Milan Cathedral. At guests' disposal two bicycles.
L'accoglienza è stata perfetta ...Antonello e sua moglie persone gentilissime e la casa era come descritto ...grazie a loro che hanno contribuito a rendere perfetto il nostro soggiorno a Milano ...grazie
Pierluigi
2015-10-19T00:00:00Z
Ho soggiornato per 2 notti in questo bellissimo appartamento che è una chicca. Appartamento rifinito benissimo e molto carino dove ci si sente accolti e di casa. La pulizia è impeccabile, perfetta. Si può stare in tranquillità perché è immerso nel silenzio. Ho soggiornato in questa casa in occasione dell'expo che è veramente comodo da raggiungere, perché in 5 minuti si raggiunge la stazione del treno che porta direttamente all'ingresso. Antonello è stato disponibilissimo e ci ha accolto benissimo anche se siamo arrivati ad un orario un po scomodo. Ci è dispiaciuto non aver avuto modo di conoscere Rossana con cui avevo parlato via telefono, gentilissima anche lei.
Chiara
2015-10-05T00:00:00Z
Nous avons séjourné deux nuits dans ce logement. Deux adultes et deux enfants. Le logement est très bien agencé, confortable, bien équipé et très propre. Il y a aussi un petit jardiné bien entretenu. On peu se garer facilement et c'est très calme. On peut se rendre à Milan en train dont la station est à seulement quelque kilomètre Antonello et son épouse sont très accueillants, et disponibles.
BARBARA
2015-10-26T00:00:00Z
Room Type
Entire home/apt
---
Property Type
Apartment
---
Accommodates
4
---
Bedrooms
Cuggiono, Lombardia, Italy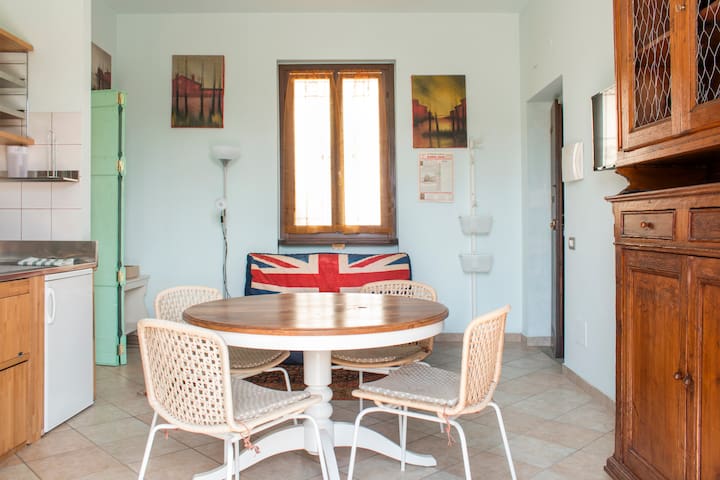 Soleggiato e tranquillo appartamento di 85 mq, composto da ingresso, due camere da letto matrimoniali, ampio soggiorno con divano letto matrimoniale, bagno,cucina semi abitabile e 2 balconi. Situato a 20 Km da Rho (EXPO) e a 23 Km dalla Malpensa.
PROS: 1. At the very first place goodwill and responsiveness of the hostess Miriam. Very careful, always connected and ready to help. Miriam, we're really grateful for your help and care in a complicated situation! 2. Cozy and clean apartment which meets you with fresh fruits and a bottle of Italian wine on the table. :) Feel home. 3. A very quiet and small town with no rush, no annoying traffic. 4. Friendly and responsive locals always ready to help. CONS: It's much better if you're with a car, especially on holidays and weekends. Otherwise only buses are at your disposal with a schedule which requires special attention. No chance to call taxi without help. Taxi services are not presented at all in the area.
Denis
2015-10-18T00:00:00Z
Miriam's place was nice and clean and very welcoming. We did not meet her, only her mom, who was also very nice, providing us with the keys, and we found Miriam's instructions, that she left us, very useful and handy.
Edina
2015-07-14T00:00:00Z
Accueil parfait et appartement très bien. Bien situé pour visite expo ou Milan.
Thierry
2015-08-25T00:00:00Z
Très bon accueil de Miriam qui est très disponible pour répondre aux questions de préparation sur le voyage pour se rendre à Milan ou l'exposition.
EMMANUELLE
2015-05-17T00:00:00Z
MIRIAM E' FANTASTICA, ZONA TRANQUILLA , APPARTAMENTO PULITO, OTTIMO PER LA VISITA ALL'EXPO. DA TENERE IN CONSIDERAZIONE PER ALTRI SOGGIORNI NELLA ZONA
fiammetta
2015-05-29T00:00:00Z
Super, tolle Wohnung und eine mega nette, hilfsbereite Vermieterin, wir würden jederzeit wieder dort hinfahren ;-)))
Barbara
2015-06-03T00:00:00Z
Situation très pratique pour rejoindre la foire-exposition. Accueil très ponctuel
Christine
2015-11-17T00:00:00Z
Super appartement joliement decore et tres propre. Miriam est au petit soin et de tres bon conseil. Merci beaucoup miriam! Nous te recommandons sans probleme !!!!
Elodie
2015-08-20T00:00:00Z
Room Type
Entire home/apt
---
Property Type
Apartment
---
Accommodates
6
---
Bedrooms
Inveruno, Lombardia, Italy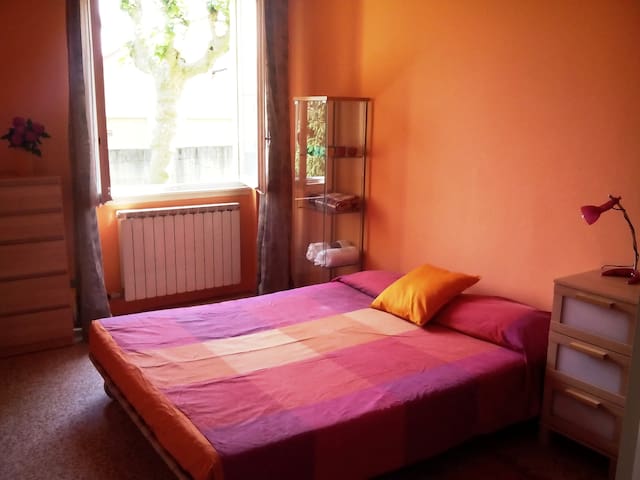 Bright and wide (130 mq) apartmen in Cuggiono, in the Park Ticino, 21 km from the airport Milan Malpensa and 23 km from Expo. 3 bedrooms, 2 bathrooms, living room with balcony and TV, kitchen.
L'appartamento è davvero particolare, ampio, luminoso, con parquet in tutta la casa, 2 grandi bagni, 2 balconi e affaccio sulla pineta. Ottima posizione sia per visitare Milano e l'Expo, sia per rilassanti passeggiate nella Natura.
L'appartamento è situato in una via tranquilla nel centro di Cuggiono, a due passi da negozi alimentari, ristoranti, gelaterie e pizzerie, ben servito da farmacie, banche e ufficio postale. Raggiungibili a piedi in meno di 5 minuti la piscina comunale (coperta e scoperta) e lo splendido Parco di Villa Annoni, che con i suoi 23 ettari è il secondo parco cintato della Lombardia. (Informazioni sul sito del Comune di Cuggiono) Su richiesta offro biciclette a noleggio per una piacevole escursione lungo il Naviglio o nel Parco del Ticino, ottimo per un pic nic in riva al fiume o per un tranquillo pranzo al ristorante.
Very good.
Simo
2015-12-21T00:00:00Z
Unfortunately we did not get to see Nora, but we were very warmly welcomed by Nora's dad Picetti and her brother Federico. The apartment is very spacious and well-furnished and quiet. Nora's dad and her brother gave us the best of welcomes and explained everything to us in detail. They even got us three fruit pies and muesli for breakfast. They are friendly, welcoming and generous, we can recommend them without hesitation!
Yann
2015-12-25T00:00:00Z
The host canceled this reservation 18 days before arrival. This is an automated posting.
Danilo
2015-08-24T00:00:00Z
L'appartement est très beau et a beaucoup de charme. Il est très grand également. Nous y avons dormi 2 nuits pour pouvoir aller à l'exposition de Milan 2015. Très bon séjour. Tout était très bien, et nos hôtes disponibles.
Marylene
2015-07-28T00:00:00Z
molto accoglienti e disponibili, la casa è molto spaziosa e comoda...e Nora è una persona molto gentile e disponibile,ma la casa ha una pecca in oggettistica per cucinare, noi eravamo 6 e ho dovuto fare un pò di (URL HIDDEN) quello che mi è dispiaciuto di piu è stato ritrovarmi la mia automobile fregiata l'indomani
Roberto
2015-12-08T00:00:00Z
Molto bene. Casa molto grande e pulita. Nora è una persona affidabile e disponibile. La zona è molto tranquilla e comoda per visitare l'Expo.
Marco
2015-08-22T00:00:00Z
Non ho avuto modo di incontrare Nora a causa dei suoi impegni, ma abbiamo ricevuto tutta l'assistenza necessaria da parte della sua gentile famiglia. La casa è molto grande e comoda, con tre camere da letto, due bagni ed uno spazioso salone con divano-letto; può perciò ospitare 6 o 7 persone senza problemi. Sottolineo la gentilezza dell'host nel fornire tutto l'occorrente per un soggiorno senza pensieri, come e più che in un albergo. C'è davvero tutto ciò di cui si può avere bisogno, oltre alla biancheria per camera e bagno, persino una fornita dispensa per la prima colazione (e altro)! Cosa volere di più?
Roberta
2015-10-16T00:00:00Z
Очень просторная квартира, расположена в центре маленького городка. Полностью соответствует описанию. Nora и ее семья очень гостеприимны и всегда готовы помочь, за что я очень им благодарен.
Denis
2015-10-09T00:00:00Z
Room Type
Entire home/apt
---
Property Type
Apartment
---
Accommodates
6
---
Bedrooms
Cuggiono, Lombardia, Italy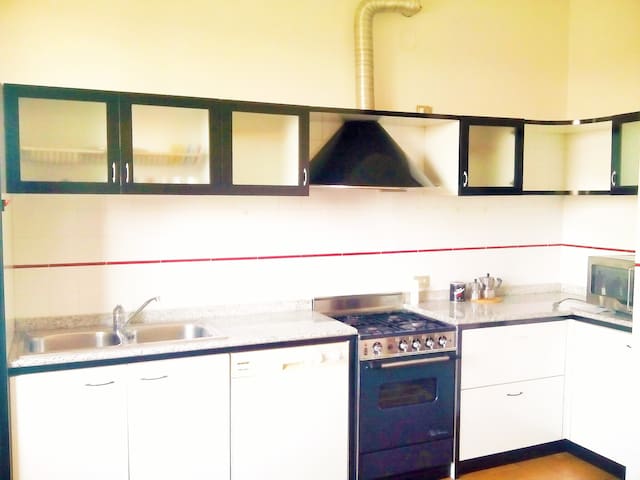 The house is close to public transportation, the Malpensa airport (15 min.), At the Fiera Rho (15 min.), Milan (20 min.), The park of the Ticino River and Lake Maggiore. In the house are available mountain bikes for adults and children for excursions on the Ticino. You will like my accommodation for the lush park equipped with swimming pool and tennis court and soccer field. The accommodation is suitable for anyone: couples, business travelers, families (with children) and pets.
The house is part of a larger family property, composed of a stately villa, a wonderful garden, a 20-meter pool, tennis court, bike mountani supplied, table football, pool table and every possible amenity and enjoyment. The house is completely independent and has a full kitchen, living room, three bedrooms, one of which is in the attic and three bathrooms.
The host canceled this reservation 6 days before arrival. This is an automated posting.
Aron
2017-03-27T00:00:00Z
Room Type
Entire home/apt
---
Property Type
Apartment
---
Accommodates
6
---
Bedrooms
Inveruno, Lombardia, Italy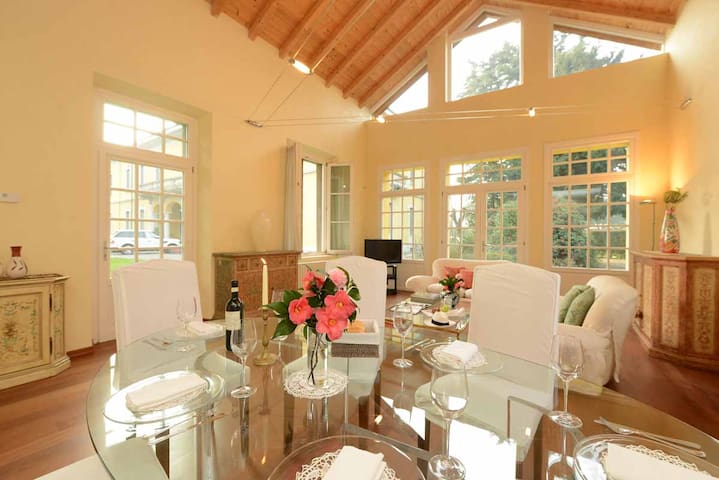 Accogliente appartamento completamente arredato, nuovo a 15 minuti da Malpensa e 25 minuti da Expo. In zona centrale del paese, adiacente a ristorante e negozi vari.
Cucina abitabile completa, camera matrimoniale con terzo letto, camera singola e divano letto matrimoniale in ampio soggiorno tutto nuovo e appena ristrutturato, comodo per 5/6 persone.
Nel centro del paese, vari negozi e ristoranti a pochi metri di distanza., possibilità di parcheggio senza vincoli.
Room Type
Entire home/apt
---
Property Type
Apartment
---
Accommodates
6
---
Bedrooms
Inveruno, Lombardia, Italy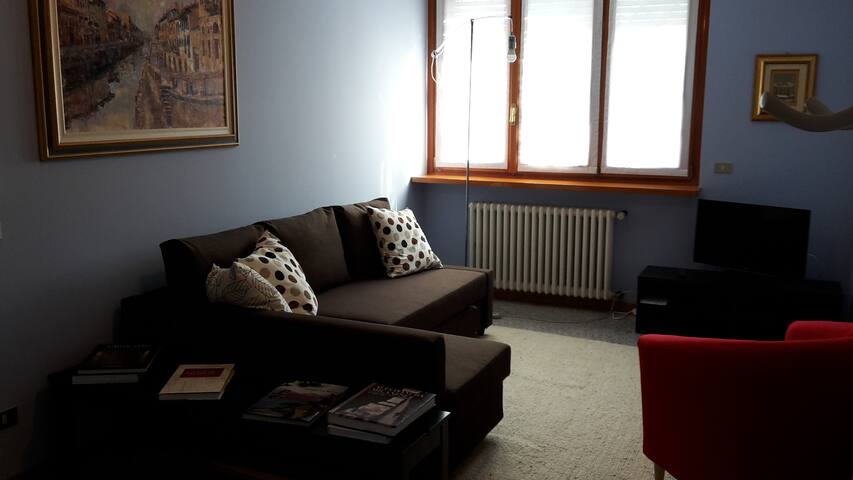 Il nostro delizioso e accogliente appartamento arredato con cura e completo di tutto, piano alto e soleggiato,può ospitare comodamente 3 persone, posizionato in centro , ma in un complesso pieno di verde, a pochissimi km dell'autostrada, 15 minuti da Milano 10 minuti da Expo Rho Fiere 15 minuti da Malpensa
quiet apartment, bright and well furnished, complete with all the comforts.
Quartiere molto ben servito da tutti i servizi. Negozi e supermercati a pochi passi da casa, piste ciclabili parchi e passeggiare lungo le sponde di piccoli percorsi d'acqua con spiaggette rendono piacevole il soggiorno .
Room Type
Entire home/apt
---
Property Type
Apartment
---
Accommodates
2
---
Bedrooms
Busto Garolfo, Lombardia, Italy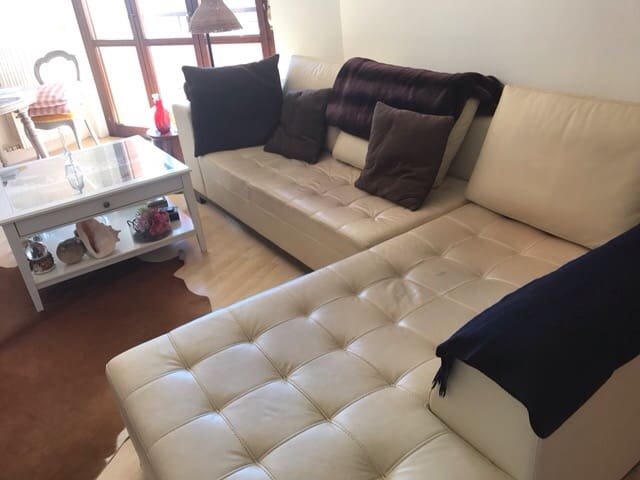 metto a disposizione per brevi periodi a prezzo promozione1monolocale arredato,ventilatore a disponibilità,,paese a14 km dalla fiera a rho e 17da milano collegato con autobus di linea a mm molino dorino,e a 3km da fs a parabiago-o legnano,cauzione75eu x danni-minimo 2 notti x quel prezzo,diversamente valuto
There are few neighbors
The host canceled this reservation 51 days before arrival. This is an automated posting.
Ivan
2015-07-16T00:00:00Z
Highly recommend his place. His place is easy to find ..he is very kind and good man always give more help than expected .. Took me to the Milan city with his car,and also to the airport ...I have to say more thanks for him ,,,his one place is very quit ,the room is quit big ,,another place is more fantastic ,solo rooms ,beautiful and clean,so near to river,all around the places are beautiful ,,,if I will go next time I will also stay at his flat ,,,,,ciao,,,
turnam
2015-08-27T00:00:00Z
Busto Garolfo where Lucianos flat is located is a very nice and lovely village and quite far away from Milano (90 minutes from the center). Luciano was a very helpful host.
Hannah
2015-08-10T00:00:00Z
Séjour dans l'unique but de visiter l'expo universelle de milan à 20min de l'appartement, très bon rapport qualité prix
Marwan
2015-08-30T00:00:00Z
Grazie mille !!! Tutto era semplicemente eccellente. Luciano persona molto gentile e simpatico uno possa desiderare. L'appartamento è pulito, luminoso in una zona tranquilla di trasporto pubblico dietro l'angolo tutto andava bene. Negozi e caffè prossimo. Nel complesso molto soddisfatto e lo consiglio vivamente.
Denis
2015-09-13T00:00:00Z
La casa e la distanza dall'Expo erano come descritto nell'(URL HIDDEN) trova nella piazza principale di Busto Garolfo,Luciano è flessibile sull'orario d'arrivo.L'unico incoveniente è stato che ho trovato la biancheria da bagno per una persona mentre eravamo in due.E' ideale per due persone,tolto quell'icoveniente è da consigliare.
Guglielmo
2015-09-22T00:00:00Z
Room Type
Entire home/apt
---
Property Type
Apartment
---
Accommodates
2
---
Bedrooms
Busto Garolfo, Lombardia, Italy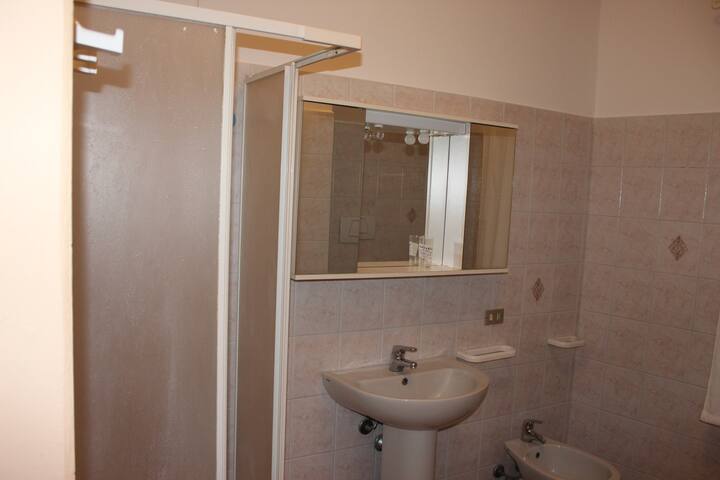 My accommodation is close to activities for the family and the airport. Transfer to and from Malpensa with private driver € 25 per trip. Flat open space of 45 square meters on the first floor in an old renovated farmhouse close dell'Alzaia Naviglio Grande with a charming stone bridge in 1500. Kitchen living room with comfortable double bed, bathroom with shower and window. Double exposure on the green of the park and the Naviglio Grande. Parking behind the house.
Suitable for those who want to escape from the hustle and routine, for those who must travel to Rho Fiera - for work or passing from Malpensa, as the basis of support for trips to Lake Maggiore, in the mountains, the sea, in Switzerland or just to those who want to carve out a few days relaxing, walking on foot, horseback or bicycle in nature. Car recommended. Trenord train to Milan in 20 minutes' walk of pedestrian street, arriving in Milan Cadorna in 45 minutes by train. WAVE CONSTANT sul Naviglio for surfing and canoeing, fishing in the area and just a few kilometers archery. bike path E1 running from northern Europe.
Immersed in the Ticino Park in this place that has a taste of the past you can relax away from the hustle and bustle of the city in the private garden, enjoy horseback riding, hiking along the bike path. A few meters from the apartment, for those who do not want to cook, there is a restraunt that can offer a complete meal with Italian cuisine at discounted prices. At 200 meters there is a constant wave on the channel that is artificial wave that allows canoeists and surf of fun every day of the year.
The house is located along Naviglio grande . It is a perfect location for great hiking along the Naviglio or running and biking as well . Restaurant with agreed prices is just at rad level below the house , very conveniently located . And the place is really close to the airport for person that need an early awake to get a flight . House is clean and cozy . I surely suggest for stay and I will be back if I will have similar business around .
Luca
2016-11-11T00:00:00Z
Room Type
Entire home/apt
---
Property Type
Apartment
---
Accommodates
3
---
Bedrooms
Robecchetto Con Induno, Lombardia, Italy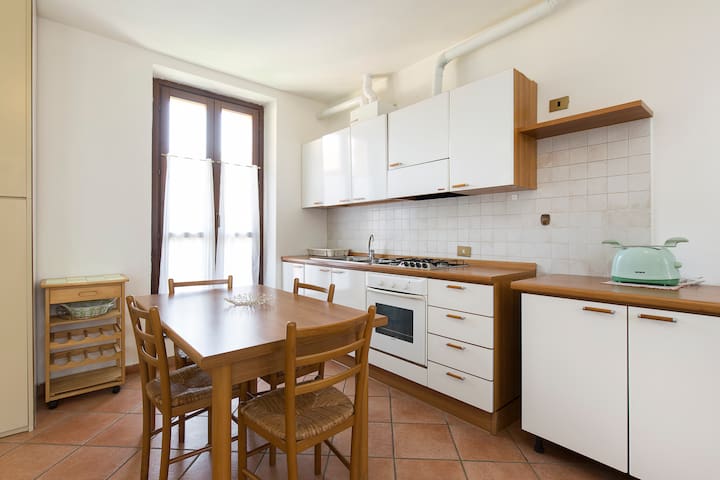 CasaMia4you is an independent flat, on the ground floor in the centre of Turbigo, a small village close to Malpensa Airport and Milan. It's a strategic position to reach quickly the most important areas of the North of Italy (lakes, Milan, Turin, Genoa, Switzerland). Fully refurbished In January 2017, it's a mordern and comfortable living space, carefully and fully-fitted. In the kitchen you find basic product (salt, sugar, oil, etc) and all the necessary to prepare by yourself breakfast.
70sq.m. apartment can accommodate 4 people: 1 double room and 1 sofa in the living room that can easily turned into a queen-size bed. The apartment is suitable for couples or people that they know each other well because it's necessary to cross the bedroom to get into the bathroom. Fully refurbished in January 2017, furniture and equipments are totally new and carefully selected among "Made in Italy" interior design proposals. My flat is suitable to people that are looking for and appreciate beauty and comfort during travelling as well.
Turbigo is a small and peaceful village. CasaMia4you is in the centre. You can park your car in the street Via Fredda where there is the entrance to the flat. 300mt walking distance there is Naviglio, an artificial canal, along side of which there is a long cycle&pedestrain lane.
CasaMia4You è come essere proprio a casa mia.Silvana squisita,premurosa e disponibile rispecchia pienamente l essenza della sua casa ,curata nei minimi dettagli. Ci ritorneremo sicuramente !!
Paola
2017-02-26T00:00:00Z
Room Type
Entire home/apt
---
Property Type
Apartment
---
Accommodates
4
---
Bedrooms
Turbigo, Lombardia, Italy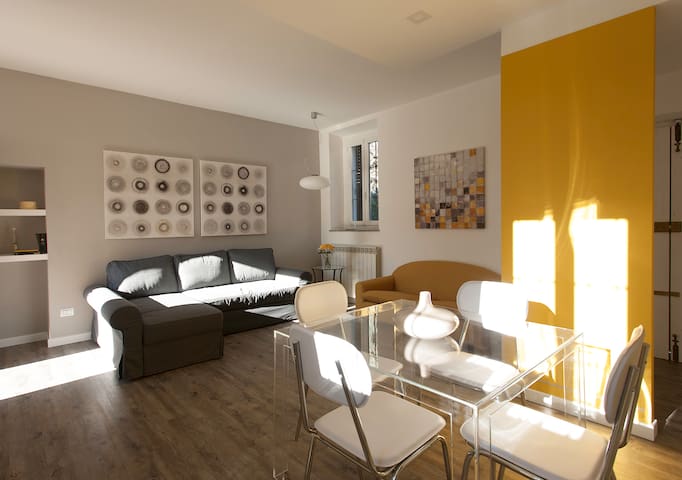 Flat (apartment) in a very small condominium. It is less than 10 km from Malpensa Airport and less than 40 km from Rho Fiera-Expo. The appartment is new, we have more attention to detail, and it is very comportable. There is the wifi connection available and the air condition is available in main room. The train station is 5 km, there is the shopping center in 2 km.
Apartment of 50 square meters with a garden and garage. -There Is a living room with kitchen area and sofa bed features dishwasher washing machine oven microwave -double Bedroom with wardrobe -bathroom With shower It also has a terrace
Very quiet residential area. Nearby there is a bar; a restaurant and a pizzeria
Actually for the sudden change of our travel schedule Phil and myself could not make the stay in the house but my family.. They have comfortable and joyable time in there and everything was perfect and wish we can come back there again.
Zidan
2015-10-09T00:00:00Z
The house was very comfortable and clean Salvatore and his wife made us feel very welcome and was ready to help us with every question we had Thank you very much for the hospitality
Masha
2016-02-14T00:00:00Z
Ho soggiornato da Salvatore per una notte.Casa calda e accogliente.Proprietari disponibilissimi organizzatissimi e simpaticissimi.Ottima scelta ve la consiglio.A due passi da Malpensa.GraZie alla prossima
Gianluca
2015-12-30T00:00:00Z
Ik heb samen met mijn familie (4personen) een erg goede overnachting gehad in dit appartement. Het was ruim, schoon en netjes. Het apartement is stijlvol en modern ingericht. De verhuurder spreekt prima Engels en er is goed mee te communiceren over aankomst en vertrektijden.
Gerhard
2016-08-07T00:00:00Z
Appartamento molto pulito ed accogliente. Possibilità di posto auto all'esterno della proprietà e di garage privato. Proprietari molto premurosi e disponibili. Bel giardino esterno per le belle giornate. Molto vicino a Malpensa ma in zona tranquilla e silenziosa.
Emiliano
2016-03-26T00:00:00Z
J'ai séjourné dans cette appartement pour une nuit. L'emplacement est très proche de l'aéroport de Milan Malpensa. L'appartement est joli, très propre et bien agencé avec une belle terrasse. Internet / wifi fonctionne très bien. Salvatore et son épouse qui parle Français ont été très disponibles et m'ont réservé un accueil parfait! Excellent choix!
Alain
2016-05-04T00:00:00Z
Wuoo Enza e Salvatore sono stati veramente gentili, disponibili,organizzatissimi, simpaticissimi e premurosi. Appartamento molto pulito ed accogliente, c'è tutto quello che serve, con un giardino super dove la nostra piccola cucciola si e divertità tantissimo. Possibilità di posto auto all'esterno della proprietà e di garage privato. Molta tranquilità lo consiglio veramente.
Paulina
2016-06-20T00:00:00Z
accoglienza perfetta, salvo e enza sono stati perfetti in tutto e per tutto la casa è bellissima, perfetta per un week end o anche più mi hanno aiutato con le indicazioni di pizzeria, supermarket, strade e tutto, non hanno mancato in niente per tutta la durata del soggiorno Ancora grazie ragazzi, spero di rivedervi un giorno! Claudio
Claudio
2016-10-25T00:00:00Z
Room Type
Entire home/apt
---
Property Type
Apartment
---
Accommodates
4
---
Bedrooms
Samarate, Lombardia, Italy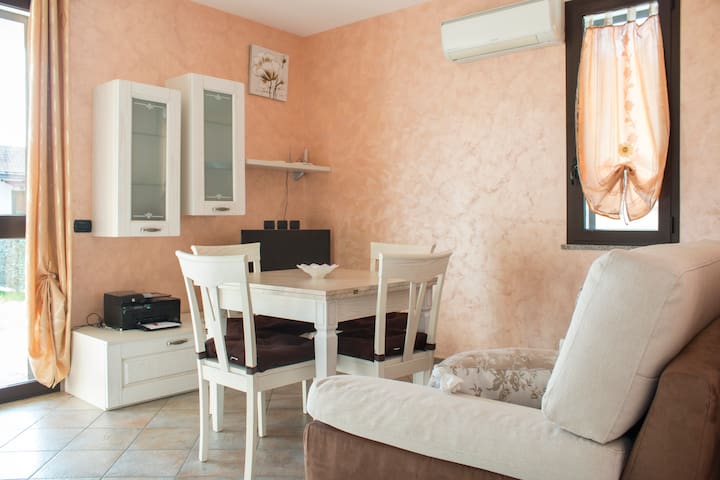 Appartamento in un tipico cortile lombardo di recente costruzione, silenzioso e luminoso, vicino a negozi, agenzia viaggi, fermata bus, nelle vicinanze Fiera Mi, ospedale di Legnano, lago di Como e Maggiore, Aeroporto di Malpensa. Possibilita di aggiungere il 3 letto.
Small flat, confortable and well equiped, quiet and bright, located in the center of a small village, near all shops and service: bakery, chemistry, bank, post office, bars and restaurants. 20 km to Milano, Fiera di Milano, with bus stop at 100 mt. Car recomended.
Small village of 6.000 people,Villa Cortese has all service availabe,as banks, post office, shops, bars and cafe! bus stop 100 mt. Train station 7 km (legnano). suggestion: bakery: Comerio via Alberto da Giussano (70mt) bar: Rabolini via speroni (100mt) bar: Alba piazza della chiesa (60mt) ice cream: Gelateria Cortese via Franco Tosi (50 mt) icecream and cake restaurant: Steli via pietro micca (100mt) top rates italian food(€€€€) pizzeria: Le Coccinelle via Massimo D'Azeglio (500 mt) good pizza (€)
I had a rally nice stay! Anna and her family welcomed us with great courtesy and availability. My children and I were able to relax in a clean apartment, very large, spacious and bright. I would definitely return for a future occasion. Thanks Anna!
Vito
2016-05-16T00:00:00Z
Ottimo tutto, grazie e a presto.
Stefano
2016-09-04T00:00:00Z
Soggiorno perfetto, ottima posizione, proprietario molto disponibile.
Andrea
2017-02-20T00:00:00Z
Appartamento confortevole in zona molto tranquilla. Anna e famiglia sono stati accoglienti e simpatici. Il mio soggiorno è stato perfetto. Tornerò!
Goffredo
2016-09-16T00:00:00Z
Room Type
Entire home/apt
---
Property Type
Apartment
---
Accommodates
2
---
Bedrooms
Villa Cortese, Lombardia, Italy