A corner of the Roero, a small and hospitable village a few kilometers from Alba. the condo was born on the foundations of an old mill and the apartment with a modern design offers all the comforts for a romantic getaway, a business trip or for those traveling with family. From the terrace of the beautiful view of the countryside and vineyards captivate even the most discerning travelers. The apartment you will like for the light, the comfort of the bed, the kitchen, privacy and high ceilings.
The large terrace gives you the possibility to admire the scenery, have a breakfast or an aperitif or even enjoy lunch or dinner in complete privacy.
everytying is perfect.
hyok
2017-03-22T00:00:00Z
Perfact position. Clean room. comfortable bedding.
hyok
2017-01-29T00:00:00Z
Room Type
Entire home/apt
---
Property Type
Apartment
---
Accommodates
4
---
Bedrooms
Priocca, Piemonte, Italy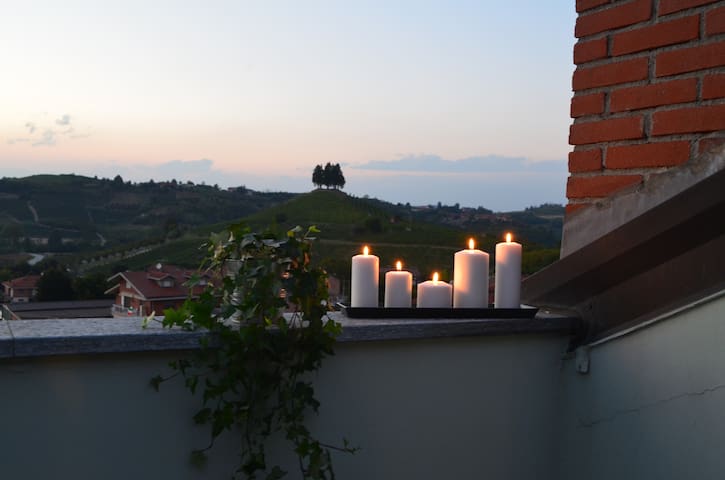 Comfortable and bright open space that can accommodate up to four people; equipped with kitchen, living room, bedroom, small laundry room, bathroom with large bathtub. Ideal for romantic moments or for a stay with family or friends.
The accommodation is an attic located on the 3rd floor of an old school renovated for residential use. Its uniqueness is that it is an open space large and bright, with a ceiling made of wooden beams. A balcony lets you look out over the countryside of Govone, beautiful in every season for colors and scents.
The house is in a great location, halfway between Alba and Asti. 3 minutes from the Asti-Cuneo 10 minutes from the Turin-Piacenza However it is situated in a quiet area, surrounded by countryside at the foot of a hill where stands the castle of Govone. This allows our guests to easily reach the house, but at the same time to enjoy the relaxing holiday, away from the hustle and bustle.
Chiara is a very nice and friendly host, she was very accommodating with our arrival needs and made us feel right at home and provided all the useful information. The apartment is very nice, spacious and clean. There's everything you need in it, very comfortable. The surrounding area is quite and relaxing, we too a nice quick trip to the Govone Castle (5 minutes by car), another unexpected treat.
enzo
2016-10-23T00:00:00Z
Se già l'appartamento non fosse perfetto di suo basterebbe Chiara a renderlo tale. Ragazza carinissima e scrupolosa. Alba e dintorni a pochi minuti di macchina, parcheggio sotto casa.
Olaf
2016-10-09T00:00:00Z
Location ottima per visitare Alba e le Langhe. Host molto gentile e disponibile. Open Space accogliente e dotato di tutti i confort. Consigliatissimo
Mauro
2016-11-13T00:00:00Z
Logement pas loin de Alba et spacieux
Clément
2016-11-20T00:00:00Z
Nessuna attesa, appena arrivati Chiara era già li ad aspettarci! Casa calda ed accogliente! Chiara è stata gentilissima,disponibile,attenta ai fabbisogni degli ospiti, e molto carina nel farci trovare una bottiglia di vino come benvenuto! Ci ha fornito tutte le indicazioni del caso.Appartamento mansardato davvero originale e ben curato oltre che pulito! Prime necessità per la colazione, e un sacco di ottimi consigli sui posti da vedere e dove mangiare! (URL HIDDEN) siamo trovati benissimo anche perché ci ha fatto sentire a nostro agio fin dal primo momento! Posizione ottima grazie alla vicinanza (2 min in macchina fino al parcheggio)dove prendere navette gratuite che tu portano fino al magico paese di natale (Govone)...10 e lode!
Elena
2015-12-09T00:00:00Z
Host Ospitale e simpatico. Casa accogliente e bella. Posizione ottima per andare a govone nel periodo natalizio!
Elena
2016-12-04T00:00:00Z
L'accoglienza da parte di Chiara è stata ottima, al nostro arrivo era già in casa ad aspettarci, ci ha dato delle indicazioni utili sui locali dove mangiare ecc. l'appartamento corrisponde alla descrizione, anzi dal vivo ci ha sorpreso in positivo rispetto alle foto, la posizione è comoda per raggiungere in pochi minuti Govone, di sicuro ci ritorneremo volentieri il prossimo anno, grazie di tutto e alla prossima!
Santo antonio
2015-12-14T00:00:00Z
Eravamo già stati in questo appartamento l'anno scorso, ci siamo ritornati più che volentieri, le nostre bambine si sono trovate benissimo, appartamento pulitissimo e molto spazioso, comodo per raggiungere Govone, in pratica a 3 minuti di macchina! L'appartamento è molto accogliente e ben riscaldato, Chiara come al solito è molto gentile e disponibile a venire incontro ad ogni esigenza, le bambine hanno apprezzato anche tanto l'albero di Natale, le nutelline e i palloncini che abbiamo trovato! Più coccolate di così... :), grazie mille e alla prossima! Consigliatissim(PHONE NUMBER HIDDEN)!
patrizia
2016-12-19T00:00:00Z
Room Type
Entire home/apt
---
Property Type
Apartment
---
Accommodates
4
---
Bedrooms
Govone, Piemonte, Italy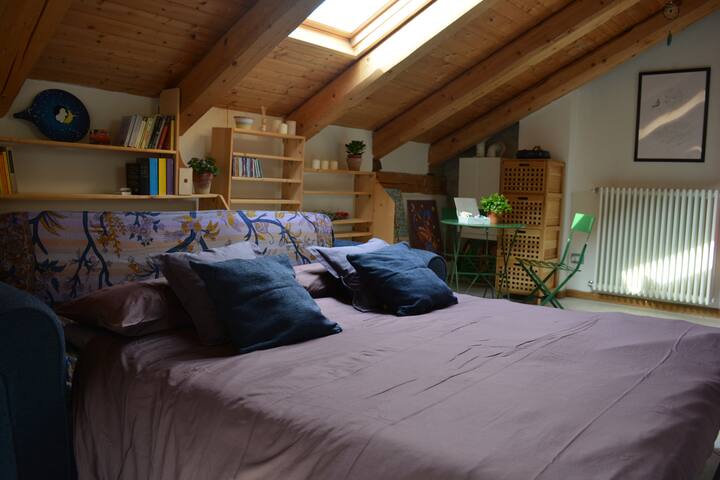 La Cantinetta è un accogliente e confortevole monolocale ricavato da una cantina del 1800, nel centro storico. E' indipendente dalla casa principale con a disposizione: piscina, cucina esterna e terrazza panoramica sulle Langhe. The Cantinetta is a welcoming and comfortable one-room apartment regained from a 19th century cellar, in the village historical centre. It is independent from the main house and has an external kitchen, a swimming pool and a panoramic terrace (onto the Langhe hills).
In mezzo alle viti del Roero, collocato nel centro del centro storico del pittoresco villaggio Magliano Alfieri, si trova La Cantinetta: un angolo separato dal resto, ricavata dal recupero di una cantina sotterranea. Vasca, torchio e bottiglie hanno fatto spazio a divani, letti, bagno e cucinetta. Possibilità di gustare la prima colazione con vista sul jardin potagé e sulle colline della Langa, come di fare una tuffo in piscina o di prendere il sole in terrazza. Disponibilità di WiFi e di parcheggio. Magliano Alfieri, a picturesque village in the midst of the Roero vineyards, shelters La Cantinetta, the name we have given to this small island of peace and tranquillity. A space regained by the restoration of a 19th
Room Type
Entire home/apt
---
Property Type
Apartment
---
Accommodates
3
---
Bedrooms
Magliano Alfieri, Piedmont, Italy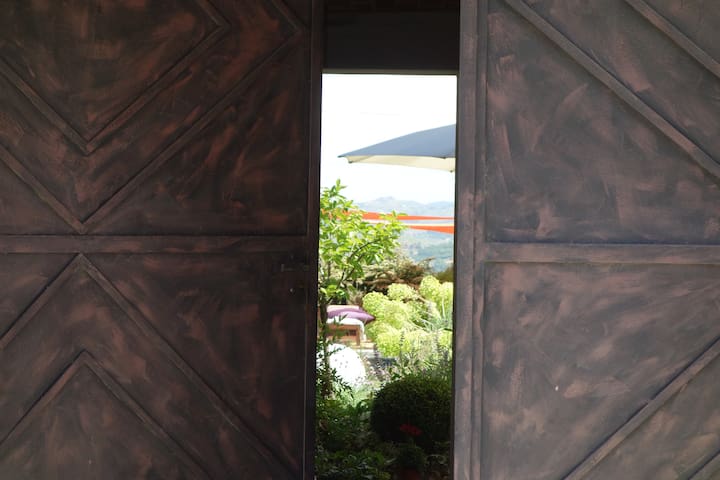 Casa/Appartamento ampio e comodo in campagna, adatto a famiglia di 4 persone.Siamo 5 km da Neive e 3 da CastagnoleLanze. Nell'agriturismo c'è un piccolo ristorante aperto per cena.Piscina esclusiva per gli ospiti, molto rilassante con bellissima vista. Colazione dolce e salata nel cesto alla mattina.
Comodo appartamento attiguo all'abitazione principale ma completamente indipendente. nella camera ci sono: Letto matrimoniale+ 1 letto singolo. Nel soggiorno c'è 1 letto singolo a scomparsa. Non è possibile unire i due letti singoli. avrete accesso al giardino, mentre alla piscina dalle 10,00 alle 20,00. I minori devono essere accompagnati in piscina sempre dai genitori. durante il check -in vi presenterò la casa e la zona circostante, sarò presente a casa quasi tutto il giorno e la notte amo la tranquillità della campagna, amo passeggiare sulle dolci colline che circondano la mia proprietà. ci troviamo a 3 km dal centro e non ci sono mezzi pubblici che ci collegano, quindi bisogna essere muniti di una autovettura che potete parcheggiare all'interno della proprietà. Dall'aereoporto dovete affittare un'autovettura o prendere il treno e poi il bus fino a Castagnole Lanze. pulizie della casa e cambio biancheria ogni 7 giorni. Teli bagno per la piscina forniti dalla casa. La piscina si usa solo di giorno e il minorenne deve essere accompagnato dall'attento controllo dei genitori. Disponiamo di un piccolo ristorante max 20 coperti aperto per cena e domenica anche a pranzo
E' una zona di campagna con una vista molto bella e dove si gode di una vera tranquillità. 5 km da Neive. 7 km da Barbaresco. 12 km da Alba. 18 km da Asti. 18 km da Barolo
It was heaven on earth! For one week we stayed at the Bottega Rosanna. It was hot and cool! Hot because of the weather and cool because we were able to jump in the swimmingpool whenever we wanted. Rosanna and Marco are a perfect team, very relaxed but yet very helpful to their guests. After our arrival they served a dinner in the restaurant in the garden of their bottega, this made us forget the whole drive from Holland. During our stay we ate several times in the restaurant, every time we enjoyed the "vino della casa" and the amazing food from the Piemonte area served and cooked by Rosanna. The Bottega is situated on a hill with a beautiful view to Castagnole delle Lanze. The appartment itself is lovely, nice and clean. We where with 3 adults, it was more than comfortable. We want to thank Rosanna and Marco for their hospitality and we will absolutely come back.
Willem
2015-07-25T00:00:00Z
My wife and I had a wonderful time staying at Agriturismo Bottega di Rosanna. I don't think the pictures on Airbnb really do the place justice, it was much nicer than the pictures, especially the pool which is lovely. Rosanna and her family made us feel very welcome and the location is incredibly peaceful. The restaurant was also very good. If we're back in the area in future, we wouldn't think of staying anywhere else. Highly recommended!
Stewart
2015-08-15T00:00:00Z
Rosanna and Marco ensured we had a fantastic stay. The agriturismo was set in a beautiful vineyard where they make their own very excellent wines. The views were great, and after a day exploring the stunning area it was wonderful to relax in the good sized swimming pool. Rosanna provided a more than adequate breakfast basket. We eat twice in the restaurant and the food was of a high standard and not expensive. The apartment was spacious, clean and the bed was comfortable. Highly recommended!
Stuart
2016-09-24T00:00:00Z
The location was fantastic, the rooms are large and clean, the gardens very nice, the pool excellent and the view breathtaking. We had several wonderfully diners in their nice & small restaurant which uses almost exclusively their own produce. During the dinner we drank wine from the grapes that grew on the hills we looked upon. The taste of the food was very good, unfortunately we don't work for Michelin... Rosanna and Marco (and Massimo) made us feel very welcome and whenever we needed something they helped us promptly. Rosanna gave the children a very memorable tour of her vegetable garden and groves which they'll never forget. The tasted wonderfully sweet carrots, tiny sweet strawberries, the first Japanse apples, hazelnuts and many other vegetables, nuts and fruits. Oh and the fresh eggs from the chickens.. . There is just too much to say, it is better to visit...
Stephan
2015-08-02T00:00:00Z
We have had a fantastic and memoarble week with our familly at Rosannas Bottega. We appreciated Marco and Rosannas great hospitality - just like feeling at home. Don't miss the ragu in the restuarant! We could fully recommend this place!
Anders
2016-07-31T00:00:00Z
What a wonderful family to get to stay with. Rosanna and Marco and Max were just so special to be with. Rosanna's cooking in the restaurant is fabulous and the breakfasts she provides every day are just over the top. We really enjoyed being able to relax at the pool, look over the lovely countryside and talk with Marco and Rosanna about their vineyards and the surroundings. The apartment is very comfortable and has a very well equipped and fully stocked kitchen should one ever be able to tear themselves away from the local cuisine.
Steve
2016-07-01T00:00:00Z
My family and I had four relaxing days at Bottega di Rosanna! We loved the garden, the swimmingpool and the fantastic view. The apartment is spacious, clean and very well equipped. Our hosts made us feel very welcome, and we enjoyed booth their food and wine! We highly recommend Botega di Rosanna!
Kari
2016-07-13T00:00:00Z
Travelling with my wife and daughter we had a wonderful 3 days with Rosanna. We thought we had died and gone to heaven. Lovely accommodation with kitchen, laundry and deck. Amazing scenery, pool to swim in and cool off with the incredible warm summer weather. Restaurant is part of the complex where Rosanna, a chef of many years, produces authentic Italian meals ( most coming from her garden). You do need a car to get about and explore the countryside- ideally with Tom Tom. Rosanna and Marco were wonderfully friendly hosts and made our stay an absolute pleasure.
Jenny
2015-07-13T00:00:00Z
Room Type
Entire home/apt
---
Property Type
Apartment
---
Accommodates
4
---
Bedrooms
Castagnole delle Lanze, Piedmont, Italy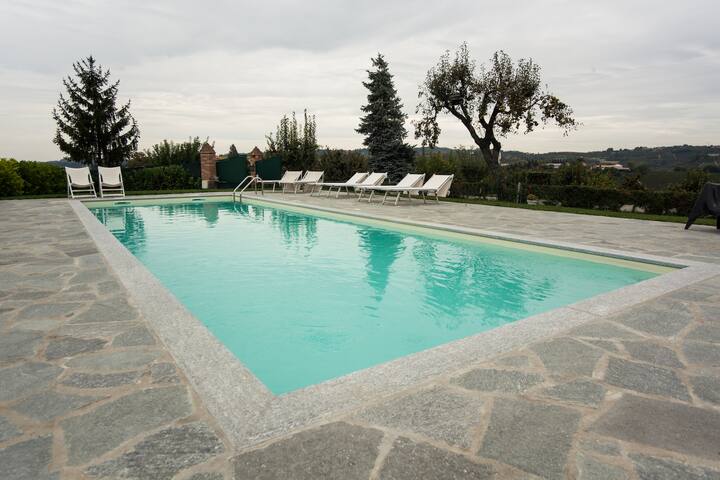 La casa è situata in una zona calma e residenziale di Magliano Alfieri (S. Antonio), ai piedi della collina e prossima all'aperta campagna. E' particolarmente adatta a coppie e famiglie con bambini. Avrete a disposizione l'intero alloggio al piano superiore, con accesso privato e parcheggio auto. Mia madre vive al piano di sotto, che è indipendente. Sarà presente al vostro arrivo e saprà darvi tutte le indicazioni di cui avrete bisogno, oltre a qualche sfiziosità locale.
Spazioso e calmo appartamento (4/5 p) nel cuore del Roero. La casa è situata in zona calma e residenziale di Magliano Alfieri (S. Antonio), prossima alla collina e all'aperta campagna. E' particolarmente adatta a coppie e famiglie con bambini. Avrete a disposizione l'intero alloggio al piano superiore, con accesso privato e parcheggio auto. Mia madre vive al piano di sotto, che è indipendente. Sarà presente al vostro arrivo e saprà darvi tutte le indicazioni di cui avrete bisogno, oltre a qualche sfiziosità locale per la prima colazione. Spacious and quiet apartment (4/5 p) in the heart of Roero. The apartment is located in a quiet and residential area in Magliano Alfieri (S. Antonio), next to the hills and the countryside. It particularly fits couples and families with children. You may enjoy the whole upstairs apartment, with private access and car parking. My mother lives downstairs in an independent unit. She will welcome you and will provide all needed information, along with some local delicacies for breakfast.
Il Paese. La casa è situata nel cuore del Roero, a 15 minuti da Alba e 25 minuti da Asti (in macchina). Si trova a ridosso della zona collinare, ricca di vigneti e noccioleti, ed è prossima all'aperta campagna. La soluzione ideale per chi vuole avere un'ottima base per esplorare i paesi e le vicine colline protette dall'Unesco, rilassarsi e nello stesso tempo avere tutte le comodità e servizi a portata di mano. The Village. The house is located in the heart of Roero, 15 mins driving from Alba and 25 from Asti (by car). Surrounded by hilly neighborhood, plenty of vineyards and hazelnuts plantations, the house is next to the open countryside. The ideal solution for whomever wishes to get a great starting point to explore the villages and hills protected by Unesco, enjoying some relaxing time having a full range of services very handy.
starting from our reception by Ms. Anna who only spoke Italian,and was very nice giving to us a delicious homemade wallnut pie.The place was very conffy, great beds, good space to enjoy the evening at home.The house location was great, perfect for us who had rented a car, with a safe parking inside the house area . The experience was good to all of us ( a 5 family members ) Well located to visit by car the regions of : barolo, barbaresco, alba and asti . Definitely recommended
Cozinha
2016-11-02T00:00:00Z
tutto perfetto, la casa è molto bella, spaziosa ed è così come in foto ed è molto calda e pulitissima, la signora anna è gentilissima e molto ospitale, ci siamo trovati benissimo. consigliatissimo
Pat
2016-10-30T00:00:00Z
Alloggio perfetto e corrispondente alle aspettative. Pulizia ottima. Accoglienza puntuale e con un ottimo benvenuto. Consigliato vivamente
Simone
2016-10-16T00:00:00Z
Michele è stato davvero gentilissimo, l'appartamento è in un'ottima posizione. Seguite i consigli di Michele su cosa vedere e dove andare a mangiare, noi l'abbiamo fatto e ci siamo trovati davvero bene.
Massimiliano
2016-11-20T00:00:00Z
Room Type
Entire home/apt
---
Property Type
Apartment
---
Accommodates
5
---
Bedrooms
Sant'Antonio, Piemonte, Italy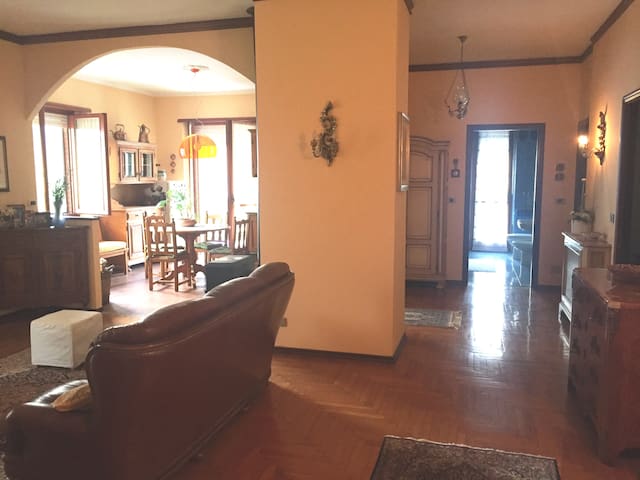 The "house at the Castle" is located in the historical center of Govone, adjacent to the walls of the royal park of the renowned Castle. It has a separate entrance from the street, and direct access to the trails of the royal park. With living - well-equipped kitchen. E 'with two bedrooms and two bathrooms.
It is spread over three levels, with access to the intermediate plane, for a 70 square meters. From the balcony, which overlooks the courtyard, you can enjoy the hills beyond. The main room, with an adjoining second bathroom, is topped by large wooden beams, with the original floor in Piedmontese old terracotta tiles.
From the house you can reach on foot, a well-stocked supermarket, a bar, pharmacy, restaurants.
The house is really nice and romantic. Giovanni has been a wonderful hosts and we didn't have any problem.
Marco
2015-05-03T00:00:00Z
Govone is a lovely small town and we had an excellent stay. The apartment has a gorgeous view and all was very pleasant. Highly recommended.
Francesco
2016-11-01T00:00:00Z
We spent only one day in this very nice and fresh apartment in beautiful Govone. The view is fantastic from all three floors and the apartment is well equipped with a large kitchen and two bathrooms. Giovanni was a great host with several good suggestions of restaurants, view points etc. Wish we stayed a little longer :)
Lena
2016-03-31T00:00:00Z
Room Type
Entire home/apt
---
Property Type
Apartment
---
Accommodates
5
---
Bedrooms
Govone, Piemonte, Italy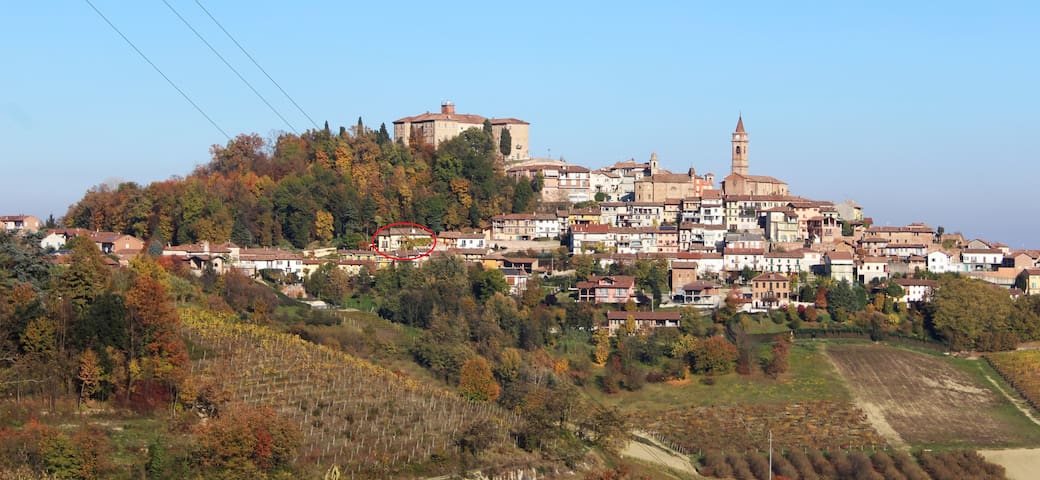 equipped kitchen with appliances, living room, master bedroom, bedroom with two single beds, bathroom with bathtub and washing machine. for small children provided (high chair, cot, Walkers and various toys). TV plasma. Terrace 50 sqm.
Mary è stata molto gentile durante il ns soggiorno. Al nostro arrivo ci ha accolti con un bell'aperitivo pronto sul tavolo della (URL HIDDEN) più ci ha fatto trovare tutto il necessario per la colazione .L'appartamento è molto spazioso e confortevole , molto pulito e curato . E' un ottimo punto di partenza per andare ad Alba (10 'in auto) Barbaresco e tutte le cantine sonno davvero comode da qui . CONSIGLIATISSIMO !!!! GRAZIE DI TUTTO MARY
Pier Paolo
2016-06-15T00:00:00Z
Room Type
Entire home/apt
---
Property Type
Apartment
---
Accommodates
4
---
Bedrooms
Baraccone, Piemonte, Italy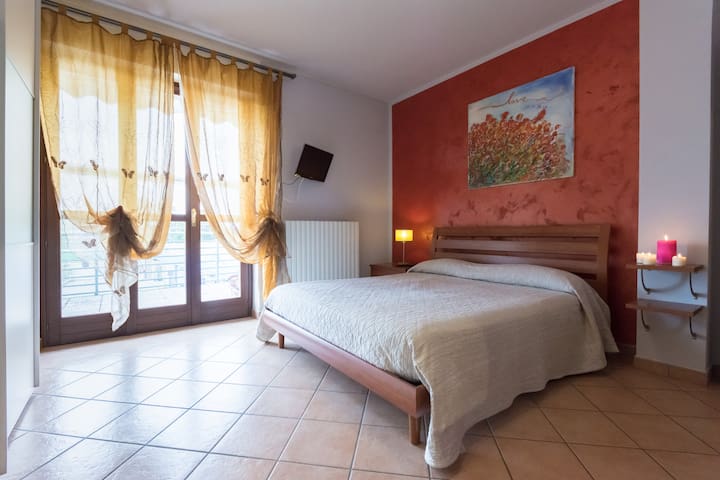 My accommodation is 4 km from the town of Canale d'Alba, which offers food and wine with its restaurants and the regional wine, history with its castle and its old town, the nature with its biotope and its paths .. you will like my accommodation for these reasons: the apartment offers breathtaking views of the vineyards of the Roero. E 'with a large garden where in addition to a relaxation area are for children.
Description Martina House is a farmhouse built at 'the beginning of the last century, is situated in the Roero, but close to the Langhe and Monferrato. Being located on the hills offers the chance to stay in the woods and nature, with a view that reaches up to the mountains of the Aosta Valley on one side and the other to the first Apennine Ligure.L 'apartment reliefs includes a double bedroom and one with two single beds, a spacious lounge with bar and a sofa bed, a kitchen and two bathrooms, has a photovoltaic plant for the production of energy and a solar thermal system for hot water production the gas heating is independent, it is possible to use the laundry room, there is the internet.
Madonna dei Cavalli, a spot on the wonderful Roero hills, stretching between valleys, villages and collected scattered cottages, offering various options in choosing how to spend their holiday. In addition, on its territory there are cellars from which it is possible to taste local wines. AZ. AGR. Pinsoglio FABRIZIO offers ... 1) EXPERIENCE IN TASTE: The first proposal aims to present a thorough and guided tasting of wines from the cellar in combination with certain products Km0. The tasting will be accompanied by stories about the history, culture and gastronimia the area to better understand the wines and Roero. The proposal will be experienced in the tasting room and in the garden behind the wine cellar from which you can admire the beautiful view of the Roero hills to the Alps. 2) WALKS WITH TASTE: We'll take you to walk to our hills bearing lot and at the end of the walk a moment of pause "greedy" accompanied by good wine and products. Based on the time of year where it will be made the walk you can observe up close the vineyards and the different processes. Nrll'estate, when the temperature permits, possibility of aperitivoal sunset on one of our hills. For this proposal is advised to dress appropriately for walking on dirt roads. The routes are also suitable for families as there are no particular difficulties in paths. In colder periods the walks will be carried out but will finish in the tasting room by the fireplace. All services are paid and by appointment. For all children a special treat: in the tasting room is a small area with games and colors, so mom and dad can sample wines in complete relaxation; during walks and tasting is a special snack for small visit our website to view all the wines from our cellar
Ci siamo trovati molto bene, la casa è spaziosa e pulita con un'ottima vista sulle vigne. Sara e i suoi genitori sono stati molto cordiali e disponibili. La zona è tranquilla ma comoda x un week-end ad Alba e dintorni. Insomma tutto positivo! La consiglio a chiunque !
Cecilia
2016-11-20T00:00:00Z
Sara e la sua famiglia sono molto ospitali. l' appartamento è molto spazioso e la casa è circondata da delle bellissime vigne. comoda la posizione per un weekend ad Alba e dintorni.
Miriam
2016-11-06T00:00:00Z
Accoglienza ottima...
Annalisa
2016-10-23T00:00:00Z
Sara e la sua famiglia ci hanno accolti nel migliore dei modi e son stati ultra gentili in tutto fino alla fine, direi una delle esperienze migliori su Airbnb
Ser Kevin
2017-01-02T00:00:00Z
Ci siamo trovati molto bene a casa Martina. Sarà e i suoi genitori sono stati molto cordiali gentili e disponibili. La casa è molto spaziosa e pulita. Il giardino era a nostra completa disposizione e i bimbi si sono divertiti molto. Ci torneremo sicuramente molto presto.grazie di tutto
Nadia
2016-09-11T00:00:00Z
Nous avons passé deux jours très agréables chez Sarah et sa famille. Nous avons été accueillis avec une grande sincérité et en toute simplicité, ce qui est très appréciable. Nous avons pu goûter avec grand plaisir aux légumes, fruits et pains bios produits sur la ferme. Le logement est vaste et d'une propreté irréprochable. Une très bonne adresse pour découvrir le Roero au contact de ceux qui le font chaque jour, dans un paysage magnifique. Encore merci pour l'accueil.
Rabia
2016-08-15T00:00:00Z
Consigliato
GIANLUCA
2016-12-10T00:00:00Z
Tutto bene. L'alloggio è grande. Sarà è gentile e ospitale. La zona è tranquilla e il panorama bellissimo.
Lorenzo
2016-09-09T00:00:00Z
Room Type
Entire home/apt
---
Property Type
Apartment
---
Accommodates
6
---
Bedrooms
Valpone, Piemonte, Italy
Our house is a traditional farmhouse located on a hilltop, in the "Starderi" township. We enjoy a magnificent view of the hills, the castles and the entire Alpine region. Large garden where you can relax and park ..
The accommodation comprises a living room with kitchenette (gas cooker), hallway, master bedroom and bathroom with shower. In the room you can add a cot for children up to 2/3 years or possibly a rollaway bed for older kids. E 'bright and spacious. The windows overlook the garden. And 'possible to accommodate dogs and cats (in the house there are 4 cats) ...
We are in a very quiet hamlet, with a beautiful view of the castles and mountains. E 'need to have a car or for the more adventurous a bicycle for trips to the various locations.
Room Type
Entire home/apt
---
Property Type
Apartment
---
Accommodates
2
---
Bedrooms
Neive, Piemonte, Italy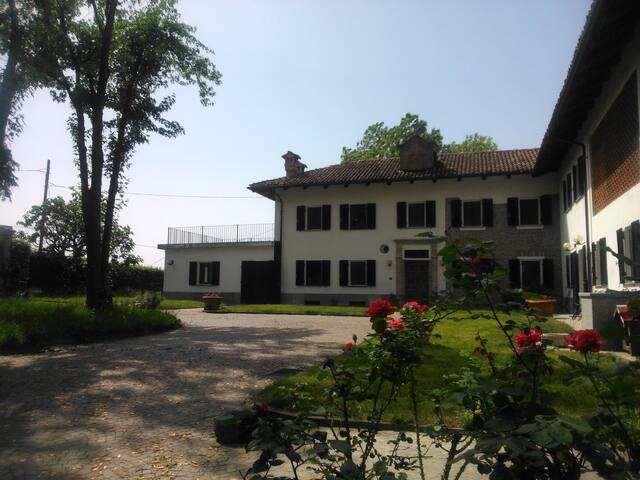 A brand new apartment at the first floor with balcony and a stunning view of the Unesco Caste in Govone at heart of the Langhe Roero Monferrato area and its park. Brand new ,to be newly furnished with style,with all services at walking distance
One plus one apartment with sofa bed sleeps four. Floor eating brand new in stylishly rebuilt Piedmontese house solar powered
In the historical center of Govone
Room Type
Entire home/apt
---
Property Type
Apartment
---
Accommodates
4
---
Bedrooms
Govone, Piemonte, Italy
Spacious two-room flat with living room /fully equipped kitchen and king - size sofa bed with possibility of an extra bed. Double bedroom, king – size bed and bathroom with window and shower. Wifi free service, panoramic view and balcony.
Crossing the inner courtyard, you can reach the panoramic terrace available for all guests of the B&B, where in summer you can have breakfast, service not included in the price.
The apartment is in a little village where you can some essential service: post-office, grocery and bakery. Peculiarity of the area are many open areas to have walk, to go jogging or to go for a ride. Not far there are many restaurants and supermarkets.
The listing didn't mention how huge the rental is. It was around 800 square feet, with huge windows that looked across the country side, a fully stocked kitchen with open space to the living room. And the B&B set up with a breakfast available across the parking lot, which also turned into a locals bar in the evening. Amazing location to visit local wineries and a short drive to alba.
Kiana
2016-10-12T00:00:00Z
Room Type
Entire home/apt
---
Property Type
Apartment
---
Accommodates
5
---
Bedrooms
Castellinaldo d'Alba, Piemonte, Italy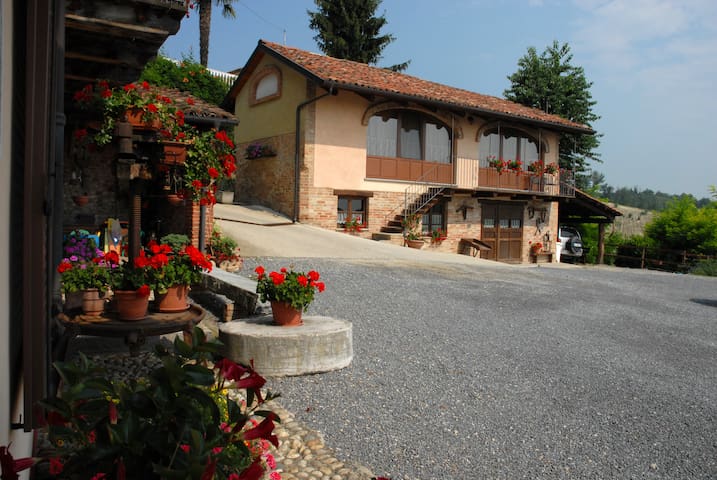 Settled in the historic village, an apartment with 2 spacious rooms with private bathroom, living room, kitchenette, antique furnishings and fireplace. Each comes with a satellite TV, free WiFi, air conditioning.
An historic family winery located in the San Martino Alfieri castle in the hills between Asti and Alba. Marchesi Alfieri produces its own wine and offers elegant rooms. It is housed in an 18th-century building close to the castle.
The Unesco Heritage of Langhe, Roero and Monferrato, Alba, Asti, Turin.
Room Type
Entire home/apt
---
Property Type
Apartment
---
Accommodates
5
---
Bedrooms
Asti, Piemonte - Italy, Italy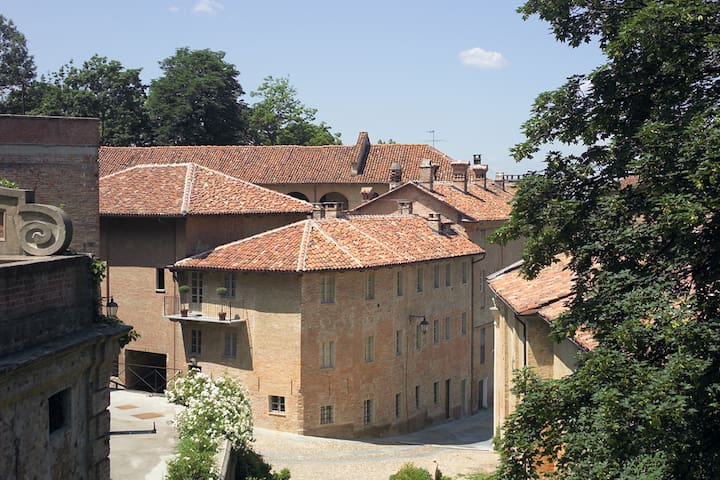 Located on the beautiful hills that sourrounds the city of Alba, in Guarene, "Langhe & Roero GardenHouse" offers two comfortable apartaments (one 2 rooms-apartment and one 3 rooms-apartment) with a big panoramic garden for a pleasant and relaxing stay.
Located on the ground floor of a beautiful red house, this "small" apartment is fully furnished and it can comfortably accommodate up to 2 GUESTS (it is possible to add one bed in the living area if You are 3/4 persons). You'll be welcomed by a big garden overlooking the Langhe and Roero hills. The great landscape will make your stay unforgettable! Completely independent apartment with separate entrance. INSIDE: Living area with fully stocked kitchen (feel free to cook!), one bedroom with double bed, bathroom. Sheets and towels included. OUTSIDE: Private garden overlooking the hills furnished with tables, chairs, sun-loungers and free private parking. • Completely stocked kitchen (hob, coffee makers, coffee-pot, tools, cookwares) • It is possible to have twin bed instead of the double bed • Breakfast included (not served) • Sheets and towels • Free Wi-fi internet connection • Satellite TV • Private Garden overlooking the hills, furnished with table and chairs • Parking • Expenses included • 5 minutes walking to Castello di Guarene The apartment is very quiet to enjoy nature in relax and autonomy!
GUARENE Guarene is in a strategic position to visit the amazing hills of Langhe and Roero recently entered in the UNESCO World Heritage, it is very closed to Alba and here you will be surrounded by the best vineyards. Straight in front of you there is the Castle of Guarene, an ancient manor clearly inspired by the Baroque style of Filippo Juvarra, but it has been realized on the design of the Count Carlo Giacinto Roero and completed by the architect Filippo Castelli between 1726 and 1778. Inside it is possible to admire the so-called "Chinese rooms", the 18th Century frescos by Francesco Casoli, Giuseppe Palladino from Guarene and by Guglielmo Levéra from Turin. The paintings, the furniture, the precious library, the external chapel and the park reveal an extremely sophisticated composition. The Castle of Guarene is an imposing building, now turned into hotel, gourmet restaurant, museum and SPA; it has replaced the previous castle, which has been the residence of a branch of the Roero Family for several centuries. It proposes to visitors a meditation on the quality of the old times through an audacious medley of style and emotion. Besides panoramic views on the Tanaro Valley and the Roero hills, the picturesque old town centre of Guarene offers other attractions too. The parish Church of Ss. Pietro and Bartolomeo, the Churches of S. Annunziata and S. Michele and the sanctuary of Madonna delle Grazie are absolutely worth visiting. Inside these buildings it is possible to admire remarkable works of art (by Guglielmo Caccia called the Moncalvo, Giovanni Claret, Francesco Casoli, Michele Antonio Milocco and other artists). Contemporary art exhibitions are periodically organized in the Sandretto Re Rebaudengo Palace. There is a permanent contemporary art exhibition in the town picture gallery. OTHER PLACES TO VISIT: • Alba (10 minutes by car): the city of the White Truffle. • Neive (7 minutes by car): it's a typical medieval village, here you can find also the house of Romano Levi grappa producer. • Barolo (15 minutes by car): the famous city that every year host Collisioni cultural and music festival. You should absolutely have a walk in the center and have a look to the corkscrew museum. • Barbaresco (10 minutes by car): from the garden of your apartment you have the tower of the Castle of Barbaresco right in front of you. • La Morra (15 minutes by car): the most lovely place to see; there is the best panoramic point in the main square. • Monforte (20 minutes by car): a little village with lot of restaurants and an amazing center.
The host canceled this reservation the day before arrival. This is an automated posting.
Tom
2016-08-07T00:00:00Z
Great apt, especially for wine touring. Guarene is nothing much to see but is only 10 k from Barbaresco and 8 K from Alba, lots of good restaurants. Bed is ok, two pushed together, and there is some spottyness with the wifi. Great apt overall for the value, good for pets.
Jeff
2016-11-01T00:00:00Z
Very cute little apartment, very clean and warm. Welcoming host and a lovely area (after the incredibly thick fog has passed!). Easy access to nice towns such as Alba, Asti and Bra. Stunning views too.
Phill
2015-11-25T00:00:00Z
stefano was a great host! he was there when we arrived and we could text whenever whe needed him. great location with beautiful vieuw
Lotte
2016-08-07T00:00:00Z
Ci siamo fermati purtroppo solo una notta nell'accogliente casa di Stefano. Lui ci ha accolto calorosamente e ci ha fatto trovare tutto il necessario per un ottima colazione. Consigliatissimo!
Elisa
2016-12-31T00:00:00Z
Appartamento perfetto come da descrizione, posizione suggestiva in un contesto molto tranquillo e rilassante a 5 minuti in macchina da Alba. Stefano è stato gentilissimo e molto disponibile. Ci siamo sentiti a casa! Consigliato vivamente!
VIRGINIA
2015-10-19T00:00:00Z
Tutto ottimo! L'appartamento è perfetto per due persone (io ero da sola). Pulito, silenzioso e carino. Ha parcheggio interno e si trova a 10 minuti da Alba. Stefano è stato gentilissimo e sempre molto disponibile. Se dovessi tornare in zona sarebbe la mia prima scelta!
Claudia
2016-09-07T00:00:00Z
Stefano è una persona disponibile ed accogliente. Nella sua casa mi sono trovato molto bene. Parcheggio interno con cancello automatico ed alloggio molto comodo.
Ivan
2016-05-16T00:00:00Z
Room Type
Entire home/apt
---
Property Type
Apartment
---
Accommodates
4
---
Bedrooms
Guarene, Piemonte, Italy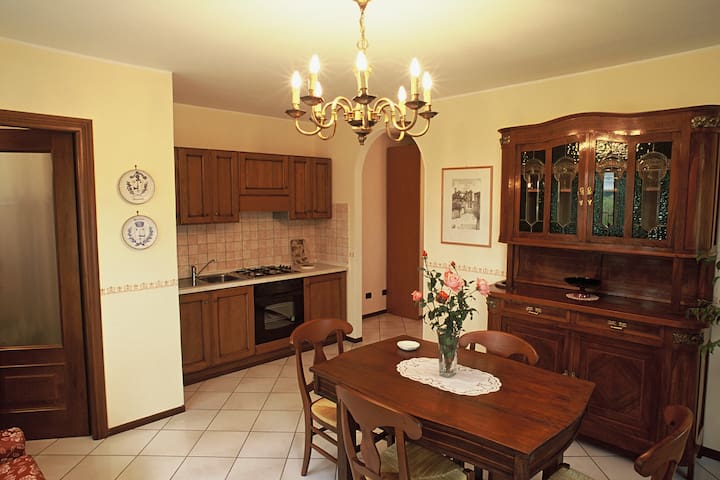 Langhe - Lovely apartment in historic residence located in the village center, totally renovated, furnished, fully equipped. Available for guests garden, gym, barbeque. For an unforgettable Holiday between Langhe and Monferrato
Room Type
Entire home/apt
---
Property Type
Apartment
---
Accommodates
3
---
Bedrooms
Castagnole delle Lanze, Piemonte, Italy