Casa situada en el barrio del Arrabal con vistas a la montaña, mucha luz y buena ventilación. La casa tiene 3 plantas y dos entradas a dos calles. Comedor con cocina office, 2 baños, televisión, lavadora, encimera, horno, microondas, nevera y menaje.
Pasamos una estancia estupenda en casa de Emilia. Su amabilidad y paciencia fue inmensa y nos ayudó en todo lo que estuvo en su mano. La casa está fenomenal, completamente reformada. Un alojamiento totalmente recomendable.
Alberto
2016-11-06T00:00:00Z
MAISON TRES PROPRE PROPRITAIRE TRES SYMPATIQUE
DANIEL
2016-11-13T00:00:00Z
La comunicación con Emilia y su familia ha sido perfecta. Volveremos pronto.
Jesús
2017-01-22T00:00:00Z
Room Type
Entire home/apt
---
Property Type
House
---
Accommodates
9
---
Bedrooms
Chelva, Comunidad Valenciana, Spain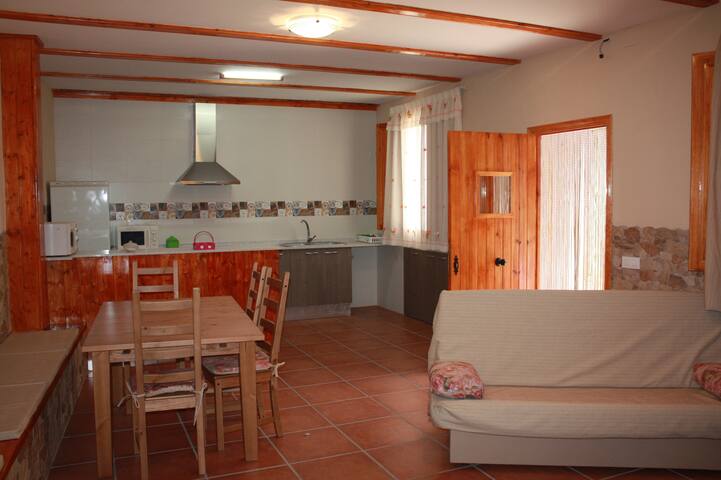 Casa Rural con encanto situada en el barrio árabe de Banacacira (s.XI) situada en el centro histórico de Chelva (Valencia, Spain). Se trata de un alojamiento encantador que ha sido rehabilitado y decorado con antigüedades y piezas orientales para hacer tu estancia más cálida, agradable y acogedora.
Tipo de alquiler Puedes alquilar la casa completa o por habitaciones hasta un máximo de 10 personas, distribuidas en cuatro dormitorios dobles, dos con cama de matrimonio, dos con camas individuales y dos plazas supletorias. Todas las habitaciones tienen una zona de baño con columna hidromasaje; además hay un aseo de cortesía en la planta baja. Aprovecha la comodidad de tener 5 baños en una misma casa. ¡Disfruta de la independencia e intimidad que ofrece cada habitación tanto si vienes en pareja como en grupo!
¿Cómo es nuestra Casa? La Casa Taure turismo rural es un alojamiento rural de estilo árabe situado en el centro histórico de Chelva (Valencia). Esta casa de pueblo está en pleno barrio árabe de Benacacira (s.XI), uno de los núcleos de población más antiguos y emblemáticos del municipio. Nuestro alojamiento está muy bien situado situado ya que se encuentra a unos 100 m de la Plaza Mayor. No obstante, puedes disfrutar de los encantos de los barrios de este pueblo y de las más de 150 fuentes que en el se encuentran. Puedes dar un pequeño paseo para conocer los rincones más escondidos entre las culturas árabe, judía y cristiana que dieron lugar a este pueblo.
Corta estancia, pero productiva, la casa muy bien, completa en todo lo que se refiere a equipación y complementos de una casa; muy bien en limpieza y comodidades; situada muy bien, en pleno centro, en el casco antiguo, típico barrio árabe, calles estrechas y desordenadas, pero muy cuidadas y limpias, estupendo el sitio para una estancia corta. Como es común en esta tipo de barrio, el sol entra poco en las casas muy cerradas al exterior y en las estancias interiores escasea la luz natural. Pero lo que queríamos lo teníamos todo muy cerca, tiendas, prensa, farmacia, cafetería, restaurante, y un entorno precioso para hacer lo que buscábamos, senderísmo y empaparnos de la cultura y la belleza de la comarca. Recomiendo todo, casa, barrio, pueblo y comarca.
Rafael
2017-02-26T00:00:00Z
Room Type
Entire home/apt
---
Property Type
House
---
Accommodates
10
---
Bedrooms
Chelva, Comunidad Valenciana, Spain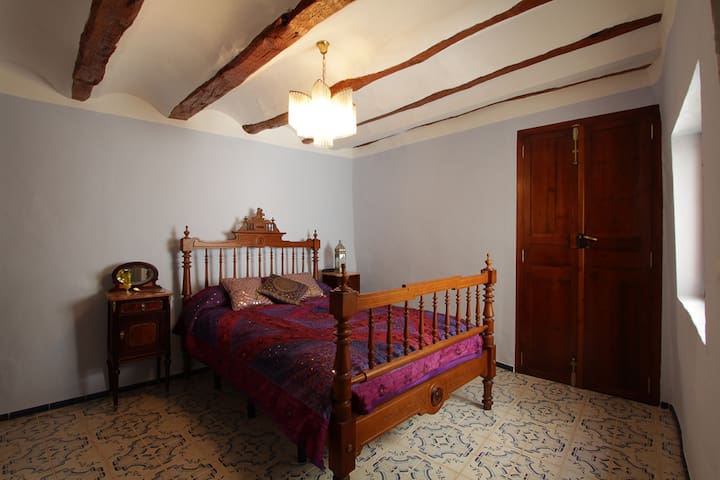 Activités: Maison située dans le magnifique village de Calles, Tuejar près de la rivière. Un endroit charmant. Mon logement est bon pour les couples, les aventuriers et les familles (avec enfants).
Room Type
Entire home/apt
---
Property Type
House
---
Accommodates
6
---
Bedrooms
Calles, Comunidad Valenciana, Spain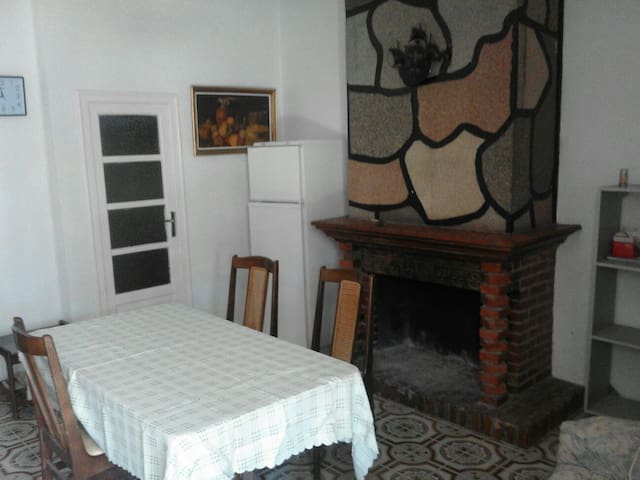 The house has what it takes to spend a few days of relaxation and total disconnection. This decorated country-style wooden ceilings, wooden furniture, carpentry with insulating glazing and thermal bridge since it usually snows in winter but that inside the house with the stove going, we'll be great.
The house is located in the countryside, ideal escape from the city or any routine ...
It is a residential area in the countryside, neighbors and guests from around like to enjoy the tranquility that nature offers in this place. 5'walk up the mountain we can reach a youth hostel which is open almost 365 days a year. There are several hiking trails to do in the area, we can also go down to the tail of the reservoir or walk (1 hr), drive (10') we will find the adventure center (Aventuria) where we can enjoy water sports they offer us; canoeing, kayaks, rollerblades, solar boat ...
La casita es encantadora, muy acogedora y con muchos detalles. Está en un enclave precioso, ideal para aquellas personas que deseen disfrutar del senderismo y desconectar. Los anfitriones estupendos, muy amables y pendientes de cualquier cosa que necesites. Una muy positiva experiencia y muy recomendable.
Isabel
2016-10-12T00:00:00Z
La casa estupenda que decir cuando se repite y la experiencia es aun mejor. Marcos y su hermana encantadores y muy atentos con nosotros. La zona es muy trankila y hay un monton de rutas y sitios para ir a caminar y hacer senderismos y disfrutar de unas vistas espectaculares del embalse y sus alrededores y que decir de la presa y la cementera es todo precioso. Hay un monton de pueblos que ver y hacer turismo viendo la historia de toda la zona ademas cuanta con un monton de información para hacer las rutas que estan muy bien señalizadas. Que mas se puede decir, que sin duda alguna repetiremos tanto los perros como nosotros no podiamos estar mas contentos y agradecidos con ellos.
ESTHER
2017-02-19T00:00:00Z
Una casa acogedora en un lugar maravilloso y con unas vistas estupendas del embalse. Tanto Marcos como su hermana fueron muy atentos con nosotros dandonos un monton de informacion y rutas para hacer. Fueron muy atentos y nos dieron una bienvenida estupenda. El lugar cuenta con muchas rutas para hacer y unos paisajes espectaculares. La casa es muy acogedora como en las fotos, muy bien ubicada y comunicada. Es un sitio donde puedes diafrutar de la tranquilidad y la naturaleza.
ESTHER
2016-12-15T00:00:00Z
Room Type
Entire home/apt
---
Property Type
House
---
Accommodates
4
---
Bedrooms
Benagéber, Comunidad Valenciana, Spain
It located in what were the houses of workers in the old reservoir Generalissimo, today reservoir Benagéber. Pure nature, the village of just 200 inhabitants, is located about 3 km. Ideal for routes (there are plenty) on foot and in 4x4 or by bicycle or motorbike. Animal reserve, solar boating and canoeing in the reservoir. Extraordinary night sky for astronomy lovers. Just an hour from Valencia capital (100 Km).
It is ONLY FOR PEOPLE AND QUIET, NO MUSIC EQUIPMENT WITH CDs, TELEVISION OF 42 ', with DVDs, countless books and comics. IT IS SPECTACULAR. FOR PEOPLE WITH CONSCIENCE AND TAKE CARE OF THINGS. It IS MY HOME, MY BEST HOUSE.
It is the only LUNG IN THE PROVINCE OF VALENCIA, and what LUNG! BESIDES THE WATER RESERVOIR AND ADJACENT RIVERS THAT GIVE MAJOR SERVICING LIFE.
Room Type
Entire home/apt
---
Property Type
House
---
Accommodates
4
---
Bedrooms
Benagéber, Comunidad Valenciana, Spain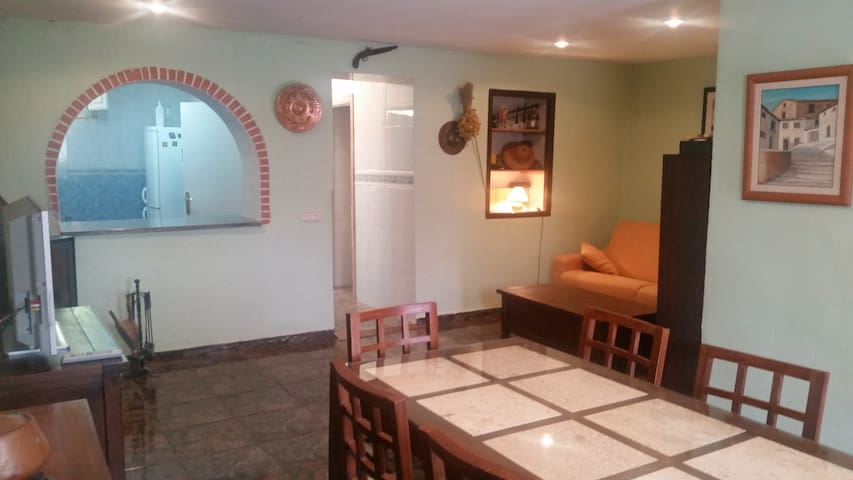 Decoración rústica, techos altos, a pie de calle, suelo de madera, todo nuevo a estrenar.
Ven a disfrutar de un fin de semana rural, disfruta del entorno de la puerta de la Serrania, inicio de muchas rutas a pie.
Nice place and actually better that could expect from photos. Apartment had everything we needed. It was quite cold weather on our stay but house had two heaters so we could stay quite warm. Communication with host was very smooth and everything went very well.
Urmas
2017-03-05T00:00:00Z
The host canceled this reservation 5 days before arrival. This is an automated posting.
Julia
2017-01-25T00:00:00Z
Estuvimos muy cómodos. María estaba para lo que fuera. La casa está genial Un hospedaje muy recomendable
Sergio
2017-03-12T00:00:00Z
Hemos estado muy a gusto en la casa. Es grande y tiene todo lo necesario. Aunque creo que es más una casa para verano que para invierno, porque aunque hemos tenido calefacción es difícil calentar bien la casa. Las fotos no demuestran en realidad lo bonita y bien que está la casa. Lo único es que en la casa no hay WiFi tal como se anuncia. Por suerte teniamos conexión 3G en el móvil. Sino, habríamos estado incomunicados.
Leo
2017-01-20T00:00:00Z
Estuvimos cómodos y el barrio es muy tranquilo. Mabel, la anfitriona, estuvo disponible en todo momento.
irene
2016-12-26T00:00:00Z
Room Type
Entire home/apt
---
Property Type
House
---
Accommodates
4
---
Bedrooms
Losa del Obispo, Comunidad Valenciana, Spain
´Casa Marina´ is situated just behind the church in the old town. Two floors (with a total of about 70 m2), 3 bedrooms and a pittoresque little terrace in front. Less then 5 minutes from bakery, minimarket and main square. Very close to climbing crags (No Reg. Turísmo VT-35939-V).
The house is situated behind the church in a little alley. It has a lovely little terrace next to the front door where you can enjoy your morning cup of coffee in the sun. The house has two floors. Downstairs you'll find an open kitchen-living with some comfortable sofa's. The small but neat bathroom with shower, toilet and wash basin is also situated on the ground floor. The three bedrooms are upstairs. They are all very light and two of then have little balconies. The rooms have a double bed, a single bed and two singles respectively. There´s a separate entrance to a downstairs storeroom.
Chulilla is a beautiful little village situated in the Turia gorge. The village is built under the old medieval castle walls and consists of little alleys with white houses. From the village it´s a 10 minutes walk down to the river Turia, nowadays a small stream with plenty of shady picnic spots. Chulilla is very quiet during the week but every weekend the bars and terraces on the one and only village square fill with locals and (in season) foreign climbers. In general restaurants only open in the weekends - apart from the climbers hangout and restaurant ´Goscanos´ which - from oktober till april '- is open Tuesdays to Sundays (they do fabulous pizzas and nice meat or veg burgers). Chulilla is a climbers heaven and also very popular with hikers. It´s also a childrens paradise as they can play on the square, build dams in the small river stream, swim and play in the lake or pool (summers only) or visit the play grounds. It´s common to see kids racing down a little ramp on the village square at night time while their parents are having a drink on one of the terraces. There´s a bakery, two minimarkets, a tabacco shop, a butcher, a pharmacy and a drugstore in town. Every Thursday morning there´s market on the vilage square with some fresh produce, clothing, house ware etc. There are no ATM´s in Chulilla. For cash withdrawels, supermarket and bodegas (wine houses) you can go to the neighbouring town of Villar de Arzobispo (20 minutes by car).
We could not have asked for a better experience staying at Marina's house! She was so kind and helpful and really went above and beyond to make sure we had a great time in Chulilla. This apartment is in a wonderful location to be close to the climbing.
Steph
2017-02-09T00:00:00Z
Amazing place ... real Spain!
Mick
2017-04-08T00:00:00Z
Marina's house is a lovely little 'cottage' in a beautiful village. There's so much to do and see though! The house has everything you might need for a comfy few days. Marina is a great host, showed us around and recommended where to go what to see. Highly recommended!
Maria
2016-08-24T00:00:00Z
We stayed at Marinas house whilst climbing at Chulilla, the house was excellent in both location and facilities, and Marina was a wonderful host, very helpful and friendly. Will definitely stay again next time we visit the area.
Meg
2016-01-29T00:00:00Z
The house was as per the description located in the heart of Chulilla close to the shops. Marina was a great host and provided us with information as required very quickly. The house was clean upon arrival and excellent wi-fi is also available.
Andreas
2017-01-07T00:00:00Z
The house was comfortable and the kitchen was well stocked with pans,cutlery and plates. The rooms were nice although with five it was bit of a squeeze (would suit a couple and three individuals perfectly though) but we managed. Nicely situated for the bars and the climbing,
Ian
2016-02-27T00:00:00Z
Absolutely lovely. Beautiful town and location. Marina was so hospitable and very helpful with all our needs.
Rebekah
2017-02-17T00:00:00Z
Everthing was perfect. We loved the location and were impressed with the facilities in the village. The drive here was spectacular. Marina was charming and helpful, and responded extremely promptly, and introduced us to our home for the next few days!
Alison
2016-09-05T00:00:00Z
Room Type
Entire home/apt
---
Property Type
House
---
Accommodates
5
---
Bedrooms
Chulilla, Comunidad Valenciana, Spain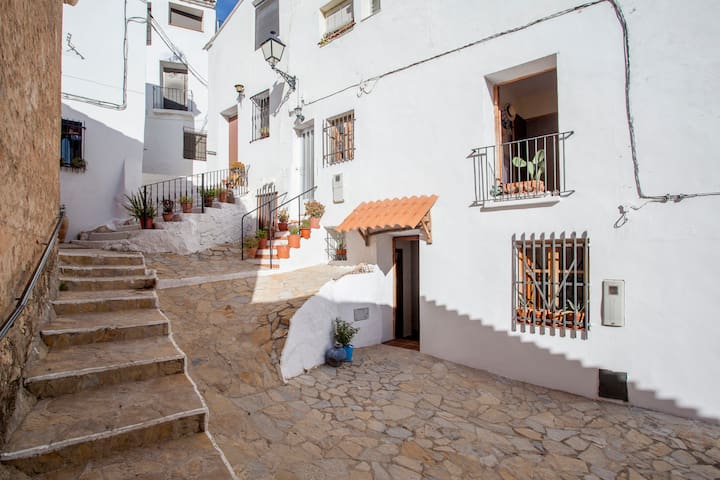 Casa pequeña situada en pueblo de montaña a los pies del castillo de Chulilla. Excelente para viajeros que buscan la tranquilidad y la belleza de un pueblo que además ofrece rutas de senderismo, escalada y zonas de baño en el río.
La casa es muy pequeña y antigüa pero está construida en uno de los rincones más bellos de la Comunidad Valenciana y tiene unas vistas preciosas. Está cercana a tiendas y restaurantes.
El Pueblo de Chulilla fue habitado ya desde antiguo, la arqueología ha documentado la existencia de poblados de una cronología cercana al primer milenio antes de Cristo. Aquellos tiempos han dejado una clara impronta en el pueblo actual, que ha conservado un núcleo definido por el castillo de origen islámico, la iglesia; Antigua mezquita de estilo Barroco y una serie de capillas rurales que se encontraban escampadas por el Territorio y de las que todavía hoy permanecen dos en pie. Pero lo que más caracteriza el municipio de Chulilla, sin duda, es su estructura urbanística genuinamente medieval, ordenada entre el monte del Castillo y el Río Turia. También se puede disfrutar de sus bellos parajes naturales aptos para amantes del senderismo y la escalada. Tu paso por Chulilla, no te dejará indiferente, por ello, antes de visitarnos, te recomendamos que accedas a toda la información para organizar tu escapada y decidir si practicarás senderismo o escalada, si vendrás decidido a hacer turismo termal o te decantarás más bien por el turismo cultural, o si bien prefieres disfrutar de todas estas actividades aprovechando un maravilloso paseo a caballo por la Baronía. Sin duda, tu visita a Chulilla tendrá un indispensable, probar su gastronomía, la Olla de Carne, la Olla de Berzas o el Rin-Ran y su Ajoarriero, son marca de la casa y te aseguramos que no te dejarán indiferente!! La Enramá, las Fiestas del Cristo o las Fiestas en honor a Santa Bárbara, son tres fechas muy señaladas para los chulillanos, en las que el municipio acoge centenares de visitantes, si quieres tu puedes ser uno de ellos, ¡Bienvenido a Chulilla! (texto sacado en parte de la web del Ayuntamiento de Chulilla)
Veronica was very helpful. Great location in the centre of the village. Ideal for two people. Lovely views, we would rent again.
alan
2016-03-29T00:00:00Z
Veronica was there herself to welcome us. She and her father helped us to park the car and get all our luggage inside the house. The house is exactely as on the pictures. We would recommend this place to anyone who is looking for original spanish mountain village life.
Teun Mel
2016-09-14T00:00:00Z
Chullila is a nice and quiet place and comes to live when the weekend starts. The house itself is, like mentioned in the description, small and authentic. It is perfect for two persons. When we came there it was clean. Veronica and her friend explained everything to us and small problems were fixed immediately. We had a good time in Chullila. The area is really nice for hiking, climbing and also via ferreta. Veronica thank you for having us.
Stef
2016-06-11T00:00:00Z
Chulilla is a charming village surrounded by amazingly breathtaking mountains and natural areas. Veronica's place was perfect for a short stay adventure. The apartment is clean and has all the basic needs. It's central in the small village and right on the edge of the natural areas and castle walls. The village itself is very quiet (in the off season) and most places were shut down during the week. Veronica was a wonderful host with excellent communication (we navigated our translation apps quite well). Thank you Veronica! :)
Jennifer
2017-03-30T00:00:00Z
Perfect little house for climbers. Nice to have heating in winter.
Miha
2017-01-31T00:00:00Z
Great little place.
S
2017-01-06T00:00:00Z
Veronica organised everything perfectly for us. We could settle in right away and the apartment was just perfct for us. Even when we managed to lock ourselves out of the apartment and only realized by 9pm, Veronica organized very quickly for us to get back in. The only thing left to say, thank you Veronica for your hospitality, we enjoyed ourselves very much.
Sabrina
2016-02-20T00:00:00Z
Cozy, rustic apartment great for two people who love exploring the nature of Chulilla! Very hospitable and friendly host.
Josie
2016-11-27T00:00:00Z
Room Type
Entire home/apt
---
Property Type
House
---
Accommodates
3
---
Bedrooms
Chulilla, Comunidad Valenciana, Spain
DE 2 A 4 PERSONAS. CASA NO COMPARTIDA Casa frente a la montaña, se accede directamente desde la calle Las Eras, hacia la que esta edificación en una altura tiene su fachada principal. Las estancias principales asoman a la plaza, nexo de confluencia de la vida del pueblo, a unas inmejorables vistas de la montaña, las fortalezas del Castillo y la cúpula de la Iglesia. Toda la casa tiene vistas al exterior, casa muy luminosa y cálida. La decoración presenta un aspecto alegre, colorido y acogedor.
La casa tiene todos los servicios a su alcance. Amplia cama de matrimonio; dos literas para adultos; cocina perfectamente equipada con todos los electrodomésticos y menaje; ropa de cama y baño; calefacción; aire acondicionado; chimenea; ventilador; amplios sofás; vistas inmejorables a la montaña... Adelante, porque la puerta de la "Casa Rural Las Eras Chulilla" está abierta...
Un lugar que despierta los sentidos, donde río y montaña se funden para formar un paisaje único… Un paraje con encanto donde río y montaña se armonizan haciendo de Chulilla uno de los pueblos con más encanto de la Comunidad Valenciana. El senderismo, la escalada... son alguna de las opciones que nos ofrece este entorno. Chulilla pertenece a la Comarca de La Serranía, y dista 62 Km. de la ciudad de Valencia. Esta Comarca se localiza en la cuenca alta del Río Turia y tiene un carácter claramente montañoso. La riqueza de su patrimonio natural, convierte a Chulilla en un marco ideal para la práctica del senderismo, itinerarios que discurren por las zonas más bellas de la comarca, y durante su recorrido se suceden una gran diversidad de paisajes fluviales, así como abruptas zonas montañosas y frondosas campiñas. Esta localidad, se ubica en la falda de un alto promontorio llamado el Monte del Castillo, que se mantiene como "castro". La población está dominada por el Castillo árabe, que conserva torreones y murallas del lado de la población, ya que por la parte que da al río existe un impresionante cañón conocido como "Las Hoces del Turia" que lo hace inexpugnable por lo que, en ese lado, carece de construcciones defensivas. Una mirada hacia cualquier parte de Chulilla, allí donde el silencio sólo se rompe por el discurrir del río, envuelto por la más pura naturaleza, nos aleja de cualquier rutina, haciéndonos sentir más vivos…
We loved our stay in casa rural! A very comfortable, clean, central place to stay with the most fantastic views of the village and cliffs. Ideal for climbers too, with great views of some of the crags, all within walking distance. Definitely recommend.
Annabelle
2017-02-08T00:00:00Z
Great house with fantastic view!
Reinout
2017-02-27T00:00:00Z
Nuestra visita a Chulilla ha sido magnífica. Lugar idóneo para los amantes de la escalada, del senderismo y de la naturaleza en general. La casa tiene una vistas increíbles y no le ha faltado detalle. Muy recomendable.
Rosa
2017-04-02T00:00:00Z
Room Type
Entire home/apt
---
Property Type
House
---
Accommodates
4
---
Bedrooms
Chulilla, Comunidad Valenciana, Spain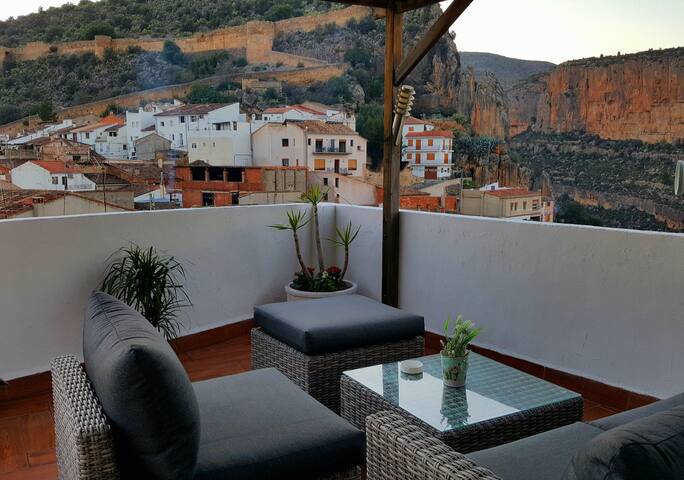 casa de pueblo. Planta baja con cocina amplia, y salón con sofá y televisión Entreplanta con baño y ducha y habitación pequeña con dos camas de 90 cm planta primera con bonita y luminosa habitación de matrimonio y habitación con cama de 90 y supletoria de 80cm town house. Ground floor with large kitchen, living room with sofa and TV Mezzanine with bathroom and shower and small room with two beds of 90 cm First floor with nice and bright double room and room with bed 90 and extra bed 80cm
Room Type
Entire home/apt
---
Property Type
House
---
Accommodates
5
---
Bedrooms
Chulilla, Comunidad Valenciana, Spain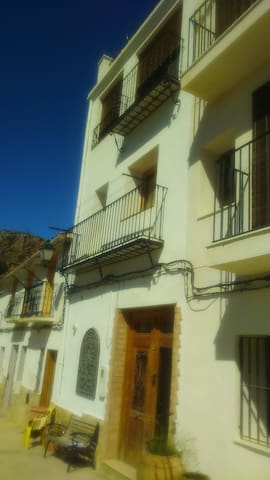 Casa situada en el bello pueblo de Chulilla, típico pueblo mediterráneo de blancas casas y estrechas calles, con sus increíbles paisajes llenos de senderos, vías de escalada, zonas baño en el río... ideal para amantes de la naturaleza! House situated in the beautifull village of Chulilla, tipical mediterranean village with its white houses and narrow streets, with an amazing nature landscape full of mountain paths, climbing routes, river bathing areas... an ideal place for nature lovers!
N° Registro VT-38719-V Casa La Higuera está situada en el barrio de La Ermita, a 1,2 km del centro de la población. La casa consta de dos plantas, jardín y dos terrazas, tiene 4 habitaciones con una cabida de 7 personas (para más huéspedes consultar). En la planta baja encontrarás un salón comedor con cocina abierta y acceso directo a la terraza y jardín, un cuarto de baño completo, una habitación con cama doble y otra habitación con cama individual. En la planta superior hay otro cuarto de baño completo, una habitación con cama doble y otra habitación con dos camas individuales. Desde la planta superior se puede acceder a otra terraza y un porche. Casa La Higuera is situated in the neighbourhood of La Ermita, 1,2 km from the village center. The house consists of two floors, garden and two terraces. It has 4 bedrooms with accommodation for 7 people (for more guests, please consult with the host). On the ground floor you will find a living room with open kitchen and direct access to the terrace and garden, a complete bathroom, a bedroom with a double bed and another one with a single bed. On the upper floor there is a complete bathroom, a bedroom with double bed and another one with two single beds. From the upper floor you can access to a covered terrace.
El barrio de La Ermita es un barrio tranquilo situado a 1 km del centro de la localidad, hay un paseo peatonal que une el barrio con el pueblo. En el centro de la población hay ultramarinos, panadería, carnicería, droguería, farmacia y estanco. También hay bares y restaurantes, algunos en el mismo barrio de La Ermita. No hay cajero, el más cercano se encuentra en Villar del Arzobispo, a unos 13 km. The quiet neighbourhood of La Ermita is situated 1 km from the village center, there is a pedestrian promenade that links the neighbourhood with the village. In the village you can find minimarkets, bakery, butcher, drugstore, pharmacy and tabacco shop. Also there are bars and restaurants, some of them in the neighbourhood La Hermita. There is no cash machine in the village, the nearest one is in Villar del Arzobispo (13 km from Chulilla)
The house is lovely. Very comfortable we were there with our 3 kids. Sandra was very accommodating and the space was perfect and clean. We were there for climbing holiday and could not have picked a better location. we would absolutely go back.
Tania
2017-04-12T00:00:00Z
Sandra is a very helpful and friendly host. The house is clean, modern and spacious and everything works well (nice hot showers). Peaceful location with good views - walking distance to Chulilla. Our party of 5 would definitely come back again and recommend to friends. We are all climbers and the area has some world class climbing plus amazing weather.
Graham
2017-03-18T00:00:00Z
Nice big house in a quiet neighbourhood, with everything needed for a comfortable stay. Easy walking distance to Chulilla as well as some of the climbing areas. Always quick respons and great help from Sandra with every enquiry we had. We thoroughly enjoyed our stay!
Anna
2017-01-08T00:00:00Z
Lovely clean property with very comfy beds; perfect for a sport climbing trip to Chulilla
Ally
2017-03-04T00:00:00Z
Excellent stay, beautiful big house and Sandra was very helpful and friendly! Would recommend!
Dawn
2017-03-11T00:00:00Z
Casa sencilla, amplia, aseada y limpia en un entorno privilegiado. Un sitio ideal y con todo lo necesario para para pasar unos fantásticos días en familia.
Santiago
2017-04-02T00:00:00Z
Una experiencia muy buena, un alojamiento perfecto y muy acogedor, repetire sin luegar a dudas
Mario
2016-11-13T00:00:00Z
La estancia en la casa de Sandra ha sido muy buena. La casa es igual que en las fotos y se encuetra en un sitio muy tranquilo. Sandra nos ha atendido en todo momento, dándonos información y preocupándose por nosotros. Sin duda es una estancia recomendable.
Ana
2016-10-30T00:00:00Z
Room Type
Entire home/apt
---
Property Type
House
---
Accommodates
7
---
Bedrooms
Chulilla, Comunidad Valenciana, Spain
Our little spanish house is located near Chulilla center which is 10 min by foot away, its a quite and cozy place perfect to relax. - minisupermarkets are 10 min away. - The main climbing areas are +/- 20 min away. For more informations about climbing, ask us, we know all what you need to have a perfect climbing holiday here in chulilla! hope to see you around!
+basic room with no heater +hot water +fireplace in the living room +BBQ place +big terrace +quite place +kitchen +parking in 2 min. distance +well informed about climbing and biking around chulilla!
+climbing areas are all around!
Max was a great host. We had a nice stay in the apartment.
Peter
2016-12-12T00:00:00Z
A very nice old style Spanish townhouse in a beautiful village. Helful and friendly hosts. Great location, charming village and comfortable room. I would definitely recommend to others.
natalia
2017-03-09T00:00:00Z
Very good trip in chulilla. If you are a climber it's the right place to stay! Max and christof are very kind and Christof will not hesitate to say you the good stuff to try. And if you are lucky you'll even be invited to try one of his projects! ;)
Alexis
2017-02-04T00:00:00Z
Max ans Christoph were great hosts. The communication was excellent and the place had all amenities. We enjoyed our stay and would stay there again.
Jana
2017-04-02T00:00:00Z
Very pleasant room to stay in Chulilla, ideal if you are coming for climbing or biking around. It is actually what AirBnB is supposed to be - you get to use the spare room in a flat where two very nice guys (one climber and one biker) live. The room is nice, have everything you need, no frills. The shared areas are kept clean, and it is very convenient to be able to use the kitchen to cook meals. Max and Christoph are very cool, respect noise hours, and are very happy to guide you with any questions you might have around the area. I strongly recommend their room.
Flavia
2016-11-13T00:00:00Z
Nice and cozy place, with beautiful landscape just behind the door. Short walk distance to Chulilla (absolutely amazing views though), great for people interested in climbing and outdoor. Hosts are really helpful and friendly, I would recommend a stay there to everybody.
Sebastian
2016-11-18T00:00:00Z
sin comentarios
Vicente
2016-12-22T00:00:00Z
Coole Jungs, nette-relaxte Atmosphere. Für Kletterer oder Biker genau das richtige..
Raimund
2016-11-28T00:00:00Z
Room Type
Private room
---
Property Type
House
---
Accommodates
2
---
Bedrooms
Chulilla, Comunidad Valenciana, Spain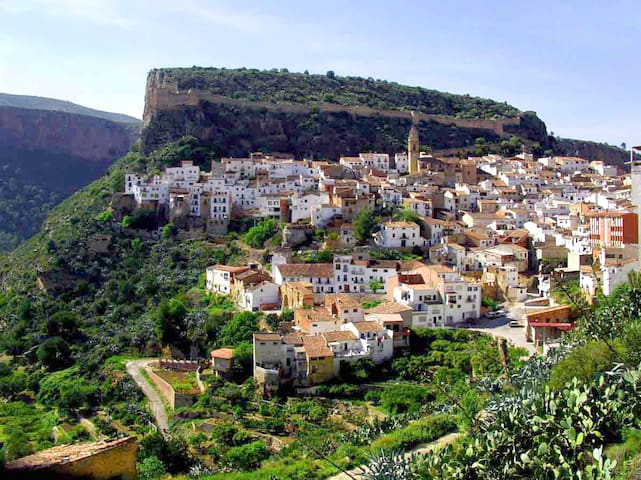 Stunning house at the heart of Chulilla with all you can need to spend a great time. The house is eqquiped with a record player ( more than 100 records to listen to), dvd, and many table games to enjoy the house.
This is a full equipped two-storey house inside the town of Chulilla. It is a perfect space to relax and enjoy everything what Chulilla offers
A great space in a small town. The beds are very comfortable, the kitchen is stellar!
Mike
2015-12-27T00:00:00Z
We stayed at Jorge's place for three weeks and it was fantastic! The kitchen is very well-equipped, the views are spectacular and the house has everything you need (including an excellent selection of DVDs, records and board games). We loved the layout, which is perfect for two couples, and really enjoyed the interior decorations. If you're coming to Chulilla, this is the place to stay!
Samantha
2017-03-08T00:00:00Z
A fantastic stay in a truly unique and interesting house. Kitchen facilities were excellent, beds comfortable, and great living spaces for enjoying one of the many films. Jorge helped with all our enquiries very promptly and shared great local knowledge of the town along with its amenities.
Lesley
2016-11-12T00:00:00Z
Jorge was an excellent host. He responded quickly to all my messages. The house is an eclectic mix of art and music. Tastefully decorated and truly unique. I've stayed at many vacation rentals over the years. This was one of the better ones. I hope people read this and will stay. Jorge and Chulilla are a fantastic combination.
Kyle
2016-04-18T00:00:00Z
This apartment is amazing. The decor is cool and intriguing. The kitchen is well stocked and has tons of room. The bedrooms are comfortable and spacious. Jorge was a responsive and friendly host. Our stay was a wonderful experience.
John
2016-12-18T00:00:00Z
We absolutely loved our stay at Jorge's place. His home is very modern, clean and comfortable with a lot of character and unique artistic touches. It was well stocked with everything we needed for a one month stay and had lots of extras. Jorge was very helpful, knowledgeable about the area, receptive to questions and was great about checking in periodically to make sure we were happy and had everything we needed. We hope we have the opportunity to stay here again in the future.
Christie
2017-02-08T00:00:00Z
Excelente Enjoy Chulilla !!, altamente recomendable y la realidad supera las expectativas.
Antonio
2017-03-19T00:00:00Z
Room Type
Entire home/apt
---
Property Type
House
---
Accommodates
5
---
Bedrooms
Chulilla, Comunidad Valenciana, Spain
Chulilla es un lugar maravilloso que se encuentra en el interior de la comunidad valenciana,su entorno es perfecto para hacer actividades en familia,senderismo, escalada, rutas en bicicleta etc... La casa esta ubicada en la parte antigua del pueblo, reformada en su totalidad para la comodidad de los huéspedes,consta de 3 habitaciones dobles con camas muy cómodas y una amplia cocina totalmente equipada, mi alojamiento es perfecto para parejas, aventureros, y familias (con hijos). os encantara!
El entorno y la tranquilidad que se respira hacen del este alojamiento un lugar muy cómodo y agradable
Room Type
Entire home/apt
---
Property Type
House
---
Accommodates
6
---
Bedrooms
Chulilla, Comunidad Valenciana, Spain
Tan cerca y tan diferente…del mar a la montaña mas agreste.... a tan solo 58 km. del centro de Valencia. Ven , siente, respira, disfruta de la naturaleza en todo su esplendor… Escalada, Senderismo , Nadar en la naturaleza ......
Séjour sympathique avec une maison spacieuse. Belle piscine, mais collective.
Vrej
2016-08-21T00:00:00Z
Der Aufendhalt war perfekt! Der Gastgeber hilfsbereit und freundlich! Immer erreichbar und zuverlässig ! Die Unterkunft in sehr gutem Zustand und wunderbare Lage und Ausstattung. Könnten anhand der Beschreibung garnicht erkennen, dass es so perfekt ist: es war ein ganzes Haus mit 3 Toiletten, sehr sauber! Einfach perfekt!!
lukas
2015-11-15T00:00:00Z
Room Type
Entire home/apt
---
Property Type
House
---
Accommodates
6
---
Bedrooms
Chulilla, Comunidad Valenciana, Spain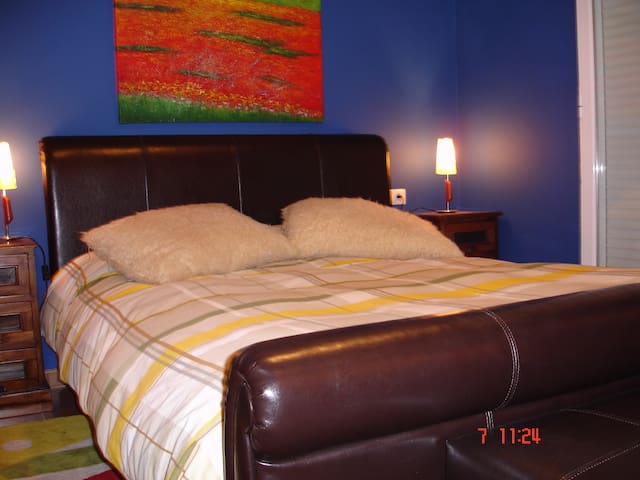 Se trata de un parque natural distinto a los habituales porque en él prima la geología. Se trata de una zona de enormes fracturas, que han llevado a desplazamientos de la corteza terrestre de hasta 600 metros y han hecho aflorar una gran diversidad de estratos.Desfiladeros y barrancos como el angosto barranco de la Hoz, junto al embalse de Buseo, y el río Sot, formando parajes extraordinarios como la Canal, se alternan con la vegetación de pinos,enebros,romero y esparto, y abundantes fuentes ..
Room Type
Entire home/apt
---
Property Type
House
---
Accommodates
7
---
Bedrooms
Sot de Chera, Comunidad Valenciana, Spain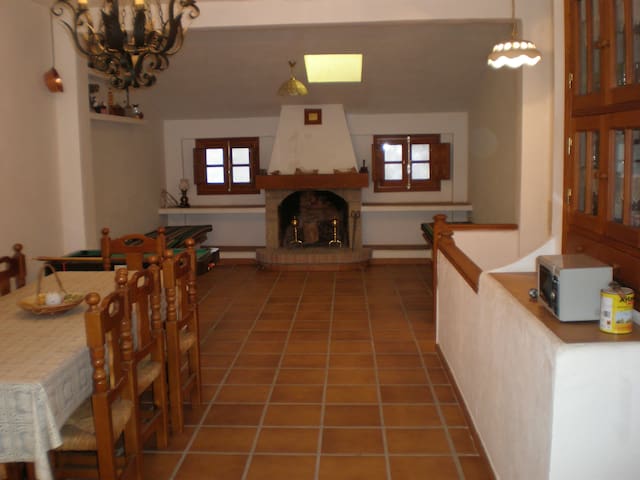 It is an old winery which has respected all its essence. It has beautiful wooden beams, ceilings 3 and 4 meters high, large rooms, a spacious lounge in your old kitchen and fireplace preserved.
House enchanted located near one of the prettiest villages in Valencia. You can practice climbing, hiking, mountain biking, horseback riding, swimming in river ...
Wir hatten mit der La Bodega eine wunderschöne, geräumige und saubere Unterkunft, die von Mariola und Jose liebevoll renoviert und eingerichtet ist. Nochmals vielen Dank an die Beiden für die liebe Begrüßung und das schöne Haus. Wir kommen bestimmt wieder. Matthias
Matthias
2016-03-19T00:00:00Z
Room Type
Entire home/apt
---
Property Type
House
---
Accommodates
10
---
Bedrooms
Bodega Vanacloig, Comunidad Valenciana, Spain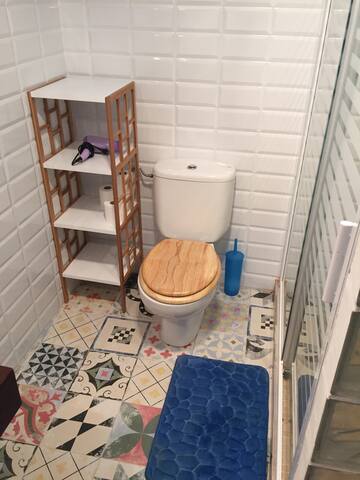 En el corazón de la sierra de Valencia, en plena naturaleza y cerca del mar, descanso, escalada, sentiremos, gastronomía, aventura ........, que no te lo cuenten
Alojamiento tranquilo y confortable, todas la habitaciones disponen balcón o terraza, baño completo, tv, aire acondicionado y acceso a internet gratuito
Room Type
Private room
---
Property Type
House
---
Accommodates
2
---
Bedrooms
Chulilla, Comunidad Valenciana, Spain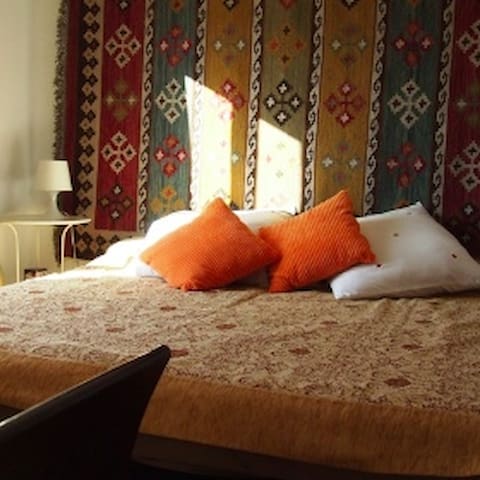 1

–

18

of

18 Home Rentals
Enter dates to see full pricing. Additional fees apply. Taxes may be added.