Enter your check in date in the format dd-mm-yyyy
Enter your check out date in the format dd-mm-yyyy
Listings you can book without waiting for host approval.
10 Rentals
· Dundee Beach
10 Rentals
· Dundee Beach
Enter dates to see full pricing. Additional fees apply. Taxes may be added.
This July and August, you can try one of these 100 highly-rated homes, at all price points, and experience a local's view of Sonoma. 24-hour check-in, Instant Book, and local wine and snacks let you just sit back and enjoy your trip.
My place is close to popular fishing spots in Bynoe Harbour, Six Pack Creeek and Dundee Beach. Access to Perron Islands and Finniss River.. You'll love my place because of its central location.. My place is good for couples, solo adventurers, and business travellers.
Room type
Private room
---
Property type
---
Accommodates
2
---
Bedrooms
1
Dundee Beach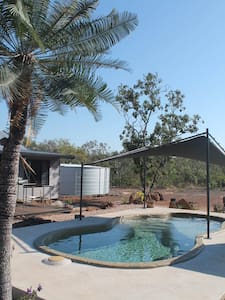 Dundee accommodation set on a 1 acre block surrounded by native bush on all sides with a large open lawn area. It is available for rent year round courtesy of the new bridge over Leviathan creek. It is conveniently located 3 min from the Lodge and new public access boat ramp and makes sourcing food, beverages and fishing that much quicker. B/rooms open directly onto a covered dining / lounge area. The dining / lounge is fully screened with ceiling fans, FOX, and kitchen and bathroom access.
Bedroom 1 comprises Queen and lounge / sofa bed, Bedroom 2 comprises Queen and lounge / sofa bed Bathroom/toilet and separate toilet Linen and towels provided Fully furnished Carport Cooking facilities include: Large BBQ, microwave, pizza oven, A fully functional kitchen. Laundry with washing machine and clothes line Huge verandah with BBQ and external fire place/BBQ Pizza Oven Crab Cooking Pots Fridge Chest Freezer Fully fenced For large groups of > 8 people swags could be rolled out on the slab or you could pitch a tent on the large grassed area. Pet are welcome provided they are kept outside
Room type
Entire home/apt
---
Property type
---
Accommodates
8
---
Bedrooms
2
Dundee Beach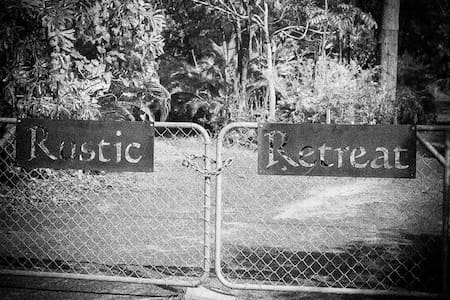 You will love Dundee Beach Sholly Shack with its air-conditioned bedrooms, the beautiful 6m pool and huge under-cover verandah with ceiling fans, the best sea views of all Dundee Beach accommodation on a 2 acre block on the beach side of Mermaid Cct
Absolute water front!!! Sleeps 5 or 4 singles. Bedroom 1 has a new King Twin Ensemble and Bedroom 2 has a Double/Single Bunk combo (there is a spare mattress under the bunk bed if needed). The bedrooms are air-conditioned. The best seaviews of any Dundee Beach Accommodation. As an extra accommodation option it has the airconditioned Sholly Shed which comprises of 3 rooms (2 x queen beds, single bunk set, sofas, tv, fridge and a separate loo and shower). POA and a max of $150pn. Fabulous if there's a hoard of you. 6m pool overlooks Fog bay (best seaviews at Dundee) Huge verandah with 4 ceiling fans. Bathroom with shower and hand basin Toilet is a separate room Three fridges One freezer Ice Maker Tide Clock 2 BBQ's 2 Camp ovens Pizza Oven 2 Flat screen TV + DVD 1 X-Box Crab cooking facilities Soccer table We will email you and ring only if absolutely necessary. We have people who collect the rubbish to take to the tip every 3 days or so. They are also the people to call for any problems at the property.
Dundee Beach is a relaxed coastal town and popular fishing spot 120 kilometres south-west of Darwin. The tiny settlement is a popular weekend destination for Darwin locals, where many own a 'beach shack'. Fishing, boating and long walks along the beach at sunset among the activities to enjoy. 8 Minute drive to the Boat-ramp and The Lodge of Dundee. Take food, grog, towels, mozzie coils and bug repellant and have a wonderful stay as all our guests do. Most of our guests are becoming regular or referrals from previous guests. Check our website links for boat hire, fishing charters or quad bike safaris.
Virginia called a few days before we checked in to make sure we had all the information necessary to gain access to the property and to check bed configuration so that we all had an appropriate place to sleep. The neighbourhood was fantastic and just what we had hoped for.
Lorna
July 2016
Amazing set up, and great spot for a big group to just relax and get out of town. 5 stars!
Ellen
October 2016
Room type
Entire home/apt
---
Property type
---
Accommodates
6
---
Bedrooms
2
Dundee Beach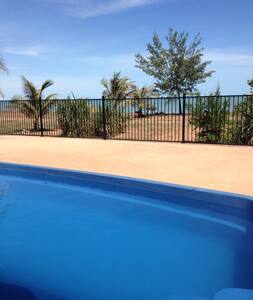 Our Property is located in a "Monsoon Forest", it's different to a rainforest. It looks its best in the wet season and really comes alive!. While still attractive in the dry season, this area has an abundance of BUSH TUCKER including the super food Kakadu Plum. Dundee is a unique part of the Territory mainly known for it fishing of the famous Barramundi, access to reef fish/ blue water fishing and Perron islands to name a few. People the entire world visit this part of Australia to fish or relax
Should you require assistance with water, etc, we live on site and are happy to assist.
The Lodge of Dundee is less then 1 minutes drive away. From here you can launch boats, visit the pub for a cool drink or meal... Close to your cabin ( within 5klms) you also have access to public boatramps with give you access to Bynoe Harbour, great for crabing, fishing, bird watching etc. When driving on our private property, we ask that you stay on the road provided. No parking on lawns, gardens,or driving where is clearly noted not to .. (eg, large rocks, logs blocking access). We are on tank water and we ask that if there is a leaking tap somewhere, please advise us as soon as possible.
Cabin was fantastic!
Shannan
November 2016
Room type
Shared room
---
Property type
---
Accommodates
5
---
Bedrooms
1
Dundee Beach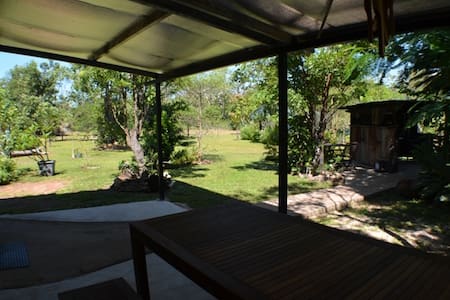 5 spacus bedrooms, air condioners and fans through out, fly screened entertainment area, plenty of space for socializing on the wide cool verandas, kitchen facilities, BBQ facilities, property is fully fenced with lockable gates for your security
Spacus rooms with built in robs and large mirrored doors, Doors leading out to wide cool verandas Plenty of out door space to sit and relax Large 5 bedroom house set on about an 1 acre block that is fully fenced with lockable gates for your security and peace of mind, the hole house and property is at your disposel we live in the same street and if there is anything you need or anything you need to know, just ask
Property almost at end of street, close to Native bush land, One property from the beach, just a short walk, Quiet end of Dundee, with permanet, to semi permanet resedents, with a fishing charter company near by, road access (4x4) to Bush land, Beaches and Creeks, there is a tour group near by called Dundee Quad safaris, (just down the road) Dundee Beach is about a 90 minute drive from darwin, you will need your own transport as there in no public transport here
Room type
Entire home/apt
---
Property type
---
Accommodates
10
---
Bedrooms
5
Dundee Beach
Whether you're holidaying with family and friends, or just seeking a quiet escape for two, Dundee Place will provide you with the perfect location for a wonderful break.
Dundee Place sleeps up to 8 adults in king single beds and has the space for many more in the mosquito netted entertaining area (byo bedding for this area). You will have complete access to the house and land
Dundee Beach is located 143km from the centre of Darwin on sealed roads. There is approx. 400m of dirt road to the house. The house is fully furnished including bedding for up to 8 guests. Additional guest are to bring their own bedding and all guests are to bring their own towels.
Great house and awesome location
Brianna
December 2016
Room type
Entire home/apt
---
Property type
---
Accommodates
8
---
Bedrooms
2
Dundee Beach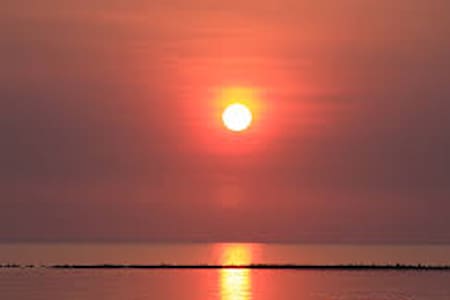 Beautiful Stone House located in Dundee Beach awaits you. 130km South Of Darwin is your start to an interesting adventure with your choice to sit back, relax and take in the forever changing tropical surroundings, Sport Fishing, Quadrides, Hiking.
Room type
Entire home/apt
---
Property type
---
Accommodates
10
---
Bedrooms
3
Dundee Beach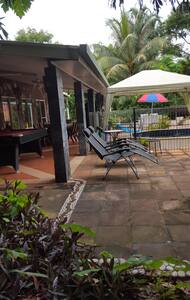 'The Block' is a peaceful retreat for people who enjoy simple, rustic outback bush camping with creature comforts. It has tree top views, a relaxing spa and a serene atmosphere. $180 p/night ($200 p/night Long Weekends, Public Holidays and School Holidays)
"Everything was absolutely amazing. You have such an incredible place, you can see how much you love it and care you put into it- and how much hard work over the years!! I left feeling relaxed and replenished. Thanks again, we will be back". Kate, 2016. "Great place, and certainly very well looked after. Will try to come back soon and definately recommend to friends." Rory, 2014. "Had a great time, just what we were after. Love your place - we'd happily live there…Certainly exceeded our expectations." Shane 2014 The Block is a two story, coded tropical 'donga' in Dundee Forest, 12km inland from Dundee Beach (1hr and 40mins from Darwin). Downstairs is an open plan kitchen, bar and lounge area which opens onto the veranda. The kitchen has a gas cook top and microwave. All the other necessities like kettle, toasters, pots and pans are provided. On the veranda there is a barbeque and picnic table. Upstairs you will find a timber deck either side of the dorm style bedroom which takes advantage of the tree top views and breezes, surrounded by shade cloth. The bedroom has two comfortable Queen beds with a privacy curtain between. The bathroom amenities are simple, open air design and look out onto the native bush. 'The Block' Donga is built at the back of a 23 acre native bush block. There is plenty of parking space for cars and boats. There is a stainless steel preparation table by a large campfire circle and campfire wood provided. FISHING This style would suit those keen for a bush break or a simple, easy place to rest their head in between big days on the water. Within 20km there are six boat ramps to access a range of fishing territory. Access to the renowned Fog Bay fishery is 12ks by sealed road opening up a vast range of bluewater species and Barramundi in the nearby Finniss River.Mudcrabs and barra in upper tidal rivers. Access to the estuaries of Bynoe Harbour, for Barra, Salmon, Jewfish, Mudcrabs and a range of other species. Or the Freshwater Finnis, a picture-postcard Top End freshwater billabong packed with Barra and Black Bream, or the perfect place for a relaxing sunset cruise.
Additional fee of $20 per night for Long Weekends and School Holidays ($200p/n).
Absolutely amazing and unique! Just the place you would want to go for a weekend away! Has all the amenities needed to make your stay relaxing and peaceful. Definitely would love to book it again!
Xana
November 2016
Great communication from Linda,exellent directions & very clear instructions re use of all facilities "The Block"is a very unique bush stay loved it,will be back We were all very impressed by the obvious hard work,attention to detail & design that Linda & Tim have achieved & thankfully allow others to share this great experience
RICHARD
December 2016
The Block is gorgeous! We stayed there for a night in the NT dry season and had a fantastic time. Lovely unique property, all light and space and air flow. Beautiful Australian 'bush shack' feel with quirky contemporary touches. Really a lovely spot to stay - and showing facing out into the peaceful bushland is a divine. Highly recommended for couples, families, fishing trips or small groups. Extremely well set up with every amenity. Enjoy!
Cassandra
June 2014
I spent three days with my daughter at the block and it was just blissful. This is my second time there and I just love it. It is deeply peaceful and time slows right down. Their gorgeous place has all the open air and peace of camping, but without the stress. I love the outdoor shower and the beautiful bathroom. Linda and Tim have a really nice aesthetic and the place is decorated so gorgeously. I love this place. Just perfect for dropping down and dreaming and soaking up the deep bush quiet.
Natalie
October 2014
'The Block' is a wonderful getaway full of light and air - it's like a treehouse for grown-ups. Linda and her partner have a beautiful aesthetic, with lots of gorgeous bali-inspired detailed, including a wonderful outdoor shower. The spa was a treat, too, as was the coffee maker. I stayed there for 3 nights with my daughter and we had a really lovely time. Would definitely recommend it.
Natalie
June 2014
I would almost prefer NOT to say how amazing and unique the Block is... Because, I am concerned that when I want to stay at this amazing place it may not be free. Alas But in all honesty, Linda and Tim have created a stunning comfortable and deeply pleasing place to getaway. Quite something to awake in the treetops to the sound of birds...sit in the spa on the sunset...
Joshua
August 2014
We stayed at the Block not long ago for two nights and the experience to be lost in nature was majestic. Linda and Tim have been wonderful right from giving us concise directions to the precise "To-do" list to the outdoor baths the well thought of layout of the block / attention to detail.. It was all just wow. I can just go on and on about how much have i loved the experience staying at the block and the awesome time we had there but if you are considering staying at the block with generous hosts Linda and Tim I would say go for it eyes closed. The highlight for us was sitting down near the fire and gazing at the twinkling delights for hours together.. The only remonstrance we would have is, because we came straight from Douglas Daly and were not aware of there not being a grocery store around (closest is IGA Berry Springs) we had to eat at the Dundee Beach Resort which is a 12-15Kms drive from the house.. We couldnt cook up sumptuous meals, if that would have been indicated in the super document you guys put together it would have great; other than that we definitelty recommend this champion contemprory Block eyes CLOSED!
Nikhil
July 2014
What a magical place, we enjoyed every minute of our weekend at the Block. Thankyou Tim and Linda for sharing this special place!
Gaby
November 2014
Room type
Entire home/apt
---
Property type
---
Accommodates
4
---
Bedrooms
1
Dundee Forest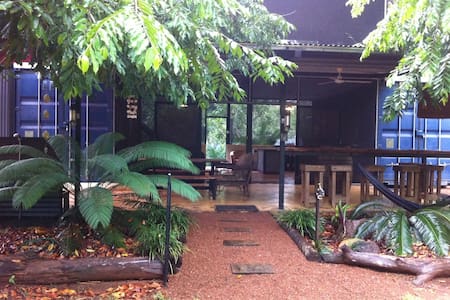 5 bedroom modern house, very spacus, comfortable, Airconditioners and fans through out, all mod cons, screaned entertainment area, room to park more then one vehicle and boat, quiet surrounds with short walk to beach for sunset and a cold drink
We had a fabulous time at Dundee. The house is large clean and modern. The kitchen is well equipped with everything you need. There are plenty of chairs, tables and beds for everyone, it really makes it feel like the more the merrier. The screened back room is the perfect escape from the bugs and it's only a short walk to the beach. The pool is only small but refreshing although it did catch a lot of bugs, so maybe cover it if you can. Highly recommended.
Leanne
November 2016
We had a great time at Elenor's place at Dundee Beach. A fantastic place for a group to stay! Clean, kid and pet friendly, nice and open and the layout and features of the house have definitely been well thought out. Loved the veranda that was enclosed to keep the mozzies out! Elenor was very welcoming, explained how to use everything, and went over and above with assisting us sort out more accommodation when a separate booking fell through. Thanks very much, we will definitely be back again in future!
Amanda & Darren
June 2016
Room type
Entire home/apt
---
Property type
---
Accommodates
10
---
Bedrooms
5
Dundee Beach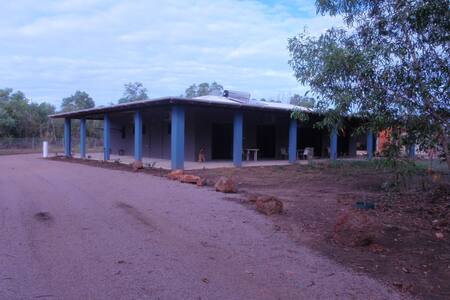 30 acres very private, close to 5 boatramps, great fishing, crabbing and boating, plenty of space for boats, cars, 3 bedroom house with outdoor shower, new bathroom, large living/dining area, airconditioned, new kitchen with dishwasher, linen can be supplied if required, great place to bird watch and watch the wildlife, 15klms from Dundee Beach Lodge great place to just relax and unwind, sorry no quad or motor bikes. New addition, a spa!
Room type
Entire home/apt
---
Property type
---
Accommodates
7
---
Bedrooms
3
Dundee Downs