There are 2 private bedrooms - one with a king bed and one with a single - that share a bathroom in the hall. Beachy, modern feel to the home which was recently renovated. Open space with lots of windows, skylights and glass doors for natural light all day. Quiet street centrally located and 5 minutes to Village and beach. Ten minutes to Amagansett, 15 minutes to Sag Harbor or Bridgehampton, 25 minutes to Montauk. I live in the home so the kitchen/dining/living/great room is shared with me.
The smaller room has a single bed and decorated in natural tones. The larger room has a king bed and is soothing with beach tones and aqua highlights. Bathroom is directly out of the bedroom doors and is shared between the two rooms. The open floor plan of the public space allows easy flow throughout kitchen, living, dining, den area.My son is away at school and my daughter just graduated and moved away, so I'm happy to share the space.
Quiet residential neighborhood close to town and central to Montauk, Amagansett, Sag Harbor and Bridgehampton.
Laura is wonderful and her home is beautiful! I recommend if you want a weekend getaway in the Hamptons!
Lena
2017-02-26T00:00:00Z
Laura's place is nice and secluded, so great for a relaxing day quiet stay. It's a short drive to the business areas, and only about 25 mins from Mantauk, and 15 mins from Sag Harbor. She was unable to meet us, due to an emergency, but she was still able to have someone help accommodate us. She was very helpful. Also, the cats are lovely and adorable!
Wesley
2017-03-18T00:00:00Z
Laura was very friendly from the start! Her home was super clean, and she left instructions for us and the newspaper, which was an amazing detail for us since it was our first time in the area. She was also super helpful when recommending restaurants to eat in the area. I would totally recommend this place!
Ismelka
2017-03-26T00:00:00Z
Room Type
Private room
---
Property Type
House
---
Accommodates
3
---
Bedrooms
East Hampton, NY, United States
Enjoy beautiful sunsets over picturesque Three Mile Harbor and Gardiners Bay from your private balcony. Walking distance to two of the most popular waterfront restaurants. Close to marinas, bay beaches and minutes to villages and ocean beaches.
Private entrance leads to spacious room with queen size bed, sitting area and large en suite bath. Kitchenette with mini fridge, microwave, Keurig coffee machine, toaster, sink. Fully stocked with plates, glassware and utensils. Bathroom: Hair Drier supplied, Iron and Board upon request. Private roomy covered balcony with views across harbor. Cable TV, wireless internet, central AC/Heat with own thermostat. Linens, towels, beach chairs & beach towels provided. Local trail map available upon request.
We are located on a quiet road overlooking the harbor. Great to watch the boats sailing in and out! Four Restaurants within one mile, Three with fantastic Sunset views "Bay Kitchen Bar" at end of road. Harbor Bistro half mile walk, East Hampton Point & Michaels, with great Food and Happy Hour Menus. Biking distance to Ashwagh Hall art gallery, Pollack Krassner House, Lieber Museum, general store and kayak rental. Enjoy Saturday morning Springs Farmer's Market. Fish off the dock or launch your own paddle-boards or kayaks directly across from house! Also short distance to several walking trails. For local events, Restaurants, etc. try on line 27 East. (East Hampton) East Hampton Star.
Chris and her husband were wonderful hosts. We had a great time.
Fabiana
2016-08-03T00:00:00Z
Rowdy and Chris could not have been more welcoming. I cannot really imagine anyone being better hosts than they are. Their house is beautiful and it is everything their description says and more. I was greeted with an hors d'oeuvres plate of mozzarella and home grown tomatoes from Chris' garden drizzled with a balsamic vinegar and a bottle of Chardonnay. How did they know that's my favorite?! The kitchen area also comes complete with a Keurig machine and the coffee pods are supplied right there so you can enjoy your morning coffee on the balcony overlooking the water. It is an amazingly stunning view. The room itself is really wonderful and has everything you need. There is a huge empty closet, large couch and a flat screen tv. The bathroom is huge! Looks new with double sinks and a big beautiful shower where the hot water gets extra hot. Excellent. A really nice feature also is that you have your own private entrance to your private upstairs bungalow. This is great because you do not feel like you are disturbing your hosts when you go out and come back in. If you are planning a trip out to enjoy East Hampton you will not be disappointed with Chris and Rowdy. I will definitely be staying there again next time I visit. Thanks Chris and Rowdy for making my stay in your home so enjoyable!
Cameron
2014-09-29T00:00:00Z
Chris and her husband were wonderful hosts! I would absolutely stay here again and I recommend their space to other potential guests. Chris went above and beyond to make my husband and I feel comfortable and welcome. There were fresh flowers out and she left us a bottle of chilled white wine. The bathroom is large and so gorgeous, the shower is amazing with 2 shower heads. The balcony/porch overlooking the water was such a fun spot to sit in the mornings before we headed out for the day. The space was super clean and had a great light! I was surprised that it is not a *true* private entrance. You enter through the front door of the house and go straight up the stairs. There is a glass door that shuts off the foyer to the main house that they keep shut and locked. It is still very private and not a huge deal but when we came back at night we did feel like we needed to tip toe around, but again not a big deal at all.
Mckinzy
2016-08-15T00:00:00Z
Chris' home was lovely, exactly as described, very clean, private and peaceful. The hosts were very helpful with the check in and were very accessible throughout our stay but definitely let us have as much privacy as we wanted. The location doesn't have a lot that is walking distance but it's right on the bay with a porch that showcases beautiful sunsets. We enjoyed the bottle of wine (much appreciated!) on the patio. We would definitely stay here again for a relaxing weekend.
Melissa
2016-08-08T00:00:00Z
My boyfriend and I were looking for a true East Hampton experience for a long week away and this was it!! Ian and Chris have a gem of a space with great amenities and a private feel perfect for a trip for two. The water views in the pictures are not overstated at all, and there is a great restaurant on the water steps away featuring $1 oysters during happy hour which was our favorite. Minutes from all the great restaurants, shopping, and the beach. Thanks Ian and Chris for the great hosting... we will be back!!
Ashley
2014-07-11T00:00:00Z
Thank you so much Chris and Rowdy for the perfect getaway from the city! Everything was perfect and even better in every aspect than what we had expected. Julie and I had the best time and hope to visit again. It was so lovely and pleasant to meet you both and to stay at your beautiful house. Thank you so much and have a great summer!
Soo
2016-07-14T00:00:00Z
This was our first experience using Airbnb. We were very pleased with our trip. Chris and Rowdy were wonderful hosts and greeted us with smiles and a bottle of chilled Rose. The accommodations were excellent - beautifully furnished and clean. The view and our private deck were lovely. We had privacy, and yet the hosts were available when we had questions. We may have been spoiled for future Airbnb adventures.
Nancy
2016-06-30T00:00:00Z
Chris and Rowdy were great hosts! The apartment is amazing and we had great views of the sunset over the harbor each night. They have thought of everything you could need. Very glad that we stayed here and would definitely stay here again!
Zachary
2015-07-25T00:00:00Z
Room Type
Private room
---
Property Type
House
---
Accommodates
2
---
Bedrooms
East Hampton, NY, United States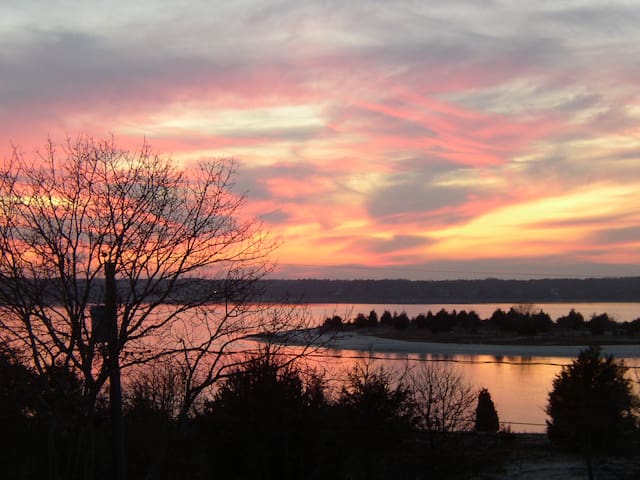 Very comfortable bright and cozy bedroom with private shower bathroom for rent in private home. Near Sammy's Beach, one of East Hampton's most beautiful wildlife reservers. Two block walk to the harbor. Short drive to the ocean.
A quiet peaceful environment with pool and wifi nestled in woodsy Settlers Landing. Three night minimum for $100's a night plus housekeeping fee. A few blocks walk to a breathtaking harbor and a short drive to Sammy's Beach, one of East hampton's best kept secrets. Pool open from Memorial Day to Labor Day.
Settlers Landing is a unique quiet neighborhood. The breathtaking water views are walking distance. There are over two hundred acres of wildlife reserve in this area. Cedar Point Park is also nearby.
Lois was a pleasure to stay with. She was extremely accommodating to our crazy schedules and very friendly. She was always happy to help when we needed items we forgot from home and her house is wonderfully clean and peaceful.
Marisel
2016-08-01T00:00:00Z
We had a lovely time at Lois' place, in a beautiful area of East Hampton, which was situated within protected park lands and near different creeks and waterways. Definitely a nature lovers paradise! We ran, walked and biked in the area and also swam in the private pool in the backyard. Lois was a kind and generous host and the room was lovely, very clean and comfortable. Would recommend highly to anyone who loves the beautiful, peaceful, natural beauty of the Hamptons. Thank you Lois!!!
Anna
2016-08-31T00:00:00Z
Lovely, clean, private. Lois is an excellent host who cared about our stay in her home. The room is tucked away on the side of the home with a private bathroom, which was perfect for our long holiday weekend - it felt like we were all alone. We will most definitely be back!
Shawn
2016-09-06T00:00:00Z
We stayed at Lois' place and it was lovely. The house is perfectly clean and tidy. Lois provided everything we needed and gave us a tour of her house so that we felt as comfortable as possible upon our arrival. The bed was extremely comfortable and the linen were of the highest quality. There is a very nice swimming pool which we enjoyed a lot during the day. We would definitely stay at Lois' place again and we would highly recommend it to any one looking for a nice and cosy place in East Hampton.
Reza
2016-08-23T00:00:00Z
Everything was amazing! Clean and Lois is the best hostess! The location is very nice and the pool is great!
Julio
2016-08-27T00:00:00Z
Lois was a gracious host that left us feeling relaxed and well cared for. The room was spotless, as well as the restroom. We would absolutely recommend Anyone to stay at Lois'.
Autumn
2016-07-26T00:00:00Z
We had an extremely comfortable stay at Lois's home. She was super accommodating, nice and very helpful. The bed was very comfy and the room bright clean and welcoming. Thank you Lois we had a great stay and looking forward to be your guest in the future!
Cindy
2016-07-12T00:00:00Z
The room had a brand new mattress and the linens were comfy and warm during the cool evenings. The location was close enough to the East Hampton village, conducive to the HIFF movie happenings. I found Lois to be amenable to my distress about a dog she was house-sitting and its' loud barking when I approached the kitchen. A few dog cookies did the trick. Alerting me to another guest was helpful so I knew to expect a stranger in the house. There wasn't an alarm system so leaving the doors unlocked for the others took a leap of faith, her house being in a quiet, wooded neighborhood. After the dog sitting ended, the dogs' barking was no longer a threat to potential invaders.
Andrea Katherine
2016-10-09T00:00:00Z
Room Type
Private room
---
Property Type
House
---
Accommodates
2
---
Bedrooms
East Hampton, NY, United States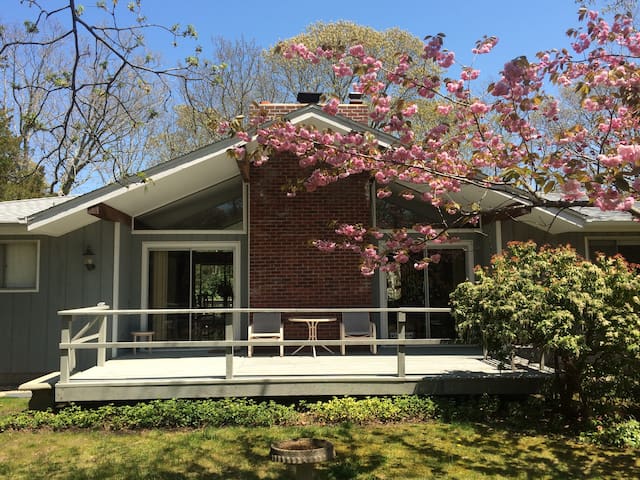 Charming East Hampton home available to 1-2 persons, we are renting you the master bedroom and bath with the living/dining/kitchen areas, however the other bedrooms are not available during your stay. You pay for only one bedroom but get the home to yourself A fabulous deal for ONE COUPLE, or 1 person, wanting a special get away in the Hamptons, without having to pay a fortune. You get the Master bedroom and bathroom, and the kitchen, living & Dining rooms. We close off the other bedrooms.
Room Type
Entire home/apt
---
Property Type
House
---
Accommodates
2
---
Bedrooms
East Hampton, NY, United States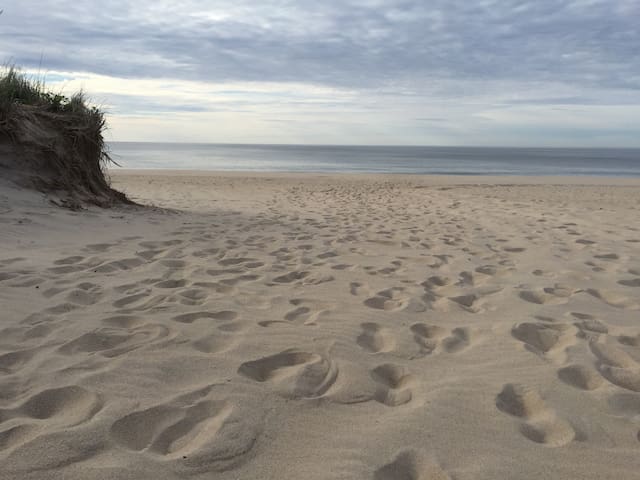 Our 2 story cottage has a "treehouse" feel, with covered balconies, and tree top views. Hiking/ biking trails adjacent to premises. Close to the villages of East Hampton and Amagansett. Three miles to the ocean, one and 1/2 miles to bays and harbors. Bikes and Kayaks on site to rent. Pool opens May 19th. Spa/Hot tub opens April 1st.
Charming Two Story Guest Cottage, pretty "treetop" wooded views, covered outdoor balconies with Adirondack chairs and table. Balcony enclosed in fall/winter/spring with fire ring - warm and cozy! First floor has sitting area, washer/dryer. Second floor has one queen bed, full bath, breakfast nook. (please note, there is no stove or cook top.) Internet, cable TV, Netflix/Amazon, private parking. Close to ocean and bay beaches. Beach chairs, towels, umbrellas, coolers, bogie boards, etc. available.
The beach of course! Close to ocean and bay beaches, charming and historic villages of Amagansett and East Hampton. Great dining, shopping, golfing, yoga, spinning and gym nearby. East End wineries here on Long Island are among the best in the country. Wolffer, Duck walk, and Channing Daughters in nearby Bridgehampton. World class fishing in Montauk, Gurney's five star ocean spa 15 minutes away. Pet friendly and plenty of room to roam, for humans too! Relax and watch the birds at the feeders or get out into nature on our hiking and biking trails. Kayak tours / rentals on site.
Leeanna was incredibly welcoming!! Not only was she quickly responsive to my questions, but incredibly helpful in making sure our stay was amazing. The main house was empty, so she upgraded us for free! It was a gorgeous home, complete with magazine quality christmas decor for the season! The home was immaculate, and spotless. She even left us beautiful dog beds to accommodate the comfort of our pets! I look forward to booking one of her properties again. We had a five star weekend!
Lark
2014-12-22T00:00:00Z
Everything was good- the cottage, communication with Leanna and her assistant Andrea, the yummy breakfast, the location, the grounds, snow removal, the heating, etc. The only thing I didn't realize is that the 2 floors are only connected by using stairs outside. Ground floor has 2 twin beds with half bathroom and laundry. Upstairs has queen bed, full bathroom, loft, kitchen sink and booth seating and a pretty small tv (although it has a good picture). In our case, just my husband and our dog, we only used the upstairs because that was the room with the kitchennette and full bathroom and sleeping loft area so it was a little small for us without a separate living area to use. We stayed in snowy February so it was a little inconvenient to go up the stairs in the snow and I carried our small dog so she wouldn't slip on the steps but we're the ones who decided to go in February! We had full access to the yard belonging to the main house which was great for the dog to jump around in the snow. For warmer seasons, the pool and fire pit area looked perfect. The cottage is right off the side of the road and there aren't any sidewalks along the road. Leanna and Andrea both checked in to see if we were settled. Andrea offered to even bring us anything we needed from the store since the roads were snowy. I definitely recommend these hosts! And the pictures in the listing are very accurate.
Heather
2014-02-18T00:00:00Z
I originally booked the guest cottage for myself and a couple coworkers but because the main house was empty, Leeanna upgraded us. And all I can say is WOW. The place was huge, comfortable, and charming. Communication with Leeanna was easy and consistent. She's definitely the hostess with the mostest. I will definitely try to stay here again when I'm next in the Hamptons.
Amber
2014-05-16T00:00:00Z
Our stay at Leeanna's cottage was really lovely and she was so helpful the entire time we were there. She had great restaurant recommendations and really helped us get to know Amagansett. It has quickly become my favorite place on the East End of Long Island. The cottage was warm and cozy, well stocked with towels and the loft was the best spot to read a book and take a nap. I look forward to coming back again in the summer months.
Kelsey
2016-12-29T00:00:00Z
The perfect little quiet getaway. Leanne was a fantastic host. We are looking forward to coming back in warmer weather to enjoy everything the property has to offer.
Allie
2016-12-04T00:00:00Z
Leeanna was a great host! Very responsive. The cottage was very cozy
Josh
2014-11-03T00:00:00Z
Hands down one of the best airbnbs we have stayed at!!Great area, close to the town and all the sites. We fell in love with this place. The pictures dont do the place justice, sooo cute and cozy. And our host was so accommodating with our puppy Five stars !!!️️️️️
Kayce
2016-12-18T00:00:00Z
This house is amazing! Leeanna does not leave anything out, and if you needed her for anything, she was very quick to (URL HIDDEN) happy with our weekend trip, it was relaxing and perfect.
Anna
2015-05-26T00:00:00Z
Room Type
Entire home/apt
---
Property Type
Treehouse
---
Accommodates
2
---
Bedrooms
East Hampton, NY, United States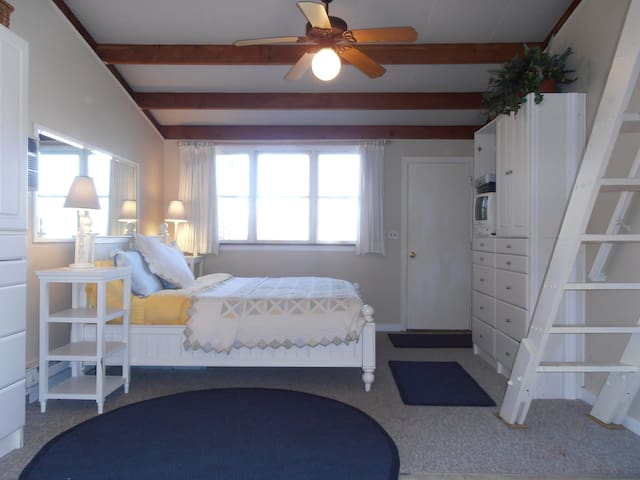 Our barn has wisteria growing over the porch, a deck to enjoy your breakfast on and the use of our private gunnite pool. We are 5 minutes from the sea and 15 minutes to the nearest ocean beach by bicycle. It is heavenly cool.
A spacious guest cottage/barn on 1.5 acres in the heart of cool Springs. Large studio open bedroom with deck and views, single bed, bathroom and living room with wisteria covered arbor and terrace. No kitchen - only microwave, toaster oven and fridge. There is the use of a brand-new gunnite pool, outdoor shower, and garden. You will be a 5 min. bike ride from the sea and a short drive away from the best beaches. Lounge around the pool, relax in the hammock and chill under the stars. The style is clean and modern but comfy.This is the essence of Springs living. The best place to enjoy a relaxed holiday with walks to Acabonac Bay and riding the waves in Amagansett or Napeague. Nearby restaurants in East Hampton, 3 Mile Harbour, Amagansett and Sag Harbor.Montauk bars are 20 minutes away. Enjoy the Saturday Farmer's Market with the freshest produce, sip a cappuccino and read the paper on the porch of the General Store, stroll to the Pollock-Krasner Museum and experience the stunning light that has brought so many artists to Springs. A magical setting.
this place was an amazing spot to spend a weekend in the east hampton! easy access to the town. pool was wonderful and gillian and her family are great. would definitely recommend staying here!
Jasmine
2016-07-05T00:00:00Z
What a great host and amazing space. Gillian couldn't have been anymore helpful, even filling out a map to tell us all the places we should go to. She was one of the best hosts I've used and was great to speak with. Thanks for giving us an amazing weekend
Rob
2016-07-01T00:00:00Z
Thank you so much for an absolutely lovely stay. We felt like honored guests in Gillian's beautiful cottage. Everything was perfect, down to the fruit basket :) we can't wait to return. Thank you so much
Sarah
2016-06-27T00:00:00Z
We absolutely adored our stay, from start to finish. Jillian is a most welcoming host - the house was fully stocked and impeccably clean. The main room is such a delight - so nicely appointed with art and this particular ethnic-meets-white-washed hamptons vibe, with a small balcony right outside the sliding doors. A perfect spot to write the next great american novel. A five minute walk from The Springs' general store, a spot that epitomizes the chill and charm of this unique neighborhood. Highly recommend - and hope to be back sometime soon!
Lucie
2016-06-07T00:00:00Z
The host canceled this reservation 29 days before arrival. This is an automated posting.
Jason
2016-08-18T00:00:00Z
The Barn in Springs was perfect. The bedroom loft was open and airy and well decorated. The downstairs was comfortable and the outdoor shower was a nice option. We were impressed as soon as we entered the front door. The pool was right next to the barn and perfect for a relaxing swim. Gillian's house rules and recommendations were useful and a big help. The deli down the street was great for breakfast and only a 2 min walk away. We loved the location and appreciated that it was close to Montauk, beaches and East Hampton and the Springs bay. Could not have been happier.
Jonathan
2015-07-27T00:00:00Z
The barn was beautiful - authentic, charming East End. Lovely living room and pool make it a real home away. Gillian could not have been nicer. Can't wait to get back!
James
2016-05-31T00:00:00Z
Gillian is a lovely host and it's a lovely space to stay.
James
2017-02-20T00:00:00Z
Room Type
Entire home/apt
---
Property Type
Cabin
---
Accommodates
3
---
Bedrooms
East Hampton, NY, United States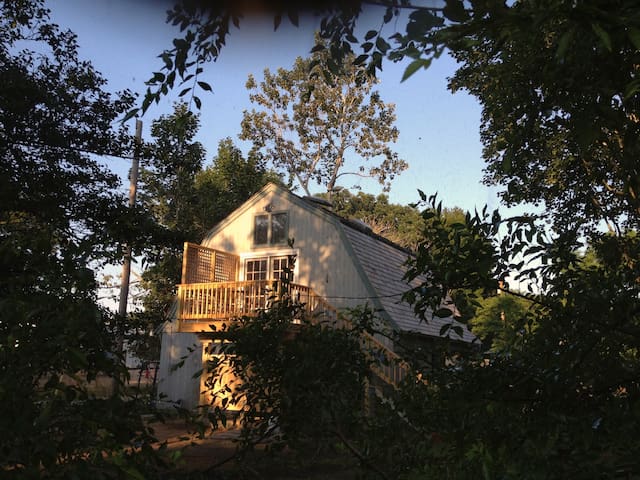 Renting our "large spacious room" which is apart from the house when ever you need it. It has access to a pool and a private beach is included! NOTE: Please no same day arrivals on guest departure days. We would like to have a full 24 hours to clean and sanitize our building so its perfect.
A room in the nice area of Springs in East Hampton. We love the beach and the coziness of home so we made sure that this room would provide our guests with all that we love. It is equipped with everything you could need to spend your day at the beach then come home and either get ready and go out or stay home and cook, hang out, relax and enjoy a great Springs location. There is plenty of room to enjoy yourselves inside and out, and enjoy the peaceful serenity that is Clearwater. It is super quiet so you are sure to get a great night's rest! It is a 14 minute minute drive to East Hampton town and a close drive to Montauk and about 25 minutes to Sag Harbor and the boat to Shelter Island. Being in Springs will give you access to very close private beaches. Along with some of the best delis around where you can have a famous long island egg sandwich or delicious organic food (The General Store)
Absolutely perfect. The place was super clean, cute and quiet. Easy access to a private beach or down the road from the main one. Also easy access to a quaint downtown area where you can find great restaurants and bars. Hector and his family were so incredibly nice and welcoming. The backyard is a shared space but really made you feel like you had it all to yourself. The landscaping and peacefulness of their home was exactly the getaway needed from city living. 100% recommend this place!
Amanda
2015-07-19T00:00:00Z
The location was perfect. A cozy and separate cabin nicely located in a quiet place of East Hampton. The house was very clean and had the basic amenities (incl. things like coffee) that made it easy to make it a good base to explore the Hamptons. Hector and his parents were very service-oriented and flexible throughout our stay.
Ernst
2015-07-15T00:00:00Z
Hector's cottage was superb. It is simple and pristeen. Linens throughout the cóttage were crisp and clean; bedding was exquisite of down and a beautiful italian made bedspread. This cóttage was well thought out. The space may look small in picture, but it has a great open flow. Everything I needed was easily available. The pool is large and prívate. You also get access to Clearwater Beach, appropriately named. Clearest water I've seen in a while néxt to the Carribean. Overall, staying here topped off our summer experience perfectly. Hectors parents care that you have a wonderful stay, it is evident in the detail. Loved it.
J
2015-09-03T00:00:00Z
Hector and his mother were lovely and helpful. It really was a cozy cottage, and gave a feeling of privacy and freedom to come and go as we pleased. Yet the hosts were nearby and responsive as needed. The cottage is well supplied and comfortable, and while the TV seating area is small, it's adequate. We really enjoyed the swimming pool, which is set amid lush flowers and trees, and felt private and tranquil. The cellular reception is not good, but Hector added us to his cell phone signal booster which helped a lot, as did using the wi fi connection. The property is on a nice wooded street not too far from a private bay beach with a lifeguard and about six miles and fifteen minutes from East Hampton village. Lots to see and enjoy.
Carol
2016-08-06T00:00:00Z
My girlfriend and I had a great time at Hector's cottage! It was so quiet so we got the best sleep we've gotten for quite some time. We also liked the flexibility he provided us with check in and check out. We enjoyed the private pool and private beach. Thanks for a great experience!
Matthew
2015-07-05T00:00:00Z
We had a wonderful time ! Place is very clean, well equipped, landscaping is amazing! And, the most important, we had absolutely privacy. Thank you Hector!
Serge
2016-07-23T00:00:00Z
So quiet and green in Hector's oasis! My girl loved the place. Private, cable, wi-fi, kitchen, clean and comfortable. Would highly recommend and would not hesitate to return. Hector and his mom are very gracious hosts and we loved it!
chris
2016-07-11T00:00:00Z
Hector and his family were so lovely and were super flexible with what time we checked in and out! The grounds of the home are so beautiful, tucked away in a quiet area of East Hampton! The home was very clean with great linens! And, Hector's mother so kindly drove us to get breakfast at the most adorable general store and brought us into town since we didn't have a car. They really care about their guests and it shows! Thank you!
Chelsea
2015-06-28T00:00:00Z
Room Type
Entire home/apt
---
Property Type
Other
---
Accommodates
2
---
Bedrooms
East Hampton, NY, United States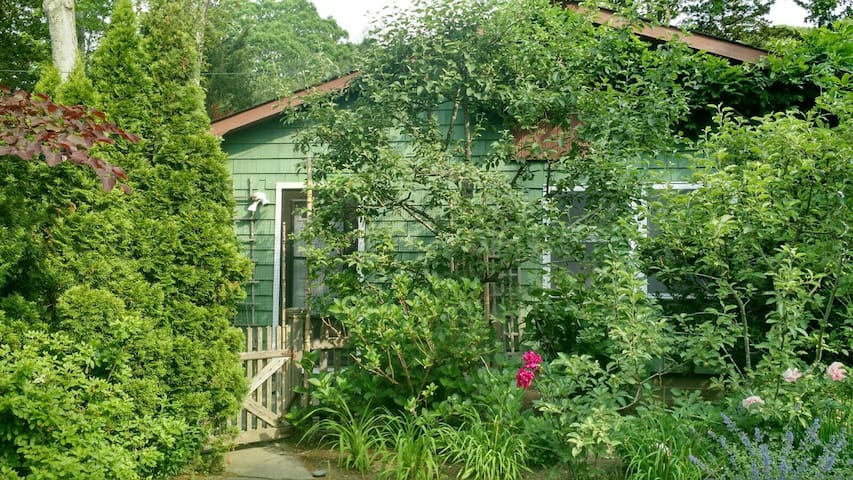 Classic, comfortable, bright, clean and chic East Hampton guest cabin/studio an approximate 30 yard walk from driveway in back of main house, with private patio, secluded behind a privet hedge overlooking 1.3 acres of sprawling lawn with mature trees. Enjoy privacy in the heart of historic East Hampton just steps from iconic town pond and windmills, walk to beach. Affectionately called 'the casita,' this cabin is located across from larger main house (also available for rent) and is well appointed for any weekend or extended stay. Cosy Space perfectly accommodates one or two guests,Take advantage of a galley windowed kitchen outfitted with all the essentials, windowed bathroom with tub/shower, queen size bed overhead fan and outdoor patio to enjoy a home cooked meal inside or out. ** Cottage not available July 1st through Labor Day. Ten (10) minute walk to town of East Hampton, fifteen (15) minute walk to beautiful main beach. Brother and sister and their family who primarily live in main house are excellent resources for local history, attractions and activities to take advantage of during your stay. Belinda & Gavin's neighborhood is in the heart of historic East Hampton- near excelent restaurants, movie theater, Guild Hall and world class shopping! While there is no public transportation, walking is a breeze there also is abundant choices for taxi service. Parking is on premises.Charm and authenticity abound in our sweet little place. Discover a comfy, clean, cozy and very old East Hampton 'casita.'
Lovely, well-lit cottage that kept us warm and cozy despite the (November) rain. Would definitely recommend! Thanks for having us!
Jessica
2014-11-27T00:00:00Z
My sister and I (and our little puppy) ventured to Belinda and Gavin's place for a quiet weekend getaway -- unexpectedly we were welcomed with a snowy winter wonderland! We loved the space and private location. Upon arrival, the cottage was clean, pre-heated, and was fully furnished with extra towels and blankets. The kitchenette was well supplied for cooking simple meals and making coffee/tea. While small, the space is very well organized and does not feel crowded. There is plenty of space to store your luggage, and any beach/winter accessories. It only took a few minutes by car to reach the main street of East Hampton, or Main Beach, all off of Route 27. If it isn't snowing, you can even take a leisurely walk or bike ride to each area. You have plenty of options for beaching, dining, entertainment, and shopping! Belinda was a wonderful hostess, as she checked in frequently to make sure we had arrived safely and that everything was ok. She gave us some excellent recommendations for food and coffee in the area, which were all very close to the cottage. We definitely recommend Belinda's cottage for a quiet and cozy weekend in town. We plan on staying again once it gets warmer!
Vanessa
2015-02-23T00:00:00Z
The cottage was adorable and the property was beautiful. It was an easy walk to town. We loved our stay.
Liz
2016-04-05T00:00:00Z
We stayed here for 4 nights and loved it! The cottage is private, well decorated and very clean. We loved how it was situated back in the trees on the property…it felt like a little secret getaway. The location is great too as you can walk to the beach or the town. Communication with Belinda was easy. We would certainly go back!
gina
2014-06-12T00:00:00Z
My husband and I stayed at Belinda's cottage for a weekend, as we were attending a friend's wedding in East Hampton. The cottage was just as pictured; clean and cozy. Perfect for the 2 of us...and within walking distance to Main Street! There were other guests staying at the main house but it was no problem at all. The cottage is very private. We had a couple of deers visit us in the morning! It was a true relaxing oasis. Belinda was very easy to get in touch with and available to answer any questions or offer recommendations. We can't wait to come back!
Carmen
2016-05-23T00:00:00Z
The cottage and property was exactly as described in the listing. The property was beautiful and very peaceful. The cottage was lovely and very cozy and inviting. It had all the necessities and some extra amenities. The bed was extremely comfortable and the Wifi was much better than we've experience at most hotels. We loved the family of deer sleeping near the cottage. The location is walking distance from the town and the beach.
Elizabeth
2015-05-04T00:00:00Z
This is a cute little guest house behind the big main house. Plenty of yard for our dog to run and play. Quick drive to Wolffer Estate, Montauk, Sag Harbor and all the beaches. Good for a young couple with a pup.
James
2015-04-06T00:00:00Z
Great communication with host. Very responsive and accommodating. Convenient location.
Katherine
2016-10-11T00:00:00Z
Room Type
Entire home/apt
---
Property Type
Cabin
---
Accommodates
2
---
Bedrooms
East Hampton, NY, United States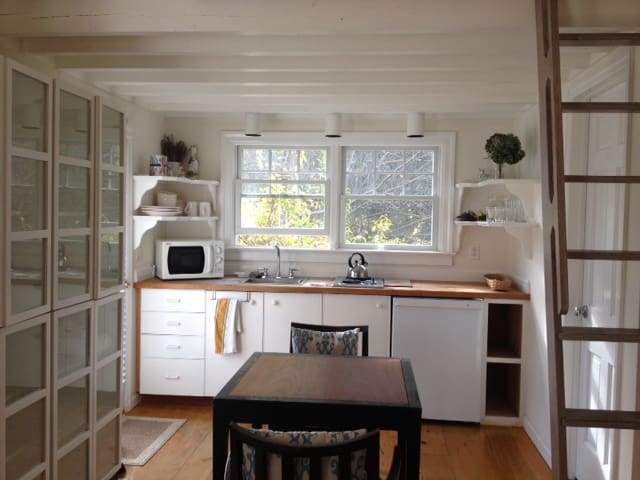 Spacious sunny studio apartment in The Springs, a quiet neighborhood located within a 10 minute drive from East Hampton & Amagansett townships, restaurants, bay beaches and the ocean. Perfect for one person or a couple.
The studio is attached to the main house with a private entrance and private bathroom. Queen-size bed with fresh linens and towels provided. Large windows provide lots of sunlight. Breakfast nook, with seating and lounge area. Cable TV and wireless internet. Mini-refrigerator & coffee maker. Private bathroom is located inside the main house down the stairs.
Located in The Springs, a quiet hamlet of East Hampton, the studio is a 10 minute drive to East Hampton & Amagansett and 25 minutes from Montauk. Close to many of the area's beautiful bays and a ten minute to the ocean. For those who are looking to enjoy the Hamptons, but get away from all the noise in the evenings. Check out our updated guidebook on our profile page for more local recommendations. Beach access is limited to non-residents, please check our guidebook for public pay-by-the-day beaches.
Very nice and quiet place. Only a few minutes drive to the beach. The bed and bedding are very comfortable. Scott provided tea, coffee and yogurt. Bathrooms are very clean. Scott is friendly and left us the max privacy during our stay. Thank you!
Michelle
2015-07-06T00:00:00Z
We had a very pleasant 2-night stay with Adele and Scott. Their house is beautiful and they were very discreet--we only saw Adele once during check in. I'd highly recommend.
Mura
2015-09-08T00:00:00Z
Perfect and gorgeous little retreat in East Hampton. I shot back-to-back weddings while I was here and Scott's private studio was a really lovely, warm, and cozy place to retire each evening. I would strongly recommend staying here if in need of a place in the area. Unfortunately didn't meet Scott but he was very communicative and helpful throughout the whole process.
shannen
2015-06-15T00:00:00Z
My fiancé and I stayed here during a wedding weekend we were attending in Amagansett, which was a 12 minute drive to the venue. This private studio was just the perfect space we needed. We were worried that we'd be bothersome because we arrived around midnight, but we were able to self check in and take hot showers before getting into the comfy bed. The studio itself is quite spacious with a small couch, cushy chair, table with chairs, dresser, and coat rack with hangers. The generous windows and strung lights made the space feel very welcoming and home-y. The bathroom had all the basic essentials (shampoo, conditioner, shower gel, full sized and face towels) and was very clean. Overall, we were very satisfied with our stay
Ramona
2013-10-07T00:00:00Z
Staying there was a unique experience! There was everything we needed and even more.. We felt like at home, thank you Scott and Adele! We will happily stay there again!
Laura
2014-08-19T00:00:00Z
Adele was the consummate host, greeting us when we arrived, haggard after our 9.5 hour drive and went out of her way to find us the name of a good seafood place on the water for dinner. The studio itself was beautiful. Gorgeous view out the large windows into the lush yard and trees beyond. We had no complaints and for the price this place was perfect. Highly recommended to anyone who wants to visit the Hamptons on a budget.
Anne
2016-06-20T00:00:00Z
What an amazing tranquil spot! This cozy studio was surrounded by trees. A very relaxing break from NYC. Good coffee was supplied along with some yogurt, granola and fruit for breakfast. Scott was a great host. I would definitely stay here again!
Jake
2013-10-15T00:00:00Z
Lovely place, everything was perfect, from the yogurt and coffee to cozy and comfortable bed to the decor -- even the weather was perfect. We never actually met Scott or Adelle, but it was a wonderful trip and we would definitely do it again.
Nicholas
2015-05-11T00:00:00Z
Room Type
Private room
---
Property Type
Apartment
---
Accommodates
2
---
Bedrooms
East Hampton, NY, United States
New unique sunny cottage-like 400 sq.ft. apartment located in The Springs of East Hampton, just 10 minutes/ 5 miles from East Hampton town, restaurants, bay beaches and the ocean. Perfect for one person, business travelers, a couple or a couple with infants. There are bicycles for getting around. Offers a secluded getaway summer or winter. Prices are adjusted monthly......
This studio has a private entrance. Full-size very comfortable vintaged-wood bed for 2 with fresh linens and towels provided. Windows and skylights with lots of sunlight and starlight. Stainless steel full cooking area, beautiful old wood shelves. Plates,utensils,glasses and cast iron cookware provided for induction cooking. Mini-refrigerator & French press coffee maker, induction cooktop and large toaster oven. Old vintage doors and tables. Full marble bathroom and washer/dryer. Wifi available. Parking for one car. Air cooled for summer, fully heated for winter. Bicycles are available, with helmets and locks. The Springs is a semi-rural hamlet of East Hampton. Nearby attractions include the Jackson Pollack-Krassner House, Ashawagh Hall, The Springs General Store, Accabonac Harbor (with boat and kayak launches), bay and ocean beaches, and several wonderful restaurants. The hamlet lies 15 minutes from the Villages of East Hampton and Amagansett, which have charming shops, restaurants, nightlife venues and a multiplex movie theater. The Suffolk County Bus operates a line within walking distance of the house, but the bus comes infrequently. The Hampton Jitney and LIRR serve the area, and local taxis are available. Parking is free and available at the house. Allergy alert: there are cats on the premises, however, no pets please and no smoking, please. A lovely place for a cozy winter retreat. Winter rates are available as listed thru March. After that rates increase monthly. Thank you.
Just off Springs Fireplace Road, close to many of the areas beautiful bays, 10 minutes from Maidstone Bay (sticker needed if you're staying awhile or I can tell you where to park for free) and 10 minutes to the ocean in Amagansett, 10 minutes to town. Very centrally located. Beautiful area to enjoy a bike ride, a run or walk. Listening to the birds in the morning is a symphony! Fresh local veggies and fruit homemade jams & jelly and all kinds of delicious foods at the farmers outdoor market every Saturday at Ashawagh Hall is right down the road. A bit further down the road is The Pollack Krasner House. Across the street for there you can pick up a bottle of wine or whatever you like. There are 2 country stores in the area with delicious coffee and prepared foods; the Springs General Store and The Old Stone Market. Vicki owns The old Stone Market and is a fantastic cook! Also she has wonderful breads and lots of baked goods. Bike and kayak rentals available from Lee at Amagansett Beach & Bicycle Co.I also have 2 bikes available for your pleasure.
Hildy was a very accommodating host and everything went seamless. She called me when I had some questions prior to the stay to answer them right away. The place is wonderful (especially loved the bamboo garden!!) and riding the bikes was a lot of fun! Thank you Hildy!
Lisa
2016-06-13T00:00:00Z
This was our second time back to Hildy's studio...we absolutely love it! The location is perfect, the space is better than described, and Hildy is the best host! Coming back again at the end of August and it can't come soon enough...
Amy
2015-08-09T00:00:00Z
Our stay at Hildy's was wonderful! She has a beautiful space with everything you could possibly need and more. The fresh flowers she left for us throughout the studio just added to the already charming decor. The neighborhood was quiet but centrally located . I highly recommend this accommodation and Hildy was a wonderful host - always easy to get in touch with !
Teresa
2016-07-05T00:00:00Z
We loved our stay with Hildy in the Springs. A very welcoming host and a great place, beautifully furnished with a sense of elegant rustic charm. We had everything we needed and our host was very accommodating when we had an additional request. The location was quiet and totally convenient and our stay was a relaxing and refreshing experience. We couldn't recommend it more highly!
Cheryl
2016-06-21T00:00:00Z
Hildy was an amazing host! She was able to accommodate an extremely last minute request for an impulsive trip to Long Island, and even prepared my astrology charts on behalf of my birthday! The studio is beautifully crafted, and the property is tucked away inside a bamboo forest. My boyfriend and I had a fantastic (although too brief) stay.
Jacqueline
2014-10-08T00:00:00Z
Hildy was terrific - her place is adorable, but there is NO air conditioning. I visited high summer & while I had 2 fans & made myself somewhat comfortable, sharing a bed would have been toasty
Rebecca
2016-08-01T00:00:00Z
Hildy's studio was very quaint and lovely. The studio is much more spacious in real life and there was a lot of love put into the decor. It was our first time going to the East Hamptons/ Montauk area and unlike upstate/ Catskills, things are more spread apart so a car is definitely a must. Hildy was very responsive and she has the most beautiful cats.
Joanne
2017-02-19T00:00:00Z
My 3rd visit back, and I am starting to feel like Hildy's studio is my second home! Perfect location, perfect description of the space, the BEST (URL HIDDEN) all around total package. You cannot go wrong with staying here. I would recommend this rental over and over again!
Amy
2015-08-30T00:00:00Z
Room Type
Entire home/apt
---
Property Type
Apartment
---
Accommodates
2
---
Bedrooms
East Hampton, NY, United States
Our place is in historic Springs, East Hampton, not far from markets, convenient stores, waterfronts, the beach, and a well-known art gallery across the street. The rural neighborhood is quiet and serene and about a 10 minute drive to main street in East Hampton Village. The guesthouse is separate from the main house in a large backyard about 30 feet from a nature preserve that borders Accabonac Harbor, so you'll have plenty of privacy and outdoor space and you may see some deer and turkeys.
The space is equipped with basic kitchen amenities such as a fridge, microwave, electric stove, toaster, and coffee maker. It has a ceiling fan and an AC unit if it gets hot. There are also extra bed options if you have more than two guests.
We loved our short stay and look forward to come back
ana
2016-09-03T00:00:00Z
Very nice guys, charming guest house and dog friendly! That was perfect . Thank you guys.
herbert
2016-10-16T00:00:00Z
Khanh and George were as sweet as can be to my friend and I. Very accessible and accommodating. A lovely, quiet location, nestled up again a patch of Nature Conservancy land. We brought our bikes so we were able to briefly explore the environs and discovered nooks and crannies only the locals seem to know. Highly recommended!
Yvette
2016-08-25T00:00:00Z
Khanh and George were wonderful hosts who were very accommodating to our last minute later check in time. The place was clean and had some amazing art history that we loved learning about, including being next to Jackson Pollock's house. The hosts were very kind to give us an amazing tip for a sunset viewing location that was incredible. Really fantastic experience all around!! Thank you so much!
Meg
2016-08-30T00:00:00Z
This little getaway is idyllic by day with a large leafy garden and sparkly by night, Khanah and George have a star gazing telescope for guests to enjoy! Buy supplies before arriving as it is remote and taxis are very expensive. The hosts really looked after us and drove us the next day to the most lovely town. I will defiantly return.
Minnie
2016-11-06T00:00:00Z
Very nice, quiet location!
Dana
2016-08-08T00:00:00Z
Fantastic, welcoming hosts that are a wonderful addition to the Airbnb community. Would certainly stay and and plan to next time we're in the area!
Vikas
2016-07-31T00:00:00Z
Khanh & George have a fantastic place in East Hampton. They were so welcoming and helpful on few questions we had about the area. The house is located in a fantastic quiet area where in the morning you will see deers and wild turkeys in the lawn of the house. Looking forward to stay in the lovely guest house again.
D&N
2016-09-05T00:00:00Z
Room Type
Entire home/apt
---
Property Type
Guesthouse
---
Accommodates
4
---
Bedrooms
East Hampton, NY, United States
This 4 bedroom, 3 bath spacious shingled ranch comfortably sleeps 8 guests. Sunlight floods the living room, dining room and open kitchen with views of the in ground pool. 16 - 2130
Brand new beds, linens, grill, and couch. Walk in pantry. Screened in flag stone patio. Pool and privacy.
Just off Three Mile Harbor (restaurant row). 10 minutes to Atlantic and Main beaches. 2 minutes to bay beach. 5 minutes to Amagansett, 25 minutes to Montauk; 20 minutes to Sag Harbor and Bridgehampton.
Jackie was the best host!! She was extremely timely in all of our interactions. She was also very helpful about restaurants and shops in the area since I wasn't familiar. The house itself was perfect!! Pool and lawn were great for a group to enjoy during the day, with plenty of space to play games!! The house was very group friendly- beautiful screened in porch, large living area and open kitchen. We really enjoyed our stay and I encourage you to book with Jackie!
Brittany
2016-05-31T00:00:00Z
I stayed with my kids at Jackie's house for 10 days. Jackie has been a great host. She sent gifts upon our arrival and always promptly replied to all questions and queries I submitted. The house is very homey and comfortable. I loved the open kitchen. It is also very well equipped. The patio is such a perfect spot to sit in the evening. The rooms are nice and cozy and the beds are comfortable. Wifi works smoothly. The pool is great. Perfect size. The neighborhood is great and perfectly located to go to East Hampton or to Amaganssett and Montauk. Bay and all water activities are minutes away. Great family home for a vacation in the area.
georgia
2016-08-24T00:00:00Z
Room Type
Entire home/apt
---
Property Type
House
---
Accommodates
8
---
Bedrooms
East Hampton, NY, United States
Make this vacation unforgettable with a stay aboard Lelanta, a gorgeous 1929 80 ft classic yacht, whose decor and charm will transport guests to a bygone era. If interested in a day-sail without accommodation, please contact us.
Enjoy the 360° ocean views on our 65ft deck- perfect for lounging or even sleeping with ample cushions, seating, and a hammock. Our guest cabin features 2 bedrooms, a private bath, kitchen, and salon with beautiful wood paneling throughout. For modern amenities- we have charging outlets, tv w/ a blu-ray player, Sirius radio, wifi, and surround sound speakers. *Please note that two crew also stay on-board in separate crew quarters.
Lelanta is located on a mooring about a ten minute boat ride from the town dock. The dock is located in the heart of Sag Harbor, only a five minute walk from many shops and restaurants.
We were picked up at the dock and taken to the beautiful boat! Kate and Ross provided snacks and made us feel right at home in the boat. They encouraged us to sleep wherever we liked! (There are beds, but sleeping under the stars in the cockpit was much more appealing) It was the perfect weekend escape from the city!
Meg
2016-07-17T00:00:00Z
The Lelanta is a classic, wonderful boat - takes you back to an era of elegant sailing. The deck is a perfect place to watch the sunset or the stars coming out over the bay and harbor. It's nice that it's moored outside the breakwater -- not quite so crowded and busy. The deck also has cushions and a hammock if you want to just soak in some sun during the day. The boat is very nicely appointed, with a wonderful paneled stateroom with surprisingly comfortable double bed (which we found worked great even though we are used to sleeping in a queen) and lovely dining parlor. The shower in the head was hot and strong which we appreciated. A fabulous breakfast topped it off. Ross and Kate are delightful -- warm, friendly hosts. Can't wait to get back and go sailing with them at some point.
william
2016-06-30T00:00:00Z
Kate and Ross are AMAZING hosts!! This was such a unique experience for us and we are so grateful they made it possible and were so accommodating. They brought us into shore for dinner, we went to Kate's recommendation of the Bell & Anchor - it was just perfect. They are very knowledgeable of the area and the boat's history. We slept above deck because the weather was so nice and you really couldn't ask for a better sleep and waking up to the sunrise! Kate made us delicious coffee and breakfast in the morning! We will be talking about this trip for a long time and recommending Kate & Ross' accommodations to all of our friends! We can't thank them enough and hope to be back soon!
Carly & Brandon
2016-08-20T00:00:00Z
The host made us feel very welcome. Ross picked us up on time from the dock and prepared appetizers while we settled in. He then went into shore to give us some privacy on the boat, which was really nice. He then came back when we were ready to go to dinner and Kate and him dropped us off and picked us up when we were ready. Overall, great experience. Very good hosts. Struck a good balance between being available and helpful but also providing us some privacy on the boat.
Rachel
2016-08-29T00:00:00Z
Kate and Ross were absolutely amazing! They made sure to make our stay and trip comfortable and very memorable! They go above and beyond for their guests and I Would recommend this experience to anyone.. Truly incredible! My first time using AirBnB and Kate and Ross will be hard to top! I am already wanting to book again in Fall before it gets too cold. I stayed with my boyfriend and two of our friends and we had an incredible weekend for the fourth of July. The beds were really comfortable, the boat was very clean and beautiful, the second bedroom is a bit smaller but still able to fit two adults. The best part was going on the deck during the night to look at the stars. They are helpful, reliable, friendly, and very good with what they do. Thanks again guys will come again and hopefully soon!
Alison
2016-07-05T00:00:00Z
Phil and Kate were great! They accommodated us whenever we needed to leave the boat and were fantastic hosts! Highly recommend!
Jesse
2016-07-25T00:00:00Z
We love the Lelanta! We stayed for a weekend aboard the ship in Sag Harbor and it was such a great experience - we are still talking about it! It was so relaxing to sit in the hammock with a glass of wine while the sun set. We even slept on the deck under the stars! The showering quarters are a little tight so it may not be for everyone but we adjusted. Ross and Kate were great hosts and available whenever we needed to go back and forth from shore.
Stephanie
2016-08-08T00:00:00Z
This was just one of the best experience we have ever had in our life! The yacht is OUTSTANDING and Kate and Ross were just amazing with us. Felt more than just home, big thanks guys!!! :)
Gianmarco
2016-08-09T00:00:00Z
Room Type
Entire home/apt
---
Property Type
Boat
---
Accommodates
4
---
Bedrooms
Sag Harbor, NY, United States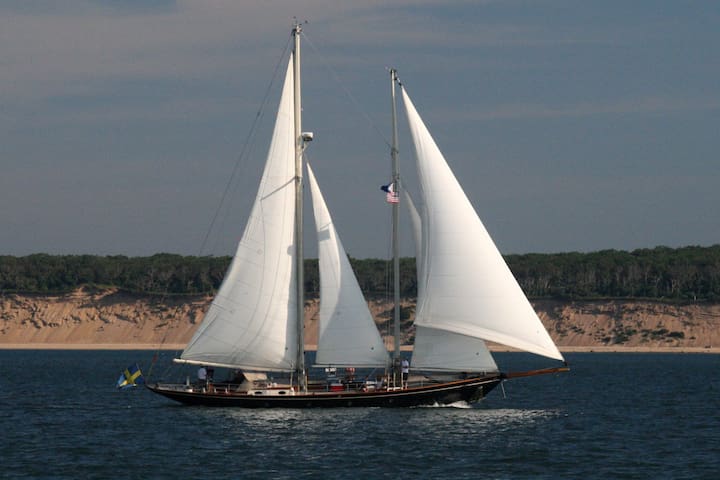 The house sits on a private half-acre, with a big open yard, 4 bedrooms & 3 baths split between 2 levels with soaring cathedral ceilings & open living areas. The house has it all! Available for Summer Rentals - please message for prices.
The Beach House has been completely repainted and refurnished with all new decor to give it that quintessential Hamptons chic feel. This is a great home for a family to use for the summer, escape the city in the winter, or a group of friends looking to enjoy the idyllic beaches and seclusion of the Hamptons. It has a massive backyard, 3 large bedrooms downstairs (1 King, 1 Queen and 2 Twin size beds each sharing 1.5 baths) and an upstairs master bedroom (King bed) and adjoining bathroom with a large, loft-like, private sitting area that has tons of space for relaxing or extra guests!
Situated in Clearwater Beach in East Hampton, this property has marina rights and private beach access on the bay side of Long Island. The neighborhood is quiet and safe, making it a great place in the summer or anytime of year for family and friends to enjoy the area. It's an easy walk or bike to the the private beach, and great for all your water sports needs such as: paddle boarding, wind surfing, sailing and kayaking amongst other things.
Absolutely stunning and cozy property. Wonderful host and beautiful weekend despite the storm! Would visit again anytime
Lisa
2015-10-05T00:00:00Z
This beautiful gem in Springs is the perfect getaway from the city! My friends and I were so impressed by the attention to detail from the welcome binder with local tips to the decor that feels like a page out of a West Elm catalogue. We used almost every amenity they provided - the fire pit, BBQ, bikes that we used to ride into town and visit the Pollock museum, and all the awesome beach gear. This house is made for entertaining! We only visited the private beach once. It had a great dock but the beach was too rocky. We spent most of our time at Indian Wells Beach - perfect for beach volleyball and much finer sand. Thank you Bob & Brad for being such fantastic hosts! We will definitely be back.
Krystle
2016-08-29T00:00:00Z
The house is nice and has excellent additional items for a weekend spent at the beach such as beach chairs and a large cooler. It was clean and contact during the weekend was very easy at all times. Unfortunately we had a bad end to our stay where my group was accused of causing damage which we did not do and that certainly left a sour taste in our mouth. Overall we enjoyed the house and the weekend, the same cannot be said for the experience after the stay.
Nicci
2016-08-15T00:00:00Z
The house was perfect for a birthday weekend with my closest friends! Easy cab ride from the train station, we had groceries delivered from Pea Pod (thanks to Kim's advice) and enjoyed biking and walking to and from the bay beach. Everything was clean and well thought out--we had a bonfire in the backyard, enjoyed throwing the football and frisbees & had everything necessary in the kitchen and bedrooms for the perfect stay! I would HIGHLY suggest this place for a quiet weekend away from the city!
Carly
2017-02-20T00:00:00Z
This house was amazing! We came over a cold weekend and enjoyed the house being very clean, comfy, and well decorated. While it's pretty out of the way without a car, and taxis add up, we enjoyed the bikes and being a close ride to the beach. Kim was very nice in helping us change our trip dates after there was a storm and we couldn't make it out on the day we had planned, and communication was overall great. We hope to come back sometime! Thanks B&B's Beach House!
Olivia
2017-03-18T00:00:00Z
We loved this home. It was clean and quaint. It was quiet at night and so close to the beach and not a far drive to Sag Harbor/East Hampton. Great house. Good internet. Had everything we needed and the hosts were attentive and easy to get ahold of when organizing our stay. We will definitely go back next year!
Hannah
2016-08-24T00:00:00Z
We had a wonderful experience at B&B's Beach House! Bob is a great host, and very responsive. Everything is exactly as described, if not better. The home has so many nice touches to make you feel welcome and comfortable. The space is fantastic -- light, airy, roomy. The home has been decorated tastefully, yet everything is also comfortable (you'll enjoy a wonderful night's sleep!). Our group consisted of six friends, all in our 30s, getting away for a relaxing weekend and the location was perfect for us, but the neighborhood is also fantastic for families. The private community beach is close by and adorable. It's a little more of a drive to the main beaches (15 minutes or so) but wasn't a problem for us. If you're looking for a lovely, quiet, and relaxing place to stay, this is it!
Ashley
2015-08-25T00:00:00Z
Bob has a wonderful home! Very spacious, clean, beautifully decorated and it has everything you could need! He even has bikes available to use! Our family enjoyed a very relaxing time at Bob's place. Highly recommend!
Julie
2015-12-23T00:00:00Z
Room Type
Entire home/apt
---
Property Type
House
---
Accommodates
8
---
Bedrooms
East Hampton, NY, United States
Private room and private bathroom in our incredibly quiet, light-filled cottage which is located just three and a half miles from the villages of Sag Harbor and East Hampton. As a guest in our home, you're welcome to avail yourself of the leafy property. You can lounge on the deck, swim in the dipping pool, or enjoy the view from the Adirondack chairs shaded by white pines. Gorgeous beaches and hiking trails nearby.
An enchanting place. Set back from the road, our cottage is surrounded by blue spruces, eastern hemlocks, and tall white pines. There's an open-plan living room with minimalist-vintage décor and white floors throughout. A pair of glass sliders open onto the terrace which overlooks preserved land and the dipping pool. We also have an enclosed outdoor shower for rinsing off after a day at the beach (and we can loan you beach towels into the bargain). The guest room has a smart TV, a full-size bed, a comfortable arm chair, and a pair of excellent reading lamps. The private bathroom is just outside the guest room.
Wonderful neighborhood on the very edge of the Northwest Woods. It's close to town, beaches, and fantastic hiking trails, but it's at a remove from the summer hoo-ha. Extraordinary, yes, but true.
Laure is a fantastic host! She made us feel at home immediately and gave us tons of amazing recommendations for things to do and to see in the area. I would definitely go back as the location is conveniently located between Sag Harbor and East Hampton.
Bettina
2016-08-19T00:00:00Z
Such a pleasant weekend spent at Laure's beautiful and tranquil home. She is charmingly hospitable and respectful of my privacy. Her home is tidy and beautifully yet simply decorated- as soon as I walked in I knew that I was going to enjoy my weekend because I felt like I was at home. Laure was very understanding and accommodating to my boyfriend and I when we were running behind schedule. She was even kind enough to send Dan and I with a delicious lunch for our 3 hour ride back home :) I will definitely be staying at Laure's the next time that I am visiting East Hampton. & if I would like to nominate Laure for Super host through this rating because she is Superb! If I had to rate my overall experience at Laure's from 1 to 10 I would give it a 20!
Janetza
2016-09-25T00:00:00Z
It was the perfect weekend getaway in such an ideal location. Laure was a super host to my friend and I. It was my first time in the Hamptons and I could not be happier that we landed in Laure's sweet home. Our room and bathroom were immaculate along with the rest of the house. I fell in love with the character of the home since it was so perfectly decorated. Laure provided us with alternative routes to avoid traffic, local restaurants , clean towels, breakfast, a generous lunch, and overall great conversation. I would absolutely recommend this little slice of heaven to anyone.
Lauren
2016-07-18T00:00:00Z
We had a beautiful experience in the Hamptons at Laure's place; she was very welcoming and waited for us as we arrived a bit later in the eveving. She offered us to stay a few hours later than the indicated check-out time because we arrived late in the day and the room wasn't booked after our departure. The apartment was beautiful and tidy and we felt very comportable in the guest room. Laure prepared a very nice breakfast with a selfmade muffins, I liked that a lot!
Francesca
2016-08-04T00:00:00Z
Laure was a lovely host. Was there to greet us when we arrived, was extremely hospitable and provided great recommendations on places to check out in the area. Her home is very comfortable, clean and attractive. Laure's home is a peaceful refuge yet close to all the nice beaches and tourist spots. Highly recommend!
Genevieve
2016-10-09T00:00:00Z
What a wonderful stay in the Hamptons! Laure's home is equidistant to the beautiful beaches of East Hampton and the quaint village of Sag Harbor. The room was very comfortable for two of us - it indeed felt like our own little refuge with a private bathroom. Laure was kind enough to make us coffee and breakfast both mornings, truly making us feel at home. I would highly recommend Laure's private room to anyone looking to stay in the Hamptons for a few nights. She certainly made our trip out from the city more than worthwhile!
Jared
2016-08-01T00:00:00Z
Laure was an amazing host with an equally amazing and well decorated home. The room was perfectly private, including your own private bathroom. Her home is cozily nestled in a beautiful wooded area right outside of East Hampton, making it perfect to discover all of what the Hamptons has to offer. There is no question that I will be returning to Laure's beautiful home each and every summer.
Vince
2016-09-19T00:00:00Z
Laure is the sweetest lady. Welcomed us with a big hug and some gingerbread when we checked in. Her cottage is very clean, cozy, and chic. Would highly recommend her place!
Michelle
2016-12-24T00:00:00Z
Room Type
Private room
---
Property Type
House
---
Accommodates
2
---
Bedrooms
East Hampton, NY, United States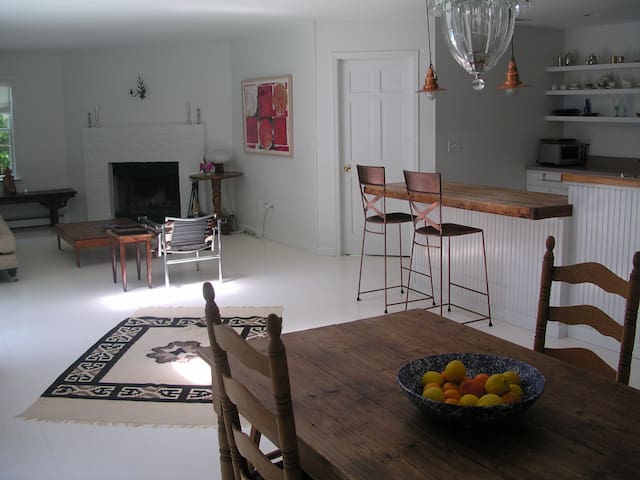 Beautiful private 2 bedroom/2 bath guest cottage on the water. Enjoy spectacular sunset views and a cool breeze from this 5 acre waterfront property located on a directly on Three Mile Harbor Bay in East Hampton Please read the 50+ perfect reviews.
Special offer, for rentals in April and May before Memorial Day weekend, stay 2 nights and get the third night free. Rent Friday & Sat nights and stay Thursday or Sunday night for free. This private separate stand alone guest cottage is called The Rex, there is another private guest cottage also on the property called The Ritz, both are located on a unique 5 acre waterfront marina property in East Hampton, overlooking Maidstone Park Beach. If you are going to stay in the Hamptons, why not stay on the water? The property and cottages are in excellent shape, please read the 75+ superb reviews. Airbnb has elevated this listing to Superhost status. This private 2 bedroom/2 bath cottage enjoys spectacular sunsets and a cool breeze off the water. Launch the 2 person tandem and single sit-on-top ocean kayaks directly from the end of the property and enjoy the nature & beauty of East Hampton's Three Mile Harbor Bay. This is an expansive property with wide open views of the water, natural landscape and gardens. The property overlooks a 100+ acre nature preserve, its very beautiful and peaceful. The property is not your typical suburban backyard. The 2 bedroom newly renovated cottage is very comfortable (you have the entire building), each bedroom has its own bedroom, the large master bedroom has a queen size bed, the other bedroom is small but it has 2 twins (that can be combined to make a King size bed). There are all new fixtures and appliances in the cottage, including a commercial grade (2 ton) central air conditioning system. Enjoy a private tennis court, tune up your game with a bucket of new balls and ball machine, practice for as long as you want, private instruction available. There is also a short game golf practice facility on the property. Work on your short game with our pitching/putting green from multiple approach angles and a crushed white marble sand trap. 6 bikes are available for you to enjoy There are two 2-person and two single sit-on-top ocean kayaks, which can be launched directly from the property, there is no additional cost to use them. They are stored 15ft from the water. Walk to Maidstone Park beach or visit spectacular Town of East Hampton Ocean Beaches 10 minutes away, Ocean Beach pass included. East Hampton Ocean Beach is spectacular. Outdoor dining area with BBQ charcoal grill, bring your own charcoal. The cottage is well equipped for cooking, it has many utensils, serving plates, full array of pots and pans, blender, juicer, coffee maker, microwave, full stove, dishwasher and washer & dryer. Has freshly washed sheets and towels. Please bring your own beach towels. The entire stand-alone 2 bedroom cottage is available to rent to your group, its rented in its entirety and not on a per- bedroom basis. The cottage sleeps only 4 people, for additional guest requests please contact the host. Rates vary during the week and weekends. 2 night minimum For Holiday weekends there is a 3 night minimum Sept and Oct rentals, are available at lower rates. For rentals in April and May before Memorial day weekend and for rentals in Sept and Oct after Labor day weekend, stay 2 nights and get the third night free. Rent Friday & Sat nights and stay Thursday or Sunday night for free. Weekend Availability May sold-out June sold-out July 7-9 July 14-16 July 21-23 July 28-30 Aug 11-13 Aug 18-20 Pricing June Mon-Thurs $300 Friday $500 Saturday $500 Sunday $300-$400 July Mon-Thurs $350 Friday $700 Saturday $800 Sunday $500 August Mon-Thurs $350-$400 Friday $700 Saturday $800 Sunday $500-$600 September Sunday-Thurs $300-$350 Friday-Sat $500 Oct Sunday-Thurs $300 Friday-Sat $400 If The Rex cottage is not available, preview our other cottage The Ritz on the same property. To view The Ritz listing go to the Review section, select the The Ritz link. This property is zoned commercially as a hotel, has a valid certificate of occupancy, is inspected annually by the East Hampton Fire Dept and meets all building code regulations. It is exempt from East Hampton Rent Registry restrictions.
We are next to the Gardiners Bay beach at Maidstone Park, you can walk, bike, drive or kayak there in less than 5 minutes. The water temp in the bay is warmer than the ocean and great for swimming. It also has an oval loop that makes a good bike ride, run or walk. At Maidstone beach there is a special section called Baby Beach, it's perfect for toddlers, no waves, no rocks, shallow and very clear water. The ocean beach which is spectacular is located 10 minutes away. Beach pass included There is a excellent restaurant called Michaels at Maidstone that is 2 blocks away. Red Market deli is 4 blocks away Very good restaurants nearby are Bay Kitchen Bar, Harbor Bistro, Michaels & East Hampton Point. Excellent restaurants are East Hampton Grill, The Palm, Nick & Toni, Philippe and 1770 House. Good reasonably priced restaurants are Harbor Grill, Tavern, Meeting House and Bostwicks. Jackson Pollock's house and museum is very close. Gerard Drive road is nearby, offering a beautiful natural setting with Gardiners Bay on one side and Accabonac Harbor on the other. Its a fabulous drive or short bike ride away.
John greeted us and offered us a tour of the property, which is beautiful and set on a small marina with direct access to the water. Upon our departure, John kindly gave is a small basil plant from the garden. This place is a hidden gem, and we would definitely stay there again.
Michael
2016-06-27T00:00:00Z
This place would be perfect for a small 4 people family getaway trip in the Hampton area. I had a fantastic stay here with my parents and fiance. Very comfortable and cute cottage with a lot of amenities: golf practice facility, tennis court, free kayaking, bikes, BBQ grill, etc. John is super friendly and nice. He is always available for questions with fast response. He even gave us a bottle of homemade pesto sauce which is really delicious! I would definitely recommend this place to my friends.
Vivian
2016-08-15T00:00:00Z
What a find:)! We loved our stay in John's cottage - peace, quiet, amazing sunsets on the water. Cottage was impeccable and roomy. Easy access to water with provided kayaks a real plus. Highly recommend if you are looking for a hideaway amid the crazy daze of Summer in the Hamptons. Great for anytime of year. Thanks, John!
karin
2015-08-28T00:00:00Z
It was a lovely place and we really enjoyed our stay here
Sarah
2016-06-04T00:00:00Z
John was a great host. He was great at communicating and was available during our entire stay to answer any questions. Everything was very clean and exactly as it appeared online. We really enjoyed our stay and would love to go back.
Preston
2015-09-27T00:00:00Z
We had a great time during our stay. We were able to check in early and John is very welcoming and helpful. The house was perfect for us and the sunsets beautiful. Would definitely go again!
Dorothy
2016-08-13T00:00:00Z
We had a wonderful, albeit too brief, stay at John's cottage and would certainly return. The property is quiet and offers all the amenities mentioned in the listing - too many to enjoy over merely a weekend - and is in a great location. John was a great host - greeting us to make sure we knew where everything in the cottage was located (even with a late arrival), providing suggestions of places to go/how to get around, and just generally being a friendly, easy-going guy. I highly recommend staying at the Rex if you're out near East Hampton!
Patrick
2015-06-28T00:00:00Z
Great place - good location. Easy to get into East Hampton and Sag Harbor. Beautiful property. We had fun taking the kayaks the private island. Wonderful place!
Tricia
2016-09-05T00:00:00Z
Room Type
Entire home/apt
---
Property Type
House
---
Accommodates
4
---
Bedrooms
East Hampton, NY, United States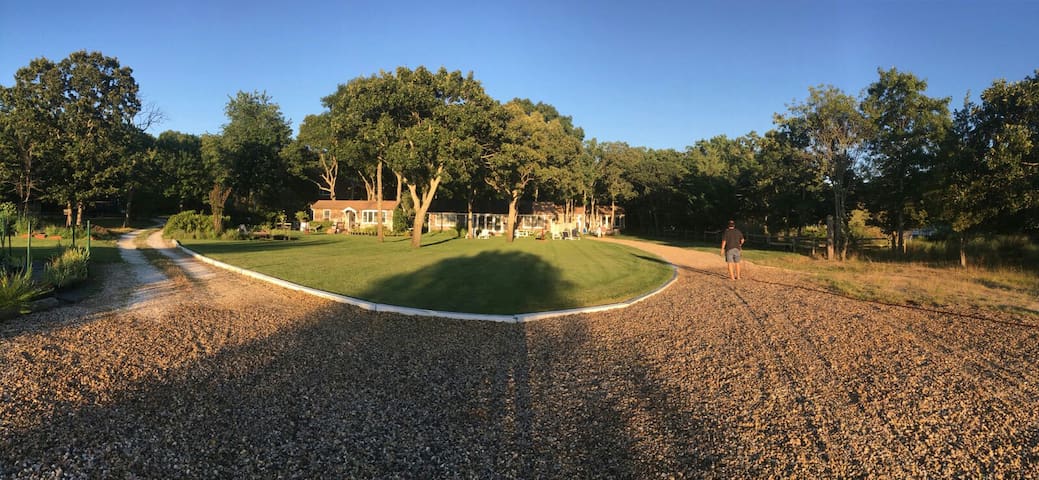 The bedroom relaxes and refreshes guests with its beachy vibes. A king bed takes up most of the room, with access to a dresser, a closet and book shelves. Two large windows look out into the front yard, while another looks at the bird bath and garden area. The open kitchen/living/dining area was recently renovated and continues with a modern beachy feel with natural hues and highlights of aqua. A soothing and peaceful environment.
Guests have a bathroom outside the bedroom but it is not shared with anyone - it's just that the bedroom is not ensuite. The kitchen, living room, dining room and family room are shared with me. The location is a 10 minute drive to local beaches and a 20-25 minute drive to Montauk, Sag Harbor or Southampton. I recently renovated so everything is fairly new (within 3 years). The house is very open and airy, with lots of natural light from skylights and windows. I live on a quiet street about a 5 minute drive to town. My son is away at school and my daughter just graduated and moved away, so I'm happy to share the space.
My home is in a quiet neighborhood of local residents just 5 minutes from the Village and Harbor. Centrally located between Southampton, Sag Harbor and Montauk - it's an ideal location.
The home was a beautiful clean place with a beautiful kitchen that gets a ton of natural light and great for bird watching. It's a very short drive to town center and the main East Hampton beaches as well as Sag Harbor or Montauk. My husband and I slept very well on the comfortable king sized bed in the quiet residential neighborhood. Parking was provided as well. Laura was very friendly and gave us all the necessary information on things to do and places to eat. She is local to the area for a long time so knows the neighborhoods very well.
Zi
2017-01-16T00:00:00Z
Laura is a lovely lady with a newly renovated house house with lots of light! Her cats are very friendly and the house was just as advertised.
Alex
2017-01-29T00:00:00Z
An excellent, quite getaway from the hustle and bustle of Manhattan. Laura is a very kind and accomadating host with a gorgeous place near the heart of East Hampton. Perfect for a relaxing and scenic weekend getaway!
Dan
2017-04-01T00:00:00Z
Cosy bed. Warm host. Great value. Easy location. Thanks!
Edward
2017-03-27T00:00:00Z
The host canceled this reservation 79 days before arrival. This is an automated posting.
Isa
2017-03-02T00:00:00Z
Laura was a great host! We loved staying at her place and all of the natural light. We felt immediately at home and can't wait to go back.
Amanda
2017-02-20T00:00:00Z
Room Type
Private room
---
Property Type
House
---
Accommodates
2
---
Bedrooms
East Hampton, NY, United States
The house is close enough to the town to harness the Hampton vibes, but far enough away to do your own thing. You'll love the location because of its simplicity. The house gets the job done. The setting is good for couples, families (with kids), and smaller groups.
They were very responsive to all my texts. The home was gorgeous, the kitchen was really well equipped and very comfortable to work in. Lovely, and very quiet neighborhood and beautiful backyard. Comfy beds!
Beia
2016-10-23T00:00:00Z
Not as advertised. I would contact them and make sure amenities are working and available. Says there are 2 King beds, one is a pull out sofa... Not what I was expecting
Toni
2016-11-26T00:00:00Z
I absolutely loved staying here for a short weekend. I wish I could have stayed longer! The house is beautiful with a relaxing design, the upstairs beds were incredibly comfortable and the pool was amazing. The house was fully equipped with everything you needed for the beach, pool and a relaxing time in the Hamptons.
Ronnie
2016-09-11T00:00:00Z
Beautiful house and great location in East Hampton. Highly recommend.
Bruce
2017-02-20T00:00:00Z
We had a wonderful experience. The house is nicer than pictured and it has a great fenced in back yard. We really enjoyed the fireplace and cooking in the well-stocked kitchen. The house is about a 10 minute drive to East Hampton and to Amagansett. Additionally, Lori was responsive to questions and easy to coordinate with.
Suzanne
2016-12-31T00:00:00Z
The house is comfy, spacious, quiet, and clean. It was the getaway that me and my folks needed. Check in and check out was Super flexible. Thank you again Holden for hosting us.
Althea
2017-04-09T00:00:00Z
This cozy home was extremely accommodating and the hosts were on top of things and easy to get in touch with. My stay was a short stay, but I would definitely plan a trip back!
Nichole
2016-10-01T00:00:00Z
We loved the place, it was roomy, clean and comfy. It was everything we expected. Thanks for having us!
Alon
2016-11-06T00:00:00Z
Room Type
Entire home/apt
---
Property Type
House
---
Accommodates
7
---
Bedrooms
East Hampton, NY, United States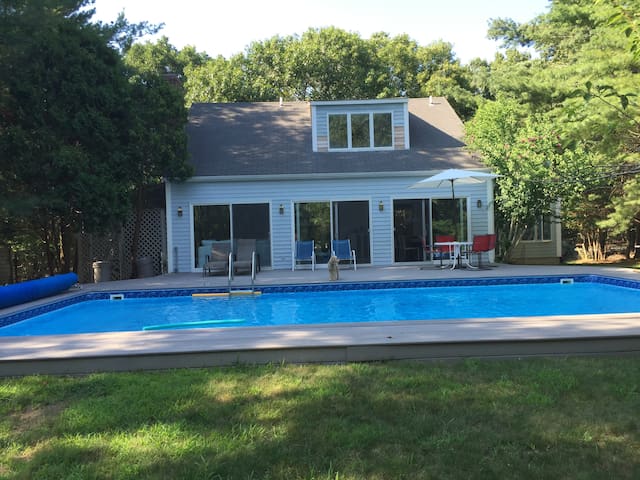 Enter dates to see full pricing. Additional fees apply. Taxes may be added.