Our home offers luxury in a casual, relaxed setting on 2 acres of gardens, with a pool and spa. An elegant veranda and several patios create seamless indoor/outdoor living. Perfect for family vacations, reunions, weekends with friends, business retreats and special events. The annual Reggae on the River festival is just 10 minutes from our home and the festival shuttle stops 500 feet from our private driveway. Come enjoy a peaceful retreat in our unique home.
Located in the heart of the Redwoods, this is a gateway to the Avenue of the Giants and Humboldt Redwoods State Park. The Eel River, a 9-hole golf course and dining at the Benbow Historic Inn are all a short walk away. The premier reggae festival, Reggae on the River, is 10 minutes away and the Benbow shuttle stop is only 300 feet from our home. Come enjoy a peaceful retreat in our unique home.
Humboldt Redwoods State Park with Rockefeller Forest and the world's largest old-growth coastal redwoods, Avenue of the Giants, Richardson Grove State Park, Eel River, Shelter Cove, antiquing in Fortuna, the quaint Victorian town of Ferndale, Eureka's Old Town, the annual Reggae on the River festival, fine and casual dining, live theater, cinema and museums capturing the region's lumber baron history.
Great house, great garden, great host. Daryl was increadibly attentive and responded super fast. She spent a lot of attention to detail such as the AVEDA products everywhere. Hope to come back some day.
Jan
2016-07-03T00:00:00Z
From the very beginning of our contact months before our daughter's wedding, Daryl was a dream to work with. It didn't seem to matter what extra I asked of Daryl, it was "of course." The house is absolutely gorgeous, spotless clean, you can't even imagine the grounds and garden, truly a treasure. I have absolutely zero hesitation in recommending Daryl and her lovely house. Daryl is a geam.
Sherran
2016-10-03T00:00:00Z
Room Type
Entire home/apt
---
Property Type
House
---
Accommodates
8
---
Bedrooms
Garberville, CA, United States
Stay on hole #1 of the golf course. The house gets lots of sun during the day with 2+ stories of windows in the living room and a huge deck that face the sun. You can watch the ocean, airplanes, golfers, and cars while you relax in the living room or on the deck. Wifi wireless internet, SiriusXM satellite radio in the living room. 2 king beds, 1 queen bed, and 1 futon. 8 people max. This home was built in 2005, so it is one of the newer homes in Shelter Cove. New washer/dryer.
Great location, great views, great house.
The listing accurately portrays the accommodations. Make sure to read the rules thoroughly to know what to expect. We were in Shelter Cove during a celebration and we enjoyed BBQ Oysters and live music!
Shandor
2015-05-04T00:00:00Z
Great communication from David. Everything was just as posted. House looks like new. We had 5 adults and 3 children under 5 and had a wonderful experience. Watched planes come and go and deer nearby daily. We plan to return next year and hope this home is available again.
Brian
2016-07-26T00:00:00Z
We really enjoyed our stay here! Well equipped space and incredible view. Easily walk to the beach or golf course. No complaints here.
Rachel
2017-04-12T00:00:00Z
Room Type
Entire home/apt
---
Property Type
House
---
Accommodates
8
---
Bedrooms
Whitethorn, CA, United States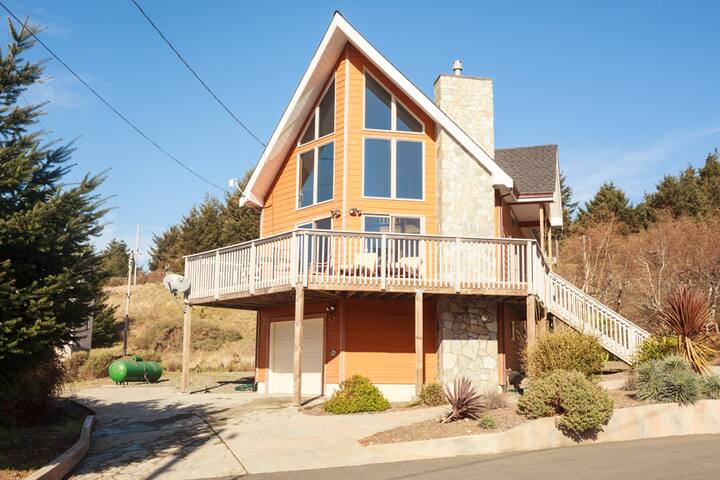 Get away from it all in this large house at an off-grid winery and vineyard. Enjoy spectacular views of the Eel River valley, 3 bedrooms (huge downstairs master suite), a full kitchen, fireplaces to keep you cozy, eco-friendly energy, and many more amenities. Perfect for a retreat, family gathering, or visit to the redwoods. Please note that Terragena Vineyard is located roughly 30 minutes from the nearest towns, Miranda and Myers Flat, and 25 minutes from the Avenue of the Giants.
This large 3 bedroom, 2.5 bath house was built in 2010 to house the vineyard owners. Amenities include: - three large bedrooms (all towels, linens, and pillows provided) - off-grid solar power and spring water - functions like a typical house, but much more eco-friendly - wide 360 degree porch with beautiful views of the surrounding forests, valleys, and vineyard - three futon couches that can be made up into beds for extra sleeping space - free wifi - 3D smart TV (no cable but access to Netflix), DVD player, and Nintendo Wii - full kitchen with gas stove and oven and a dishwasher (no breakfast, but salt, pepper, a selection of spices, olive oil, sugar, coffee, and small selection of tea provided) - large soaking tub in the huge master suite - outdoor propane grill - 2 wood-burning fireplaces (for use in winter only, firewood provided) - pond for swimming, floating, and cooling off in the summer (a couple of floats and several beach towels are available) - laundry washer and dryer (soap provided) - hiking/walking paths - option for wine tasting and guided vineyard and/or winery tours Also on the property is a yurt than Chris and Nickie lived in before the house was completed. This yurt area is now occupied by a caretaker who takes care of the vineyard. We ask that you respect their privacy.
One of the great things about this property is its remoteness; it provides an excellent retreat from a busy life. There are neighbors nearby, but most people come up to this area for the tranquility and space. Guests should respect the privacy of neighbors. Nearby attractions include Humboldt Redwoods State Park, the Eel River (great for swimming, fishing, and kayaking), the Lost Coast, and several wineries.
Our stay was outstanding. The setting is beautiful and private. You need to pay attention to the directions to the home, but it is spectacular when you get there. One of the perks is a wine tasting at the place-no driving! The rooms and beds are very comfortable and the house is spacious. We had six adults and three kids and were not a bit crowded. We are definitely going to make a return visit when we can get it scheduled.
Daniel
2016-12-27T00:00:00Z
We stayed at Terragena Vineyard for a couple of nights as part of a Northern California motorcycle trip. It was, in one word...AMAZING! There were five of us that stayed at the house and we all had the best time. The house is beautiful, as is the property; the location is perfect (right in the heart of the Avenue of the Giants); the views of the surrounding mountains are breathtaking; and both Chris and Nickie are fantastic hosts. If you're looking to get away from it all, this is a great place to do it...so relaxing. I will definitely be back! The Vineyard is located at the top of a mountain and the road is pretty windy, so drive with care when making your way up and down.
Evan
2016-06-26T00:00:00Z
Chris and Nickie were the best hosts! We were an environmental student group traveling up form UC Berkeley for a retreat. This property was a real gem for us - a working vineyard with compost and solar panels?! Their home was a lovely place to destress and bond - the house has plenty of gathering space and an amazing kitchen! Complete assortment of pots, pans, utensils, other cooking gadgets and some seasonings. They even left us some Terragena vineyards jam(: Check-in and check-out was easy and the hosts graciously accommodated out late arrival. Be sure to follow the hosts' detailed directions for getting to their house as it is a bit out of the way and the roads are small. They recommended lots of wonderful hikes around the area - Humboldt Redwood State Park was beautiful. We would definitely recommend this fantastic AirBnB with wonderful hosts, and hope we get the chance to return in the future!! -the UC Berkeley Sustainability Team
Sydney
2017-02-19T00:00:00Z
This was a 5 star place for a retreat. Lovely spacious home. The views from the mountain top where home was were breath taking. We loved the secluded quiet of your location. Our guests had their own digs upstairs. This was so nice to each have our own space when desired. A very nice place for a dog. The caretakers were warm friendly helpful people. If we ever get out there again we want to stay here!
Wendy
2016-12-18T00:00:00Z
Host were great and the house/location is amazing. I would caution people to bring a car with a bit of clearance to handle the terrain at the end of the journey (about a mile of dirt road). It is far from Meyers Flat (about 20/30 minutes uphill/downhill), but the hidden, amazing quality of this location is that you truly feel "above the clouds" and away from it all. Everyone was great and flexible during our stay.
Gabriel
2016-08-08T00:00:00Z
This place has everything you need and more. Beautiful views all around! Spacious with plenty of sitting and and sleeping room. Wonderful movie and book selection. All the dishes and cookware and soaps (very nice) provided. Spices and coffee provided. Wonderful Wine! It's a little slice of heaven you won't want to leave. Down the hill is a very beautiful grove of redwoods and clean river to swim. I had the best time and can't wait to go back. Makes me think I could be a grape grower. Thank you.
Rebecca
2016-08-03T00:00:00Z
Chris and Nicky were very accommodating and friendly, and the caretakers were very nice and helpful.
(EMAIL HIDDEN)
2016-07-25T00:00:00Z
Chris and Nickie's place was literally a breath of fresh air from the daily, bay-area grind. It was a great road trip from SF to get there (4-5 hours) It's very secluded and once you reach the last roads up the hillside, you very likely won't see anyone else around. The view, once you reach the house, is nothing short of spectacular. You can see for miles without a trace of any other people. It's sequoias and redwoods all around and the nightly fog that rolls into the valley was awesome to time-lapse. It's literally 40 minutes away from any kind of town, so make sure that you are well stocked up BEFORE you make the ascent up to the property. The house itself is great. It's completely off the grid (reliant on Solar power/generator and a self pumping well for water), so there's a couple small issues with not using high power appliances during cloudy days (hair dryers, microwave, etc). We cooked meals all weekend in the large kitchen and relaxed on the porch afterwards. The dual fireplaces were nice to sit around at night and the master bathroom may have been our favorite spot in the entire house! Dual shower heads and a VERY large tub for soaking. We only had 4 people stay, but this place could easily fit 3 couples, plus extra space on the futons in either living room. The wine that Chris is making was a welcome change from most of the varieties that we've been tasting in the bay area. Very unique flavor profiles and blends. It's still an incredibly small operation with just a few people, so you really get an intimate view of how a small scale winery gets work done. As for the general area, it's perfect for someone looking to get away from any semblance of "city living". It's very convenient to get to any of the trails for hiking the sequoias. Myer's flat is the closest town (150 people), but has everything you'll need. Gas, market, post office, coffee shop, and the Myer's flat saloon. You HAVE to stop into the saloon and chat with the owner Bill. He'll be sitting inside in any one of a number of recliners with plenty of stories to tell. The bar itself is stocked with old antiques, interesting local characters, and you'll probably make friends with at least one or two people and some of the random pets that mosey in and out of the place. Overall, we had an incredible trip and can't wait to get back in the warmer months.
Kenny
2017-01-16T00:00:00Z
Room Type
Entire home/apt
---
Property Type
House
---
Accommodates
10
---
Bedrooms
Myers Flat, CA, United States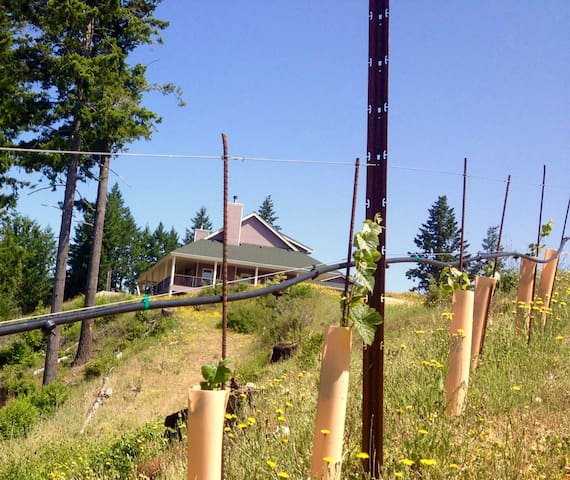 Enter dates to see full pricing. Additional fees apply. Taxes may be added.