A modern mountain home nestled in scenic Boulder Canyon along Boulder Creek. Open floor plan, beautifully furnished. 10-15 min from downtown Boulder; 25-30 min from Eldora ski resort; 5 min from Wedgewood on Boulder Creek. This is the perfect home away from home for those who want the best of both worlds - a restful getaway in the mountains, yet only a short drive away from downtown Boulder fun.
The home's open floor plan features a large great room lined with floor to ceiling windows. French doors off the dining area lead to a 700 square foot deck that features a gas fire pit and BBQ. The spacious and fully equipped kitchen features modern stainless appliances and quartz countertops. A large kitchen window overlooks the deck. The bar seating includes two conveniently-placed electrical outlets for plugging in cell phones, laptops, etc. The living room features a wood burning fireplace (firewood provided), a leather sofa, and two leather chairs, a comfy LoveSac, and a 58" flat screen TV with cable, Apple TV, and Netflix. The entry way includes a desk space and leads to the two bedrooms. The bedrooms are small compared to American standards, but they are beautifully appointed with lofted ceilings and skylights that give them a more spacious feel. The guest room includes books and games for use during your stay. Both bathrooms have heated tile floors. The master bath has a large glass-enclosed shower. The master walk-in closet has a stackable washer/dryer. The guest bath has a claw foot tub with shower surrounded by beautiful epay wood.
Surrounded by mountains, national forest, and beautiful rock formations, this place will deepen you back into yourself and nature.
We had an absolutely wonderful stay at Joann's lovely home. It was truly a retreat from the rest of the world. As other guests have stated, the photos (which are already beautiful) don't do the home justice. Sitting by the fire in the evening and reading with a cup of tea on the porch in the morning... what a wonderful vacation. Can't wait to come back!
Claire
2016-10-19T00:00:00Z
We had a great stay, would definitely do it again without hesitation. Highly recommend!
Drake
2017-04-08T00:00:00Z
Beautiful quiet home. Perfect get away for the weekend!
Zach
2017-01-31T00:00:00Z
Wonderful, well-appointed beautiful home perfectly situated between Boulder and Nederland. Thanks for a lovely stay.! This will be out go-to place to visit our daughter at CU.
Lisa
2017-03-16T00:00:00Z
This was a great trip. Joann's house is not only in immaculate condition, but it is in the most beautiful location. I loved the drive up from the town of Boulder and how close everything was, yet we were still in the mountains. Joann was a great host. She always makes herself available. She had wine and a note card to greet us. I can only say good things about her place. I had such a great time skiing in Eldora and horse back riding in Estes park, which were both really close. I hope to have to opportunity to stay here again soon!
Anna
2015-03-15T00:00:00Z
The house is so lovely, Joann was very helpful and nice, our team spent a wonderful stay ! Thank you very much
jade
2015-05-01T00:00:00Z
My boyfriend and my first airbnb experience was at Joann's place... And it couldn't have gone smoother!! When we first sent out requests for places to stay we received a response from Joann in moments and the process of reserving and securing the place was seamless and prompt. Arriving at the house we found the place to be clean and even more beautiful than in pictures. Virtually any amenity you could think of needing was provided and easy to find. The hosts respected our privacy but we also didn't feel like they were unapproachable if we had a question. Overall, we had a great time and didn't want to leave!! Boulder is an awesome place :) and we are officially airbnb converts!
Kavya
2016-06-07T00:00:00Z
Everything about this home was perfect! As someone who stays at Airbnb's all the time, I can't say enough how wonderful our experience was. Joann is an awesome host, and the home is perfect!
Alana
2016-10-23T00:00:00Z
Room Type
Entire home/apt
---
Property Type
House
---
Accommodates
4
---
Bedrooms
Boulder, CO, United States
Escape the city! Magical, very private bed room (king) with huge window walls looking out at wooded canyon. Separate entrance. Beautiful patio. Adjacent studio/meditation room. Shared bath (only for showers from our end, promise, you won't see us up there). 15 minutes from Boulder in historic gem Salina.
This historic home is a miner's house from 1895. It's one of the few homes in the small community of Salina, the least build-up place near Boulder. The space you will be staying in is an upstairs addition from the 60s with mostly all glass walls which will let you connect with the lush surroundings that are quite unique for Colorado. It's not uncommon to see wildlife while lying in bed looking out. Gold Run creek creates a treasured soundscape. The space is ideal for couples and people wanting to escape the business of the city but be nearby. There is no cell phone reception, but you are welcome to use our land line. The wireless connection upstairs is slower, but you are welcome to take advantage of the faster service downstairs during certain hours.
Enjoy walking through the historic mountain mining town Salina, an unusually green and very charming neighborhood. You are welcome to join the community for our movie nights in the old school house (ev. other Saturday), presented by one of our residents, internationally known film maker David Gatten and his wife and film maker Erin Espelie. Located four miles uphill is Gold Hill, another small former gold mining town that is worth a visit. The Gold Hill Inn has fantastic food and regularly features great local and national musicians.
Claudia's place is fantastic! The perfect mountain get away for peace, quiet and stunning surroundings. Claudia and Chris were lovely - very helpful and full of excellent recommendations.
Molly
2016-07-20T00:00:00Z
With so few hours in Boulder, I hoped to see more nature than a hotel in town could offer, and Claudia's guest accommodations off a winding canyon road were perfect. My booking was last minute with just a quick one night stay, and they were kind to get the room ready for me in time. Their home is off a winding canyon road, with beautiful fresh daisies and books about Colorado in the bedroom, and countless hiking trails nearby. I only wish I could have had stayed longer!
Amy
2015-08-10T00:00:00Z
We arrived at night to Claudia's wonderful mountain home. As it was late and Claudia has a small child, we did not meet her that night, but we received good instructions welcoming us in, in her absence. It was a little difficult to see along the path up to our room (there is a dedicated back entrance to the room + studio). The stone path up to the room wound around the house and ended at a stone patio, with trails branching off through a wooded area along a rocky hillside. Once inside, we were pleased to find a spacious bedroom with an adjacent studio, filled with books about topics like Eastern medicine and geology. (There was also a space for meditation.) The outside walls of each room were covered with windows that allowed sunlight to pour in. The bed was large and comfortable. The bathroom was shared with our hosts, and while it was not extravagant, it was perfectly adequate for our needs. For a house that was built in the late 1800s, we felt that it was very well maintained and well kept. Claudia provided a water jug with fresh drinking water (the house uses well water). A word of caution: given the house's age, its electrical outlets are not grounded (2 prongs), so you may wish to bring an adapter to plug in any electronics with a 3-pronged plug. (There is one such adapter in the studio that I used without issue.) On a similar note, there were some connectivity issues with the WiFi; for me, these were resolved by sitting in the studio with the hallway door open (laptop and Samsung phone), but my girlfriend was unable to connect (also a Samsung phone). There is also no cell signal, but this should be neither a surprise nor a great inconvenience to anyone who truly wishes to enjoy the mountain atmosphere, and your reception will return as you approach Boulder. (For any urgent calls, Claudia offers use of her landline phone.) We spoke to Claudia only twice, and we were largely left to our privacy, but we never felt unwelcome in her home. While we never met her husband, Claudia was a very warm and friendly host, and her son Thomas is an expressive and cute little guy. Claudia and Thomas are very outdoorsy and gave us recommendations on hiking in the immediate vicinity. We spent the majority of our time in Boulder, which is a half-hour drive down the scenic, winding mountain roads. Boulder is an amazing little city with a vibrant, youthful energy. (We recommend Mountain Sun Brewery for a beer and a bison burger, the Saturday farmer's market, and Logan's Espresso Café.) If you're looking for an area true to the mountains of Colorado but not so remote so as to be far away from Boulder, Claudia's home will be the perfect place for you! --Nick & Jess
Nicklas
2015-08-24T00:00:00Z
My boyfriend and I arrived after dark, but Claudia was kind enough to still show us to our room. The winding road up to her house is not bad, as we drove up in a small rental car in the dark and had no problems. There is an easily identifiable lighted path to the room, so we still would have been accommodated for had she not been able to meet us. The room is lovely, the bed is super comfy, and the views are beautiful. We even had a hummingbird that fluttered around the windows for quite a while when we awoke the next morning. Claudia was a wonderful and welcoming host, and we hope to return someday!
Amy
2015-08-04T00:00:00Z
I'll start by saying we loved staying at Claudia's home, and would definitely like to come back again! She provided us a very warm welcome upon arrival. The home is in a really unique area in the mountains just outside Boulder. The room was perfect for my girlfriend and I, it was very private and even had a separate entrance so we didn't have to disturb anyone on our way in or out. We enjoyed the views from the room, the fact that it was built into the mountain side, and that with the windows open you could hear the creek nearby. It was the perfect place to relax and leave behind the stresses of the big city. Thanks Again Claudia!
Nick
2015-08-03T00:00:00Z
Listing is very accurate. The studio was a surprise. A space large enough for an air mattress if another couple or children come. She has a wonderful collection of healing books and stones. Bathroom is shared but very accessible since its in the same level as the room.
Patricia
2016-10-03T00:00:00Z
Wow!!! This place was even better than the pictures!! Mountains outside every window!! Close to the cute little town! Lots to explore. It was perfect for our 2day stay. Claudia was very sweet and accommodating. Left very good instructions. Recommended places when we weren't sure where to go. It was clean and the bed is sooo comfortable!! Definitely an unforgettable experience. Especially because my fiancé proposed to me right outside our room after watching the sun rise over the mountains. It was perfect! Thank you, Claudia!! I'd give more than 5 stars if possible!
Aurelie
2016-11-06T00:00:00Z
Wow wow wow. If you're looking for a mountain retreat, Claudia's home is an amazing value. The space is cozy but spacious and the location couldn't be more quintessential mountain getaway. As other reviewer(s) had mentioned, the best part is waking up to the sun rising over the mountains with the wall-to-wall eastern facing windows. And I was lucky enough to wake up about 15 minutes before the sun rose — the morning light glowing behind the trees was an amazing surprise.
Stuart
2016-08-28T00:00:00Z
Room Type
Private room
---
Property Type
House
---
Accommodates
2
---
Bedrooms
Boulder, CO, United States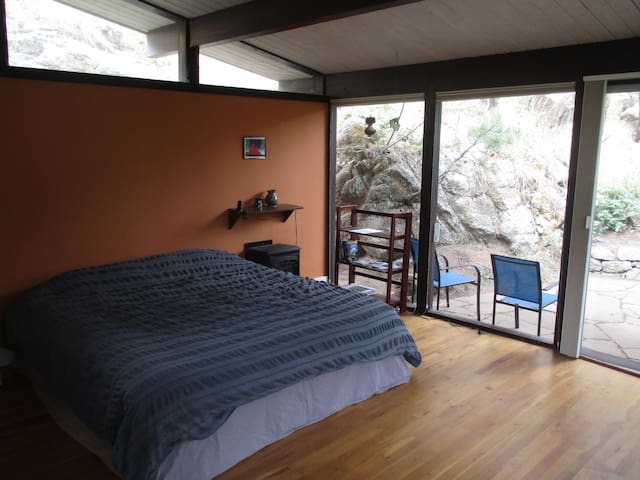 Look no further than this cozy cabin for your next mountain getaway. Plenty of gorgeous trees, walking and hiking paths, and lovely creeks surround this beautiful cabin with great views. A wonderful escape from the city! My place is good for couples, solo adventurers, and families (with kids).
You'll have everything you need for a peaceful mountain trip. The cabin features an updated kitchen with granite countertops, an old-fashioned wood fireplace, a washer and dryer, and a large private deck perfect for watching the sunset.
"Boulder is 25 miles northwest of Denver, in the heart of Colorado. Nestled up against the base of the Rocky Mountains, its elevation of 5,430 feet makes it higher than the Mile High City to the southeast (in more ways than one). The epic scenery, athletic opportunities, and splendid climate captivate you immediately. Then it's time to discover the world-class restaurants, the vibrant technology scene, and the quirks of an amazing college town that's more than a mile high above sea level. Look up the definition of "progressive city" in the dictionary, and you'll find See Also: Boulder, Colorado. The town prides itself on creative, independent, and forward thinking, which in turn powers the intellectual vibe, intense athleticism, and technology start-up scene. Boulder has been named the Happiest, Brainiest, Foodiest, Healthiest, and most Creative city in the United States, among other accolades. People aren't just content to live here, they're thrilled by it -- which is why protection of the environment, alternative energy, and sustainable practices are a top priority to the citizens of Boulder." Read more about Boulder from the YOUR BOULDER website.
Where to start? We didn't have heat or running water Thursday_Sunday, we ran out of propane the first day. One of the hosts were very understanding of our situation and had great communication and grace towards us, however, it was such an uncomfortable stay it didn't make a lot of difference. We pretty much went to bed every night with blankets and full clothing since it was so cold. We couldn't shower or even wash dishes the whole stay and not to mention having a terrible bathroom dilemma! We booked this place 2 months in advance and the hosts were NOT prepared for us. The last straw was when we found two mice living under the fridge, we found them after finding mice pellets under the sink and in the kitchen drawers. We left a day early and just got a hotel. We really wanted to fall in love with this place but it was a failure for our special anniversary trip. We will not be coming back.
Chelsey
2017-01-23T00:00:00Z
The drive was beautiful and if you are not used to mountain/country roads be prepared to go slow. The scenes are beautiful and the cabbin is so peaceful we wish we could have stayed longer. All new appliances and modern decor made us feel like we weren't in the middle of nowhere but the views from the many windows inside kept it rustic. I would highly recommend this for a romantic getaway.
Rebekah
2016-12-05T00:00:00Z
This place is 100% off the grid! Great if you're wanting to get away from it all! You will have zero cell service or wifi, but if that's something you're looking for then this is the place!
Hannah
2016-12-08T00:00:00Z
The cabin was beautiful and secluded which is exactly what I was looking for. If you want to get away from the hectic city life, this is the place you want to visit. Kate was incredibly attentive and her property manager was easy to reach. I'd love to visit again!
Synne
2016-12-16T00:00:00Z
We love staying in Kate's cabin. It's cozy, secluded and quiet.... exactly what we need to recharge.
Lisa
2016-12-26T00:00:00Z
Everything was perfect about the stay. I will definitely be going back to stay here. Loved how secluded the location was.
Josh
2016-11-02T00:00:00Z
Beautiful secluded cabin 20 minutes outside of boulder. Interior is fully remodeled in a modern yet cozy style. There is a ton of natural light and multiple skylights, including one over the bed...allowing stargazing in comfort.The deck overlooks a relaxing stream. This was a getaway for my wife and I together with our 18mo daughter and we all had a great time both disconnecting while at the cabin, yet only 20 minutes from downtown Boulder. We will definitely be back!
Gabriel
2016-12-30T00:00:00Z
We loved our stay in the peace and quiet away from the distractions of the world.
Lisa
2016-11-26T00:00:00Z
Room Type
Entire home/apt
---
Property Type
House
---
Accommodates
4
---
Bedrooms
Boulder, CO, United States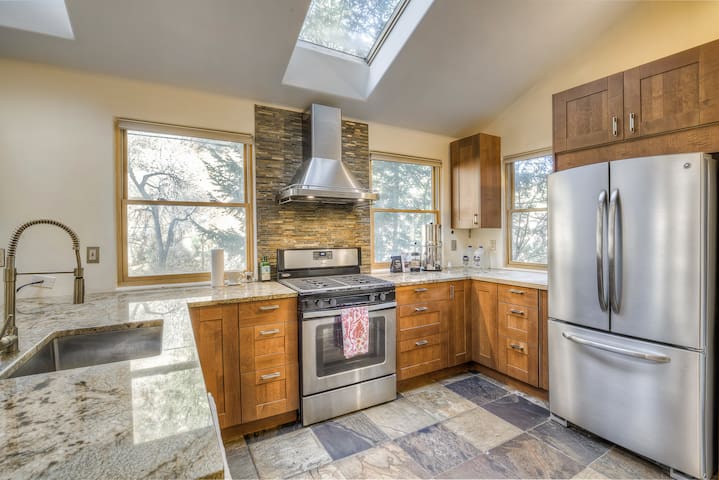 Gorgeous views on your own private level. Amazing deck overlooking Boulder. Steam Shower, Jet tub, private entrance, living room, fireplace, and more. Enjoy the sunny South facing deck year round. 10 minutes from North Boulder shops/trailheads, 18 minutes to Pearl Street/downtown Boulder.
Andy was out of town, but communicated by email fine. The whole experience of reserving, payment, locating key, directions to the place etc. went very smooth and well.
Barbara
2016-05-15T00:00:00Z
Great views awesome space
David
2016-11-17T00:00:00Z
Great location, very neat house, plenty of space. Would stay here again!
Garrett
2016-08-19T00:00:00Z
Peaceful getaway all around!
Sara
2016-08-15T00:00:00Z
I would so recommend staying here! The view and back deck totally made the house! Andy and his roommates were very friendly and helpful with where to go in town and what hikes to explore. I would definitely stay there again!
sarah
2016-07-31T00:00:00Z
Andy's space was amazing!! Private entrance to an entire floor with a walk-out deck to a beautiful mountain view. Andy provided everything we needed for a comfortable stay. This was my first Airbnb experience and it couldn't have gone better.
Jeffrey
2016-07-18T00:00:00Z
We loved the back porch with views out in the aspen-lined mountains. There's a small table with two seats perfect for enjoying a cup of coffee. The bed and bath we're very comfortable and there was ample living space to spread out - even a small gym area for a quick lift! We had some trouble finding a parking spot when we returned from dinner and had to regretfully double park some of the roommates. We also suggest some curtains for the window by the shower. Overall a good experience and would return again!
Stephen
2016-09-11T00:00:00Z
nice house, great view. clean amenities and very comfortable bed.
Marc
2016-08-29T00:00:00Z
Room Type
Entire home/apt
---
Property Type
House
---
Accommodates
2
---
Bedrooms
Boulder, CO, United States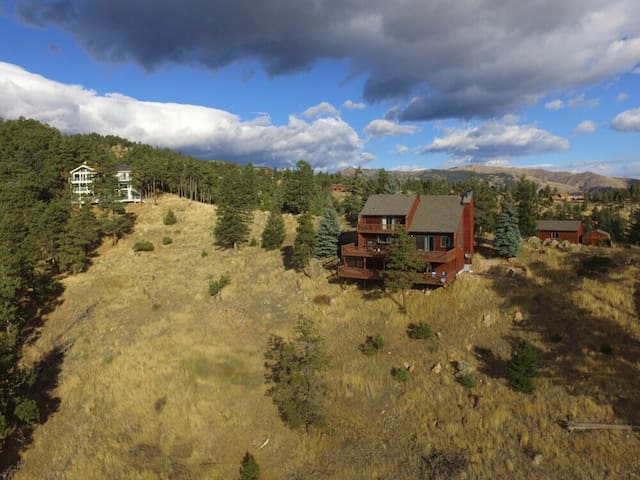 Newly remodeled upstairs 2000sq' apartment that is the upstairs of our home plus a large downstairs bedroom. The expansive great room and gourmet kitchen have views down over Sunshine Canyon and Denver. The property is adjacent to open space and hiking trails and is perfect for a retreat. For a sense of the area and house, please see the reviews for our downstairs one bedroom apartment that is a dedicated rental and is booked separately.
This is a newly remodeled space with glowing pine floors and new appliances. It has everything you'll need for a vacation or stay near Boulder. This is the upstairs of our home plus a large downstairs bedroom. You have private entrances to three bedrooms: one upstairs with a queen bed and master bath, a second upstairs with two twin beds, and one downstairs with a queen bed and twin day bed. Including the master bath there are two baths, two decks with views over Denver, and a gourmet kitchen. There is a separate one bedroom apartment downstairs that can also be booked via AirBnB. Be aware that there may be other guests downstairs in a separate apartment. We are in the foothills 25 minutes from downtown Boulder, CO and another 2500' up at the "Sunshine Saddle" elevation 7500' where several trails start off to local peaks, mining areas, and other historic former mining towns. Trails including both hiking and biking to Left Hand Canyon, Butzel Hill, Lee Hill, and Sunshine. Access is via a winding mountain road and 2 miles of County maintained dirt road.
The historic mining town of Sunshine is located about 25 minutes from downtown Boulder up a winding mountain road. On the way to our place you'll pass the stone schoolhouse, log cabins, and old mines. In recent times, folks have built new houses to enjoy the views of the high country and sunny weather. After the 2010 Four Mile Canyon Fire, our area suffered the loss of many homes and you'll see rebuilding as well as areas with scorched trees. We are located at the boundary of the fire area and seeing the wildflowers and wildlife come back into the burn areas is hopeful and beautiful. If you continue up hill on the main Sunshine Canyon Drive you'll reach Gold Hill which features a bar and restaurant. The road continues on to Ward and the Peak to Peak.
Beautiful mountain home 20 minutes outside of Boulder. There may be better places to stay if you are looking to be closer to town, but you can't beat the privacy, scenery and tranquility.
Michael
2017-04-02T00:00:00Z
Gorgeous home in a gorgeous location.
Kate
2017-01-01T00:00:00Z
The experience with Mindy's lovely mountain home was excellent. The house is a wonderful getaway retreat that has fantastic views. Overall, it was great to communicate with Mindy and she left detailed instructions as well as quickly responded to questions.
Dan
2016-07-24T00:00:00Z
Room Type
Entire home/apt
---
Property Type
House
---
Accommodates
7
---
Bedrooms
Boulder, CO, United States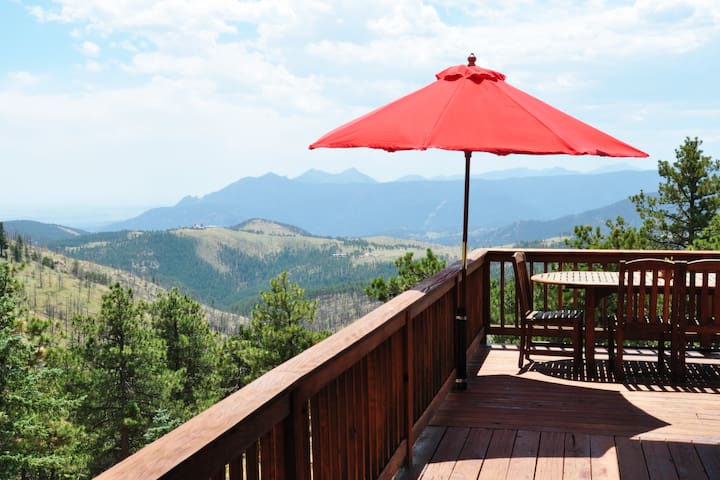 You'll be staying in a mountain home in the Boulder Foothills with your own private living room, bedroom and private bathroom. There are sweeping views from every room! Explore the mountains and experience the wildlife from the trailhead only 300 yards away. 12 minutes from Downtown Boulder.
The suite has a private entrance, living room, bedroom and bathroom. The queen-size bed can accommodate two adults. Everything you might need for your temporary stay (bed linens, towels, etc.) is provided. The room has a 36" flat panel TV with Apple TV. Wireless Internet is provided. There is a large closet space to accommodate your belongings. You'll enjoy a kitchenette in the living room complete with your own microwave oven, coffeemaker, toaster and hot water kettle as well as a mini-refrigerator. The terrace in front of the suite invites you to sit outside and enjoy the views.
The Sugarloaf area in one of the best neighborhoods in the Boulder area. For outdoor enthusiasts, you'll be just 300 yards away from Betasso Preserve with 8 miles of hiking and mountain biking trails. Yet you are only 12 minutes from downtown Boulder. Eldora Mountain ski resort is a 25 min drive up the hill. Restaurants, craft-breweries, shopping, art venues etc. are all close by in Boulder.
Just the best . Good place to be secluded but not remote - local red fox comes to check in on things in the morning
richard
2016-09-20T00:00:00Z
Our stay at Sabine and Fred's was amazing! The location is perfect as you are in your own oasis in the mountains but only 10 minutes to downtown Boulder. The apartment was clean, tidy, and exactly what we expected. They even had coffee, tea, and toiletries for you to use as needed. The views from the back deck are exceptional and we met the neighborhood fox who was very friendly. We would stay here again! Thank you!
Stefanie
2016-10-23T00:00:00Z
Sabine and Fred's home is very very beautiful. Unlike most who come to Colorado for the slopes, my boyfriend and I were looking to come to Colorado for nature, trails, and hiking, and this home offered just that even during the dead of winter. While the location is about 15 minutes outside of town, the drive to and back is definitely worth it. It took my breath away every time. But, if you do decide to go during winter, please be wary since the roads up in the mountains may ice over and prevent you from traveling into town. In which case, Sabine and Fred were nice enough to warn us of these conditions, and even offered us to have dinner with them if we had no means for dinner (but we had stopped by the grocery before check in!) I recommend this place if you're looking for something different than your average home inside the city. You will not regret it!
Katrina
2017-01-14T00:00:00Z
Sabine and Fred were exceptional! We booked this room for our Sales Rep only to find such a beautiful home that was relaxing and the owners were very helpful and kind. Would highly recommend Sabine and Fred!
Nancy
2016-08-08T00:00:00Z
This was our first experience with Airbnb and it was great. This is a beautifully remodeled space overlooking the mountains. The hosts were very welcoming and friendly. A doe and two fawns walked right through the yard. The space was modern and comfortable. A great getaway spot!
Robert
2016-08-05T00:00:00Z
This was the perfect place for me and my boyfriend to stay at while we visited Boulder and RMNP. Beautiful views and loved the location away up in the mountains. Highly recommend! Sabine and Fred were very accomodating to us and we're wonderful hosts. Thanks for making our trip perfect!
Audrey
2016-09-04T00:00:00Z
Sabine and Fred's is a quiet refuge from the activity of town. The view of the mountains is incredible. The place is clean and simple, just perfect for a few days. We met our hosts while we were both outside and they were the most friendly, hospitable hosts we have ever had. When the door lock wouldn't reopen, they graciously handled it and it was replaced within 24 hours. Highly recommend this place for a couple that doesn't need to be close to downtown and doesn't mind a long windy drive to get there. Lovely Stay!
sharon
2016-08-22T00:00:00Z
Our stay at Sabine & Fred's could not have been any better. The location is a perfect distance from Boulder. There were trails to explore in their area that we took advantage of. We also saw more wildlife right from the sitting area of our suite than on any hike we took while visiting Colorado! The space was update and clean and we felt very welcome during our stay. Fred and Sabine have thought of all the details for this space and we were grateful to have the chance to stay here. Also the communication before and during our stay was fast! I would highly recommend Sabine & Fred's place to any travelers in the Boulder area.
Cristina
2016-09-13T00:00:00Z
Room Type
Entire home/apt
---
Property Type
House
---
Accommodates
2
---
Bedrooms
Boulder, CO, United States
Guests have bed & bath in private wing, with separate entrance, small porch, hot tub. 20 min to Boulder, 50 min to Rocky Mt National Park, overlooking park (with stream, tennis court, playground, walking). Music & food at nearby cafe (5min walk)! Easy access to creek, park, and many nearby trails.
This room is in a spacious house with excellent mountain views. The guest wing has private room and bath for 1-2 adults with own entrance, small fridge, tea prep area, and access to common living area. We are 20 minutes to Boulder, home of the University of Colorado, Naropa University, and a vibrant arts community. Guests have option of continental breakfast or going to enjoy one of the local cafes. No smoking or pets in the house. Excellent wifi.
The Jamestown community of 300 has a tiny elementary school, tiny church, Town Hall, Mercantile Cafe, Post Office, 5 acre park, hiking trails, and access to miles of open space & USFS nearby. The Town Hall has a lending library. The Merc Cafe is open for weekend breakfasts (delicious!), and is open for dinner and music 5 out of 7 nights (there is always a tasty dinner on Thursday nights before the music starts at 8). They also deliver pizza. To the west is the Indian Peak Wilderness Area (30 min), Rocky Mt National Park (50 min), and Eldora Ski Area (45 min). To the east, Boulder is 15 minutes away. Winter and summer fun!
We wanted to stay in Jamestown, a small mountain community where we lived 45 years previously. Staying with Tim and Wendy proved the perfect hosts. They knew everything about their small community and answered our myriad questions and provided much additional information for our perusal. Their home was perfectly situated with easy access, great views, delicious healthy continental breakfast options and separate access for complete privacy. We readily recommend staying here if you're in the Denver/Boulder area for a unique mountain experience, which, after all, most people living in Boulder or Denver really desire! Ken and Krista
Krista
2016-10-29T00:00:00Z
My daughter and I had such a wonderful time staying with Wendy and Tim! I am not sure where to begin!! Wendy was so nice , informative, and inviting from our first moment of contact. They covered all the basis for our Colorado adventure! I would stay here again and again.! The location is central to many day or night excursions. There are plenty of places to hike in walking distance of their home. You have to see it to believe it, the beauty all around this home is breathtaking! The Mercantile in Jamestown has wonderful food and service, make sure to check it out!
Kim
2016-09-06T00:00:00Z
My husband and I stayed at Wendy's home for two nights while visiting CO and it was probably our favorite stay. There had been an accidental overbooking of the room that we originally thought we were staying in (master suite with private entrance), but Wendy and her husband were very accommodating and were in great communication with us about the mix up. They offered us the upstairs loft and we ended up preferring it to the master suite! The loft was private and spacious and had an amazing view of the mountains from our private upper patio. The private living and mediation area were perfect while we relaxed. The neighborhood is so quiet and you can really enjoy being in the mountains. We loved looking at the stars from the hot tub at night, going on hikes right from their property, and enjoyed Wendy and her husband's company and hospitality! We would highly recommend this place to anyone who is looking to go off the beaten path for a relaxing stay in the mountains!
Jason
2016-08-08T00:00:00Z
Wendy and Tim were great hosts. They were very helpful. Their description and directions were excellent. The room, bath and cooking area were as described. Jamestown is an interesting and quaint place.
Troy
2016-08-02T00:00:00Z
We thoroughly enjoyed ourselves at Wendy's place in Jamestown. Communication was easy, arrival was warm and welcoming, and the house is lovely. Our space was perfect for two: a big, comfy bed, a well-appointed bathroom, and a stocked kitchenette. We had breakfast each day at a local eatery, but if we had wanted to, we could have eaten breakfast at Wendy's. She provided juice, yogurt, coffee, tea, granola bars, cookies, and more that I can't remember now. When we go back to Jamestown, we definitely want to stay at Wendy's.
Lydia
2016-10-24T00:00:00Z
Wendy and Tim made us feel very welcomed. They are warm, friendly people! The room is comfortable and we slept with the window cracked and listened to the babbling creek all night. The bed was so comfy with cotton sheets (heaven!). Wendy compiled a binder of local information, cafes and points of interest, that was very helpful.
Bettie
2016-06-24T00:00:00Z
Room Type
Private room
---
Property Type
House
---
Accommodates
2
---
Bedrooms
Jamestown, CO, United States
We're close to Estes Park, Eldora ski area, Nederland, Brainard Lk, hiking, snowshoeing, skiing, mt biking, road biking. You'll love our home because of stunning views of the Continental Divide, cozy wood stove, the comfy hand-crafted bed, beautiful area. Our home is good for couples, solo adventurers, and business travelers. It's a 4 bedroom home. We occupy one room full time. There are 3 bedrooms available, each listed separately. Each room has private full bath. 2 rooms have private decks.
Ours is a classic log home built in 2001. It is very dramatic with 16 to 20 inch logs. A very open design with 180 degree views of the mountains. You feel like you can reach out and touch them. We are surrounded on two sides by a 100 acre ranch. Very quiet and secluded. For your comfort, we are a pet free and smoke free environment.
Our home is in the Hidden Lake development. There are very few that live here year round. You will find it very quiet and most likely see wildlife during your stay.
A fascinating house with a spectacular view.
Andy
2017-03-14T00:00:00Z
Such a great location to be in Colorado. Joe and Cynthia were beyond helpful with suggesting paces to see, providing delicious breakfast everyday and even going out of their way to ensure we had everything we needed during our stay in their beautiful home. I look forward to coming back soon!
Abigail
2017-03-04T00:00:00Z
This was the best airbnb stay my husband and I have had yet. Joe and Cynthia have a beautiful home with spectacular views. They are conveniently close to lots of great hiking as well. We'll definitely be coming back!
Angelina
2016-09-25T00:00:00Z
Joe and Cynthia were great hosts and their house had breath taking views of the mountains. Nicest couple ever and delicious breakfast in the morning!
Lisa
2016-10-09T00:00:00Z
Joe and Cynthia have an amazing home filled with unique items. The views were amazing. They made us feel very welcome. The breakfast was delicious while looking out of a panaromic window. And to our surprise a majestic moose rambled by the window as we were eating. You can't get that at a hotel!!
kathy
2016-10-08T00:00:00Z
Room Type
Private room
---
Property Type
House
---
Accommodates
2
---
Bedrooms
Ward, CO, United States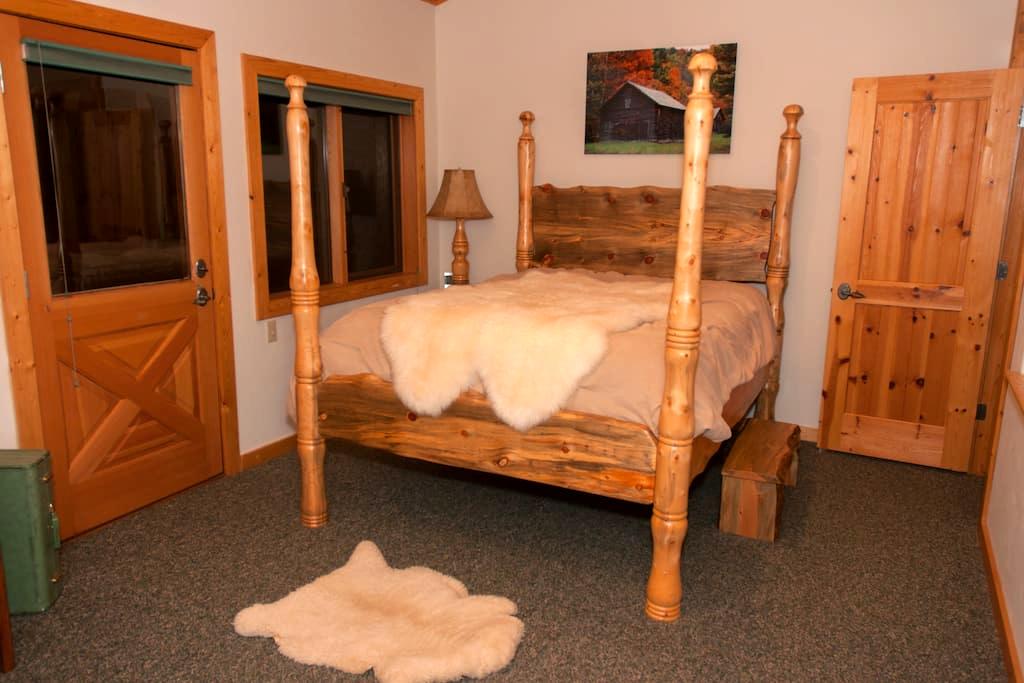 Exactly 10.0 mi. to downtown Boulder / 5.8 mi. to north Boulder. Located on scenic Lefthand Canyon. Hike directly from backyard or listen to sounds of the river from front porch! Enjoy the outdoor shower if you visit in the summertime (and, oftentimes there is beer in the kegerator...check with me before booking if this is important to you!).
Avoid the hectic life and traffic in Boulder while still being close to Boulder if needed. Mountain living is sweet! A perfect spot to launch from if you're visiting for outdoor recreation. I leave from my driveway on foot for a trail run or on bike for a road or mtn cycle. There are 2 bedrooms in the house and each bed sleeps two. Additionally, there is a comfortable mattress under one bed (sleeps 1), and the couch can be used to sleep another person if needed. But for simplicity, let's call it a 4-person accommodation.
Not in a neighborhood and only a few neighbors, but also relatively close to the main road, which is good for access.
Beautiful place to stay!
Charles
2016-05-23T00:00:00Z
My son and I enjoyed our stay at Erin's mountain home, though to be honest we didn't spend a lot of time there since the purpose of our visit was my other sons Graduation from Boulder, so we spent most of our time in the city. On the plus side, very clean and tidy and I loved the outdoor shower once I got the cold water working to moderate the heat. On the downside there were no curtains and lots of light very early in the morning - perfect for early risers though. :-)
Mike
2016-05-10T00:00:00Z
Beautiful views when you're heading to and from the house. Perfect size to be able to spread out but not so much it's hard to keep up with. Internet was very fast and could easily handle myself and 2 other people streaming and on our devices during down times. If you plug the address into gps its slightly off but Erins directions were spot on and had no issues finding her home.
Emily
2016-03-24T00:00:00Z
We had a great stay. The house was perfect for us: beautiful location, quiet, and clean. The kitchen was well stocked with utensils and Erin provided a helpful note on the basics of the house and what needed to be done. She also provides Internet and a great, classic, stereo to use. We loved the skylights-both for the amazing view of the stars at night and the natural light. Waking to an incredible view of the mountain was quite memorable. Erin was a joy to work with and we would love to come back!
Alan
2015-04-12T00:00:00Z
Erin's place is fantastic. What a treat. She is immaculately organized and intentional. Her house is at the base of a mountain and exeeded our expectations in every way.
Manda & Joel
2016-02-23T00:00:00Z
We were unable to stay at Erin's place, but she kept the communication open to make sure we were able to make alternate arrangements despite she being unwell. She also made sure we were refunded the entire amount. Though I dont know about the accommodation itself, but having talked with Erin, I'd definitely recommend her place.
Deepak
2015-05-25T00:00:00Z
Erin's home is gorgeous. It was the perfect getaway for friends to spend some time together. We enjoyed wine on the wonderful front deck and talked about life all night. We had a hard time finding sheets, bedding, and towels but it really didn't phase us. Overall, great stay and an easy, laid back host!
Lauren
2015-06-07T00:00:00Z
It was just perfect for us! Erin's house is lovely and cosy and the location is quite outstanding. For those seeking pure nature in complete silence, this is it. Distance to Boulder was no prob at all. Erin was very supportive and helpful at any moment. We'll definitely come back.
Thomas
2015-04-26T00:00:00Z
Room Type
Entire home/apt
---
Property Type
House
---
Accommodates
4
---
Bedrooms
Jamestown, CO, United States
Sunrise view home with amazing light and views of Boulder. 30 minutes to skiing. Hiking trail across the street. Quiet. Live Bluegrass on the weekends in downtown Gold Hill as well as fine dining. 30 minutes to Boulder/Pearl Street.
Room Type
Entire home/apt
---
Property Type
House
---
Accommodates
4
---
Bedrooms
Boulder, CO, United States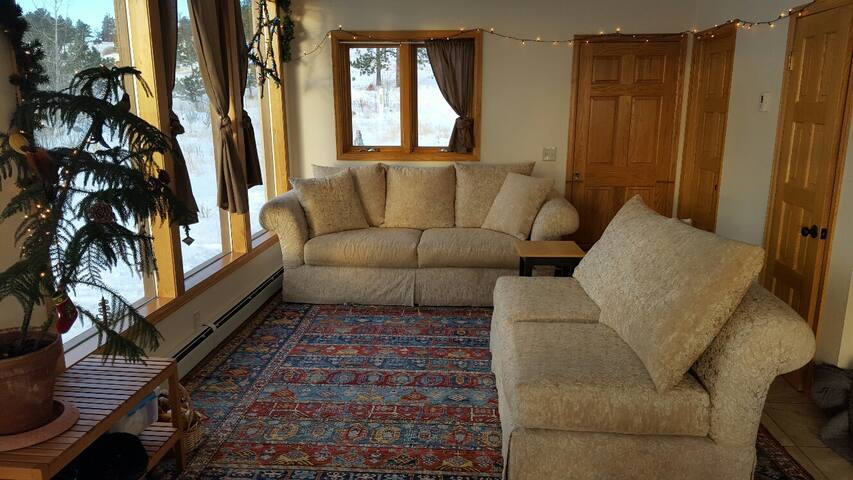 My place is close to Nederland and Boulder.. You'll love my place because of Rustic log cabin with spectacular views. Looking east you see Boulder and the plains. Looking west, the Continental Divide. Sunrises and sunsets are spectacular. The hikes are breathtaking.. My place is good for couples, business travelers, families (with kids), big groups, and furry friends (pets). The house has three levels. Two private bedrooms, a loft, and a small room.
The house has spectacular hikes just minutes way including Dream Canyon. This canyon is popular with rock climbers because of the sheer granite rock faces and beautiful views.
The house sits on three acres and there is another five acres adjacent that is undeveloped. Great views, great walks, and plenty of privacy. In winter, 2WD driveway access cannot be guaranteed due to blowing snow and ice. 4WD recommended or be prepared to walk 300ft. Driveway will be plowed but may not be usable by 2WD.
Great location! Spectacular views! Amazing log cabin! Close to downtown Boulder.
Dave
2017-03-24T00:00:00Z
Room Type
Entire home/apt
---
Property Type
House
---
Accommodates
7
---
Bedrooms
Boulder, CO, United States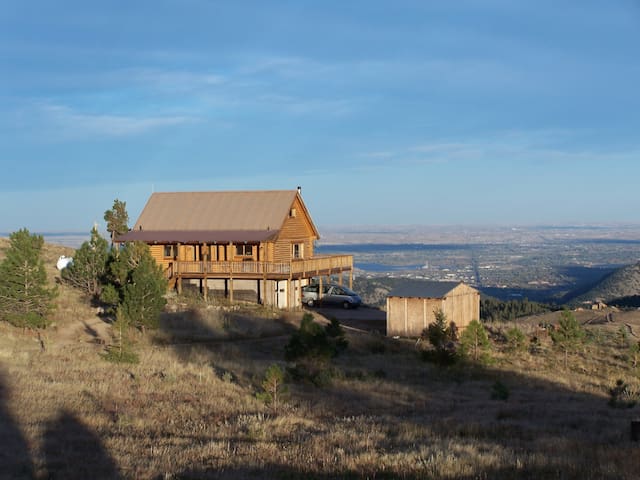 Peaceful, with beautiful mountain views on creek! Stunning home w/panoramic mtn. & creek views from sun-filled windows and skylights. Feels as though you are deep in the mtns, yet house is just 8 minutes to downtown Boulder and Pearl Street. Fall asleep listening to the sounds of the creek. Paved roads and driveway-easy access. Eldora Ski: 30 min. Rocky Mtn. Natn'l Park: 45 minutes. The house has breathtaking unobstructed views of tree-covered mountains in a very private and peaceful setting.
Stunning upgraded modern home with breathtaking unobstructed views of Green Mountain and Bear Peak. Very private, surrounded by trees, above a beautiful creek, with views of mountains on 3 sides. Luxurious jetted bathtub in master bath with heated floor. Spacious sunny great room, with coffered ceiling and skylights. The house is a warm and cozy retreat with all of the comforts of home. Enjoy falling asleep to the sound of the creek below. With an 8 min.drive to downtown Boulder, it is truly the best of both worlds! Located 30 minutes from the Eldora Ski Area and 45 minutes to Rocky Mountain National Park. Coffee and tea are provided. Full kitchen for your use.
The privacy and sun-drenched great room, with sound of the creek, breathtaking mountain views make this home a perfect getaway, with all of the benefits of being close to Downtown Boulder makes my home the best of both worlds. Close to Benjamin Loop and Betasso Open Space. Located in a canyon, the paved road is a favorite of bicycle enthusiasts and nature lovers.
Rebecca was gracious, accessible and available. She answered tons of questions about restaurants, activities etc. The home worked great for our family of 4 and was immaculate. We loved the mountain location and quick proximity to downtown Boulder. Only issue we had was parking 2 vehicles and navigating the steep driveway. Expected with a mountain house, but could be an issue in snowy or icy weather. Loved it and would highly recommend. Overall great experience!
kim
2016-08-30T00:00:00Z
Rebecca was very quick to respond to our request and answered all of our questions before the booking. The house is in the most outstanding location, set up on the slope of the valley looking out over the tree tops towards the mountains. Totally private and away from everything but only a 9 minute drive from town. My wife and I stayed for a week and could happily have stayed for longer. The main living area is spectacular as is the main bedroom and bathroom and is actually better than in the pictures. There is very little mobile phone signal due to the canyon but Rebecca let us use the landline instead and with wifi it was possible to call through that. I would highly recommend this accommodation for anyone looking to get away from it all and relax. We will definitely be coming back!
Thomas
2015-04-02T00:00:00Z
If you want the perfect vacation home in Colorado, this is it! Great location. Beauty is breathtaking. Excellent location to so many wonderful mountain activities, plus cool shops and first-rate restaurants. Perfect for a family vacation or romantic getaway. Our family loved it and looks forward to many more stays. Rebecca is the perfect host. So gracious and accommodating. Offered helpful advice on area attractions. Made herself available for questions during our stay. We appreciate her helping our family create a very special memory!
Andrew
2014-12-27T00:00:00Z
Great getaway spot! Beautiful view and great vibe - the whole family had a blast just getting to relax in the treetops - with the convenience of just being a few minutes from town - Rebecca was so kind to open her place to us and would highly recommend it to anyone -
ben
2015-06-18T00:00:00Z
The home is really lovely - just as described, it is 8 minutes away from Boulder but, especially at night, you really feel remote and can see a huge sky of stars from the deck. Great combo. Rebecca walked us around and showed us all the things we need to keep in mind while staying there - she described the house as having a life of its own, and that adds to its charm. Great master suite with lots of privacy downstairs, too. We had a wonderful time in this home : )
Tamara
2015-07-26T00:00:00Z
The house was spectacular. We really enjoyed our stay. Hose is equipped will all the necessary amenities. Very comfortable house . Awesome view.
Saidur
2016-10-17T00:00:00Z
Rebecca made us feel very welcome. She was informative and solicitous. My family and I had a great stay at her beautiful home. The house is lovely, and the sounds of the creek and birds are so relaxing. It is just close enough to Boulder's fun and just far enough away to be a real retreat. I would recommend this special place to anyone who has an interest or opportunity to stay in the area.
Wendy
2015-06-29T00:00:00Z
Awesome stay! If scenic views of nature and a serene environment are what you are looking for, this is the place. Our host meet us at the location very weloming and informative as well as accommodating throughout the process. My family and I had a wonderful first time visit to Boulder. This home made the experience even more worthwhile. It was truly a home away from home; it met our expectations.
Charlene
2016-06-21T00:00:00Z
Room Type
Entire home/apt
---
Property Type
House
---
Accommodates
5
---
Bedrooms
Boulder, CO, United States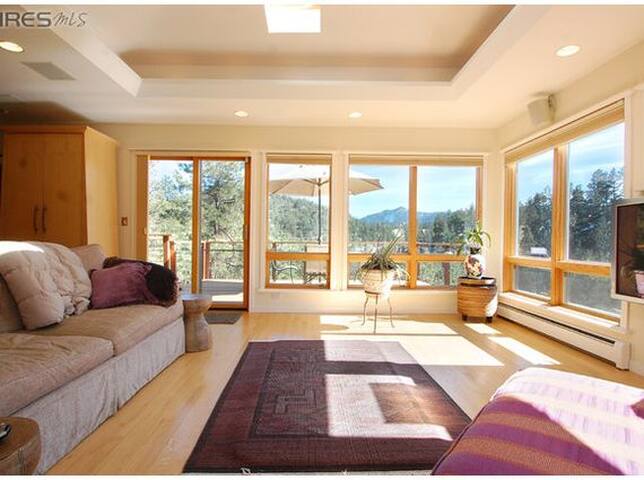 Come spend a night, a week or a month in a beautiful Log House in the mountains just 8 miles from Boulder. Your own room in a quiet part of the house with shared main living space; lovely kitchen with stainless appliances and granite surfaces, living room with incredible views & wood-burning fireplace. Bedroom has south-facing forest view. 4wd is actually a must in the winter, but how else do you access such seclusion and beauty without having close neighbors?? This might just be the unique Colorado experience you've been seeking. A leisurely 20 minute drive along one of Boulders' most beautiful canyons( (from downtown Boulder), you can have the best of all worlds; a quiet place to chill and easy access to town. Come check it out,You won't be disappointed! Dogs might be an option, but check with me first.
I had the great, really magical actually, experience of staying at Steve's mountain home/piece of heaven. It was understated, rustically elegant; clean; comfortable and as my 8yr old son says, "mommy, it's so homey and cozy!" Steve is such a stand up guy who communicated with us wonderfully and made us feel so at home being such a great host while giving us space as well. Aside and additionally from feeling I've made a friend, it was a privilege to stay and I look forward to staying again! Steve you're awesome and your home and host experience a true gem! Thank you!
Yvette
2015-08-22T00:00:00Z
I booked my stay at Steve's home fairly last minute because I was on a road trip with no concrete plans. Steve was very accommodating for my dog and myself based on our last minute request! Absolutely LOVED Steve's home. I was looking for a getaway and that's exactly what I got. It is a very healing place and perfect for anyone just looking to relax but have access to the fun in Boulder. Complete with a stand-alone deck below the house, perfect for meditation/yoga or just soaking in the view! Steve and his housemate, Mark, were a hoot! It was a blast hanging out with them. Thanks guys!
Lauren
2016-04-11T00:00:00Z
This was our first Airbnb experience - and wow was it absolutely perfect. Steve was extremely communicative the entire time, leading up to, during, and after our stay in his home. He was an absolutely welcoming host, setting aside as much time as needed to get us acquainted with his home and the area. Being both a native and a skilled outdoorsman, Steve gave us so many great ideas of things to do within our skill level in terms hiking, backpacking, cultural events and visiting the city of Boulder (and Denver) that we will have no choice but to come back for another visit. Steve's home is stunning and is well worth staying outside the humdrum of the city itself to enjoy the spectacular vistas and views of the uninterrupted night sky on top of a mountain! As to the house itself - don't let the charming log-cabin rusticity fool you. Steve's house is equipped with all of the modern amenities you would seek in a stay elsewhere in the city. The bed was extremely comfortable, and both the room and bathroom were extremely clean. It is situated in such a way that you feel like you have your own section of the house, but should you want to hop out to the common areas to socialize, Steve makes you feel absolutely welcome to do so. Do yourself a favor and book this listing if you can. Quick notes: the drive up to the house can be tricky for people who do not know how to drive on rugged terrain. There is couple of miles worth of uphill (or downhill) steeply graded packed dirt road that you will need to navigate without the assistance of streetlamps. Fire up the high beams and all wheel or 4 wheel drive and have at it. Also, cell phone reception is touchy at best once you reach the house. Steve has high speed internet so you should be able to do any research or make any phone calls needed without issue. Make sure if you are using GPS that you plug in your location into your maps application within wifi range, or expect that you will not be able to do so until you reach the main road at the base of the mountain. Steve was great in letting us know all of this information well in advance, and even provided an extra map for us to print out and bring with us prior to arrival (BE SURE TO PRINT IT! It's very helpful to have on first arrival). One additional note: if you are looking for some of Steve's hospitality, but not the mountain location - Steve also has a listing for another unit in town. He's a fantastic host, so it'll be worth reviewing that listing as well.
Joshua
2015-09-29T00:00:00Z
This is my second time having the privilege of staying with Steve with my son. He and his lovely fiancé Tomomi are so warm, kind, welcoming and considerate. The house is spacious yet cozy, inviting and is so clean. What can I say but that a stay at this lovely mountain retreat with such amazing human beings is just magical. We felt so at home my 9 yr. old said he didn't want to leave and would miss Steve and Tomomi! Well there ya have it!
Yvette
2016-08-12T00:00:00Z
It would be hard to overstate the hospitality shown to me by Steve during my brief stay in Boulder - a truly excellent host. The house itself is stunning - the photos don't do it justice. It's in a secluded location away from the hustle and bustle, yet close enough to Boulder to be convenient (about 20 min drive). The road is quite long and winding (gravel for part of the way), and some people who are unfamiliar with mountain roads might find it challenging. Still, during most weather conditions it is well within the capabilities of a 2wd vehicle. A top recommendation.
Edwin
2015-05-20T00:00:00Z
We spent a night out at Steve's place in Boulder. It was absolutely beautiful out there, and we really enjoyed his hospitality. He gave us a great hiking recommendation in town which we took advantage of, and if I'm back in Boulder, I would definitely stay at his cabin again.
Jeremy
2015-05-25T00:00:00Z
Our experience at Steve's log house was exactly what we were looking for. As soon as we got there, he took us on a short hike to see the area around his beautiful property. The hospitality him and his housemate showed us was incredible and he made us really comfortable. He cooked us dinner since we got in so late and we exchanged stories over some bourbon. Hopefully we'll be back here next time we're in Boulder. Thanks Steve and Mark!
Joanna
2016-04-26T00:00:00Z
Steve was a great host, friendly and helpful. The place is just as pictured, basically a cool home in the heights of Boulder Canyon. Theinterior is nicely decorated throughout. I would recommend arriving in the daylight on first arrival because there are no streetlights in the forest. Recommended overall, I think this is a great choice.
Lee
2015-05-24T00:00:00Z
Room Type
Private room
---
Property Type
House
---
Accommodates
2
---
Bedrooms
Boulder, CO, United States
Come stay in our lovely mountain cabin getaway. Our Boulder Heights retreat features beautiful views, hot tub, wood fire place and a gourmet kitchen and dining experience. The driveway is a bit rugged after a snowfall, but we plow regularly and with all wheel drive you should be all set. Come lounge in the hot tub under the stars and relax by the fire.
Smart TV has Netflix and Amazon Video access pre-loaded. With three bedrooms we sleep 6 easily. We have an extra twin bed in two of the bedrooms and therefore can sleep 8 total.
Very quiet residential area.
Gala is incredibly responsive and flexible. The home was perfect for our team retreat; not too far from town but far enough to be with nature and removed from the hustle and bustle. The accommodations - hot tub/fireplace/deck/full kitchen are all phemominal.
Susan
2017-03-04T00:00:00Z
Thank you so much this place was the perfect getaway from home! Gala was so sweet and accommodating and made sure all the instructions were clear! Couldn't have asked for a better place to stay at!
Ashlyn
2017-03-17T00:00:00Z
Gala's home was wonderful and our stay was very pleasant. She was communicative and helpful throughout the weekend. We will be back!
Lesley
2017-02-12T00:00:00Z
We had a great time staying in Gala's beautiful spacious and well-equipped cabin. It is secluded with breath-taking views while also being only 15 minutes away from downtown Boulder. Gala was very accommodating and quick to respond if we needed anything. We were very comfortable and relaxed for the entirety of our stay. We would definitely stay there again in the future.
Chel
2017-01-07T00:00:00Z
Gala was very welcoming and accommodating, she even made sure we had coffee for the morning and left us a bottle of wine. The home was clean and cozy. Hot tub was great and there was a beautiful view from the deck. Drive to house (especially driveway) could be tricky in the winter without a 4 wheel drive car.
Sarah
2017-01-15T00:00:00Z
Gala's cabin was the perfect get away. Clean, quiet, beautiful views from the hot tub, and an easy drive into town. Gala was very helpful, and had some great local recommendations. Would definitely book again.
Brian
2017-01-29T00:00:00Z
Awesome view and nicely decorated space! Our group had a great time here!
Carli
2017-03-05T00:00:00Z
Galas place is nothing but amazing. It's tucked away on the mountain but just a 15 min ride into downtown! It's so quite and peaceful, the views are breathtaking and even the neighbors dog jasper came to hang out with us on e morning! Gala always made sure we were ok and if we needed any suggestions on what to do she had awesome recommendations! So happy we spent our Valentine's Day trip here and we can't wait to come back!
Karla
2017-02-19T00:00:00Z
Room Type
Entire home/apt
---
Property Type
House
---
Accommodates
8
---
Bedrooms
Boulder, CO, United States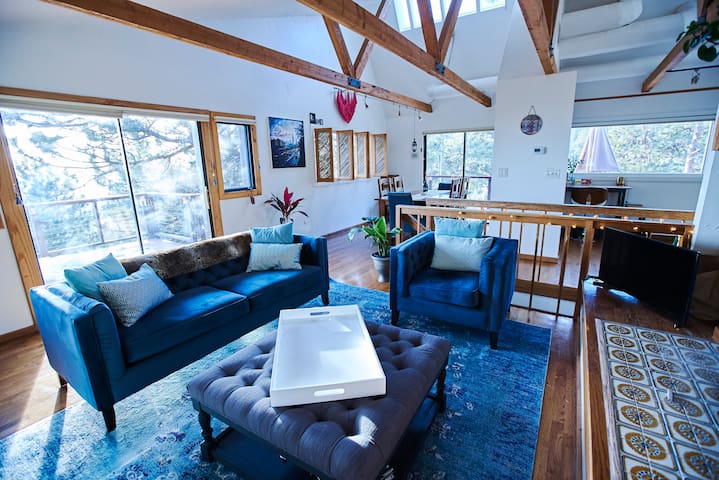 Rustic mountain home, private 2 bdrm apt downstairs, master bedroom cal king bed, 2nd queen, den and full bath. 2500 ft main floor shared with 2 residents. Guests receive a 20% discount at Native Roots Pot Shop in Boulder. 420 friendly!
We are located in beautiful Sunshine Canyon. The immediate area around our house features beautiful hiking trails (Bald Mountain trailhead is less than a mile away). Sunshine Canyon is a favorite canyon for experienced cycling and all levels of hiking. Check out our guidebook to find favorite local Dispensaries, Bars, Restaurants, Entertainment, and great areas to hike, bike or people watch. We want your experience in Boulder Colorado to be a well informed and positive experience.
John & Karen were warm, welcoming, unobtrusive hosts. There to lend a helping hand or advice when needed. Very homely cabin in a great location (only 15mins from town).
Gordon
2016-07-31T00:00:00Z
John and Karen are terrific and kind people, and have an amazing property! The views are breathtaking and offered moments of relaxation so needed by us. They are wonderful hosts and were super attentive to our needs. Ask them about the history of the area, it's pretty amazing. Their dog Harley is a huge, warm and friendly dog that we loved playing with out on the deck. The deck by the common floor living room, up the steps, offers a beautiful sunrise view over the canyon if you're an early riser. Definitely take advantage of the water cooler too, it helped us. The downstairs apartment was very quaint and comfortable. We melted into the chaise lounge and comfortably watched some television before bed...that amazing king size bed; we got a great night's sleep. There's a full body mirror downstairs and the bathroom met our needs. The drive to and from downtown Boulder is filled with moments you want to stop and take pictures. There are a few places you can pull over and do so. If you are renting a car, I would recommend a crossover/SUV type vehicle. This is hands down the place to be if you're looking for a scenic spot near Boulder, and we'll definitely be staying there again in the future.
JeffandJess
2016-06-01T00:00:00Z
John was excellent! We were able to get in to the house easily, and had a wonderful, comfortable stay. The surrounding area is beautiful and just a short drive to downtown Boulder. John was accommodating, friendly and welcoming. We'd happily stay here again.
Chris
2015-09-13T00:00:00Z
Karen was a gracious host and tried to respond to all of our needs. She really was wonderful, but I feel I must leave my honest opinion about the house because I spent SO MUCH MONEY to stay here. I stayed at a luxury hotel for much cheaper a few days later on my trip, and I feel ripped off. If this listing was under $100, I most likely would be leaving a positive review. I paid $189 for 1 night, so my expectations were high. Upon check-in, we thought no one was home. We knocked, yelled outside, no response. I finally got the nerve to open both doors and yell hello a couple times, and Karen heard me. No biggie for me, but my husband was ready to leave. I was never able to connect to the wifi, but Karen had access herself, so don't know what was wrong. Disappointed because I was planning on contacting my kids. There was a smoke alarm that chirped constantly, apparently needed a new battery. Karen said it was high up and needed to wait for John to come home & fix it. We had to sleep with the radio on. The house itself was generally run down. Our level of the house needed to be vacuumed, but the bathroom was very clean. The bedsheets were also clean. There was a smelly wet spot on the carpet at the top of the stairs to our level, and flooring in the main house entranceways were worn down to nothing. With all that said, Karen really was great. She brought us out to the decks (very peaceful) and hung out with us a while, and made sure we had everything we needed. Like I said, if this host lowers their rates to about half of what I paid, I would be leaving a great review. If you are looking for a place to stay that you can just sit on the deck and zone out for a long while, this is definitely what you're looking for.
Michelle
2015-06-29T00:00:00Z
This was our first AirBNB reservation. I couldn't have been any happier with our stay - except that I wish we had stayed longer. I would definitely stay there again. We were in the Denver area and had no place to stay for the night. John responded to our reservation request quickly with detailed driving instructions. Upon arrival, Karen made us feel very welcomed. She was a generous and fun host and made sure we were as comfortable as possible. We made dinner and sat out on the deck. Our evening hanging out with Karen felt like staying over at a friend's house. We had the floor to ourselves. The bedroom was cool and quiet with a very comfortable bed.
Mike
2015-06-20T00:00:00Z
Two friends and myself Stayed with John and Karen, and we had an excellent time. Our first evening there we sat and talked getting to know each other. They were full of great suggestions for things to do/see. Their dog behaved perfect and would sit still for hours if you pet her. Very laid back experience, no strict rules, felt just like staying with family. Will definitely be visiting them again, beyond Five star experience. These are the kind of people you'll be life long friends with. Very thankful to have chose them.
Barry
2016-06-15T00:00:00Z
John and Karen are fantastic people. I was impressed by how genuine and comfortable the vibe is here. I slept really well, the best I had in a long time! If I come to Boulder again, I will definitely be staying here!
Spencer
2017-03-24T00:00:00Z
The space was absolutely beautiful. Karen was there to welcome my mom and I and made us feel comfortable throughout our stay.
Cera
2015-09-24T00:00:00Z
Room Type
Entire home/apt
---
Property Type
House
---
Accommodates
6
---
Bedrooms
Boulder, CO, United States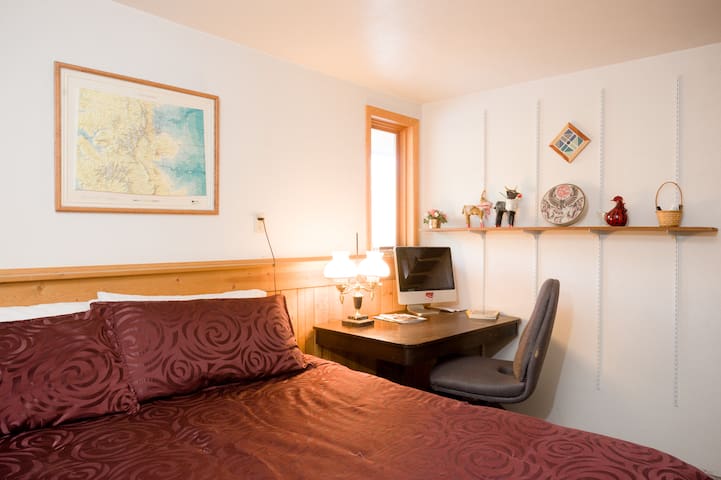 Our home is close to the vibrant city of Boulder, with scenic views of the city, mountains, and plains. For recreation, we are close to Boulder Open Spaces, Boulder Reservoir, and Rocky Mountain National Park is a one hour drive away. We have the best of both worlds... quiet mountain retreat living, but only 10 minutes to North Boulder, 20 minutes to Pearl Street's shops and restaurants! My place is good for couples, solo adventurers, business travelers, and families.
We have a craftsman type mountain cottage with a large deck and yard. We enjoy our outdoor living space, and often have our meals on the deck overlooking Boulder Reservoir. We enjoy a fire in the fire pit followed by a dip in the hot tub looking out at the twinkling lights of Boulder and the starry sky above. Our home faces east, so we get to wake up to spectacular sunrises over the plains. The guest bedroom is on the lower level. It has a queen size real bed with quality linens, drawers and closet space. You'll also have the use of the den, which has a HD TV, DVD player, a sofa, and library for hanging out. The space has a wine cooler for refrigeration, microwave oven, and a coffee pot for your convenience. The sleeper sofa in the den has a comfortable visco foam mattress. It's dimensions are 60"w x 70" l. Guests from the bedroom will have to pass through the den to get to the bathroom. There is a stairwell (without a door) that gives access to the upper level of the house.
At the base of our mountain (10 minute drive) is Four Mile Creek Trail, which connects to Wonderland Lake. You can hike or bike there with beautiful views of the front range and the Flat Irons (iconic rock slabs on the mountains overlooking Boulder).
Let us start by saying, we couldn't have asked for a better host. Gail went above and beyond to make us feel comfortable and welcome. The space itself is even better than the pictures can show. It is very clean, well decorated, with high quality bedding, and very comfortable beds. The coffee, tea, and hot chocolate were thoughtful touches. The view is amazing, even from inside the unit! You can not wake up in a bad mood in this place. Our kid's favorite space was the outdoor yard with play equipment. The property overlooks the city of Boulder. Close enough to everything, but so peaceful and removed. We would definitely stay here again in the future if we are in the area.
Marcy
2016-09-11T00:00:00Z
Gail was a fantastic and helpful host. Even before we arrived, she was communicating with us many options for our hiking itinerary in the RMNP. While we were there, she continued to be very helpful as we plan for other activities around Boulder. She was also very sensitive about not bothering us. My wife, son and I enjoyed her home and the quiet environment. Nice places outside to read in the sun or in the shade overlooking the valley in the distance. Overall, a wonderful experience.
Jeff
2016-07-05T00:00:00Z
The house was beyond beautiful and it is only a short drive away (23mins?) from Boulder. Gail was extremely gracious and accommodating. The rental space is great-extremely comfortable and spacious.
Alexis
2017-03-28T00:00:00Z
Our stay with Gail was a last minute request (the morning of), and we were so fortunate that she quickly took us in during some difficult circumstances. The property is lovely; located on a mountain, it has a wide view of the surrounding area, gentle wildlife that come impressively close to the windows, and is still within a short drive of Boulder. We were also able to visit Rocky Mountain National Park for a day, as it is about an hour away. Most notably, Gail went above and beyond to help us feel comfortable, with a sweet greeting, a clean and beautiful space, the invitation to use her kitchen and hot tub, and a deeply kind and welcoming presence. We couldn't have asked for a better host, and we will be sure to return here when we next visit the area.
Tara
2017-02-13T00:00:00Z
This was the perfect house and hosts for our family trip. Gail and Jeff are a delight, warm and loving. Their suggestions to local eats, travel directions and things to do where great and highly resonating for us. We recommend this home and hosts to you. Oh! and the sunrise are morning blessings from God.
(EMAIL HIDDEN)
2017-01-09T00:00:00Z
Gail was an amazing hostess! She was not there when we arrived but made the proper accommodations so we would not have to change our plans. She also provided us with great ideas of things to do around the area which was very helpful! Not to mention how helpful her and her husband were when we were having car trouble. It is a beautiful house in a beautiful place. Perfect place to stay for our spring break trip in Boulder!
Audrey
2017-03-22T00:00:00Z
Gail and Jeff were amazing from the start! We had great communication and detailed instruction on how to get up the mountain. The place was clean, cozy and offered my guests and I the best stay we could ask for. The suggested route to the Rocky Mountain National Park was the most beautiful route we could have taken. We had a blast and hope you do too!
Gustavo
2017-03-14T00:00:00Z
Gail was wonderful and accommodating in every way to my wife, child, and me. She offered a warm welcome and went above and beyond to make sure we were comfortable and enjoying the stay, offering hot drinks, slippers, and help carrying bags. She even held our baby while we ate breakfast! We had a relaxing time, enjoyed the beautiful view, mountain air and the drive to her home. When our baby gets big enough to go hiking, we will definitely be back. There are many places nearby for outdoor recreation and it's close enough to Boulder to run downtown for lunch. All-in-all, I would highly recommend Gail's home to anyone looking for a clean, accommodating home to stay in while they visit the northern front range!
Jim
2017-01-06T00:00:00Z
Room Type
Private room
---
Property Type
House
---
Accommodates
4
---
Bedrooms
Boulder, CO, United States
Come and enjoy the best of both worlds in this Southwestern style house just 20 minutes from Pearl street. This 1800 square foot mountain home includes a beautiful master bedroom, a loft bedroom, gracious living space, and two large decks with stunning views.
This is a two story home with cathedral ceilings and an open loft. You will feel right at home in the luxurious master suite with a queen size log bed and French doors opening to the meadow. The great room is filled with folk art and the artists work. You will have everything you need to cook a gourmet meal or just relax after a hike on the Switzerland trail or a walk to the summit of Sugarloaf mountain. Nature lovers will appreciate the abundant wildlife and wildflowers. There is also an office/artist's studio, and two large decks with breathtaking views and a hot tub. You'll reach a new height of relaxation. Extreme peace and quiet, sunlight and starlight will renew your spirit.
The home is ideally situated on two acres in a mountain subdivision at the foot of Sugarloaf mountain. The altitude is 8,000 feet which makes the air pure and the temperature ideal all summer long. It is a 10 minute walk to 11 miles of hiking trails with majestic views. 15 minute drive to the historic mountain town of Nederland and 45 minutes from Rocky Mountain National Park.
We loved Dodi's place. Very comfortable bed. Since we were in town for CU Boulder's graduation, that's about all we did there was sleep. It left us wanting to come back to experience more. Clean, comfortable, great views, quiet. Quick and beautiful drive to town. GREAT host communication.
Dave & Lee
2016-05-09T00:00:00Z
Dodi's home is magical. It's peaceful, relaxing and quiet. Her home is full of color and life. The view is as good as some of the views we saw in Rocky Mountain National Park. Dodi made fresh peach muffins and orange juice for us, and the home was full of organic and natural products. The kitchen is full of all the utensils any good chef would use regularly. The bed was comfortable, the towels were soft, the wifi was dependable, and the Bose sound dock was an added bonus. I wish we could have stayed longer. We had a rental car - Ford Fiesta, which managed to get up the steep gravel road to Dodi's home. However, I could see it being difficult in the winter. You might want to consider renting an SUV if you're visiting when conditions are icy or snowy.
Ruthie
2016-09-08T00:00:00Z
The host canceled this reservation 73 days before arrival. This is an automated posting.
Sue
2016-07-03T00:00:00Z
People like Dodi and her daughter Erica are why I love Airbnb. It really did feel like we were stepping into our own home in an alternate life -- the house is warm and welcoming, filled with light and overflowing with plants, and more than anywhere else we've stayed, it radiates the positive energy of the person who lives there. Dodi and her late husband built the house and married in the meadow. This is a special place, not a generic Airbnb rental, and we loved making it our own for nearly a week. Dodi and I messaged before our stay, and her daughter Erica drove up from Denver to show us around. Top-notch communication, clear written info, even complimentary chocolate bars in the fridge. The mountains surround the house (including, in the distance, snow-capped peaks). If you're looking for a tranquil mountain retreat, this is it. Totally worth the drive: It's about 20-25 minutes to town, depending on how fast you take the winding roads, an ideal spot for stargazing and hiking but not for a ton of daily back-and-forths. It's also about 3,500 feet higher than downtown Boulder, so keep that in mind if you're sensitive to altitude like I am -- drink lots of water and maybe grab some electrolyte packets from the integrative pharmacy on Pearl Street. For us, it was a perfect gateway to an active week of exploring Boulder and Rocky Mountain National Park. We felt very well taken care of. Thank you for making our stay so memorable!
Melissa
2015-06-23T00:00:00Z
Dodie provided fresh flowers, muffins, chocolate and coffee to welcome us. There was a thorough explanation of the house. The way up the mountain and mountain itself were exceptionally scenic and felt adventurous. The house is beautiful with two decks, large kitchen, living room and loft with hot tub. The southwestern style and artistic décor, stars at night, cool breeze and quiet were just what we needed for a restful experience. Dodie stayed in contact with us and provided what we needed.
Terese
2016-08-02T00:00:00Z
We had a wonderful time and Dodi's home is as described. It was a perfect location to get away from Boulder but to still have access. She made us feel right at home and even provided juice, muffins, coffee and tea. Her recommendations for local activity and restaurants helped immensely. We can't wait to go to the mountains again!!
Doug
2016-06-14T00:00:00Z
We found the place using our (SENSITIVE CONTENTS HIDDEN) Maps quite easily, the drive way a little steep but were able to park to get a small car into driveway. The drive is about 15-20 minutes from the heart of Boulder and is absolutely beautiful!!! The view from this charming home was absolutely mind blowing. Dodi left us sweet notes with complete directions for everything you could need. We enjoyed the hot tub with a great view and lovely deck. Also the lower deck had a great patio set and grill where we able to make some lovely dinners. Her pantry had a great collection of tea to enjoy. Full access to laundry room, fully supplied kitchen and 2 good size bathrooms. This home was welcoming and had an amazing style!! Loved the colors, pictures, and eclectic mix of pieces.....plus lush plants and green yard. The master bedroom view was quite nice to wake up to, large windows that lit the room and a breathtaking view of the mountains. Would definitely love love love to stay here again. We will be calling you Dodi! Thank you for your hospitality!
Eric
2016-07-05T00:00:00Z
Got in a little later than expected, key was easy to find and detailed instructions on everything. Hot tub was awesome, views were spectacular, had a sweet BOSE sound system. I slept on the futon and it was fine, friends said the bedroom was super comfy. Overall great place, should of stayed longer. Thanks Again!
Dong
2015-06-29T00:00:00Z
Room Type
Entire home/apt
---
Property Type
House
---
Accommodates
4
---
Bedrooms
Boulder, CO, United States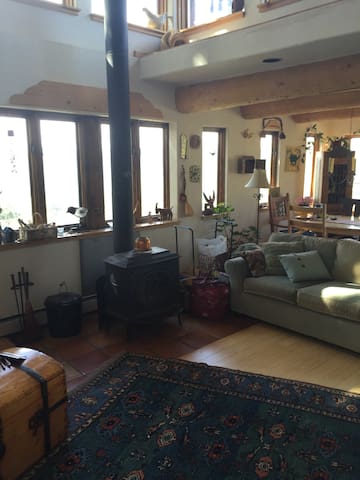 Located in a heavily wooded area in the mountains outside Boulder, this three-bedroom, three-bathroom house comes with a gazebo alongside a water stream. Rates vary depending on how many days you're planning to stay. The longer you stay, the more you save. Please contact us directly. Please check the photo page for getting access to information on the the house and hosts, and see details on rates and policies and reviews from past guests.
Located in a heavily-wooded area in the mountains outside Boulder, this three-bedroom, three-bathroom house is nested in a property with a gazebo alongside a water stream. Private, yet close to everything. It's a little piece of paradise.
The owners: "We simply love the mountains, and Colorado was an obvious choice: a gorgeous state, with friendly people. Finding a place in Boulder was also an easy decision: we wanted to stay close to one the best places to live in the U.S."
We absolutely loved the house, it was beautiful, including the trail down to the Gazebo, as well as the trail about 100' above the property with such beautiful, scenic views. This was exactly what we were looking for--a private house that feels like you're in isolation, even though you're only minutes from Boulder. We could not have imagined a more enjoyable Christmas, and would love to come back over the summer and enjoy the outdoors. This really seems like the kind of place you could enjoy all four seasons. Marcus and his wife were awesome hosts, and went above and beyond to help us enjoy our stay. We've never had a better rental experience, and we typically take 3-4 trips a year with our kids. Thanks Marcus for allowing us to enjoy your beautiful home, and for all the extras you did for us.
Dustin
2016-12-28T00:00:00Z
Room Type
Entire home/apt
---
Property Type
House
---
Accommodates
6
---
Bedrooms
Boulder, CO, United States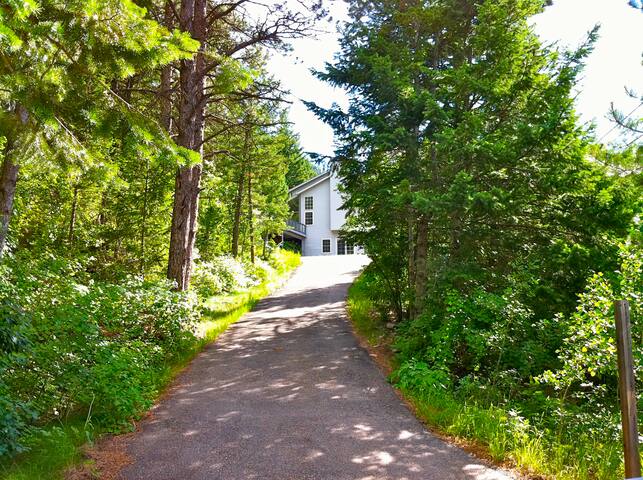 Gold Hill - Airbnb
:
Average

4.77

out of

5

stars from

438

guest reviews
1

–

18

of

38 Home Rentals
Enter dates to see full pricing. Additional fees apply. Taxes may be added.