This modern apartment it's perfectly located on the river front which has a great walking riverfront area to explore Detroit . Within walking distance to a few bars/restaurants or a $5.50 Uber ride to any bar/restaurant in Detroit. One bedroom and spacious living room can have up to 4ppl
Safe gated community with free parking!
The apartment and the host were great. View from the apartment was unique. Keep in mind that there is no free wifi in the building. But the location felt really safe and there is a great market close by. I can recommend this place and the host for everyone!
Juuso
2016-11-25T00:00:00Z
This place has a great view! The gated entry and exit adds great security. David is a wonderful host! Extremely helpful and flexible, knows the city well to help new comers explore what Detroit has to offer. The bed was firm and comfortable. The couches were also very comfy to watch the gigantic TV. A great stay!
Jacob
2017-01-18T00:00:00Z
Very cool stop for a getaway. Simple, classy, safe and secluded. Great TV but needs WIFI. Bedding was motel cheap but effective. Shower was good but could use a better head. Water was clean. Toilet strong. Great carpet.
Chris
2016-12-29T00:00:00Z
Our trip was great and David was a nice host. My children and I had a fun time in Detroit for a hockey game. Unfortunately I have had to edit this review after I received a late night text from David (36 hours after we left) accusing us of taking his "personal stuff." There were a few bottles of beer in the fridge and numerous bottles of wine on the counter (as seen in the photos of the kitchen). Some of the wine was already open. David did not indicate that the alcohol was not to be touched so my wife and I drank the 3 beers and had a few glasses of wine. I believed it to be for guests and I even tried to pay it forward by leaving a new 6 pack of beer in the fridge for the next guest. In the text he asked why I touched his personal stuff and that he was "forced" to put this in my review so that he could be "compensated." So guests be aware that it is not "ok" to drink the beer, wine, and liquor in the kitchen.
David
2017-01-22T00:00:00Z
Clean, comfortable, cozy. Quick access to downtown with Uber. Great communication. Easy check in and out. Safe gated community. Will definitely stay at David's again!
Adrienne
2017-04-04T00:00:00Z
David's place was great! He was very accommodating and welcoming. The complex is nice and safe. His condo was clean and had everything we needed. The location is great too. It is close to downtown and Belle Isle which worked out well for us as we were in town for a festival there. It also has a nice view of the city! I would recommend staying there.
Tiffany
2016-08-29T00:00:00Z
Great place right in the heart of down town. The host is very prompt and gracious and helpful at pointing us to local spots to visit and check out. Clean apartment with a great view of the Detroit skyline.
Douglas
2017-02-21T00:00:00Z
David's apartment is in a great location and has an amazing view of the city! Its a short cab ride into the city and the location had parking on site. I would highly recommend staying here, and David was very helpful.
Taylor
2017-01-15T00:00:00Z
Room Type
Entire home/apt
---
Property Type
Apartment
---
Accommodates
4
---
Bedrooms
Detroit , MI, United States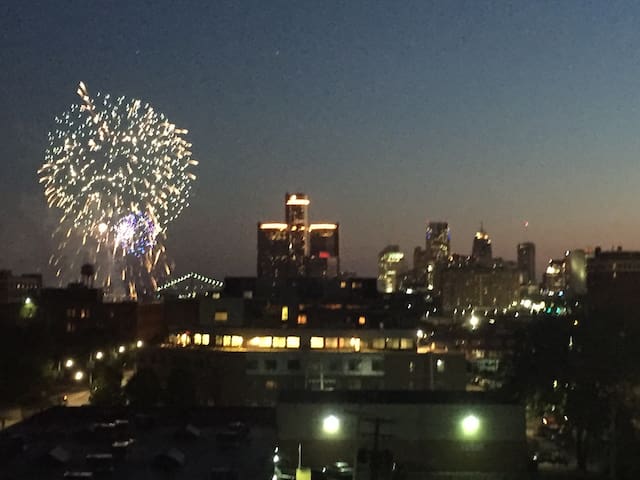 nicely decorated, and you will have your complete privacy. This unit has two stories with a beautiful attic, and it is able to host 7 people with 2 full size beds and 1 bunker bed. My houses are ideal for couples, solo travelers adventure, business travellers, families with young children.
This is a betuatiful duplex home! One of the unit is for rent. It has its own entrance, and it is a 3 floors apartment with fully equipt kitchen and tasted furnished furniture. You will have you complete privacy!
I like the house quiet, safe, close to the river, you can also fishing.
What a wonderful place to stay! Everything was on hand, clean and very comfortable. Shiyun had breakfast food, milk, sugar, coffee etc to help us through the first morning. It was very much appreciated. Shiyun also responded very promptly to any questions. We felt very comfortable.
Ann
2016-12-27T00:00:00Z
Great place at a great price. I would definitely stay again.
David
2017-01-15T00:00:00Z
I had a wonderful stay! The place was very clean, quiet, warm and welcoming. Communication was clear and fast. Check-in was easy, the key was left in mailbox. I LOOOOOVED the claw foot tub as it was the reason I booked the rental in addition to the fireplace. The place was very spacious. Kitchen was perfect for cooking a small meal. I had a great experience for a short getaway to relax and recover. Next time I'm bringing friends, since it's perfect for at least 3 couples, and offers a cool fire pit and BBQ grill outside. Book this place! Oh and the host also provided eggs, milk, butter, orange juice, fruits, and cookies. Wow! Just awesome! Last note, this place is in a nice suburban area and is walking distance to the river walk for a great view of the water and Detroit.
Kreshona
2017-01-16T00:00:00Z
This was my first airbnb experience and I have to say I felt super spoiled! Baked goods and a fruit basket waited on our kitchen table and all of the lights were on so it was a lovely bright spot on a somewhat gray day. :) it was cozy but we were able to host a few family members for a pizza night. Shiyun was prompt in communication and check in and out was easy as could be. :) Thanks for making our first experience such a lovely one!
Alexandra
2016-12-29T00:00:00Z
This house is a must stay in Windsor! I had an amazing weekend! Shiyun left us breakfast food, there was milk eggs and the house was clean! I wish I could stay here every weekend
Amma
2017-02-18T00:00:00Z
Thoroughly enjoyed our stay in this lovely home. It had everything we needed and more. The added touches of fruit and croissants left for us was so appreciated!! Would recommend to anyone and would definitely book again!!
Sara
2017-03-08T00:00:00Z
Great Stay, enjoyed the house. The attic space was cool. The listing was misleading this is a separate unit in a house shared by others. We would definitely stay again.
Tom
2017-04-07T00:00:00Z
Nice simple place !
Francis
2017-03-19T00:00:00Z
Room Type
Entire home/apt
---
Property Type
Apartment
---
Accommodates
8
---
Bedrooms
Windsor, ON, Canada
Sunny and bright, walk-up 2 bedroom flat. Nice sized living, dining, and kitchen, 9' ceilings, outdoor porch. Newly remodeled and furnished with quality original mid-century, classic DWR and only 2 Ikea pieces. Premium Stearns & Foster mattresses. Completely equipped kitchen, linens, towels. Quiet location 1.5 blocks from restaurants and services. Midtown Detroit 15 minutes by car, 30 minutes by bike. Discount: Weekly (25% 7 nights). Monthly (50% 30 nights). Complimentary bikes available.
MCM furnishings including, Eames, Herman Miller, Emeco, Lane, Broyhill. CENTRAL air conditioning and gas forced air heat. Brand new kitchen remodel with gas range. Brand new stainless steel refrigerator, dishwasher, microwave hood. New bathroom sink, vanity, and toilet. Original wood flooring throughout. Outdoor porch. 50" HDTV + 32" Combo HDTV in kitchen.
If you're relocating to the metro Detroit area or on a consulting, academic, medical residency, or project management assignment, consider the Grosse Pointe area for your stay. Quiet and convenient location in Grosse Pointe Park that is close to neighborhood shopping and services.
David's place was perfect for us. Well-furnished, comfortable and in a great location. Everything we needed was walkable - and David was kind enough to lend us bicycles so what wasn't walkable was still accessible by bike. The local parks are amazing - especially in the summer and especially with kids. As a host, David was incredibly accommodating and welcoming. We had our two young kids with us who wake up very early and I was nervous about them pounding the floor above our host. David took my anxiety about them being a nuisance away. It was a big help in letting us enjoy our time there. We had a blast!
Kaya
2016-08-02T00:00:00Z
Yes to all!
Elizabeth
2016-09-05T00:00:00Z
We were in town with our two teenaged boys for a family event, and David's place was a wonderful refuge for us. It has a modern functional kitchen, a separate living room for privacy and two very comfortable bedrooms. It is well located on a quiet street which is close to shops and is a perfect jumping off point for both Grosse Pointe and Detroit. David was very responsive to a few last minute questions that I had, and we really appreciated his hospitality. We will definitely be back!
Elizabeth
2016-09-19T00:00:00Z
Very clean! Had everything that we needed, and a little extra. David was easy to communicate with for questions about location, check-in, and household item location. Would recommend!
Eric
2017-03-05T00:00:00Z
Apartment was tastefully decorated and extemely comfortable.
Cindy
2015-08-23T00:00:00Z
David was a great host, very helpful and friendly. The place is nice and spacious, spans the whole 2nd floor. Calm street and immediate surrounding neighborhood. We had a great time and felt at home
Arjen
2015-08-20T00:00:00Z
David was an awesome host and he's got a great apartment that we fully enjoyed. If we could have stayed there longer, we definitely would have. His place is always booked because people who have stayed there before want to stay there again. It's in a very safe area and the neighbours are great. We highly recommend David's place!!
Viva
2016-05-29T00:00:00Z
This was a great location for out of town guests visiting family in Grosse Pointe Park. Apartment was really clean and comfortable. A word of caution for less steady guests - steps to unit are a bit steep. Great location for GPP!
Nicole
2016-12-26T00:00:00Z
Room Type
Entire home/apt
---
Property Type
Apartment
---
Accommodates
4
---
Bedrooms
Grosse Pointe Park, MI, United States
My house is very spacious, clean and has classic modern feel to it. I do have a cat, incase you do not like animals or if you're allergic. There is no smoking within the house, but you're more than welcome to smoke outside. The room that you would be residing in, is a little under-furnished, but is quiet and comfy.
The house is open for you to use. There is a washer and dryer in the basement and the fridge is stocked with good food.
The neighorhood is friendly and there are many local bars and restaurants within a short walking distance.
Room Type
Private room
---
Property Type
Apartment
---
Accommodates
1
---
Bedrooms
Grosse Pointe Park, MI, United States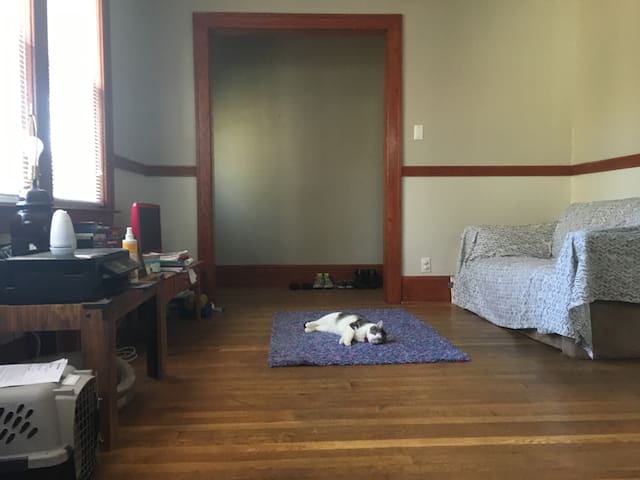 Located In the Cozy, Vibrant Commercial District of Grosse Pointe Park. With Walkable Restaurants & Bars. Re-Emerging Detroit Is Just A Short Drive Away. Great For Out Of Town Wedding Guests.
No Other Rentable Space In All The Grosse Pointes
The host canceled this reservation 5 days before arrival. This is an automated posting.
Angela
2016-09-07T00:00:00Z
Room Type
Entire home/apt
---
Property Type
Apartment
---
Accommodates
8
---
Bedrooms
Grosse Pointe Park, MI, United States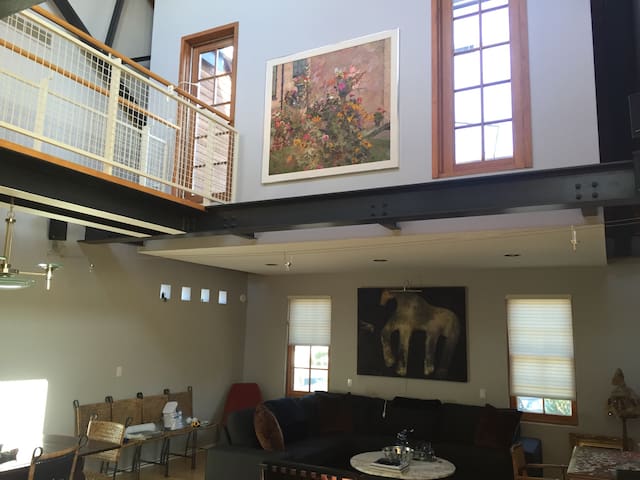 This home, located right next door to my residence, is the third Detroit home I've taken on as a renovation. It still has a few more details to hammer out, but due to the huge demand for accommodations, I decided to list it early at a discount rate. It is adjacent and connected to my urban duck farm!
I'm not going to lie, since the housing crash, many people left this neighborhood, so there is blight, empty houses, and empty lots where houses used to be. But the good news is, it is considered one of the more stable neighborhoods in the city. In the entire three years I have been renting on airbnb, over 100 rentals per year, we have not experienced a single crime incident. We are also located blocks from Grosse Pointe, one of the safest suburbs in the area, where there is shopping, groceries, coffee shops, restaurants, and most other amenities.
Very comfy house with a considerate owner! Light sleepers beware – it can be a little loud with ducks in the backyard and curtains separating sleeping areas.
Matthew
2016-07-05T00:00:00Z
Wonderful spot to stay when visiting Detroit. Lots of room, beautiful china, and a newly remodeled bathroom! And check it was so easy! Will definitely be back on my next visit to the area.
Madeline
2017-02-27T00:00:00Z
Suzanne was wonderful. She made sure that we had everything that we needed. We felt safe and were able to walk to the shops and restaurants. The house had all of the amenities that were required for a comfortable stay. We would stay here again. Thank you Suzanne.
Sean
2016-04-01T00:00:00Z
Suzanne was a great host! The house was exactly as described. It was comfortable and charming and had everything you need. Being near grosse pointe was convenient. It had all the shops and restaurants you need and is a beautiful neighbourhood. Overall great trip!
Bri
2016-07-26T00:00:00Z
The host was great. We needed very little but when we had a question or concern, she resolved the issue immediately. The neighborhood looked a little rough, however we did not feel uneasy. the neighbors were friendly. It was a diamond in the rough.
Lynna
2016-08-25T00:00:00Z
Suzanne's place was great for business travel. I highly recommend this place.
Stefan
2016-04-21T00:00:00Z
This was our first AirBNB experience and we are very happy about the experience. Susan is a great host. We booked with her just a couple days before our trip and she responded almost immediately to all of my messages. Her place is as described. Getting into the home was easy. The kitchen has pots, pans, a small fridge and dishes -- which is really convenient. The bathroom comes with towels, but we bought our own. Susan provided a shampoo/body wash in the shower. The neighborhood seems a bit rough, but we had no problems at all.
Panhia
2016-10-21T00:00:00Z
Suzanne was nice. She even came to open our door even though we arrived after midnight. Fortunatelly she lives next door :) you can tell that house is under construction and it needs little bit of work, but nothing serious. Beds were comfy, sheets and towels were clean. Neighbourhood might look little bit scary in the night as any street in detroit but i think its safe. Overall good experience
Peter
2015-10-18T00:00:00Z
Room Type
Entire home/apt
---
Property Type
Apartment
---
Accommodates
5
---
Bedrooms
Detroit, MI, United States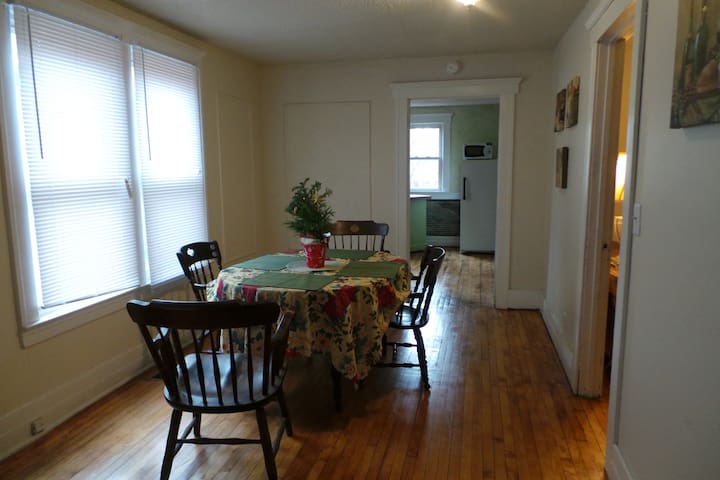 My newly renovated and furnished with contemporary furniture, one bed/one bath apartment is all yours. It's less than 5 miles from downtown in a safe, gated community and comes with free parking. It comes with complimentary WiFi and Netflix. It is perfect for solo adventurers, couples on vacation, and business travelers.
This cozy newly renovated apartment is less than five miles away from the center of downtown. It has been recently renovated with new hardwood floors, fresh paint and contemporary furniture. The apartment has a queen size bed and a couch that easily accommodates another guest. You have access to complimentary WiFi internet, Netflix and secure gated parking. I provide fresh linens, towels and all your bathroom essentials like body wash, shampoo and conditioner. The kitchen has all the essentials: an oven, stove, dishes, silverware and cooking utensils which are all yours to use! The apartment is located in Indian Village, a safe and quiet neighborhood, so please be considerate when it comes to noise.
The complex is gated and in Indian Village, a quiet neighborhood of Detroit. It is next to an old, picturesque church and is easily accessible to most major freeways and is just a short drive to all the amenities and attractions of downtown Detroit.
Highly recommended!
Matthew
2016-12-21T00:00:00Z
Rita and her staff were all extremely responsive and communicative and definitely made for a very pleasant stay. The unit itself is very clean and modern, and the value is unbeatable. The complex is gated and we always felt secure. I come to Detroit regularly for business and up to now have stayed in faceless boring lodging in Dearborn or Southfield. I can't believe it took me this long for it to occur to me to seek out an AirBnB in Detroit proper and immerse myself in the city's renaissance.
Ed
2017-01-11T00:00:00Z
It was a lovely little condo, perfect for our stay!
Rachel
2017-01-17T00:00:00Z
Cool place
Adam
2017-01-23T00:00:00Z
The room is just as pictured. And there are a few snacks and bottled water in the fridge. Nice place.
Steven
2016-10-28T00:00:00Z
Great place, really I just slept and drove over to Windsor for my sons hockey. Easy access to the tunnel worked out well.
Matt
2016-10-10T00:00:00Z
Rita has a great place in the area of Detroit we visited. We did not get to meet her unfortunately, but she was very diligent in making sure we were taken care of. If we ever return to the Detroit area we would be sure to stay here again.
Linell
2016-10-23T00:00:00Z
It was efficient and stylish. Met all of my extended stay needs. Can't beat the location, price and onsite management. A true home away from home. I even recommended it to my company's relocation director as a great temporary place for employees to stay.
Christine
2017-03-24T00:00:00Z
Room Type
Entire home/apt
---
Property Type
Apartment
---
Accommodates
3
---
Bedrooms
Detroit, MI, United States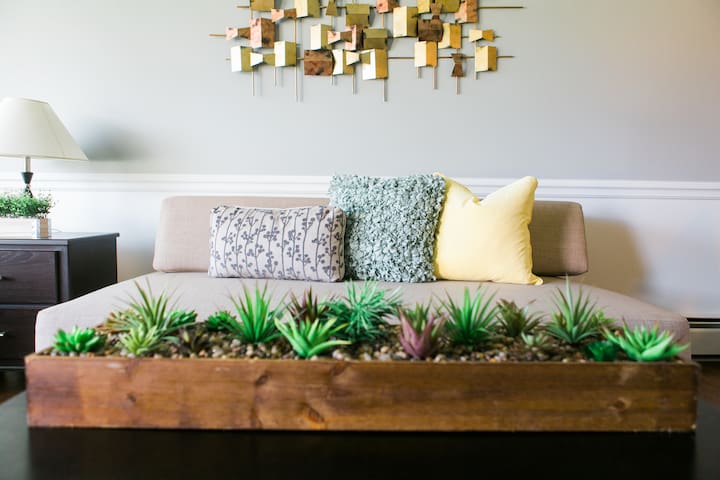 Welcome to Views By Jazz. In this spacious luxury apartment you are conveniently located 5 mins from all the major attractions of Downtown Detroit. Your apartment has a panoramic view of the Detroit River from every window. This is also a historical building modernized slightly for your comfort. Free wifi, major appliances, washer,dryer, gym, and private valet parking. You are sure to enjoy ever minute of your stay in your new Detroit vacation home.
Historical Building in Downtown Detroit
Thanks for staying at your appartment, it was a real perfect location for us
Heinz
2017-01-10T00:00:00Z
Beautiful view of the Belle Isle bridge!
Tiffany
2017-03-10T00:00:00Z
Great view
Rizzi
2017-04-01T00:00:00Z
Great location and place. Definitely will stay here again.
Tara
2017-04-07T00:00:00Z
As advertised in a pretty funky old, huge building. You could wander around for awhile and get lost. Jazz's place is comfortable. We were only there to basically sleep and it was fine. Uber ride into downtown was $10 so it's a good option and quick. Tasty pizza joint almost directly across the road from the building called Belle Island. The only issue here was really loud neighbors at 7:00am which woke us up. Do you really need to yell into a cell phone? Anyways I would stay here again for sure and Jazz seemed cool and made herself available.
Kelly
2017-04-02T00:00:00Z
Jazz was a great host. She communicated very well. Her listing was very comfortable and clean. Looks exactly like the pictures! Thank you so much.
Labrayla
2017-03-17T00:00:00Z
My husband and I really enjoyed our stay. The apartment is next door to Belle Isle, West Village and downtown places of interest. It is very comfortable, spacious and clean. Jazz is a very good hostess, easy to communicate with. Would highly recommend to anyone !
Jeff and Natasha
2017-01-21T00:00:00Z
Place was nice enough. Loud neighbors though. Host was very kind.
Rebecca & Armando
2017-03-28T00:00:00Z
Room Type
Entire home/apt
---
Property Type
Apartment
---
Accommodates
2
---
Bedrooms
Detroit, MI, United States
Located at the intersection of Lafayette Park, home to the world's largest collection of Mies Van der Rohe architecture, and Eastern Market, North America's largest open air food market.
Kyle was very informative, I received texts about checking in and checking out. The building was not as clean as I would have hoped, though the apartment was very clean. This will depend on seasons, I suppose, but I was very warm in the apartment - and opening the window and turning on the fan weren't as much relief as I would like. For the price, it was reasonable.
Alice
2016-11-19T00:00:00Z
The room was clean and close to a wedding we attended. Walking distance to Eastern Market, excellent! The radiator in this unit is on and cannot be adjusted or turned off. When we arrived, our room was about 85F (in October). An air conditioner unit in our room on full blast can get the room down to about 80F. A box fan was left behind and the second night we opened the window and used it on high to bring in cool air. After our stay we looked through previous reviews and have found other complaints about this. The host's responses were typically very prompt, but dismissive regarding this issue. This has clearly been a problem in the past for your guests and will continue to be a problem until you fix the radiator. We won't be staying here again
Ben
2016-11-01T00:00:00Z
The place was very clean and nice. The building was in a decent area to walk around during the day. The bed was really comfortable!
Ryan
2016-05-23T00:00:00Z
The apartment was in walking distance of Eastern Market and the surrounding restaurants and bars. It was clean and the bed was comfortable.
Justin
2016-09-05T00:00:00Z
I had an awesome stay at Kyle's studio apartment, which is actually a pretty decent-sized studio. Great communication, lockbox for key and the room is well-maintained with modern furnishings. About $6 Uber to go downtown.
Esther
2017-01-01T00:00:00Z
I needed a last minute place to stay while in Detroit and this place fit my needs (especially with instant booking). Simple, small, clean and welcoming. Check in and out was super easy and directions were very clear. There's 24 hour security and as a solo mid-twenties woman, I felt safe. Coffee, tea and basic cooking supplies provided. Box fan was available as well, which was great, because I love a fan when sleeping. The windows open and allowed a great breeze. Definitely recommend.
Chela
2016-11-09T00:00:00Z
The studio is in a prime location for getting to downtown and the eastern market. The studio was clean and the bed very comfortable. The building itself did not have a lot of charm, but the staff were friendly. Some neighbors were loud but quieted down when I asked them. The amazon fire stick was tricky to figure out and the landlord did not answer my calls or Airbnb message with my questions but I was able to figure t out on my own (it's HDMI 3). It was a pleasant stay and we enjoyed our trip to Detroit.
Alexis
2016-11-06T00:00:00Z
Clean, secure, private, free parking. Walking distance to the stadiums. The unit temperature was cool thanks to the AC, however the washroom was very hot for some reason. Out of 7 wall sockets only 2 worked. Overall it was a well kept studio apartment. Exactly how you see in the pictures.
samrat
2016-09-16T00:00:00Z
Room Type
Entire home/apt
---
Property Type
Apartment
---
Accommodates
2
---
Bedrooms
Detroit, MI, United States
Welcome! This is a charming and friendly 1920's building with newly renovated kitchen & bathroom. I have 2 cats! They aren't always here, but if you're allergic, I don't recommend it. I am a block away from cafes/restaurants. My place is good for couples, solo adventurers, and business travelers.
1 block from Craft Work restaurant, Red Hook coffee, Paramita Sound records, Detroit Vegan Soul restaurant, Sister Pie cafe & pie shop. 7 Min drive to Downtown, 2 blocks from the Detroit River, 1/2 mile from the Belle Isle State Park. The West Village/Indian Village is for pioneers into historical renovation and for artists & musicians in general. The ambiance and people are exciting and progressive.
Great place. I'd recommend it to anyone. Besides the pet hair, it was a perfect space.
Sensei
2017-03-03T00:00:00Z
Room Type
Private room
---
Property Type
Apartment
---
Accommodates
2
---
Bedrooms
Detroit, MI, United States
My place is cozy and homey with a midcentury modern flare, located in West Village -- one of the city's best neighborhoods (according to Curbed Detroit). Close proximity to small shops and restaurants and just a short drive or bus ride away from downtown. Quiet, clean, and the perfect place to call home for a weekend or a few days. My place is good for couples, solo adventurers, and business travelers.
West Village is quiet, quaint, and recently named one of Detroit's best neighborhoods, according to Curbed Detroit. Just one block away on Agnes Street, you'll find Redhook Coffee, Detroit Vegan Soul, and Craftwork. A few blocks away on Kercheval, you'll find Sister Pie (of Bon Appetit magazine fame) -- a must stop while you're here.
Awesome.
Naima
2017-02-05T00:00:00Z
I had a great stay at Drew's place. It's clean and felt safe. Drew is very communicative and made sure I checked in and out okay. I would definitely stay here again!
Steph
2017-02-14T00:00:00Z
Lovely place in a decent location. The decor in the apartment is really cool. Drew was extremely helpful during the check in process. The place is a little bit far from downtown Detroit, but you can easily get a cheap Uber to downtown. There are also a few really nice cafe's and restaurants close by.
Michael
2017-04-09T00:00:00Z
Drew is a great host who is flexible and easy to work with. Would schedule again.
Benjamin
2017-03-20T00:00:00Z
Comfortable, stylishly appointed apartment in a nice neighborhood. Great communication with Drew -- I'd definitely stay there again.
Jeff
2017-03-17T00:00:00Z
Super neat and clean! Great urban and modern decor, comfortable and friendly neighbors
Joe
2017-02-08T00:00:00Z
Great flat, nice neighborhood, good communication, easy access for arrival. Thanks Drew.
ETIENNE
2017-02-26T00:00:00Z
Drew's apartment was very clean and he's easy to communicate with. We had a great stay!
Nick
2017-02-20T00:00:00Z
Room Type
Entire home/apt
---
Property Type
Apartment
---
Accommodates
2
---
Bedrooms
Detroit, MI, United States
My 2-bedroom apartment is comfortable and newly renovated. It's minutes away from Downtown. It has fresh paint and contemporary furniture. You have access to complimentary Coffee, Wifi internet, Roku, and secure gated parking. Fresh linens, towels and all your bathroom essentials like body wash, shampoo and conditioner are provided. Perfect for families on vacation, big groups, adventurers, and business travelers.
This is a well designed 2-bedroom apartment minutes away from Downtown. It has been recently renovated with fresh paint and contemporary furniture. The apartment has a queen sized bed and a couch that converts into a daybed. You have access to complimentary Coffee, Wifi internet, Roku, and secure gated parking. Fresh linens, towels and all your bathroom essentials like body wash, shampoo and conditioner are provided. The kitchen has a fridge, microwave, stove and oven, dishes, silverware and basic cooking utensils which are all yours to use.
The apartment is in a nice and quiet neighborhood. It's a block away from Jefferson Avenue and very close to Belle Isle.
The host canceled this reservation the day before arrival. This is an automated posting.
Irina
2017-03-02T00:00:00Z
Great please to stay!
Sarah
2017-03-18T00:00:00Z
Carla's place was just right for a long weekend stay. It is conveniently located to downtown, restaurants and access to expressway. Secure and comfortable. The decorations were really nice.
Annie
2017-03-12T00:00:00Z
Room Type
Entire home/apt
---
Property Type
Apartment
---
Accommodates
4
---
Bedrooms
Detroit, MI, United States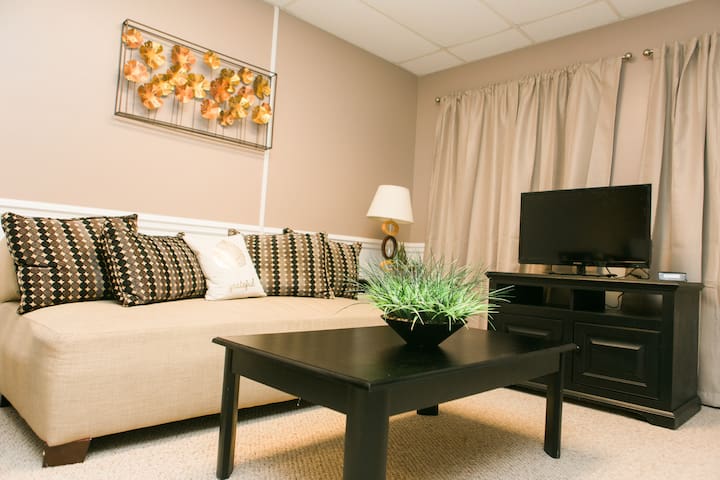 Retreat from the city into this private bedroom decorated in a garden theme. This room is in a two bedroom apartment on the ground floor. The superb location is walking distance of amenities and easy access to downtown Detroit and Canada. A friendly lab will greet you at the door.
The room is furnished with a full size bed, dresser, mirror, night stand, lamp, and trash can.
This is a superb location with easy access to downtown Detroit, riverside amenities, tunnel to Canada. A grocery store and drug store are right across the street, parks and a recreation center with pool that allows non-resident access is also within walking distance.
Great place for a quick trip into Detroit. Clara was a great host and dennis the dog will keep you safe!
Dan
2017-03-10T00:00:00Z
For my first experience at an airb&b I was pleasantly surprised at the ease and convenience of a wonderous hostess such as Clara, with her acute attention to cleanliness and genuine kindness, I felt very much at home. Thanks Clara! No more cold heartless hotels/motels for me : )
Dax
2017-03-31T00:00:00Z
Clara's place was perfect for my trip. She was a great host! It was close to downtown and had easy parking. It was perfect to come back to and be able to relax. I would highly recommend her place.
Megan
2017-02-26T00:00:00Z
Clara was a great host and the room was clean and comfortable. Her dog, Dennis, is very sweet and loves tummy rubs. The wi-fi was fast and I was able to get a lot of work done and catch up on some shows online. I really enjoyed my stay!
Stephanie
2017-04-10T00:00:00Z
Room Type
Private room
---
Property Type
Apartment
---
Accommodates
2
---
Bedrooms
Detroit, MI, United States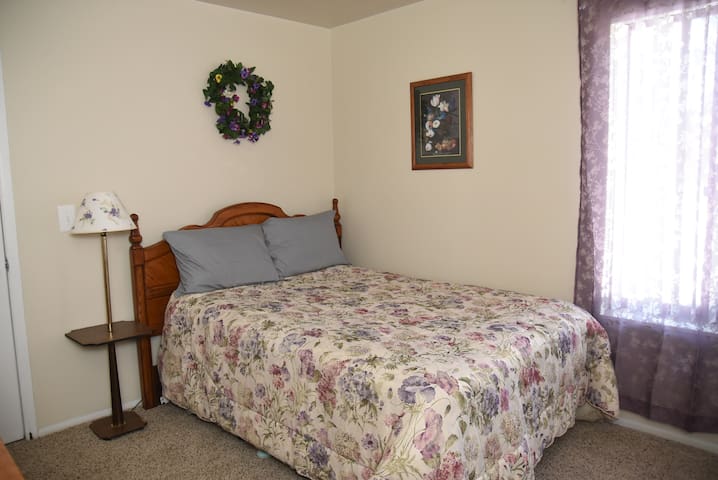 Secured private room in shared apartment. Less than 5 minutes from the heart of downtown. Easy access to Detroit's business district as well as nightlife, entertainment, and sports (Comerica Park, Joe Louis Arena, and Cobo Hall ---Red Wings, Lions, Tigers and soon Pistons). Gated apartment community.
Very nice host and the place was really clean.
Toni
2017-03-28T00:00:00Z
Amazing host and very friendly. Made my friend and I feel so comfortable at home. 5 min from downtown which is amazing! Definitely what I was looking for as far as price and location. Will be coming back soon and staying here again!
Ruth
2017-04-03T00:00:00Z
Alex was a really nice host for me and my friend, even though we had a little trouble finding his apartment and contacting him
Maja
2017-02-19T00:00:00Z
Alex's place is fantastic! The house is very nice and Alex is a good host. He even gave us a ride to the market. The location is close to downtown and in a quiet neighbourhood. It is really a pleasant stay:) thanks Alex!
Tsz Kin
2017-03-11T00:00:00Z
Alex is a very nice and welcoming host, it was beyond relief to have the comforts of home whilst away from home on vacation. The apartment is great overall, is safe and secure for travelers, and was in a prime location for our adventures in the city.
Monni
2017-02-20T00:00:00Z
Good place to stay for a low rate. He was very accommodating. The air mattress was not the most comfortable, but I managed. Area seems to be pretty quite. Overall, it was very decent. If I needed something with a low price, I would consider again.
ReShauna
2017-03-20T00:00:00Z
The place was clean and cozy. Alex is a great host and he made us feel really welcomed. I definitely recommend staying with Alex. Amazing host!!
Kasia
2017-02-12T00:00:00Z
Room Type
Private room
---
Property Type
Apartment
---
Accommodates
3
---
Bedrooms
Detroit, MI, United States
The apartment is located directly off I-75, blocks from Ford Field, Tiger Stadium & Greek Town. Garage parking is available & if walking is not your choice, Detroit's People Mover is another option.
In walking distance from Comerica Park & Greek Town.
Loren did a great job of making me feel welcomed. His apartment is close to downtown. I'd stay here again if given the chance.
Warren
2016-08-29T00:00:00Z
Staying with Loren was quite the experience! Check-in was easy and followed by some wine and jams. Place was very clean and was easy to feel right at home. Even got hooked up for a night out on the town since I was alone my first night in the city! I could write more but I'll stick to what I was initially planning on writing as my review- "!!!!!!!!" - Good times
Shiva
2016-10-02T00:00:00Z
Really welcome, really nice chap!
Simon
2016-08-11T00:00:00Z
My stay at Loren's place was great! Location wasn't too far from main attractions, but if you aren't going to uber or lyft, be ready to walk. Regardless of this, it was a nice walk and you have so much within minutes. There was a bit of a lag in communication at the beginning, but as my day of arrival neared, he was more accessible. I hardly saw Loren, but he was hospitable and flexible upon my check out. The space itself may be a little tight for two people, however I was out most of the time, so it didn't matter much. One oversight I had upon reading the amenities was the WiFi, there is none available here. So please keep that in mind. Detroit is a great city and I could've easily spent another 2 or 3 days and would've been happy staying at Loren's place.
Mariela
2016-12-12T00:00:00Z
Everything was perfect! Loren was super accommodating and nice. The place is clean and there is parking. The location is prime as it was in walking distance to all casinos, bars, the stadium and felt safe yet it was quiet! I really enjoyed staying there and would be back if I am in Detroit again.
Sabira
2016-08-07T00:00:00Z
The stay was great. Loren is welcoming, funny and nice. The location is perfect. It's safe, plenty of parking although he gave us a parking pass anyway. Walking distance to anything you wanna see... The monument to Joe Louis (the giant fist) , Ford Field, GreekTown... The room and shower was clean. Perfect for someone who just needs a place to stay for cheap close to downtown. I came to go to a Lions game and this is the perfect neighborhood to leave my car and walk to the game without having to pay for parking and deal with traffic.
Daniel
2016-09-18T00:00:00Z
Loren's room was exactly as described. The room had its own bathroom for us to use, parking was provided in the lot right outside, and we were only a few blocks walk from downtown. We booked this room the day of our stay, and Loren was very easy to communicate and coordinate with. Great place to crash for a night in Detroit!
Michael
2016-10-01T00:00:00Z
Loren was a nice host. He responded to questions very fast and in timely manner. The place is in a nice location, close to downtown and in nice neighbourhood. There are couple things that needs to be worked on too however. The place did not have wifi and was not clean enough. The mattress was unfortunately not comfortable and gave us a back pain. Overall the location of the apartment is the biggest advantage of it.
Raim
2016-09-06T00:00:00Z
Room Type
Private room
---
Property Type
Apartment
---
Accommodates
2
---
Bedrooms
Detroit, MI, United States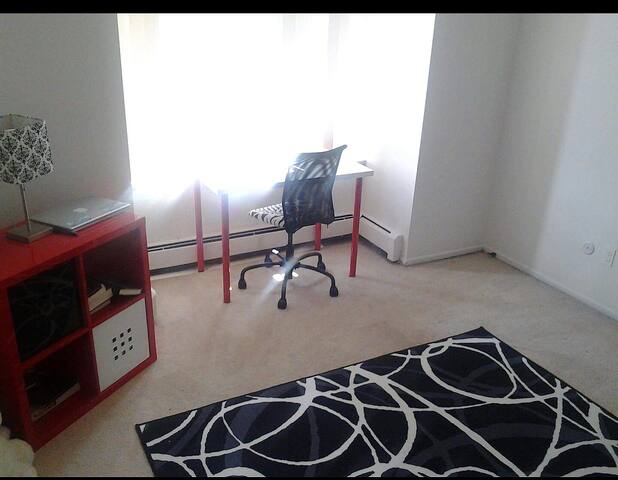 A beautiful, open, airy apartment housed within a newly renovated apartment building. Centrally located on Van Dyke Street in the gorgeous tree-lined West Village, just steps away from Red Hook Coffee, Detroit Vegan Soul, Craft Work, Paramita Sound (record store), and the internationally regarded Sister Pie. Less than 4 miles from the Downtown core, you're just a Uber away from Downtown, Midtown, Corktown, and all of the amazing experiences Detroit has to offer. Relax, you're home.
This is a newly renovated apartment housed within a 1960's building in West Village, Detroit. The building was purchased in 2016 and renovations began on the interior units. Exterior renovations (bear with us on a little bit of ugly outside) will be ongoing continuing in Spring 2017. Home includes a beautiful, fully-appointed, open kitchen, fast internet with wifi and one bedroom with a full-sized bed. This building is peaceful, quiet, and relaxing; while being just blocks away from anything you'd want to do in the West Village, and a short jaunt from Downtown or anything else you'd like to do in Detroit. Kitchen includes electric stove/oven, stainless steel sink, refrigerator, pots, pans, coffee maker, and any other utensils you need to call Detroit home for a few days. You'll find a single bedroom (open to the main room, but sectioned off). Beautifully comfortable full bed, full closet, and amazing natural light. The main bathroom includes all of the original tile work with a full-sized tub/shower and any towels and amenities you'll need to make your stay perfect. Awesomely comfy white cotton sheets are included in the bedroom on one of the comfiest beds this side of the Mississippi. The living room includes a couch (can be used for extra sleeping space, but isn't a pull-out), coffee table, and a desk. 46" HDTV is hooked up to an Apple TV with Netflix. Outdoor space is simply the common walkway and parking lot, but you're only a block away from the West Village dog park that turns into a Biergarten in the summer on weekends, as well as the patios of the various amazing establishments half a block away. Or just walk the neighborhood and see the glorious homes of Indian and West Village from the early 1900's. The apartment is all yours while you're here. Enjoy, relax, and hang out. I prefer text and AirBnB message for communication.
Awesome location right at the main artery of West Village, and only a block away from the gorgeous historic mansions of Indian Village. Local spots within walking/biking distance include Red Hook Coffee, Craft Work (Bar + Bistro), Detroit Vegan Soul, Paramita Sound (Record Shop), Sister Pie, La Boheme (French Bistro), Detroit Body Garage (Gym), Brix Wine Bar, The West Village Biergarten (Summer), and the gorgeous turn of the century mansions of Indian Village.
We really loved this apartment! It's been beautifully renovated and had everything we needed to feel at home. We loved the neighborhood and being next door to Red Hook Coffee and Craftwork. I especially loved the suggestion of Rose's for breakfast. GEEZ that place was delicious.
Brianne
2017-03-26T00:00:00Z
Very responsive. Came through on short notice. Very clean.
Erik
2017-04-09T00:00:00Z
I am forever obsessed with this apartment. I had a lovely weekend with my boyfriend and this modern space felt like our home away from home. Jesse was an acceptional host who was willing to make us feel as comfortable as possible. It really helped having him provide his phone number to me so I could contact him at anytime with any questions I may have. We discovered Belle Isle Pizza which is walking distance from this air bnb which has a beautiful scenic route through the quiet neighborhood. I definitely will be returning soon! Highly recommended !
Annabel
2017-02-19T00:00:00Z
Our stay here for the weekend was very pleasant and the home was exactly like the images. It was a very cozy and clean home at a really nice location! Jesse was great to communicate with as well, and everything went smooth and easy thanks to his great organization.
Meeghan
2017-02-27T00:00:00Z
My partner and I had an amazing stay at Jesse's place. Overall, the listing was very accurate, and I would certainly recommend a friend or family member stay here. When I return to Detroit in the future, this will be the first place I look to stay. The apartment was clean, and the photos were an accurate representation of the apartment. Check in was easy, and Jesse was a great communicator. I also loved the area; very close to an awesome coffee shop and two great restaurants, and among some of Detroit's most historic homes. Thank you, Jesse!
Patrick
2017-03-19T00:00:00Z
I used the home for a photo shoot and absolutely loved it! The place is very well decorated, cozy and comfortable. It is a place that allows for creativity!
Chinonye
2017-04-03T00:00:00Z
Great communication, thank you!
Ariella
2017-03-16T00:00:00Z
Jesse's is a great host! Very communicative and offered tons of suggestions for where to go! This place is a half block from Red Hook (awesome coffee shop) and Craftworks (awesome bar with great drinks and a great menu). You can walk to both! If you're not used to Detroit don't be alarmed by the back alley entrance. It all felt very safe and he entire neighborhood was extremely friendly. The place looked just like the pictures and it was super clean. Overall, great stay!
Eric
2017-03-13T00:00:00Z
Room Type
Entire home/apt
---
Property Type
Apartment
---
Accommodates
3
---
Bedrooms
Detroit, MI, United States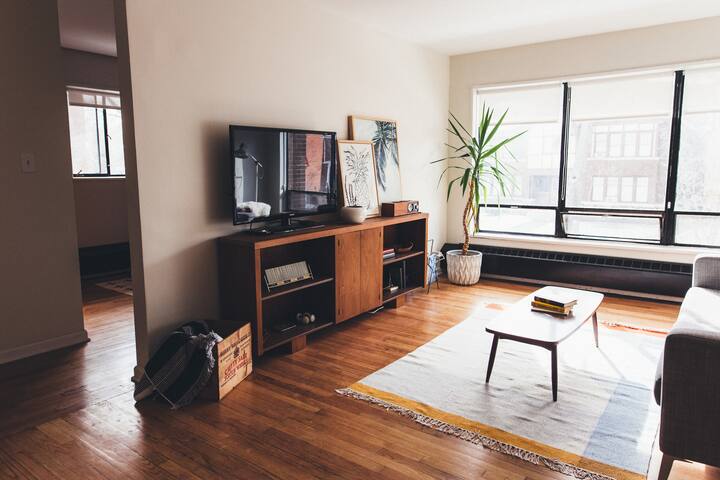 Truly one of the most beautiful and walkable neighborhoods in Detroit. Tall trees, time capsule architecture, and comfy street corner cafes. Minutes to downtown. I am a Detroit-based writer and teacher and this is my spot. You will sleep on the most comfortable bed, enjoy the best local goods stocked in my kitchen, and visit the coolest places for any cultural persuasion. Freshly remodeled and furnished apartment. After leaving in 2016 to sail, I am so excited to return to W. Village.
[My space is often booked. If it is, have a look at my three other spaces nearby, including my sailboat. Just click on my profile picture to find them.] I grew up in Montana, lived in India for a few years, and ran a journalism startup in Detroit called Jaunt, so I have decorated my place with remnants of my travels (including a wall of maps). I also contributed archival research, interviews, and reviews to a Detroit guidebook called WildSam Field Guides, so I can help you put together a good itinerary or fill any holes you might have. I mostly stay on my sailboat during the summer and I teach Marine Science on a sailing school vessel in the Fall. While staying in my space, you will enjoy all of my favorite things. When you walk in, you will be greeted by the ingredients for making my favorite cocktail, the Last Word, invented in Detroit during prohibition and now making a comeback. Even the gin is made in Detroit. For the bed, you will sleep soundly on my king Tempur-pedic mattress with amazing Brooklinen sheets. At hotels, I always wonder if they wash that top blanket. You don't have to wonder that at my place: the duvet, pillow cases, sheets, and towels are all fresh for you. I want you to feel like you are at home, so the kitchen is stocked for making a delicious breakfast. My favorite Detroit coffee, beer, granola, pickles, and much more fills my fridge for your enjoyment. The bathroom has everything you need and some things you don't, like the eucalyptus I like to hang in my shower so that the steam smells fantastic. The space is also just fun to be in. You can control all of the lights with your voice through my Amazon Echo. The lights will even simulate a sunrise to wake you up in the morning (it's awesome). There is a TV in the living room with Netflix, Amazon, and HBOGO. I have an XBox 360 and an N64 if you like it old school. Need to get work done? I have two monitors and a work desk for you to get after it.
This is hands down my favorite neighborhood in Detroit. I lived here a few years ago, left, and recently returned in December 2016. It is extremely walk-able (I am moving my mom in down the street) and has several small businesses nearby. Red Hook is a lovely little coffee shop at the end of the block. Craft Work is one of my favorite Detroit restaurants, next door to Red Hook. For the vegans, there is the well-reviewed Detroit Vegan Soul. Sister Pie won a small business contest in Detroit and chose to open up in West Village. The people who live here all share an enthusiasm for our city and our neighborhood. It is a lovely place to live and an exceptional place to stay while visiting Detroit.
Thane's apartment was great! Lots of personality, clean and cool. We really appreciated the coffee and other provisions. Karen was a lovely host. Great stay, thank you!
Grant & Kayla
2017-03-12T00:00:00Z
Thane's apartment far exceeded all of our expectations. It was so great that I would give it 6 stars if I could. The apartment is absolutely adorable, the bed is amazingly comfortable, and the location is perfect. Thane has thought of all the little things that make a stay that much more special for his guests. First, the apartment. It is a cozy space with great amenities, a very nice entertainment system, awesome speakers for music (we played random stations using his Alexa assistant), a great kitchen and an awesome bathroom. Thane has some of the best coffee and a few different ways to make coffee, which he graciously let us use. It was a great way to wake up in the morning and I had fun trying them out. Thane provided us with a list of recommended activities and restaurants, all of which were amazing. We went to the Jolly Pumpkin brewery and sat on the balcony which was awesome. We also went on the drive he recommended through the very different parts of Detroit, ending up in a very nice little town outside of Detroit. We also went to Green Dot Stables which is one of our favorite restaurants in the city and I highly recommend it for a causal dinner spot. Last, we went to Wright and Co which is always good. If you go, sit at the bar and ask for Matt. I HIGHLY suggest staying at Thane's listings.
Sam
2017-02-20T00:00:00Z
An incredibly comfortable, clean apartment which is the perfect starting point to explore the city (short drive to downtown). Very responsive hosts and will certainly book again!
James
2017-02-11T00:00:00Z
Really enjoyed my stay Thane's West Village apartment. he's a great, friendly host that went out of his way to make me feel welcome and cared for. The apartment is small, but is very well furnished and comfortable. The West Village is a great, quiet neighborhood and I enjoyed walking to dinner and coffee. Would gladly stay there again!
Gary
2017-02-02T00:00:00Z
Sleek yet cozy, really cool place. Thane is super hospitable, and makes sure to give plenty of suggestions on how to really experience Detroit. Loved it!
Lauren
2017-02-05T00:00:00Z
Thane is an incredible host and truly went the extra mile in making sure my stay in Detriot would be a memorable one. The apartment is the perfect size for one guest or a couple. The bed, a king size fully adjustable Tempur-Pedic matress, is the epitome of comfort. I'm already looking into purchasing one for my own home. The bathroom and every part of the apartment was extremely clean. The kitchen is well appointed with all the items one would need. I was especially impressed by the various options for brewing coffee. HDTV with Roku was an added bonus as well. Thane has a great eye for interior design and it shows through out the space. Tons of interesting things on the shelves and walls. Overall it has a mordern slightly rustic vibe going on. I felt like I was staying in a high end boutique hotel. He was quite generous and left the fridge completely stocked with great food options from Trader Joe's. He also sent a wonderfully detailed email prior to my stay with tons of info about Detriot and the surrounding areas that I used for the entire trip. There are several restaurants and an awesome coffee shop one block away. Downtown is 8-10 minutes and a $6 uber fare away. Thanks for everything Thane!! I plan on staying here again in the near future.
Michael
2017-01-04T00:00:00Z
Room Type
Entire home/apt
---
Property Type
Apartment
---
Accommodates
2
---
Bedrooms
Detroit, MI, United States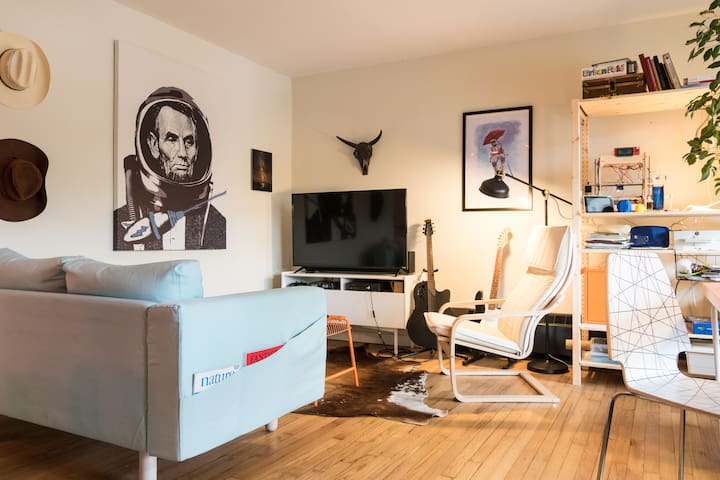 Creator of Scrap Bar NYC and Goodbye Blue Monday in Bk, NY. Moved to Detroit three years ago and now live here, on Farnsworth St, Detroit; it's on the city's east side, close to Eastern Market, Hamtramck, Midtown and Downtown Detroit (six minutes in any direction!) and all major highways.
i am a writer/artist and designer of spaces. part the available room is a studio/workspace which i do not use when the room is occupied with a guest. it features works-in-progress and assorted eyecandy. yes, i also live here.
the best way to illustrate where Farnsworth street is this; (SENSITIVE CONTENTS HIDDEN) metro-detroit times and paul weertz for a great story about the block where i live. the first photo of the white house with the white toyota stationwagon in the story is my place (and my car)
My stay at Goodbye Blue Detroit was great. iStephen was kind, generous and super cool.His place is clean, well laid out and comfortable. Located close enough to all the major sights I wanted to see, I really felt what living in Detroit might be like.
laura
2016-09-28T00:00:00Z
Place is cheap. Clean. Not the most private room. But if your looking for a place to sleep it will do. It is quiet. Stephen is a great host. Straying again Sunday night. Thanks Stephen.
Isaac
2017-04-08T00:00:00Z
Stephen was a great host! Very friendly, tons of amazing stories, and very hospitable.
Nancy
2016-11-20T00:00:00Z
Stephen is not only a great host, but a great person. He shared some really cool stories. Stephen's place has a unique and comfy feel to it with lots of cool memorabilia around. The place has all the general amenities available. Getting around town is quite accessible as public transit is close by. Stephen was kind enough to allow me to use his Trek bike during my stay, which allowed me to explore the city more efficiently. (I personally believe the best way to explore a city is on a bike.) Shoutout to Maxx and Buddy, both very friendly pets. I would definitely recommend staying at Stephen's.
Alburt
2017-03-05T00:00:00Z
Had a wonderful stay, definitely made Detroit a great place to be!
Jarvis
2017-03-10T00:00:00Z
Stephen was helpful and welcoming. He even drove me around to show me some things I was interested in seeing. His place is has a great vibe and is conveniently located.
Annie
2016-03-05T00:00:00Z
Very helpful and accommodating. Would recommend to stay.
Varun
2017-01-09T00:00:00Z
Stephen was very welcoming! His home was warm, comfortable, easy to find, and I was very relaxed there. A unique home that I enjoyed staying at for the weekend. Stephen had some great stories and insight into the city, which I greatly appreciated. His recommendation to check out Slow's BBQ was spot on, it was my last stop in the city and I stuffed myself with delicious food before flying home.
Cayla
2016-10-24T00:00:00Z
Room Type
Private room
---
Property Type
Apartment
---
Accommodates
1
---
Bedrooms
Detroit, MI, United States
Grosse Pointe Park - Airbnb
:
Average

4.74

out of

5

stars from

457

guest reviews
1

–

18

of

83 Apartment Rentals
Enter dates to see full pricing. Additional fees apply. Taxes may be added.