Located in the trendy bayside suburb of Highett, a 2 min walk to public transport, shops, restaurants and bars, 10 mins to the beach and 30 mins to the city, perfectly positioned to explore Melbourne! The home is newly furnished and perfectly setup for families & couples. As this is the whole house you have a fully equipped kitchen, dining area, laundry facilities etc to be able to enjoy a short or long stay. Easy 24 hour check in with a key safe. Off street parking and a lock up garage.
Highett is a trendy suburb with great access to the city whether you are driving or using public transport. Only 30 minutes from the city via train or car it is a great base to explore Melbourne from. Great beaches are also within driving distance just 15 minutes to the iconic Brighton Beach and the bathing boxes.
My girlfriend and I were disappointed to have only stayed one night - this place was amazing!!! So clean and beautifully presented and all needs catered for. Could not have hoped for anything better. Amie's communication throughout the booking process and during our stay was excellent. She was very understanding and accommodating of our situation - great host. Thanks Amie. We would definitely stay here again :)
Ben
2017-01-18T00:00:00Z
A 2 minute walk from higher station and the local shops. Perfect for our little family. Just like the advert!
Alice
2017-03-07T00:00:00Z
We had a lovely relaxing stay at Amies place. The house was more than enough space for the two of us and Amie left towels/soap/milk etc which was very thoughtful. Lovely lunch at the Diplomat cafe just through the walkway next to the house. Train to city a few minutes walk away. Highly recommended!
Michelle
2017-01-08T00:00:00Z
We stayed at Amie's airbnb earlier this month, and we absolutely loved it. The house is roomy, impeccably clean, bright, beautifully decored, and just comfortable in every way, with a fabulous ambiance. We will definitely be arranging to stay there again in the future. Thank you Amie! - Abe & Samantha
Abe
2017-01-24T00:00:00Z
We had such a lovely stay at Amie's townhouse. It's such a beautiful home and well equipped. It's even more gorgeous, spacious and comfortable than it looks in the photos. Would highly recommend to anyone wanting a getaway close enough to public transport to travel into the city, but also close to a coast line with a relaxing beach.
Manisha
2017-01-17T00:00:00Z
We were very happy we chose Amie's place for our stay in Melbourne! She didn't have any reviews yet when we booked it, so we were very happy that the place actually looked better and bigger than it does in the pictures. We loved the open plan lay out and made good use of the kitchen and outside area. The beds and bedrooms were very comfortable and we all slept very well. The house is in a very nice peaceful area just outside the heart of town, which is still easy to access by car or train. Amie was nothing but helpful and pleasant when we spoke to her. We would definitely recommend staying at Amie's if you visit Melbourne.
Ann
2017-01-13T00:00:00Z
Awesome place to stay close and easy access to everything! :)
Jess
2017-03-17T00:00:00Z
Beautiful place. Made us feel at home throughout our 1 week stay. Home is quite near to the CBD, around half an hour. Highett train station is only a 2 min walk. There's also Highett Shopping Mall and Southland Mall nearby, walking distance and by bus. Very pleased with out stay at Amie's. Will definitely be back if we're back in Melbourne.
Irra
2017-03-23T00:00:00Z
Room Type
Entire home/apt
---
Property Type
Townhouse
---
Accommodates
4
---
Bedrooms
Highett, VIC, Australia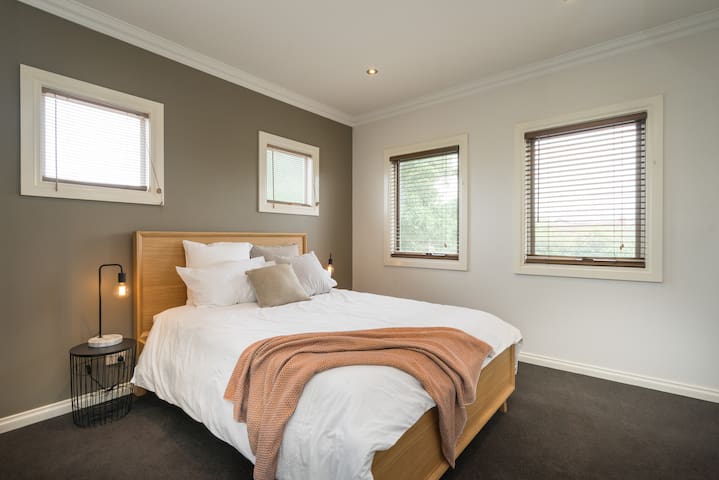 Stunning large studio with exposed brick walls, high ceilings and brand new ensuite perfect for visitors on a long weekend in Bayside Melbourne, golfing trips, shopping trips or a longer stay visiting local Bayside family members.
Closest supermarket IGA Xpress & Bottlemart 200 metres Laundromat 600 metres Franks Cafe 600 metres Highett Train Station 2.1 km Westfield Southland Shopping Centre 1 km DFO Moorabbin 3.8 kms Costco Moorabbin 5.8 kms Beaumaris Beach 4.3 kms Brighton Beach 8.4 kms CBD Melbourne 18 kms Private Room: TV Queen bed Wardrobe Fridge/freezer Microwave Small stove top for basic cooking Kettle Tea/coffee Wifi internet TV/DVD player/movies available Private entry via remote garage roller door Linen & towels provided Perfect for visiting Melbourne's best Sandbelt golf courses and golfing trips Kingston Heath Golf Club 2.2 kms Victoria Golf Club 3.3 kms Royal Melbourne Golf Club 4.8 kms Woodlands Golf Club 7.9 kms Huntingdale Golf Club 8.7 kms ** We also offer a laundry service of $20 per load, washed and dried. There's an iron for use in the room
Very quiet and family friendly
Really great hosts. Friendly and helpful. They leave you to yourself but are happy to help out with any questions. Really quiet and private. The room facilities are great. Bathroom is modern and spacious. Whole place is very clean and tidy.
Jason
2017-01-20T00:00:00Z
Nicole and Mark were extremely helpful hosts so much so we will definitely be booking with them again. The room is simply the best you will find on airbnb no question. Stayed with my 12 yr old son and he felt very comfortable, Thank you again.
Kym
2017-01-24T00:00:00Z
Had a great time stay at Nicole's place. Convenient location, 200m from IGA and local shops, 1.8km from westfield shopping centre. The place is very quite and private. The bathroom and bedroom are very spacious and clean with lots of natural light. Would definitely try to stay here again next time when I visit Melbourne. Highly recommend.
Sophia
2017-02-23T00:00:00Z
very welcoming, the place is beautiful and really close to a few nice cafes, bars and shopping centre
Jake
2016-12-24T00:00:00Z
It was very nice to meet Nicole and her family. The room was beautifully decorated, the bed was very comfy, had a nice sofa, you're own TV, a fridge and a massive bathroom. I definitely recommend Nicole's place and hopefully I'll have the opportunity to stay there again next time I'm in Melbourne.
Bruno
2017-03-02T00:00:00Z
Nicole and her husband are down to earth, friendly and hospitable people. The room is spacious, clean and well equipped. There was plenty of natural light. Air conditioning and ceiling fans. The bathroom was private and huge! The place has everything you need for a comfortable and enjoyable stay.
Brett
2017-02-04T00:00:00Z
Room Type
Private room
---
Property Type
House
---
Accommodates
2
---
Bedrooms
Cheltenham, VIC, Australia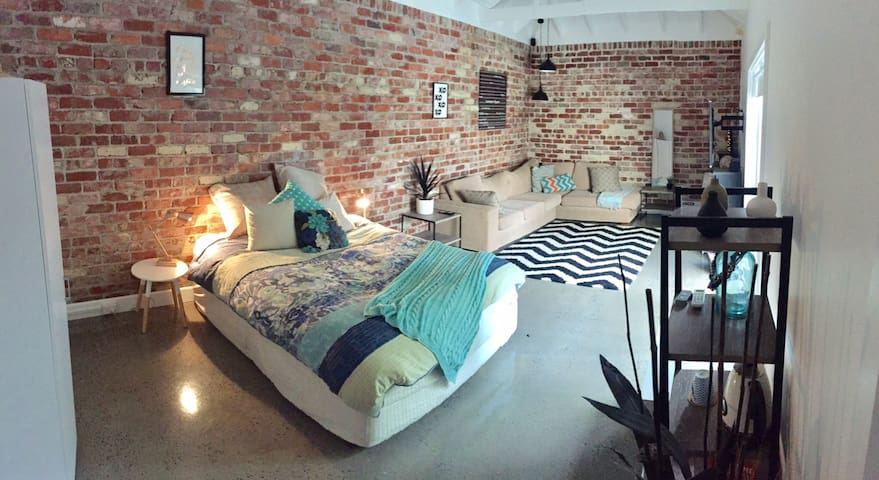 A first floor room in a family home, with private bathroom, toilet and sitting room. 1 minute walk to local bus routes 631 and 824. 3k walk (or 10 minute bus) to train station. Bus direct to Monash university Clayton campus. Approx 40 minute public transport to Melbourne city centre. 5 min walk to supermarket, pharmacy and take away food outlets.
A separate bedroom with double bed and private bathroom. Guests are welcome to use the kitchen. There is a bus 50 metres from my home, that connects with the train line. Approximately 40 minutes travel on public transport to the city. 10 minutes by bus to the beach. 10 minutes by bus to large shopping complexes. WiFi available. This is a room in a family home, but currently only two occupants. There is a lovely space/garden outside the house to relax or read. There is a large park with a lake only 10 minutes walk away. A supermarket and shops 5 minutes walk. This is a 4 bedroom family home with only one occupant. There are 2 separate living areas and 2 bathrooms, so guests can have some privacy, or some company if they would like. The room is upstairs. The sitting room, bathroom and separate toilet are also upstairs. I have a small parrot, but no other pets. I have a large collection of maps and tourist information, and can usually pick up people from the train station or airport shuttle bus. This room has been used by backpackers, older tourists, people coming to Melbourne for a few days to work, or as short term accommodation whilst looking for somewhere to rent. We have a friendly, casual home, and it has been lovely to meet people from around the world, and all walks of life.
Oakleigh South is in the south-eastern suburbs of Melbourne. You can drive to Ferntree Gully and the Dandenongs in 1 hour (or train), or 15 min to the beach. The area is very multi-cultural, and the local shops have Indian, Vietnamese, Chinese specialty shops and restaurants.
I had a great stay with Julie who was very welcoming, relaxed, thoughtful and helpful with travel advice. Her place was very peaceful, comfortable and had everything I needed to make my stay enjoyable.
Rex
2014-10-30T00:00:00Z
Julie was very helpful throughout my entire stay with her. To make it easy for me she picked me up from the airport bus upon my arrival in the late evening. Her house was warm and cosy and she made me feel very welcome and at ease. Julie had quite an array of brochures and maps on hand and suggested various things worth seeing in Melbourne city as well as giving me a run down on the public transport system. Julie's house is about 1 minute walk from the bus stop which goes to a nearby train station and the journey into the city from there is about 30 mins by train. I would totally recommend Julie as a host
Marilyn
2012-05-08T00:00:00Z
Julie was great, with load of information to help me find my way around and things to do and see. The room was exactly was i was hoping for somewhere quiet, clean and comfortable. This was my first air bnb experience and i have to say im impressed so far! Thanx Julie Phil
Phil
2013-09-05T00:00:00Z
I really had an awesome time at Julie's! The room is quite big and nicely equipped. Julie and her son both were extremely kind and supportive, which helped me a lot on my first days in Melbourne! I can only recommend staying at her house- very nice people, clean and comfortable room and very close to two bus stops which makes travelling with public transport easy as well!!
Magdalena
2014-07-22T00:00:00Z
Very Friendly welcoming hostess. Had a relaxing stay
HyeJin
2017-04-03T00:00:00Z
Julie's home is very comfortable, clean and homely. My room as great, as was bathroom facilities and kitchen. Julie was very welcoming and I enjoyed the stay very much. Would highly recommend it to anyone looking for a room in the area.
kirstie
2014-09-19T00:00:00Z
Great and easy stay with Julie. Great clean room and facilities. Handy location nice people. Basically everything you need ad a bargain price .thanks for hosting me.
Garry
2014-10-05T00:00:00Z
I had a very pleasant stay at Julie's, the room was cosy and comfortable and I was made to feel very welcome.
Louise
2014-05-08T00:00:00Z
Room Type
Private room
---
Property Type
House
---
Accommodates
2
---
Bedrooms
Oakleigh South, VIC, Australia
We adore our home and hope you do too. We can't wait to share it with travellers and business people alike. We are kind and friendly. The house is open and light and close to transport into the CBD. We are just loving the AirBnB experiences so far. Please visit.
I guess every home is unique but not every home comes with a live in artist/teacher with a flare for decorating, a very social pre teen, lovely kind motherly or friendly housemates and a cat that I'm sure thinks it's a dog sometimes! We are a busy household but we like it that way... It's a big 5 bedroom home and no request is ever too hard! We are close to a supermarket and subway and Mc D's if you are desperate... But while you are here it's your home too so please cook and watch tv etc. state of the art technologies and appliances available. Just ask! Welcome from Rochelle, Amber, Gail and John.
Very stylish home. A lot of artistic drawing and decoration. It feels like your home actually when you arriving to the house. The host gave me the warmest welcome on the 1st day of arrival. There is 24hrs McDonald and other shop that is close to the house (walking distance). The location is great since you can drive to the other places such as Mentone, Mornington, Westfield and Chadstone within a very short time. When you finish all day long travel and back to the house, it feels like home. Absolutely without a doubt I will highly recommend this place to everyone.
Patrick
2016-07-30T00:00:00Z
Great place. I was made to feel at home the moment I walked through the door. Rochelle and Amber are lovely people and went above and beyond to make my stay great - I just wish it could have been longer! The room was a good size with a comfortable bed and the bathroom 2 doors away. I would definitely stay again. Thanks again Rochelle!
Eleanor
2017-02-25T00:00:00Z
Excellent place. Would stay again
Simon
2017-02-17T00:00:00Z
Really lovely family and very cute cat. very enjoy the time when i live here.
释学
2016-10-20T00:00:00Z
Great house. Rochelle is a great host. Was perfect for our needs.
Nicholas
2017-01-17T00:00:00Z
Thanks for a nice stay
RENEE
2017-02-23T00:00:00Z
Rochelle is one of the most lovely people I've ever met in my life. Stayed with her for 6 weeks and couldn't feel more at home! She made me feel like part of the family and I cannot thank her enough.
Elly
2016-11-27T00:00:00Z
Rochelle is an effervescent host who is very willing to help or make life easy in anyway. The house is pristine and beautifully decorated and the bed room is spacious and the bed is VERY comfortable. I'd re-visit when in the area
Adam
2016-09-22T00:00:00Z
Room Type
Private room
---
Property Type
House
---
Accommodates
2
---
Bedrooms
Heatherton, VIC, Australia
Treat yourself to a time away in this fantastic apartment. Completely private apartment with bedroom, queen bed, kitchen, laundry, bathroom, carpark, TV, WiFi & a hammock waiting for you on the balcony. The apartment is a short walking or driving distance to everything you need. Mentone shops 5min walk, cafe's & restaurants 5min walk, Southland shopping centre 5min drive & Mentone Train Station 5min walk. Importantly, the SkyBus from the Airport can drop off guests right outside the building.
Private apartment in a quiet and private brand new building. Private entrance and lift access to unit and car park. A community recreation room on the 8th floor with outstanding views of the surrounding suburbs. The kitchen has a fridge, toaster, kettle and microwave. Cups, bowls and cooking utensils provided, with many restaurants and take away options available nearby. Tea and coffee provisions are provided. BBQ is also available for use. There is a table that seats 2. It can be used as a dining table, or as a desk for work, with the internet provided. All linen is provided including towels. A TV will also allow you to enjoy the apartment to its maximum. Coat hangers and iron also provided. Washing machine is available which can be used anytime. The apartment is suitable for 2 people (1 queen bed).
Mentone beach is a 5min drive down Warrigal Road. There is a cafe, kebab shop and liquor store on ground level Lovely neighborhood with beaches, cafes, shopping centres and amenities. Great for long walks along the relaxing beach and cafes. Southland Shopping Centre is 2.5km away, with great shops and a cinema.
Anthony was a great host. The accommodation was clean, secure, well located and had everything needed for a comfortable stay. I will be back when next in Melbourne.
roselyn
2017-03-14T00:00:00Z
Anthony place was so handy- 5 minutes walk from Mentone- with direct regular trains to the city. Really close to the lovely beach too. Accomodation is very new and presentable, with all you could want in amenienteis. Check in and out was a breeze, and communication was excelent. Defiantly recommended if you need clean, comfortable, private accomodation in this area.
Alexandra
2017-04-06T00:00:00Z
Anthony is a great host. He always responded quickly and politely to my messages. The apartment is clean and comfortable.
Ash
2017-03-31T00:00:00Z
Excellent location and value for money.
Bill
2017-04-02T00:00:00Z
I thoroughly enjoyed my stay, Anthony was helpful and accomodating. The place was clean and the area was nice, close to scenic beaches and cliffs as well as shops and train station.
Julian
2017-03-26T00:00:00Z
Room Type
Entire home/apt
---
Property Type
Apartment
---
Accommodates
2
---
Bedrooms
Mentone, VIC, Australia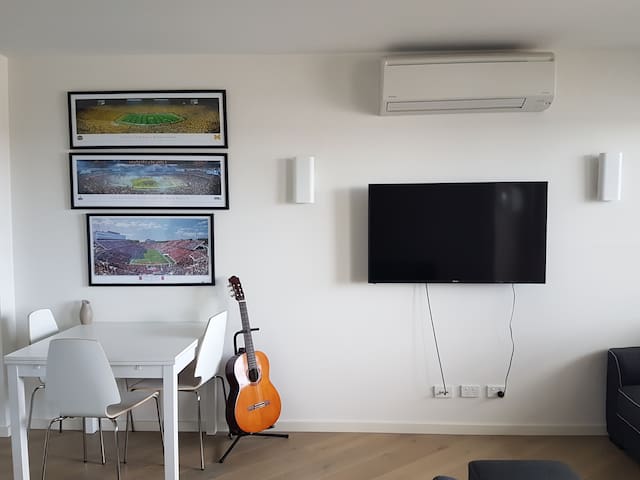 Comfortable double bedroom in light/airy recently renovated spacious home; guest bathroom with spa; guest toilet; wi-fi. and large dining room. Close to public transport; 11.3Km to Monash; 2.6Km to Westfield S/Ctr; 500m to TAFE; 6.5Km to beach; 15 min to Keys Rd Training Ctre; 15min to train. 10 mins walk from HERTZ, Budget, AVIS, & Europcar car rental companies, and we provide a pushbike for guest's use. Every guest is given a complimentary "Airport Armchair" travel pillow ($30 value)
The bedroom is a large, comfortable, modern room with a queen sized bed fitted, electric blanket. Room has ceiling fan. Plenty of cupboard space for clothing and other items, and Includes a safe for your valuables . The view from the large window next to the bed is of the beautiful front garden full of trees and flowers. The room also includes a large brand new Samsung Smart TV, which includes Netflix and internet access. The fully equipped guest bathroom includes a shower, bath, and hot spa. There is a separate toilet/powder room exclusively for guest's use. There is a BBQ with wok burner in the backyard for those guests wishing to cook their meals in a BBQ style.
* Our house is located in a very small, quiet and safe court in the bayside suburb of Moorabbin, with no through traffic, so you are undisturbed by traffic noise. * The local shopping centre is 10 minute's walk from the house * The large Southland (Westfield) Shopping Centre is 2.6Km away and easily accessible by a bus which is a few minutes walk from our home * Brighton Beach is 6Km from the house and easily accessed by public transport, where you can enjoy a walk or swim, or a meal of fish and chips on the foreshore. * Monash University ( both Clayton and Caulfield campuses) is 11Km and easily accessible by public transport. * The Keys Road Training Centre is a 15 minute walk from the house. * Holmesglen TAFE is 5 minute's walk from the house. * The Highett train station is 15 minute's walk from the house, and the train line runs from the city through the beachside suburbs as far as Frankston. * The house is within easy walking distance of Churches and a Synagogue. * There is a profusion of cafes and restaurants in close proximity including: Chinese, Vietnamese, Indian, Sri Lankan, Thai, Japanese, Lebanese, Middle Eastern, Turkish, Jewish, pizza parlours, hamburger joints, and more. Many of them will deliver. There are two large parks within 5 minutes walk of the house, where you can walk, sit amongst the trees and flowers, or have a BBQ.
Isabelle and David made us feel very welcome as did Zurg (dog). Description spot on, neighborhood quiet. Would happily stay here again. David was happy to pick me up from the train station which was very helpful. Lovely people.
Laura
2015-12-26T00:00:00Z
Isabella and David are excellent hosts and their guest room is comfortable and in a location central to many useful destinations. Recommended highly!
John
2015-12-10T00:00:00Z
Very accurate to the description of the property
steve
2015-10-08T00:00:00Z
It was a wonderful experience of living at this house. It's very clean, cosy and wide room with a lot of space to place stuff. David and Isabella are very friendly and easy going person and they will never let you bore or think of loneliness. He also care for your privacy and personal belongings. It's very easily accessible from local transport to Melbourne city. On my first day he showed me area around. He showed me local marts, shopping, eating places and even my placement place. His kitchen is full of utilities and you will find everything here. I will definitely come back to this house again when i visit Moorabbin next time. I miss you guys and the cute staffy. You're a wonderful friends. Thank you again for your care.
Byron
2016-07-26T00:00:00Z
David and Isabelle are very kind, open and enthusiastic hosts. They are flexible and friendly, I am very happy to meet and stay with them. Of course, I will come back their house again for next trip to Melbourne, thank you all for everything you have been doing for us so far. With love from Ha & Trang.
Ha
2016-09-21T00:00:00Z
This is my first attempt at using the Airbnb service. The family I met was really frendly and welcoming. David is a nice man and friendly to speak with. Isabelle helped me with information about the city and sites. The room was very comfortable and cosy, with an oil heater. The bed was large and fitted with a electric blanket and I felt at home. I rented a car to travel around, and the house is also close to the main road for easy access to public transport. I didn't want a place close to the CBD and the traffic jams.
Baruch
2015-08-20T00:00:00Z
Isabelle and Her husband are Lovely people and very helpful. The Well appointed room with all facilities needed are clean, tidy and comfortable.
Tina
2016-06-27T00:00:00Z
We received a warm and friendly welcome from David and Isabelle when we arrived. Room is exactly as described and very comfortable. Wish we had a longer stay here.
Mathew
2016-11-04T00:00:00Z
Room Type
Private room
---
Property Type
House
---
Accommodates
2
---
Bedrooms
Moorabbin, VIC, Australia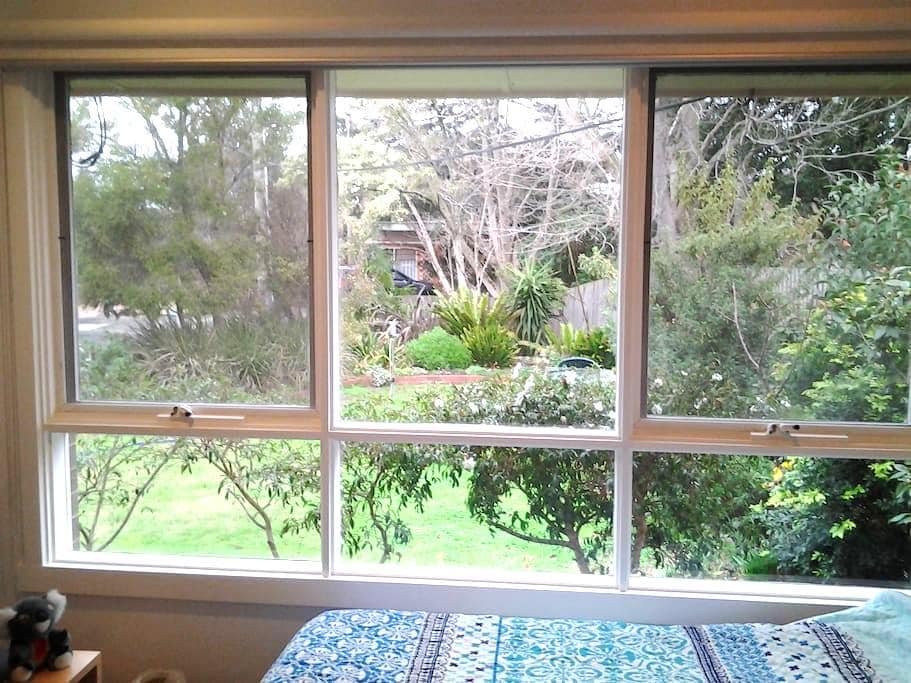 Beautiful Scandinavian-styled home in a safe and quiet suburb, perfect for experiencing local life. Conveniently located close to local markets, convenience stores, restaurants, cafes and public transport. Major shopping centres (Chadstone, Southland and Moorabbin DFO) and Monash University Clayton Campus are only a short drive away.
PRIVATE ROOMS Bedroom 1 is on the 2nd floor with a king bed, ensuite and walk-in wardrobe. Bedroom 2 (for the 3rd guest) is on the 1st floor with king single bed. Floor mattress could be provided for a 4th guest if necessary. A shared toilet (half toilet - no shower facilities) is available for use downstairs.
- Woolworths Supermarket & take-aways (2 mins drive/15 mins walk) - Clayton market, along with lots of restaurants/cafes (5 mins drive) Our area is an ideal location to stay at should you wish to visit the Dandenong Ranges, Yarra Valley Wineries, Phillip Island and Mornington Peninsula hotsprings. Feel free to ask us for recommendations on good brunch places, restaurants and places to visit! :)
Michelle and Matthew were awesome hosts: Considerate, offered loads of privacy, but still accommodating. The house is well-decorated and incredibly clean. The room we stayed in was spacious, equipped with an ensuite bathroom and walk-in closet. Bed was large and comfortable. There's plenty of off-street parking and the neighbourhood is quiet and safe. Short drive away from Clayton, Monash Uni and Chadstone, where you'll find amenities, restaurants and shopping. Not too sure how public transport goes, but I reckon it shouldn't be too difficult to get around. (Plenty of uber around the area in case there aren't any buses anyway). All in all really good value. ;)
Ashikin
2017-03-25T00:00:00Z
Beautiful place. 5 stars.
Daniel
2017-03-05T00:00:00Z
完美的别墅,主人很热情。强烈推荐!
Chao
2017-03-31T00:00:00Z
很棒的房东
天瑜
2017-03-19T00:00:00Z
Room Type
Private room
---
Property Type
Townhouse
---
Accommodates
4
---
Bedrooms
Clarinda, VIC, Australia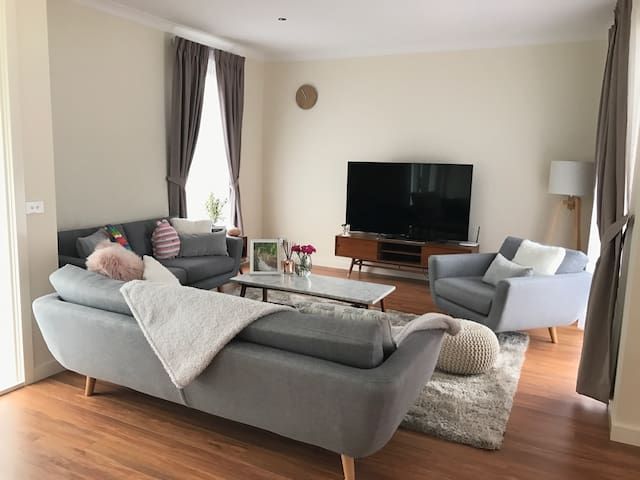 Bus 5 min walk Ambient environment Comfortable setting Perfect for Monash Clayton Uni students or couples.
The house is chilled and relaxed. It's a medium house with all modern conveniences and transport to either side of the house
Awesome neighbourhood. Parks located within 700m which have exercising equipment and a lake to walk around.
Sevim runs a clean and tidy ship. The house is always clean and has a nice fragrance. Good size room, bed is comfortable with a large build-in wardrobe. My host was always friendly and very helpful including her friends who came to visit. Public transport available around the corner and local shopping center 10min walk away. Wish I could have stayed longer.
Willem
2016-06-27T00:00:00Z
Sevim made us really feel at home and was very helpful.(: Her cat was a little bit crazy but still nice if you know him a little bit. The house was very clean and it was everything in it you would need. Loved our Harry Potter sessions.(;
Henrike
2016-05-09T00:00:00Z
Sevim and her fiancé is really the best hosts. Couldn't Wish for a better welcome and staying during My 3 months in Clayton! They really make you feel comfortable and welcome and it's truly a home away from home. They are really helpful and kind. I Highly recommend this home to everyone that visits Australia. You have to seek really hard to come across better people than this family! With all My Love <3
Annie
2017-02-19T00:00:00Z
My stay here was very comfortable. The room was so toasty and cosy during the cold nights of winter and I had a good sleep each night. Sevim was very welcoming and even checked on me when I was feeling under the weather. Morgan was a delightful company as well. She was also very helpful in showing me where Monash Uni and the stations were. Thanks Sevim for the stay! If you have a heavy luggage, I'd recommend that you take an uber from either Huntingdale or Clayton station. The bus stop is a casual 12 mins walk away and Clayton station is just mins away by bus.
Masyita (Mas)
2016-08-08T00:00:00Z
Really enjoyed my stay at Sevims house. I spent 3 weeks there and it was a pleasure. Sevim was so friendly, It felt like home away from home :)
Dennis
2016-09-01T00:00:00Z
Sevim is a very welcoming, warm and helpful host, and her house really does feel like a home away from home. It's really nice and spacious, and the cat is slightly nuts but very cuddly and lovable :) About ten minutes walk from a bus stop with buses going to Monash, and ten minutes in the other direction gets you to Woolworths and a couple of places to grab a bite or a pizza, and a pharmacy.
Rahul
2016-10-26T00:00:00Z
Sevim make me like in home for these ten days in Melbourn . Room is cleaning . 10min walking distsnce to Coles Supermarket . Easy reach Clayton station.
伟
2016-07-06T00:00:00Z
这真是一次完美的租房体验!无论是从住房本身的条件还是房东的热情招待来说都是第一流的。 如描述所说,交通很方便,5分钟即可步行到824车站,然后坐车到Clayton火车站,或者转乘其他公交车。买东西也很方便,步行10分钟即可到达最近的Woolworths超市,一般的生活用品和食品都能买到。如果还想逛更多地方,可以步行一刻钟到Clayton Shopping Center(懒人也可以乘坐824直达),这儿有两个Coles超市和一个香港超市,还有无数小商店和餐馆,很多Monash大学的学生来这里购物和逛街。所以从生活便利上来说,非常方便。 屋内的设施也很齐全。浴室和厕所分别只有一个,如果有多于一位房客入住错开一下时间就好,问题不大。屋内有暖气,虽然已经11月初,但晚上的气温经常低于10度,有暖气会舒服很多,洗澡也不会冷。厨房非常宽敞,厨具和佐料都一应俱全,自己做饭完全没有问题。厨房有洗碗机,不过我不太会用,自己用一点洗洁精很快就能把锅碗瓢盆都洗了,然后放在旁边晾干就好。 洗衣服的话有洗衣机,洗好了可以晾在室内,也可以晾到backyard去。外面风大太阳大,衣服很快就干了,不过注意有时风太大经常把衣服吹地上,或者莫名其妙突然下雨被淋湿。卧室的衣柜比较大,房东也配了很多晾衣架,不用自备了,很方便。 值得一提的是房东实在是太nice了,热情周到,经常邀请房客吃这吃那,搞得人都不好意思了。有一天我没啥安排,恰逢房东邀约了一群朋友吃饭,就把我也叫上了,然后美美吃喝玩乐了一天,彻底感受了澳洲人民的热情好客。 房东收养了一只黑猫,非常温顺,喜欢别人给它挠痒。我本是爱猫之人,所以和这家伙相处得非常愉快,临走的时候它在我身上蹭来蹭去,真有些舍不得。 总结一下,这间房可以说性价比超高,如果能订到的话,真是运气。以后我再去墨尔本,不用说,一定会再到Sevim这里来。
Miao
2016-11-04T00:00:00Z
Room Type
Private room
---
Property Type
House
---
Accommodates
2
---
Bedrooms
Clayton South, VIC, Australia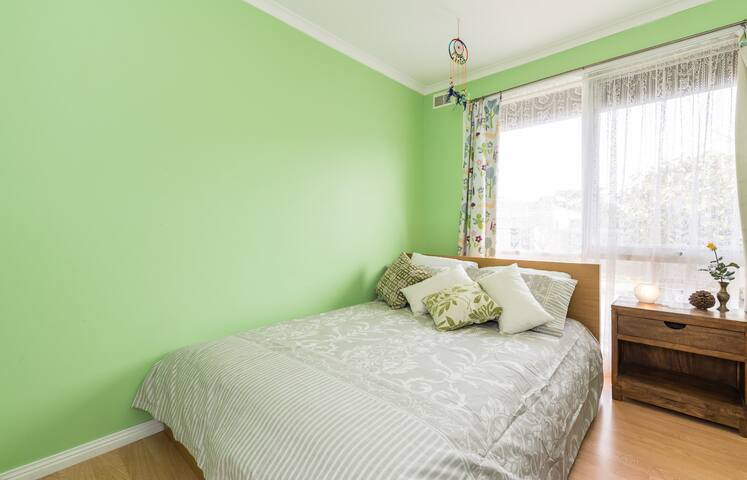 European styled apartment with balcony to enjoy the peace and natural beauty of the park. The 8 metre mural of the Grand canal immediately transports you to the wonders of Venice. On the second level of a high-end apartment block close to Southland.
Bluetooth music to each space Electric, leather recliners DVD surround sound
The apartment is situated back from Nepean Highway overlooking the park. It is a 5 minute walk to Southland Shopping Centre and 7 minutes to the Highett Station. The beach is a 10 minute drive away.
James was a great host. Was at the apartment waiting for us when we arrived. Showed us around the area. Perfect location to be outside the city centre. Train station within 7min walk from the apartment. We walked to the beach which was around 6K round trip but was very straight forward and gorgeous beach to visit. Shopping centre within 5min walk. Has everything you could want. The apartment was very modern and had everything you need. Perfect place to stay.
Claire
2016-10-13T00:00:00Z
The apartment was gorgeous and we had a wonderful evening. James' s dad was very friendly and explained every single bit to us made us feel home... Couldn't ask for much...Would definitely love to come back... xx
Divya
2016-05-23T00:00:00Z
James made us feel very welcome and was so accomodating. His apartment was sparkling clean, beautifully furnished and looking out onto a park. We truly felt like we were in a top quality hotel.
Danni
2016-07-18T00:00:00Z
My wife and I have stayed in quite few Airbnb apartments around the world. James' apartment ticked all our boxes. We would definitely stay again.
Robert
2016-07-22T00:00:00Z
What can I say? The fist time I use Air Bnb and it was great! James was very easy to communicate with and replied to my requests very quickly. The apartment was perfect! Just like in the pictures, very modern, clean and stylish. I felt relaxed and comfortable instantly. The apartment's in a great location. Southland's right next to it which was perfect for getting a couple of groceries for breakfast and I went out to a 30th birthday at the Hawker Bar. A very cool place. Best of all, I had breakfast on the balcony overlooking the park. What a great view! I could've easily stayed there longer. In summary, an excellent modern apartment and a great location with Southland next door and some cool bars/restaurants in the area. James is also a great host. Very easy to communicate with. My first experience here and a really awesome one.
iurgi
2016-05-13T00:00:00Z
let me start by saying I had an amazing stay at Jame's apartment !! , James was a great host, he was very welcoming and nice, he gave me a tour of his apartment and explained everything. he was easy to communicate with and quick to respond, one time I locked myself out, and he came in less than 2 minutes !! The apartment is simply gorgeous, it looks better than the pictures, it has everything you need and more, clean, fast internet, big bathroom, fully equipped kitchen, and a breathtaking view. it's located in a beautiful neighborhood, close to southland shopping mall, so you have access to everything you need. and it's a 10 minutes walk to the nearest station, making it pretty easy to get to the city. I would not hesitate to stay here again, and recommend it to everyone I know.
Ghaith
2016-07-07T00:00:00Z
Loved it!! Highly recommended!!
Jenny
2016-09-11T00:00:00Z
Great place not too far out from the CBD. Very comfortable, parking was handy and James was accommodating with check in time. The ammenities were fantastic. Value for money place. We really enjoyed the stay.
mary
2016-10-05T00:00:00Z
Room Type
Entire home/apt
---
Property Type
Apartment
---
Accommodates
2
---
Bedrooms
Highett, VIC, Australia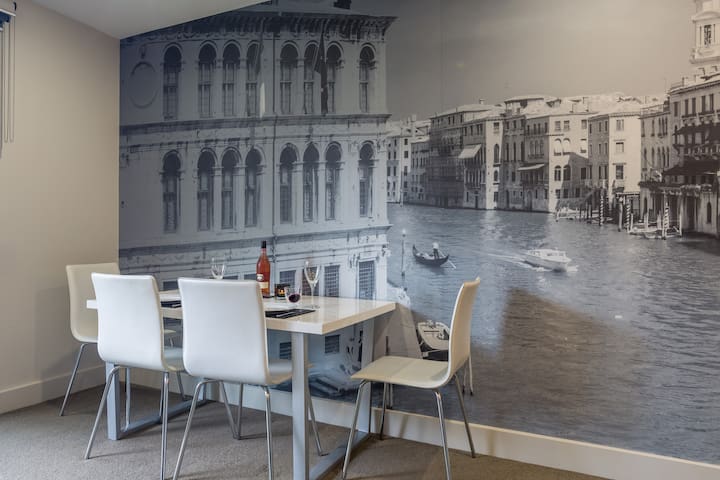 Attractive 3 bedroom house located in fantastic location. Spacious and sunny living areas with superb garden view . Walking distance to cheltenham railway station. Drive 45km to famous Mornington hot spring. Close to Brighton rainbow beach houses ,half moon bay and Mentone beaches. Close to DFO and Southland shopping center .
Attractive 3 bedroom house located in fantastic location. Spacious and sunny living areas with superb garden view . Walking distance to cheltenham railway station. Drive 45km to famous Mornington hot spring. Close to Brighton rainbow beach houses ,half moon bay and Mentone beaches. Close to DFO and Southland shopping center . A large, fully equipped kitchen and sunny private courtyard with BBQ facility. Large backyard space is available to guests to relax and for kids to play.Internet with strong signal and no black spots throughout space. This house is 12 mins walk from Cheltenham rail station (around 40 mins on the train to Melbourne CBD) and close to several bus services. Near Nepean highway which is one of the main highways of Melbourne. 2 mins drive to Southland shopping centre with cinema complex, and 30mins drive to CBD Melbourne. Note that we provide all linen, towels, basic cooking oils and spices, coffee and tea, shower ,washing up and cleaning products. Hi guys ,Check out time could be delay to 1 pm if no new booking. Will provide contacts if in need of any assistance. Have fun for lovely holiday.
Supper convenient suburb close to beach and any shopping
Clean and Gorgeous place. Good for group or family. Large bedrooms, comfortable living room, fully equipment kitchen, clean bathroom, and sunny garden! Aron is easy to contact, More than perfect place for us !
Mitsuko
2017-02-23T00:00:00Z
This was a great clean spacious house, perfect for our family. Wonderful location.
Kirsten
2017-01-28T00:00:00Z
Very suitable for big family. Big kitchen and living space. All amenities well provided. Aron was very attentive. and responded very quickly.
Ana
2017-01-23T00:00:00Z
The place is as accurately described as the description! Everything is good besides the fact that when water runs, sometimes, there's will be a sudden clicking/clanging sound - it is however, not something that would annot most people.
QingDa
2017-02-05T00:00:00Z
Aron is a fantastic guy, very hospitality. She shared a lot of useful travel information to me such like: when Melbourne central will have good discount, pick which company to sky dive and so on. The house is very clean and neat. For me it is very important. The bad is comfortable, I slept tight for the whole night just like home. About the location it's close the beach, 3km. I had a Morning running along the fabulous view beach. 10mins walk to cheltenham station, easy transfer. Most important is during the day time the house is full of sunshine, I love it.
zhang
2017-01-30T00:00:00Z
Aron's home is spacious and in a great location. It had just what we needed and the internet connection was excellent. The house is clean and the area was quiet.
Kerrie
2017-02-26T00:00:00Z
Aron is a very friendly and nice host. It was very easy to communicate with. The house was clean and comfortable, it has a general size backyard and BBQ facility , my friends and I all enjoy the stay here. The location was good too, close to Cheltenham rail station and local shops. The house was of great value, I strongly recommend .
Ludan
2017-01-31T00:00:00Z
It was fine for what we needed.
Lauren
2017-01-14T00:00:00Z
Room Type
Entire home/apt
---
Property Type
House
---
Accommodates
6
---
Bedrooms
Cheltenham, VIC, Australia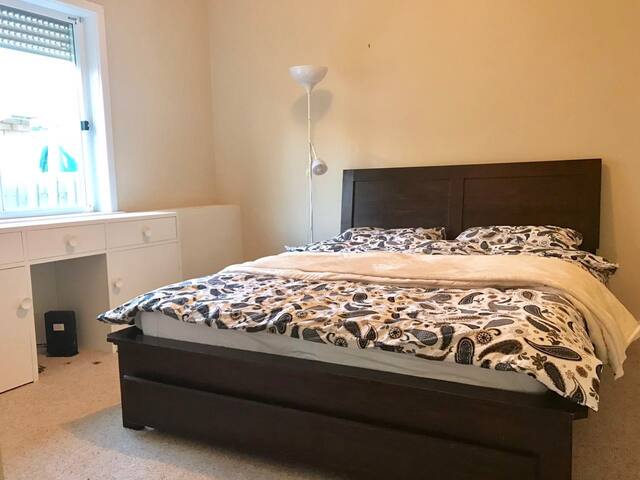 One bedroom available in a two bedroom two storey apartment. The apartment is shared with just me. Shared bathroom. Two toilets. Own secured carpark. Fully furnished except for washing machine. Laundromat just down the road. Right opposite the shops,train station and buses. Close to beach.
Nice view of the sunset and close walk to everything.
Quiet suburb with nice restaurants and a minute walk to the station easy access to the city. A walk away to the beach.
Lawrence brings the best Kiwi-Aussie qualities as Host: warm, friendly, easy-going, professional and considerate. Place was immaculate as depicted. One minute walk to major shopping and transport facilities (trains) plus parks. 8 minutes to great beaches. For those with a car, added bonus: safe underground car parking. We took advantage of all facilities, both within the apartment and in environs. It was a pleasure, Lawrence, sharing your home plus your company over a meal and wine.
Jerome
2016-01-29T00:00:00Z
Lawrence is very nice host , interesting to talk with alot of thing .and he have a great recommendation to see the city and restaurant .
Sutanun
2016-03-01T00:00:00Z
Great location.train is a little noisy .Apartment is clean &tidy Lawrence was away most of the time so I had place to myself Would stay there again Thanks Lawrence
Glyn
2016-10-24T00:00:00Z
Everything was great, from arrival to check out. Lawrence was friendly and provided us a lot of information. He also brought us to places around the city. The house was clean, also in a great location and accessible with a less than 5 minute walk to the train station. Overall we had a very enjoyable stay!
t
2016-08-27T00:00:00Z
Lawrence was a welcoming host. His home is comfortable and accessible. Close to train station and a variety of cafes and shops. The beach is a short walk away too. We were able to invite our family for dinner and Lawrence joined us for a lovely evening.
Terri
2016-03-22T00:00:00Z
Brilliant place to stay. Fantastic host - very friendly, helpful, generous and thoughtful. Awesome accommodation - spacious, clean, modern and really comfy.
Chiara
2016-02-26T00:00:00Z
Had a great stay at Lawrence's place. If you don't mind being a little out of the city (40 mins) then the location is perfect! It's only 5 mins from the train station, supermarket & cafes. The trains run frequently during the week, so you don't have to wait very long to get to the city. The apartment is bright, spacious and comfortable, and Lawrence's communication was great. We didn't get to meet him unfortunately but he checked in on us regularly via message & was extremely helpful!
Katy
2016-11-09T00:00:00Z
Lawrence is easy going and made the stay pleasant.
Jase
2016-03-23T00:00:00Z
Room Type
Private room
---
Property Type
Apartment
---
Accommodates
2
---
Bedrooms
Mentone, VIC, Australia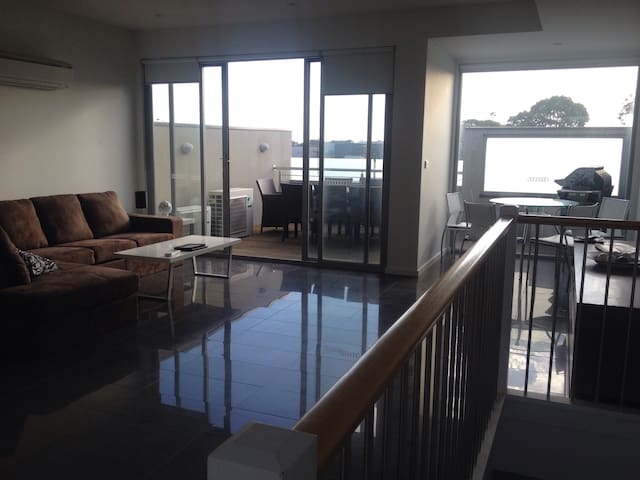 Trendy, quiet & secure renovated apartment, with a comfortable and spacious double bedroom that leads into a private courtyard. Top location; close to Mentone train station, shops, beach, Westfield shopping mall & Moorabbin Airport!
The neighborhood is quiet and has some great parks, reserves and local beaches. The shops are only a 2 minute walk with all your basic amenities.
Its been a great pleasure staying at lisa s place. Lisa is very friendly and welcoming. Everything was neat and nice. Highly recommendable for couple.
Shafiq
2016-03-26T00:00:00Z
Lisa is a very friendly host, her dog is adorable. The area is nice and quiet, not too far from train station. Overall experience was great.
Loretta
2017-03-08T00:00:00Z
Lisa was very relaxed, friendly, welcoming and helpful. Her little dog Shiro is also very friendly, and is happy to greet you enthusiastically every time you come home. A great place to stay if you have things to do in this area of Melbourne.
Brian
2016-11-27T00:00:00Z
If you are going to spend most of your time in the city, Lisa's place might not be suitable for you(you should stay in a 5star hotel in the city, why Airbnb?) But if you want to experience the daily life of Australians, this is the place for you. Lisa is a very welcoming host and offers me with advices of places to go where u normally won't see from trip advisor. And I was invited to join there family events, and watch AFL(which takes time to understand the rules). If you are looking for a real Australian experience, make an appointment with Lisa! And Shiro is a very cute puppy. If you are a puppy lover you will love ur stay there. If you are not, Shiro will make you one. Don't worry.
Chester
2016-05-16T00:00:00Z
Great place, very clean and well trained dog, no issues at all!
Matt And Jaz
2017-03-18T00:00:00Z
A lovely little unit to stay in. Great for a short stay if your looking to get away for the weekend. Lisa was very helpful and was able to assist us when we accidentally parked inside the locked parking bay. The place is close enough to local shopping centres and restaurants and not too far of a drive to the beaches in Rosebud or Sorrento. Highly recommended!
Tim
2017-03-12T00:00:00Z
Great place, lovely bedroom backing onto the back court yard. Great kitchen and lounge room. Was a nice get away for a nice. Beautiful host! Was a great first experience with air BnB!
Isabelle
2017-03-25T00:00:00Z
Lisa is a great host and her home is clean, relaxed and welcoming. It is the perfect place to rest and recover for anyone coming to Melbourne for work, adventure racing or any other purpose driven visit. Oh and the beach really is just over a 15min walk away and it's beautiful. Lisa has travelled extensively and this reflects in her warm and easy going nature that makes you feel welcome straight away! Her area is quiet and it's easy to get a great nights sleep her, our time went far to quickly and we were a little sad to go. Thank-you for a great stay Lisa you are everything one could ask for from an Airbnb host good luck in 2016 cheers Paul and Justine P.S. Your puppy is awesome!!!
Paul
2016-02-27T00:00:00Z
Room Type
Private room
---
Property Type
Apartment
---
Accommodates
2
---
Bedrooms
Parkdale, VIC, Australia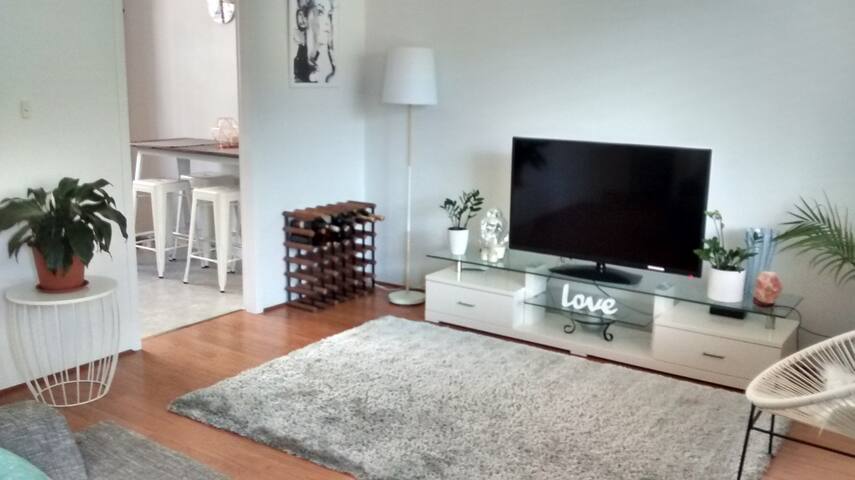 It's a townhouse with one room but $68 per night. My house have three floors. The room was located at first (URL HIDDEN) U will have very good private space and time.We have one kid at home and lots space for family .And it's close to everywhere. The nearest big shopping center was just 15 minutes to walk there.long term stay is welcome.
房東人很好,房子很乾淨,單獨的衛浴設備,該有都有,不用準備東西即可入住。
嘉政
2017-03-21T00:00:00Z
Room Type
Private room
---
Property Type
Townhouse
---
Accommodates
2
---
Bedrooms
Cheltenham, VIC, Australia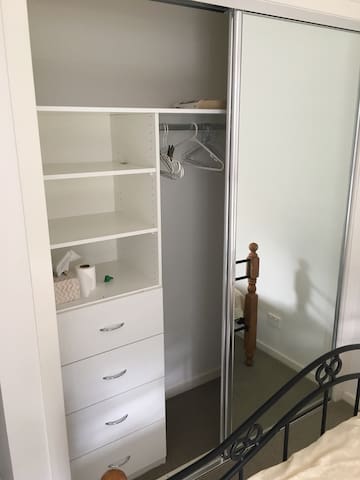 Close to shops, shopping centre, supermarket, cafés and bars. 10 min walk to beach, 2 min walk to station. Everything you need is at your door step:). Apartment has two bedrooms (main bedroom has QB, Second bedroom has DB) and 1 folding bed (please note its a fold out bed not pull out) that can be set up for the 5th guests
This brand new first floor apartment is the last in a block of 16 with a secure entrance and underground parking. Located a short walk from the Highett train station, supermarket, and upmarket cafés, it is a short drive to the Southland Shopping Centre and the beach. The apartment is fully equipped with modern appliances and amenities. It has two spacious bedroom. Master bedroom has queen size bed, built in robes and a clean ensuite Second bedroom has double bed, built in robes and powder room next to it Third bed is comfy single folding bed.....Making it perfect and cheap option for a small group of people. (Please contact me first if booking for 5 guests:). All the linen including bed linen, bath towels, hand and face washers is provided. Hair dryer, shampoo, body wash,toothpaste is there for guests to use. There is a European laundry Gourmet kitchen fixed with modern appliances Living room is bright,beautiful and very peaceful. A comfy couch (I bet you will fall asleep on it;), TV and a dinning table. Apartment has everything you need for a comfortable stay. I also have a portable cot and blankets for family with babies which you can hire for $8per night and a high chair for $5per night. After couple of feedback from guests regarding carrying luggage up the stairs, I have made some space in my storage for guest to keep heavy bags, prams etc. depending on number of guests and length of the stay I would charge little amount for it. Guests can discuss it before booking
Location: the apartment is situated in very convenient location. Everything you wish for is within walking distance. Modern cafés, awesome fish n chips shops, Thai restaurant, Vietnamese , Chinese food , pizza place, burger shop.... It's all right there. A very cozy brand new bar just around the corner. One of the biggest shopping centre with cinemas 5 min walk. supermarket across the road. Bus stop and train station 2 min walking distance. You would be very surprised how quiet it is given the proximity from railway line..... never ever have I had any complaints about the noise. There is underground carpark and lockup storage (there is minimal charge for storage). Unlimited internet Fully equipped kitchen
Durdanas place was really clean, modern and super cosy. The perfect little escape for the weekend. All furniture and appliances were in immaculate condition which is very important for my partner and I. Our favourite was the amazing lighting her apartment let's in and the sneaky doors that allowed us to access the bathroom from the living and the bedroom. Durdana's communication was impeccable and her directions were so precise. My partner and I parked our vehicle in the underground car park which we didn't have access to and Durdana was so kind enough to offer to come after work to help us get out, lucky the building cleaner was there to assist instead. Thank you Durdana for your gorgeous little pad.
Patricia
2015-08-23T00:00:00Z
Very clean and nice apartment. Quite suitable for a whole family to stay in. Highly recommended.
Chenyang
2016-05-04T00:00:00Z
We enjoyed our stay in Highett very much. The flat was great and suited our needs perfectly. Very close to a big Wolworths store, good cafés and trains to the city. Durdana is a welcoming and friendly host.
Eva
2016-01-25T00:00:00Z
Durdana provided very clear directions on getting into the apartment and it was spotless. Bright, airy and very quiet spot. All necessary kitchen and bathroom needs were well provided for and the beds were beautifully dressed with new sheets and pillows. This is a pristine example of how good AirBnB can be when it works.
Paul
2016-05-02T00:00:00Z
That's very good apartment which we stayed for eight nights, highly recommended and much appreciate .
ANGIE
2015-12-28T00:00:00Z
Perfect place to stay and Durdana is very helpful, highly recommend. Thanks Durdana
Hamid
2016-04-11T00:00:00Z
Durdana arranged to leave a key for us, this worked well as we were unsure of our arrival time. The apartment was clean and modern as described. Car parking secure under building which was handy. A comfortable nights sleep By all and an early start next morning. It all worked well for us.
Chris
2016-10-16T00:00:00Z
The apartment was as described, the host gave clear instructions of how to pick up the keys, very clean and well looked after, close and short walking distance to local shops and restaurants. Train connections to the city within 5 minute walk from apartment. Set in a nice and quite location.
Donald
2016-01-05T00:00:00Z
Room Type
Entire home/apt
---
Property Type
Apartment
---
Accommodates
5
---
Bedrooms
Highett, VIC, Australia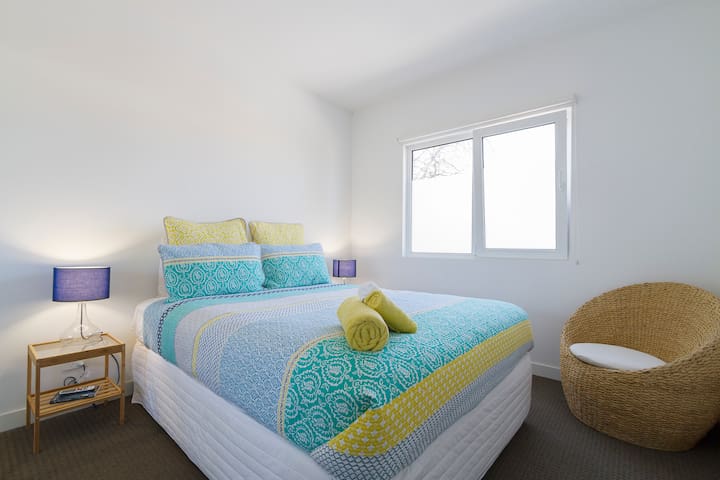 Private poolhouse seperate from the house, with all the amenities and its own entrance. This quiet room has a double bed and own bathroom. Small fridge, kettle, microwave and toaster provided. There is a BBQ to use outside, perfect for travelers, businesses trips & students. Walking distance from trains, buses and shopping centre. 35min train ride to CBD. Short walk to beautiful relaxing beaches and cafes!
The pool house is a convenient, quiet place to stay separate from our home. The mini kitchenette has a small fridge, toaster, sandwich press, kettle and microwave. Cups, bowls and cooking utensils provided, with many restaurants and take away options available nearby. Tea and coffee provisions are provided. BBQ is also available for use. There is a table that seats 2. It can be used as a dining table, or as a desk for work, with the internet provided. All linen is provided including towels, with pool towels available as well on request. We also have a trampoline with a safety net which is perfect for anyone! A TV will also allow you to enjoy the room to its maximum. Coat hangers, iron and ironing board also provided. Washing machine and dryer available in our garage which can be used anytime. The poolhouse is suitable for 2 people (1 double bed) but can add in a sofa bed to accommodate an extra 2 people max. ($15 per additional person)
Lovely neighborhood with beaches, cafes, shopping centres and amenities. Great for long walks along the relaxing beach and cafes. Southland Shopping Centre is 2.5km away, with great shops and a cinema.
This place was great ! It had everything that I needed and my privacy was very respected
Sarah
2016-10-28T00:00:00Z
Great host, really respect my space and privacy. The place is wonderful, highly recommended for short term and long term stay in Melbourne
Koon
2016-08-10T00:00:00Z
Very clean and comfortable. Private access so can come and go without disturbing family. Option to be private in room or sit on family deck. 1km from beach, 800m to Mentone train station. Local shops around the corner.
Catherine
2017-03-08T00:00:00Z
Nice cosy and private place.
Birger
2016-10-21T00:00:00Z
Galit was so helpful and flexible, we needed an early check in and she did wonders to accommodate us!
Shazna
2017-02-15T00:00:00Z
Beautiful quiet and spacious location, I will happily return and stay again.
Brett-Raymond
2017-03-14T00:00:00Z
The outlook over the pool is amazing. Lit up at night. A helpful caring host.
John
2017-03-27T00:00:00Z
Beaut location, owners very accommodating and friendly. Respect guests privacy. Superb position in a quiet cul-de-sac, close to shops & one-step transport to Melbourne CBD (40 min by train). Will be staying here again. Pool was fantastic.
Robert
2017-01-23T00:00:00Z
Room Type
Private room
---
Property Type
House
---
Accommodates
2
---
Bedrooms
Mentone, VIC, Australia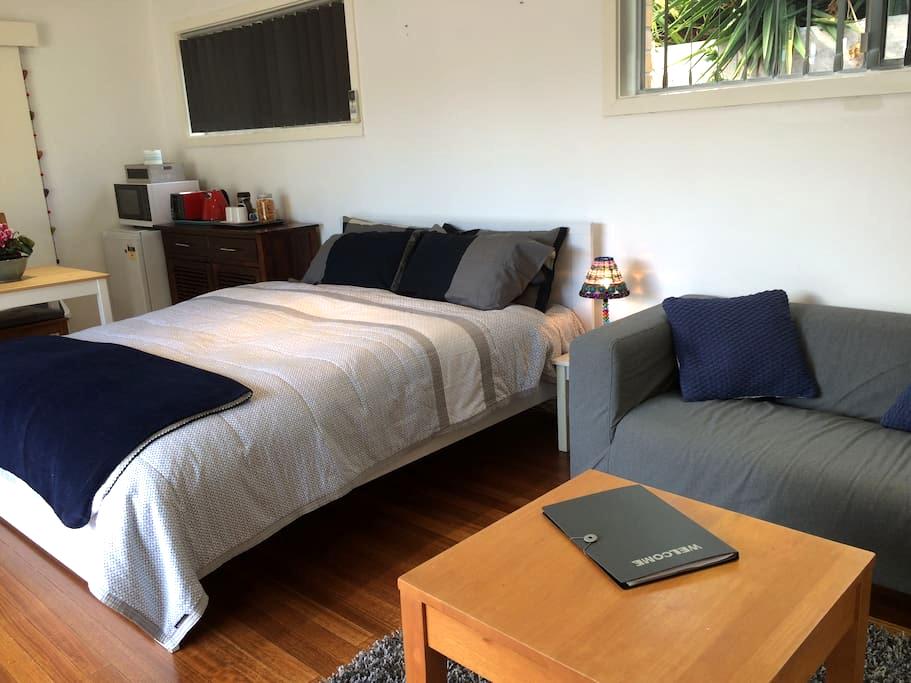 Be a part of our home! We are close to Monash University, Monash Hospital, and Clayton train station/shops - excellent for students. The room comes with a queen bed, desk, chair, bookcase and closet. The kitchen/dining area has air conditioning and all rooms have fans and heaters. Your housemates will be two friendly uni students (one male, one female) and a guy who makes his living doing awesome kids parties. Everyone is in their 20s - 30s but we welcome all ages.
Room Type
Private room
---
Property Type
House
---
Accommodates
1
---
Bedrooms
Clayton, VIC, Australia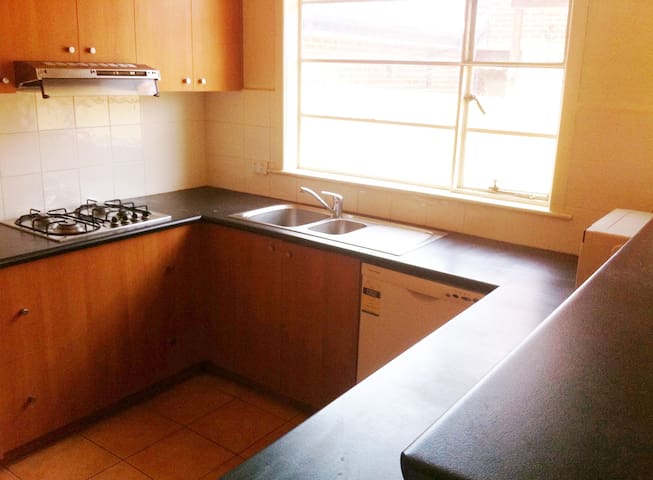 You will have private access to this studio having its own pantry, shower and Toilet. My place is close to restaurants and dining, the beach, family-friendly activities, and public transport. You'll love my place because of the neighborhood, the coziness. My place is good for couples, solo adventurers, and furry friends (pets).
Privacy along with the separate pantry, shower and toilet. We don't have kitchen for full cooking, but we have pantry with Kettle, Sandwitch maker, toaster and a refrigerator.
Jimmit and his family are excellent hosts!! Very hospitable and friendly. They helped us with a lot of things and gave us a lot of good tips about starting our lives in the city. We were very happy to stay at Jimmit's place.
Hana
2017-01-13T00:00:00Z
This is a lovely place to stay! I was here for several weeks getting settled in Melbourne and Jimit and his family made me feel incredibly welcome. The fact that the flat has a separate entrance means that there was time to interact and say hi but also plenty of time for me to focus on my work and I felt very comfortable with both.
Corinne
2017-03-17T00:00:00Z
Extended our stay an extra week! This place is very good value for money. It is a converted basement with slightly low ceilings and is very basic around the edges, but it is still very nice and in a great location right next to supermarkets, mentone station (45 min to city), and 10 minutes walk to the beach. It is also very private and we treated it as our own little apartment. Jimit and his family were very nice and he was always available when we needed him, although the majority of the time we were left to ourselves which was great. This place was the perfect start for our new lives in Melbourne, and would highly recommend it for anyone in the same situation as us.
Nic
2017-01-27T00:00:00Z
Room Type
Private room
---
Property Type
Villa
---
Accommodates
2
---
Bedrooms
Mentone, VIC, Australia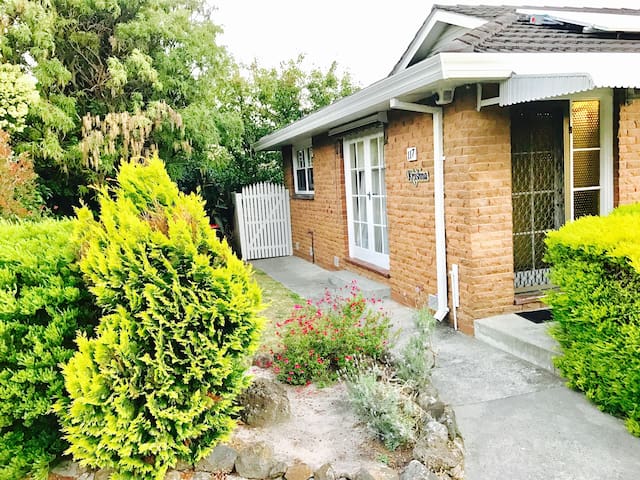 My place is close to public transport and parks. You'll love my place because of the neighbourhood, the outdoors space. My place is good for couples, solo adventurers, and business travellers.
Convenient location, quit neighborhood. Great and caring host. Ask Hilary and he will do his best to help you. Lovely and warm person. The room is big enough to have everything sorted. Strongly recommend this listing.
Aviv
2017-02-19T00:00:00Z
Hilary's place is absolutely gorgeous. It's a lovely house in a nice neighborhood. The host, Hilary, is a lovely person. He will give you your privacy if you desire, but it's also really nice to talk to him due to his kindness. My room was nice too, really clean and comfortable. All in all, I had a great stay at Hilary's place.
Andre
2017-02-04T00:00:00Z
Hilary was a great and friendly host who did everything he could to make my day pleasant. The house is spotlessly clean and it's within easy access to public transport.
Colin
2017-02-08T00:00:00Z
very good place to stay in, Haliry is very very very a nice host. the location is perfect, quite and very convient to all the stores and everything. I would recommend everyone to live in there
guangxi
2017-02-11T00:00:00Z
The host canceled this reservation 9 days before arrival. This is an automated posting.
Zane
2017-02-14T00:00:00Z
Room Type
Private room
---
Property Type
House
---
Accommodates
1
---
Bedrooms
Clarinda, VIC, Australia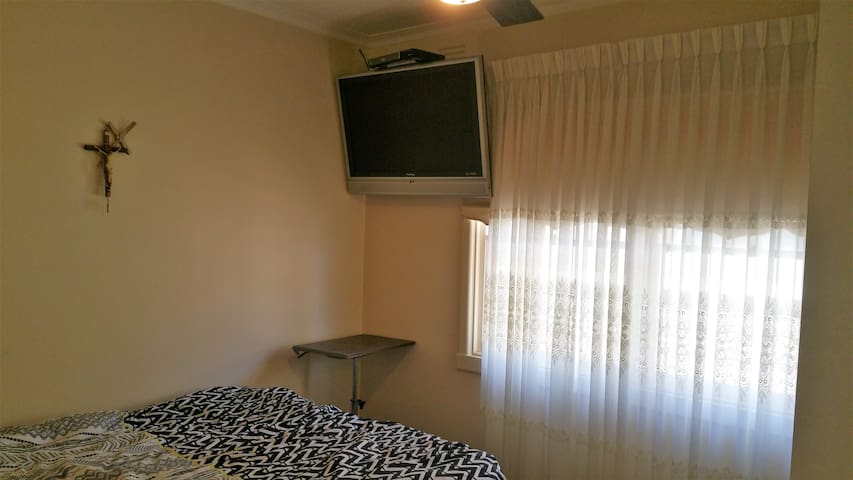 Enter dates to see full pricing. Additional fees apply. Taxes may be added.