Ruby's Guesthouse is located in the heart of the Veluwe. This beautiful environment is perfect for making long walks and bicycle tours through the forest. You will enjoy Ruby's Guesthouse even more, after you made your nice walk, by relaxing in the sauna (additional charge) and taking a dip in the private pool (free of charge; open April till October. We welcome single-travelers, couples and/or naturelovers. (Prices include tourist tax)
Eigen gastenhuis met terras in mooie natuurtuin. Alle voorzieningen aanwezig. Aparte knusse slaapkamer.
Gelegen in bosrijke laan in het buitengebied van Hoenderloo
Lizabeth and Ruud have been perfect hosts for us, very kind and caring. The place is wonderful, very calm and cosy. The surroundings are perfect for a ride in nature. We would definitely come back another time!
Jérémy
2016-08-26T00:00:00Z
We arrived at Apeldoorn train station and the host kindly picked us up, and dropped us off on the trip back. Ruud and his wife were very welcoming, the space was as pictured, surrounded by beautiful trees, and we rented the bicycles to visit the national park. The town is about a 30 minute walk with a grocery store and a few restaurants. Ruud served us breakfast in the mornings, which were delicious and made our stay easier. Overall it was a great trip, and I'm glad we ventured out to the country at Ruby's guesthouse!
Sheila
2016-10-27T00:00:00Z
We feel so fortunate to have found this B&B, which is a special gem (both because of the house and the hosts)! My husband and I visited Ruby's Guesthouse for two days and we wish that we could have stayed longer. Our time there is one of our favorite travel experiences. Set in a beautiful garden near the village of Hoenderloo, this charming cottage offered us a peaceful, relaxing vacation. The house was immaculately clean, had pretty decorative details, and felt so cozy. During one of our days there, we visited the Hoge Veluwe National Park and Kröller-Müller Museum (less than 2 miles from the park entrance, the guesthouse is ideally situated for this trip). Also, swimming, sauna, wifi, TV, and bikes are available at the house (enjoyed the pool, loved the sauna, and needed the wifi for a few last-minute travel and work details). Last, but not least: Ruud and Lizabeth were wonderful, welcoming hosts. Ruud toured us around the house and property, provided information about nearby restaurants, made us great breakfasts, answered our questions (both before we arrived and during our stay), and ensured that we got all that we needed. We really felt at home, which is in large part because we had such amazing hosts who put us at ease. If you want to unwind in a lovely setting with kind and friendly hosts, then this is the place to be. Thanks so much to Ruud and Lizabeth for a fantastic stay in a perfect place! We hope to return to Ruby's Guesthouse again someday for another relaxing vacation...
Paula
2016-08-19T00:00:00Z
This is a great accomodation for couples who love a quiet environment in the middle of a nice very green garden. The little separate house is beautiful, cosy and provides all what we needed. The kitchenette (including refrigerator) is good to prepare a little dish or salad and a hot coffe or tea. Breakfast was included and plentiful and excellent. It is a great starting point for hiking and biking (specifically to the 2 National Parks). The pictures online and description fit very well what you will find. Lisbeth and Ruud are great and very lovely hosts. Thanks for the warm welcome, the breakfast, the good talks and your sense for humor. We felt very comfortable.
Joerg
2016-09-10T00:00:00Z
My boyfriend and I had a lovely stay at Ruud and Liesbeth's place! We wanted to have a short holiday away from the city and be able to enjoy some nature and tranquility, and this place was the perfect choice! The hosts are lovely, kind, and attentive, and they made sure we had everything we needed; also, the place is only a short bike ride from the Veluwe National Park! Great holiday, thank you Ruud and Liesbeth!
Alexandra
2017-04-12T00:00:00Z
We had a very pleasant stay at Ruby's Guesthouse. Its location is great, very close to the Hoge Veluwe National Park (where you can easily spend a whole day). Also, the tiny house offers everything you need for a short stay and it is very cosy. If you're lucky you can spot numerous birds or squirrels while relaxing on the couch. The included breakfast is fantastic.
Rineke
2016-10-18T00:00:00Z
It was such a lovely, cozy house! we were a bit delayed but Ruud was kind to be waiting for us. The place is in the peaceful area near national park, and we really enjoyed the atmosphere of nature there. The sauna was super, which you can enjoy it for private. He offered us so many sweet and kind services in the house, such as welcome drinks, sweets, snacks, and amazing breakfast!! just so warm and cozy. He prepared everything when we arrived, and let us feel comfortable while we stayed there. Just one thing, that the kitchen itself was not perfectly suitable for cooking. Except for that, it was perfect. Definitely recommend this place!
Min Jung
2016-10-13T00:00:00Z
Our stay at Ruud's place was one of the highlights of our trip to the Netherlands ! The little house is beautiful, charming, warm and cosy. It has everything you might need and has this great inviting atmosphere that make you feel good, at home, right away. The garden surrounding the house is great and has a huge warmed up pool which we enjoyed very much. We really loved staying there and were really sad to leave after just one night. However we made the most of our stay by enjoying the house and garden but most of all Ruud's company ! Such a kind, caring and interesting person, it was a truly great pleasure to interact with him. The house is perfectly located close to the Veluwe national park (a must see for nature lovers in the Netherlands) and surrounded by nature and cute little towns. On top of everything you will enjoy Ruud's little attentions in the house and his great breakfast in the garden. I could go on for a while on how much we loved our moments at Ruud's place... In a nutshell, the Veluwe and Ruud's place should be one of your stop in the Netherlands.
Leah
2016-09-05T00:00:00Z
Room Type
Entire home/apt
---
Property Type
Bed & Breakfast
---
Accommodates
2
---
Bedrooms
Hoenderloo, Gelderland, Netherlands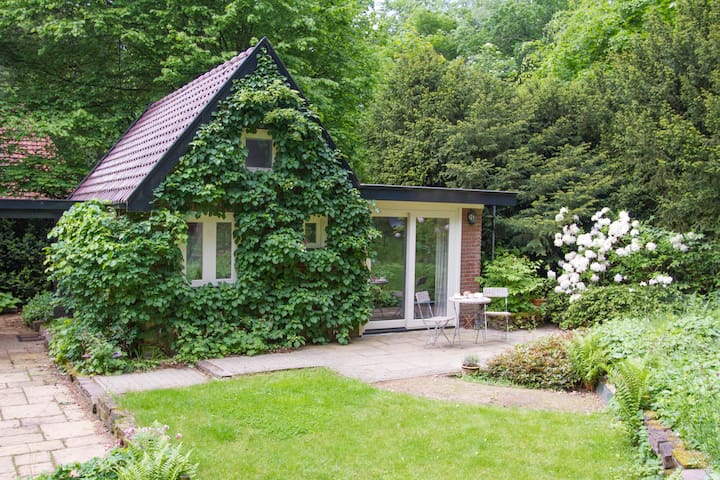 My room was near the forest! It is located on the edge of the park Veluws Hof in Hoenderloo near Apeldoorn / Arnhem. You walk into the woods where you can walk. You'll love my place because it is very cozy and homely. The wood stove tasty and with a hot cup of coffee, tea or hot chocolate (which are waiting for you) on the bench after a lovely walk in the adjacent forest. My room is suitable for couples, solo adventurers and families (with children).
The space is cozy, small but fine. You have everything you need for a relaxing stay. The coffee and tea are waiting for you. Because the chalet on a small hill state look out over the park. Next to the house is the gate and walk into the woods!
(URL HIDDEN)
Jacomine's chalet is cosy and comfortable. It's not the most modern, but it has everything you need. The fireplace and the excellent location made our stay great. We hope to book the place again.
Gijs
2016-12-18T00:00:00Z
Een heerlijk mini huisje met alles erop en eraan om na een sauna dag uit te puffen, een warm ontvangst en fijn contact vantevoren. Het bungalow park is groot en lijkt op een doolhof, maar heel prettig is dat deze chalet iets hoger en aan de rand van de andere staat. Een echte aanrader om bij te komen!
Renske
2016-12-23T00:00:00Z
Een fijn huisje met alles erop en eraan, een ideale plek om lekker uit te rusten. Warm met een boek bij de houtkachel en fietsen en wandelen op de mooie Veluwe. Jacomine was goed bereikbaar voor en tijdens ons verblijf.
Anouk
2017-01-07T00:00:00Z
We hebben heel erg genoten van ons weekendje onder vrienden in Jacomine's kleine maar gezellige chalet. De chalet is zeer rustig gelegen in een prachtige en bosrijke omgeving die ideaal is om te wandelen of te joggen. Ook Arnhem is vlot te bezoeken vanuit het park (met de wagen). De chalet was helemaal in orde en we hadden alles wat we nodig hadden. Ook bowlingbaan in het park is mooi meegenomen en een fijne activiteit :) We de chalet zeker aan voor een rustig weekendje. Nogmaals bedankt Jacomine! Jeroen - Thomas - Christophe
Jeroen
2017-02-26T00:00:00Z
Een knus chalet op een prachtige locatie. Alles was aanwezig voor een gezellig verblijf; een mooi uitzicht, houtkachel en goede keuken. Jacomine reageerde via de app snel op vragen. Het was wel even zoeken om het chalet te vinden.
Jacob
2017-01-23T00:00:00Z
Fijne plek. Aanrader!
Christian
2017-02-05T00:00:00Z
Rustige omgeving, ideale ligging aan het rand van het park. Een paar meter lopen en we zaten zo in het bos. Heerlijk wandelen met kind en hond. Goed bereikbaar en leuke uitstapje maken in de omgeving. Het huisje is knus, kind- en diervriendelijk. Alles is aanwezig, inclusief luxe oven voor pizza's. Voor de niet al te kritische reiziger is dit een heerlijk plekje. Jacomine heeft haar uiterste best gedaan om de tv aan de praat te krijgen. Verder was alles prima verzorgd. Met een leuke welkoms boodschap, bloemetjes en flesje sap en prosecco.
Patricia
2017-03-12T00:00:00Z
Knus huisje met fijne keuken. De communicatie met Jacomine verliep soepel, ze is erg behulpzaam. Het huisje ligt aan de rand van een park met stacaravans. Het aangrenzende bos is prachtig om door te wandelen of mountainbiken! Al met al een fijn winter weekend gehad hier :)
Simone
2017-02-12T00:00:00Z
Room Type
Entire home/apt
---
Property Type
Chalet
---
Accommodates
4
---
Bedrooms
Hoenderloo, Gelderland, Netherlands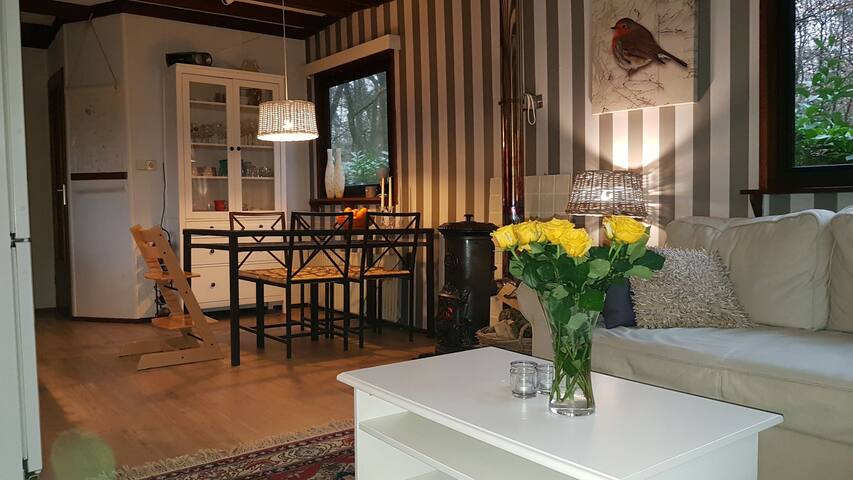 Well kept lodge in a quiet, family friendly holiday park surrounded by nature in the Veluwe forest. The cabin is located just to the east of picturesque Hoenderloo village, a gateway to the National Park boasting spectacular wildlife & the Kroller-Muller museum, famous for it's Van Gogh collection. Just an hour's drive from Amsterdam, and close to Germany in the east, it's a great base for exploring the Netherlands & beyond. WWII historic sites also abound with Arnhem on the doorstep.
THE CABIN>> Well kept, fitted and furnished lodge in a quiet, family friendly woodland holiday park. Free WiFi. 2 bedrooms (twin bed and bunk bed), a bathroom and large open plan kitchen & dining plus living room space that features a Gas Heater, Flat Screen Television, DVD/usb player, WII console and Radio. Small office desk. Private garden with shed outside and own driveway. Comfortably houses families of 4, with potential space for more in the lounge. Kitchen features a fridge with freezer compartment, a washbasin and gas stove (4 plate). Good park laundry facilities just 50m from the chalet. Bed linen available for longer stay visitors if required.
AREA OVERVIEW>> Fox Corner is surrounded by nature a few km to the east of a picturesque dutch 'highland' village called Hoenderloo. At the heart of the Veluwe, (an area twice the size of the New forest in the UK) the village serves as gateway to the National Park which not only hosts a wide range of spectacular flora and fauna, but also one of the largest collections of original Van Gogh masterpieces (among many other art exhibits) at the internationally acclaimed Kröller-Müller Museum. Just over an hour to the east of Amsterdam, and 30mins north of Arnhem (the city made famous during WWII as being 'the bridge too far'), Hoenderloo village is part of the municipality of Apeldoorn. While the main draw is certainly the wildlife and varied landscapes of the immediate area, you'll find plenty to do on a day out both close by and further afield. In Apeldoorn you'll find "Apenheul" - an ape sanctuary well worth visiting and the royal palace "Het Loo" which was built by William III, King of England and Stadholder of the Netherlands. To the East is the picturesque riverside city of Deventer, with it's medieval centre. Arnhem, with shopping, nightlife and wartime history lies to the south. While Amsterdam is the obvious choice for a day trip, don't forget that in wintertime German Christmas markets are just a 2hr drive away!
We stayed two nights at the Fox Corner. The place is very basic, but functional. Everything you'll need is there. The surrounding is beautiful, although the corner is situated between other cabins, so you don't have that much privacy. Nathanael responded kind and responsively at all our questions. Keep in mind that you have to clean the cot yourself.
Sophie
2016-04-25T00:00:00Z
The description and pictures are showing exactly how it is.The chalet was very clean and tidy. Its situated in the middle of the forest and its very close to the 'Parc Hoge Veluwe' with the Kröller Müller museum. Nathanael is a good host. Very flexibel, prompt and helpful responses. We only had a little problem with the gas heater at night (But I'm sure thats already fixed right now) and he gave us a nice discount afterwards for it.
Anke
2015-10-18T00:00:00Z
Fox corner is conform with the description . Very clean and well equipped. The environment is beautiful. Nathanael gives us all the necessary information for a pleasant stay ( easy to collect the keys in particular). Too bad that the stove was not working. Thank you for having welcomed us
Anaïs
2015-11-09T00:00:00Z
The Fox Corner is a great place to stay. The chalet is very nice and cosy and the environment is beautiful in the middle of the woods. All the furniture you need is present. I didn't get to meet Nathanael in person but he texted me during my stay to ask if everything was ok. The communication with him was very good. Because of the heater the chalet gets warm very quick, even in december. Only the bathroom can be a little cold. The beds are a bit short so keep that in mind when you are a tall person. Overall I had a great stay. The Fox Corner is great to discover the woods and the national park 'Hoge Veluwe'.
Mandy
2015-12-19T00:00:00Z
The cabina is ok.very simple but had the main thing.clean.the way to the cabin was not good at all. I sugggest next time to write befor were it is and make good preper before.for us was the stay there not so good.very very simple.i think its not for family!
Einat
2016-06-16T00:00:00Z
Location Location Location! We chose the cabin of Nathanael because we wanted to spend two days in the Value. The cabin is located in a green and pleasant forest. Close to town with super store and the cabin has everything you need to cook a family meal. We did not meet the Nathnael but we got him good guidance and quick responses to our requests. Good and pleasant experience
Dalia
2016-07-13T00:00:00Z
Reservation was easy and I got a quick response to my questions, also on the phone. Kind person! As the chalet is not far from the reception, we had access to free WiFi. The space is sufficient for up to 4 persons. All-in-all, it was a convenient stay at a very good price. See you again!
Andreas
2016-02-27T00:00:00Z
Beautiful silent place to stay inside park. Clean and tidy. Inside of house we had found everything for comfortable stay.
Nazariy
2016-12-14T00:00:00Z
Room Type
Entire home/apt
---
Property Type
Cabin
---
Accommodates
4
---
Bedrooms
Hoenderloo, Gelderland, Netherlands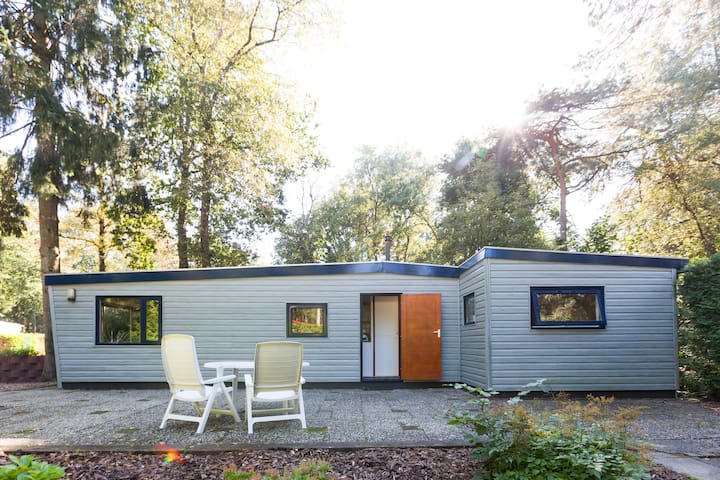 This charming 30's villa is on the edge, facing the entrance of National Park De Hoge Veluwe near the center of Hoenderloo and is ideal for families with children and couples.
We had a fantastic stay! The house is absolutely stunning and luxurious, with new furniture, and an amazingly large private garden with a playground for kids. The house is also situated perfectly at the edge of the forests. Highly recommended!
Bas
2016-08-04T00:00:00Z
The house was lovely, De Veluwe was beautiful, and we had an awesome time!
Tyler
2017-03-19T00:00:00Z
Very nice place!!! Excellent location!!! Highly recommended!!!
Semion
2016-08-29T00:00:00Z
The house is beautiful, spaceous and confortable. All amenities are there and it is very clean, with spotless bed linens and towels. The hosts are very responsive and they did their best to make our stay comfortable (they got us the baby cribs we needed, installed washing and drying machines which weren't in the house at first and they sent a cleaner and pest control when we spotted forrest mice in the house). The garden is large and beautiful. Our kids enjoyed the playground and we enjoyed the alfresco sitting and BBQ nights. It is located very close to the forrest with easy access to the town too. I would definetly recommend it! Thank you for a wonderful stay
Catherine
2016-09-16T00:00:00Z
Geweldig huis! Ligging en luxe zijn fantastisch. Erg leuk met een groep vrienden of familie! Wij hebben genoten
Ben
2017-01-29T00:00:00Z
Heerlijk huis en prachtige omgeving! Fijn voor een weekend weg met kinderen of familie!
Monique
2016-07-26T00:00:00Z
Prachtig huis op prachtige locatie
Merijn
2017-02-13T00:00:00Z
Wij hebben met zijn elven enorm genoten van deze stek. Het huis is erg ruim en de tuin is geweldig om in te spelen. We waren van alle gemakken voorzien! Ook in de keuken waren voldoende spullen aanwezig om voor zo'n grote groep te kunnen koken. Wie weet komen we nog eens terug...Maar dan in de zomer.
C
2017-02-06T00:00:00Z
Room Type
Entire home/apt
---
Property Type
Villa
---
Accommodates
12
---
Bedrooms
Hoenderloo, Gelderland, Netherlands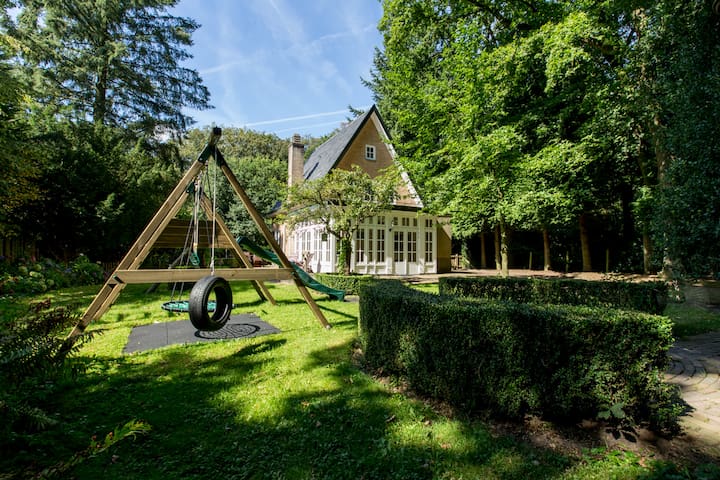 In the middle of the forest, you will find a quiet, romantic and spacious house. Your host Anna will take good care of you during your stay! For your perfect holiday, wedding and birthdays!
In the middle of the forest, you will find a private, quiet, romantic and spacious house called: Anna's Cottage Bed and Breakfast. There are two lovely, well decorated rooms available for you! The rooms provide kingsize beds and a magnificent view! Both rooms have there own bathrooms! The beautiful kitchen and living room are also available for the guests to use! The host "Anna" serves breakfast every morning!
"The hoge Veluwe" is well known for her beautiful nature. Hiking, biking and of course peaceful, quiet surroundings!
Anna Was brilliant, made us very welcome and obviously loves having guests, the area is lovely, the house is in a very peaceful area. Our room was very nice, breakfast superb, stay here if you are in the area.
David
2016-09-07T00:00:00Z
Anna's Cottage is just perfect ! It was difficult to find something nice in the area and luckily we found Anna's place. The room is very pretty, well decorated and breakfast huge ! We really had a good stay. We had really good communication with Anna, she call us before and even reserved restaurant for us the night we arrived ! She gave us very nice advice ! The cottage is well located to visit the Hoge Veluwe park, we had to walk 15min to the entrance. We recommend very warmly to stay here. It was perfect !
Cécile & Willy
2016-07-18T00:00:00Z
Great location, beautiful rooms and very hospitable host. The kitchen is actually for the owners, but they were kind enough to let us use it.
Leendert
2016-12-24T00:00:00Z
Wij hebben ontzettend genoten van Anna's cottage. Precies wat we nodig hadden. Tot in detail werden we verzorgd, vertel haar niet dat je jarig bent ;). Manlief Dick heeft ons gastvrij ontvangen en geholpen waar nodig. Het voelde alsof we op handen en voeten werden gedragen. Anna heeft ons erg geholpen bij het zoeken van een leuk restaurant en buiten activiteiten. De paardrijtocht over de Veluwe is erg aan te raden (verzorgt door de Krimhoeve). Al met al dus echt een aanrader.
Tim
2017-04-09T00:00:00Z
Anna was vanaf de eerste bericht een super host. Wij zijn ontvangen met open armen en hebben we gelijk thuis gevoeld . Het huis is in een schieterend omgeving: rustig en in middelhoge natuur. Het is still en je voel je heel ver van alles. Het huis is ruim en gezellig en de kamer is groot en echt sla in de foto's . En op twee stappen van Het National Park De Hoge Veluwe. Anna heeft ons s super ontbijt geserveerd en ons verteld over de geschiedenis van haar huis. Zij is een charmante host.
isabel
2016-08-05T00:00:00Z
Zeer warme ontvangst door Anna en Dick! Een heerlijk verblijf op de Veluwe. Aanrader voor iedereen die er even tussen uit wilt in de natuur!
Elzard
2017-04-02T00:00:00Z
Room Type
Private room
---
Property Type
Bed & Breakfast
---
Accommodates
2
---
Bedrooms
Hoenderloo, Gelderland, Netherlands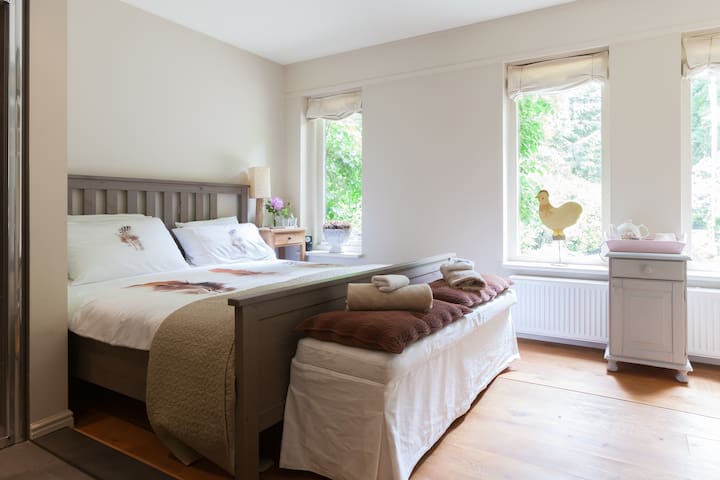 Our wonderful luxury chalet "Boszicht" located recreation "Ben's Dream the Jungle" in the middle of forests and beautiful heaths. The beautiful hiking trails invite for hiking and biking. Area theme parks and other tourist and cultural attractions. Our chalet is suitable for couples, bikers, hikers, families and you can bring the dog.
Lovely private chalet with a spacious garden. Surrounded by nature, birds, squirrels, deer and boar, all you can encounter here!
The Veluwe: There is a lot to do in the area. There are many opportunities for active recreation, day trips to theme parks and other tourist and cultural attractions. But you can also simply enjoy cycling through the National Park Hoge Veluwe or the beautiful surroundings. It is certainly also worthwhile to go into the woods.
We zijn erg vriendelijk ontvangen en al het contact verliep snel en prettig. Doordat wij door omstandigheden alweer de tweede dag moesten vertrekken kunnen we over het verblijf geen eerlijk oordeel geven.
Josien
2017-01-07T00:00:00Z
Room Type
Entire home/apt
---
Property Type
Chalet
---
Accommodates
4
---
Bedrooms
Hoenderloo, Gelderland, Netherlands
The atmospheric BosBungalow 8 has a unique location on the edge of Recreationpark het Veluws Hof. A wonderful place whith a nice privat garden. This bungalow is suitable for 4 persons. The generously equipped bungalow with all luxuries and comforts, dishwasher, microwave, stove, outside BBQ, covered terrace and there are two ebike's waiting for you. We provide bedlinen and towels, coffee / tea.
* Lots of privacy * woodstove with wood * bbq * covered terrace * two ebike's including the price * unique location on edge of the wood
Genieten van de mooie natuur van de Veluwe, vanaf onze bosbungalow loop je zo het bos in. Er is een buiten zwembad op het park alsmede een supermarkt, friettent, restaurant en in het hoogseizoen worden er voor de kinderen allerlei activiteiten georganiseerd. Restaurant de Ruggestee op het park is erg goed, hier kun je ook steengrillen en zelfs bowlen.
We had a lovely stay in this chalet. It is compact (bedrooms) but has all you need including a great shower! Lots to do in surrounding area for our young boys (apenheul, burger zoo etc) and good places to eat in hoendeeloo. The campsite itself is a little dated. But all in all a good experience.
Sinead
2016-07-18T00:00:00Z
Absolutely perfect! This accommodation has just everything you can think of. It is in a big camping place with lots of events and a swimming pool. But its also next to woods, at the edge of the woods. A really quite place! We really felt home and would like to come back. Also there is everything we needed for our baby daughter. The neighbours nextdoors were very nice and helpful. We cant praise this place enough.
Kati
2015-08-15T00:00:00Z
Hierbij wil ik jullie bedanken voor het aangename verblijf . De chalet is zeer comfortabel en de electro fietsen zijn fantasties. Veel privacy rondom de chalet en de houtkachel geeft veel sfeer. Midden in de natuur geeft je het gevoel van rust en welbehagen. Al met al een geslaagde mini vakantie.
Ton
2015-10-24T00:00:00Z
Heerlijke bungalow met werkelijk alles wat je kan wensen voor een prettig verblijf! Aan de rand van het bos, heerlijke houtkachel, zeer complete keuken en heerlijke banken met uitzicht op het bos door de grote ramen. Het weer zat een beetje tegen maar de bungalow heeft dat helemaal goed gemaakt! Aanrader!
Mathilde
2015-10-19T00:00:00Z
Wir hatten wundervolle Tage im Bungalowhäuschen von Serge und Jolanda. Vorab gaben sie uns jegliche notwendigen Infos und waren sehr offen und freundlich. Das Häuschen selber ist super geschmackvoll eingerichtet und verfügt über alles was man für einen Urlaub benötigt. Alle Küchengeräte sind vorhanden (Toaster,Wasserkocher, Kaffeemaschine, Staubsager etc.) darüber hinaus ein großer Fernseher, W-lan und 2 tolle E- Bikes um die wunderbare Natur rund um den Ferienpark zu erkunden. Bei Ankunft standen Snacks und eine Falsche Wein für uns bereit. Vielen Dank dafür. Es war sl4les sehr sehr sauber und bestens gepflegt. Man hat viel Privatsphäre da rundherum alles umgrünt ist. In der Nähe finden sich Restaurants und Sehenswürdigkeiten so wie z.B. der Palast von Loo. Wir werden gerne wiederkommen. Die perfekte Mischung aus Entspannung und Natur. Vielen Dank!
Frank&Elisabeth
2017-01-05T00:00:00Z
Er stond een lekkere fles rosé op tafel en basisproducten zoals koffie, thee, suiker en peper&zout zijn aanwezig evenals toiletpapier en schoonmaakmiddelen. De tuin geeft heel veel privacy en was een heerlijke plek voor ons, onze kinderen en hond. Leuk ook dat er een BBQ staat. Alles voor de kinderen was ook aanwezig net als voerbakjes voor de hond. Het ontbrak ons aan niets. We hebben het heel fijn gehad!
Linda
2016-08-26T00:00:00Z
Room Type
Entire home/apt
---
Property Type
Chalet
---
Accommodates
4
---
Bedrooms
Hoenderloo, Gelderland, Netherlands
Our very large, eco straw-bale barn style house, set on our community hobby farm, is a short bush walk away from the village of Hoenderloo, the gateway to National Park De Hoge Veluwe. The 'Strohuis' is made from natural and recycled materials and has a large tile heater - we love the basic, natural and robust setting and hope you do too! We strongly support our sustainable life-style and welcome people from all walks of life.
The spacious eco straw-bale house was build with the help of hundreds of volunteers and is used as community space for local activities and accommodation for visitors . This is a truly unique experience to stay with a third generation local family. The Strohuis stands next to the large farm house and offers basic accommodation for up to ten people. Some call it quirky, others may find it rustic. Upstairs, the open attic and a large bedroom offer ample space to chose a setting that suits your needs best. Our indoor kitchen was updated over winter and it's looking fabulous, especially when you know that everything is handmade with lots of re-useable materials! The kitchen is equipped with pots and pans and utensils, a coffee machine and a kettle, an induction cooking plate, a large oven and a dish washing machine. Second cooking facilities are set up in an outdoor kitchen (under cover on the veranda) with a large barbecue and gas flames.
Walking distance to the famous National Park De Hoge Veluwe where art and nature meet in quite a unique way. Our farm is just outside the village at the end of a quiet dead end street with only a few other houses. Hoenderloo is surrounded by forest. Burgers' Zoo and the Apenheul Apeldoorn are less than 20 minutes driving away.
I rented Monica's place for my birthday and had invited my parents + their dog, 2 brothers and boyfriend. It was such a nice place to stay with the 6 of us! There is a hudge living area, a cooking facility outside (BBQ!) and a very relaxing shower. The view was amazing, trees, meadow with horses, more trees. I would definitly recommend this to anyone. Weather you are with the 2 of you or with a big group. There are several places you can chill, even light a bonfire.
Marloes
2016-09-05T00:00:00Z
We had such a wonderful time at the house. Our family was in need of some peace and rest and we definitely found that there. Our boys enjoyed reading books on the bookshelf, watching the horses and taking walks around the property. This is a place our family will certainly visit again! Thank you again for everything!
Rebecca
2016-10-20T00:00:00Z
Lovely barn house, clean and cozy. Great place for kids and for animal lovers. Location is great- very close to the national park. Very nice hostess.
sagit
2016-05-04T00:00:00Z
We had a great stay in Hoenderloo with a small group of runners. Although our visit was short, we felt at home immediately thanks to the hospitality of Jans (Monica's mum) and some fantastic weather! A great place to relax and enjoy the nature!
David
2016-07-11T00:00:00Z
We were warmly welcomed by Monica's mother who lives on the same property. The house was what we needed, close to the park (about .4 miles) and had enough beds for our family of 7. We brought food (breakfast/lunch) and went out to dinner, so we didn't need to use the outdoor grill for cooking. A bit primitive, but the house was clean and organized and my children did appreciate the chance to make music with the piano and percussion instruments in the house. Overall, pleased with our stay.
Kristel
2016-05-03T00:00:00Z
The place is quite easy to reach by public transport. From Hoenderloo it's about ten minutes by foot, or a bit more when taking a nicer route through the forest. The place is nice and spacious, has a rural feeling, with ample space to sit outside with a nice view over a field with horses and forest. Outside there is an open fireplace, a gas-operated bbq and a ditto cooker for pots. Some areas, in particular the indoor kitchen, are in the process of being upgraded. the fire place takes some time to heat up the place, but then certainly does the job. The hostess Jens was very welcoming and friendly and even provided our party with a bottle of wine and fresh eggs! (We were with seven people.)
Jules
2016-05-23T00:00:00Z
We had a wonderful weekend with friends at the farm. Everything was taken care and really clean. Jans was a lovely host to us.
Mandy
2016-06-06T00:00:00Z
We had an amazing time in this beautiful barn! It was even more beautiful than we expected. We had a girls weekend with 10 people which was made successful because of this beautiful barn, location, services etc. Snuggle up at the fire or go out for a nice walk in the forest around the horses. Monica's mother is very welcoming and friendly. I can truly recommend this place, we might come back for the winter!
Jana
2016-09-25T00:00:00Z
Room Type
Entire home/apt
---
Property Type
House
---
Accommodates
10
---
Bedrooms
Hoenderloo, Gelderland, Netherlands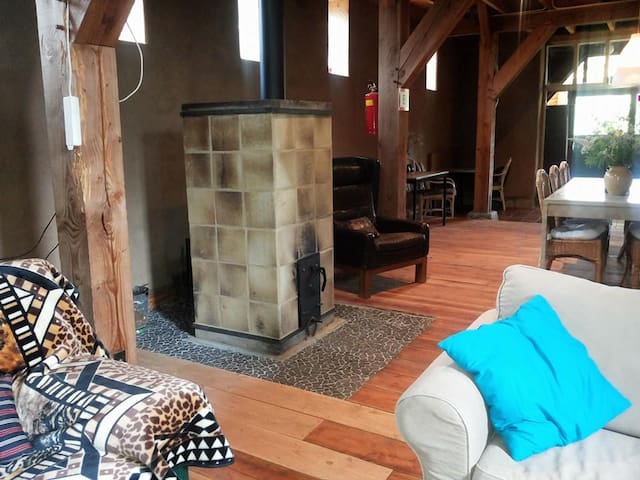 Nuestra habitación estaba cerca del parque Hoge Veluwe, la naturaleza fenomenal y el arte y la cultura. Apeldoorn y Arnhem están cerca. El doble B & B está en un lugar precioso en el bosque .. Te encantará mi lugar, porque todo es nuevo, elegante, lujoso y acogedor, con techos altos, cómodas camas, entrada privada, terraza privada, un montón de privacidad. Nuestro espacio es ideal para parejas, aventureros y viajeros de negocios en solitario.
Fijn verblijf, aardige verhuurders en heerlijk ontbijt! Aanrader!
Patricia
2016-12-11T00:00:00Z
Wij hebben erg genoten van de rust en de gezellige, knusse accommodatie. Aan alles is gedacht, nespresso apparaat, minibar, echt een heel goed bed en zelfs een föhn is aanwezig! Die was ik namelijk vergeten. We zijn vriendelijk ontvangen, hebben een heerlijk uitgebreid ontbijt gehad en bij vertrek zelfs nog walnoten van de boom uit de tuin gekregen. Echt een aanrader!
Cindy
2016-12-18T00:00:00Z
De gelegenheid was een verjaardag van mijn vriendin en Henk en Kiki waren zo aardig om slingers op te hangen in de kamer! Het huisje was mooi en het ontbijt maakte alles zeer mooi af. We hebben een zeer leuke dag gehad!
Niels
2016-11-28T00:00:00Z
Het is een erg leuke kamer met een heerlijk ontbijt!
Harmen
2016-11-12T00:00:00Z
We voelden ons erg welkom, we kwamen vrij laat in de avond aan maar dat was geen probleem. De buurt is lekker ruim en zeker op de locatie van de B&B is het heerlijk rustig.
Ingeborg
2016-10-09T00:00:00Z
Kiki en Henk waren enorm gastvriendelijkheid. Ik kreeg een hartelijk welkom en mijn door de wandeling doorweekte schoenen hebben ze zelfs voor mij gedroogd en de volgende ochtend bij het ontbijt weer afgegeven. De ruimte is van alle gemakken voorzien, met een heerlijk bed, en ook het ontbijt was top. Lekker vers. Verder is de locatie erg goed, op iets minder dan 10 min wandelen van de entree van het Nationale Park de Hoge Veluwe. Als ik nog een keer in de buurt ben zou ik zeker terug gaan.
Bjorn
2016-10-21T00:00:00Z
Wij hebben genoten van deze B&B, nieuw en modern. Mooie bosrijke omgeving, op korte afstand (10 min met de auto) van de B&B zijn 2 wandelroutes uitgezet 6,5 km en 8,5 km. Je auto kun je parkeren naast het huisje. Lekker ontbijt met verse jus de orange en eitjes van de eigen kippen van Kiki en Henk. Omdat het twee kamers naast elkaar zijn kun je wel de 'andere gasten' horen.
Lenneke
2016-12-30T00:00:00Z
Room Type
Entire home/apt
---
Property Type
Bed & Breakfast
---
Accommodates
2
---
Bedrooms
Hoenderloo, Gelderland, Netherlands
This Cabin in the woods near De Hoge Veluwe with the Kröller-Müller museum (Van Gogh!) and many family activities is a lovely retreat destination. A*A*A* location from your porch for wild boars & bird watching with direct view into the woods and many hiking, mountain bike and nordic walking trails at your feet. Perfect for couples, solo-adventureres, writers, families. Pets welcome. Two bedrooms, two toilets. Large kitchen and lounging area. Central heating, so a perfect winter retreat.
(Scroll down for English info!) Dit gezellige, comfortabele en volledig uitgeruste vakantiehuisje/chalet is gelegen aan de bosrand van een rustig recreatiepark net buiten Hoenderloo. Een houten hek voor de deur dat direct toegang geeft tot de Veluwse bossen. Bijzonderheden: Nationaal Park De Hoge Veluwe - 3 km. Kröller-müller museum met de grootste Van Gogh collectie ter wereld - 3 km. Paleis het Loo, Apeldoorn - 15 km. Familiepark De Apenheul - 15 km. Familiepark Julianatoren - 15 km. Erebegraafplaatsen Eerbeek, Arnhem - 5 tot 15 km. Airborne museuam - 15 km. 1 slaapkamer met 2-pers. bed heeft een eigen toilet en wastafel. De 2e slaapkamer heeft een 2 pers. bed óf 2 1 pers. bedden. De keuken heeft een ingebouwde oven, koelkast, brood-toaster, coffeemaker en water cooker. Een flatscreen TV in het lounging gedeelte zorgt ervoor dat u contact met de buitenwereld kunt hebben, maar waarschijnlijk heeft u daar door de serene rust, schitterende natuur en het rozige, ontspannen gevoel door de frisse buitenlucht geen behoefte aan! Van mei tot september is het buitenzwembad geopend. Fietsen zijn bij de receptie van het park of in het dorp Hoenderloo (dat op 3 km. afstand ligt) te huur voor ca. €10.- per dag. U dient zich bij de receptie te melden en daar de toeristenbelasting á €1.50 p.p.p.d. te voldoen. This cosy, comfortable cabin is situated on the edge of the Veluwe woods in a quiet recreational park just outside Hoenderloo. A wooden entrance right across your porch gives access to the Veluwe woods. Attractions: National Park De Hoge Veluwe - 3 km. Kröller-müller museum met de grootste Van Gogh collectie ter wereld - 3 km. Palace het Loo, Apeldoorn - 15 km. Familypark De Apenheul - 15 km. Familypark Julianatoren - 15 km. War cemeteries Eerbeek, Arnhem - 5 to 15 km. Airborne museum - 15 km. 1 bedroom with double bed has its own toilet and sink. The 2nd bedroom has either a double bed or 2 single beds. The kitchen has a built-in oven, refrigerator, toaster, coffeemaker and water cooker. A flatscreen TV lets the outside world in, but we doubt that you will feel like watching! The serenity of the woods, the brilliant nature and rosy glowing feeling of being outdoors all day will leave you too relaxed. The outdoor swimming pool is open from May until September. Bicycles are for rent at the reception of the park or in Hoenderloo village (1,5 miles/3 km away). About €10.- per day. You must register yourself at the reception desk to pay tourist tax of €1,50 p.p.p.d.
(Scroll down for English info!) Hoenderloo, of Hoenderloeloe zoals ik dit prachtige plekje in Nederland graag noem, is een van de mooiste natuurgebieden die ik ooit heb gezien. En als een voormalig stewardess heb ik vele mooie plaatsen op de wereld gezien! Natuurlijk bezoekt u Nationaal Park De Hoge Veluwe om de grootste Van Gogh collectie in het Kröller-Müller Museum te zien. Dit is een prachtige 5 km (2,5 miles) fietstocht vanaf uw vakantiehuisje Hoenderloo. Paleis Het Loo ligt op 15 km afstand. Vergeet niet om het Pannekoekenhuis Hoenderloo (3 km), de gezellige brasserie De Lokaliteit (4 km) en Carnegie Cottage (met de beste cakes, taarten en wijn!) in Otterlo (8 km). De wandelroutes Marskramerpad, Trekvogelpad en het Veluwe Zwerfpad liggen vlakbij en u stapt vanaf uw veranda in 10 stappen de bossen van Staatsbosbeheer in! Hoenderloo, or Hoenderlulu as I call this beautiful place, is one of the most beautiful natural areas I have ever visited and as a former flight attendant I have seen many! Ofcourse you will go to National Park De Hoge Veluwe to see the large Van Gogh collection at the Kröller-Müller Museum. This is a beautiful 5 km (2,5 miles) bicycle trip from your cabin. Palace Het Loo is a comfortable 15 km drive. Be sure to visit Pancakehouse Hoenderloo (3 km), cosy café De Lokaliteit (4 km) and Carnegie Cottage (with the best cakes, pies and wine!) in Otterlo (8 km). Hiking trails Marskramerpad, Trekvogelpad en het Veluwe Zwerfpad are close by and it takes 10 steps from your porch to enter the Staatsbosbeheer woodlands.
Prachtige lokatie voor de natuurliefhebber. Letterlijk 20 meter van een hek het bos in. Geweldige gastvrouw.
Marijke
2017-01-02T00:00:00Z
Room Type
Entire home/apt
---
Property Type
Chalet
---
Accommodates
4
---
Bedrooms
Hoenderloo, Gelderland, Netherlands
Always wanted to sleep once in a real dragon egg in the middle of the Veluwe? The dragon egg contains a large bed, suitable for 2 adults and max. 2 small children. You use the sanitary facilities of the campsite. Unique experience!
In a dragon is a large bed in the form of an egg. You can stay here with a maximum of two adults and two small children. The sanitary facilities are displayed on the site.
Enjoy all the beauty that the Veluwe has to offer!
Room Type
Private room
---
Property Type
Hut
---
Accommodates
4
---
Bedrooms
Hoenderloo, Gelderland, Netherlands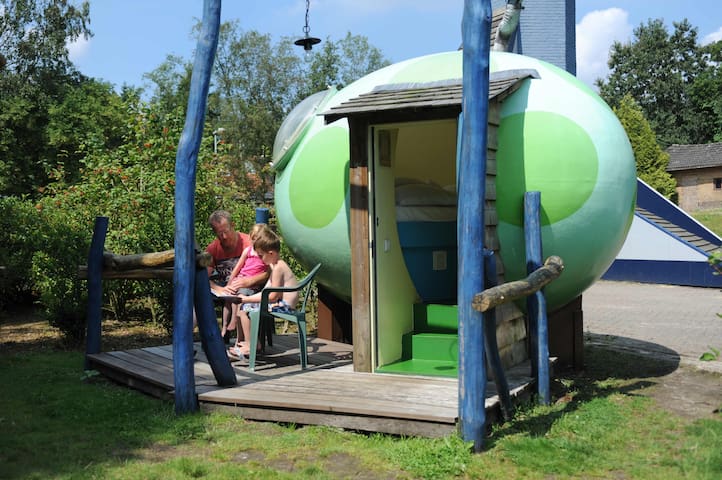 Enjoy peace and quiet? This 4-bed room is located above the stables and has its own toilet and shower. In the morning we serve breakfast with freshly baked bread.
Room Type
Private room
---
Property Type
Bed & Breakfast
---
Accommodates
4
---
Bedrooms
Hoenderloo, Gelderland, Netherlands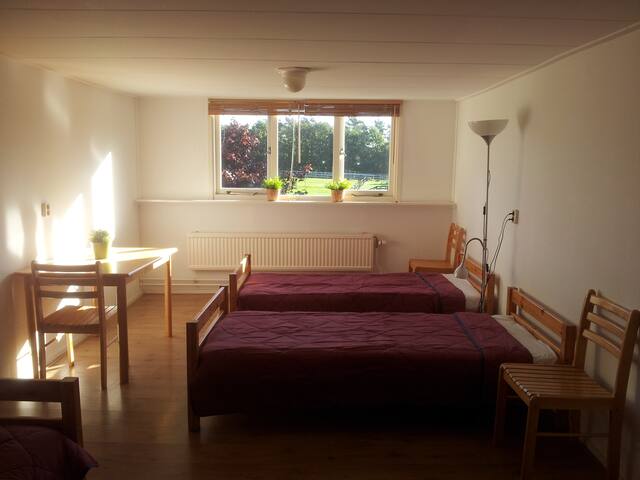 Rommet mitt var i nærheten av Park Hoge Veluwe, Apeldoorn, Arnhem, kunst og kultur, flott utsikt, restauranter og spisesteder, terrengsykling og turstier. Du vil elske mitt sted på grunn av sin beliggenhet i utkanten Hoenderloo, så mye privatliv, egen inngang, privat terrasse, koselig, stilig og luksuriøst. Rommet mitt er egnet for par, solo eventyrere og forretningsreisende.
Adequqate benb. Mooie omgeving. We konden wel de gasten in het aangrenzende benb horen. Henk en Kiki zijn prettig zakelijk in het contact.
gabrielle
2016-10-18T00:00:00Z
Een heerlijke plek om te ontspannen: goed bed, goed ontbijt en vriendelijke gastheer en gastvrouw.
Bert
2016-10-16T00:00:00Z
Room Type
Entire home/apt
---
Property Type
Bed & Breakfast
---
Accommodates
2
---
Bedrooms
Hoenderloo, Gelderland, Netherlands
In the middle of the forest, you will find a quiet, romantic and spacious house. Your host Anna will take good care of you during your stay! For your perfect holiday, wedding and birthdays!
In the middle of the forest, you will find a private, quiet, romantic and spacious house called: Anna's Cottage Bed and Breakfast. There are two lovely, well decorated rooms available for you! The rooms provide kingsize beds and a magnificent view! Both rooms have there own bathrooms! The beautiful kitchen and living room are also available for the guests to use! The host "Anna" serves breakfast every morning!
"The hoge Veluwe" is well known for her beautiful nature. Hiking, biking and of course peaceful, quiet surroundings!
We hebben een heel erg fijne tijd gehad bij Anna. Mooie nette kamer, fantastisch ontbijt, prachtige tuin en gezelligheid en zorg alom. Zelfs voor ons dochtertje Iva had Anna alles in huis. Heel fijn. We hebben enorm genoten. Een echte aanrader!!!
Aimee
2016-07-19T00:00:00Z
We hebben het erg naar ons zin gehad. Erg gastvrij ontvangen, mooie kamer met privé badkamer. Rustige, groene omgeving met een hoop te doen in de buurt. Hele aardige gastvrouw en het ontbijt was een van de hoogtepunten van het verblijf! Zeker een aanrader.
Robert
2016-09-18T00:00:00Z
Erg leuke ervaring! Mooie cottage, rustig gelegen in een groene omgeving, we mochten meegenieten van de tuin. We werden hartelijk verwelkomd door Anna, de kamers waren in orde met goede bedden en eigen badkamer. En dan het ontbijt : pure verwennerij! Bij thuiskomst stond er trouwens altijd wat lekkers klaar. Anna reserveerde ook een restaurant voor ons, en gaf tips over de dingen die er inde buurt te zien zijn. Een aanrader!
Lea
2016-05-09T00:00:00Z
Dit is een B&B met een goede ligging, midden in de Veluwe. Wij hadden een prachtige kamer (Edelhert) met eigen badkamer en eigen zitruimte beneden. De kamer en badkamer zijn van alle gemakken voorzien, we hebben niets gemist. Anna Marie is een geboren gastvrouw die heel hartelijk en vriendelijk is. Ze geeft je echt het gevoel dat je thuis bent. Communicatie op voorhand was goed en ze heeft goede tips voor de omgeving en is bereid om je hiermee te helpen. Ontbijt was fantastisch, heel veelzijdig en voedzaam. Wij hadden het geluk dat we buiten in de tuin mochten zitten, wat heerlijk vertoeven was! Al met al is dit een B&B waar je absoluut geen spijt van zal hebben! Ik raad het iedereen aan.
Erica
2016-07-11T00:00:00Z
Un'esperienza unica e splendida in una casa immersa nel bosco e piena di buon gusto. Anna Marie e il marito Dick due ospiti eccezionali.
Stefania
2016-08-19T00:00:00Z
Room Type
Private room
---
Property Type
Bed & Breakfast
---
Accommodates
2
---
Bedrooms
Hoenderloo, Gelderland, Netherlands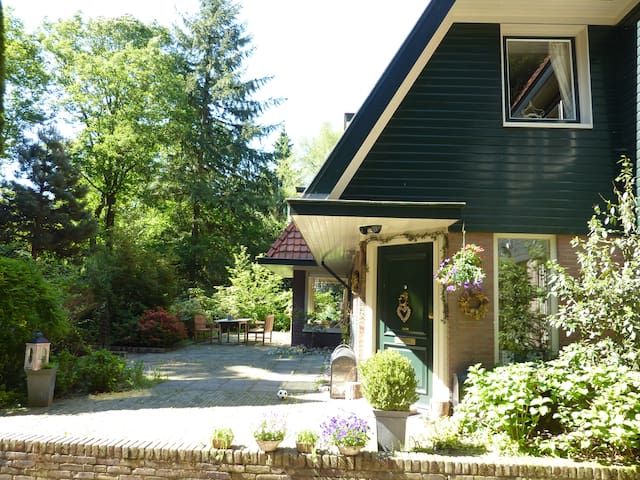 Our studio has its own bathroom and kitchen. The studio is located above the rustic stables overlooking the ponyweide! The studio can accommodate up to 4 people and there is a possibility to park your horse!
Room Type
Private room
---
Property Type
Apartment
---
Accommodates
4
---
Bedrooms
Hoenderloo, Gelderland, Netherlands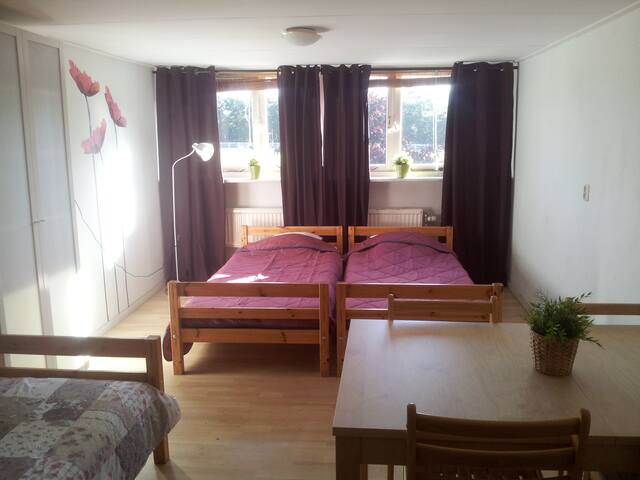 Para a sensação de férias Veluwe final gostamos de passar nosso BosLodges atenção. Você vê-se sentado em sua varanda coberta privada com uma xícara de café delicioso pão fresco e jornais. Você caminha para a floresta!
De genoemde prijs is exclusief 11 euro per persoon bedlinnen. Daarnaast moet je zelf handdoeken en theedoeken meenemen. Het huisje is erg netjes en het personeel vriendelijk. De camping is ook erg netjes verzorgd. Het enige wat ik miste in het huisje zijn rookmelders.
Matthijs
2016-06-01T00:00:00Z
Room Type
Entire home/apt
---
Property Type
Chalet
---
Accommodates
4
---
Bedrooms
Hoenderloo, Gelderland, Netherlands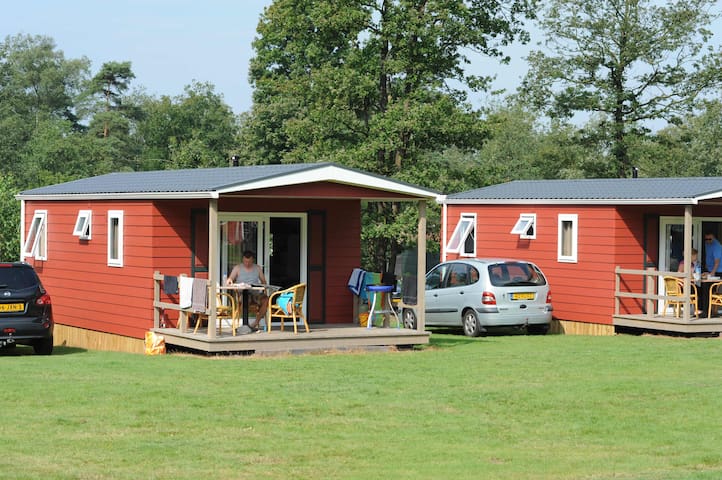 Mansion, beautifully decorated with love for two people or family with a unique location in the woods with heaths middle of the Hoge Veluwe national park, hiking, cycling tranquility and complete privacy.
Forests and heaths.
Room Type
Entire home/apt
---
Property Type
House
---
Accommodates
11
---
Bedrooms
Hoenderloo, Gelderland, Netherlands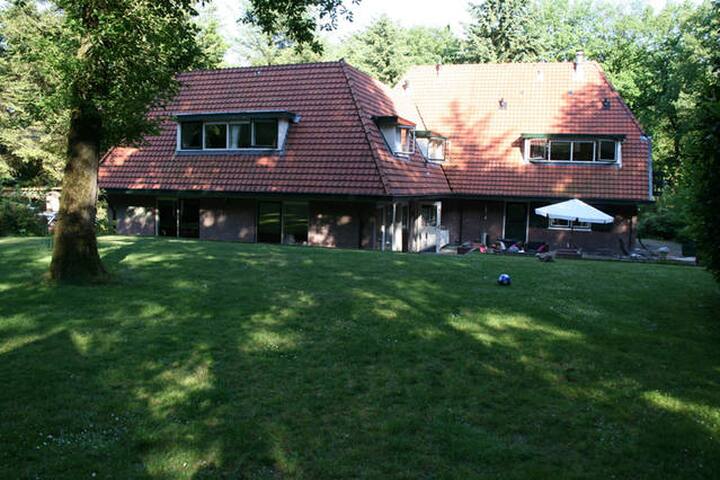 Enter dates to see full pricing. Additional fees apply. Taxes may be added.