This cottage is warm and cozy! Spring is in the air!! The creeks are flowing like crazy ! Warm sunny days and cool nights! Perfect for a great hike and snuggling by the fire at night! Lot's of firewood! Book now! WE FILL UP FAST! TWO night minimum, HOWEVER- should you have a special request MESSAGE US- LET US KNOW YOUR NEEDS -WE ARE VERY FLEXIBLE! Also - NEW~IDYLLWILD BREW PUB (in the forest) IS NOW OPEN! YOU DON'T WANT TO MISS IT - GREAT FOOD TOO! Come on up - there's lot's to do and see!
The cottage is small, (350 sq ft.) and cozy! Wonderful wood burning stove (we supply the wood for free) and a radiator heater. No problem staying cozy warm in the cool evenings!! A queen size very comfortable and warm bed. A love seat size couch in the living room converts to a single bed for one extra guest (3 people total). A 47 inch flat screen TV with great DVD's (no cable), and hooked up for streaming with your computer. There is great strong WIFI ! There is a small but full bathroom, a complete kitchen supplied with most all necessities, pots, pans utensils and dishes. Also stocked with organic coffee, tea's, cream & sugar, homemade banana bread, and various snacks and drinks supplied for your enjoyment. There is a very private back yard with an 8 foot fence, BBQ, table and chairs. In front of cottage the driveway runs along a street which is plowed for easy access should snow be expected. Very snow friendly and located within a mile from downtown Idyllwild. Come enjoy the beautiful spring on the mountain!
Our location is in Royal Pines. It is a charming eclectic community of tiny houses, mobile units, cottages, and in the summer some 5th wheels that come up on a regular basis to get out of the Palm Springs desert heat. It is a safe, friendly, and unique area and community. One of Idyllwild's best kept secrets !
We loved staying at Preston and Cathy's Cottage. Cathy greeted us as we drove into the parking space and gave us a very detailed tour. 3 healthy adults fit into all areas just fine. They thought of the little things and even made me delicious gluten free lemon cookies. We loved the back patio and it was perfect for my sisters dog. The bed and fold out couch were very comfortable- we slept very well. My sister and I also took a long walk on the trail across the street. I wouldn't hesitate to stay there again. Thank you for making our stay so special.
Diane
2016-10-02T00:00:00Z
Preston & Cathy were one of the best hosts I've experience on Airbnb. They were very welcoming, even had little treats for us, and were available at any time in case something went wrong (not that anything did!). Would highly recommend anyone to visit!
Howard
2016-11-26T00:00:00Z
They greeted my daughters and I warmly. They showed me where everything in the house was located. They had maps, magazines with local interest, and they had plenty of refreshments and snacks. They were very nice host. I would stay there again in a heartbeat.
Michael
2016-06-20T00:00:00Z
The host was absolutely amazing. She stocked the cabin with fresh-baked muffins and cookies and then baked us banana bread when we were leaving. The cabin is very cozy and quaint. I highly recommend staying here if you're visiting Idyllwild.
Michael
2016-05-28T00:00:00Z
Preston and Cathy made our stay in Idyllwild perfect. All of the amenities we could dream of were provided for us-- Cathy even gave us fresh baked banana bread! A large supply of fresh spring water was provided for us as well so we didn't have to buy any, which really helped us out. The bed was very comfortable. All in all our stay was exceedingly pleasant and I hope to visit their place again!
Janine
2016-06-28T00:00:00Z
Thank you Preston and Cathy for providing me and my boyfriend such a lovely getaway for the weekend. We loved that we were able to find hiking trails just a short walk from the cottage (would recommend the Summit Trail for anyone looking for gorgeous views). You made our journey easy and made us feel so welcome when we arrived at the cottage! Cathy gave us a thorough run through the cottage and even gave us some delicious banana bread that we enjoyed for breakfast. Reilly and I loved the wood stove and being able to enjoy our brunch in the morning under the pine trees out back. I would absolutely recommend this cottage to anyone looking for a quaint weekend getaway.
Kylie
2016-09-24T00:00:00Z
Thank you for a lovely visit to Idyllwild! Your cottage was just what we were looking for and your hospitality was very generous. I am happy to recommend Preston and Cathy's place!
Jenny
2016-05-23T00:00:00Z
Cozy accommodations with wood stove and easy access to wood stack. Location is adjacent to the County Park, with trails for hiking, biking, and dog walks.
Dennis
2017-03-05T00:00:00Z
Room Type
Entire home/apt
---
Property Type
House
---
Accommodates
3
---
Bedrooms
Idyllwild-Pine Cove, CA, United States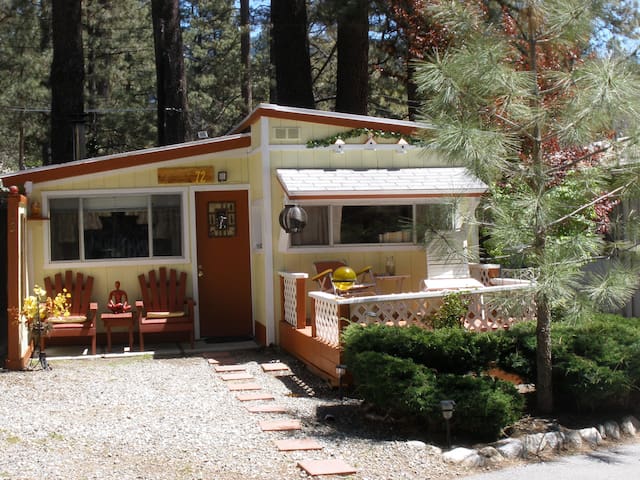 This lovely home sleeps four. Super comfortable laid back environment with an updated kitchen and bathroom. Relax on the porch and breathe in the fresh pine air. You'll find the quiet soothes your every worry away... The house is on a fenced half acre so your dog will have as much fun as you! Walk a few blocks and you have all the conveniences of a most friendly and quaint town center. Restaurants, a movie theater, coffee shop, health food and grocery stores, pizza place, post office, art studios...you'll find it all within walking distance. Walk just a block further and make your way down to Strawberry Creek. And of course there are walks and hikes and mountain biking trails all close by. Tahquitz Peak, Lilly Rock, Suicide Rock. There's a Ranger Station just a few blocks down the road for hiking tips or you can check out the nature center as well for trail guides. There is Fulmor Lake to play in or fish, or rent a boat on Hemet Lake just a 15 minute drive. So much to explore in this beautiful enclave! The house has two bedrooms, one with a queen bed, the other with two twin beds. The attic is carpeted and comfy for kids to play in. There are some fun board games downstairs. And lots of videos too which you can watch on the tv up in the attic while you lounge on a beanbag chair... This is our fairly new home away from home, so it's still a bit of a work in progress.. But nevertheless, it is equipped with the basics and it's a comfortable and lovely spot for low maintenance types who are content with the simple things in life! (i.e. no cable tv...though we do now have internet service!) We want to be as flexible as possible with our check in/out times as well, and if we don't have other guests checking in or out we are happy to accommodate early check-in times and late check outs! But in certain circumstances we will need to adhere to our 3PM check in and 12PM check out times...Thank you!! (During the Holidays we generally stick to a three day minimum stay. We do consider one night rentals, but generally we don't book those far in advance. If your trip is over a week away, we usually ask for a two night minimum, but if it's coming up soon and our place is available we're happy to rent for one night! Thanks for understanding!)
We love that we can walk to town! We are so close to the shops and restaurants, yet still immersed in nature.
Wonderful location and approximation to downtown area. Great gated/fence area for dog owners with tons of property to explore. Lovely stay. Will return. Very easy check in (with early option), and communication within owner was simple.
Amy
2016-05-14T00:00:00Z
Alix and Johnny have a beautiful home. It was exactly as described. Alix and Johnny quickly responded to any questions or concerns. They were amazing at working with our schedule and timing. The home is fully equipped with coffee pot and any other cooking essential. In addition, it is supplied with linens if needed. It is quiet and extremely beautiful location. The sun sets beautiful right where you sit at Kitchen table. The blue jays added to the experience. We enjoyed our stay.
Sheri
2015-12-07T00:00:00Z
Hah-hah - not sure who was alix and who johnny but they were a pleasure to work with from the start, and immediately available by phone when I had difficulty opening the lock box. The steep driveway is a bit tricky to maneuver, immediately off a narrow alley with a gate that has been backed into in the past. Regardless, my goldens were secure throughout including occasional visits by dog owners passing by. There was a baying dog next door who cheered us with wakeup calls and bedtime stories, particularly the night of the quake. thank goodness my dogs are silent so there was no prolonged exchanges there. The solidly built cabin is situated on the upper left corner of the property away from the adjacent main thoroughfare so you pretty much hear only the rare heavy truck or sirens and the trees make the grounds very private. The master bed was SUPER comfy and I slept with both windows open to a nice cross breeze in the evening. There was a floor fan to moderate the warmer temperatures this week. the light beige carpet was stained in multiple places but they came right up with a dose of the carpet cleaner, and they were visible only with direct sunlight. beyond that the cabin was impeccably clean. There is no ice maker but there was plenty of ice left in the freezer and the kitchen is reasonably stocked with essentials. The bathroom could do with some washcloths and hand towels, there were none that I could find. Alix/johnny said they would follow up re a rickety kitchen table that wasn't usable for eating. this was my first intro to idyllwild and the cabin helped make it memorable. there's nothing like sitting on the veranda with a glass of wine watching sunset through the tree tops. thank you for a lovely stay!!
scottie
2016-06-12T00:00:00Z
This was a great weekend getaway! We enjoyed everything about our stay, especially the big backyard for our dog. Such a relaxing place!:)
Peyton
2016-03-09T00:00:00Z
House was clean and cozy- great choice for the week in Idyllwild!
David
2015-10-31T00:00:00Z
We LOVED the cabin. Perfect distance to town, super clean and simple, great kitchen, great bird watching, and SUPER close to hiking trails. Alix and Johnny were great to work with. We plan on coming back time after time!
Catherine
2014-04-23T00:00:00Z
The house is charming and updated, well located, everything was clean, and the communication was excellent.
Stephen
2016-07-23T00:00:00Z
My son and I loved our quick getaway to Idyllwild. The cabin was a quick 5 minute walk to town. We felt like we were in the middle of the forest, so many trees surrounded the cabin. My dog had a blast as well, lots of squirrels to find. Alix and Johnny were very quick to respond to messages. Can't wait to go back!
Julia
2016-10-12T00:00:00Z
Room Type
Entire home/apt
---
Property Type
House
---
Accommodates
4
---
Bedrooms
Idyllwild-Pine Cove, CA, United States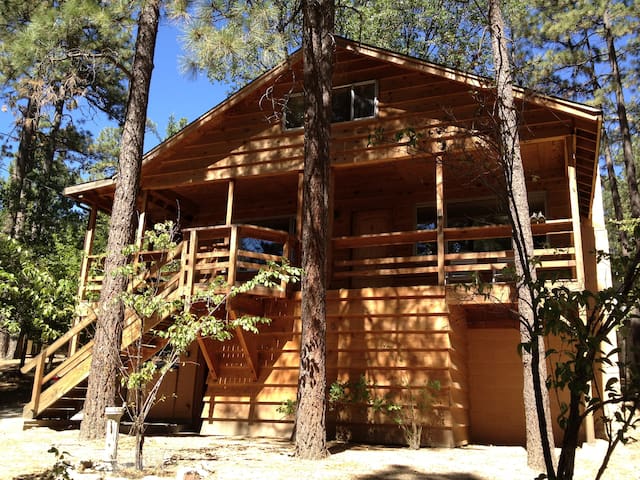 Our home features a spacious master suite perfect for a romantic getaway or special celebration. Welcome gift: wine & fresh bread! Soak in the sunken tub, cuddle in front of the fireplace, or stargaze in the jacuzzi. Close to art and culture, great views, restaurants, music, & scenic hikes. You'll love the the views, the location (on 3/4 acre), gourmet kitchen, flat screen televisions. 2 minutes to town, 1 minute to Humber Park. Great for couples and solo adventurers seeking luxury and romance.
A welcome gift of bubbly (alcoholic or non-alcoholic) and ingredients to bake a fresh loaf of bread in our bread machine (gluten free option) greets you when you arrive. The master suite is designed with luxury, romance, and comfort in mind. Electric blankets make the Cal King bed cozy. You can watch your favorite DVD/Netflix show on the new flat screen tv or watch the flames flicker in the fireplace. En suite master has a sunken tub, shower, and dual vanities. The gourmet kitchen has an extensive spice drawer, separate ice maker, and all the pots and pans you need to whip up your favorite meal. You can watch wildlife stroll by on the deck (we saw 3 deer last week) or relax in the spa.
Our home is located in the picturesque neighborhood of Fern Valley, just minutes from Humber Park and Idyllwild town center. Our neighborhood is surrounded by nature. Deer stroll by, bushy-tailed gray squirrels provide entertainment, and many birds can be seen on the property. You can see Lilly Rock from the backyard and a beautiful peak from the front yard. The town of Idyllwild is famous (Sunset magazine) for fine dining. Cafe Aroma, Farro's, and Gastronome, all have excellent food. If you are looking for a great Sunday buffet, try Tommy's, where everything is made from scratch. They also have excellent soups, sandwiches, and a salad bar. For Happy Hour, try Farro's. There are also several wine and beer bars in town. JoAnn's has an outdoor beer garden, BBQ, and band each weekend. Several restaurants feature live music.
What a wonderful experience we had staying at Debra's anniversary home! Debra made sure of this awesome experience from the moment we booked our stay. She gave us all the necessary information (very detailed) to make it our home for the weekend. The cabin is well kept, super clean bathrooms!, quiet location, and enough privacy from the neighbors. Being under the blanket of stars at night in the patio felt so good! We don't get that quite the experience living in the city. This was our first time staying at Idyllwild and it felt soooooo nice to come home to this cabin in the evening. Everything you need is here, just bring yourself and your love ones! If you're looking for one of the higher quality listings and one of the best hosts in AirBnb, Debra and her Idyllwild home is the ONE for YOU.
Andre
2016-09-06T00:00:00Z
We lived in Idyllwild years ago and returned for relaxation and rest. The home was perfect- warm, comfortable. close to trails and the host could not have been more welcoming or responsive. The only tricky thing was getting in and out of the driveway on Fern Valley RD, but that will not stop us from returning.
Lucy
2016-10-16T00:00:00Z
The home was very clean and in a great location. There were some issues with the amenities upon arrival, but the hosts were responsive and tried to help us with our needs. Parking is difficult in the winter, so I would recommend bringing chains even if the roads are clear so you are able to park in the driveway. The host welcomed us with a sweet gift bag.
Kaitlyn
2017-01-29T00:00:00Z
Peaceful place to stay in the mountains - cozy cabin vibes, fresh air, very close to hiking trails and beautiful sights in the national forest! Only issues: hot tub wasn't on and ready when we got there (as we were told it would be) so we had to wait for it to heat up, and the heater in the bedroom was pretty noisy and woke us up each night. Otherwise, great comfortable mountain getaway with all the amenities and a very sweet welcome gift!
Ashwin
2017-03-15T00:00:00Z
A very relaxing getaway spot with all the comforts of home. I will definitely be returning in the future.
Christine
2017-04-08T00:00:00Z
Great get away for our anniversary! The pictures don't do the entire house and the master bedroom justice. The town was a 4 min drive & easy to get around. Earth & Fire was amazing & a must! Thank you for my welcome gift bag such a nice gesture!
Marbella
2017-01-08T00:00:00Z
We had a wonderful weekend at Debra's home. The cottage was clean, cozy, and incredibly well maintained. Debra was so kind and easily accessible via email, before and during our stay. She provided thorough information about hiking and the town of Idyllwild. If you want a great home in a beautiful part of Southern California, look no further. When we return to Idyllwild, we will certainly stay here again!
Emelia
2016-11-13T00:00:00Z
Debra is the best host. Staying at her place is like staying at your best friend's vacation home. She is so thoughtful and considerate, and was immediately available for questions. The home is clearly a very loved, very treasured place to her family. It's also a great location. You are minutes from downtown and minutes (the other direction) to Humber Park and wonderful hikes.
tina
2016-10-10T00:00:00Z
Room Type
Entire home/apt
---
Property Type
House
---
Accommodates
2
---
Bedrooms
Idyllwild-Pine Cove, CA, United States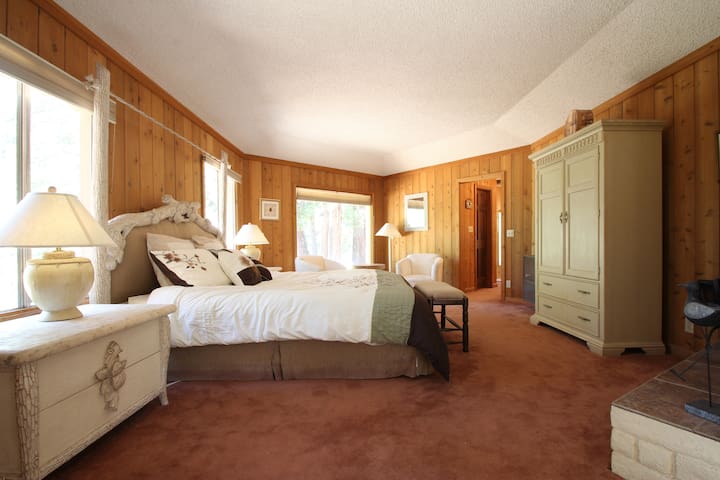 If your looking for adventure, your journey starts here.. We are a power packed, vibe flowing, music jammin, animal loving, 420 friendly, excited about life kind of home. If you stay with us, and we are home, you will be sure to meet all kinds of amazing and talented people!
You get prime parking, private bedroom. queen bed, huge TV with DVD player and plenty of movies. Small walk in closet. Free wifi. Whole middle floor is a shared kitchen and living room. Please make yourself at home, just leave things as you found them. Bathroom on each 3 floors. Showers on 1st and 3rd. 3rd does not drain well.. TV in living room with Netflix and Xbox. Instruments everywhere! Fenced back yard, perfect for dogs. Front deck is covered with porch swing to enjoy rain and snow storms. Wood burning stove is always going when it's cold. We are laid back and all about having a fun and relaxed environment. Visual stimulation everywhere! We live, love and share creativity! During prime PCT season the house will be full of hikers from all over the globe, so come ready to have a great time! We have 3 dogs and 2 cats and a mouse. We are a 3 minute drive from down town. And we live necked against the national forest with trail heads if you like short hikes or 4x4ing. If you play music, bring your instruments. Jams happen often!
We're a quick 3 minute drive to town. The house backs up to the national forest. Trail heads literally in he back yard. Pine trees everywhere. Spring flowers and beautiful winter snows. We get the seasons and they are all a beautiful view. Breathe in the fresh air and exhale the stress.. Natures got this!
Had a wonderful experience. Loved the cats & Tim played guitar while Juls played the ukulele, awesome host!
dianne
2016-11-27T00:00:00Z
Many thanks to Juls for a wonderful stay. The house and the room are lovely, with a great energy. The location is a nice walk from town, and we had a fantastic time staying there.
Tomo
2016-09-11T00:00:00Z
It was a magical weekend, and we will remember it fondly. Thank you for all your kind attentions, especially for all the great tips we got from you as a local. We will do it again! Sincerely, José and Susie
Jose
2017-03-26T00:00:00Z
Our stay with Juls was awesome. Her home is perfectly charming, clean and just a short distance from Idyllwild's town center. We booked our last-minute, one-night getaway on Labor Day weekend, and got exactly what we hoped for: an affordable, friendly and laid-back experience that made exploring a beautiful place that much better. We highly recommend booking your stay in Idyllwild with Juls.
Alexis
2016-09-03T00:00:00Z
Juls' cozy cabin is nestled in the woods and is so warm and welcoming. She and her two dogs were not there during our stay, but her roommate Ryan, his little dog and her two cats all welcomed us with open arms and hearts. The room was cozy and the bed was comfortable. The common space hanging around the wood fire stove was so inviting! Juls gave us detailed directions since we were arriving very late at night and everything was as she said it would be. Our hippie hearts were very happy with her home.
Julie
2016-11-13T00:00:00Z
We felt very welcome in Juls' mountain home. Great people, guitars, and pets. Would stay here again for sure!
Garrett
2016-10-26T00:00:00Z
So my only complaints would be that the wifi and password should be typed out and placed in the upper room, and in the downstairs area because it was hard to read and I was unable to get wifi along with not knowing where it was located til I came into the living room. Other than that the bed is comfy, the room was cool for a woodsy cabin feel and the cabin is really nice out in the middle of the woods with cool hiking trails, but close enough to gas, shops and restaurants. Although I didn't get to meet juls and jam with her on the guitar, I did meet all of the awesome and really friendly cats and I met her super warm and friendly roommate the next morning along with his super cute dog!! Him and I had a lot in common so it was really nice to connect with him. Would love to visit another time and get the full feel for idolwild!!
Amy
2016-10-29T00:00:00Z
My experience was great. Nothing could be improved upon.
Steven
2016-08-22T00:00:00Z
Room Type
Private room
---
Property Type
House
---
Accommodates
2
---
Bedrooms
Idyllwild-Pine Cove, CA, United States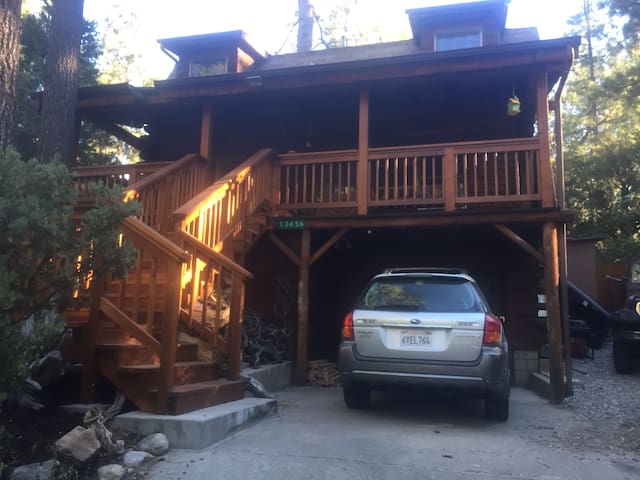 Cozy one bedroom full of charm,with hot tub! Perfect for special occassions, birthdays, anniversaries, honeymoons. So romantic! Beauty Rest Mattress with Canopy bed. Wood floors throughout, soft Italian leather sofas, huge selection of DVD's and CD's, fully equipped kitchen and fantastic wood burning stone fireplace. Fully fenced, huge yard for your pups to play in. Chromecast, WIFI. Easy walk to town/hiking. Please no inquiries from film industry.
Please read this entire description including notes for all details and for info on how to contact us if you prefer to. PLEASE NOTE: Sales tax of 10% is collected separately after your booking is confirmed** You will need to pay this amount and any additional pet fees ($25 per dog) max 2 before your arrival. You will receive an email that will instruct you how to pay*** Must be 30 or over to use instant book if you do not have at least two positive reviews from other hosts. This cabin is full of charm and outfitted with every amenity just like home. Enjoy a nice long relaxing soak in our hot tub just steps from the bedroom door. There is a pullout sofa bed if you care to sleep separately, but this property is for two adults only and ideal for a romantic getaway. Enjoy the quiet evenings with a glass of wine on the extra large sundeck just outside your bedroom or grill up a juicy steak on the deluxe stainless barbeque while you watch the sunset. Bedroom features a charming canopy bed with the softest flannel sheets and down comforter. Simmons mattress guaranteed to help you sleep like a baby. Darling electric fireplace in bedroom that puts out a realistic glow and heats the room nicely. Huge DVD library along with a great stereo system loaded with 200 CD's for your listening pleasure. Cozy stone, wood burning fireplace in Living Room keeps you warm throughout the night. Soft as butter Italian Leather sofas, large cocktail table and gorgeous carved dining table for intimate dinner for two or room for four. Completely outfitted and spacious kitchen makes cooking your favorite meal a pleasure. Quiet and housebroken dogs are welcome for an additional $25 each. Two maximum please. There is a large and fully fenced back yard to keep them safe. We do not allow cats, no exceptions. Under 30 must be verified with at least two great reviews to rent. Please be able to present valid photo ID. A signed copy of our rental agreement is required to reserve. ***The prices in the listing do not include pet fee of $25 and occupancy tax which you will be sent a separate request for after you confirm your booking. By booking you agree to pay this additional fee.*** You will love this cozy place! ******We prefer a more personal approach to renting our lovely home and believe that guests and owners should have the option to talk to each other before deciding to rent. If you would like to book our cabin you may obtain our contact info by googling listing 676339 on VRBO. This site has many additional detailed reviews from travelers. You may also book directly through this well known and secure site.****** You may also reach us at (PHONE NUMBER HIDDEN). Please, no long term discount requests or inquiries from film industry.
Close to hiking trails and downtown area is a quick 15 minute walk. Great restaurants within 1 mile.
Our stay was wonderful. The cabin was super cozy and was just as described. Sandra was quick to respond and very easy to communicate with. Would love to stay again. Thank you!
Danielle
2016-08-07T00:00:00Z
The cabin was amazing: it was in a perfect location, the fireplace was cozy, the hot tub was wonderful to come back to after a long day of (URL HIDDEN) all a perfect weekend.
Christina
2015-05-26T00:00:00Z
We loved the cottage! We arrived and immediately wished we were staying for a longer time. The cottage was clean and comfortable and very well stocked with everything. The jacuzzi was awesome after a long hike. Sandra was very quick with getting back to us with any questions we had. We would definitely come back!
S&S
2016-10-14T00:00:00Z
Loved it!!!
Jake
2016-09-10T00:00:00Z
This is an excellent cabin, equipped with everything one needs to enjoy a wonderful getaway. The space was very clean, comfortable and rustic. Additionally, Sandra was AMAZINGLY quick with her communication and made sure we had everything in order for a perfect stay. Excellent cabin and very kind, accommodating hosts.
Brittany
2017-02-07T00:00:00Z
Absolutely loved our stay!!! Such a romantic little cabin. Exceeded our expectations. Loved all the little details. Couches and bed were super comfy. We fell asleep by the fire each night. I can't wait to come back.
Maisha
2017-02-23T00:00:00Z
Great place to get away for a nice relaxing time! Shops/resturants not far, friendly people. Loved the surround sound/music selection & dvds Sandra had. First time to Idyllwild but would go back!
Samantha
2017-02-03T00:00:00Z
Sandra's home was amazing! She was such a gracious host that was always in touch and responded any time we had questions/comments/concerns. She responded pretty much immediately any time we contacted her and was always friendly. The house was immaculately clean which I truly appreciated because I can be a clean freak! The kitchen was stocked with all the supplies necessary in order to cook breakfast, lunch, or dinner. The hot tub was easy to use and clean. The bed was super soft and comfy. Best part yet was that we were able to bring our pup and he loved the cabin as well! So delighted to be able to spend our romantic weekend get away at this cozy cabin. Perfect location to sit back, relax, unwind, and enjoy a night or two or three away.
Roxanne
2017-01-14T00:00:00Z
Room Type
Entire home/apt
---
Property Type
House
---
Accommodates
2
---
Bedrooms
Idyllwild-Pine Cove, CA, United States
Private one room studio in the middle of the surreal and quiet forest of Idyllwild, CA. Walking distance to the business district, Idyllwild Arts Academy and miles of hiking / biking / walking trails. Long Term Discounts Available.
One studio apartment (attached to house) with private entrance, private bathroom (w/shower) and full private kitchen (with limited supplies). Approx 500 Sq Ft Private Indoor/Outdoor Space. Two Single (twin) beds combined and sheeted as a queen (can be separated and twin sheeted upon request). Free high speed WiFi. Parking for 1 car (additional can be parked on street). Great 3/4 acre natural setting for relaxing after a hard week or big day on the trails. Approx 1/2 mile from town (central business district), A easy walk! Idyllwild Arts Academy is blocks away, for your entertainment needs (or if you are attending their summer programs). Local advise as needed. Idyllwild is located in the San Jacinto Mountains in Riverside County, California, United States. "Mile-high Idyllwild" is a popular southern California mountain resort about one mile (1.6 km) in altitude. Palm Springs, Temecula (Wineries), Joshua Tree, Indio (Music Festivals) all within an hours drive. Small town atmosphere - Close to the performing arts high school (1/2 mile) - Hiking - Rock Climbing - Mt Biking. ---- ADDITIONAL DISCOUNT FOR PCT HIKERS, IDYLLWILD ARTS PARTICIPANTS AND LONG-TERM STAYS (PLEASE INQUIRE). Rides can sometimes be arranged (if booked in advance) for thru-hikers, at Humber park or Paradise store (or ... Locally). NEW PET POLICY - ALL HOUSE-TRAINED PETS WILL REQUIRE AN ADDITIONAL $30 FEE (Per Pet / Per Visit), THIS WILL BE UPDATED TO YOUR TOTAL ONCE YOU RESERVE THE ROOM (may be a few days before charge appears - you will need to "agree"). All pets must be in your personal possession at all times (no leaving pets unattended / in cage), should unattended pets be observed (/heard) your pet will be removed and may be placed in animal rescue. There is a fenced area you can use at your own risk, right outside the studio. Also note pets are officially banned from all Federal Lands (the land east of town / the highway, or "up the mountain" - although issues with rangers are rare). The immediate areas around the OK for pet hiking. NOTE: House is over 50 years old, and a little quirky, additionally accommodations are simular to 2-3 star motel. THE PRICE REFLECTS THIS FACT. I do try to keep it clean and the 'quirks' to a minimum; but if you don't have a sense of adventure or are particularly sensitive, this may not be the right property for you. That being said we do have dozens of happy reviews from normal travelers (including repeat guest), who had the time of their lives. HOPE TO SEE YOU SOON!
Lots of trees, hiking and nature, relatively quiet without being too far from the creature comforts if town. A few minutes walk and you will be on anyone of miles of local trails, suitable for Hiking / Biking / Walking. Regional, State and Federal Parks all within walking distance
Everything was as described. Very clean and so quiet :)) Great stay. Will be back
Vanessa
2015-07-13T00:00:00Z
Exactly as described, Scott was very helpful and the location was great to go hiking around Idyllwild.
Kieran
2016-05-27T00:00:00Z
Scott was excellent and very responsive with the few questions that we had. The place was very charming, exactly as described and very easy to locate with his directions. We would definitely stay again on a future return to Idyllwild and definitely recommend this place. Scott is great!
Robert
2015-11-29T00:00:00Z
Super easy transaction- Scott was very prompt to reply. We had a nice stay here and our dog loved running around the huge fenced yard. It was very peaceful and quiet. Just a short drive into town.
Lisa
2014-11-03T00:00:00Z
We really enjoyed our stay at Scott's studio. It's a tidy, simple place that's perfect for a getaway. The studio is close to town and is in a beautiful, tranquil spot. The getaway was just what we needed -- and the best part is no television set to distract from the beautiful nature. Our dog appreciated the fenced in yard. The kitchen seems best for breakfast and snacks and worked great for us. We didn't cook anything apart from toast/jam for breakfast -- and our favorite part was having coffee outside on the deck surrounded by trees.
Lisa
2015-09-08T00:00:00Z
Scott's studio was an awesome place to stay for the weekend in Idyllwild. It was clean, the kitchen was super handy, and the house itself was a beautiful accommodation. We never had the privilege of meeting Scott, but everything was taken care of and we had no trouble whatsoever with the helpful binder he left for us with all the information you might need. The place is also a 2 minute drive away from the center of Idyllwild, so it's a great location to stay at. Got my thumbs up!
Eshan
2014-02-10T00:00:00Z
Perfect little spot for a short trip up the mountain. Host Scott is really on top of things.
John
2016-02-29T00:00:00Z
Good heating, very comfortable bed, nice hot shower after some long hikes. Scott's studio fit the bill for us. Thanks.
Gary
2015-06-13T00:00:00Z
Room Type
Entire home/apt
---
Property Type
House
---
Accommodates
2
---
Bedrooms
Idyllwild-Pine Cove, CA, United States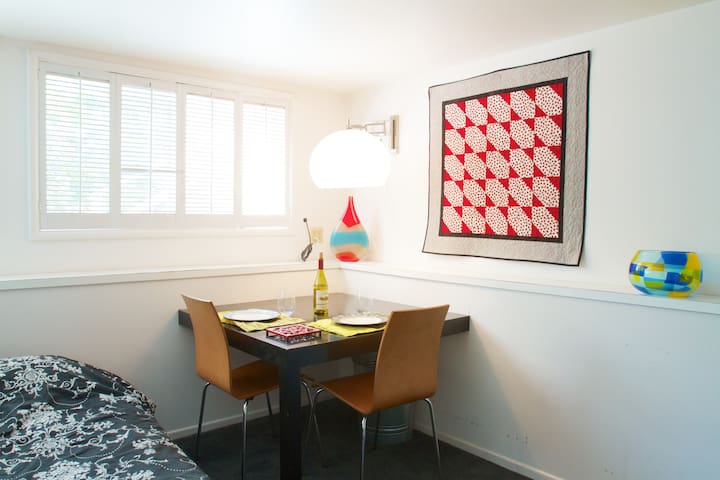 Our cabin is nestled in the pines and is close to the city center and restaurants. You'll love our cabin because of the cozy feel, outdoor space, fireplace, jacuzzi, & hip decor. Our cabin is the perfect place for a couples' get-away or retreat with your small family.
I highly recommend this cabin. It has a wonderfully cozy atmosphere and is very pleasant to relax in for a weekend getaway.
Paige
2017-03-12T00:00:00Z
Greg's cabin is a hidden little gem in the mountains. We loved everything about our stay, from the charming fireplace to the relaxing exterior hottub that was just perfect after a day of hiking in the cold. This cabin has everything you might need and is super cozy and comfortable. Greg was a great host and always very responsive and quick to answer any of our questions.
Melanie
2016-12-29T00:00:00Z
Greg and Adina's place is a super cozy spot, perfect for a getaway in the mountains during a few days. The cabin is very cleverly arranged and gives you a good feeling right when you enter for the first time. Decoration is beautiful, everything is very clean and smells super good. The kitchen is very well equipped and we also enjoyed an evening of BBQ. The nights were so calm, it's a perfect place to unwind and relax from LA life! Two minor problems were the lack of space for hanging clothes (not a big problem for us since we were only 2 people and only there for 3 days...but if you are a party of 4 or have more clothes, hangers would come in handily) and the - for our taste - very soft mattress, which forced us to use both beds, since I woke up every time my partner turned around during the first night...but like I said, these are personal preferences. We loved the cozy spaces to chill and read during the afternoons; plenty of blankets, pillows, clever light solutions that make you not wanna go outside ;) Idyllwild itself was a very pleasant discovery too; nice people, good hiking, decent restaurants and an excellent chocolate manufacturer! Thanks for everything, Adina and Greg. We will definitely be back!
Barbara
2017-03-29T00:00:00Z
This cabin was great for our family of five. The decor is charming and everything was nice and clean.
Shelby
2017-02-18T00:00:00Z
Great place! Close to town. Very clean! Beautiful!! Thank you for a wonderful stay!
Samantha
2017-02-25T00:00:00Z
Excellent weekend escape at this charming property. The pictures and descriptions were spot on, this is a lovely and well maintained home. The host was kind and communicative. We will definitely be back and highly recommend this listing.
Drew
2016-11-26T00:00:00Z
Wanted to get away with the family for my birthday weekend. We had an AMAZING time!! Enough room outside for the kids to ride their scooters and bikes in the fenced in yard. Very peaceful and quiet! Would highly recommend!! Thank you guys so much!
Ashly
2017-04-09T00:00:00Z
The cabin is a wonderfully comfortable place to relax amongst beautiful surroundings. With a great kitchen, cozy fireplace, and delightful hot tub, it's an ideal setting for lounging and a convenient spot for heading out into nature. I highly recommend staying here.
Trevor
2016-12-22T00:00:00Z
Room Type
Entire home/apt
---
Property Type
House
---
Accommodates
5
---
Bedrooms
Idyllwild-Pine Cove, CA, United States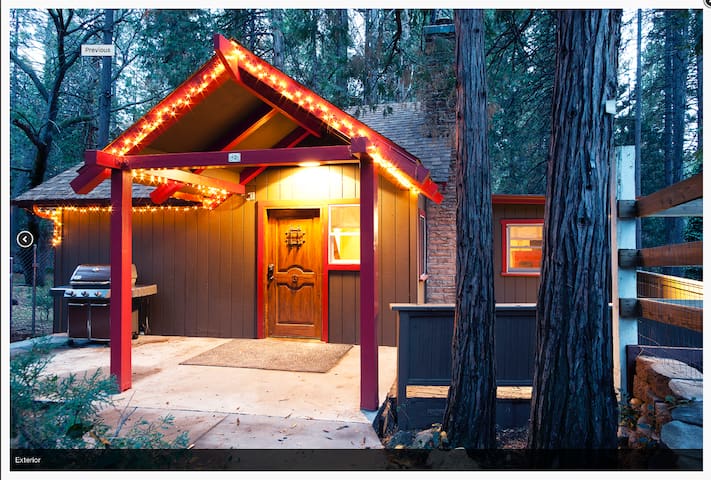 Cozy 1-bed/2- bath with loft. Mountain cabin under the pines that is steps away from Tahquitz Peak, Southridge Trail, Humber Park and Ernie Maxwell hiking trails. You won't believe what's right outside the front door!
The high ceilings, views of the pine trees, the warmth of sun through all of the windows made this place unique for us. It's small and cozy and perfect for that place to get away from it all. The wood burning stove in the winter is an added plus for those cold nights. Large fenced in yard for your dog. Sorry no cats allowed due to allergies.
Beautiful Saunders Meadow is Sunny and bright. Near Ernie Maxwell, Humber Park and South Ridge hiking trails - Right on the same street. - Walking distance. Town is 3 minutes or less by car.
Marks cabin was clean and well equipped. My 3 year old had fun playing in the large backyard and in the loft. The cabin is quiet and peaceful, a pleasant retreat.
Megan
2016-10-02T00:00:00Z
Mark's place is exactly what you would hope for a place in the woods in Idyllwild. It's got that homely cabin feel but with great facilities. The communication from Mark was great on both phone and email and everything went smoothly. The climate at altitude was a nice relief and contrast to that down in the desert and there are a pile of things to do up here. We even ended up doing some pottery at Fire and Earth in the village. Definitely would recommend.
Luke and Katie
2016-04-26T00:00:00Z
We had a great stay at Mark's place. It's beautifully situated, in a peaceful spot, a short walk from two great trailheads. The house cozy, spacious, immaculately clean and very well equipped for living and cooking. We look forward to returning in the future.
Nicholas
2016-09-24T00:00:00Z
Before arrival Mark was very accessible and (URL HIDDEN) well as during my tay when I inadvertently locked myself out :) The home is fabulously neat and clean, and well stocked with all the amenities of home-including plenty of coffee, tea, cooking supplies, nice appliances, and fully stocked bathrooms. I enjoyed the walk to town, though it might be a bit hilly for some. And upon your return the efficient heating system gets the cabin toasty in no time---no need for the fireplace but a nice one is there to use. I would highly recommend Mark's delightful Idyllwild retreat. And pup friendly!
Bo
2016-12-04T00:00:00Z
This is a fantastic, cozy cabin a quick drive (or slightly less quick) to town, but far enough away to be quiet. Several trails are nearby and the cabin itself is impeccably clean and comfortable. Mark was easy though contact and check in / out was super easy. Can't wait to go back!
Michael
2016-10-06T00:00:00Z
Upon arrival, my fiance & I were really unsure as to where the parking spot was since it was covered in snow and dark out. Luckily, Mark was only a phone call away! Mark's dream home is absolutely beautiful and is fully equipped with anything you would need for a fun weekend trip! The home's backyard patio and backyard itself is absolutely perfect! Great area to play in the snow without having to walk too far out. Thank you for making everything so easy!
Tracy
2017-01-22T00:00:00Z
Room Type
Entire home/apt
---
Property Type
House
---
Accommodates
4
---
Bedrooms
Idyllwild-Pine Cove, CA, United States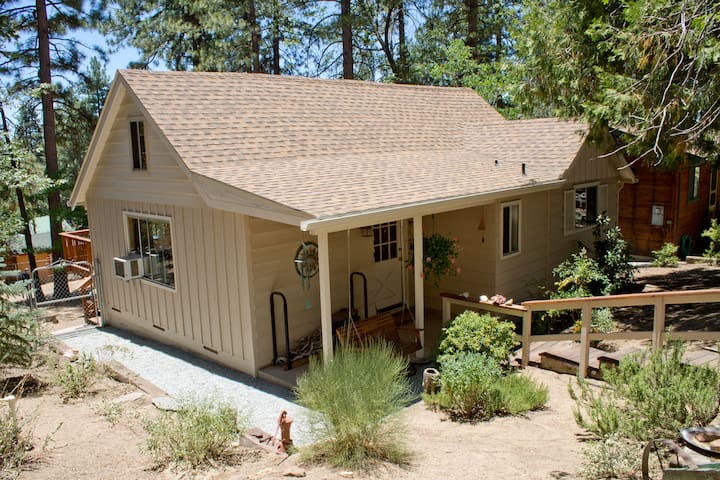 Twin Oaks offers a quiet getaway amid pines, oaks, wildlife & clean air. WiFi, Dish TV, microwave and small frig 1 mile from the village with restaurants & shops. Close to Lake Hemet offering fishing, boating & swimming. Private entrance PLEASE NOTE: Tuesday-Thursday - only a Continental breakfast is offered WEEKEND GUESTS will be served a hot breakfast First morning -bacon, eggs, toast, juice and of course, coffee. Second morning - French toast, bacon, juice and coffee.
A clean and cozy room and bath. Your kitchenette includes a small frig and microwave and is supplied with paper goods. Air conditioner Private deck with table and umbrella and comfortable chairs Private entrance
Approx. half of the homes on our road are owned by part timers so there is very little traffic on this road
Our hosts met us at the door and took us to our room. they were very welcoming.
Ginny
2016-11-23T00:00:00Z
We had one of the best experiences in Idyllwild staying at Barbara's B&B. Barbara was so kind to stay up till we got to her B&B since we were traveling during rush hour from Los Angeles and got there a little late. Once we got inside, it was absolutely cozy, super clean and amazing! In the morning, Dan was so nice to have put some coffee out for us, which we drank out on the patio in the back and had the pleasure of seeing some deer walking by - it was such a spectacular sight! This is definitely a great find in the Palm Springs area. I would rather stay here than down in Palm Springs any day of the week!
Monika
2016-04-06T00:00:00Z
Barbara' house is a beautiful log cabin with an amazing pine view.The room is not large but warm and confortable.Barbara and her husband Dan are very kind and warmhearted people.Everyday she asked me if I have breakfast with them and if I need something else,told them.It was snowing when I lived there.Every scenes are beautiful.And everyday she reminded me for safe because it was slippery.And in the weekend,they invited me to Church.Thank Barbara,thank Dan!Hope see you again.
rem
2016-02-02T00:00:00Z
Barbara and Dan graciously allowed us to arrive on Thanksgiving Day, arranging for her neighbor to meet us and show us to our room. The room was clean, comfortable and very cozy with delicious cookies left for us to our gluten-free requirements. Eating Thanksgiving dinner on the deck in the sunshine amongst glorious surroundings and views was a real pleasure!
Julie-Anne
2016-11-26T00:00:00Z
Barbara came out to meet me. The room was very clean and airconditioned. Barbara asked wat I wanted for breakfast. I asked for bagel and creme cheese which brought down istantli. I felt very comfortable. like home away from home
iyad
2016-07-25T00:00:00Z
We had a great time at Barbara's place. The room is comfortable as described and the breakfast is yummy. Both Barbara and Dan are very welcoming and you can enjoy watching bluebirds through their big window. It's a nice neighborhood!
Sophie
2016-06-01T00:00:00Z
Barbara and Dan were EXCELLENT hosts and we will definitely be back! We had a little trouble with the GPS directions, but luckily, I'm good with a map and it was daylight, so we found the home just fine. It is in a lovely, quiet, wooded neighborhood a very short drive from downtown Idyllwild. The room was exactly as shown and described, cozy and clean with all the necessities. I'd have to say sitting out on the deck, having brief but lovely conversations with our hosts, and eating most scrumptious breakfasts lovingly prepared by Barbara was our favorite part of the stay. We always felt safe, welcome, and cared for. We can't wait to return to our new local getaway!
Jamie
2016-10-23T00:00:00Z
I booked this AirBnB for my dad as he was coming to visit Idyllwild. Barbara and Dan were wonderful hosts and went above and beyond to ensure that his stay was comfortable and enjoyable, even giving him lifts into town, useful tips and friendly conversation over breakfast. They were extremely flexible and accommodating when we needed an extra night and communication was excellent. The room was really lovely and the location beautiful. I would highly recommend staying here. Thanks Barbara and Dan!
Sally
2017-03-31T00:00:00Z
Room Type
Private room
---
Property Type
House
---
Accommodates
2
---
Bedrooms
Idyllwild-Pine Cove, CA, United States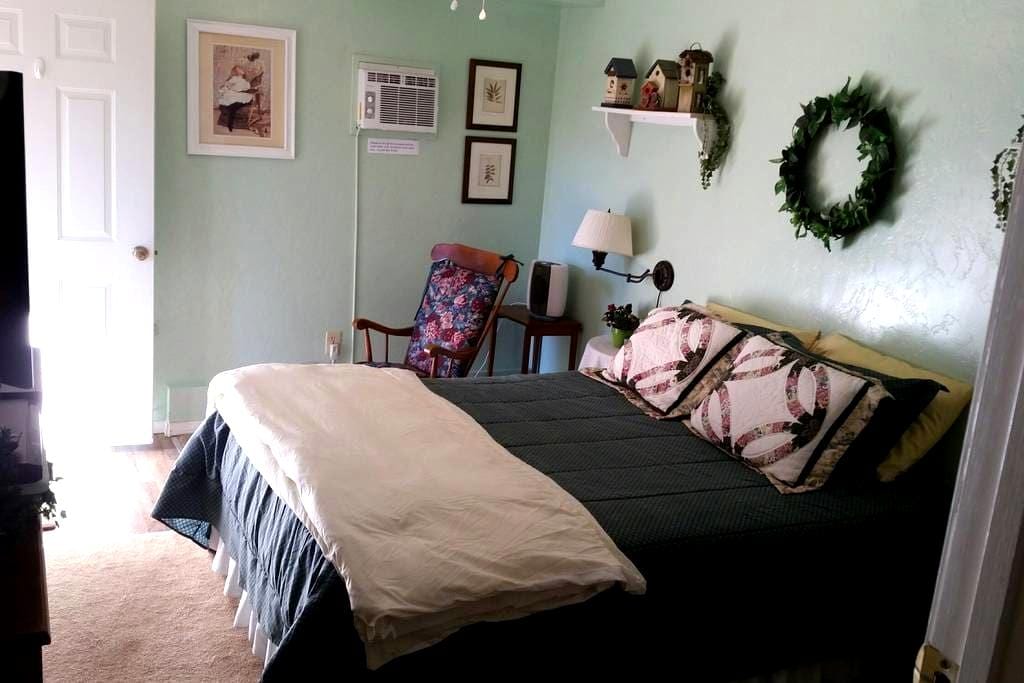 Do you like being pampered and spoiled when on vacation? Do your dogs also :-) I know I do, so I made sure I designed a getaway that would give my guests that experience. I paid close attention to all the details like an incredibly comfortable recliner, the mounted TV that extends fully to view from all areas of the room, the plush beds and bedding, the selection of sleeping pillows, and the drawers and cabinets filled with "oops, I forgot or ran out" items. The 1/2 acre yard is a dog paradise!
IMPORTANT PLEASE NOTE: The price listed on the site is averaged. Please check the calendar for actual pricing. I try to meet the needs of my guests so please feel free to ask for possible shorter or longer stays. 10% occupancy tax will be added to the price after booking. Two dogs maximum in the home (included in the rate). Dog rules are listed in the house rules. Weekly discount 25% Monthly discount 40% Security deposit - $450 This charming, totally unique, bright and sunny 1955 cabin is fully refurbished and designed by me, Melissa, the owner and long time Idyllwild resident/artist/teacher. It is very upscale, clean and well stocked. This cozy little 550 square foot "Little House" is filled with my art and has a post modern-industrial-chic feel. The nearly 1/2 acre backyard is completely fenced and private in a very quiet neighborhood. The space works well for one to two people, couples or a small family (including the family dog!). It is also the perfect place for entertaining on the two decks (as long as the noise level stays respectful to the neighbors). Important to note: You will feel cozy and warm in the winter and cool in the summer due to our brand new state of the art HVAC unit. In addition, the warmth from the wood burning stove and ceiling fans will help too. My first guests said it best, "There was so much attention to detail and you went high end, not middle of the road". "Can I take the bed home with me? It was so luxurious!". High definition smart TV providing Netflix, and many other internet applications. Cable is also available with over 120 channels. Free wifi, an assortment of books and games are available also. Well stocked kitchen if you ran out or forgot something. Some wood provided free of charge to enjoy the wood burning stove.
Beautiful hikes and mountain biking from easy to difficult are close by. The neighborhood is peaceful and quiet, close to everything (but it's Idyllwild, everything is close!). We have a recommendation list available at The Little House. No parties please, but having some friends over to barbecue or enjoy a beverage on the deck(s) is fine. Our neighborhood is very quiet and has some full time owners who would not appreciate the noise. Please observe extra quiet hours from 10 pm to 8 am.
Perfect, comfy getaway. Located very close to town and any other activities Idyllwild has to offer. All the creature comforts you may need, yet a pleasant first class rustic feel you are searching for away from the city. Completely fenced in (ginormous) yard for privacy and dogs was a plus in selecting this gem.
Sue
2017-03-03T00:00:00Z
My husband and I spent an amazing, relaxing weekend at the "Little House." We were so impressed with all the attention to detail that Melissa put into the design and accommodations. Throughout the weekend we kept noticing little things that made our stay just that much more luxurious: the spectacular bed, the gorgeous art, the wood stove, the amenities in the kitchen and bathroom, the comfy living area. These all made us want to stay on even longer! The setting of the house itself is wonderful too, especially if you enjoy the beauty of nature. It's on a quiet road, and set back, so you have lots of privacy. We really enjoyed the huge backyard and the spacious decks. Melissa was a very attentive host too, and she gave us great information about the house itself, favorite places in town, and the hiking options nearby. If you're looking for a really special mountain getaway, this is the place to book.
Katrina
2016-12-07T00:00:00Z
Amazing, artistic, secluded enough, but easy to find! I would recommend this as an alternative to any Palm Springs visit. This hideaway is perfectly situated between Palm Springs and Temecula Wine Country. Mellisa, the host and designer is pleasantly involved but only to the level you want! Perfection in Idyllwild.
Ian
2017-01-08T00:00:00Z
If you're looking for the best airbnb experience in Idyllwild, this is it. Melissa has truly thought of everything to make your stay as enjoyable as possible. Not only is the house fully stocked with all the essentials, she's taken care of all the extra comforts to make the cabin truly feel like home. Perfect location, just outside of town for some peace and quiet, but close enough to venture in with ease whenever you want. She has great suggestions for things to do around town too! I wouldn't stay anywhere else if visiting Idyllwild.
andrew
2017-01-16T00:00:00Z
This little house tucked in the forest was by far my most fav of all my AB&B stays yet! I never do reviews but today I feel compelled, enlightened, dare I even say POSSESSED to. I've used AB&B many a time over the years and have always had a nice time sharing peoples "other" homes across the country for a few reasons but mostly because it's nicer/homier than a hotel venue and often less expensive too. I have had great success using AB&B but I must say, this stay tops them all! This cabin CUDDLES you into submission for the ultimate mountain-humble-chic experience. Not a detail over looked(and I am super OCD!). From the sweet little messages that no only inform and help you find what you need but make you feel all cozy, to clever space saving ideas and designs that my man and I took notes on for our future creative home collaborations. The grounds were naturally(not humanly manicured) immaculate taking us to a deeper relaxation state than we've shared in a long time. Let's not forget the MASK! HOW COOL THAT WAS?!?! ....That's something you'll just have to see for yourself when you explore the treats this little gem has to offer. Suffice to say, I give this VRBO's "LITTLE HOUSE" a BIG thumbs up, FIVE STARS and I blew it a kiss on the way out in hopes that we return to this special nest that warmed our hearts and souls for a spell in Idyllwild. Thank you Little House owners for the gift of this space! P.S. FYI, The bed was UBER comfortable...I mention this because that's an important detail to me!....Getting a good night sleep!
Win
2016-12-09T00:00:00Z
This was my favorite Airbnb I've stayed in. Everything was really nice- the decor, the bed, the layout of the place. It was also stocked with so many things so if you forget something, they probably have it there. Our dogs loves running around in the backyard and it was nice to sit out there and drink coffee in the morning and wine at night. It's really close to the town area as well. Melissa was great with communicating everything and all the info you need to know can be found in the little folder in the house. Can't say enough good things about this place. Will definitely be back. :)
Stephanie
2017-03-19T00:00:00Z
Loved it!!! It was beyond perfect. Beautifully decorated, upscale yet comfortable, especially the bed! The yard was enclosed with awesome views of trees, yard and the sounds of birds chirping. On arrival we felt welcomed with her little surprises. Melissa thought of things we didn't even think we would need, but did. We had everything we needed to cook and we made every meal. I have a feeling there is going to be a waiting list in the near future for this residence. This will be the only place we use when we visit and we visit quite often. Thanks again!!
Jessica
2017-03-12T00:00:00Z
We had a wonderful stay and felt comfortable and relaxed the whole weekend. Melissa was super responsive and accommodating. You can tell that she takes a lot of pride in her rental. We can't wait to come back and stay here again.
Meaghan
2017-02-13T00:00:00Z
Room Type
Entire home/apt
---
Property Type
House
---
Accommodates
4
---
Bedrooms
Idyllwild-Pine Cove, CA, United States
Extremely clean and modern 2 bd/1 ba house, 3 miles from Idyllwild town center. Open floor plan, lots of natural light, high vaulted ceilings, bamboo floors, stainless steel appliances. Relax on the deck or enjoy the hiking/biking trails close by!
Privately owned, "Idle Wine Estates" is a two bedroom and one full bath house located in Pine Cove, 3 miles from Idyllwild town center. The house has an open floor plan and lots of natural light with windows from floor to ceiling in the front. Both bedrooms have a window and french doors leading to the back yard that faces giant oak and pine trees. The high vaulted wood beam ceilings add to the openness and airy feeling. The house is newly furnished (2012) and updated with bamboo floors (except for carpeting in the bedrooms) and stainless steel appliances including dishwasher and gas stove. The owners of "Idle Wine Estates" love to cook gourmet meals and have fully stocked the kitchen. Enjoy BBQ'ing on the large front deck while watching the playful squirrels, variety of birds and the occasional coyote run by. Idle Wine Estates also has a separate laudry/mud room with its own entrance. A large storage shed is available for your bikes or other toys. So whether you enjoy hiking, mountain biking, shopping, visiting the many restaurants or staying in and relaxing, Idle Wine Estates will add to your vacation experience. The kitchen table can seat eight. There is one Queen bed and a trundle bed that can be a king or 2 twin beds, sheets, extra pillows and blankets, and towels (bath and kitchen) are provided. Please note that the cabin does not have cable (we do have movies for your enjoyment and video rentals in town). Though we don't discourage children, the house is not "child proof". Also absolutely NO PETS or NO SMOKING inside - thank you for your understanding.
We had a wonderful stay in this little gem. It's slightly out of town so you have the country feel ...yet close enough to drive in for a nice cup of java. It has all the comforts of home. Modern and cozy. We BBQ'd and enjoyed the sunset. It was also the first time we felt cool after being in the coast in the heat! So if you are looking to escape the heat it worked! Host were easy to work with and quick to respond. We will be back :)
Lorene
2015-10-04T00:00:00Z
Amazing place. Highly recommended for a nice weekend!
Heather
2017-04-02T00:00:00Z
Everything was perfect. The minute we arrived at Scott and Nicole's place, relaxation settled in. They were great communicators and we had everything we needed. The house is very comfortable and we loved the gas fireplace heater!
Sara
2015-03-22T00:00:00Z
Wonderful 5 days! Perfect location, 3 miles from Idyllwild, lots of opportunity for hiking. House is immaculate- we did not do any cooking but loved having making coffee in the morning and sitting on the porch. There are homes with dogs in the neighborhood so once in awhile at night - you will hear the barking dogs. Neighbor in back yard has a goat so noises begin early morning. For us, 2 parents and 2 adult children it was exactly what we wanted to have our own space while we spent time with family in the area.
suzanne
2015-07-13T00:00:00Z
We had a wonderful weekend at the cabin. Exactly as advertised with everything we needed for a comfortable and enjoyable stay. Fresh mountain air and neat scenic setting.
Mark
2015-03-15T00:00:00Z
My family and I loved our weekend long stay here. Very comfortable and spacious home. We bbq'd immediately after our arrival which was a huge plus for us. It was nice to hang out and grill from the front deck/porch. We took advantage of all the snow around the home which was what we were looking forward to the most. We left a little snow friend in the back ;) Peaceful and quiet scenic surroundings. Great accommodations. No cable television but has DVD player and some movies, or bring your own. The game options were good. Had good communication with Scott. Would definitely recommend the home for families, couples, or group of friends. Just about 6 minutes from downtown village. Thank you! :)
Laura
2017-01-29T00:00:00Z
Scott & Nicole's home is a serene paradise. It is clean, spacious, and within a 5 minutes drive to town! On the weekend of my arrival, there was 4 inches of snow and I had not heard, lucky for me, Scott was kind enough to warn me and allow me to check in earlier. They are very pleasant hosts who does an excellent job communicating with you. If you are planning on visiting the beautiful Idyllwild area, you should really choose to stay here. There is a gorgeous fireplace, a full kitchen, a private backyard, a singing birds everywhere! We will definitely be back!
Marcus
2015-05-12T00:00:00Z
Nice and Clean accommodations with easy access to Idlywild and nearby hiking and MTB trails. Well equipped kitchen and quiet atmosphere makes for a great getaway
Tyler
2016-11-13T00:00:00Z
Room Type
Entire home/apt
---
Property Type
House
---
Accommodates
4
---
Bedrooms
Idyllwild-Pine Cove, CA, United States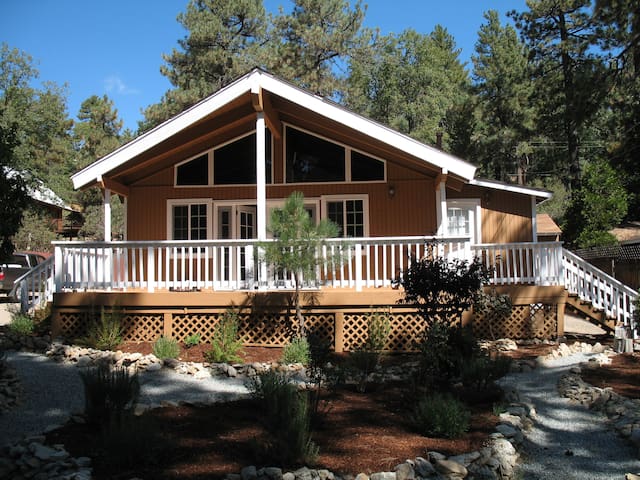 Our place is close to art and culture, great views, family-friendly activities, restaurants and dining, and hiking. You'll love our place because of the neighborhood, the coziness, peace and quite. Our place is good for couples, solo adventurers, families (with kids), big groups, and furry friends (pets).
The living area downstairs (where the tv is located) can be a bit cold, especially during the winter season. You can find blankets all around the cabin and a portable heater. Feel free to utilize them when needed. The fire place is large and you'll need to provide your own wood, which is recommended so you don't run out of propane (that can get expensive). If you have a problem starting a fire, Garret Woods (our property manager) can assist you. He's only a phone call away.
There are hiking trails up the hill behind the cabin. Just follow the street up until you run into the dirt trails. Maybe a 3 min walk up the paved street road. You'll also find some excellent city views of Hemet at night.
Great little place. Plenty of room and the kids had a blast. It was a nice big cul-de-sac to park in and it was perfect for playing in the snow. Kitchen was well-equipped and the property is exactly as described. Also, Garrett the property manager was extremely helpful getting us set up. He even shoveled the snow off all the stairs for us and checked in occasionally via text to make sure we had everything we needed. Overall a great stay!
Cindy
2017-01-22T00:00:00Z
My friends and I wished we could've stayed longer. The pictures do not do this place justice. It's a lovely, serene and inviting home in a great location if you're looking to get away and out of the city. For us, it was very close to our hiking trail head. Fireplace was wonderful and the layout of the home with bedrooms on three separate levels and many communal spaces allowed us friends to hang out together and still feel like we also had our own space.
Catherine
2016-10-15T00:00:00Z
Our stay was just what we wanted, a great get away in a quiet cabin with a deck and fireplace. The lodge was spacious, well equipped, and had a lot of 1970s charm. We really enjoyed having a fire in the evenings. We were plenty warm and found everything we needed.
Dustin
2016-10-23T00:00:00Z
A nice spot on a wooded hill, stocked with many games and plentiful firewood. Furniture and decor is rustic, even somewhat outdated, but it added to the charm. The host was very accommodating, though we never actually met in-person.
Daniel
2017-03-26T00:00:00Z
Clean and quiet home with updated everything , the only downside being away from Central village , approx 3.9 miles otherwise everything was just perfect ! Thank you .
Silva
2017-03-20T00:00:00Z
Great cabin! Wonderful views (we were lucky to get snow during our stay) and very friendly property manager. All in all, a great snowcaytion!
Prakash
2017-02-27T00:00:00Z
Aric's place is very comfortable and homey! It has everything you need! It is very quiet and peaceful! We had an awesome time!
Patricia
2016-12-25T00:00:00Z
Lovely and spacious cabin near town. Very happy with everything.
Michael
2017-01-08T00:00:00Z
Room Type
Entire home/apt
---
Property Type
House
---
Accommodates
8
---
Bedrooms
Idyllwild-Pine Cove, CA, United States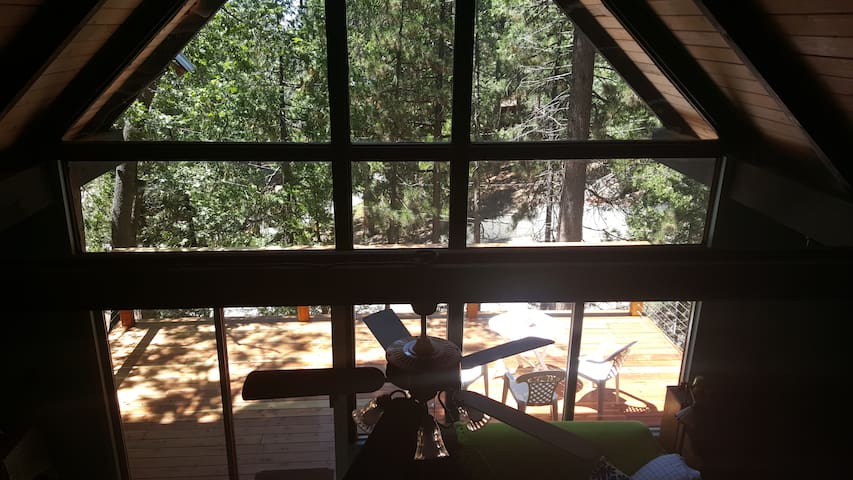 Idylllcove is located in the coveted Fern Valley, only 1/2 mile walk to Cafe Aroma and three other restaurants and a short walk further to the center of town. Our beautiful 1/3 acre grounds have a fully fenced yard. The A-Frame has a CA King bed in the upstairs Loft, a Queen downstairs and is among the few rentals with central AC. New Denali Sundance Spa on the back deck. If your dates are not available, ask as we have 4 cabins with over 150 collective reviews I will be happy to help you!
We greatly enjoyed out 2-night stay at Idyllcove. The cabin itself was adorable. Kelly did a great job checking in on us via text to see if we needed anything and to be sure that everything was in order. Idyllcove has a good location in a quiet neighborhood. We were able to walk to breakfast and town from the house. We absolutely loved relaxing on the back patio. The fenced yard was also great - our dogs had a blast exploring in the back yard.
Lindsey
2016-07-25T00:00:00Z
Beautiful cabin in a very quiet neighborhood. Great deck surrounded by natural landscape and great hammock! Amenities were all there - everything we needed. Everything in the owner's description is 100% accurate. I will stay there again when back in town. Thank you kelly!
christine
2016-08-18T00:00:00Z
Loved this property--the house is gorgeous, the hosts attentive, and the large deck amazing. Will definitely return.
Rodger
2016-10-02T00:00:00Z
I've been going to Idyllwild for years, and this was hands down my favorite cabin I've ever rented. My three dogs LOVED the back yard, exploring, sniffing, playing- and with it being fully fenced, I had no fears they might escape. Everything was super clean, comfy and well stocked. The location felt secluded with wonderful views off the back deck, yet just minutes to the downtown area. Kelly, the owner, was extremely communicative and they provided a lengthy instruction sheet how to get access and well as other details about the home. I look forward to returning again soon.
Paul
2016-12-12T00:00:00Z
This place is an idyllic A-frame cabin in the heart of Idyllwild but a little off the main road. It's quiet, well-stocked and so cozy. Perfect for 2 people. Will absolutely be staying again.
Micha
2016-10-07T00:00:00Z
We had a wonderful stay at Kelly's cosy cabin. It's on a lovely quiet street and well located for a walk into town and hike in Humber Park. Kelly was a warm and welcoming host, very prompt with messages and detailed with all the information we needed. Thank you Kelly, we hope to come back soon.
Tom
2016-11-11T00:00:00Z
Kelly was great! There was an initial mix up and upon our arrival the cabin had not been cleaned from the previous occupants. Understanding that miscommunication and mistakes happen I called Kelly as soon as my wife and I arrived. Kelly was very apologetic and within 30 minutes there were 3 people cleaning our cabin. My wife and I simply enjoyed a nice glass of wine on the deck. The cleaners were in and out within an hour. The cabin was perfect and we loved the fire place, new spa, deck and the large backyard for our dogs to play in. The cabin is also very close to restaurants. I would definitely come back.
Mobe
2016-10-23T00:00:00Z
Great stay!
Nate
2016-11-30T00:00:00Z
Room Type
Entire home/apt
---
Property Type
House
---
Accommodates
6
---
Bedrooms
Idyllwild-Pine Cove, CA, United States
The owners Marion View Lodge present The Swiss Chalet. The home is close to the town center ,Nature Center and Deer Springs Trail. The home is located in the quiet Cedar Glen community affording privacy and quiet.The home is yours alone.
Gorgeous late MCM architecture with huge picture frame windows, which let in sweeping vistas of Tahquitz peek and gorgeous tree top views. Lovely, quiet neighborhood. David was kind and helpful. We'll surely be back!
Roshanak
2017-04-02T00:00:00Z
Great place to stay! Swiss Chalet is a very comfortable home with beautiful views of the outdoors! David is a very thoughtful and easily accessible host for any questions. Our family will definitely be returning to this home for another great weekend!
Cindy
2017-03-19T00:00:00Z
I highly recommend this place to anyone seeking a quiet and comfortable stay in Idyllwild. It's just a far enough distance from town that you don't have to battle the crowds, but far enough that you feel secluded. The cabin has everything you are looking for, internet is fast, and the view is great. David is a great host, and I look forward to booking with him again.
Brittany
2017-03-05T00:00:00Z
Room Type
Entire home/apt
---
Property Type
House
---
Accommodates
6
---
Bedrooms
Idyllwild-Pine Cove, CA, United States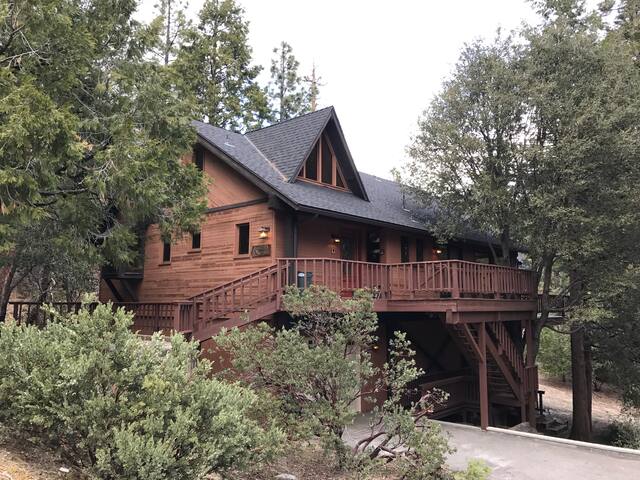 Explore Idyllwild and stay at Blue Moon Retreat close to town, but feels miles away. Guest will arise to beautiful views of the lush pine trees. Take in the surrounding forestry while relaxing in the spa, laying on the hammock, and enjoy the cool nights dinning on one of the two decks. This home has a small kitchenette with one burner hot plate, tea kettle, coffee pot, microwave, small fridge. Upper unit is for owner use only. DECKS/SPA ARE NOT SHARED!!!
Explore Idyllwild and stay at Blue Moon Retreat close to town, but feels miles away. Guest will arise to beautiful views of the lush pine trees. Take in the surrounding forestry while relaxing in the spa, laying on the hammock, and enjoy the cool nights dinning on one of the two decks. This home has a small kitchenette with one burner hot plate, tea kettle, coffee pot, microwave, small fridge. Upper unit is for owner use only. When renting Blue Moon Retreat the upper unit will not be in use by owner. Your have full access for spa, lower & upper deck. Amenities Linens Provided Washer & Dryer Queen Beds (1) Futon (1) Electric Fireplace Heater Forced Heat Entertainment Panosonic TV DVD Player Kitchen Kitchenette With Single Burner Hot Plate Cooking Utensils Provided Microwave Mini Fridge Coffee Maker Tea Kettle Dishes Outdoor Features Spa Hammock Patio BBQ Parking View/Location Less then 10 minutes to Lake Hemet ( Walking Distance to Town Mountain Views Privacy Views of Wildlife on Property Communications Clear Cell Phone Reception Internet Winter Holidays (Thanksgiving, Christmas and for New Year's; may require a 4 night minimum stay). Regular Holiday (MLK Jr, Presidents/Valentines, Memorial, 4th July, Labor Day; may require a 3 night minimum stay) Events (Idyllwild Jazz Festival, Idyllwild Art & Wine Walk; may require a 2 or 3 night minimum stay). Max Occupancy: Listing shows the max occupancy this home can hold. If found out that you have exceed the registered amount of guest, there may be a fee up to $500.00. If you think you will have more than the number of allowed guest, please give us the exact amount and we can see if we can accommodate you in another one of our homes. Pets are welcome. Pet fee of $25-35 per day per pet will apply depending on size. (If more than one pet please let us know) Note: Until confirmed all rates are subject to change without notice. Approval will be needed for one-night stays after booking request has been submitted. One night stays can be done for same week reservations (if far in advance if not during the weekend Friday-Saturday, if requesting Friday-Saturday, rate will be higher with the accommodation of early check in or late check out) Higher rate may also apply to Sunday-Thursday when booking in advance. Once one night is booked there is NO CANCELLATION ALLOWED.
Great location. Comfortable bed. Great for pets. Enjoying the stars in the spa was a treat. Thanks again.
justin
2017-04-02T00:00:00Z
This place was great for a short getaway. Very private location and hot tub with view of mountains and wilderness made it uniquely relaxing. I would recommend this this host as they made things very easy and Monica was on point with everything.
Nicholas
2017-04-09T00:00:00Z
Check-in process was very easy and the place was lovely, although we were given a new cabin last minute (as in the morning of our check-in).
Fatima
2016-10-23T00:00:00Z
This space is managed by a rental company and they did a good job making us feel welcome. They even let us check in early. A lockbox on location for the key would make it even simpler to check in and out.
Alex & Adam
2016-08-08T00:00:00Z
This little studio was clean, quiet, comfortable, and private, with gorgeous views of the surrounding pine trees and nice amenities including an easy-to-use hot tub (already on and heated, just pop open the cover) and a very pleasant porch, perfect for drinking coffee in a warm blanket in the mornings and enjoying the forest. The kitchen was well-stocked with any type of kitchen tool you might need, as well as conveniences like a coffee pot, a toaster, and a hot plate. There was also a washer and dryer on site, a blow dryer in the bathroom, and plenty of extra towels, pillows, blankets, and linens. Also, while unclear in the listing, there is in fact wifi that works great. If you are planning on walking to town, it is doable, but be prepared for a longish (1.2 miles, 30ish minutes) sweaty, hilly walk.
Caroline
2016-12-11T00:00:00Z
Lovely space, quiet cabin nestled in the woods, with warm quilts and big windows to look out on Idyllwild's wintry charm. A perfect retreat from the city for a few days.
Jonathan
2017-01-07T00:00:00Z
Room Type
Entire home/apt
---
Property Type
House
---
Accommodates
2
---
Bedrooms
Idyllwild-Pine Cove, CA, United States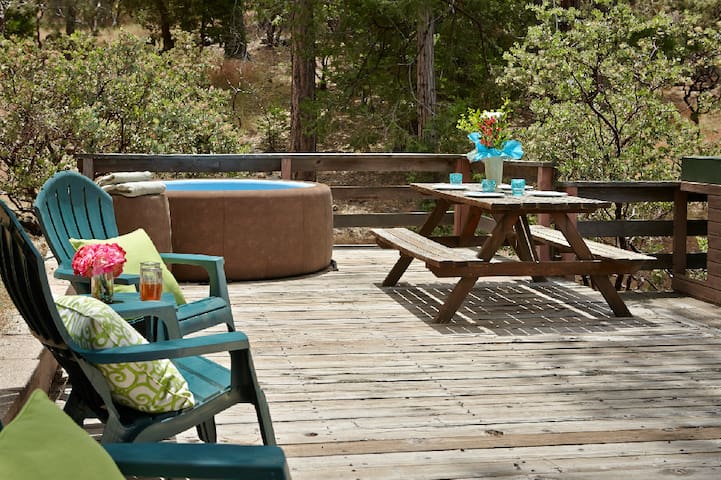 Beautiful Sunsets and Valley Views at "Paradise Pines Retreat", a private cabin. 5 Star Award Winning Vacation Home. Relax, Refresh and Renew at our fully furnished and very clean cabin in Idyllwild-Pine Cove. Perfect romantic getaway. Also suitable for friends and families. Check out over eighty 5-STAR Guest-Submitted Reviews at our other ad site (Tripadvisor). Total Quote includes rent, 10% county occupancy sales tax, cabin cleaning fee and advertiser's booking fee.
Relaxation with Beautiful Sunsets and Valley Views! Exclusive Award Winning, with over 80 All 5 STAR Guest Reviews on Tripadvisor, and this private 2 bedroom, 1.5 bathroom vacation cabin sleeps up to 6 guests. CA King Bed in main level private bedroom Queen Bed in upstairs private bedroom Full size foldout Xtra bed in loft Twin size rollaway bed in upstairs closet Outdoor kids playhouse (named Little Paradise) FREE Secure Wifi, HDTV's with over 200 channels Movies, games and wildlife feeding (FREE birdseed) and more. Paradise Pines Retreat is suitable for couples, an intimate group of friends, and families. Interior knotty pine wood walls. Tastefully furnished. Large deck with Incredible Views, Propane BBQ, and patio furniture w/umbrellas. The cabin is named "Paradise Pines Retreat", with a feeling of being in paradise, overlooking beautiful pine trees, oaks and manzanita, with valley views and sun drenched open space with fresh mountain air. Star-lit nights, sunsets and moons, forests of fall colors, winter snow and more are seen from the cabin and deck. Reasonable Rates and NO up-front damage deposit. All linens, liquid soaps and paper products are provided. Very responsive and easy-to-work-with owner-manager, reachable by phone or email anytime (host and guest contact info is shared as soon as a booking is secured through the on-line advertiser). Our cabin website is easy to find for guest amenities and additional information by simply searching the cabin name, Paradise Pines Retreat, in your browser bar. Hiking is an all-time favorite thing to do here. Mountain biking, fishing, local restaurants, quaint shops and more are nearby. Wildlife viewing and photo opportunities are right on the premises. In winter there's snow play and local sledding. Or, walk to nearby Pine Cove Park for large boulders and more incredible views. ~ ~ NO PETS / NO SMOKING ~ ~ ~ ~ NO PARTIES OR EVENTS~ ~ ~ ~ 6 People Maximum on the premises at any time ~ ~ If this cabin is already booked consider our smaller Studio-Style 1 bedroom 1.5 BA vacation cabin with amazing views called Pine Rock Retreat. Look for it on-line by the cabin name.
The cabin is in the quiet Pine Cove area of Idyllwild, on over 1/2 acre, offering a sense of privacy and peacefulness, with a view that will take your breath away.
Cheryl was very friendly and informative through this whole process. Her cabin is exactly what is listed, and my family and I loved the get away. The cabin is beautiful and my daughters especially loved watching all the wildlife! Thank you Cheryl for your warm hospitality, we hope to visit again soon.
Annette
2016-06-12T00:00:00Z
Great destination for a mountain getaway! The cabin was so cozy and equipped with everything you could possibly need. Cheryl was extremely attentive in providing information about the area and recommendations for activities and restaurants. There were lots of games, movies, and a little playhouse that our toddler adored. The view from the back porch is amazing. Highly recommend!
Matt
2016-11-27T00:00:00Z
Spacious, clean, wonderful views, well equipped fun for kids and adults.
Kate
2016-11-22T00:00:00Z
Paradise Pines Cabin is an exceptional property with a magnificent woodland setting facing west with a wonderful outlook. The cabin is superbly presented by Cheryl. Aside from the welcome Welcome Basket, the whole ambiance is welcoming. You quickly learn and then get continually surprised by more "finds" and realize just how much care has gone into providing an experience that is so guest friendly. Her documentation is superb and when you read for example where the bucket is to top up the bird feeders so that you may enjoy the birds in the morning and evening, you know that you are somewhere truly exceptional with a host that has taken extraordinary care to make sure that her guests have nothing less than a wonderful time. Absolutely everything about this cabin is comfortable. There is nothing I would want to change about the place other than to have had my girlfriend be with me. It is a wonderful location for a romantic getaway or a family outdoor activity holiday break. It is less than 1.5 miles from the well known Idyllwild Nature Center and just a bit further to town which has an array of restaurants and diversions. There are countless wonderful hiking opportunities in the area (my particular interest) with comprehensive information provided in the cabin. Cheryl even has one box full of dedicated hiking material. Highly recommended.
Jeff
2016-06-06T00:00:00Z
Cheryl was an AMAZING host! I surprised my wife with this cabin rental for her Birthday, and when we showed up, Cheryl had left her a sweet gift and Happy Birthday sign. We felt right at home. There were clear instructions for the property and Cheryl made us feel like long-time friends throughout the whole process. The cabin was a perfect private getaway with truly beautiful views! We can't wait to go back!
Richard
2016-05-09T00:00:00Z
Clean, quiet, scenic and in the center of everything you could want for a great getaway! Close to town, trails and far enough away to make it feel quiet and secluded! Will be back!
PETER
2017-03-19T00:00:00Z
We stayed 2 nights, it was very easy check-in and check-out. The cabin was very clean and exactly as the pictures show, the game room and small house were an absolute hit with our grandchildren, they loved it. It is very close to town and easy access. Plenty of comfortable blankets, and pillows and the beds were very comfortable. We had everything we needed in the kitchen and bathrooms, we truly loved our stay and only wished we could have stayed longer; it exceeded our expectations.
Sally
2017-03-26T00:00:00Z
My wife and I have been fortunate to have some fantastic AirBnb experiences, but this one just knocked it out of the park. Cheryl was an unbelievable host. She called me moments after making the reservation, giving me some pointers on how to get up to the cabin safely (a strong snowstorm was coming). She was genuinely concerned about our safety, which was very appreciated. Once we got to the cabin my family (wife and two small kids) immediately felt like we were in a Winter Wonderland. We woke up to nearly 10 inches of snow on Christmas Eve, and needless to say the kids were in heaven. The cabin had everything, and I mean EVERYTHING. It even had sleds for the kids, kids movies and kids books. I have already started sending out the link to Cheryl's cabin to all of my friends who saw our gorgeous pictures on (SENSITIVE CONTENTS HIDDEN). I feel so fortunate that I only live two hours away because I will never look for another place to stay in Idyllwild. Thank you again, Cheryl, for being such an amazing host and for letting us stay at your wonderful cabin!
Mel
2016-12-26T00:00:00Z
Room Type
Entire home/apt
---
Property Type
House
---
Accommodates
6
---
Bedrooms
Idyllwild-Pine Cove, CA, United States
Cozy cabin in the woods - Close to the arts/music village of Idyllwild - We offer early Check in/Late Check out when available just ask! Please note that there is a max of 2 dogs and a pet fee of $20 that will need to be added so please notify us at the time of booking about your pets.
We really like the property. We enjoyed our time and rested well. We cooked food (thanks for provided spices!), watched Netflix on the TV and enjoyed walking around the neighborhood.
Matt
2016-08-15T00:00:00Z
We had a delightful weekend here. Felt right at home immediately and the house was well equipped. We'll be back.
greg
2016-09-12T00:00:00Z
We had a short stay but thoroughly enjoyed Tim & Karen's cottage. The description was quite accurate and the place was perfect for us. We enjoyed being a quick drive from town center while at the same time being well away from main roads and traffic. The peace & quiet was wonderful, a great hiking trail was nearby, and the cottage offered every amenity. Couldn't have asked for more -- except for more time to enjoy Idyllwild.
Andy
2016-11-04T00:00:00Z
Our stay at the Lazy Gnome was the perfect retreat! Our family of 3 + family dog stayed at the cabin and enjoyed the inside and out in this quiet and tucked away spot. The beds were comfortable, the kitchen well laid out with all needed utensils, a hammock, outdoor grill and outdoor seating let us enjoy being away from it all. Great place, we would definitely stay here again.
Jason
2016-07-22T00:00:00Z
The Lazy Gnome was the coziest cabin I have ever had the pleasure of staying at. It was quiet and secluded but just a quick drive down the hill to town. Tim and Karen were great and were very quick to respond to any questions we had and made check in so easy. We loved our trip here and will definitely be coming back soon!
Sydney
2017-01-22T00:00:00Z
We loved our stay at the lazy gnome. Deep in the forest, cosy and warm ( thanks to the great heating system). Everything was just so comfortable!
Andrea & Ed
2017-04-02T00:00:00Z
The Lazy Gnome cottage is a perfect place for a quiet getaway. The Cottage is cute and cozy with plenty of spaces inside and out for lounging. The kitchen and bathroom are stocked with amenities needed for an easy stay. The location is perfect, a short drive to town but on a quiet street surrounded by trees. Check in and out were easy and the rules are posted clearly on the fridge. I hope to stay again.
Sarah
2017-03-29T00:00:00Z
Really cozy and up to date! All that we could need was available in the home and was a few minutes drive to the heart of Idyllwild. We recommend for all!
Elijah
2017-02-16T00:00:00Z
Room Type
Entire home/apt
---
Property Type
House
---
Accommodates
6
---
Bedrooms
Idyllwild-Pine Cove, CA, United States
Dreamcatcher is a beautiful cabin on a private lot with amazing views, wall to wall and floor to ceiling windows and wrap around deck with an outdoor hot tub off the master bedroom, and wood burning stove! It is perfect for two couples or family. There is a blow up bed in order to accommodate two more.
The cabin has a blow up bed to accommodate two more. The beauty of this cabin is it is near fantastic hiking, shopping and restaurants. It is a short hike to the quaint downtown area always full of fun. It is fun in the snowy winters and awesome in the beautiful summers! It is well stocked and has a BBQ on the deck for your use. The hot tub on the deck outside of the master bedroom easily accommodates comfortably four adults. To keep you warm and comfy, the master king bed has an electric blanket and queen bed in second bedroom has heating mattress pad, for those cool winter evenings. Both bathrooms have both showers and tubs. There is a DVD player in the bedroom and living room. (The one in the living room is on shelf beneath TV and is part of the stereo system - plays DVDs/CDs w/great speakers ) The cabin has Wifi.
The lot is extremely private, in a neighborhood that is extremely scenic, has great views, and is walking distance from town.
Was a great stay for my wife, son and I. Exactly what we were looking for for a quiet mountain getaway.
David
2017-03-16T00:00:00Z
Lovely place with a beautiful view.
Shannon
2016-12-04T00:00:00Z
Such a beautiful view from the house and the deck! Very close to restaurants and shops, but from inside the house you feel cozy and removed from any city-life. We hope to come back and stay longer next time. I highly recommend this lovely spot.
Kendrick
2016-11-12T00:00:00Z
We had a wonderful time here, enjoying all the trees and the beautiful view of the surrounding mountains. Soaking in the hot tub at night was awesome! The kitchen was well stocked and the home was very comfortable, clean, and inviting. One thing to note, the bedrooms have skylights that let in a lot of light at night. If you need darkness to sleep well (like me), make sure to bring an eye mask with you!
Roland, Monica, & Vivian
2016-09-18T00:00:00Z
Had an awesome trip! Cabin was beautiful, wish I could be back there now.
Jenna
2016-03-18T00:00:00Z
Jaw-dropping views and a cozy fireplace, what more is needed? Convenient for the center of Idyllwild while still feeling very private and secluded. Great for two couples or a small family. Host was helpful and made the whole process smooth and easy.
Rosemary
2017-01-16T00:00:00Z
We loved our stay at Jeannie's. Even though it's walking distance to the village it feels secluded. All the windows and skylights let great light into the house during the day and allow you to enjoy the beautiful view of the woods and mountains. We spotted a few deer one morning from the porch, which was a treat. The wood burning stove kept us cozy at night and it was a bonus to have a nice stereo and speakers to use for playing music from our phones. Would come back any time of the year.
Rachel
2016-10-16T00:00:00Z
Room Type
Entire home/apt
---
Property Type
House
---
Accommodates
4
---
Bedrooms
Idyllwild-Pine Cove, CA, United States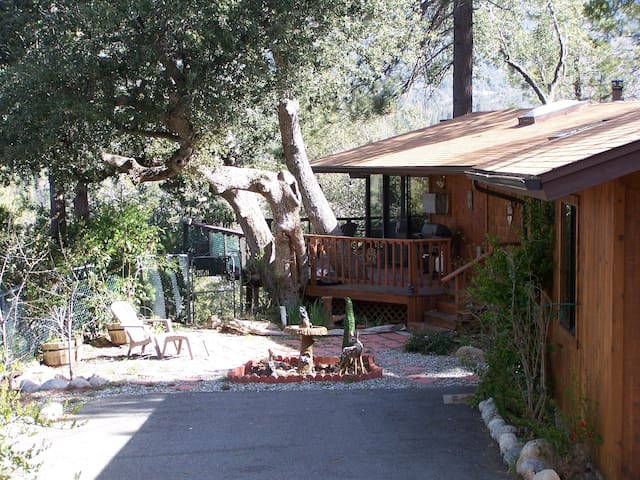 Idyllwild-Pine Cove - Airbnb
:
Average

4.9

out of

5

stars from

855

guest reviews
1

–

18

of

300+ Home Rentals
Enter dates to see full pricing. Additional fees apply. Taxes may be added.