This peaceful beach studio is 1 block from the famous Kaneohe Sandbar with white sand, blue water and a dramatic ridge line! The studio is on my property but has its own entrance, bathroom, kitchenette, etc. You'll have access to stand up paddle boards, snorkel gear, boogie boards and more! Relax as you sit in the yard facing the beautiful ocean and mountain range!
Beautifully updated studio unit. I live on the property and we share a parking area, but your space is entirely private from the main house. You have your own bathroom, entrance, kitchenette (medium sized fridge with 2 electric burners and cooking equipment), extra room to park 1 car, and access to the front lawn where you can sit on at Tha bistro table, or grab a yoga mat on the side of the house, and enjoy your morning coffee looking at the beautiful blue ocean and magnificent Ko'olau mountain range! There is beach access right across the street if you want to walk around in the ankle/knee height water sandbar or take the stand up paddle boards into the water. There is also a hike that starts right in the backyard that leads you up to one of the ridges which leads to a WW2 bunker with incredible views of the east side of the island. At the unit, I have a binder full of recommendations for activities and restaurants that you're welcome to read through!
The unit is located conveniently in Kaneohe town. The area is very much more peaceful and removed from Waikiki. Kailua is the next town over and the Marine base is very close by. On some weekends you may even see some of the military plans practicing over the ocean! Make your way up to north shore by driving the beautiful east side back roads or by taking one of the most scenic highways (H3) to get up to the North Shore or down to Waikiki.
This was the best Air BnB we have stayed at since we started! Lisa did a great job and the place was wonderful. It would be hard to choose another location. She had great recommendations and was very helpful. We really enjoyed our stay!
thomas
2017-04-02T00:00:00Z
The apartment is cosy and very comfy. Check-in and check-out is super easy! Towels are provided, there is a small grill available and the small garden is just perfect to relax. Location is nice if you have a car, bay is suitable for SUP and we even spotted turtles in the shallow water, to Kailua beach and Pillbox Hike it's just a 20min drive (A MUST!) and about 35-40min to the Honolulu airport. Lisa is a great host and she even gave us some homemade cookies!
Sheerah
2017-04-07T00:00:00Z
The place is lovely and the location is in a good place to visit the entirety of the island (we had a rental car), and is tranquil and beautiful in its own right. It is on the edge of the rain forest, and only a block away from the beach. Expect some bugs, though repellent was thoughtfully supplied within the room. The consideration given to these amenities as well as the layout of the room were really outstanding. Lisa offered excellent advise on what to do when the rain required us to change our plans. P.S. Koa (her golden retriever) is wonderful.
Andrew
2017-03-04T00:00:00Z
To start, this spot is really wonderful location that is close to the airport and Honolulu but far enough away to see some more beautiful and natural parts of the island of Oahu. Lisa and Greg are both extremely friendly and hospitable when welcoming new people to their home. The AirBnB is a very nice studio with a separate entrance and spotlessly clean. Perfect getaway for my three night adventure to Hawaii. Nearby Kaneohe is easy to get to with a short drive south while much more rural areas with beaches if you head north. I cannot wait to go back on another trip and this would be the very first place I check when I do head this direction again. Thank you again Lisa!
Adam
2017-03-07T00:00:00Z
Very cozy studio with a great bed and even better views. Short walk to the beach. An all around great place to stay.
Joel
2017-02-26T00:00:00Z
Nice room to stay in for the night before our departure back home. Very clean and has every thing you need. I'm a residential area and has parking. Overall good experience.
Dan
2017-03-11T00:00:00Z
Wir haben uns sehr wohlgefühlt bei Lisa und ihrem Freund, nette Begrüßung (Sie hat uns sogar selbstgemachte Kekse gebracht),Eier,Kaffee,Bier war im Kühlschrank!Grundausstattung Küche war vorhanden,Ofenplatte,Mikrowelle,Toaster,Kaffeemaschine,Kühlschrank.Das Zimmer befindet sich direkt neben dem Haupthaus.Lisa hat uns viele gute Infos zukommen lassen was man alles machen kann!Mahalo
Ellen
2017-04-11T00:00:00Z
Room Type
Entire home/apt
---
Property Type
Apartment
---
Accommodates
2
---
Bedrooms
Kaneohe, HI, United States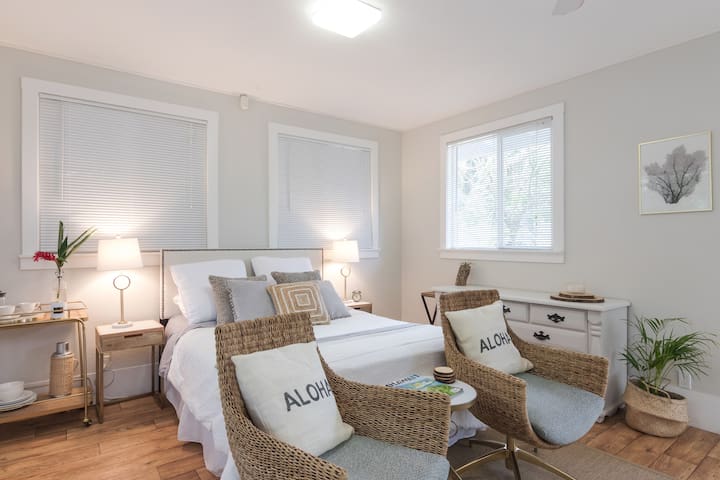 This is a small room in an extra large estate with sweeping views of the beautiful Kaneohe Bay and dramatic Ko'Olau mountains. Close to major highways and away from the traffic and bustle of the city this is an optimal location to relax and soak up the beautiful Hawaiian Landscape.
This is a great bedroom with outstanding Ocean views. You will have use of a walk-in jacuzzi tub bathroom facility.
Quiet neighborhood with an abundance of privacy at this estate. Nearest grocery is down the street. Award winning restaurants and great local sushi! Also close to numerous hikes of all skill levels.
Recommend for anyone wanting to relax and just get away. Friendly and very approachable. Anyone reading this should just stay here
Michael
2017-02-26T00:00:00Z
Awesome. So cool. We loved the outdoor living room space, clean pool and views of Kaneohe Bay. Would recommend this place to all; we will definitely be back. Thank you to Seth & Gina for the attentive service and delicious cookies.
Karen
2016-12-09T00:00:00Z
The house is absolutely amazing, even more "wow" than on pictures. You get breath taking views over mountains and over the sea. Swimming pool and relaxing area are great. There is plenty of parking space next to the home (its on the top of the hill). It was one of the highlights of our trip to Hawaii.
Anna
2017-02-24T00:00:00Z
Wonderful stay at Hillary's. Great location, scenic, quiet.
Peter
2016-12-08T00:00:00Z
The house is in a beautiful location giving a local feel to the island. After touring O'ahu, we realized that this house is in one of the most beautiful areas of the island. We enjoyed the views, solitude and access to amenities such as the pool and kitchen. Everything we wanted to see/do was within a 30-45min drive or less. The hosts were great, clearly communicating with us as well as available to provide suggestions.
Kristie
2017-02-18T00:00:00Z
Great place, great location, beautiful views, wonderful host. If you like massages don't hesitate to ask Hilary, one of the best deep tissue massages I've ever had.
Isabelle
2017-03-08T00:00:00Z
We were really impressed by Hillary's hosting and by her wonderful house. The house is built on the top of the hill and the view is just amazing. It was our first time on Hawaii and so we had a lot of questions. Hillary responded very fast thru text message which was very helpful. We took the smallest room with the shared bathroom but you can have for more money bigger bedroom with own bathroom and small kitchen. We definitely recommend to stay at Hillary's place.
Emilia
2017-01-21T00:00:00Z
Our room, the largest in the home, how beautiful views of Kaneohe Bay on one side and the mountains to the others. Two beautiful beaches were very close by. The home and pool are well kept.
Sandi
2017-04-05T00:00:00Z
Room Type
Private room
---
Property Type
House
---
Accommodates
2
---
Bedrooms
Kaneohe, HI, United States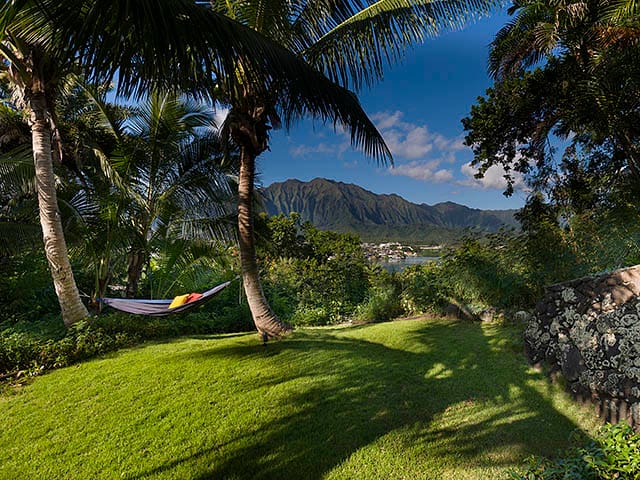 This studio has a separate entrance and garden and sits on a beautiful stream. Close to everything and yet you feel like you are away from it all. Get to the airport in 15 mins, beautiful beaches in 5-8 mins and Honolulu in 20 mins.
Open and airy with lots of natural light, this studio is in a lush garden with a stream on the side. You're minutes from everything but feel like you are miles away from it all. Digital cable, wi-fi and access to laundry. (washer and dryer), we provide beach chairs, snorkel gear, towels and a fully stocked kitchen for cooking. Air conditioning & black out curtains for lazy mornings. Baby gear: high chair, travel crib and toys available on request. We live on the property and are here to help with anything you need. But you have privacy and your own entrance to the studio. We live on a very safe and quiet street. Beautiful mountain and garden views from the studio. Bus stops near by, but we recommend a car so you can really experience all this island has to offer.
We live on a very safe and quiet street. The studio is surrounded by trees, birds and nature. Beautiful mountain and garden views from the studio.
We only had a 3 night stay in Honolulu but we had a fantastic one. I loved this bungalow style accommodation. The place was clean and comfortable. So close to all the amazing sights. So happy to be surrounded by the mountains and beautiful nature. Aubrey was a lovely host. I would defiantly recommend this place. Everything you need is there. Just make sure you have a car.
Leanne
2016-06-28T00:00:00Z
Aubrey and Brady are a really sweet couple. They were always helpful and made our stay amazing. We had all the privacy we wanted, but could ask them for help and advice all the time, since they were just some steps away. The studio is in a quiet neighbourhood, comfy and fully equipped. The location is perfect to discover Oahu with the car, close to Honolulu, Waikiki and many other places worth visiting. Thank you for the nice time, it was a pleasure to meet you.
David
2015-09-27T00:00:00Z
Great place to stay at. It is very well equipped for travelers. Such a wonderful experience. Much appreciated:)
Joyce
2016-02-09T00:00:00Z
It was great! As advertised, which was very good. Clean, private, easy access to everything this end of the island. We went into town (Honolulu and vicinity) each day, came back to Kailua/Kaneohe for dinner and the beaches in the evening. Lee, Brady, and the family were wonderful from the initial booking, to setting us up for arrival, some ideas for dinner in town, and our departure.
Jon
2015-06-25T00:00:00Z
This was an amazing experience, Aubrey and Brady went above and beyond to make us feel welcome and provide great recommendations. Beautiful family we feel fortunate to have met. They have everything we needed for a comfortable stay. You will not be disappointed.
Noelle
2016-12-20T00:00:00Z
Benson and I loved staying here! The studio is very cute with surprisingly a lot of amenities--like insect repellent, and a parking space, etc. It is clear that the Yee's really love their home and take care of it well. We definitely had a lizard or some other like creature hanging out with us in the studio, but we didn't mind much--all a part of the native hawaii experience!
Sarah
2015-04-30T00:00:00Z
Our stay with Brady and Aubrey was absolutely wonderful. They made our first airbnb experience memorable in all the right ways. After driving all around Oahu, I definitely believe that we stayed on the prettiest side of the island surround by lush green trees and mountains everywhere. They gave great recommendations and helped us navigate our short trip wisely.
Madeline
2015-12-22T00:00:00Z
This is a beautiful and clean studio and our hosts were great! It looked just like the pictures. We loved waking up in the morning and listen to the birds as well as being surrounded by nature. We also found the location to be perfect for us, Waimanalo beach, Kailua, the North side and Waikiki beach are all easily accessible and we were able to see and do all.
Vanya
2015-03-10T00:00:00Z
Room Type
Entire home/apt
---
Property Type
House
---
Accommodates
3
---
Bedrooms
Kaneohe, HI, United States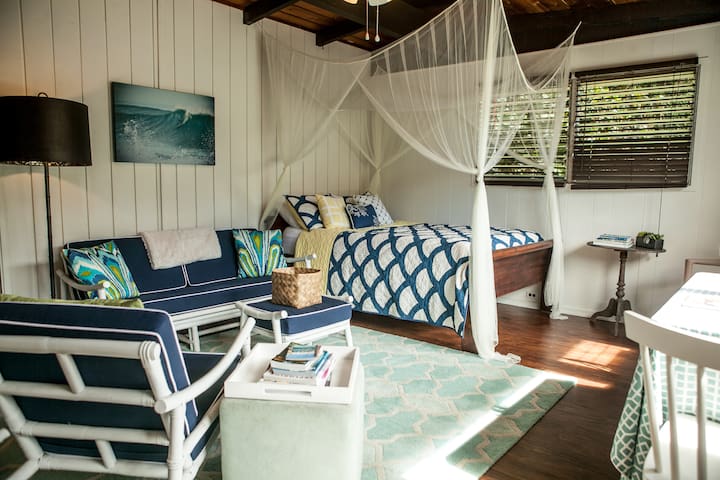 Open, spacious, newly renovated 2nd fl studio in a cedar home. Vaulted ceilings, modern rustic vibe. Good for couples, travelers, adventurers looking for a place away from Honolulu's bustle. You'll like my place because of the location, comfort, convenience- easy access to any part of the island with a car. Kaneʻohe is known for lush, verdant scenery; it is the wetter (and cooler) part of the island. You will find yourself relaxing as you exit the tunnels overlooking the Bay - I do, everyday!
Where you will stay: The studio is newly remodeled (2017) and located on the second floor of a large (7BR/4BA) cedar home built in 2010, on a fenced corner lot. Hopefully it gives you a modern. It sits above the garage on the west end of the house. Brand new appliances, fixtures, and luxury vinyl plank flooring. You have your own entrance by walking up the outdoor stairs; because the studio is on one end of the house, you can be as removed from the rest of the house as you wish. The bathroom has a large walk-in shower, with towels and basic amenities (shampoo, soap) for your use. The kitchen area has a microwave, refrigerator, toaster and hot plate. There is a coffee maker and we supply locally grown coffee for you. There is a 10' long closet with mirrored doors; inside you will find bath and beach towels for your use, hangers, and ample shelf space for your clothes. As it is an open studio space, they are all located in the confines of your room. The bed is a queen sized bed; there is also a love seat for lounging, and a dining table that can also function as a work station. There is a mounted flat screen television with cable channels; a DVD player and a collection of DVDs to watch. Please, do not remove them. Free broadband access wireless internet. I supply you with the code when you arrive. There are beach chairs, mats, a beach umbrella, and small cooler bags to carry food in to the beach with you. Your side of the house has a security alarm system. When you arrive, I will have a 4-digit code for you during your stay and will show you how to use the alarm. This will be needed to disarm and arm the security system. The rest of the house and the property: The house sits on a corner lot, one side a road and the other a cul-de-sac. It is fenced, and bordered by a line of areca palms. There is a pond and waterfall on the property that you are free to enjoy; in the mornings, the sound of the water is quite relaxing with a cup of coffee. The palms help serve as a sound barrier to the street; the street side of the house can get busy during rush hour. It is also a neighborhood where folks walk their dogs; you might hear dogs barking occasionally. My dogs will bark occasionally at passersby as well, though I always try to keep that to a minimum. If you must escape the noise the double-layer insulated windows and 2.5" thick cedar walls of the house can help with that (or, you can relax by the pond where the waterfall drowns those noises out). The other street that borders the house is in a cul-de-sac. This side tends to be much quieter. It is a "functioning house" - while the studio really is pretty much at one end and pretty removed from the rest of the house, during normal hours you still might hear me/us doing household things. Yard work is done twice a month, if you happen to have your stay while they come I will be sure to let you know; they usually come in the early afternoon and are done within an hour. Besides myself, there are 2 roommates and 3 dogs - Theo, Blu, and Maka. They are all rescue pups, medium to large sized, and very sweet. You may hear them from time to time as they play. My dogs do roam the yard during the day so you must be comfortable among dogs; once you are introduced to them they will be your biggest fans. If you are looking for a place other than the tourist-focused spots of Waikiki, or the pace of Honolulu, and want to take advantage of not having to pay resort fees or parking fees, this could be the place for you. If you don't need a constant host, are pretty self-sufficient and content to do your thing, and don't mind the love and affection of dogs, this could be the place for you.
Kaneohe is a quick 20-minute travel from Honolulu, but there is still a lot to see and do. 3 golf courses, hiking trails, zip lining on the North Shore, horseback riding at Kualoa Ranch nearby. And of course, some of the best beaches on the island nearby. Farmers markets are popular with the local community, supermarkets, shopping, dining options nearby. The neighborhood is safe; you can sleep with your windows open. My house is bordered by a street that can get busy during traffic times; the other street is a cul-de-sac. Street parking is free and readily available as well.
Marlene was an incredible host. We always felt welcomed. She went out of her way to ensure we were comfortable. She even provided us with mats, chairs and towels to use at the beach. Our portion of the house was beautiful, well cared for and beyond our expectations. We really felt at home while there. The dogs were friendly and really well behaved. Marlene's roommate offered yoga lessons at the beach, which my friend enjoyed. We really were not expecting to have the place we stayed to leave such a positive and lasting impression. We are very grateful to have had the opportunity to stay and for the experience. We hope to return the next time we are in Hawaii.
jennifer
2017-03-13T00:00:00Z
The host was very friendly, nice and helpful. The place was very new, clean, and had everything that made our stay comfortable. We enjoyed our stay at Marlene's Place. Aloha
Gabrielle
2017-02-24T00:00:00Z
Marlene was such a gracious host! She and her three pups greet you when you arrive. She was so helpful with recommendations and had a depth of knowledge of the area. The living space has everything you need for a relaxing getaway. This was my home away from home. It was really easy to find and away from the all the noise of Honolulu. Easily accessible from the highway and close to grocery stores, restaurants, and the mall. Everything was within about a 5-10 minute drive (including stop lights). The shower is amazing and the bed is so comfortable! There is even a love seat to hang out on and watch tv. The lanai has amazing views of the Ko'olau mountains, which is just breathtaking. I would recommend renting a vehicle while here to make getting around easier. There is plenty of parking in the cul-de-sac on one side of the house and street parking on the other side. She also has a roommate that offers yoga classes, unfortunately, I didn't get a chance to take her up on this. Overall, this was the perfect place for my stay! I would definitely stay again!! Thank you so much Marlene!!
Monika
2017-03-29T00:00:00Z
Awesome host, always friendly and helpful!
Markus
2017-03-01T00:00:00Z
We stayed at Marlene's for a week. Marlene's home has a beautiful view of the mountain side that we could see right from our windows or the patio deck. She has 3 wonderful sweet rescue dogs, that roam her big, well groomed yard. The room feels very secluded from the rest of the house, which is nice for privacy! We loved the decor and style of the room we stayed in. Bed was very comfortable (that's a huge thing for me)! Loved the small couch, got to relax and watch tv on it. (She's got all the channels) she has a large selection of dvds, as well as a nicely set up kitchen, with everything you need to make food. Loved her walk in shower, and everything is new and updated. Marlene was very kind and gave us amazing recommendations near the house to eat and places to go visit and hike! Her roommate Sarah was just as awesome and I highly enjoyed hanging out and meeting her. Love, love, loved Marlene's! I hope to come back to Hawaii soon and stay here again.
Hayley
2017-03-08T00:00:00Z
Serious 5 out of 5 stars. LOCATION: Perfect location to be in and out if that's what you want. Easily Accessible to the highways that bring you in and out of Kaneohe as well as other areas on that side of island. Wanna go in town? H3 is just down the road. Wanna see more of the countryside? The Kahakeli is there as well. You want to just chill?? This is a great place to do so as well. Quiet neighborhood with great neighbors. Central location makes it easy to get to restaurants as well. The Property: legit may be the ONLY cedar house west of the Big Island. The room is exactly as pictured. Bed was big enough for myself and the wife. Clearly just finished renovations and it was done beautifully. LOVED the shower. Sliding doors will get a nice breeze going around. Walk around lanai style balcony that was great to just stand and look from in both the night and day. Host has 3 beautiful dogs (all rescues); don't let their size intimidate. They're super friendly and will always greet you while you walk in and out of the home. Room is located on the top floor of property, but separate enough to allow for maximum privacy. Biggest surprise here was the alarm system. Marlene has an ADT system set up and caters it to you so you never have to worry about your things while you're out and about. The host: LOVED her. Super friendly. Made check in a breeze; met the wife and I outside and was always down for a conversation. One of the more approachable hosts I've ever encountered. Supplied us with beach gear as well as books around the room to look through while just lounging in the room. She was very knowledgeable about the area too so if you're visiting for the first time or the third time, I'm sure she'll have a couple nice gems of information to make your trip unforgettable. All in all, I loved this location, would happily stay again, and would highly recommend this to any and all travelers and locals. The place is a steal for whatever price Marlene sets it to. You will not regret staying here.
Charles
2017-04-04T00:00:00Z
Room Type
Entire home/apt
---
Property Type
Loft
---
Accommodates
2
---
Bedrooms
Kaneohe, HI, United States
Nice clean room, furnished, two twin bed, sitting area with TV and cable, mini fridge, microwave , and access to deep freezer. This home is located very close to Honolulu up in the mountains with a beautiful view. The beach is less than 15 min. , Honolulu 15 min drive . Best hiking
Quiet town centrally located to Honolulu and the most beautiful mountains and beaches on the island
Quiet and safe neighborhood
Ended up booking with Penni at last minute and it turned out great she was very quick to response and made us feel right at room. The room was very clean and comfy loved the views of the mountain range from the backyard and the quiet neighborhood. Great place over all and Penni and her family were very friendly, if you love kids you enjoy their little bundles of joy as the little girls love talking with their guest and their son doesn't go without saying hello as well. Look forward to staying here again soon :)
Lillie
2016-09-11T00:00:00Z
We stayed here for 2 weeks with our 18 month son. It was absolutely great experience for us and kid! Room was full of toys so kid was really happy and busy playing while we were planing our journey round the island. Penni give us all necessary staff for beach including chairs,snorkeling gear, noodles, and boogie board this was very kind from her side. We had a BBQ party on Sunday with all family members everybody had a lot of fun. Also they gave us a lot of useful advises were to go and what to see with was very helpful for us. I would recommend this Location those who want to travel round the island by car and families with kids.
Mykhaylo
2016-10-28T00:00:00Z
Loved staying here, it was clean and peaceful. Penni and her family were awesome and very accommodating. We will definitely be staying again.
Elizabeth
2016-08-31T00:00:00Z
Room was spacious and the bathroom looked newly renovated. The new bed was very comfy! I didn't need to use the AC (fan was adequate) but it was available. Great location, very close to the picturesque mountains! A short 12 min drive to some of the USA's best rates beaches, Kailua Bay / Lanikai. Not as much traffic over here, so it was easy to drive all over the island like Ko Olina, North shore etc. Minutes to the local shops where there's all your fast food favourites: McDonald's, Burger King, KFC, Denny's Subway etc. Great hosts! Cute family. Noise from kids being kids was minimal.
Nishan
2016-12-03T00:00:00Z
Penni and her entire family were wonderful and friendly. They gave us great recommendations on beaches and restaurants to visit. Our home was conveniently located and only a 20 min drive to downtown Waikiki. The room itself was spacious and we were even allowed to use their snorkeling gear and other swim toys. Would definitely recommend as a place to stay.
Connie
2016-10-16T00:00:00Z
The room was airy and pleasant; the listing was accurate; and the hosts were accessible, friendly, and offered us rides to nearby places. We enjoyed walking to the nearby botanical gardens, which were very interesting.
Anna
2016-09-13T00:00:00Z
The host canceled this reservation 54 days before arrival. This is an automated posting.
Eunice
2016-11-03T00:00:00Z
We had the best time at Penni's and Josh they were the best host we could have ask for ... we felt right at home. they were very helpfull with directions and suggested lots of hikes near by. we will definitely be staying here when we return to Oahu.
Mari
2016-09-08T00:00:00Z
Room Type
Private room
---
Property Type
House
---
Accommodates
2
---
Bedrooms
Kaneohe, HI, United States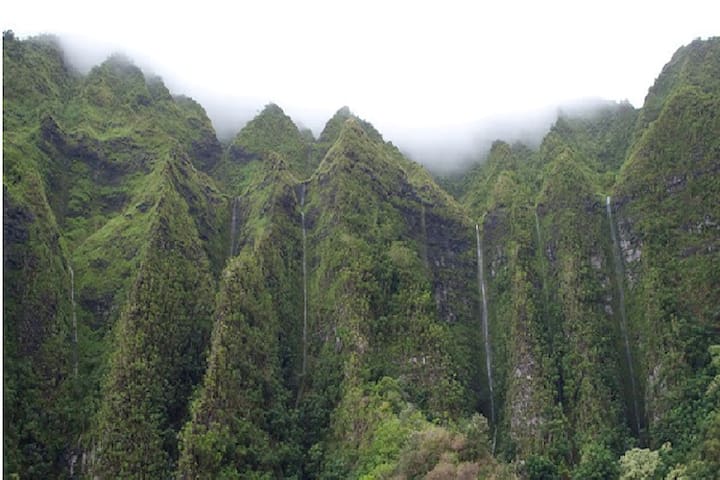 *All drive times based on no traffic* Our place is the perfect base to explore the island - perfect location to do day trips anywhere on Oahu. We are close to the beach (20 minute drive), family-friendly activities, & the airport. You'll love our place because of the views and the location. We are a married couple who love Hawaii and adore Kaneohe. A quick 25 minute drive from Honolulu (35 from Waikiki) - rest in a beautiful home away from the traffic of Honolulu but close enough to pop in!
Peace and quiet in a beautiful setting, yet only minutes away from the hustle and bustle of it all! We live in a quiet neighborhood in Kaneohe with beautiful views from the rooms and lanai of the Ko'olau mountain range (Stairway to Heaven trail). Times Supermarket few blocks away, other major supermarkets a quick 5 minute drive. Tons of mom and pop restaurants within a few miles of our home. On Wednesdays and Sundays Windward Mall has a large farmer's market - which is only a 5 minute drive away. There is plenty of street parking - we highly recommend you rent a car to explore the island with. There are plenty of bus stops within walking distance ((SENSITIVE CONTENTS HIDDEN) bus routes). Plenty of closet space, a queen bed, tv and dvd player in the room with tons of dvds to choose from, with access to washer and dryer, shared kitchen, and shared bathroom. We provide beach chairs, snorkel masks, beach umbrellas, beach towels, bath towels, shampoo/conditioner, and ice chests. Enjoy the trade wind breezes and ceiling fans. Lounge on the large lanai or enjoy your morning coffee overlooking the beautiful Hawaiian mountains with a glimpse of Kaneohe Bay. Plenty of street parking. It is a 3 bedroom house - we with our Boston Terrier reside in the house you will be guesting at. **We have two spare rooms in our home. We rent both out or you can rent one or the other depending on availability. Please check out the other listings to see if they better meet your needs - click the link below. Mahalo! https://www.airbnb.com/wishlists/203652201
We live in a quiet, friendly neighborhood near the heart of Kaneohe and next to all the major freeways on this side of the island. We are a quick drive from Kailua, hikes, beaches, the bay, Honolulu, the airport, etc. Its about a 50 minute drive to the North Shore and its not only stunning but a great drive to stop at all the yummy food trucks along the way.
Great place, the view is the best part of it all. Safe place, easy access to get anywhere on the island, and your hosts are easy to get along with! I always appreciate a balance of conversation, suggestions, and allowing the guests privacy - perfect. They are so adaptable for all guests! Thanks John and Sarah! See you next time! :) PS... their dog is super fun to play with!
Chase
2017-03-10T00:00:00Z
I absolutely loved this place! I was already very familiar with the area since I have relatives who used to live in the immediate neighborhood, but it really was easy to get to KAM Highway, and there were plenty of shops and restaurants within a short driving distance. The views from the lanai were spectacular, and I loved falling asleep to the sound and feel of the tradewinds coming through the bedroom window. I was able to cook meals in the spacious kitchen, and though there was a shared bathroom, I never had an issue with access. The cherry on the top was the little Boston terrier, McKay, who was my constant companion while I was at the property. McKay has such a delightful personality and brought me immense joy while I was there. Parking is easy and I never had an issue with getting a spot in the driveway. Honestly, I can't say enough good things about this place and about the hosts who were so kind and friendly. I would absolutely stay here again.
Stacey
2017-01-22T00:00:00Z
My friend and I visited the Hawaiian islands for first time and we were lucky to book our stay with Sarah and John. They answered our pre booking questions instantaneously! John was our pleasant and resourceful host for the duration of 6 wonderful days in Oahu. The view from the lanai is breathtaking, nice room, clean bathroom and full kitchen. Their dog McKay is lovely and playful companion. John provided air mattress promptly. The location is in the heart of Kaneohe close to all major roads, city and beaches. Will book with them again! Thanks guys :) With gratitude, Daniel and Alex
Dan
2017-02-24T00:00:00Z
We had a great stay at Sarah's place. The location is great with easy access to all parts of Oahu. Shopping and restaurants are close by. The place itself is very clean and well maintained. And the hosts are very welcoming and make sure that the stay is great. We would come back in a heartbeat!
Claus
2017-03-30T00:00:00Z
Room Type
Private room
---
Property Type
House
---
Accommodates
2
---
Bedrooms
Kaneohe, HI, United States
Enjoy the fresh breeze of your private access to the entire second story ocean front home with panoramic views of Kaneohe Bay and the Koolau mountains. Relax on your private large outdoor lanai facing the ocean. Words or pictures cannot describe the the views of this home.
You will have your own private access to the entire second story with panoramic lanai facing the beautiful Kaneohe Bay and views of the majestic Koolau mountains with outdoor teak table and chairs . Sun tan on the reclining chairs with canopy. This is a one bedroom with a king size bed with AC and tv, one bathroom with shower, and kitchenette with small dining area, smart tv and ceiling fan. Provided in the kitchenette is: cook top/pots and pan, plates/bowls/utensils, microwave, toaster oven, rice pot, 4 cup coffee maker, mini refrigerator/freezer. An ironing board/iron and hair dryer also provided. Located across the bay is the Kaneohe Marine Base - military planes often fly by this property-noise from the planes may be an issue for some people This space is located on the second story -below is a three bedroom, one bathroom which is available as a separate rental or can be rented as an entire house if available. Lower level Airbnb rental does have access to the ocean because pier is adjacent to their lanai. Please note: If lower level is rented-noise may be heard from below. We kindly as all Airbnb customers to keep the noise to a respectable level. Pier below is visible from your lanai.
This is an older neighborhood with neighbors who have resided there for many years. This neighborhood is located near to grocery stores, Windward mall with lots of shopping and eateries. The police department, fire department and Windward Urgent Care-open 7 days a week, is located within 2 miles of this property. Military jets may fly by during the day ( Kaneohe Marine Base is located just across the Bay)
The place was perfect for our four night stay in Oahu. The deck was a wonderful place for morning coffee (watching the sunrise), mid-afternoon lunch or evening cocktails. Quiet with beautiful views. Inside was as described -- we really used it just for sleeping. Great place to spend a couple of days in Oahu!
Amy
2017-03-05T00:00:00Z
We stayed on the 2nd floor of Lenny & Therese's rental in Kaneohe. The photo of the bay from the lanai was exactly as pictured and more. It was great to see the sunrise every morning and sunsets at night. The lanai is also a great place to just lounge and catch some rays during the day. Inside was clean and well equipped with all of the amenities. They even had some Hawaiian treats for us to nibble on. Very nice touch. Lenny and Therese were also very quick to reply to any inquiries via text. They were exceptional hosts. Had an excellent experience for our first Airbnb experience. Would love to stay at their place again when back in Oahu. Highly recommended!
Lori
2017-02-15T00:00:00Z
We had a wonderful time staying in the top floor, the view was wonderful and peaceful from the bedroom, kitchen and the wrap around deck. Yes there were military aircraft that could be heard and seen (which we enjoyed), the loudest was mid morning and late afternoon when fighter jets were around but it was over in a few minutes. Therese was very helpful and provided a pack n play for our baby daughter, a nice selection of welcome items, comfy bed, lounge chairs with sun shades and a table with chairs made being outside relaxing. It has that beach house feel in a real Oahu neighborhood, the people we meet were very nice and helpful with local ideas. The mall which is close by had all the basics, there are some great restaurants nearby too, like fresh catch, haliewa Joe's and many more easy to find on Yelp. We would recommend this place to our friends and use it again when we come back to Oahu
matthew
2017-01-26T00:00:00Z
Loved it!! We would definitely consider staying again, even suggesting friends join us and rent both upstairs and downstairs. It is peaceful and quiet, the view is stunning. Lenny and Therese were exceptional and thoughtful hosts.
Vicki
2017-01-09T00:00:00Z
Great, peaceful and unreal views. Therese and Lenny are amazing and are very responsive. Would definitely stay again!
Akane
2017-04-10T00:00:00Z
Place was awesome. Hands down worth the price and the hosts were very accommodating and friendly. Would recommend this place to any and everyone
Dayne
2017-03-09T00:00:00Z
We had a great time staying at Lenny and Therese's place! It was incredibly beautiful and very calming/relaxing to look out at the water throughout the day. The unit was super well equipped with great snacks and drinks and they really thought of everything. I communicated with Therese quite a bit and she was very responsive, friendly and polite. We really had a great stay and hope to go back sometime.
Adam
2017-01-14T00:00:00Z
Room Type
Entire home/apt
---
Property Type
House
---
Accommodates
2
---
Bedrooms
Kaneohe, HI, United States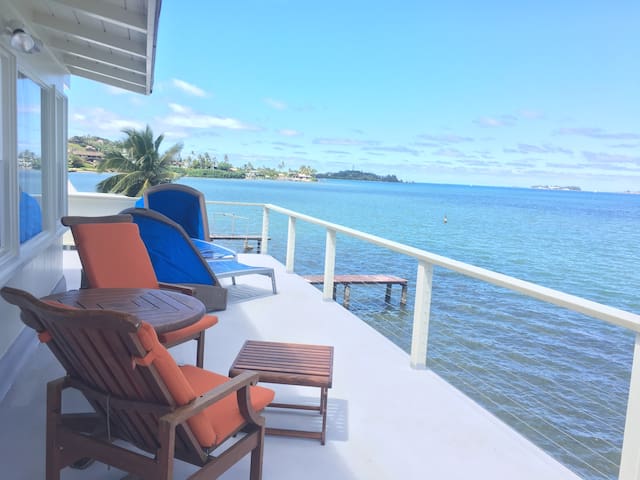 My place is close to great views and restaurants and dining. You'll love my place because of the outdoors space, the comfy bed, and the light. My place is good for couples, solo adventurers, and business travelers.
Private Apartment, Close to 3 major highways (Pali, Like Like, H3). 20 minute drive to Kailua Beach, Honolulu, and Pearl Harbor. 5 Minute drive to Haleiwa Joes/Haiku Gardens. Close to waterfalls, and hiking trails. Peaceful, lush and green.
Down to earth Windward neighborhood, nestled up against the Ko'olau mountains
Alex's place is fantastic. Very clean, lots of privacy and plenty of space. Alex was extremely friendly and helpful, going out of his way to help us at very short notice. Would definitely recommend and will stay there again next time we're in town.
Patrick
2017-02-08T00:00:00Z
Great place!
Miranda
2017-03-19T00:00:00Z
Excellent, private unit for one or two guests: very comfortable king-sized bed in a small bedroom, large bathroom, nice living room with couch, TV, and small dining table, and a well-equipped kitchen on an enclosed porch. We especially appreciate the wine and snacks Alexander provided when we arrived. The unit overlooks open-space, and you can hike into a cool, nearby bamboo forest. Alexander was a great host, readily available, and very attentive to our needs.
John
2017-01-18T00:00:00Z
What a wonderful place to stay. We only had 2 nights, but, would love to come back when we have more time.
David
2017-03-31T00:00:00Z
Alexander was a wonderful host. We were greeted with leis. The apartment was immaculate. There was wine and fresh fruit stocked. There are nice views of the surrounding mountains and you can catch the glow of sunrise each morning from the many windows. Of the airbnbs we've stayed in so far this was our favorite.
Dan
2017-03-05T00:00:00Z
Alexander (and his space) were simply the best! We were greeted in the warmest way at the house, making sure we were fully comfortable before parting ways. The space looked fantastic in pictures, but believe me when I say it was even better in person. Alexander went above expectations to make sure we had what we needed to enjoy every aspect of our stay on the Eastern side of Oahu.... and was full of suggestions for food and hiking locations (the two top priorities for our trip!). We wish we would have booked multiple nights in the space instead of just one, as we found ourselves actually wanted to hang out in the space! We will definitely look to be back and/or will be recommending it as a spot to land for everyone else. Thanks Alexander!!!!
Alyssa
2017-03-09T00:00:00Z
Great clean place, with plenty of amenities!
Tyler
2017-01-27T00:00:00Z
Alexander's is a five star in our book! Truly lovely! What they call five star hotels is a joke, take it from us but Alexander's is a dream! It's an oasis in a hussle and bustle world. With a deep soakings jet tub in a beautifully tiled bathroom (separate shower,) to a one of a kind kitchen with all the amenities, you can't go wrong! We will be back!
Randy
2017-02-27T00:00:00Z
Room Type
Entire home/apt
---
Property Type
Loft
---
Accommodates
3
---
Bedrooms
Kaneohe, HI, United States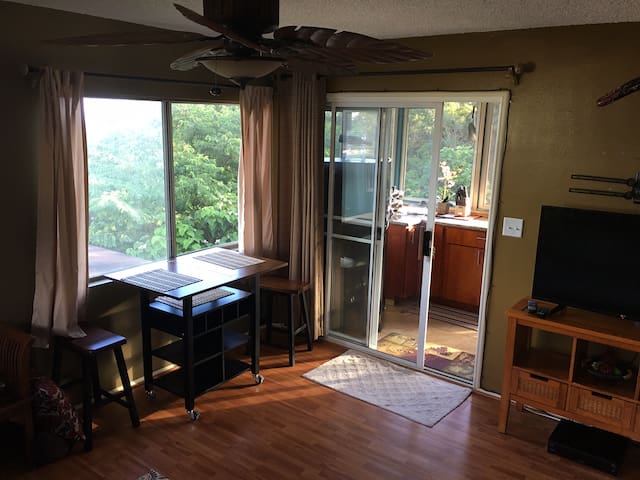 The loft at Aumoku Hale (pronounced OW-MO-KOO HA-LAY) is on the Windward side of the Island & close to public transport & Windward Mall & across from 24 Hour Fitness & Windward City Shopping Center. Just only 10 min away is the popular Kailua Beach area and 30 minutes away from Waikiki and 60 minutes from the North Shore. Aumoku Hale is located on the 2nd floor of a single family home with its own private entrance and good for couples, solo adventurers, business travelers, and small families.
Welcome to Aumoku Hale! We hope you enjoy your vacation. It rains often on the windward side of Oahu keeping everything lush and green. The space is a great getaway when exploring the island. You have a private access up to the loft. The home includes a full kitchen including stove, refrigerator and microwave as well as kitchen supplies for your cooking needs. There are 2 bedrooms/2 bathrooms with a very open floor plan. A walk-in closest to tuck away all your luggage and space to unpack your clothing. We provide all linens, including beach towels and have a hairdryer and iron/ironing board for your convenience. There is also a large balcony right outside the living room. Although we do not have a TV we do have WIFI and an office area. The home is for 3 people, $25 additional per night for 3rd guest.
Aumoku Hale is located on the Windward side of Oahu in Kaneohe, Hawaii. Located on a main street in Kaneohe at the edge of a cluster of residential homes and across the street from Windward City Shopping Center. You will often hear noise from the parking lot across the street from the shopping center. Walking distance to 24 hour Fitness, major grocery story and public transportation.
Stayed first week of february. Cherie's place looks exactly like the photos. New and clean. Received easy directions to her place 48hrs prior to arrival. Easy to find. Kitchen is well stocked with pots/pans/plates/tubberware, even had a lovely welcome basket with snacks, coffee and tea. Still need to get your basic cooking supplies (oils, salt, pepper..), but grocery store walking distance across the street. Personally think you need a car to stay at this place as no beaches within walking distance, Kailua beach only 10 mins drive away with lots of parking (even on the weekend). All the rooms have ceiling fans and individual air conditioning units, there was a nice breeze with the windows open however is on a busy street so did get noisy for sleeping. Overall wonderful stay! Definitely recommend :)
Jose
2017-02-06T00:00:00Z
Cherie's house is very clean,view,very quiet and Windward City Satellite City Hall in front, it is convenient! I definitely want to see you next. Cherie Mahalo nui loa
Tomoko
2017-02-25T00:00:00Z
Nice and clean place in the middle of Kaneohe. This is the perfect base if you are out and about exploring the island a lot. However if you are looking for a calm place to relax in and enjoy Hawaii then this might not be my first choice. It is located across the street from a busy mall. For our exploring purposes it was great and I would certainly recommend it for that.
Matthias
2017-02-19T00:00:00Z
This place feels just like home! You've got everything readily available to you that you'd have at home. Cherie was a great host and even though I was there for work, it still felt like a relaxing Hawaiian getaway!
Lyndsay
2017-03-30T00:00:00Z
The place is beautiful! It is very clean and the lighting that comes in from the outside is great too. I would highly recommend this place.
Marii
2017-03-23T00:00:00Z
Thank you so much for the wonderful stay! I really enjoyed Windward Loft! The loft was very spacious for me since I was traveling solo and could accommodate 2 - 4 people easily. The bedroom was really large, so it was great that I could put my luggage down and I still had lots of space to move around. I love that you have provided everything in the loft to make it feel like a home away from home. Also really great walking access to shops (just across the road!) and a short drive to the beach.
Julia
2017-02-22T00:00:00Z
Cherie is a great host. She was very accomodating and understanding with our flight schedule. The loft is beautiful, in a very convenient and desirable location. Loft was in great/newer condition fully stocked with home/bath/kitchen essentials. About 30mins drive to Waikiki and about 35mins drive to North Shore. Longs Drugs is located across the street. The onsite manager was also very friendly and informative upon arrival!
William
2017-03-10T00:00:00Z
Spacieux, propre et TRÈS confirtable! À recommander! :)
Alexandra
2017-02-11T00:00:00Z
Room Type
Entire home/apt
---
Property Type
House
---
Accommodates
3
---
Bedrooms
Kaneohe, HI, United States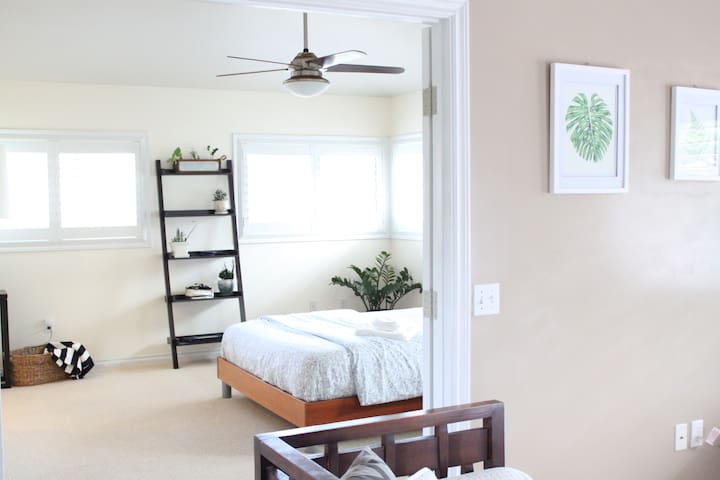 Studio apartment in beautiful Kaneohe. Borrow a kayak and paddle out to the sandbar, or enjoy the sunrise while sipping your coffee on the lanai and taking in gorgeous bay and mountain views. Just 4 minutes from Kaneohe town, 10 minutes to Kualoa Ranch, 40 minutes to the North Shore and 25 minutes to Kailua Beach, you'll be perfectly situated to explore all that windward Oahu has to offer, away from the crowds of Waikiki.
Spacious, tastefully decorated studio with seating area, air conditioning, updated bathroom and small kitchenette. Relax on the covered lanai, or kick back and enjoy cable TV or streaming shows on the Roku. Ceiling fan and dedicated A/C unit will make sure you stay cool year-round.
Cute community of homes clustered on a hillside overlooking Kaneohe Bay and Kualoa ridge. Great launch point for exploring Kaneohe Bay.
Brett and Kimberley are very pleasant and we felt welcome! Be aware that the driveway is steep and easy to miss.
Stephanie
2017-04-05T00:00:00Z
Thank you for some beautiful days. We had a great time and got some good advices to explore the island. Hope we gonna come back :))
Patricia
2017-02-23T00:00:00Z
Very lovely place and awesome hosts! They gave us many advices on what to do and where to go. I strongly recommend them!
Julien
2017-04-09T00:00:00Z
Excellent location - do yourself a favour and check out chainman's hat
Rhys
2017-03-07T00:00:00Z
Brett & Kimberley are extremely friendly and accomodating. They are kind enough to share their kayaks and other beach items, and Brett even helped us tie it onto the car. We were able to use their laundry room, and hang a line outside for our wet items. They were also very responsive whenever we had a question about anything. The studio is clean and cozy, and has everything you need for two people. We found the location to be ideal as well, as they are located right on Kaneohe Bay, and only 20 mins from Kailua. We had an amazing time and will definitely be back!
Annemarie
2017-03-26T00:00:00Z
The studio was very clean, toiletries provided, snacks, large fridge. We didn't have to use the AC much as there was a cool breeze throughout the night. Brett & Kim were both very nice and helpful. Great communication and very polite. As for location, the beach is a short walk away and you can kayak to the sandbar (which we didn't have time to do). Thank you both for everything!
Vanessa
2017-03-22T00:00:00Z
I am really glad I found this airbnb! My boyfriend and I had an unforgettable trip in Oahu and partly due to convenience and kindness from Brett and Kimberley. The room was a perfect size from us; well decorated and comfortable. I love that it was equipped with everything we needed, from coffee to beach towels. A huge reason why I chose my stay was because Brett and Kimberley allowed us to borrow their kayak (they also had snorkel gear and body boards). My favorite part of the trip was kayaking to the Mokulua Islands. I definitely recommend staying with Brett and Kimberley, especially if you want to stay away from the touristy area and want to explore on your own. I hope to come back soon!
Goldie
2017-02-18T00:00:00Z
The room was clean and stocked with conveniences. The hosts were easy to communicate with. The location was close to everything and very reasonably priced. No wonder the space is always booked. Thanks Brett & Kimberly.
Michael
2017-02-20T00:00:00Z
Room Type
Entire home/apt
---
Property Type
Apartment
---
Accommodates
2
---
Bedrooms
Kaneohe, HI, United States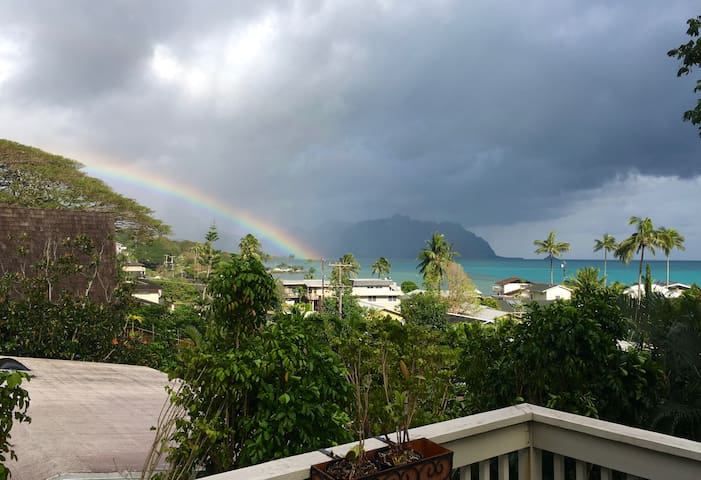 Beautiful family home with a tropical waterfall swimming pool. Lovely garden with sitting area and umbrellas and hammocks. Quiet location . #56 Bus stop at bottom of street. Spacious private guest suite with queen bed . Cosy internal sitting area with coffee table, mini fridge, coffeemaker , toaster provided for your convenience also a separate private bathroom. Amazing views of beautiful Kaneohe Bay from your windows. Lots of Room to park car .(highly recommended) Shops 5 min drive .
Lovely Guest bedroom with comfortable queen bed. It has a Private entrance to your bedroom/bathroom/living area. (More like a small cosy guest apartment ) Quiet location. (Additional single mattress with bedding may be added to your room on request at $10 per day to cover extra preparation and laundry.) Ample space to hang clothes and put into drawers. Video/DVD player in room with lots of DVD's to choose from. Bathroom is just outside the bedroom. Couch, coffee table and sitting chair also provided. Amazing views from windows of beautiful Kaneohe Bay. Nearby Bus stop handy to lovely close Kailua, Kaneohe or Honolulu, but plenty of car parking space available for rental car (recommended). 5 minute drive to Safeway and shops. Lots of guide books and leisure books also available to read .Small fridge, Keureg coffee maker , kettle and toaster available for your use. All windows and doors screened. 2 hammocks in lovely garden for you to relax in after a day of exploring our lovely island. Private table with shade umbrella in garden to enjoy a drink or use the battery lantern and enjoy the warm night air ! There is an air con unit in your room however all the windows open to lovely breezes and there are electric fans in your rooms so unless you are REALLY uncomfortable try to limit its use to assist with electricity cost. Pool is available for use, just please let us know first. Thank you! We look forward to sharing our lovely place with you.
Lovely Kailua Town is 15 mins drive away and has lots of great shops, restaurants, bars and the most amazing beach! Really! Kaneohe, also 15 mins away, has lots of shops, restaurants, and the windward shopping centre ( Ross, supermarket , genki sushi and Payless shoes to name a few) and the windward mall which has many retail stores . Aikahi shopping centre ( 5 mins away )has Safeway, Burger King, gourmet food and wine store, muddy waters coffee shop and many more eating options. This is a great area to stay in ! Waikiki only a 20 min gorgeous drive away also. North shore is 50 mins of beautiful shoreline drive away. The bus is unreliable , time consuming and frustrating so we highly recommend renting a car . Will make your visit so much fun. You do not want to waste time waiting for "da bus" but if you do it's easy to use, just slow!
Lesley thought of anything we could possibly need during our stay! You'll find any kind of info about oahu, hawaii and local stores in her handwritten infos. We had a great time at her place! The only possible downside, that might bother some: the military airport is down by the sea, starting jets can be heard. However, they didn't start by night or in early mornings.
Korinna
2017-02-01T00:00:00Z
Fantastic. Lesley has everything you need and then some. She was always helpful when we had questions on things to do. The view of the bay from the room is spectacular. Location could not better, central to heading all directions and easy access.
Scott
2017-02-19T00:00:00Z
Lesley's place is exactly as described and pictured. Beautiful views, friendly hosts, comfortable accommodations, and so many helpful tips and bonuses! There are tons of books and guides, they provide beach towels, snorkeling gear, and other beach gear, and the family was so welcoming and helpful. The cats are super friendly as well. My favorite part: laying in one of the hammocks at night looking at a full moon. In shorts and a t-shirt, of course. My other favorite part: morning coffee (provided thanks to the Keurig machine) while taking in the incredible views.
Joseph
2017-01-14T00:00:00Z
This was a most wonderful, relaxing and pleasant retreat for my granddaughter and myself. Informative binders and post-its helped to make the stay welcoming and worth while. We enjoyed the dip in the beautiful, serene pool and loved the gorgeous view of Kaneohe Bay. The unit is clean, bright and airy. Will definitely visit again.
Cheryl
2016-10-15T00:00:00Z
This is a homey, clean place with a very nice view. Lesley was very accommodating and helpful. She has a great book assembled into categories to tell you whatever you want to know about the area.
Ray
2017-02-09T00:00:00Z
Fantastic place to stay in Oahu! Lesley is an amazing host, her place was adorably furnished, had a fantastic breakfast nook, all the essentials you need and she even bought out the Vegemite!! Would highly recommend her place to stay! 20 mins from airport and 10 mins to restaurants and shops. Thank you for a wonderful stay!
Christie
2017-03-24T00:00:00Z
Agree with all the previous reviews ... excellent stay with a very caring and welcoming host .... note the check out time, 4 pm ... that gives you a good indication how Lesley puts your interests and needs before her own! Highly recommend
Bill
2017-03-03T00:00:00Z
Oh what a treat it was staying at Lesley's place - a combination of an amazingly beautiful house AND a great host. Lesley thought of every little detail - there were notes placed describing what to do and how to get stuff working, wide assortment of teas ,coffees and even local honey and Jam, huge library that kept me up reading late into night and even the snorkeling gear, beach bags and towels. Absolutely everything I could ever need for my stay was there. The house is a very tranquil, beautifully and tastefully designed with a million dollar view. What a find for a such reasonable price! P.S. the 2 cats that live there are just so adorable and love to purr and get petted
Oksana
2017-02-04T00:00:00Z
Room Type
Private room
---
Property Type
Guest suite
---
Accommodates
2
---
Bedrooms
Kaneohe, HI, United States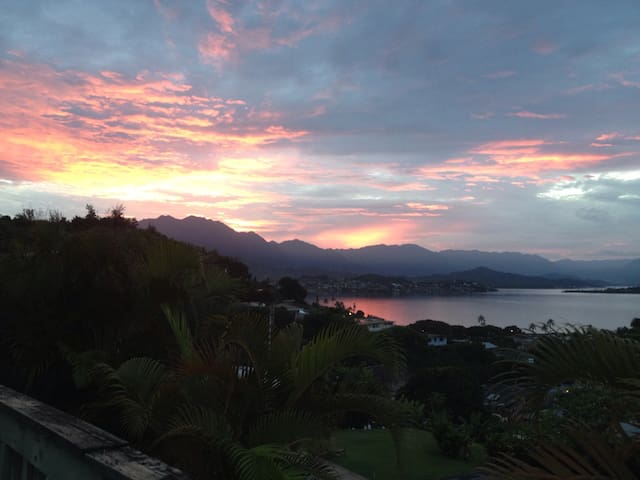 Master bedroom in a shared home. Comfortable queen size bed, extra space for an air mattress. Tv, mini fridge, two large closets. Small private bathroom with shower. Our home is PERFECT for those looking to explore and hike!
The master bedroom is great for anyone who wants just a little more privacy as it offers a private bathroom, mini fridge, and tv. Plenty of closet space and even more than enough room for a blow up mattress and extra guests!
One of my favorite things about living on the East Side are all of the easily accessible hikes and beautiful beaches and of course dont forget the killer views! Or take a short 2 minute walk to the dock that over looks Kaneohe bay, it's a great spot to bring a book or do some acro yoga. Our neighborhood is clean, quiet, and safe! Tucked away from the noisy highways and close to the ocean we are central to Waikiki and North shore. We've got the best of all sides!
Room Type
Private room
---
Property Type
House
---
Accommodates
4
---
Bedrooms
Kaneohe, HI, United States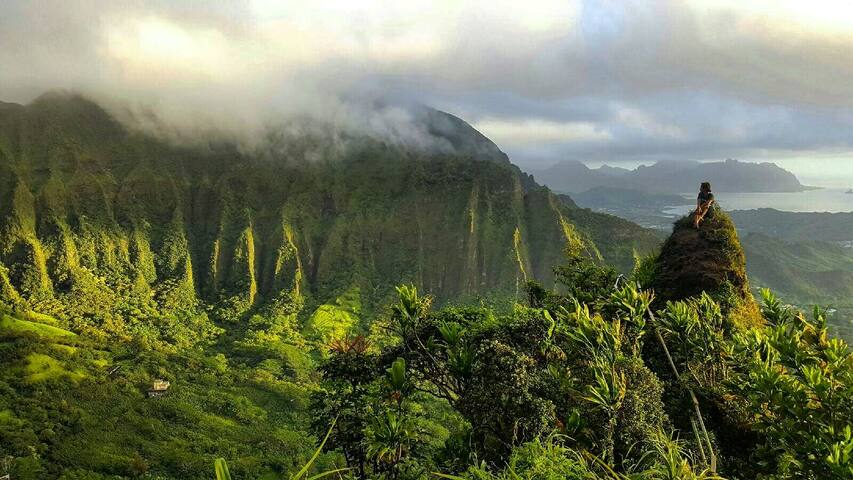 1 bedroom/1 bathroom apartment. This vintage charmer is conveniently located to Kailua/H-3/Kamehameha Hwy. Apartment is attached to main house with separate private entrance. The property is in a peaceful residential neighborhood near Kaneohe Bay with ample parking.
Our apartment is tastefully decorated with authentic vintage family heirlooms. For anyone that truly wants to explore the island of Oahu- North Shore, Kailua and Lanikai beaches, our sweet apartment is ideally situated. It is a short drive to Kailua/Lanikai beaches and shopping. Nested amongst fruit trees our peaceful and private residential location will embrace you with the spirit of true aloha. Large comfortable bedroom features queen sized bed and full sized futon/couch. We also have the following amenities in the bedroom: Air conditioning 40" Flat screen smart tv with (Netflix)cable and DVD Player Remote controlled ceiling fan Iron & ironing board Large closet with plenty of hanging/storage space. Separate living room area/seating area and kitchenette are supplied with: Full sized Stainless Steel refrigerator Microwave Hot plate Coffee maker (with Kona coffee) French Press Hot water pot Toaster Blender Crock pot - all NEW appliances. Bathroom has plenty of fresh clean towels, shampoo, conditioner, hair dryer and first aid kit. *** We continue to make upgrades that may not be reflected in the photographs. You will be pleasantly surprised when you arrive.
Peaceful and quiet, our residential neighborhood is located near Kaneohe Bay. We love our easy and quick access to H-3, Kailua, Kaneohe and Kamehameha Highway.
Our stay with Katrina was absolutely amazing. She is one of if not thee most gracious host I've ever met. The advice and local tips were amazing and the apartment was fantastic. 10 out of 10, would stay there again in a heartbeat.
Luke
2016-08-11T00:00:00Z
So first of all my sister and I would be gone all day and come back between 10pm and once 2am so it was definitely heaven at the end of the day. The space was more than enough for both of us. The coffee was the best I've had for a long time! Nice quiet neighborhood. We used the snorkeling gear which was way fun! Shower is really nice. The appliances look new and work great. If you want to stay in Kaneohe this is such a great place! Especially when you want to get away from Waikiki and the busy areas. Don't forget to ask Katrina where to go for breakfast!
angelica
2017-03-12T00:00:00Z
Mermaid's Secret Haven is a great value. The unit was extremely clean and well stocked with everything that we needed. Katrina is a gracious host.
Linda
2017-02-15T00:00:00Z
Staying here was such an amazing experience. The location is perfect for anyone that is looking to take advantage of the beaches, hiking, and water sports on east Oahu and the north shore. The towns of Kailua and Kane'ohe are so close and offer a variety of shops and restaurants. The place is conveniently located and a quick drive into Honolulu. Katrina is unbelievable sweet and considerate, checking in on me, offering suggestions for restaurants and activities, and making sure I was comfortable. There is plenty of space in the unit with a futon area and living room space to relax and enjoy a good book. The unit gets a great breeze throughout the day and is peaceful at night. Overall, I would highly recommend.
Rachel
2016-01-17T00:00:00Z
Thanks a lot, Katrina for your exceptional hospitability! The Appartement looks as inviting as the photos show, and I was stunned and delighted especially by the full fruit basket which carried a pineapple, papayas, little chocolates and a full bag of Hawaiian coffee. (Never experienced that before in other places) Entering each room had a new surprise with unexpected goodies - like, in the bathroom you find everything for personal care in case you had forgotten something, like toothbrush, nailpolish remover, little deodorant etc. etc. Katrina took time for little chats when we left or came back to the appartement and met in front of the house. We really enjoyed our stay and would come right back to this place when we needed to breathe the air again of the neighboring Island of Oahu, leaving our home on Kauai for a while.
Susanne
2016-06-11T00:00:00Z
Thank you Katrina for a lovely experience. The accommodation was great and just as the pictured depicted. Updated kitchen and bathroom were excellent, with only a short wait for the lovely hot water to come through. Plenty of extras included which made life very easy. We got there by public bus, and found the directions easy to follow and only a short walk from the bus stop. The bed was very comfy, as were the couches. Katrina was very easy to contact via Airbnb, and helped with local shopping, eating info etc. She even gave us an umbrella to keep us dry as we left to catch the bus. Thanks again.
Nick
2016-04-17T00:00:00Z
Great place in Kanohe, Katrina met us when we checked in and gave us some advice on the area. We stayed here while exploring the south and west shore of Oahu, and it was an easy drive into Waikiki, down to Diamond Head, or any of the other attractions on that side of the Island. The apartment was fresh, clean, and very well put together and provided an excellent alternative to the more expensive hotels in Oahu. I would definitely stay here again.
Trevor
2016-05-14T00:00:00Z
Our experience at the Mermaid's Secret Haven was truly amazing. This adorable apartment was just as it was described and pictured. It was exactly the kind of space my husband and I were seeking. The Haven is great, but what really made our stay here memorable was our host. Katrina is exceptionally kind and hospitable, offering us everything from fresh, organic fruit grown on the property to snorkel gear. She even took time out of her day to meet with us and drop off a shirt I had left behind even after we had checked out. Though my husband and I were more than happy to go back and pick it up ourselves, Katrina insisted on meeting us near where we were. We most definitely would love to come back to the Mermaid's Secret Haven the next time we are in Oahu and recommend it to anyone looking for a charming and welcoming stay.
Hannah
2016-05-24T00:00:00Z
Room Type
Entire home/apt
---
Property Type
Apartment
---
Accommodates
3
---
Bedrooms
Kaneohe, HI, United States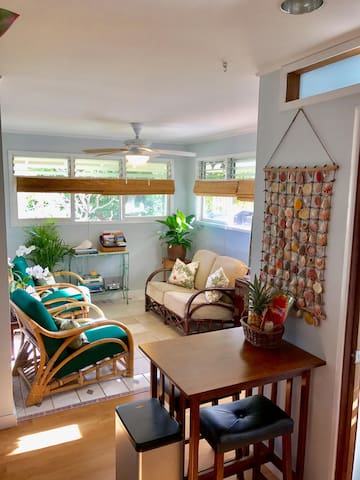 Newly listed Kaneohe Sandbar Studio. April/May discounted rate as we wait for new furniture delivery from the mainland. Updated detached studio on a quiet street in Kaneohe with community water access. Enjoy watching the sunrise drinking your coffee on the lanai.
True Hawaii living. Studio in a quaint community on the water. New queen memory foam bed, sitting area, TV, full bathroom, and wet bar (fridge, hot plate, coffee maker, sink) Country, but close to everything. Windward Mall with restaurants, grocery and shopping two miles away. Close to He'eia Boat Harbor with restaurant featured on Diners, Drive-ins, and Dive and boat tours and rentals available from pier. Kualoa Ranch, a 4000 acre ranch where numerous movies were filmed,with horseback riding, ATV, and tours up the road. Just north of there is the Polynesian Cultural Center, a must see! Learn all about the island and attend one of the most authentic luaus. Easy access over the mountains to Pearl Harbor and Waikiki. World famous Kailua beach is right down the road. Easy entry/exit off the lanai. Off street parking available (unusual in Hawaii) in driveway. HIGHLY RECOMMEND RENTING A CAR. We are in a remote area and the cost for a taxi to and from the house is about that same as a rental car for the stay. Unit equipped with: New queen memory foam bed Ceiling fan (AC not common, we take advantage of and enjoy the trade winds) Pedestal fan TV with cable Full Size Fridge Coffee maker Hot plate
Kāneʻohe is a census-designated place (CDP) included in the City and County of Honolulu and located in Hawaiʻi state District of Koʻolaupoko on the island of Oʻahu. In the Hawaiian language, kāne ʻohe means "bamboo man". According to an ancient Hawaiian story a local woman compared her husband's cruelty to the sharp edge of cutting bamboo; thus the place was named Kāneʻohe or "Bamboo man". The population was 34,597 at the 2010 census.[1] Kāneʻohe is the largest of several communities along Kāneʻohe Bay and one of the two largest residential communities on the windward side of Oʻahu (the other is Kailua). The commercial center of the town is spread mostly along Kamehameha Highway. Features of note are Hoʻomaluhia Botanical Garden and the new Hawaiʻi National Veterans Cemetery. Access to Kāneʻohe Bay is mainly from the public pier and boat ramp located at nearby Heʻeia Kea. Access to Coconut Island (restricted) is from the state pier off Lilipuna Road. Marine Corps Base Hawaii lies across the south end of Kāneʻohe Bay from the central part of Kāneʻohe, although the town stretches along Kāneʻohe Bay Drive to the base perimeter. There are three golf courses in Kāneʻohe: Pali Golf Course (public), Koʻolau Golf Club (privately owned but open to the public), and Bayview Golf Park (privately owned but open to the public).
Room Type
Entire home/apt
---
Property Type
Guesthouse
---
Accommodates
2
---
Bedrooms
Kaneohe, HI, United States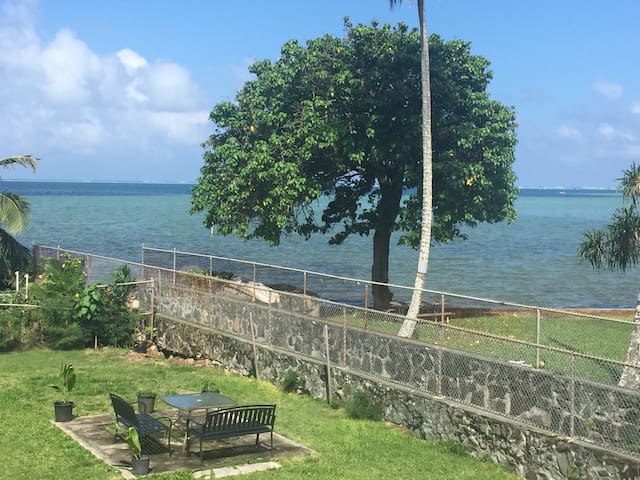 My place is close to MCBH, Kailua Beach, Lanikai Beach, North Shore, 20 minutes from downtown Honolulu, hiking, restaurants. You'll love my place because it's brand new construction with full amenities, in a quiet neighborhood, within walking distance to a short hike with gorgeous views of Kaneohe Bay, 5 minutes from the beach, convenient access to all parts of the island, friendly owners. My place is good for couples, solo adventurers, and business travelers.
A very well-equipped and recently updated one bedroom. Jaime was very communicative and left clear instructions. Since the one bedroom has it's own side-entrance, we also felt that we had significant amount of privacy. Would highly recommend staying here.
James
2016-12-04T00:00:00Z
Easy check-in, the apartment is newly renovated, and the kitchen is well-stocked with basics for cooking - we cooked several times during our stay! Quiet neighborhood, and very central to hiking trails. I would definitely stay here again and recommend to my family and friends!
Francesca
2016-11-11T00:00:00Z
Communication with Jaime went smoothly, check-in was easy & the house was great! The amenities were everything we needed. The parking definitely was a plus. Overall a great stay!
Hayley
2016-11-19T00:00:00Z
Jaime was a great host. The place was incredibly clean, the bed was very comfortable, and she was always very quick to respond whenever I reached out to her. The location was exactly what I was looking for. It was close to some amazing hiking trails and away from the busy streets of Honolulu.
Brian
2016-12-09T00:00:00Z
Jaime's place is very modern and clean and we loved the décor and styling. It actually feels just like a beach house and we thoroughly enjoyed our stay!
Nancy
2016-11-26T00:00:00Z
Room Type
Entire home/apt
---
Property Type
Apartment
---
Accommodates
2
---
Bedrooms
Kaneohe, HI, United States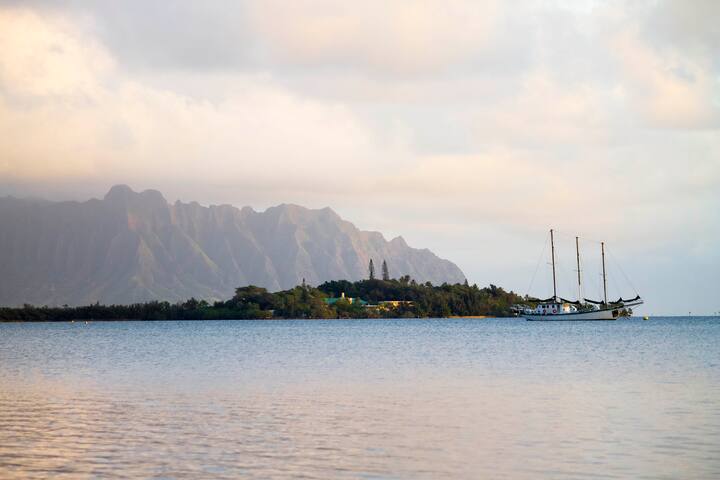 This is an amazingly peaceful space to have your winter holiday with family and friends. I rented this last year. But only for a short time I have more reviews available with my studio. I am a super host for a good reason.
Nice home up high on a quiet residential street with a view on the windward side of the island. It wasn't particularly hot during our trip, and the tradewinds kept the house cool. Without air-conditioning, I would imagine it could be hot in a hotter period. I liked the place.
Mj
2016-12-30T00:00:00Z
Unit and property beautiful. Lovely view, nice interior. Good location. Will be rented to long-term renters very soon though, so will comment more on host. The house was very well stocked and comfortable. Kitchen and bathroom were great - coffee and water in the kitchen, soaps in the bathroom were nice touches. Kathleen was friendly when we met but did a couple of odd things. When we checked in, we were immediately asked to leave for an hour so that repairs could be done. She then told us that she would also be coming to the house to be with another repair person - and expected us to be gone - from 8am to 12pm the following day. Since we had an activity booked at that time, we found it odd but it didn't interfere with our plans so we let it go. That evening after 6:30pm we were informed that the repair person hadn't come that day and would actually come the following day during that same 8am-12pm window, so our host would be in the house again during that time. We communicated our frustration with Kathleen and she was very apologetic. In the end she sent us a message telling us the repairs were finished at 12:30. This means that in total, our temporary home was not available to us for 9.5 hours out of the time we booked it for. Upon arrival, I was told it was "listed too low," so perhaps the knowledge that the repairs would take place is why she listed it lower than she could have. Still not acceptable. As a note, we were also requested not to bring food to the couch area. We found that a little odd. We are fairly clean and respectable - we were quiet and my husband even took in the trash bins - so it should be left to a guest's discretion. We have great feedback on this site! That's what AirBnb is good for - you can vet your guests if you have concerns!
Amanda
2017-01-07T00:00:00Z
Kathleen's home is incredible. I was so impressed the moment I walked in. The pictures do not do this property justice; you HAVE to see it in person! It's located in a wonderful, safe community with very friendly neighbors. It's equipped with everything you need and then some. The bed is so comfortable and the Internet is lightning fast. The views are excellent, as well. As others have said, Kathleen is a super host for a reason. I'll certainly be back! Highly recommended.
Brian
2016-12-09T00:00:00Z
We had a lovely stay at Kathleen´s home. The house is located at the top of a steep hill so the view was fantastic, we really enjoyed our breakfast with a view. The house is big and spacious, with a large kitchen. The living room had nice carpets, witch our 7 month old daughter really enjoyed her crawling practise. Everything you need is no more then a short 15 min. drive away. The neighbours where very friendly and welcoming. Kathleen was very responsive and answered quickly to all our questions. All in all we had a wonderful stay at Kathleen´s house and can only recommend it.
Jens
2017-01-19T00:00:00Z
This is a great house in a great location. The view was absolutely spectacular at it was just a short drive to one of the greatest beaches in the world. The living space was very comfortable and spacious and the host made sure that everything needed was provided. We did not get to meet Kathleen, she had a friend meet us with the key at the time provided and the process was very smooth.
Jonathan
2016-12-13T00:00:00Z
My stay at Kathleen's home was exactly what I was looking for. It is a very pleasant home with an awesome view. I felt right at home and Kathleen answered all my questions. I would definitely stay here again. I can see why she a "super host." Mahalo, Luis
Luis
2016-11-24T00:00:00Z
Room Type
Entire home/apt
---
Property Type
House
---
Accommodates
6
---
Bedrooms
Kaneohe, HI, United States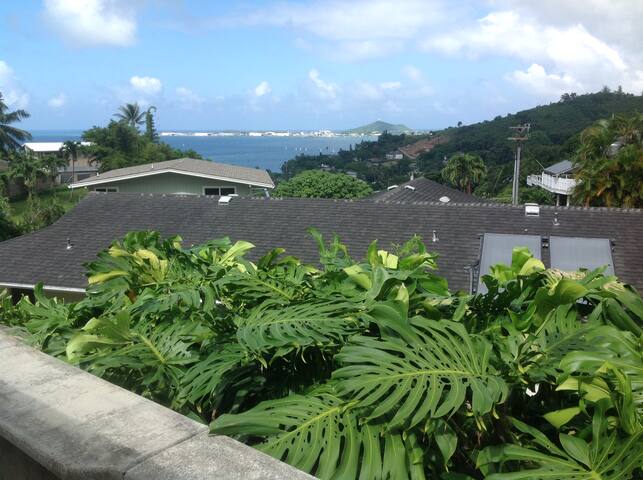 This cottage sits on our property on Kaneohe Bay. A cozy studio with a kitchenette, double futon bed and private bath. Have breakfast on the patio outdoors and enjoy the trade winds. Jump in the ocean, just steps away.
This little cottage sits steps away from the Pacific Ocean and also serves as my daughter's artist's cottage when not being rented. You can listen to the waves lapping against the sea wall as you fall asleep at night. Note that the house sits on the bay; there is no beach. Guests have access to the entire property, so they can sit in the backyard and greet the sunrise, look for turtles, or just enjoy the soft breezes coming off the bay. The cottage does not have a TV but there is WI-FI and I've got a fairly extensive DVD library which you're welcome to borrow from; there are also coffee/tea making facilities, a small fridge, microwave, convection toaster oven and hotplate in the kitchen. I am the owner and live in the main house on the property. I was born and raised in Hawaii and would be happy to answer any questions you may have or give suggestions and directions for activities. This is a safe, quiet, residential neighborhood, great for walking in the cool of the morning or early evening. Kaneohe town is about a 25-30 minute walk away (or 5-10 minute drive). Downtown Honolulu is 30 minutes by car, and Waikiki is about 45 minutes. This studio cottage is 438 square feet and can accommodate 2, but please note it is just a simple double futon bed. The futon is slightly smaller than a standard mattress with box springs, measuring just over 6 feet long by about 4.5 feet wide.
We live across the bay from the Kaneohe Marine Corps Base Hawaii. That being said, there is sometimes plane or helicopter noise. It is usually not excessive and is mostly during the day. However, I never know when the Marines will be playing with their jets so if you experience any aircraft noise just know that it isn't likely to last very long. We also have 3 cats on the property and one small dog. The animals are not allowed in the cottage (in consideration of possible allergies for the guests). The dog spends his time indoors or at my mom's house. The cats are, well, cats. They are friendly and aloof in the same breath.
Kim was a very nice and friendly host. The apartement was a little bit small but good for one week. If you plan to cook, be prepared that the kitchen is really small. It's very well located and 20 minutes from the beautiful Kailua beach.
Roxana
2015-09-08T00:00:00Z
Very pleasant studio in a quiet and central location. Kim takes care of her visitors.
Stephane
2016-07-19T00:00:00Z
We had such a great time. Kim was super nice and her place was great. It's right on the water and exactly what we were looking for in finding a place away from Honolulu.
Jesse
2015-04-19T00:00:00Z
Kim was a wonderful host and made our trip to Oahu so comfortable and enjoyable. Her home is in a beautiful location away from the city. It was a perfect home base for us to explore the entire island. She made sure we had everything we needed to feel at home. I appreciate so much her hospitality and highly recommend her as your next host in Hawaii. Thank you, Kim for opening up your wonderful home to us. We hope to see you soon! Will
Will
2015-03-26T00:00:00Z
What a wonderful experience! From the moment we arrived we felt welcomed and at home thanks to Kim's kind hospitality. Would absolutely recommend staying here. Enjoy your time in paradise!
Yuriko & Kai
2014-12-22T00:00:00Z
The host provided us some goodies upon our arrival. There were plenty of maps and activity guides. The views were outstanding. Kim was a very friendly and gracious host. We felt very at home. Mahalo Kim!
Sabrina
2014-11-25T00:00:00Z
Our host, Kim, was kind and made us feel welcome immediately. She provided some simple snacks and coffee to get my bf and I started, which was much appreciated.
Allison
2016-10-29T00:00:00Z
It was such a lovely, beautiful, waterfront home!! Kim, our hostess, greeted us with a warm smile and gave us a tour of her amazing property. I could'nt believe how lucky we were to share and be able to enjoy her home. The cottage was a separate property on the side that had unique pieces of art created by her talented daughter. Kim had fruit, juice, and snacks ready for us and the space was very clean and adorable. We would definitely stay here again if we visit Oahu again. Thank you so much for your warmth and Aloha Hospitality.
Samantha
2014-12-02T00:00:00Z
Room Type
Entire home/apt
---
Property Type
House
---
Accommodates
2
---
Bedrooms
Kaneohe, HI, United States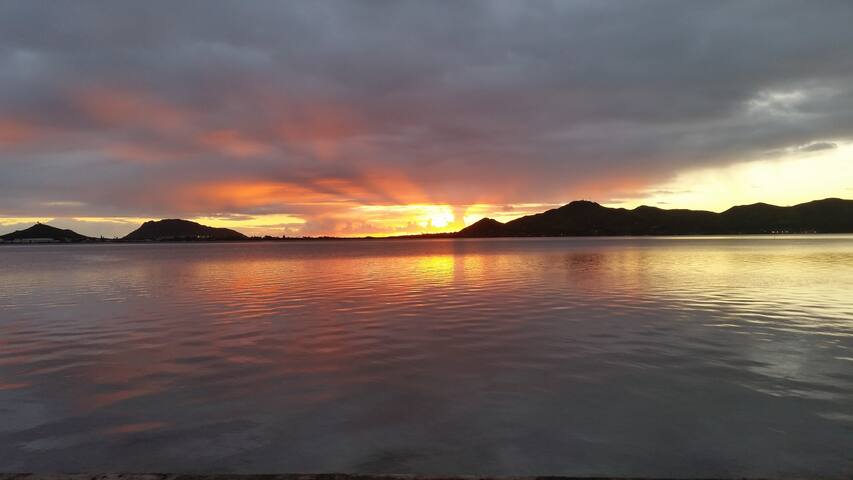 In the heart of Kaneohe with views to the majestic Ko'olau Mountains, our studio is assured to provide privacy, comfort, and convenience. If your looking for somewhere to relax in paradise away from the hustle and bustle, this is your place.
This private studio is a retreat from the hustle and bustle. With a view to the prestigious Ko'olau mountains, you won't be disappointed. Its calming atmosphere and laid back Hawaiian vibe let you experience what it is like really living here in paradise. If you're looking for something other than the tourist Waikiki vibe, this is your place. In the heart of Kaneohe, its location can't be beat. The supermarket is a four minute walk from the studio, and there is an abundance of restaurants nearby. The mall is about a five minute drive away also. The famous Kailua and Lanikai beach are a short 15 minute drive . Remodeled in 2013, the full bathroom, full kitchen, and all appliances are in great condition.
The neighborhood is a peaceful getaway. The house is located at the end of a cul-de-sac making for a cozy, private environment.
Derek was a great host! The property was exactly as described and pictured and communication was extremely prompt. This comfortable, inviting studio made for a great stay on the east side of the island. Highly recommend and would absolutely book again.
Tyler
2016-05-12T00:00:00Z
We stayed here March 30-April 3 it was nice & comfortable & clean! & very conveniently located to where we wanted to be. He checked in us & made sure we knew he was just a txt or call away if we needed anything. It also had everything I needed in it. I will definitely stay here again! Thank you!
Issacnmilani
2016-04-05T00:00:00Z
Derek's place was great. We enjoyed staying in Kaneohe, which was almost equidistant from Honolulu proper, and the North Shore. We never met Derek, but he set everything up for us, and accommodated all of our needs.
Abraham
2016-08-10T00:00:00Z
This was my first AIRBNB experience. Derek was really nice during our stay there. The room has good space for a couple, nice kitchen and bathroom. The location is good too, quiet, safe, there's a supermarket near, nice beaches around. I do indicate Derek's house for those planning go to Oahu. Aloha!
Ricardo
2016-04-29T00:00:00Z
Great place to stay for a trip to Oahu. You'll be close to many hikes, a short drive to some great beaches, and right on the way to the north shore from Honolulu/Waikiki. The place has just about anything you might need, including laundry.
Joshua
2016-07-19T00:00:00Z
Derek's studio was perfect for what we needed. It was clean, convenient, beautiful drive in the morning. Great water pressure in the shower and Derek had shampoo, conditioner and shower gel available (the good brands, too). While we didn't get to meet, he was friendly, responsive and I'd recommend his studio to anybody. This was a last minute booking for us and we hit the jackpot.
Alyssa
2016-10-27T00:00:00Z
Derek was awesome taking our last minute booking and getting us a seperate mattress. His place was perfect and private and in a beautiful location he had everything we needed including letting us borrow a cooler for the beach!
Donnie
2016-05-04T00:00:00Z
The studio was nice and perfect for what my wife and I needed. It has all the amenities that we needed. The location was nice since it was relatively close to the various places we visited. The only complaint I have is that one of his neighbors has a rooster that begins to wake you up starting very early in the morning. As long as you have your windows completely shut, it's a non-issue. Would definitely stay there again.
Juan
2016-09-28T00:00:00Z
Room Type
Entire home/apt
---
Property Type
House
---
Accommodates
2
---
Bedrooms
Kaneohe, HI, United States
Enter dates to see full pricing. Additional fees apply. Taxes may be added.