A light apartment in the heart of Zug. Only 5 minutes walk to the railway station and 5 min walk to the central shopping and business hub (Metalli centre). New modern furniture. Clean uncluttered bedroom with double bed. 2 additional single beds in the large living room. Well furnished with two 3-seater sofas, dining table, desk, cupboards. Modern kitchen, dishwasher, washer / dryer. Shower room. Nice views. Parking options available at additional charge.
This is a new listing. It's a wonderful apartment. As it is a new listing you can benefit from a very low price for such a central position, nice views and such a lovely modern, yet comfortable, clean interior! As the 2-3 single beds in the living / dining room are not as private it is better if your group all know each other well or are family.
You are surrounded by trendy and high quality restaurants, bars, cafes and shopping!
Great stay and host. Highly recommended
Torsten
2017-02-28T00:00:00Z
Very nice apartment in perfect location near train station and main shopping area.
Sonia
2017-03-18T00:00:00Z
I had a very enjoyable stay at Kika's place. It's very vice and comfortable with good facilities. Kika is a very friendly and helpful host and made it very easy to check in and out.
Robert
2017-03-03T00:00:00Z
Awesome place and best location for exploring Zug
vipul
2017-03-29T00:00:00Z
Good location and nice Kika
yuanyu
2017-04-07T00:00:00Z
A bright sunny apartment in a very convenient position in Zug.
hanako
2017-03-22T00:00:00Z
Room Type
Entire home/apt
---
Property Type
Apartment
---
Accommodates
5
---
Bedrooms
Zug, Zug, Switzerland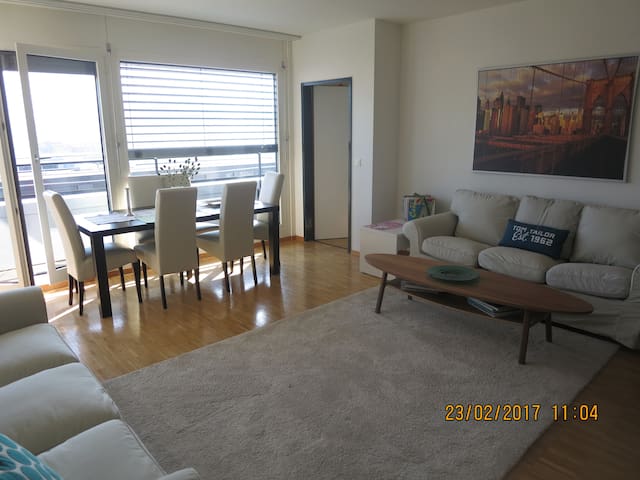 Located in the beautiful scenic town of Cham, Switzerland, our place is good for couples, business people (looking to extend their business travel for pleasure) and solo adventurers. The rooms are close to the main bus terminal & train platforms, city center, grocery and Villette Park (see attached pics). * Please indicate if you need a parking space when booking! ** Please make sure to read the "Guest Access" and "Amenities" section to see what is included with the rooms.
Clean, Comfortable and Convenient
Take a look at the attached photos of the Villette Park in Cham. Cham is also conveniently located near the half way point between Zurich and Luzern. Our place is located within 100 meters of a grocery store that is open 7 days per week (this is very hard to find in Switzerland, since most shops are closed on Sundays). We are also 100 meters away from La Campana which has excellent food (we highly recommend the pizza). In the summer time there are two beaches within 1 km.
Jon is a great host. The rooms are big and clean. The mattresses are confortable. As the two rented rooms are on a different floor than Jon, we actually had good privacy. His place is in a historical Swiss train station building. It's quite an experience to stay in the train station! Convenient to travel around with Swiss trains. Highly recommend!
Kate
2017-01-29T00:00:00Z
Jon is a really nice guy. He was very welcoming and explained us everything about his house even though our check in was late at night. His house is really comfortable and quiet, despite being in a train station. The beds were comfortable, the rooms newly furnished, the bathroom was clean and big! Totally worth it!
Daniel
2017-03-06T00:00:00Z
Room Type
Private room
---
Property Type
House
---
Accommodates
4
---
Bedrooms
Cham, Zug, Switzerland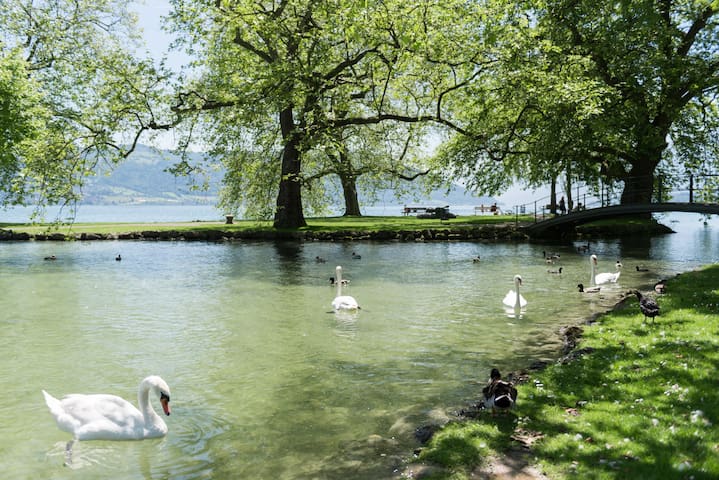 Welcome to my little piece of heaven! Have traveled the globe staying at Airbnb's accommodations, I am now pleased to share my home with travellers from different parts of the world. The quaint and stunning surroundings will allow you to enjoy an authentic Swiss Village experience while easily getting to cities like Luzern (15 min) and Zurich (25 min). As a travel blogger I have endless suggestions and affordable/free "things-to-do" in Switzerland. You can also book me for a Tesla photo tour.
Our apartment is pretty roomie. I particularly love the terrace from where you can enjoy drinks and the view of the Rigi Mountain. Your bedroom have a view of the Zug lake. Since we have two bathrooms you can have one all for yourself. Breakfast is included.
The village is pretty small and like any Swiss village its super safe. Kids can play around without any worried. Adults will certainly enjoy a nice walk along the lake or a picnic by the water with a nice bottle of wine.
Room Type
Private room
---
Property Type
Apartment
---
Accommodates
4
---
Bedrooms
Immensee, Schwyz, Switzerland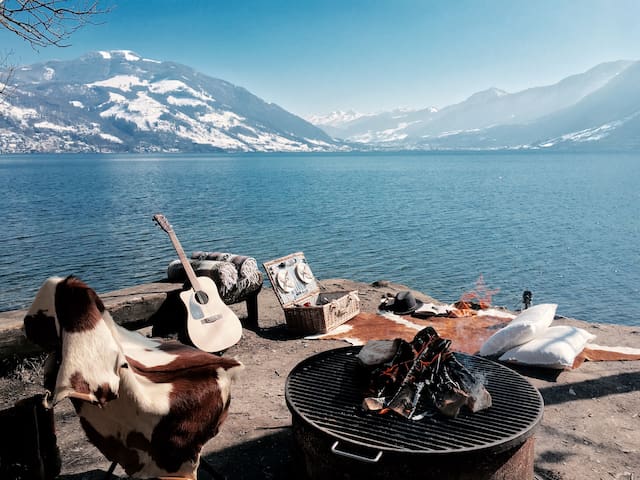 The apartment offers a combined rooms (bedroom and living room), bathroom, kitchen and a seat. The bed can accommodate 2 and the couch offers one more sleeping space. You can expect a modern apartment. Lake Zug can be reached in 2 minutes on foot. Whether in winter or summer, there is a lot to experience in this area.
The apartment was as described, exactly what I was looking for, far away from the city center, in front of a lake to relax and breath some fresh air. The apartment was clean and tidy, and it had everything we needed. Timon was really nice and attentive, he explained everything and left us some food and coffee in case we wanted some. I would definitely recommend this apartment to anyone! Thank you!
Jose Antonio
2017-01-01T00:00:00Z
房东非常帅!人也超好!
yayin
2016-12-30T00:00:00Z
Room Type
Entire home/apt
---
Property Type
Apartment
---
Accommodates
3
---
Bedrooms
Immensee, Schwyz, Switzerland
Feel inspired and enjoy a unique waterfront location nearby the pitoresque town of Zug. The charming home was recently rated as a 5 star accommodation by Switzerland Tourisme. All rooms are newly renovated and individually furnished in an stylish mix of modern trends and antics. What about dreaming in the 100 qm loft in the 210 x 210 bed "cloud7"? Gathering in the ultramodern LED-kitchen, sitting on the terrasse and soaking your soul in the mystique sunset.
The house features 300qm livingspace in 8 rooms and 3 bathrooms.
A fantastic stay in a very beautiful place, amazing scenery and a very comfortable and well equipped house. Thank you so much for such a warm welcome and attention to details during our visit. See you very soon!
Damien and Lucy
2017-02-01T00:00:00Z
Room Type
Entire home/apt
---
Property Type
House
---
Accommodates
6
---
Bedrooms
Walchwil, Zug, Switzerland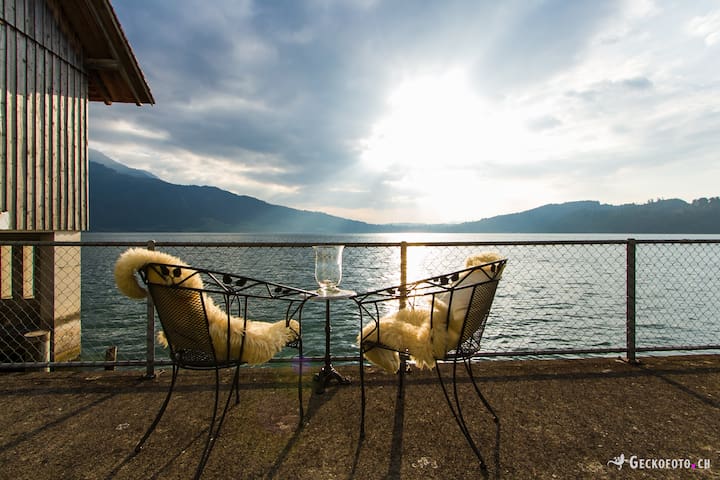 Our apartment is located on the hill above the picturesque village of Walchwil, with stunning panoramic views of both the Rigi mountain and Lake Zug . Walchwil is 11.5 km from the beautiful town of Zug.
Our apartment is located on the hill above the picturesque village of Walchwil, with stunning panoramic views of both the Rigi mountain and Lake Zug . Walchwil is 11.5 km from the beautiful town of Zug. The apartment is fully equipped for 4 people and has everything you need, we have a high chair and Pushchair available for our younger guests. The kitchen has an oven, stove, dishwasher and fridge freezer. In the bathroom there's a washer and dryer. The apartment has a private terrace which leads around to the balcony with the fantastic views over the lake and mountains. The balcony is also accessible from the lounge area. The bedroom contains a double bed and the sofa in the lounge also converts to a double bed The apartment has plenty of parking space and it is within walking distance of local shops, banks, post office, restaurants, playgrounds and public transport. The apartment is on the ground floor of our three level home, it has its own entrance and is entirely self contained. However we are just upstairs if you have any questions or just fancy a chat.
There is excellent access to: Hiking trails Lake Zug Mountain passes (Susten/ Furka/ Grimsel/ Gotthard etc) Some of the best motor biking roads in the world. Skiing ( 40 minutes by car to the closest resort)
Claire and Greg's home is impeccably clean and they are very friendly and helpful! Claire and Greg were kind enough to pick us up and drive us to their home when we first arrived and even gave us a lift back to the station when we left. The fridge was also stocked with plenty of food for breakfast. The views from the apartment truly is as breathtaking as promised. We throughly enjoyed our stayed in the house around the bend! If you're looking for a home away from home that is value for money, with helpful hosts and you are particular with cleanliness, this apartment will definitely meet ALL your needs!(: Thanks for having us!
Mellisone
2015-11-29T00:00:00Z
Claire and her family were great hosts. We were initially concerned about living in the same building as the hosts but turns out it was a big plus. They had a little dog which never got to our apartment but they very kindly let our toddler play with the dog in other parts of the house. Shower, facilities and bedroom size were excellent. The set up was well thought through with a good DVD selection of different genre, different books and magazine to cater to different tastes. Kitchen was also well equipped. The outdoor terrace was one of our favourite areas, it's set up with 4 lovely chairs and a little table so that one can easily enjoy a meal or a drink and take in the view. We were glad that we chose this little town cos it was easy to stop for a swim in the lake, explore the towns around it and also the tier park zoo in nearby goldau. The surroundings were a lot more charming than zurich itself. Would highly recommend a stay in this breathtaking apartment, not to mention very friendly and helpful hosts!
Val
2015-08-13T00:00:00Z
We felt incredibly welcomed, the food for breakfast was a huge plus because we arrived at a time where very little was open! We are so thankful for that!
Meagen
2016-08-15T00:00:00Z
Our stay in Claires apartment was perfect we couldn't have wished for a better place and host! Let me start by describing the way up to Claire's apartment. By car, a beautiful road around the lake leads up to Walchwil (similar by train) after which the ascend started towards heaven. Before we even parked the car we were welcomed by our lovely hosts. A quick round through the house got us settled in. A very clean and comfortable home, with eye for very nice details. With our Dutch background, Claire even managed to leave some dutch treats behind and create a home away from home. The fridge was completed with the best strawberries and some beverages. Not long after settling down in the sun on the balcony, Claire kids brought up some additional deck chairs! Unfortunately we only stayed till the next day, but we really would have liked to stay a little longer! Sarah & friends
Sarah
2015-05-17T00:00:00Z
Claire is a star of a host. The apartment is spotless and got everything one needs during their stay. Freshest bread and something warm to drink were the cherries on a cake. And the view from the window is to kill for.
Talgat
2015-12-12T00:00:00Z
What an experience we will live time and time again in our thoughts, and when we plan to return to Switzerland. After having been lost with the foreign road names, we decided to pull over and ask the first person we saw for direction. Little did we know, the friendly woman walking her dog turned out to be Claire herself! Upon arrival to her beautiful home, Claire showed us around and made sure we were absolutely comfortable before we were left to rest. The home was well equipped with brand new appliances, and had more amenities than we could use. While the home was in fact just brilliant, the views stole the spotlight every time - it was truly very easy to forget about everything on our minds and just unwind to the silence and serenity that this location provided. Just a short drive from downtown Zug, this place served as an ideal spot to call home (and it most certaintly felt like home) during our stay. Claire made sure she went out of our way to ensure our stay was held to the highest standard. If you are looking for a modern, clean, and open flat to rent during your stay in Switzerland, please consider Claire's House Around the Bend! If I could rate this home with anything higher than 5 stars, I would. But for now, 5 stars will do. P.S. The restaurant you recommended for our stay in Milan was exceptional! The wine bowls were lovely! We have also sent your details to my cousin and his family who will be visiting Switzerland this summer. Keep in touch! Barrios Family
Francisco
2015-06-22T00:00:00Z
Claire's place was perfect. The views are absolutely amazing. Just a 25 minute drive to Lucerne - I would highly recommend her flat.
Brent
2015-05-10T00:00:00Z
Claire and her family are amazing. The apartment impecable. The communication prior and during our trip was outstanding. The location is stunning. I had the happiest time there and so did my kids and their grandmom. We would love to come back. Thank you for having us as guest.
Alexandra
2016-07-20T00:00:00Z
Room Type
Entire home/apt
---
Property Type
Apartment
---
Accommodates
5
---
Bedrooms
Walchwil, ZG, Switzerland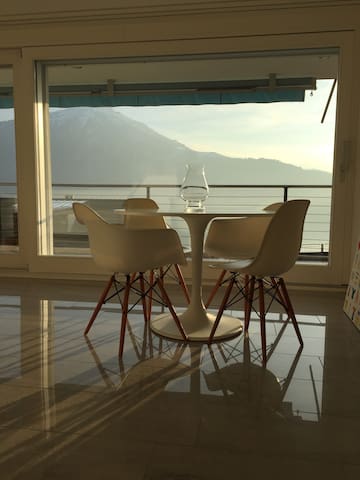 Charming and very modern apartment (built in 2016), ideally located in the centre of Zug. It is the best place to stay to reach very quickly Zurich center, airport or Lucerne thanks to the nearby train station but also to enjoy the beautiful Swiss nature and view on the lake and stunning mountains.
Modern apartment with all necessary equipment, close to the shopping center, old town, fitness, swimming pool, cafes or restaurants. I am renting mainly one out of two bedrooms (12 m2) but it would be possible to agree that the whole apartment is rented at CHF 150/night and guests then have the full privacy.
The house is located at the beginning of the new residential area of Zug. Although next to the main road and 3 min from the train station the flat inside is completely quiet. Perfect!
Room Type
Private room
---
Property Type
Apartment
---
Accommodates
2
---
Bedrooms
Zug, Zug, Switzerland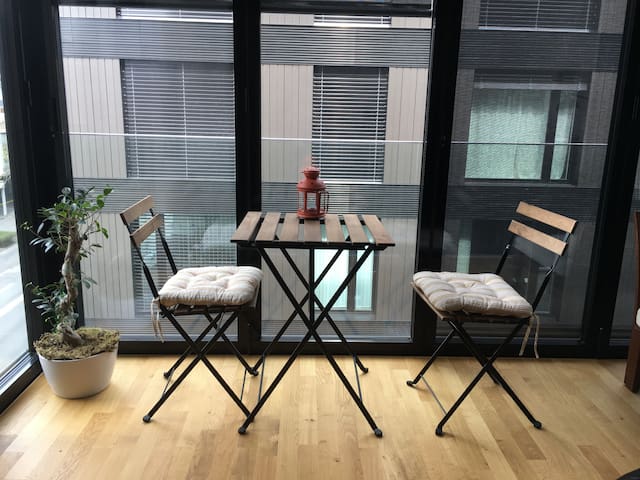 A very cosy apartment with kitchen, dining and living room area and own private tower with view over the lake and mountainside. A few minutes walk to Lake Zug & restaurants and bars in the Old Town. A beautiful location
There is a 2 storey viewing tower in the apartment looking over the lake and mountains. Gorgeous!
The Old town is 15th century and has a lot of character. The lake is also very close and it is possible to take a boat trip or sunbathe and swim.
Sunset magic experience in the old city zug by the lake...this cosy space is just a PEARL to retreat & close to everything by walk...super quiet at night...may this place ALWAYS be available for me when needed on my journey!
Magali
2016-09-03T00:00:00Z
Elizabeth was an attentive host who made us feel welcome and like friends during our stay! Communication was a breeze. Her home is beautiful in an absolutely fantastic location in Altstadt Zug. The flat was very clean, and I wouldn't want to stay anywhere else when I return to Zug! Close proximity to everything in Zug Zentrum and even some beautiful views of the lake. Thank you for hosting us, Elizabeth!!
Anastasia
2016-05-16T00:00:00Z
We would like to give 5/5 stars to Eliz and her team. She did very well arrangement for the house and give us full information when we stay at Switzerland. We strongly recommend Eliz's house.
JENNY
2016-09-10T00:00:00Z
Lovely spacious apartment right in the historic centre. A few minutes walk to the lake, restaurants and bars. Close to the railway station so ideal for sightseeing. The apartment was comfortable with everything we needed. We didn't meet Elizabeth but she was quick to respond to our communication. Would recommend staying here.
Caroline
2016-06-15T00:00:00Z
It is a wonderful apartment in the old town of Zug. Few steps from the lake and Migros. There is Everything you need in the apartment. Just great. Elizabeth is very easy to get in touch. Thank you for everything, dear Elizabeth.
Тамила
2016-05-11T00:00:00Z
Everything was great
Kelvis
2016-05-28T00:00:00Z
Great Appartement, great location and overall a great stay. Thanks Liz
Sarah
2017-02-04T00:00:00Z
Elizabeth's apartment has special spirit and you can fully appreciate it after few days of usage. Office on the top of the tower is something special and offers such amazing view over town and lake! Our daughter loved her bed one floor lower – she felt like in fairy-tale in this little tower. Great kitchen! Very comfortable living room, with nice big TV, but we actually did not had need to use it, we just used our laptop and phones (good wi-fi). Elizabeth is very helpful, always prepared to help, excellent communicator. She very kindly offered us parking place in garage (cca 10 minutes of walk away). Location of this apartment is great, in the old centre, you need just few minutes of walk to be at the lake, grocery store is just around the corner. We enjoyed staying in Elizabeth's apartment. Zug is really beautiful place for families, great place for living, finding a job and for doing a business.
Dušan
2017-03-02T00:00:00Z
Room Type
Entire home/apt
---
Property Type
Apartment
---
Accommodates
5
---
Bedrooms
Zug, Zug, Switzerland
In the middle of Zug a charming nice apartment next to shopping and 5 minutes to the lake by feet. Minimum stay one week!
1 big bed (2x2m) in the bedroom and one folding bed and one couch bed
The apartment was clean and very nice. We have enjoyed it much. The detailed instruction made by Dominik already before our arrival, as well as his quick communication, made everything very easy and good accessible for us. We have loved this place. With many thanks, Jan.
Jan
2016-07-28T00:00:00Z
The host canceled this reservation 33 days before arrival. This is an automated posting.
DINO
2016-06-27T00:00:00Z
Room Type
Entire home/apt
---
Property Type
Apartment
---
Accommodates
5
---
Bedrooms
Zug, Zug, Switzerland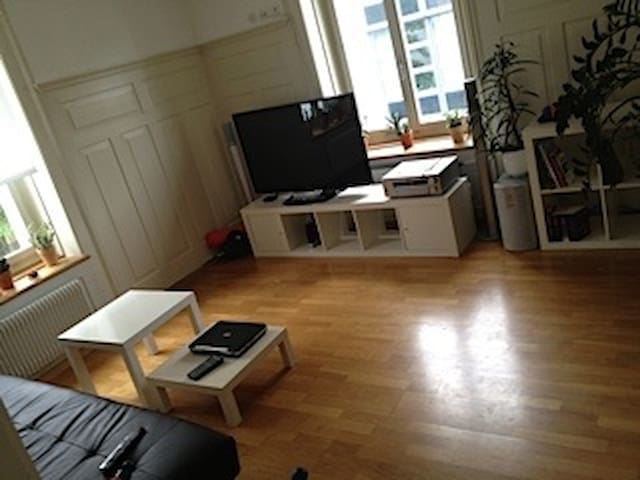 Unsere Unterkunft ist in der Nähe von Restaurants, Einkaufsmöglichkeiten und sehr zentral gelegen (100m von Bahnhof und Busbahnhof). Der See befindet sich 3 Gehminuten entfernt. Unsere Unterkunft ist geeignet für Paare, Alleinreisende und Geschäftsreisende.
Sehr zentral, wenige Schritte vom Bahnhof.
Matthias (and Iris) are very friendly and welcoming hosts, will make you feel like home. Their apartment is extremely nice, perfectly located (very close to the Zug train station) and providing a great value for money. The room for the guests is very big and well equipped. Strongly recommended. Thank you Matthias and Iris for your hospitality. Marco
Marco
2017-03-02T00:00:00Z
The host canceled this reservation 14 days before arrival. This is an automated posting.
Kurt
2017-03-23T00:00:00Z
Really nice couple! They made me feel very comfortable at their beautiful and very clean house.
Ana
2017-02-01T00:00:00Z
This was our first time using airbnb so we really did not have what to compare with. However, we have used other agencies frequently and can readily recommend Matthias's place warmly. The apartment is just a block away from the Zug main railway station, spacious, clean, modern and well-equipped. We had some problems with our luggage at the airport and Matthias was very flexible with our arrival time. The same when departing quite late in the afternoon. We had a nice room, an own bathroom and could use the kitchen and living room as we pleased. The wifi and nespresso were included in the rent, too. Matthias and Iris also gave us several very useful pieces of advice for Zug. Nothing to complain about, on the contrary.
Meng
2017-01-08T00:00:00Z
Vielen Dank für den angenehmen Aufenthalt und Eure hervorragende Gastfreundschaft! Ich habe mich sehr wohl gefühlt! Many thanks for the comfortable stay and your outstanding hospitality. I really enjoyed the time at your place.
Siegfried
2017-01-10T00:00:00Z
We zijn blij verrast met het prachtige appartement en de vriendelijk en zorgzame Mathias. Gelegen in het centrum van Zug op loopafstand van het sfeervolle winkelcentrum en het treinstation is deze locatie zeker een aanrader. Wij zullen hier zeker nogmaals gebruik van maken. Willem en Janet
Janet
2016-11-30T00:00:00Z
Sehr zentrale lage. Unkompliziert und wie erwartet.
Lidia
2017-02-10T00:00:00Z
Grosszügiges Zimmer und separates Bad in einer tollen, sauberen und sehr zentralen Wohnung. Unkomplizierte und freundliche hilfsbereite Gastgeber. Ich kann das Airbnb von Iris & Matthias vorbehaltslos empfehlen und werde in Zug diese Übernachtungsmöglichkeit das nächste Mal wieder wählen!
Remo
2017-03-25T00:00:00Z
Room Type
Private room
---
Property Type
Apartment
---
Accommodates
2
---
Bedrooms
Zug, Zug, Switzerland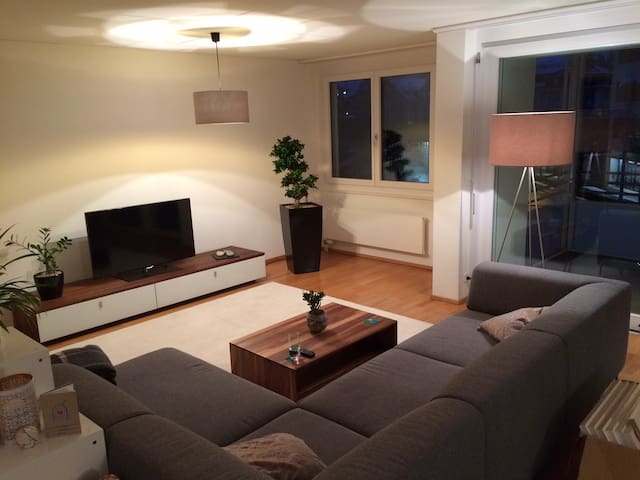 30 sqm studio in the heart of Zug: - Mid-way between Main train station (less 5-mins walk) and old town (3-mins walk) from - Supermarkets located on the building ground floor - Equiped kitchen - Bathtub
If you are looking for a small studio apartment in a great location, this is it. It is as advertised. Very clean and nice
Joe
2016-06-11T00:00:00Z
This is a nice Studio in a prime location. Right next to the main train station and across the street from the main shopping center. The place was clean, well maintained and the bed was surprising comfortable (it seems fairly new). Alexandre was traveling but he had a friend meet me with the key and she was very nice and flexible with the arrival time (I arrived in town earlier than expected). She responded quickly to messages. I would definitely stay here again the next time in in Zug.
Joshua
2016-09-10T00:00:00Z
The 1-room studio was good, clean and in very central location. The owner was traveling but I got the key through his friend. The location is very central, but above a shopping mall hence a bit noisy early mornings when grocery trucks unload goods starting at 5:30 in the morning.
Francesco
2016-10-29T00:00:00Z
The place is basic, kitchen is small, in the closet there is no room for cloth. The main issue is the noise - the walls are like paper and there is a supermarket that starts at 6:00 which creates a lot of noise.
Amir
2017-02-02T00:00:00Z
Super central location with all the necessities of a studio apartment. Highly recommended!
Nicholas
2017-01-26T00:00:00Z
Great flat! We (me, my husband & our baby) stayed there 12 nights and loved it! Very easy communication - Alexandre replying very fast. In very good location- 5min walking to the train st., 5min walking to old city and lake, shops and restaurants downstairs. Very clean, everything exactly how described. The flat has all you need to cook, washing & drying machines. We will definitely stay here next time. Highly recommend!
Ekaterina
2016-08-20T00:00:00Z
Went the extra mile with a very late check-in
Jill
2016-08-25T00:00:00Z
The apartment is very good, well located and the host was very nice and friendly. I highly recommend this place.
Andres
2016-05-21T00:00:00Z
Room Type
Entire home/apt
---
Property Type
Apartment
---
Accommodates
1
---
Bedrooms
Zug, Zug, Switzerland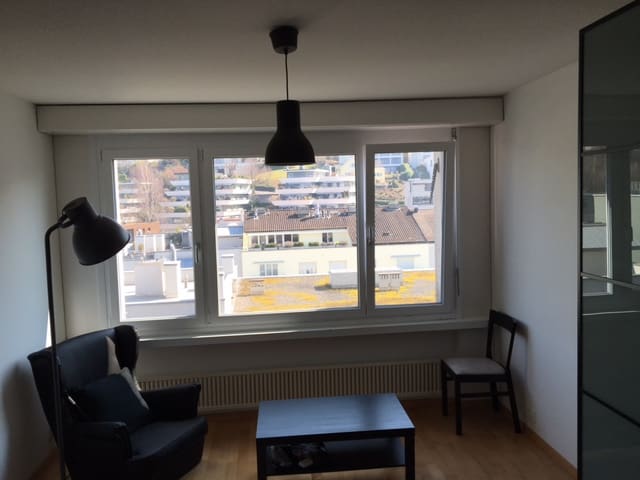 Nice apartment located close to public transportation (Bus and Train - 5 min from Zug). 5 minutes from the lake, 5 minutes from the hiking trails. Close to nature and still close to the city.
Two bedrooms appartment with a veranda. The guest room has 2 twin beds, a dresser and a desk. Sunny with a large livingroom and a open veranda.
Quiet village near Zug. The lake "Badi" (beach) is within 5 minutes walk and the hiking trail is the same distance on the other side.
Room Type
Private room
---
Property Type
Apartment
---
Accommodates
2
---
Bedrooms
Zug, Zug, Switzerland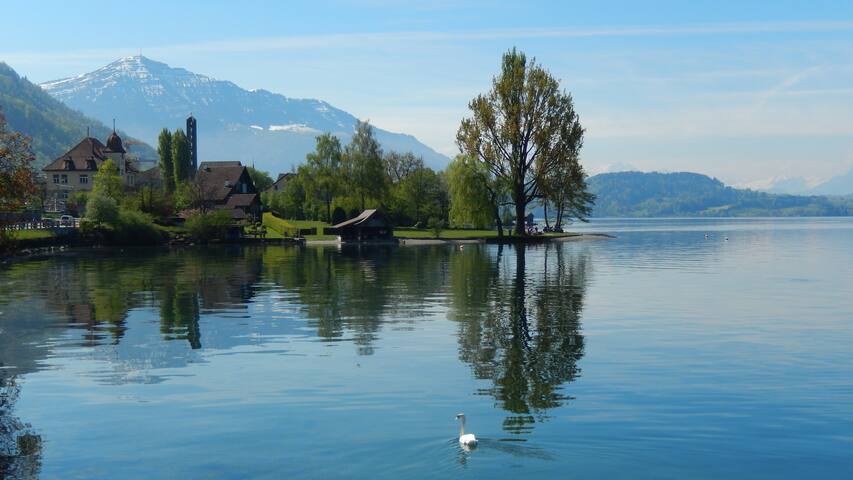 2 1/2 Zimmerwohnung super schöne See Sicht
Einmalig See Sicht
The host canceled this reservation the day before arrival. This is an automated posting.
Denise
2016-10-28T00:00:00Z
Room Type
Entire home/apt
---
Property Type
Apartment
---
Accommodates
3
---
Bedrooms
Walchwil, ZG, Switzerland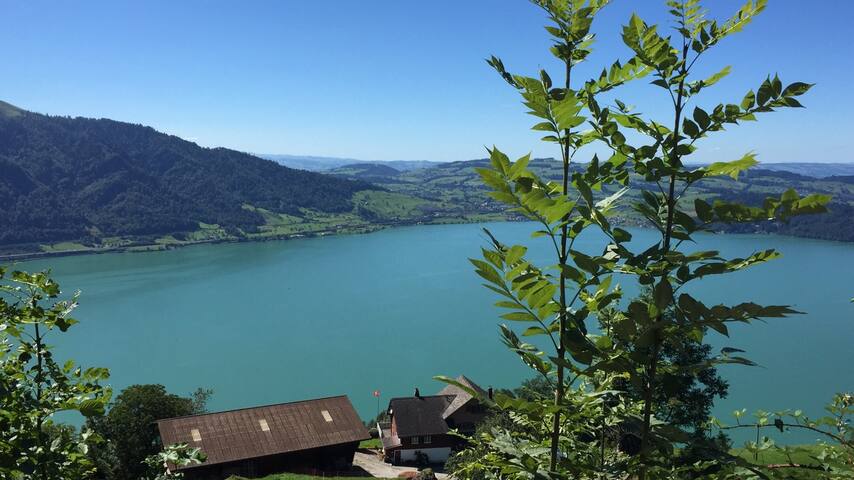 Close to The Hohle Gasse / Historic Point of Switzerland, this place is good for couples, solo adventurers, and business travelers. If you have lots of luggage this place might not be ideal for you. Access to Lucerne and Zug 25 -35 min by car.
The appartment living room area and terrasse as well as the guest room offers a breathtaking view over the lake of Zug. Bathroom and building standards are new as the place has recently been completely renovated. It used to be an old farmhouse. The room: 160 cm sofa bed. Ideal for 2 people. Bathroom is right next to guest room, modern standard. Room gives way to a private terrasse overlooking lake of Zug and Immensee village. Access to room is via staircase so people travelling with handicap will have a hard time to access the room.
calm. The appartment is in the middle of farm land, no easy access to public transportation so it really makes sense only for people travelling with a car. Parking spaces are 400 m away from the appartment, or right in front of the appartment -depending on availability. But luggage can be unloaded in front of the house. Not recommended for people with walking handicap, as the access to the appartment is via a staircase. Approx driving distance to Zug 20 min Approx driving distance to Lucerne 30 min Approx driving distance to Zürich 40 min
Absolutely beautiful home in a gorgeous setting. Very clean. Our room had an amazing view. I wish we could have stayed longer it was so lovely and peaceful there with lots to do and a short drive from Lucerne. Christina and her son were both so friendly and made us feel at home.
Jessica
2016-09-28T00:00:00Z
Christina is a very friendly . The room is very clean and perfect. Wake up you can see the lake. Outside have many sheep was so lovely . It's very worth to live here. We are very lucky can live here. If we go to Swiss again we must booking here again .
li
2016-10-03T00:00:00Z
We enjoyed staying in Christina's house. The view over the lake can be reached from living area and bedroom's balcony. Feel like home!
Ey
2016-09-23T00:00:00Z
I really recommend a stay at Christina's appartment. The view on the lake is amazing, by day and night. Christina and her son are both super hosts. They do everything to make you feel at home. It was a pleasure to meet them and I feel sorry for myself that I just booked one night as part of my roadtrip. I'm sure I will visit them again, are you too?
Kevin
2016-10-21T00:00:00Z
Wir haben uns bei unserer Reise sehr wohl gefüllt und können es allen nur empfehlen! Die Aussicht ist grandios und man füllt sich wie Zuhause! Beste Grüße Max & Fred
Max
2016-09-25T00:00:00Z
Schöne Aussicht vom Zimmer - Aufenthalt/Vermietung ist durch private Nutzung der meisten Räume auf Dachzimmer begrenzt.
Pur
2017-01-01T00:00:00Z
Room Type
Private room
---
Property Type
Apartment
---
Accommodates
2
---
Bedrooms
Küssnacht, Schwyz, Switzerland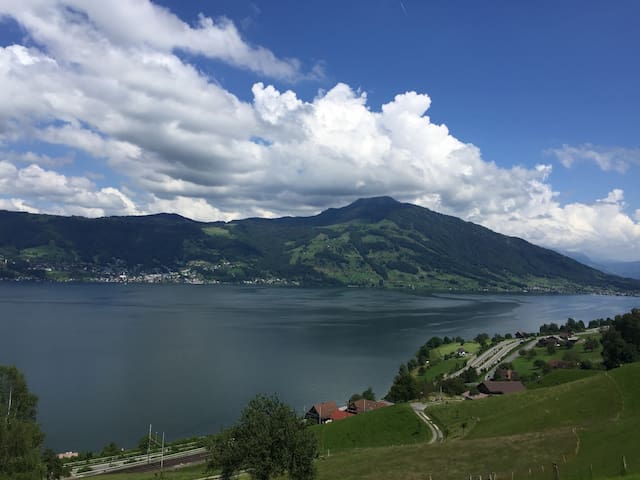 My place is close to art and culture, great views, restaurants and dining, and the beach. You'll love my place because of the location.
It's very central, shops right opposite the house and 2 minutes walking from the lake
Veronika's flat is great and well located in Old town. It's very cosy and well decorated. It was perfect for my business trip and Zug is really close from Zurich (just 25mn by train). Veronika and her flatmate have been great and I did really enjoy staying and having fun there!
Helene
2016-12-15T00:00:00Z
Der Aufenthalt bei Veronika war top! Sie kommuniziert rasch und offen. Sie hat uns herzlich empfangen und wir haben uns sehr wohl gefühlt. Wir werden wieder bei Veronika übernachten! Herzlichen Dank!
Angela
2016-12-03T00:00:00Z
Sehr liebe und offene Gastgeberin. Sehr sauber und aufgeräumt, obwohl das Häuschen etwas älter ist! Habe mich gut aufgehoben gefühlt ...
Johanna
2017-03-30T00:00:00Z
Alles bestens!
Christian
2016-12-20T00:00:00Z
Das Zimmer, das wir bei Veronika hatten, ist sehr geräumig, nett eingerichtet und hat ein großes super bequemes Bett. Leider liegt es zur Straßenseite und da wir gerne bei offenem Fenster schlafen, hat uns die Lautstärke der vorbeifahrenden Autos gestört. Ansonsten können wir die Unterkunft gerne weiterempfehlen.
Katrin
2017-04-02T00:00:00Z
Die Kommunikation mit Veronika war hervorragend und schnell. Das Einchecken unkompliziert. Vanessa und ihre Mitbewohnerin sind sehr nett und kommunikativ. Ich habe mich sehr wohl gefühlt und werde bei Bedarf gerne wieder bei den Beiden übernachten.
Friedemann
2016-11-30T00:00:00Z
Amable,servicial, amigable ! Muy Pura Vida !
juan miguel
2016-12-17T00:00:00Z
Room Type
Private room
---
Property Type
House
---
Accommodates
2
---
Bedrooms
Zug, Zug, Switzerland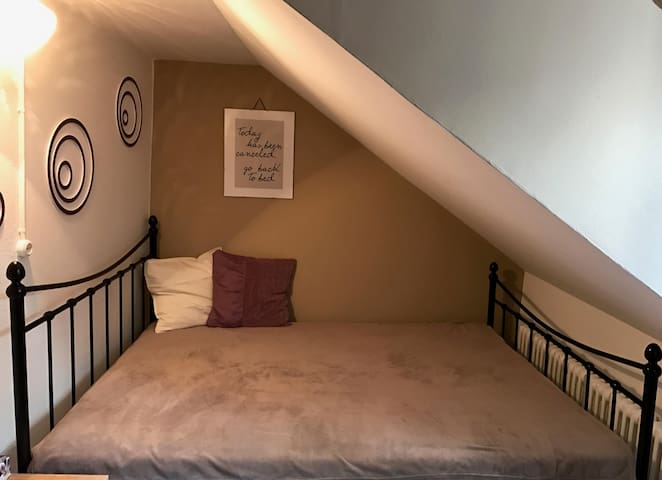 Your room of 38 m2 (410 sq ft) lies in our house close to the old town and is easy accessible by public transport. You will love our accommodation because of its quietness, its surroundings and its Closeness to the lake. Our bedroom with own bathroom/WC is best for couples and business travellers. The room lies on the 3rd floor.
38 m2 with fridge, microwave and kettle; i.e. a small breakfast can be prepared by yourself. Tea, coffee, sugar etc. are available.
Two public lakeside swimming facilities can be reached in a 5 min. stroll. To the old town with boulevard on the lake and restaurants are not more than 10 mins away.
The house from Alma and Willi is located close to the Zug train station in a very quiet area. Everything is actually at walking distance from their place. The room they rent is big, extremely clean, and includes a private bathroom, a microwave and a fridge. All you may need is there, very well equipped. Alma and Willi are very friendly and extremely easy to communicate with. Highly recommended to all!
Marco
2017-03-30T00:00:00Z
This place is totally great! Plenty of space and features, quite near for the center of Zug and really charming!
Christophe
2016-09-27T00:00:00Z
A short walk from the city centre to a quiet residential neighbourhood. Nice room in the attic with a view to the hills. The place was clean and nice the the hosts were really friendly.
Tommi
2017-01-15T00:00:00Z
Alma and Willi were nothing but nice to us. the parking is easy, the house and room are neat and beautiful. The room has a private bathroom, microwave and water heater to make tea or coffee.
Gianfranco
2016-07-20T00:00:00Z
Can it be any better? Alma and Willi are fantastic and the room was great. Plenty of space, vaulted ceilings, mini fridge, microwave, and a coffee pot. Come and go as you please, but your hosts are always there to help. The town of Zug is a treasure and the lake is fantastic, with lots of hiking, and sight-seeing opportunities. Switzerland is expensive, but it is a must see and I would highly reccommend Zug and, especially Alma and Willi.
Maria Ximena
2016-08-24T00:00:00Z
It was a pleasure to stay at Alma's and Willi's place for a couple of days. Everything was great, the place was clean and tidy. If you're going to Zug, I recommend this place.
Kim
2016-08-28T00:00:00Z
Alana and Willi are great hosts. My son and I stayed for 3 nights. We felt welcome and enjoyed staying at their centrally located home in Zug. Highly recommend.
Henri
2016-10-11T00:00:00Z
Alma and Willi are so awesome. Kindness, fun;) I went to swiss with my husband, he and me were felt comfortable. I never seen before perfect accommodations. If we will go to swiss again, we can go here no hesitation.
Noel
2016-07-18T00:00:00Z
Room Type
Private room
---
Property Type
Bed & Breakfast
---
Accommodates
2
---
Bedrooms
Zug, Zug, Switzerland
In the heart of Zug, 1 minute walking distance from train station and shopping center (restaurants, cinema), 5 minutes walking distance from the lake, fully furnished apartment (2.5 rooms) with balcony and great view.
Modern city centre apartment, yet quiet with superbe view!
Right in the centre of Zug, overlooking it all from the top floor, very quiet neighbours.
Just perfect, as usual.
Tom
2017-03-13T00:00:00Z
It's always a pleasure to stay at Michele's apartment. She is a very attentive host and will make you very welcome. Her apartment is a very comfortable and relaxing place to stay and is very close to all the amienities.
Robert
2017-02-03T00:00:00Z
I've stayed at Michele's apartment a number of times now and everything is consistently excellent. Michele is a very attentive host and her apartment is always very comfortable, clean and well equipped.
Robert
2016-09-29T00:00:00Z
Had a wonderful stay. Michele really goes out of her way to make you feel at home. You can't beat the location either: less than 5 minutes from her front door to the train platform!
hiromi
2017-03-17T00:00:00Z
Perfect location near to shops, train station and restaurants / bars, bed was one of the best I've slept in for an Airbnb, otherwise very comfortable home and English TV which is always a plus! Would definitely recommend, the welcome beer was a nice touch :)
David
2017-04-05T00:00:00Z
The apartment is perfectly located, it has everything you need and it is very cozy. Michèle is a great host!
Rui Filipe
2017-03-02T00:00:00Z
The host is very rice and helpful. She gave a lot advises when I have troubles. Very nice And friendly people.'
星星
2017-03-25T00:00:00Z
Michele is a great host. She made me feel very welcomed. The location of the apartment is great, it is very clean and central. The kitchen is well equipped.
Amir
2017-02-16T00:00:00Z
Room Type
Entire home/apt
---
Property Type
Apartment
---
Accommodates
2
---
Bedrooms
Zug, Zug, Switzerland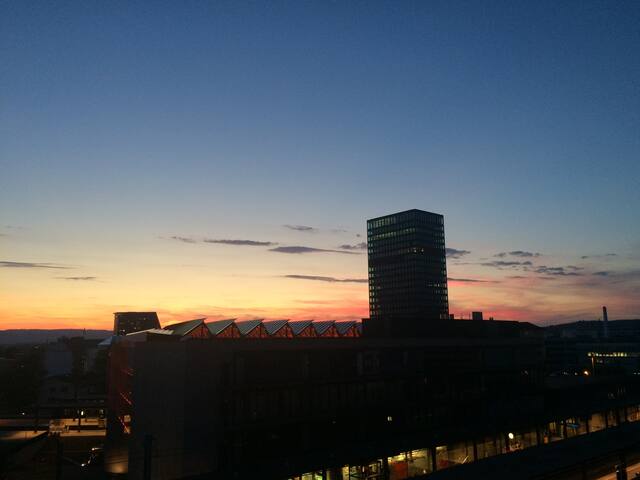 Very Private (Wifi) Studio apartment located on lower ground level building on Baarerstrasse in Zug. Fully equipped kitchen including new Sumsung microwave and dish washer. Bang & Olufsen TV-DVD-RADIO 120 channels. Wifi connection for all guests. New Whirlpool washing machine, double bed, New linen & towels all provided. Short walking distance Zug train. Private entrance no neighbors to worry about. Please contact me if you have any further questions.
Couples & Professional Guests will enjoy the private modern building. You are within walking distance to local restaurants and bars like Pier 41 and Pickwick Pub. Perfect for the solo business traveler or for a visitor to Zug. You have a fully equipped kitchen including new Samsung microwave and stove. Mini dishwasher and washing machine and drying room for your clothes. Wifi is included in the studio and access to local and international television channels.
Within walking distance of all major companies in Zug like Siemens and Johnson & Johnson.
Location is ideal for access to Zug centre, the train station and Zurich. The apartment is nice and clean and as described in the advert. I never personally met the host due to the time I was arriving , but he was always available over the phone and helpful. I would stay here again.
Zuhaib
2016-06-29T00:00:00Z
Great host. Add wifi, a small TV & a few other small details (I know you are about to do that or by the time of this review it's maybe done) and your place will be best value for money at this spot.
Iwan
2016-11-11T00:00:00Z
I only arrived past midnight and left early in the morning. Very convenient for what I needed.
Nils
2016-09-08T00:00:00Z
It was a nice, clean and quiet studio and perfect for the purpose of our trip to Zug.
Kirsten Stochflet
2017-02-12T00:00:00Z
The studio is exactly as it is in the picture, everything was clean and arranged for me to arrive. Close to everything you need. My only problem there was the wifi, I didn't notice that is not available before booking, even though the shopping center and the train station has free wifi. I strongly recommend the flat.
Maria Angélica
2016-06-09T00:00:00Z
The host canceled this reservation 10 days before arrival. This is an automated posting.
Rhett
2016-06-18T00:00:00Z
New Building, new appartment, all fresh, clean and modern. All amenities available like washing powder, flat iron, hair dryer. Very conveniently located. Host was very responsive and caring even when we never met as my schedule required "remote care".
Thomas
2016-05-26T00:00:00Z
Nice compact flat in the new town of Zug. An easy walk to/from the train station under 10mins. Another 10m to the Centre of old town / the lake. Nice cafe nearby. It was the perfect location for us. Only downside is it can be loud with the window open and the bed could be more comfortable, but minor issues. Price was also very affordable. Would stay again.
Sebastian
2016-10-11T00:00:00Z
Room Type
Entire home/apt
---
Property Type
Apartment
---
Accommodates
2
---
Bedrooms
Zug, Zug, Switzerland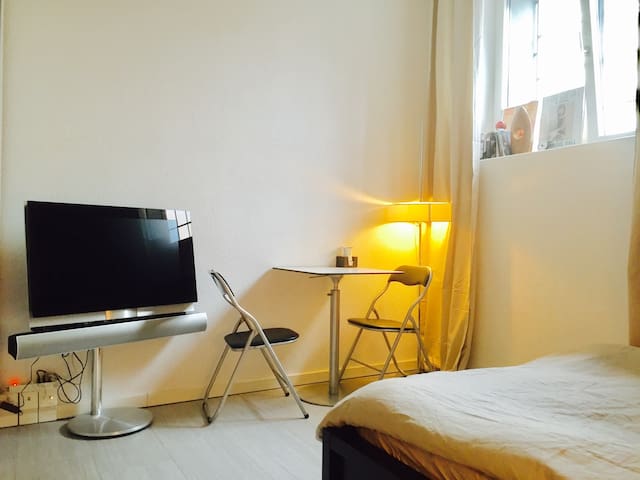 Enter dates to see full pricing. Additional fees apply. Taxes may be added.