Villa Z is a newly renovated (finished in June) house located in Lepetane, a small fishermen settlement in the heart of Bay of Kotor. The villa is at least 400 yrs old. The villa's location is perfect because you are well connected to the neighboring cities (Tivat, Kotor, Budva, Herceg Novi) by either a bus or a ferry. Some of the nearby amenities include centuries old churches, Kotor Old Town, Our Lady of the Rocks(a church on the island), maritime museums, palaces and much more.
Villa Z is a newly renovated, 400 years old stone house. It consists of two floors. Kitchen, living room, and bathroom are on the first floor while two bedrooms are upstairs. One bedroom has a sea view as you can see from the pictures while the other ones overlooks the backyard area. It's a modern house that has everything you need for either a short or long stay. Some of the newly updated amenities include a 55 inch Sony 4K TV and a mini bar in one bedroom
Lepetane is a small fishermen settlement located in the heart of Bay of Kotor, which is one of the most beautiful bays in the world. It is rich in maritime history, art, and culture. Everywhere you turn there are centuries old churches, palaces and houses. You will be surrounded by history. You can explore all day or just sit at the balcony and watch cruise ships sail by. Notable amenities include Kotor Old Town, a UNESCO protected site with one of the oldest cathedrals in Europe, Cathedral of St. Tripun, Our Lady of the Rocks, a church on the islet with an amazing story which I don't want to spoil for you :-). Modern amenities include Porto Montenegro, nightclubs, and vibrant beach parties. There is something for everyone ranging from history geeks to out goers.
The place was great, brand new and with everything you need. Elena and her family were great and lived next door so we could ask anything anytime. It's the best location to explore the Kotor bay and this part of the coast because tou don't have to do the whole tour of the bay averyday, the ferry is just in front of the house. There is a small shop with food and necessities nearby. It's better to have a car but there is a bus stop at the ferry station. Maybe if you're very sentitive to the noise one of the bedroom won't be suitable for you because of the ferries trafic but it's not at all a problem. The parking is very convenient. Wifi was a bit slow but it's good to get a detox! :-) good choice!!!
Jeremie
2016-08-14T00:00:00Z
We stayed in Villa Z for 10 days and had a very good rest. Its a nice and cozy appartments in a wonderful old fashion style. Elena's family was a very hospitable and friendly, they provided all necessary information and things we needed. Also a good addition was that every 3 days they changed our towels and even cleaned the house for a once. The only thing which was annoying that the ferry was a pretty close to appartments, and it didn's stop to work all night, so there was a bit loudly. But never the less we a very enjoyed our accomadation in Villa Z. Thanks a lot to Elena and her family!
Mikhail
2016-09-11T00:00:00Z
Staying at Villa Z was a wonderful experience. The house is spacious and very well equipped with brand new appliances. The beds in the bedrooms are large and comfortable. My favorite part was the lovely back garden where me and my friends had our breakfasts in the shade of the many plants that grow there. Elena and her family were great hosts, very helpful both before and during our stay. The location was great for us, as we traveled by car and had most of the sights that interested us easily accessible. The parking space right next to the house was greatly appreciated. The house is located right next to the ferry which means you can easily get anywhere around Kotor Bay. There is a small shop close to the house that met our daily needs. Lepetane is a very nice place, we enjoyed the fact that it is a small village rather than a busy touristy town. A perfect place to come back to after a day at the beach or a climb in the mountains. A hiking trail begins right next to the house and climbs up the Vrmac massif leading up to a 9th century church that offers an amazing view, one of the many, many amazing views Kotor Bay offered us. We enjoyed our stay in the house very much and would definitely stay here again.
Anna
2016-08-22T00:00:00Z
Thank u very much for your wellcoming . And especially thanx to parents:)
Ekaterina
2016-09-30T00:00:00Z
When we got to Lepetane we were met and shown through the home, we were amazed at how nice the whole building was both inside and out. Even though the building is hundreds of yours old it's interior has been tastefully updated. The house is very roomy both the ground floor and the two large bedrooms on the upper floor. Very close by is a little grocery store that has most things you will need (open to 10:00 pm), they are very helpful too, they even lent us a corkscrew over night when they did not have one for sale. There is the bus stop that is within a stones throw from the front door and a nice restaurant about a three or four minute walk away. We had to leave at 5:00 am and never expected to be given a breakfast to eat in the taxi, thank you! Would go back again? You bet!!
Angus
2016-08-29T00:00:00Z
Отдыхали с 18 по 25 сентября 2016года двумя парами! Хотим выразить свою благодарность Елене и всей её большой семье, которая нас так гостеприимно и тепло встречала! Вилла находится в очень красивом месте и в то же время удобном для путешествия по стране! Полностью соответствует фотографиям! Очень просторно, чисто, есть все необходимое, а чего не доставало по первой же просьбе хозяева предоставили (гладильная доска, утюг и фен для волос)! Отличный внутренний дворик - зеленый, ухоженный! Есть мангал и обеденный стол, где можно устраивать барбекю! На любой вопрос или просьбу хозяева давали ответы и помогали! Спасибо Вам огромное за незабываемый отдых! Мы обязательно к Вам вернемся!
Mariya
2016-09-26T00:00:00Z
Хороший дом, в классическом для Черногории стиле с приятной внутренней обстановкой и ремонтом. Полный набор принадлежностей для быта, включая посудомоечную машину, варочную панель (газ+электричество) с духовкой, стиральную машину, посуду и т.д. В жаркую или прохладную погоду помогут современные инверторные кондиционеры во всех комнатах. С обратной стороны дома - небольшой садик со столом и грилем. Две спальни с большими двухспальными кроватями. В спальной комнате, выходящей на сторону гор совсем тихо (хотя и на стороне паромов приемлемо - кстати, гудков паромов больше не слышно в принципе даже в тихое утро). Хозяева предоставили персональное стояночное место для нашей Mazda 2, но, сомневаюсь, что большее авто сможет на нем разместиться. В 30 метрах от дома небольшой магазин, правда, рассказать об его ассортименте ничего не могу, не заходил. Родители Елены живут прямо по соседству, так что возникающие вопросы можно решить быстро. Хотя практически круглосуточно на связи через Viber был её брат :-(URL HIDDEN)
Владимир
2016-10-12T00:00:00Z
Гостеприимная семья, на все наши просьбы откликались оперативно. Дом соответствует описанию, отличное состояние- все новое. Стиральная машинка и чайник тоже есть. Удачное расположение для поездок в Котор и Герцег-нови, до аэропорта Тиват на такси 10 мин. Магазин с самым необходимым и остановка в 50 метрах, горная тропа для пеших походов начинается у дома, в 200 метрах есть удобное место для купания (не пляж). Одна спальная комната выходит на паром, вторая во двор, паром работает круглые сутки - окна пластиковые - не слышно, если закрыты. Комнаты просторные. Много шкафов, понравилось, что даже чемоданы убирали в шкаф и спальная оставалась по-домашнему уютной. Очень удобные матрасы. Красивый вид с балкона на залив. В один из дней хозяева угощали деликатесами своего изготовления. Очень душевно. Интернет работал не всегда стабильно. Мы были вшестером - 4 взрослых, ребенок и младенец. На диване в гостинной могут расположиться и двое детей, хотя дом заявлен на 5 гостей. При поездке в эту местность - с большим удовольствием остановлюсь еще раз.
Olga
2016-07-24T00:00:00Z
Room Type
Entire home/apt
---
Property Type
House
---
Accommodates
5
---
Bedrooms
Lepetane, Tivat, Montenegro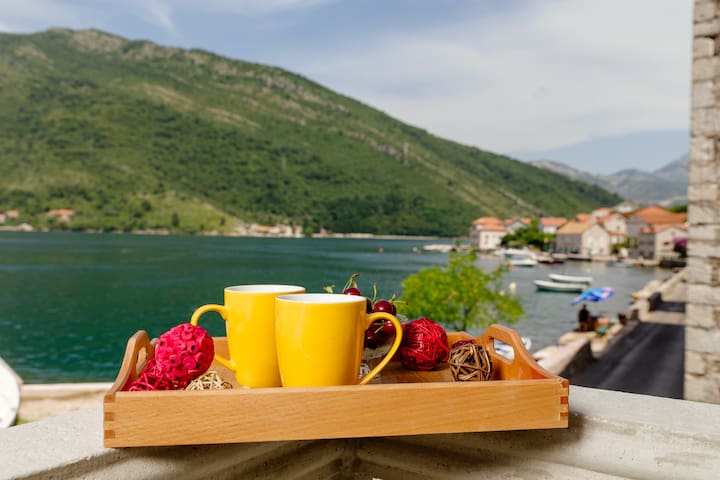 The room fits 2 people and comes with sea view (the main picture shows the view from the window), free good quality Wi-Fi , mini fridge, air-condition and additional ceiling fan, desk for laptop/snacks, TV, shared bathroom with shower. Ideal for couples & solo travellers!
A breathtaking Sea view you won't find anywhere else.. The room fits 2 people.
We can take you to the island of Our Lady of the Rocks (the only artificial island in the Adriatic sea) which is the home of a homonym Catholich church (price maximum €5). Not far from us, in Palace Bujovic, there's the Perast city museum. Next to St. Nicholas Church (central square) there's one of the highest church towers in the southern Adriatic region which offers a breath taking view from the top. Although You can have a bath on the stone piers (one in front of us too), there are two beaches on north and south sides both close to the parking places; we recommend you the "north beach" close to our house, where you'll find also the "Pirate bar". There are canoas to rent right in front of the Museum (price around €10 for a 1 hour trip for two people).
I'm not sure if theres a bad view to be had in Perast but Branko's apartment was absolutely great - the view is just as you see it. His communication was great and ensured that I found the room which is set back a little from the road easily. The amenities were wonderful and his mother was very welcoming. Highly recommended
aaron
2016-09-19T00:00:00Z
Superb location right in the centre of stunning Perast. Great room in beautiful building. Hosts were excellent with great communication.
Mark
2016-10-11T00:00:00Z
Extremely friendly and accommodating hosts, I had drinks and food with their friends one evening. House lovely and clean and very close to everything in Perast. It would be useful to hire a car to have more flexibility in exploring the bay as I spent a while waiting for buses.
Gregory
2016-06-29T00:00:00Z
We enjoyed our stay at Branko's, we had a long day of driving and were arriving late, our host greeted us with a smile! He helped with our bags and explained the apartment to us. In the morning we woke to an amazing view! There is a great restaurant across the street and it is not far to drive to Old Town Dubrovnic. Highly recomend!
Chris
2016-10-16T00:00:00Z
Authentic house with a amazing sea view from your room. Friendly welcoming, very good location, clean, good value-money.
Sofie and Stijn
2016-09-09T00:00:00Z
Bluemarine Perast was a pleasant room to stay in with a beautiful view! However the room was a very varm place in the house but there is a fan in the room. The contact with Branko was smooth and he was very pleasant to talk to on the phone (he is helping his mother and father with renting out the room). His mother was also a very pleasant woman and we liked to stay in the room in beautiful Perast during the Fasinada!
Sara
2015-07-23T00:00:00Z
Nice stay. Room was clean and view as described. Branko's mother welcome as very well and was very nice.
Fabian
2016-09-27T00:00:00Z
I had a beautiful time here! I came to Perast for a solo weekend getaway and it was perfect! I didn't meet Branko, but his mom was so sweet and hospitable. I found the location of the building from the street, but finding the entrance was a bit tricky for me. However, I asked a few locals and gave them the name of Branko and his mom (which was provided in the email) and they immediately brought me to the place. The room was clean and cozy with great Wifi, the bathroom was clean and had storage for my toiletries, and there were delicious cafes very close by. My favorite feature was definitely THE VIEW! I spent so much time leaning on the windowsill and watching the boats go by in the bay. Just gorgeous! Perast isn't much of a party town, so the only noise I heard at night were a few cats in the courtyard. I definitely recommend this place and, if I'm ever in this part of the world again, will definitely come back to stay.
Kate
2016-05-03T00:00:00Z
Room Type
Private room
---
Property Type
House
---
Accommodates
2
---
Bedrooms
Perast, Kotor Municipality, Montenegro
little room with two bad .house is one minute of the sea
Stevan is really accommodating. Place very well located in the beautiful Perast. Thank you for everything. Guillaume et Mélanie
Guillaume
2016-08-08T00:00:00Z
Perfect location and a lovely housen.
Tom
2016-08-05T00:00:00Z
Everything was as in AirBnB offer. Stevan is a person, who knows how to be a good host. He is very friendly and very helpful! We have spent some time talking and he gave as a lot interesting informations - thanks Stevan for that! :) Everywhere is clean (room, toilets/bathrooms, kitchen) - atmosphere of this place is very, VERY NICE! :) I recommend this place 100%. When we were leaving Steven's place we started thinking when we can be back - that's the best recommendation! :) And about Perast - lovely, cozy, small village with many attractions, nice restaurants and to so loudly. We were there for the first time, but for sure not for the last time! Just go there! :)
Wojtek
2016-08-21T00:00:00Z
My best experience on airbnb. Perast is a little village really beautifull. And Stevan was always preocupated about our comfort. The house is very clean, very good position. If you want to make adventures you can do it, to be quiet, to look the stars, to visit islands, eat good... It's the perfect place. And to make friends :) i really say is the perfect place to go in montenegro.
Carol
2016-08-14T00:00:00Z
Stevan is very sympathic. his place is very well situated and very quiet. we really like staying there
joseph
2016-08-23T00:00:00Z
Nice location and nice view, confort is basic but ok.
Edith
2016-09-06T00:00:00Z
Room Type
Private room
---
Property Type
House
---
Accommodates
2
---
Bedrooms
Perast, Kotor, Montenegro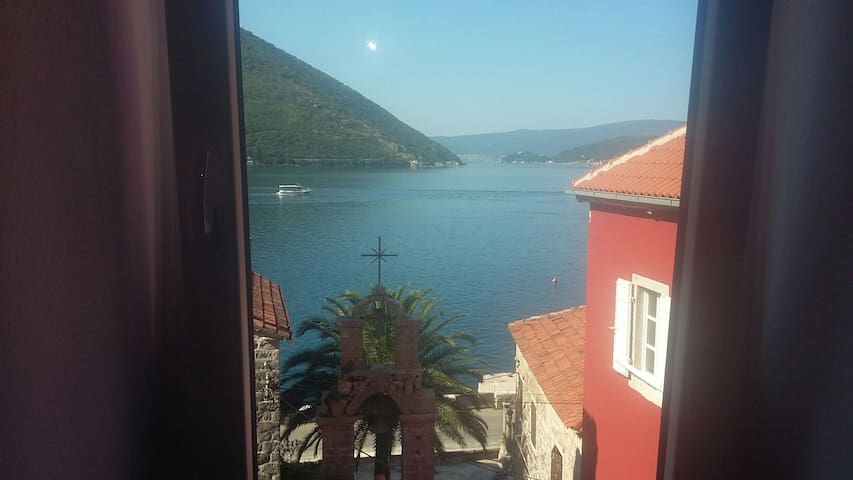 Tivat is a coastal town in southwest Montenegro,located in the Bay of Kotor. We offer double and triple rooms that provide you with air conditioning,a balcony and a seating area,free parking.
Perfect location for guests. There are many activities in the town to choose from. Porto Montenegro is 5 minutes walk. It combines a spectacular destination with a world-class,full-service marina. Town center is 4 minutes walk.
Ana's accommodation is pretty basic, but you do get a clean room with a nice bed. The location is a bit tricky to find - and yet it is located just a short (5 minutes) walk from one of the most beautiful marinas in the region (Porto Montenegro). The whole family is great and I felt really welcome there.
Miran
2016-08-14T00:00:00Z
Ana was really sweet and welcoming, and her place was very homey and had everything I needed. It was nice and quiet, but just a short walk to town.
Zoe
2016-08-25T00:00:00Z
Host is warm and kind helpful. They are stand by guest everytime. Calm and beatiful near area. Highly recommended.
Veterans(yong)
2017-03-23T00:00:00Z
I really enjoyed visiting Anna. I felt at home. Everything was very good. Anna was very polite. The room where I stayed is very cozy.
Павел
2016-10-15T00:00:00Z
Ana was the best host I've had on airbnb. Really nice and available, even made me breakfast with tomatoes from the garden. There were 3 other travelers in the apartment, so it was a great opportunity to meet people. I was supposed to only stay one night but I quickly decided to prolonge for a second night. If ever I come back to this region, I'm sure I'll try to come here again.
Thierry
2016-08-12T00:00:00Z
Anna is a very kind host, i definitely recommend her place to stay in Tivat
Dmitry
2016-09-11T00:00:00Z
Had such a lovely stay with Ana and her family in Tivat, such a beautiful location on the hills and they were all so welcoming and accommodating, thank you so much!
Kate
2017-04-02T00:00:00Z
Everything was great ! The room was small but cozy. Ana was kind enough to drop me to the airport free of charge, huge thank you for that! Comes highly recommended
Tatiana
2016-10-30T00:00:00Z
Room Type
Private room
---
Property Type
House
---
Accommodates
2
---
Bedrooms
Тиват, Тиват, Montenegro
In Donje Seljanovo,next to Porto MNE,1 km from center.Studio apartment: first floor, detached entrance, bathroom, mini kitchen, also includes cable TV and WiFi. It comfortably fits two persons. Additional person can be accommodated on a folded bed.
Convenient, fair price for value, an isolated terrace (no sea view) discreet place to take afternoon sun, overlooking back of the house and greenery.
Sea, sunbathing, swimming, walking, yachting, hiking. Couple of beaches at 10 minutes walk. No need for a car. No night bars in the neighborhood or noisy restaurants. You will have a restful night. This is a residential area of family houses. If you like hiking, there is a hiking path at some half an hour walk (village of Gornja Lastva and mountain Vrmac overlooking the bay of Tivat and Kotor).
Very positive experience and will definitely be our first choice if (when) we come back to the beautiful Tivat. Perfect location and you get exactly what is advertised for a very reasonable price. Richard and his family are very helpful and provide a warm welcome. Also, Richard was very quick in answering any question we had before and during the stay. Well done!!
Jordi
2016-06-13T00:00:00Z
We had ideal vocation with the help of this very apartment!everything was great .location to the beach-3 minutes walking.close to porte montenegro.15 minutes walking to the city center.great host and hostess!!!thanks you so much
Ruslan
2015-08-11T00:00:00Z
Great little apartment just outside Porto Montenegro, perfect for what I needed. Thank you Richard!
Liam
2016-08-09T00:00:00Z
It`s a nice place with good location, close to the sea and places to see. The appartment has all nessesary things to have a good rest.The second part of a day you can spend on a small terrace, which is sunny till evening. There are small foodstores around and a bigger one in 15 minutes walk. In 20-25 minutes walk you can reach the center of a city Tivat, where shopping, good restaurants and nice views. I havn`t chance to meet Richard but his mother is a very nice persone and extremely beautiful woman))
Clair
2014-09-30T00:00:00Z
We had great vacation at Richard's place and would defintly come back. Richard and his family are friendly and warm people, and we really felt pleasnt during our stay. The place is really cosy and nice and has everything you need with beautiful secluded terrace. It is takes less than 5 minutes to reach the beach by foot, but even better is that is next to beautiful sights such as Boka Bay, Lustica Bay and Porto Montenegro.
Andrea
2015-07-28T00:00:00Z
We greeted by Richard's mum upon arrival and she is friendly and helpful. The house was clean and comfortable, convenient location very easy walk to the beach (3 mins) and downtown (10mins). Recommended this place and will definitely book again if we're back!
Judi
2016-06-02T00:00:00Z
We enjoyed staying at Richard's place a lot: it is a studio apartment with everything you need to feel yourself at a 5-star hotel, including kitchen, terrace and big shower room. Nothing to complain about. A good location allows you to reach the shore in less than 5 minutes walk and the city center in 15. Richard was very helpful providing us with all the necessary information to get around and advising the best restaurants in town. He's always in touch and responds quickly. If you're a cat lover this is the right place too :D
Dima
2016-09-23T00:00:00Z
The appartmets is not so big, but we were ready for this. Everything is clean, working wi-fi, many necessary thing like knife, towels, plates, cups.. The main advantage is that appartment is close to the sea and airport. Very quiet place! We were like it!
Виктория
2015-06-28T00:00:00Z
Room Type
Entire home/apt
---
Property Type
House
---
Accommodates
2
---
Bedrooms
Tivat, Tivat, Montenegro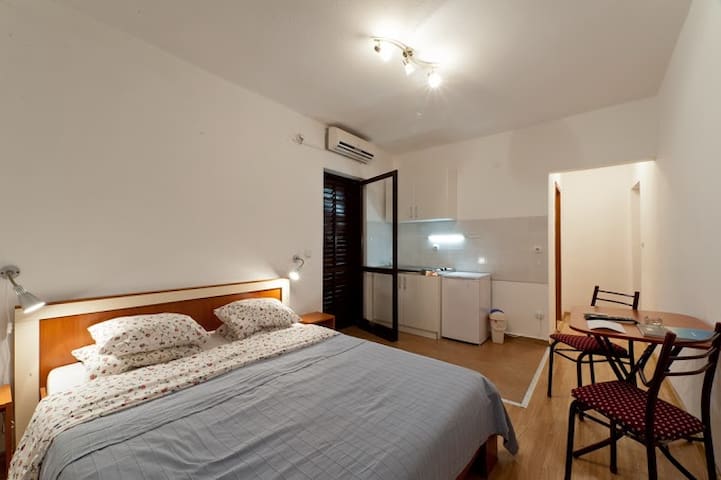 My place is quite and homey. It has a great location, just 2 steps from the sea. It's perfect for any type of travellers, also booking for events is available. It's 5 minutes by car to Risan or 25 minutes walking. 15 minutes by car to Kotor and 20 minutes to Tivat Airport. Transfer can be provided upon agreement. I'm available at any time and ready to help you with whatever question you might have.
Lovely people. Warm and friendly. Will help you make plans for wherever you want to go around Kotor bay.
Zoe
2016-09-07T00:00:00Z
stevan was a nice host and also his father who lives there too. we had a free ride to the island that was really great. perast is a wonderful place! the room is a little bit small and hot at night. and it could be a little bit loud at night so i would not recommand to someone with children.
Laura
2016-08-18T00:00:00Z
Stevan was a great host. He was friendly and helpful to make us discover the Kotor Bay, he even offer us an canoe excursion on the sea ! The room was clean and fresh, as described on the pictures. Perfect location on the center of Perast, just behind the museum. We warmly recommand this place !
Mette
2016-07-24T00:00:00Z
Our stay at Stevan's place was great! He waited for us at the bus station and made sure we had everything we needed. We even got a complementary boat ride to the nearby islands.
Filip
2016-08-01T00:00:00Z
Persat is beautiful! And Stevan, very Nice host! This clean and spacious location is perfect to discovery this wonderful place!
Julie
2016-07-16T00:00:00Z
Our stay at Stevan's house was perfect : the room was great, the bathroom also. The view was as beautiful as described! We had access to his fridge. Stevan is very nice and welcoming. The city is very beautiful. So we hardly recommand Stevan!!
Chloe
2016-06-24T00:00:00Z
Stevan was a wonderful and welcoming host and even offered to collect me from Tivat airport. Throughout the stay we felt completely at home and nothing was too much trouble. All of Stevan's friends were lovely even taking us out on a boat to the island. A very relaxed atmosphere and a beautiful location. Would definitely return.
kathryn
2016-06-17T00:00:00Z
Stevan 's house is highly recommanded! All the family is funny and helpful when you need it. 30second to the beach. Stevan offered us à boat tour to the Island (10€ values for 2people). Kitch en is clean and usefull. Room is small but ok! If i Côme back, i Will book again!
Leslie
2016-08-05T00:00:00Z
Room Type
Private room
---
Property Type
House
---
Accommodates
2
---
Bedrooms
Perast, montenegro, Montenegro
Newly available from June 2008, this old stone house is located in the delightful fishing village of Lepetane and has been recently renovated throughout. It has spectacular views of the entrance to Boka Kotorska Fjord and the picturesque village of Kamenari from its windows, terraces and balconies. The living space on the ground floor has been opened up to give a spacious area for relaxing and eating and the two upper floors have light and airy bedrooms with dedicated bathrooms and balconies to each floor. The terrace to the front of the house leads across the single track lane to a mooring (or 'punta') for small craft. Bedroom 1 (1st floor) with double bed. Access door to balcony. Bedroom 2 (1st floor) Storage place for private usage only! Access door to balcony. Bedroom 3 (2nd floor) with double bed. Access door to balcony. Bedroom 4 (2nd floor) with twin beds. Access door to balcony. A high quality fitted kitchen with integrated appliances (oven, hob, dishwasher, fridge) has been newly installed and provides direct service into the dining area. The washing machine is neatly installed in the recess below the stairs. The Boka Kotorska fjord is a UNESCO World Heritage site. Sheer mountains contrast the tranquil waters of the bay and picturesque villages line the coast. The lovely village of Lepetane sits at the narrow entrance to the fjord and overlooks the cottages and steeples of Kamenari and Bijela Manastir on the opposite shore. For nature lovers, Lovcen national park is around 1 hour away. This is a truly wild and unspoilt area. Sutjeska National Park is around 2 hours away and has excellent walks and high mountains. White water rafting is popular on the Tara and Neretva rivers.
Jelena's place is perfect place for wonderfull vacation. It's close to many beaches, and intresting places (Kotor, Herceg Novi, Perast). House is so close to water that You can jump in whenever You like. Jelena is helpfull and very always smilled person. Thanks for wonderfull vacation - 3city Group Poland :)
Grzegorz
2014-09-18T00:00:00Z
We had probably our best AirBnB experience ever at Jelena and Nikola's lovely home in Lepetane. The house is perfectly located in a quaint seaside village on the beautiful Bay of Kotor--the loveliest and most historic part of Montenegro. Parking across the street was never a problem. Kotor and Perast are nearby, and the adjacent villages also invite exploration. Tivat airport is just a short drive away. Jelena was a wonderful host, who was easy to communicate with and took care of everything we needed, including preparing a delicious dinner for us on our last day featuring local fish caught in the bay. I highly recommend staying here!
Ivan
2016-06-23T00:00:00Z
Our trip in Montenegro was amaizing and our stay at Lepetani very nice. The house faces the bay which is so pleasant when waking up. Jelena is a very nice host she made everything so we can feel comfortable and give us some advice to visit Montenegro. For all the comments I saw, yes there is the ferry close to the house but the noise is not an issue and we get used very quickly so we can fully enjoy the bay.
Jeremy
2016-04-24T00:00:00Z
Had a fabulous stay here. Jelena was a delight and extremely helpful. The house was well equipped, clean, comfortable and in a convenient location. Yes the ferry is very near but wasn't noisy at all. Lovely spots to stop and swim on the route from the house towards Kotor along the coast road (v narrow and lots of stopping for passing cars!). We had a great time here
Jane
2016-08-29T00:00:00Z
The stay at Jelena and Nicola's villa could not be faulted and was even better than expected. There hospitality was outstanding, made us feel very welcome and was helpful throughout the stay. The villa was very clean, well equipped, with amazing views of bay from the windows and balcony. We would highly recommend the villa to anyone staying in Montenegro.
Patrick
2016-08-23T00:00:00Z
Beautifully renovated old house at the sea. Spacious enough for 6 people, 2 bathrooms plus 1 toilet. Thick walls and air condition makes climate calm also during hot days. Everything works perfectly and house is nice and clean (cleaning service was arranged also during our 9 night stay). Jelena and Nicola lives next house and are nice and very friendly, ready to help with your needs, give advices or fulfil your wishes. Closest beach (Verigo, small pebbles beach ) is 1km far but can get fresh by dropping to sea in front of house, but is better from pier that is approximately 100m far. Small shop is 200m from the house, coffee bar is next side of the bay, you can reach it via ferry operates 24/7 free of charge (for pedestrians). There is also a supermarket Roda. Mind the fact, that ferry port is lees than 200m from the house and operates 24/7. When the silence is what are you looking for, you can bee disappointed.
Rastislav
2015-07-11T00:00:00Z
We were greeted warmly at the gate by Jelena and shown around the lovely house. She knew we had theree babies with us and had turned the heaters on for us because the weather was a little chilly. The house is right next to the ferry but the noise didn't bother us at all. You could hardly hear it, even through the night. Jelena was kind enough to check back in with us each day to make sure we were doing alright and see if we needed anything. We would highly recommend this place to stay. The only concern of ours was that the stairs were a little dangerous with a toddler in our group.
Katie
2016-05-02T00:00:00Z
Beautiful location, lovely house and the nicest hosts you could wish for. Thanks to Jelena and Nikola for making us feel so welcome.
Phil
2016-07-21T00:00:00Z
Room Type
Entire home/apt
---
Property Type
House
---
Accommodates
6
---
Bedrooms
Tivat, Montenegro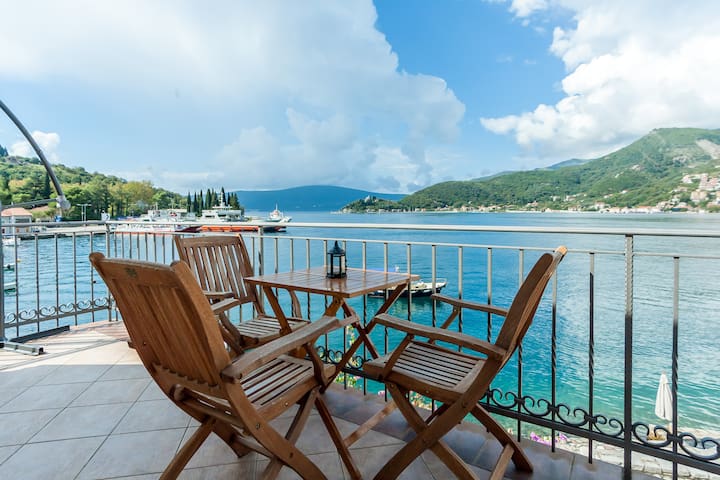 My place is located in beatiful Stoliv - Kotor Bay. The house has an excellent location in a quiet area and only 5 m from the sea with a private pier 90m2. The penthouse (entire floor) is perfect for couples, solo adventurers, and families (with kids). Approx 100 m2 living space. 100 m2 terrace. Ecological environment, in the gardens and surroundings of the house you will find Fig trees, Kiwi, Grapes, Bouganville tree and Palmtrees. Free Wifi and Cable TV are included. Free parking.
The private terrace is the jewel of this house with approx 100m2 open space. You will find 2 great relaxing cabanas on the terrace and the feeling that you are at sea because the views around you, is just the sea. Mountains surroundings, jaw-dropping wiews Kotor bay has a spectacular atmosphere and particular light. Penthouse, entire floor at your disposal 100m2 living space with high ceilings. Open floor-plan in communal areas kitchen living room dining room table with large surfaces and feels airy Cable TV Bose Sound System Free WiFi In the bedrooms you will find double beds with wardrobes . The sofa in the livingroom area is suitable for sleeping 2 people sleeps well Extra bed can be arranged on request. 2 separate and private bathrooms . If you are travelling with a large family and friends, the house has two separate double bed apartments on the 2:nd floor. Approx 35m2 per apartment with kitchen and private bathrooms + terrace. Seafront apartment 4 persons sleeps well 1 double bed and two singlebeds Totally can 10-14 beds be provided at the same location
Neighborhood area is a quiet and peaceful area Only private houses in the closest area very quiet at night. Olive trees fig trees kiwi grape/wineranks surrounding the house. Ecological enviroment A popular short hike up in the mountain to historical Church Sv. Ilije and remainings of the village Gornji Stoliv (which means Upper Stoliv) -Porto Montenegro the superyacht marina and lifestyle village is only 6 km from the house -Dubrovnik Airport 45 km -Tivat Airport 13 km -Podgorica 70 km -Kotor center 8 km -Budva center 25 km -Meals: as breakfast, lunch, dinner or picknick/beach paket can be arranged on request.
Absolutely stunning view and amazing, sweet host!! Daniel's mom lives downstairs and made us a fire in the evening, offered us homemade wine, and brought us pastries fresh out of the oven! She is truly gifted at hospitality. Outside of her control, however, is a home being built next door. The construction workers were working even at 7am on a Sunday which I couldn't believe. This is obviously temporary so if you are looking at this listing in a few months- shouldn't be an issue! Aside from that, very lovely stay and fabulous location for day trips to tivat, svetiStefan, and budva.
Angie
2016-10-24T00:00:00Z
Danielとの連絡はしっかりとれていましたが、宿を見つけることができませんでした。問題があるとすればそれだけです。部屋は素晴らしく、眺めも最高!更にDaniel のお母さんが素晴らしい歓迎で出迎えてくれました。我々が予定より遅く着いたので、食事やワイン、ラキアまでご馳走になってしまいました。暖炉には早くから薪をくべて部屋を暖めてくれてたようです。我々は2泊しましたが、kotor 市街まで車で20分くらいでしょうか。かなり細い道で、対向車とすれ違うのは大変ですが、それは大きな問題ではありません。Daniel の部屋から眺める景色があれば最高の満足を得ることができます。Daniel と彼のお母さんは最高のホストです。
K.
2016-10-17T00:00:00Z
Nous avons passé un séjour formidable au Monténégro. Le pays est magnifique et l'accueil de Daniel et sa maman est incomparable. Je recommande vivement.
noemie
2017-01-05T00:00:00Z
Room Type
Entire home/apt
---
Property Type
House
---
Accommodates
8
---
Bedrooms
Kotor, Tivat, Montenegro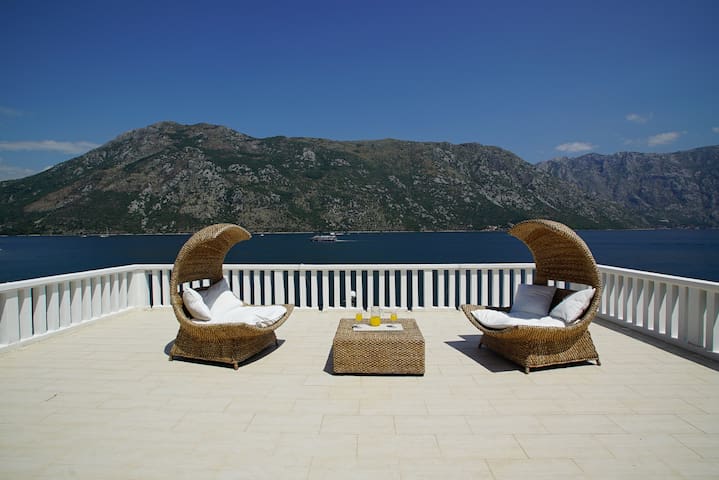 A wonderful Studio/Apartment close to the sea, decorated in traditional tones, with free Wi-Fi,garden/terrace, air-condition, cable TV, fully equipped kitchen & bathroom with shower. Suitable for 2/3 people, close to two Restaurants & Perast Marina.
What really makes the studio unique and different than other ones is the interior, a mix of traditional Perast style and modern features such as cable TV, air-conditioning, fully equipped kitchen, bathroom with shower etc. In addition, the terrace is our "value added" as our guests love spending most of the time there, while dining or having a coffee , or just relaxing.
We can take you to the island of Our Lady of the Rocks (the only artificial island in the Adriatic sea) which is the home of a homonym Catholich church (price maximum €5). Not far from us, in Palace Bujovic, there's the Perast city museum. Next to St. Nicholas Church (central square) there's one of the highest church towers in the southern Adriatic region which offers a breath taking view from the top. Although You can have a bath on the stone piers (one in front of us too), there are two beaches on north and south sides both close to the parking places; we recommend you the "north beach" close to our house, where you'll find also the "Pirate bar". There are canoas to rent right in front of the Museum (price around €10 for a 1 hour trip for two people).
The accommodation was perfect, in the heart of Perast with many nearby restaurants
Niall
2016-10-17T00:00:00Z
The apartment is great . Spaceous , cozy with very interesting interior and furniture . Very romantic atmosphere and in located in centre of Perast . Hosts are very warm , polite and helpfull . I would recommend this place to everyone , very great experience
Nina
2017-04-07T00:00:00Z
We stayed one night in this nice and cosy apartment in the center of Perast. Branko's mother gave us a warm welcome. Everything we need was available.
Lotte
2016-06-16T00:00:00Z
Great hospitality and great location right in Perast.
Hiltrud
2016-10-21T00:00:00Z
Спасибо огромное Бранко и Любице за гостеприимство и заботу!!!!)))) Бранко помогал на каждом этапе бронирования и выслал дополнительную информацию с картой. Любица встретила нас с улыбкой и с любовью) А дом это просто чудо!!! Очень не хотелось уезжать из этой красоты) На прощание Любица подарила мне сувенир, сделанный своими руками!!!))) И частичка Черногории и средневекового города пиратов( г. Пераст )поехала со мной в Россию!!!
Veta
2016-07-03T00:00:00Z
Room Type
Entire home/apt
---
Property Type
House
---
Accommodates
3
---
Bedrooms
Perast, Kotor Municipality, Montenegro
A place of sunlight, wood & stone near the fabled baroque palaces of SHESTOKRILOVICH, MAZAROVICH, BRONZA... House with two large bedrooms with separate showers and balconies! Two kitchens & dining lounges - indoors & outdoors. A lovely kiwi arbor! ...a few steps away from your shaded sea breeze beach & your parking
Ideal for FIVE guests! 2 airconditioned bedrooms 2 separate showers 2 separate seaview balconies 2 kitchens & dining lounges ...indoors & outdoors*** ***** dining ...wining... cooking and relaxing in the garden beneath a lovely kiwi arbour! Completely eqipped: WI-FI ...indoors & outdoors Dishwasher Laundry machine Microwave Stove Bar.b.q.
Noble palaces Quaint reataurants & bustling quares Two beaches: Quiet breezy pinegrove beach for meditation & Pirate sundance bar & beach with music and hustle... Museums and timeless sleepy isles...
Room Type
Entire home/apt
---
Property Type
House
---
Accommodates
5
---
Bedrooms
Perast, Opština Kotor, Montenegro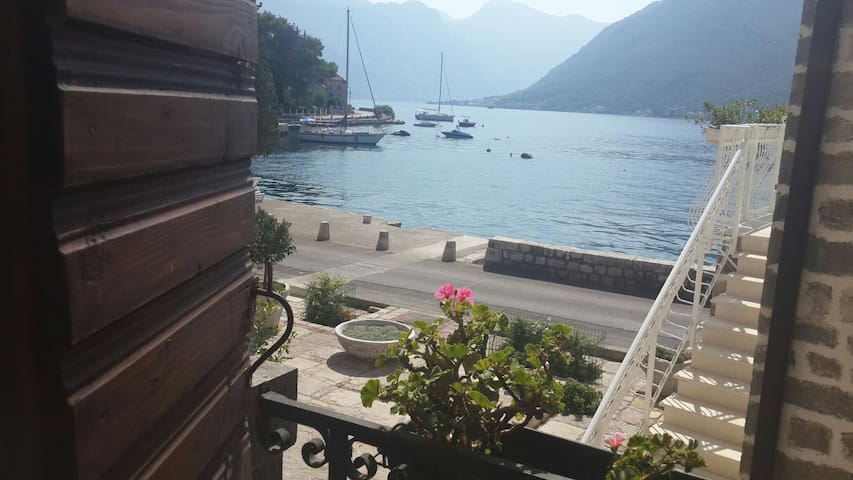 Live the beach lifestyle in this beautiful Beach home, just steps from the sand. Old but renovated this year, this 2 bedroom 1,5 bath house is just 5 minutes walking from Porto Montenegro. The house is provided with towels, linens, all you'll need to do is bring your toothbrush!. You'll love my place because of the light, the comfy bed, and the coziness. My place is good for couples, solo adventurers, business travelers, families (with kids), and big groups. *** BEST LOCATION IN TIVAT ***
Promenade, Restaurants, bars, shops, Porto Montenegro, city centre - all walking distance 1min to 5 min!!!
Room Type
Entire home/apt
---
Property Type
House
---
Accommodates
7
---
Bedrooms
Tivat, Tivat Municipality, Montenegro
Top.3 1.5 km from the airport from the city center and Porto Montenegro ... On the sea shore
Room Type
Entire home/apt
---
Property Type
House
---
Accommodates
3
---
Bedrooms
Доња Ластва, Тиват, Montenegro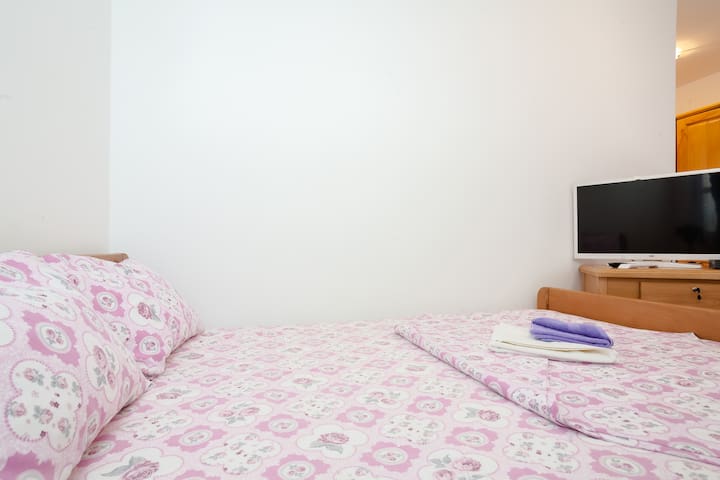 quite neighborhood, near beaches, near marina Porto Montenegro. Private space with balcony, free wifi, free parking. Dish washing machine, refrigerator, oven, washing machine.. Everything You need for enyou in vacation.
The accommodation exceed all our expectations! Nice light rooms. A lot of built-in cupboards (even too much cupboards :)). Very good equipped kitchen. A lot of dishes (plates, glasses, cups, cutting board, cookwares etc.). We were with two kids and cooked a lot of food at home. We found every required dishes at the kitchen. Big deep balcony. Even in the midday when sun shines to the balcony part of it was in the shadow so we had breakfast, dinner and supper on the balcony. There is a very big terrace with a lot of toys :) our children were happy and we couldn't take them off :) The apartments are very good located. There are bakery, market (with fresh fruits and vegetables), shops (department shop, butcher) at a walking distance (withing 5 minutes walk), Porto Montenegro. The nearest beach (withing 5 minutes walk) is the best beach to stay with kids in neighborhoods (we couldn't find any better beach in Seljanovo or Lastva). And owner Sanja is one more great bonus! :) Sanja met us in the airport, she showed us all shops even drove us to shops in the city center and at the other end of Tivat as we needed specific products to cook for our children. Every question we asked Sanja was answered as full as it's possible! She helped us to order taxi, to gathered information about excursions, advised which places is better to visit with children etc. Аппартаменты превзошли все наши ожидания! Аккуратные светлые комнаты, большое количество встроенных шкафов (мы жили месяц и смогли занять только половину :о)). Очень хорошо оборудованная кухня со всей необходимой посудой (тарелы, бокалы, чашки, кастрюли, сковорода и т.д.). Мы были с 2 детьми и много готовили дома. Посуды было достаточно. Очень хороший балкон: большой и глубокий. Даже в полдень, когда солнце светило на балкон, часть балкона было в тени, так что мы завтракали, обедали и ужинали только на балконе. Прозрачные ограждение балкона - находка для детей :) они висели на перилах и наблюдали за тем, что происходит на улице большую часть времени :) На первом этаже очень большая терраса с навесом с большим количеством игрушек. Очень удачное расположение. Рядом пекарня, рынок (со свежими фруктами и овощами), магазины (в 5 минутах ходьбы), Porto Montenegro. Ближайший пляж (в 5 минутах ходьбы) оказался лучшим пляжем для нас в Селяново или Ластве. А хозяйка Sanja - это один большой бонус! :) Sanja встретила нас в аэропорту, она показала нам все магазины и даже отвезла нас в магазины в центре города, а на другом конце города Тиват, так как мы нуждались в конкретных продуктах для наших детей. На все вопросы Sanja давала полный ответ как это только возможно! Она помогла нам сделать заказ такси, давала информацию об экскурсиях, советовала что стоит лучше посетить с детьми и т.д.
Andrei
2016-08-31T00:00:00Z
Very welcoming and friendly! Great communication and getting you settled in! Perfect location and would recommend to anyone who is visiting Montenegro
George
2016-07-02T00:00:00Z
Really nice and convenient flat close only 100 m from the sea. We had a very welcomed arrival and such a nice stay. I recommend to everyone who wants to go to tivat and kotor or around.
Maxime
2015-08-19T00:00:00Z
Good house. Good hosting.
Hakkı
2015-07-23T00:00:00Z
Все было отлично - спасибо за гостеприимство , отзывчивость и радушие. Квартира хоть и не с новым ремонтом, но нам было там хорошо! Расположение отличное - от пляжа, Порто Монтенегро и Тивата совсем недалеко.
Алия
2016-08-01T00:00:00Z
Casa piccola ma molto carina e ben organizzata. Noi eravamo in 4 (2 adulti e due bambini), e ci siamo trovati benissimo. Sanja è molto ospitale e la casa molto pulita. Si trova in una stradina laterale vicino al mare ed a 5/10 minuti a piedi dal centro del paese. Soggiorno molto bello!
Giorgio
2015-08-14T00:00:00Z
Room Type
Entire home/apt
---
Property Type
House
---
Accommodates
4
---
Bedrooms
Tivat, Tivat, Montenegro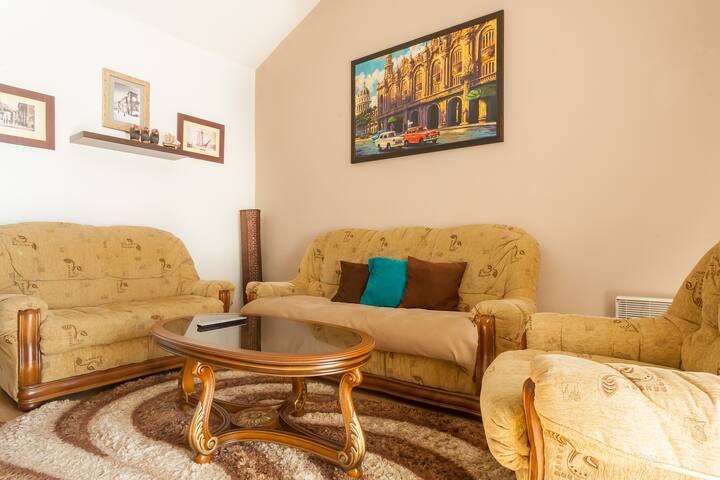 Set in stunning scenery and close to the beach front.The Balić family home was built more than 500 years ago and has six generations of family history within the house. Luxury accommodation in stunning surrounds close to the beach.
We had a lovely stay in this very large house in Montenegro. There is an abundance of space and a beautiful garden. There was plenty of room for all of us -- and amazing to have three bathrooms! -- and two different outdoor spaces to eat dinner in the evenings. The sea is a 5-minute walk from the house (though it is right next to a relatively busy road, so we chose to drive to different beaches - you also definitely need a car if you are staying here). We tried to use the private beach (listed in the photos) but we were told that it was only for hotel guests. Our host Bozidar was wonderful: so helpful, and flexible about our late arrival. He sorted out the tourist tax for us and had a lot of helpful advice. Thank you Bozidar!
Bryce
2016-08-21T00:00:00Z
Хороший дом со всеми удобствами, соответствует описанию и фото. хозяин живет в соседнем доме, всегда готов помочь по любому вопросу. Очень красивое место, в котором расположен дом. В 5 минутах ходьбы есть частный пляж с удобным заходом в море. также рядом есть общественный пляж. Все пляжи маленькие, но места всем хватало т.к. людей не много. Магазин в шаговой доступности. район и дом подходит для отдыха с детьми.
Татьяна
2016-08-04T00:00:00Z
Room Type
Entire home/apt
---
Property Type
House
---
Accommodates
9
---
Bedrooms
Herceg Novi, Herceg Novi, Montenegro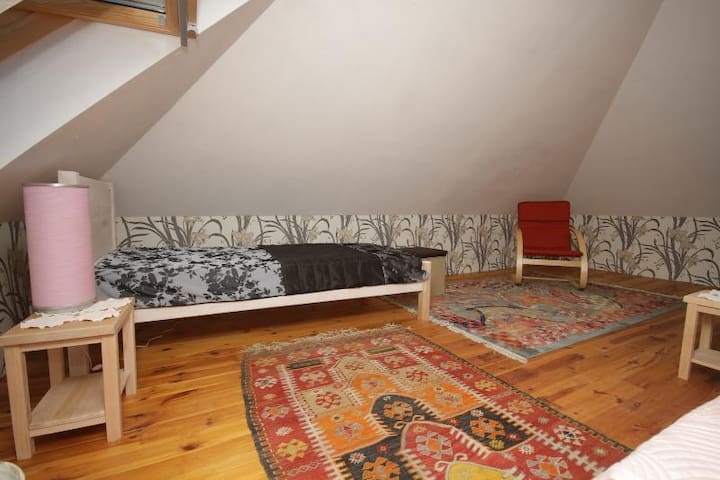 My place is close to public transport, the city center,beach,promenade,restaurants,cafes,historical monuments,museum,boat trips.... You'll love my place because of the views, the location, the outdoors space, the people, and the ambiance. My place is good for couples, solo adventurers, business travelers, families (with kids), and big groups.
House is more than 300 years old. It was completely renovated and owners kept old style mixed with modern demands. Guests have access to large terrace with beautiful view on town and sea, especially on entrance of Boka Kotorska called Verige. House have ground floor where sitting and dining area is with modern equipped kitchen. From ground flooe staircase take us on 1st floor where bathroom and 2 rooms are settled and again staircase take us to large penthouse. Outside of house under the large terrace is settled small double room.
Room Type
Entire home/apt
---
Property Type
House
---
Accommodates
8
---
Bedrooms
Perast, Kotor, Montenegro
Delightful 2 bedroom, 1 bathroom, sleeps 4/5, stone cottage, first line to the water. Well equipped and nicely decorated cottage with air conditioning and huge terrace in small village. Bus, taxis and ferry all within a few hundred metres.
This is a charming old cottage, at least 200 years old, with grey stone walls a metre thick. It is nicely furnished and equipped for year round living for 4/5 people. The air conditioning units can act as heating in the winter. The front double bedroom has great views over the Verige Straits and you can lie in bed and watch the dawn light up the mountains on the other side of the straits. It has a nice little balcony to enjoy breakfast from and watch the ships and boats go by. The other bedroom is a comfortable twin and there is a good size bathroom between the two rooms. It has a shower, basin, lavatory, bidet and washing machine. There is a fold up Z bed which can just fit in the at the end of the bed in the double bed room and would be ok for a child The ground floor is open plan with a comfortable seating area, dining area, with a partition to the very well equipped kitchen. There is a DVD player and monitor, a small library and games for a rainy day. The terrace is equipped with large wooden table and chairs, sun loungers, deck chairs and multiple cushions. During the hot summer months the terrace is shaded and a wonderful place to spend your days, eating, relaxing, reading, watching the world go by, sunbathing and having a bbq if you wish. There is also an extra lavatory that can only be accessed from the terrace. Lepetane is the ferry port for crossing the Veriga Straits so if you are looking for calm and tranquil then this may not be suitable for you - here is what one of my guests said last year "Before we booked here we were made aware of the fact that the cottage overlooks the ferry port and to expect a bit of noise. You can hear the ferries but I have to say it was absolutely not a problem for us and I would actually say it was nice because it was something to watch while we sat on the sun terrace." Here is what another guest has said "Sian was a pleasure to deal with and very helpful throughout. She was very honest before booking and said there will be some noise from the nearby ferry terminal which runs through the night in summer and that some people may not like this. Yes the terminal is close but the noise wasn't an issue for anyone in our group, as someone who has lived in city centres, near busy roads, train tracks and near an airport flightpath the noise was nowhere near as loud as these. I would describe it as more of a gentle hum when outside and the ferry is running but not loud enough so you have to shout to have a conversation. The ferry did run through the night but the frequency was only every hour after about 11pm. The noise certainly didn't keep anyone awake at night and was barely noticeable when inside. Having the ferry terminal that close is also a great and inexpensive way to quickly get across to the other side of the bay and as we were driving from Croatia it made the drive time to Lepetane considerable shorter. its also free if on foot." So I like everyone to be happy and you can decide if this is right for you .
If you want to discover the genuine Montenegro then choose the lovely village of Lepetane, located on the Verige straits of the Boka Kotorska, with lovely old stone houses and the ferry service to the other side of the fjord. It used to be the first port of call for the merchant ships returning home from their long voyages over seas. It has a local shop and several pebble beaches within walking distance or you can swim off the jetties. Only 2k to Portomontenegro, in Tivat, the newest and largest marina in the Adriatic, with its fabulous visiting yachts, trendy restaurants and bars. Fancy something with more history then wander round the town of Tivat, or take a boat cruise round the Boka and see the stunning scenery and Venetian, Roman and Austo-hungarian architecture from the water. It is only 20 minutes to Kotor, a beautiful walled Venetian town, with all its historical sites and numerous restaurants, cafes and bars. You can take the road round the bay or go via Tivat and the tunnel through the mountain.
Nicely decorated an good located appartment with a great view. The appartment was clean and the communication/oranization with the host worked without any problems.
Ruth
2015-04-29T00:00:00Z
Sian's place is really one of the best terraces in Lepetane. It is located in a lovely view of Bay of Kotor and the surrounding hills . The two storey house is nicely decorated. The terrace is very good for breakfast and bbq gatherings. You can enjoy fresh air and peaceful scenery while dining and chatting with your friends. The narrow road that leads to Kotor is suitable for silent morning walks. Sian was a perfect host. She welcomed us with fruits. The housekeeper Mrs. Ana was amazing as well. She frequently checked with us if we needed anything and while we were away hiking around she kept tidying up the house each time. Overall I recommend Sian's place. We visited in December. I'm sure it would be much joyful in summer.
Alper
2015-12-07T00:00:00Z
We really enjoyed our holidays in this place, now we believe that we will often remember this house reviewing photos and memories. The place is very beutiful, it is located in a small village just in front of the ferries. Sian carefully repeated many times that the ferries can be loud and will work at night too - for us it was ok, and the noize was not enough loud to disturb us, we even enjoyed them, because you have an opportunity to feel life in the place and to watch some activity on the water. The house is really great, it is very clean and you can feel there like at home, it is very cozy inside. The kitchen is suited very well, we could cook almost everything we wanted. The grill on the terrace made our trip! The bedrooms are suitable for one couple and two friends or children, the double bedroom even has its own balcony. From the technical point the house is suited very well: there is washing machine and other devices. Overall the decor exceeded our expectations. The terrace really turns to be the center of the place, and you will spend all your time there, it is really great. Also, it is necessary to point that the place is very close to neighbours and sometimes we felt uncomfortable just having a converstation with joy and laughter in the evening (after 8 p.m.) Location of the house is brilliant if you want to travel all over the boca-kotorska bay and to visit many the most exciting towns and places in Montenegro, because it is located in the middle of them. It is possible to use buses that cost 1,3 euro to get to Kotor, Hercer-Novi, Perast, Tivat and etc. The last moment: Lepetane is a very small village with just one small store, so you have to travel somewhere if you want to go to a restaurant or to buy meat and fish. For us it was not difficult, because it is very exciting to travel to old market of Kotor in the morning to choose some fresh fish and vergetables for dinner - the quality is brilliant. Finally, we want to say thank you to Sian for welcome bread, wine and all impressions that we took with ourselves back home. Somewhen we will want to visit this lovely place again.
Marina
2015-06-20T00:00:00Z
Room Type
Entire home/apt
---
Property Type
House
---
Accommodates
4
---
Bedrooms
Tivat, Montenegro, Montenegro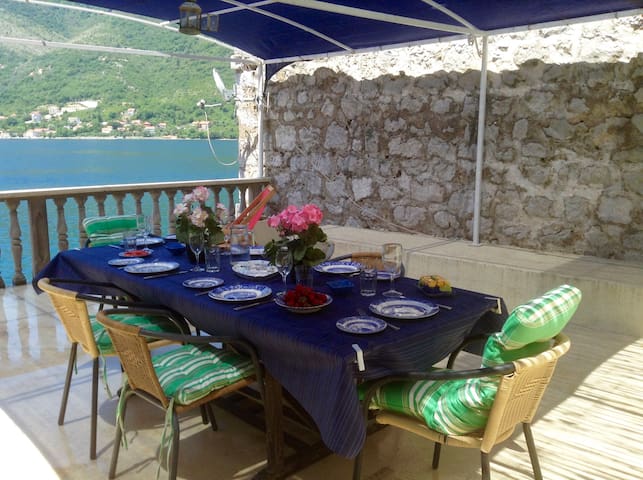 The summer home ''Petra'' is a renovated stone house just 20 meters from the waterfront with one spacious apartment, three bedrooms and beautiful large terrace faced to the garden with palm and lemon trees. The terrace is protected with green vegetation, it's equiped with a rustic stone table, garden chairs and a barbeque. It is the most relaxing place in the house. On the main floor, there is also a living area with a sofa, chairs, dining table; kitchen and bathroom with a washing machine.
PERAST Is an unique old town on the Bay of Kotor in Montenegro and is a part of the UNESCO World Heritage. It's a small town of many churches and palazzos with a view of two magical islands. Perast is solely formed of old stone houses. It is the only fjord in the Mediterranean and it is rated as one of the best parts of Adriatic sea coast.
Room Type
Entire home/apt
---
Property Type
House
---
Accommodates
8
---
Bedrooms
Perast, Kotor, Montenegro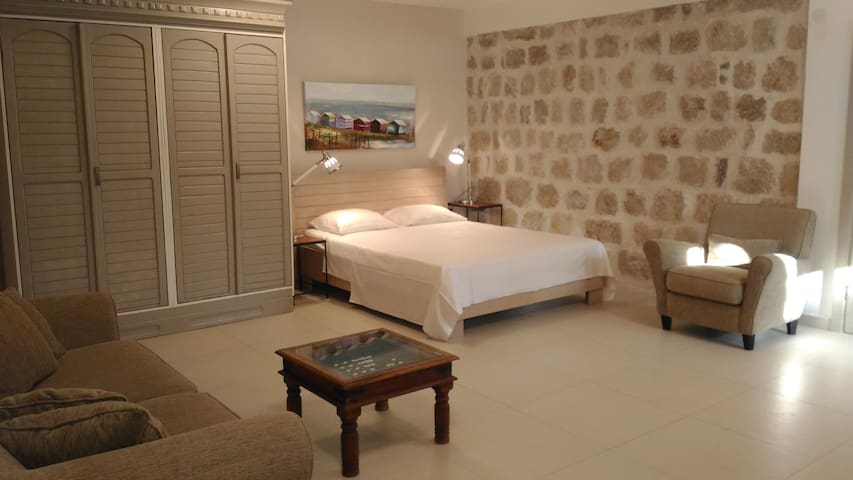 Прекраснная вилла у берега моря. Свой спуск к морю в 4 метрах от ворот дома, а городской пляж в пяти минутах ходьбы.Столив - одно из самых благоприятных по климату мест в Боко-Которском заливе.
Столив - одно из самых благоприятных по климату мест в Боко-Которском заливе. Только во второй половине дня мягкое солнце нежно ласкает отдыхающих в этом престижном месте отдыха. Само расположение дома очень удобно, до Старого города и порта «Котор» 1,5 километра по побережью. Очень удобное социальное расположение - до аэропорта 7 минут, до парома на другую сторону залива 2 минуты, до крупного медицинского центра 3 минуты. Свой спуск к морю в 4 метрах от ворот дома, а городской пляж в пяти минутах ходьбы. Гараж на два авто на территории. Дом три этажа. На каждом этаже полноценный санузел. На втором этаже есть действующий камин. Удачная планировка, наличие террасы, большие балконы, бесподобные пальмы. Очень дружелюбные соседи, уютное местечко. В доме площадью 250 метров: городская канализация и водопровод. На участке площадью 185 метров растут пальмы и имеется зона барбекю.
Столив - это пляж и поселок, который находится в одноимённом ему месте близь известного в Черногории заливе Бока Которска. Он представляет собой своеобразную смесь песка и бетона. Добрать до него можно из города Котора через Муо и городка Прчань. В общем это небольшое и достаточно тихое место, которое расположено в Черногории в Которской бухте, где Роза создает приятные горные и морские ветры, особенно подходит это место для людей, страдающих заболеваниями лёгких в сезоны поздней весны и ранней осени. Стоит отметить, что это место в достаточной мере богато на растения разных свойств и происхождения, общее количество которых составляет около пятисот сорока восьми видов.Инфраструктура тут не на отличном уровне, но всё таки имеет место быть. В ней можно выделить способность паркинга, оборудованные пристани и местные заведения общепита. Из местных достопримечательностей можно выделить старенький, но довольно красивый храм. Это здание сконструировано в интересном стиле так, что просто не возможно просто безразлично пройти рядом.
Room Type
Entire home/apt
---
Property Type
House
---
Accommodates
16
---
Bedrooms
Donji Stoliv, Opština Tivat, Montenegro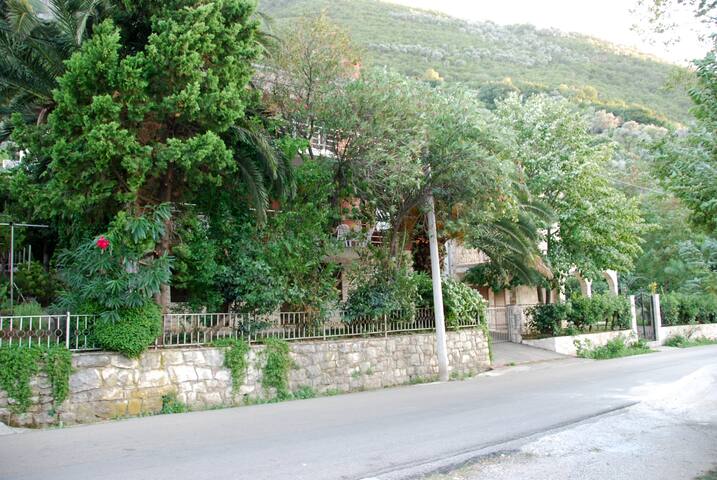 Lepetane - Airbnb
:
Average

4.57

out of

5

stars from

155

guest reviews
1

–

18

of

300+ Home Rentals
Enter dates to see full pricing. Additional fees apply. Taxes may be added.