Resort Cebu is a small quiet resort just outside of Cebu city. We are located in Liloan - Catarman only 20 min from the airport. The resort has nice environment with a nice swimming pool, bar and only 2 min walk to the ocean.
Access to the kitchen for long term guests
Nice place and quiet since away from the noise of cars. Room has good aircondition and there is safety box. Nice television and dvd. Jane, Zeni and Thomas were very accomodating. They suggest places to visit. They are very friendly and make you feel at home.
hisham
2016-07-18T00:00:00Z
We spent one night at Resort Cebu and we regret that we didn't spend more. Our room was very nice, AC was working, bed was very comfortable. There's a small restaurant in the resort and the food was delicious. Thomas is the best host, very friendly and welcoming. The rest of the staff was extremely nice as well. We spent the whole evening with him and some other guests talking about our travel. We felt like home. They also offer transport in very good prices. I definitely recommend this place and I hope to come back one day. Thank you
Patrycja
2017-01-15T00:00:00Z
Room Type
Private room
---
Property Type
Apartment
---
Accommodates
2
---
Bedrooms
Liloan, Central Visayas, Philippines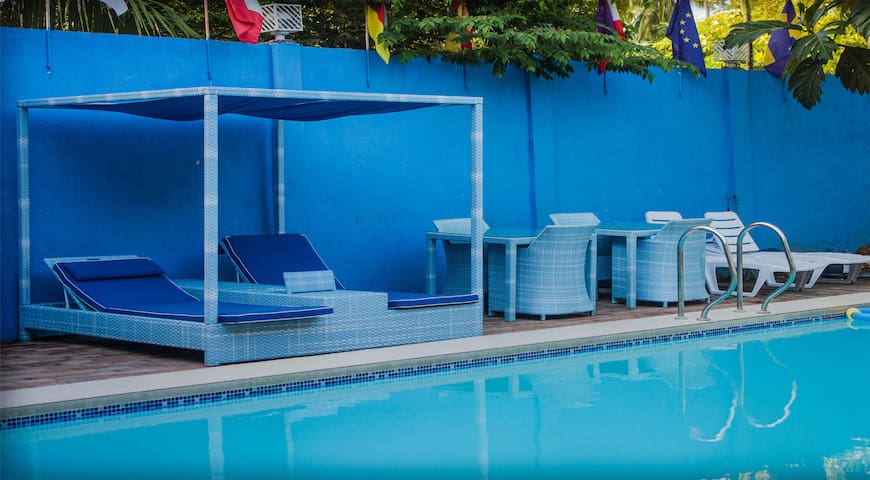 One private room on the upstairs floor with, access to a large terrace facing the sea of Camotes. Semi-private CR. (shared) House is located on the beach and very close to public transportation to Cebu, Shopping centers, local markets and more. B'fast 7-9 am
The ONLY BnB located on a sandy beach in the Cebu - Liloan area. An ideal location to explore surrounding islands and beaches and sights. We can arrange for boat trips to go snorkeling and beach combing to a number of regional islands. Sundays we usually host live musik for local expats from about 4 to 9pm.
Typical middle income neighborhood. Local roadside food stalls. Small convenience stores and more.
Good place to stay
Max
2017-03-17T00:00:00Z
Elly and Dieter are very kind and accomodating. It is a good place to stay. The area doesnt have a lot of restaurants to choose from, however, Elly can cook /prepare your meal. The bathroom is shared but wasnt a problem at all (that depends with what you prefer anyway).
cherry mae
2016-07-02T00:00:00Z
In total Elly and her family are good hosts, welcome you and help you with any request! Bathroom: Issues due to other guests because of sharing one bathroom. Beach mostly full of locals and partly used as their bathroom. Neighborhood is poor. The check-in was very easy. Elly's husband and father picked me up at the airport. Check-out: I decided to leave one day earlier and to stay in Cebu City. On the same day another guest wanted to go to Cebu as well and Elly's hunsband wanted to bring him there. I thought it is a good opportunity to drive together and share the gas. But I had the impression that they wanted to get rid of me asap - that was childish and definite wounded pride :-( I prefer taxi rides but to get one you need to go 10-40 minutes with a jeepney. Calling a taxi by phone is not possible. High polution and quite loud :-( Much traffic.
Anja
2016-11-16T00:00:00Z
Good location. Great people, great family. You are part of the family with great advice and perspective on the Philippines and the world.
Bill
2016-04-07T00:00:00Z
Room Type
Private room
---
Property Type
Bed & Breakfast
---
Accommodates
2
---
Bedrooms
Liloan, Central Visayas, Philippines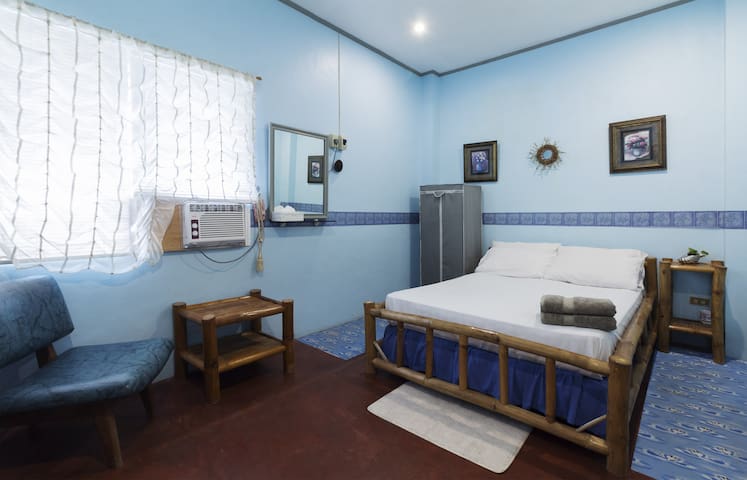 One private room on the upstairs floor close to the terrace facing the sea of Camotes. Semi-private CR. House is located on the beach and very close to public transportation to Cebu, Shopping centers, local markets and more. B'fast 7-9 am
Come play by the beach, relax or swim in the warm waters (27 degrees on the average) of the Camotes Sea, spend the day exploring Spanish Colonial vestiges, visiting the famous Magellan Cross, ply the waterways off Mactan Island and snorkel or scuba dive. Our spacious private bedrooms tucked away on a wide beach is just a 30-minute drive from the city of Cebu which has all the amenities and attractions of a large, modern City with a variety of modern Shopping Centers, international restaurants, music clubs and other night time entertainment. We can assist you in planning the exploration of the neighboring islands with its unique attractions such as "Chocolate Hills", the smallest monkeys in the world, the famous "Tarsiers", butterfly farms and other attractions. Meet the locals or swim with "Whale Sharks"or observe "Thresher Sharks", there is something for everyone. Go snorkeling or biking on a scooter, explore at your own pace. We have the ideal location for your next extended getaway. We also host most Sundays a live musik events for local expats from 3 to 9pm.
Calm beach side road near (500 meters) from a public market and shopping center.
This was my second time to stay here and there's a reason I came back - they're great people and go above and beyond to make me feel welcome, comfortable and relaxed. I will be back!
West
2016-08-22T00:00:00Z
Excellent space with beautiful view, everything was clean and prepared for us, Elly was in contact with us from the moment we arrived to the airport and was even available to show us the space when we arrived at 4am. The location is beautiful, however the surrounding area leaves a little bit to be desired, the local roads can be daunting to navigate on foot if you're not used to being in a less-than modern society. Elly and Dieter were great hosts, very friendly and accommodating, definitely recommend this space to anyone looking to spend some time in Cebu!
Phil
2016-03-22T00:00:00Z
Elly and Dieter were great hosts! I can't say enough good things about them and my experience staying there with them. From the moment I arrived (they stayed up quite late waiting for me due to a delayed flight and then a lost taxi driver) they graciously welcomed me. I wanted to stay somewhere more local and less crazy than Cebu and this was just perfect! The wifi was good, Elly was a GREAT cook and the local area gave me a real taste of local and 'real' life outside the city. I'll fondly remember after-dinner stories and laughs with Dieter over scotch and Jägermeister. I will certainly be back!
West
2016-03-05T00:00:00Z
Staying at the Elly's place was more than our expectation, it's located in a local calm area and we saw only few tourists during our trip. The beach is just in front of her house and you will be in the very warm sea with only 3 steps, there's a big supermarket few minutes away and also it's easy to get public transportation (bus/motorbike). Elly cooked for us every morning and evening, we really enjoyed her meals, she is such an amazing chef! She gave us opportunities to eat local food especially seafood. If you want, you can buy bottles of juice, water or beer from her fridge and it was convinient as we didn't have to go out each time. All her family was lovely and we had a great time throughout our stay, we hope to come back again! 旅行客はまずこの地域にはいないんじゃないか、というほどローカルなエリア! 数日間の滞在中にも外国人を数人見たくらい。エリーの家の近所は、貧しい地帯でお金を欲しがる子供もよくいました。ですが、治安が悪いと感じたことは一度もありません。家から数分のところに、日本の指圧/小さなレストランもあります。大きいスーパーマーケットもあり、食事等には困らないです。エリーのおいしい食事を毎日いただき、とても優しい家族の方に温かく迎えてもらえました!セブシティやマクタンに行くには少し不便な場所にありますが、ローカルを体験したい方にはパーフェクトな場所だと!! 海は本当に写真の通り目の前にあり、びっくりでした。 Quelle belle expérience des Philippines ! C'est l'endroit où aller pour un jeune couple, vous vous retrouvez les pieds dans l'eau, et tout est à portée de main avec l'aide de vos hôtes. Le père d'Ellie nous a emmené voir des combats de coqs, cela restera un des souvenirs les plus mémorables. Expérience locale garantie (sans les mauvais côtés car tout est clean) Nous recommandons fortement ce Bnb et nous espérons y repasser un jour !
Aya
2017-03-20T00:00:00Z
Great place to relax, right on the beach and walking distance to stores and church. Easy to find public transportation. Friendly and quiet neighborhood. Wonderful to fall asleep to the sound of the waves, we just used aircon during day-time when in room. Great hosting family.
frans
2017-01-04T00:00:00Z
If you're looking for a paradise getaway to relax, then this is the place for you. Elly and her family are absolutely amazing, and their loving home is the perfect place to unwind. Their location is idyllic, right next to the ocean and is in a kind and welcoming neighborhood. I fell asleep each night to the lull of the ocean waves. Elly is a wonderful cook, serving local flavor as well as other delightful dishes. Her husband, Dieter, has such an interesting life and some remarkable stories to tell; I learn something new every day. And every Sunday, there is live music and a variety of interesting people to meet. The next time I come to Cebu, I will without a doubt want to return here. I will never forget the kindness they have shown me and the good times I had here.
Amanda
2017-01-26T00:00:00Z
I had an amazing stay with Elly and Dieter in Cebu, they made me feel very welcome and gave me loads of advice on what to visit and where to go whilst on my trip (definitely take a ferry over to the beautiful Comotes Islands). The room was perfect, lovely and clean and next to a big balcony overlooking the sea. Elly's cooking was fantastic and she was delighted to give me local fruits and food to sample. Would definitely recommend to anyone who really wants to see Cebu, away from the tourist resorts.
Lynsey
2016-04-25T00:00:00Z
Elly's place is lovely, she and Deider were great hosts, very kind and generous. I enjoyed sharing meals and chatting with them. The house was clean and all the amenities were present and in good condition. They even had fairly fast internet. I loved that it was right on the beach, there was a nice breeze all day. The house is in Liloan which is a quintessential philipino beach community, where the people were all friendly when offered a smile. The transportation in Cebu is fairly easy (when its not raining) with buses and jeepenie's passing every 2 min. We initially took a bus for 20 pesos to the public market and walked the 500meters to her house. If you are looking to explore rural cebu I highly recommend staying at Elly's place.
Jena
2016-07-03T00:00:00Z
Room Type
Private room
---
Property Type
Bed & Breakfast
---
Accommodates
2
---
Bedrooms
Liloan, Central Visayas, Philippines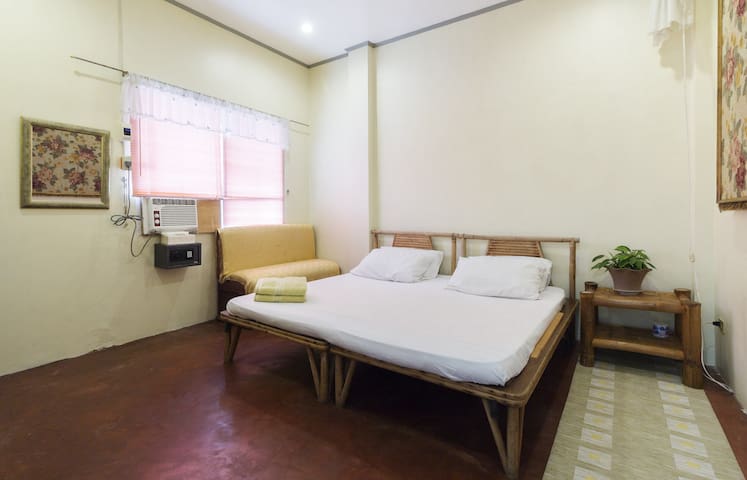 Warm and thoughtful, low-rise residential
Room Type
Shared room
---
Property Type
Apartment
---
Accommodates
3
---
Bedrooms
liloan, cebu, Philippines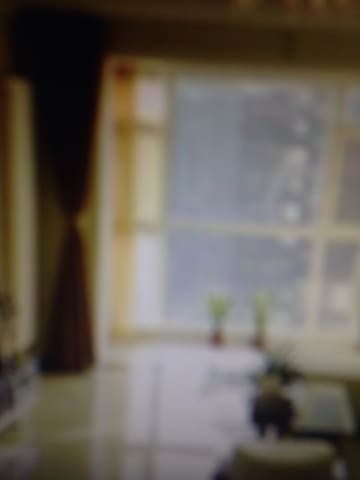 My place is close to the beach. You'll love my place because of the views, the coziness, and the people. It is good for couples, solo adventurers, and families. There are bancas that you can rent and paddle your way to the municipal marine sanctuary nearby. Every morning you can catch and buy fish caught by fishermen at affordable price. Then heed to the kitchen and cook the way you want it. The place is safe and quiet though it is in a fishing community. The neighbors are friendly and helpful.
Room Type
Entire home/apt
---
Property Type
House
---
Accommodates
4
---
Bedrooms
Liloan, Central Visayas, Philippines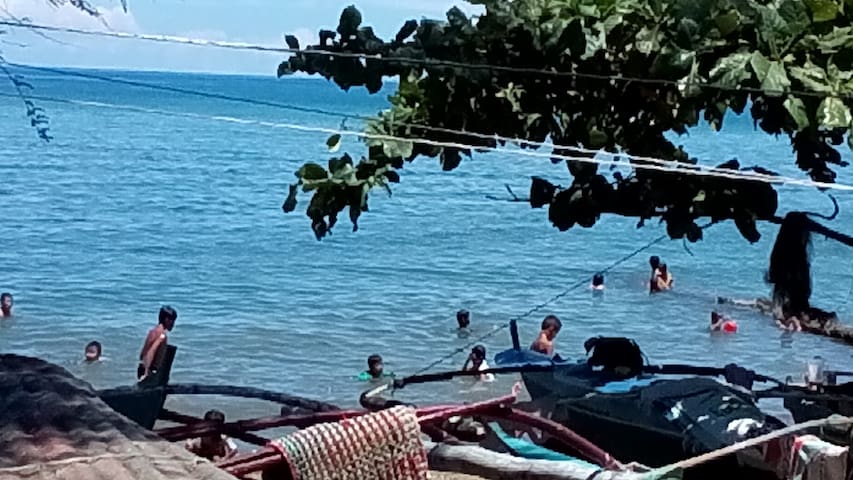 New fully furnish condo with a minimalist design to inspire a relaxing, comfortable, cozy and romantic environment for our guest. Located at the residential enclave of the Cebu Business Park, this high-end condominium provides a peaceful, safe, and the perfect location for shopping, dining, family-friendly activities, nightlife and relaxation. Also, don't forget to immerse yourself with a 360 degree view of the City!
Calyx Residences Ayala is a high-end condo development located at the heart of the city and inside the residential enclave of the Cebu Business Park. Great location and environment awaits you to ensure complete and pleasurable relaxation and enjoyment. Do explore the local shopping and dining experience in the Ayala Shopping Mall/Terraces.
It is quiet and safe with a friendly atmosphere among the residents, staff and guest. Close to a major high-end shopping mall - Ayala Center Cebu. And the Ayala Terraces for a luxurious dining and entertainment experience. On weekends, experience the Cebu Food Market Festival at Sugbo Mercado. Live music and great local food awaits you. Arrange with the concierge to have the shuttle take you to these places.
Mae Ann is an amazing host. Never during my Airbnb adventures I have encountered a more professional host. Mae Ann is not just quick to reply and to offer help, she also does so proactively. The place is as described in the pictures. Clean, new and makes you feel home immediately. One note I have is that the curtains don't block the light significantly, so from 6am it gets bright in the room. But even for me as light sleeper this wasn't a too big deal. Overall I can only highly recommend the place to anyone staying in Cebu. I would always come back as you will hardly find a better package out there!
Stefan
2017-03-11T00:00:00Z
What a wonderful trip/holiday me and my friend had.even before our holiday..Mae Ann(host)..was very helpful to the extend of helping us getting a driver n send us quotation by pdf of what to expect(pay) for our places to visit.once arrived..host is punctual and a warm welcome was greeted.host showed us around..handed us the key and here is the great part.host walk with us just to show us the mall(ayala mall).what a great host and probably the best host in airbnb i ever had so far.for once i never regret of booking into a hotel instead.highly recommended and of course i will booked with her if i visit again.5 stars definitely..
Ismadi
2017-03-22T00:00:00Z
The place was very neat and clean. The wifi and cable connections were very good. The neighborhood was peaceful and quiet considering its very near Ayala mall area. Mae Ann and Raymund were very accommodating hosts and made some adjustments to our stay to consider the situation with my parents. The photos on their page were accurate. The use and access to the pool was great. My mom enjoyed the swim. It was also nice to meet both of them and their daughter. We enjoyed our relaxing stay at their place.
Amedyne
2016-12-25T00:00:00Z
Mae Ann's place is clean and cozy and looks exactly like the pictures shown. The location is great and is walking distance to the shopping mall. Mae Ann is a great host who is very helpful and always responsive with our queries. I'll definitely stay at her place if i visit Cebu again!
Ming Li
2017-03-19T00:00:00Z
Mae Ann's place was perfect! Very clean, very accurate to her pictures. Her unit has everything you need for an enjoyable and relaxing stay. Her condo also has great amenities which we had access to the whole time like a beautiful sky-lounge and an infinity pool which has a great view of Cebu City. Her place was also walking distance to the Ayala Centre. Mae Ann was an incredibly sweet and organized host. She met up with us at checkin, gave us a tour, and was excellent with communication throughout our stay. She even helped us book our whale shark/canyoneering tour with her friend Matt - which was amazing. She also recommended activities for us not to miss out on like the weekend food market. Overall, our stay was very enjoyable and Mae Ann could not have ben a better host! Would definitely recommend. Thanks again Mae Ann!
Queenie
2017-02-19T00:00:00Z
An amazing spot -- with one of the best pools I've seen in Cebu. Perfect for couples. Although there is a shuttle to Ayala I found it was so close (really 5 mins walk -- not figuratively), that I never needed it. The gym is a nice added bonus!
Guido
2016-12-17T00:00:00Z
The pool and the view of the sea, city and mountains alone is worth the stay! Couple that with a modern and clean apt and you're all set. There may be a shuttle to Ayala mall but I doubt it's faster than just walking up there in 5 minutes.
Mathias
2017-02-06T00:00:00Z
This was definitely a great place to stay. It couldn't have been better. The location was perfect (Next to Ayala shopping mall and close to the City Centre), the host was so helpful and the communication was easy. The best thing was definitely the infinite swimming pool on the rooftop: probably the swimming-pool with the best view of Cebu. I recommend this flat to anyone interested.
Johny
2017-02-15T00:00:00Z
Room Type
Entire home/apt
---
Property Type
Condominium
---
Accommodates
3
---
Bedrooms
Cebu City, Central Visayas, Philippines
Room has one queen bed and three sofa beds. The best , safest and most picturesque view in Cebu.Check in is 2 PM and check out is 12 noon.Up to 80% discount from 12500 pesos to 1980++Free private pool use.
Safe, secured, accessible transportation , connected to the hotel and good for 4 to 6.
The place is overall good. The only issue is that we can't seem to reach the host at the time of our stay, we have some things to ask but was not able to get an answer. Nonetheless, I never regretted our stay.
Shenz
2016-06-27T00:00:00Z
Great location, good facilities and security. Ideal for travelling families. Thanks Michael!
Hermili
2016-07-02T00:00:00Z
very smooth coordination with host. he was able to answer all my questions. my family was pleased with the accommodation.
Ann
2016-08-30T00:00:00Z
Great place and host. Courteous and helpful staff.
Cres
2017-03-25T00:00:00Z
Nice place ! My kids enjoyed their stay and definitely will be coming back
Rosemee
2016-12-24T00:00:00Z
You got everything you need at Michael's place. I'm definitely coming back.
Apring
2016-12-02T00:00:00Z
Indeed! Fast Internet. The best! Kitchen is available for just basic use Not heavy and real cooking. Perfect view. Though its cloudy, it was super windy. So cool.. thank you
Eilaine
2016-12-22T00:00:00Z
Good experience, everything as described.
Richard
2017-02-16T00:00:00Z
Room Type
Entire home/apt
---
Property Type
Condominium
---
Accommodates
6
---
Bedrooms
Cebu City, Central Visayas, Philippines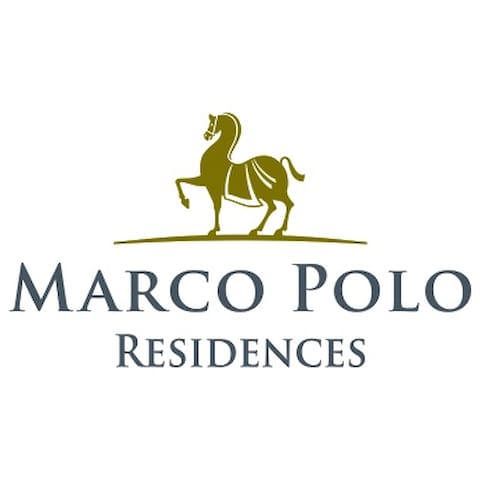 Bright and sunny studio unit nestled in the heart of Cebu, located in that sweet spot in the city that isn't too chaotic but the action's still within reach.
This is a brand new studio unit located at the 5th floor of Midori Residences.
AS Fortuna, the street where the condo is located, is well-known for its cafes, bars, and restaurants which are only a few meters away from the condo. Oakridge Business Park (5 min walk) Rustan's Supermarket (5 min walk) Fudge (Across the street) Lightsite Parc (6 min walk) Banilad Town Center (8 min walk) Matias BBQ (10 min walk) Kindly see photos for reference
Room Type
Entire home/apt
---
Property Type
Apartment
---
Accommodates
2
---
Bedrooms
Cebu City, Central Visayas, Philippines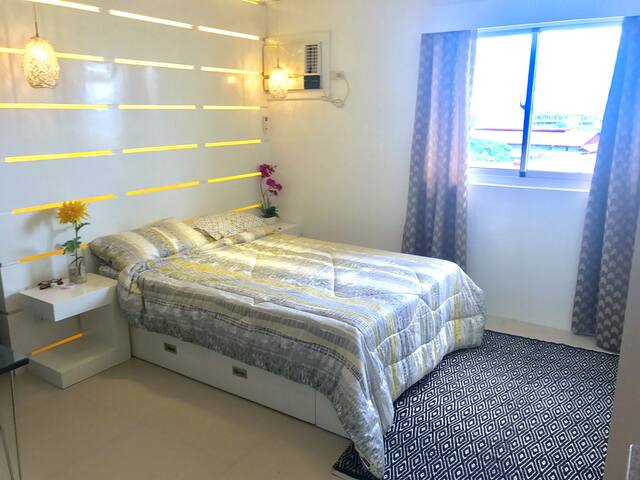 Newly Open Studio Unit(26sqm). This is brand new high floor condo located in Cebu Business park. Getting around is quite easy. A 3 to 5-minute walk gets you to Ayala Center Mall and the jeepney terminal. And you can also easy access to the SM shopping mall.
~A spacious, dream Studio Unit right at the heart of the Cebu Business Park~ This first class condominium, CALYX RESIDENCES is located at Cebu Business Park. This is the most safest, quiet and convenient area in Cebu. And we provide all necessary facilities to stay. There is Sky infinity pool, sky lounge, the fitness gym and laundry service in condo, also unit has free Wi-Fi, fully-equipped kitchen you may cook meals and have coffee. We hope you will have a wonderful time here…! 【Very convenient location for shopping and eating】 Only 5mins distance by walking from Ayala Shopping Mall. Even the condominium has a shuttle service which takes you to Ayala Shopping Mall if you feel 5mins walking distance is far. There are many restaurants, café, supermarkets, shops and more in the mall. Also you can go to SM mall for more shopping by 10mins taxi ride. 【Amazing great view】 You can enjoy very spacious great view from sky lounge and infinity pool at roof deck. This Studio unit is on 21st floor is also nice. Have a wonderful relaxing time both outside and inside unit. 【Free Wi-Fi】 We have good internet connection through PLDT home DSL. We've never had any complain about internet. Please try our unit if you are also business person. 【Enjoy Cooking】 Feel free to cook your own meals since the unit is equipped with a fully kitchen appliances; induction cooker, microwave, refrigerator, electric kettle, purified drinking water. If you don't want to cook, you can enjoy breakfast, lunch and dinner at Ayala Shopping Mall and other fast food shop around condominium. 【About bed】※Note We provide one queen size bed for 1~2 guests and additional queen size mattress for 3rd~4th guest. If you are two and need additional mattress, please request us. Each bed and mattress is good for 2 persons. It's good for couples, small families who want to spend relaxing time 【Laundry】 We have laundry service at ground floor. You can wash clothes there even though you stay longer term. 【Access】 - Ayala shopping mall / 5 mins by walk - SM shopping mall / 10 mins by taxi - I.T park / 10 mins by taxi - Waterfront hotel and casino / 10 mins by taxi - Cebu country club / 10 mins by taxi - Mactan Cebu International airport / 30 mins by taxi - Mango Square / 5 mins by taxi ※It's very easy to find taxi in front of the condominium. Don't hesitate to ask the lobby guard to assist you. ※Cebu city is heavy traffic sometimes. If it's traffic time, it will take time more. 【Shuttle service to Ayala shopping mall】 You can avail free shuttle service from Calyx Residences to Ayala shopping mall. Please ask the concierge for assistance. The time of pick up and drop off is from 9:00 am to 9:00 pm every day. 【Building facility】 28 floors prime residential condominium 24/7 security 24/7 reception lobby Sky infinity pool Sky lounge Fitness gym Laundry service 2 elevators Shuttle service to Ayala shopping mall 【Unit】 Free Wi-Fi Hot/cold shower Dinnerware equipments Refrigerator Electric kettle Microwave Iron (Provided depends on guest's request) Air conditioner Queen size bed (good for 2 persons to sleep) Queen size mattress (Provided for 3rd and 4th guests or depends on guest's request) Spacious closet Bath towel Shampoo, conditioner and body soap Toilet paper 【About Hatena】 We are Japanese company; the office is located in Cebu City. We will answer your inquiries or questions right away, and available to help our guests to ensure that they have a memorable stay and experience in Cebu.
The place was great and our host was great! Although we only stayed a night, it was totally worth the cost. The place itself, while small, was very clean, cozy, and sophisticated. The pool, which we had access to as guests, had an awesome view. As for our host, Hatena, he was very accommodating and helpful, ensuring that he properly made arrangements for everything despite the short notice. All in all, this unit is highly recommended if you wish to stay within the greater Cebu area.
Trestan
2016-05-26T00:00:00Z
The host canceled this reservation the day before arrival. This is an automated posting.
SeongKhwan
2016-04-15T00:00:00Z
Upon our early arrival, they were very kind enough for us to let check in early morning with big smile! Big window, furnished kitchen&toliet&bed, compact pool on roof top and good security. Prompt help when we needed. Overall very happy.
Luke
2016-06-07T00:00:00Z
The unit and host were great.
Bluz
2016-03-23T00:00:00Z
five star staff great location 5 minute walk from the mall simple but perfect
Samuel
2017-01-26T00:00:00Z
Absolutely wonderful experience!
Debalina
2016-11-03T00:00:00Z
Clean house, good internet, and amazing view at the infinity pool!
Taylor
2016-06-17T00:00:00Z
Great stay here! Highly recommend and would come back again. Highlight is of course the pool, which allows for a sea to mountain view of Cebu. Very friendly building staff, and very close to Ayala mall.
Inga
2016-04-15T00:00:00Z
Room Type
Entire home/apt
---
Property Type
Condominium
---
Accommodates
3
---
Bedrooms
Cebu City, Central Visayas, Philippines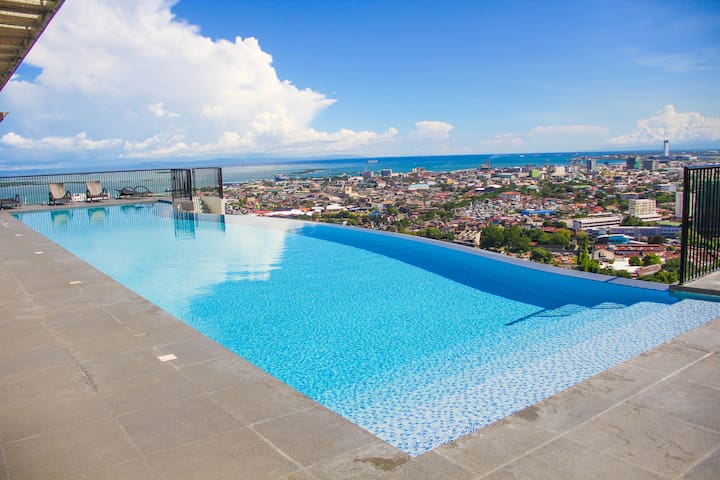 10Mbps internet speed Amazing Amenity Resort Inspired within the City living Near Ayala/Sm Fully Furnished Address: One Oasis Condominium Pres. Magsaysay St., Kasambagan Mabolo Cebu City.
Mr. Rolando, as always, is a very good host. He quickly replied with our concern every now and then. I have observed minor issues with the place though! 1. The sink in the bathroom took a long time draining the water. 2. They forgot to clean the microwave. 3. We had trouble using the pool since we are not the owner of the unit. 4. Getting a taxi there was pointless. We had to walk to the main road to get one. Other than that, the room looks exactly like the picture including the sheets. It was very complete especially the kitchen, the only lacking serveware was a pitcher (we used the rice pot in the rice cooker as a makeshift pitcher. Haha! Talk about being crazy I know) The place is perfect for people especially family with kids who want to stay longer than three days because you can cook and have fun. Sadly, we only stayed for a short time so we only used the microwave. Seeing the details in the room, the host was very thoughtful. I was touched when I saw there was an umbrella in the cabinet and extra blankets. He has a note that we can watch Netflix. You can also connect to surf the internet for movies in the TV. TIPS: 1. Consult the host for pool usage. 2. Its best if you download Grab or Uber app for easy transportation. 3. Connect Ethernet (yellow cable usually found in the cabinet) in the TV for fast connection. The money you paid for this place is sulit in all ways possible. Very worth it! Hope to stay in this place next time with my family :)
Razly Gwenn
2017-04-05T00:00:00Z
Room Type
Entire home/apt
---
Property Type
Apartment
---
Accommodates
2
---
Bedrooms
Cebu City, Central Visayas, Philippines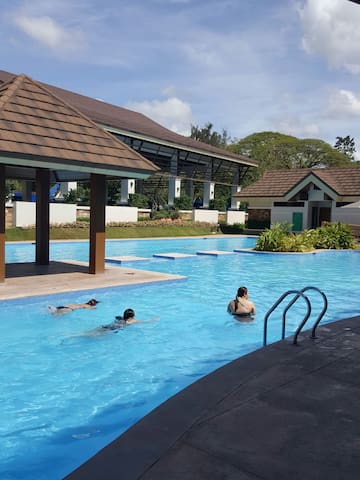 A newly furnished Studio Suite in a Luxury Condominium with an Olympic-sized pool and resort-style amenities. It can accommodate 2 adults and 2 kids (or 4 adults of average sizes). This efficient room provides fully equipped kitchenette. It is located in the premium commercial district of Mandaue City, just 5 minutes away to the mall, grocery store, Entertainment Centers, and some of the highly rated restaurants in the city. Public transportation is right outside the manned security fence.
The room is located on the 10th floor. It has a wonderful view of the city and the Olympic-sized pool.(URL HIDDEN)Other In-Room Amenities include: 1) 1 Queen bed, 1 single pull out sofa single; extra bed available upon request at your own discretion (floor area 22 m2) 2) cotton-rich luxurious bed linens 2) FREE 12 mbps HIGH SPEED INTERNET/WIFI 3) CABLE with PREMIUM channels HBO and CNN 4) 40-inch SMART TV 5) Energy-star 2 Hp Carrier brand Air-conditioner 6) Ceiling FAN Light 7) Fully equipped kitchenette with the following: - Refrigerator - microwave - oven toaster - rice cooker - coffee maker - electric kettle - electric single burner - hot/cold water dispenser (complimentary 5 gal) - cookwares and tableware set 8) bathroom towel set 9) Initial toiletries 10) Hot and Cold shower 11) Iron/Iron board 12) Safety deposit box 13) Fire Alarm and fire extinguisher 14) Carbon Monoxide detector
The property is conveniently located: - 5 minutes to Gaisano Country Mall, Oakridge Grocery Shopping Complex and Entertainment Centers - 5 minutes to University of Cebu , and University of San Carlos (Talamban) - 30 minutes to Mactan Int'l Airport - Right across the nearest Catholic church (Pink Sisters) - 15 minutes to Cebu Doctors University, - 15 minutes to the Domestic Ports -10-15 minutes to Ayala Mall and SM Mall - 20 minutes to Sto Nino Church
Room Type
Entire home/apt
---
Property Type
Condominium
---
Accommodates
4
---
Bedrooms
Mandaue City, Central Visayas, Philippines
My place is close to public transport, family-friendly activities, churches, schools, hospitals, banks, night life and maximum 1 hour ride from the airport (approx 15 kms). You'll love my place because of the comfy bed, the kitchen (complete set of utensils, cutlery & crockery for your household necessities), the coziness & the views. My place is good for couples, solo adventurer, business travelers, and families (with kids).
This studio unit has a size of 22 SQM. You may enjoy a leisurely morning coffee in the comfort of your personal kitchen when you awaken. Within your apartment is ideal for short and long term stay, our unit comes fitted with elegant furnishings and contemporary features, including wireless Internet access and top-of-the-line LED television with cable channels.
Horizons 101 Tower is the tallest building in Cebu & offers luxury residences with dedicated services and modern facilities. Housed within the iconic 55-storey tower 1 & 46-storey tower 2 (still under construction), the residence features stunning that overlook breathtaking views in the heart of the city or the sea-view. Myra's Bedsit is located on the prime and the area is one of the Cebu City's most valuable business district centers & schools. Within walking distance of the residence, you will find a multitude of destinations such as Robinsons Dept Store-Fuente & One Mango Avenue. Roman Catholic, Christian Churches, hypermarkets, banks and schools are also just across the road, branching you out conveniently to various locations within the city.
Myra's place is a gem in the heart of Cebu. Ideally located in the middle of the action, the place provides a quality hotel like experience at a super competitive price. Room is brand new and well furnished. Super comfortable and very clean. Myra, in typical Filipino fashion, is extremely accomodating and will make sure you feel at home during your stay. My experience there was nothing short of perfect and I look forward to more stays there. Highly recommended.
Alexandre
2017-03-14T00:00:00Z
Myra's place is new and clean. It has all the basic needs necessary for a comfortable stay. Its very close to restaurants. The best part of our stay is the host. She is kind and so accomodating.
Aster
2017-03-25T00:00:00Z
Room Type
Entire home/apt
---
Property Type
Condominium
---
Accommodates
2
---
Bedrooms
Cebu City, Central Visayas, Philippines
Our space is located inside the resort inspired and 24/7 secured, gated community and has a good access to city's major attractions like shopping malls, hotels and restaurants. It is a calm and quite community and has a good ammenities for you to enjoy.
My space is measured 25sqm with balcony. The bed will comfortably fit 2 but i can provide an extra foldable mattress if you travel with kids, that's why i mentioned 4 on the max number of guests. It's basically a consideration for a couple traveling with kids less than 15yrs old. If so, kindly inform me beforehand so i can make it available upon your check in. The room is airconditioned, it also has a lot of storage for a clutter free stay. It is furnished with 32inch tv, refrigerator, rice cooker, microwave, electric kettle, electric cooker, range hood and shower heater. If you wish to cook, pls do so, refraining from any fishy and smelly dishes. I also provided some utensils, cookware and crokery for your convenience. Basic toiletries like soap bars, shampoo and bathroom tissues are also provided along with clean towels, except dental kit. If you wish to hang wet clothes, we have a designated laundry cage with indicated number of the unit on the building's roof top. Just do not forget to carry hangers with you which i already provided when going up. As of the moment, i don't have any wifi available, please bear me with that as i'm still working on it.
The neighborhood is so safe and quite. Perfect if you want a serene place to stay. Close to Ayala/SM Mall and accessible to almost averything. Just opposite the condominium gate is a residential area where you'll meet a friendly locals. There, you'll find a mini grocery for your small needs like bottled water, etc. You will also find hotels, restaurants and fastfood chains nearby.
The place is clean and comfortable. Location is okay, you can get around the city with a taxi (though it is a bit expensive if you ride a lot in a day), or a habal-habal (motorbike) to a point where jeepneys can be found though it would cost you another 10pesos on top of your jeepney fare. Leizl is a great host. She responds to inquiries quickly even before I booked the place. Check in was smoothly done since she was there in her unit already and she even oriented us where we can find stuff inside her unit. She also prepared some tea for us, though we were not able to drink it since we are not a tea nor a coffee drinker, but still the gesture was greatly appreciated.
Sali
2017-04-01T00:00:00Z
Very good staying in Cebu ! Location is good,near mall...Really like the room and the environment ..Liezl is a very nice host, she offer me many good ideas about visiting Cebu
XIAOYUE
2017-03-30T00:00:00Z
Room Type
Entire home/apt
---
Property Type
Condominium
---
Accommodates
2
---
Bedrooms
Cebu City, Central Visayas, Philippines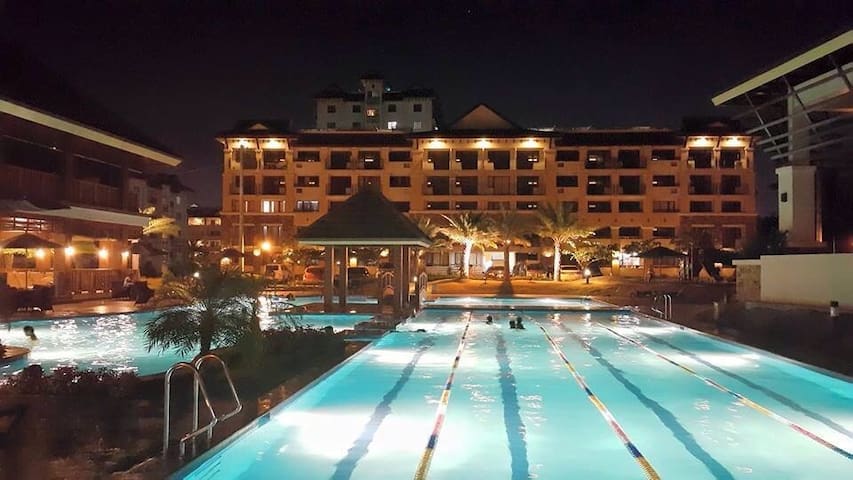 Feel at home in a cozy studio, a queen bed awaits for your comfortable sleep. Fully equipped kitchen with clean toilet&bath. Relax at the pool or unwind in the vibrant Ayala Center or ITPark; the best nightspots in the city where coffee shops, restaurants &bars are just minutes away. Suitable for single/couple travelers.
A modest fully furnished 20 sqm studio unit ideal for single and couple travelers - Queen-sized bed - DSL WIFI - International adaptors - Fully equipped kitchen; 2 burner built-in electric stove - Rice cooker - Electric water kettle - Refrigerator - Microwave - Kitchen utensils & dining wares - 2 seaters dining area - Clean bath & toilet - Fresh beddings, towels and essentials are provided - Iron - Wardrobe - Comfortable, minimalist and spacious for required guests - TV equipped with ABS-CBN TV Box
A newly opened condominium unit located - 4 minutes away from the vibrant IT Park - 6 minutes away from Ayala Center Mall & business hubs - 15-20 minutes away to SM City Cebu Just at the heart of the city where major malls, banks, pharmacy, hospitals, church, schools and universities are few minutes away by taxi. Cebu's restaurant avenue, coffee shops, groceries, wet markets, bakery, laundry services, gas station is also accessible nearby.
Great place to stay about 15 mins from city centre, plenty of stores nearby within walking distance and 7/11 downstairs. Only has cold water shower but great bathroom facilities. Recommended !!
Monica
2017-01-18T00:00:00Z
The place was great!
JM
2016-12-11T00:00:00Z
Great people! Clean room! The wifi was a little slow.
Sheila
2017-02-15T00:00:00Z
The place is good, amenities are well-provided and it's highly recommended for 2 guests.
Heffrey
2017-03-11T00:00:00Z
The host is very accomodating. The place is also okay. Definitely worth your money. If you want a quiet community in Cebu City, you should stay at Leera's place.
Xta
2016-12-09T00:00:00Z
The place was exactly like on the photos. The Check-in worked really great cause we arrived around 2am and the guards showed us everything when we arrived. The building looks new and all guards were really nice and helpful. There is also a small supermarket nearby to get a few stuff. The communication with Leera worked good as well. All in all we enjoyed our stay and we can recommend this place.
Nils
2017-02-22T00:00:00Z
Locked away in a remote street 100 meters away from shops etc. Be very careful if you are walking at night there are muggers.....Get a taxi! Don't expect too much, no hot water and noisy aircon. Nice pool but no gym!
Henry
2017-03-15T00:00:00Z
We had a very pleasant stay. Leera's place was perfect for the evening. I would definitely stay there again. Leera was very helpful.
Daniel
2017-01-21T00:00:00Z
Room Type
Entire home/apt
---
Property Type
Apartment
---
Accommodates
2
---
Bedrooms
Cebu City, Central Visayas, Philippines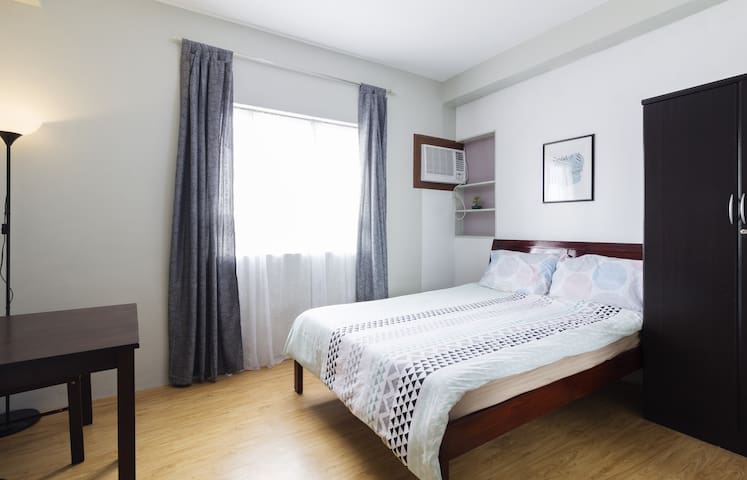 Our cool and comfortable house got top of the line amenities and custom made furnitures. Ten minutes walk too Pacific Mall and a short drive away from major malls and nightlife. Our caretaker is live-in, but ensures to protect privacy and helps out!
Our place fits 3 people comfortable, but we can add another person to our downstairs bedroom if needed. We got a full Sonos sound system with a Samsung 48" Smart TV for those late movie nights and a Sonos 5 in the master bedroom for some chill music before bedtime. Phillips Hue lightsystem provided in livingroom and bedroom. 15 Mbps wifi. Can be unstable bcs of unreal provider. Netflix is already installed on smart TV and Playstation 4 is also available. We got BeIn Sports on channel 763, 764 and 765. Here you can watch everything English Premier League related and live games. Our place has a live-in caretaker who looks after that your stay will be as comfortable as possible, but ensures your privacy as well. You need anything or wonder about something, Argilyn is the one to ask during your stay. She got one of the upstairs bedrooms. One bathroom with hot and cold shower at the master bedroom and one in the hall with only cold water. We provide shampoo and soap at check in and a small free minibar as well. The master bedroom got aircon and the remaining rooms has a fan. Groceries can be done at Pacific Mall and we provide a full kitchen with utensils to make your own food. We can recommend places to eat and places for delivery even thought it's very limited in our area. We can also provide transfers around the city or from the airport for a fee.
A truly filipino neighbourhood. Here you can experience city life with the locals. The house is inside a gated townhouse community and the neighbours is really friendly
Room Type
Entire home/apt
---
Property Type
House
---
Accommodates
3
---
Bedrooms
Cebu City, Central Visayas, Philippines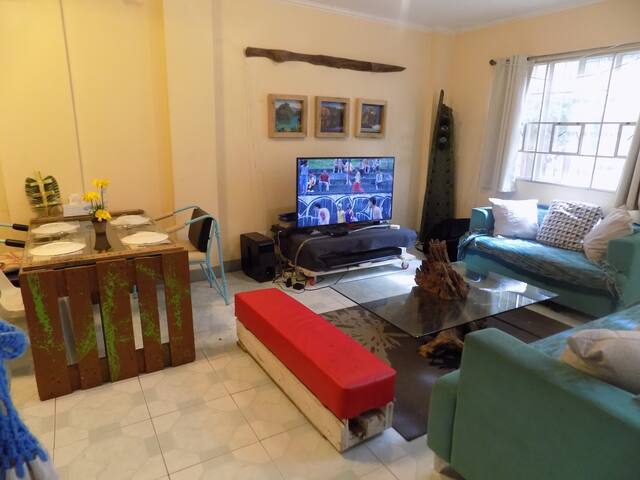 One Oasis Cebu is a brand new and well developed resort condo in the heart of Cebu City. Experience prime place to stay in a studio type condo ideal for couples.
A Studio unit where a couple or small family would truly enjoy. Large complex to roam around. Cleanliness is always our TOP priority to ensure guests feel clean and at home. The reviews from our guests speak how clean our studio unit is. Guests can enjoy a morning dip in the pool before heading out to explore the city. They can prepare their own breakfast since the place is equipped with a fully functioning kitchen. The bathroom has hot & cold shower, fresh towels, and other essentials needed. They come home after a long day of exploring the city to an air-conditioned room furnished with a queen size bed, soft pillows and blankets. There is extra pull-out bed and extra mattress as well which are comfortable enough for an extra guests to sleep in.
Conveniently located in Kasambagan Cebu, One Oasis lets you enjoy a garden lifestyle amidst the city's stifling environment. The place is merely minutes away from schools, malls and offices. Breathe and relax as this exclusive community offers resort inspired amenities, parks & playgrounds and 24-hour security making it perfect for vacation/staycation.
Rene's place was quite cosy, clean, secluded and very relaxing. Breezy most of the time, hardly ever use the AC. I haven't met Rene but we do communicate a lot via Airbnb and over the phone. Coming from overseas it help when you have a SIM card either globe or smart. Less cost of international roaming. Despite of the traffic during the day, I still recommend his place to chill out in the pool after a long day out. For sure, I will definitely come back.
lulu
2016-11-10T00:00:00Z
The condo was excellent! It was located in a quiet area, and having guards there made you feel safe. Everyone was super friendly, whether you needed laundry, directions, or to get a taxi. I'll probably see if this place is available next time I'm in Cebu City again
Luke
2017-02-05T00:00:00Z
Rene was good and generous. I reserved 2 days but I changed my schedule. Thankfully he accepted it. In addition, I forgot the faucet closed so he had hard time. I didn't know that. I'm really sorry.
성열
2016-07-04T00:00:00Z
Great place. Wonderful amenities。Would highly recommend for families or couples looking for a comfortable and relaxing experience.
Carl
2017-02-25T00:00:00Z
Good.
Du
2017-01-22T00:00:00Z
Very fast communication, 2nd time to stay in this place, Highly Recommended! Place is kinda far from jeepneys but you can always use grab. and there are motorcycle readily available outside if you are alone. WIFI is the best too in this place! try it for yourself, Tv is good too. and ofcourse the pool! :D though haven't tried it yet, since I get home very tired and late sometimes. hahaha but next time I make sure that I could try to swim in that pool!
Romwell
2017-02-28T00:00:00Z
A very nice unit.
Sofie
2017-03-14T00:00:00Z
The apartment was great and exactly like in the pictures. Everything u need was there and worked just fine. Grateful for letting us to checked in earlier. thumbs up.
Grace
2016-10-06T00:00:00Z
Room Type
Entire home/apt
---
Property Type
Apartment
---
Accommodates
4
---
Bedrooms
Cebu City, Central Visayas, Philippines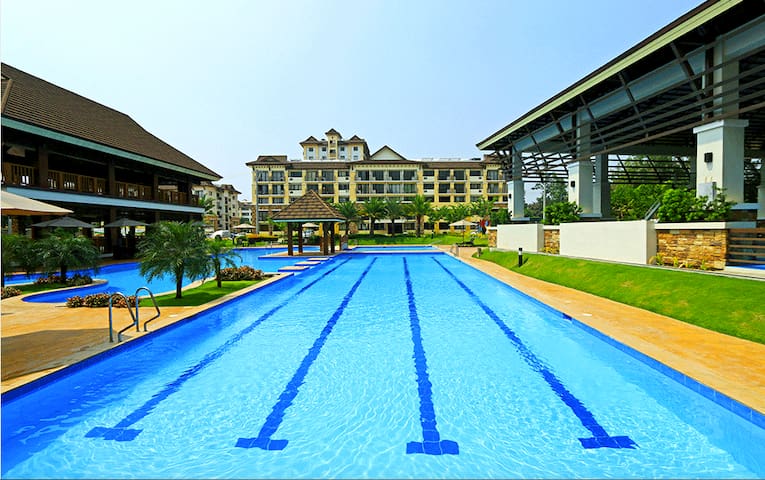 This studio unit is at the Calyx Center in IT Park, Cebu. There are lots of restaurants and shops in the area and is a short drive to major shopping malls, Ayala Center and SM. My place is good for couples, solo adventurers, business travelers, and families (with kids).
Room Type
Entire home/apt
---
Property Type
Condominium
---
Accommodates
2
---
Bedrooms
Cebu City, Central Visayas, Philippines
Brand new 36 square meter One bedroom unit located in one of the best business area(inside i.t park, lahug) in cebu city. The unit have its own bedroom, bathroom, living area, kitchen, and dining area. With its own cable and unlimited wifi access. With access to all building amenities.
Private cozy one bedroom unit with a queen size comfortable bed, 43" TV, hot and cold shower, kitchen with complete cooking utensils, and all brand new furniture. Located in the best location in cebu (cebu i.t park) with the access to everything, step away from restaurants, coffee shop, bars, gyms, and shopping centers.
Avida Towers Cebu is the perfect place to live the life you want in Cebu. It has easy access to shopping areas, restaurants, schools, hotels, hospitals, churches, and golf courses. Some of the most famous places to be are the Ayala Malls, SM Malls the Cebu IT PArk.
From check in to check out, Jona and her team were great. I booked the listing last minute but Jona and her team were still able to get the unit available quickly. I wasn't able to make it in time to meet Jona face to face on check in, but she left the keys with the guards downstairs and they were more than accommodating. Any and all questions I had for Jona were answered quickly. Condo is in I.T. Park so theres never a problem finding a convenience store or restaurant open at any time of the day, all within walking distance. The condo itself was clean and equipped with anything you would need for a short stay. Internet was plenty fast for the Philippines and I never had any issues with it. I will note that there wasn't any parking available with the unit but there's more than enough paid street parking available right outside the unit with another large dirt parking lot that's secured by guards. All in all I had a wonderful stay and would definitely stay again if I'm back in the city. Thanks Jona!
Charles
2017-03-19T00:00:00Z
Room Type
Entire home/apt
---
Property Type
Other
---
Accommodates
2
---
Bedrooms
Cebu City, Central Visayas, Philippines
Enter dates to see full pricing. Additional fees apply. Taxes may be added.