A place of dreams in the hitherto almost unknown Val Graveglia. A house looking onto an enchanted valley, southwards towards the Ligurian sea lying over the lush green, uncontaminated hills.
Here, in this natural environment, pervaded by peace and quiet, it is easy for anyone to be filled by a profound sense of freedom and renewed vigour. The farm and its spacious terraces open out onto a splendid view of the horizon: here each sunset is not only a wonder to see, but also an experience.
An oasis of peace to finally do as you please Buried in nature as it is you can find a life style going at a natural, steadier and quieter pace, still in keeping with the seasons.
Fantastic vacation. Paola is a very kind host and the location is beautiful. A peaceful place on earth. Thank you Paola.
Jerome & Naphie
2016-08-23T00:00:00Z
The accomodationt is very beautiful. The area of the flat is a little bit far off, but very relaxing and quiet. nPaola is very warm and welcoming host, who provided us with a lot of Information about the area, beaches and Restaurants. It was a great vacation!
Anna
2015-08-02T00:00:00Z
The house is a beautiful and quiet with lovely spacious split-level terraces and overwhelming views into mountain landscape and small villages. We loved to have breakfast on the terrace in view of rolling hills and slept terrificly in the bedroom. Paola was genuinely friendly, helpful and courteous host. She accommodated our later than predicted arrival and was responsive to our requests during the stay. We had a wonderful time!
Annette
2016-08-08T00:00:00Z
Nous avons passé 9 jours chez Paola. L'endroit est tout simplement magique. La maison se trouve haut dans les collines, avec une vue à couper le souffle, loin des tumultes des plages mais en même temps son emplacement permet de visiter en une journée Gênes, Portofino, Portovenere, 5 Terres et autres merveilles de la côte de Ligurie. Les plages de Lavagna se trouvent à 20-25 minutes en voiture. La maison est très propre et décorée avec beaucoup de goût. Paola est une hôte très accueillante et chaleureuse et on se sent vraiment bien chez elle.
Victoria
2016-07-19T00:00:00Z
L'appartement est agréable, la décoration est de bon gout avec des meubles chinés et repeints. L'endroit est extrêmement calme, la route est sinueuse sur quelques km, mais la vue est vraiment splendide sur les montagnes. Il faut 20 bonnes minutes en voiture pour trouver le premier commerce et la mer est à peine plus loin. Par contre, il n'y a pas 2 chambres mais bien 1 seule chambre + le canapé lit dans la pièce principale. La zone est assez centrale est permet de visiter en journée Gênes, Rapallo, Les Cinq Terre... Paola est très accueillante, parle très bien le français et nous a donné beaucoup d'informations concernant les visites à faire et les bons restaurants de la région.
Christelle
2015-08-23T00:00:00Z
Nous recommandons vivement cette maison car nous y avons passé un excellent séjour. La maison, le jardin et le cadre sont magnifiques et la vue sur la montagne à couper le souffle. Situé au calme dans les hauteurs au bout d'une route sinuant dans les montagnes, le site permet d'atteindre la côte et les plages en vingt minutes et de visiter à la journée Pise, Gène, Florence, Portofino, etc. De plus les conseils avisés et la gentillesse de Paola (qui parle français) nous ont permis de découvrir la richesse de cette région et de profiter pleinement de nos vacances.
Peggy
2015-08-15T00:00:00Z
Sympathique accueil et bonnes explications pour les lieux à découvrir ainsi que pour se déplacer . Paolo parlant français cela facilite les échanges. Appartement tranquille mais route étroite pour s'y rendre dommage !
Annie
2016-08-16T00:00:00Z
L'appartement est au rez de chaussée de la maison de campagne de Paola, il y a juste au dessus un autre appartement en location. L'endroit est isolé et calme en pleine nature. Il faut 25 min en voiture pour atteindre le côte. Paola est très accueillante, elle nous a même dépanné le soir de notre arrivée avec de quoi nous préparer à manger! L'appartement est spacieux et joliment décoré. Les espaces extérieurs sont agréables pour prendre le petit déjeuner ou faire la sieste au soleil et la vue est magnifique. Nous recommandons vivement!!
Nathalie
2015-09-07T00:00:00Z
Room Type
Entire home/apt
---
Property Type
House
---
Accommodates
3
---
Bedrooms
Terisso, Liguria, Italy
Come enjoy the relaxation of your house in the hills, a few steps from the sea but with the taste of healthy life, away from the traffic but close to the Cinque Terre! In the heart of Tigullio, where hospitality is at home and everywhere smells of enchanted places.
Fabio was a friendly host who was very welcoming and helpful with everything. I enjoyed chatting and spending time with him. He is very easy going and hospitable. The place is well situated with a view of the valley and is in a quiet neighbourhood. Very nice.
Kane
2015-10-05T00:00:00Z
The house of Fabio is beautiful. We had a room with amazing view on Lavagna town and the sea. The breakfast is abundant, with a fresh pastry. The sea is very close. In the evening you can eat in one of the lovely restaurants. And then walk along the sea or discover beautiful narrow streets and architecture of an Italian town. Plus you can easily reach the top destination in Liguria: Cinque Terre and Portofino. Either by car, bus or train. We came by car, and there was plenty of space for parking.
Sergii
2016-07-04T00:00:00Z
We had an excellent time at Fabio's. His mother, his girlfriend and himself were very welcoming, helpful and lovely. The house is a big family house located, as announced, on a mountain with a scenic view. It's a steep drive but the place is definitely worth it! Fabio and his family brought fresh pastries for breakfast and are a very accomodating hosts, giving us directions, advices and tips (like free parking lots it Chiavari!). The room was enough for two people, with a good bed and enough space to scatter your baggages around (like we did). The bathroom was pretty large and we encountered no problem sharing it with the other guests. Finally, the house is a short drive away from Chiavari, Lavagna and Sestri Levante, where you can either enjoy the beach or take the train to the famed and fabulous Cinque Terre!
Sophia
2015-07-25T00:00:00Z
The host canceled this reservation the day before arrival. This is an automated posting.
Fran
2017-03-05T00:00:00Z
WONDERFUL PLACE! House is on the hill and around the air is very clean and fresh! It is only 40 minutes walk to the sea and to the train station or 7 minutes by car, you can also take the bus). Fabio was very caring and attentive to us. We feel at home. Fabio met us at the Lavagna station, and when we left home, he helped us again and brought our luggage directly to the railway station. We enjoyed the nature every day! Everything was PERFECT! Thanks again for the wonderful stay!
Sveta
2016-08-12T00:00:00Z
This place has the most beautiful view, we really enjoyed the nice terrace! Adriana was so kind and made us feel very welcomed. She made us breakfast and was so sweet to us and our kids. Unfortunately we didn't have the chance to meet Fabio, we had to leave early because of our babys health, but we had great contact before arrival and during our stay!
Jacob
2016-07-08T00:00:00Z
Fabio's place is located at the top of a hill, overlooking the town, which is a great view to wake up to. It is also right in between Portofino and Cinque Terre, making it a perfect stop to visit both locations by car. The house is big and confortable. Fabio would bring local pastries every morning for breakfast, which where delicious! The bed is comfortable, and the room had a big window over looking the town. Fabio and his family are very friendly, nice people. I recommend staying at their place.
Natalie
2016-10-11T00:00:00Z
House at the top of the (URL HIDDEN) is cool even during summer and we enjoyed our stay at Fabio's place. Fabio guided us properly to reach his house at the midnight. Definitely a good place to live for 2-3 days and go around. Thank you Fabio for our pleasant stay.
Surya
2015-07-14T00:00:00Z
Room Type
Private room
---
Property Type
House
---
Accommodates
4
---
Bedrooms
San Salvatore, Liguria, Italy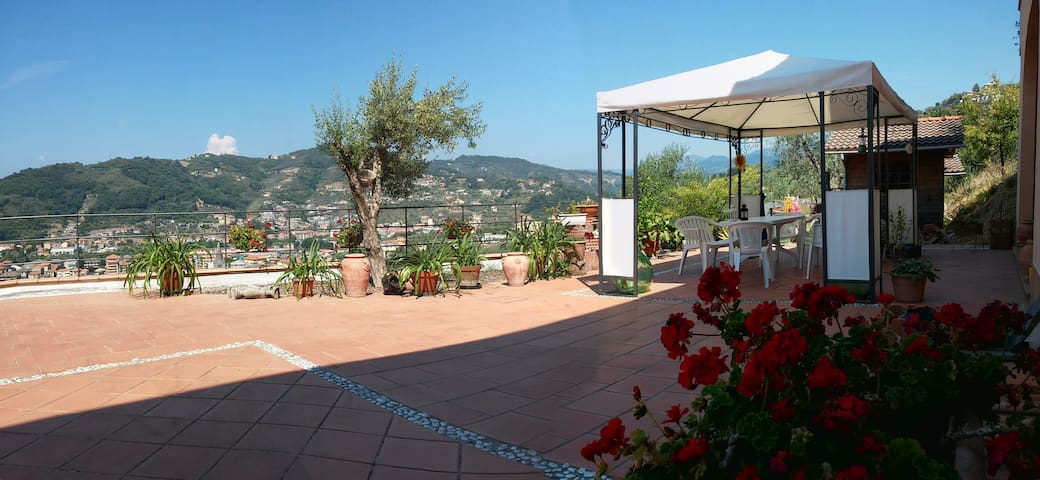 ciao a tutti quello che amo di più di casa mia è la tranquillità che la rende favolosa e l'ideale per passare momenti sereni.L'interno a mio gusto è caldo e accogliente stanza con letto matrimoniale e bagno in appartamento condiviso, zona tranquilla immersa nel verde posto auto privato. 30 min a piedi dal centro storico e dal mare un ottimo sistema per stare in forma.
la mia casa è piccola ma accogliente è il posto ideale per rilassarsi e organizzare la propria vacanza. La stanza dell'ospite è tranquillissima e confortevole.
sono sulle colline di CHIAVARI ma nello stesso tempo vicino al centro, alla autostrada e alla stazione
Danila and Lorenzo were warm and kind host's. We felt very welcome and had some nice little talks with them. Our room and the bath were very clean and the view was fantastic!
Till Jonathan
2016-10-01T00:00:00Z
Danila and Lorenzo have a lovely cozy home and they are so warm and welcoming. They did everything they could to make us welcome, and they supplied secure parking for our motorbikes too. We would not hesitate to return to their lovely home.
Pete
2016-06-18T00:00:00Z
We were travelling with my mother from Portofino to Cinque terre and needed to stay for one night. But as soon as we arrived at Danila and Lorenzo's house, we had a desire to stay for a week! Amazing people! Beautiful nature, proper Italian hospitality! Room is very clean and cosy. Do not hesitate to book this property. It is a little bit far from the station, but Lorenzo picked us up at the station and after, if you want to go in the town, its a walking distance in a stunning countryside. Definitely will come back! Grazie mille Danila and Lorenzo!
Alexandra
2017-04-05T00:00:00Z
Under our roadtrip from Budapest till Barcelona we stayed many places with air bnb but Danila's home we liked most! She and Lorenzo , her husband are amazingly nice and full of life people. We really enjoyed to talk with them. The bed is so confortable, and they waited us with a lot of breakfast next day. I can just recommend them!!:)
emoke
2016-04-02T00:00:00Z
This was our best Airbnb experience yet. We regretted that we only stayed for one night! We had great fun staying in this house, and we really enjoyed the music and the 'drums'! Also Danila and her daughter make great pizza's. Not to mention it's a beautiful house in a great location.
Joren
2016-08-05T00:00:00Z
Dani's house is a beautiful a she is. She and her husband Lorenzo are lovely and close persons. We also love their old dog Arturo. Even though our stay was short they made us feel like at home. I strongly recommend. Grazie Mile!
Patricia
2016-08-11T00:00:00Z
What a wonderful first experience of Italian hospitality! We arrived late and were welcomed by Danila and her husband, Lorenzo, as though we we're friends coming to visit. We stayed up late laughing exchanging stories over a few glasses of chilled Lambrusco. We had a wonderful night sleep and we felt like we were at home. Their home was warm, cozy and clean, and we felt right at home. In the morning we were greeted with lovely homemade cake and jams, made by Danila herself, and delicious coffee as well! What a great way to start our journey on the road again, along with maps and directions to the sights we were seeing that day. It's too bad we we're just passing through, we would have loved to had stayed longer. Oh, and if you love animals, you will love Arturo the big lovable dog! Thanks again for everything Danila.
Marie and Steve
2016-04-02T00:00:00Z
Staying with Lorenzo and Danila was wonderful! We had a tough time finding the house (only because of my own navigational troubles) and Lorenzo met us at the train station to guide us back to the house. They were both so friendly and welcoming. There was a nice restaurant that we walked to and though they were closed, it was a nice walk in the neighborhood after a long day of travel. Thank you so much Lorenzo, Danila, and Betina!
Katie
2016-10-08T00:00:00Z
Room Type
Private room
---
Property Type
House
---
Accommodates
2
---
Bedrooms
Chiavari, Liguria, Italy
Elegant private room with en suite bathroom and splendid views of the Ligurian countryside and mountains. Strategically positioned to easily reach the gems of the Tigullian Gulf such as Portofino, Santa Margherita Ligure, Sestri Levante, Genova and The Cinque Terre. Also situated a 5 minute walk away from one of the most well-known restaurants of the area. The room is equipped with a small fridge, a microwave and a kettle.
Rustic, elegant and cosy independent bedroom with en suite bathroom. Looking out on beautiful panoramic views of the Ligurian countryside and mountains. You'll love the room and peaceful location for its warm intimacy, amazing scenery and strategic position: 10 minutes by car from Chiavari town, beaches, train and bus station and 1 hour from the mountains which offer, at Santo Stefano D'Aveto, well equipped ski slopes in Winter and breathtaking walks in Summer. It is also 5 minutes' walk from one of the most renowned restaurants in the area! The room is suitable for couples, lone adventurers and furry friends and is open all­year­round. It is strategically located a stone's throw from the beaches of Chiavari and the Liguria Riviera. It allows guests to easily reach the beauties of the Tigullio Gulf, such as Portofino, Santa Marghertita Ligure, Sestri Levante, Genoa and the Cinque Terre. The location allows guests to choose from a diverse range of activities to satisfy all tastes: relaxing in the pretty towns of the Tigullio Gulf; food tasting; cultural visits; days at the beach, snorkelling; shopping; walking and hiking; horse riding lessons; hang gliding; canoe and boat excursions; and much more ...
The house is immersed in nature and guarantees a peaceful stay.
Incredible beautiful place and very hospitable people.
Eugénie
2016-09-09T00:00:00Z
A perfect hideaway in the hills above Chiavari and a great location for visiting Rapallo, Portofino and the Cinque Terre. Alfonso and Amanda were friendly and helpful hosts with lots of local knowledge and tips.
Elizabeth
2016-08-24T00:00:00Z
Amazing room on the hills of rapallo! 10 min to be on the beach, a nice bar close to the house and a delicious resturant 5 min from from the house! We will be back to enjoy liguria again. Thx!
Andrea
2016-08-23T00:00:00Z
The Villa Primula is a marvelous place in the middle of the wood ;) ! We really enjoyed to stay in this house! Thank you Alfonso, Amanda and Marco for your warm welcome and your kindness. Your valuable tips were perfect. We highly recommend ++++
Marie
2016-08-21T00:00:00Z
Ho trascorso una notte in questa curatissima camera immersa nella natura. Era tutto pulitissimo e con tutti i confort, i proprietari Alfonso e Amanda gentili e disponibili. Di sicuro vale la pena fare una sosta ;)
Rosanna
2016-08-29T00:00:00Z
Nous n'avons passé qu'une nuit dans la maison d'Alfonso et nous serions bien restés. Il faut certes faire un peu de route pour accéder au village et ville plus bas au bord de l'eau mais le calme de la terrasse permet de se reposer après des journées bien remplies. Nous avons été accueillis par Alfonso, sa femme et leur fils, nous nous sommes sentis bienvenus. La chambre a une grande terrasse Nous avons suivi leur recommandation en allant dinner au restaurant à coté, meilleur diner de tout notre séjour en Italie. Là aussi les hôtes sont adorables. Bref, nous avons aimés.
Leslie
2016-09-10T00:00:00Z
Alfonso et Amanda nous ont très bien accueillis Le logement est conforme aux photos donc pas de mauvaise surprise Propreté impeccable, le calme, la vue magnifique, la proximité des lieux touristiques ( les cinq terres et Portofino ) ainsi que Chiavari ( à 6km) font de ce logement un point de chute très intéressant. Nos hôtes nous ont bien renseignés sur les possibilités de randonnées Nous avons aussi bien apprécié leur discrétion
Jean Claude
2016-09-24T00:00:00Z
Posto d'incanto! L'accoglienza è stata perfetta, ma la parte sorprendente è la gradevolezza della camera e del terrazzo. Silenzio e tanto verde in una cornice ben curata. Raccomandato a chi vuol stare in pace, pur rimanendo vicino al mare.
Francesca
2016-08-29T00:00:00Z
Room Type
Private room
---
Property Type
House
---
Accommodates
2
---
Bedrooms
Leivi, Liguria, Italy
The apartment is located on the upper floor of the villa where we live, surrounded by olive trees. On the first floor you can find a wide kitchen with dining room; on the second floor there are 3 bedrooms and a restroom with shower. The private protion of the courtyard offers a terrace equipped with oven for barbecue lovers. The apartment is perfect for big families, friends groups or just for a relaxing stay only few kilometers from the beaches of Lavagna and Chiavari
The house is very spacious, and you can leave your car just in front of the entrance. Your pet is very welcome. TV and air conditioning are at disposal of our guests.
You can reach the Villa through a private road, narrow and steep. The car is fundamental to get to the house and to visit the surroundings.
Room Type
Entire home/apt
---
Property Type
House
---
Accommodates
7
---
Bedrooms
Metropolitan City of Genoa, Liguria, Italy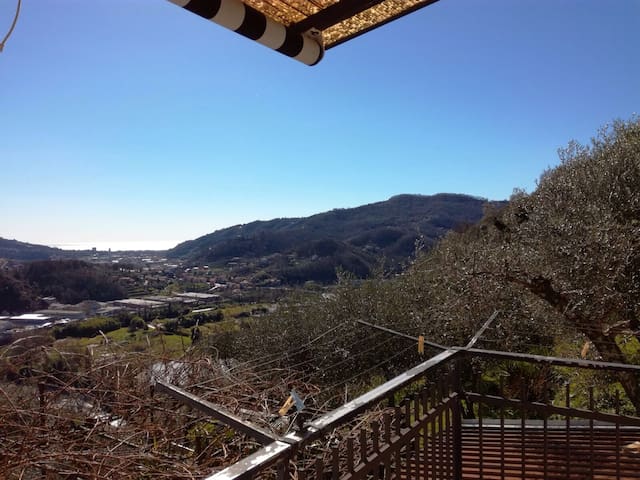 Come enjoy the relaxation of your house in the hills, a few steps from the sea but with the flavor of healthy life, away from the traffic but close to the Cinque Terre! In the heart of Tigullio, where hospitality is at home and everywhere smells of d
There is a place where the boundaries between different worlds are just faded out. A place where the asperities of the countryside meet with the blending character of the sea. Where you can adjust your seat and let yourself go in a trip inside another trip, made of that human and natural landscapes you are looking for. And if this isn't enough, come to enjoy the richness of the traditional kitchen we prepare ourselves, or just enjoy it in one of the welcoming and friendly restaurant you can find here around. Take your time to feel the comfort you need, listening at the sound of nature surrounding the place. Or if you prefer, enjoy the comfort of the privacy of your room, watching your favorite TV series of movies on NETFLIX!
I have to admit, Fabio is like non other... He was the perfect host. His mom is an angel.. Both my gf and I enjoyed our time there... The house and it's views are breathtaking.. A full Italian breakfast in the morning awaited us.. Long conversations at night plus wine plus laughs and jokes.... A definite recommendation.... If you have the need to go to these areas then this place is the best choice... Gonna miss you mate... And Adriana too.. Xxx
Ben & Greta
2016-02-23T00:00:00Z
Large house and 3 upstairs bedrooms share a bathroom. Bedrooms are comfortable. Car GPS could not find the property so had to use internet. Nice views over village.
Roger
2016-08-18T00:00:00Z
Fabio is a really good host and all of his friends were really nice with us. It was the perfect stay for us during our trip. All the other guests were nice, we had breakfast together and it made our experience better. We spent just one night there but we enjoyed the Italian vibe. The room was clean and the bathroom was also good. I could just recommend to stay there!
Veronika
2015-08-31T00:00:00Z
Fabio and Veronica were both very pleasant and did whatever they could to make us feel like home! The view from their veranda that we used to have dinner and breakfast was amazing, we really miss it. Very quiet location, close to the Italian Riviera cities, to Genova, to the train station for Cinque Terre but yet far from the city noise and all the tourists. Fabio every morning was bringing from the local bakery foccacia. Everything was clean. Overall great experience and would definitely want to visit again. Thanks Fabio for the great time!!!!
Elisabeth
2015-07-07T00:00:00Z
Fabio went out of his way to make us feel at home. He made all the difference during our stay, especially because we did not have a car.
Jim
2015-06-14T00:00:00Z
Staying at Fabio's is like being member of the family. Fabio and his mom are very warm and communicative people. Laid back and fun. Thanks for a great Italian experience, good tips on the best places to go visit and coffee!
Rasmus
2015-09-11T00:00:00Z
It was very great to stay by Fabio. The flat was very clean and comfortable. The host was very friendly and helpful. Also we very enjoyed the italian breakfast.
Oleksandr
2015-09-15T00:00:00Z
Fabio was a fantastic host - most welcoming and helpful with everything during our stay! We loved his house on the hill, where we were super comfortable with a lot of space and a truly breathtaking view. I can definitely recommend Fabio and his place.
Aleksandra
2015-07-25T00:00:00Z
Room Type
Private room
---
Property Type
House
---
Accommodates
4
---
Bedrooms
San Salvatore, Liguria, Italy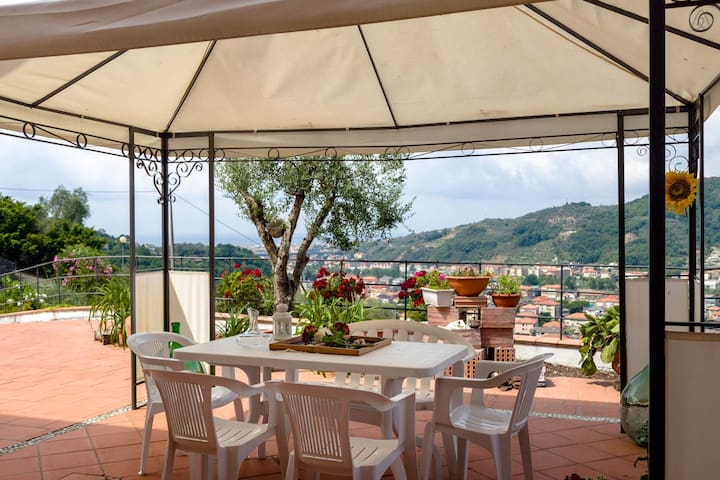 Almost on top of a hill, a ten-minute drive inland from Chiavari and Lavagna, our rooms are on the first floor of an early XXth century country house surrounded by olive groves. Close enough to the sea but far from the bustle, our place is ideal for relaxing and is a good base for day trips to Genova and the East side of the Riviera, as well as for discovering the villages and the rural festivals of the hinterland.
This room has a double french style bed and comes with private access to the best spot in the house - the first floor loggia. But, it is a bit smaller than the other rooms and, at the moment, a couple of other things make it the most "bohemian" as well... so be advised! First thing, the wall separating the room from the antechamber is made of wood. Second thing, there is no wardrobe - but there's still enough space to store your luggage, of course.
Such a great vibe here. If you are visiting Cinque Terre or Portofino this is a good sot to base yourself. Better to have a car, but we took a bus from the train station which was super easy. Great value and super cool place to stay. One of my favorite Airbnb experiences yet.
Nick
2016-07-25T00:00:00Z
This was the best Airbnb place I ever stayed at. The location of the house is amazing. It is on a hill surrounded by olive trees. The house itself has a cool and unique style and a big garden plus a balcony to your use. I only got to know Carlo but he was a great host and cool guy. I can highly recommend this listing and would love to go back there to stay a few more days.
Sascha
2016-07-13T00:00:00Z
We had a really enjoyable 2 nights stay at Valentina and Carlo's house. The house is amazing and decorated with a lot of taste. We were warmly welcome by Valentina and Carlo who will help you with every request and advice to enjoy the place at its best. The room and bathroom were lovely and clean. Breakfast perfect! I would definitely enjoy to come back and recommend Valentina and Carlo's house to every traveler!
Eve
2016-08-07T00:00:00Z
Nice location, nice people !
Marie
2016-07-05T00:00:00Z
We spend two wonderful relaxing nights with Valentina and Carlo in this beautiful house!The house is amazing.We really wanted to stay for a longer time.We had a nice barbecue in the garden and enjoyed the beach nearby.We will come back soon!
Elisabeth
2016-08-11T00:00:00Z
Staying Valentina's and Carlo's place was a wonderful experience. The house is located in a small village surrounded by beautiful landscape. The house itself is newly restorted and beautifully furnished. The garden offers lots of spots to sit down and enjoy a glass of wine and a nice dinner. Valentina and Carlo are very friendly and attentive hosts and provided us a perfect breakfast with self-made cake and delicious juices. Unfortunately we only stayed for one night, but we would definitely come back and would recommend everyone to stay at their place!
Judith
2016-07-06T00:00:00Z
I'm gona start by saying that this was one of the best weekends ever! All was perfect. Valentina and Carlo are so kind, they have a beautiful house in an amazing area of italy! Valentina picked me up from the station and showed me around. Carlo lent me his bike with which I visited a part of the ligurian coast up to Sestri Levante which is not to be missed! The home made Breakfast was perfect too! All in all everything about this trip was perfect! I'm highly recommending Carlo & Valentina's place and i'm definitely gona be back one day :)
Georges
2016-07-04T00:00:00Z
valentina and Carlo are great hosts, theyr house is close to the cost but far enough to get the countryside vibe. The location is very beautiful, quiet and clean. We can give our highest reccommandation.
Simon Marius
2016-08-31T00:00:00Z
Room Type
Private room
---
Property Type
House
---
Accommodates
1
---
Bedrooms
San Salvatore, Liguria, Italy
Guardate le foto. Il resto è un monolocale. Chiavari e Zoagli a due passi. Le passeggiate da Portofino vetta o sulle colline sopra Zoagli , magari coi bastoncini del nordic walking, vi fanno dimenticare anche tasse e debito pubblico..
A due passi dall'appartamento è a vostra disposizione una funivia che vi porta giù al mare. Qui vi aspettano una spiaggia poco affollata, la vostra cabina, una piscina , docce, il solarium e il mare
We felt like we were in paradise for a weekend! The view is amazing, the apartment is well equipped, easy to get to and in an amazing surrounding. Giancarlo was very helpful and has a great sense of humor! Thank you!
Maurits
2017-04-10T00:00:00Z
Giancarlo's place is incredible: the views are the main attraction and they are simply breathtakingly beautiful. The apartment itself is clean and full of light, it also has everything you need. The only downside is getting to the apartment, as you will have to face a steep climb or descend on a daily basis, if you leave to visit other places.
Sherisse
2016-07-17T00:00:00Z
Giancarlo is an amazing man. He made our stay very enjoyable! At the first day he showed us the best places of the city, where to try the best ice-cream, focaccia, seafood... Apartment is very cozy and neat, the view from the balcony is breathtaking! The way to the beach is a nice adventure. We totally liked the place and will recommend it for sure.
Ekaterina
2016-08-23T00:00:00Z
We had an amazing, off-season stay at Giancarlo's place. After seeing a lot of places all over liguria, we were always more than happy to come back in the evening to cook some dinner with great view. There is literally nothing bad to say at all and you can consider yourself lucky if you manage to take some time off in Giancarlo's flat on the rocks.
Marius
2017-03-13T00:00:00Z
Amazing place! An amazing view!. Giancarlo's apt is the best option if you want visit Portofino and Cinque Terre. Giancarlo is a very dedicated host, he's an excellent person. If your are planning to visit Liguria, please stay at Giancarlo's, an apt when the nature and the sea merge to create a paradise!!.
Ivan
2016-04-27T00:00:00Z
Our stay in Tigullio Rock was amazing. The apartment has a wonderful view and perfect possibilities for swimming an sunbathing. It is very well located to visit Cinque Terre and the places around. We really enjoyed our stay. Giancarlo is a perfectly nice host and very accommodating with helpful advices. We would absolutely recommend to visit this place!
Seraina
2016-06-20T00:00:00Z
perfect weekend! thank you!
Maria
2016-10-05T00:00:00Z
Giancarlo was a wonderful host ! He welcomed us with a nice bottle of wine and was always there to help us. His place was amazing ! The view from the balcony was stunning. The private beach and swimming pool were also quite impressive. We had a lovely time there, and will surely go back :) Thank you Giancarlo !
Aurelie
2015-08-29T00:00:00Z
Room Type
Entire home/apt
---
Property Type
House
---
Accommodates
3
---
Bedrooms
Sant'andrea di Rovereto, Liguria, Italy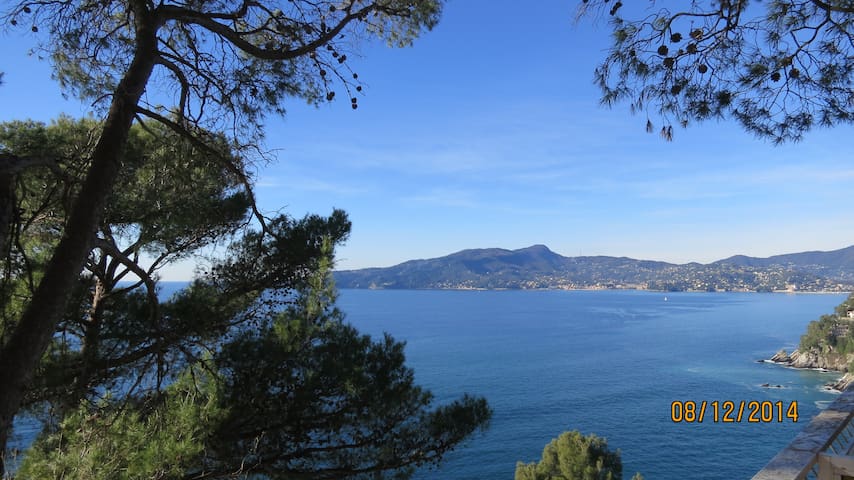 The house is part of a villa surrounded by olive trees, with a wide garden watching the sea. Relax and privacy are assured. 2 bedrooms, 2 bathrooms, big living room with open space kitchen opening into the garden and a wonderful barbecue zone. At 3KM from Chiavari historical center, Casa Gelsomino, is the perfect choice, for whom wants to relax in silence just few minutes form the beach. It is also the perfect deprature point to go to Cinque Terre by train, Portofino, Camogli and Genova. If you like trekking you can also reach in less than 1 hour trekking paths at 5900ft in Aveto Park. Also Lucca and Pisa are close venues for a daytrip. The host with strong experience in hospitality will provide you all the comforts to spend a beautiful stay in the Italian Riviera.
Greet house. Lovend the view and the overall stay!
Frederik
2015-09-05T00:00:00Z
Great place, wonderfull house and very helpfull owner
Emre
2016-06-07T00:00:00Z
Hello, we spent 1 week at Christian's place (couple & 2 kids). The place is great for a family. There is a beautiful garden with a sea view, exactly as shown on the pictures. Nice terrace to have lunch and dinner. Car is mandatory! The place is perfect to visit the area (Sestri Levante, Santa Margherita, Cinque Terre, etc). Chiavari is a very nice little town, with an authentic italian feel and less turistic than Sestri Levante. There is a fresh food market every morning until 13.00 and shopping for clothes is great as well. For the beach, I would recommend to go to Sestri Levante (Baia del Silenzio). I can only recommend Christian's place.
cecile
2014-06-05T00:00:00Z
We 've have been warmly welcomed by Christian's family,. They gave us a lot of advice to do some sightseeing in the region. Despite a weather not so good, we could enjoyed the garden, really perfect for children (we have a 15 month boy) ! The house was very convienient and spacious, the living room is very nice with a large window. The house is a perfect place for holidays, central to many places (Zoagli and its nice walkpath, Genova, Cinque Terre, Pisa and Lucca...). We wil enjoy to come back one day.
Cath
2013-05-05T00:00:00Z
Really great and relaxing home. The garden and it's stunning view is very suitable for children (we came with our 14 months old daughter). The moonlight reflecting on the sea at night is unforgettable. The kitchen and living room are very cosy, the sleeping rooms clean and quiet. Chiavari is perfectly located for trips to Zoagli, Cinque Terre, Sestri Levante, Camogli (a must!) and to Portofino or San Fruttuose by boat. There's also a hiking trail just around the corner (linking the 5 towers of the hillside villages). Chiavari has all the shops, bars and restaurants you'll need, though the city takes some time getting used too. Christian's father Enrico was very helpfull and friendly, providing everything to make our holiday worthwile. Price-wise this house isn't cheap, but no holiday houses in Italy are. Only remark: make sure you know how to drive up- and certainly downhill. The Ligurian hills and roads are to be taken very seriously :).
Felix
2013-09-22T00:00:00Z
Wir haben die Zeit sehr genossen... Ein tolles Haus, das hält was die Beschreibung verspricht. Nett eingerichtet, alles vorhanden was man benötigt. Wir waren rundherum zufrieden!
Peter
2014-06-22T00:00:00Z
Beschreibung der Unterkunft entsprach der Realität. Die Küche war gut und umfangreich ausgestattet. Alle technischen Geräte haben perfekt funktioniert. Man sah, dass dies eine Wohnung ist, die nicht nur zum Vermieten mit dem allernötigsten ausgerüstet ist. Es gab zwei Mal Probleme mit dem Wlan. Dies wurde aber jeweils noch am gleichen Tag vom Bruder des Vermieters in Ordnung gebracht. Er sprach auch gut Englisch, so dass es keine Verständigungsprobleme gab. Im Garten war ausreichend Mobiliar zum Sonnen und Grillen vorhanden.
Edgar
2016-09-25T00:00:00Z
Nous avons séjourné 1 semaine à 2 couples avec un bébé. Corrado nous a très bien reçu, il était disponible et sympatique. Le logement est comme sur les photos, la terrasse et l'extérieur sont vraiment le plus de ce logement, très agréable ! De quoi faire des barbecues et profiter de la vue. A noter que c'est une grande maison divisée en 2 (l'autre partie était louée à 2 autres couples). L'accès est un peu compliqué (il faut rouler doucement, lacets étroits, stationnement au millimètre). Depuis Chiavari ou Lavagna, accès au 5 terres très faciles en bateau ou en train. Ainsi qu'aux autres lieux alentours, même en voiture (Portofino, Sestri Levante, etc.). Superbe région. Nous recommandons ce logement, pour 2 couples ou 1 couple avec enfants (notre bébé avait son lit dans le couloir, un peu gênant).
Clément
2015-08-08T00:00:00Z
Room Type
Entire home/apt
---
Property Type
House
---
Accommodates
4
---
Bedrooms
Leivi, Liguria, Italy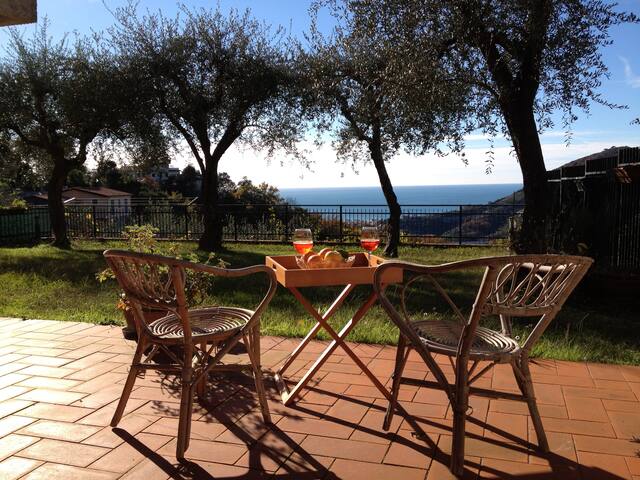 Double bedroom with large bed (170x190cm) in a typical Ligurian house located 10 km from Chiavari on the first hills of Fontanabuona.
Double bedroom in typical Ligurian house 10 km from Chiavari on the first hills of Fontanabuona. Nestling in the green, it is ideal for couples, trekking lovers and bikers. There you can enjoy the sea without the bustle of the coast. Beaches are only a quarter of an hour drive away.
The house is in the municipality of San Colombano Certenoli, the nearest village, San Martino del Monte, has a wonderful panoramic view of the sea. It is part of Carasco, a ten minutes'drive from the highway exit.
Staying with Agnès and Andrea felt like staying with friends. We had a wonderful time and felt very at home in their house. They had some very helpful tips for hikings and borrowed us their hiking maps. The house is an outstandingly nice old building which is beautifully renovated and located in the mountains. It is really quiet and surrounded by nature. We are really happy we met the two!
Viktoria
2016-08-31T00:00:00Z
Agnès e il suo compagno sono stati molto gentili e ospitali. La casa é molto carina, più di quanto si veda nelle foto dell'annuncio. Un po' scomoda da raggiungere se si prevede di passare la giornata al mare, ma la vista che offre è appagante!!! Ci tornerei volentieri e lo consiglio assolutamente :-)
Rubjona
2016-08-22T00:00:00Z
Agnès e Andrea sono due persone estremamente gentili ed ospitali. Hanno fatto davvero di tutto per metterci a nostro agio sin dal primo momento. L'alloggio è semplicemente stupendo. Tranquillità e contatto con la natura sono assolutamente garantiti. Ci torneremo volentieri alla prossima occasione e lo consigliamo sinceramente.
Fabiola
2016-09-04T00:00:00Z
Room Type
Private room
---
Property Type
House
---
Accommodates
2
---
Bedrooms
Vignale, Liguria, Italy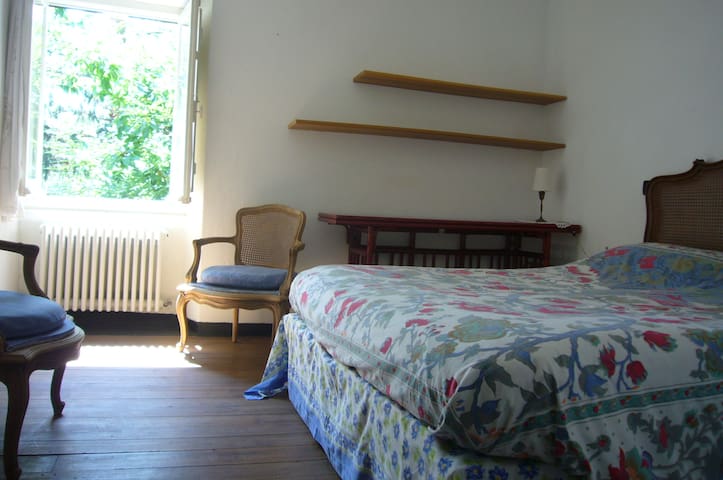 in a quiet corner of Chiavari on the hills overlooking the sea you'll find what you are looking for peace, tranquility, hospitality and kindness of those who you will pass wonderful days.
The hospitality of the hosts, the silence of the location immersed in nature, panoramic view of the Gulf of Tigullio The hospitality of the hosts, the silence of the location surrounded by nature, the panoramic view of the Gulf of Tigullio
Chiavari is stocked shops located in the famous and historic alleys, swimming pool, beaches, sports fields, renowned fairs with stalls characteristics, excellent restaurants, pizzerias and trattorias with traditional Ligurian and regional foods. Not least we have a hospital with emergency room with the doctor on call service. We have a marina where you can organize boat excursions to the 5 Terre and Portofino / San Fruttuoso, and for the famous Old Harbour where even visit the Aquarium. We are in direct contact with a very famous horse riding center with many horses, both for learning and for excursions in Liguria. The river divides Entella Chiavari from Lavagna by a bridge, this gives the possibility to have attacked two towns, this gives the opportunity to take advantage of dual Riviera with many organized beaches and beaches, this is also thanks to the shuttle service that we provide to customers . In Chiavari there are many shops located in the famous and historic alleys, a swimmimg pool, beaches, sports centers, renowned markets with typical stalls, Also fine restaurants, pizzerias and trattorias with classic Ligurian and regional food. There is a local hospital with emergency medical services. We have a marina where you can Organise boat excursions to the Cinque Terre and Portofino / San Fruttuoso, and to the famous Porto Antico in Genoa where you can Also visit the famous Aquarium. We are in direct contact with a very popular horse-riding center with many horses, both for learning and for riding in the Ligurian countryside. The river divides Entella Chiavari from Lavagna by a bridge. Therefore you have two very close towns to visit and enjoy. The Riviera has many well-equipped beaches, including Those with free entrance, That guests can reach using the shuttle service available from the Landlord on request.
This is been our best air B&B stay ever! We highly recommend staying with Lorenzo and Dinila. The home overlooks the city and has a wonderful few of the sea. It is clean and welcoming. Lorenzo made us feel like family. You can't do any better than this!
Peter and Kate
2015-09-25T00:00:00Z
Lorenzo and Danila were by far the best hosts we ever had. They were so nice and friendly and they are so cute together. We really liked the eveningtalks with a glass of tasty wine and we laughed a lot together. Lorenzo is a very interesting person with lots of stories to tell. He also gave us advice what we have to see in the surrounding area. The house is very clean and very cozy and it smells so good all over the place. The breakfast was great! We only planned to stay one night but decided to stay one more night after that. And we will definitively come back!
Lars-Erik
2016-03-16T00:00:00Z
Great hosts. Very nice people. Defensibly we would come back to Lorenzo house and his wife.
Mario
2015-12-06T00:00:00Z
We had an incredibly warm and welcoming stay with Lorenzo and Danila. They really made us feel like home, trully open and very helpful with ideas and printed maps to help us get around. The home is beautifully located with amazing views over the sea, as well as tastefully decorated, comfortable and very cosy. We really enjoyed the heart-warming friendly chats we had, accompanied by lovely music in a very homey atmosphere. Although the bathroom is shared and the bedrooms next to each other, they were also great at offering us absolute privacy and it felt like we had the house to ourselves. We're very grateful for staying with them and we can't recommend it highly enough.
Irina
2015-09-26T00:00:00Z
the house is small but cosy and clean. Lorenzo is a kind personn, always here to speak about... everything you want ! Danila, his wife, is very pleasant. The included shuttle is very convenient : your car is safe on a free parking at lorenzo's place ! Thank you for everything Danila and Lorenzo !
ludovic
2016-04-09T00:00:00Z
We had the best holidays ever in Chiavari at Lorenzo and Danila house and we recommend it warmly to every single person/couple looking to discover Italy/Ligury region Lorenzo and Danila are fantastic hosts, welcoming, very helpfull and they speak Italian/English/French. Their home is a clean, confortable and felt like a paradise for us. Furthermore, Ligury/Chiavary region offer a lot to visitors.
Regis
2016-07-23T00:00:00Z
Lorenzo and Danila are such a nice couple. Both very friendly and helpful. The breakfast was delicious, Danilas homemade marmalade is delightful and Lorenzo picked us up in the Station, when we returned from Cinque Terre. Their house is cozy and clean and the view is WOW... beautiful. In the morning you can hear a rooster singing. Gracie mile per tutto once again!
Anneli
2016-06-24T00:00:00Z
Lorenzo e la sua moglie sono stato molto gentile! I stayed with them for a night and it was an amazing and very nice stay :) They received us with wine and had great conversations and even though it was just one night we had a lot of fun and won't forget the one night we stayed with Lorenzo.
Jasper
2016-06-15T00:00:00Z
Room Type
Private room
---
Property Type
House
---
Accommodates
2
---
Bedrooms
chiavari, Liguria, Italy
Camera con bagno in una casa rurale immersa nel verde a 6 chilometri dal Mar Tirreno (10 min in auto o 15 min col bus), fra Portofino e le Cinque Terre. Piccola prima colazione inclusa. La domenica solo 4 bus ci collegano in 20 minuti a Chiavari stazione ma sono a disposizione con la mia auto.
Nice place. Amazing view. Riccardo was very nice and helpfull. Great place to go to rest and enjoy the nature.
JuanJo
2016-06-29T00:00:00Z
I can reccomended it. They are all very friendly and the apartment is lovely.
Anette
2016-08-20T00:00:00Z
Riccardo è una persona davvero piacevole e disponibile, le fotografie erano chiare e siamo arrivate senza problemi al suo b&b. Il panorama molto bello e situato in un posto strategico. Ci sono delle cose che vanno sicuramente migliorate e cambiate. Grazie mille per la disponibilità e simpatia!
Susanna
2016-08-01T00:00:00Z
Riccardo e suo fratello disponibili, posto fresco e strategico per visitare la zona, camera come descritta nell'annuncio, pulita.
Maury
2016-06-27T00:00:00Z
все понравилось, рады очень тому, что не ошиблись с выбором. all is super/ we was glad for stay with Ricardo
Aisha
2016-08-07T00:00:00Z
Riccardo byl velmi pohostinný a milý. Dům je asi 20 min autem od moře v klidném prostředí a s krásným výhledem, což jsme ocenili. Pokoj byl čistý a příjemný.
Katerina
2016-07-22T00:00:00Z
Riccardo è stato molto gentile e disponibile, la sua casa è molto bella, si raggiunge il mare in 10 minuti e soprattutto molto pulita la stanza e i servizi. Soggiorno breve, ma piacevole!
Amalia
2016-08-08T00:00:00Z
Très bon accueil, toujours à disposition et de bon conseil.
Morgan
2016-07-17T00:00:00Z
Room Type
Private room
---
Property Type
House
---
Accommodates
3
---
Bedrooms
Camposasco, Liguria, Italy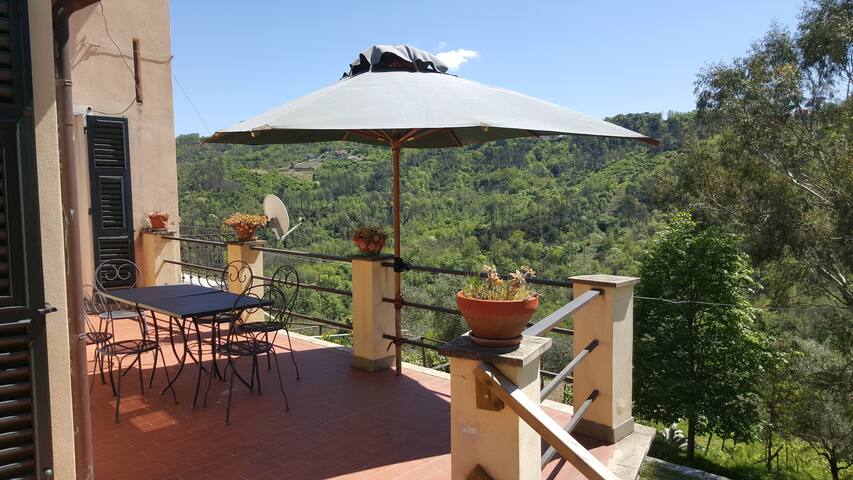 Almost on top of a hill, a ten-minute drive inland from Chiavari and Lavagna, our rooms are on the first floor of an early XXth century country house surrounded by olive groves.
Close enough to the sea but far from the bustle, our place is ideal for relaxing and is a good base for day trips to Genova and the East side of the Riviera, as well as for discovering the villages and the rural festivals of the hinterland. You'll be welcome to share the house, garden, and terrace overlooking the medieval borgo dei Fieschi and to join us in our home-made breakfast prepared with local products! We can suggest several good restaurants in the area, or if you like to enjoy a real "italian aperitivo" or a special dinner at our place, check us out on viz eat or just tell us what you'd like and we'll do our best! We're easy-going and very open with our guests! Feel free to contact us for any additional information about the house and the region - we speak English, French and Italian. You can reach the beaches in Chiavari and Lavagna by car, bus, or bike - there is a bike path along the river Entella. We have a couple of bikes available for our guests, but keep in mind the house is a bit uphill! Part of the charm of the place is that we do not have television or an internet connection. Free wifi is available in the city of Chiavari.
Astonishingly beautiful restored villa and excellent hosts led to the perfect stay. Highly recommended. Thanks Valentina and Carlo!
Andrew
2015-08-15T00:00:00Z
Very nice place! Amazing hosts
Mārtiņš
2016-06-25T00:00:00Z
Splendid place and hosts, very kind!! With good advices for enjoy int the area and beaches around! Portofino just a few miles away from this house where it is a pleasure to stay, thanks to the two charming hosts!
Cédric
2015-08-16T00:00:00Z
The house of Valentina & Carlo is very authentic and beautiful and is lain on a hill which gives you a breathtaking view over the surroundings. This is the perfect stay if you want to enjoy a quiet and peaceful environment but still have the possibility to visit enjoyable places as Genova, Cinque Terre, Porto Fino,... and the several beach villages nearby. Having a car is preferable, although you should be able to reach everything by public transport.
Noor
2016-07-28T00:00:00Z
We spent quite a lot of time at Valentina and Carlo's house but if we could we would stay there forever!) This's the best accommodation I ever dreamed. House is very spacious and stylish, garden is beautiful, the view from the window is exciting! Hosts are very helpful and sociable, everymorning cakes are so delicious.. :) Valentina and Carlo, thank you so much for your hospitality! :) We will highly recommend your airbnb to everyone!
Валентин
2015-08-09T00:00:00Z
Beautiful house, friendly hosts and delicious muffins for breakfast! We really enjoyed our Stay and would always come back.
Maximilian
2016-08-10T00:00:00Z
We spent one night at Valentina and Carlo's place: it was really nice! Their home is beautiful and clean, and every room is cozy and furnished with good taste. Valentina and Carlo are really polite and interesting people (and the morning cake was delicious!). We totally recommend their Airbnb! Sara and Luca
Sara
2015-08-11T00:00:00Z
A beautiful house and very nice hosts, our stay was a good experience in Chiavari. Don't hesitate to book it.
Sébastien
2015-08-17T00:00:00Z
Room Type
Private room
---
Property Type
House
---
Accommodates
2
---
Bedrooms
San Salvatore di Cogorno, Lavagna, Italy
Country house with garden in Leivi (Villaoneto district) in a calm atmosphere. It has 2 rooms, 4 beds and a sofa bed, a bathroom, an open space with kitchen, sofa and a international TV. The terrace offers a view towards the coast (15 min far away). NEW! From spring 2017 it would be available Wifi connexion
Casetta di campagna a Leivi (frazione Villaoneto) immersa nel verde e nella pace. Si compone di 2 stanze, un bagno al primo piano e un open space con angolo cottura al piano terra. Terrazza vista mare con sdraio.
Villaoneto is a suburb of Leivi where it is possible to get relaxed in the nature after a day at the beach or a promenade.
The apartment is the old family house in the middle of the hills surrounded by a lovely garden and wine yard. The most quite, relaxed and solitary place with the most amazing few you could wish for. One needs an own car to reach it and the drive on the narrow is streets is an experience by itself. Shops, very good restaurants, beaches and things to visit are very well reachable by car. If one likes a place where no other people are in the way then this is the perfect retreat!
Benjamin
2016-09-11T00:00:00Z
We spent here 6 beautiful days during our honeymoon. The house is so tiny, comfortable and has an excellent view to the mountains,valleies and a see. Well equipped house with spacious living room and kitchen. There is a nice terrace to have dinner with view. Mattheo the owner is fast, kind and friendly there was easy to move in and out. Good for couples or families but worth to come by car or moto because is on the hill.
Koltai
2016-07-02T00:00:00Z
Matteo was very kind and flexible. He picked me up at the train station, explained me the busses etc. Then he drive us up to Villa Oneto with his car, so we didn't need to take the bus. The House is very clean, confortable and got everything you need. It is very Quiet up there and all 4 nights we slept wonderful. One day we hiked over the hill to Zoagli for a swim, theres a nice little path, it takes you 1 and a half hour and the sea in Zoagli was very clean. And there plenty of maps and information brochures around and matteo even printed us a hiking map out. In Lavagna (5min by train vom Chiavari) you can rent 125 ccm Moto-Scooter for two people, for 50.- a day. It's at Falcone-motos, just next to the train station of Lavagna. I can highly recommend the place of Matteo.
Niklaus
2016-07-06T00:00:00Z
Matteo's place was incredible, we've spent there nearly a week and didn't want to leave. The area where we stayed was nice and the places around as well :-) Everything was just perfect. Thanks a lot :-)
Marta
2016-09-19T00:00:00Z
Grande maison de famille chargée d'histoire, cette maison est fort pratique, spacieuse et bien équipée. La maman de Matteo nous a bien accueilli, et nous sommes resté en contact avec Matteo pour les conseils touristiques (même si de nombreuses documentations sont disponibles dans la location). Fin octobre, la météo ne nous a malheureusement pas permis de profiter des extérieurs. Chiavari est extrêmement bien située entre les 5 terres, Portofino, ou même Gênes. Comme dans de nombreuses villes Italiennes, le clocher sonne les heures, même la nuit, il ne faut donc pas avoir le sommeil trop léger. La route d'accès est sinueuse, mais le point de vue vaut le détour. Je recommande cette location.
philippe
2016-10-28T00:00:00Z
Room Type
Entire home/apt
---
Property Type
House
---
Accommodates
6
---
Bedrooms
Leivi, Liguria, Italy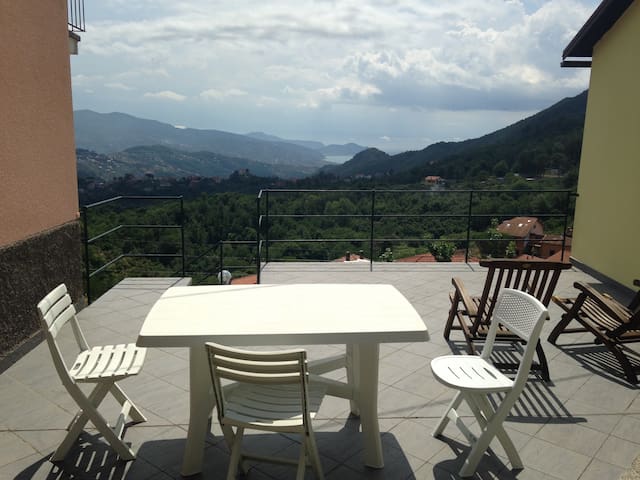 Casa di campagna con vista meravigliosa sul mare con giardino a oliveto
If you're looking for a bucolic retreat to relax and enjoy nature this is the place for you. Beautiful in all seasons, in the summer you can enjoy the beaches along the coast, in other seasons beautiful walks in the hills. The house is a rural house recently renovated, attached to another houses and surrounded by a ligurian style terraced garden, with olive trees, lemon trees, fig trees. In the summer you'll have the singing of the crickets as the perfect soundtrack of your mediterreanean holiday. There is only one private bedroom but it sleeps 5 people. There is a private bedroom with a double bed and a single bed and a mezzanine with a sofabed. The kitchen is all missmatched but has everything you need: gas kitchen stove with 4 rings, oven, fridge, toaster, standing mixer, etc... There is a terrace with a table outside for you outdoor meals, or a table in the kitchen. The bathroom has a bath and shower. We provide linen and towels. Please note that the house is quite isolated, so it can be difficult to move without a car. Also the road arrives at 200m from the house, so you need to walk the last path by foot. This means you don't have the noise of cars close by but means you have to carry your suitcases for a couple of minutes! I go often by myself by train and walk the little country paths uphill (very steep) even with suitcases, and don't mind it but please make sure you're up to it. It's obviously tougher uphill (takes me 20 min) than downhill (15 mins). There are buses from the village of San Pietro (which is a 10 min walk) to Chiavari but they are not very frequent. A taxi from the train station in Chiavari is 20€ if needed. Local shop is quite basic but has nice fruit and vegetable and delivers shopping if needed! There is a steep walk (20min downhill 30 min uphill) down to Zoagli which is on the sea and has a train station. By train or by car you can visit in less than an hour the Cinque Terre, Portofino, Camogli, Sestri Levante, Genova... you will find loads of tourist information in the house and we'll be happy to advise you about the area.
Beautiful homely property in hills above Zoagli with amazing views and garden space. Only thing to be aware of is walk up from Zoagli while only taking 20 mins is an uphill hike on hot days. Massimo was friendly and helpful.
Jonathan
2014-09-12T00:00:00Z
Super place to stay with a great view and great hospitality ad a very nice and warm welcome and all you can ask for. Love mountains and sea is all you need, and it's a great exercise to walk down to Zoagli to swim and relax and walk up the mountain again in 15 minutes. Thanks Caterina & Massimo!
Maarten
2015-07-03T00:00:00Z
Everything was perfect and as expected! Thank you!
Sebastian
2015-07-29T00:00:00Z
We spent a week in Massimo' s and Caterina's house. and it was really an amazing week! the location is perfect, the house is so beautifull and comfortable, the view is fantastic! Massimo and Caterina( and also their daughter Eriu) are wonderful , kind , helpful and nice people! We are happy that we find them! We recommend this place to everyone and hope to return there again! Dear Massimo and Caterina thank you for everything!
Виктор
2013-06-09T00:00:00Z
Caterina is incredibly lovely. We felt happy staying here. Felt very much like a home. And all as expected, very pleasing. There's something in the way the home is positioned in relation to the garden and the the climb down to Zoagli that works really well, and continues to do so as Zoagli is laid out well for families with an enclosed square, play area, beach, gentle sea, grocers and bakery. We'd travelled by sleeper train from Paris to Milan, and finally hired a car. Yet, really no need for the car - the cobbled steps down, through the olive trees and then the paved streets, always involved counting lizards on the way down and spotting bats on the way up. Steep but okay for us. The train line is well run. The train bridge arches over the pebbled beach and parked boats, with a regular rumble motion reminiscent of New York. Also, we ate at home, the kitchen is great, and picked basil from Caterina's planters. The house is full of textiles, spacious and comfortable with big windows, and black slate work tops. The home is relaxed and quiet, and we felt no need to explore too far (except to Chiavari where we found good markets and a place to buy fresh gnocchi and breadcrumbed aubergine). On the walk down to the square we crossed only one main road, and so perfect for those who like to move by foot and train, and for our girls too. We had an idyllic time, and would return.
Sarah
2015-09-03T00:00:00Z
Our stay at Massimos and Caterinas house in Zoagli was beautiful. You have an awesome view above the sea and through the beautiful garden. Massimo was very friendly and even brought us some food for breakfast. Zoagli is a nice point to have some trips in the region by car or train such as Cinque Terre, Rapallo or Portofino. Our three nights here were great - we would definitely come back!
Erwin
2014-04-21T00:00:00Z
We spent 5 wonderful days here as part of our honeymoon. For us the location was absolutely perfect, perched in the hills with the coastline of Liguria stretching out to both the east and the west. The house is very tranquil and the gardens are lovely with fireflies flitting around at night and the birds chirrupping in the mornings. Massimo and Caterina were excellent and very helpful hosts. We are already planning to return next year
michael
2013-05-27T00:00:00Z
If you are looking for an authentic, off the beaten path, quintessential Italian vacation this is your place. My husband, children (ages 3 & 6), and I feel in love this Caterina and Massimo's house. It is perfectly located between Portofino and the Cinque Terra. After spending our days at one of the many beautiful beach towns, we relaxed by viewing the Riviera, while our kids looked for lizards and picked oranges in the Garden. It was a special family vacation we will never forget.
Leslie
2014-04-27T00:00:00Z
Room Type
Entire home/apt
---
Property Type
House
---
Accommodates
5
---
Bedrooms
Zoagli, Liguria, Italy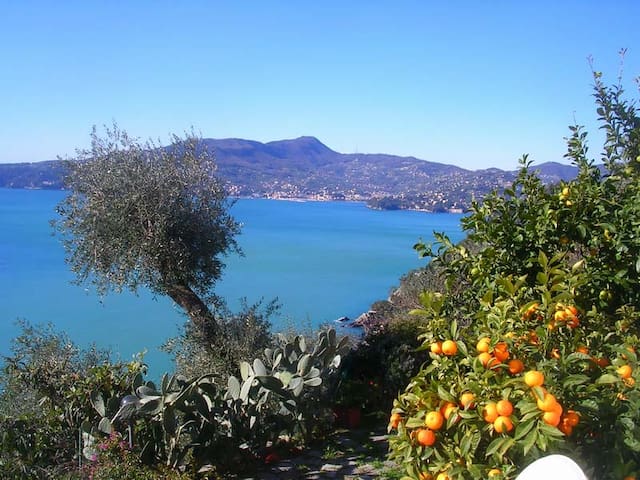 Un piccolo studio curato nei dettagli. Ideale per due persone. L'alloggio è comodo, vicino a posti auto e minimarket, con angolo giardino all'ingresso e terrazzo privato affacciato sul Golfo del Tigullio, a Zoagli.
Daniela picked us up, provided us with Foccacina and fresh fruits and was a generally a lovely host. Zoagly is good to get away from the masses and easily connected. Of course it is better to have a car, but you can also walk and get in shape by getting up the hill. :) Thanks again! Grazie mille!
Talisa
2016-07-05T00:00:00Z
Daniela was a great host, the location is absolutly amazing surrounded by locals and the appartment is sweet. When you drive there be aware that the same address exists also for Rapello. Make sure you drive further to Chiavari in order to arrive to Zoagli.
Patricia
2016-07-10T00:00:00Z
Daniela is a very nice, friendly and warm person. The apartment is beautifully situated with a breathtaking view on sea and mountains! It's also very clean and comfortable. I highly recommend it to everyone!
Olga
2016-07-17T00:00:00Z
Daniela is warm and friendly. the apartment is like a cocoon, cozy and clean! The breakfast was perfect with the sea view. With the advises of Daniela we saw so many beautiful places of the region. Great place for a loving weekend.
Vanessa
2016-05-17T00:00:00Z
Daniela is so nice and explain to us everything about the tourist activities and the apartment was beautiful and clean !
Manon
2016-08-05T00:00:00Z
Daniela welcomed us cordially, although we arrived late in the evening. The little apartment is just what you need, when you plan on staying a couple of days in Liguria. Zoagli is a quiet and charming village, compared to the buzzing 5 Terre villages. We really enjoyed our time there!
Milena
2016-09-21T00:00:00Z
Daniela очень гостеприимная и милая хозяйка. Жильё находится в тихом, красивом местечке. С террасы открывается замечательный вид на горную местность и море. Очень хорошая и чистая квартира. Рядом находится кафе и магазинчик. Все было замечательно. Спасибо за тёплый прием!
Sergejs
2016-07-15T00:00:00Z
L'appartamento è piccolo ma dotato di tutto il necessario per una comoda e rilassante sistemazione. Come scritto nell'annuncio la veduta è impagabile, soprattutto la sera con tutte le luci sulla costa. Inoltre il terrazzo di fronte alla casa è molto accogliente. Daniela è stata disponibile nel darci consigli preziosi sui posti da visitare. Consigliata la macchina per arrivare e spostarsi a Zoagli e dintorni. Zoagli è particolarmente suggestiva, soprattutto la famosa passeggiata sul mare. Decisamente soddisfatta.
Stella
2016-07-07T00:00:00Z
Room Type
Entire home/apt
---
Property Type
House
---
Accommodates
2
---
Bedrooms
Zoagli, Liguria, Italy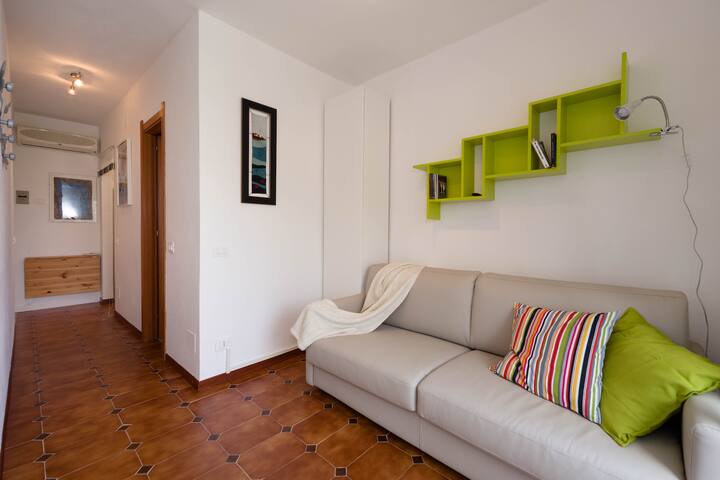 Our guests are accommodated in an old farmhouse recently renovated, duly registered with AAUT license at Genoa Province Tourism Office since 2010. It is equipped with all the comforts, with private entrance and private parking.
Our guests are accommodated in an old farmhouse, recently renovated, duly registered with license AAUT at the tourism office of the Province of Genoa since 2010. It is equipped with all the comforts, with private entrance and private parking. It is accessed from the private road of our property, protected by automatic gate, surrounded by olive trees. Guests have access to a house of about 50 m² on two floors. On the ground floor: - Dining area with a kitchenette with a stove, fridge, electric grill, microwave; - Living room with sofa bed and pullout bed; - Courtyard with table and chairs and a small green park. On the first floor, which is accessed from the living room through the spiral staircase: - Double bedroom with a double bed; - Bathroom with all necessary facilities; - Terrace with umbrella, table and sun loungers for sunbathing. In addition, the house is equipped with TV system, radio, DVD player, Internet access, iron and ironing board, vacuum cleaner, central heating. In the house you will find all the information and brochures issued by the tourist office of Chiavari, so you can plan your visits in the surrounding area.
The house is located in Leivi, a pleasant village immersed in the olive groves, with a magnificent view of the Gulf of Tigullio. The seaside is at 10 minutes by car. Walking as well as nordic walking is possible along the hills, throughout many paths, allowing visiting the beautiful surroundings. Paths for cycling are also available.
very nice people, the place was clean, as good as the pictures show it, not far from the highway and the sea, but far enough to be quiet in a little valley, it was perfect
laurent
2016-03-31T00:00:00Z
The house is absolutely wonderful. It has a very nice downstairs sitting area and the sleeping area is completely separated on the second floor which is really nice. The hosts are very accommodating and nice. Overall highly recommended.
Anna
2016-09-04T00:00:00Z
Absolutely wonderful place. A lot of space, beautiful views and great surroundings. The owners gave us the best tip to eat pizza as pizza should be. Had a more than a great stay!
Joop
2016-09-26T00:00:00Z
Very nice location, you have all what you need. 10/10
Idriss
2016-09-15T00:00:00Z
This was the highlight of our trip. Fiorella and her family were great hosts. The place is easy to find, just like on pictures, not far from Chiavari town but with the most amazing views. The hosts are flexible with check in and check out times which is great. The flat is separate from the main house and has everything one could need. The only issue is the weak WiFi, the signal can be picked up from outside the house or on the second floor only however I would still stay here anytime! I would not hesitate to recommend this place.
Ina
2016-06-07T00:00:00Z
Casa Ferari, a clean cozy tidy house in the middel of the Chiavari mountains. A beautiful view from the balcony, accessed from your bedroom. The kitchen is oke for basic cooking. Our pleasant stay was completely by Fiorella and here friendly family. She made us a homemade olive oil and we were allowed to use the bbq.
Thom
2016-08-04T00:00:00Z
A great place to stay if you travel by car! Very comfortable, quiet, on hills , you can enjoy beautiful nature! The house has everything you need. For the first time it was not easy to find the way, but Fiorella and her family were very helpful and nice!
Elena
2016-07-18T00:00:00Z
Ottima esperienza. Soggiornare a Casa Ferrari è stata fantastico. Tutto perfetto come da descrizione. La casa si trova a 10 minuti di macchina da Chiavari, immersa nel verde e tranquillità. Un posto ottimo per rilassarsi. Fiorella è stata gentilissima nell'accoglienza e disponibile nel consigliarci dove andare e cosa vedere. Al mattino il risveglio è stato dei migliori con la colazione preparataci, tutto a base di prodotti fatti in casa. Spero di tornare in questo splendido posto e consiglio vivamente di soggiornare a Casa Ferrari.
Alessandro
2015-07-15T00:00:00Z
Room Type
Entire home/apt
---
Property Type
House
---
Accommodates
4
---
Bedrooms
Leivi, Liguria, Italy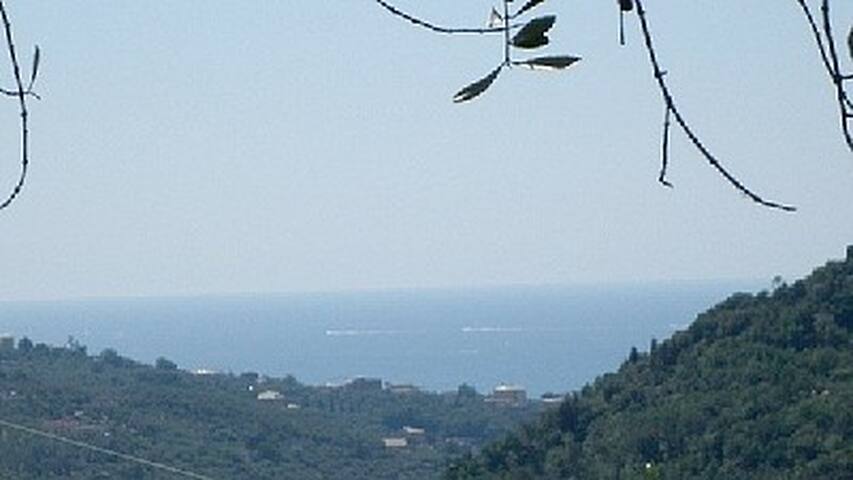 Indipendent chalet with a double room, kitchen, living room and bathroom. Outside you can fin parking space, garden, little and pretty private forest. The location is perfect because it is a just a few minutes from the sea (30') and the mountains.
The home is a totally independent chalet along the road SP49. Precisely in Vallepiana, a part of the little and pretty village of Pratosopralacroce (in Borzonasca(GENOVA)). Outside you can fin parking space, garden, little and pretty private forest. Who decides to live in the home will have ONLY for himself all the surrounding space. The home has a spacious living room in which you can eat, relax with a comfortable sofa bed and a television; a pretty kitchen with a fridge, freezer, oven, Cooking Hob, a bathroom with sanitaryware, shower, a double bedroom with an armchair, chest of drawers, chest and two night tables. the beds are composed of: -a double bed -an additional bed -Sofa beds The apartment has an independent heating (modern pellet stove) and a fireplace that you can use but only on request. Air conditioning is not necessary, because the location of the Home during hot summer nights allow to keep the House always fresh and breezly. Comforters, blankets and towels are provided free of charge. Obviously, in the price, it is included plates, glasses, cutlery ecc ecc The House has been cured in every detail, trying to give guests the possibility to relax and enjoy a pleasant stay, during the summer it is also possible to dine outside in the great forest-garden.
Sopralacroce è un piccolo paesino di campagna a 600 metri sul livello del mare situato all'interno del Comune di Borzonasca (GE) e costituito da diverse frazioni: Zanoni, Vallepiana, Belvedere, Zolezzi e Perlezzi All'interno del paesino è possibile trovare un minimarket in cui poter soddisfare qualsiasi tipo di esigenza dal cibo alla vendita di tabacchi alla ferramenta, un ristorante, un agriturismo, un ufficio postale e una graziosa chiesetta. La strategica posizione del paese è ideale per chi ama sia il mare che la montagna poiché in soli 30 minuti con la macchina è possibile raggiungere Chiavari (23 km). Da Chiavari prendendo il treno o l'autobus si può visitare Sestri Levante, Le Cinque Terre, Rapallo, Santa Margherita e Portofino, una delle più rinomate e uniche località turistica del Levante ligure. Per chi ama intraprendere piacevoli escursioni e passeggiate immersi nella natura vi è la possibilità di incontrare panorami mozzafiato dal Passo del Bocco ai vari punti panoramici situati lungo la strada per raggiungere Pratomollo e da qui il Monte Aiona all'altitudine di 1580 metri. In questo contesto è possibile avvistare e avvicinarsi ai famosi cavalli selvaggi del monte e per i più appassionati, durante la stagione estiva ed autunnale, è possibile andare alla ricerca del fungo porcino (30-40 minuti in macchina, strada sterrata). Per chi ama intraprendere passeggiate immerso nella natura vi è l possibilità di visitare le antiche rovine della Chiesa di San Martino costruite nell'anno 1000 dai Monaci benedettini (45 minuti a piedi) e il celebre Volto Megalitico in cui è possibile scorgere un Volto scolpito naturalmente nella montagna (1 ora a piedi - 30 minuti in macchina). Per gli appassionati di arrampicate è possibile accedere a una palestra di roccia in località Zanoni- Rocca Marcia (15-20 minuti con la macchina) e per ultimo ma non importanza scendendo verso Borzonasca è possibile raggiungere i meravigliosi Laghi di Giacopiane in cui è possibile fare picnic, tendate, pescare, prendere il sole e fare passeggiate.
We arrived earlier than expected so messaged Alice who appeared within 15 minutes. Alice welcomed us to the house and gave us the "Grand Tour". Everything was clean and tidy, the workings of the stove were explained in detail with the proviso "any problems, just phone." Alice gave us a rundown on local food options and local sights to see. There are photographs on the walls of local points of interest which Alice explained. We were very comfortable in the house and we added the open fire to the stove, see Alice for extra wood if needed. the house is set back from the road so is very quiet and peaceful. We recommend this listing for couples young and old looking for a comfortable, peaceful and relaxing stay. Alice was a great host, nothing was too much trouble...
Peter
2016-03-18T00:00:00Z
We really enjoyed our brief stay in this quirky cottage way up in the Ligurian hills. The journey to get there is an adventure in itself as you weave your way up through a string of smaller and smaller towns and villages until you feel like you've arrived at the last place possible. Alice was the perfect host - incredibly friendly, helpful and enthusiastic. We ate out at a local restaurant (Osteria la Greppia) and she helped up translate and understand the dishes a little better. The property is adjacent to another quiet house but otherwise totally isolated other than a forested garden and stream to keep you company, so bring a torch and enjoy the silence.
Andy
2016-09-07T00:00:00Z
très bon accueil Alice est bouillonnante comme une jeune femme italienne pleine de vie et très chaleureuse accueil logement emplacement RAS parfait attention il faut un moyen de déplacement très reposant pour éliminer le stress nous avons beaucoup aimé et le petit torrent dans le jardin apporte calme et fraicheur nous recommandons cette étape
pierre louis
2016-08-17T00:00:00Z
Alice è uno spettacolo!! Accoglienza, disponibilità e simpatia sono solo parte degli ingredienti che hanno reso il soggiorno indimenticabile. Il vecchio mulino gode di un giardino "segreto" a disposizione degli ospiti: lo sciabordio dell'acqua in costante caduta ti traghetta in uno stato meditativo, secondo solo al rilassante quadro impressionista fatto di alberi, montagne e cielo a perdita d'occhio. La casa è curata con minuzia di particolari e finita magistralmente dalle sapienti e valide mani di Fabrizio (Alice's boyfriend), anche se si intuisce la regia femminile della proprietaria di casa..:-). A Sopralacroce il tempo sembra essersi fermato…semplicità, onestà e un ambiente che "sa di buono" fanno compagnia durante le molteplici camminate che si possono fare nei dintorni. Dimenticavo: Alice mette a disposizione un "vademecum" per orientarsi che fa invidia ai certosini, ulteriore riprova dell'amore e della dedizione che permea l'ambiente creato ad arte. Tornare in questo luogo è d'obbligo!!
Andreaphilip
2016-04-23T00:00:00Z
Alice è attenta, meticolosa, e sempre disponibile. La casa è un piccolo gioiello perfetto per rilassarsi. Consiglio vivamente anche la zona, l'entroterra ligure è spartano, a volte scomodo ma sicuramente affascinante!
daniele
2016-08-19T00:00:00Z
Alice è fantastica! Molto disponibile e ha reso il nostro soggiorno facile e rilassante. La casetta anche è molto carina, arrivare li con il rumore dell'acqua e la brezza di montagna è stupendo. Ci ritornerò sicuramente! :)
Alessandra
2016-09-11T00:00:00Z
La casa e il giardino sono fantastici, con 1 bel giardino,1 bel boschetto e 1 ruscello tutto per sé. Da non credere! Alice è molto simpatica e disponibile,l'appartamento è pulito e funzionale. Splendido week end.
Sibilla
2016-04-18T00:00:00Z
Era la prima volta che affittavo online una casa vacanze ed ero preoccupato di cosa avrei trovato.. Invece, la casa era bella, come dalla recensione, e Alice la host simpatica e ospitale. Nonostante il periodo invernale i boschi erano tappezzati di primule e viole e lo scroscio dei torrenti creava un piacevole sottofondo. Tante le possibile passeggiate che si potevano fare, sia a piedi che in macchina, alla scoperta di una Liguria segreta d'altri tempi lontana dai soliti circuiti turistici. Una bella esperienza che mi piacerebbe ripetere.
Bruno
2017-03-19T00:00:00Z
Room Type
Entire home/apt
---
Property Type
House
---
Accommodates
4
---
Bedrooms
Vallepiana, Liguria, Italy
Mezzanego - Airbnb
:
Average

4.68

out of

5

stars from

484

guest reviews