Our place is a comfortable place in near the center of Dublin City( 15 mins by walk). Restaurants, pubs, shops 5 mins by walk. The room with a double bed for one person. House has a relaxed and friendly atmosphere. The bathroom is sharing. We are living here 3 of us. We welcome you to our home.
Room Type
Private room
---
Property Type
Apartment
---
Accommodates
1
---
Bedrooms
Dublin, County Dublin, Ireland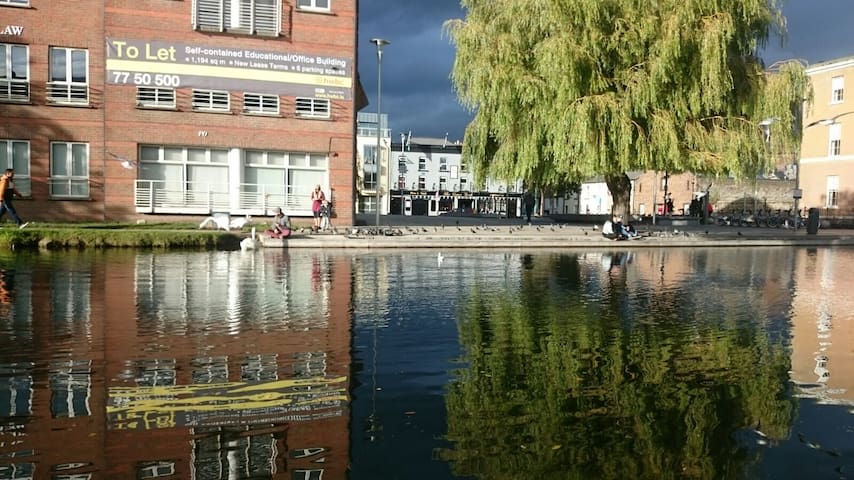 Hi all.... This is a period home situated in Ranelagh beside a Georgian Sq. and public park.The bedroom has a large window overlooking a church.The house is a 5 min walk to the Tram and bus which both take approx 10mins to reach the city centre. If you walk it takes about 20 mins. The room with has a Queen bed for single occupancy.Private separate w/c.Bathrobe, towels and basic toiletries are provided.The Bedroom has Tea coffee facilities.Dvd player.Netflix.hi-speed internet.
Residential Georgian area with well maintained public park set in between two lively villages with great bars and restaurants
Aidan is such a great host. The house is very beautiful, very clean and comfortable. Would stay again!
Isabel
2017-04-03T00:00:00Z
Aidan was a very accommodating host and his place was quite lovely. He was extremely friendly and really made sure that I felt right at home. Public transportation is very accessible from his place and the city centre was within walking distance. I enjoyed my stay and would highly recommend staying here.
Braden
2017-03-19T00:00:00Z
Aidan is a super polite and easy host, and has a great book/film collection =) I really loved the house and enjoyed my stay. Thanks!
Gonenc
2017-03-26T00:00:00Z
Room Type
Private room
---
Property Type
House
---
Accommodates
1
---
Bedrooms
Rathmines, County Dublin, Ireland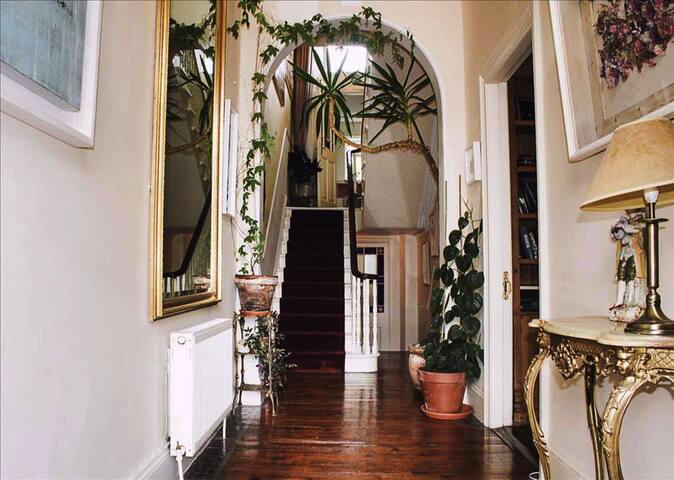 The house is situated in the vibrant urban suburb of Ranelagh. Located 1 minute from the Green Luas Line stop, Beechwood, which is a direct link to the city center, in under 10 mins.
Helen was an excellent host, since the first contact she was very helpful. I had to find a place for my cousin to stay last minute and Helen answered us immediately and gave all the directions and instructions needed. Her place is very clean and one of the best neighborhoods in Dublin. I highly recommend Helen as a host!
Tatiana
2016-06-26T00:00:00Z
Lovely house in a great location with lots of restaurants and the Luas very near. The hosts are most friendly and helpful!
Rikke
2016-08-08T00:00:00Z
It was a very pleasant and convenient AirBnb. Helen was great to talk with and I can recommend her home for Dublin visitors. The tram ( LUAS ) is a 2 minute walk and 4 stops from Dublin centre - ( 20 minutes). The 'village' of Ranelagh has at least 15 different places to eat - wide variety of foods - and it's a walk of about 7-8 minutes. A varied breakfast was provided and everything was expected.
Martin
2016-10-13T00:00:00Z
Quiet safe neighbourhood with good transport links nearby to centre of city. Coffee and lunch restaurants nearby if preferable to going into the city. Property very clean and comfortable.
Patrick
2016-09-22T00:00:00Z
Helen was a lovely and friendly host, her house is beautiful and very close to the city centre by Luas! The room I stayed in had everything I needed and Helens husband was kind enough to offer me breakfast in the morning and was fascinating to chat to! Thank you :)
Olia
2016-07-10T00:00:00Z
Lovely quiet residential area only 2 minutes walk from nearest luas stop and from there less than 10 minutes to st Stephens green. The house was cosy and welcoming with Wi-Fi available.
Jane
2016-09-16T00:00:00Z
What a lovely friendly couple, Helen and her husband, were the perfect hosts. I very much enjoyed my stay. It was cosy and warm, with delightful decor, and I was treated to a delicious continental breakfast each morning. I would have no hesitation recommending Helen's home, and will definitely look to stay on my next return to Dublin. Also, Ranelagh is a great little village, with all amenities and easy transport into city.
Deirdre
2016-08-10T00:00:00Z
Had a very nice (EMAIL HIDDEN)fortable bed, very good breakfast and direct and fast connection to the center of Dublin. I can highly recommend staying at her.
Patrick
2016-07-28T00:00:00Z
Room Type
Private room
---
Property Type
House
---
Accommodates
1
---
Bedrooms
Ranelagh, Dublin, Ireland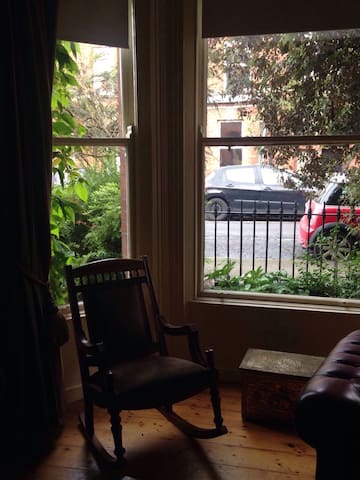 Single room in family home. Bathroom with large bath & power shower (not ensuite). Towels and toiletries provided. 7 minute walk to Cowper luas tram stop (5 stops to city centre). Free on-street parking. Short walk to shops and restaurants in Rathmines, Rathgar or Ranelagh. Breakfast provided - cereals, breads, fruit)
Cosy family home in quiet neighbourhood. This room is in regular use by family, so there are drawers that are in use, however there is plenty of hanging space: an empty wardrobe for you to use.
Dartry is a quiet suburb located 4km from O'Connell street in the city centre. Walking to St. Stephens green / Grafton street area will take about 45 minutes. We are a 10 minute walk to Rathgar, Rathmines and Ranelagh - all have a selection of supermarkets, restaurants, cafes, take-aways and pubs as well as banks, various shops, boutiques and services. Palmerston Park is around the corner from our home, as is the small botanic gardens run by Trinity College department of botany. The Dodder river is 5 minutes away and you can walk along the river bank westward for a nice stroll among trees and wildlife.
I had a good time in Vanessa's place. Everything was perfect. She was very kind and helpful. Her house was very clean, cozy and comportable. Breakfast was so delicious. Location was good. I was taking a walk everyday. It isn't city center, but lovely and quiet area. Very recommended.
Kyuyoung
2016-08-19T00:00:00Z
Nice hosts and excellent area
Cormac
2016-03-27T00:00:00Z
My stay at Vanessa's place was perfect. Vanessa is a lovely host and I felt welcome all the time. The house was very clean, and the room had all I expected. Breakfast was good and I had a great choice of cereals, fresh fruits, breads and tea/coffee. The area where the house is , is one of the best in Dublin and easily accessible by public transport. Would definitely go there again.
Felix
2016-02-22T00:00:00Z
Really nice house with breakfast laid out each morning. Thank you Vanessa!
Tom
2016-06-26T00:00:00Z
Very pleasant stay. I would stay again. Vanessa was great host.
Deniz
2016-09-16T00:00:00Z
Vanessa was welcoming and organised. The neighbourhood is lovely and easy to get to from the city centre via the tram.
Prudence
2016-09-05T00:00:00Z
Great place to stay in good location in Dublin. Vanessa was very welcoming and would definitely stay there again.
Eoin
2016-02-07T00:00:00Z
This place is a peach. Really well finished home, clean, comfortable and peaceful in a really central location. Vanessa's place is a home in every sense of the word and I really enoyed my stay. You will not be disappointed. Close to Rathmines and Rathgar and the Dodder River is close by with routes for running/walking that make you forget your in a city Highly recommended and I will return.
Ken
2017-03-31T00:00:00Z
Room Type
Private room
---
Property Type
House
---
Accommodates
1
---
Bedrooms
Dublin, Dublin, Ireland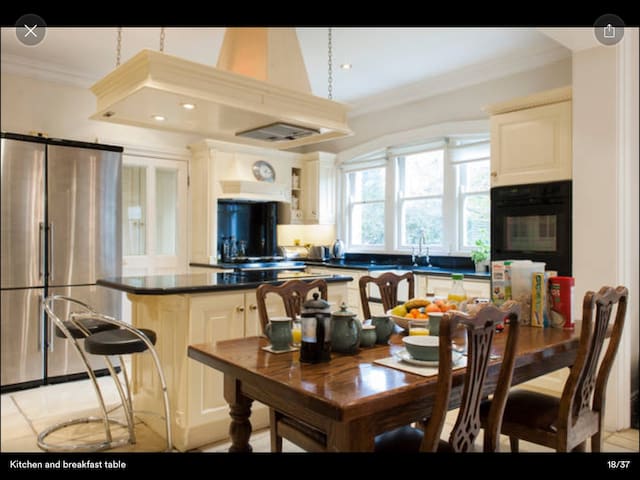 Our place is a five minute walk to the Windy Arbour Luas stop, making it a quick twenty minutes to the city centre or UCD. You'll love our place because of the wood burning stove, homemade bread, cold brew coffee and great WiFi. Our place is good for couples, solo adventurers, and business travellers.
Bright, comfortable two storey house with a garden and plenty of free on street parking.
Dundrum/Milltown is a great area, close to the city centre but far enough away to ensure a great night's sleep. The cafes and restaurants of Ranelagh, Rathgar and Rathmines, the three 'R's', are all only about twenty minutes away by public transport. Dundrum shopping centre is also just ten minutes away via the LUAS and the fantastic Doddar walk is accessible from the end of our road.
This was a great place to recharge after a long drive, super friendly and very cozy. We meant to leave early but overslept cause it was so comfy. Thanks for everything! :)
Anna
2017-02-10T00:00:00Z
Collette's and Owen's place was clean and lovely. Exactly as on the pictures. Easy to get to the city center yet quiet and peaceful. Collette and Owen are great hosts - with very cool pets. It was my first Airbnb trip and it overdelivered my expectations. Thank you!
Csilla
2017-01-30T00:00:00Z
My stay at Colette's and Owen's house was absolutely awesome. They were both very friendly and obliging. They picked me up at the LUAS station and walked me home and even met my requirements for a vegan breakfast (which was already included in the price). The room is big, cosy and clean and offered everything I needed. I loved their dog Walt (who is very relaxed) and their cat Berry. The house is only a few stations away from the city centre and easily reachable with the LUAS. I can only recommend Colette's and Owens place and I would always come back again!
Lea Marie
2017-01-12T00:00:00Z
Very nice place to stay
Sean
2017-01-31T00:00:00Z
Good location, quiet clean and nice room and facilities. Smooth communications. Definitely recommended.
Steen
2017-02-09T00:00:00Z
The stay was fantastic. A great host and the room was very comfortable and very good value for money. Four star treatment
Heinrich
2017-02-08T00:00:00Z
Excellent as always. Colette and Owen are very nice and the house is just super cozy and comfortable. I would always recommend them!
Lea Marie
2017-01-17T00:00:00Z
As we only stayed one night, we didn't have the chance to talk a lot with Collette and her husband but they are lovely people. The room was clean, as was their bathroom. The breakfast was also delicious! We advise you to stay at their house if you plan to visit Dublin.
Marion
2017-02-25T00:00:00Z
Room Type
Private room
---
Property Type
House
---
Accommodates
2
---
Bedrooms
Dundrum, County Dublin, Ireland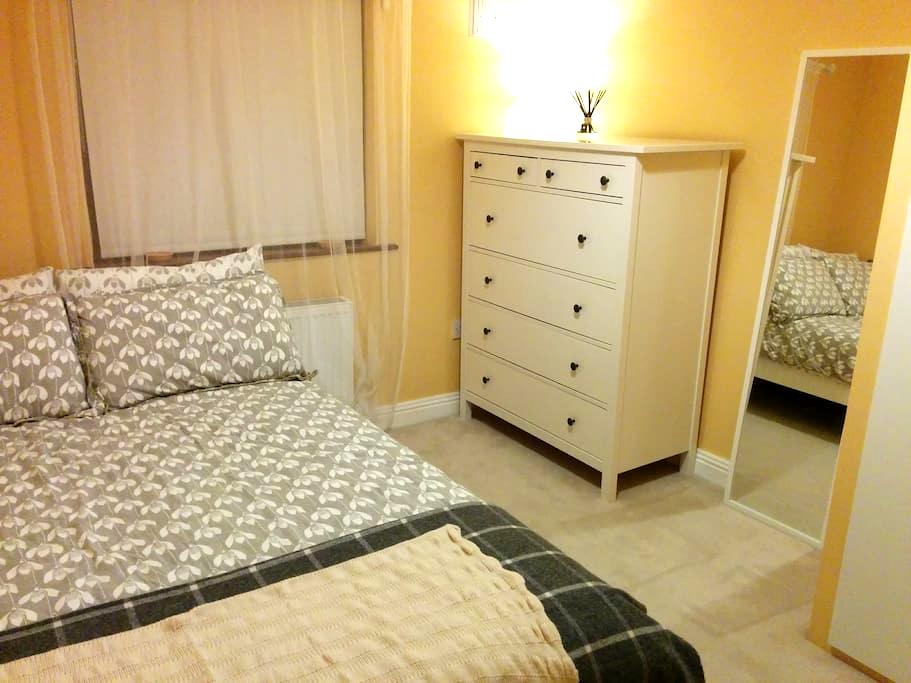 My place is close to Many good eateries such as Cinnamon, Tribeca. We are directly between Ranelagh and Rathmines. Two very nice areas of Dublin, walking distance to City Center, Saint Stephen's Green, Luas stop, Bus stop, gym, take away, T. You'll love my place because of Our welcoming roommates, the great safe, and quiet location, free parking, come and go as you please, help with navigating and sight seeing ideas, skylight window, warm shower, tv, . My place is good for solo adventurers.
A cozy shared flat between an American and an Italian girl. We are very friendly and very used to sharing the space. You will have your own bed, drawers, and shelf in fridge, we share the shower, but have a washer in room and dryer in building.
We are in the safest, quietest area of Dublin, so you should feel very safe and comfortable.
Mariah is very friendly and super fun ! She has a lot to tell and if she is going to the pubs and inviting you dont miss out! The apartment has a good distance to city centre ( about 20-30 min by walking). 10/10 would stay again.
Vitalij
2017-03-11T00:00:00Z
Had a great stay at Mariah's place. She was very helpful and very accommodating. 10/10 would recommend for anyone visiting Dublin.
Tucker
2017-03-17T00:00:00Z
Mariah is kind and help with everything you need. The floor is warm and very comfortable. Perfect for resting. I recommend it.
Javier
2017-03-12T00:00:00Z
Mariah is a very good friendly and care about her guest needs.
satish
2017-03-15T00:00:00Z
Room Type
Shared room
---
Property Type
Apartment
---
Accommodates
1
---
Bedrooms
Dublin, County Dublin, Ireland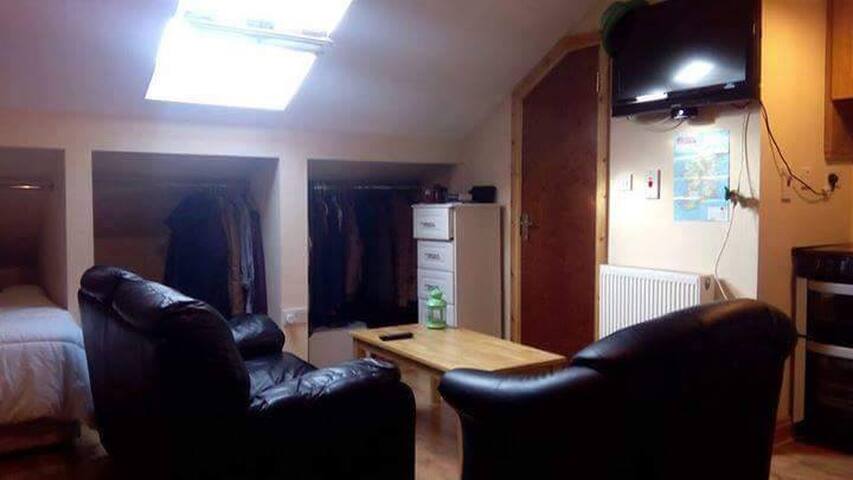 This gorgeous room with en-suite is located in a Victorian home, on a quiet street, close to bus stops & walking distance from the city. It's perfect for two people with everything you'd need for a cosy stay. 3 people & a golden retriever live here!
You will have a beautiful double bedroom perfectly suited to two people, with luxurious feather down duvet and pillows, a clean and elegant en-suite bathroom with a great shower in a cosy nicely decorated red-brick terraced house.
The area is peaceful and quiet, just south of the city, but conveniently accessible. We are just a 10 min walk from Camden Street where you can find lots of nice cafes and pubs to try out and just a 25 minute walk from most of the city's main attractions.
Claire´s place is just as beautiful and clean as the picture. Her instructions came in handy, we had proper change for the bus etc. We ended up walking everywhere and eating at Camden st. as it was easy and there are many nice restaurants there. Would definately recommend for a weekend stay or longer!
Marjut
2016-04-18T00:00:00Z
Claire was a really wonderful host. Her house mate let us in when we first arrived, showed us how everything worked and offered us tea. One evening, we had tea and hung out with the girls who live in the house, being entertained by Claire's house mate's rather vivacuous story telling. We had a fun stay, enjoyed Dublin and the room in Claire's house. The house itself is well located, about a 20 minute walk from the tourist attractions, and in a more quiet area.
Muriel
2014-08-27T00:00:00Z
Our stay in Dublin was splendid. The accommodation was exactly how it looks in the photos. Clean with beautiful decor. The location was perfect for us, just a 5-10min walk to the main sites in town too. Claire and Patrick were great hosts and very accommodating to our tight schedule on a trip home from Canada. Communication was easy and e-mail responses were very swift. Plus Rio is adorable. Great stay.
Mark
2016-06-13T00:00:00Z
Staying here was perfect. Close to everything, comfortable room, and very accommodating hostess. Everything is perfectly planned for your stay, pretty much stress free visit to Dublin. The picture of the room is accurate, so you know what you are getting. It is small, but we had no issue.
Steven
2016-07-29T00:00:00Z
It was very easy to get to the apartment from the airport and also to the the city centre. The neighbourhood was lovely and felt safe. The room was beautiful and clean. We enjoyed our stay a lot!
Juliana
2017-03-20T00:00:00Z
What a great first experience with airbnb! Claire was an excellent host. Her place was within easy walking distance to everything. The room was very clean and comfortable. Thank you Claire!
Mike
2015-04-24T00:00:00Z
Perfect location. Easily walking distance to all the historical spots. Pubs, shopping, everything is close by.
Amanda
2017-03-30T00:00:00Z
The Room looks exactly like in the pictures. Claire Is a very Nice host who Will send you a guide before your arrival with all the details as far as your Stay in Dublin and in the house are concerned. Rio Is also a very Nice dog! The Room Is with in a 20-minute walk from the major sites.
Claire
2015-02-09T00:00:00Z
Room Type
Private room
---
Property Type
House
---
Accommodates
2
---
Bedrooms
Dublin, Dublin, Ireland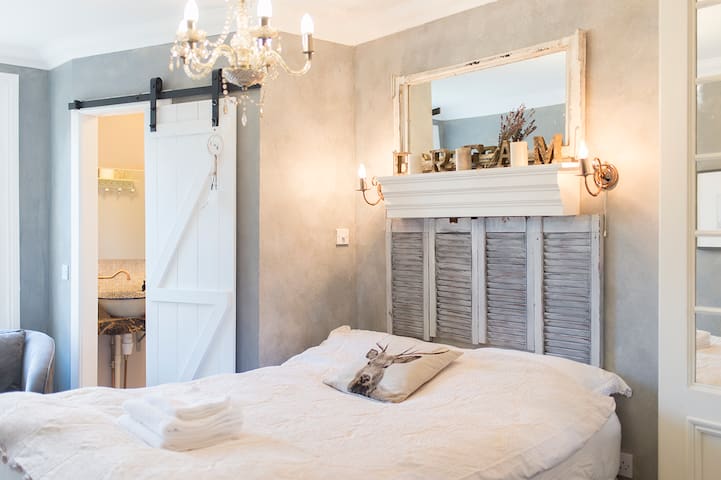 A cozy and comfortable private room in a modern, spacious house in a central location (25 minute walk to Grafton Street, Camden Street). House is shared with 3 other people. You'll love my place because of the neighbourhood, the comfy bed. My place is good for couples and solo adventurers.
The location was great, host and house mates were very kind. Would recommend!
Gerald (Gerri)
2017-03-25T00:00:00Z
Super netter Kontakt, großartiges Zimmer. Sarah selbst war leider nicht vor Ort, dafür wurden wir aber herzlich von dem Rest der WG empfangen. Nur zu empfehlen.
Sebastian
2017-04-02T00:00:00Z
Room Type
Private room
---
Property Type
House
---
Accommodates
2
---
Bedrooms
Ballsbridge, County Dublin, Ireland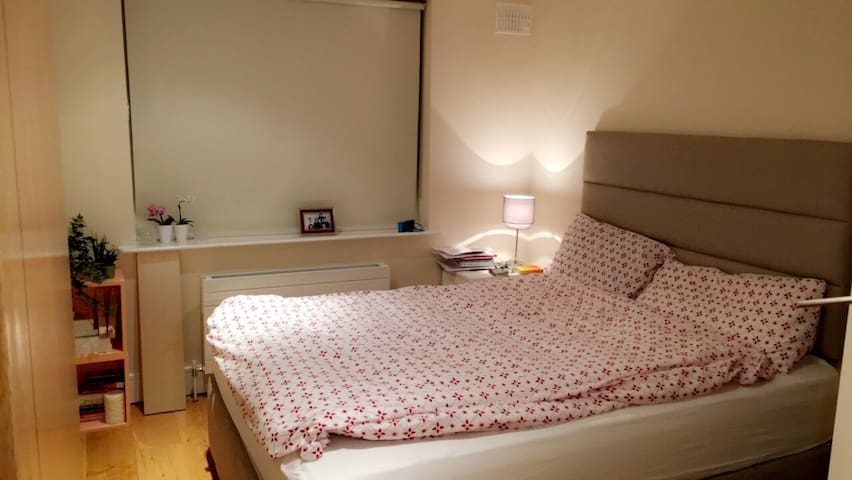 The house is situated in a very nice area of south Dublin. Shops within easy walking distance (5 mins), also beautiful Marlay Park. Dundrum and Rathfarnham villages (restaurants, cinemas, shops, etc) within easy driving distance (about 15 mins). Bus service to City Centre and Airport. Parking available at the house. Free Wi-Fi, central heating, etc.
What can i say, Gearoid is a old school gentleman!! Really nice guy, cooked me breakfast and coffee both mornings, nice to chat with, his home was beautiful and clean! Maybe the best sleep I've had in years the bed was so cosy, good shower, 2 minutes walk to marley park, and shops, 5 minutes walk to nutgrove shopping centre and 10 minutes from the luas tram that will bring you to the city, and 10 minutes from the Dublin mountains! Fantastic location! For a fantastic price! Thanks for having me! 5*
Michael
2017-04-06T00:00:00Z
Lovely clean house. Very nice genuine man. Beautiful area. Would recommend
David
2017-01-07T00:00:00Z
Cosy Home in a peaceful neighborhood, shops nearby, kind and considerate host.
Eamon
2017-02-02T00:00:00Z
Really comfortable room und and quiet neighbourhood. I felt me very welcome, everytime again. Gearoid is really friendly
Amber
2017-01-22T00:00:00Z
Gearoid is a great host with a wonderful home! He is very hospitable and caring and went above and beyond to make us feel at home. From late night conversations to exploring the nearby park, it will surely be a trip to remember.
Isabel
2017-03-18T00:00:00Z
Clean room very nice hostess, he helps a lot with direction and good advises about life in Dublin.
German
2017-02-26T00:00:00Z
Gearoid is a perfect host! He is super kind and polite man . I really relaxed and enjoyed my stay.
TOMOMI
2017-03-05T00:00:00Z
thank you had a great stay
Lolliee
2017-02-09T00:00:00Z
Room Type
Private room
---
Property Type
House
---
Accommodates
1
---
Bedrooms
Dublin, County Dublin, Ireland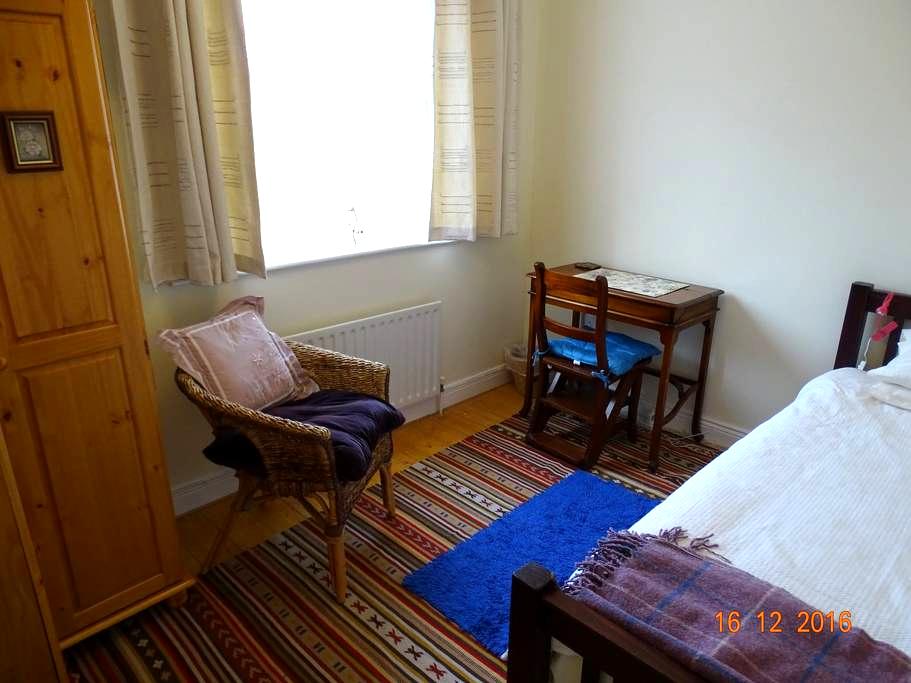 Elegant airy room with king size bed and ensuite bathroom in Victorian house on premium road in Ballsbridge. We are a 15 mins walk to city centre - Grafton St (shopping), Trinity College, National Gallery, St Stephen's Green, theatres (Gaiety, Abbey), museums. Great cafes, pubs and restaurants around the corner from house on Baggot St Upper and Grand Canal. Herbert Park, Aviva Stadium and RDS are on your doorstep. Grand Canal Dock is a scenic 15 mins walk from house along the canal bank.
The spacious light filled bedroom overlooks a pretty landscaped front garden and church grounds. In historic period home with all of the Victorian architectural detail retained, and located on a pretty Victorian street in an exclusive neighbourhood close to city centre. . There is a contemporary ensuite bathroom with heated towel rail, and fluffy towels and toiletries are provided. During the summer, guests can take breakfast in a pretty courtyard if they wish. Otherwise, a continental breakfast of tea, coffee, toast, fruit, cereal and yogurt is available for guests in dining area overlooking walled landscaped garden.
We are located in the exclusive residential area of Ballsbridge, yet just around the corner from Upper Baggot Street and the Grand Canal which has lots of cafes, interesting pubs and a variety of casual and formal restaurants serving Irish, Italian, French, Thai, Chinese, Indian, Japenese and Middle Eastern cuisine, together with diners such as Eddie Rockets. The 5* boutique Dylan Hotel with renowned restaurant is on our road and beautiful Herbert Park is a 5 min walk away. We are a 20 mins walk from Grand Canal Dock, a vibrant new area with galleries, bars and restaurants, and the amazing Bord Gais Theatre designed by Daniel Libeskind.
The host Anne made us feel so welcome. Prior to our visit she was so easy to communicate with and sent us lots of information beforehand on getting to her house from the airport, the area is fantastic and so close to the centre and the accomodation is more than we expected. We stayed for three nights, Anne was such a wonderful host. She advised us on good places locally to eat (and where to have a nice aperitif!). She was so friendly and approachable and made us really feel at home. The house is a beautiful early victorian design and this particular area of Dublin is green, leafy and calm with lovely restaurants close by (two of which overlook the Great Canal). It also has a lovely park and if we had more time we had intended to take a stroll along the canal which is really beautifuI. I had to hold an unexpected business (SENSITIVE CONTENTS HIDDEN) meeting on our last day at the house and Anne arranged a quiet space to work and even made me a lovely cuppa. Anne is such a brilliant host, she is kind and considerate and also good fun. I highly reccomend this B&B to anyone whether it is your first trip to Dublin or you just fancy a city break.Excellent We hope to return again! Jacqueline and Susan
Jacqueline
2016-07-20T00:00:00Z
Even though we arrived earlier that expected Anne welcomed us graciously. We had driven through a heavy rain storm and arrived a bit rattled and exhausted. Anne served us a pot of tea and a snack to rejuvenate us. She made us feel very comfortable in her elegant period home. Everything we needed was readily available. The room was stunning, very clean and extremely comfortable. We could not have asked for a more perfect location for walking around Dublin and also for convenient bus service. Her house is very close to a canal system, with an operational lock system, that makes for a lovely walk toward the mouth of the River Liffey. There are great restaurants in the neighbourhood and of course a good many pubs. The best part of our stay was our visits with Anne. She is delightful! Thank you Anne for making our time in Dublin a highpoint.
Brenda
2016-06-15T00:00:00Z
Nice and big room in Dublin for our last night.
Lisa
2016-06-30T00:00:00Z
Anne was absolutely lovely! Helpful, kind, generous & jolly are a few kudo. She is highly recommended and stay with her again. Bravo!
Steven
2016-09-01T00:00:00Z
Anne was a very gracious host and her home is beautiful .,, highly recommend
Ann
2016-07-26T00:00:00Z
Anne was the perfect host. Everything was as descbribed. Really didn't feel out of place in Anne's home. She made sure I had a taxi booked for the following morning and rang the restaurant to check their availability for me. Would love to stay again. Lots of lovely pubs and restaurants a minutes walk from her home.
Lindsey
2016-09-27T00:00:00Z
Simple and easy to locate. Nice shops and restaurants within walking distance. Not the best shower, there wasn't hot water and the pressure wasn't v good. Also the bed is very squishy, so don't expect super comfortable. For a one night stay in Dublin it's not bad.
Alora
2017-04-05T00:00:00Z
A welcoming home.
Jacky
2016-11-23T00:00:00Z
Room Type
Private room
---
Property Type
House
---
Accommodates
2
---
Bedrooms
Ballsbridge, Dublin 4, Ireland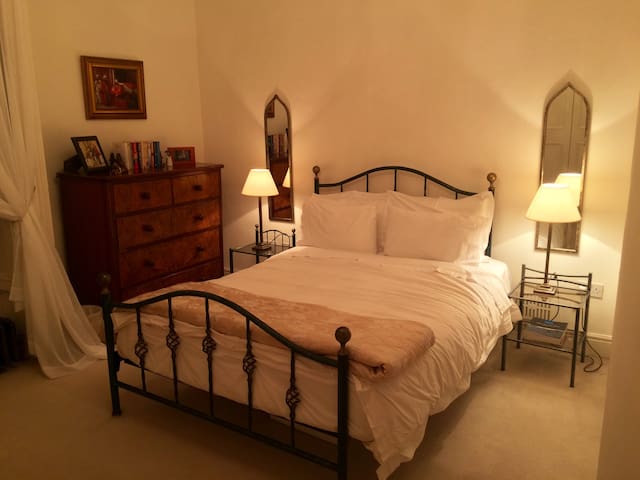 A unique stay in a stunning double bedroom with private bathroom. Located in Churchtown, on a quiet road and just a short stroll to the Tram with access to the city centre in 20 minutes. Local amenities include an array of pubs and great shopping.
The house is a beautiful restored victorian house.The bedroom was very spacious with a very comfortable sleigh king size bed with tasteful furniture and chandalier lighting.The ensuite is a good size with a great shower and a victorian bath.View to the garden from the bedroom is very plesant with ripe apple trees. The location is excellent and only minutes to the luas tram line.The city is only approx 12 minutes away and Dundrum shopping less than 5 minutes by tram. There is a very nice pub and restaurant in walking distance approx ten minutes by foot. Geraldine is a very warm and knowledgeable person and made me feel instantly welcome.
Tommy
2016-09-13T00:00:00Z
I am a dedicated AirBnb'er and Geraldine and John's Victorian jewel did not disappoint. I loved the warm family atmosphere with friendly dogs, yet the charming room upstairs was quiet and secluded so I could sleep off my jet lag undisturbed. I relaxed in the claw foot bathtub with plenty of hot water and slept like a log in the comfy sleigh bed. The room was bright and clean with a lush garden view. It was a short walk to the tram stop which was very convenient. Despite my early departure, John very kindly drove me and my very heavy luggage to the bus stop nearby. The direct trip from there to the airport couldn't have been easier. I will definitely put this at the top of the list for my next trip to Dublin!
Barbara
2016-10-11T00:00:00Z
We had a wonderful stay with Geraldine and John. It was our last day in Ireland and they made us feel at home. What a pity that we could not stay longer! The room (as the whole house ) was gorgeous with very comfortable bed, kettle with tea and coffe. They are the best hosts which you can imagine. Really nice and helpful. John even drop us at 7am to the bus station, what we greatly appreciated! Many thanks to you! Maybe once for longer. Sima and Michael :)
Sima
2015-09-16T00:00:00Z
Lovely house and stayed in a great room. We were in Dublin on an intensive course so not in the house much. Were able to use kitchen in evenings and had a shelf in the fridge which was great for us. The family were friendly and welcoming and we felt comfortable in their home.
Tory And Sam
2016-02-07T00:00:00Z
I had a fantastic week here. The room is incredible, real 5 star luxury and Geraldine and her family were wonderful hosts. I will definitely be coming back here on my next trip to Dublin.
Alex
2016-09-30T00:00:00Z
Geraldine is a lovely hostess, the room is beautiful as described the location is spot on with a very easy access to the city center. My wife and I had a wonderful time in Ireland, Geraldine and her family were warm and helpful they helped us plan our trips, we would love to go back to Ireland sometime later and stay with them again.
Nikhil
2015-05-09T00:00:00Z
We received a lovely warm welcome from Geraldine and John. The house is beautiful and our bedroom was perfect, with a large bay window overlooking the garden. I loved meeting the very well mannered dogs in the morning at breakfast time. The proximity to the Luas line made things very convenient for travelling into town.
Ann
2016-06-09T00:00:00Z
Geraldine was a wonderful host. Very helpful and considerate and welcomed us with a smile and three super cute dogs :). The room was very warm, cozy and private with an amazing bed and gorgeous en-suite bathroom. We would definitely stay there again. Highly recommend!
Fran
2015-12-14T00:00:00Z
Room Type
Private room
---
Property Type
House
---
Accommodates
2
---
Bedrooms
Churchtown, Dublin, Ireland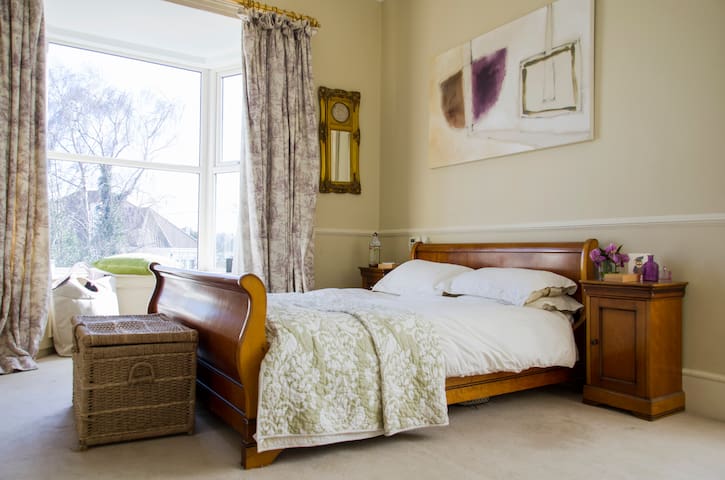 Exceptional en-suite double bedroom in a fully refurbished-stylish period house, in one of Dublin´s most beautiful streets. Location is unmatched in the lovely Ranelagh area, only 10 mins walk to St Stephen's Green!
Enjoy this exclusive en-suite double bedroom with all the advantages of a hotel room: WiFi, mini fridge, kettle, large wardrobes, and powerful shower.
The house sits in one of South Dublin's most beautiful streets and quiet areas. No less than five embassies / ambassador residences (such as Netherlands and Hungary) are located just around the corner! Although the house is perfectly located only 10mins walk to St Stephen's Green, the area has a nice residential character, enjoying plenty of trees, parks (Darthmouth Square and Ranelagh Gardens) and period houses. It's perfect for a morning/evening walk or jog, for instance, along the canal.
We had a lovely stay at Rodrigo's apartment visiting Dublin for the first time. The area is about 20-30 minutes walk from the main tourist attractions and Temple Bar but there are buses to the city centre that service the area (if they aren't on strike) as well as sightseeing buses - we used Cityscape, really good value and includes free entry to the greyhound races which was fun! The apartment itself is pretty much as described minus the TV, which would have been a nice extra and the wifi connection wasn't the best. The bed is super comfortable and the shower was really nice too. Rodrigo himself was very welcoming and allowed us to leave our bags in the main house until our evening departure flight. The surrounding area does also have some restaurants, bars and shops if you fancy giving the madness of Temple Bar a miss! Overall a pleasant stay but I think we would opt for something a little more central next time, this is no reflection on Rodrigo as a host however - just personal preference.
Helen
2016-09-11T00:00:00Z
Rodrigo was very nice and accomodating with us and his room is really good located... and very clean!!! The room is located in a residential area near the center, so we could easily do everything on foot. Thanks again. Heloise
Héloïse
2016-02-22T00:00:00Z
The house is nice an clean, it is well located, not far from the center, as it is 15min walking, and 10min with the Luas that arrives just next to St. Stephen Green park and to Grafton Street; the only weird thing is that to enter the room we had to pass through the bathroom. Rodrigo is very welcoming, he left us two sets of keys, many maps and useful touristic guides were available in the apartment. It was a very good experience.
Manuela
2014-07-07T00:00:00Z
Rodrigo's place is on a beautiful street - very charming. It's about a 20 minute walk to the main sights of Dublin and the walk is very enjoyable. Rodrigo was very quick with his communication and helpful. A great place to stay for a quick stay in Dublin!
Jeff
2016-08-07T00:00:00Z
I was working in Dublin for a week and Rodrigo's place was a perfect space to say. It's a very nice room and private bath below Rodrigo's house, with a little breakfast nook with a microwave and refrigerator (no kitchen). The bed is very comfortable and the room is tastefully done overall. Rodrigo was super responsive, helpful and flexible the entire time. There are many bars and restaurants within a few blocks of the listing in either direction of the building, and the neighborhood is close to teh city centre.
Sam
2015-11-21T00:00:00Z
Between Rodrigo being a gracious host and the awesome location, this spot was perfect for my time in Dublin. The neighborhood is great with solid neighborhood dining options just around the corner. Many of the best sites are easily walkable. All in all, it was the perfect place for a solo traveler to Dublin.
Ryan
2016-06-24T00:00:00Z
Our stay at Rodrigo's was everything we wished for, the room was clean, the bed comfy and we're a few minutes from the Luas and the city center.
Christopher
2014-10-16T00:00:00Z
Even though we arrived an hour later that originally expected, Rodrigo was there to meet us, he was very welcoming. Rodrigo's place is perfect for a stay in Dublin, clean, comfortable and comes equipped with everything you'll need. The area of Ranelagh is lovely, with a great range of bars, restaurants and shops. We will definitely be stopping by again. Much appreciated Rodrigo, Michael and Sharon
Michael
2016-06-29T00:00:00Z
Room Type
Entire home/apt
---
Property Type
House
---
Accommodates
2
---
Bedrooms
Dublin, Ireland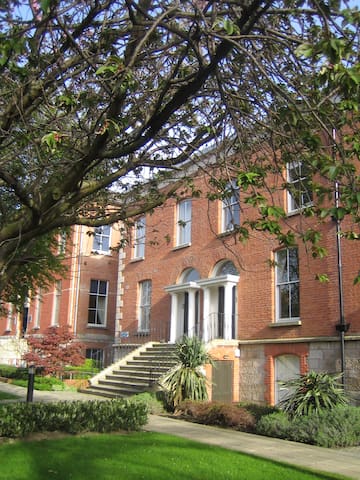 1 cosy single and 1 large cosy bedroom in period house in fab area of Ranelagh, aka the Village. All amenities, including restaurants, pubs, trams, buses, a few minutes walk. 20 min stroll along the canal or through Georgian Dublin to city centre.
Great area, lovely home. From time to time I also have a second room to rent. Just enquire
Its just about the best place to live in Dublin. Everything is on your doorstep, including lovely restaurants, lively pubs, barista cafes, and 20 mins walk through Georgian Dublin to St. Stephens Green, which is the main pedestrianised shopping area on the south side of the city and River Liffey.
Mary was away on business so she explained how to obtain the keys and left a note for me with the wifi code. I asked about a hair dryer ahead of time and she had one in the drawer. The decor and vibe in the house was so cozy and calming. Everything was clean. The pillow was really comfortable. There was a Dublin travel book and map on the shelf in the room. My only suggestion, if you are staying in the summer and are sensitive to light like I am, is to bring an eye mask or scarf. The sun rises close to 0500 so the room can get bright pretty early. There is so much right near the location- corner stores, pharmacy, breakfast places, restaurants, a supermarket. I was there studying and the house was quiet and perfect for me. Getting to UCD was easy on the Dublin bus as it would be to get to city center. I was told the area is a posh, up and coming location so the restaurants are more on the expensive side, which I didn't mind. Ultimately, it felt like home and I would love to stay again next time I come to Dublin. I highly recommend it.
Heather
2015-06-10T00:00:00Z
Mary's house was great. Each room is on its own floor so you get a ton of privacy. The huge kitchen was an added bonus. Plus, the neighborhood of Ranelagh is super nice and had everything I needed to feel at home.
Madeleine
2015-11-22T00:00:00Z
I had such a nice time in Dublin. I even regret leaving already. Mary's house was such a lovely home. It was very welcoming and cozy. Mary is such a nice person, she's helpfull and kind. I loved the neighberhood, you have everything close by and the city center is so easy to reach. I would say this place is a must stay if you want to have a great vacation!
Esther
2014-11-10T00:00:00Z
I had a realy good stay. It was in a quiet area, good bed, good Wi-Fi. I certainly recommend it.
Jorge
2016-12-10T00:00:00Z
Location is really good- not too close and not too far from the center, with some really nice restaurants and coffee shops a few steps away. Mary was welcoming, easy going and communication with her was great. I would stay there again.
Dolly
2017-04-06T00:00:00Z
Mary was a very welcoming host and the room was very cosy and warm.
Tim
2015-03-27T00:00:00Z
I loved the location and the neighbourhood. It's perfect for exploring downtown Dublin. The house was clean and cozy, the bed was comfortable. I didn't get to interact much with Mary as she was away most of the time during my stay, but she is a nice lady. She always responded to messages quickly and was very helpful. I would love to stay with Mary again when I am back in Dublin.
Nedelina
2016-10-30T00:00:00Z
Mary is an incredible host and does a lot in having her guests feeling really confortable and welcome. I found everything as adverstised and this being my first Airbnb experience I only have positive impressions. Mary's house is in the heart of Ranelagh which is a very nice and sophisticated neighbourhood with lots of shops and conveniences and only a 20 minute walk from city center (much less, if you take the Luas from Ranelagh station).
Paulo
2016-01-23T00:00:00Z
Room Type
Private room
---
Property Type
House
---
Accommodates
1
---
Bedrooms
Ranelagh, Dublin, Ireland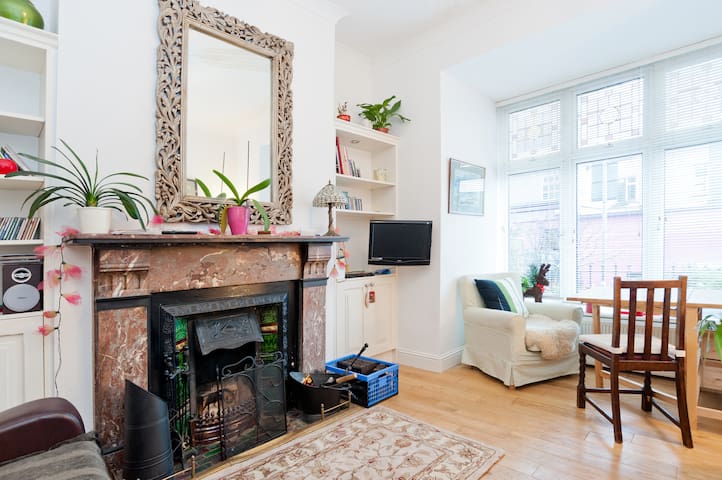 Quiet double bedroom with ensuite in Ballsbridge.Direct access from airport with (URL HIDDEN) peaceful,right beside a great variety of bars and restaurants,the RDS,the Avia,Herbert Park.And is a 10m walk to the sea & a 30m walk to the city centre.
Hello I'm John, nice to meet you and thanks for choosing my home. I rent out 2 rooms in my house on air bnb This is the double room in my central Dublin (URL HIDDEN) in a great location especially if you are attending a conference in the RDS or heading to a match or concert either there or in the Avia. Contrary to the reviews, I no longer have a cat. Access from the airport could not be easier as the aircoach drops off right outside my house. You check their times on (EMAIL HIDDEN) Ballsbridge is cool cosy spot within walking distance of the city centre. The house is literally right beside the RDS and the Avia 5 min walk from the front door. And is just a 15 minute walk to the beach at Sandymount Strand. Also, I have free parking for guests. There are great pubs and restaurants right on my doorstep and to walk into the city takes only 30mins. Also, you have the beautiful Herbert Park for walks and relaxation, as well as tennis and football facilities. I work in the music industry in Temple Bar. I walk there every morning. I really enjoy meeting new people and I've lived here 23 years so whatever you need to know where to go and what to to, I'll have plenty of suggestions. Looking forward to meeting you John
The house is off the main road, so it's quiet. But just walk around the corner and there's alwas a great atmosphere from the Pubs. I like eating out and there's great restaurants here, and in the areas nearby. It's easy to go to the beach, and there's a great park to sit in with a coffee. I always just walk into town. It's just a straight line and takes 30 mins.
John was a very welcoming host. His place is very handy to lots of venues such as the RDS ( a two minute walk). The room was a good size with a very comfortable double bed and an en-suite. I had a very pleasant week-long stay there.
June
2016-01-28T00:00:00Z
John was a really kind host and made us feel very welcome in his home. He accommodated to our check-in time which was really great. The neighbourhood was the perfect location to where we wanted to go and certainly close enough to central Dublin that it was no problem walking there.
Sarah
2015-10-25T00:00:00Z
Nice place!! That the bed is really comfortable :) And it is very convenient to the airport by bus :)
Miya
2016-02-21T00:00:00Z
A very warm and hospitable welcome from John in his cozy and tasteful furnished house. He makes guests really to feel at home. Also the area is a great place to start off for discovering Dublin. A walk along the Canal or the road to Dublin Centre. Ballsbridge area has even some nice pubs, just around the corner. We only stayed 2 days, but for sure it is a place to come back to.
Fons
2016-06-22T00:00:00Z
John was helpful once we arrived. The house was exactly how it is described. The only problems we had were the other Airbnb guests and the bathroom. The other guests were very loud, which is not John's fault and you more than likely will stay with other guests who are respectful but be aware that there will be other guests (which can be a good thing or a bad thing!). The bathroom's toilet had flushing problems and the shower didn't drain well. The hot water ran out every day we were there. There is a switch out in the hallway to switch on, but John said it takes 20-30 minutes to warm up, which didn't help when the second person was halfway through their shower! The area of the house is nice, with a lot of great pubs near by. There is also a nice park.
Cassie
2016-10-23T00:00:00Z
John made things feel like home, he was very personable and down to earth. The space was exactly as described: clean, spacious and comfortable. What I loved most about John's was that you could make of it what you wished. If you wanted privacy, he was happy to oblige. However, if you wanted to interact, he was happy to open a bottle of wine and become an open book. This space was great for exploring the city because of its central location to everything. There was plenty to see and do, yet you felt secluded enough to make it feel like you were a local. I would defiantly go back to see John if I were in the area again!
Claire
2016-03-11T00:00:00Z
Comfortable room and home. John was a great host and the location couldn't be better for the RDS.
Brenda
2015-12-06T00:00:00Z
Thanks to John, we spend a good time in Dublin. He was very gentle, attentive and funny!
Sam
2016-06-18T00:00:00Z
Room Type
Private room
---
Property Type
House
---
Accommodates
2
---
Bedrooms
Ballsbridge, Dublin, Ireland
In the Rathgar area very close to Bus Stops, five minute walk to Rathgar Village and 8 minutes walk to Rathmines Town Centre. Thirty minutes walk to the City Centre or 10-15 minutes by bus. Continental vegetarian breakfast included. We provide a substantial breakfast of free range eggs, cheese, tomatoes, fruit bowl, cereal, hot oatmeal if desired, orange juice, yoghurt, tea and real coffee. If you have a very early check out, we'll provide you with a packed breakfast.
Large room with comfortable double bed with walk-in shower in corner. Tea and coffee facilities in the room. Bath towels, hand towels, shampoo, conditioner and body wash provided also. We provide 2 face clothes and an electric blanket in the Winter - if required. If not a couple, if one needs a shower, the other can sit in the drawing room.
Old and very pretty Victorian neighbourhood. Lots of shops, bars, restaurants, parks and a cinema all within a 10 minute (max) walking distance. We have very regular buses going into City Centre and bus-stop is literally a 2 minute walk from our gate. A group of shops (Tesco Express, Pharmacy, Newsagent, Off-Licence, etc. on the corner of Frankfort Avenue, a two minute walk from the house.
We had a great two night stay at Dave's place in Rathgar. Lovely hosts who really took time to get to know their guests. Couldn't fault it.
Dee
2016-11-21T00:00:00Z
This was our first experience using AirBnB and Dave and Ethel set the standard. Everything was exactly as described. Dave and Ethel are wonderful people. From the moment we arrived they made us feel like family. Dave made sure we were familiar with the surroundings and that all of our needs were met. They are located in an older residential neighbourhood, where all the residences are well looked after. They are easy to reach. Dave made sure he provided us with proper directions to their location, and when our plans for method of arrival changed, Dave was there again to assist as necessary. We felt right at home and it was almost sad when we had to leave.
John
2016-09-08T00:00:00Z
Dave was very accomodating. Great directions to the airport.
rose
2017-01-13T00:00:00Z
Dave was a perfect host who gave us plenty of tips of what to do in Dublin and for our roadtrip through Ireland! The breakfast they provided was great and served in a lovely living room wuth a great view to the garden. The location is 15 minutes by bus to the city center kn a quiet neighbourhood. Relaxing nights could be spent in the cozy bedroom. Next time, I would really like to stay with Dave in Dublin again ;)
Saskia
2016-09-05T00:00:00Z
Dave and Ethel are fantastic hosts, from the warm welcome to the provision of practical advice on transport options and where to visit in Dublin. This is lovely part of Dublin to stay in, easily accessed from the city centre and very peaceful with plenty of restaurants and pubs close by. I couldn't fault the experience. Thank you very much for your hospitality!
Helen
2016-07-06T00:00:00Z
I spent two days at David and Ethel's house and it was fantastic. The house is in Rathgar in a silent street, the travelling is easy : the bus stop is a 3 minutes walk, serving several buses : (PHONE NUMBER HIDDEN)B, etc. The house is absolutely beautiful, stylish, clean and spacious. I can describe the room I used for two days with the same words - amazing! The breakfast I received on both days was rich and delicious. David and Ethel were very helpful and kind as hosts, I didn't miss a single thing during my stay, and it was very easy to feel myself at home. I strongly recommend David and Ethel as hosts and their wonderful house as a place to stay in Dublin for everyone!
Lorant
2016-04-11T00:00:00Z
Dave is a very careful host. He's artentive to every details. The room is very confortable. You can find everything you need. And surprise : the shower is in the room! Thank you Dave
karin
2016-09-13T00:00:00Z
We enjoyed a very comfortable bed and a wholesome breakfast at Dave's place. We liked the area and it was easy to reach the centre of town. Thank you Dave for taking us to the car hire place.
Ion
2016-09-20T00:00:00Z
Room Type
Private room
---
Property Type
House
---
Accommodates
2
---
Bedrooms
Rathgar, Dublin, Ireland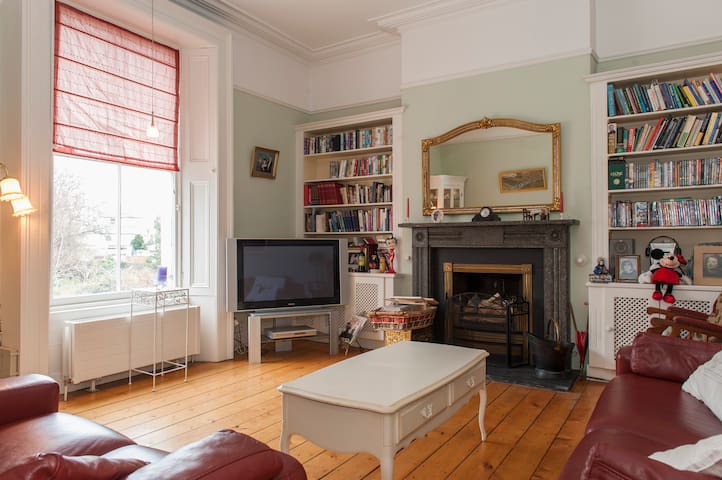 My place is good for couples, solo adventurers, and business travellers.
This is a large studio which is available to rent for a short period of time. Very safe, quiet and perfect location, residential area, walking distance to city centre.
Quiet, safe and residential area very close to city centre + Rathmines, Ranelagh and Rathgar villages. Close to shops, Irish pubs, restaurants and beautiful Palmerston Park.
Adrienn is a fantastic host - lovely, available and organised. Her studio flat is vey cosy, warm and very well equipped. The bathroom is separate from the main area which is great - gives you a little more privacy! We found the apartment in very easy access of the centre and had a great time!
Frances
2016-09-18T00:00:00Z
great flat and very well connected to the city centre. Host is very friendly and always available by phone if there is a problem. I recommend !
Matt
2017-01-08T00:00:00Z
Adrienn was a great host - she replied quickly to messages and gave us some tips on places to visit in Dublin as well as thorough instructions about the flat itself. The apartment was lovely and had everything we needed for our stay and the separation of the bathroom from the main living area made it nice and private. The neighbourhood felt safe and the shops were very close, and we found the walk to town pleasant and definitely a comfortable distance away. Overall a really great experience and would definitely stay here again if I came back to Dublin!
Natasha
2017-01-04T00:00:00Z
We were very lucky to have Adrienn as our host, her apartment was lovely, comfortable, clean and really sweet. We had an amazing time! Really easy to reach from the city center if you take The bus (about 10 minutes) or the bike like we did . Adrienn was the nicest and gave us a lot of useful informations. Totally recommended!
Fabio
2016-08-30T00:00:00Z
We really enjoyed our days in Ireland. The weather was unbelievable. The connection to the city center is really easy. Thanks to the description the way to the studio and to the airport were really easy. though we only spent a little time in the appartment, mainly for sleeping, it was lovely and comfortable. The area is quiet and safe. It is easy to find small supermarkets or something to eat nearby. Even later in the evening. Thanks again for the good communication and a wonderful first experience with airbnb.
Bjoern
2017-03-28T00:00:00Z
Great location. Easy walk to Rathmines and to central Dublin. The flat is lovely and had everything you need.
Abdullahi
2017-04-09T00:00:00Z
This apartment is simply lovely. Not only cosy but also clean, tidy and comfortable. We didn't have the pleasure of meeting Adrienn, but she ensured we had arrived ok and replied to all our queries almost instantly. That certainly added value to our experience. She even gave us multiple recommendations to do in the city and even left maps and tourist info leaflets! The flat is very well kept, the bed is very comfortable and the bathroom really clean. It's only a short ride to the city centre by bus, but you could also walk there (we did one of the days), it is a nice stroll. Also, taxis from the city are about 12 euros during night time, which we thought it was pretty good considering it is Dublin. Overall, good experience and I would absolutely recommend it.
Maria
2016-10-30T00:00:00Z
L'appartement d'Adrienn est petit mais bien équipé, et situé à proximité d'un arrêt de bus (Frankfort Avenue - ligne 15) qui permet d'aller au centre-ville et d'y revenir facilement. Le seul petit bémol est peut-être la difficulté à aérer le logement qui peut être un peu froid et humide car il se trouve en dessous d'un immeuble et qu'il n'y a qu'une grande fenêtre toujours entre-ouverte mais qui n'est pas vraiment maniable. On entend bien les voisins du dessus marcher aussi parfois mais ce n'était pas vraiment ennuyeux lors de mon séjour. Pour ceux qui ont besoin d'internet, il y a un café Starbucks à 5-10 minutes de marche.
Ferdinand
2016-08-23T00:00:00Z
Room Type
Entire home/apt
---
Property Type
Apartment
---
Accommodates
2
---
Bedrooms
Rathgar, Dublin, Ireland
This family run b&b is located close to many tourist attractions and is in close proximity to the city centre, do not hesitate to contact us for further information.
My husband and a friend and I stayed in a triple room in Conj's BnB. The room was basic and small (very little room for three suitcases) with a very loud water heater (don't expect anyone to be able to sleep while someone is taking a shower!), but it was clean, the beds were comfortable, the water was hot, and it had all the essentials. The location was also pretty good - walkable to the main downtown areas but far enough out to have parking. Finally, I appreciated the included continental breakfast of toast, jam, cereal, and fruit, although my friend was disappointed that there was no hot food available. Conj was responsive and helpful over email and the host, Kathleen, was available when needed although rather brusque and not particularly friendly or personable. Overall, this was a perfectly adequate place to stay for a night, but would not be my first choice for a return trip to Dublin.
Elspeth
2015-09-26T00:00:00Z
The stay in Conj and Catherines B&B was very nice and comfortable. The arrival was very uncomplicated and fast we coud enjoy after the flight in our room. Some helpful advices by Conj included. We stayed for three nights and the contact was very nice. The only little thing which could be a bit better is the choice at breakfast. But if you need a comfortable stay near by Dublin City i can convinced say that you have to come to Conjs B&B :)
Golnessa
2014-11-18T00:00:00Z
We had a very nice time at this beautiful location, very centrally located. Catherine wad a charming and friendly hostess
Joseph
2015-07-31T00:00:00Z
Our flight got into Dublin very early. Conj gave us great directions to get from the airport to the B&B. They were nice enough to let us drop our bags off at 7am until our room was ready. They got our room ready very quickly for us even though they were full the morning we arrived. Although the room was a bit cramped, it was clean and just what we needed for a busy stay in Dublin. The breakfast they offer was great. It was nice not to have to go look for a place to eat. We would stay here again if we return to Dublin.
Bethany
2015-09-30T00:00:00Z
Okay
Stephanie
2016-10-13T00:00:00Z
Great location!!! Small but tidy rooms.
Jan
2016-09-23T00:00:00Z
Great location and place to stay. Breakfast was convenient and parking right in front of the place. Lovely cosy room and comfy bed.
Crystal
2015-01-30T00:00:00Z
We had a great time there. The host was really nice to us. It's a good place to stay in Dublin. Clean, comfortable, and convenient.
Jang
2015-08-17T00:00:00Z
Room Type
Private room
---
Property Type
Bed & Breakfast
---
Accommodates
6
---
Bedrooms
Dublin, Dublin, Ireland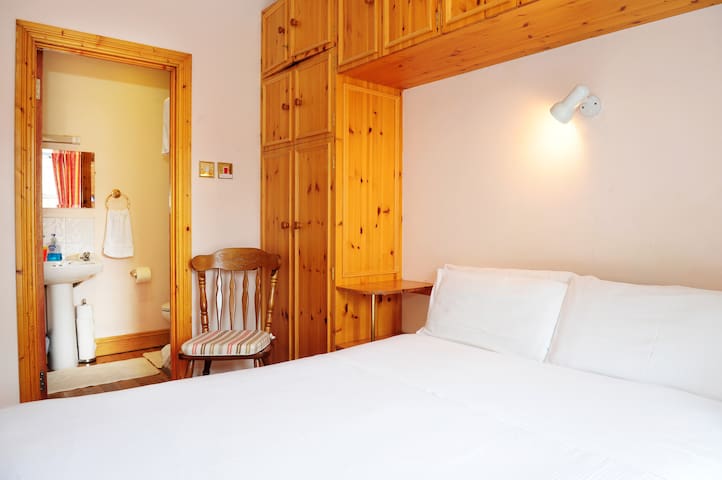 We offer a nice room with a reasonable price that's full of amenities. The house is located in Dundrum, South Dublin with 3 bedrooms and 2 bathrooms and only take 5-7 minutes to Green Line Luas and Bus Station. We live in the upstairs portion of the house, so there's almost always someone around to help if you need anything. UCD is just 20 minutes of walking away. Dundrum village is also 20 minutes away with its huge shopping center and cinema that is full of shopping, dining, and entertainment.
This house is located in one of the best area in Dublin, Dundrum. This is a 3 bedroom house with 2 bathroom (only one has a shower). This room is the single room downstairs. The house is only 7 minutes of walking to Green Luas Station and bus No 17, 44 is nearly right next to the door so it normally only takes 15-20 minutes to get to Grafton Street and St Stephen's Green. There is a small grocery, butcher, pharmacy, fast food shop, as well as Vietnamese and Thai food for take away on the main road (3 minutes of walking). Our listing is fantastic for people looking for a temporary place when hunting for a course or long-term accommodation near to UCD Belfield. UCD is only 20 minutes of walking or 8 minutes of biking from our house. We have all necessary amenities that you could want, such as washing machine, fireplace, hot water, hair dryer and iron. You are free to use all facilities we have in the kitchen. The backyard is particularly huge so you can enjoy the view from the big window in the living room downstairs or have a picnic on a sunny day.
Staying at Linh's place was in total very good or even excellent. Since the beginn of our communication, she was so helpful and easy going. When I arrived I was positively surprised about the house in total. In the house was so youth feeling in the air. Joseph is from Florida, USA; Linh is Vietnamese; another girl who was finishing her music studies is from Bulgaria, so I felt very good in this international environment. On the other hand, if you are looking for the accommodation during your stay at the University College Dublin, this is perfectly choose location. It is easy to reach the campus, but also very easy to rech from the center of the city with direct Luas connection. Joseph, the guy who lives in the house was soon kind and always helpful for any detail. So, definitely extra recommendation to stay at Linh's house.
Irfan
2016-09-05T00:00:00Z
Very friendly hosts, nice comfortable room
Sean
2017-03-23T00:00:00Z
Great place to stay, very nice room, really kind and helpful hosts. Would definitly stay there again. There isn't much more to say. If you see it, book it. :D
Thomas
2017-03-28T00:00:00Z
Linh and Joesph plus their flatmate Derek were super nice hosts, very friendly, welcoming and attentive. Always offering me a lot of food and drinks with great conversation and making sure I was warm throughout the night. The room is nice and cosy with a cute little armchair. I recommend everyone to stay with them.
Emily
2017-03-12T00:00:00Z
The host canceled this reservation 23 days before arrival. This is an automated posting.
Roger
2016-05-07T00:00:00Z
Room Type
Private room
---
Property Type
House
---
Accommodates
1
---
Bedrooms
Dundrum, Dublin, Ireland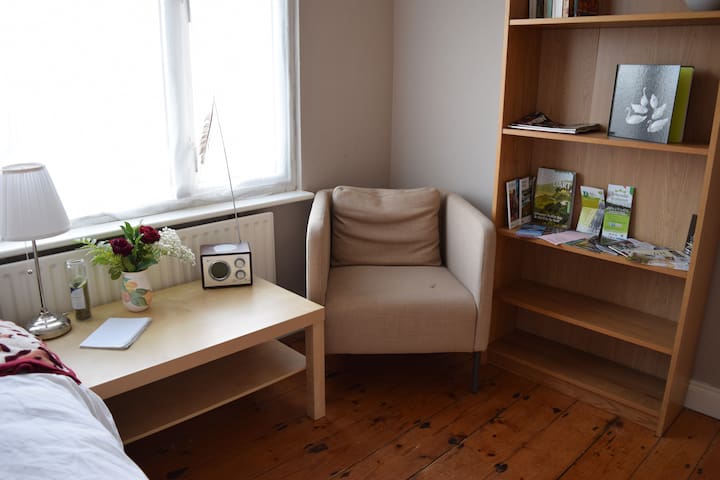 Enter dates to see full pricing. Additional fees apply. Taxes may be added.