Lovely studio,wonderful valley views on one side (often to the ocean) and up majestic wooded mountains on the other side - beautiful 19' by 12' bedroom w/new TV - modern shower bathroom- large,modern kitchen with stove microwave, bar refrigerator.
The apt. is on the ground level of a lovely modern dwelling located on a beautiful hillside in the Pasadena Glen. We are located at the top of a hill which allows for the spectacular views.
It's rural, private and lovely, yet close to abundant city amenities.
Ann was a great host. From giving us directions from the freeway, to greeting us upon arrival, Ann was first class all the way. The bathroom, bedroom and kitchens were well stocked and Ann was very thorough in explaining how everything worked. We would definitely stay with her again(URL HIDDEN)
Phil
2016-07-18T00:00:00Z
Wonderful experience at Ann and Ralph's lovely home. Highly recommend staying in their spacious studio.
Tom
2016-05-05T00:00:00Z
Ann was simply amazing! She was warm, welcoming and extended her kindness beyond our accommodations. Having lived in Southern California for many years, this was quite a warm "homecoming" =) We will stay with Ann again upon returning and will spread the word about her wonderful home. An added bonus, her husband and grandson were a delight as well. The name for her place, Glen Delight, is a true description!
NATALIE
2016-12-19T00:00:00Z
Ann is super helpful and warm. She explained everything very well and she is just nice. The studio has beautiful view of the city and the area is quite and safe. I love it and had good experience there! Definitely recommend Ann's studio!
Zifei
2016-11-24T00:00:00Z
Quiet, clean studio on a secluded street, high up on the hills. Enjoyed the comfortable bed, great water pressure in the shower and fresh air. Ann was a gracious and thoughtful host, would definitely recommend this place!
Cathy
2016-03-23T00:00:00Z
Great place to stay
Jack
2016-09-03T00:00:00Z
Ann was very welcoming and showed us every detail about the apartment. The unit was very clean. Most important to me, the bed was very comfortable. Unit has a nice large window looking out to lots of twinkling houses at night. It was nice to be a little bit removed from everything in the hills. Also it was very quiet.
Michael
2016-10-18T00:00:00Z
Anne was so very sweet. She waited up and greeted us when we got there. She gave us a tour, and everything in the room was simply wonderful. The room was cozy and welcoming. The amenities were lovely and we had everything we needed. It was the perfect getaway each night during a hectic weekend. We absolutely loved it.
Jaimie
2016-09-11T00:00:00Z
Room Type
Entire home/apt
---
Property Type
Apartment
---
Accommodates
2
---
Bedrooms
Pasadena, CA, United States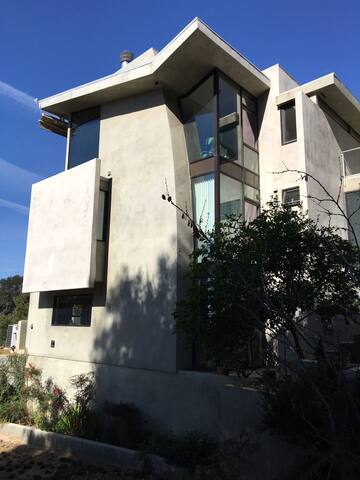 Private studio apartment with separate entrance from our main house. Full bath. Kitchenette, including full refrigerator, microwave, and toaster oven. Off-street parking.
Our street is quiet and near great hiking trails. There's a fun breakfast place around the corner and up the street where locals hang out and eat great food. Downtown Sierra Madre is an easy walk away.
Our town is relaxed and friendly. We're five minutes from the 210, but you'd never know it. The San Gabriel Mountains are right behind us.
Another great stay at Luisa's! Her place is perfect if you are looking for something secluded, or if like me, you are moving to the area and need something to hold you over during your move. Thank you for another great stay.
Ellen
2017-03-16T00:00:00Z
The place was very clean, quiet, comfortable, and private. Luisa was very helpful and responsive. I would definitely recommend the place.
Monique
2017-01-05T00:00:00Z
Wonderful experience. Highly recommend
Prashant
2017-01-04T00:00:00Z
Luisa's home was clean and accommodating. I loved how close (walking distance) it was from trails and parks. She was very nice/responsive. I would definitely recommend her place!
Diana
2017-01-01T00:00:00Z
Great stay really enjoyed it :)
Donny
2017-01-23T00:00:00Z
Nice, quiet neighborhood and spacious room!
Sharon
2017-02-09T00:00:00Z
Great location. Very clean.
Jane
2017-02-22T00:00:00Z
Luisa's place was everything we needed for a quick over night stay. It was very clean and cozy and in a wonderful area. Luisa made our check in seamless. Would definitely recommend staying here.
Rubymae
2017-01-06T00:00:00Z
Room Type
Entire home/apt
---
Property Type
Apartment
---
Accommodates
2
---
Bedrooms
Sierra Madre, CA, United States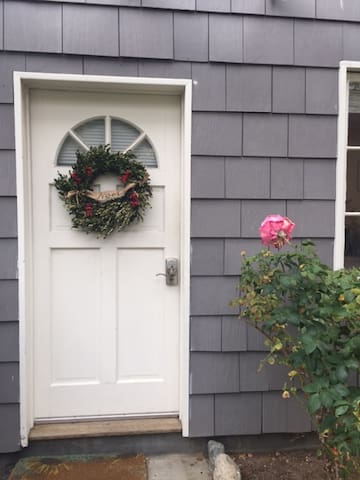 Cozy back house/studio near Hastings Village and Pasadena Rose Parade float viewing. Studio has a California King bed with ortho mattress with a large master on-suite bath and fully stocked kitchenette overlooking a beautiful yard with fruit trees. Has a separate entrance and totally private but attached to the main house.
This space is in a highly desirable and safe neighborhood of northeast Pasadena. It is walking distance to where the Rose Parade floats park for viewing on January 1st, 2nd, and 3rd. It has many restaurants nearby. 10 minutes from Old Town Pasadena and 20 minutes to Downtown LA (La Live, Staples Center, jewelry district, Fine Dining) ALL GUESTS TO STAY IN PASADENA MUST REGISTER FOR STREET PARKING IN PASADENA AREA. No parking allowed on the street after 2:00 am-6:00 am. This is a city ordinance. PLEASE PLEASE PLEASE purchase your guest parking permit and print out for duration of stay BEFORE your arrival. It's 3$/day for the permit. Or you can go to the Kiosk located at 2424 Villa St Pasadena Ca in front of Pasadena Fire Station No 32 which is 5 min from home to purchase the Overnight parking for the duration of your stay. To purchase the overnight parking you would need your full name, Vehicle License plate #, make and model of car, and color of car.
Very safe neighborhood in upper Hastings ranch where they do Christmas light up month of December ALL GUESTS TO STAY IN PASADENA MUST REGISTER FOR STREET PARKING IN PASADENA AREA. No parking allowed on the street from 2am-6:00am.
Peggy was very helpful in giving my friend and I directions for getting to the place and checking in. However, it can be a bit confusing to find the gate and entrance but the host's son helped us with the key and where to find our place. We didn't get to meet Peggy but she left a lovely note with her phone number and wifi on the dining table. The room has a small kitchen with a stove, a fridge, and a microwave, and as you walk past it, you're entering the bedroom area. Even the bathroom was really lovely but the only downside and inconvenience to this airbnb is the noise level and how it's attached to the rest of the house. Walls are paper thin, and the bedroom is divided by a closed door that leads to what seems to be the living room/kitchen area of the host's house. This means you hear the TV, any music or conversation going on, as well as the fridge opening and (URL HIDDEN) you're lying on the bed. I don't know what was going on but on both late afternoons and evenings, the noise level was quite high to extremely high (second night, volume of TV or music maxed for a good hour). This meant my friend and I couldn't really unwind in the airbnb area until the host's family was also resting up. All in all, it was a decent stay (and we made sure to leave the place clean, with trash bags sealed, etc.) but I wouldn't recommend this space for anyone seeking a private space or a quiet getaway. For those of you who plan on just using the space as a place to catch some sleep, this will definitely suit.
Esther
2016-12-20T00:00:00Z
Gorgeous place. Reasonable price. Great communication. The most luxurious AirBNB rooms i have stayed in. Pictures are accurate. Quiet beautiful location. I would recommend this place to anyone who wants a five star experience at a very convenient price.
Carlos
2017-02-26T00:00:00Z
Lovely house. Very modern and clean. Everything is updated and great space for two people. Was like our own mini house. I would definitely recommend
Daniqua
2017-02-22T00:00:00Z
Nice place to stay.:)
irvin
2016-12-04T00:00:00Z
Great place to getaway with the comforts of a upscale home - We especially loved the jacuzzi tub with TV combo! Thanks Peggy
Christopher
2017-02-24T00:00:00Z
This location is lovely, spacious lodging, with a beautiful tub and shower on a quiet residential street in Pasadena. This is our first Air B n' B experience and overall it was good. I made a few private suggestions to the owner in the hopes that she'll make revision for her next guests. We have plans to visit Pasadena often and will book here again with the certainty that she will make the few recommended improvements.
Rebekah
2017-03-17T00:00:00Z
Peggy's place was great. There was a wonderful shower and bath, a good bed, a large TV, good wifi connectivity, and easy access.
Andrew
2017-03-21T00:00:00Z
Peggy was a fantastic host, especially since we booked her place quite last minute and she replied right away. All of the directions and check-in process were super easy and straightforward. It certainly was a nice cozy back house in a lovely quiet neighborhood close to downtown Pasadena. Highlights included the big shower, large bathtub with spa jets, as well as the handy little kitchen and duel TV sets. We would definitely recommend the place and would use it again on our next trip.
PAMELA
2017-01-22T00:00:00Z
Room Type
Entire home/apt
---
Property Type
Apartment
---
Accommodates
2
---
Bedrooms
Pasadena, CA, United States
My place is close to parks, great views, and restaurants and dining. You'll love my place because of the location, the people, space and natural light. My place is good for couples, solo adventurers, business travelers, and families (with kids).
Greg has a beautiful guest house situated in what I consider Northern Altadena. Always a quick trip to downtown LA for business and a relaxing setting to return to at the end of the day. Internet is consistent but may be a tad slow for those who require a lot of bandwidth for teleworking. Will happily look to book again when the need arises.
Duncan
2017-02-15T00:00:00Z
Room Type
Entire home/apt
---
Property Type
Apartment
---
Accommodates
2
---
Bedrooms
Altadena, CA, United States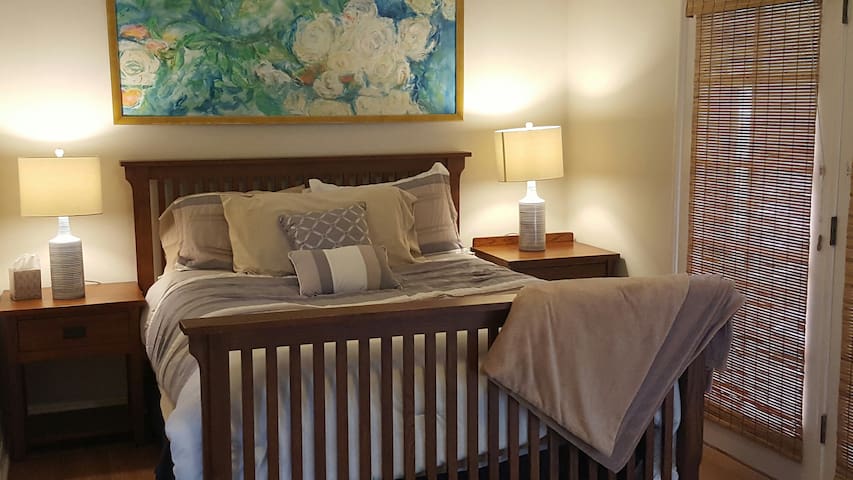 This is a comfortable and unforgettable studio in the mountains on the north edge of Altadena. Located on the Zorthian Ranch. One large room, with a bathroom and large covered porch, as well as a small private yard.
This property is located on a ranch, which also has a few other airbnb's spread across the property. It is in the mountains above Altadena.
Rustic, but a great location.
Tamara
2017-01-31T00:00:00Z
It's really hard to tell from the pictures quite how special and amazing this whole place is. It felt like I took a vacation to another planet and I just live 10 minutes away. Zorthian Ranch itself is pretty amazing, the pool has gorgeous views of the mountains and the city, even the DTLA skyline. Every inch of the property is a living piece of art, and the studio is no different. It's constructed out of raw recycled wood with old fittings from power lines, mosaics, beautiful tile floors and bathrooms and all the modern amenities you could need. The one recommendation I have is make sure you get everything you'll need before you settle in for the evening - you won't want to leave or have to drive down the slightly treacherous road. All the staff and folks at Zorthian are very laid back and friendly. Make sure to say hello.
Meghan
2016-08-02T00:00:00Z
There's a great group of people on the ranch. You feel like you're worlds away, but a quick drive down the hill and you're in the heart of the Altadena/Pasadena area, which has just about any modern convenience you could ask for. The grounds have great character and history. One of the coolest places you could find on airbnb. The pool is awesome and so are the animals. The studio is great and very unique. Open, airy, nice natural light. Bed and sofa/futon are comfy.
steve
2016-08-11T00:00:00Z
The host canceled this reservation 2 days before arrival. This is an automated posting.
Ben
2016-08-20T00:00:00Z
This isn't a review, this is a love letter. I wanted to stay and live on the Zorthian Ranch forever! The location is so close to the city, and if you HAVE to leave and get something, you need a car to get down the hill - but why would you go anywhere? It's so quiet and peaceful up there in the mountains, and there's so much to discover right there on the ranch. Some might think this place is full of junk piles, but I saw the potentiality and the realization of ART all over - ingenius repurposing every where. The staff there was super friendly, even when as I wandered around I accidentally wandered right into someone's home! As for the studio, I didn't even want to leave it or the comfortable porch in front of it. The tall windows are amazing for light, and the room has everything you need to cook. The Zorthian Ranch isn't everybody's cup of tea, though - it's dusty. There's critters around. And it's a working ranch, I had a buzz saw outside for one whole day.(But the guy using it, Brian Carlson, has been there for 25 years and has GREAT stories!) And then there was the Armenian pop star that got tired from shooting on the property and took a 25 minute nap on my porch, while I moved about quietly inside so as to not wake him. With the right attitude, this place can be salve for the aching cityfied soul and a real place of peace and repose. Maybe I WILL move up there someday!
Julie
2016-04-21T00:00:00Z
Great , relaxing and cool place. I had a nice time staying here and would recommended to anyone.
Ben
2016-04-08T00:00:00Z
The Zorthian Ranch was all we could have hoped for it to be and more! The pictures were accurate in displaying the layout, but only a fraction of capturing its magic. It is truly unique. Living in Los Angeles it was ideal, because it felt far away without being far away. The space includes only the things you really need. The outdoor grill was our favorite for dinners. We hope to come back again and have more days to spend!
Jillian
2017-01-01T00:00:00Z
What an incredible place! Loved everything about it and would definitely stay again. Thanks, Alan and Gary!
Peter
2016-07-05T00:00:00Z
Room Type
Entire home/apt
---
Property Type
Apartment
---
Accommodates
3
---
Bedrooms
Altadena, CA, United States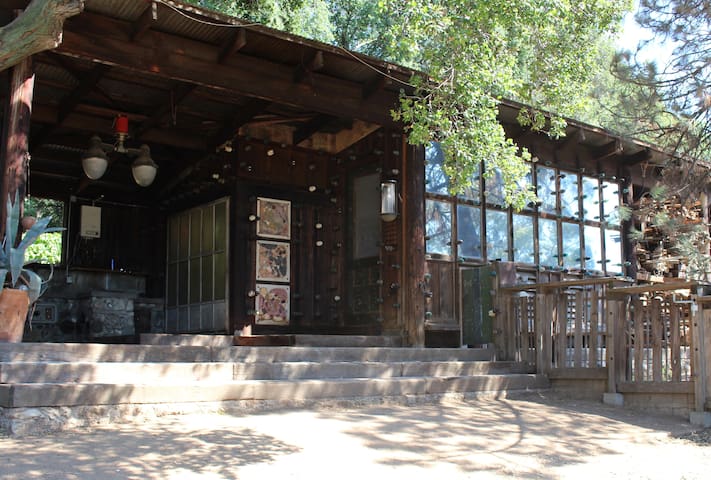 1

–

5

of

5 Apartment Rentals
Enter dates to see full pricing. Additional fees apply. Taxes may be added.