Wonderfully relaxing waterfront house in the elegant Noosa Waters. Nearby the Noosa River shops, cafes, and restaurants and a short drive to Hastings Street. The perfect location to relax on the waterfront and from which to explore the hinterland and surrounding beaches. NO HIDDEN EXTRAS. 1 night stays welcome.
Lovely bright and quiet rooms in a separate wing of the house. Several common areas where you can relax - by the pool or by the waterfront and watch the sun go down.
Located in an exclusive canal estate close to Gympie Terrace cafes and shops as well as a Woolworths supermarket. Experience wonderful sunsets for a quiet drink down by our jetty.
It was an amazing place and experience! The house is superb, very modern, next to a river with a small pier. The hosts are very friendly, we had a very good time.
Oriane
2016-11-19T00:00:00Z
Very stylish house right on the waterfront. Very accommodating hosts and friendly cat Cleo no complaints at all.
Hannah
2017-01-13T00:00:00Z
Very beautiful place. Julie and John are nice too. I really like the place.
Amber
2016-11-25T00:00:00Z
Julie welcomed us warmly on arrival and showed us to our room. It was very clean and comfortable with plenty of hanging space for clothes and a full-length mirror. There was one opening window with privacy and block-out blinds. The room was air-conditioned as part of a whole-house system and our hosts were happy for us to use it as necessary. Our first few days were extremely hot and humid so this was very welcome. Allow thirty minutes for it to cool the room before needing to be there. We were given a house key so that we could come and go as we pleased. The family was very relaxed... allowing us to have our own space and giving up some of their own facility in order that we might enjoy it. Breakfasts were very simple... tea/coffee and toast with a good variety of toppings which we were encouraged to help ourselves to. We dined out for lunch and dinner. The outlook over the waterway was lovely and there were generally breezes which helped the comfort level. We swam in the pool and felt comfortable being lazy when we were there. We thoroughly enjoyed our stay. It met our objective of having several days away where we could totally relax. We found plenty of good eating spots within a short range... a car is necessary, but distances to facilities are short. Our hosts were amenable and we enjoyed some stimulating conversations. We look forward to returning in the future. Thank you Julie, John, Jackie and Cleo for being such good hosts.
Chris
2016-11-13T00:00:00Z
Great experience and wonderful people to stay with
Kris
2017-01-07T00:00:00Z
Beautiful spot. We stayed here one night and had an amazing time in Noosa. We weren't expecting to share a bathroom with another renter, but still enjoyed our stay and had a great breakfast with homemade peanut butter and great views of the water. Thanks for the stay!
Laura
2017-03-05T00:00:00Z
Beautiful house, beautiful people!
Paul
2016-10-22T00:00:00Z
I felt highly welcomed at all times. everyone was kindly invited for a dinner and a glass of wine and even a breakfast. the house is stunning and the room is very pretty and comfortable. I would love to stay longer, explore Noosa and enjoy another evenings with this nice family. highly recommended :)
Tatjana
2016-10-21T00:00:00Z
Room Type
Private room
---
Property Type
House
---
Accommodates
4
---
Bedrooms
Noosaville, QLD, Australia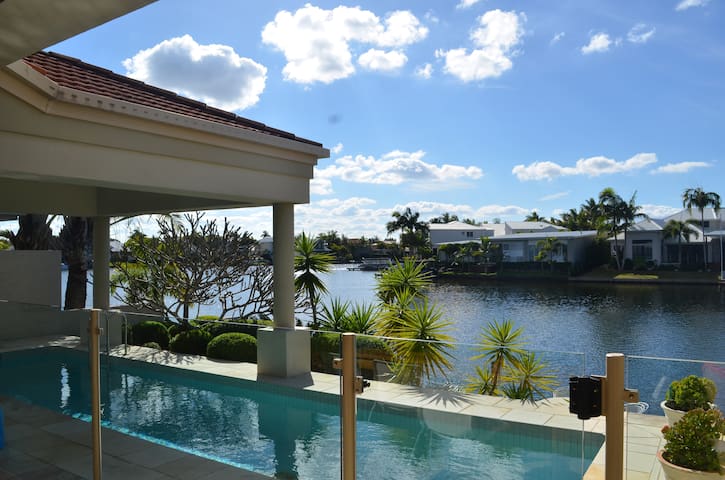 You have a double room with queen size bed and en-suite bathroom. You share the house entrance with us. Our office door is located opposite your bedroom door, other than that you have total privacy. Our part of the house is separated by an internal door. . Ideal for people who want to get away for a short break and make the most of their time away and not do any shopping or cooking. Have a bowl of breakfast and out the door for a day full of fun or relaxation, all within walking distance.
Couples only We have a Bernese Mountain dog, she stays in our part of the house.
We live in a cul-de-sac so there is little traffic. The Noosa River is 200 m away, very lovely for swimming, evening walks, picnics. Within walking distance you can rent kayaks, do stand up paddling, hire a boat, hire a jet ski, go fishing by yourself or go on a fishing charter, go on the oceanrider speed boat, take the ferry to Hastings street or Noosa Marina, take a boat to the Everglades. Take a trip to Fraser Island CONFERENCES Ideal location if you are coming for a conference 10 min walking to Ivory Palms Resort 7 min walk to Islander Resort 15 min walk to Noosa Lakes Resort 20 min walk to South Pacific Resort 5 min drive to RACV Resort
Lovely spacious room, very fresh and clean and so quiet. Helga was very friendly and helpful when I asked for some information. It is just so handy that shops, restaurants/cafes and the river are within easy walking distance. We will be back
Andrew
2017-03-30T00:00:00Z
Everything was as described . A nice room with privacy. The home has a good vibe with a warm energy. Enjoyed the easy walking distance to the river, the sunset was amazing. And then walked to a nice restaurant, no need to worry about a drink as we walked back home again. Excellent waterfront cafes within easy walking distance for breakfast. This home is also easy walking distance to the main Noosaville shopping area. Our host, Helga was very helpful – excellent local knowledge with good tips about stuff to do. Thank you for a great time
Richard
2017-04-04T00:00:00Z
Room Type
Private room
---
Property Type
House
---
Accommodates
2
---
Bedrooms
Noosaville, QLD, Australia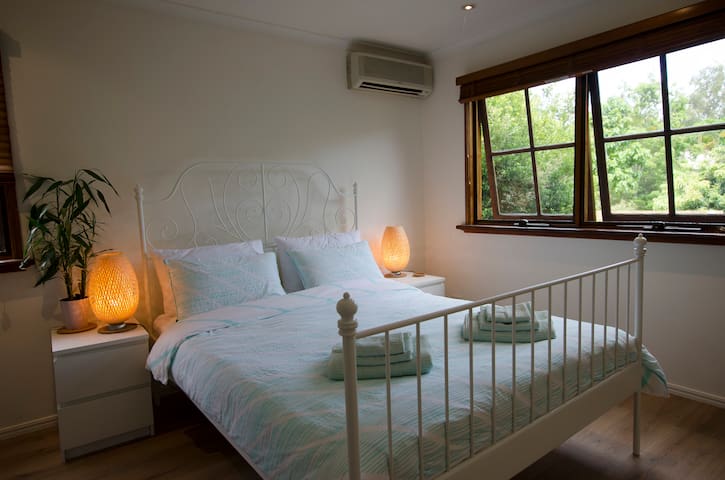 Large private room with a queen bed, attached sitting room & private bathroom. This lovely spacious home is 150 metres walk to Noosa River, cafés & public transport. Noosa's pristine main beach & national park is also on our doorstep.
Private bathroom with separate shower and bath. Large bedroom with private sitting room attached. Wrap around balcony which leads to the spacious backyard.
Our lovely home is 150 metres walk to the beautiful Noosa River. The ideal location is perfect to enjoy the famous restaurants and cafés that are on our doorstep. Hastings Street and Noosa main beach is only a few minutes by car or bus.
I stayed in Noosa for 2 days. Michael and Levana were really nice hosts. Michael picked me up from the bus stop when I arrived and they were always happy to give me tips about where to go and what to see. I felt like I was at home during the evenings when we watched tennis together. The house is located in a very pretty suburb and it is easy to get to the main beach from there with a short bus ride. The room was spacious and clean. The room had a desk area outside the sitting room and a big closet. There was a big collection of books in the room. Unfortunately, I did not have much time to read anything from the collection but there were some interesting ones. I also had a private bathroom with both a shower and a bath. Michael and Levana also provided breakfast every morning (even very early in the morning before my departure). I would love to stay at Michael's and Levana's place next time I am in Noosa. Thank you for everything!
Karina
2015-07-04T00:00:00Z
Very friendly and nice people. They helped us planning our trip. The rooms are very clean and cozy. The bathroom is very big. We really enjoyed our stay. I can recommend this room 100%.
Daniel
2015-07-23T00:00:00Z
Had a wonderfull and relaxing stay. We were made to feel extremely welcome & would highly recommend anyone to stay!
Luke
2015-11-06T00:00:00Z
Thank you Michael and Levana for welcoming us into your home for two nights during our recent visit to Noosaville attending a family reunion. The location was ideal as it was close to the venue we were attending and the neighbourhood very quiet. Our bed was comfortable and the bathroom down the hall from the bedroom was well appointed. Michael provided breakfast each morning which was an added bonus. It was a lovely experience and once again thanks.
Catherine
2015-11-08T00:00:00Z
Levana and Michael are great hosts! We loved so much staying with them and talking with them! The location of the place is great and the house is very clean and even better than the pic shows. They are also very tolerant with our 2 years old, always running and touching stuff baby:). We would definitely recommend others to stay with them!
mao
2015-11-11T00:00:00Z
Our days in noosa couldnt be better. Levana and Michael are very friendly and kind. They gave us a lot Of advices to go around noosa. We really enjoy staying at their House which Is also very beautiful. :)
Pia
2016-09-11T00:00:00Z
Excellent stay at Noosa. Made all the better with the fantastic hosts. Would definitely recommend & we were sorry to leave!!
diana
2015-11-27T00:00:00Z
Levana and MIchael made us feel very welcome and at home, they picked us up as our car broke down nearby and helped us retrieve our gear nearby. The house is lovely and immaculately clean and fresh, our room had its own sitting room and deck area outside and the pergola area was a great place to relax The home is only a 5 minute stroll to the beach/river and restaurants. There are many places to eat for all budgets and some have won awards so we had plenty of choice and great food Mike gave us a lovely breakfast each day and we had our own private bathroom too. We would highly recommend this airbnb
Alison
2015-07-11T00:00:00Z
Room Type
Private room
---
Property Type
House
---
Accommodates
2
---
Bedrooms
Noosaville, QLD, Australia
Queen bedroom with ensuite, very livable bedroom with private bathroom we are situated in the Noosa Northrise Estate from Shorehaven Drive into Shipwright Avenue and into Corinthia Court it is a quiet new estate we have a beautiful outlook to the bushland behind our home 15-20min easy walk to river, restaurants, shops, public transport, 5min drive to Hastings Street, Main Beach, We have pushbikes for the energetic guests Can arrange pick-up if arriving by bus into Noosa Heads
This is the ultimate bnb hosting experience. They were so nice and made me feel so comfortable that it was like being at home with my family. They have a wonderful new house and a lovely son. They offered to drive me down to Noosa Beach and pick me up anytime I needed. They also lent me a bicycle to stroll around town.Thank you Gisa and Henry.
Walter
2014-02-26T00:00:00Z
My Stay with Gisa and Henry was just brilliant, very laid back and stress free. I was up there for the Noosa triathlon and was made to feel extremely welcome, Henry even gave me a lift to the race at 5am on Sunday morning. Will definately be using their accommodation next year.
Brad
2016-11-01T00:00:00Z
Lovely and gracious hosts, gorgeous new home with pool, quiet estate with local birds in the park opposite. Nice room with ensuite and plenty of wardrobe space, good local knowledge to share for things to do. Definitely be back!
Angie
2012-10-02T00:00:00Z
Gisa and Henry were wonderful hosts. They really made me feel 'at home away from home'. It is a beautiful location close to all amenities. I would highly recommend it if you are considering staying In Noosa.
Ross
2014-07-02T00:00:00Z
Gisa and Henry made me feel incredibly welcome. Their home and room is beautiful and immaculate. They really went the extra mile. Leaving to walk to work my final morning, it started to rain, and Henry ran out and offered me a lift. Would definitely come back and recommend to my friends!
Donna Lee
2014-11-09T00:00:00Z
Gisa and Henrey are a warm and welcoming couple which made me feel very relaxed and comfortable in their home. They were very thoughtful and offered for me to join them for meals if I was around. The room was as described - very clean and comfortable with a great shower in the ensuite. Their lovely house was well kept and I shared many interesting conversations with them around the kitchen bench. It was like going home :) I thoroughly I enjoyed my stay.
Paula
2016-08-07T00:00:00Z
Gisa and Henry made me feel so welcome. Henry collected me from the bus station, detoured on the way home to show me the path I'd have to walk each day to where I needed to go. Their home is immaculate, very clean and as described. It's in a quiet location which was perfect for me as I needed to study. I want to thank them so much for their hospitality. I would definitely love to stay here again!
Hayley
2016-04-07T00:00:00Z
Gisa and Henry were kind and considerate hosts, they met me from the bus and offered to drop me back on my final day. Their home is truly beautiful and spotlessly clean and in a quiet suburb of Noosa. My room and bathroom were lovely and the bed was extremely comfortable. Thank you both for a great stay.
Rita
2016-12-09T00:00:00Z
Room Type
Private room
---
Property Type
House
---
Accommodates
2
---
Bedrooms
Noosaville, QLD, Australia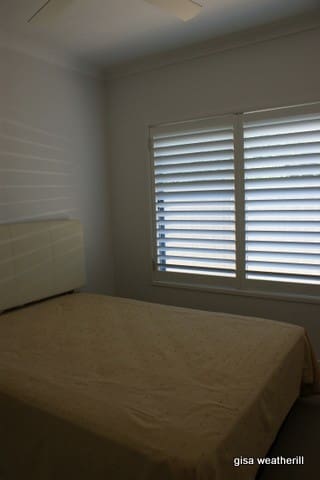 My place is a boutique retreat. It is close to the hub of Gympie Terrace and the famous Noosa River. You'll love my place because of the outdoors space there is a 18 mt pool with bali thatch. Included in your private suites which takes up the entire first floor there is a fully fitted bathroom including a corner spa bath ,sitting room with day bed ,Californian King bed with The White Company luxury linen. The perfect couples retreat.
Gill was such a welcoming host for me and my mum. She and her niece made us feel very much at home in her lovely home. The room had everything we needed, and the pool and living area was such a beautiful space, as the rest of the house. I highly recommend stayinng here, and next time I travel to Noosa, there is no doubt where I will check in :)
Åselinn
2017-03-04T00:00:00Z
Gill and Lucy were both fantastic hosts! The room was amazing, spacious clean and beautiful and the house was pure luxury! I wish we could have stayed there longer! We went out for drinks with both Gill and Lucy one evening which was lovely and they were both always happy to help with anything! Best Air B&B we have stayed in and would 100% come back to visit! Thanks for an amazing time !
Jessica
2017-01-24T00:00:00Z
My wife and I had the luck of finding Gill's place and boy was it a wonderful treat. Her property is located in a fantastic area 5 miutes from Noosaville in the wonderful subdivision of Noosa Waters. Gill is a wonderful host and provided us with everything we could ask for. Her place is true luxury and a wonderful lifestyle. The master bedroom has an extra sitting room and wonderful bathroom with a great jacuzzi tub. The pool is an amazing place to have a wim and she has a Balinese style hut that offers privacy. We only wish we could have stayed longer, and would love to come back and visit again!
Giovanni
2017-01-02T00:00:00Z
Wow!! Such a treat to stay in this amazing home. Gill was a brilliant host and made us feel very welcomed. Definitely luxurious inside house and out.. Gill has thought of everything to make you comfortable!! The air conditioned room and pool were perfect with the hot summer days we experienced during our stay. Look forward to staying again on next visit to Noosa.
Jenna
2017-01-14T00:00:00Z
Gill is a superb, warm and welcoming host. Nothing was too much trouble and we were made as welcome as childhood friends. The property itself is absolutely stunning, more than a match for the high end town of Noosa. If you have made it as far as reading this review, then book it right now. Best Airbnb experience either my wife or I have experienced.
Harry
2017-01-09T00:00:00Z
Gill greeted me with a big smile and a welcoming handshake. Her home is true luxury, modern and spacious. The bedroom with a massive comfortable bed guaranteed a good nights sleep. The extra sitting room, bathroom with a great jacuzzi tub were a wonderful bonus. Gill also provided a bottle of bubbly as a welcome gift which was very thoughtful. Being an animal person I also enjoyed the company of her three very talkative cat. Thank you Gill for everything you did to make my stay a truly relaxing experience.
Wanda
2017-01-04T00:00:00Z
Our stay at Gills was first class. Stunning room, bathroom with a jacuzzi tub, ammenities such as tea/coffee facilities, fresh towels, robes and complimentary bubbly! Gill and Lucy were lovely and accomodating and recommended places to eat on our first evening which was helpful! The location is a 20minute walk to Thomas street where there are quite a few restaurants. Overall would highly recommend Gill's place!!
Lisa
2017-02-03T00:00:00Z
Our stay at Gill's was a first class experience. Her and Lucy were super friendly and made us feel like we were at home. The room, bathroom and entire house are absolutely stunning--scented candles, cosiest bedding and even a bottle of bubbly!! Had a good laugh with them of the evenings and an overall fab time! Definitely recommend and the area is great for Noosa, eumundi, beaches etc!! If heading back would 100% stay again!
Fleur
2017-02-17T00:00:00Z
Room Type
Private room
---
Property Type
House
---
Accommodates
2
---
Bedrooms
Noosaville, QLD, Australia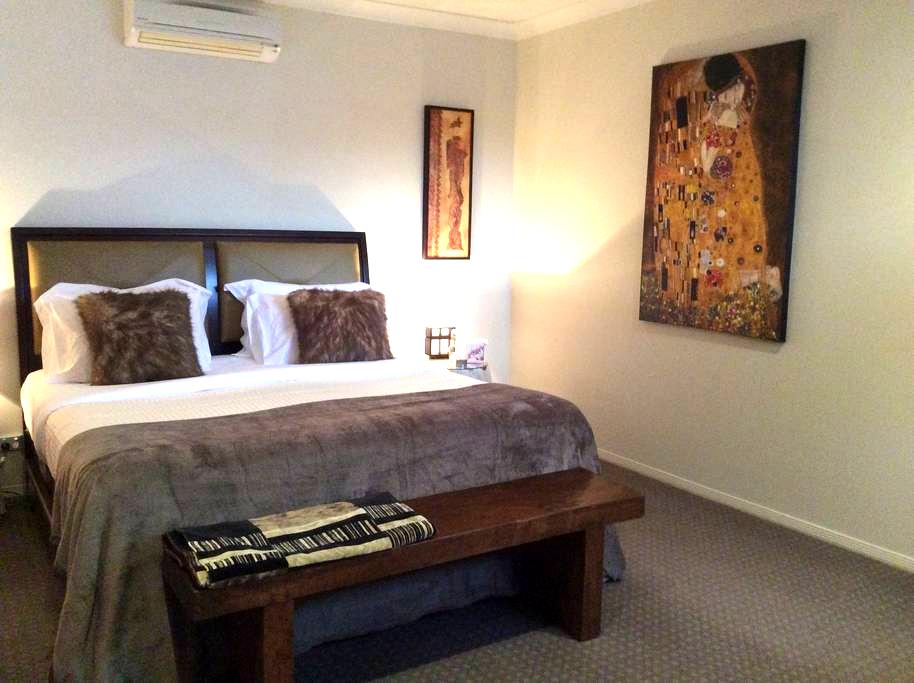 This newly, appointed studio room offers space and comfort. Located in a quiet area which is an easy 15 minute walk to the Noosa river, restaurants and various water activities. Hastings St. and Noosa's Main beach are a 8 to 10 minutes drive.
A spacious, self contained, private space that features a king size bed and the versatility of a queen size sofa bed if needed. The room is detached from the main house giving easy access to come and go as you please. Everything you need to relax and enjoy your holiday.
A short stroll to the Noosa River precinct will provide many excellent restaurant and café options. Enjoy a coffee at one of the many places along the water's edge. The river offers a variety of water based activities such as canoeing, SUP, yachting and rowing. You can book chartered fishing trips or be adventurous and take the 'Thriller 'ride out in the ocean. Hastings Street shops and beach are a short 8 to 10 minute trip by car or local bus.
What a beautiful home! Thanks so much for being such welcoming hosts. The accommodation was even better than the pictures and was spacious and clean. This is a real gem if you are looking for somewhere to stay in Noosa! Thanks Heather and Michael
David
2016-01-24T00:00:00Z
Great location in sunny Noosaville, close to the river and within great driving access to everything. Perfectly happy with the representation on AirBnB and we were certainly not disappointed. I'd highly recommend staying with Heather! We were three boys (One dad and two boys) and we had oodles of space. The room is exceptionally clean and well maintained and we would most definitely return.
Lachlan
2016-04-06T00:00:00Z
It was an awesome place. Very beautiful and relaxing. We love every part of the accommodation. Very nice hosts and we love Hugo,the cute dog :)
Jasmin
2016-10-10T00:00:00Z
An absolutely beautiful home situated in a quiet and stunning location. It was our first Airbnb experience and what a wonderful one it was! Heather and Michael were incredibly friendly and welcoming hosts who ensured you felt at home. We loved the studio which was styled and presented beautifully, had super comfy beds, plenty of space and privacy, and a well stocked kitchenette! The only thing we'd change is our stay length because one night was definitely not long enough! Would highly highly recommend, and hope to be back sometime soon!! Thanks so much!
Nicole
2016-09-26T00:00:00Z
We loved the studio and the pool, great mini weekend away from home, will be back! Big thank you to the wonderful hosts for their hospitality, we had a great time.
Sandra
2016-11-12T00:00:00Z
Fabulous. From the moment we arrived Heather and Michael were there to greet us and right throughout our stay they ensured we were always comfortable . The studio was perfect in every way, we felt at home and enjoyed our stay immensely.
roza
2016-03-11T00:00:00Z
We had a wonderful night at Heather amd Michael's. Room was perfect for our needs. Main bed was very comfortable and the pull our sofa just perfect and convenient for kids. Everything clean and welcoming just as pictured. We really appreciated the tea and bfast supplies provided. highly recommend.
Bronwyn
2016-06-27T00:00:00Z
The place was lovely and we had a wonderful time staying there. Had all the amenities and was very accomodating. Value for money with a very cute dog. We were only 10 mins from the beach.
Anna
2016-12-10T00:00:00Z
Room Type
Private room
---
Property Type
House
---
Accommodates
4
---
Bedrooms
Noosaville, QLD, Australia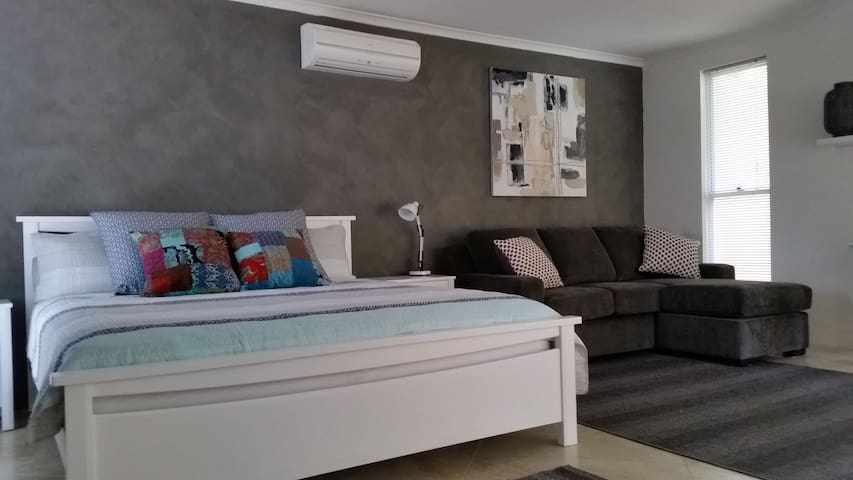 Quiet location at the end of a cul de sac. Private bathroom and toilet. By car you will need 8 min to Gympie Terrace (Shopping, restaurants...) and 15 min to the Noosa Main Beach and the Noosa Nationalpark. Direct bus-route to main attractions leaves right behind the house. You'll need 20min by bus to Noosa main beach and the Nationalpark. Bus 629 runs on an hourly schedule (Mo-Fr 8am-6pm and 9am-5pm on the weekend). Free parking & WiFi.
- One bedroom with two single beds and one folding bed - private TV in the room - Private bathroom and toilet - You can use the kitchen and the fridge
Great quiet neighborhood, safe and everything is close by.
Mandy and Uli were wonderful hosts. They were very communicative and we were able to arrange arrival and departure super easily. Their dog is the nicest too! The room was clean, and each guest had all the essentials, including towel, etc. Mandy offers a $5 continental breakfast that we were sad to have had to skip. Sounded great! Will def recommend this warm home to friends and family.
Bhargavi
2017-03-11T00:00:00Z
Beautiful spacious home in a lovely, quiet residential area. 5 min walk to local grocers and bakery or short drive to Noosa Marina and beach. Room is twin beds with ceiling fan, plenty of space and own private bathrooms. Mandy and Uli were great hosts, very hospitable, thanks again!
Michael
2017-01-29T00:00:00Z
We stayed with Mandy, Uli and family for a few days with great experience and felt really welcomed! They provided the maps and surrounding must see places and local stores etc info on arrival and left bounchs of assorted brochures in the room as well, they were very happy to assist whatever they could if needed! The neighbourhood is great, quiet, secure and walk distance to a local store where they have bottle shop, bakery, take away and convenient store etc; it's easy to access to Noosa Heads and national park etc as well. Mandy is so kind and we were really touched that she even woke up and said goodbye while we had to go very early in the morning; plus that she even offered to post back our mobile phone cable left behind at their place, which was really touching again! A great family to stay with all in all!!
Angela
2016-11-10T00:00:00Z
Mandy's place is a great spot for popping into Noosa. The street itself is very quiet and secluded, and you're only a few minutes' drive from most of what Noosa has to offer. The bedroom and house is incredibly comfortable and clean, and the private bathroom is immaculate. I'd recommend Mandy's to anyone who is looking for comfort and quiet near Noosa.
Robert
2017-03-31T00:00:00Z
Really clean room and beautiful house! Nice location and perfect to discover Noosa! Mandy was really nice and received us really well even if we were late! Thanks once again!
Erwan
2016-01-13T00:00:00Z
I felt very welcome on arrival and the room was comfy and cute, have all I needed for my one night stay Thankyou so much
kade
2016-09-23T00:00:00Z
Mandy and Uli made us feel extremely welcome despite us really only being there from 9:30pm to 8:30 the next morning. Amenities and comfort far beyond most other airbnb's, and they were very helpful with offering suggestions for hiking in the area. Nice and quiet family neighborhood but also very close to downtown Noosa and the beach.
Zach
2016-10-15T00:00:00Z
Mandy and Uli are very friendly and welcoming. Lenny is a lovely seven year old. The listing matches the home. It is a beautiful place to stay with lots of nature paths and activities close by. There were lots of brochures about the area and info about public transport and Mandy was extremely helpful, printing out extra maps and helping me out whenever needed.
Claudia
2016-03-15T00:00:00Z
Room Type
Private room
---
Property Type
House
---
Accommodates
3
---
Bedrooms
Noosaville, QLD, Australia
Enjoy waterfront holidaying in our luxury apartments alongside the Noosa Waters man made canal. Relax in one of our pools or by the canal or on one of the private jetties. Fully equipped kitchens and laundry. Short stroll to Cafes and shops
The resort consists of a series of Townhouses on the banks of a man made canal.
The resort is walking distance to Gympie Tce which boasts of many Cafes, Restaurants and shops.
This complex is located in a gorgeous and pristine setting very close to everything required (restaurants, grocery, mall, beach) for an easy stay. We had three baby herons and a mama in the trees out our window, wild cockatoos in the morning, ever-friendly ducks and sparrows throughout the day, with a mama and baby dragon lizard paying a visit from time to time. The river makes your stay just resplendent. Units are appointed with everything you could possibly need and the maid service makes a long stay even more fabulous. Watching the sun come up from the bedroom window and the sun go down from the deck made for a great leisurely stay. The only minor issue was the limited access to the internet as I was on a working vacation, I had to pace my work so as not to run out of coverage. Bruce and his wife were always available and willing to be of assistance in whatever way they could.
Roby
2017-03-01T00:00:00Z
Good value, great location, comfortable townhouse.... there was nothing we could fault. The kitchen is well equipped and everything has been thought of. Super comfy beds. You could really live here, it felt like home away from home. Close to shops and restaurants. We'd stay here again. Thanks Bruce!
Aurelien
2017-03-06T00:00:00Z
Good value for money and great proximity to Noosaville (walkable). We had a great view of the river inlet and access to a small jetty. The living space opens up nicely to this view with a glass folding door that opens the entire width of the apartment. It was very peaceful and breezy. Note the front area is traversed regularly by others at the resort. Note this is a managed resort. Note also, although the apartment is stocked with the essentials for cooking in terms of utensils and serving accoutrements, you will need to byo consumables if staying more than a night or so (eg dish soap, detergent, kitchen towels).
Jerad
2015-04-14T00:00:00Z
Was all as expected + more Very clean and welcoming, with everything needed for a short or extended stay....... View OK too ;-)
Glenn
2015-07-04T00:00:00Z
Arrival was easy - the townhouse is part of a resort complex (which didn't click when I booked), but this turned out to be great as there was greater flexibility with arrivals etc. The location was exactly as described - right on the water and the view was great. It was a short walk to the shops/cafes/restaurants/supermarket and very conveniently located. We had a car and were able to drive everywhere easily. The amenities in the townhouse were great and as the house was part of a resort complex there were office hours and you could go in and ask questions etc., if needed. The office also were able to help book tours and give advice, if needed.
Krista
2016-07-31T00:00:00Z
It was the most relaxing 4 days I could of asked for, perfect location in a great location central to everything that you could need with a beautiful backdrop on the canal. The living space was roomy and clean everything was set out well and very easy to settle into. Bruce provided a great getaway.
Jack
2016-03-03T00:00:00Z
Great location on the water, very quiet and a lot of space
Andrew
2016-11-10T00:00:00Z
A good place to stay with good restaurants within walking distance. Apartment very comfortable and clean.
Murray
2016-09-12T00:00:00Z
Room Type
Entire home/apt
---
Property Type
House
---
Accommodates
2
---
Bedrooms
Noosaville, QLD, Australia
*Noosa Waters * Noosaville *Centrally located 400m from Noosa River * 4.4 kms from Noosa Main Beach/ Hastings Street * A block from a small shopping centre * Restaurants, coffee shops, picnic & bbq areas, * Bus stop right outside house *Smoking outside * Relaxed hosts who endeavour to make guests comfortable and ensure an enjoyable stay.
It is situated along a marina ( right behind house ) and there are places to sit . It is a very pretty area, close to the beautiful Noosa River and shops, We have a small garden with some lovely shady trees. We are a five minute drive from Hastings Street and Noosa's main beach and National Park where ( on lucky days ) , you may see koalas, dolphins and whales.
Robyn and Rohan made us feel very welcome. Lovely room with comfortable bed. Own bathroom & toilet. Very close - able to walk to Noosaville cafes! Very good value!
Max & Ineke
2015-12-31T00:00:00Z
Robyn offered us a friendly and welcoming freedom to use the kitchen and she gave us ample materials for breakfast, but left us to get on with it in an open and trusting way.
Graham
2016-01-21T00:00:00Z
Thank you for having us, sorry I missed you in the morning but had to hit the road. Very lovely to meet you both and I hope to meet you again soon when I am back in Noosa. Thank you again and take care!
Nat
2016-01-04T00:00:00Z
Robyn was an amazing host in a great town. Plenty to do, and a lovely place with everything you need. The bed was very comfortable!
Alan
2016-03-25T00:00:00Z
Just what was needed for a good nights sleep.
Su
2017-02-12T00:00:00Z
Robyn was a lovely host. She is really friendly and she made us feel home. Would absolutely recommend.
Figen
2016-01-06T00:00:00Z
It was a very last minute booking and the communication was speedy and fantastic. We had a great stay. Very nice courteous people that went the extra mile to make us feel welcome :)
Amanda
2015-11-15T00:00:00Z
Robyn was a fantastic & speedy communicator. She was very flexible with check in and provided everything including the wifi password. The townhouse is homely and Robyn lives there too. It is located just a few streets away from Noosaville Main Street and it's an easy flat walk (especially if you use the shortcut). There are plenty of cafes, restaurants and bars nearby. Great location for the Noosa triathlon as well. It's in a quiet street with very little noise from traffic. We would recommend staying here if you are after a quiet, laid back weekend away. Thanks again Robyn
Rebecca
2016-10-30T00:00:00Z
Room Type
Private room
---
Property Type
House
---
Accommodates
2
---
Bedrooms
Noosaville, QLD, Australia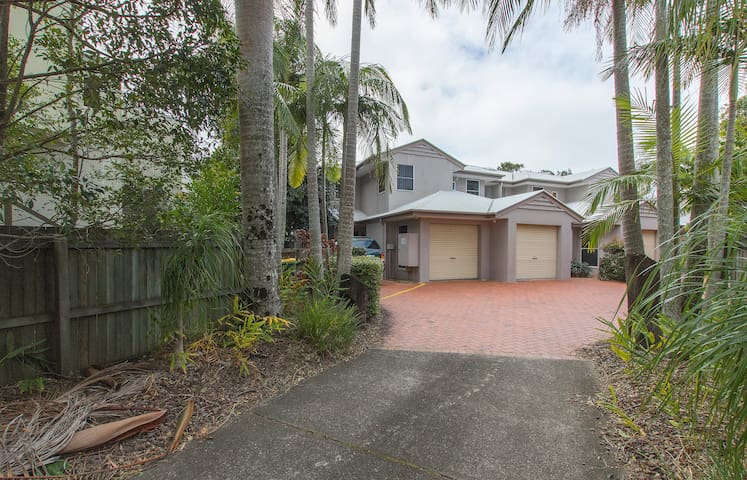 Looking for a luxury place to stay at a budget price, that's relaxing and convenient for all Noosa has to offer? Then look no further! The Room Our large 5 bedroom modern house in Noosaville offers you all the facilities you are used to at home in a quiet residential area drenched in sunshine. The large double room with queen sized bed has a seperate lounge area and one bathroom that is shared with another listing through Airbnb. If no one else is staying then you will have it all to yourself. Towels, bed Linen and hairdryer are provided. In addition the house boasts: Free wireless internet. A separate lounge area with tea/coffee making facilities and a refrigerator is provided. No cooking facilities included. This is a second room in our house. If the other room on Airbnb is booked you may have to share the bathroom and lounge area. The Area around Noosaville We have the bus stop and convenience stores on our doorstep. We are 10mins by car to Noosa's famous Hasting Street and 5 minutes to the wonderful river front of Gympie Terrace. If you fancy a shopping day, we are 2 minutes drive to the Noosa Civic shopping center or if you fancy a night at the movies, we are 10 minutes drive to Noosa Junction. All of these locations are easily accessed by the bus which is 2 minutes walk from our door. Our house is minutes walk to the beautiful walking trails around Lake Doonella where you may be lucky to see some of the local wildlife of Kangaroos, bush turkeys, kookaburras, koalas and much more. We are 8 kms from Hastings St and Noosa's famous surfing bays and beaches. Shops, cinema, cafes and restaurants are within easy reach at The Junction, Sunshine Beach or Hastings St Activities We can offer information on many tours in the area Eumundi Markets, Fraser Island, Everglades, Noosa Hinterland, Noosa River cruise, Steve Irwins Australia Zoo, Surf lessons, Wine Tours, Underwater World, Sunshine Castle etc. Noosa and the Sunshine Coast is a hive of activity with lots of different events being hosted throughout the year such as the Noosa Jazz Festival (Aug 30 - Sept 2nd), The Real Food Festival (Sept 8-9), Noosa Triathlon Festival (Oct 31 - Nov 4th), Australian PGA Championship (Dec 13-16), Noosa Festival Of Surfing (March 10-16), Noosa International Food & Wine Festival (May 16-19th) to name a few.
Fantastic stay and lovely friendly welcoming people.
Lesley
2016-04-26T00:00:00Z
A really nice place to stay. A short drive from waterfront with associated restaurants/shops.
Rosalind
2017-03-17T00:00:00Z
An absolutely lovely house and two great hosts. Would definitely recommend staying here to anyone - singles, couples and families. Good location, not too near all the hustle and bustle of Noosa itself but only an easy 10 minute drive. Will be back!
Vanessa
2017-01-17T00:00:00Z
Jackie was a lovely host who made me feel very welcome. This was my first Airbnb experience and it met all my expectations. The rates are really reasonable for room only. Jackies house is immaculate and the bed really comfy. All in all, a positive.
Lorrae
2016-10-31T00:00:00Z
Very lovely home, lovely location, great hosts! Thank you!
Jen
2016-07-23T00:00:00Z
We arrived to the most beautiful house and were met with the most friendliest of hosts -Jackie and Gary. The house was amazing, it was spotlessly clean inside and out and beautifully decorated. There are large comfortable bedrooms with tons of hanging space and a luxurious bathroom. Large flat screen tv with internet tv in a private lounge room and wifi. There is a fridge to chill the food and wine and tea and coffee making facilities. A key each so you can come and go as you please. Located 10 mins drive from the main streets of Noosa the house is dead silent at night and you can sleep like a baby. We will definitely be back . Thanks Jackie and Gary.
Osman
2015-04-06T00:00:00Z
Thankyou Gary and Jackie, It was great being able to stay in a quiet , clean, room after work for those few days.Thanks for the private lounge space and great (URL HIDDEN) was my first airbnb so I'm sold ! I'll be back I'm sure.
Kim
2017-02-24T00:00:00Z
We absolutely enjoyed our time! Everything was super clean and tidy and the bed was amazing!! Thank you so much for hosting us, Jackie!
Charlotte
2016-12-10T00:00:00Z
Room Type
Private room
---
Property Type
House
---
Accommodates
2
---
Bedrooms
Noosaville, QLD, Australia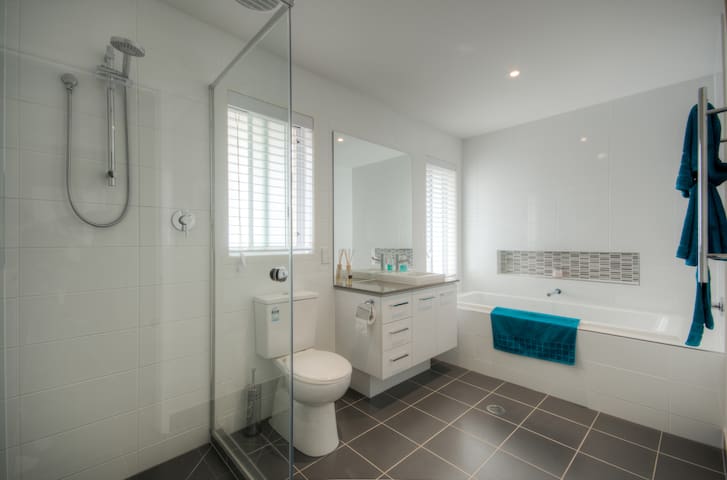 Treasures Hideaway is 1k to the Noosa River, 6k to Noosa Main beach/Hasting Street and a stepping stone to Fraser Island. Our home offers a safe, friendly space set in tropical gardens with a heated pool. It is good for couples, solo adventurers, and business travellers but not for children. You have your own DB bedroom, bathroom/toilet and sitting room with a large TV and DVD . You share the laundry and pool. There are also 2 bikes and surf gear for you to use.
Our home is situated in a very unique part of Noosa among grand homes and gardens.
WOW! Where do I begin? :) Upon a very warm welcome Michael and Patsy could not be anymore friendly. I was shown around their lovely home and then shown to my room which was very nice and the entire place was spotless! I had a wonderful time with them and they even gave me a ton of advice on where to eat and activities you can do in the area. They could not be more lovely to stay with and I would absolutely book again. Stay with these guys people! You won't regret it :)
James
2016-12-02T00:00:00Z
Fantastic hosts and a lovely home in a great location!
David
2017-01-06T00:00:00Z
Michael and Patsy are very warm hosts and could not have been more hospitable.
Ava
2017-03-23T00:00:00Z
Highly recommend. Very nice people
Wouter
2017-01-09T00:00:00Z
Wow! Five stars definitely isn't enough! We had the best time staying with Michael and Patsy and can't recommend them highly enough. Their house is beautiful - the bathroom wouldn't look out of place in a five star hotel - but it was their hospitality that truly made the experience wonderful. They gave us the warmest welcome after our camping trip on Fraser Island and took great care of us, from pre-warming the pool for our arrival, to making us dinner and washing our clothes. To top it all off we had a great evening chatting to them and a delicious breakfast including homemade muesli (which was better than any cereal you can buy!). Overall the perfect Air BnB experience and the perfect hosts.
Felicity
2017-03-20T00:00:00Z
Michael and Patsy are excellent hosts and the property is superb. All the Noosa attractions are a short drive and it's a very peaceful location. I highly recommend the property and the hosts.
Steve
2016-12-29T00:00:00Z
We had a very nice warm welcome to their beautifull home. We enjoyed cooling down in the pool during a typical warm noosa day! The bed and bathroom are very large and private. They provided very usefull local knowledge. Michael and Patsy exceeded all of our expectations. We strongly recommend this place and it definitely complements the name of the street. Thanks again!
Renee
2016-12-29T00:00:00Z
Patsy and Michael could not be anymore welcoming and helpful! We were offered drinks on arrival and we sat and discussed our trip and the Noosa area. Their house is lovely with a large bathroom, swimming pool and guest lounge area. We were also kindly offered bikes to cycle to the town which was great! I would highly recommend staying here as it is a stay we will never forget. Thanks
Oliver
2017-01-03T00:00:00Z
Room Type
Private room
---
Property Type
House
---
Accommodates
2
---
Bedrooms
Noosaville, QLD, Australia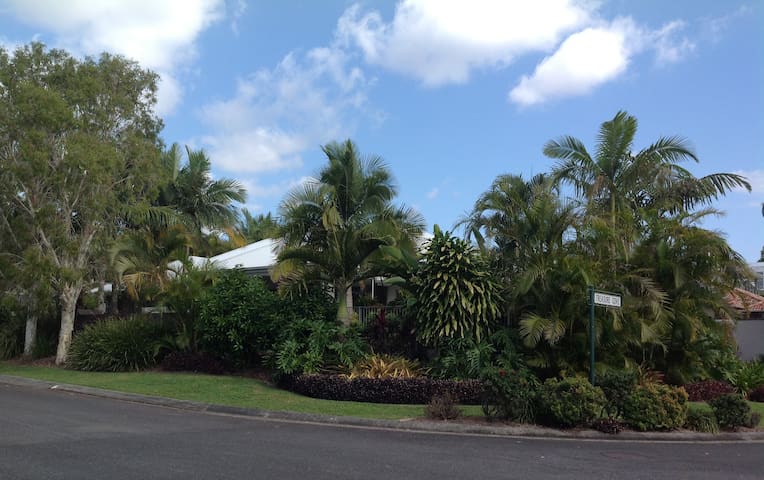 Comfortable bedroom with share bathroom in a modern home. Close to river , shopping, water activities, restaurants, bars and cafes. A 10 minute drive to Hasting Street and Noosa main beach. Would suit overnight stays.
This place was exactly what I expected. A beautiful home with everything I needed. Justine did everything to make me feel welcome and comfortable in her home, however, she also allowed me to have my privacy.
Jessica
2017-04-05T00:00:00Z
Justine and her daughter were very lovely and easy going ...would highly recommend Justine as your host .
Leanne
2017-02-27T00:00:00Z
Excellent experience. Great communication throughout. Beautiful home, clean room and facilities. Warm and welcoming. Great location. Recommend this lovely home.
Bhav
2017-03-28T00:00:00Z
We just stayed overnight, but everything was as described, clean and comfortable. Definitly good value.
Gorazd
2017-03-07T00:00:00Z
Very comportable and clean house. Also the pool is very nice. I hope to visit again if I come to noosa.
Jooyoung
2017-03-18T00:00:00Z
Justine's house is beautiful place in Noosa. She and her lovely family welcomed us warm hearted. We felt comfortable and can recommend the room to everyone.
Jens
2017-03-07T00:00:00Z
Great location, friendly host.......perfect!
Rita
2017-03-13T00:00:00Z
Too many great things to list!!! Justine and her family are so nice, friendly and accommodating! Such a nice home, a great room and it was a great fit for us. Smiles all around. Excellent host. Excellent house. Excellent neighborhood.
Kevin
2017-02-15T00:00:00Z
Room Type
Private room
---
Property Type
House
---
Accommodates
2
---
Bedrooms
Noosaville, QLD, Australia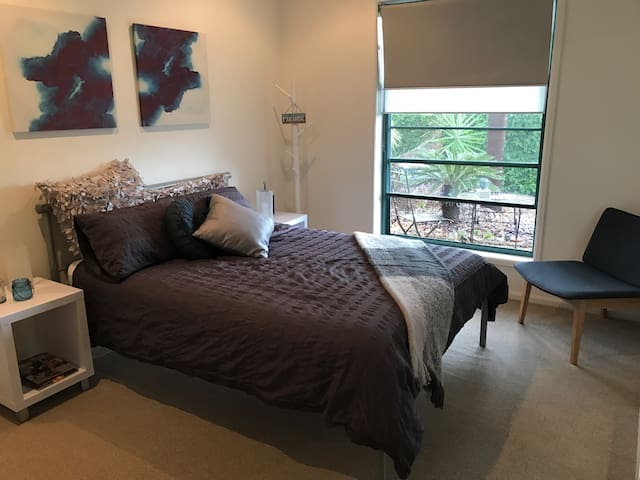 The spacious master bedroom is in a Vegan home, so if you enjoy a plant-based diet & care about animals and the environment, then this could be the perfect place for your next getaway. The comfortable and private bedroom is in the rear of a quiet tropical garden, and has both an ensuite and walk in robe. You can enjoy a short walk to the beautiful Noosa River and its many cafes and restaurants. Centrally located with easy access to Noosa Main Beach & Hastings Street.
The spacious bedroom is on the ground floor and is light and airy, with a ceiling fan. Closing the blinds makes for a great sleep-in opportunity in the quiet location. The room includes a private ensuite and separate walk in robe.
Noosa is a beautiful part of the world - where would you rather be than a gorgeous sunny beach in our lovely weather?! There is so much to do in and around Noosa; just ask me...
My partner and I had a lovely stay in Jo's home. We had just got off Fraser Island and needed a hot shower and a comfy bed and we 100% got that. Jo was so welcoming and friendly. She prepared a delicious breakfast for us in the morning with fresh fruits, yogurt and toast. I would recommend anyone to stay with jo!
Holly
2016-10-02T00:00:00Z
Thanks for the breakfast and everything, Jo. Jo provided everything we need. If you seek for a place you can have a deep sleep and easily to access to the hasting street, Jo's place will be a smart option.
Diana Hua
2016-11-27T00:00:00Z
Jo was there to greet us when we arrived late in the afternoon. She showed us where everything was and answered all our questions. Jo is a warm and welcoming host. A simple yet delicious breakfast was provided which was appreciated. The room is modern and clean. The bed was comfortable and the en-suite is a welcome bonus. Jo is easy to talk to and we enjoyed our brief stay very much. I have no hesitation in recommending Jo's place to any single person or couple.
Julian
2016-10-04T00:00:00Z
We had a great stay in Noosa. Jo was welcoming and her house is lovely. Good location and enjoyed the walk to the beach - would definitely reccomend!
Lulu
2017-04-02T00:00:00Z
Jo was really nice and accommodating regarding our arrival time. The neighborhood is calm but centrally located and the room is confortable with a private bathroom. Jo served us an excellent light breakfast with fresh fruits.
Marion
2017-03-15T00:00:00Z
My boyfriend and I stayed here for 3 nights and had a fantastic time! The house is spacious and very clean, as was our room and en suite. Jo was the perfect host, she gave us lots of ideas of things to do in the area and prepared a delicious breakfast each morning :) we would happily stay again and would definitely recommend to others.
Rachel
2017-01-29T00:00:00Z
Lovely place to stay, spacey, clean, nice energy, located in a quiet and nice area. Jo is very friendly, warm and helpful host. We recommend 110% this place to have a nice stay at Noosa.
Paula
2017-03-13T00:00:00Z
Jo's place was the best air bnb we have ever stayed in. She was very welcoming and had a lot of great information and suggestions about what to do in Noosa. We really appreciated the brochures and magazines in the room. The room was very spacious and clean. It was also very quiet which was nice. The patio area was also very enjoyable. Jo provided a delightful breakfast in the morning and answered any questions we had. All in all a great experience we wish we could have stayed longer!
dominic
2017-01-16T00:00:00Z
Room Type
Private room
---
Property Type
House
---
Accommodates
2
---
Bedrooms
Noosaville, QLD, Australia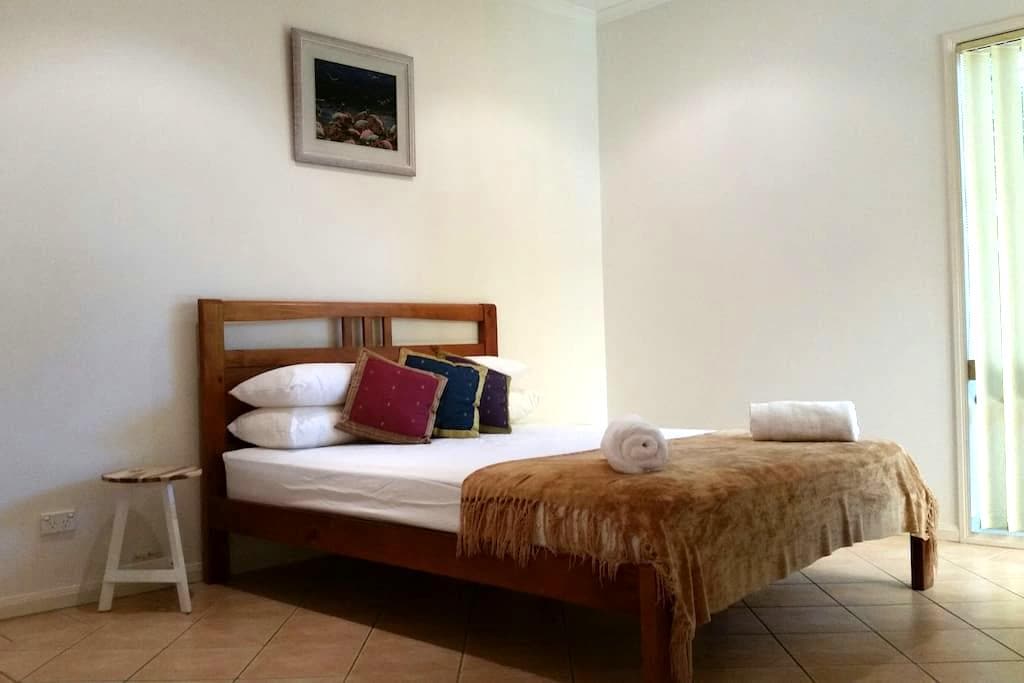 The room is at the front of the house and you have your own entrance . Own ensuiet with large shower Sitting area off bedroom through timber french doors on small deck surounded by palm trees and shrubs Peacefull room would suit business travellers and couples . And only 5 minutes by car to the hustle and bustle of noosa river and restaurants
The room is a comfortable room Own private deck off room Own bathroom Has * TV FOXTEL * Fridge ,microwave,toaster,jug, coffee machine tea and coffee all crockery and cultry in room
Peaceful area backs onto lake
Great host, informative and hospitable.
David
2017-03-12T00:00:00Z
Room Type
Private room
---
Property Type
House
---
Accommodates
2
---
Bedrooms
Noosaville, QLD, Australia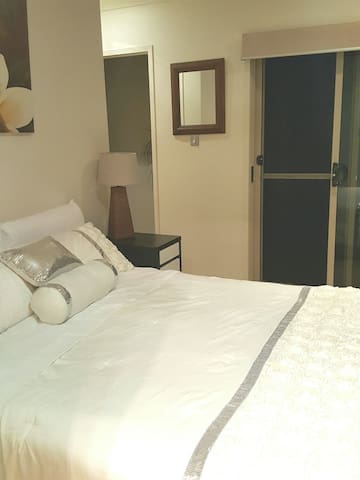 Lovely large modern home close to river. Queen size bed with quality linen, own ensuite . Your private lounge with TV, DVD's and selection of books. Enjoy the use of the pool and outdoor area .Walking distance to Gympie terrace and river. We have listed our two rooms separately but would like to assure you we only accept one booking at a time making you the only guests, unless you are traveling with another couple and using both bedrooms.
Large bedroom with comfortable queen size bed and quality linen. Ensuite with shower and toilet complete with large fluffy towels, shampoo and shower gel. Beautiful spacious lounge will be for your exclusive use where you have a choice of TV, DVD's, CD' s and a selection of books. Make yourself a cup of tea or coffee at your leisure. You are very welcome to use the pool and outdoor area
A lovely 15-20 minute walk gets you to Gympie Terrace which is lined with beautiful restaurants, cafes and retail stores. Catch the Ferry here to either Tewantin or Hastings Street. Hire a boat, paddle board or bike along the river. Supermarket 10 minutes walk. Walk across the road to sit and enjoy the canals
Our stay with Cheryl and Gus was amazing!! They welcomed us into their home with open arms and were so accommodating. We enjoyed getting to know them both and hearing their suggestions for places to go for dinner. The bedroom was great. Just as the pictures showed but better. The little touches Cheryl provided, like the butterscotch lollies on our bedside table and the bottle of water for each of us was just so thoughtful, as were the amenities in the adjoining ensuite. The bed itself was super comfortable, which for us was so important, considering my back problems and the fact that we had driven for 11 hours that day! Cheryl and Gus even gave us our own space to hang out- our own private lounge room to watch tv or read a book. Because we only stayed a night we didn't get a chance to use it, but it looked super comfy! Breakfast was laid out for us before 6am as we were leaving early and we just want to thank Cheryl, for waking up early just to accomodate us. Thanks so much! We'll definitely be back on our next visit to Noosa!
Marie
2017-01-11T00:00:00Z
Comfortable, kind and nice
Yunjun
2017-01-12T00:00:00Z
Wonderful home and hosts. Extremely comfortable bed, the best so far at airbnb's. Cheryl and Gus were very welcoming , friendly and helpful with restaurant recommendations . The home and room is immaculate with great attention to detail. Breakfast was beautifully presented and more than adequate. We hope to return on a monthly basis and highly recommend this property.
Theunis
2017-01-09T00:00:00Z
Cheryl's place is clean, spacious, centrally located and accurate on what's written here. Close drive to the bustling and trendy Hasting Street and Noosa Main beach. Very accomodating, beyond hospitable and knows a lot of local knowledge for recommendations. A well recommended place to stay when travelling to Sunshine Coast / Noosa Area.
Mikhail
2017-01-20T00:00:00Z
Cheryl and Gus are very friendly hosts. They're both very welcoming and have such an amazing home and private room to stay. They have a Very comfortable bed and the description of the home was 100% accurate. They're very hospitable and the breakfast was more than enough and very presentable. I would say it was better than a hotel. We Appreciated their hospitality and I felt we got more than what we paid for. I Would recommended anyone to stay as I defiantly would go back to stay there again. Suitable for couples, families. Very good location too. Thanks for everything it was perfect.
Jodie
2017-01-15T00:00:00Z
Cheryl and Gus are super friendly and welcoming hosts. We felt very comfortable and at home in their wonderful place. Great communication, helpful tips about where to go and how to get places. Their house is truly stunning - amazing bedroom with en suite bathroom, relaxing outdoor patio area with swimming pool and delicious (and huge!) breakfast. Bit of a walk to get to main beach in Noosa (30 mins) but pretty close to gympie terrace for eating out or grabbing paddle boards / kayaks. We would definitely stay again. Loved it! Thanks for having us Cheryl and Gus
Julia
2017-01-23T00:00:00Z
Cheryl's place is just lovely. It is a spacious, immaculately clean house and the bedroom is a good size with everything I needed. The bed is extremely comfortable and is dressed with beautiful crisp white linen which was a joy to sleep in. You also have a nice lounge to relax in if you choose however I went out for dinner and on return spent an hour or so chatting to Cheryl. She is a very gracious host and I will definitely return. The icing on the cake was the abundant healthy breakfast. The best I have had in any AirBnb accomodation! Looking forward to next time.
Vicky
2017-03-22T00:00:00Z
Room Type
Private room
---
Property Type
House
---
Accommodates
2
---
Bedrooms
Noosaville, QLD, Australia
Enjoy your own private room with king size bed, ceiling fan, ensuite bathroom and walk in robe. Bus stop right outside takes you to Noosa Civic Shopping Centre, Noosa Junction, Noosa Heads and cosmopolitan Hastings Street.
Comfortable home with galley kitchen you are welcome to use. Lovely deck, lawn and courtyard areas to enjoy a cuppa and the local birdlife.
Peaceful area surrounded by rainforest.
My other accommodation fell through, so I just needed a place to stay for a night. Irene was easy to deal with, it's a very quiet neighbourhood and the huge bed was really comfy. Best nights sleep I've had all week.
Guy
2016-05-16T00:00:00Z
Super comfortable, king size bed and a welcoming host who cooked us Anzac biscuits for Anzac Day. A bottle of wine and fruit on arrival was very nice. The bedroom with ensuite allows for a quiet escape.
Ryan
2016-04-26T00:00:00Z
Irene's B&B room was totally adequate for what we needed which was a place to have a sleep. She did provide breakfast but as we had to get away early we did not indulge
Bruce
2016-05-02T00:00:00Z
Very nice stay. Friendly and hospitable. Very comfortable room.
Alwyn
2016-04-18T00:00:00Z
Listing was accurate, felt relaxed like at home, thanks Irene for sharing your home.
Igor
2016-04-06T00:00:00Z
Room Type
Private room
---
Property Type
House
---
Accommodates
2
---
Bedrooms
Noosaville, QLD, Australia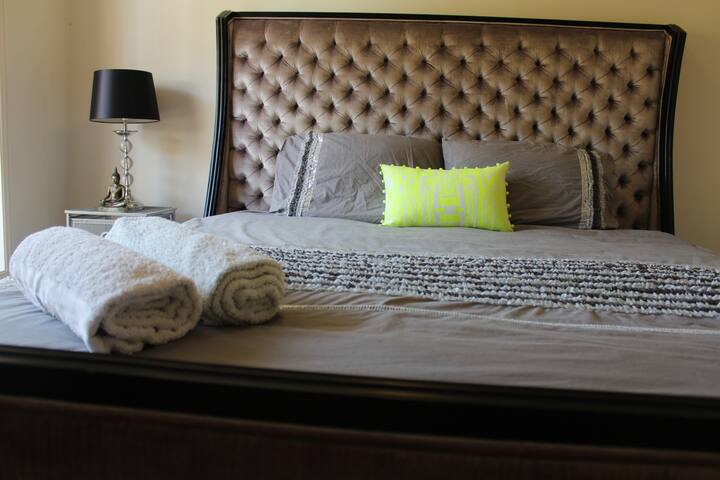 Hello! For lease is our master bed and ensuite with private courtyard. Private entry, separate from main dwelling. Large robe space and drawers. Microwave, bar fridge and kettle provided. Just a short drive to Noosaville waterfront and Noosa Heads. Enjoy the best of the Sunshine Coast right at your fingertips.
Room Type
Entire home/flat
---
Property Type
House
---
Accommodates
2
---
Bedrooms
Noosaville, QLD, Australia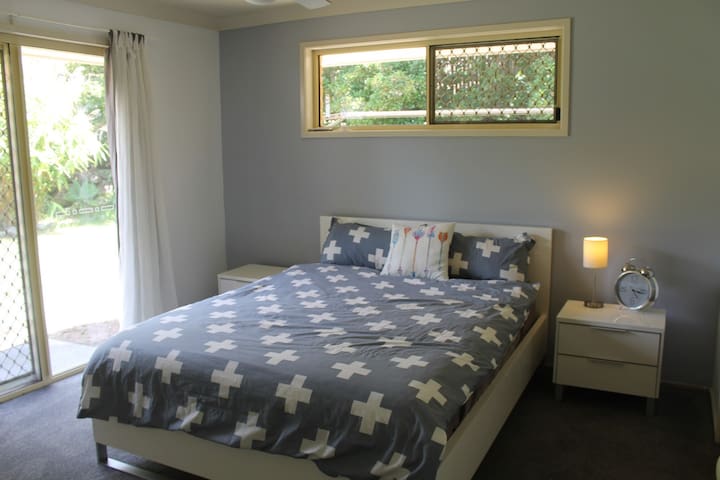 - Our lovely space is connected to our home however is completely private via a single connecting door which stays shut. You have private access to the space via its own external door. - A lounge with sofa, TV, table & chairs - Laundry/Kitchenette(basic) with fridge, microwave, toaster, coffee machine, kettle, tea & coffee supplies. Note: You don't have a stove & oven in this space, it is not a full kitchen. - Outside undercover area with BBQ, clothesline, table & chairs, grassed area
- Air conditioning in the 2 main bedrooms filters through the entire space and stays very cool on hot days - Built in wardrobe in each room - Ceiling fans in all rooms inc. lounge - Private bathroom with separate shower, bath & hair dryer - Seperate toilet from bathroom - Butt bins provided outside for smokers please be considerate and smoke away from windows and doors - Washing machine and clothesline provided - BBQ Area with 6 seat table for meals outside - Outside lounge area to relax in
- 4min (3km) drive to Noosa Civic where you will find shops & supermarket - 6min (5km) drive to the Noosa River/ Gympie Terrace where you will find many great restaurants. - 10min (9km) drive to Hastings St/ Noosa Main Beach with great shopping, restaurants & the famous Noosa Main Beach. - 30 minute drive from Sunshine Coast/Maroochydore Airport - 1.5 - 2 hour drive from Brisbane Airport (depends on traffic) - Lovely bushland walking tracks nearby (start 20m from property) - Many restaurants, bars and shopping only a few minutes drive
Perfect and friendly houseowners! The accomondation is also excellent! We really enjoyed the stay here and will choose this room again absolutely if we visit there again!
Hao
2017-02-05T00:00:00Z
A really peaceful and quiet area. You'll definitely need a car, but easy to get to shops. A quick 15 mins to Centre of Noosa. Brooke was welcoming and gave great description for keys etc. No kitchen for coming, just minor food prep, but perfect for us as we loved the BBQ area.
Esther Kelly &
2017-03-26T00:00:00Z
Perfect Airbnb experience. Lovely house in a beautiful location. Brooke and Ty made us feel very welcome in this immaculate home. The rooms are well sized and you have access to the alfresco in the peaceful landscaped gardens. A hire car is recommended so you can get the most out of your stay, with Gympie Terrace and Noosa a very short and easy drive away. The local shopping centre (Noosa Civic) is also really close which is handy. Overall a great stay, great hosts and great location. Thanks very much. :)
Warren
2017-03-01T00:00:00Z
It's a very nice place and I had a wonderful stay with my family. The apartment is super clean and Brooke and Ty are very nice host. Would come again for a stay at noosa!
Sebastian
2017-01-08T00:00:00Z
Brooke opened the door for us on our arrival with a lovely smile and showed us around. Since that, our stay was just great. Brooke & Ty prepared everything you need to have a perfect AirBnB without the air but a very comfortable mattress instead. I stayed there with my whole family and we had enough room for all of us (4 people). The "kitchen" isn't big but enough for making a small breaky. The garden and the whole house is just stunning. It was very clean and organised. With a car you are in 10-15 minutes at Noosa Head. Thanks again guys.
Barbara & Jonathan
2017-03-22T00:00:00Z
We had a great stay at Brooke and Ty's. There's a nice park to go for walks just outside the house. Tge house was clean and tidy, a bit warm but ceiling fans did help. Check in was easy and we met Brooke in day 2. Glad we had a car to get around. The bbq area was great. Will recommend.
Sophie
2017-01-29T00:00:00Z
We are two 'senior' couples who enjoyed staying at Brooke and Ty's place. It was great to have two queen beds in two bedrooms plus there is a third bedroom with twin beds if required. There are ceiling fans in bedrooms and loungeroom which were appreciated during our stay during very hot weather. Bathroom was great...nice to have a bath if you want one. The low maintenance garden will be a great asset as it grows and provides more shade.
Jo & David
2017-02-11T00:00:00Z
Brooke and Ty's place was very clean and very modern while offering all the equipment needed to enjoy a summer getaway. The whole place was very new and although we had no oven or cooktop, the BBQ was more than adequate compensation. Only downside is that the busses are just running until about 5 so a car is advised. We would love to come back!
Anna
2017-01-23T00:00:00Z
Room Type
Entire home/apt
---
Property Type
House
---
Accommodates
6
---
Bedrooms
Noosaville, QLD, Australia
Noosaville - Airbnb
:
Average

4.95

out of

5

stars from

667

guest reviews
1

–

18

of

300+ Home Rentals
Enter dates to see full pricing. Additional fees apply. Taxes may be added.