Escape from the ordinary! Take the spectacular drive to the Petrolia Guest House on the remote 'Lost Coast' of Humboldt County, California. Formally known as 'The Lost Inn, we are located in the hamlet of Petrolia, just a short walk to the general store and three blocks to the one and only restaurant/bar in our remote valley. We offer a spacious three room suite in the front part of our home, with its own private entrance. It has its own garden with a lovely pastoral view. There is a large bedroom, sun room/bedroom and a glassed in kitchenette porch that overlooks the garden. The bedroom includes a large velvet couch as well as a miniature antique piano. We are one mile from the pristine Mattole River that wends its way through our valley. It affords visitors lovely swimming holes through the summer and fall, and canoeing, river rafting and catch and release fishing through the winter months. We are just 6 miles from the Lost Coast beach which offers tide pools and beach combing. Watching whales and sunsets are a popular pastime. The Lost Coast Beach happens to be the northern end of the Kings Range National Conservation Area and the trailhead of the popular 25 mile Lost Coast hiking trail. This trail is one of the few coastal wilderness hiking experiences in the United States. It is just a short walk to our Mattole Valley Community Center across the street from the elementary school. It offers several weekly classes in yoga and chi gong. Guests could also make an appointment with several very accomplished massage therapists, physical therapists and acupuncturists. There is also a Sunday farmers market there. We are pet-friendly, and will allow your pet to stay on the glassed-in porch next to the bedroom. However, we require a $10.00 fee per night for your pet to stay here. We also have two child-friendly cats and one small dog. We are also wheelchair accessible and have wi-fi available. Some of our guests visit us touring on bikes or motorcycles since we are located on a scenic road loop, about 75 miles long (Rte. 211), between the Victorian village of Ferndale and Humboldt Redwoods State Park just off Hwy 101. Please note that we now have an ATM machine in the Petrolia general store. There is an extra cleaning fee of $40.00 required for 5+ night stay.
Beautiful property with more than accommodating hosts. Phil and Gail were a pleasure to meet and were very helpful in making suggestions for where to go, what to eat and see. If you're looking to get away from the hustle and bustle of the city, this is your place!
Travis
2015-10-12T00:00:00Z
My son and I had been guests at the Lost Coast Inn 5 years ago, so we knew exactly what to expect. The accommodations are quaint, unique, quirky, cute, and comfortable; but not for everyone. There are dozens, or a few thousand, knick-knacks of every sort EVERYWHERE in the suite, from little statuettes to inspiring bathroom posters, what looks like an ancient x-ray tube, interesting and locally written books, hats and ties displayed variously, old-fashioned stove and oven used for decoration (there ARE kitchen facilities that work just fine), a piano, a side deck with tons of gadgets, toys, and things you will never see at a Holiday Inn - fun stuff, but really an odd collection!! There are areas of the kitchen and front bedroom where vines have grown into living space. Years ago, there was a vine growing up from under the kitchen sink along side the drain pipe. Just part of the ambiance. There is a shed adjacent to the property that contains what seems to be the world's largest collection of discarded mother-boards and other computer paraphernalia. Pretty trippy! None of this puts me or my son off in any way. However, it would put off anyone who doesn't enjoy anything other than a well appointed Westin hotel room with flat screen TV, (Did I mention there was no TV, radio, phone line, or whirl-pool bathtub?? There IS however, WiFi access. Go figure.), a balcony with million dollar views, available-for-purchase sparkling water, scotch, wine, fritos, and one of those beds where you could park your cabernet ON the bed, have sex two feet away, and never spill a drop. In other words, primo yuppy digs. The Lost Coast Inn is the not-Westin place tucked away in a very beautiful part of California that only 17 non-Petrolia residents in the rest of the state know about. Luckily, I'm one of them, and I don't even live in CA anymore. I found out about Petrolia because said son helped build a cobb house there one summer 5 years ago. (If you know what a cobb house is, you are probably one of the 17 folks above.) The nearby coast line is fabulous, and no one knows about it that doesn't live there, except for the Lucky 17 group, and me. Unspoiled, breathtaking, completely un-exploited in any way, and un-sullied by anyone except 17 campers and back packers (see above). I admit I did leave some righteous foot prints in the sand, but only at low tide so they'd be washed away before Trump could find it and put his name on the place. Anyway, if you want to have a really memorable experience, and are willing to drive 80-90 miles of truly crap roads to get there and back, I would encourage you to send your application to the Lucky 17 group and get your visa. You won't be disappointed. BTW, Gail is great. Didn't see Phil this time.
Frank
2016-03-26T00:00:00Z
We enjoyed staying here! A wonderful base from which to explore the area.
Pippi
2015-03-30T00:00:00Z
BThe good: Nice, clean and spacious rooms, very well prepared. Nice to Talk with Phil and a huge collection of many items, definitly an interesting home and unique. The bad (for us): its somewhere in the nowhere. Some people will love it, some not. It takes at least 1h from Ferndale, all other directions more. And there are really bad roads: Windy, bumpy, lots of potholes with unpaved sections. Nothing you apprechiate when you go around for some days in this area.
Johannes
2016-07-17T00:00:00Z
Every bit as idyllic as it looks: a private, beautiful space with its own garden, kitchen and sun room looking out on pastures and gorgeous hills. The décor is eclectic and fun, with cool little surprises in every corner, and Phil and Gail were wonderful hosts (we only met Phil in person, but talked to Gail by phone/email). A bit about the location: this is the heart of the Lost Coast -- truly remote, about 1.5 hours over steep, narrow (and incredibly scenic) mountain roads. It's a great place from which to access the Lost Coast trails, which are easily worth several days' exploration; it's a little tougher for the redwoods (unless you visit on the way in or out, but don't go back and forth). Also, while there's one local restaurant and the general store is pretty well-stocked, shopping in advance will make life easier. The kitchen is small but has everything you need to prepare simple meals, and it's worth it.
Marion
2014-03-27T00:00:00Z
We loved our stay at the Petrolia Guest House! The photos don't capture the charm of the place. We would have been happy to stay much longer. It was very comfortable, relaxed and cozy. Gail was there to meet us when we drove up and was available if needed, but otherwise allowed us to feel as if the place was ours. We hope to return!
Kate
2016-11-08T00:00:00Z
Great, lovely space. Phil and Gail were so friendly and helpful. A bit off the beaten path, but a fun small town excursion. Would definitely stay here again.
Liz
2014-06-11T00:00:00Z
We had the best time in Petrolia and having Phil and Gail's place as base camp made it all the better. The garden right outside the kitchen/sunroom is private, beautiful and a great place to start one's day (we made it a point to each day, eat our breakfast out there and have wine and plums from the garden in the evening). The house is cozy and really well located; there's an amazing swimming hole right down the road and in the other direction, really easy access to the magnificent lost coast. Phil and Gail were really helpful in preparing for our arrival and once there gave us lots of tips on what to do and were super jovial and generous. If coming along with a dog, be aware that they have the cutest mousers in the whole world (kittens!) which might prove a might distracting for your canine friend (that said, our dog got used to them by the 2nd night--this shouldnt be a huge detractor but something to keep in mind!). If you dont have a dog be prepared to have the most adorable visitors ever in the evening. Seriously, these cats are crazy cute. We're seriously obsessed with Petrolia now and want to come back to Phil and Gail's soon!
Sofía
2013-08-25T00:00:00Z
Room Type
Entire home/apt
---
Property Type
Apartment
---
Accommodates
4
---
Bedrooms
Petrolia, CA, United States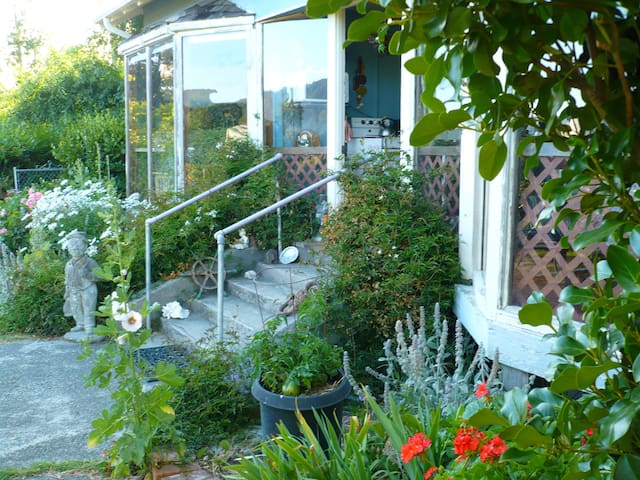 This is a simple and very clean private in-law studio with private full bathroom and private kitchen. I'd like to accommodate mindful people looking for economical, basic, "down-to-earth" and peaceful place to call it home away from home. If you compare to stylish, "tasteful" hotels/resort, you'll be dissatisfied. I try keeping the place inexpensive by not adding extra furnishings. My place is for people who enjoy hiking in redwood forests, wandering on farmlands or pondering at Lost Coast.
部屋はLDK に 浴槽、シャワー と トイレの部屋の 2つです。 キッチンには 大きな 冷蔵庫もあり ご自分で 料理ができるよう 整っています。 ベッドはクイーンサイズで 1つですが お子様用のマットレスも貸し出し可能です。
Humboldt has many farm lands and small towns. Old-growth forest in Headwaters Redwood Forest is accessible from our town guided by a ranger. (need to call ahead/no fee) Horseback riding is offered in our town. Also, antique shows, rodeos, classic car and beer festivals are held during summer. Spectacular Beaches and Lost Coast Trails are 10 miles west. Avenue of the Giants is 20 miles south. Elk Meadows, Tide Pools, and Fern Canyon are 40~60 miles north. Historical Town of Ferndale is 6 miles west, and cannabis friendly Arcata is 30 miles north. (for many activities, see 101 Things to do Humboldt/North Coast Journal)
The host canceled this reservation 3 days before arrival. This is an automated posting.
Allison
2016-07-17T00:00:00Z
Finding a place like this is true "Airbnb experience." We had a wonderful trip to Northern California without breaking our budget. The studio was conveniently located off of Hwy 101, clean and quiet. Highly recommended.
Michino
2016-08-13T00:00:00Z
We loved staying here while in Fortuna. Akino made us feel at home, and offered a complete set of amenities. Her home is absolutely beautiful and the room had a lovely view of lush greenery outside. We even saw a deer passing in the yard in morning. So cool. Thank you so much Akino!
Keesha
2016-07-10T00:00:00Z
Akino was very helpful but also very respectful of our privacy. Her little studio is cozy, comfortable, clean, and tidy. It is a good stopping place in exploring the redwoods and coast.
david
2016-03-12T00:00:00Z
Akino's basement studio was very clean and quiet. We were able to park off-street and had our own separate access. The bed was super comfy as well.
Rhianna
2016-06-07T00:00:00Z
Akino was there to pleasantly greet us. The studio was super clean and bright, with a comfortable bed, a great selection of literature, and even a fresh bowl of fruit. I wish we had stayed longer than one night!
Linda
2016-07-20T00:00:00Z
We only met Akino briefly when she showed us the room, but she seemed nice and welcoming. The room is downstairs in a separate area from the main house which you have no need to access because it has every thing you will need. The room is a fantastic self contained apartment which we were not expecting. It was very clean and the bed was super comfortable. We really enjoyed our stay here and would stay again if in the area.
Giles & Jenny
2016-05-22T00:00:00Z
We received great communication from the host including very helpful directions. The studio was large and very comfortable and looked out on a large lawn with many many trees. We even had a deer visit the yard to dine on some apples from her trees. Very quiet and easy to find. It was nice to return after a day exploring the region to a calm, relaxing place. The studio was very clean throughout and very chemical/scent free. The bathroom has a nice tub and shower and looks new. The host provided many helpful maps, brochures and guides to help us plan the next day's activities. A modern grocery store is about 2 blocks away; Fortuna is a small town and everything is close. The kitchen area is more than adequate with dishes and everything needed to cook. There is no microwave or TV which she clearly explained. You won't miss either one. Ferndale is close, Eureka is 15 minutes away, and Fortuna is worth exploring.
Robert
2016-08-01T00:00:00Z
Room Type
Entire home/apt
---
Property Type
Apartment
---
Accommodates
2
---
Bedrooms
Fortuna, CA, United States
Large Studio Apartment The apartment features a fully equipped kitchen, WiFi, High Definition LCD T.V., with Suddenlink Cable, gas heater, off street private parking, and LOT's of privacy. Also, enjoy a large hot tub in a privately fenced-in yard. One Queen bed.
Private and quiet escape while within 2 block walk to shops and restaurants on Main Street. Ferndale Museum a block away. If you have one or two more guests traveling with you, I have a queen size Aerobed mattress that others have used for kids and extra adults. Four is maximum for the studio apartment.
Only 2 block walk to Ferndale's Victorian Main Street. Quiet residential neighborhood. Five mile drive to Centerville Beach.
This was an amazing spot for a weekend getaway in Northern California. Stuart was a welcoming, warm and accessible host. He made himself available if we needed anything at all and was more than willing to provide recommendations in town. Ferndale itself is an adorable town and the apartment is a few blocks away from the downtown area. We will definitely be back!
Alex
2016-08-07T00:00:00Z
Stuart was an excellent host. He greeted us when we arrived and offered us suggestions on what to see in Ferndale. Communication was easy, and I appreciated his flexibility with the check-in & check out times. The rental is charming and comfortable with a lot of privacy. The hot tub is in a secluded nook in the yard, and was hot and ready to use. The location is right off the main drag in town, and the neighbors have sheep and horses that you can see from the deck. I loved staying here and would definitely recommend to anyone looking to explore around Humbolt.
Alia
2015-12-27T00:00:00Z
This was our very first Airbnb stay and it was wonderful, very relaxed and the reservation and logistics very easy to do...Stuart was the best host, (loved little Harry too) and I am encouraged to continue to use Airbnb in the future!!
Janet
2015-05-25T00:00:00Z
We ran the Avenue of the Giants Half Marathon and found this great apt in Ferndale. Stuart is an amazing host and he made sure that we were comfortable and enjoyed our stay. The post run recovery bath in hot tub was amazing. The apt comes with a fully stocked kitchen, pots, pans, plates, spices etc... It's very clean and well maintained. I would recommend this place if you are in the area. Ferndale is a great small town and this apt is a perfect getaway rental.
Minesh
2015-05-04T00:00:00Z
Stuart was fantastic. He was great at communication both before and during our stay. He went out of his way to explain how the hot tub operates and to make sure we were comfortable and had everything we needed. He also described local restaurants to us so we had a local's take on what was the best place to have dinner. The apartment was spotless and looked like it had just been remodeled, but I believe it had been done years previous to our visit.
kurt
2016-11-26T00:00:00Z
Stuart's place was perfect for a small getaway for my husband and me. It was very comfortable and feels very private. It has everything you could possibly need, including a well-stocked kitchen (minus the food, of course), towels (even robes!), and toiletries. Stuart really thought about every detail and amenity. He was also very communicative, and would get back to me almost immediately if I had any questions. We especially loved his hot tub and the deck. The location is also great — just two blocks from the main drag.
Stephanie
2016-08-24T00:00:00Z
Stuart's place is private and very comfortable and Stuart is an exceptional host. We had a wonderful stay here and would highly recommend this airbnb listing to others.
Phil
2016-05-31T00:00:00Z
This studio is a quiet, conveniently-located place for a single traveler or couple. The unit is well appointed and the gracious host Stuart made sure all my needs were met. The unit is clean and very well maintained. The furnishings are comfortable and staying here felt more like 'home' than any hotel. In my opinion, if you are visiting Humboldt county, stay in Ferndale. And if you are staying in Ferndale, stay at Stuart's place. I loved it so much, I think I might be knocking on his door again next fall (or sooner?). Thank you, Stuart.
Joey
2016-10-29T00:00:00Z
Room Type
Entire home/apt
---
Property Type
Apartment
---
Accommodates
2
---
Bedrooms
Ferndale, CA, United States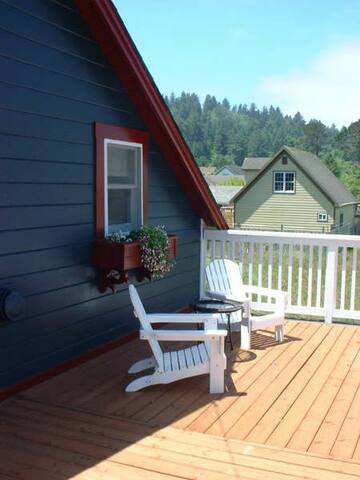 Home Base for the Redwood Coast. One bedroom luxury apartment, just a block or two to all shops & dining. King bed, Claw Foot Tub plus shower, Full Kitchen, big screen TV. Explore the beach, the Redwoods, and more.
This suite features, among many other things, an elaborately carved king bed, a full modern kitchen, a large flat screen TV, your own computer work station (with printer), a roll-in shower, a claw foot tub and very elegant designer appointments. The Living Room hosts a sofa and a nap inducing rocker / recliner easy chair. You will also receive daily maid service. The highly rated VI Restaurant is right next door for your dining convenience, too. You will enjoy a full breakfast there daily, selected by you from the menu,
The location is ideal for exploring the Victorian Village of Ferndale and its environs. It's also a great base for visiting the Avenue of the Giants, Humboldt Redwoods State Park, and to the north, Redwood National Park. There's many great beaches nearby, and local festivals and events abound. THIS PLACE IS MAGICAL!
Lowells place was awesome. We stayed in Anna's room and it was very large and comfortable.
Dave
2016-08-06T00:00:00Z
Ferndale is a unique find up in the north-west corner of California and the Victorian Inn is a great find. My husband is on a very restricted diet so, we needed a place with a kitchen. Anna's suite was as good as it gets. nice, pretty well equipped kitchen, lovely decor and a GREAT bed. The staff is friendly and helpful and the chef at the restaurant was able to accommodate our needs so were able to enjoy one one great meal, without having to cook it. Walks around town were super and the trail in Ross Park just perfect. Thanks for a great stay.
Corwin
2016-12-28T00:00:00Z
The host canceled this reservation 4 days before arrival. This is an automated posting.
Michael
2016-06-28T00:00:00Z
Lowell was the perfect host and made us feel so welcomed and at home at his Inn. Anna Suite was luxurious and every little detail had been thought of and accommodated for. We felt like a king and queen staying there and the bed was extremely comfortable, the room was quiet, away from the other rooms, and curbside. The food was excellent both for dinner and breakfast and we were pleased in every way. Overall it was a great experience and we will definitely be back and recommend this place to our friends.
Camy
2015-06-01T00:00:00Z
Lowell made us feel welcome and special. The town of Ferndale is absolutely charming and beautiful. The Victorian Inn is gorgeous.
Lottie
2015-10-15T00:00:00Z
Lowell was an excellent host, and made sure to follow through with everything a guest could hope for. He checked in on our comfort level but was never obtrusive and truly made us feel welcome in this very charming old world Victorian village along California's famous 'Lost Coast'. We were lucky enough to catch the beginning of a hundreds year old tradition: the Portuguese festival's parade; a rendition of the legend of Queen Isabella's gift of food to her starving peoples. Lowell recounted how as a boy he carried the train of Fernwood's Queen in the parade, and how watching the parade affects him still...this is real California history... Be sure to experience it.
Christine
2015-05-24T00:00:00Z
We stayed for one night, but wish we could have been there longer! The suite was spacious and beautiful. I highly recommend it, and do plan to stay long enough to explore Ferndale.
Bob
2015-08-09T00:00:00Z
We stayed in the Anna Suite. The suite was three rooms with a full kitchen and large and gorgeous bathroom, complete with a claw foot tub. Super private. The entire place was stunning and beautifully appointed but it didn't quite have the victorian feel that the rest of the hotel has. It's right next to the hotel with its own private entrance on Main Street. The hotel itself is stunning, a jewel of Main Street. If you wander upstairs you can find photos of the hotel from the late 1800s. The restaurant and tavern are beautiful and period appropriate. We had dinner at the restaurant, VI, and the food was pretty good and the service excellent. Breakfast the next morning was just as good. We had excellent service from Zachery who checked us in and out and who brought stuff that we needed to our room. He made great suggestions as to things to check out around town. Lowell, the owner, was very welcoming and amiable and knowledgeable about events in the area. We will gladly come back but next time will take a room in the hotel proper. It was a wonderful suite and we'd highly recommend it.
David
2015-05-25T00:00:00Z
Room Type
Entire home/apt
---
Property Type
Apartment
---
Accommodates
2
---
Bedrooms
Ferndale, CA, United States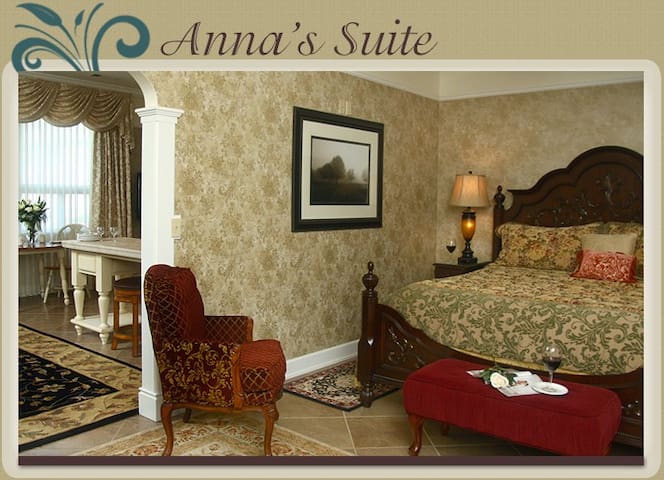 Cute, cozy and fresh. Rohner Suite is a brand new one bedroom apartment in Sunny Fortuna! Situated just minutes from shopping, the hospital, and Rohner Park. This one bedroom features all new appliances, furniture, floors and carpet and relaxing Aesthetic.
The location is a little awkward, but the inside was very comfortable and the little personalized touches were a nice surprise. I loved that they used local companies for many of the products in the unit.
Erin
2017-03-23T00:00:00Z
My husband and I were in town for short trip and needed a place to stay that wasn't a hotel. Staying at Mike's apartment rental was a fine alternative. It was located between two grocery stores, had a clean updated bathroom, and a cute little kitchen. They may check in and super easy which was great because we had a baby with us and having the key in the box that much easier.
Melanie
2016-08-21T00:00:00Z
Rohner Suite is set up really well, with all comforts and conveniences. The location is central, and although there is some noise from the main road, it's really not bad at all. Overall a great stay.
Mori and Greg
2016-12-28T00:00:00Z
We stayed here because it is close to our niece's farm. It was walking distance to the one grocery store. There isn't a lot in Fortuna, but if you need this location, this is a convenient rental.
Lori
2017-02-20T00:00:00Z
Room Type
Entire home/apt
---
Property Type
Apartment
---
Accommodates
2
---
Bedrooms
Fortuna, CA, United States
Petrolia - Airbnb
:
Average

4.76

out of

5

stars from

126

guest reviews
1

–

5

of

5 Apartment Rentals
Enter dates to see full pricing. Additional fees apply. Taxes may be added.