Cosy, Mediterranean colors, tastefully designed to give our guests a warm welcome in a typical Mediterranean house. 2 bedrooms, kitchen, living area / sofa bed, BGAN, a panoramic terrace for relaxation
The house has large, airy rooms, full marble bathroom, with bath tub or shower, with washing machine available. fully equipped kitchen with pots, dishes and everything you need for a good stay and finally the terrace, with its 70 square meters, with a stunning view of the Gulf of Naples, the sea, Vesuvius, the ruins of Pompeii and neighboring cities. Furnished with sun beds, tables and chairs, the terrace is a real moment of joy for guests, both for breakfast / lunch or dinner, but also for relaxation and as a solarium, given the very favorable exposure to the sun.
Very quiet neighborhood, panoramic, ideal for relaxation
Pietro was very accommodating! He provided a great stay for all of my friends and I. We had a meal prepared for us by his wife as soon as we arrived. He also gave us directions on how to get from Amalfi to his home via bus, and sent a car for us when we were dropped off at the bus. He was very welcoming and sat down with us after dinner to help us plan out the rest of our travels in Italy. On our last day we had a mini wine tasting on the balcony overlooking the coast and it was amazing! Many thanks to Pietro!
Julie
2016-09-28T00:00:00Z
Good place to start a trip to southern Italy. Not far from Pompeii and the Vesuvio. Amazing bella vista of the volcano. Extremely nice and caring hosts that really care about you having a great vacation (e.g. pizza delivery on the first evening). Apartment could be a bit cleaner, though. Especially when traveling with little kids that play on the floor a lot. But would still recommend it. The bella vista of the Vesuvio while having breakfast on the terrace is already worth it :)
Jakob
2017-04-01T00:00:00Z
What an amazing view! We loved sitting out on the terrace overlooking the Bay of Naples and Vesuvius. The house is spacious with plenty of beds, clean, and well equipped. Pietro is a great guy, met us in the Pimonte town square and showed us to the house. He picked up pizza for us on the first night as well, was the ultimate host.
Phil
2016-08-20T00:00:00Z
Pietro is a very nice owner. We didnt get to meet him (he sent his cousin to pick us up on the village main square), but I had the chance to talk to him a couple of time and he was very nice and tried to do his best. The villa is very nice. Very large (important if you are many guests), clean and with a stunning private terrace, large and with spectacular views of the vesuvio and the bay of napoli. Bad things were: - internet didn´t work (we called Paulo and he called the company but this didn´t solve anything). - there were leftovers and open bottles from previous guests on the fridge. - there was no hot water (which we didnt complain to him because we discovered that when we took the shower just before leaving the apartment and we only stayed for one night, but we saw a note from the previous guests complaining about it). Overall, for the potential guest I would reccomend to book this villa for its location (close to all the amalfi coast and sorrento vesuvio etc.) because of its stunning views, because I am sure Pietro is a good owner and simply wasn´t aware of the water and internet issue.
dan
2016-05-23T00:00:00Z
Room Type
Entire home/apt
---
Property Type
House
---
Accommodates
13
---
Bedrooms
Piazza-Tralia-Pendolo, Campania, Italy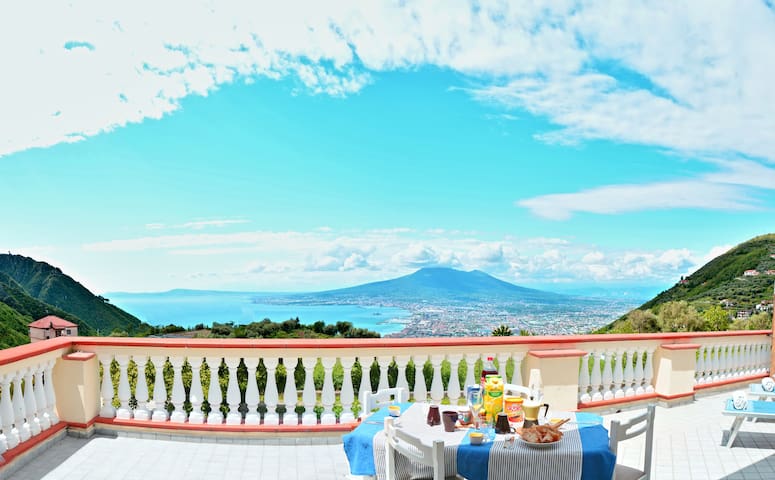 The we are on a main road but very quiet ... well connected with the natural beauty that is the most visited Naples Pompeii Salerno Amalfi Coast Positano, Sorrento, with railways and port our beautiful two-room apartment is located in Pimonte (NA) to reach the 'island of love Capri, Procida Ischia..Qui room Positano you can enjoy a beautiful wide and very bright room with double bed at your disposal there is a bathroom and cucina..c'è to enjoy a splendid view ! We wait
Room Type
Entire home/apt
---
Property Type
Apartment
---
Accommodates
8
---
Bedrooms
Piazza-Tralia-Pendolo, Campania, Italy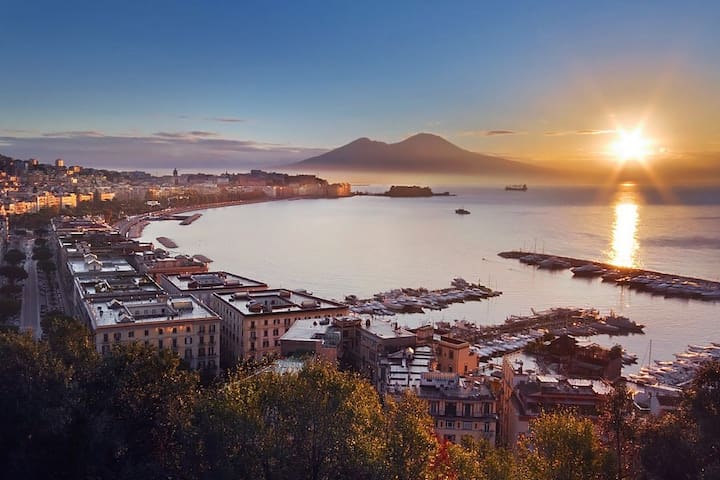 My accommodation is close to parks, restaurants, beautiful views and art and culture. My accommodation is suitable for couples, lone adventurers, business travelers and families (with children).
It is an apartment on the second floor of a building located 50 meters from the town center, renovated in 2014.
Room Type
Entire home/apt
---
Property Type
Apartment
---
Accommodates
6
---
Bedrooms
Piazza-Tralia-Pendolo, Campania, Italy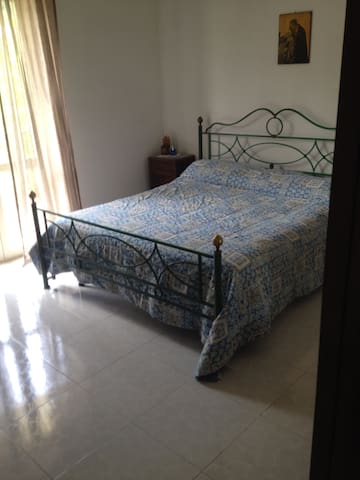 Housing solutions of Palazzo Lattari also include one apartment with two bathroom and lounge with fireplace, perfect for young travellers and many families who want to save; in fact, this solution can accommodate up to max. of 8 persons.
This apartment is located twnty minutes from the center of Pompei and more place in Amalfi Coast and Sorrentine Peninsula... located at Pimonte, quaint and quiet village surmounted by Lattari, enjoys an excelent area untouched and genuine thanks to the envoironment away from the chaos of the city
Ottima posizione per scoprire la Penisola Sorrentina e la Costiera Amalfitana
Room Type
Entire home/apt
---
Property Type
Apartment
---
Accommodates
8
---
Bedrooms
Piazza-Tralia-Pendolo, Campania, Italy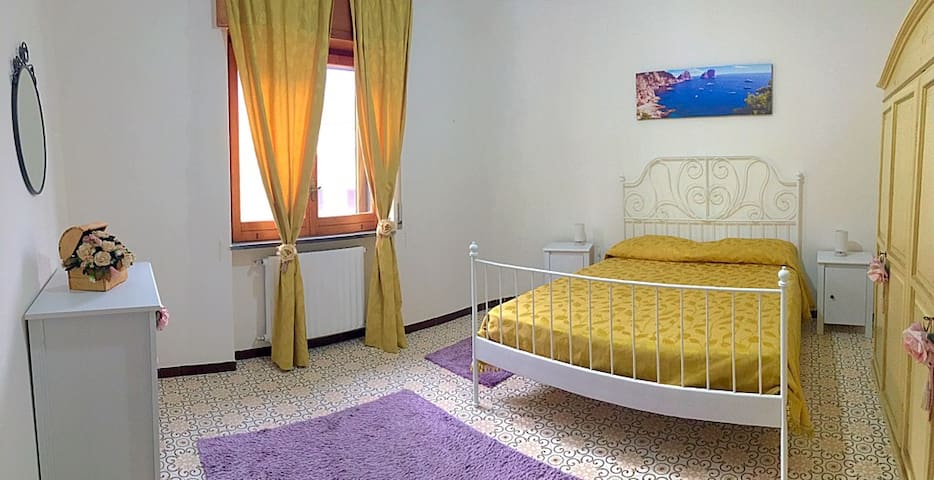 The apartment has a master bedroom with en suite bathroom, kitchen with a bathroom and balcony. (The apartment is equipped with TV, refrigerator, kitchenette, microwave).
The apartment is located in the ancient town of Tralia Pimonte, in an ideal position to reach the major attractions around the area. Recently renovated the house has well-equipped kitchen (dishes, microwave, refrigerator) with dining area, master bedroom with en suite bathroom, living area with sofa bed and a bathroom. A short drive away, a few kilometers you can visit popular places around the world for their beauty and history as Pompeii, Herculaneum, Paestum, Sorrento, Amalfi, Ravello, Positano and Capri. In the area, a few steps from the house, there are restaurants and Minimarket. Near the house there is a large space for parking, free of charge. The accommodation is also the ideal stopping place for trekking lovers, in fact you can easily reach the starting points of the "Path of the Gods" and the "Vallone delle Ferriere". Important information The prices are in euro. Check-in 14:00, check out by 10:00. The price includes taxes, cleaning fee on arrival, heating, bed linen and towels.
In the area, a few steps from the house, there is the Restaurant Pizzeria Da Silvia with a terrace overlooking the Bay of Naples, with a large parking lot where you can leave your car and two Supermarket. Near the house there are two large areas for parking, free of charge.
Appartamento completo e pulito. Ottima posizione per chi vuole visitare sia Napoli Pompei ed Ercolano sia la costiera Amalfitana e Capri. Il paese è piccolo però è ben servito. Sotto casa c'è un minimarket con tutto a ottimi prezzi. Consigliamo il ristorante "Da Silvia" dove si mangia bene ed è possibile lasciare l'auto. Buona anche la pasticceria Palummmo. Milena è davvero gentile!
Samuele
2015-08-10T00:00:00Z
все было хорошо и приятно
eduard
2015-07-07T00:00:00Z
Appartement propre, spacieux et agréable! Il est bien situé pour visiter Naples, Pompei, et la côté. Milena a été très arrangeante et disponible pour notre arrivée/départ et de très bon conseil pour notre séjour. Je recommande fortement!
Capucine
2016-08-18T00:00:00Z
Room Type
Entire home/apt
---
Property Type
Apartment
---
Accommodates
4
---
Bedrooms
Piazza-Tralia-Pendolo, Campania, Italy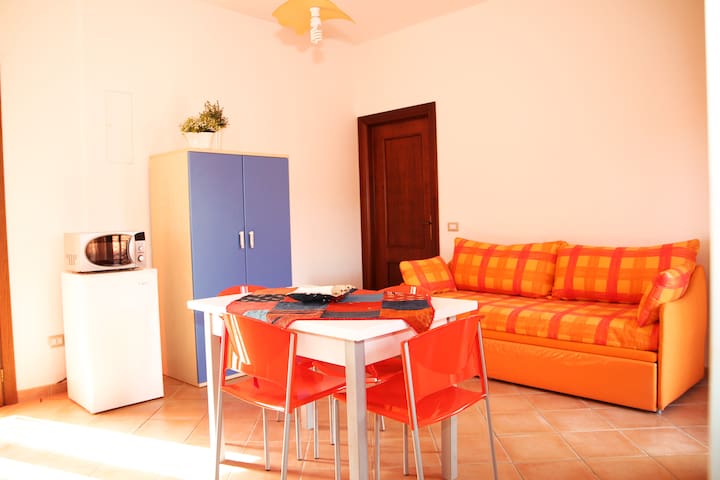 Small cozy house in the heart of the seaside, in Pimonte, a village a few steps from the best tourist towns in Campania. Kitchen, bedroom, bathroom, terrace and parking space: ideal for a holiday in touch with nature in a private setting.
Room Type
Entire home/apt
---
Property Type
House
---
Accommodates
4
---
Bedrooms
Piazza-Tralia-Pendolo, Campania, Italy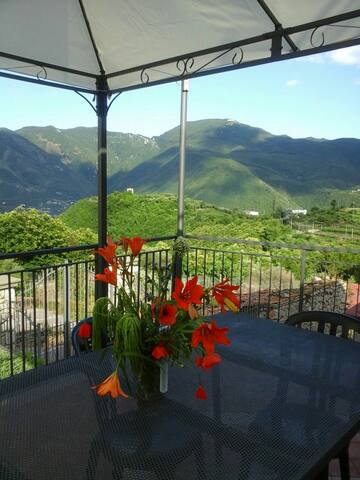 Casa Chiara is a graceful house which faces the sun and the sea. Casa Chiara is 75 square meters It can sleep 4 people. The apartment features 2 double bedroom,a comfortable bathroom, 1 Terrace ,3 tv, Internet WI-FI and air condition.
The Romantic room is located inside Casa Chiara. With private bathroom, private terrace and private living room The room is very spacious. There is a matrimonial bed (160 cm/62 inches, wider than a queen-size bed) In this room you will find a television,a closet, a small table to put the luggage, and table with iron The room does not have air conditioning,because is very cool in summer. There is a ventilator, ,but you do not need. From the bedroom you will be able to enter the terrace with unique and magnificient view of the sea ,through a French door. The terrace is 20 square meters(215 square feet) is equipped with a table, chairs and two sun lounger. From the terrace you will enjoy a splendid view of the sea, of Positano and of the Amalfi Coast. You will be able to enter the bedroom from the living room. The living room is bright and tastefully furnished. The furnishings include a sofa and a table with chairs for four people. In this room you will find a television, It is equipped with an air conditioning, WI -FI ,Kettle and microwave ( if you turn on the air conditioning in the living room, please close all doors ) Attention the apartment has no kitchen but it is equipped with a fridge,forks,plates ,glasses and napkins you can use: coffee , chocolate, barley,' yogurt, fruit juices,packaged croissants,jam and sugar THE BATHROOM has the shower, the sink and the WC. You will be able to enter the bathroom from the living room. you can use: shampoo and bath foam.In the bathroom there is a hair dryer to 10 meters of the house in the curve there is a local bus stop for the center of Positano ( square Mulini ) you'll see a small chapel with the saint. Center distance 1,8 KM Center sea 2 km From Casa Chiara climbing down 300 steps you can reach the Fornillo beach,and main beach Positano ( if you do not want to walk you can 'take the bus ) At less than 100 meters near Bar Internazionale there is the bus stop from where you can take the SITA bus to Amalfi, Ravello or Sorrento or the local bus to reach the main beach Marina Grande. Positano is divided into 10 districts: 1 CHIESA NUOVA ( is the most 'large area of Positano.) In this area there is the post office, the town hall,the police, finance man,grocery shop,, fruit shops, fish shop, and restaurants. My house is located in this area Total ban on smoking in the house.
I'd highly recommend renting a vespa to get around Positano and the neighboring towns during your stay. It's definitely the best way to get around the coast! (URL HIDDEN) will answer 'Pepe' tell him you're at my house my name michele de lucia
Michele is so nice and considerate. He took us a ride from sorrento which made us feel comfortable and moved. The apartment is very tidy, from the balcony you can enjoy wonderful view. We are so lucky to have chance to have a short stay in his apartment. And we are lucky to know him and his family, also the cute dog Will.
qiuwen
2016-04-01T00:00:00Z
Great apartment and a great host! Michele met me from the bus from Sorrento, and gave me great advice for visiting a getting around Positano. Good location and a great nights sleep in the well appointed and provisioned apartment. Nice and clean, good shower, Michele was even kind enough to lay on some breakfast provisions. Positano is lovely, quite expensive (taxis - wow! just wow!), but the buses are frequent and good value, just remember to flag them otherwise they go straight past!)
Oliver
2016-10-01T00:00:00Z
We had a really pleasant stay in beautiful Positano- Michele place is a lot more spacious than it looks- we had a lot of room and the most spectacular view over Positano. We really enjoy walking so this place was perfect to walk up and down the stairs and around the town- the location is also useful for many of the town buses Michele was very helpful and was always ready to help- he recommended two restaurants in which we ate at both of them. Thank you so much for your home- we had a great time
Zoe
2016-07-27T00:00:00Z
This place was cozy and had a beautiful view of the mountain area and the sea Positano is a beautiful place and Michele made sure we had all the information to be able to get around easily. He provides all that he can, in his place, to make his guest feel comfortable. From water to croissants,its the little things that made us feel welcomed when arriving to his place. A very kind host thatade our stay even better. Sure to go back and stay at his place again.
yanira
2016-07-06T00:00:00Z
Michele was a great host who was accommodating to all my requests and ever willing to help out with any information I needed to get around. Instructions were detailed and I had no issues getting around with Michele's help. The room was clean and the terrace had a very good view of the sea and coastline of positano. Definitely will recommend this place to anyone who wishes to stay in positano!
Feng Chang
2016-04-22T00:00:00Z
Of the 6 airbnb hosts I have ever had, Michele was the best by far. The buses are not so reliable in and out of Positano, but Michele went above and beyond to pick us up from, and drop us off at the train station. He personally did my laundry without even having to ask and checked in on us often to make sure we were as happy as can be. And we were! He leaves you much food and drink in the beautiful and spacious apartment. Positano is gorgeous from the terrace here, and I would recommend this place and host to anyone.
Zachary
2014-12-31T00:00:00Z
I have perfect time in Michele's B&B He was friendly and very helpful. the view of romantic room is perfect, so I will visiw his room next summer again.
gawon
2015-11-08T00:00:00Z
My husband and I stayed in Michele's apt for 2 nights. We loved everything there! The location was fantastic! From the huge balcony, we could see the whole village from the top. The house had everything we needed. And our host, Michele, greeted us at the bus stop, helped us carry the luggage, and showed us everything we needed to know in and around the house. He is a great host.
Yan
2016-08-24T00:00:00Z
Room Type
Private room
---
Property Type
Apartment
---
Accommodates
3
---
Bedrooms
Positano, Campania, Italy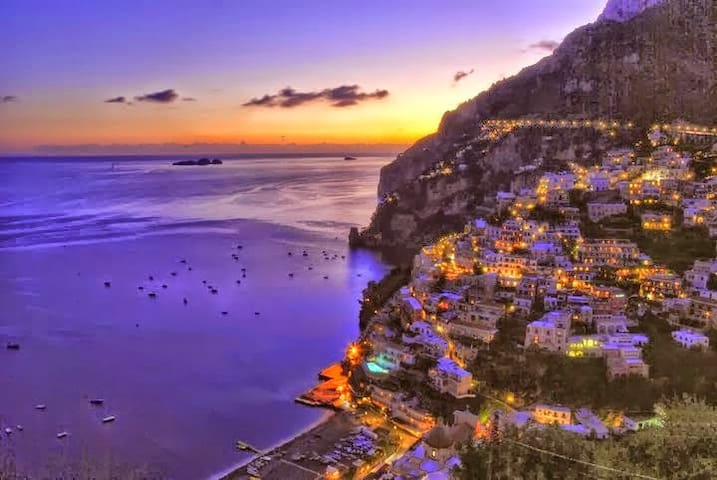 The we are on a main road but very quiet ... well connected with the natural beauty that is the most visited Naples Pompeii Salerno Amalfi Coast Positano, Sorrento, with railways and port our beautiful two-room apartment is located in Pimonte (NA) to reach the 'island of love Capri, Procida Ischia..Qui room Positano you can enjoy a beautiful wide and very bright room with double bed at your disposal there is a bathroom and cucina..c'è to enjoy a splendid view ! We wait
Room Type
Shared room
---
Property Type
Bed & Breakfast
---
Accommodates
2
---
Bedrooms
Piazza-Tralia-Pendolo, Campania, Italy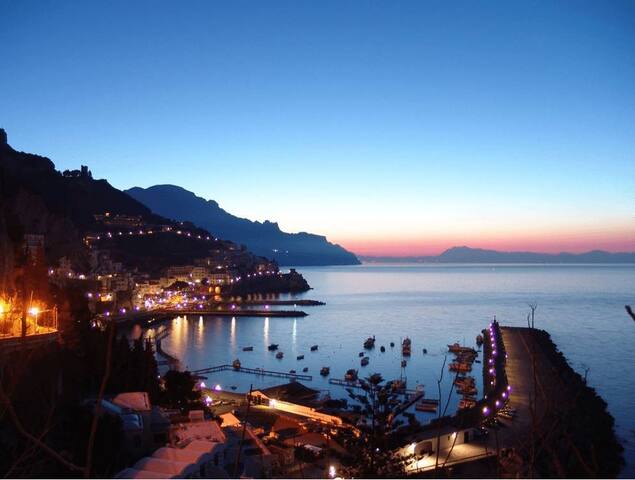 bedroom with bathroom and private terrace with amazing sea view , basic service frigo , included breakfast, situated in a green park . place for trekking ,for relax, for visit positano , capri , amalfi coast , close to good restaurants
Positano is a popular tourist destination known to everyone, and everyone knows the "postcard" ... but not everyone knows that there is a small piece of paradise .... The "Villa Sofia", a Bed and Breakfast of recent feature, completely immersed in nature and surrounded by breathtaking views of Positano is in the upper fraction, "Nuts" to 450 meters above sea level, the new small cozy resort located on the "Vallone Port ", a natural oasis protected by the WWF, in the middle of the legendary" Walk of the Gods "... let imagine the bliss of the place, ideal for guests seeking tranquility, air and pure nature and yet not above the worldliness of (URL HIDDEN) villa perched on the sea and surrounded by olive groves, lemon trees and flowers of all kinds which, together with the color of sky and sea, in the sol summer days are magic for the eyes and for the guests from the heart all over the world! you will find the ingredients that are typical of the Italian warmth, courtesy, friendliness, sympathy and professionalism will be at your disposal. Sofia and her family will be pleased to welcome you, advise you and give away a dream holiday. the rooms are all sea view, (some even from the bed) equipped with shower, and accessories. the kitchen, the living room, and solarium, (furnished with taste and harmony). the services are different: rich breakfast, parking assistance, luggage transportation daily cleaning, biancheria.WLAN, gratuito.villa Sofia is the right place for nature lovers, romantics, special anniversaries, sporting families and artists they love to be inspired by mother nature. from the parking to the villa it can walk 6 minutes walk from avenues and stairs between nature and all sea view (the evening is lit) .for access to Positano center there are buses every hour throughout the day, or various public and private transport to visit resorts such as Amalfi, Ravello, Sorrento, Pompeii, Capri.per those who love the trails, the area offers many routes of Lattari mountains: Saint Mary of the castle, on the trail of nocelle cross the path of the Gods, peri the sportier of the two thousand steps Arienzo.Oltre routes of the walks, there are culinary tours several small restaurants nearby, with enchanting scenery unique and genuine specialties .raggiungibili walk or free shuttle service .Villa Sofia is special place for special people!
our neighborhood is welcoming, famous for walks as the path of the gods. in the countryside. ristornati with the good tradition and familiarity.
Beautiful location! It is exactly like the pictures. Luciana is very welcoming and her parents are very nice. The room is spacious and comfortable. We had a sitting room, kitchen, restroom, bedroom and balcony all to ourselves. The views were great and it was easy to get around town. It is high on the cliffs but the bus stop is very close and it will take you right down to the beach. Luciana made us breakfast every morning and she gave us maps and a "helpful" guide pamphlet. It helped us to make our way around town. This place was very romantic and we recommend it to everyone!
Shelbie
2016-05-15T00:00:00Z
Words can't describe just how amazing and beautiful this villa is. We have no regrets about staying up in Nocelle instead of Positano - it was much more relaxing and Luciana was just an amazing host - so helpful and made sure everything was in order. Would stay here again with no hesitation!
Anastasia
2016-08-06T00:00:00Z
Certainly beautiful place run by beautiful people!! It was not easy to find at first, but Luciana came and met us to show the way. Expect over a hundred of mountain curves! They accommodated us in very clean functional apartment after requesting the use of a kitchen, and cleaned for us everyday. Breakfast was basic - except the last day! We got warm croissants and Christmas cake! We wished if it was like that every day. :) The only pity thing was electricity went out few times... therefore it became bit cold in the apartment sometimes. Overall : good!
Sayaka
2013-01-01T00:00:00Z
Although I knew this listing was not in the center of town and that it'd be a bit out of the way, I booked based on past reviews' comments about the ease of accessibility, views, and host's hospitality. Yes, the views are beautiful, but if you don't have your own car, it's really inconvenient to plan your entire day around an extremely inconsistent and infrequent bus system (especially if you come in the off-season, like we did). And if you miss the last bus from Positano up to Nocelle-- expect to pay at least thirty euro for a ride back up. The listing itself is fine. The shower head was broken but everything was clean and comfortable (although this unit does not include the kitchen and living room area like some of the photos suggest). We had issues with wifi throughout our stay and never received a solid answer on when it might be fixed. The alternative was to use the wifi in Luciana's home which was a nice offer, but didn't always work. The little restaurant down the path from Villa Sofia (just down the stairs from the bus stop) was really good, affordable, and the staff super sweet. The other options are a bit more limited, further away, and pricier. Our biggest challenge during this trip was communication. I should have asked sooner if texting was a feasible way to communicate, but it was the only option I could try because the wifi was only available sparingly and it would have been too expensive to call with my American phone. Luciana didn't respond to any of the text messages I sent so it was unnecessarily difficult to check in (the bus schedule she sent was out of date) or ask about issues (wifi and the broken shower head). Not only that, but she often wasn't accessible on site to ask these questions in person. When I did ask for information in person, I felt like I received incorrect information (i.e. her brother told me group tours to Capri were more than €100, when actually they were only €55-60; he also said we could pay him for a ride to Sorrento to catch the bus to Naples but he actually couldn't get us there on time and we didn't find out until 10pm the night before check out). I have no doubt that Luciana has all the best intentions to be a wonderful host and for all we know, she was the perfect host for all of her previous guests. During our particular stay, however, the amount of miscommunication and simply wrong information we received left us disappointed on what otherwise might have been one of the most beautiful stays on the Amalfi Coast.
Celeste
2013-09-20T00:00:00Z
Luciana's place in Nocelle was the highlight of my trip to the South of Italy. The views from my room were spectacular. Luciana was also very hospitable and provided me with helpful information on how to navigate the Amalfi Coast area.
Diana
2015-04-27T00:00:00Z
Luciana was an amazing host, and so helpful. Eating breakfast outside with the beautiful view was incredible. The town of Nacelle is very quaint and cute. Even though it is a 40 minute bus ride to the bottom of Positano, there are still a lot of things to do that are walking distance from Villa Sofia - great restaurants, a local market, Path of Gods, etc. Prepare to climb a lot of steps if you stay at Villa Sofia, but it's all a part of the experience!
Mariana
2016-06-06T00:00:00Z
We had an amazing time at Villa Sofia! Luciana was so helpful, warm and friendly. She is so interesting and knows so much about the area so don't be shy if you have questions or ideas of what to do. The villa is so lovely, it's very big and spacious, super clean and the bed is big and comfortable! The refreshments in the fridge in the kitchen are extremely reasonably priced, maybe even cheaper than shops so it was great for us in the night if we were thirsty. The views are stunning, exactly like the photos but when you're there it just takes your breath away! The area is gorgeous and great to explore and adventure, if you're getting the early bus to Positano be at the stop earlier than on the timetable. Luciana went out of her way to make us feel at home, she is a very warm, funny and kind person and the atmosphere reflects this. We were so happy to have stayed here and met Luciana and her lovely family! I would definitely stay here again, it is a very special and magical place! It's very peaceful and a real paradise escape!
Aoife
2014-10-10T00:00:00Z
Luciana thanks so much for your wonderful hospitality and kindness! Villa Sofia is beautiful, the setting is absolutely stunning and you and your family were such great and kind hosts. People of airbnb I cannot recommend this place enough! I will be back one day! 11 out of 10 :)
Michael
2016-07-18T00:00:00Z
Room Type
Private room
---
Property Type
Apartment
---
Accommodates
2
---
Bedrooms
Nocelle, Campania, Italy
Apartment in ancient villa ecol. restored, immersed in the green , located at the beginning of Sorrento coast, offering a unique view of the gulf of Naples-Vesuvius, strategic for excursions to Amalfi coast-Sorrento-Pompei-Capri, Naples-etc
The apartment has 2 sea -view rooms, one with queen bed and the other one with 1 or 2 single beds , dining corner and kitchenette ; bathroom, large panoramic wonderful terrace-patio, wifi, AC, ecological central heating,TV ; Free open parking right next to the apartment
As public transportations in the Region are not so in time and efficient, it's better to have or hire a car , otherwise it's not so easy to move
This is a great place to stay. Beautiful view and adorable little place. Catello was very helpful and thorough with his instructions. The place is very comfortable and private. It's a great place to stay to do Amalfi, just a quick drive if you have a car or not far to the bus. Highly recommend.
Renee
2016-10-08T00:00:00Z
This is a great little apartment but the highlight is the terrace and fantastic view.
Orla
2016-07-15T00:00:00Z
The location was fantastic, 2 local restaurants within. A 5 minute walk, sorrrento and pompeii in 20 minutes by car, and positano and versuvius about 40 minutes. The flat was amazing, modern kitchen, incredible views and 2 friendly cats that would come sit with us. Catello was a great host. Very friendly and made sure we had everything we needed, recommended some great restaurants. Will definitely return.
Ethan
2016-09-21T00:00:00Z
Fantastic location for a week long trip! This place surpassed all expectations. Incredible views and Catello is a kind and generous host. It was very comfortable for my family of 4. My boys are 6 and 8. Kitchen was small but well equipped for breakfast and light meals. Do be aware the property is up a steep hill. Great base for Capri, Pompeii, versuvius and amalfi cost. Highly recommended.
Rachael
2017-04-06T00:00:00Z
A beautiful apartment with breathtaking views. Catello is a gentleman: happy to help with anything and to provide information on the area. We really enjoyed our stay in this lovely part of Italy and loved having such a comfortable well appointed apartment to return to after our adventures.
Debs
2016-08-23T00:00:00Z
Catello was a great host! Greeted us outside on his beautiful place, explained every detail and even gave us recommendations on things to do around! He also gave us great recommendations on places to eat!.
Tamara
2016-10-11T00:00:00Z
This was an amazing, breathtaking place to stay! The view was incredible and we didn't want to leave the balcony. Catello was wonderful and gave us great instructions for how to get there and local places to go. He provided tea and coffee and treats which were much appreciated. Good for day trips to amalfi and pompeii (but you will need a car). Would definitely recommend! Thank you Catello
Louise
2016-07-11T00:00:00Z
A very nice 2 room apartment, with great views over the bay of Naples and Vesuvius and great hospitality from Catello and his family. We stayed for 4 nights and there is more to do in the area than we had time for. It is convenient for Naples, Pompei, Capri (the ferry goes from Castellammare just down the hill), Amalfi coast and Sorrento. The apartment has 2 rooms and a bathroom with a kitchenette. One bedroom has a double bed and the other is a lounge area with a bed settee. Both beds are both very comfortable and you have a choice of 2 terraces to use both with lovely views. The kitchenette is well equipped and is OK for preparing breakfast or making sandwiches or a simple meal. It was a very tranquil spot. Catello was very helpful with any questions we had or fixing anything that needed to be addressed.
Paul
2015-07-11T00:00:00Z
Room Type
Entire home/flat
---
Property Type
Apartment
---
Accommodates
4
---
Bedrooms
Castellammare di Stabia, Campania, Italy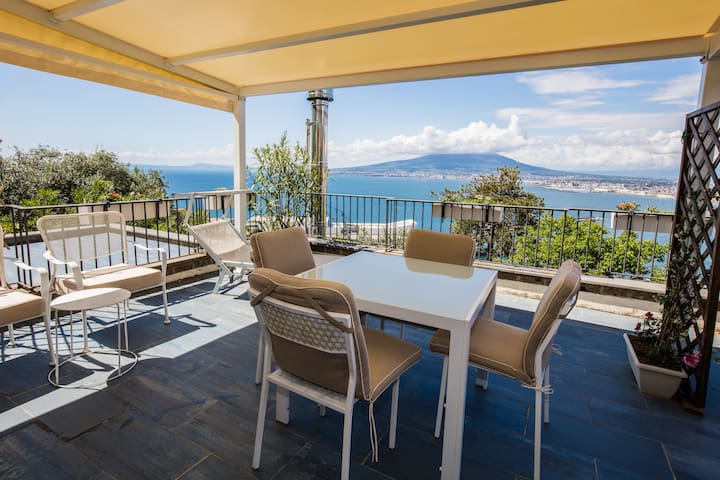 Casa Degli Angeli is located above Positano in a quite spot overlooking the sea in the village of Montepertuso. If you are looking to relax and be at only 15-20 minutes by bus or car from the busing and hectic Positano this is the place for you.
Casa Degli Angeli is located at 4 km from the centre of Positano in the village of Montepertuso. If you are looking to relax in a peaceful location my flat is the perfect place for you. With easy access to Positano, Amalfi, Ravello, Sorrento and Capri by boat or by public buses.
To reach the property there are around 120 stairs. A bus stop is at only 5 minutes walk from the apartment that connect Montepertuso with the centre of Positano and the main beaches in 15-20 minutes. At only 10 minutes walk you have a great restaurant called il Ritrovo and a grocery store and a bar called il Pertuso. 15-20 minutes walk you have 2 more great restaurants with amazing views overlooking the bay of Positano called La Terra and La Tagliata.
I absolutely loved Antonios place. It was my sweet place of refuge. It was spotless, beautiful decorated, fully stocked and in a great location. Everyone was very friendly and helpful. I would stay there again in a heartbeat!
Natalia
2016-07-01T00:00:00Z
Amazing accommodations, lovely host who goes out of his way to make sure you have a great vacation, as well as fresh fruit and goodies on arrival! The flat itself is a perfect little Italian Dream for two
Ashley
2016-07-30T00:00:00Z
We had a really lovely time staying in Antonio's apartment and cannot fault anything about it! Positano is easily accessible by bus and we even walked up and down the steps a few times as the views were so amazing. Thanks for everything!
Anoushka
2016-07-08T00:00:00Z
Excellent communication from the start. The apartment is exactly as pictured. It is equipped with everything you would need. The location is great is you want to do some hiking as yo can simply walk to the Path of the Gods or other hikes around. There is a minimarket and a wonderful restaurant nearby. You can use the parking spot, as we did but I would recommend leaving your car behind!
Mindy
2015-12-02T00:00:00Z
Our stay at Antonio's place was great! Antonio's very nice sons met us to show us the apartment and gave us some advice on the village of Montepertuso. Antonio and his family are always available when you need anything! The apartment is nice and cosy, perfect for two. The view on the terrace and on the balcony is amazing! There's enough equipment in the kitchen for you to cook if you need. Montepertuso is a lovely village on the highs above Positano. We liked that it was a bit remote from the touristy feeling of Positano and easily reachable at the same time (the bus stop is just at the top of the stairs leading to the apartment). Plus, at walking distance, there are two of the bests italian restaurants you will ever eat at!!! (Il Ritrovo and La Tagliata Fattoria !!) There's also a bar 2 minutes away from the apartment. All of where people are amazingly nice! The starting point of the "Path of Gods" is also not far. The only small negative point that we found was that the water pressure in the shower was really really low... But I guess that's the mountains... and you can definitely live with that!! So Thank you Antonio, we will definitely reach to you if we come back!
clemence
2016-01-06T00:00:00Z
Great position in Montepertuso, views as far as the eye cou,led see. Great place with all amenities. Angelo was always available which really came in handy when I needed a Doctor. Wonderful restaurants close by. Close enough to be close to Positano but far enough to be private
Laura
2016-09-23T00:00:00Z
My friend and I had the most incredible experience with this AirBNB appartment. It was much bigger it seems in the pictures and was completely spotless with one of the most breathtaking views of the ocean I have ever seen (coming from someone who lives on a beach). We arrived late because our flight from London was delayed but the transition from Positano centre up the windy road to Monterpurtuso couldn't have been easier. Antonio met us and helped us with our luggage, showed us around and booked us into a VERY hard to get into restaurant in town. We walked up the hill the first night to a local restaurant recommended by Antonio and it was the best meal of the trip. If you're looking for a true Postiano experience, away from the throngs of English speaking tourists then this place is 100% recommended. We felt like locals riding the bus after a long day at the beach with everyone chatting away in Italian laughing and carrying on up the hill. The walk down to town is pretty crazy but its all part of the experience. I wish we could have stayed longer! Thank you for everything Antonio, you were a wonderful, attentive and friendly host.
Ella
2015-08-02T00:00:00Z
We had a wonderful time staying here. It is quite a trek from Positano from the flat so be prepared. Beautiful views.
Christina
2016-06-15T00:00:00Z
Room Type
Entire home/apt
---
Property Type
Apartment
---
Accommodates
2
---
Bedrooms
Positano, Campania, Italy
The apartment is part of a Villa (Villa Punta del Sole), Positano entrance, totally immersed in nature, for those who love peace and quiet or those who want to move easily along the Amalfi Coast to visit Ravello, Amalfi , Sorrento, Pompeii
The apartment is away from Positano center in a place that will allow you to relax and enjoy the hospitality of my family
The house is at the entrance of Positano, which is still a very small country. And 'possible to reach the center on foot through a staircase which takes 10 minutes to reach the central area. There are local buses or taxis and for those who come by car we have an agreement with a car park in the center.
Franco, Vito and the family made our stay fantastic, they are lovely and the villa is beautiful. I would recommend for anyone looking to stay in Positano. Ava the dog is gorgeous too! The location is great and it is relaxing to be up the hill with the beautiful sea view. Franco and Vito are both very helpful and kind. They have great advice about where to go.
Penny
2016-09-25T00:00:00Z
Five stars. We're impressed! Vito and the whole family were extremely welcoming and Positano is absolutely beautiful. Our experience was even better than we expected. Vito kindly picked us up from Sorrento and made us a delicious pasta dinner on our first night. The room was perfect for us and just as described with a fantastic view. Our room was also pleasantly stocked with little extras like coffee, milk, sugar, eggs, butter, jam and cookies which is just an example of how thoughtful they are. The Fusco family is warm and charming. Staying at their home was a true Italian experience for us. We hung around a lot and so we were indulged in wine and pizza making and a few delicious home cooked meals. For us, staying on the lot and hanging out with Franco, Maria (Mama), Eva and the whole family was more fun than being tourists in town (although we did both). We loved our stay and we were sad to leave but are look forward to returning! Thanks for making our visit to Positano so memorable.
Anat
2016-10-01T00:00:00Z
Vito and his brother were the perfect hosts. They went out of their way to make our stay amazing. The little extras provided were very thoughtful and so was the home made wine! Vitos brother greeted us and provided us with information on positano and lots of maps, brochures and recommendations. The apartment itself is absolutely sensational! The views are one of a kind and it is very very cute and cosy plus modern! I highly recommend this place and will definitely be coming back as soon as i can! Perfect location perfect hosts and perfect apartment. Honestly...best place to stay in Positano! Thankyou so much for having us and making our stay super special!!!
Nicole
2016-10-23T00:00:00Z
Vito's place in Positano was absolutely perfect. The family was welcoming and extremely helpful, going above and beyond for us. The location was great and accommodations were everything we needed - a comfortable bed, well equiped kitchen, and ocean views with a beautiful pool. We had complete privacy when we wanted it, and also a cultural experience with the generous family. Highly recommended for anyone who wants an authentic Positano getaway!
Eden
2016-09-11T00:00:00Z
Vito was such a great host, helping us choose what to do with the amount of days we had in positano. The place is one in a million and we already can't wait to go back and stay there again. It's a short walk from the centre or a short taxi ride. The views when you wake up to the moment you to go to sleep are surreal. It's a true Italian home. Couldn't thank you enough! See you again soon Jamie & Kelsy
Jamie
2016-08-24T00:00:00Z
We had the most amazing time at Villa Punta del Sole. Vito and his family were the best hosts - a very kind and genuine family. You will have spectacular views from your balcony as well. There's lots of steps but it is worth it. We rented a scooter for the week we stayed as we found the walk to town a little treacherous. It takes about 20-30 minutes to do the walk at a decent pace include a LOT of stairs. The location of this villa is actually perfect though - and well worth the walk if you're able - there are busses available too. You get to experience a beautiful home outside of the hustle and bustle of the city Centre but you still have access to town as often as you like! No matter where you stay in Positano - you have to climb the stairs! Enjoy your stay here!
Melissa
2016-09-22T00:00:00Z
I spent a great time in Positano and was wonderfully greeted by Vito and his family when I arrived, as well as during my entire stay. They are all really happy to help you with your visiting (places to see, routes to take, etc.). The villa is simply fantastic with a great view over the Galli islands. It is located at the entrance of Positano, which makes it great to stay in a calm environment with space (and a pool!), and is only 10-20mn away by foot from the centre and beaches. Bus stops are also close. I would highly recommend stopping by Vito's place if visiting Positano and would myself definitely reach to him if I ever have the opportunity to go back.
Quentin
2016-09-07T00:00:00Z
Ein wunderbares Haus in traumhafter Lage über dem Meer von Positano. Sehr freundliche und fürsorgliche Vermieter. Wir haben unseren Aufenthalt sehr genossen.
Alexander
2017-02-12T00:00:00Z
Room Type
Entire home/apt
---
Property Type
Apartment
---
Accommodates
3
---
Bedrooms
Positano, Campania, Italy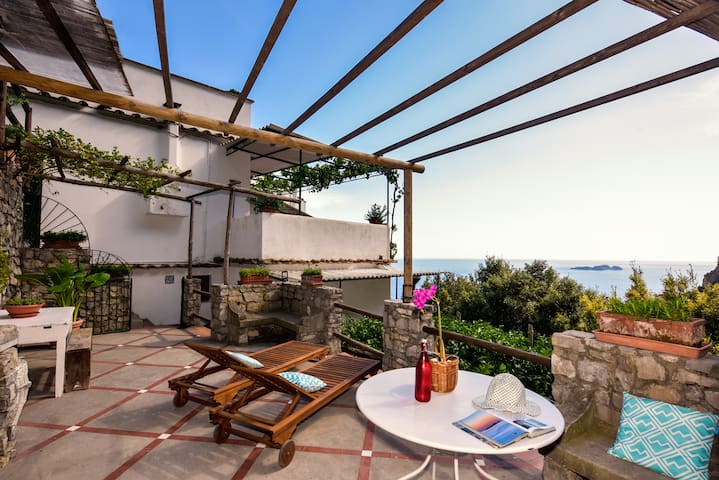 Casa Marisa is a pleasant apartment located at 300 meters from the center of Positano, with a charming view of the sea and of the Amalfi Coast. It features a private terrace with a sea view, air conditioning, a flat-TV and free WI-FI Internet access. There's one double bedroom, a living room with a sofa bed, a kitchen and a comfortable bathroom. Casa Marisa is 50 square meters (540 square feet) and it can sleep 3 people.
The apartment has one bedroom with a double bed, a living room furnished with a divan bed for one additional sleeping place, a table with chairs and a TV. Both of the rooms are air-conditioned and have direct access to the sunny terrace, with a breathtaking sea view. Free Wifi Internet Connection is available. The kitchen is well equipped with a gas cooker, a fridge, a freezer, a oven, a microwave oven, and Italian-style coffe maker. The bathroom is equipped with a shower, a wash basin, a bidet, a toilet and a washing machine. Inside the apartment you will find three steps that divide the level where the bathroom and the kitchen are located and the level where the living room and the bedroom are situated. You will reach the house from the road climbing up a charateristic ''scalinatella''(a typical Positano's stairway) of 70 steps.
Positano is divided into 10 districts, the apartment is located in the area: ''LA SPONDA''. In this area there are mini markets, souvenir shops, restaurants and bars.
Room Type
Entire home/apt
---
Property Type
Apartment
---
Accommodates
3
---
Bedrooms
Positano, Campania, Italy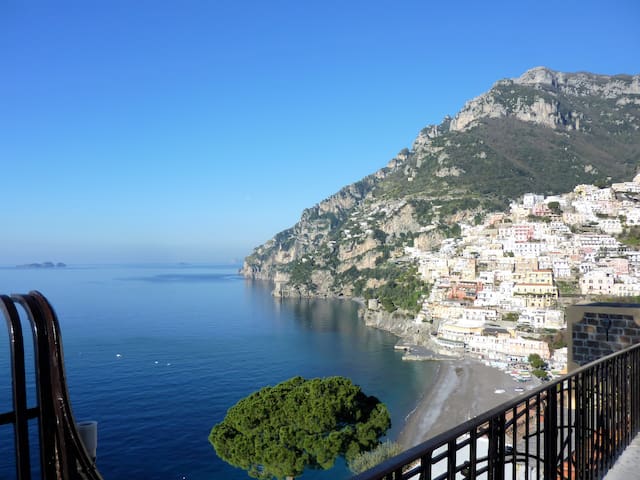 Cozy 2 bedrooms apartment in the heart of the Amalfi Coast, Positano. Perfect for families and small groups, Casetta Albertina is the place to experience a nice gateway in the most beautiful village in Italy.
King size bedroom with private access to the terrace and equipped bathroom (towels, hairdryer, heating,shampoo and soap), bedroom with 2 single beds, additional equipped bathroom, living space with equipped kitchen (four-burner gas cooker, electric oven, fridge, freezer,microwave), Tv, sofa bed, table and chairs for 4 guests. Nice terrace area with marble table and chairs for 4 guests. 80 steps from street level, Casetta Albertina is located in the heart of the well-known pyramid of Positano. There is no escape from stairs in Positano, anyway!
We love our neighbours and therefore we kindly ask you to respect them too, especially while on the terrace. Music and parties not later than 11 pm.
Room Type
Entire home/apt
---
Property Type
Vacation home
---
Accommodates
4
---
Bedrooms
Positano, Campania, Italy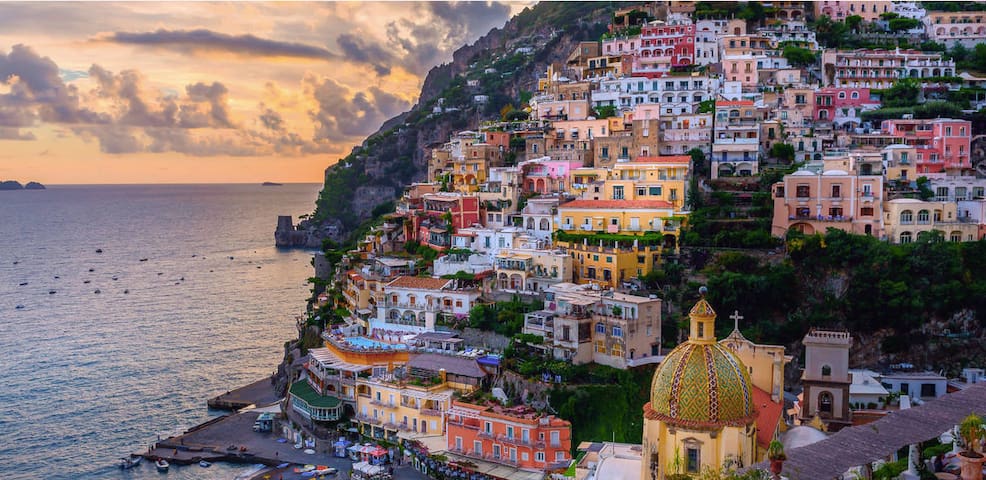 Casa Montechiaro in Positano is a characteristic house which faces the sun and the sea.
Casa Montechiaro sits above and well back from the Amalfi Coast drive and offers larger than life sea views from a sun drenched furnished terrace that can be accessed from both the living room and master bedroom of this classy modern apartment. Only a few minutes walking from the center of Positano, Casa Montechiaro is one of four independent apartments that occupy a well maintained whitewashed, Moorish structure. A six foot high wall separates your terrace from that of your neighbor's and lush gardens separate similar homes invoking an oasis like atmosphere. Inside, your coastal retreat you will find a well-equipped, modern air conditioned home that is both a comfortable and spacious hideaway for two and features lovely arches, vaulted ceilings and gleaming tile floors that perfectly adorn the clear blue Mediterranean Sea outside. Your home away from home includes a living/dining room that is complete with an ornamental fireplace, TV and CD player, a galley kitchen complete with a large refrigerator and new appliances that include a U.S. style oven and coffeemaker and a lovely bedroom that overlooks the sea and offers a queen size bed, an en suite bathroom with shower and doors that open to your terrace. Casa Montechiaro is fully air conditioned with individual climate controls. Your television will have a basic satellite package with some English channels and your stay will also include free internet access and the use of a pre-paid cellular telephone. Guests will be responsible for the cost of the calls and the key holder can assist in recharging the phone card as necessary. The key holder speaks Basic English. A washing machine is also available at the property. Electricity is not included and the cost is euro 0.30 cents per kWh. In order to reach Casa Montechiaro, it will be necessary to climb 130 steps and interested parties are asked to consider that. This property is not recommended for persons with mobility issues as an uphill walk is required from the main coastal road. Luggage and porter service can be arranged in advance at an extra charge. In addition, maid and meal service are also available as an extra charge payable at the property. Please request when booking. For those with a car, the best parking option is an in town garage that offers pre-arranged complimentary shuttle service to and from the property. However, Casa Montechario is located within town and a car is not necessary.
Just a few minutes walk from the center of Positano, Casa Montechiaro is one of four independent apartments that occupy a whitewashed, Moorish structure. A six foot high wall separates its terrace from that of the neighbor's, and lush gardens separate similar homes invoking an oasis like atmosphere. Exceptional views of the sea and the coast are seen from the furnished terrace, the living room and the queen bedroom.
Amazing apartment in the heart of positano large and spacious with gorgeous views. Raffaele was a wonderful host with regular contact and assistance at at all times! Excellent stay!!
Lima
2015-08-22T00:00:00Z
Excellent communication with the host, who was very proactive in making sure we would make our way to Positano, easily and comfortably. The house itself is beautiful and exactly as advertised, the highlight being an extraordinary view of the Mediterranean sea. Communication with the host was constant throughout the week, for suggestions and just to make sure we were happy. Awesome flat, awesome host. Tks Raffaele.
Hugues
2016-11-12T00:00:00Z
We can't recommend Casa Montechiaro highly enough. Our week in beautiful Positano was made even more special by having a spacious, clean, comfortable and pretty apartment to call home for the time we were there. Arriving to be greeted by a warm and smily Angela made it all even better...not to mention the fresh flowers, fruit, wine and MORE that were awaiting us! So thoughtful, and hugely appreciated. The apartment is exactly as shown in the images, although no picture can ever do that view (URL HIDDEN) is breathtaking! To open the curtains each morning to that really was the icing on the cake. Raffaele was away working so we unfortunately didn't get to meet him in person, but he was WONDERFUL from the second I enquired. Such quick responses, and always friendly & so helpful. He even sent us a message halfway through our week to check we were happy. That's service for you! I can only give Casa Montechiaro 5 stars, and would return this second if it wasn't for work commitments in the UK!! Back to reality now but feeling very lucky to have had such a magical week away. THANK YOU Raffaele and Angela! Natalie & Tom x
Natalie
2015-04-25T00:00:00Z
Rafaelle was a thoughtful host. He answered emails quickly and provided thorough helpful information. The apartment was exactly as presented in the listing-- but the view was even more impressive! It was clean, tidy and had everything that I needed. Angela is very kind and it was nice to arrive to fresh flowers, fruit and a bottle of wine! If you go to Positano you must stay here! I did not want to leave.
Marla
2015-05-16T00:00:00Z
We had a wonderful stay in Raffaele's apartment. He was very helpful and gave us suggestions on activities and recommendations on where to eat. He was very prompt in responding to emails and was a great host. The apartment is lovely with lots of space. It has a wonderful view of the sea with a great terrace. It had everything we needed and was a joy to return to after a busy day of sightseeing or walking. Arienzo beach is a ten minute walk away, down a lot of steps, and its lovely and not as busy as the main beach. If you're looking for a place to stay in Positano, I highly recommend Raffaele's apartment.
Denise
2015-10-10T00:00:00Z
Rafaelle was an absolutely wonderful host, he was always available to answer questions and left us some amazing fresh and local produce that we fell in love with! The figs from the garden were incredible! Casa Montechiaro was everything it claimed to be and so much more! The views are incredible and the place is very comfortable, we could have stayed for a month quite happily! Very sad to leave but look forward to coming back :)
joanne
2015-08-15T00:00:00Z
Upon arrival Raffaele met us and helped us with our luggage to the apartment. He explained the specifics of the apartment and left us with wine, cheese, fresh herbs and local fruit. The apartment was exactly as pictured, possibly even more beautiful and picturesque. It was just as described, close walk to town and beaches, immaculate, fabulous view and spacious. We were so happy that we choose Raffaele's charming flat for our stay, and would gladly choose it again for our next visit to Amalfi Coast.
Christine
2015-06-27T00:00:00Z
This was my first use of air bnb, and if the rest of my stays are anything like this I'll be a happy customer for years to come. The attentiveness of Raffaele started long before we arrived in Positano. With everything from organising transfers to the villa, to confirming timings and locations, he was really responsive. On arrival Angela was there to greet us and show us around the apartment and we even had a few goodies waiting for us which were very welcome after our travel from London. The apartment itself was exactly what we were expecting and was actually more spacious than I'd imagined it to be. The location is great as well as its just a 5-10 min walk into the heart of Positano but just outside it enough to escape everyone after a long day. What really impressed me though was how attentive Raffaele was with us while we stayed, often proactively checking in on us via email, making sure we had everything we needed and recommending some things to do that only a local would. Simply first class service all the way - our thanks again to you both.
Ben
2015-09-12T00:00:00Z
Room Type
Entire home/apt
---
Property Type
Apartment
---
Accommodates
2
---
Bedrooms
Positano, Campania, Italy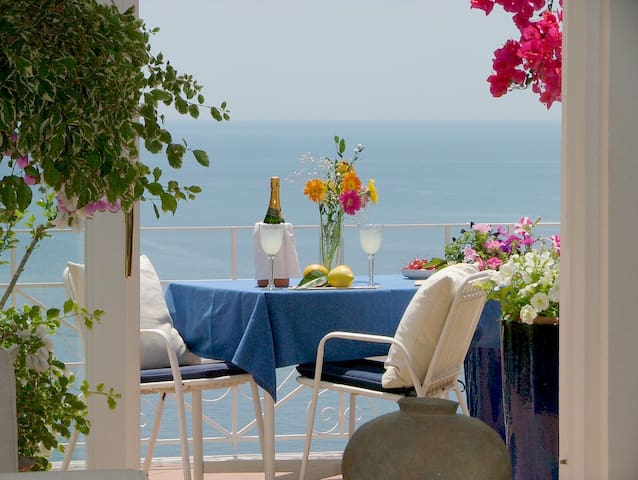 VIA FRATTE n. 27 Apartment with kitchen dining room, large bedroom. in the Sorrento peninsula not far from Naples Great for visiting CApri, Pompeii, Stabiae, Oplonti, Ercolano and Sorrento also close to the Park of Vesuvius
legant and finely arrredato The floor is made of wood the bathroom and the kitchen have coatings with cermica typical Vietri. the furniture is original with design objects specially created for the house.
The neighborhood is residential with panoramic views of great effect . Reigns the calm and silence and the air we breathe is clean and refreshing . The house is located just steps from the Medieval Castle and the Palace of Quisisana , where , during the summer , are organized various cultural events and artistic music . The location is strategic to move comfortably in all directions more interesting .
The apartment is just perfect. It's about 8km from Sorrento and all the Amalfi coast is easily accessible. It's beautifully furnished and very comfortable . The kitchen has everything to cook a nice meal too and we were able to relax in the evenings. Giovanni and his daughter let us arrive a bit later than expected and are so accommodating and helpful. It's a great place to stay !
Lyndsay
2016-09-30T00:00:00Z
Giovanni's place is super nice, way above the average accommodation you normally get for this price, in great location and he and his daughter Silvia were super nice hosts. If you're looking for a place to travel the region castellammare is perfectly situated, still I would recommend to have car. I can definitely recommend staying there!
Jessica
2016-10-12T00:00:00Z
Nice apartment with a nice view. Modern and cozy. Internet a bit slow.
Amalie
2016-07-11T00:00:00Z
Giovanni was lovely to deal with. His apartment is wonderful with a fantastic view of Mount Vesuvius. It's a close drive to Pompeii and Sorrento by car. I would recommend having a car if staying here. His apartment was very clean and beautiful and the host is very friendly and kind.
Philippa
2016-07-08T00:00:00Z
The host canceled this reservation 7 days before arrival. This is an automated posting.
Natalia
2016-10-08T00:00:00Z
Beautiful apartment with everything you need for a very comfortable stay. Great view over bay to Naples and Vesuvius. Met Giovanni outside apartment as arranged and on time. Highly recommended
thomas
2017-02-25T00:00:00Z
Giovanni and his daughter are very friendly and helpful persons. The will give you all kind of information you need and will contribute to make your days in Castellamare more comfortable. Giovanni's apartament is very well equiped and comfortable, has an excelent heating system (our visit took place in January), kitchen with all you need to cook like at home. All this for not speaking about decoration (pictures and paintings). I highly recommed this apartament which looks more like a small museum than as an normal apartment. If you rent a car you will be able to easily visit roman ruins like Pompeii and Herculano, amalfitan coast and Vesubio area. En castellano: ¡Apartamento excelente y muy recomendable!
Carlos
2017-01-22T00:00:00Z
The apartment is as described, Giovanni was very helpful and easily reachable both before and during our stay, we recommend this place
Christine
2017-01-04T00:00:00Z
Room Type
Entire home/apt
---
Property Type
Apartment
---
Accommodates
4
---
Bedrooms
Castellammare di Stabia, Campania, Italy
La casa si trova nel centro del tranquillo borgo di Montepertuso, la maggiore frazione di Positano. A pochi passi dalla fermata dell'autobus, a 15 minuti dalla spiaggia di Positano e dal Sentiero degli Dei. Ha accesso indipendente e parcheggio privato coperto, disponibile su richiesta. Questa soluzione completamente rinnovata, arredata con cura e indipendente, vi permetterà di trascorrere il vostro soggiorno in pieno comfort & privacy.
La casa è composta da un soggiorno con cucina completamente accessoriata con torretta frigo/congelatore e lavastoviglie, tavolo da pranzo, smart tv HD, condizionatori con pompa di calore, internet wi-fy in tutta la casa. Il soggiorno ha anche un delizioso balconcino e un divano letto a due piazze che all'occorrenza, si trasforma in due comodi letti singoli. Il bagno è corredato da lavatrice e ampio box doccia. La camera con letto matrimoniale è ampia e luminosa, con possibilità di accomodare una culla per neonato.
Montepertuso è un borgo dove la natura è rigogliosa, perfetto per un soggiorno tranquillo e base per poter facilmente raggiungere le più rinomate località della Costiera Amalfitana.
Room Type
Entire home/flat
---
Property Type
Apartment
---
Accommodates
4
---
Bedrooms
Montepertuso, Campania, Italy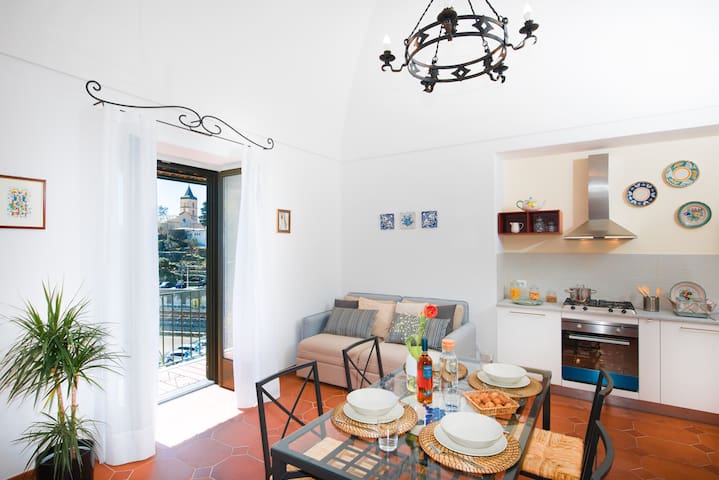 Appartamento di oltre 100 mt quadri provvisto di ogni confort, situato al centro di Castellammare di Stabia, a due passi dal lungomare e poco distante dalla stazione della circumvesuviana che la collega perfettamente a Napoli, Sorrento, Pompei ed Ercolano. La casa è totalmente arredata ed arricchita da un terrazzo di circa 30 mt quadri da cui ammirare l'intera cittadina.
Zona strategica sia per un soggiorno di relax, sia per spostarsi tra le bellezze artistiche della campania. A pochi passi dal lungomare e dalla fermata della circumvesuviana che collega Castellammare di Stabia a Napoli, Sorrento, Pompei ed Ercolano
Room Type
Entire home/apt
---
Property Type
Apartment
---
Accommodates
4
---
Bedrooms
Castellammare di Stabia, Campania, Italy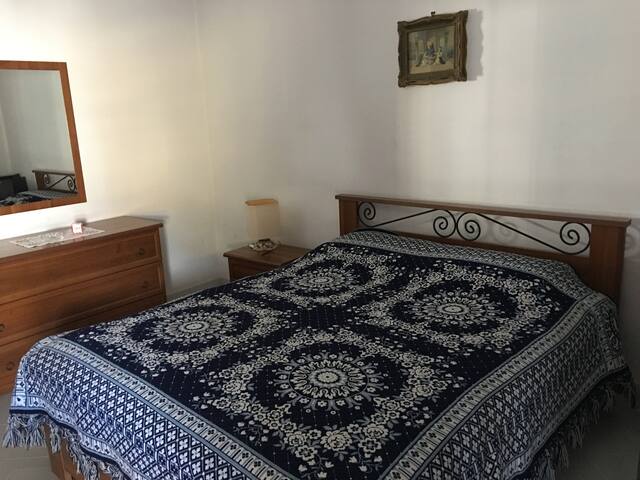 Enter dates to see full pricing. Additional fees apply. Taxes may be added.