Crisp, clean and modern mid century cottage. Light filled space perfect for lounging including an outdoor courtyard which is wonderful for waking up or winding down. Our cottage works very well for visits to children and grandkids as well as for taking advantage of all the nearby hikes. It's near artisanal dining and easily walkable. A private, gated entrance allows you to come and go with ease. There's plenty of storage, luxury linens and an eco fireplace to sip tea or curl up with a good book!
Room Type
Entire home/apt
---
Property Type
Guest suite
---
Accommodates
2
---
Bedrooms
Piedmont, CA, United States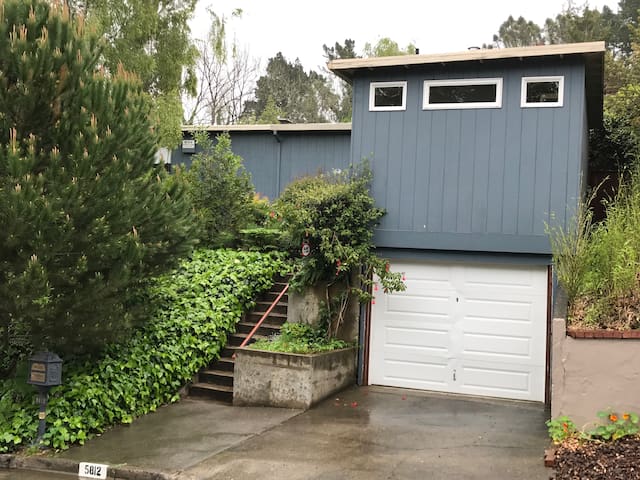 Our place is close to trendy joints like Cato's Ale House, Michelin star rated Commis, and several other local coffee shops, bars, and restaurants. You'll love it because of the coziness and the convenient location--it's a mile from Lake Merritt, 15 minutes from BART, and sits at the bottom of the Piedmont hills that lead to Oakland's redwood forests. The apartment is spacious, and it's suitable for couples, solo adventurers, and business travelers alike.
apartment is in a nice area with lots of restaurants in walking distance. finding parking can be tricky. Apartment is well organized and clean. overall it was a nice stay
Tondalaya
2017-01-04T00:00:00Z
The host canceled this reservation 10 days before arrival. This is an automated posting.
Julie
2017-03-28T00:00:00Z
Room Type
Entire home/apt
---
Property Type
Apartment
---
Accommodates
2
---
Bedrooms
Piedmont, CA, United States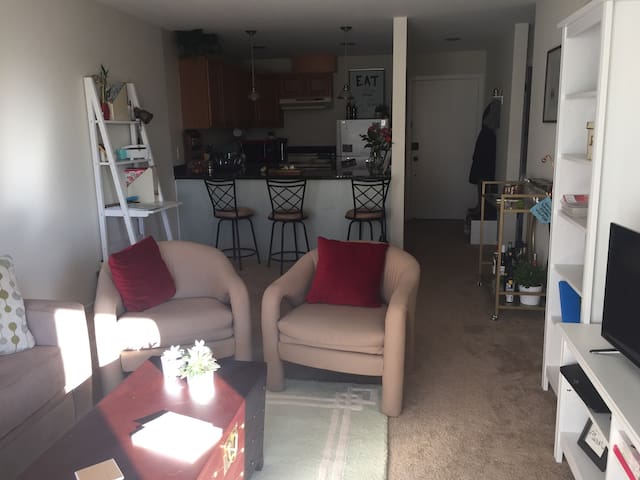 Chez Julie is close to great Oakland neighborhoods: Montclair, the Temescal, Lake Merritt, Rockridge, Piedmont Ave, Grand Ave and Lakeshore Ave yet it's set in a quiet residential neighborhood. You'll love Chez Julie because it's been recently remodeled and is tastefully furnished. Enjoy wifi, premium cable with HBO and Showtime. Great for couples, visiting relatives, solo adventurers and business travelers. Easy access to San Francisco, BART & UC Berkeley. Close to Hwys 13, 24 and 580.
The apartment is in a house built in 1937 so it's got plenty of historical charm but it's been thoroughly updated for modern living.
Our neighborhood overlooks a wooded canyon that is home to lots of wildlife like deer, turkeys, owls and hawks. But you can quickly get to any of the surrounding neighborhoods for a bite to eat or retail therapy.
This place was awesome! Great location, clean, awesome bed, and great hospitality! Would definitely stay again and recommend to friends.
Aaron
2016-11-26T00:00:00Z
This is a wonderful place to stay. Very clean and comfortable. The kitchen is stocked well, the bed is comfortable, and the decor is lovely. The owners are very nice, quick to help with any questions, but also mindful of privacy. We would definitely stay here again. Thank you Chez Julie!
Julie
2016-12-24T00:00:00Z
Room Type
Entire home/apt
---
Property Type
Apartment
---
Accommodates
2
---
Bedrooms
Piedmont, CA, United States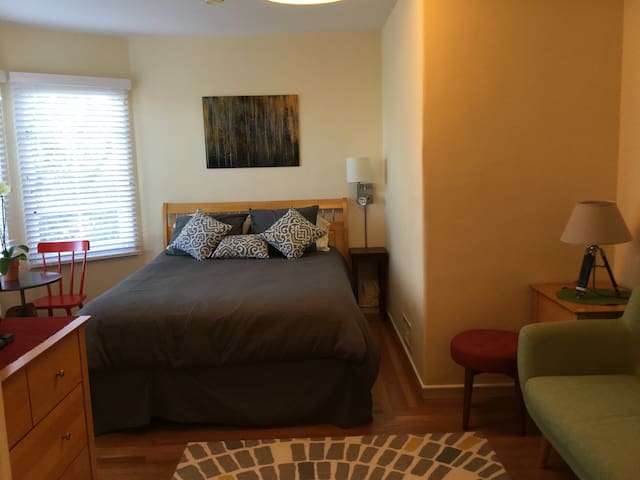 Perfect for a getaway & get-togethers, this house is ideally located just minutes to San Francisco, Berkeley, Oakland & Walnut Creek. Enjoy comfort & luxury from this spacious, vintage, light-filled home nestled in a secluded, forest setting just a minute to freeway access.
Offering a uniquely elegant Bay Area experience, this house has everything you need for comfort and relaxation. With the 3 bedrooms surrounding the spacious common areas in the middle, there is plenty of space for the whole family or group to be together or apart. The open kitchen, bar and spacious dining room with table for 6, plus the outdoor decks, patios and ample parking make this house an excellent place to host guests. For events or large gatherings (or seniors and in-laws), please check availability of the separate downstairs, ground floor apartment (see "Hobbit House"): https://www.airbnb.com/rooms/18078418?s=9p5v9jzt
The forest setting of the neighborhood offers safety, privacy and beauty, while still letting the sun shine through the windows. This home makes it both comfortable and convenient to explore the Bay Area, and unite with family and friends. A 5 minute drive away up the hill takes you to Montclair Village where you can stock up, dine out, of it it's Sunday morning, enjoy delicious treats from the Farmer's Market such as fresh oysters. Piedmont Avenue is also 5 minutes downhill and also has its own unique variety of delightful shops and excellent eateries, including the famous 121-year-old Fentons (Ice) Creamery. Also down the hill is the historic Grand Lake Theater for a wonderful movie-going experience.
Room Type
Entire home/apt
---
Property Type
Apartment
---
Accommodates
8
---
Bedrooms
Piedmont, CA, United States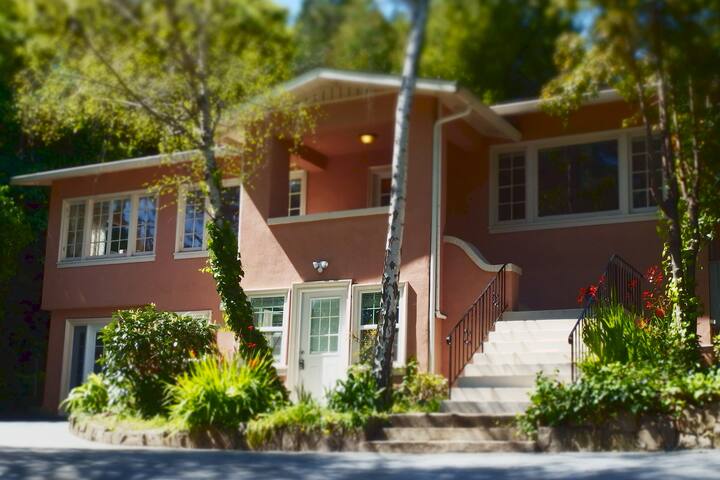 I'm Airbnbing a bedroom in my new construction, modern apartment. It has a king bed and a fancy white and glass bathroom. You can use the WDt too!
Locaated in the right in the heart of the city - it really is an amazing location !
Itj is me, and a female lodger - Joanna. She has her own room and has been with me for over a year now.
Room Type
Shared room
---
Property Type
House
---
Accommodates
2
---
Bedrooms
Piedmont, CA, United States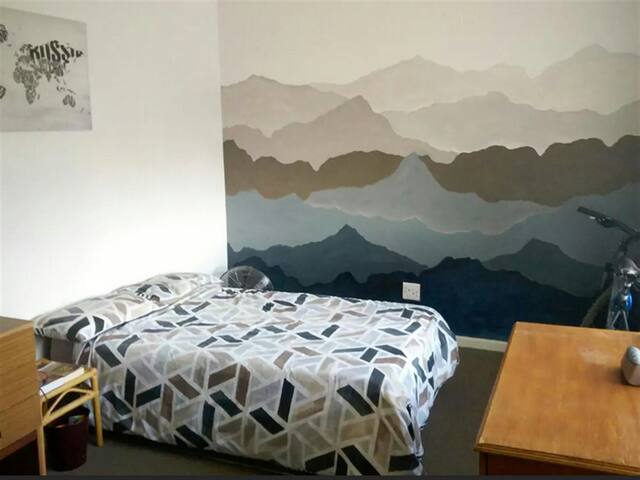 Light filled two bedroom house in the heart of the east bay's safest and most desirable neighborhoods. Perfect for a family with 2 - 4 children or a group of friends. Easy access to all the bay area has to offer.
Great place to enjoy the holidays.
Quiet and friendly town in the hills of Piedmont, Above Oakland.
Room Type
Entire home/apt
---
Property Type
House
---
Accommodates
4
---
Bedrooms
Piedmont, CA, United States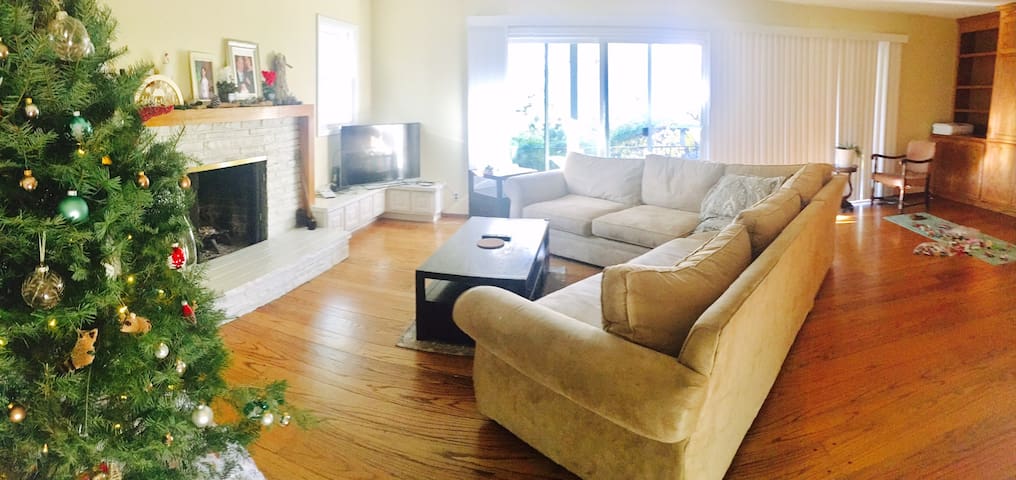 Private and cozy garden cottage with rich detail. Located in central Piedmont, close to Mulberry's for coffee and snacks, plus easy bus service to BART, Oakland, Berkeley and SF. Enjoy stone path entrance and patio with a partial view.
Queen size bed, comfortable leather couches, closets for your suitcases.
Piedmont is a small town nestled in the East Bay hills. It is largely residential with tree-lined streets and lovely parks.
Great little cottage, great location, fantastic view. Dottie is very kind and helpful. We had a great time!
Eli
2015-10-25T00:00:00Z
Dottie was a great hostess and communicated with us every step of the way ! Very sweet and hospitable lady :) We came in late from traveling and she was so nice and accommodating to us. She made us feel very welcome and able to rest after a day of driving. The Cottage was the cutest little thing ever !!! And even though it shared a lot with permanent residence, our privacy and experience felt very respected. The neighborhood was GREAT with a boulevard very near with shops and restaurants for every taste !
Manuel
2015-09-21T00:00:00Z
Linda and Jonathan were wonderful hosts. Although we were only the 2nd guests they hosted, we felt like they had been running this beautiful Airbnb for years! Their hospitality was from first communication all the way through to sending us off on our last day. The cottage was perfect for a couple to have separated space, full amenities, quiet and private. We would absolutely stay here again!
Sammie
2014-09-19T00:00:00Z
A truly adorable cottage! Located in a beautiful part of Piedmont in the back garden of an easy to find home. Plenty of street side parking. We slept great on the queen sized bed. Small but adequate bathroom with plenty of linen and supplies for two people. Small fridge and microwave a coffee maker. Really quiet and restful! A nice outside sitting area to have a glass off wine in the evening. We truly enjoyed our stay and will stay again!
Douglas
2015-10-22T00:00:00Z
We enjoyed our XMAS stay in this quaint, sweet garden cottage in the hills of Piedmont. Stunning bay and bridge views from the garden path. Host Dottie was briskly responsive to our texts and emails, and provided a warm welcome when we arrived on a rainy night. (I was most appreciative that she had turned on the heat so the cottage was warm and toasty that December night.) We also appreciated the snacks that Dottie had left for us to enjoy in the unit. I hope this cottage is available for our next trip to the East Bay.
Ella
2015-12-26T00:00:00Z
Dottie was such an kind and gracious host! We had been camping up the California coast and had arrived at her charming cottage with lots of wet camping gear. She allowed us to set up and spread out all our soggy items to dry in the garden. We really appreciated her generosity; as well as the darling vintage details and comfy bed in the cottage. A great home base for exploring Oakland and the East Bay.
Sharon
2015-10-19T00:00:00Z
The reservation was canceled 66 days before arrival. This is an automated posting.
Nancy
2014-10-28T00:00:00Z
The cottage is lovely! Wonderfully appointed, everything we needed and a lovely garden outside. Plus great tennis courts nearby. Linda is a perfect host. We hope to stay again when we're in the Bay Area.
gloria
2014-11-04T00:00:00Z
Room Type
Entire home/apt
---
Property Type
Cabin
---
Accommodates
2
---
Bedrooms
Piedmont, CA, United States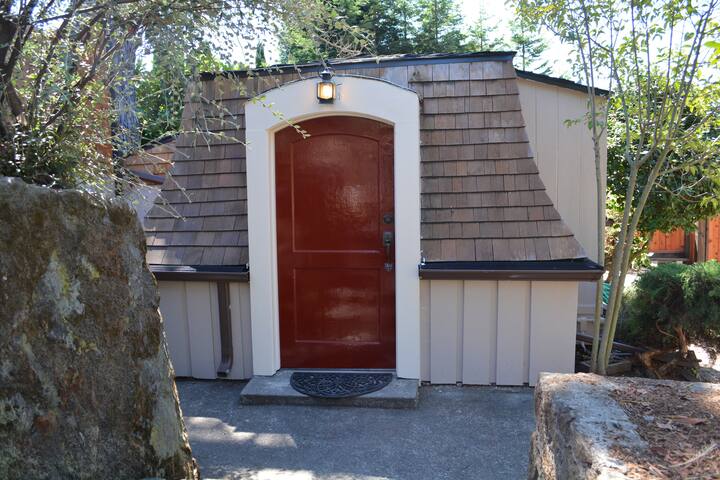 Our lovely Piedmont home is available June 10- July 8 while we are traveling. Great location, near Grand Avenue and Piedmont Avenue. Beautiful backyard, Rose Garden across the street. 2 sweetheart kitties. $100 per night. Modern kitchen/Bathroom.
Room Type
Entire home/apt
---
Property Type
House
---
Accommodates
2
---
Bedrooms
Piedmont, CA, United States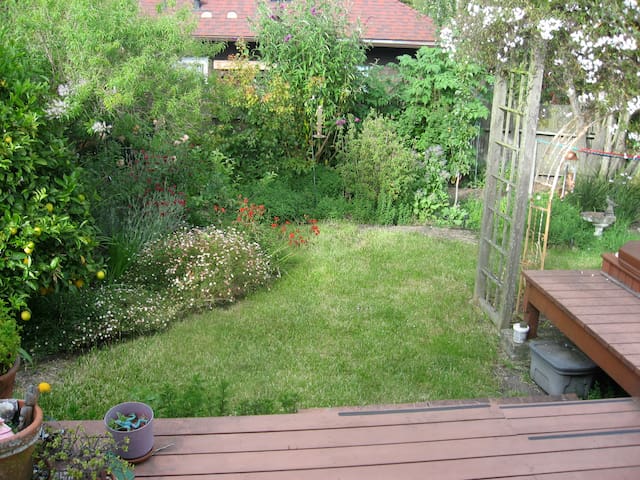 Rest and refresh at this lovely, convenient, safe location just minutes to Oakland, Berkeley, Walnut Creek and San Francisco. Enjoy fresh linen, a nice bathroom and kitchen, a laundry room and easy, on-site parking.
This is the separate, downstairs apartment of the house depicted. It has 2 bedrooms and its own bathroom and kitchen. If more space and more glamour is desired, please check availability of the larger, upstairs apartment. The forest-like setting of the neighborhood offers privacy and beauty, while still letting the sun shine through the windows. This apartment makes it comfortable, easy and affordable to explore the Bay Area. Just a 5 minute drive away up the hill takes you to Montclair Village where you can stock up, dine out, or if it's Sunday morning, enjoy delicious treats from the Farmer's Market such as fresh oysters. Piedmont Avenue is also just 5 minutes downhill and also has its own unique variety of delightful shops and excellent eateries, including the famous 121-year-old Fentons (Ice) Creamery. Also down the hill is the historic Grand Lake Theater for a delightful movie-going experience.
The place is exactly as advertised. Very clean. Didn't have to meet Benjamin but he was nearby but he was attentive and was in communication with us. We were very happy with our stay.
Mehmet Umut
2016-06-26T00:00:00Z
Check in was super easy. The place was very clean and perfect for my family to get to spend some time together. If I had another family gathering I would rent this place again for sure :)
Dara
2016-02-25T00:00:00Z
A group of my friends and I need a place to stay very last minute. We were getting together to mourn the loss of a close friend. I asked to book at 8pm on a Tuesday and we were in by 11pm. Benjamin was an incredibly empathetic and helpful host. Thank you for all of your kindness.
Bora
2016-12-11T00:00:00Z
Very clean and lovely space! Although I didn't meet Benjamin in person, he was extremely helpful and provided all the necessary information through email. I would definitely recommend his place :) Thank you again!
Wendy
2015-06-09T00:00:00Z
The property is as described. The inner part of the house is so nice and comfortable to accomodate seven of us. The kitchen is fully supplied with appliances and kitchenware which made it easier for us to cook some meal. We had some problems with the outlets and heater due to the storm that happened before we arrived and Benjamin quickly address the problem. He bought us chocolates too. He also asked us if there's anything that we need since he wanted us to be comfortable while staying there. Overall, Benjamin is such a great host and the house was wonderful. Would definitely go back again if I needed a place to stay around San Francisco.
Nurain Izzati
2016-01-05T00:00:00Z
Benjamin is courtesy and helpful host. Location of washing machine outside of house is more convenient than inside, even though you have to walk outside for 10 meters. I don't like noise, so it was good for me. Overall, it was fair combination of price per quality.
Alexey
2017-03-09T00:00:00Z
Very well kept place. Great for a family visit to the area.
Lars
2016-12-23T00:00:00Z
We had a unique need for the space--I rented it for my small florist team to work and stay in as we built the arrangements and installation for a wedding in Berkeley (about 5 miles away). The space was perfect for what we needed, more than enough room to work and plenty of space for 3 of us to sleep. The area is calm and relaxing and convenient to get to Berkeley or Oakland for things we needed to pick up. Ben was super communicative and made sure we had a great stay. We'll definitely be back as we book weddings in the East Bay next year. Thanks, Ben! One thing to note is they provide two parking spaces, which for most visitors would be plenty, but we had a third vehicle that parked on the street that ended up being towed. No fault of Ben or the property, just city law that we didn't understand (and wasn't marked!) So just a note if you have more than 2 vehicles!
Christine
2016-10-09T00:00:00Z
Room Type
Entire home/apt
---
Property Type
House
---
Accommodates
6
---
Bedrooms
Piedmont, CA, United States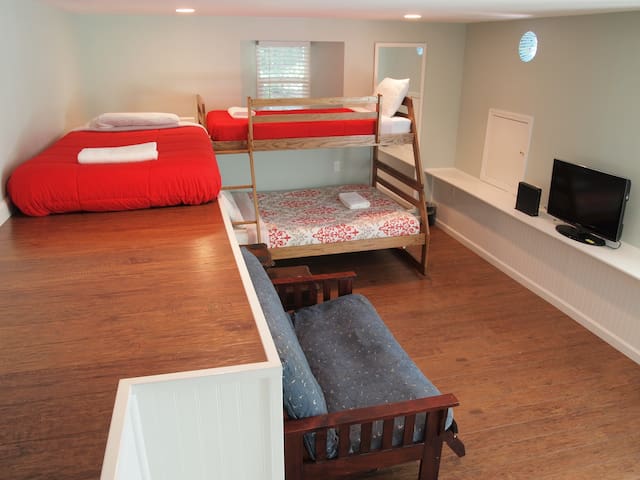 One room is a 10 year old boys room with bunk bed & couch bed. Large common space w/curtained off area creating privacy for the full sized bed. Microwave and electric kettle but no kitchen. Large back yard with garden, lovely to relax in. 10 minute walk to BART, on bus line, walking distance to both Temescal and Emeryville---lots of great food!
Room Type
Entire home/apt
---
Property Type
House
---
Accommodates
3
---
Bedrooms
Oakland, CA, United States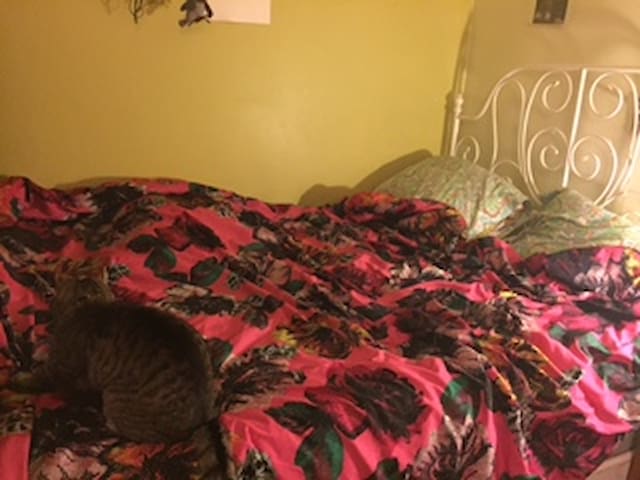 Quaint bedroom with french doors leading to yard. Walking distance to main town (Grand Avenue, Lake Merrit, Lakeshore Ave, Piedmont Ave) with restaurants, movie theaters , farmer's market, lake, parks, etc.. Near UC Berkeley campus (5miles). Near Lakeshore Ave, fashionable College Avenue, downtown Oakland, Jack London Square, Montclair Village.
I provide nice organic cotton linens and towels to make it cozy and the room has a real zen-like feeling. Quiet and safe street in Piedmont, nature setting. Trendy coffee shops, unique restaurants and shopping near by, BART station within a mile and a half. Oakland has become the new hipster trendy location with great restaurants/bars, and a music scene. Walking distance to Lake Merritt and other parks and hiking trails.
Safe, nature setting in an urban hip environment
Oh hello, thank you for the lovely stay in your home. Sorry about the last minute request since we needed tile work done in our kitchen. It was nice to still remain close to our own home since we needed to respond to contractor questions and still attend work at Highland Hospital. Emily was very sweet and thoughtful during our stay. She responded in a prompt fashion and was very accommodating. We would stay again if we ever needed any future home repairs in. It was a pleasure.
Michele
2017-03-04T00:00:00Z
Room Type
Private room
---
Property Type
House
---
Accommodates
1
---
Bedrooms
Piedmont, CA, United States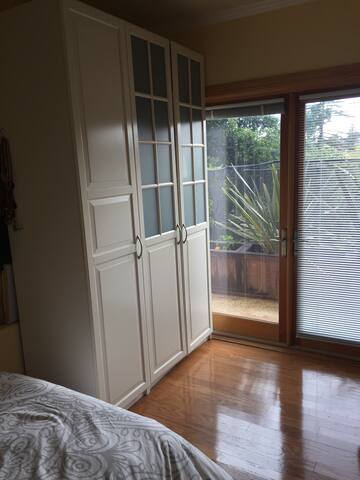 My place is close to Downtown San Francisco (20 minutes), grocery stores (5 minutes), shopping (5 minutes), Napa Valley (1.25 hours). You'll love my place because it is a 100 year house with a lovely park for strolls just 2 blocks away. Street parking available. The house is very light and cheerful with hardwood floors throughout. There are comfy beds and a modern kitchen. Lastly, there is a sweet private patio garden for dining or relaxing. My place is good for families (with kids).
Room Type
Entire home/apt
---
Property Type
House
---
Accommodates
4
---
Bedrooms
Piedmont, CA, United States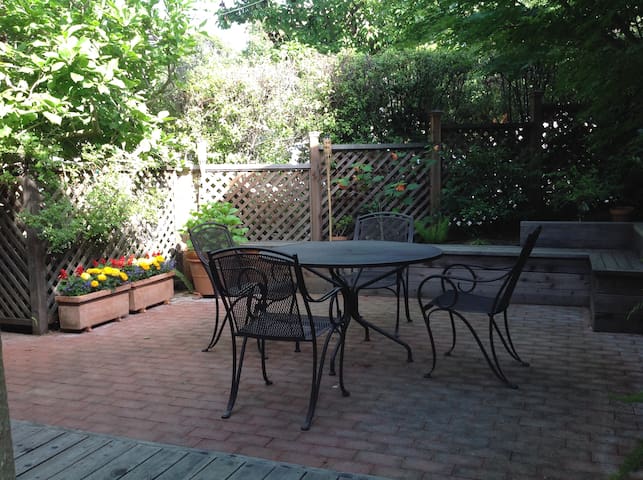 This is a spacious 700 sq. foot studio apartment. While it shares a common entrance to the house, the suite's entry door locks securely for complete privacy. Our publishing company occupies the space adjacent to the suite and there is very little activity on the evenings and weekend. Overhead skylights provide excellent light. Soft carpeting adds to the comfort. The private bathroom includes a large shower and double sinks. Sleeping arrangements included a comfortable Queen size mattress on a low (3") platform and a queen-size sofa bed. Behind the sleeping area there is a semi-private room with a queen-size futon. Fast Wi-Fi connection. In-house entertainment includes Cable TV with HBO and On Demand service, and DVD player. There are weights and exercise props. In the sitting room there is a small refrigerator/freezer, microwave, dishes and utensils. Parking is easy either in the large driveway or on the street. The large garden is peaceful with unusual plants and a large fish pond. Piedmont CA is a beautiful residential city surrounded by Oakland, convenient to all freeways. You will be within walking distance to Lakeshore Ave. & Piedmont Avenue's restaurants, shops, and movie theaters. It's a 10 minute drive to Whole Foods, the Paramount Theater, and Oaksterdam. Downtown San Francisco is just 20 minutes away. For commuters going to SF, there is a casual carpool pick-up spot and The Transbay Express bus around the corner. Also nearby (1.5 miles) is the rapid transit system (BART – MacArthur Station). This is a convenient BART stop for travelers using SF and Oakland Airports. We live in the far side of the building and are available for information about local activities, eateries and places of interest. One shy cat also calls the place home. Shared laundry facilities available.
Piedmont Avenue with a wide range of restaurants and creative gift shops is a comfortable walk away.
This place was wonderful! Private , trees, a pond and animals all around were such a delight for my son and I. The space is exactly how it is in photos and we loved it. Very roomy and comfortable!!
Joan
2015-07-01T00:00:00Z
Staying at Jane and Ed's was great! The space was absolutely perfect for 4 people, and maybe even a couple more. The place was clean and linen and towels were sufficient and warm enough. The neighbourhood is really quiet and serene, safe too. It's a little far from the BART and amenities, but we had a car (there was parking space for us on the compound) so that was all good. We enjoyed our morning walks to the nearby coffee places at Piedmont. Ed was really helpful and we really enjoyed our stay :) Definitely a retreat for us!
Michelle
2013-08-08T00:00:00Z
The room is perfect for a family : very big and very calm. My son enjoyed the games available inside, the fishes and the playground in the school near by. Lots of details let us feel at home : flowers in a pot, chocolates to eat, products left by the previous guests... The area is really safe and Jane was very helpful. We could also use their kitchen and the other bathroom to bath our 6 months old baby. Thanks a lot for your hospitality ! Looking forward to come back ;-) Audrey and Nicolas
Nicolas
2014-02-21T00:00:00Z
lovely place! My mom and my grandson all had a good time!
Meng
2015-11-10T00:00:00Z
Jane and ed's place is lovely and clean. Even though we spend most of our time in san francisco. The neighborhood is lovely with many restaurants within walking distance. We met Jane later during our stay, buy she had arranhed a substitute to welcome us. The annex is big and The beds are good. The only downside is that its in essence one big room. We loved the pond and to feed the fish.
rudolf
2015-04-23T00:00:00Z
We had a great time at Jane and Ed's, it was quiet and peaceful with plenty of space. They weren't there but made sure we had everything we needed.
Ernest
2016-07-04T00:00:00Z
Our host made us feel welcome and guided us around the place, and also left us detailed written instructions. The description on the Airbnb website was accurate. Actually we were surprised how big the suite was. Lots of room, at least for a couple like us. All in all. we were very pleased, and will very likely to try to rent this suite again.
Rolf
2015-12-02T00:00:00Z
Jane & Ed were wonderful hosts! They provided everything I needed and were very helpful. The apartment was the perfect space for me and the garden is very serene. It is located in a lovely area very close to Piedmont Avenue and a short drive to downtown Oakland. Thank you so much for making my stay in the Bay Area so special
Jacquie
2015-04-30T00:00:00Z
Room Type
Entire home/apt
---
Property Type
House
---
Accommodates
4
---
Bedrooms
Piedmont, CA, United States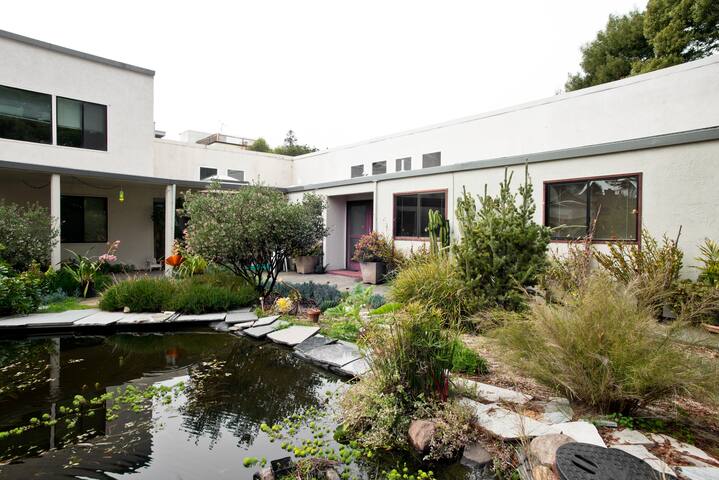 One bedroom study with twin bed available in shared Piedmont home, with lovely organic garden. There is a closet, multiple desk and shelves space available for guest use, with many interesting books. Internet for home is located in this room.
Very Safe, Great neighborhood, with plenty of safe street parking! Lots of great public transportation, buses, and BART is exactly 1.8 miles. This is an extra room to the Garden room rental, with a small twin sized bed and desk available. Occasionally the owner needs to access the room to print from the printer and access files in the desks. Located in a lovely 3-bedroom shared home in an Exquisite tree lined neighborhood in Piedmont, CA. All of the most comfortable amenities just like home and only 15 minutes to downtown San Francisco! Gorgeous backyard organic garden, with sitting patios in the back for relaxation. Organic Gardening classes available on-site. Shared kitchen, kitchen nook for morning coffee, Dining "Art" room, and large Living Room surrounded by beautiful windows. Shared one room bathroom with toilet and separate one room bathroom with sink/tub/shower. Washer/dryer available for use. Good Pet's allowed!! Must be well behaved around other dogs and people. PLEASE NOTE: if your pet is approved to stay, you must enter request for extra person (I.e. $15 per night for pet). Walking distance to pristine Piedmont Avenue, with shops, cafes, restaurants, and all of the best tourist attractions. Jerry shares the house, and he grew up in Sonoma County, but always knew he would go to school at Berkeley, as soon as he was able. Now in the East Bay for 40 years (25 in this house in Piedmont), Jerry has retired from PG&E (our gas and electric utility) to work in his and others' gardens. Jerry is also active in the community, leading the Piedmont Harvest Festival each Fall, and volunteering in the operation and improvements in local school and municipal gardens.
This is the most beautiful tree-lined neighborhood filled with beautiful homes and wonderful neighbors. Piedmont is a very upscale, safe, friendly area. Home is conveniently located very near Piedmont Ave where there are restaurants, shops, and convenience markets.
This was my second stay. Hope to be back later this summer.
David
2015-05-29T00:00:00Z
Naomi is the contact for this house. She does not live there. She responded to all of my questions within an hour or two. Jerry lives in the house. He is a very welcoming man. I felt very comfortable in his house. The house is just a few blocks from Piedmont Ave. This is a great business district with lots of great restaurants, book stores and cafes. The bed is a full on real mattress and box spring.
David
2015-05-22T00:00:00Z
The room I got was better than the listing. Sunny room. Great location in a safe neighbourhood. However, I never met the host, and now wonder if she actually exists. The experience was weird, and I cannot recommend staying at this place, for anyone, until (1) the host appears. And (2) the fierce dog (who belongs to another guest) leaves. The dog has never bitten anyone, but the loud, barking attack would disconcert many.
Chalmers
2016-02-21T00:00:00Z
Jerry is so friendly. We had a great conversation. I hope that I will be here next time.
Yue-Cen
2015-05-19T00:00:00Z
This is cozy room with a warm living room and cute backyard. Jerry is friendly and easy to have conversation with. I found the neighborhood quite lovely and have an easy access to UC Berkeley without traffic in the morning.
Iokian
2015-07-09T00:00:00Z
Naomi always responded my e-mails promptly. Jerry who lives in the house was super nice. There is beautiful beautiful backyard where Jerry, the gardener, grows fruits and vegetables. House is located right by Piedmont avenue where all nice restaurants and cafes are. I stayed in the study room which was small but sufficient enough because I was only coming back to sleep. I highly recommend this place!
Keiko
2016-07-26T00:00:00Z
The Piedmont area and everyone in it were some of the most friendly and welcoming people I have ever encountered. Jerry was very helpful in helping with directions and actually taking us to some of the best kept secrets as far as food goes. He made delicious lattes first thing in the morning and often shared meals. I would definitely recommend if you're looking for some nice peace and quiet, away from everything, yet just as close to it all as well.
Nicole
2016-11-01T00:00:00Z
I had a great time at Jerry's place (run by his friend Naomi). Jerry was very courteous and always tried to see that I was comfortable. I was also very impressed with the neighborhood, it was quite upscale actually. So if you don't know much about Oakland, and are concerned with safety, this area is perfectly good. (Being so close to Piedmont Ave. was so nice!)
Susan
2015-07-01T00:00:00Z
Room Type
Private room
---
Property Type
House
---
Accommodates
1
---
Bedrooms
Piedmont, CA, United States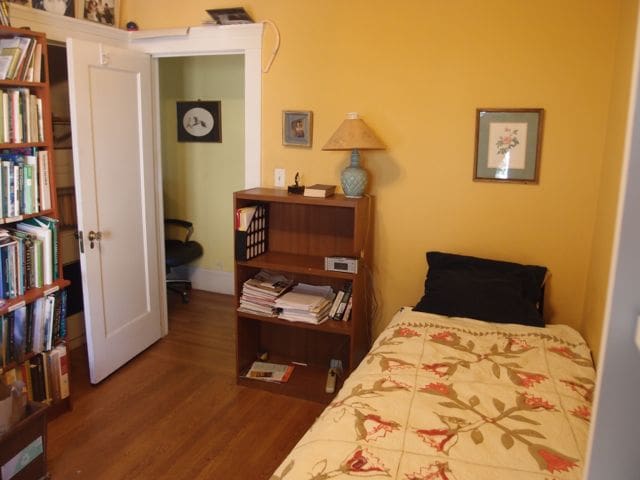 Modern one bedroom, queen bed, wifi, TV, 2 bottles of water, coffee maker and clean towels with a private entrance. Beautiful, modern and remodeled bathroom with a rain shower. 5 minute drive to Rockridge Bart, Berkeley, and Lake Merritt. Easy access to San Francisco.
Bedroom is clean and comfortable. House is in the hills, surrounded by trees so it feels like you took a little getaway to Tahoe!
Neighborhood is quiet and rustic.
The host had a well stocked room with a clean modern bathroom and well maintained bedroom. There was a fridge well stocked with juices and water. Laura also had an ample supply of crackers, cookies, and chocolates. We would not hesitate to go back again. The location was on a mountain ridge and the area was beautiful. The Millers
Mel
2016-03-25T00:00:00Z
What a lovely local gem. Laura was so responsive and helpful the entire process. Her place was comfortable, clean and tranquil. Everything needed for visiting in-laws. They had a great stay and hope to be back!
Eva
2017-01-01T00:00:00Z
Laura was an excellent communicator. If staying at this home, I recommend a car or bike. This listing was an overall positive experience - we will use it again.
Kate
2016-10-01T00:00:00Z
Location is perfect for access to Emeryville (my office) - very quiet and pleasant neighborhood. Room, bed, towels, linens and bath were all excellent. Laura & Daniel stopped in, on our first night to be sure we had everything needed - which we did. Parking on the sreet was easy & close- private side entry gives privacy & autonomy. Water, snacks & coffee in the room very much appreciated. This was our first Air bnb stay - experience was great! We'll be back.
Damien
2016-07-16T00:00:00Z
This is a great room to stay, close to freeway access and central to Berkeley, Oakland, Piedmont and BART. The room was immaculate and nicely set up with water, snacks, shampoo... and the bed and sheets were perfect for a couple of nights stay. The neighborhood is very quiet and parking is available on the street. Perfect stay for us, and will come back again.
Paul
2016-07-23T00:00:00Z
We were very happy with our experience staying with Laura. Her home was exactly what our group needed. Simple, clean, and accommodating. We will definitely be using the rental again in the future. 5 stars.
Alex
2017-02-26T00:00:00Z
This was my second experience staying in an AirBnB and, unlike my first, it was spectacular. The setting is gorgeous, the room is like staying a high end hotel, the rain shower head feels heavenly, and you couldn't ask for a move lovely set of hosts. Laura even brought me water, advil, and a gatorade when I awoke after my birthday having had one too many glasses of wine. How sweet is that? I would not hesitate to stay here again.
Tracy
2016-10-07T00:00:00Z
Laura and Dan were very nice and welcoming! They took time to check on us after their long day of work and to see if we needed anything else...they even brought us cold bottled waters. There were snacks, coffee, tea and bottled waters when we arrived. Laura communicated before and after our stay. The place is awesome and the location is in a very nice neighborhood. I would highly recommend this place! Thank you, Laura and Dan!
Priscilla
2016-06-08T00:00:00Z
Room Type
Private room
---
Property Type
House
---
Accommodates
2
---
Bedrooms
Piedmont, CA, United States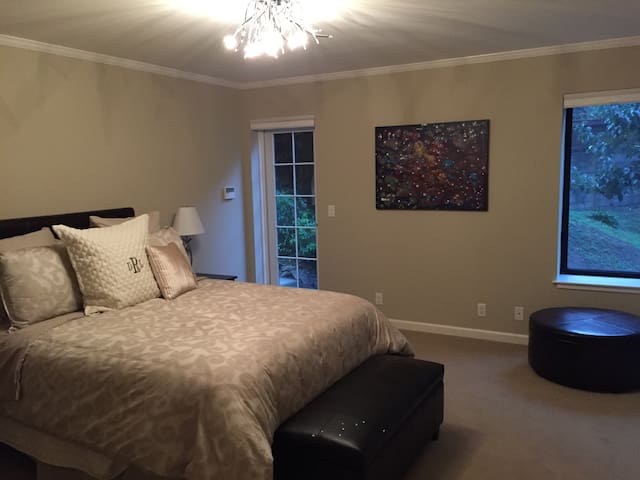 Gourmet kitchen, beautiful garden..near lake, Uptown, SF, farmer's market, trendy restaurants, cafes, parks, local excursions, wine country, vibrant urban landscape, family friendly, perfect place to relax while you explore the wonderful Bay Area!
Our home, located in a highly desirable neighborhood, is comfortable and spacious. It was extensively remodeled in 2008. The first floor has a large modern kitchen that is adjoined by a breakfast nook, a lower bathroom, and a cozy family room with French doors leading out to the patio and terraced garden where you can BBQ and enjoy alfresco dining. There is also a formal living room that is separated by the dining room with French pocket doors (table can accommodate 6-8 people). We spend a lot of time in this part of house and enjoy having family and friends over for BBQ's and dinner. The second level includes four bedrooms and two bathrooms. The master bedroom includes an en suite bath and balcony overlooking the garden with a queen bed. The guest bedroom also has a pull-out queen sofa bed, and the other two rooms have single beds. And on the basement level, there is a finished fitness room with mirrors, a ballet barre, and is equipped with yoga mats and a pilate's machine.
Our home is on a tree-lined street in a highly desirable neighborhood in the East Bay with plenty of outdoor space (parks, hiking trails, etc.) for you to enjoy. You get the best of both worlds here -- quiet, calm, beautiful homes and easy, quick access to gourmet restaurants, boutique shopping, and walking distance to beautiful Lake Merritt.
We were very satisfied with our stay. House was immaculate and hosts made us feel welcome and were very responsive.
Brent
2015-07-02T00:00:00Z
Room Type
Entire home/apt
---
Property Type
House
---
Accommodates
6
---
Bedrooms
Piedmont, CA, United States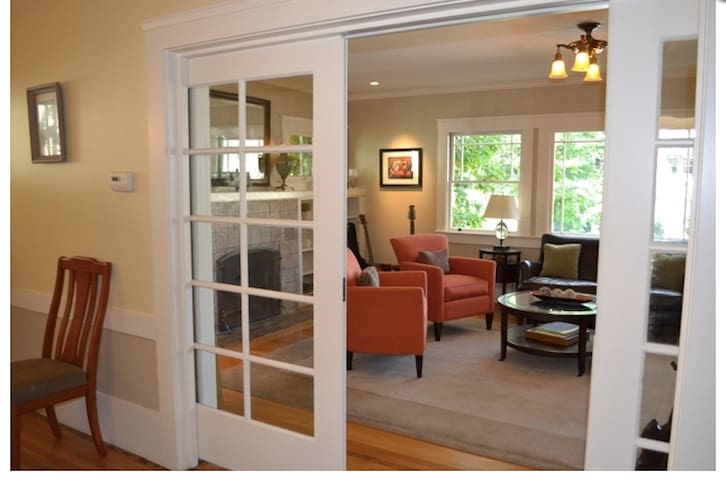 This sun-drenched 1920s home has period details and awesome garden with fruit trees on a tree-lined street in beautiful neighborhood. Fully furnished with stocked kitchen and gorgeous master bedroom.
The home has hardwood floors, original art, kitchen with all the appliances, pots, pans, dishes, spices, oil, etc including ice cream maker and blenders for hot summer days, wifi, comfy furniture, books, games, bikes (2 for adults and 2 for kids) and beds with excellent mattresses (1 king, 2 queens, 1 twin) and easy street parking. The big backyard has blueberries, peaches, plums and citrus trees, flowering vines and a swinging bench, a gas grill and two seating areas.
This is a beautiful super safe residential neighborhood filled with historic homes walking distance to vibrant urban neighborhoods with cuisine from around the world, a gourmet ghetto of boutiques, a landmark historic cinema, farmer's markets and a gorgeous urban lake. Just a couple of walkable blocks to a charming grocery/cafe/ice cream shop, an outdoor pool, park and banks.
Room Type
Entire home/apt
---
Property Type
House
---
Accommodates
7
---
Bedrooms
Piedmont, CA, United States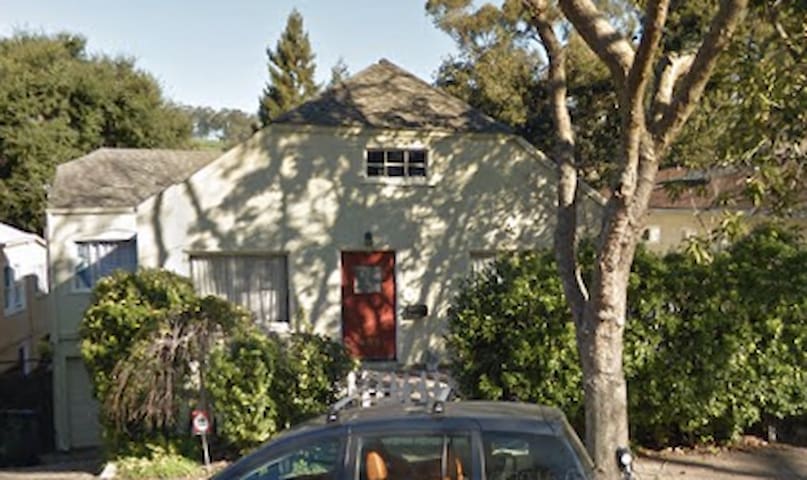 Beautiful 3 bedroom family home furnished with antiques, artifacts and love situated in beautiful Peidmont,minutes from downtown Oakland, Berkeley, & SF. Direct transit lines 2 blocks away. The bedrooms have 1 king ensuite, 1 queen and 1 double.
Beautiful walking neighborhood filled with historic 100 year old magnificent homes and a one block walk to our neighborhood grocery/deli , Piedmont and Dracena Parks 3 blocks.
What an amazing place! We were greeted by wine and breakfast fixings (what was very sweet) but the star of the show is the house. Gorgeous decorating and artifacts and comfy at the same time. The garden is exquisite and we're pretty much lived outside. I was visiting for my daughter's graduation at Mills and with lots of family living in the area, I needed a place to host graciously. Couldn't have picked a more perfect place. Private, quiet and a short walk to Piedmont park (a special place).
shelby
2016-05-18T00:00:00Z
Molly was great and the house was perfect for our long weekend in the Bay Area. She left detailed instructions and a bunch of takeout menu options for us, and even some extra snacks which were so nice to have after a long day of traveling.
Lindsay
2016-05-10T00:00:00Z
Room Type
Entire home/apt
---
Property Type
House
---
Accommodates
6
---
Bedrooms
Piedmont, CA, United States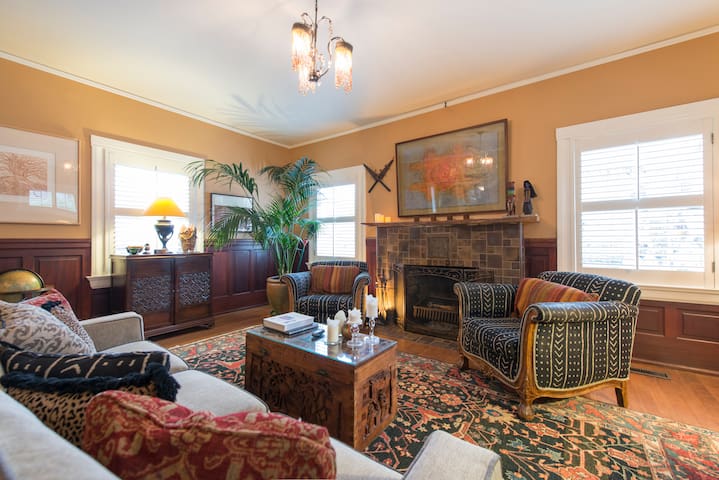 Piedmont - Airbnb
:
Average

4.68

out of

5

stars from

236

guest reviews
Enter dates to see full pricing. Additional fees apply. Taxes may be added.