It located in the medieval village 50 meters from the thermal baths of Popoli 100m from the town center. Nearby there Pescara and ski resorts. ideal place for tourists who love nature and relaxation.
balcony accommodation completely renovated
Baths of Peoples
Room Type
Entire home/apt
---
Property Type
House
---
Accommodates
3
---
Bedrooms
Popoli, Abruzzo, Italy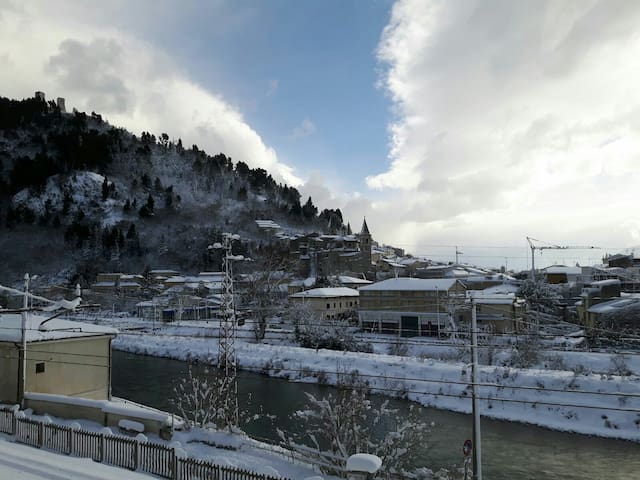 Abruzzo. REFINED APARTMENT LOCATED IN THE CENTER OF SUGGESTIVO PEOPLES HISTORY, THE SOURCES OF THE RIVER PESCARA, FURNISHED WITH PARQUET, TWO FIREPLACES, IMPORTANT WORKS OF CONTEMPORARY ART, very good quality. LOCATED INSIDE AN IMPORTANT AREA WILDLIFE AND NATURE. POSSIBILITY 'OF MANY INTERESTING AND EXCURSIONS.
The house is equipped with air conditioning; n. 3 TVs; library with 200 volumes, about; works of modern and contemporary art; 2 fireplaces; Independent heating; full kitchen with refrigerator, oven, dishwasher and everything necessary for cooking food: oil, salt, vinegar, spices, as well as paper towels, napkins, crockery, cutlery, glasses, BBQ facilities. For breakfast: coffee, barley, tea, white sugar, brown sugar, jam, milk, Nesquik, juices, biscuits, Mulino Bianco biscuits, plum cacke, brioche, Nutella ... The bathroom is equipped with towels cleaned and disinfected with antibacterial for each of the guests (a face towel, bidet, bath towel for shower), hair dryer, soaps, shower gel, shampoo, first aid kit with basic medicines (disinfectant, antiacidosi, painkillers and antipyretics, patches ...). The beds have sheets and blankets clean and disinfected with antibacterial. Are available, for possible uses, iron and professional iron. E 'available Free Wi-Fi network, by the municipality of Popoli.
In 800 AD Peoples it is remembered as the ancient village of Pagus Fabianus. In 1269 Charles I of Anjou gave Peoples as a fief to Cantelmos who held him with the ducal title until 1749. Peoples was once called the key of the three Abruzzi, as obligatory stop between the coast and inland areas, between Florence and Naples, between Rome and Pescara Bussi val up to the Second World War. Peoples was the largest fortress in the domains of Cantelmos in Abruzzo, guarding the Aterno valley, the valley of Sagittarius and the Pescara valley. The feud then passed to the principles of Montemiletto (Leonardo Tocco) until 1806, when the Kingdom of Naples was abolished feudalism. MONUMENTS AND PLACES OF INTEREST: • Duke's Tavern Cantelmos [3] (XIV century); • Church of St. Francis (XV century); • Church of SS. Lorenzo and Biagio (XVI century); • Church of SS. Trinity (XVI century); • Cantelmos Ducal Castle: The Castle of Peoples is a construction built for defensive purposes in the tenth century, between 970 and 1016 for the will of Valva bishops, diocese to which he was subject peoples. Located 485 meters above sea level, it was one of the first castles of the Valley Peligna and critically important given the role that Peoples would assume in the following years, as a "key of the three Abruzzi." The castle had a triangular structure with three towers, all surrounded by a double row of wall surrounded by a moat. In 1269 he passed to Cantelmos that even kept the fief of Peoples until the eighteenth century, decided to leave once it was built the Palazzo Ducale in the city in the late fifteenth century. Since then, he remained abandoned until 1997, when the council decided to implement a restoration. You can observe the Castle at night, thanks to the installation of a lighting system that creates a very picturesque setting.
We didn't actually stay here A mistake was made while requesting to book but we were fully refunded
Jack
2016-09-01T00:00:00Z
Ottimo alloggio, moderno, finemente arredato. Tutta la famiglia si è sentita da subito a proprio agio. Fornito di tutto il necessario. Michele e Jana ci hanno ospitato nella propria casa senza farci mancare nulla. Consigliato a tutti coloro che vogliono un alloggio vicino alle terme.
Antonello
2016-08-29T00:00:00Z
Для всех романтиков и изучающих Абруццо рекомендуем. Вечер с камином - бесценный бонус
Anton
2017-03-23T00:00:00Z
L'accoglienza è stata favolosa: massima disponibilità, estrema gentilezza, locali molto puliti ed accoglienti.
Andrea
2016-08-08T00:00:00Z
Non esiste un'ospite più gentile e disponibile di Jana. Abbiamo trovato la casa pulita e riscaldata, con ogni sorta di comodità, dolcetti di ben venuto, e una ampia scelta di cibi salati e dolci per la colazione. La casa è una elegante ristrutturazione di una palazzina del centro storico di Popoli. Silenziosissimo il vico, abbiamo dormito come sassi. Jana ci ha dato molte indicazioni sui percorsi naturalistici e le attività del luogo, e ha prenotato per noi un tavolo ad un ristorante non lontano dall'appartamento, dato che il nostro arrivo ha coinciso col pranzo. C'è, da parte di Jana, una grande cura dei dettagli: oltre a comodità come lavatrice, ferro da stiro, riscaldamento, televisione, l'abitazione offre anche una buona selezione di libri, plaid caldi per godersi comodamente il divano, e diverse opere di artisti, alcuni noti, altri meno, alle pareti. Speriamo di tornare presto per poter provare il lusso di avere un camino acceso in camera da letto, e per esplorare ancora i dintorni. Consigliatissimo!
Daniela
2016-09-11T00:00:00Z
Room Type
Entire home/apt
---
Property Type
House
---
Accommodates
5
---
Bedrooms
Popoli, Abruzzo, Italy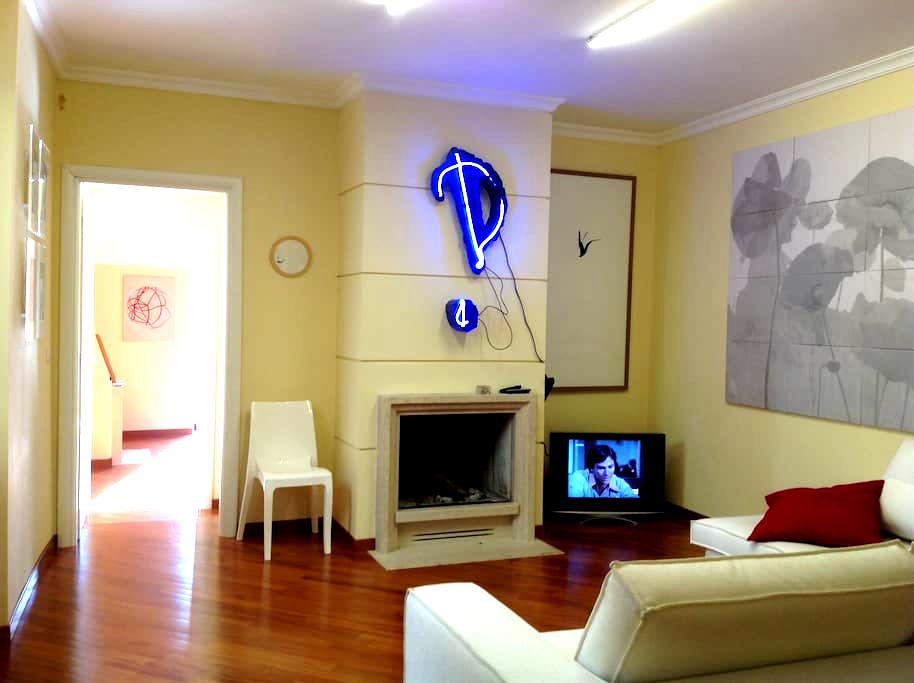 Das Haus ist auf zwei Etagen und ist mit allem Komfort ausgestattet; Es hat seine eigene Persönlichkeit, die typisch für die lokalen Häuser, geboren bequem von einer Familie gelebt zu werden, nicht nur als Immobilie zu mieten und diese behält alle Vorteile.
Das Haus ist auf zwei Etagen: Im Erdgeschoss befindet sich eine geräumige und einladende Wohnzimmer, ein Badezimmer mit Whirlpool und drei Zimmer, die bis zu 5 Personen beherbergen können. Nimmt man die Treppe zum Boden unterhalb wir die Küche, Wohnzimmer, ausgestattet mit TV, zwei große Sessel, ein Sofa, einen großen Esstisch und einem charakteristischen Kamin ein. Die Küche ist ausgestattet mit Kühlschrank, Gefrierschrank, Kochgelegenheit, Kochgeschirr, Geschirr und alles, was Sie brauchen. Noch auf dieser Etage ist ein zweites Badezimmer mit Dusche, Zugang zur Garage mit 1 Parkplatz und einem kleinen privaten Garten. Für unsere Gäste lassen auch 2 Fahrräder diese kleine Ecke des Paradieses zu entdecken!
Das Haus, mit Blick auf das Schloss, ist nur einen kurzen Spaziergang vom historischen Zentrum von Popoli gelegen, so dass ich die Maschine nicht verwenden, wenn Sie einen Besuch in dem Land machen wollte.
Room Type
Entire home/apt
---
Property Type
House
---
Accommodates
5
---
Bedrooms
Popoli, Abruzzo, Italy
Bequem und vor kurzem am Fuße einer alten Treppe Renovierung, die das historische Stadtzentrum in den Wald und das Schloss der Herzöge Cantelmos Herren der Stadt im Mittelalter verbindet. Es bietet bequem Platz für 4 Personen!
Unabhängiges Haus, 80 qm. A 150 m.dal Dorfzentrum, eingerichtet, mit Zentralheizung, renoviert, In unmittelbarer Nähe zum Zentrum des schönen Dorfes der Völker (PE), bekannt und für die Magie seines Thermalwassers gelobt, ist diese Eigenschaft Einfamilienhauses, renoviert mit Sorgfalt und Liebe, und strahlt eine gemütliche Atmosphäre vergangener Zeiten, während alle modernen Komfort. Eine perfekte Investition entweder als Ferienhaus für einen erholsamen Urlaub, als Hauptwohnsitz. Das Haus besteht aus einem Eingang mit Wohnzimmer und Küchenbereich, Schlafzimmer und ein zweites Schlafzimmer Loft mit Holzbalken. in der mittelalterlichen Altstadt, durch das Grün der Pflanzen und Bäume auf dem Hügel oberhalb umgeben, .Where dort das mittelalterliche Schloss der Herzöge Cantelmo ist, zu dem Es kann entlang einer Berg-Gasse hinter dem Haus bequem zu bekommen. E 'besteht aus einem großen Wohnzimmer 39,60mq + Küche, 2 Schlafzimmer, von denen Open-Space-1in (mit .divanetto und Sessel) und bagno.Di vor dem Gebäude befindet sich ein Parkplatz.
Die Nachbarschaft ist das historische Zentrum des schönen Dorfes der Völker (PE), bekannt und gelobt für die Magie seines Thermalwassers, das Haus ist dieses charakteristischen Gegend berühmt für seine Portale, Gassen und Brunnen. Schloss wurde mit Sorgfalt und Liebe und ausgestattet mit allen modernen Annehmlichkeiten renoviert. Eine perfekte Investition entweder als Ferienhaus für einen erholsamen Urlaub, als Hauptwohnsitz. Das Haus besteht aus einem Eingang mit Wohnzimmer und Küchenbereich, Schlafzimmer und ein zweites Schlafzimmer Loft mit Holzbalken.
Room Type
Entire home/apt
---
Property Type
House
---
Accommodates
4
---
Bedrooms
Popoli, Abruzzo, Italy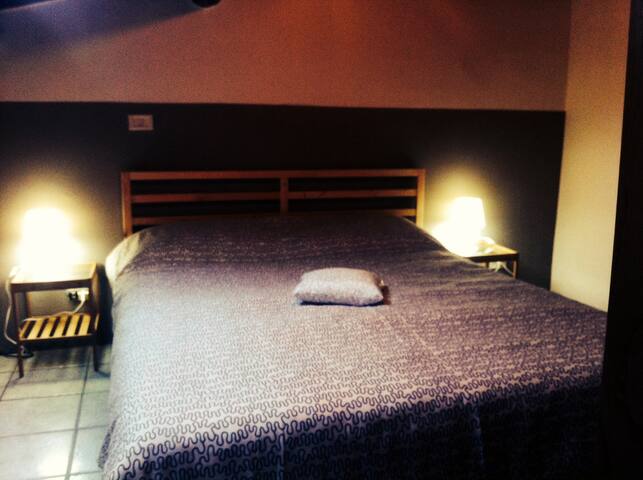 Abitazione collocata nel centro storico di Tocco Da Casauria, nel parco nazionale della Majella, a circa 40 km dal mare, nel cuore dell'Abruzzo. Dotata di televisione, riscaldamento autonomo, frigo, forno.
Alloggio situato in una zona tranquilla, silenziosa e nel cuore dell'Abruzzo, perfetto anche per visitare i dintorni. l'appartamento ha tutto ciò di cui si ha bisogno per un soggiorno breve o di più giorni.disponibilissimi i proprietari!
Loris
2017-03-12T00:00:00Z
Alloggio accogliente e in posizione strategica. Consigliato!
Giulio
2017-03-26T00:00:00Z
Room Type
Entire home/apt
---
Property Type
House
---
Accommodates
4
---
Bedrooms
Tocco Da Casauria, Abruzzo, Italy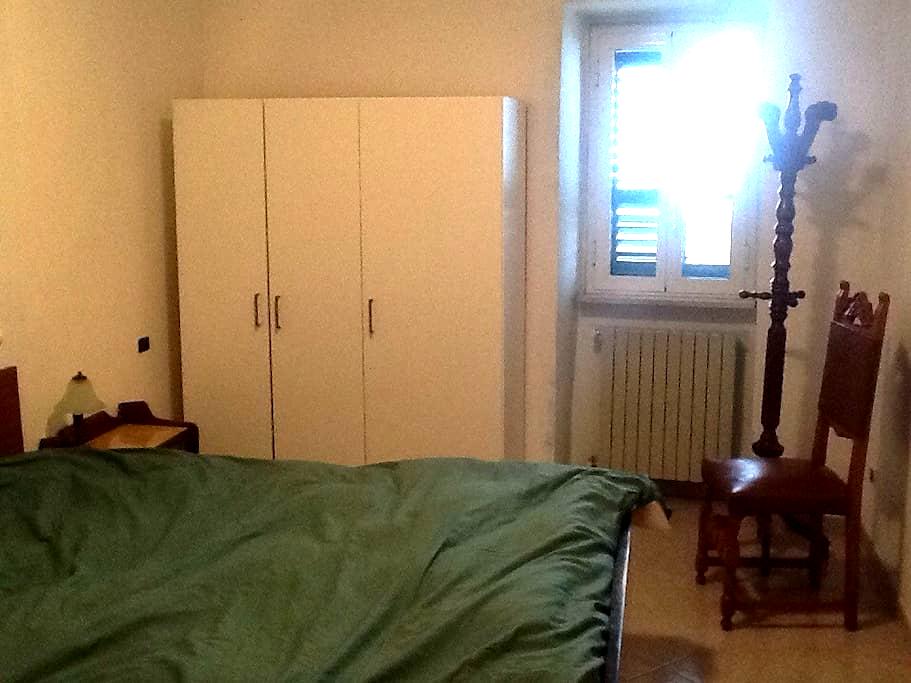 Casa indipendente situata in centro storico completamente ristrutturata con posto auto a disposizione. Ampio Terrazzo, aria condizionata, wifi.
Bilocale soppalcato di pregievoli finiture tetto in legno a vista ,caminetto con cucina e bagno e terrazzino , zona tranquilla in centro storico con posto macchina
Quartiere tranquillo con la naturale sensazione di stare in campagna e svegliarsi con il gallo,fare colazione in un terrazzino panoramico e con due passi si é in centro...
Angelo is a fantastic host, so easy to communicate with, so hospitable and helpful. The apartment is very cosy, got all one needs for a joy filled stay and his artistic- creative touch makes it extra homely. It is close to the centre of the little beautiful town. One of the best!
conny
2016-10-12T00:00:00Z
The host canceled this reservation 6 days before arrival. This is an automated posting.
Eugenio
2016-12-25T00:00:00Z
Beautiful place! We enjoyed our stay very much!
Lukas
2015-08-27T00:00:00Z
Angelo and then Angelo's wife both went out of their way to accommodate our schedules and arrange handoff of the keys, etc. The place is wonderful in an amazing Abruzzo village that has to be experienced to be understood! An excellent facility to have access to in the wonderful town!
Donald
2016-07-02T00:00:00Z
Molto ben curata!!! Angelo disponibilissimo...una persona squisita!
Alessio
2017-02-18T00:00:00Z
Appartamento confortevole e molto bello. Un ottimo punto di partenza per esplorare i tesori d'Abruzzo. Angelo e' stato molto disponibile e per nulla invadente.
Carlo
2015-08-19T00:00:00Z
Tout d'abord Angelo est un hôte sympathique qui met tout de suite à l'aise. Merci pour ce séjour. Le logement se situe dans le petit village, la vue sur la montagne est exceptionnelle et le village est charmant. Nous ne sommes restés qu'une seule nuit, cependant l'appartement aurait été parfait pour un séjour plus long pour se reposer au calme à la montagne pour faire de belles randonnées. L'intérieur est propre, spacieux et fonctionnel. Si je ne me trompe pas, il n'y a pas la wifi. Mais elle n'est pas nécessaire lorsque l'on passe des vacances dans un lieu aussi merveilleux.
Nathalie
2016-08-14T00:00:00Z
L'accoglienza all'interno di questo squisito appartamento è stata sorprendente. Ci ha aspettato sin dal primo pomeriggio quando noi saremmo arrivati verso l'ora di cena. L'appartamento oltre ad essere spazioso era ben pulito e fornito di tutti i confort. La ciliegina sulla torta sono i quadri di Angelo che adornano gli ambienti.
Emanuele
2015-09-18T00:00:00Z
Room Type
Entire home/apt
---
Property Type
House
---
Accommodates
3
---
Bedrooms
Tocco Da Casauria, Abruzzo, Italy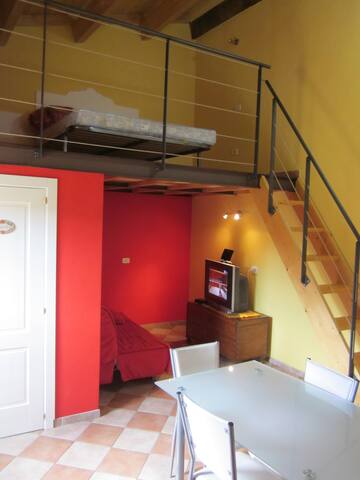 Situata nel centro storico di Tocco da Casauria, Villa Lidia è il luogo ideale per una vacanza all'insegna del relax,sport e natura o semplicemnte un week end con amici. Può ospitare comodamente 11 persone. Situated in the old town of Tocco da Casauria (PE)
A due passi dal centro storico del paese, supermercati, bar, tabacchi e tutte le attrazioni del paese a pochi metri di distanza. Campo da tennis (a pagamento) a 100 metri Campo da calcetto (a pagamento) a 700 metri Parapendio (a pagamento) 2 km Fiume Tirino (per escursioni in bike o in canoa) a 10 km Terme di Popoli 12 km
Room Type
Entire home/apt
---
Property Type
House
---
Accommodates
14
---
Bedrooms
Tocco Da Casauria, Abruzzo, Italy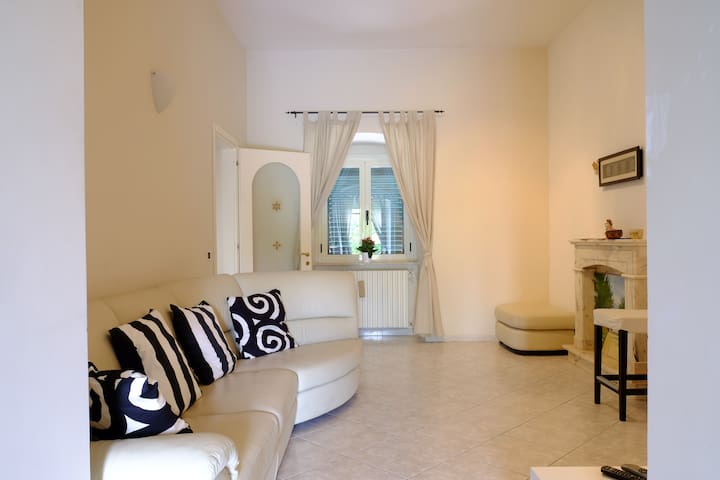 Bolognano is a unique country: Beuys and impregnated by the culture in a remote region. The house is suitable for individuals, couples and families with children. You will find a booklet with directions to visit the most beautiful tourist / naturalistic locations in the area.
My apartment is on the edge of the integral reserve of Orta Valley. With a half hour walk you reach places of unique natural beauty; the cistern, the dark cave, the potholes, the luchi to name a few. Located in the medieval village of Bolognano, a small mountain community, this cottage is ideal for exploring the green region of Italy: Abruzzo. The house has two floors: the ground floor a comfortable kitchen on the first floor one bedroom with bunk beds and a shared bathroom on the second floor a spacious master bedroom with a small desk and a wardrobe. The kitchen is equipped with everything you need to cook at home including a coffee maker, refrigerator, stove and cooking utensils. The dining table seats 4 people comfortably. The bathroom has a shower, washbasin and WC. The apartment is equipped with heaters to keep warm in the colder months. There is also a washing machine.
The area around Bolognano is rich in natural and historical attractions of all kinds. And 'possible to visit the famous Cantina Zaccagnini, admire the numerous works by contemporary artists in the narrow alleys of the old village center, walk in the nature reserve of the Orta Valley and the National Park of Majella and Morrone; visit Sulmona, the town of Ovid. Bolognano has the advantage of being a short distance from the sea of Pescara (35km). A day trip to Pescara and beaches overlooking the Adriatic will be an opportunity to enjoy the sea.
In Summer I am sure the experience here may have been different. For us traveling with a 23 month old it was not ideal. We found the place without difficulty thanks to Ginello's instructions and there was a bottle of wine waiting for us which was lovely but we found the place cold and the kitchen cluttered and not as clean as we would have liked. The area is lovely and the national park was beautiful and I am sure in warmer months it may be a better more suitable place to stay. The bedrooms were nice but we did find the bed in the upstairs room too soft and uncomfortable. There was lots of pamphlets and brochures of things to do
maninder
2017-01-31T00:00:00Z
Ginello's apartment was absolutely perfect! It had everything we needed during our stay and we felt really comfortable, safe and at home during our entire trip. The location couldn't get any better being surrounded by mountains and having Majella National Park/hiking trails in the backyard. There are lots of mountain villages and towns to explore in the area and lots to do and see. Ginello is a great communicator and was always fast to respond! We really appreciate his flexibility when we requested to extend our stay and we look forward to renting his apartment again next time we are in Abruzzo!
Carolyn
2016-10-04T00:00:00Z
Charming small house in a calm and beautiful nature. Good assistance by the host. Good choice also in the winter if you have a car. Thank you very much!!
Florian
2016-12-12T00:00:00Z
A lovely place to stay, so peaceful and next to the most beautiful natural park. The village is tiny but has a bar and the people are friendly. Ginello was very helpful, sending us information about things to see nearby and answering any questions. The house is well equipped and as described. However my girlfriend found the bed on the top floor a little uncomfortable, perhaps because it is two singles pushed together as a double - I thought it was OK though! Overall we had a fantastic time and would love to stay again.
Joe
2016-10-31T00:00:00Z
Posto incantevole, eravamo lì durante la nevicata eccezionale che ha colpito la costa adriatica e il sud Italia. La casa è bella, calda, pulita e c'è tutto. È grande da starci comodamente in 4. Il paese è piccolo, tranquillo e facilmente raggiungibile. Dalla casa, sia a piedi che in macchina, si posso raggiungere posti molto belli e unici (borghi,eremi,cascate..) che Ginello sa ben consigliare. Con Ginello non ci siamo incontrati di persona ma eravamo in contatto telefonico per qualsiasi necessità, si è proccupato che stessimo bene e si è mostrato molto gentile e disponibile. Soggiorno consigliato, io spero di tornarci.
Marta
2017-01-07T00:00:00Z
Ginello è una persona molto cordiale e premurosa. Ci ha fornito tutte le indicazioni necessarie ed è stato sempre molto solerte nel rispondere alle nostre richieste. L'alloggio è molto bello, rustico e caratteristico. Ci sono alcune scomodità da tenere in considerazione: innanzitutto le comunicazioni sono bloccate (manca internet e i telefonini non prendono), il bagno non è comodissimo e la camera da letto è al secondo piano. Ma per chi cerca un alloggio tranquillo, immerso nella natura e lontano dalla routine è l'ideale, soprattutto in relazione al prezzo! In conclusione, siamo stati molto bene e credo che ci torneremo.
Diego
2016-09-23T00:00:00Z
Abbiamo passato un Natale stupendo nella casetta bianca. Comoda, calda, con tutto ciò che può servire. per staccare la spina dalla routine. Svegliarsi con il sole che sbuca della Majella innevata non ha prezzo! Ai confini del Parco, si può partire da casa a piedi per raggiungere posti incantevoli, o spostarsi in macchina per assaporare le vicine numerose bellezze abruzzesi. Consigliamo davvero questa sistemazione. Ginello grazie per la tua disponibilità e gentilezza dimostrata! Peccato non esserci visti di persona, sarà per la prossima! Magari su due ruote ;) Daniele e Anita
Anita
2016-12-26T00:00:00Z
Abbiamo passato 3 giorni molto piacevoli nella casetta di Ginello. Bolognano è un paese piccolo e bello dove abbiamo anche incontrato persone molto accoglienti. La casetta è carina, tranquilla, pulita, a volte il pianoterra è un pò freddo nei mesi invernali. Le indicazioni, l'accoglienza e la disponibilità di Ginello erano sempre perfette, anche se non ci siamo visti di persona. La natura intorno a Bolognano è bella (Cisterna ecc.), per raggiungere posti più isolati e alti della Majella si deve viaggiare un pò in macchina. Consigliamo questa casetta per qualche giorno di riposo totale in un ambiente molto tranquillo e bello. Grazie ancora a Ginello per l'ottima accoglienza. Adeline e Francois
François
2017-02-19T00:00:00Z
Room Type
Entire home/apt
---
Property Type
House
---
Accommodates
4
---
Bedrooms
Bolognano, Abruzzo, Italy
Casa immersa nel silenzio e nella natura della valle peligna, all'interno del parco nazionale della maiella. House immersed in the Silence and Nature of the Peligna valley, inside the Maiella National Park.
Il mio alloggio è a Corfinio ( corfinium antico borgo). Casa immersa nella natura e nel silenzio con splendida vista sulle montagne della Maiella e del Gran Sasso. Ingresso su ampio salone con angolo cottura, divano letto matrimoniale, tv e camino, al secondo piano grande camera con letto matrimoniale e singolo, bagno. Ottima posizione per qualsiasi escursione in Abruzzo e comodo per raggiungere in 40 minuti d'auto gli impianti di Roccaraso e Ovindoli, inoltre dista un'ora e mezza da Roma e 40 minuti dal mare adriatico. My accommodation is in Corfinio (Corfinium old village). House surrounded by nature and silence with a wonderful view of the Maiella and Gran Sasso's mountains. Entrance to a large living room with kitchen and a double bed-sofa, TV and a corner with the warm fireplace. At the second floor, a large bedroom with a double bed and a single bed, and a bathroom with a large Shower. It is a great location for any excursion in Abruzzo, in 40 minutes by car you can easily reach the village of Ovindoli and Roccaraso, (famous winter Skiing locations) and it is 150km from Rome, and only 40 minutes from the Adriatic Sea.
Corfinio è un borgo di circa 1.000 abitanti situato nel Parco Nazionale della Majella, ad una altitudine di 346 m. slm. Sorge sulle rovine dell'antichissima Corfinium (abitata già nel X secolo a.C.), principale città dei Peligni che all'epoca della Guerra Sociale (91-88 a.C.) fu chiamata "ITALIA" e scelta come capitale dai popoli italici insorti contro Roma. Nel 1928 fu ribattezzato Corfinio in onore dell'antica e gloriosa capitale italica. Ai margini del paese si trova la splendida basilica di S. Pelino (XI-XII sec.), uno dei principali monumenti medievali esistenti in Abruzzo, in prossimità della quale si ergono gli imponenti resti dell'antica città italica. Una caratteristica che accomuna Corfinio ad altre località di questo angolo d'Abruzzo sono le decine di meravigliosi portali in pietra che adornano le case e i palazzi del centro storico. Nel centro del paese è stato recentemente aperto un importante Museo Civico Archeologico, nel quale sono esposti preziosi reperti rinvenuti nel territorio della preistorica cittadina. Un grande Parco Archeologico, suddiviso nell'area di Piano S. Giacomo, dove recentemente è stata rinvenuta una villa romana con splendidi mosaici, l'area di S. Ippolito e l'area lungo la strada per Pratola Peligna, conserva resti di monumenti come il tempio, il macellum, mausolei e numerosi muri che consentono di ricostruire la planimetria dell'antico centro e comprende un'area sacra in cui la inconsueta bellezza dell'ambiente circostante, la presenza d'acqua sorgiva e l'atmosfera particolarmente raccolta che vi regna hanno fatto sì che la sacralità del luogo si perpetuasse fino ai nostri giorni, passando dal culto pagano di Ercole a quello cristiano di S. Ippolito, ancora rievocato dalla tradizione popolare. La basilica di San Pelino e l'Oratorio di Sant'Alessandro (Da cartellonistica Regione Abruzzo - Settore Turismo) La cattedrale valvense è composta dall'unione di due corpi distinti: l'Oratorio di Sant'Alessandro, un ambiente rettangolare allungato con abside al centro, che corrisponde al capocroce di una chiesa incompleta consacrata nel 1092, e la basilica di San Pelino, terminata nel terzo decennio del secolo successivo e oggetto di un ulteriore intervento intorno al 1235. La chiesa maggiore ha tre navate con alti pilastri quadrangolari; un arco a tutto sesto immette nel transetto sopraelevato, coperto attualmente con volte a botte e a crociera. Lo spazio interno, trasformato in forme barocche tra gli anni è stato ripristinato durante i restauri del stemando sulla navata centrale la copertura lignea ed eliminando la cupola con il tiburio esterno. Internamente si ammirano arredi liturgici di notevole interesse artistico come lo splendido ambone del XII secolo.
Alessandro, his wife and their daughter were fantastic hosts, who offered a warm welcome and gave us a lot of information about tiny Corfinio and the whole beautiful region of Abruzzo. We've had amazing time and can definitely recommend both the facilities and an excellent company of the friendly hosts!
Paweł
2017-04-08T00:00:00Z
Room Type
Entire home/apt
---
Property Type
House
---
Accommodates
4
---
Bedrooms
Corfinio, Abruzzo, Italy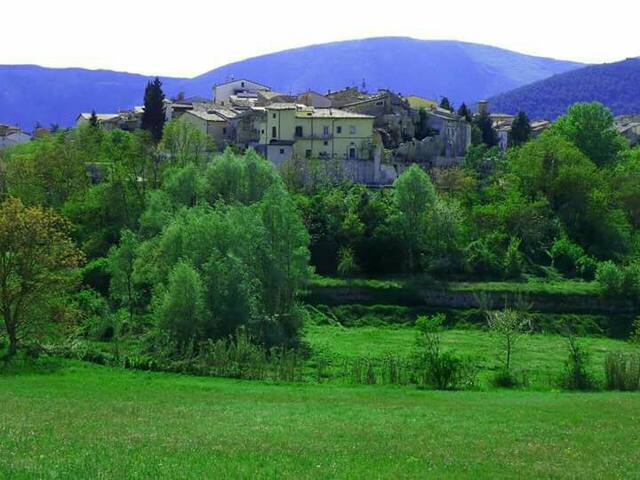 Beautiful, traditional stone house, high in the medieval village of Roccacasale in the Majella National Park, with stunning views of the Peligna Valley and surrounding mountains from every window and 360-degree mountain views from the roof terrace.
We Had a very Nice stay here. The House is very beautiful and Mark is a very Nice and Always helpful host.
Nadine
2016-09-08T00:00:00Z
Siamo stati davvero a casa. Mark ci ha accolto nel migliore dei modi. Tanto da ospitarlo a cena nel giardino antistante. Che è enorme, comoda, con tre bagni tanti letti ed un panorama mozzafiato. Poi se si vuole i sentieri per la montagna sono a pochi passi. Siamo sotto l'ombra dell'antico castello. Cos'altro volere di più? Assolutamente raccomandabile. Noi ci torneremo appena possibile.
Biagio
2016-11-01T00:00:00Z
Mark es muy buen anfitrión. Nos indicó como debiamos hacer para llegar a la casa, vino a buscarnos y nos llevo hasta ella. Nos dejó una bolsa de carbón, que nosotros no podiamos llevarnos. Fue al supermercado y nos escribió para saber si queriamos algo y nos lo trajo a casa. Ibamos de viernes a domingo y nos quedamos un dia mas. La casa es perfecta, está nueva tiene unos sofás perfectos y todas las camas son dobles. La terraza está muy bien, tiene unas vistas muy buenas. Ademas de todas estas ventajas es baratisimo. Muy muy recondable.
Juan Antonio
2016-03-23T00:00:00Z
La casa di Mark è ubicata nelle zone alte di Roccacasale, per arrivarci bisogna fare un piccolo tratto a piedi (in salita). L'appartamento ha superato le nostre aspettative, è tenuto molto bene e ci possono dormire tranquillamente più di 10 persone (ci sono 2 camere per un totale di 8 letti matrimoniali più un salotto con 2 divano letto). Mark è stato gentilissimo a fornirci la legna per il camino, è stato a cena con noi ed è una persona squisita. La casa ha un terrazzo con una vista stupenda e un giardino antistante con barbecue in pietra, inoltre la cucina è fornita di qualsiasi cosa (posate, tovaglie, tostapane, macchina del caffè, lavatrice, ecc.) Valutazione super positiva, Grazie Mark alla prossima!
Clemente
2017-02-06T00:00:00Z
La casa è molto bella e accogliente. È in una buona posizione, essendo molto facile raggiungere Sulmona in 10 minuti, Roccaraso e Pescara in una 40ina di minuti. L'unica pecca della casa è che si trova in una strada molto ripida, e si arriva a casa col fiatone. Inoltre abbiamo trovato la casa non molto pulita, forse anche a causa di chi aveva alloggiato prima di noi. Per il resto tutto ok. Mark è davvero un ottimo host, sempre a disposizione e affidabile.
Antonio
2016-08-21T00:00:00Z
accoglienza perfetta .bellissimo appartamento con tutte le comodita con un panorama incantevole .
daniele
2016-05-09T00:00:00Z
Room Type
Entire home/apt
---
Property Type
House
---
Accommodates
10
---
Bedrooms
Roccacasale, Abruzzo, Italy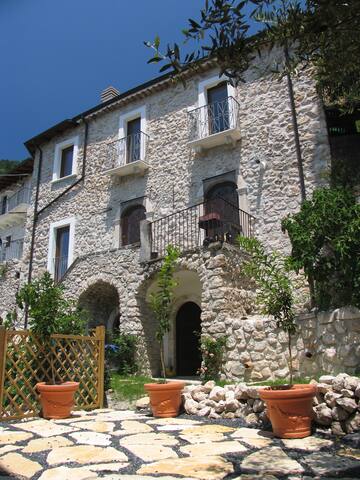 Situato a 3 minuti a piedi dalla piazza principale di Tocco da Casauria è la soluzione ideale per coppie/famiglie e/o amici per il vostro soggiorno in Abruzzo.
Room Type
Entire home/apt
---
Property Type
House
---
Accommodates
6
---
Bedrooms
Tocco Da Casauria, Abruzzo, Italy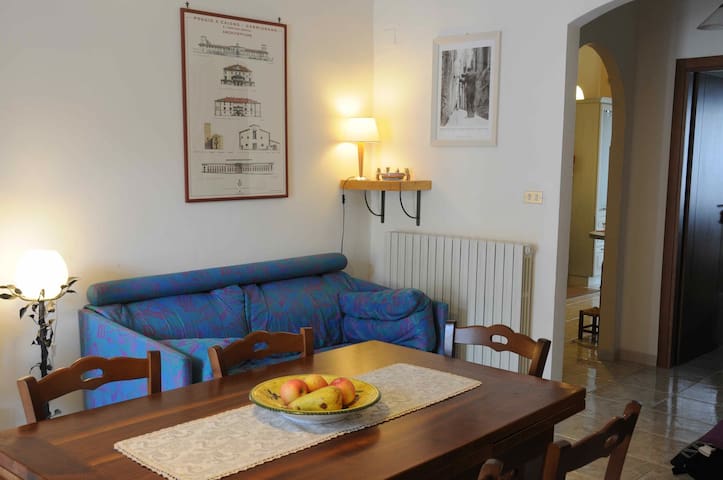 Characteristic apartment with kitchen, a double bedroom, with the possibility of adding a third bed, plus a sofa bed in the kitchen, also suitable for a family (URL HIDDEN) small apartment, with vaulted brick and stone walls, is willing on two levels in the ground floor is a very fresh cuisine, in the second floor there is the room with the nice bathroom, a washing machine, which makes the apartment also suitable for long holidays
L'accoglienza è stata subito amichevole e il paesino è veramente gradevole. Un clima fantastico e silenzioso al punto giusto.
Isabella
2016-08-28T00:00:00Z
Barbara è squisita, per problemi di traffico siamo arrivati dopo la mezzanotte e lei ci ha aspettato dandoci anche indicazioni telefoniche. La casa è molto bella, pulita e accogliente. Lo consiglio a famiglie con bambini ma anche a coppie data l'intimità dell'appartamento. Barbara ci ha anche fornito una buonissima colazione. Ci torniamo
Andrea
2016-08-22T00:00:00Z
Barbara è stata molto gentile e disponibile e ci é venuta incontro nei nostri cambi di programma. L'appartamento é molto bello, ampio e arredato con ottimo gusto. Ce ne siamo andati a malincuore. Grazie! Barbara has been very nice and helpful and always available to contact. The flat is beautiful, recently refurbished and decorated tastefully. We wish we could have stayed longer. Thanks a lot!
Angela
2016-09-02T00:00:00Z
Rolige omgivelser. Sød vært.
Julie
2016-10-18T00:00:00Z
Room Type
Entire home/apt
---
Property Type
House
---
Accommodates
5
---
Bedrooms
Vittorito, Abruzzo, Italy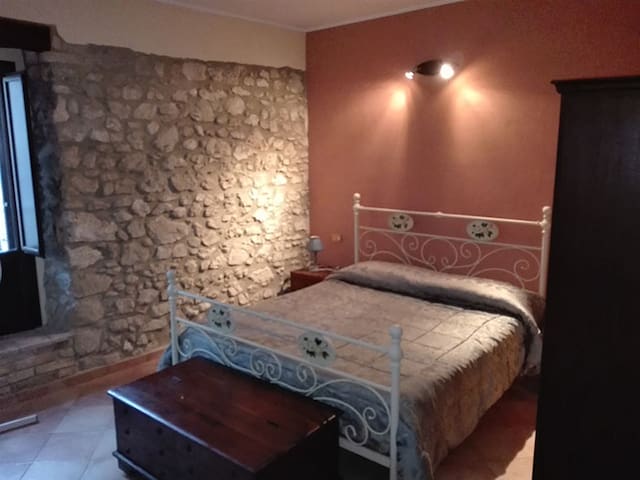 In the medieval village of Navelli, the house with period features stone and wood, has a large double bedroom, a living room / kitchen with a full kitchenette. Great for nature walks and gastronomic mountain in Abruzzo
The structure is the result of a careful restoration of two existing structures, used as a shelter for agricultural tools and as a barn. We kept the structure and exploited in the best of the plant irregularities ways, connecting the two structures with an opening in the stone wall that we deliberately left exposed. The result is certainly unusual but also absolutely functional!
In the medieval village of Navelli, the house with period features stone and wood, has a large double bedroom, a living room / equipped kitchen. Great for nature walks and gastronomic mountain in Abruzzo.
Rosa's apartment is super nice. It's located in the middle of a small medieval town, Navelli, which is a very evocative place. The house is cosy and very well equipped. The home furnishing is really well-finished, a pleasure to look at! Our hosts, Rosa and her husband Elia, welcomed us with a home-made cake and more food for our breakfast, they're very helpful and kind people. They gave us tips about restaurants and interesting places in the area and were nice to chat with. Their little grandchildren were with Elia when we checked out, they were so cute and funny. Higly recommended.
Federica
2016-03-30T00:00:00Z
L'appartamento è molto carino, accogliente e caratteristico. Dotato di tutti gli accessori necessari per cucinare e per trascorrere un meraviglioso soggiorno. La Sig.ra Rosa e la Sig.ra Rita si sono dimostrate sin da subito disponibili a fornirci informazioni utili e a rassicurarci per gli eventi riguardanti il terremoto. Grazie ancora dell'ospitalità!
Veronica
2016-08-25T00:00:00Z
Splendida location per chi vuole evadere dalla routine della città. L'appartamento, rustico, è arredato con gusto e pulitissimo al ns arrivo. Rosa, l'host, disponibilissima e molto gentile.
Salvatore
2016-01-03T00:00:00Z
Per noi che avevamo necessità di muoverci tra il Gran Sasso e la Maiella Navelli ha una posizione ideale. L'appartamento messo a disposizione è piccolo ma pulito e ben arredato e l'accoglienza ineccepibile di fronte a tutte le nostre esigenze. Ci torneremmo senz'altro!
Tommaso
2016-08-14T00:00:00Z
L'alloggio è moderno anche se inserito in un contesto antico come il borgo di Navelli, paese affascinante e semi dimenticato. Abbiamo trascorso il periodo di capodanno senza mai soffrire il freddo, il riscaldamento è efficiente e la casa sembrava un piccolo rifugio di montagna assai accogliente. Posizione ottima per esplorare la zona di campo imperatore o per scoprire Sulmona o L'aquila, essendo equidistante da entrambi.
Valerio
2017-01-02T00:00:00Z
Room Type
Entire home/apt
---
Property Type
House
---
Accommodates
2
---
Bedrooms
Navelli, Abruzzo, Italy
The Maiella is the perfect destination to experience nature in their holiday, recharge energy and health visiting the Park of the Majella and Abruzzo with its unspoilt landscapes is teeming with historical countries. The house offers year-round colorful atmosphere characteristic scents of each season. Lovers of health are in 10 minutes the thermal baths of Caramanico, in 45 minutes PESCARA. For younger Salle offers Bungee Jumping .... (URL HIDDEN)
Room Type
Entire home/apt
---
Property Type
House
---
Accommodates
4
---
Bedrooms
Salle, Abruzzo, Italy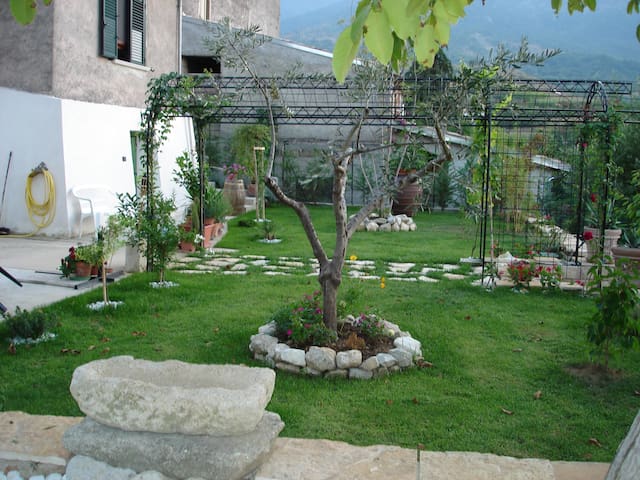 My place is close to great views and family-friendly activities. You'll love my place because of the views, the location, the ambiance, and the people. My place is good for couples, big groups, and furry friends (pets).
I terrazzi is arranged over three floors. On the top floor there is a roof terrace, a bedroom with superking bed and ensuite shower room, and a bedroom with 2 single beds. Juliette balcony. On the middle floor is the main entrance, an external terrace, the main reception room with - fireplace, seating area, dining area (extending dining table seats up to 8) and the kitchen (equipped with gas hob and oven, dishwasher and fridge kettle , coffee machine). The utility room leads off from this room and contains freezer, washer dryer, microwave, iron and ironing board. There is also a bedroom with double bed and a bathroom with shower.2 x juliette balcony Spiral staircase to Lower floor Independent access, small lobby with fireplace, bedroom with king size bed, small room to act as walk in wardrobe and bathroom with bath and shower over. Tiny balcony
There is no through road in Roccacasale, this lends the village a unique atmosphere. I terrazzi is within the pedestrian only ( by necessity!) ancient part at the top of the village, just under the castle. The castle was ruined by Napoleon. There is a shop, a restaurant and two bars within Roccacasale. At the bottom of the hill there is a supermarket. Sulmona is nearby and has everything you could want including a Roman aqueduct and a fantastic twice weekly market.
The place was absolutely amazing and unique...we spent a whole week over new years eve and it was absolutely a magic adventure. From the breathless view that you can enjoy from all over the house, to the amazing space and warming and welcoming living room with big fireplace, makes i terrazzi the right place where to spend some quality time, to relax and to enjoy local food and amazing places. Nigel was really professional and provided us all what was needed to feel at home....I have never seen an house equipped with all those comforts, so really well done. ( Additional point are for the very handy discount shop just at 3 minutes of car where you can buy all what you need for an amazing dinner at home.) Best place visited up to now, really a great thank you to Nigel and Sabino for making our staying special. We will come back soon!
Francesco
2017-01-05T00:00:00Z
Room Type
Entire home/apt
---
Property Type
House
---
Accommodates
8
---
Bedrooms
Roccacasale, Abruzzo, Italy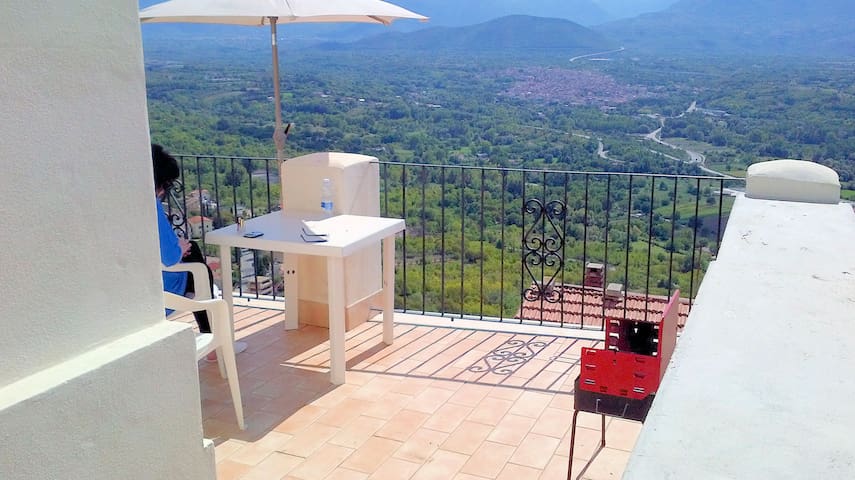 Accogliente abitazione con pregevoli finiture in legno nel centro storico con posto macchina e terrazzino
Distesi sul letto ci si trova protetti da un solido tetto in legno di Abete naturale con una finestra lucernaio al centro che permette di poter osservare le stelle sopra di noi ....oppure il ticchettio della piogga...
In centro storico con la silenziosa sensazione di stare in campagna...
I had a lovely stay at Angelo's house. Angelo and his wife were very friendly and communication was easy. They came to meet me at the exit of the highway to show me the way to the town and were available throughout the stay. I was also lucky to be provided with their local olive oil! The town is conveniently located close to the morrone and majella mountains, hence plenty of hiking opportunities for nature lovers. It offers all necessary services such as bars, restaurants and shops. Highly recommended!
Sabrina
2016-01-04T00:00:00Z
Accoglienza (URL HIDDEN) è venuto a prendere in paese, ci ha fatto trovare i bicchieri per il vino in quanto gli avevo chiesto avesse il cavatappi e ci ha fatto trovare l'occorrente per la colazione nonostante non fosse prevista. L'appartamento molto curato nei dettagli, qualità/prezzo imbattibile. Consigliatissimo.
Fabio
2015-08-24T00:00:00Z
Casa molto spaziosa ed accogliente. Rapporto qualitá prezzo davvero buono. Angelo e sua moglie sono stati cordiali e disponibili in tutto.
Diego
2016-08-14T00:00:00Z
Room Type
Entire home/apt
---
Property Type
House
---
Accommodates
3
---
Bedrooms
Tocco Da Casauria Pescara, Abruzzo, Italy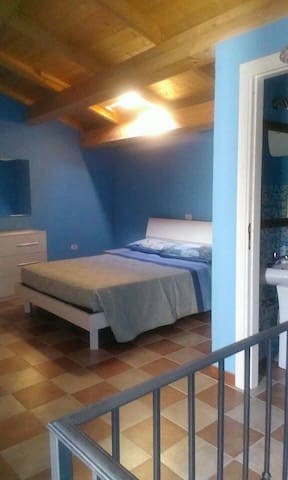 Ambiente ristrutturato con splendido panorama sulla Valle Peligna. Possibilità di intera casa o stanze private.
La casa è molto accogliente e Antonella, la proprietaria, è stata disponibile e gentile con noi. Ci siamo trovati davvero benissimo per il nostro soggiorno durante la notte di capodanno.
Luca
2017-01-01T00:00:00Z
Room Type
Entire home/apt
---
Property Type
House
---
Accommodates
6
---
Bedrooms
Roccacasale, Abruzzo, Italy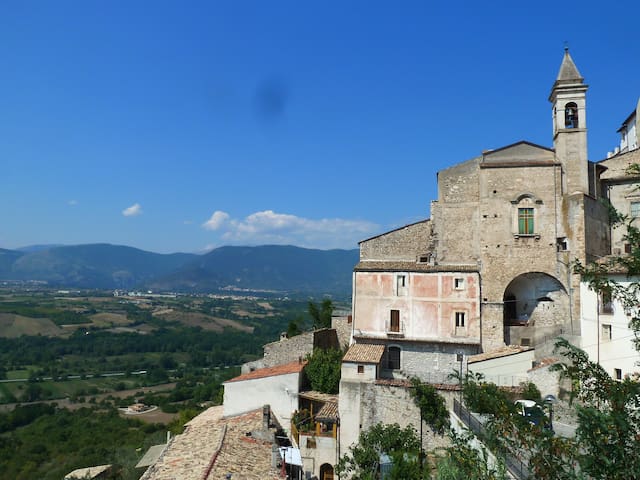 In the medieval village of Navelli, the house with period features stone and wood, has a large double bedroom, a spacious living room / kitchen with a sofa bed. Great for nature walks and gastronomic mountain in Abruzzo.
The structure is the result of a careful restoration. When we saw it for the first time there were many cages with lots of rabbits (we kept them in the name!). We kept the structure and exploited in the best of the plant irregularities ways. The result is certainly unusual but also absolutely functional!
The property is located in the highest part of a village perched on a hill, 850 meters asl., Near one of the gates of the medieval town, now virtually an open-air museum where you can discover a corner of history.
Rosa and her husband were fantastic hosts - "meet and greet" + homemade apple pie - the apartment was great super clean and fantastic location -lots of information available -will visit again
John
2015-07-09T00:00:00Z
Rosa was very welcoming and helpful, and the apartment is comfortable and accurately described. The limitation is that the town is very nearly empty (but there is a good restaurant down in the valley, and Rosa called ahead for us). Atmospheric, but a bit unsettling, and it's good to know that there are no businesses in this hill town.
Bryce
2016-06-18T00:00:00Z
Abbiamo soggiornato in questo splendido borgo la notte di capodanno e il giorno successivo. La casa calda e accogliente ha ospitato me, il mio compagno e il mio cane. La casa è confortevole e ha tutto il necessario : asciugamani, stoviglie... Perfetta per una giovane coppia e per chiunque cerchi un po di tranquillità, una vera oasi di pace!!!
Giulietta
2016-01-02T00:00:00Z
Tutto perfetto! Casa splendida e Rosa davvero gentile!
Martina
2016-03-28T00:00:00Z
L'appartamento era molto confortevole, considerando che eravamo 2 adulti e 2 cani. Posizionato nella parte alta di Navelli, da dove è possibile accedere in modo semplice al centro storico del paese con una piacevole passeggiata. La signora che ci ha accolti è stata fin da subito, gentile e disponibile, fornendoci anche informazioni sul luogo. Siamo rimasti molto soddisfatti e speriamo di tornare
Natascia
2016-08-24T00:00:00Z
Molto gentile la signora Rosa , l'appartamento è nella zona alta, la più bella del paese, con vicino un comodo parcheggio . Pulito e ordinato con tutto ciò che occorre per un soggiorno.
Pierpaolo
2016-08-01T00:00:00Z
Casa come da fotografie, bella, accogliente, arredata e corredata di tutto, dagli asciugamani alle stoviglie. Bellissima la posizione in una vietta del borgo di Navelli. Molto gentile la padrona di casa che ci ha anche fatto trovare una torta e delle marmellate buonissime.
Andrea
2015-08-17T00:00:00Z
Ottima accoglienza della Signora Rosa che ha dimostrato sempre disponibilità e passione per la sua attività. L' appartamento, accogliente e curato nei dettagli, era fedele alla descrizione sull'annuncio. Il borgo molto caratteristico ,tranquillo, fuori dalle mete turistiche tradizionali rispecchiava perfettamente quello che stavamo cercando. Consigliamo a tutti gli appassionati di borghi autentici, lontani dalla movida estiva, la Tana dei conigli al Borgo antico di Navelli della Signora Rosa. Francesco e Daniela
Francesco
2015-08-15T00:00:00Z
Room Type
Entire home/apt
---
Property Type
House
---
Accommodates
3
---
Bedrooms
Navelli, Abruzzo, Italy
Popoli - Airbnb
:
Average

4.29

out of

5

stars from

61

guest reviews