Comfortable west-facing double bedroom with desk in a 3-bed upper Tyneside flat (a style of pre-war housing typical to the area) shared with a youngish couple & cat. Short walk/bus into town, to Newcastle and Northumbria universities, & RVI. Veggie/Vegan friendly (but everyone is welcome) Our house is your house!
A bright, clean, and warm flat with a shared yard and free on-street parking. At the moment we have coffee beans that Pep brought from Spain. For this we have an electric coffee grinder and an Italian stove-top coffee pot. If you like coffee, you will enjoy it! The shower has an attachment that is water-saving and water-filtering, great for sensitive skin. We only use cruelty-free, vegan, and environmenally friendly cleaning products. Feel free to use the washing machine. We don't have a dryer though - just a washing line (inside and out)
This neighbourhood is called Arthur's Hill, and is situated one mile west of the city centre. It is on top of a hill... as you may have guessed from the name! It acquired the name in 1826, when Isaac Cookson built a housing estate and named it after his son, Arthur. We live in one of those houses. On first sight, the streets might look a bit downtrodden. However, the location, great amenities, and friendly local community more than make up for this. We love living here! It is a multicultural area with lots of young families, international and (mostly postgraduate) students. Groups and schemes such as the Time Exchange, the Chat Trust, The Maya Angelou Centre for Women, the Beacon and the new Greening Wingrove Scheme foster links between residents and encourage greener practice. (Look out for 'vertical veg growing' on the front of some houses, and free workshops in the streets during summer months!) Arthur's Hill and the Westgate Road area known for cheap fruit and veg, international food shops, and great Middle Eastern and Indian restaurants. It is also only 2 minutes from the parks and moors that make Newcastle so green. For more info on what to do, see our guidebook (scroll down to the map). Newcastle itself is a lively town and we know it well, so can recommend many places and activities, based on your interests!
Stef and Pep's home is lovely, and impressively clean. It is well equipped and check in/out is easy. The hosts are welcoming and make you feel at home. The location is walking distance (and a lovely walk it is too!) to Newcastle University and the Royal Victoria Infirmary. I would definitely stay again! Thanks for having me Stef and Pep, it was lovely to meet you both.
Alex
2016-11-30T00:00:00Z
would definitely stay at stef and pep's again. gaspi is a wonderful bonus☺
Laura
2017-03-19T00:00:00Z
Thoughtful & generous hosts.
catherine
2017-03-05T00:00:00Z
Stef and Pep are very nice hosts. If u'd like to learn more about Newcastle ask Stef to tell some of its stories :) We were really happy to state here.
Evgeniy
2016-12-30T00:00:00Z
I enjoyed a very comfortable stay at Stef and Pep's place. They were very accommodating of my late check-in, offered me a space heater as I tend to run cold, and their coffee is very good. I should note, I was not cold in the room at all despite terrible weather in Newcastle. The comforter kept me warm without using the space heater. The house was very clean and the cat is very sweet (it plays fetch!). The house is within walking distance to Newcastle University and Stef gave me very accurate directions to everywhere I needed to go during my stay. I definitely recommend staying at their place while in Newcastle.
Sarah
2017-03-23T00:00:00Z
Stef and Pep are great hosts and I had a brilliant stay. The room: #Good size room #Big, comfortable bed #Desk to work from #Great wi-fi #Clean, warm and comfortable Location: The property is in a pretty good location, but I suppose that is subjective. It is about 20 minutes walk to the town centre and close to shops ( 5 minutes).
Richard
2016-04-21T00:00:00Z
The house is always clean. Stef and Pep are very kind and they provide all the information needed to have a good time. Really a good place to be around, lot of buses routes available. I really had a good time, really felt it as a home, highly recommended for long staying.
Juan Carlos
2016-10-05T00:00:00Z
Stef and Pep were very welcoming, flexible and I felt like a real housemate. Their place was warm and comfortable, and if you're lucky you might even get some love from Gaspar (the cat). Within walking distance from the city centre, and also close to many buses.
Dinusha
2017-02-11T00:00:00Z
Room Type
Private room
---
Property Type
Apartment
---
Accommodates
2
---
Bedrooms
Newcastle upon Tyne, United Kingdom
This homely apartment is perfect for a either a short or long stay. Cosy double bedroom, with a single pull out mattress upon request. Excellent free wifi. Parking available. Only a short 5 minute walk from; Newcastle University, St James' Park, perfect to watch Newcastle United FC, A beautiful view of Leazes Park, Pubs, Wylam brewery, one of Newcastle's hidden gems. Only 10 minutes from the metro. Only 15 minutes walk in to town centre and Jesmond,or 3 minute drive or Uber for about £4.
The living room is for use at your disposal with surround sound that is available. Kitchen and utensils are for your use.
Safe and quiet neighbourhood right next to St Luke's Church and the RVI hospital.
Simple, clean, and a friendly host. Just what we were looking for!
Jeff
2017-03-28T00:00:00Z
Friendly host and nice location. We definitely enjoy the stay at Yianni's.
Qiao Wen
2017-04-09T00:00:00Z
Gianni is very kind and friendly and I enjoyed my stay immensely.
Steven
2017-03-21T00:00:00Z
Yianni was very help and made my travel easy. Check in was very easy. House was clean. And close to University.
Fahad
2017-03-24T00:00:00Z
Good host, good place and good location
Harry
2017-03-19T00:00:00Z
The host canceled this reservation 2 days before arrival. This is an automated posting.
Barby
2017-03-26T00:00:00Z
Fantastic place! Very welcoming, clean and comfortable. Walking distance from everything you could need.
Jason
2017-04-02T00:00:00Z
It was a pleasure staying in this cozy apartment. The room was just as depicted, very tidy with a comfortable bed, clean sheets and towels provided upon request. The building and rest of the apartment was well maintained with a living room that was large and comfortable with a big bright window overlooking a nice view, the kitchen well equipped and bathroom very clean. Yianni was very nice and easily accessible since he was staying in the other room but did a good job of giving me privacy. He was very knowledgeable and helpful about the city and gave excellent suggestions! Would definitely stay here again, great value for my money. Highly recommend!
Panayiota
2017-03-16T00:00:00Z
Room Type
Private room
---
Property Type
Apartment
---
Accommodates
3
---
Bedrooms
Newcastle upon Tyne, England, United Kingdom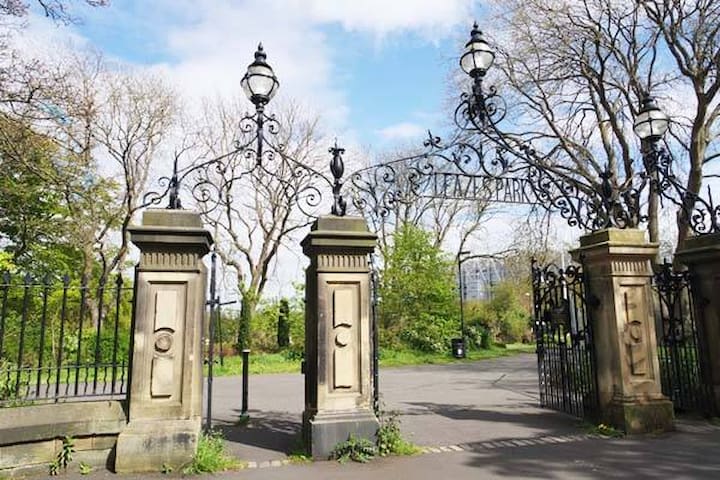 My place is close to the city centre, the river, local bars/restaurants/nightlife, st james park, public transport, train station. You'll love my place because of the neighbourhood, the light, the comfy beds, the views, proximity to local attractions. My place is good for couples, solo adventurers, business travellers, and families (with kids).
This place had the most amazing view of the tyne really enjoyed it! Very nice place to stay two big rooms with comfortable beds tv wifi The things that weren't great were the showers one didnt work just allowed the cold tap to work The hot water was great the initial night but went really cold the next morning even with both hot water boost buttons also i think it would have been nice to have some milk in the fridge that hadnt gone off its not the biggest thing so don't be put off at all Also the Fob doesnt work to exit the carpark via the 8th level so you do have to drive up park then go down the stairs then into the building, up the elevator but you do get a gated parking spot which is great to save money on parking my girlfriend and i loved the place but so got to give the honest review of this place
Yahya
2017-03-06T00:00:00Z
We had a great stay in Newcastle. The location of the apartment made taking in and exploring this beautiful city really easy. The views from the flat from the very spacious lounge are incredible and everything was clean and tidy upon arrival. We had a slight issue with accessing the car park but George did manage to sort this out later in the day. This is a one off as the fob system was changed that weekend so shouldn't affect future visitors. Although the car park is very convenient it should be noted that access is by a number of staircases, so not ideal if you have mobility issues. The bedrooms were comfortable and large but slightly noisy in the mornings owing to the railtrack being nearby (but for a city centre location with amazing views of said rail track bridge this is to be expected and was not too much of an issue). We would recommend this apartment for anyone wishing to explore Newcastle.
catrin
2017-03-28T00:00:00Z
The communication and the information provided were superb! Everything was well prepared and we did enjoy our stay in George's place. Unfortunately we booked only for one night. The view from the apartment is stunning. We definitely would stay there again and recommend this apartment to other guests. Thanks very much!
Pierre
2017-04-07T00:00:00Z
A great flat with a great view and great location. George was a wonderful host. Would definitely come to Newcastle again.
graham
2017-04-05T00:00:00Z
Fantastic view and very reasonably priced flat - could do with a bit of refurbishment but maybe that's reflected in the price. Also, if you're a real coffee drinker, you'll need coffee and a cafetiere, as that's not currently provided. Happy to recommend the flat though - and Newcastle is AMAZING!
Lu
2017-03-24T00:00:00Z
This is the second time I have stayed here as it is so good I had to come back!
Fraser
2017-03-08T00:00:00Z
This apartment has possibly one of the best views you will see, as it overlooks the river Tyne and bridges. It was a lovely modern apartment and there was great communication from the start.
Fraser
2017-02-27T00:00:00Z
This is a large apartment and a short walk from central station. If you have a car the car park is floor 8 and you have to go to the ground floor of the car park via several flights of stairs and then enter the apartment block so if you have lots of luggage its a pest. Amazing views from the window across the river.
Karen
2017-03-31T00:00:00Z
Room Type
Entire home/apt
---
Property Type
Apartment
---
Accommodates
4
---
Bedrooms
Newcastle upon Tyne, England, United Kingdom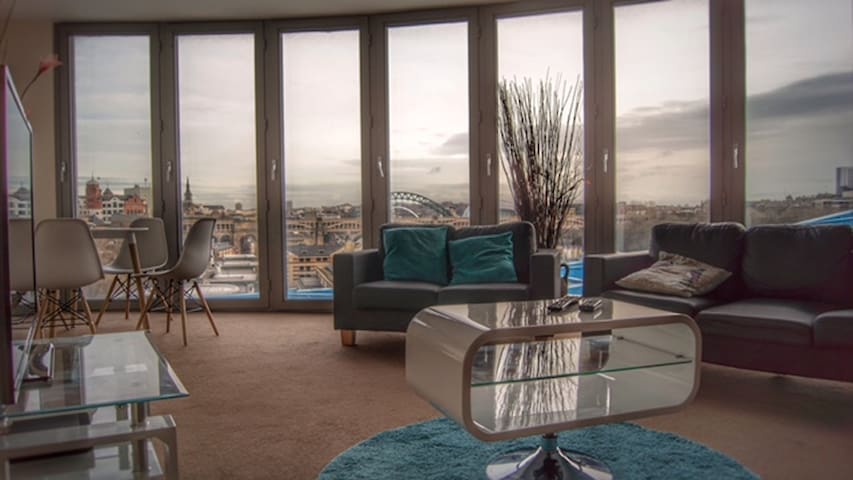 Large double bedroom available for rent in a 7th floor flat. The flat is within 15 minutes walk from central station and the city centre. There is one bathroom and one kitchen. Asda is 5 minutes walk away wifi available, tv+DVD are included also a computer desk included.
The apartment situated near city centre so you don't have to get a bus or taxi Only 10 -15 minutes walk to city centre. It's very quiet so convenient for studying, reading, researching etc. If you have a car I will give you a visitor car park permit so you can park for free.
Good location on 7th floor Perfect for one night
John
2017-03-29T00:00:00Z
Host was very welcoming and the room was cosy. Although we stayed for only one night, he made sure we had everything we needed. Would recommend!
Indrė
2016-10-23T00:00:00Z
Nice, comfy room and Alex is a super kind host!
Savannah
2016-10-30T00:00:00Z
Really nice room and well located. Excellent communication with Alex.
emmanuel
2017-02-15T00:00:00Z
Alex was magnificent! He pick up us from the station and offered to took us back at the end of the stay. He was so considerate and attentive al the time. The room is absolute private. The location is really near from everything however seems to be a students neighbourhood and buildings we didn't had any problem with anyone. Great stay!
Matías
2016-08-30T00:00:00Z
Alex and his housemate were very welcoming and friendly, making sure I had everything I needed. The shared kitchen was well equipped. The bedroom was comfortable. A great option if you are looking for a basic and very affordable place to stay in Newcastle!
Doireann
2016-09-27T00:00:00Z
Issam was a great host, thank you
Sarah
2016-11-25T00:00:00Z
great place, walking distance from the city centre. No problems here and would definately stay again
Sean
2016-10-09T00:00:00Z
Room Type
Private room
---
Property Type
Apartment
---
Accommodates
2
---
Bedrooms
Newcastle upon Tyne , England, United Kingdom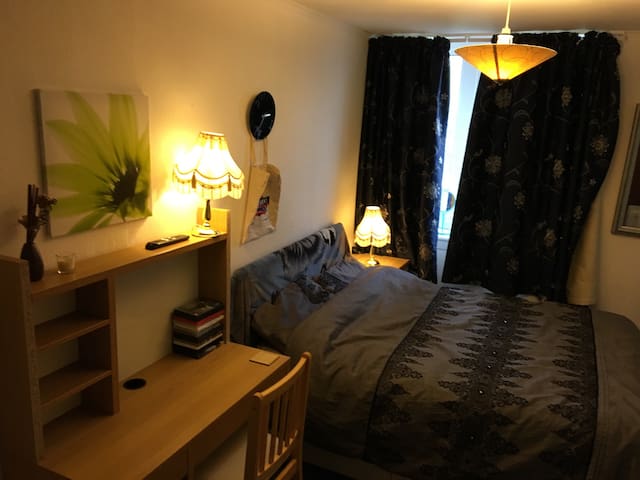 A charming studio close to Regent Centre Metro, handy for the airport & rail station. A 10 min metro ride takes you into the City Centre. It is a short walk to Gosforth High St. This is a great area - we look forward to welcoming you.
A fab little find. The apartment is well equipped, modern, clean and private. We loved all the little touches and provisions that were kindly left. We came to visit friends so mainly drove and got taxis but it's also very close to metro to get into central Newcastle. Highly recommended - a real home from home.
Sara
2017-04-09T00:00:00Z
Booked this for my parents. They were delighted and would happily return. They were particularly appreciative of all the little touches and attention to detail that Lynne and Gary had provided
Jamie
2017-04-02T00:00:00Z
Lynne's place was amazing. We had the entire flat to ourselves. They were knowledgeable of the area and helpful. Having a private kitchen in the flat was nice, there are a few grocery stores in walking distance. Would book again!!
Brent
2017-03-30T00:00:00Z
Stayed here for a full month and had a great time. Lynne and Gary were really friendly and helpful and the living space was very cosy. They have really gone the extra mile to make sure there is every thing you need and the flat is really well located.
Joseph
2017-01-31T00:00:00Z
Staying with Lynne and Gary was an amazing experience. From the first moment my friend and I felt at home. Our hosts were extremely friendly and helpful in all respects. The communication prior to our arrival was uncomplicated and Lynne always replied within hours, and we'd felt welcome even before we arrived. The location is perfect as it's a few minutes' walk to the metro station which goes directly to the airport, as well as the city centre. It's very easy to buy groceries and so on as there are shopping opportunities 5 minutes away from the apartment. But most of all we absolutely loved the way the studio is presented - beautiful, absolutely clean and fresh, and homey. Thank you for making our stay so great!
Katerina
2017-01-02T00:00:00Z
Absolutely lovely place! Everything was tidy and so comfortable. Easy to settle down and relax. Lynn and Gary are excellent hosts and so very thoughtful! Nothing but good things to say of our wonderful (though short) stay!
Artena
2016-10-10T00:00:00Z
Lynne and Garry came and collected myself and my colleague at the metro station as we had quite a lot of luggage. Upon arrival we were shown around the studio and everything was explained. The studio was well equipped, modern and clean. It's a 5 minute walk from the metro which can take you all over Newcastle. We were given clean bedclothes and towels upon request. My stay here was fantastic and would highly recommend it to anyone.
Ben
2017-03-04T00:00:00Z
This is a wonderful place and two famtastic hosts. Both Lynne and Gary were brilliant and made us feel very welcome. The studio is beautiful, cosy and very clean. There were also a number of lovely well thought out extras to make the stay even more enjoyable. I would definitely recommend this gorgeous place. 10 of 10
Adam
2016-12-18T00:00:00Z
Room Type
Entire home/apt
---
Property Type
Apartment
---
Accommodates
2
---
Bedrooms
Newcastle upon Tyne, England, United Kingdom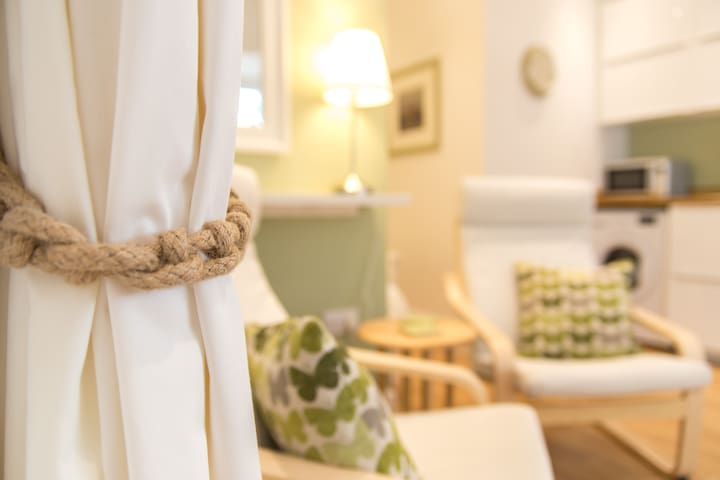 Hello! Spare room in a bright/cozy/modern 2 bedroom flat. The flat is ideally placed between several vibrant areas of Newcastle. 10 min walk to the city center and 5 min to all Quayside attractions (Sage/ Baltic etc) and the trendy Ousburn area
The room is bright and welcoming with an incredibly comfy bed. There is also a cozy living room with a nice big TV (if you are needing to unwind after a busy day) and well equipped kitchen. Also, as of Jan 2016 there will be a lovable and friendly little cat joining the household. Cuddles and affection comes at no extra cost
The flat is very close to the river and has a view of the Tyne bridges but is far enough off the beaten track to be fairly quiet. Very close by to plenty of nice quayside restaurants and fun Ousburn pubs.
Dan was a very welcoming host and has a nice flat. The kitten is entertaining. Conveniently located next to quayside and 20mins from town. I am a light sleeper and though not next to a main road, it was quite noisy (although i understand new window seals are soon to be fitted).
robert
2016-02-26T00:00:00Z
Daniel is a pleasant host, the flat is modern and really nice, with a comfy bed... and above all, with the most cuttest kitten to light up your stay! I would definitely recommend this room!
Louis
2016-03-20T00:00:00Z
We stayed at Daniel's place last week for one night. He was there to greet us and gave us a parking permit for the area which was great. Everything was tidy, nice and clean. The bed was the so comfy and they have the cutest cat ever!! Overall a great stay and a great host. Thanks very much :)!
Verena
2017-02-25T00:00:00Z
Dan's place was very conveniently located, and Dan himself was an excellent hand, providing a warm welcome and useful information when requested.
Dan
2017-02-21T00:00:00Z
Really lovely only 10 mins from the centre and a great host what more could you want
Steven
2017-03-05T00:00:00Z
Having been using Airbnb several times to find accommodations when I was traveling around UK and undoubtedly Daniel's place was the best. The bedroom was cozy and warm. The whole flat was just like my own one -- not stiff but clean enough. Daniel was working when I arrived but he arranged to let me collect the key and was responsible all the time. It was a shame that we didn't have the time to have a proper chat but I am looking forward to stay again when I have the chance to revisit Newcastle.
(SENSITIVE CONTENTS HIDDEN)
2016-01-28T00:00:00Z
Daniel did a wonderful job of making us welcome at his home - we only got to chat briefly but everything was easy and comfortable. It was a rather cold & windy weekend so it was great to be in a warm flat with a lovely hot shower!
James
2015-12-06T00:00:00Z
Dan is very welcoming and helpful. It was a pleasure to discuss with him about Newcastle. His flat is very well located, and the bedroom perfect. The bed is soooo soft !! And the cat is so funny !! It was a nice stay.
Nicolas
2016-05-10T00:00:00Z
Room Type
Private room
---
Property Type
Apartment
---
Accommodates
2
---
Bedrooms
Newcastle upon Tyne, United Kingdom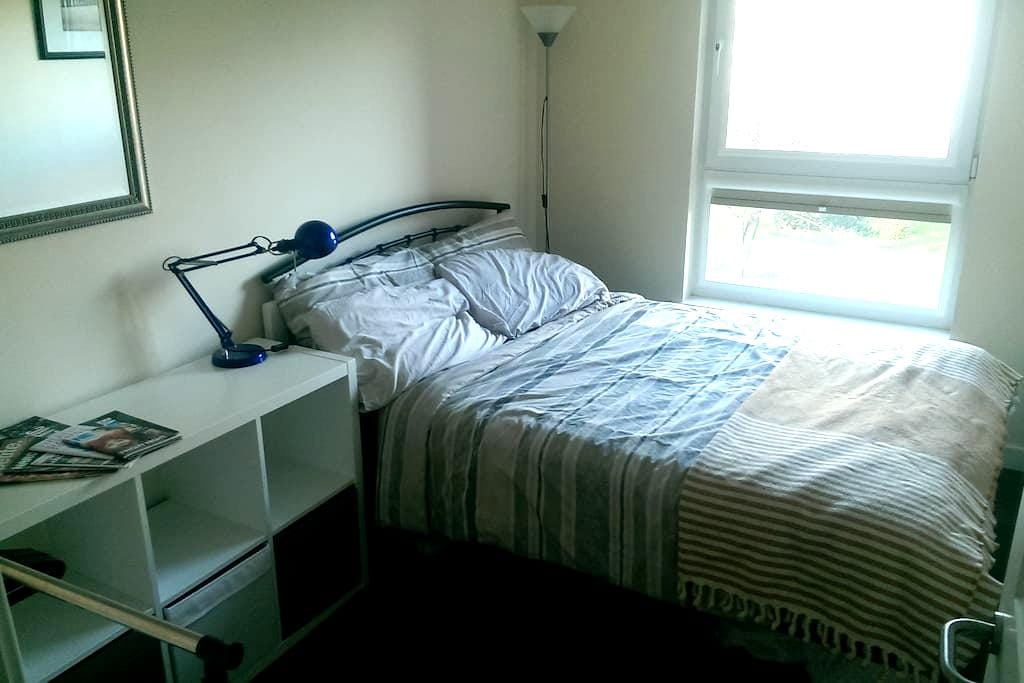 Our beautiful modern newly decorated apartment is set in the heart of the Newcastle quayside short walk from the main centre.
Luxury modern, newly decorated two bedroom apartment situated on Newcastle's Popular Quayside; which is only a short walk from the lively bars, award winning restaurants and top class entertainment the best of which Newcastle has to offer. We provide complimentary tea/coffee, fresh milk, bread, butter, jam and marmalade also a choice of breakfast cereals for guests to enjoy. Fresh clean towels and tea towels will be provided at the beginning of your stay. Both bedrooms consist of a double bed along with a wardrobe, bedside table with lamp, mirrored dressing table with stool and blackout blinds to ensure a good nights sleep. There is also a SMALL double sofa bed in the living area for two guests. Our apartment is great for single people, couples, people traveling to the city for business, families (travel cot can be provided if needed) and small groups (apartment sleeps up to 6 two full size double beds and a SMALL double in living area) Sky TV and Free Wi-Fi are also available.
Our apartment is in a residential block so please respect our neighbours and keep all noise to a minimum especially after 11pm
very nice
泽浩
2017-04-05T00:00:00Z
Sian was of great help finding the apartment. Maintained great communication throughout the stay. Location is perfect if you want to get to city centre. Shops and resteraunts are also local. The apartment is modern, clean and spacious. Overall a great stay!
Liam
2017-04-09T00:00:00Z
Sian and Mark were great hosts. They were very accommodating even when our plans changed slightly last minute. The apartment is modern, spacious and immaculate. We had a great stay and will definitely be back.
Nicole
2017-04-02T00:00:00Z
Room Type
Entire home/apt
---
Property Type
Apartment
---
Accommodates
5
---
Bedrooms
Newcastle upon Tyne, England, United Kingdom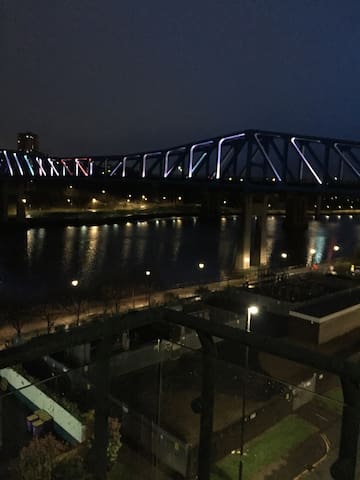 Stylish two bedroom / two bathroom apartment located on Newcastles upon Tyne's popular Quayside. Visiting Newcastle for business or pleasure ?this apartment is sure to impress and offer an enjoyable stay. Within a short walking distance to all local amenities & nightlife. Benefits from secured entry , parking and lift access
Located in the heart of this vibrant city, The Close, Newcastle is the perfect base from which to explore. Unwind in the peaceful Quayside area, offering its own shops, restaurants and nightlife, just a short stroll to the hustle and bustle of the city centre. For art and music lovers, the development is ideally situated near the Metro Radio Arena, SAGE Gateshead, and the Baltic Arts Centre. Newcastle United Football Club, the Millennium Bridge, and Newcastle's only Michelin star restaurant are also all within easy reach.
Laura was great at communicating with us- messages were answered right away and directions for accessing the building were flawless. Flat itself is big and open, very quiet. Remember to check to see that the heat is on when you arrive and it's a good idea to do your food shopping in advance as well - we found nice cafes and coffee shops nearby but no place to buy milk for our tea. We'll stay in another part of Newcastle next time we visit.
Pete
2017-01-22T00:00:00Z
Great location, great apartment, great city.
Dan
2017-02-12T00:00:00Z
as described/pictured. Perfect for business or weekend away trip.
Andrew
2017-01-31T00:00:00Z
Absolutely excellent place to stay, very comfortable and a very convenient location just 5 mins walk from the city night life. A lot more space than we actually needed so highly recommended!
Connor
2016-11-19T00:00:00Z
Lovely apartment, great location right near the river. My father and I stayed here and we were very pleased with this modern apartment. Only thing was that we didn't have access to the car park, however this did not matter in the end as we found a car park close by.
Sophie
2016-08-08T00:00:00Z
Really good, warm communication beforehand. The flat itself was pleasant and modern, well-located and of a decent size. However we felt let down by being unable to access parking for the first 24 hours and some poor communication from host to resolve this. As a result, unloading was really difficult and the first evening was spent trying to resolve parking problems. There were also some problems with cleanliness of the flat itself as spillages had not been cleaned away and there were broken biscuits under the sofa.
Fiona
2016-11-14T00:00:00Z
Great location next too Quayside and plenty of bars just around corner, very clean nice apartment
Mark
2016-12-03T00:00:00Z
The apartment is in a fantastic location and Laura was very accommodating for a slightly later checkout. The flat itself was very nice and modern and right on the quayside just a short walk into the city centre. The only slight frustration during the stay was that the wifi wasn't working and we couldn't find a kettle but despite these minor inconveniences I would highly recommend staying in this apartment.
Matthew
2016-08-14T00:00:00Z
Room Type
Entire home/apt
---
Property Type
Apartment
---
Accommodates
4
---
Bedrooms
Newcastle upon Tyne, England, United Kingdom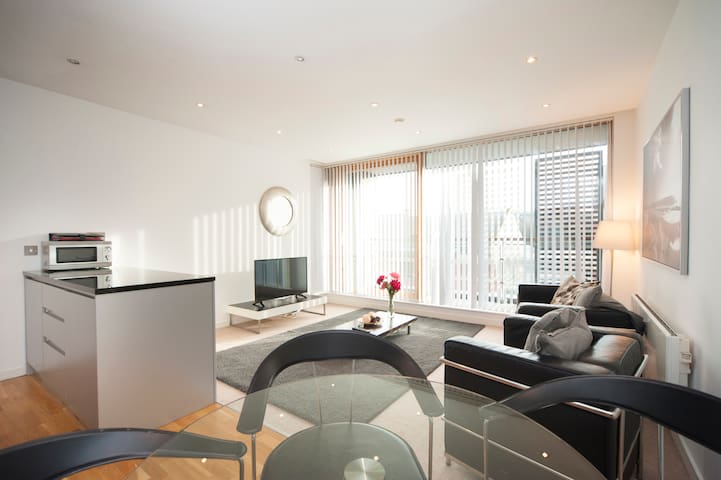 My Studio apartment is situated on Newcastle Quayside with a private balcony which looks directly on to the River Tyne. It is newly decorated, light and airy with simple, classic furnishings. The living / bed space is combined and spacious with a corner sofa unit which easily converts in to a generous double bed. The separate kitchen has a washer / dryer, fridge, oven and microwave and is fully equipped with all utensils. Clean bedding, towels and the essentials for a cup of tea are provided!
My Studio is just a short walk from Newcastle Central Station which is incredibly well connected for train, metro, taxi and bus travel. Monday and Thursday evenings are blocked out for getting the apartment ready for new guests but this is flexible if your trip requires one of these evenings - please just ask me and I am sure we will be able to make arrangements to suit both parties.
Room Type
Entire home/apt
---
Property Type
Apartment
---
Accommodates
2
---
Bedrooms
Newcastle upon Tyne, England, United Kingdom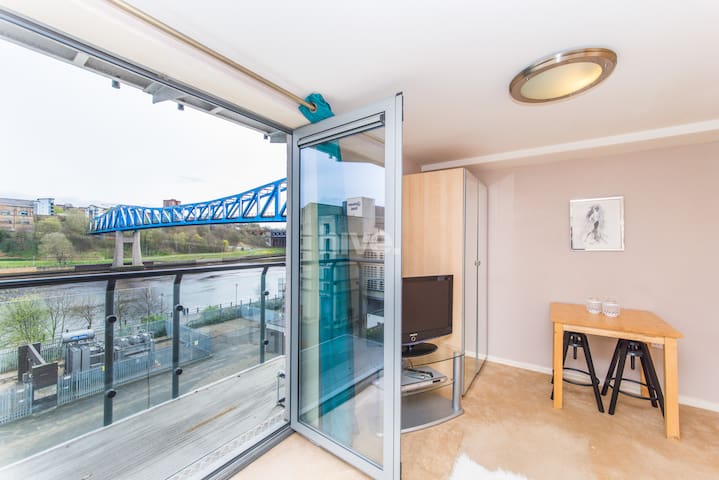 Oh so comfy king sized bed, ensuite bathroom/shower. Incredible views. 5 mins walk to Newcastle/Gateshead attractions. River on doorstep. Lovely cafe across road, takeaway & cosy pub close by. Free wifi. FREE BREAKFAST in a local cafe. Free tea n coffee n biscuits.
Recent conversion of Victorian railway offices. Looking over the great Stephenson construction of the High Level Bridge (1847), Newcastle Keep (1172) and St James' Park (1992). It's a wonderful building to feel a part of the exciting city. Close to the famous Quayside, The Sage, Baltic, and City Centre. Just opposite the Hilton.
Its perfect for wandering in to town. Just away from the loutiness of Newcastle, it is a little oasis of calm. Cinema 200m away. 24 hour supermarket 200m away. Cafe across the road. Great Pubs. And i love trains. There are trains.
Excellent host and location. Clean and comfort, recommended!
Bradley
2016-10-08T00:00:00Z
It's definitely a great experience. Tom's house is sooooo lovely:)
Ann
2016-04-01T00:00:00Z
Tom's place is really lovely and cozy. Handy location to everywhere and close to Metro also. The view from living room is amazing and the bedroom is very comfy. I had a great time at Tom's place, definitely my best Airbnb experience so far.
xinyi
2016-08-14T00:00:00Z
The accomodation was superb. Top area and everything is reachable by foot. Tom and Sophie were extremely nice and super helpful. Tom even got us a lift when we were lost at the angel of the north because we forgot to bring enough money for the bus :D Also he brought us to the coach station. The breakfast at the Quilliam Brothers was super delicious. :) Michael and Vanessa
Michael
2015-07-27T00:00:00Z
We felt very welcome! Tom was the perfect host. Respecting our privacy but at the same time providing us with tips etc about New Castle. Tom and his brothers have a fantastic tearoom 15 minutes walk. We enjoyed every day a perfect breakfast ! The bathroom and bedroom were very clean and a fantastic shower!
hans
2015-11-23T00:00:00Z
Tom and Sophie were the epitome of the perfect hosts. They welcomed us into their home and at no time did we feel like we were intruding. They have thought of all the little details to make your stay a fabulous experience. The apartment is central to everything in Newcastle and provided a quiet oasis in the craziness that was a RWC weekend. I highly recommend staying here when visiting Newcastle. The breakfast at the Quilliam Brothers Tearoom was a pleasant surprise and super delicious. We'd stay here again!
Kerry&Dave
2015-10-04T00:00:00Z
This is a perfect venue for Newcastle: a flat within a flat where you are most welcome. We thoroughly enjoyed this and Tom's recommendations for eateries and cafes are to be followed and will be enjoyed. He knows where to go and what is on offer and it proved to be excellent fare. We knew nothing of Newcastle and with the proper steer, we made the very most of it. The metro is close by, the buses stop at the door. The flat is extremely comfy and the facilities just what is needed for a short stay. Many thanks to Tom and Sophie for their hospitality. Jim and Anne
James
2015-09-03T00:00:00Z
This is an incredibly easy 5-star review. The accommodations were clean, in a great location, easy to access and generally exactly as represented. Tom and Sophie were wonderful temporary flat-mates, providing engaging conversation and entirely not-required meals on occasion(!). They were very laid back and no pressure to hang out or not to hang out. Their openness and friendliness along with a healthy respect of privacy was a perfect balance. Thank you for a great stay!
Halsey
2015-08-14T00:00:00Z
Room Type
Private room
---
Property Type
Apartment
---
Accommodates
2
---
Bedrooms
Newcastle upon Tyne, England, United Kingdom
Best central location: you will be in the midst of bars, restaurants, shopping streets, museums, music venues, 5 mins walk from Newcastle Station and still have a peaceful night sleep! 32" TV, wifi, bluetooth speaker, washer, quality leather chairs.
My nice studio has a modern bathroom with shower, stylish leather chairs, 32'' flat screen TV, wifi broadband, kitchen area equipped with a new microwave, washer dryer, 2 plate hob and small fridge. There is also a quality Bluetooth speaker to listen to your favourite music on your mobile or by streaming from Spotify/Deezer Internet sites. You will have at your disposal all the useful kitchen utensils like cutlery, kettle, toaster, pans, colander... All new! Clean bedding and towels are provided, again all just bought new. Hairdryer, iron and ironing board are also available. Please, please,... do not book if you are looking for a place for more than 2 people. I had some requests from couples with infants that I had to decline and a booking from a family of 3 that then had to be cancelled. The flat is suitable for a maximum of 2 people. Thank you. The apartment has intercom security door access. Parking is at the 24 hour night guarded multi storey car park around the corner which is free from 5 pm to 8am or max £6 all day, £3 all day on Sunday (can use PayByPhone). There is also limited chargeable on street parking.
Tip: The cute Settle Down Cafe is next door to Waterloo House: Excellent fresh pizzas, salads, cakes, speciality teas to enjoy while you read the free paper or local interest literature. A real find! Perfect for breakfast, lunch or something in the afternoon as it is only open to 6pm. In terms of Art, don't miss: Until 24 April there is an exhibition at the Laing Art Gallery of 10 original Leonardo da Vinci drawings from the Royal Collection acquired in the 17th Century by Charles II.
Really nice accommodation, 5 minutes walk from the centre of town, easy access to the Metro. Irina's communication before our visit was excellent and it made us feel very welcome. We recommend it!
Paul
2017-01-02T00:00:00Z
Maxine was great. Available to give keys straight away. Make sure you require about local parking though as can be quite costly. Very central flat so everything in walking distance.
Kaz
2016-07-18T00:00:00Z
Irina is extremely friendly and very welcoming , you guys will love her lovely flat as well as the location . Everything is clean and tidy. (PHONE NUMBER HIDDEN)% recommended
Fabio
2016-11-07T00:00:00Z
irina was wonderful hostess, all the time most giving me attention, his apartment and wonderful, very clean smelling and everything new, very well located, five minutes walk from the train station and five minutes from the city center, I give you five stars for good treatment, and all the attention, I recommend to all your lovely home, thanks irina
valdineia
2016-03-08T00:00:00Z
Nice location in the center. Everywhere is 10-15min walk. Great week end !
Alexandre
2016-07-03T00:00:00Z
Irina was a very nice host. She was quick to reply to our queries, met us on arrival and gave us good advice on local cafes and bars. The apartment is perfect base for 2 people, is very central yet quiet. It is great location for exploring the city. As Irina explains the apartment is small / for 2 people but this is fine as its a good base, is very clean and has all the essentials. Newcastle is great. The locals are very friendly. We recommend a walk along the quayside as far as the Tyne Bar or Free Trade Arms and the exploring the Ouseburn area.
Damian
2016-09-20T00:00:00Z
Irina was very available and communication was excellent. The apartment itself is in a great location and is perfect for a single person or a couple - very clean and cozy. Would definitely recommend.
Masen
2016-06-26T00:00:00Z
Irina to the rescue after our previous host mucked us around! Great communication leading up to our stay and the apartment is perfectly located in the centre of Newcastle although it is still very quiet. The apartment was very clean and we were provided with the basics to get us going. Will definitely stay here again when we return!
David
2016-09-13T00:00:00Z
Room Type
Entire home/apt
---
Property Type
Apartment
---
Accommodates
2
---
Bedrooms
Newcastle upon Tyne, United Kingdom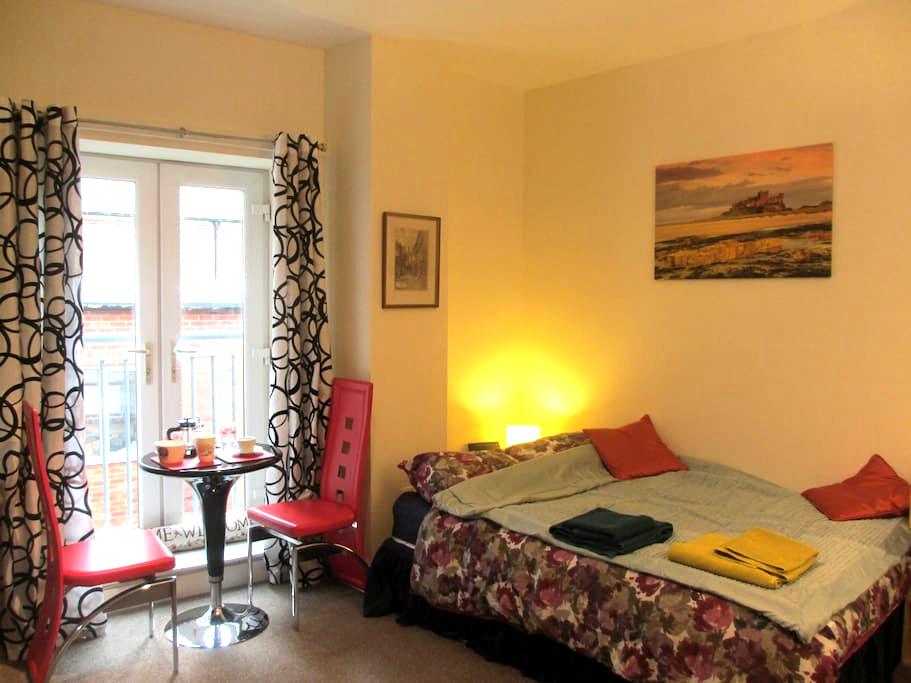 Welcome to our light modern airy flat, enjoy staying in a nice space where nearly everything in new. Its clean comfortable & we will give you all the information you need via email. Ideal for visiting Newcastle (10 min bus ride ) You are hiring one room, there is another also available unless it has already booked by another airbnb guest. It is a quiet residential street in the west end of Newcastle.
Please note we have moved out of this flat & other airbnb guests Kane and Cassie have hired the other room for the whole of 2017. The room to rent is a tidy spacious clean room with double bed.( we can host a 3rd guest if you check with us for additional £20 they get a mattress on the floor, any additional must be agreed & discussed in advance.) 2 Bedside tables. Desk & (URL HIDDEN) lamp, size wise it is 12' by 14' foot ish. It has a large window and is fully carpeted.There is a phone to call home & a TV in the bedroom with an amazon firestick and dvd player. We are close to (10mins) central station, the airport,the arena. And we are beside St James park (4 mins) Use of internet, kitchen,washing machine,iron, Large flat screen TV in lounge, garden, use of private drive included, all available at no extra cost. The living room and kitchen are open plan with a new wooden style laminate floor. The bedrooms have a cozy beige carpet. The bathroom is new and has a power shower and is fully tiled. During your stay we would be more than happy to point out the best places to eat/visit/drink, we also have an discount card available to you so you can go out and get great prices at lots of places in town. How to get arround and have great maps for good local walks. Fenham is a very friendly neighbourhood and we have great neibours, there is a large supermarket with a 2 min walk and a range of smaller shops and takaways there also. There is a huge number of bus stops within a 2 minute walk also which can take you directly to town within 10-15 minutes. Special events and occasion : I am happy to organise gifts, baloons, wine, champagne, book you into a local restaurant, where we can help we will. Our place is unique because its,smart, clean, tidy, modern & 10 minutes to the City Centre. We have been hosting for over 5 years and want to give you an experience to remember.
This neighborhood is super friendly I know all my neighbours (apart from downstairs ). Its a lovely friendly typical northern street. We are 2 minutes from the supermarket & a range of local shops including a hairdressers, 3 takeaways, & one of the best fish and chip shops in the north east.
The hosts were very warm and kind. It was just as advertised. The neighborhood was very nice and very safe. Thoroughly enjoyed staying here. The city center was just a 12 minute uber ride away.
Devin
2016-04-12T00:00:00Z
Emma-Claude was a fantastic host and the apartment was wonderful. Located in a small suburban area right outside of Newcastle, we enjoyed the big living room and kitchen, upgraded bathroom, and spacious bedroom. Everything a guest could want to feel right at home, and only a 10 min bus ride into the city center. We would happily stay again!
Brandi
2016-06-30T00:00:00Z
Excellent communicator- Flat was just as explained. Very nice and spacious, all the amenities needed. Would stay again
Cathy
2016-06-26T00:00:00Z
Excellent accommodation, very central and excellent communication with the host. Great value for money, well worth a visit. Thanks ian
Ian
2016-01-18T00:00:00Z
Emma-Claude's place was just right for us. It was clean, light and conveniently located. Amazing value for money. A really lovely place to stay.
Sandy
2016-07-07T00:00:00Z
Emma's house was lovely and very comfortable. Emma and Tony were very nice and gave us great tips on Newcastle since we're considering a move up there. The bed was comfy, the location was great, and I can't think of a thing they should change!
Sarah
2015-09-27T00:00:00Z
We visited Newcastle over a long weekend, sight seeing and visiting family/friends in nearby areas. We had a lovely and relaxed time at Emma's flat. Perfectly situated within a 10min bus ride to the centre. The Flat was clean, warm and the other guests were very friendly and welcoming. Though we personally didn't meet Emma, she was a fantastic host with great communication via text and Airbnb messaging. From access to keys and complimentary breakfast goodies, tea/coffee as well as a box of cupcakes, a treat for both children and adults alike. Emma was very accommodating and flexible with all my enquiries as we had 3 young children. The Flat is in a residential area near convenience shops and takeaways on the main road. Also has a local library and public pool. Many thanks to Emma for her hospitality, a wonderful place to stay. Our one regret, we didn't have time to visit Emma's bakery :)
Fi
2016-04-05T00:00:00Z
Emma and Tony have a lovely home and it was a pleasure to stay. We changed our plans slightly but they were more than happy to work with us. Beautiful, comfortable and homely all wrapped up in a sweet little flat.
Erin
2014-05-05T00:00:00Z
Room Type
Private room
---
Property Type
Apartment
---
Accommodates
3
---
Bedrooms
Newcastle Upon Tyne, England, United Kingdom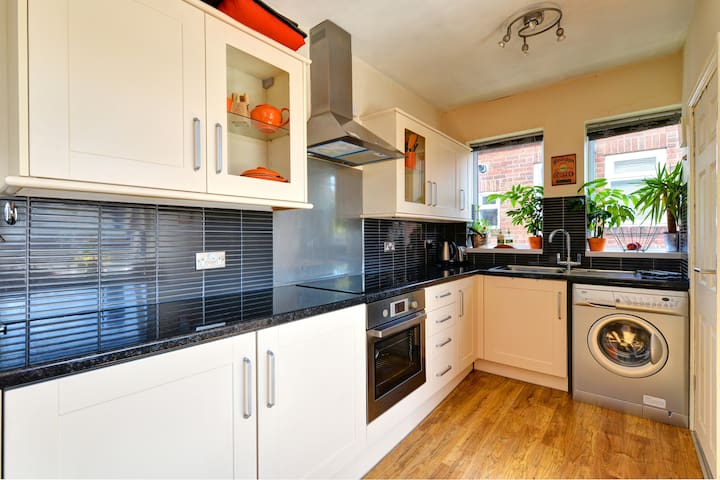 Charming Tyneside flat with comfortable living space situated in peaceful Jesmond, just a short stroll from the Metro. Free on street parking, wi-fi, towels, tea & coffee, with access to shared kitchen, bathroom and living space. Private sunny yard.
Homely flat with personality! good sized double room with comfortable bed, friendly advice and a relaxed atmosphere.
A friendly neighbourhood filled with unique cafes, restaurants and boutiques. Lovely riverside walk through the woodland 10 minutes away, and 5 minutes to shops such as Waitrose, Tesco and Oxfam.
Really nice place, lovely neighborhood and really convenient to get to from Newcastle city centre
Joel
2016-08-21T00:00:00Z
The host was very nice and welcoming, the house was very easy to find and well located. The room was clean and tidy. I really liked the place and will come back any time
Carlos
2016-04-02T00:00:00Z
Julia, Nick and Alfie (the cutest cat) were very welcoming and friendly. The room was ideal and the house is in a great location. Quiet neighborhood but very close to shops, bars and restaurants. And the city centre is within walking distance. I would definitely stay there again!
Simone
2016-07-03T00:00:00Z
I stayed one night at Julia's while on a course in Newcastle. Comms were very quick and friendly. On the day itself, I discovered that my host wouldn't be there but gave me very clear information about the property and was invited to 'make myself at home'. I felt a little weird letting myself into someone else's home when they weren't there, but that's just me! The room was basic but clean and comfortable and the location was ideal for access to Jesmond - I didn't need to go into the city centre so can't comment. Julia's cat was a welcome companion! Thank you, Julia - hope to meet you on my return visit soon.
Jackie
2016-09-18T00:00:00Z
The host canceled this reservation 2 days before arrival. This is an automated posting.
Ryan
2016-07-21T00:00:00Z
Julia was an excellent host. Nice location. Great value.
Mark
2016-08-18T00:00:00Z
Julia was very welcoming and the room was great. Nice area for food and walking distance to the city centre.
Kyle
2016-02-10T00:00:00Z
I stayed here for a week after moving up to Newcastle for a new job looking for somewhere nice to stay while I house-hunted that week. Julia & Nik were very nice and welcoming hosts, along with Alfie the cat, making it a great stay and introduction for me to this new city. A very nice location for exploring the surrounding areas and close to public transport links into Newcastle city centre. Would recommend to anyone looking for a base to explore Newcastle and friendly hosts happy to give tips and suggestions to make the most of your stay.
Nik
2016-03-09T00:00:00Z
Room Type
Private room
---
Property Type
Apartment
---
Accommodates
2
---
Bedrooms
Newcastle upon Tyne, United Kingdom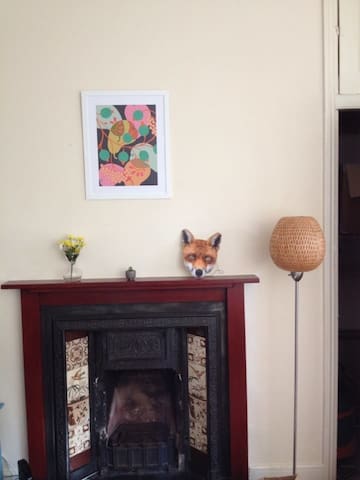 Cool stylish modern newly decorated 3 bedroom apartment sleeps up to 5 guest. City centre location 2 minutes to Northumberland Street and ideally located near Metro stations. Parking space available. Next to Newcastle and Northumbria University's.
Quiet residential area but only a few minutes walking distance from the hustle and bustle of the city with its restaurants, bars and shops and Newcastles famous night life. All Newcastle museums and art galleries aswell as its famous attractions in close proximity.
Jeff and Ruby were very friendly and welcoming hosts. The flat was spacious and clean with everything you could need. Would recommend.
Cassie
2017-01-12T00:00:00Z
Great flat, perfect location and spot for a weekend away. It had everything we needed and was so clean and tidy. Jeff was great with communication and everything was so easy. Shower was great pressure which is always nice and there were towels for us as well. Would definitely recommend for anyone heading up for a trip to Newcastle. 10 minute walk from the main high street with lots of shopping and bars. Great car parking spot just outside the apartment too which was really helpful.
Rebecca
2017-02-12T00:00:00Z
very clean, central location 5 minutes walk into center with parking next to front door.
Darren
2017-02-23T00:00:00Z
The apartment was impeccable. It was clean and comfortable and just what you would want from visiting a city and staying in a lovely home. The apartment is extremely close to town meaning that there is a wide variety of shops and restaurants just 5 minutes away! I can't fault our stay at all, the hosts were great, the apartment was perfect and I will definitely keep it in mind for future visits to Newcastle!
Samantha
2017-01-08T00:00:00Z
The flat was very clean, had everything we needed and was in an excellent location only 5 minutes walk from the city centre. Would definitely recommend, thanks for having us!
Amanda
2016-12-29T00:00:00Z
Jeff and Ruby were great hosts who gracefully accommodated our late arrival at 11pm. The place was in a great location for city centre, Jesmond and Gosforth. Apartment was clean and had everything we needed.
Pauline
2017-01-20T00:00:00Z
Quiet central location for universities and city shops restaurants and clubs, parking a city centre bonus.
Barbara
2017-03-12T00:00:00Z
Very spacious and clean, great shower. Very near town centre, would definitely stay again! Helpful hosts too.
Natalie
2017-03-05T00:00:00Z
Room Type
Entire home/apt
---
Property Type
Apartment
---
Accommodates
5
---
Bedrooms
Newcastle upon Tyne, England, United Kingdom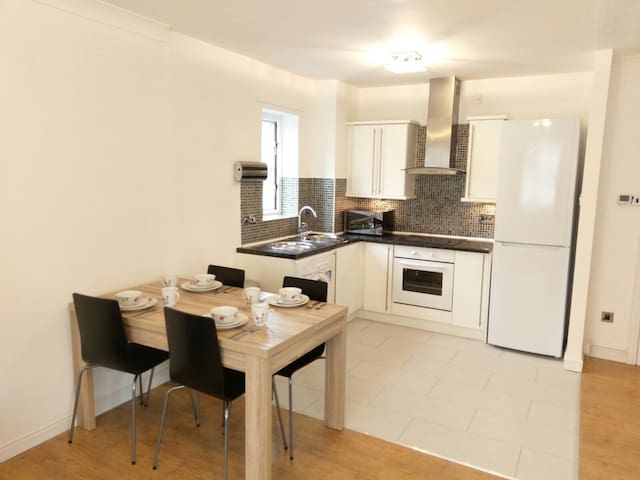 A beautiful apartment in a prime location at the Newcastle Quay Side. The apartment is 5 minutes walk to all the best bars & restaurants, & in between the The Sage music centre & the Baltic Art Centre. 2 bedrooms, can sleep up to 6.
Excellent communication, and very pleasant to deal with. Great location and also very clean.
Ciaran
2016-08-29T00:00:00Z
the host is very nice and helpful. he allowed us check in early , the apartment is tidy and good size ,beds are comfortable. location is good , get a taxi to city center only 3-4 pounds . very quiet apartment sleep good, there is a TESCO extra 10mins walk from the apartment .
zhen
2016-11-21T00:00:00Z
Excellent location. The flat is comfortable, clean and exactly what we needed for a 2 day stay. Zayaer gave clear and quick instructions for our arrival. Although it should be made clear there is no free parking at the flat.
Eunice
2016-07-20T00:00:00Z
Had a very nice 2 night stay at the Baltic quays apparment, brilliant location close to the piano bar. Would definetly use again. Very clean and everything you need is provided.
Adrian
2016-08-22T00:00:00Z
Great stay and great host
Daniel
2016-10-28T00:00:00Z
Zayear was a great host, he made it very easy for my girls and I to stay. Very clean, spacious and comfortable. Great location, easy to walk to town and lovely local area. We will certainly stay again.
Kris
2017-01-29T00:00:00Z
The location of the apartment is very nice in terms of the access to the city centre. The apartment has basic but almost all necessary things for staying and cooking during 5 nights.
Sung-Hong
2016-09-24T00:00:00Z
Host was helpful in providing directions and accommodating my stay. However the flat for me did not live up to the expectations I had from the photos. The flat unfortunately faltered for me on cleanliness also. The flat however is in a good location - close to the millennium bridge and a fifteen minute walk to the metro.
Sophie
2016-09-08T00:00:00Z
Room Type
Entire home/apt
---
Property Type
Apartment
---
Accommodates
4
---
Bedrooms
Newcastle upon Tyne, England, United Kingdom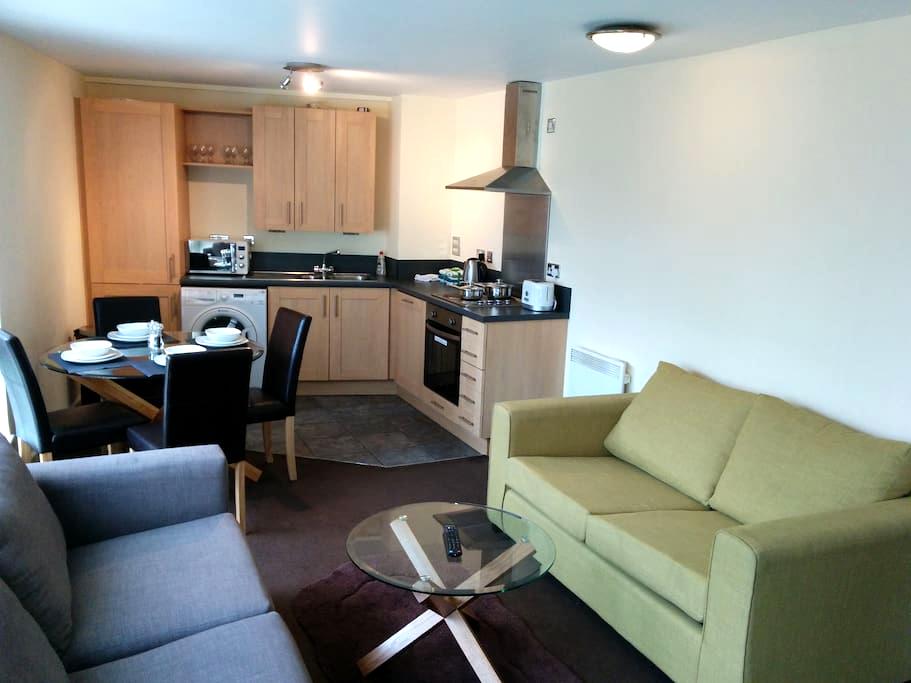 My place is close to The Ouseburn, Newcastle and Northumbria Universities, Newcastle Quayside and a seven minute walk into Newcastle City Centre where there is an abundance of; parks, art and culture, restaurants and dining. It is also a short drive to blue flag rated beautiful beaches.. You'll love my place because of the ambiance. My place is good for couples, solo adventurers, business travellers, families (with kids), and furry friends (pets).
What a find! I needed somewhere last minute and these guys not only accepted me, but came to the train station to pick me and took me to the apartment, even though it was past 10pm! Stress turned straight to calm! It's a clean, 2 bedroom, reliably quiet and also 10-15 min walk in either direction to action or peace! City centre is to the left and Heaton/Ouseburn for an alternative evening to the right. Decent convenient shops nearby and less than £5 for an Über to town. Bus also stops right outside. I had so much peace and easy access to city centre at the same time that I already can't wait to stay here again. Saz & Anthony were also so lovely, all the friendliness you want to see as soon as you get to a city!
jambo
2017-03-27T00:00:00Z
Great location, close to town centre n a tesco, sub way etc.. very clean, only problem shower would flood onto the floor when lifted the socket it was full of hair which was a little mingin but apart from that apartment was very clean n would defo book again
Melika
2017-01-21T00:00:00Z
The apartment is comfortable, lovely, spacious and well located. It has everything you need. Sarah is really nice. Also, she made me a summary with the old places, bridges, castles to visit. Everything was prefect, except I miss my mattress, but I suppose that this is normal
Esperanza
2017-03-07T00:00:00Z
Fab stay in Newcastle. Host was very friendly and helpful. Easy to find from city centre
Abby
2017-03-12T00:00:00Z
Great stay at this appartment. The house was very spacious, clean and had a great ambiance. Lots of amenities to make our stay very comfortable. Good location and the host was very helpful. Thank you Saz and Anthony
Lola
2017-03-10T00:00:00Z
Perfect location, clean home, very helpful hosts, couldn't ask for better.
Aaron
2017-02-26T00:00:00Z
Warm and spacious, within walking distance of the city centre, we had a great time.
Peter
2017-01-13T00:00:00Z
Saz and Anthony are fantastic hosts who really make you feel welcome and are always there if you need anything. The apartment is lovely and is in a great location! We would definitely recommend staying here :)
Aimee
2017-02-15T00:00:00Z
Room Type
Entire home/apt
---
Property Type
Apartment
---
Accommodates
4
---
Bedrooms
Newcastle upon Tyne, United Kingdom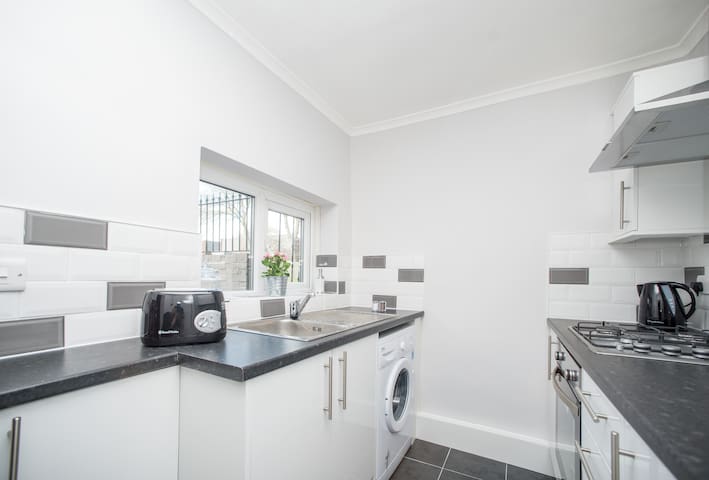 Who could say no to our spacious double room with designer decor and selected pieces of furniture? It offers comfortable and quiet accommodation in an exciting part of Newcastle and is only a short walk to the Central Station, the Monument and the Universities. Perfect city centre location with free parking and fast internet. I am the frequent AirBnB traveler myself and can be a guide to any local features, such as the "best coffee shops or restaurants in the area".
Come and stay in the top rated townhouse - you'll be right on the doorstep of every attraction the city has to offer. You can't get more central than this, you'll make the most of the 24 hour city of Newcastle - and yet in a quiet room where you can get a great night's sleep. An oasis perfect for tourists and business guests alike. Unique traveler-themed interior in a great top rated 1st floor stylish flat, with a comfy double bed. Freshly decorated and ready for your stay! I have taken great pride in designing and creating a beautifully crafted interior that I hope can now be enjoyed by others. Towels are provided, and use of a hairdryer if you wish. Plenty of wardrobe space to unpack your suitcase into. The property is always fully stocked with essentials, including bed linen, towels, hand soaps, shower gels, tea, coffee, toilet rolls, and cleaning materials.
Its been a perfect weekend at Karolina's flat. The truth is that the flat is very well located and close to the city centre (just 5-10min walk). The flat was also quite clean and it is exactly as well decorated and designed as you can see in the pictures. Michael and Karolina did a great job with the interior design of the property. Congratulations for that! We could have not stayed in a better place for that price (which I consider is quite cheap compared to other places in the city centre). I can just finish saying that it was delighting spending one weekend in this flat. I highly recommend it to any kind of visitor to the city (even for families with kids). Cheers!
Juan
2016-12-18T00:00:00Z
I stayed at Karolina's and Michael's place for a couple of days and I enjoyed it very much. They were very welcoming and helpful and I immediately felt at home. The flat was also nice and clean. I would stay at their place again, if I get another chance to travel to Newcastle!
H&C
2016-09-16T00:00:00Z
So lovely house and nice place to live!The masters of the house are so kind that we feel at home living there. Very good experience!
YUSHU
2016-02-23T00:00:00Z
The location was great for central Newcastle attractions and for trains, metro, buses Very friendly helpful host. Very clean
Jill
2016-06-27T00:00:00Z
This is one of the nicest Airbnb's that I have stayed in. The flat is beautiful, and scrupulously clean. The bedroom is well laid out with everything one might need, including little touches like an IPhone charger on the bedside table. Karolina is a very kind host, and helped me out with a couple of small problems I had. Great stay, and thoroughly recommended to others.
Nick
2017-04-02T00:00:00Z
Great place and the perfect hosts! The flat is very stylish and well positioned, close to the night life. Highly recommended.
Julian
2016-05-30T00:00:00Z
Karolina and her partner were very welcoming and the room was clean, tidy and as described. We would stay here again.
Samuel
2016-09-12T00:00:00Z
We enjoyed staying at Karolina's place. The bed was comfortable. The car park was right in front of the house and city centre was walking distance. The host was very kind to us
Bart & Maudy
2016-08-21T00:00:00Z
Room Type
Private room
---
Property Type
Apartment
---
Accommodates
2
---
Bedrooms
Newcastle upon Tyne, United Kingdom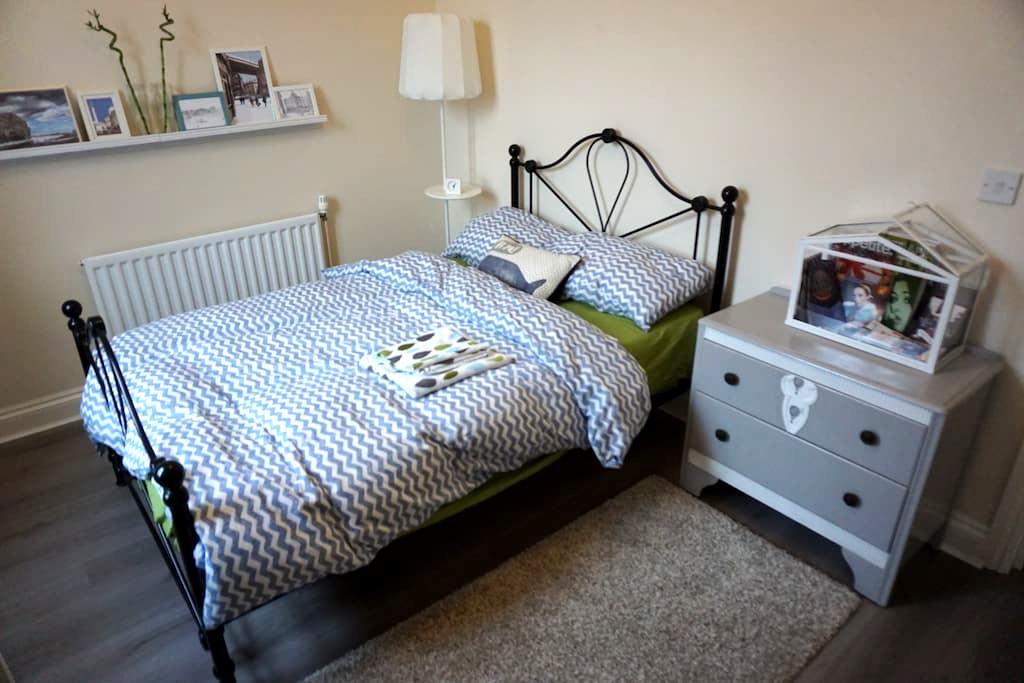 The nicest room in our 1st floor flat: spacious, high ceiling, south-facing bay window & overlooking green spaces (if you twist your neck!). We are close to the Town Moor and also within walking distance of local amenities and Newcastle city centre.
The bedroom contains a double bed, bedside table, armchair, sofa, wardrobe, fireplace, coffee table, bookcase, tv. Towels supplied. Guests are more than welcome to share our living/dining room and kitchen. The bathroom is newly fitted, and spacious. Though not adjacent to the bedroom, it is dedicated to guests as we have our own bathroom upstairs. The kitchen has just been updated; oven, microwave, hob, toaster, kettle, fridge space, are all available for guests to use. Also, please help yourselves to coffee, tea, milk, sugar. We don't provide food but, if you want to self-cater, we have cooking accompaniments, ie oil, spices, condiments etc.
A nice area with relatively open aspect. We are spoiled for choice re cafes, bars, restaurants, takeaways etc. Sainsbury supermarket is 2 mins' walk & Tesco's about 5mins walk. There are ample green spaces nearby, one of our favourites being Exhibition Park (15mins walk) which has a lake, interesting information boards, a bandstand, exercise/play area and lovely cafe.
Pat's place is so nice! It's just 1 min walk to the metro station and in a quite and safe area. The bedroom is large and clean, and we can even use the bathroom privately. Pat and Lan are so friendly, they let us use their kitchen and provide milk for us. Strongly recommend!!!
Mia
2016-05-30T00:00:00Z
Pat responded very quickly, and l felt very well welcomed on arrival but both her, and Ian, and throughout my short stay. I would most definitely stay again.
Susan
2016-11-15T00:00:00Z
Lovely, peaceful room in a great location. Hosts were very friendly and interesting to chat to. I had a great stay!
Hugh
2016-12-24T00:00:00Z
We stayed for a night. The flat is really easy to reach, 1 minute away from the metro station connecting to the city center in 10 min. The flat and the room are lovely and very clean and tidy. Communication was excellent too. A no brainer for me if I come back Newcastle. Thanks!
Jonathan
2017-04-02T00:00:00Z
I passed 2 wonderful weeks in Pat and Ian's house. They are lovely people! I am definitely planning to come back!
Judith
2017-03-24T00:00:00Z
My friend and I had a lovely stay at Patricia and Ian's. They were welcoming and friendly. The room was enormous and sunny, and the bed was very comfortable! We really felt at home - thank you!
Sophia
2016-05-25T00:00:00Z
We had a wonderful experience staying with Pat and Ian. They were very welcoming and friendly, and we had plenty of time to chat with them. The bedroom and bath are just as nice as pictured. The bay window is great and the bed is quite comfortable. Jesmond is a really nice neighborhood; their home is on a quiet street and nightlife is just a few minutes walk away. Pat and Ian know the city well and can point you in the right direction whatever you're looking for. And their dog is friendly and will let you pet him to your heart's delight :-) I absolutely recommend staying with them.
Steve
2016-06-29T00:00:00Z
I really enjoyed my stay, the room is nice, the location is perfect. The bathroom is fascinating! And there are a lot of books in the room, which is amazing! Pat and Ian are really friendly as well! Can't recommend enough!
Erica
2016-09-02T00:00:00Z
Room Type
Private room
---
Property Type
Apartment
---
Accommodates
2
---
Bedrooms
Newcastle upon Tyne, United Kingdom
Prudhoe - Airbnb
:
Average

4.84

out of

5

stars from

931

guest reviews
1

–

18

of

280 Apartment Rentals
Enter dates to see full pricing. Additional fees apply. Taxes may be added.