Таун хаус - общей площадью 70м2 из низ 2 спальни на 2 этаже (PHONE NUMBER HIDDEN) сан узла, терасса 11,86 м2 и сад 32м2 До моря 2,9 км до центра города -500 м
Дом расположен в 5 минутах от центра посёлка, 10 минут на машине до пляжа. Дом снабжен всем необходимым: кондиционер, телевизор, холодильник, стиральная машина, посудомоечная машина, кофеварка, кухонный интвентарь.
Room Type
Entire home/apt
---
Property Type
House
---
Accommodates
6
---
Bedrooms
Pruno, Corsica, France
Pour des vacances au calme à la campagne avec vue sur la montagne et pas loin de la mer, un ancien moulin en pierre rénové en bord de rivière, 130 m2, situé dans la vallée d'orezza en castagniccia, classé parc naturel régional de Corse avec son jardin privé de 3000 m2, ses terrasses, barbecue et bains de soleil . Tout confort à 10 km de la mer et 8 km des commerces
Maison 130 m2 avec terrasse ouverte, barbecue, mobilier de jardin, terrasse couverte avec coin repas, cuisine équipée ( plaque de cuisson avec hotte, réfrigérateur/congélateur, lave linges, lave vaisselle, cafetière, grille pain, vaisselle, micro-onde ) 3 chambres avec vue sur la rivière et 2 salles de bain . 6 personne maximum
Das Haus liegt abgelegen, ruhig, idyllisch an einem kleinen Fluss. Das Haus wurde stilgerecht renoviert und entspricht heutigen Standards. Alles war sehr sauber und gut vorbereitet. Das Tal ist von unglaublicher Schönheit für Leute, die die Abgeschiedenheit eines solchen Hauses suchen und schätzen. Obwohl sich das Baden im Fluss sehr empfiehlt, erreicht man schöne Strände innerhalb 20 Minuten mit dem Auto, . Wir haben die Woche sehr genossen - herzlichen Dank!
Nicole
2016-08-06T00:00:00Z
Room Type
Entire home/apt
---
Property Type
House
---
Accommodates
6
---
Bedrooms
PRUNO, Corse, France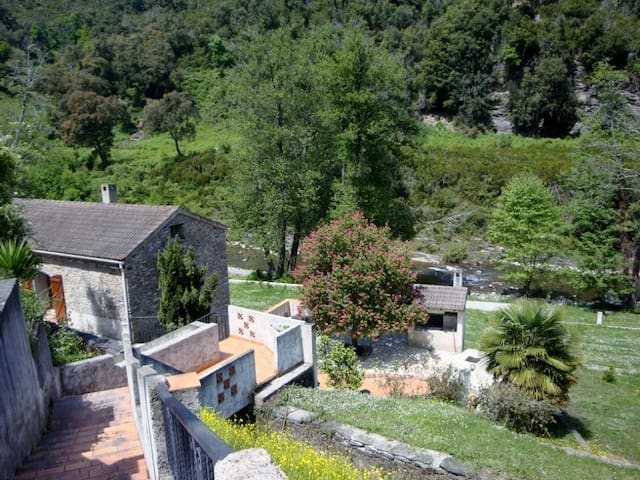 15m2 room for 2 with 1 bed 140 and a private bathroom with shower and toilet. 10m2 terrace with sea view in a quiet and relaxing. Chickens, ducks, dogs and cats as we are neighbors.
You who ask to be in the countryside, quiet, in the middle (or most) animals for a day or more, this room is for you because it is "outside" of the house.
A wonderful place for the first night in Corse (30min to Bastia airport) A great welcome and even greater breakfast. Thank you! ;)
Johanna
2016-05-19T00:00:00Z
Valerie is a fabulous host and could not have been more helpful. The room is very comfortable and in a beautiful spot. Having all the farm animals around was a bonus. Only downside was some very small and very vicious biting insects, recommend you bring a good insect repellent.
Peter
2015-09-21T00:00:00Z
Host was excellent - took the time to pick us up from the train where we were let off. She welcomed us and was very friendly and easy going. A beautiful farm off the beaten path and if you are like us, we love animals, they are all around. A sweet cottage like room connected to their home was all we needed but they have also a more self-contained bigger home on their land for longer stays with a kitchen and laundry. Enjoyed their own brand of goat cheese and jams--a plus for sure staying there! Near to the town centre, scooter or car recommended though.
Jackie
2015-07-05T00:00:00Z
Valérie is the best host ever! We didn´t get our rental car, but she was there to pick us up from the airport. Next day we get a really nice breakfast with marmelade from her own fruits. The room was nice and we loved the anymals! Thank you so much, Valérie
Sarah
2015-05-03T00:00:00Z
Everything was good at Valeries place: clean, comfortable, calm. nice host(s), we would recommend this place!
jonas
2015-08-03T00:00:00Z
Dès notre arrivée, Valérie nous a accueilli avec un grand sourire, elle n'était pas seule, les animaux étaient là également et tout le monde était ravi de nous voir. Le chalet en bois très bien conçu, calme et sérénité assuré. Petit déjeuner en terrasse avec de bonnes confitures maison. Si vous passez par là n'hésitez pas, vous ne le regretterez pas.
Corinne
2016-09-23T00:00:00Z
Super accueil malgré notre arrivée tardive Chambre très agréable Au réveil soleil et vue sur un cadre bucolique et chant du coq Câlins des chiens très gentils Petit déjeuner en plus avec fromage Corse et confitures maison myrthe Adresse au top à retenir Merci Valerie d offrir ce type d hébergement qui vaut largement les 3 étoiles de l'île Rapport qualité prix imbattable
Stéphane
2016-08-25T00:00:00Z
Deuxième visite et toujours autant de plaisir ici !
Thomas
2015-09-30T00:00:00Z
Room Type
Private room
---
Property Type
House
---
Accommodates
2
---
Bedrooms
Santa-Lucia-di-Moriani, Corse, France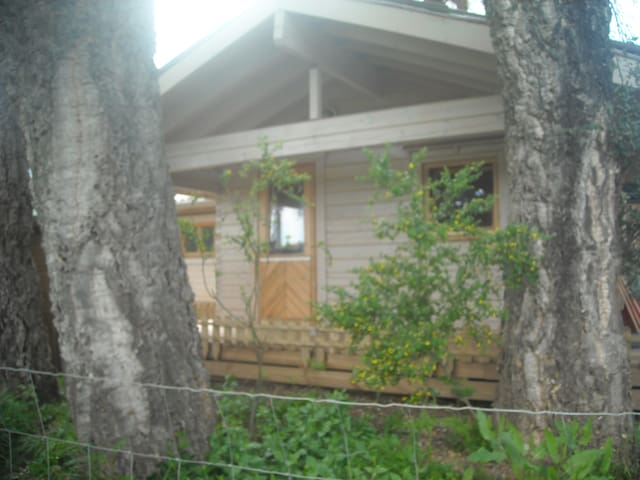 Dans une propriété clôturée de 2 hectares avec parking et espace vert, nous vous proposons LE DUPLEX pour 4 personnes maximum . Maison 84 m2 avec sa terrasse et son barbecue, jardin privé avec bains de soleil, séjour avec canapé et télévision, 2 chambres lit double, salle de bain avec douche . Cuisine équipée : plaque de cuisson 4 feux avec hotte aspirante, réfrigérateur/congélateur, micro-onde et lave linges . Accès direct à la rivière de la propriété par des escaliers .
Pour des vacances au calme à la campagne, vue sur la montagne, en bord de rivière et pas loin de la mer . La vallée d'orezza en Castagniccia, classé parc naturel régional de corse . Randonnées, balades, bassins naturels pour baignade, petite cascade, plage privée de sable sur la rivière qui borde la (URL HIDDEN) quoi occuper les amoureux de la nature .
Room Type
Entire home/apt
---
Property Type
House
---
Accommodates
4
---
Bedrooms
Pruno, Corse, France
Pour des vacances au calme à la campagne avec vue sur la montagne, en bord de rivière et pas loin de la mer, une villa de 200 m2 situé dans la vallée d'orezza en castagniccia classé parc naturel régional de Corse avec accès à la rivière, son jardin privé, sa terrasse avec barbecue et bains de soleil . Tout confort à 10 km de la mer et 8 km des commerces
Propriété clôturée de 2 hectares avec espace vert, parking sécurisé et garage . Accès direct à la rivière 9 personnes maximum Pour accéder à la 5 ème chambre lit simple, il faut traverser la 4 ème chambre ( voir photo )
Room Type
Entire home/apt
---
Property Type
House
---
Accommodates
9
---
Bedrooms
Pruno, Corse, France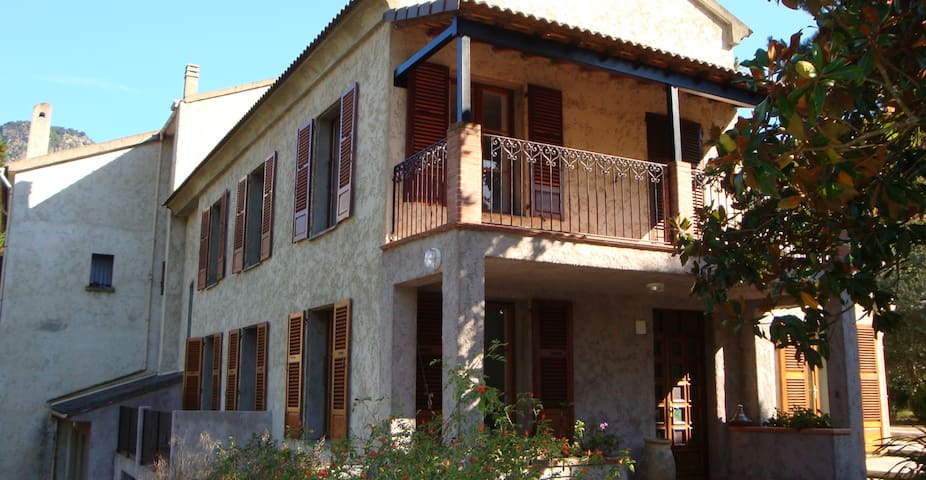 Le plus de cette maison c'est sa terrasse immense où l'on peut profiter de la vue sur la mer ainsi que sur les îles italiennes.Les murs en pierre gardent la fraîcheur pour la nuit. Il y a un barbecue sur la terrasse ainsi qu'une table de pingpong
30km south of Bastia, in the village of Sorbo at the heart of Casinca just 10 minutes a large sandy beach lined with eucalyptus trees, house with a magnificent terrace of 250m2 overlooking a terraced garden and with panoramic views of the Mediterranean Sea and the three Italian islands of Pianosa Montechristo and Elbe. The house is designed to accommodate 6 people. It consists of three rooms and a bed for 2 and 4 160cm 90cm beds. The kitchen is fully equipped. There is a dishwasher, an induction hob, oven, microwave, fridge with freezer compartment, washing machine, coffee maker, iron and ironing board all crockery. On the terrace, you will have your moments of rest and relaxation, a large table and chairs, sun loungers, barbecue, table tennis and table football. Pleasant nights due to the thick stone walls of the house (1m). Photo taken from the terrace view. Parking available for car and motorcycle. Arrival and departure weekend.
Vous êtes dans un village typique corse avec la mer proche et les commodités modernes à cinq minutes
Nice appartment in the mountains of eastern Corsica with a beautiful view over the hillside and the ocean. A big and private terrasse where you can enjoy meals and relax in sunchairs.
Hanne
2014-07-20T00:00:00Z
We were very happy with the accommodation. The Aunt who lives next door was very welcoming, the view from the terrace was lovely, the beds were comfortable, kitchen well equipped. The area is heavily wooded with old villages perched on the hills, very picturesque and easy to get into the interior.
Ros
2014-08-04T00:00:00Z
Francois was very easy to communicate to. He and his family made us feel welcome. The appartment was clean,nice and cosy. Because of a renovation it was even better than shown on the pictures. With three people it was perfect. The view from the terrasse was amazing. We had a wonderfull time there.
Kirsten
2016-03-27T00:00:00Z
The House of Francois is perfectly located in a small village 10 minutes away from the beach and some shops. There are other small old villages around, that are nice to see aswell. We totally enjoyed our stay in the house. Especially the view down to the sea is amazing. We were welcomed warmly by the Corsian aunt of Francois who also spoke a little bit of Italian and showed us around. Two little neighbour cats were our friends during the stay. The house was very clean and well equipped. We totally would like to come back one day. Thanks to Francois and his family for giving us such a nice place to stay at the end of our trip through Korsika.
Christina
2016-09-17T00:00:00Z
We had a wonderful time in Sorbo-Ocagnano. The house was perfect for our needs - well equipped and very peaceful. François was very helpful with our booking when we were initially unsure of our dates, and his aunts gave us a warm welcome when we arrived, making it clear we could knock at any time if we needed help with anything. The Étang de Biguglia nature reserve is worth a visit if you can find it. It took us several attempts but you have to go down a lane by the railway tracks at the back of the stadium with no signs at all until you're nearly there. Once you get there there are paths by the lagoon and a small Écomusée on a little island. Sorry if that seems irrelevant but it may save someone else a few trips round the lagoon in search of it in future. There's breathtaking scenery around every corner on the winding roads to the surrouding villages, but look out for goats, cows, dogs and pigs in the road! It was very pleasant in the evenings to sit on the terrace watching the swallows swooping. Merci pour un séjour inoubliable!
Chris
2015-06-21T00:00:00Z
We had a great time in the house in Sorbo-Ocagnano. The area is wonderful with small villages close to each other. We explored some of them. The weather was a little bit chilly during the first days but the house was warm even though the floors got cold. But of course this is an old lovley house and we were there during the last week of april. The house is fantastic, with the view, when you spend som sunny times on the terrace. It was easy to find foodstores in the area och close by car to Bastia. Francois has been a great and friendly host and his aunt Madeleine is a really nice lady. I can truly recomend this house.
Sofia
2015-05-03T00:00:00Z
An excellent place - beautiful views, comfortable bed, really well equipped kitchen, amazing terrace. Everything you need for a beautiful holiday on a wonderful island!
Patrick
2014-05-18T00:00:00Z
Francois is a perfect host same as his unty that make us feel at home. Not only the indication to reach the house where perfect and accurate but we have received also nice indication on how to get bread and croissaint fresh every morning, and nice restaurant to explore.
Anna
2015-08-07T00:00:00Z
Room Type
Entire home/apt
---
Property Type
House
---
Accommodates
6
---
Bedrooms
Sorbo-Ocagnano, Corsica, France
Mon logement est proche des activités adaptées aux familles, à 10 mn de la plage. Mon logement est parfait pour les couples, les voyageurs en solo et les familles (avec enfants). C'est un beau village, formé par trois hameaux (Ciglio, Chigliacci, Cotone).Très ancien dans sa partie haute le hameau de Ciglio haut perché, véritable nid d'aigle offre une vue splendide sur le Campoloro.C'est également un bon point de départ pour découvrir la montagne proche, comme par exemple la Punta di Travu.
La mini villa vous permet de profiter du calme, de la vue et de ses espaces avec un grand jardin
Pascale is an exceptional host, who made us feel extremely welcome and at home at her place. She was easy to reach after booking, and during our stay she gave us great tips on where to go/what to do in the area. The whole family is very nice, and their dog, cat and pony are all adorable. The villa has all the necessities you could ask for, and the terrace is perfect for grilling and enjoying dinner or breakfast outside, or just lounging on the sunbeds. The place is clean and has good air conditioning. The area is very scenic and though Pascale's place is in the mountains, it's only a 10-15min drive to the sea. We found it a perfect base for exploring both the coast and the mountains, and would have loved to stay longer! This was truly like a home away from home for us. Highly recommended!
Mirka
2016-07-12T00:00:00Z
Excellent place to stay. The mini villa was very nice with an amazing garden with ocean view. Pascale and her family were very helpful and made our stay so enjoyable. The surroundings of Sant Andrea die Cotone are very idyllic. It is a good mixture of mountains and sea. Beautiful beaches are a 15 minutes drive away. We highly recommend the place!
Kristina
2016-08-21T00:00:00Z
Pascale and her husband were very helpful and hospitality. Mini villa is amazing. It has everything what is necessary for relaxing holidays. From this place opens wonderful scene, view of unforgettable sunrises and sunsets. I highly recommende this place and would stay again there for sure!
Albina
2016-07-25T00:00:00Z
A small village in the middle of the mountain, a small beautiful small house with the view to the See in the middle of the forest, beautiful!
Michael
2016-09-25T00:00:00Z
L'accueil fut sincère et chaleureux. Des informations sur la région étaient à disposition. L'hôte prend le temps de partager les bons plans. Le logement correspond tout à fait à la description. Il est très agréable et on se sent chez soi dans un environnement naturel et paisible. On s'est régalées chez toi, Pascale. Merci pour toi, à vite
Laurence
2016-08-13T00:00:00Z
Excellent accueil par Pascale et ses proches, beaucoup d'attention pour nous mettre à l'aise. Nous avons beaucoup apprécié le calme et la situation de la petite villa, proche de la mer et à la fois un peu en montagne en pleine nature, les commodités (supermarchés, boulangerie, restaurant) sont assez proches . Le logement était très propre et disposait de tout le confort nécessaire. Le jardin était très bien entretenu. Avons apprécié la présence d'un poney et des chèvres sur le terrain d'à coté, jolie découverte pour notre bébé! Nous sommes ravis d'avoir fait connaissance avec Pascale et sa famille qui sont très sympathiques, je les recommande vivement. Le rapport qualité prix est excellent. Il est très probable que nous repassions par Sant Andréa di Cotone pour un séjour plus long!
Nell
2016-07-18T00:00:00Z
Nous avons apprécié l'accueil chaleureux, la disponibilité pour nous remettre les clés, les bons conseils pour visiter la Corse. Les photos correspondent parfaitement au logement. Le lieu est paradisiaque, idéal pour se ressourcer, se relaxer, endroit très calme. Le soleil inonde la pièce principale toute la journée et la vue est superbe sur la mer. Merci à Pascale et à Charles de nous avoir invités à partager un moment ensemble. Je recommande ce lieu. Régis et Elodie
Regis
2016-10-19T00:00:00Z
La maison est très bien située, au calme, avec un superbe jardin très bien entretenu. L intérieur est confortable et bien meublé, très pratique. Les enfants se sont régalés et nous aussi ! Pascale et Charles étaient très accueillants et sympathiques, nous reviendrons ! !!
Eva
2016-11-02T00:00:00Z
Room Type
Entire home/apt
---
Property Type
House
---
Accommodates
4
---
Bedrooms
Sant'Andréa-di-Cotone, Corse, France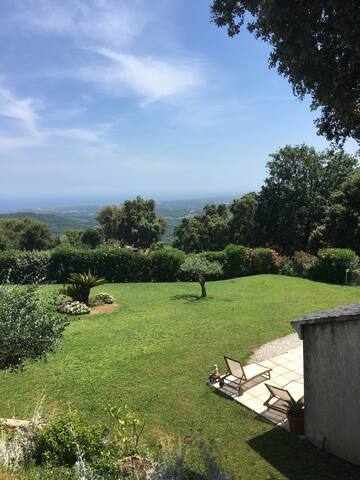 Ideally located between sea and mountains, the villa has a large terrace with breathtaking views of sea and mountains. Close to the airport, the beach and stadium Furiani Bastia. My home is perfect for nature lovers who enjoy hiking on the surrounding peaks, see wild pigs in the neighboring villages and the proximity to the beach below the village.
The villa has a living room, a shower room, a kitchen, two bedrooms. The land is planted with fruit trees: orange, mandarin and hazel.
picturesque village of Casinca nestled at 300 m altitude on a natural amphitheater leading down to the sea.
Quelle vue ! Magnifique ! Dépaysement assuré. On est dans la montagne, tout en ayant tous les commerces et restaurants à moins de 10 minutes. Un arbre à clémentines pour couronner le tout et une belle terrasse pour profiter du paysage. Je vous le recommande vivement !
Sylvie
2016-12-09T00:00:00Z
en pleine nature proche du village à 6 km de la mer un petit bijou pour ceux qui aiment vivre près de la nature
ellen
2017-02-27T00:00:00Z
Adeline s'est montrée bienveillante et disponible tout au long du séjour . Nous a donné des conseils de ballade , ainsi qu'une bonne adresse de commerçant de la région . Son logement était en tout point conforme à la description . Idéal pour un séjour au calme dans le nord de la Corse . ( découvert du Cap Corse , Casinca , Castagnica et même Corte ! ) Le prix est très attractif au vue de l'ensemble du logement et de sa situation . Expérience positive que nous renouvellerons ! Merci Adeline .
Octave
2016-10-24T00:00:00Z
Room Type
Entire home/apt
---
Property Type
House
---
Accommodates
4
---
Bedrooms
Venzolasca, Corsica, France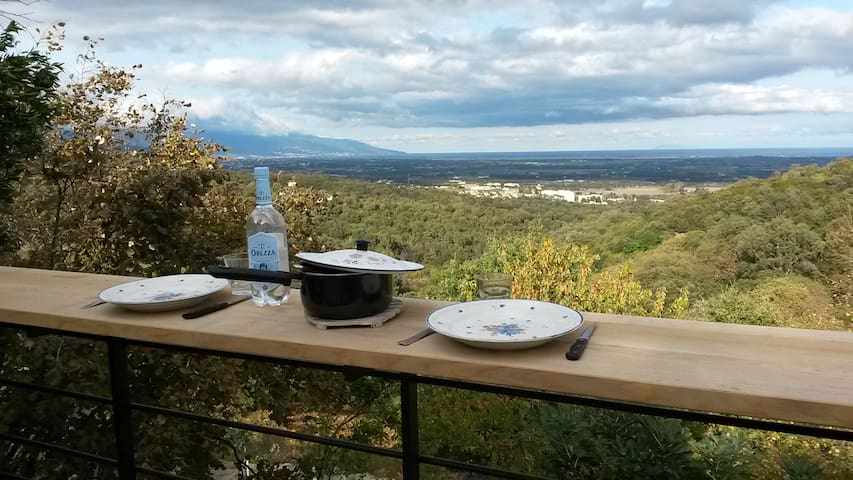 Belle maison de village avec vue sur la mer. Proche de la belle plage d'Anghione
Room Type
Entire home/apt
---
Property Type
House
---
Accommodates
5
---
Bedrooms
Castellare-Di-Casinca, Corse, France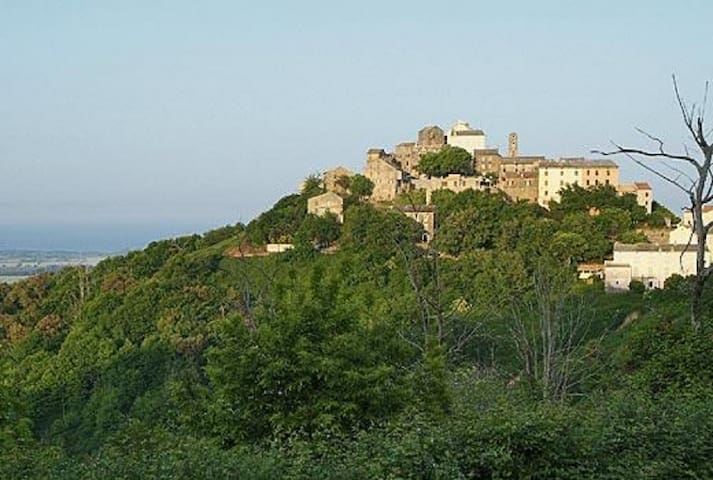 STUDIO INDEP ON GARDEN VIEW ON THE SEA JACUZZI POSSIBLE + 1 BABY COT PROVIDED TENT 2 PLACES AVAILABLE ON GARDEN FOR 2 OR CHILDREN ADO Wed 10 MN SHOPS SUMMER KITCHEN TERRACE BATHROOM LINEN PROVIDED / BEDDING 1 BEDROOM WIFI TV LL / PLANCHA tel: (PHONE NUMBER HIDDEN) photos on request
STUDIO INDEP ON GARDEN VIEW ON THE SEA POSSIBLE + 1 BABY COT PROVIDED TENT POSSIBLE 2 PLACES IN THE GARDEN FOR 2 CHILDREN Wed 10 MN SHOPS SUMMER KITCHEN TERRACE BATHROOM LINEN PROVIDED / BEDDING 1 BEDROOM WIFI TV LL / PLANCHA tel: (PHONE NUMBER HIDDEN) photos on request wifi in the garden Orange TV on tablet / mobile tv tnt Heated Jacuzzi in the garden facing the sea the studio is independent of the garden for you with a heated Jacuzzi if you need something or service ask us 5 MINUTES FROM THE SEA IN CORSICA VILLAGE WITH SHOPS / RESTAURANTS ECT ... A PANORAMIC SEA PARKING HOUSE NEAR POSSIBLE LOCATION SCOOTER / MOTORCYCLE 10MN IN PLAIN
5 MINUTES FROM THE SEA IN CORSICA VILLAGE WITH SHOPS / RESTAURANTS ECT ... A PANORAMIC SEA
Everything was good. Difficult to find the place, but Bernhard came to a meeting point, so it was easy. Merci.
Hans Jürgen
2015-10-04T00:00:00Z
Very beautiful House. Bernard way very kind and froendly. Of course you will enjoy your stay. Everything was perfect. Thanks a lot.
Pietro
2015-08-03T00:00:00Z
We had a one week stay at Bernard's charming studio and enjoyed every day even it was raining. Bernard was really helpful with instructions and tips. The studio is situated in a nice village with a breath taken view over the country and it is nearby a supermarket and some bars. The Studio itself is as in pictures: clean, well equipped and has a lovely garden. I recommend this apartment to anyone staying on Corsica!
Leni
2015-07-28T00:00:00Z
L'host ci ha accolto con calore ed è stato disponibile a ongi nostra richiesta. ci ha anche aiutato con i bagagli dal parcheggio alla stradina che conduce alla casa. La zona notte è ben studiata, la parte giorno è leggermente sacrificata ne caso piovesse, come purtroppo è successo a noi, ma gradevolissima
Ermanno
2015-08-16T00:00:00Z
Très bel endroit avec une vue magnifique , calme , reposant. Très bon accueil de Bernard et sa femme .
Catherine
2016-07-15T00:00:00Z
Expérience inoubliable. Bernard et sa femme nous ont merveilleusement bien accueillis. Nous vous conseillons vivement cet hôte, qui a su être de bon conseil et très sympathique. Nous espérons y retourner très vite.
Julia
2015-07-31T00:00:00Z
Bon accueil de Bernard et sa femme. Endroit calme et reposant avec une belle vue. En résumé bon séjour
Fadia
2016-09-16T00:00:00Z
Le charme d'un village perché, la gentillesse de Bernard et de son épouse, les bulles à 35 degrés et la tomate ananas du jardin, que demander de plus?
Gérald
2016-08-01T00:00:00Z
Room Type
Entire home/apt
---
Property Type
House
---
Accommodates
2
---
Bedrooms
Cervione, Corse, France
Pleasant villa equipped to nine and shaded in Corsica on the Costa Verde. For 6 people, feet in the water. Peaceful.
Jolie T3 type house in a residence wooded and quiet. Parking outside the house. direct access to the beautiful sandy beach 150m walk. tennis courts and private basketball. House of 40m2: Bed room with sofa bed, full kitchen, bathroom bath / WC, 2 bedrooms upstairs. Washing machine, dishwasher, cot for baby. Please note, sheets and linens are not provided. covered terrace, garden mineral and canoeing available. The baker comes in the residence each morning. Small shops and restaurants on foot. The cities of Moriani and Folleli are about 5 kilometers and offer all amenities (Great comercial centers, various locations, hairdressers, doctors, DIY, bar and restaurants ...). The house is ideally located on the axis Bastia - Bonifacio and this makes it easy to visit Corsica of the Cap Corse at the end of the cliffs of Bonifacio, remembering to cross the beautiful forest of Castaniccia, ideal for hiking and baths in the river ... Rates: From 175 to 650 Euros per week depending on the period. Rentals are from Saturday to Saturday in the summer. Remember to book your boat in advance. See you soon.
The property is wooded and offers privileged access directly to a wide sandy sandy.
The house is very well equipped and comfortable in every way. Our host ensured we had all the information we needed before arrival and looked after all our needs for the stay. The location (fantastic beach!) and nearby facilities were also great.
Martin
2016-09-04T00:00:00Z
Charmante petite habitation dans un quartier très paisible.
Louis
2016-07-03T00:00:00Z
Très bon séjour dans cette maison en bord de mer. Le propriétaire ainsi que la personne qui accueille sont très disponibles et sympathiques. La plage située à 150 mètres est vraiment très agréable, c'est un vrai plus. Nous recommandons!
laure
2016-09-30T00:00:00Z
Cartier très calme Logement au pied de l'eau Tous est parfait et comme sur le descriptif. Je recommande.
Jean Pierre
2017-03-09T00:00:00Z
L'accoglienza è stata ottima, non ci sono stati problemi anche se a causa del traghetto siamo purtroppo arrivati a notte tarda all'appartamento. L'appartamento è molto grazioso, ben fornito e molto comodo sia per una vacanza relax (la spiaggia è a un minuto) sia per una vacanza avventurosa, con magnifiche montagne e torrenti a pochi km.
Filippo
2016-07-15T00:00:00Z
Room Type
Entire home/apt
---
Property Type
House
---
Accommodates
6
---
Bedrooms
Poggio-Mezzana, Corsica, France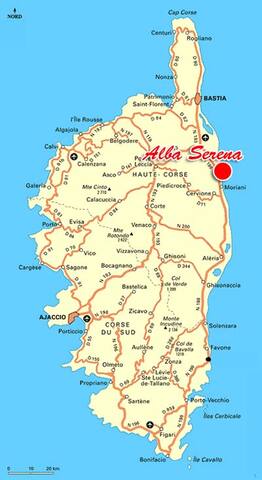 Mini villa tout confort avec terrasse vu jardin et piscine. La villa se situe au coeur du Domaine de Melody sur la costa verde à 40 km de Bastia et 2 km de la station balnéaire de Moriani. Résidence sécurisée avec parking.
après 15 jours dans la villa on est entièrement ravie en tout point. on reviendra
Jessica
2016-08-23T00:00:00Z
Villa propre et fonctionnelle bien adaptée pour deux personnes. Résidence agréable mise en valeur par sa végétation et sa piscine, bien sécurisée. Très bon accueil par Isabel. Seul point qui pourrait être négatif, le bruit de la circulation à certaines heures sur l'axe principal à proximité.
Murielle
2016-09-12T00:00:00Z
Une hôte en or, serviable . un logement au top et très bien situé à 2 pas de la mer et avec tout ce qu'il faut . Situé dans une résidence avec piscine , dépôt de pain et viennoiserie pour ne pas a avoir a prendre la voiture ,et une laverie . Une région splendide accessible en tous sens de part la localisation de la villa. On reviendra avec joie Petit clin à Isabelle, qui s'est occupé de nous pour la fin de sejour , pour sa joie de vivre .
Jessica
2016-08-30T00:00:00Z
Room Type
Entire home/apt
---
Property Type
House
---
Accommodates
2
---
Bedrooms
Santa-Maria-Poggio, Corsica, France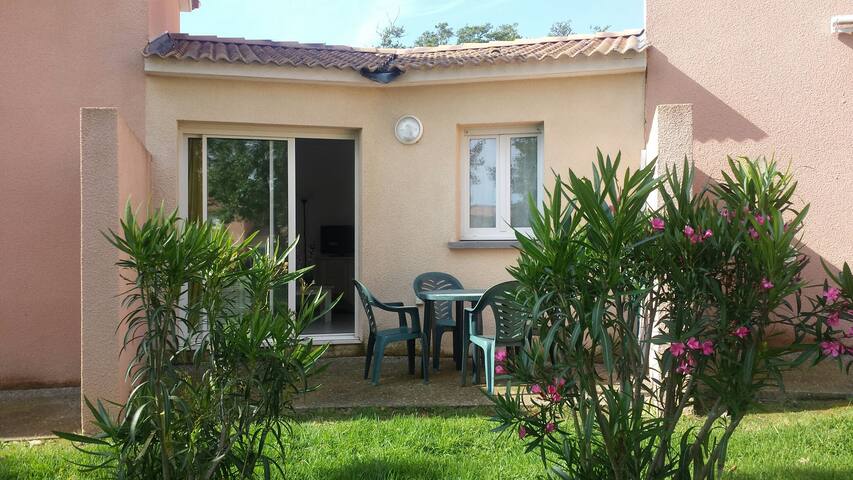 BEAU STUDIO RECENT ,AMENAGE AVEC GOUT ,DANS PROPRIETE CLOTUREE DE 5000M2 AVEC PISCINE PRIVEE .LE LOGEMENT SE SITUE A 5MN D'UNE BELLE PLAGE DE SABLE FIN ,A 25KM AU SUD DE BASTIA ,DANS LA REGION DE CASINCA ET CASTAGNICCIA (SOURCE D'EAU D'OREZZA ).
Séjour très agréable chez Marie Josée ! Le studio est parfaitement situé, propre et spacieux. Marie Josée était flexible sur les heures d'arrivée et de départ et nous a donné des bons conseils pour explorer les environs. Nous avons même eu droit a des fruits frais pour notre petit déj! Un vrai coup de coeur pour ce logement et ses propriétaires.
Jean
2016-06-27T00:00:00Z
nous avons été trés bien recu par une personne charmante agreable qui nous a mis a l aise tout de suite qui nous a fait visiter le studio qui etait conforme au descriptif,de plus un cadeau de bienvenue nous attendais,le lieu,tout en etant situé a deux pas de la mer offre un calme vraiment reposant,que du bonheur pour se ressourser
Roger
2016-09-10T00:00:00Z
Accueil parfait logement très fonctionnel très bien situé
Camille
2017-02-11T00:00:00Z
Logement propre et agréable, bien équipé. Bon accueil du propriétaire. À recommander, bon rapport qualité prix.
Savary
2016-07-25T00:00:00Z
Marie-Josee war wirklich sehr freundlich und hat alles versucht uns den Aufenthalt so schön wie möglich zu gestalten. Wir haben uns mit unseren Brocken Französisch mit ihr verständigen können. Ihr Mann kann ein wenig englisch sprechen, sodass wir unsere Fragen besser an ihn gestellt haben. Das Zimmer ist viel schöner als auf den Fotos. Sehr schön und stilvoll eingerichtet. Wir haben uns sehr wohl gefühlt!
Melina
2016-07-12T00:00:00Z
Super séjour !! hôtes très accueillant avec des petites attentions particulières qui font plaisir. De très bon conseils pour visiter les coins sympathiques. très beau studio qu'on recommande vraiment car le calme y est absolument.
Romaric
2016-09-17T00:00:00Z
Très bon accueil du début à la fin ! Nous nous sommes senti "comme à la maison", Marie-Josée et son mari Philippe y ont largement participé. En aucun cas intrusifs ou indiscrets, juste disponible en toutes circonstances. Et le "petit" plus, de délicieux desserts fait maison pour notre plus grand plaisir. Pour un séjour complet ou simplement une escale le studio est bien équipé. L'endroit est calme en pleine nature et donc largement dépaysant. Sans hésiter je vous le conseil !
Alexandra
2016-09-29T00:00:00Z
Un superbe séjour en partie du à l'accueil chaleureux et aux conseils de nos hôtes, encore un grand merci à eux et à bientôt soyez en sur
Antony
2016-07-20T00:00:00Z
Room Type
Entire home/apt
---
Property Type
House
---
Accommodates
3
---
Bedrooms
Sorbo-Ocagnano, Corsica, France
located in a small village 7 km from the sea and 4 km from the main road, the room is on the ground floor of the house, with its own entrance from the garden and stunning views of the sea, of where you can see the city of Bastia (a 40km) Elba (a 60km) and sometimes see the Italian coasts. In this room, a comfortable bed 140cm for 2 persons you will spend a quiet night in the silence of village.elle is complemented by a television, a library of books and comics. A large closet and a storage room complete this. Separated from the bedroom by a door, a bathroom, a shower and toilet complete the prestation.Dans this bathroom a heated towel radiator will maintain a pleasant temperature output douche.Pour breakfast provided between 7 and 10 am will be served either at home on the balcony with a breathtaking view of the valley and the sea or in the pool according to this time of year, the vagaries of the weather ... and of course your désir.L access to the (unheated) pool is of course possible if such is your wish, knowing that it is usually discovered and usable may octobre.enfin, we are ideally situated for visiting corsica: ajaccio = 2h = 2h calvi, porto-Vecchio = 2h, cap Corse = 1:30 ....
The host canceled this reservation 183 days before arrival. This is an automated posting.
Camylle
2017-01-09T00:00:00Z
Alain and Danielle were very nice people, the did everything they could to make our stay as pleasant as possible. The breaksfast was really great and after some days we found very nice restaurants not far away (e.g Les brises de mer). The house is located well for discovering many parts of the island.
Cornelius
2015-07-17T00:00:00Z
The host canceled this reservation 24 days before arrival. This is an automated posting.
Ambre
2016-08-21T00:00:00Z
Alain y su Señora son dos persons muy agradables, que nos ayudaron mucho aconsejándonos sobre los lugares a visitar en Córcega del Norte. La habitación y el baño fueron impecables y sus desayunos magníficos. La casa tiene una muy buena piscina y una vista imperdible al mar desde la montaña. Gracias Alain y Señora, esperamos verlos nuevamente.
Horacio
2015-07-05T00:00:00Z
Une très belle chambre toute neuve, ainsi qu'un superbe extérieur. La vue y est juste magnifique, que se soit de la chambre, de la piscine ou du lieu du petit déjeuner. Nous avons été très bien accueillit, des hôtes chaleureux, et de bon conseils, qui nous ont permis de passer un excellent séjour.
Laura
2016-08-09T00:00:00Z
Un accueil parfait. Bien que le séjour fût court, nous avons passé un très agréable moment. La chambre est spacieuse, propre, etc... La vue est extra et l'emplacement idéal. Le petit déjeuner au bord de la piscine était très copieux. Ravis de cet accueil et de cette rencontre, merci et nous espérons à très bientôt !
Robin
2015-07-24T00:00:00Z
Notre séjour à Taglio-Isolaccio chez Alain et Danielle était un rêve! Fatigués de notre randonnée les jours avant, nous avons adoré le petit-déjeuner que Danielle nous a preparé avec tant de soin et détail. Le prendre à côté de la piscine avec la vue incroyable sur la vallée était vraiment le sentiment ultime des vacances pour nous. La chambre était toute neuve, très propre et bien équipée, nous avons eu tout ce dont on avait besoin. Y inclus les conseils sympas d'Alain qui nous a montré où aller en découvrant l'île de beauté. Merci à vous deux pour cette merveilleuse hospitalité. Nous espérons de pouvoir retourner un jour et vous souhaitons tout bon!
Sara
2016-06-16T00:00:00Z
Belle maison et vue superbe. Christian et son épouse nous ont reçu très agréablement. Un moment bien sympathique !
marie
2015-06-24T00:00:00Z
Room Type
Private room
---
Property Type
House
---
Accommodates
2
---
Bedrooms
Taglio-Isolaccio, Corsica, France
110m2 apartment F3 nine in ground villa with private garden and terrace, fully air conditioned. Located on the height of Moriani in the village of Poggio mezzana 4km from the sea. My home is close to all the shops restaurants, the beach, the facilities for families (hiking, horseback riding, tennis, cinema in the area, sailing, diving, jet skiing, boat rentals) and public transport. Enjoy my home for comfort, view and location
A panoramic view of the sea and the mountains. Apartment new and fully equipped.
Room Type
Entire home/apt
---
Property Type
House
---
Accommodates
6
---
Bedrooms
Poggio-Mezzana, Corse, France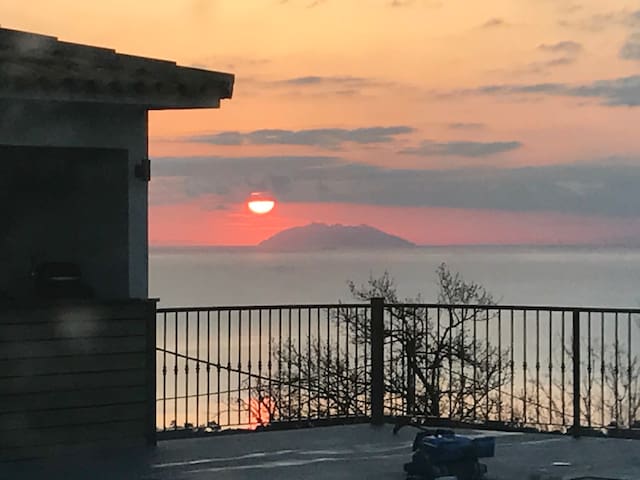 Maison neuve très accueillante avec terrasse vue mer, barbecue et place privée,portail électrique. Endroit calme,à cinq minutes des commerces et un km cinq de la plage,cinq minutes du port de plaisance, de nombreuses activités vous sont proposés dans la région.
Room Type
Entire home/apt
---
Property Type
House
---
Accommodates
5
---
Bedrooms
Santa-Maria-Poggio, Corse, France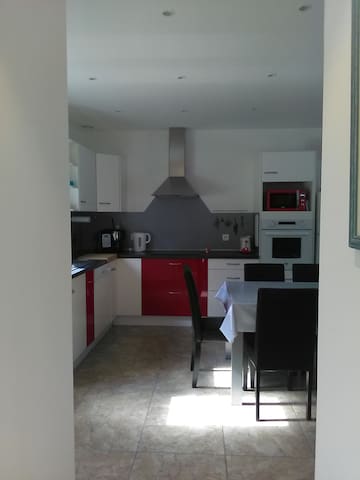 Mon logement est proche du centre ville de Moriani plage (2,5 Km), des transports en commun (bus) et de l'aéroport (20 minutes). La villa dispose d'une grande terrasse pour lire et partager si vous le souhaitez des instants de convivialité. La montagne est juste à vos pieds tout comme la plage (1 Km).
Sa situation est idéale. Vous êtes à la fois à la mer et à la montagne. Le centre ville est à 2,5 Km.
The host canceled this reservation 12 days before arrival. This is an automated posting.
Karel
2016-09-12T00:00:00Z
Loved our stay at A mio casa.. Absolutely feel at home experience. We stayed here for 2 days. The Moriani beach and the mountain is approximately at 1 KM from the villa. It's a very nice Villa with garden and mountain view from here. Gilles is very welcoming and friendly in Nature. Provided us with all the information needed. We would love to come back again :)
Rajib
2016-08-19T00:00:00Z
Bref séjour très sympathique chez la maman de Gilles!
Thomas
2016-10-04T00:00:00Z
Nous avons passé une nuit chez Gilles, bien accueillis par sa mère. Dans une maison calme, tempérée et spacieuse. Nous sommes partis tôt le matin pour prendre notre avion à l'aéroport de Bastia situé à une vingtaine de minutes. Nous n'avons donc pas eu le temps d'apprécier le petit déjeuner avec confitures maison, qui faisait pourtant envie.
BULKE
2016-09-17T00:00:00Z
Jolie chambre dans une maison située dans la campagne avec une jolie vue sur les montagnes. Le jardin est agréable et joliment décoré. La maman de Gilles dont c'est la maison a été tout à fait charmante et accueillante. Merci à elle. L'aéroport est facilement accessible ce qui a été très pratique pour passer une nuit avant mon départ. A recommander.
EMMANUEL
2016-09-23T00:00:00Z
Siamo stati molto soddisfatti del soggiorno da Gilles perché tutto ciò che abbiamo trovato era in linea con le aspettative. Gilles e la sua Mamma sono persone molto gentili e disponibili e ci hanno dato preziose indicazioni su dove andare.
Sebastiano
2016-08-22T00:00:00Z
Ma hâlte chez la maman de Gilles était parfaite ! La maison est très confortable et Therèse est une femme très gentille, je recommande !!
Sandrine
2016-10-13T00:00:00Z
Nous avons été très bien accueillis par la mère de Gilles qui nous à prodigué de bon conseils, nous a offert des confitures maisons pour nos petits déjeuners, nous avons partagé des moments agréables et sommes satisfait de notre séjour.
Daniel
2016-09-01T00:00:00Z
Room Type
Private room
---
Property Type
House
---
Accommodates
2
---
Bedrooms
Santa-Lucia-di-Moriani, Corse, France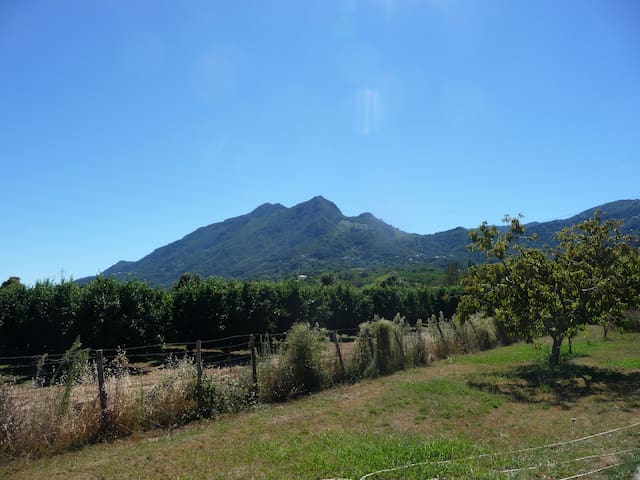 My accommodation is perfect for couples, solo travelers, business travelers and families (with children limit 2)
The accommodation consists of an equipped kitchen fridge, stove, microwave, dishes .... A lounge with reversible sofa and TV .... A bathtub bathroom with sink and toilet and a washing machine .. ... a room with a double bed and a wardrobe ..... a terrace with table and 4 chairs a barbecue and a parking space.
The peace and quiet
Room Type
Entire home/apt
---
Property Type
House
---
Accommodates
4
---
Bedrooms
Monte, Corse, France
Pruno - Airbnb
:
Average

4.45

out of

5

stars from

220

guest reviews