It is located opposite the Castle of Matrera, between Villamartín and El bosque.Aquí you can enjoy a few days of rest with family or friends.IDEAL FOR CHILDREN. CHECK OUR OFFERS.
Upon arrival, guests are offered a welcome basket with products from the area and our orchard (eggs from our hens). The house is for guests only, not shared with anyone. It has at the entrance a porch with parking, another side porch where the barbecue is, and views towards the pool and the Castle of Matrera, on this porch there is an entrance to the house towards the kitchen, for convenience in your stay. The house has a living room of 50 m2, with a large fireplace, TV, two sofas three seats, chairs and armchair, baby chair, and two large tables of 2x1 mtro. There is an indoor bathroom with shower, and everything you need, including hair dryer and another outside downstairs in the pool also with shower (only in summer) as the water is heated with an outside deposit that is warmed by the sun. The property consists of three bedrooms, ideal for three couples and their small. One bedroom has two double beds, another one of marriage and one of 105 and the other with one of marriage and two of 90 cm. The beds are super-equipped with good Nordics, and there are lampa ritas night lighting for comfort. Here the children have a great time as there are toys adapted to all ages: bicycles, swings, balls, etc.
The house is very easily accessible and therefore can be moved to nearby villages such as: EL BOSQUE, BENAMAHOMA, GRAZALEMA and undoubtedly PRADO DEL REY. We can recommend visiting the bars of the pedestrian street, there you will find a pleasant atmosphere, to have a few drinks and to eat we recommend MESON RURAL IPTUCI. They can take the children to the park, where there are swings and animals, the children enjoy very much.
Nous avons passez un séjour magnifique, nous avons été très bien accueilli avec le sourire et beaucoup de générosité. Anabel qui s'occupe de la maison de son papa et très chaleureuse, elle avait préparé pour nous toute les chambres et un panier garni de saison qui nous a fait plaisir. La maison est située dans un lieu où la vue est imprenable et reposante ( vue du village et sur la vallée), on s'y sent bien et c'est très agréable on a eu l'impression d'être chez nous. Il ne manque rien dans la maison et je tiens à préciser que les literies sont très confortables.Nos 2 filles de 7 et 12 ans se sentaient en libertés elles prenaient les vélos (prêtés) et partaient sur le chemins où elles pouvaient y croiser des promeneurs à cheval et des chèvres.Nous avons beaucoup échangé avec Anabel avant notre arrivé ce qui fait qu'elle nous avait aussi réservé une table au restaurant Iptuci à prado del Rey où nous avons très bien mangé (réputé pour la cuisine avec produits locaux) je vous le conseille vivement. Ensuite grace à Anabel nous avons fait une très belle rencontre celle de José Antonio qui a des "Salinas Romanas" à 5minutes de Prado del Rey, c'est un passionné, il récolte le sel qui provient d'une source eau salé naturelle qui date de l'époque romaine il utilise les même methodes, c'est une visite incontournable et que je vous recommande, après la visite vous pouvez aussi acheter (ça ne risque rien pour les bagages mains en avion, nous avons pris tous les produits qu'ils proposent et aucun soucis avec Raynair). Sans oublier los pueblos blancos avec particulièrement el Bosqué où l'on peut y visiter un moulin à eau utilisé pour moudre la farine et faire le pain in situ. La pisciculture de truite où l'on peut pécher et acheter son poisson une partie de plaisir pour les petits et grands.... Pour les passionnés de tauromachie, il y a des ganaderias tout autour, il n'y a pas mieux pour s'imprégner de la culture de l'Andalousie, n'hésiter pas à demander à Anabel. N'hésitez pas à choisir cette maison vous ne le regretterez pas!!!! Nous espèrons y revenir bientôt......Encore mille merci Anabel c'était parfait!
virginie
2016-04-28T00:00:00Z
Hemos estado en esta finca y es maravillosa. Tiene todas la comodidades necesarias para pasar una estancia relajante, rural y muy placentera. La piscina es estupenda con vistas al famoso Castillo de Matrera y la casa cuenta con todo tipo de detalles. Sin lugar a dudas, un alojamiento muy recomendable.
Demetrio
2016-04-02T00:00:00Z
Genial Anabel! Gran anfitriona. La casa tiene unas vistas excepcionales. Recomendable para personas que quieran desconectar.
Jesús J.
2017-02-28T00:00:00Z
Room Type
Entire home/apt
---
Property Type
House
---
Accommodates
11
---
Bedrooms
Prado del Rey, Andalucía, Spain
Quiet place in a hill close to Prado del Rey. Amazing views of the mountains. Recommended for small groups aiming to enjoy the Natural Park. Wide living room with hearth, 3 bedroom, bathroom and kitchen. Basic price for 1pe/night. Up to 6 people.
Quiet place in a hill close to Prado del Rey. Amazing views of the mountains. Especially recommended for small groups aiming to enjoy the Natural Park.
Near Prado del Rey, just in the boundary of Grazalema Natural Park. Spectacular views of the mountains and terrific sunsets. Exceptional place to enjoy bird migrations. Close to Doñana National Park, Sevilla, Cádiz or Ronda. Small grocery store with local products next to the rural house.
We had a superb stay at Victor's Ranchito. The house has all the amenities you could possibly ask for and it is in perfect condition. It has a great location to visit many beautiful mountain tracks around Sierra Grazalema and lively Andalucian villages. You can even walk to the nearest village Prado del Rey in 35 mins. The hosts were extremely helpful always ready to give us a hand when we needed. We highly recommend this house and this beautiful region.
Deniz
2016-09-01T00:00:00Z
We had a wonderful stay in the house. The house is so beautiful, the room's are homly, the kitchen is well equipped. Everything is very clean. Victor is a perfect host. He is always there when you need him. He helped us a lot. We will come back
Inga
2015-11-18T00:00:00Z
My wife and I have spent our Summer holidays in Andalusia each year for the past 5 years – so we know this area quite well. El Ranchito is just 2 km from Prado del Rey (which has many super places for eating out) – and the house is a perfect base for daytrips to Jerez, Arcos DLF, Ronda, and the many beautiful white villages so typical of the region. Victor and Lillianna were perfect hosts – they met us on arrival – and Victor even managed to see us off on our last day when we left at 07.30. Victor and Lillianna know the locality inside out and shared with us tips for visits plus all the information needed to make the most of our stay – and we stayed for 4 weeks! They both took time and trouble to ensure our stay was as enjoyable and as restful as possible…….and we never came away from a conversation with them without being totally impressed by their genuine friendliness and great pride in their corner of Spain. The house is very comfortable and is very well equipped throughout – great kitchen – super utility room – comfortable beds – super patio and porch areas – and of course the location and views make the whole experience very special. We look forward to staying here again in the future – this house is a real hidden gem – thank you Victor & Lillianna.
Gerard
2016-08-03T00:00:00Z
El Ranchito is a lovely house with simple and very tasteful interior décor. There are two outside sitting spaces with views of the surrounding countryside. Victor is very friendly and welcoming. We arrived in the evening and he had already lit the log fire for us and gave us a lot of suggestions of where to go and what to do. Highly recommended.
Roz
2017-01-03T00:00:00Z
Excellent place, really well equipped and furnished. We were cycling and Victor gave us lots of ideas for routes both before and during our stay. Big comfy bed, lovely soft towels, well equipped kitchen. House a bit chilly when sun didn't shine but transformed once fire was lit. Wish we could have stayed longer. All communication was fast and easy, all went very smoothly. Hope to come back.
Rob
2016-12-02T00:00:00Z
We enjoyed our holiday in El Ranchito! Victor was very welcoming and helped us with lots of tips in the neighbourhood. We had a lot of space in the house and enjoyed the fireplace!
Katrijn
2016-11-26T00:00:00Z
Victor's house has been carefully restored with quality materials and attention to every detail. The location is excellent to explore P. N. Sierra de Grazalema, the surrounding Pueblos Blancos, including Ronda and Arcos de la Frontera. Victor and Liliana were extremely helpful, they know the area well, including some excellent spots for bird-watching. There is a small store 200 m away that has a great selection of local products. Next time we visit this area we will definitely stay here.
Juan Carlos
2016-10-22T00:00:00Z
We had a wonderful seven day stay in the house of Victor. El Ranchito fully complies with the description. Victor was very punctual and met us exactly at the agreed time. El Ranchito is very convenient as a base for trips to the nearby Pueblos Blancos, as well as for radial trips to cities of Andalusia. My wife and I are very pleased to get acquainted with Victor and charming Liliana. I highly recommend El Ranchito and his wonderful hosts.
Alexander
2016-10-12T00:00:00Z
Room Type
Entire home/apt
---
Property Type
House
---
Accommodates
6
---
Bedrooms
Prado del Rey, Andalucía, Spain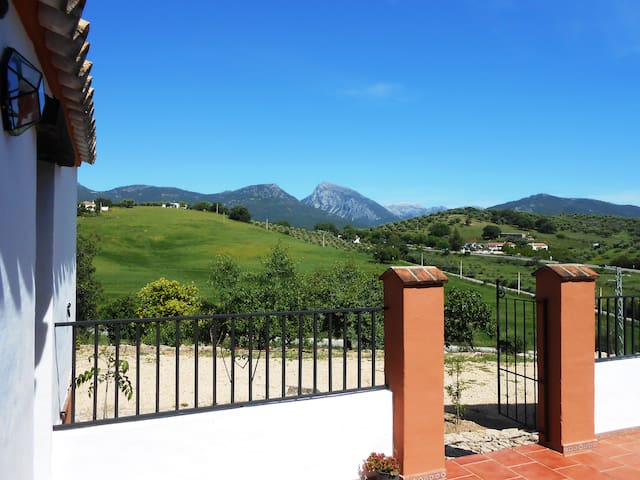 Accommodation located in a quiet and healthy place, next to the health center, a short walk from the town center, and close to restaurants, wineries and places to visit, fully equipped, can mix relaxation with fun, given the diversity of home.
Comfort and fun mixed into one.
Very quiet easy parking and close to places to visit, eat and shop area. They will enjoy the visit of the orchard farmhouse dorotea, manufactures honey, wine cellars Rivero and loose, butchers the three oaks and places to eat as restaurant 4 winds and Irish tavern meeting place and enjoy with families.
Hemos pasado un fin de semana estupendo, es un sitio muy tranquilo y cercano a otros pueblos blancos de Cádiz, no nos ha faltado nada, además Paula nos informó de muchos sitios para visitar y comer tanto en Prado del Rey como en alrededores. Todo genial.
Raquel
2017-02-27T00:00:00Z
Room Type
Entire home/flat
---
Property Type
House
---
Accommodates
8
---
Bedrooms
Prado del Rey, Andalucía, Spain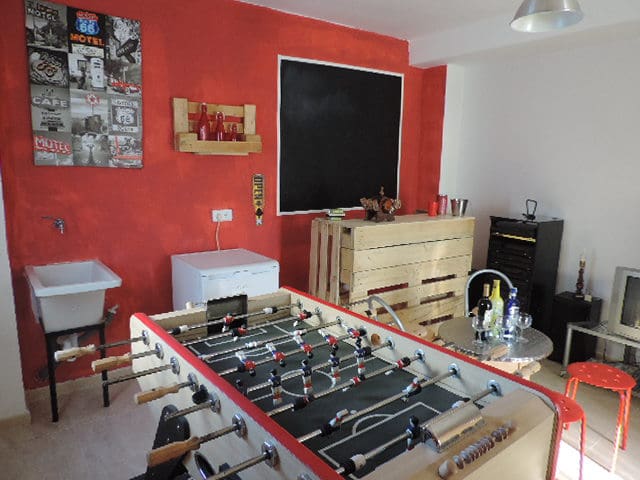 You'll love my place because of the views, people, atmosphere, and location. My accommodation is good for couples, adventurers, business travelers and families (with children).
Mucha facilidad para la hora de llegada... Casa muy limpia ademas de agradable para pasar unos dias.. atención muy buena por parte de la madre e hija.. Un pueblo encantador para pasar las fiestas de nochevieja ya sea en pareja o con amigos.. Todo el mobiliario muy cómodo y una cama espectacular.. Repetiremos
MARIA
2017-01-02T00:00:00Z
Muy buena estancia
Sergio
2017-02-27T00:00:00Z
Room Type
Entire home/flat
---
Property Type
House
---
Accommodates
4
---
Bedrooms
Prado del Rey, Andalucía, Spain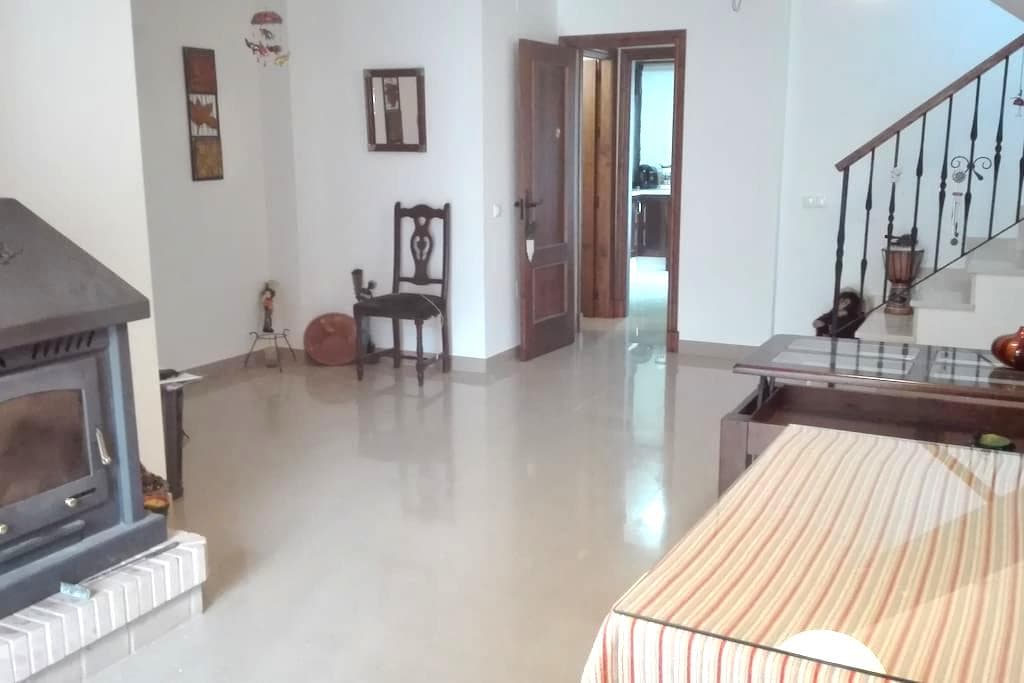 This is an old restored farmhouse with a beautiful herb garden, fruit trees, pool, magnificent views of the village and the mountains. You will have the feeling of being in the countryside just a few minutes walk from the town center.
Prado del Rey is located in the geographic center of the "Route of the White Villages of Cadiz," will visit the neighboring towns, El Bosque (8 km), Benamahoma (11 km), Grazalema (24Km), Zahara de la Sierra, Arcos and Jerez de la Frontera. One hour from Seville, Cadiz and Ronda. The house has 3 bedrooms, sleeps 6, outdoor dining with barbecue, solarium and wifi. The kitchen is equipped with everything you need.
Best of the house is the peace and quiet, you only hear the birds singing on waking, the rooster, the sound of falling water in the pond ... an island of peace is just minutes from downtown village, close to all the facilities you need. Have breakfast in the sun, leisurely, Take a walk to the pedestrian street and have a beer, try the typical dishes of the area, we have good meat, cheese, honey, organic products. Prado del Rey is a charming village, from here you can visit all the white people, walking in the mountains, relax and enjoy your holiday.
Beautiful spot high in the hills with stunning views. House was very clean with fresh wild flowers in every room, really well kept. Juana is a super friendly host, she speaks only Spanish but was really good at communicating by email in English. We had a super time with my two preschoolers who loved the playground and paddling in the river on a walk out of Il Bosque with magical waterfalls, flowers and birds
Clare
2016-04-30T00:00:00Z
Drive through the gate and travel back in time. When we first approached the house we thought we had the wrong address but once we entered, we found ourselves in a oasis! The grounds are a private compound. The house is a restored farmhouse with the charm of days gone by, but with all the modern conveniences you need. We were greeted by our hosts and although we don't speak Spanish we fumbled through with broken Spanish, (SENSITIVE CONTENTS HIDDEN) translate, and some English. The house is exactly as pictured and our hosts provided a bottle of white wine and a loaf of bread. The pool was refreshing and the views were spectacular. We used the stay as a central hub to visit Zahara, Grazalema and Rhonda. We very much enjoyed our stay and highly recommend this listing.
Bob
2016-09-30T00:00:00Z
The host canceled this reservation 26 days before arrival. This is an automated posting.
Teresa
2016-10-23T00:00:00Z
Mi familia y yo hemos pasado una de las mejores navidades de los últimos años en la casa de Juana y Enrique. Hemos estado tres días encantados con todo , con la casa , con el pueblo etc . Los niños han disfrutado muchísimo con el parque infantil. Juana y Enrique son encantadores y serviciales, nos regalaron un pan y una botella de vino buenísimos !! Sin duda volveremos el año que viene por estas fechas seguro y quién sabe si en primavera tb para disfrutar de la piscina igual que lo hemos hecho de la chimenea !!
Ale
2016-12-26T00:00:00Z
Pain et vin à notre arrivée Accueil parfait (sourire local et discrétion) Juana est disponible si besoin Logement impeccable , charmant, fonctionnel et intimiste Piscine propre, protégée et entretenue Situation géographique intéressante pour rayonner dans tout l'ouest andalou Vivement recommandable
Emmanuelle
2015-08-15T00:00:00Z
Room Type
Entire home/apt
---
Property Type
House
---
Accommodates
8
---
Bedrooms
Prado del Rey, Andalusia, Spain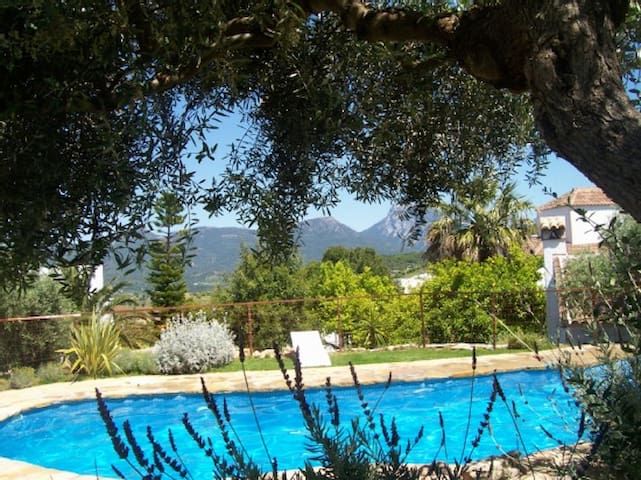 Alquiler de casa completa, amplia, bien equipada y cómoda. Ubicada en Prado del Rey, Sierra de Cadiz. Parque Natural Sierra de Grazalema, en la ruta de los pueblos blancos. Impresionante paisaje montañoso y próxima a ciudades de interés cultural.
La vivienda se encuentra en el pueblo y al lado de la naturaleza, desde donde se puede realizar senderismo y a 5 min. del centro del pueblo, donde hay variedad de servicios,comercios, gastronomía, cafeterías. Prado del Rey , es Puerta del Parque Natural Sierra de Grazalema y del Parque los Alcornocales. Por lo que se pueden realizar multitud de actividades medioambientales, y visitar pueblos serranos: Grazalema. Ubrique,Benamahoma, Zahara de la Sierra, Arcos de la Fra. Ronda. Rodeado de 5 pantanos, cerca se encuentra una playa artificial en el cauce del río. Así como a 8 km. el maravilloso paseo por el río de El Bosque hasta (URL HIDDEN) costa Gaditana, variedad de playas preciosas a 1 hora. El pueblo dispone de ambulatorio medico 24 horas.
Ubicada en una calle tranquila de fácil aparcamiento, a 5 min. del centro andando y al lado del precioso sendero que comunica con la población de El Bosque. Con vista preciosas.
The host canceled this reservation 24 days before arrival. This is an automated posting.
Antonio
2016-02-02T00:00:00Z
Hemos pasado unos días en la casa de Juan Fco y Marinela y desde el primer momento se han preocupado de que estemos a gusto y que no nos falte de nada. Nos han informado muy bien de todo lo que podíamos visitar en la zona. La casa está muy bien equipada. Está en una zona tranquila y es acogedora. En definitiva, nuestra experiencia ha sido muy positiva. Muchas gracias a los dos.
Harry
2015-10-20T00:00:00Z
Room Type
Entire home/apt
---
Property Type
House
---
Accommodates
7
---
Bedrooms
Prado del Rey, Andalusia, Spain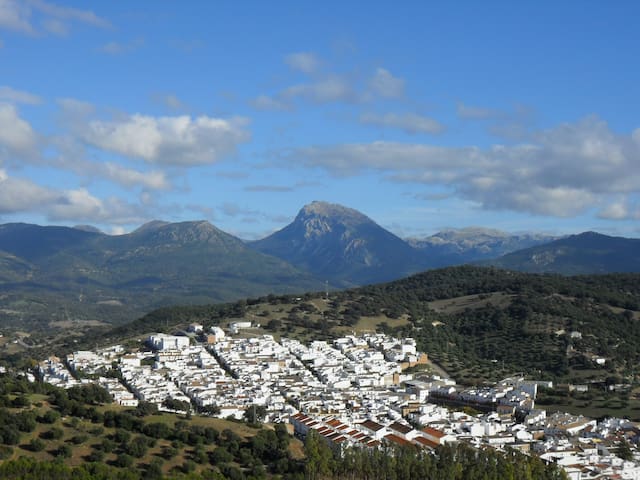 Prado del Rey, very quiet municipality located on the route of the white villages in the Sierra de Cadiz, next to El Bosque, Grazalema, Benamahoma, Zahara de la Sierra, Ubrique, Arcos de la Fra ... It is a cozy two-story house can accommodate up to 6 people. It is located in the center of town, yet is a very quiet area. Come and enjoy the wonderful landscapes we have and all the precious white villages that form the Sierra de Cadiz. We wait for you.
El trato fue muy bueno y con muchas atenciones, como la disponibilidad, la comunicación y sobre todo los detalles de la comida. Mejor trato y alojamiento con respecto a los reservados en ocasiones anteriores, en Prado del Rey, seguir así.
Juan Domingo
2017-03-12T00:00:00Z
Room Type
Entire home/apt
---
Property Type
House
---
Accommodates
6
---
Bedrooms
Prado del Rey, Andalucía, Spain
Charming rustic refurbished water mill, run on solar panels, in the heart of the countryside. House shared with owners; big double bedroom for guests, we can put an extra bed in the room for 2 extra guests; large kitchen; small river/stream adjacent
A nice place for some rest and relaxation, it is known to my friends as a place to come and recharge ones batteries. The peace and quiet of the area, the tree-shaded garden, and the cool river makes it pleasant even in the hot summer. The house is very rustic and unique. The Zahara reservoir is ten minutes away by car, offering swimming, kayaking and water activities. Our main guest bedroom is spacious, if needed we can put an extra bed in the room for up to 2 extra guests.
The Mill is situated in the Rivera de Grazalema, ideal for hiking and outdoor pursuits in the Sierras de Grazalema and Cadiz. It is also surrounded by the iconic White Villages, such as Grazalema, Zahara, Algodonales, and El Gastor. The area offers a diverse selection of outdoor activities including hiking/trekking/walking routes, canyoning, cycling, rock climbing, caving, paragliding, hang gliding, kayaking/canoeing, horse riding, bird watching, etc. There are two local outdoor pursuit companies: Al Qutun (website hidden) in Algodonales - located about 15km from my house; and Horizon Grazalema (website hidden) - which is about 9kms away.
Was amazing staying at this house with me and my 4 friends. One night was way too short and I hope I will have the chance to go back there for a bit more days. Kamron and Ruya are amazing people, we had such a nice time cooking dinner, talking, drinking rum and visiting the surrounding nature. must do: watching the stars at night with the sound of the river.
claire
2015-03-12T00:00:00Z
My boyfriend and I stayed with Mike and Gwyn this past May and it was one of the highlights of our whole trip! We weren't traveling by car, but they were nice enough to pick us up in the nearest town, and drive us back again when we had to leave. The house is beautiful! I never wanted to leave. Perfect location for some time away from the stress that traveling can be. Very quiet and serene, the stream was lovely! Went for a swim under a waterfall (which was very cold!) and read in the hammock. The Watermill was a piece of paradise! Mike and Gwyn were generous and accommodating, including driving back to the town when we forgot our groceries, and making dinner for us. They are a very interesting couple that we really enjoyed talking to, but they were nice to give us a lot of space to enjoy the mill on our own too. For those without a car, make sure you bring all the food you need for your stay, though Gwyn and Mike were very generous, we wish we had brought a little more. Would highly recommend a visit to the mill to all!
Rachel
2014-05-27T00:00:00Z
This was an awesome stay in a great cottage within a wonderful natural surrounding! Wonderful hosts and great fun! I'll definitely come back! Thanks!
Fabian
2015-01-16T00:00:00Z
well... this experience has been the closest to the Airbnb idea which i had ever come across with.. very personal, the hosts were totally engaged in our experience in and out of the house, i guess we all got on very well together, so i think it's been quite organic and the opposite to premeditation, so please if you go be open minded! The house is VERY charming and in a beautiful surrounding, but if don't expect a hotel like acomodation, this is a different story. The hosts were international, educated and genuine couple taking care of the house and the hosting. I highly recommended!
magdalena
2015-12-28T00:00:00Z
Mike's place is wonderful and he and Gwen are great hosts, making your stay as pleasant as possible. At the end you may feel that you leave a couple of friends behind and just wait for the next time to come back. The surroundings are also real impressive. In one word this is a place that you won't forget easily.
francoise
2014-07-03T00:00:00Z
We had a really good time at Mike and Gwyn's place!! They are warm and welcome and it felt like staying with friends. The room is big and nice.The place is really quit and we slept well with the sound of the small river aside! Thanks for your hospitality!
Saskia
2014-03-26T00:00:00Z
For Nature and quietness lovers. Unique place far from the city noise and stress. All rustic and hand made. Hosts Kamron and Ruya are sweet and friendly. I had a great time there! Strongly recommended!
Silvia
2016-10-02T00:00:00Z
the cottage is a little (almost) sustainable paradise that needs a little fixing here and there. we enjoyed dipping into the river behind the house. mike is a great host and a great guy who loves to do good!
Margot
2014-07-18T00:00:00Z
Room Type
Private room
---
Property Type
House
---
Accommodates
4
---
Bedrooms
Grazalema, AL, Spain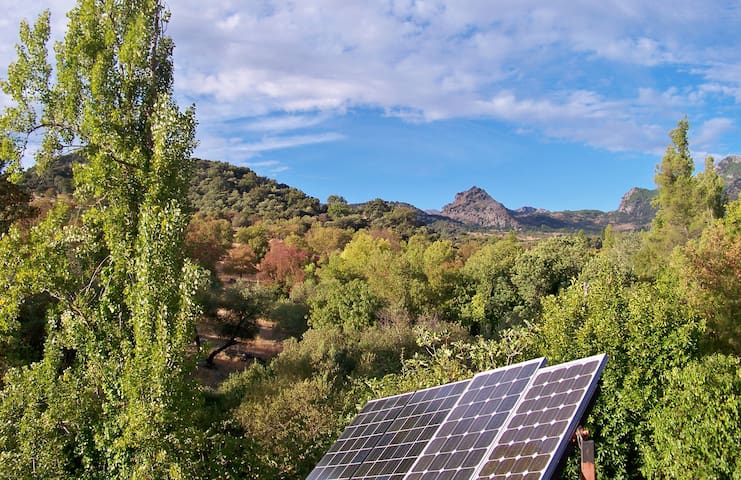 El Pastor-"The Shepard"-is situated in a beautiful valley in Grazalema Natural Park, a Unesco biosphere reserve. It is built on the site of an old mill and bakery, and has been fully refurbished whilst maintaining the very special Spanish character.
The house is built on the site of an old mill and bakery. Its focus is the river which can be seen from most of the windows and terraces. The accommodation is simple; not much has changed from 60 years ago when the mill was worked and lived in. We have installed all the necessary commodities, but have tried not to let them spoil the very special Spanish character.
El Pastor is in the Natural Park of the Sierra de Cádiz, a Unesco biosphere reserve and a fantastic area for walking and enjoying nature. It is 7 km. away from Grazalema, a beautiful village that maintains a lot of its traditional architecture and ways of life, including traditional fiestas like the "romería" and the "toro de cuerda". There are various bars and restaurants around the main plaza, a few shops and plenty of activities in the surroundings (walking and other outdoor sports, archaeological and gastronomic visits, etc.). Grazalema and El Pastor are well connected to other interesting towns like Ronda, Villaluenga, Ubrique, Zahara de la Sierra… Cities like Cádiz, Seville or Málaga are a couple of hours away.
This place is literally unbelievable- I've stayed in a lot of places on Airbnb but none even remotely as magical as this. Just go there - it's better than the pictures. And the area is like the garden of Eden. Maybe it's just because we came in spring but the diversity and abundance of wild flowers was mind-boggling.
Gabrielle
2016-05-20T00:00:00Z
Beyond incredible. The house is set in the most beautiful location that you could ask for with its own river and waterfalls next to the house which help you drift straight to sleep in the evening. The area itself is great for walking, we used it as a base to explore Andalusia and had a great time visiting Grazalema, Zahara and Ronda (20 minutes drive away).
Chloe
2015-05-07T00:00:00Z
It's a wonderful place! The house itself, the location, the furnishing, the cleanliness - everything was fine. We (4 people) enjoyed our short stay so much! There was nothing to complain about.
Stephan
2015-04-09T00:00:00Z
Ursula's father, Jack, was very helpful and welcoming. He met us in Grazalema and showed us the way to this wonderful farmhouse. A creek with a waterfall runs right past the house, and the setting is beautiful. The house itself was nice and clean, and just as described in the listing. Wood was provided for the fireplace. Other reviews mention that the hallway is a little cold, but it's really not as much of an issue as they've made it out to be.
Samuel
2015-10-15T00:00:00Z
The description was very accurate, except it was even better than it sounded, and very spacious. The setting was completely idyllic and the house had everything we needed. Getting the keys was very easy, even though we messed the owners around with dates and times a bit at the last minute.
Sally
2015-11-03T00:00:00Z
Pasamos unos días estupendos, tres adultos y dos niños. La casa es muy cómoda y bonita y está muy bien equipada, al menos mientras coincida buen tiempo, como fue nuestro caso. El entorno es precioso, tanto el más cercano a la casa (increíble el río con cascada) como los pueblos de la zona. Enhorabuena por tener una casa tan agradable.
Daniel
2015-04-27T00:00:00Z
La casa es muy bonita y el entorno inmejorable. Es importante conocer cuales son las condiciones exactas que reúne la casa ya que la vivienda es muy rústica, por ello es mejor visitarla en primavera o verano pues en invierno es muy fría.
Inma
2017-01-08T00:00:00Z
Wunderschöne Unterkunft mit drei separaten Schlafzimmern. Purer Luxus für alle, die ihn über naturnähe und geschmackvolle Einrichtung definieren. Ca. 7 km von Grazalema entfernt, führt eine kleiner Weg zum Eingang über eine Brücke. Eine Taschenlampe ist sinnvoll. Tolle Kommunikation in Englisch. Vielen Dank!
Sven
2016-09-25T00:00:00Z
Room Type
Entire home/apt
---
Property Type
House
---
Accommodates
5
---
Bedrooms
Grazalema, Andalusia, Spain
House with two bedrooms, kitchen, living room and bathroom, has a patio and two balconies, very bright and with good views
Fui muy bien! Jesús e muy simpatico y le esperomos ben venido en AIRBNB
Marisa
2017-02-26T00:00:00Z
Room Type
Entire home/flat
---
Property Type
House
---
Accommodates
4
---
Bedrooms
Prado del Rey, Andalucía, Spain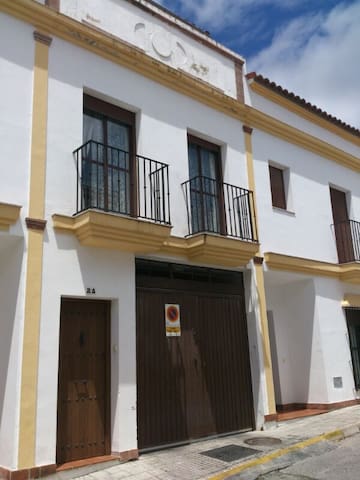 House spacious and cozy Andalusian patio area. Large kitchen and living room with fireplace. Large windows with beautiful views. Three bedrooms, one with integrated bathroom. Ideal for families with children. There are animals: sheep, chickens, burrito smoothie, our dogs, Ziro and Trota ...
Our farm has a big and comfortable house with a beautiful patio typical from Andalucía and two swimming pools, one for children and the other one for adults. It has a large kitchen with all that you might need and a living room with a fireplace and big windows that let you see the lanscape. It has three bedrooms. The biggest has a double bed and a bathroom inside. Other one has a double bed and the last one has three single beds. There are other bathroom. We have free wifi, barbacue, griddle, shampoo, soap, sheets and towels… We have many things for babies and children like baby crib, high chairs, baby bath , dishes and eating utensils for them, toys, trampoline…For teenagers and young people we have slackline, bicycles… The house is situated on a plot of 3 hectáreas of olive trees and fruit trees ecological. We have animals, chickens and turkays ( you can eat the eggs if you want), sheeps, a friendly donkay, Zalamero and our two dogs, Ziro and Trota. If you like you can feed them, children and many people love it. Good communication by road to Jerez( 45 minutes), Sevilla( 1 hour), Cádiz( 1 hour), beaches( 1 hour), Ronda... The day that guets arrive we go with them at home and we show everything. We are available if guests need something, by telephone or if you need we go to the farm. We are a couple with two children and expecting other chid. We love the nature, mountains and sports. We are from Sevilla and from Prado del Rey, so we know the área well, if you need any recommendation we can help you.
The house is located on a plot of 3 hectares of olive groves and fruit trees on a hill from which you can enjoy a nice view of the area. Besides the house, the plot consists of other buildings: block and craft tools.
What a wonderful week! José Miguel seemed to have thought of everything - the house was equipped with everything we needed, even down to little details like a float for our baby to use the pool and setting up the living area for our children to play. The house was spotlessly (and I really mean spotlessly) clean on arrival, and we felt at home instantly. It is impossible to not feel relaxed at El Majuelo. It is so spacious, the pool area is lovely, and the views of the surrounding area are perfect for disconnecting from the daily grind. Our niece also particularly enjoyed feeding the donkey and chickens in the adjoining field. We did not venture out much - there was no need - but the short trip to Zahara was well worth it. ¡Qué maravillosa semana! José Miguel parecía que había pensado en todo - la casa está perfectamente equipada con todo lo necesario, incluso con detalles como un flotador y cuna para nuestro bebé hasta juegos y cama elástica para los niños. La casa estaba realmente limpia y cuando digo limpia quiero decir superlimpia y nos sentimos como en casa desde el minuto uno. Es imposible no relajarse en "El Majuelo". Una casa de campo con mucho espacio, una fantástica piscina y unas vistas perfectas para desconectar de la rutina diaria. Nuestra sobrina disfrutó muchísimo dándole de comer a las gallinas y el burro que estaban en el campo de al lado. Nosotros no salimos mucho - no nos hizo falta- pero una corta excursión a Zahara valió la pena(URL HIDDEN)
Almudena
2016-07-23T00:00:00Z
The areas is breathtaking, the house is wonderful, even nicer than in the pictures, well designed, facilities comfortable and in perfect condition. We had an amazing time, so much to do and see in the area, the farm animals were a great attraction for the kids, even though it was already cold for the pool, we could take a shower at the outside shower, which was great fun. We were sad to leave. Laura and Jose Miguel were extremely helpful and kind hosts, we will definitely be back!
Vera
2016-10-20T00:00:00Z
Lovely farmhouse in a lovely part of Spain! The pictures provide an accurate description - just a bit rustic but with all the amenities. Gorgeous views from the house and throughout the region. Our daughter LOVED the friendly donkey, chickens, and dogs... and fresh eggs were a bonus! Laura and Jose Miguel were excellent hosts. They let us borrow lots of baby gear, were more than happy to provide suggestions of things to do in the area, and were very helpful - I wound up getting sick whilst there and Laura both helped me to see a doctor and translated at the appointment. We hope to visit again in the future!
Georgia
2016-04-25T00:00:00Z
We really enjoyed our stay at this farm house. The view of the olive trees in the hills surrounding the house are beautiful. We had eagles flying around the house and fresh fruits in the garden. We stayed with 3 small children who enjoyed the trampolin, various toys, slack line and feeding the donkey and chickens. The pool is good for all ages. Many possibilities for hiking in the area. Several restaurants in Prado del Rey and El Bosque. Josemi and Laura are very helpful and helped us find anything from playgrounds to hiking trails. Can only recommend this farm house.
Bjarke
2016-10-03T00:00:00Z
We are traveling around the world with our 3 small kids and staying in Airbnb's all over (South Africa, Turkey, Spain, Brazil, Argentina...) and this is probably the best experience we've had so far out of all. Jose Miguel and Laura really went the extra mile to welcome us and help us feel comfortable. Before we arrived, they checked in to know our needs-- what type of bed setup we would need for our twin babies; organized an excellent chef to come into the house and cook for us; helped us understand how to get to the house. They had impeccable communication and planning. Then when we arrived, we were so impressed. The house is extremely luxurious-- great beds, wonderful kitchen, tons of space, fast wifi (relative to the rest of Spain where we visited). More modern, newer, and better maintained than we expected. The animals were such a bonus too. My kids just loved feeding them daily. Zalamero was so gentle and loving with my 3.5 year old. Jose Miguel checked in many times to offer help and did so much-- provided a hiking backpack for our toddler, brought over an imflatable swimming pool, had not one but two high chairs available for our small twins, set up a toddler bed in our room and a crib in the babies room, let us move furniture in the living room to protect the babies as they learn to walk, offered stroller friendly hiking options. His help and warmth was endless. The white towns are beautiful. And Prado del Rey is a charming little village in close proximity to Ronda, Arcos, Jerez and the hidden gems of Zahara and Grazalema. Thank you, you guys, we felt so comfortable and so happy in your lovely home.
Naomi
2016-05-08T00:00:00Z
We are a Spanish/Italian/Norwegian family of three generations that have had the pleasure of spending a week at "El Majuelo". Today is our last day here, and we would have liked to stay longer. The house is wonderful, spacious, seems new, clean, with a well equipped kitchen and bedrooms with good quality mattresses. We have not wished for anything during the week we have stayed here, we have been so comfortable we have only left the house to go to the supermarket. Highlights have been: - Peace and quiet in the midst of the Spanish countryside. - Swimming pool to play and cool off in. - Feeding the hens and Zalamero the donkey, morning and afternoon. - Picking lemons to make our own lemonade. - Making an omelette with eggs fetched in the morning while feeding the animals. - Watching the stars while cooling off in the patio at night. - Finding a tree with almonds We would recommend it to anyone, and we hope to visit again. The host Josemi has been very service minded, easy to get in touch with, helpful with advice and recommendations and flexible with regards to arrival and departure times. ######### ######### Hemos pasado un semana estupenda en "El Majuelo". El lugar es super tranquilo, la casa muy acogedora, limpia, espaciosa y muy bien equipada. A pesar del calor de julio en Andalucia, esto no ha sido un problema con la piscina y el aire acondicionando. Los niños se lo han pasado en grande y todas la mañanas y tardes han ido a dar de comer a la gallinas y el burro Zalamero. Josemi es muy amable y atento y facil de contactar si tienes alguna duda o pregunta. Esperamos volver algun dia. Gracias por todo.
Liv
2016-08-01T00:00:00Z
La casa de José Miguel y Laura es estupenda. Amplia, limpia, bien equipada de mobiliario y menaje (tanto el interior de la casa como los alrededores). Tiene una ubicación ideal para hacer senderismo, disfrutar de la naturaleza y de la gastronomía de los pueblos cercanos. José Miguel es un anfitrión inmejorable: Nos recibió con la chimenea encendida y nos dejó alguna que otra delicia en la despensa (Todo un detalle...). Estuvo atento durante toda la estancia contestando al momento a cualquier duda que tuviéramos. Sin duda, en cuanto podamos, repetiremos.
Juan Luis
2016-12-18T00:00:00Z
Josemi y Laura waren 2 fantastische verhuurders, zeer gastvrij, vriendelijk, behulpzaam, staan altijd voor je klaar, zoeken zelf ook contact om tevragen of alles naar wens is, we kregen op verzoek allerlei aan bevelingen van wandelroutes, stranden, leuke plaatsjes in de buurt etc De locatie is een paradijs op aarde. Geweldige boerderij, op het stuk grond lopen schapen, ezel en kippen rond die je kan voeren als je wil. ( staat wel een hek zodat ze niet in jou prive stuk kunnen komen) pas op: de ezel steelt je hart
Gerhard & Aaltje
2016-09-15T00:00:00Z
Room Type
Entire home/apt
---
Property Type
House
---
Accommodates
8
---
Bedrooms
Prado del Rey, Andalucía, Spain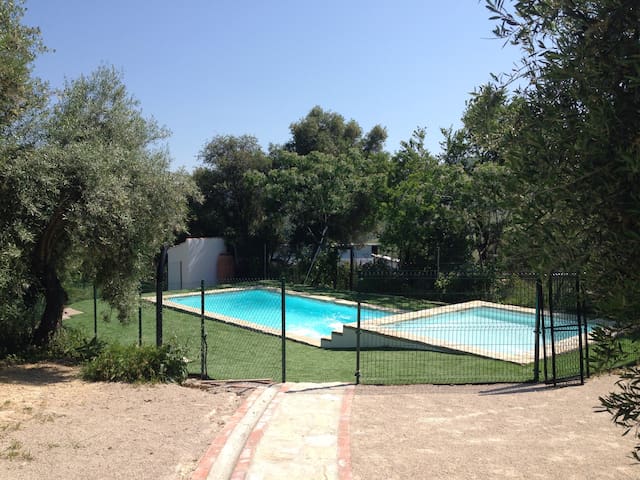 It is in the town center. You will enjoy the restaurant and the bar iYou will enjoy the nature and the white towns.
3 bedrooms en suite and sleeps 5.
Set in beautiful town, with plenty to see and do nearby, this beautiful house is the ideal place to relax.
Room Type
Entire home/apt
---
Property Type
House
---
Accommodates
5
---
Bedrooms
Prado del Rey , AL, Spain
La casa rural la Maquinilla está situada en uno de los pueblos más bonitos de España, como es Grazalema, pueblo con un ambiente rural y a la vez un ambiente turístico inigualable.
La casa rural la Maquinilla se encuentra localizada en uno de los sitios más emblemáticos de esta localidad, La Rivera del Gaidovar, a 4 Km del pueblo, centro del el Parque Natural de la Sierra de Grazalema. La casa está cuidadosamente decorada y con todo el confort para disfrutar de una de las regiones más célebres de Andalucía. Confort, gastronomía y naturaleza le harán repetir la experiencia.
Room Type
Entire home/apt
---
Property Type
House
---
Accommodates
6
---
Bedrooms
Grazalema, Andalucía, Spain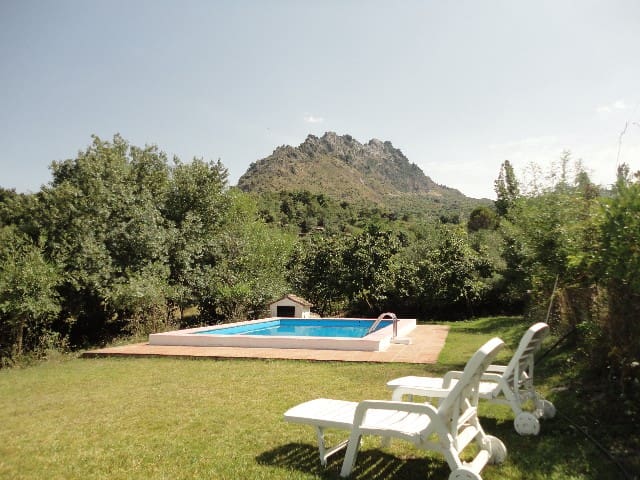 Country house, located near the town. Two bedrooms with double bed and bedroom with two 90cm .Another 90 and a fourth bedroom with a bed of 90cm. Living room with fireplace and air acondicionado.Dos sofa bed that can be used supletorias.Cocina.Piscina beds for 2 to 9 people. 4 bedrooms.
The host canceled this reservation 6 days before arrival. This is an automated posting.
Maria
2015-11-28T00:00:00Z
Room Type
Entire home/apt
---
Property Type
House
---
Accommodates
9
---
Bedrooms
Prado del Rey, Andalucía, Spain
Great 5 bs house in a 3 hectares estate with a private pool, a big barbacue and a brick wooden oven. All bedrooms are equieped with a bathroom and AC. Free wi-fi. Best outdoors activities, hiking, kayking... Perfect for day trips in Andalucia
Huerta la Terrona offers a relaxing and welcoming atmosphere, faithful to its history, with all the amenities that our guest desire. This is a two story house on 7 acres of land with 420 m2 of living space. The House has 5 bedrooms, all with private bathrooms, air conditioning, individual heating units and the highest quality mattresses and linens. Three of the bedrooms are located on the upper floor, all with double beds and breathtaking views of Sierra de Grazalema Natural Park, in particular the mountain pass " Puerto de las Palomas". The other two bedrooms are on the lower floor, one has three single beds and the other two single beds, one double bed and a very charming loft with a 140 cm. futon. The front patio leads you to the entrance of the house: a very cozy sitting area where you will enjoy a huge, authentic and traditional fireplace (the old kitchen), and next to it, a second sitting room with the library, TV and DVD player. The 60 m2 living/dining room features an open kitchen, American style, fully equipped for 14 people (dishwasher, washer, microwave-oven, etc.). This room has air conditioning, heating system, chimney, a 37'' plasma TV with Canal Plus (Cable), footbal and golf channels, and free WI-FI. The room has a very comfortable set of sofas that together with the chimney, TV and open kitchen creates a warm family atmosphere for all to enjoy. This area has direct access to the "Barbecue room" and the Arabic patio The House has its own 'Barbecue room", because when it rains in Grazalema, it pours. This country style kitchen features a large barbecue and a wood burning oven, where the most experienced cooks will be able to create and share some of their traditional dishes with friends and family. You could bake bread; bake a leg of lamb or a piglet. This kitchen also has a refrigerator and sink. The pool area issurrounded by 300 m2 of Bermuda grasswith spectacular views of the Park. It has two porches with good shade, chairs, tables and hammocks for sunbathing. The pool area is fenced for the protection of the children. The orchard offers a variety of fruit trees and a vegetable garden for our guests to enjoy according to the season The Guadalete River borders the property to the north, a place to stroll and relax. A natural paradise for children to explore the wonders of nature, play, run, etc…
Room Type
Entire home/apt
---
Property Type
House
---
Accommodates
14
---
Bedrooms
Grazalema, Andalucía, Spain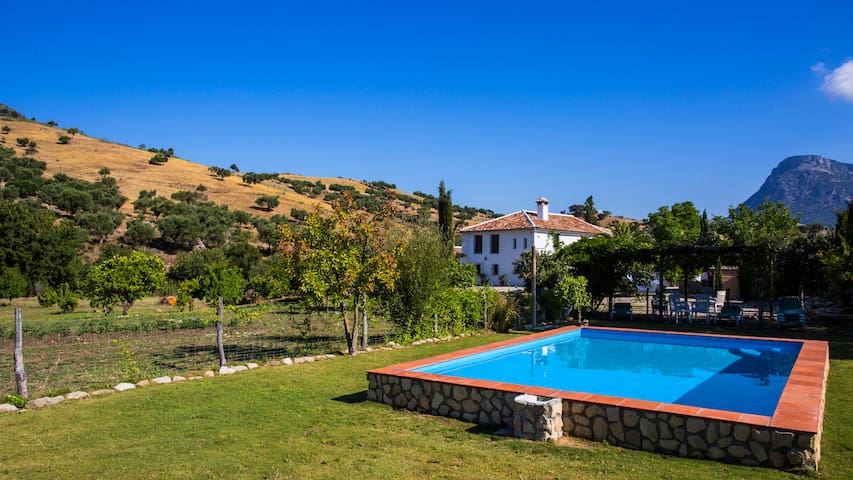 En el centro histórico de Prado del Rey, situada en la primera planta de una de las casas más antiguas del pueblo, la luz natural inunda todas las estancias gracias al patio interior, alrededor del cual se distribuyen todas las dependencias.
La luz que inunda este alojamiento es el reflejo de la luminosidad de la Sierra de Cádiz. La amplitud de sus dependencias harán que su estancia en los Pueblos Blancos sea inolvidable. Disfrutará del ambiente de Prado del Rey, cuyo centro está a un paso de la Casa Del Aljibe.
La céntrica situación de la Casa Del Aljibe hace que participe de la vida del pueblo disfrutando de su animado ambiente. Las tardes de verano son especiales en las terrazas de la zona centro, en las que hay una variada oferta hostelera.
Room Type
Entire home/flat
---
Property Type
House
---
Accommodates
6
---
Bedrooms
Prado del Rey, Andalucía, Spain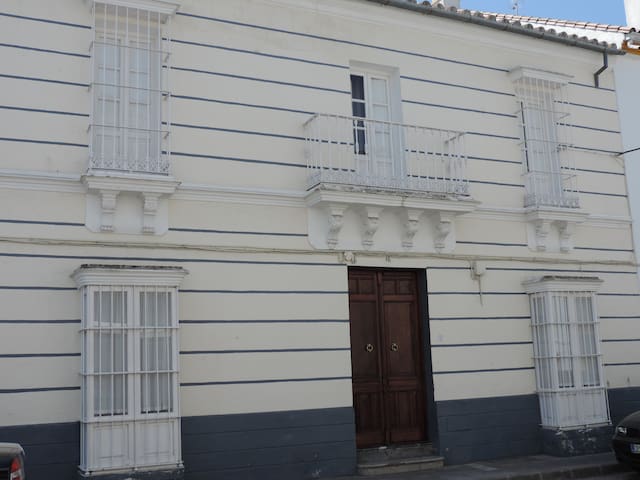 Antigua casa de labranza restaurada. Situada en el campo rodeada de encinas y ganado. Dos plantas con dos habitaciones dobles. Salón con chimenea. Piscina privada y barbacoa en terraza con jardín y huerto.
Room Type
Entire home/flat
---
Property Type
House
---
Accommodates
4
---
Bedrooms
El Bosque, Andalucía, Spain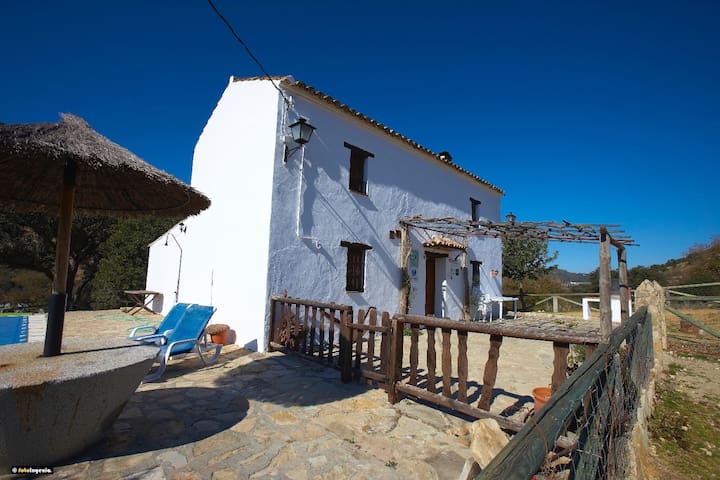 My place is inside Nature Park Sierra de Grazalema, it offers great hiking, walking and climbing, restaurants and dining, family-friendly activities. You'll love my place because of the lovely sunshine, pure air and pure water, piece and nature. My place is good for couples, solo adventurers, families (with kids), and furry friends (pets). Book a flight to Malaga, Seville or Jerez de la Frontera, hire a car and start exploring this vast and beautiful area.
At only a couple of meters from our land passes a stream: Arroyomolino. At the opposite side of our land passes another stream that carries water to a mill (molino) down stream. This water, combined with the wonderful climate leads to a large variety of flora and fauna. The house is small but therefore quite cosy. The English would call it a cottage. The biggest space is a combined sitting room combined with a small kitchen. Next to it is the master bedroom with a double bed and a bathroom with shower. The other bedroom has its own bathroom with shower, has its own access from outside. It is called the 'chozo' and is build from natural stones. This is ideal for a family or for two couples, you won't hear each other. When you have small children however, you would want them a bit closer or at hearing distance. There is a folding cot that you could place in the living room. The sofa is a sofa bed, which would also be a solution. Are you coming alone, or is it the two of you, we will leave the 'chozo' closed, so it stays clean for the next guests.
Probably the most beautiful hike in Andalucia starts at only 15 minutes by car from the house: La Garganta Verde. You need however to get permission to enter, from the Park administration en El Bosque. A supermarket, other shops but also bars and restaurants, you will find in one of the 'Pueblos Blancos' Zahara de la Sierra, which is by car some 5 minutes driving.
This cozy cottage is an oasis if you're looking for a retreat in the country...within a few kilometers of Zahara. You'll wake up to bird songs and fresh air. Elbert's e-mailed directions with photos made finding it easy.
Pat
2017-03-31T00:00:00Z
We had a wonderful week in this lovely place. Perfect winter destination - warm enough to BBQ and eat outside on sunny days, cold enough to enjoy sitting by the fire at night! Beautiful private garden in spectacular setting. A perfect rural retreat for city dwellers. Great hiking and villages nearby including the nearest beautiful village of Zahara. Great communication with the hosts and very efficient dealings with local couple for check in etc. Minor plumbing issues resolved quickly. Perfect for our little dog too! Loved hiking up the hill on a path that starts right outside the gate. Would love to come back some day!
Chloe
2017-02-05T00:00:00Z
Perfect for a holiday! The rooms are cozy and everything works great. Eccellent water quality from a spring and a BBQ place. The surroundings are very picturesque and we enjoyed hiking and visiting the "white villages" around. Also our dog loved it because the whole property was fenced in so he could run around. We will come back!
Henrik
2017-02-22T00:00:00Z
the place is far in nature very quite that what we were looking for. i truly reccomand this place for peaceful vaccation
oded
2016-09-21T00:00:00Z
Hemos pasado cinco noches en la casita de Elbert. Nuestra estancia ha sido muy confortable, la casa es muy completa, cómoda y está cuidada. Es muy bonita la parcela, así como su ubicación es ideal para hacer rutas o permanecer tranquilos por los pueblos. Manolo y Caty nos recibieron y son encantadores, pensamos volver más adelante y repetir experiencia. Gracias por todo.
María Del Mar
2016-12-30T00:00:00Z
todo muy bonito y nos recibieron muy bien con un tour del jardín y sus comestibles y nos ayudaron más que amablemente con nuestro coche averiado. the house and it´s surroundings are very beautiful and we were very warmly welcomed with a great tour of the garden and all it´s fruits to eat. when we had a technical problem with our car they went to great lengths to help us out.
Martin
2016-10-23T00:00:00Z
Fin de semana perfecto. La casa está en un entorno espectacular, super tranquilo. Tiene todo lo necesario para estar más que cómodos. Volveremos seguro. La comunicación con Elbert perfecta, y Manolo y Caty muy amables en todo momento.
Jose Manuel
2017-04-02T00:00:00Z
Recomendable 100%, acogedora, limpia, y en medio de la naturaleza
Carlos
2017-02-19T00:00:00Z
Room Type
Entire home/flat
---
Property Type
House
---
Accommodates
4
---
Bedrooms
El Gastor, Andalucía, Spain
Sierra de Cádiz - Airbnb
:
Average

4.6

out of

5

stars from

147

guest reviews
1

–

18

of

99 Home Rentals
Enter dates to see full pricing. Additional fees apply. Taxes may be added.