Available now is the second floor of our beautiful waterfront home on Peconic Bay. All new construction with full wraparound porch. 2 stories, open floor plan. Full kitchen, 2 full baths and dining area. 80" smart tv on main level. Upstairs bedroom has two full beds with private sitting room.
Location. Location. Location. Avoid the high prices of The Hamptons but be close enough to enjoy all both forks have to offer. Easy access to the North Fork for its vineyards and farm stands as well as the South Fork to enjoy some time in the Hamptons to Montauk. Golf courses and Tanger Outlets also nearby. Enjoy summer on the East End of Long Island!
What a wonderful weekend! The house is spectacular, nestled on a quiet cul-de-sac so you don't hear traffic. Even with the downstairs apt rented by another family, we heard nothing and it felt like a private retreat on the bay. The house was well-stocked: towels, linens, and pillows for each room; the kitchen had plenty of condiments, spices, utensils, and endless pots/pans for cooking and grilling; and the dock access came with life vests, kayaks, and paddle boards. The place is also located just 15 minutes from the wineries on North Fork and 10 minutes from a large outlet mall, which made for great rainy-day excursions. The host was just a fantadric as the house. Greg answered every question promptly and was very accommodating. We will definitely come again!
Adam
2016-07-12T00:00:00Z
Thanks Greg! Amazing house!! The views are incredible, everything was perfect. Can't wait to come back
Ashley
2016-06-27T00:00:00Z
Greg's place is beautiful and very relaxing. The living area is two stories with a balcony wrapping around and views of the Bay. He has speakers wired throughout so you can play music inside and outside. The place includes a dock out on the Bay, the location is really easy to find and not too far from restaurants and the rest of the Hamptons. I would highly recommed Greg's place to anyone interested in spending some time outside the city.
James
2017-02-20T00:00:00Z
Wow this place was just beautiful. The views it has from the house looking towards the water is just beautiful especially in the morning when the Sun rises. Greg was awesome host. Answered every question that we had. We will definitely be going back there one day for another visit stay at Greg's house. Everything in that house is upgraded top notch. There's not one flaw about this house. We loved having breakfast on the balcony in the back facing towards the water. Meaning the deck. Thank you Greg. Me and the wife loved it... and it was a surprise for my wife for her birthday. a lot to do there kayaking, a lot of stuff that's near that house wineries. Near the beaches not far. It was a great time thank you Greg again.
Mario
2016-06-07T00:00:00Z
An excellent and beautiful place. What a fantastic spot as well. I wish we had better weather, but arrived during a major storm. Greg and his dad were fantastic hosts who were very responsive and helpful. Ideal spot if you can rent lower unit to and have multiple families on same property. Would stay again. Thanks.
Ryan
2016-10-02T00:00:00Z
The house had beautiful views of the water. The second floor had an amazing wrap around porch. The home was recently update/renovated or newly built because everything was pristine. The two bathrooms were gorgeous and the kitchen was AMAZING. There is a huge tv in the living room and a second one upstairs. Everything was clean and very comfortable. We had plenty of linens and towels. The house was wonderful. We greatly enjoyed our stay.
Jennifer
2015-11-08T00:00:00Z
A truly lovely and easy experience. The location and house were amazing, and Greg and his father made sure we were happy throughout the process. We have every intention of staying here again, hopefully sooner rather than later!
Stephen
2016-08-01T00:00:00Z
Staying at Greg house was absolutely amazing. The house was just beautiful ! The view was like something you see on a post card lol. & Greg was really welcoming. I just want to say thank you again for making my birthday weekend a whole lot better. I'll definitely stay there again.
osmaris
2015-11-29T00:00:00Z
Room Type
Entire home/apt
---
Property Type
House
---
Accommodates
4
---
Bedrooms
Riverhead, NY, United States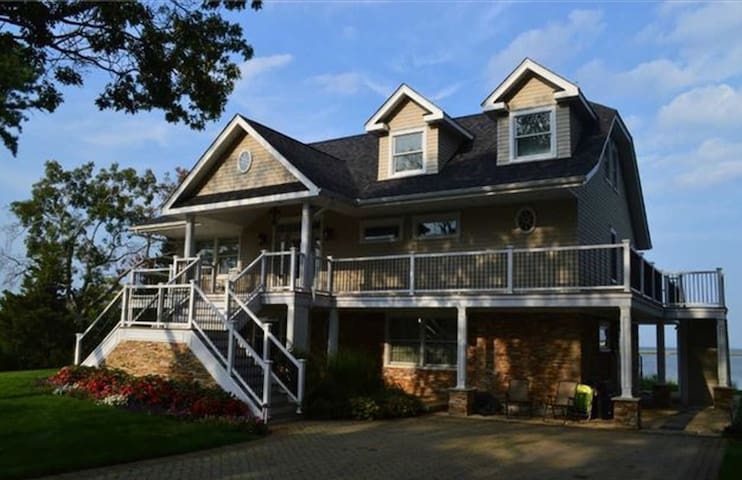 Tucked away along Long Island's North Fork, this intimate bungalow is steps away from its own private beach. With a garden to the south and scenic views of the Sound to the north, this two bedroom, one bath house is ideal for a family getaway. Enjoy epic sunsets with wine from nearby Vineyards, local beer from Greenport (a short drive east), and specialty pies from Briermere Farms. Ninety minutes from New York City, this property offers everything you need for a summer escape.
The Sound Escape was everything we needed this past weekend. The house had all the basic necessities for a great weekend with some extras to keep you entertained. I didn't get a change to meet Michael, but he responded fast and even checked on us to make sure everything was okay. Beach is great and only a few steps away. Would definitely recommend to others.
David
2016-09-06T00:00:00Z
Michael's place is fantastic! It is located right on a beautiful private beach away from the road and it has all the amenities you could possible dream up. The place is close to the lovely town of Greenport and there are dozens of wonderful farmers' markets and vineyards very close by, so it is ideal for a weekend getaway from New York. Definitely worth your while!
Vito
2016-08-02T00:00:00Z
The house and location were amazing and Michael was extremely communicative and helpful. He made sure that we had all of the info we needed to get situated and even offered to compensate us if we needed to buy a space heater in case the weather got too cold. The heat in the house turned out to be very sufficient, but we were very appreciative of the generous offer. My wife and I would most definitely stay here again.
Alex
2016-10-28T00:00:00Z
This was a very cool beach house on the Sound with fantastic views. It was very much an authentic experience of North Fork. It was great to hear the sea at night. We would recommend the place to friends and family.
Garry
2016-09-03T00:00:00Z
We had the best getaway weekend staying at Michael's AirBnB. The house is in a great location and is very cute and cozy inside. Perfect for a couple or small family. We loved the privacy of the house which had a very convenient access to the beach and close drive to all the best wineries and a Lavender Farm not too far away as well as our favorite stop to get homemade pies - Breiermere Farms. :) We would definitely stay here again!
Katie
2016-10-16T00:00:00Z
Michael was a fantastic host - super helpful and informative throughout our stay. The cottage was perfect for us in every way. Spacious and comfortable with the beach a stones throw away. The sunsets were quite something too! We are already planning our return to Long Island!
Belle
2016-08-13T00:00:00Z
We spent the perfect weekend at Michael's beach house. Super cosy, right on the beach, 5 minutes away to the wineries. Exactly what we expected. We will be back.
Charles
2016-09-13T00:00:00Z
Michael's home was wonderful! A quiet abyss just outside of New York, the home is just as pictured: right on the water with a beautiful lawn and view. The house itself is small & cozy, and has everything you need from plenty of cooking supplies to extra blankets. There are many family owned farms nearby to supply fresh vegetables for cooking, the house is also about 15 minutes away from a larger town if you need a bigger grocery store or want to find a restaurant to eat at. Overall, we couldn't be happier with our stay!
Alison
2016-10-23T00:00:00Z
Room Type
Entire home/apt
---
Property Type
House
---
Accommodates
4
---
Bedrooms
Riverhead, NY, United States
We live close to Riverhead Tanger Outlets, Hampton Bays tennis courts, Ocean and Bay beaches, and famous Long Island Wine Region. Here you will enjoy a quiet and relaxing stay in our two floor studio apartment. Local fisherman sell fresh oysters and seafood. You can buy or pick your own berries and peaches or treat yourself with famous Briermere farm pie. The Big Duck is in our town too.
Two floor studio apartment has private entrance, private kitchen, bathrooms on each floor for your convenience. We welcome couples, solo adventurers, business travelers, and families with one kid.
Room Type
Private room
---
Property Type
House
---
Accommodates
2
---
Bedrooms
Riverhead, NY, United States
The perfect room to relax with a beautiful water view. Right in the heart of Wine Country. Relax and sit on our deck watching the Ospreys fly. Take a kayak and paddle to the bay. Fall Harvest time come and enjoy!
Being situated right on meeting house creek. Watch the wildlife from our upper or lower deck. Take a walk down our dock. It's quite and beautiful. Your bedroom is cute and cozy. With central air conditioning cable tv and wi Fi for your use. Right in the middle of Long Island wine country. 10 minutes from the Hamptons. Enjoy shopping fresh veggies and fruit at the many local farm stands within minutes from us. Fall Harvest time is very popular with all the pumpkin picking and the color of trees changing. Come and visit.
The area is private and situated on the water. The road that my home is on is private.
Perfect for what we needed! Neal meet us and gave us the run down... As I looked out our window I said"Just like the picture online" Very clean and comfortable! Hope to return in nicer weather qto take advantage of the firepit and the beautiful views! Until next time...
Donna
2016-10-23T00:00:00Z
Very nice place, wish we could have spent more time, the surround property is gorgeous, looks right move the inlet, woke up disparity oh to the sight of a fire pit!! Which we could appreciate because we checked in after dark. We were late in checking out to, but the host was very accommodating and gracious. Inside the room was simple, utilitarian, as was the bathroom. Like I said, wish we could have spent time on the deck outside our window, walked out on the peer to see the water upclose, and enjoy that fire pit.
Kevin
2016-10-01T00:00:00Z
The house was in beautiful spot. Looks exactly like the photos. Neal was easy to communicate with instantly by text. It was warm and clean. We felt comfortable and happy. Really nice place to stay.
deb
2016-11-13T00:00:00Z
Neal's home was fantastic. It was very comfortable, provided everything we needed or could want, and we were even able to use Neal's kayaks for a small adventure. Easily located near several wineries and the aquarium. Neal was very nice and made staying at his home a breeze.
Sarah
2016-10-02T00:00:00Z
Neal was great. Fast to respond, place is cute, and he even helped me jump my car in the morning when my battery was dead. I would stay here again. Thanks!
Patrick
2016-08-21T00:00:00Z
Neal couldn't have been more helpful. He went out of his way make our stay a god one
Nancy
2016-08-04T00:00:00Z
Love the nearby vineyards and access to the water. Well laid out and accommodating.
Matt
2016-08-02T00:00:00Z
Host was very welcoming and tried to be helpful. Internet service was non functional and beds were not very comfortable. TV screen was teeny. Expensive for what it was.
Mark
2016-07-17T00:00:00Z
Room Type
Private room
---
Property Type
House
---
Accommodates
2
---
Bedrooms
Riverhead, NY, United States
Nestled in Long Island's Pine Barren forest in Southampton on 4-acres .... this secluded 4 bed/3 bath home has 360 view of nature and is 10 min to the best beaches, wineries, outlet malls. BBQ on your huge deck, take in the 2000 acre backyard park
Total privacy in nature with no neighbors, but so close to the town with lots of shopping and so close to the best restaurants, as it is in the town of Southampton. You will have access to the whole house which includes 4 bedrooms, 3 baths: -- upstairs: large bedroom with king size bed with private terrace and private bath with shower and jacuzzi tub -- upstairs: large bedroom with two twin and shared bath -- downstairs: large bedroom with queen size bed and private bath -- downstairs: large bedroom with queen size bed bed and shared bath on ground floor -- outdoor porch shower Laundry room, kitchen, living room, wrap around deck. Please contact me for more information about the details.
Family-friendly, and secluded in the pine barren forest, this home is idealy located nestled between the NorthFork and the Hamptons. It offers a short drive to all the offerings within 10 to 15 minutes including: to the village of Southampton or Westhampton, the world famous Hampton Beaches and 15 minutes to the wineries and farm stands of the North Fork. Enjoy swimming with easy beach access at: -- Ponquogue Beach -- (10 minute drive) Wide ocean beach near Shinnecock Inlet, offering parking & a pavilion with restrooms & concessions. Address: 280 Dune Rd, Hampton Bays, NY 11946 -- Southampton's Cooper Ocean Beach rated the # 1 beach in America, Quiet beach with guards on duty offers snacks & chair/ umbrella rentals Address: 268 Meadow Ln, Southampton, NY 11968 --- Splish Splash water park in Calverton -- long island canoe kayak rentals offers a wide selection from tours on paddle boards to "flying" -- also go on a Adventure Tour and Moonlight Tour Paddle Boards and Sunrise Yoga paddle boarding -- paddle boarding at Peconic Paddler, there's -- Paddle Yoga Sunday 8am & 9am at RUMBA in hampton Bays through Aerial Fitness --- yoga through Aerial Fitness, which also offers amazing, daily yoga classes on main street in Riverhead -- Indian Island Golf Club, a premier Public golf course that offers daily courses and daily passes --Take a tour at one of over ten vineyards in the NorthFork --- organic farmers market in Riverhead -- fresh-caught seafood restaurants all in a day. -- Tanger Outlet Mall, 15 minutes away. -- Riverhead Aquarium -- check out the kid's classes, they offer a boat tour of Peconic bay with a class on local fish and wild life Closeness to beach and no neighbors make it an ideal getaway. Enjoy the summer by shopping in Riverheads' organic local farm markets, or head over to Southampton or Hampton Bays for fancy restaurants and shopping. Everythings close, but you will think you were miles away from it all! Check out 10 of the best Vinyards in the Hamptons and Northfort -- all a close 15 to 25 minute drive. Check out the Pine Barrens trail map -- start your hike the first step off your back yard deck! (These protected trees are the source of purification for Long Island drinking water .... plus the house sits on the homestead of the Native Americas who lived here, and are still living in the reservation just a few miles away.
Great experience. House was perfect!!!
Christopher
2017-01-01T00:00:00Z
Jamie was very helpful and responsive. The place was great and very central to beaches, vineyards, farms and parks. I would highly recommend the house.
Parth
2015-06-25T00:00:00Z
Very nice house with great accommodations. Plenty of space indoor and outdoors for a fun weekend in the woods.
Drew
2015-06-01T00:00:00Z
Jaime was a great host and very responsive. The location, in the middle of nowhere off a dirt road was great! We didn't have to worry about disturbing neighbors and could just relax. The fire pit was a great touch as was all of the staples Jaime provided upon arrival. It was within 20-25 minutes to the beach and wineries. Highly recommended!
Emily
2016-09-05T00:00:00Z
Jamie was amazing!!! Very responsive and helpful.
Michelle
2016-12-18T00:00:00Z
The neighborhood was perfect for relaxing & catching up with family. Close to beaches & shopping. While we were staying at the house we encountered several difficulties & reached out to the host & manager listed on the information sheet. The responses were not timely. In particular our last morning the oven wouldn't work & we couldn't eat breakfast as it required an oven. The toaster oven was too small to accommodae the pan in which the food had already been prepared. We were required to check out by 11 I text & called & left messages at 9. The response didn't come until I was on my way home.
Lenore T.
2016-09-12T00:00:00Z
Jamie was a great host! She left us a house guide with all of the information about the house and the area that we would need. It was extremely helpful and also gave some suggestions on restaurants and wineries to visit. We cooked brunch during our trip, and she had plenty of cooking supplies, dishes, and cutlery available for use. There was also plenty of space for our group to sleep and lounge about. Loved the large open windows throughout (I'm told some people saw wild turkeys outside!). I would definitely recommend her place!
Chinwe
2016-04-11T00:00:00Z
Amazing house!! Very good space, private home in the middle of lovely woods. Jamie was very responsive and made things really easy and simple for us! Wouldn't doubt staying here again.
Max
2015-12-27T00:00:00Z
Room Type
Entire home/apt
---
Property Type
House
---
Accommodates
8
---
Bedrooms
Riverhead, NY, United States
*Pristine Getaway - 2,700 Square Foot Home - 5 minutes from downtown Riverhead and the start of the North Fork wine trail. Also, 15 minutes from the Hamptons so you get the best of both forks! Perfect location to explore all of the vineyards and farms in the North Fork! * Minimum Age Limit for renters(please contact to discuss) family friendly...2 cribs * Entire home is bathed in sunlight and totally private. * Completely Brand New Beds, Furnishings, Fixtures * Beautifully furnished
* Individual cooling/heating units in every room * Huge 18x36 Pool with outdoor shower. 4 loungers with cushions and outdoor dining for 8. * Private outdoor area gets gorgeous sunlight all day. Great for entertaining! * 4 Bedrooms: 1/ Master Bedroom: King Bed en suite Bathroom and Jacuzzi Tub. 2/ Guest Bedroom with Queen Bed. 3/ Guest Bedroom with Queen Bed. 4/ Guest Bedroom with Queen Bed, en suite Bathroom. * Finished basement * Chefs Kitchen with all top of the line Equipment. Fully Stocked with ALL (Good wine glasses, etc) * Large Dining Farm Table with seating for 6. Additional chairs available to seat 8 comfortably * High Speed Internet * House comes stocked with ALL the essentials: Sheets, Towels, Beach Towels, Coolers, Cleaning Supplies, Paper products * Sonos speakers (indoor & outdoor), Hulu, and Netflix. * Please be kind to our home and our things :)
Room Type
Entire home/apt
---
Property Type
House
---
Accommodates
10
---
Bedrooms
Riverhead, NY, United States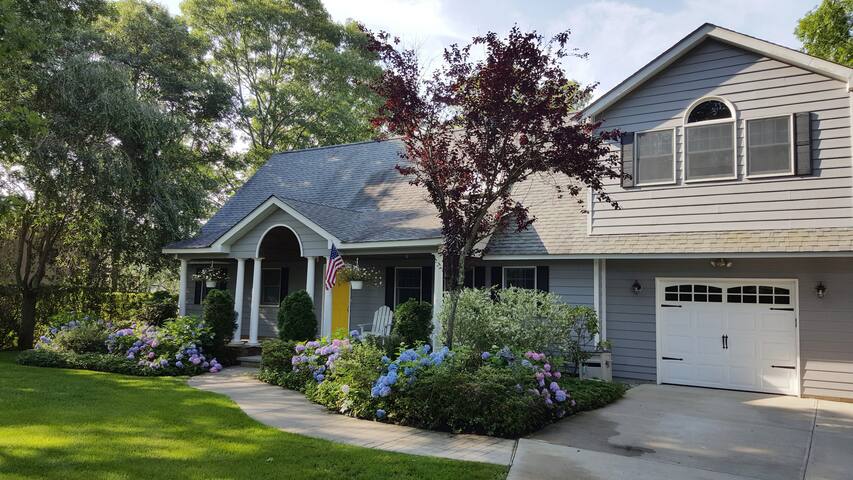 My place is close to restaurants and dining. You'll love my place because of the location. My place is good for solo adventurers and business travelers.
Best for business trips or a cozy get away!
Centrally located to all shopping and the Hamptons
The host canceled this reservation 9 days before arrival. This is an automated posting.
Seondong
2017-03-31T00:00:00Z
Room Type
Private room
---
Property Type
House
---
Accommodates
1
---
Bedrooms
Riverhead, NY, United States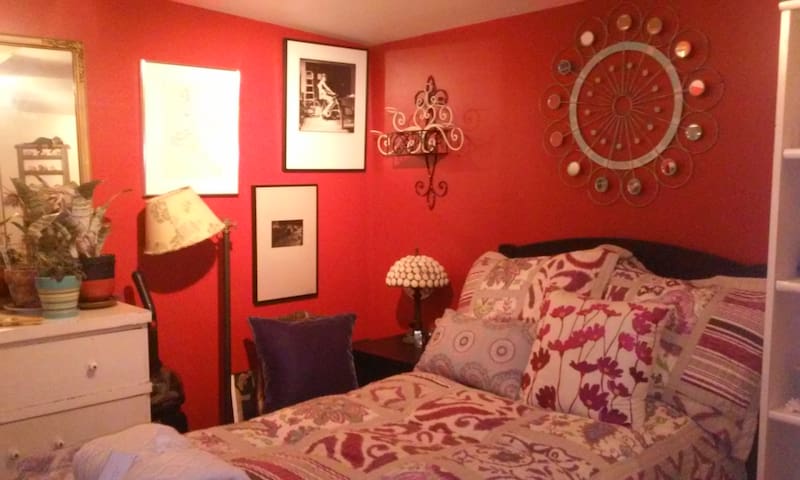 My house is within a mile to the closest bay beach and right across from the inlet where the kayaks can be lounged. We also have a paddle board. It is right in the middle of wine country surrounded by 35 wineries. It's less than a mile to town with wonderful restaurants. You'll love my place because of the ambiance, the outdoors space, the neighborhood, and the light. My place is good for couples, solo adventurers, business travelers, and families (with kids).
House is 1749sq. ft.- 3 bedrooms, 2 baths, 2 living room areas. Large open space. 2 decks- one is a large deck on the back yard another is on the master bedroom side. There is a gas grill on the large deck. House is right across from the inlet.
Property is in the middle of the North Fork wine country surrounded by 35 wineries and about a mile away from Peconic bay beach.
The only reason I gave the overall experience 4 stars is that we only used the house for overflow family visiting for Thanksgiving. They only slept there and did not do any cooking or using the yard, equipment, etc. So I do not have complete information on all aspects of the house.
Martha
2016-11-27T00:00:00Z
Anna was very accommodating and helpful throughout my family weekend at her beautiful North Fork home. It had everything you need for time spent away from your own home and Anna went above and beyond expectations when dealing with a minor hiccup I had with the alarm system. Great host, great house and a great location, I definitely recommend this listing for a family trip out east!
Michael
2016-10-10T00:00:00Z
Anna's place in Jamesport is beautiful. Much bigger than I was expecting. 3 good size double rooms, 2 lounge areas and a larger kitchen. Anna's house also has everything you could need for cooking and she provided towels, beach towels and products in the bathrooms. The house is very well cared for and very clean. We also made use of the big deck out back, overlooking their lovely garden. There are 3 winery's close by and a beautiful beach which Anna provides a car pass for. Other winery's are about a 15-30 min drive away and the town of Greenport is 30 minutes away which has lots of restaurants and a ferry port if you fancy a quick trip to Shelter Island. We will definitely be back!
Emma
2016-08-08T00:00:00Z
We had a great time this past weekend at Anna's house in north fork Long Island. The house and surrounding area is gorgeous. Her house comes fully stocked with a lot of basic kitchen supplies and even extra stuff in the bathrooms, just in case you forget something. She was available via phone if we needed her and gave us some great recommendations for the area. I will definitely save this location for our next vacation to the area. PS- she has an awesome wireless Bluetooth "Big Blue" speaker to help get the tunes going. :)
Jimmy
2016-11-06T00:00:00Z
The host canceled this reservation 193 days before arrival. This is an automated posting.
Heather
2017-02-20T00:00:00Z
Anna was awesome from our first message. She let me bring my small dog and told us what beaches allowed dogs. My boyfriend and I felt like we were at a hotel with all the amenities. Her home fit 8-10 people comfortably. The home is fully stocked, but you can tell it's no ones primary residence. We loved that it was 20 minutes from L.I. wine country and 20 minutes from Southhampton. We will absolutely be back - next time with more family and friends!
Violet
2016-07-27T00:00:00Z
Room Type
Entire home/apt
---
Property Type
House
---
Accommodates
8
---
Bedrooms
Riverhead, NY, United States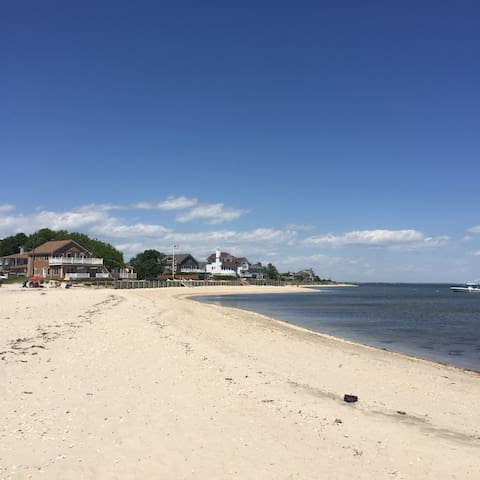 Within 5 min of the best winery's in NY beautiful water front rooms with access to our dock. Use our Kayaks. 10 min from the Hamptons 10 min from shopping mall restaurants. Located on a private peaceful road. Relax and enjoy everything eastern Long Island has to offer.
Each room has two twin beds. Tv with cable. Wifi. Air conditioning.
The neighborhood is beautifully wooded. We are situated on the meeting house creek. With a beautiful view of the water from your room. Watch the Ospreys as they dive for their dinner out on the water. We are right in the middle of Long Island Wine Country. Very close to shopping at the Tanger Mall and minutes away from some great places to eat. Ten minutes from the Hamptons which have some of the best beaches in the world. During the summer and fall season get the freshest veggies and fruits from the local farm stands. Fall brings pumpkin picking and apples too. Get away from the city and enjoy Long Island.
This is a great place to stay in Riverhead, and Neal was an excellent host. The place was very clean, quiet, comfortable, and our room had a very nice view. Without questions this is a very good option for those visiting the East End.
Guillermo
2016-12-11T00:00:00Z
Neal was a fantastic host. He was extremely accommodating and went above and beyond our expectations, even being so friendly as to take us out on his boat to show us some local sights. I would highly recommend Neal and his home for anyone looking for a relaxing getaway. Thanks Neal!
Maximilian
2016-08-07T00:00:00Z
Neal was a wonderful host, not only providing a lovely and clean location, but generous with his time and his home. Would highly recommend.
John
2016-09-06T00:00:00Z
The place is great! Everything you need and more with great water views. I wish I could stay longer and kayak but was only passing through for work. Neal is great at communicating all the info prior to your arrival and check in was super easy!
Elvira
2016-10-16T00:00:00Z
Neal was a great host. We communicated via text before checking in. The space was as described with parking available across the street. We were looking for a clean, quiet and affordable place to sleep for a quick over night in the southampton area and this fit the bill! There's also a dock and deck that I wish we had more time to enjoy. Coffee and fruit was even available to us in the morning. If you don't mind the private room and a shared (but clean) bathroom then I'd highly recommend! Good value for the money.
Celeste
2016-07-25T00:00:00Z
Neal was a great host and nothing was a problem. A great location and I would stay there again.
Andrew
2016-08-16T00:00:00Z
Neal was the most amazing host ever! No kidding! I have never in my life encountered such an accommodating host! For a minute I thought he was the concierge at the Four Seasons. Yes he is that good! Super friendly guy too. I would highly recommend Neal and his beautiful home right on the water to anybody. Super close to the wine trail, and conveniently located so you can get to the North Shore or to the Hamptons in no time.
Noah
2016-07-24T00:00:00Z
This was such a wonderful place to stay on Long Island-- the view was amazing, the experience was restful and tranquil, and the location was central to farm stands, wineries, great restaurants and quaint town centers. It is definitely going to warrant another trip!
Shawn
2016-10-14T00:00:00Z
Room Type
Private room
---
Property Type
House
---
Accommodates
2
---
Bedrooms
Riverhead, NY, United States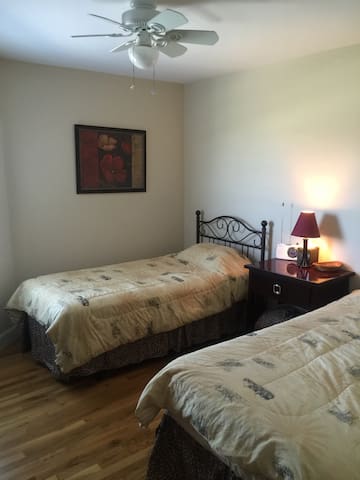 Located in the heart of Riverhead, this beautifully renovated 100 year old home is the perfect getaway for family and friends. Close to the North Fork Wineries and Riverhead shopping, dining and nightlife. Minutes to beaches, or stay home and enjoy the pool, paved patio with large gas grill, and slide & swings for the little ones. Please note that there are 3 small bedrooms and 1 bath in basement with separate entrance, so plan accordingly.
The first and second floor of this home have been meticulously renovated with high end finishes. Gleaming hardwood floors, electric fireplace, and pool table in the great room opening up to a fantastic gourmet kitchen with huge granite island, beautiful cabinetry and stainless appliances opening to the patio and pool. First floor full bath with oversized shower, small bedroom and laundry on first floor. Upstairs is the glorious master with en suite bath, small space with twin beds for the kids and another bedroom. The basement level has a separate entrance with a living space, utility kitchen, 3 small bedrooms and a full bath.
The home is located in a quiet court just minutes from the vineyards, beaches and downtown activities.
Room Type
Entire home/apt
---
Property Type
House
---
Accommodates
8
---
Bedrooms
Riverhead, NY, United States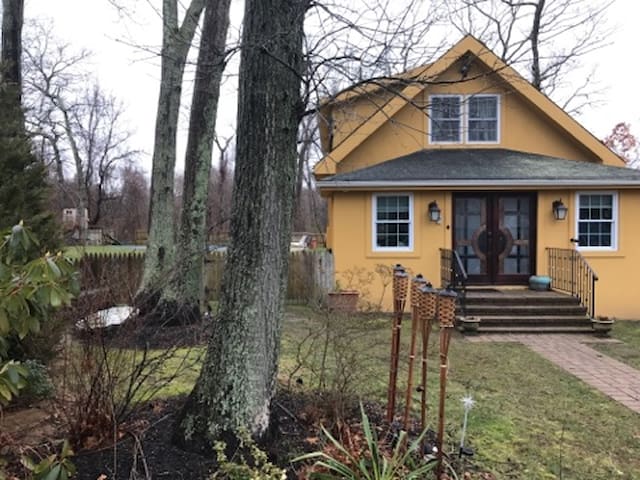 Our Houseboat is located at Treasure Cove Resort Marina in downtown Riverhead next door to the Long Island Aquarium. During your stay enjoy full access to the Hyatt indoor/outdoor pool and fitness center and tiki-bar restaurant.
Utilities, electric, water, pump out and garbage removal are all included in daily/monthly rate listed above. The houseboat includes three bedrooms, full kitchen, living room and one full bathroom. All three bedrooms have recently been renovated and include new bedding. The upstairs kitchen leads outside to a balcony that overlooks Treasure Cove Resort Marina and the Peconic River. At your convenience, canoes, kayaks, bicycles, fishing poles, stand up paddle boards and electric tour boards are available for rent. Additional Shower and laundry facilities are located on property.
Riverhead is a great place to be in the Summer. Plenty of activities available on the property - pools, water rentals, Tiki Bar, LI Aquarium. Walking distance to restaurants, breweries and shops. A short distance from wineries, beaches and the Hamptons. Plenty of local events taking place throughout the summer. Just ask our marina office for more information!
Chelsea did everything we needed for a smooth check in. She had left the keys where she had told me and it was all easy to find and do. The listing is very accurate (actually, it was better than expected). The houseboat was VERY CLEAN and comfortable. We loved our stay and the houseboat was one of the highlights of our trip to Long Island.
Victoria
2016-06-27T00:00:00Z
Overall we loved our stay! The place is centrally located and there are a ton of things to do within walking distance. The check-in process was very easy, Chelsea was incredibly sweet and helpful. The houseboat was larger than we expected. Six adults stayed in the houseboat and we were all comfortable. The only complaint was that the AC did not seem to be working correctly. Although the air was on high, the place never seemed to get to a comfortable temperature.
Janet
2016-06-06T00:00:00Z
This 3-bedroom house boat is perfect for a family vacation at the gateway to the Hamptons. The host and her team were extremely accommodating. You are basically part of an exclusive, quiet marina boating community while being able to access the adjacent Hyatt hotel amenities (pool, bathrooms, WiFi, showers, business center etc.) In addition, they have kayaks and paddle boards for rent, an aquarium nearby, an arcade and a kid's fun park. The house boat itself basically feels like a real house. The waters are calm - we didn't feel any rocking etc. It is well equipped (dishwasher, full kitchen, shower), clean and the A/C works. You can catch the marina WiFi but it's a little spotty. All in all, an amazing getaway for families or small groups.
Benjamin
2015-07-06T00:00:00Z
The house boat was absolutely perfect! I would totally recommend it! Families w small children, couples or even for a group of friends! I went to Jerry's which is located in the marina 2xs a day!! Clearly I lived eating there! The staff was excellent & friendly. The aquarium that is located beside the house boat is adorable!! Great experience all around!! Thank you!!
Lisa
2016-06-21T00:00:00Z
The host canceled this reservation 24 days before arrival. This is an automated posting.
Rachel
2015-06-30T00:00:00Z
Great place to stay! Lovely location and the boat house is very conveniently located near the aquarium and wine tours that depart from the Hyatt hotel. The home has great amenities and the hosts were accommodating.
Kimberly
2015-09-17T00:00:00Z
Chelsea was so accommodating! Check in time was flexible which was great to get the most out of our first day! The listing was spot on; the space is newly renovated, has great views and lots of accommodations (being on the Hyatt resort). The upstairs has a large kitchen/living room area for hanging out and cooking a group dinner and all the beds comfortable fit two!
stephanie
2016-06-13T00:00:00Z
Chelsea was more than accommodating. I had my sisters bachelorette weekend there and everything that we wanted to do was walking distance from the wineries , the aquarium, a nice restaurant with karaoke bar. This place is great for a group of gals or family vacation. Hope to have Chelsea as a host again in the near future.
Jessica
2016-09-11T00:00:00Z
Room Type
Entire home/apt
---
Property Type
House
---
Accommodates
8
---
Bedrooms
Riverhead, NY, United States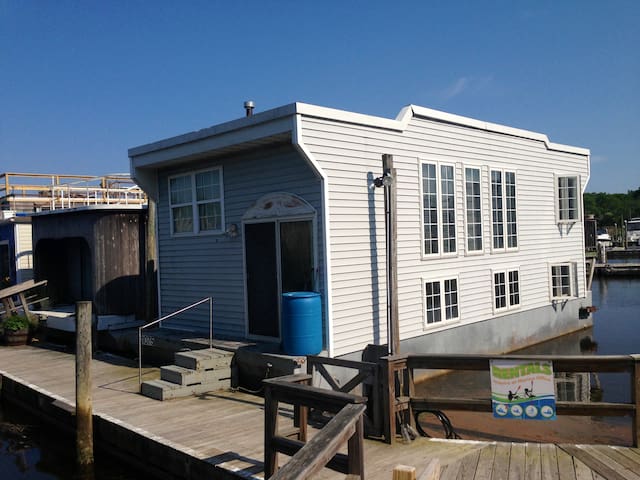 Available now is the entire 1st floor of our beautiful waterfront home in Riverhead. Two bedrooms, full kitchen, full bathroom and outdoor patio with amazing views of Peconic Bay. Comfortably fits 4. Quiet and private location on cul de sac. Perfect getaway spot.
Location. Location. Location. Avoid the high prices of The Hamptons but be close enough to enjoy all both forks have to offer. Easy access to the North Fork for its vineyards and farm stands as well as the South Fork to enjoy some time in the Hamptons to Montauk. Golf courses and Tanger Outlets also nearby. Enjoy summer on the East End of Long Island!
We had the best stay ever for New Years! Beautiful view, super clean. Will definitely stay here again in the summertime!
Becka
2016-01-01T00:00:00Z
The listing was as described and the waterview is amazing.
Christopher
2016-10-10T00:00:00Z
The host canceled this reservation 52 days before arrival. This is an automated posting.
Charles
2016-06-20T00:00:00Z
Nice, clean apartment in a beautiful, peaceful setting. The covered patio with grill, table, and chairs is a huge plus!
John
2016-08-01T00:00:00Z
Greg was very responsive on email. He welcomed us to the apartment and gave us all the info that we needed. Apartment is on the lower floor of the house, completely private and has a fantastic view!! Apt was clean and well stocked with towels, linens. Had a great time out on Long Island, visiting wine country. Definitely recommend this place :)
Leland
2015-10-25T00:00:00Z
We had a fabulous stay at Greg's place. The photographs just don't do it enough justice - the view and tranquil setting are truly spectacular. It was fantastic to be able to spend some time on the water using the kayaks and paddle boards too. Greg and Bob made us feel very welcome, the house was very clean and the location was perfect for exploring both the North Fork and the rest of the Hamptons. One of the best Airbnb locations we've ever stayed at. Can't recommend highly enough, we didn't want to leave!
Kate
2016-08-20T00:00:00Z
This was our best Airbnb stay yet. The house is beautiful and the location is unreal. The location was perfect - it was 40 minutes from the ferry. We stayed here for Thanksgiving since our family is in Merrick, NY (60 min away). It was ideal - no traffic, easy to around, and we even had time to explore the beaches, restaurants and The Big Duck. Not only is the house great, but Greg was the best host - responsive, helpful and nice as can be. I highly recommend this location and Greg.
Amanda
2015-11-27T00:00:00Z
An overall great property in a great location. I would recommend staying here to anyone who is looking for a few days away from the hustle and bustle of the city. Quiet and beautiful with great hosts.
Sarah
2016-05-23T00:00:00Z
Room Type
Entire home/apt
---
Property Type
House
---
Accommodates
4
---
Bedrooms
Riverhead, NY, United States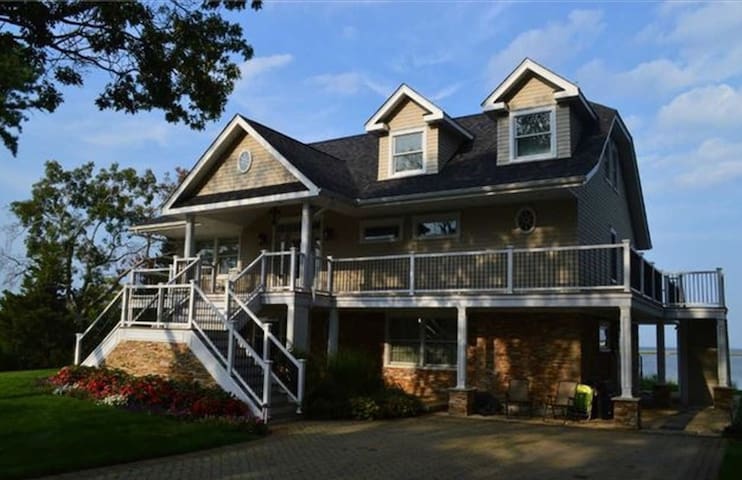 Beautiful, serene and one and a half hours from NYC! This is a home and not a rental property. It has been lovingly designed and maintained. My home sits on Peconic Bay and is surrounded on 3 sides by magnificent English gardens. Whether you are there for a week or a month, the coziness and charm of the house and the setting will give you the peace and relaxation we all want. The North Fork has many wonderful vineyards, great biking, lovely shops and lots of history!
3 bedrooms, 2 full bath with outdoor shower and fully equipped kitchen. Central air and ceiling fans in all of the rooms.
Room Type
Entire home/apt
---
Property Type
House
---
Accommodates
4
---
Bedrooms
Riverhead, NY, United States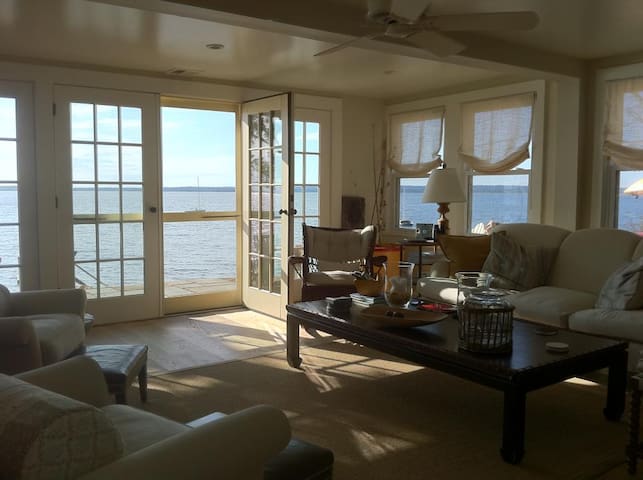 Our home is located on the North Fork of Long Island, in Jamesport, NY- about 1½ hours from NYC, 2 Blocks from beach, surrounded by light and water, small rustic villages, farmfields, vineyards (over 50), farm stands, great restaurants, boating,etc. It is casual, low key and relaxing. It is perfect for families with kids, wine loving friends or as a family base for those planning vineyard weddings The focus is on the land and the water–farm to table- great wine-outdoor activities -the good life!
For farm land and wine enthusiasts home is surrounded by 53 vineyards and tasting rooms as well as acres of open agriculture space dedicated to either growing or vineyards. The Long Island Sound and the Peconic Bay are minutes away. This area is drenched with light, Water surrounds the area with the sound, bay creeks, ponds and lakes and the ocean is about 30 minutes away. Small town historical villages give the area a quaint retro vibe but don't be fooled by the vintage charm, this area is highly sophisticated luring Metropolitan NY natives, Manhanites, Brooklynites and the international alike to the area. Foodies will love local farm to table restaurants, local farm stands and seafood ideal for dining in or out. Just 30 minutes to Southampton, this spot is idea for those who love nature, peace and beauty but might want to get a taste of Hamptons life and or Manhattan life a 1 1/2 hour car ride away. Take the Jitney or train to NY and you will arrive in about 2 hours.
Room Type
Entire home/apt
---
Property Type
House
---
Accommodates
8
---
Bedrooms
Riverhead, NY, United States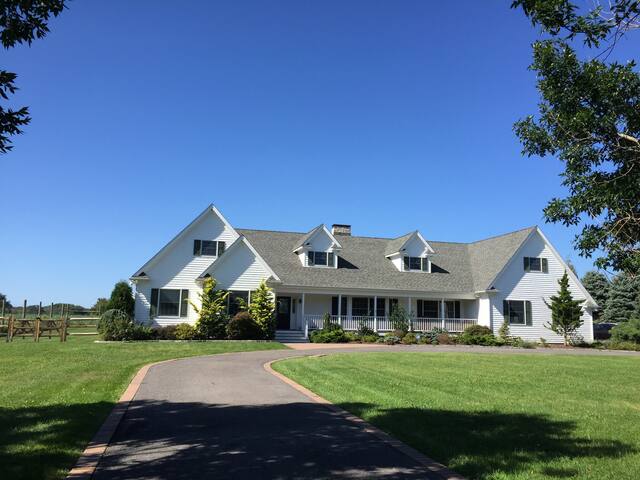 right near all northfork vinyards very nice house huge backyard with inground pool bbq great for outddoor parties, outdoor shower fire pit and plenty of tables and chairs to accommodate a large party of guests.
The host canceled this reservation 20 days before arrival. This is an automated posting.
Ben
2016-06-12T00:00:00Z
The host canceled this reservation 11 days before arrival. This is an automated posting.
Joseph
2016-05-30T00:00:00Z
The host canceled this reservation 13 days before arrival. This is an automated posting.
Ellena
2016-07-23T00:00:00Z
Stayed at the house with a group of friends for a vineyard weekend trip. Everyone loved the house and the backyard. We really enjoyed grilling, the fire pit, and using the pool. The hosts were very friendly and checked in on us during our stay to make sure everything was going smoothly.
Samantha
2016-08-21T00:00:00Z
The host canceled this reservation 74 days before arrival. This is an automated posting.
Ana
2016-06-06T00:00:00Z
The host canceled this reservation the day before arrival. This is an automated posting.
James
2016-07-22T00:00:00Z
Photo doesn't do it justice. Great house sleeps 3 couples easily. Also a comfortable fold out couch. Easy bike ride to town, beach, etc. The pool is perfect. Owners made sure we had what we needed.
Bob
2016-06-29T00:00:00Z
Room Type
Entire home/apt
---
Property Type
House
---
Accommodates
6
---
Bedrooms
Riverhead, NY, United States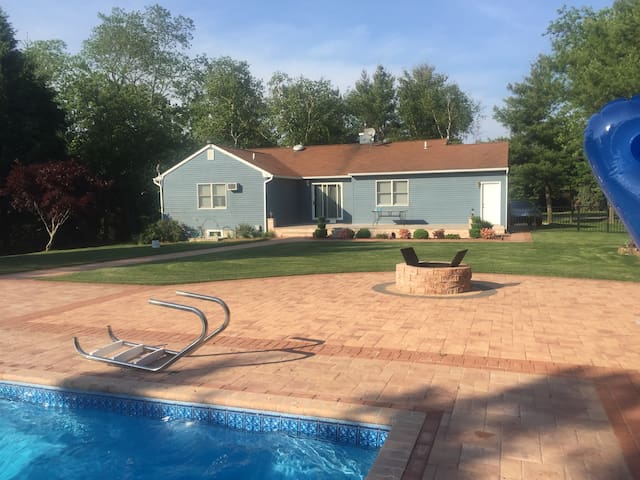 The "Coolest" house in Wading River. A great Living & Entertaining space. I've owned this home for 16 years and have made loads of improvements for style, comfort and convenience. One Very Private & Beautifully Landscaped Acre. Large fenced yard. Very close to East Wind Caterers if you've got a wedding or event to attend there. You can also tour many nearby Wineries
This Designer/Decorator's house is a spacious 1500 sq/ft. I've tried to keep with natural materials, Wood, Metal, Glass, Tile & Stone. New Chef's Kitchen, fully equipt & great for cooking delicious meals with high end appliances, Large Microwave, Dishwasher, Viking range etc. Comfortable Living Room with Cable TV and Surround stereo you can plug your music player into & Danish Modern Dining area occupy a large open cathedral ceiling space. Loft room accessed by a rolling library ladder with large 360 degree windows offers views of the whole property with lots of light it's a great place to relax and read a book. Bedrooms are separate and nicely decorated both with new Queen Size mattresses. Master bedroom also with Cable TV, with en suite spanish marble bathroom with large glass enclosed steam shower. An extra Twin AeroBed is also available. Very private outdoor space includes 2 large Decks & patio for outdoor dining, lounging and entertaining. Large Teak dining table with 11' market umbrella and gas grill and big comfortable outdoor seating. Beautiful potted plants, Planters and gardens. Enjoy the Hot tub under the stars and Fire Pit stocked with lots of firewood. Washer & Dryer, Free WiFi, Central Air Conditioning.
Located in an upscale mature neighborhood 1 acre Private setting ( I own a lot of sky). Set back and barely visible from the street Beautifully manicured lawn and grounds. Phil's is a great family style restaurant / sports bar uptown There's a few spots to eat downtown by the duck ponds, A Smokehouse Restaurant, a Creperie and Mesquite a BBQ place. LaPlage at Wading River beach offers casual fine dining overlooking the Long Island Sound (pricey but very good). There are also 3 pizza places, Chinese food and McDonalds located uptown. There is great Outlet store shopping at Tanger in Riverhead about 8 miles away as well as the Aquarium only a mile or so further. Very close to East Wind Catering if you're attending a wedding or event there. This location is a great stepping off point to the Wine Country and Farm stands on the North Fork and the Hamptons on the South Fork.
Brian was great, the house was beautiful, everything exceeded my expectation, beautiful hot tub and fire pit. The steam shower was the best shower I ever had.
Nicholas
2015-12-26T00:00:00Z
This place lives up to its name. Truly a zen experience! Very quiet and relaxing. Everything in the house is beautiful. Brian is an outstanding host - very helpful and responds quickly. We would definitely go back. :)
Masashi
2016-08-10T00:00:00Z
Our stay at Brian's place was beyond fantastic! What a fun eclectic interior design and great kitchen stocked with everything we might need! The loft room, hot tub, steam shower, and fire pit made it even more special !! Brian was so thoughtful and even left us ingredients for s'mores along with clear instructions for how to use all the amenities in the house. We had an amazing time and do hope to come back in the warmer months so we can explore more of the surrounding nature. This weekend we got to explore the aquarium, beach and restaurants nearby. Cannot wait to return!
Tulsi
2015-12-20T00:00:00Z
Spectacular house 5 stars is not enough .. every thing you need is there .. we enjoyed the hot tub , the grill and the large backyard ..there is alot of supermarkets ,resturants and beauty salons near .. tanger outlet is about 18 min away .. Brian is a super host, he was there when ever we needed .. Brian thank you for the welcoming margarita, the marshmallows the chocolate and the smile.
Abdullah
2016-08-13T00:00:00Z
The house was perfect for a family of four. My husband, two kids and I enjoyed the outdoor space every evening. We grilled and ate outside. The hot tub was wonderful. The house is close to many beaches... some are 10 mins away and others are about 20-30 mins away. Brian is a great host. We had a couple of small issues that came up and they were fixed within minutes. He is friendly and accommodating. The mojito and smores ingredients were a nice touch. Things we loved-- the great deck, hot tub, very private but close to many activities. We hope we can stay here again.
silvia
2016-07-06T00:00:00Z
Brian was a very responsive host. We really enjoyed our stay here, and would definitely come back a second time.
Young C
2016-11-25T00:00:00Z
Our only regret is that we didn't book another night at Brian's little slice of heaven. Aside from the serene setting & providing us with anything we could possibly need , Brian is a terrific host. He was well prepared with info about the local area from wineries to places to shop to places to eat including menus . He had a fabulous table set which helped us decide to stay in & grill although we had originally planned to go out. Brian was very accommodating with check in & check out times, so that it didn't interfere with our exploration of the north fork. His home is beautifully decorated ... With an artistic flare and very inviting... A great place to relax, And very private. We hope to go back again.
Shelly
2015-12-28T00:00:00Z
The host canceled this reservation 165 days before arrival. This is an automated posting.
nancy
2015-12-28T00:00:00Z
Room Type
Entire home/apt
---
Property Type
House
---
Accommodates
4
---
Bedrooms
Wading River, NY, United States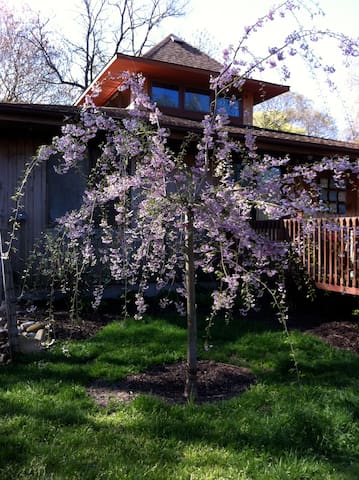 Your Private room with a view is 1-block from the beach, town pier, & trendy eatery; You will love my place for it's close proximity to North Fork vineyards, nightlife, public transport & parks and it's own Private Deck nestled on a Tranquil Nature Preserve with Separate Entry. As a Retreat, I offer high speed WIFI no TV. Come, enjoy nature, relax,disconnect from the distractions of your busy lives!
This Summer house was built in the 1920's it retains a lot of the original features, rustic and comfortable, it is charming and eclectic as you would expect a 1920's beach house might be. During the evenings you get great cross currents and natural cooling. Plus, the relaxing sound of the surf breaking on the shore 1 block away! There are window A/C units for the hot, humid weather and fans.
Wading River is both casual and of course a beach community. It's okay to walk, swim and fish along the entire north shore, as long as you are respectful of the beach front property owners. You may walk below the last high tide line, No fires are permitted on the beach.
I really enjoyed my stay at Deborah's tranquil beach retreat. She was very generous and made me feel very welcome, offering many great tips throughout my time there. The posting was very accurate, and I really enjoyed being just a few blocks from the beach. I also enjoyed relaxing on the porch, which overlooks a nature preserve---it makes for a very pretty sunset!
Chris
2016-08-25T00:00:00Z
Deborah was a great host! She was very generous and hospitable. Her house was very comfortable and we felt right at home. Our travel plans caused us to be delayed and we arrived very late into the night (after midnight), but Deborah was very understanding and had the house and room ready and accessible upon our arrival. We were provided with coffee and fruit each morning which was very nice and helped us get our morning started right. The room and bathroom were very clean and comfortable. We had no issues at all. The location of the house near the beach and surrounding restaurants was a huge plus for us. We definitely enjoyed our stay and would stay with Deborah in the future! Thanks so much for everything!
Rushi
2016-07-24T00:00:00Z
Deborah's home is beautiful and charming and she is warm and friendly. The location is so perfect! Especially if you want peace and quiet, it's a 2 minute walk to the beach and you can enjoy the nature preserve from the back patio. I slept so comfortably, the room is light and airy and has plenty of natural light and windows. Also if you have time book a massage with Deborah, she's fantastic. It was like staying in a rustic spa in the woods by the beach.
Stefanie
2016-09-27T00:00:00Z
Deborah was the perfect hostess! She made this Southern couple feel most welcome from the moment of our arrival. Her house and neighborhood were very quiet and located a short walk to the public beach area. Deborah provided fresh fruit and coffee daily, along with a variety of baked goods and snack bars. Even though we were late risers, everything was always available when we were ready for it. She even let us do a load of laundry mid week so we wouldn't have to go to a laundromat. The slow pace and lack of distractions (no TV) are a welcome change from the usual hustle and bustle. But never fear... There's wifi if you're just dying to keep up with the latest content on your laptop or other device. Thanks again for providing a great stay for these first-time New Yorkers!
Renee
2016-07-12T00:00:00Z
I had a wonderful couple of days staying in at Deborah's house. Deborah gave me a warm welcome and checked in now and then to make sure I had everything I needed. The room is nicely decorated and very clean, and has a comfortable bed that comes with lots of fluffy pillows. Every morning there was coffee and breakfast (muffins, fruit, eggs) waiting. Deborah has great suggestions for biking off the main roads around Wading River, and she knows exactly when the river is at high tide if you'd like to go swimming. I would definitively recommend staying with Deborah for experiencing the friendliness, nature and calm of Long Island.
Gwen
2016-08-20T00:00:00Z
We loved our visit to Wading River. Deborah was a wonderful host. The location couldn't have been better. There was a great beach within a 3 minute walk. One of our favorite moments of the trip was sitting on the back porch watching the sun set over the salt-marsh preserve. It was a perfect weekend!
Janneke
2016-08-29T00:00:00Z
The house was very adorable and in a beautiful location! Deborah is very sweet and a great host! It was perfect
Tara
2016-06-25T00:00:00Z
Debra's place is really great. It's the perfect secret get-away, or it should be kept secret, it is just steps from the beach with a back porch overlooking a beautiful nature preserve. Debra left us freshly cut fruit cups for breakfast, and earl grey tea, almond milk, cherries, and granola bars to take to the beach, along with a beach bag, towels, etc. Debra really made us feel at home. If you're looking for a wonderful weekend getaway from the city, I highly recommend booking a room.
giovanna
2016-07-05T00:00:00Z
Room Type
Private room
---
Property Type
House
---
Accommodates
2
---
Bedrooms
Wading River, NY, United States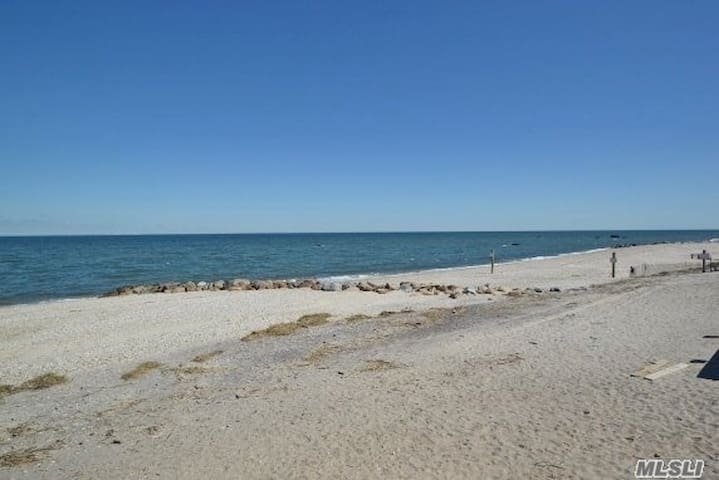 Perfect couples getaway, or family vacation. Perfect spot to decompress and recharge.Enjoy the peace of the North Shore, walk to the beach and spend the day in the sun. Come home to enjoy dinner alfresco preparing local fair on the stone fireplace or walk to a 5 star restaurant.
The quiet cottage is a great spot for meditation. Leave your worries behind and feel recharged.
Create your own farm to table experience. Every season offers new experiences. Summer fun, fall festivals, apple and pumpkin picking. Even come experience a winter getaway cutting your own Christmas tree.
We had an amazing stay at Diana's place. Everything was perfect, and Diana and her husband were very nice and helpful with great suggestions on what to do around town. The beach is like a 5 min walk, and there are tons of fun things to do within 5 min drive (winery, restaurants, Wildwood state park). The cottage itself is very nice and comfortable. Super sunny, and large screen doors to make it really feel like you are at a beach house. It was very clean when we arrived, with everything taken care of ahead of time...clean towels, fresh sheets, even fully stocked ice cube trays :) I would definitely recommend this place to anyone looking for a relaxing escape. My only complaint is that I couldn't stay there for a longer!
Keith
2015-05-31T00:00:00Z
Diana and her husband were amazing and very experienced hosts. Their cottage is perfectly cozy and have access to a very uncrowded and secluded community beach on the sound. It is one of those wonderful experiences in which you feel at home within moments of putting your bags down in the home. The location is prime for people that aren't married to a particular fork of the island. 15 mins (tops) from riverhead, 28 mins from Smith Point Park which has great Atlantic swimming. If you're a kayaker - this is your spot. The grill is cool and made delicious food. I will be returning.
Nick
2015-08-27T00:00:00Z
Diana and Charlie's cottage exceeded ALL expectations. Reserve it as soon as possible. We loved it so much that we are hoping to return in the next few months. Really, everything about this airbnb is incredible. Diana and Charlie were the most accommodating and lovely hosts we have ever had the pleasure to meet.
Chris & Ariana
2016-07-12T00:00:00Z
Charming little cottage, an easy walk to stunning beach (tip: rocky shore - pack water shoes!), and a quick drive to vineyards. Massive state park right around the corner — excellent for hiking and biking. You'll find a number of awesome restaurants within 10-15 minutes. Hosts were so nice, accommodating, and welcoming. Loved the beachy decor, grills, and outdoor shower. A short trip from NYC and a perfect little getaway. Will return on next visit to the North Fork!
Kerrie
2016-05-31T00:00:00Z
The host canceled this reservation 5 days before arrival. This is an automated posting.
cindy
2015-08-30T00:00:00Z
Beautiful little cottage. Diana was helpful and communicative. Loved our stay.
Roy
2015-08-01T00:00:00Z
Diana and Charlie were wonderfully accommodating and attentive hosts. They responded quickly to emails prior to our stay, met us at the house when we arrived to provide personal instructions, and offered thoughtful recommendations to help us make the most of our stay on the north fork. My mom, three sisters and I met here to celebrate one sister's birthday. The house is just a few minutes' walk from the beach. While compact, the house maximizes its space and did not feel cramped, despite having just one bedroom. The five of us were comfortable and enjoyed catching up and chatting in the living area. The outdoor patio is charming. Skylights in the home increase the sense of spaciousness. Bed and pull-outs were comfortable and ample linens, blankets and towels were provided. We had a great time at Diana and Charlie's lovely Wading River retreat.
Patrice
2016-10-16T00:00:00Z
The house was great. We loved our stay here and would recommend it to anyone. Also this was the fastest internet I have ever experienced (which scores high in my book)
Andrew
2015-08-13T00:00:00Z
Room Type
Entire home/apt
---
Property Type
House
---
Accommodates
5
---
Bedrooms
Wading River, NY, United States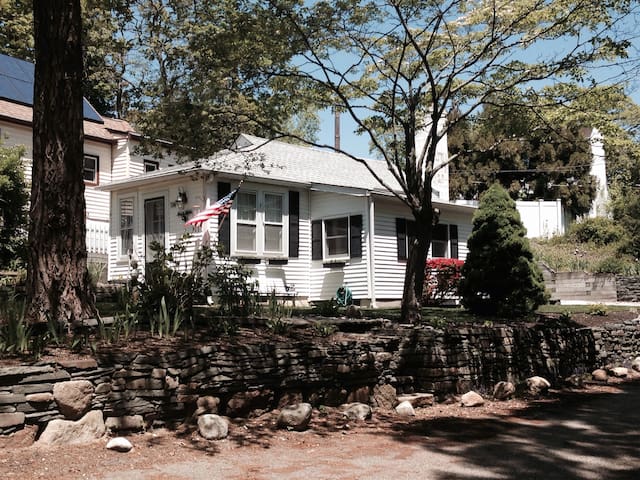 1

–

18

of

300+ Home Rentals
Enter dates to see full pricing. Additional fees apply. Taxes may be added.