River front, 2-bedroom, 1 full bath cottage situated in a deep wooded lot on Grosse Ile island. Fairy tale like backyard with a canal, walk bridge & fishing dock. A wood burning fireplace in the living room & a large wood deck + patio for party.
The house has 2 bedrooms, each with a queen size bed, 1 bathroom with a tub, a kitchen, living room, dining room plus den and laundry area with a set of full size washer and dryer. There is also a full size futon bed in the living room which can sleep 2 kids or average height adults. This is a water front property with its own fishing dock. The house sits deep in a wooded lot with wide open lawn in the back yard and a small canal running through it. There is also a walk bridge that crosses the canal to get to the fishing dock. Overall, it's a quite and private property on the west side of the island, nestled in woods. But it's not so remote from the neighbors that if you shout, no one will hear you.
Grosse Ile has been ranked the safest town in Michigan recently. There are bike routes along Meridian, the main road bisecting the island, running north and south. There is a Kroger market and a neighborhood grocery store and other restaurants along Macomb St. During summer months, there is free concert on Macomb street on Sunday evenings. In first weekend of June there is a big Island Festival held in the airport next to the Townhall.
perfect place to stay during our family reunion. There were 15+ other people at the host home, so it was crowded. Enjoyed listening to the geese fly over and watching the squirrels run around. Wedding coming up in a couple of years, so will keep this in mind when looking for place to stay.
diane
2016-12-31T00:00:00Z
The caretaker met us at the house and explained everything clearly. The house was nicer than we expected! I grew up on Grosse Ile so was not surprised that the community was quiet and safe. This was a five star bed and breakfast--like being in a cabin on a lake deep in the woods. Delightful!
Katy
2015-07-22T00:00:00Z
We rented this property for my Aunt and uncle during their visit from AL. They absolutely loved the cottage, the lake and all serenity the property had to offer. They were over the moon by the level of care and attention they received by the home's care taker and couldn't believe how well stocked the kitchen was. Thank you for providing such beautiful and comfortable lodging for two of my favorite people. We would definitely recommend this property!!!
Cary
2016-07-04T00:00:00Z
I grew up on the Island and returned for an interview in Wyandotte. I stayed for three nights. The host was very warm and welcoming and made me feel at home immediately. The private yard is beautiful, with a fire pit area surrounded by nature and water. The landscape was idyllic and quiet. The sunsets were amazing! The cottage itself is lovely. Charmingly decorated and impeccably clean. Full kitchen, log fireplace in family room, flat screen TV's and Wi-Fi in family room and very comfy beds! The kitchen looked out over the bay and the Italian coffee maker was the best! It was truly a fantastic stay-and waking up to such blissful surroundings was a wonderful start to the day!! This was the perfect getaway and I will definitely be back. Christine Riley
Chris
2016-02-24T00:00:00Z
The house was very nice. Great location. Quiet and comfy.
Jan
2016-04-17T00:00:00Z
This was a wonderful place to stay for us. The dock area was a little messy, but the house was much nicer than the photos posted. Great hospitality by all!
Latisha
2015-07-13T00:00:00Z
We used Andy and Diana's place for a fishing cabin. They were very good hosts. It was adequate for our needs. We would like to stay again next year.
Ann
2015-04-13T00:00:00Z
We had a wonderful stay in the cottage for over a week in September. Our host, Diana, met us personally at the cottage to give us a tour of the house and amenities. The location was beautiful, right by the water with a huge grassy lawn, a hammock and rope swing. There was plenty of room for my 2 year old to run. The house also felt very safe for a young child. It was clean and free of clutter, so I didn't feel like I had to watch her constantly. We were here visiting family and found Grosse Ile to be very peaceful and charming. The house sat away from neighboring households, so it felt like we had our own private waterfront. I would definitely stay here again when we come back and highly recommend it!
Betty
2014-09-14T00:00:00Z
Room Type
Entire home/apt
---
Property Type
House
---
Accommodates
6
---
Bedrooms
Grosse Ile Township, MI, United States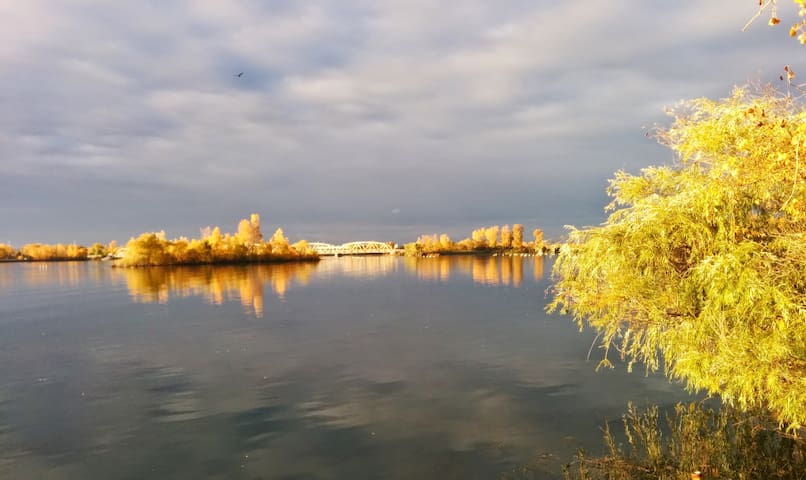 The house is located about 20 minutes from Detroit and just a 5 minute walk from Elizabeth Park. There is a kitchen, bathroom, and living area right outside the room. The backyard contains a bonfire pit, hot tub and picnic table.
Greg made checkin very easy, even though my arrival schedule fluid. Very nice guy.
Stephen
2016-11-05T00:00:00Z
It was nice staying at Greg's, in a typical American house with a wonderful garden and curious big cat. Greg was very kind and helpful, providing a confortable room.
Bartolomeo
2015-10-11T00:00:00Z
Greg was very welcoming, communication was excellent. The room is exactly as shown, and met my needs very well. Will definitely stay again if ever in the area!
Joanne
2015-11-14T00:00:00Z
Greg is a great guy, fully committed to your pleasant stay.
Scott
2016-04-09T00:00:00Z
Good place. No complaints
Jim
2015-10-15T00:00:00Z
The host canceled this reservation 7 days before arrival. This is an automated posting.
elizabeth
2017-04-12T00:00:00Z
This was a great place to stay! The neighborhood was really nice and very close to a few places to eat and get coffee. I went to the Roundhouse BBQ right around the corner per Greg's suggestion. The room was exactly as pictured and is right inside the front door so it was easy to get to and offered some privacy. The bedroom door also has a lock on the handle just for an extra layer of security but it really wasn't needed. Greg was super responsive and flexibile which was essential for me to use the space since I was in town for work and my days would end at various times. 10/10 would stay here again!
Erica
2016-11-17T00:00:00Z
Greg lives in the cutest town! His house has a very cozy feel. Greg made me feel welcome from the minute I inquired about my stay. He's great at communicating, no matter when it is, and always willing to help. I highly recommend him as a host!
Chrissy
2017-03-14T00:00:00Z
Room Type
Private room
---
Property Type
House
---
Accommodates
2
---
Bedrooms
Trenton, MI, United States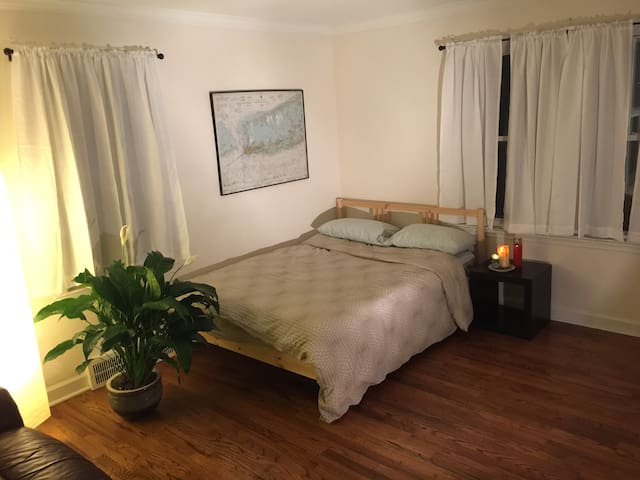 Minutes from beautiful Amherstburg, minutes from Detroit border and many sporting and entertainment venus. Extra large bedroom with queen sized sleigh bed, walk in closet, computer desk, newly remodelled. Bathroom (shared) also newly remodelled. House boasts many living areas inside and out to find quiet refuge or mingle with others.
Room Type
Private room
---
Property Type
House
---
Accommodates
2
---
Bedrooms
Amherstburg, ON, Canada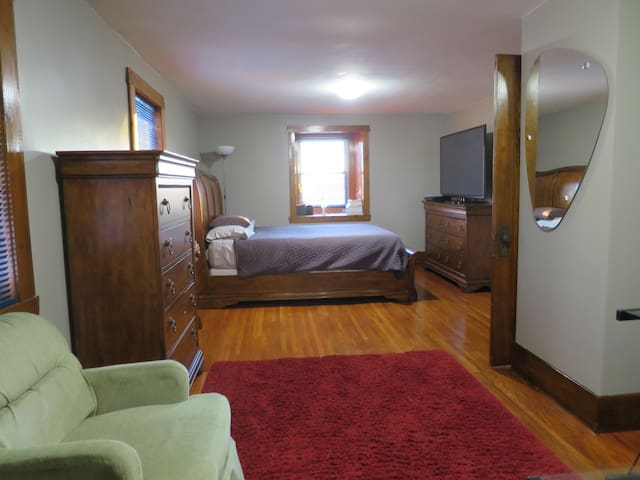 Minutes to beautiful Amherstburg, minutes from Detroit border and many sporting and entertainment venus. Extra large bedroom with double bed, couch and love seat, TV and PS3, and newly remodelled. Bathroom (shared) also newly remodelled. House boasts many living areas inside and out to find quiet refuge or mingle with others.
Room Type
Private room
---
Property Type
House
---
Accommodates
2
---
Bedrooms
Amherstburg, ON, Canada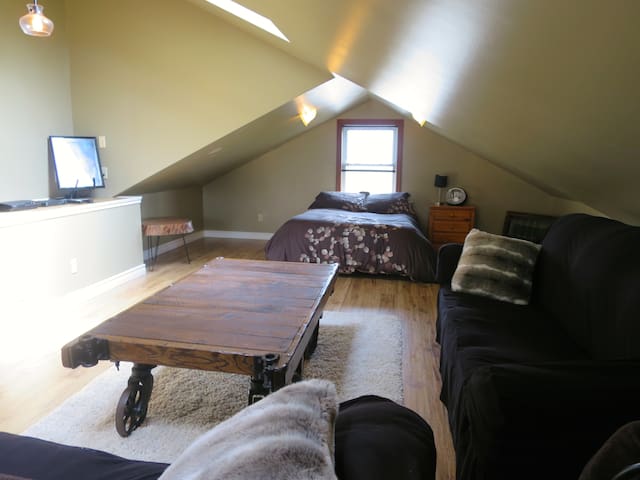 waterfront cottage in Gibraltar Michigan, lower Detroit river, near best walleye fishing, boat slip by seawall, 2 bedroom, one bath, all appliances, air conditioned
Room Type
Entire home/apt
---
Property Type
House
---
Accommodates
4
---
Bedrooms
Rockwood, MI, United States
Stunning 8,000 sq. ft. waterfront home on Boblo Island at the mouth of Lake Erie in Historic Amherstburg, Ontario. Amazing sunsets, pool, sauna, steam & aromatherapy room, outdoor kitchen & bar + wood fire pizza oven, outdoor washroom /pool house, natural and gas outdoor fire pits, two full gourmet kitchens indoors. 3 stories with balconies overlooking water. 4 minute ferry ride to beautiful downtown historic Amherstburg. Visit (URL HIDDEN) for information on island amenities.
Beautiful three story french provincial designed waterfront home. 4 very large bedrooms, 7 baths, 4 fireplaces, two full kitchens indoors plus outdoor kitchen, large entertaining areas. Great getaway island retreat for couples or a family.
Boblo Island offers the following: - full service marina - marina indoor and outdoor restaurant (Thurs. thru Sun.) - ice cream and coffee shop - walking trails - beaches - watersports - historic buildings - nature Visit (URL HIDDEN) for more information.
Room Type
Entire home/apt
---
Property Type
House
---
Accommodates
6
---
Bedrooms
Amherstburg, ON, Canada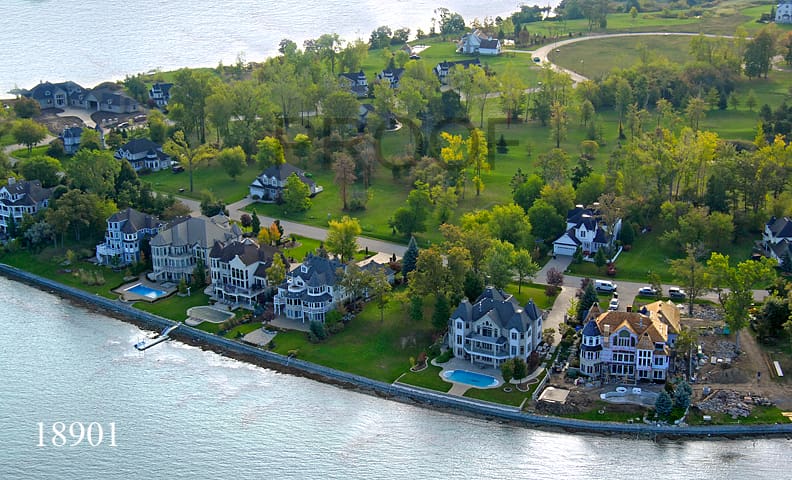 Conveniently located 15 minutes between Detroit Metro airport and downtown Detroit and three major freeways. Great location for sporting events, North American Auto Show at COBO Hall and World Headquarters. I can assist with transportation to and from airport or downtown Detroit depending on schedule. I can also provide meals if need and laundry services. I do have a small hypoallergenic dog that is quite and very friendly.
My house is a typical bungalow with one bedroom and bathroom on the main floor. There are two bedrooms upstairs. The 2nd bathroom is only a shower and toilet in my wash room next to the washer and dryer. There is a hot tub outside. I have extra slippers and robes available. Please let me know prior to arrival if you wish to use it. The house has central air and forced air heating. I normally rent out the rooms on the 2nd floor. I do have a small dog "Lucy" she is hypoallergenic and extremely friendly.
I am 10 minutes away from Henry Ford museum, Greenfield village, Ford world headquarters and Oakwood Beaumont hospital. 15 minutes from Henry Ford Main hospital downtown, Cobo hall, Ford Field, Comerica Park, Ambassador bridge, Canadian tunnel and Detroit Medical Center. I am walking distance to several local bars, convenience stores and restaurants.
Wanted a place to stay close to work and Dawn's home was a welcome relief from a very long commute. Guests stay in the upstairs bedrooms, which are quiet and comfortable. Dawn also offers plenty of space to relax around the house, which she keeps very clean. She is an easy going host and I highly recommend her home.
Matthew
2017-01-20T00:00:00Z
amazing place. it feels like you're in a hotel, the room is spacious and the bed is the most comfortable bed i have slept in in a while. dawn is the best host you could wish for, she offers drinks and food and towels, rides and even toothpaste. her dog is super cute and friendly. over all it was a great experience and if I'm staying in detroit again i will try to stay here
Melanie
2016-12-31T00:00:00Z
Dawn was fantastic! My parents and I stayed since we wanted some place close to downtown and also DTW for an early flight, it was an easy 15 minutes drive either direction so perfect local for us. She was very quick to reply with recommendations and answers to our questions- she knew the city well. Her house was so warm and inviting, easy check in and out, with great lighting, soft bedding, nice kitchen, and comfy furniture- we felt totally at home! Lucy, her little dog was an angel- so fun and well behaved. We had the perfect stay, and would deff. want to book with Dawn again. Thanks for the great Bagels, restful sleep, and detailed care!
Tamara
2016-12-28T00:00:00Z
Everything as described. Cozy, clean, and comfortable. Dawn was very helpful!
Kurren
2017-01-21T00:00:00Z
Dawn is a really friendly host and gave us lots of help. Really enjoy staying at her place!
Sheng
2017-01-01T00:00:00Z
Dawn is a fantastic hostess; quick and thoughtful communications, very considerate and accommodating. I had a great stay and would most definitely recommend her place.
John
2017-02-09T00:00:00Z
Very good place. Clean, cosy and comfortable. Dawn is super host!
Svetlana
2017-01-06T00:00:00Z
Dawn's place is clean, comfortable, and beautifully decorated. She was kind enough to stay up to welcome me even though my flight got in quite late, and made me feel right at home. I would recommend a stay with her to anyone!
Jennifer Maya (まや)
2017-01-12T00:00:00Z
Room Type
Private room
---
Property Type
House
---
Accommodates
4
---
Bedrooms
Allen Park, MI, United States
My wife and I put our hearts into our "Forever Home". We have paid special attention to the detail in each room...trying our very best to create a place that is aesthetically calming as well as pleasantly functional. A larger front yard with a cedar glider on the porch makes for a pleasant morning coffee watching the birds, squirrels and bunnies or an evening lemonade watching the sun go down. The side yard and back patio are nice places for entertaining and outside eating.
Thank you for considering our "Forever Home". Our hope is that you find your stay as pleasant as possible and have designed the house with comfort in mind. Here are some of the amenities that you can expect. Custom Kitchen with all utensils, microwave, coffee maker, toaster Custom ceramic bath with marble flooring Beautiful electric fireplace Beautiful wardrobe closets New comfortable dual recliner couch New comfortable swivel / rocker/ recliner 52 inch tv/ Amazon Play Station Vue / and WIFI internet High efficiency large front load washer and dryer Solid oak Richardson pedestal table and chairs New formica countertops including nice bar area and stool On demand hot water heater (never runs out) Air conditioning and thermopane windows New dishwasher Stainless steel / black appliances with automatic ice maker Tempor-pedic queen size mattress New full size mattress Chandelier bedroom lighting Crown moldings and custom living room trim/ 6 panel doors Custom furniture (some) Stained glass lamps Like new plush carpeting and Linoleum Back patio / table / chairs / umbrella / and grill Cedar front porch glider..... ..........and a white picket fence..... with flowers and landscaping in season.
We want your stay to be as pleasant as possible so we decided to provide a list of things to do in our area. Henry Ford Museum Greenfield Village Imax 3d theater Ford Rouge tour University of Michigan (Dearborn) Detroit Science Center , Cranbrook planetarium, Detroit institute of arts Detroit Zoo and the Toledo Zoo Belle Isle Aquarium and park (Detroit) Elizabeth Park (Trenton) pony rides MGM, Motor City, and Greek Town casinos Sound Board , DTE Music Theater, Meadowbrook Music Festival The Fox theater, and the Detroit Opera House Revitalized Detroit Greek Town Mexican Town Comerica Park and Ford Field Hart Plaza Bishop Park (Wyandotte) Downtown Wyandotte Heritage park (Taylor) Midway Go carts / minature golf / Driving range (Taylor) A very nice park is only two blocks away for the (URL HIDDEN) well as great moderately priced dining everywhere.
Room Type
Entire home/apt
---
Property Type
House
---
Accommodates
4
---
Bedrooms
Taylor, MI, United States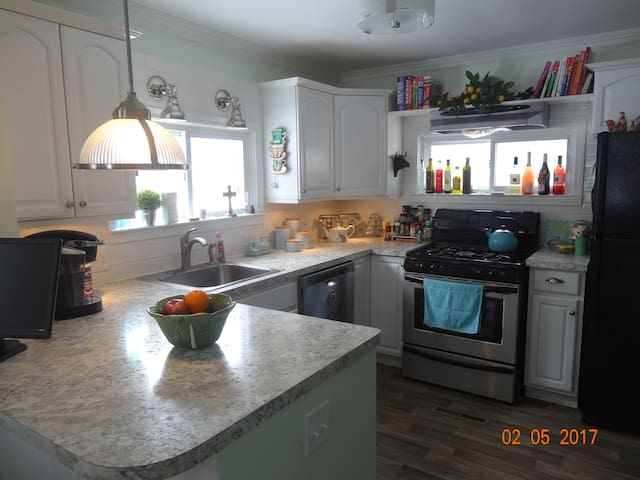 Enjoy our three bedroom cottage with a front porch and large lot! The cottage has been totally renovated with a modern, atomic ranch charm. You'll love the new chef's kitchen, eat in dining room and updated open design. Great location next to Dearborn and Allen Park, just 15 minutes to downtown Detroit culture and nightlife with easy airport access !
Welcome to our charming 3 bedroom cottage with a front porch and park-like lot! This home has a 4 night minimum. Relax while you watch the birds and bunnies crossing the lawn of this downriver home, located in a quiet neighborhood close to the park, restaurants, just 10 minutes from Detroit Metro Airport and close to the University at Dearborn and the nightlife of downtown Detroit! Amenities Include: Master Bedroom- 10 x 18 Queen size bed for Two Persons Master Bedroom has Fireplace, desk, dresser 2 Kids Bedrooms- 8.5 x 9 Double size Mattress Twin size mattress Living Room Leather Loveseat Microfiber Chair 32" Flat Screen TV Dish TV Internet Bathroom with Tub/Shower Eat in Dining Room Full Chef's Kitchen Stainless/Black Appliances New Flooring New Cabinets New Granite and Porcelain Tiles Towels and Linens Iron and Ironing Board Front Porch Gas/Log Fireplace Air-Conditioning Carport Parking Backyard Fenced Yard W/D Laundry Utilities- Water, Gas, Electricity Easy 94 or Southfield Freeway Access Restaurants in walking distance Nearby Shopping Close to Dearborn by 10 minutes Close to Airport by 10 Minutes Closet to Detroit by 15 Minute(URL HIDDEN) Wireless internet is available for your convenience. This is ideal for a family or business associates relocating to Michigan or a temporary business stay. This house has been completely renovated with updated finishes and a cool "Atomic Ranch" style furnishings! TV is ready for your watching pleasure. There is a local park and elementary school with one block! Downtown Detroit is a 15-20 minute drive for all the nightlife and culture of Detroit. Please write if you have any questions. Pets are accepted with additional $150 per month or $10 per day. Kick up your heels and relax!
The area is very pretty with a lot of open land, tall trees and wild life but also close proximity to area restaurants and shopping. This is a modest neighborhood with many long term residents. The locals enjoy fishing, boating, hunting and the Detroit Tigers.
This was a terrible experience. Our host was very irresponsible. She forgot to pay the electricity and internet bills. She is the only person I have known to believe that the problems with the house are the guests' responsibilities. Instead of trying to figure out a way to find solutions to the problems she would like her guests to find out ways to deal with them. She lives in California and uses that as an excuse. If you're looking into renting this place be ready to tackle someone else's problems.
Gamze
2017-01-03T00:00:00Z
Its just like being in my own home. Laundry facilities,fenced back yard, covered parking as well. The house is clean and we had everything we needed for cooking,relaxed evenings watching tv,and easy access to Detroit or the airport. Quiet safe neighborhood.
mary leigh
2017-03-03T00:00:00Z
Room Type
Entire home/apt
---
Property Type
House
---
Accommodates
5
---
Bedrooms
Taylor, MI, United States
Enter dates to see full pricing. Additional fees apply. Taxes may be added.