Guardate le foto. Il resto è un monolocale. Chiavari e Zoagli a due passi. Le passeggiate da Portofino vetta o sulle colline sopra Zoagli , magari coi bastoncini del nordic walking, vi fanno dimenticare anche tasse e debito pubblico..
A due passi dall'appartamento è a vostra disposizione una funivia che vi porta giù al mare. Qui vi aspettano una spiaggia poco affollata, la vostra cabina, una piscina , docce, il solarium e il mare
Giancarlo's place is incredible: the views are the main attraction and they are simply breathtakingly beautiful. The apartment itself is clean and full of light, it also has everything you need. The only downside is getting to the apartment, as you will have to face a steep climb or descend on a daily basis, if you leave to visit other places.
Sherisse
2016-07-17T00:00:00Z
Giancarlo is really nice and makes you feel at home. His appartement is a little paradise in an handsom place, we really enjoyed it a lot. We advise it to anybody who would like to visit This part of Italia. We also did the "cinq terres" and Giancarlo told us it was really crowded, well he was right! But it is very beautiful anyway and his quiet place is a good balance for a crowded place during the day. You can easily go by train from Chiavari. He also suggested that we go to Portofino which is also a very cute place to visit. ENJOY! And thank you very much to our host who have been perfect
Julia
2016-05-09T00:00:00Z
Giancarlo is an amazing man. He made our stay very enjoyable! At the first day he showed us the best places of the city, where to try the best ice-cream, focaccia, seafood... Apartment is very cozy and neat, the view from the balcony is breathtaking! The way to the beach is a nice adventure. We totally liked the place and will recommend it for sure.
Ekaterina
2016-08-23T00:00:00Z
Amazing place! An amazing view!. Giancarlo's apt is the best option if you want visit Portofino and Cinque Terre. Giancarlo is a very dedicated host, he's an excellent person. If your are planning to visit Liguria, please stay at Giancarlo's, an apt when the nature and the sea merge to create a paradise!!.
Ivan
2016-04-27T00:00:00Z
perfect weekend! thank you!
Maria
2016-10-05T00:00:00Z
Giancarlo is a very generous person with a warm and big heart and a genuine interest in other people. We do not yet speak Italian yet and therefore we were clad Giancarlo speaks English fluently. It was our first rent of a studio on airbnb and we were extremely happy with our choice. At first, we were a bit astonished about the fact, that the apartment is glued on a steep cliff together with many other apartments. Somehow we expected to have the cliff for our on :-) When we then checked out the Liguria coast we soon found out, that we got one of the most privileged spots. Sitting on the balcony under the pines and watching the waves, became our most favorite activity. It had never been so hard to go back home to Switzerland and we will come back for sure.
Michaela
2016-04-22T00:00:00Z
We had an amazing, off-season stay at Giancarlo's place. After seeing a lot of places all over liguria, we were always more than happy to come back in the evening to cook some dinner with great view. There is literally nothing bad to say at all and you can consider yourself lucky if you manage to take some time off in Giancarlo's flat on the rocks.
Marius
2017-03-13T00:00:00Z
Our stay in Tigullio Rock was amazing. The apartment has a wonderful view and perfect possibilities for swimming an sunbathing. It is very well located to visit Cinque Terre and the places around. We really enjoyed our stay. Giancarlo is a perfectly nice host and very accommodating with helpful advices. We would absolutely recommend to visit this place!
Seraina
2016-06-20T00:00:00Z
Room Type
Entire home/apt
---
Property Type
House
---
Accommodates
3
---
Bedrooms
Sant'andrea di Rovereto, Liguria, Italy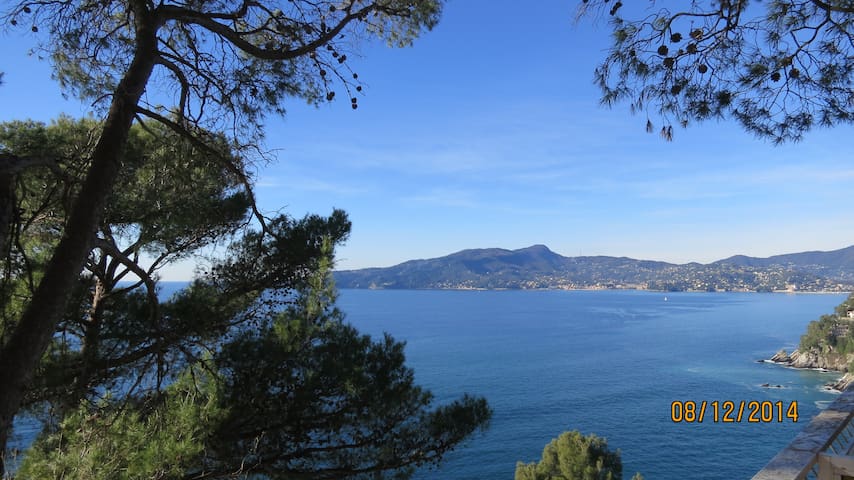 Splendida e affascinante casa tipica ligure situata tra le Cinqueterre e Portofino. completamente ristrutturata con una incantevole vista mare e collina. Situata tra gli ulivi sulla collina di Santa Giulia a soli 3 km dalle spiagge, dal centro del paese di Lavagna e dal suo porto turistico.
All'interno di un piccolo borgo tra gli ulivi, tranquillo e panoramico si trova questa casa tipica ligure ristrutturata con passione e cura dei particolari. Situato sulla collina di Santa Giulia a 170 m sul livello del mare è in posizione panoramica e soleggiata e dista 3 km dalle spiagge e dal centro abitato di Lavagna dove si possono trovare i negozi, un mercato di pesce e verdure fresche tutti i giorni e ottimi ristoranti. La casa può ospitare comodamente 5 persone; si sviluppa su due piani ed è composto da un piano terra con un ampio soggiorno con camino, sala da pranzo con angolo studio e una cucina abitabile molto ben attrezzata. Al secondo piano si trovano tre camere da letto e due bagni oltre ad un grande terrazzo. Il bel giardino vista mare completa la casa.
la Casa si trova in un luogo molto bello di natura e con una bellissima vista verso il mare e la collina. Si possono raggiungere facilmente in macchina o in treno le Cinque Terre, Portofino, santa Margherita, Rapallo, Camogli, Chiavari e Sestri Levante oltre ovviamente a Genova e Pisa dove si trovano anche gli aeroporti. Le spiagge sono vicine (10 minuti con la macchina) e ci sono spiagge libere o attrezzate. Ci sono ottimi ristoranti ovunque e i negozi e il mercato offrono sempre ottimo cibo della tradizione ligure. E' tutto molto facile.
Room Type
Entire home/apt
---
Property Type
House
---
Accommodates
5
---
Bedrooms
Lavagna, Liguria, Italy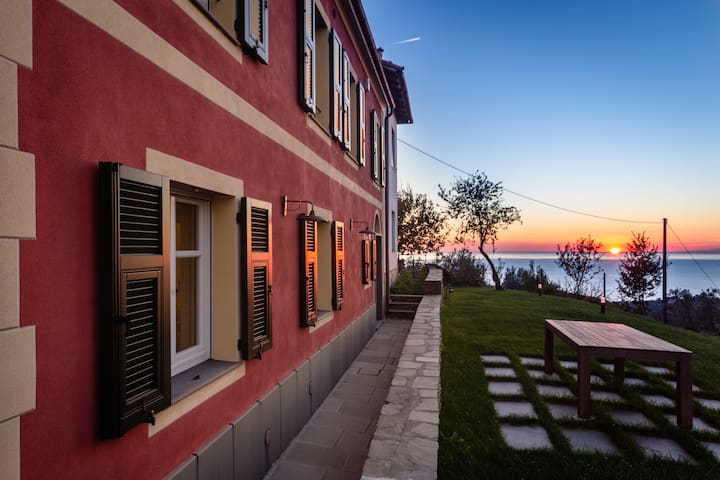 Rustic semi-detached completely renovated on two levels a short walk from the sea and the main sites of tourist interest in the home is nestled in the hills overlooking the Gulf of Tigullio is equipped with a beautiful outdoor terrace from which you can admire a beautiful view of the Portofino promontory the house has a large kitchen 2 bathrooms private wi fi car
Room Type
Entire home/apt
---
Property Type
House
---
Accommodates
6
---
Bedrooms
San Maurizio di Monti, Liguria, Italy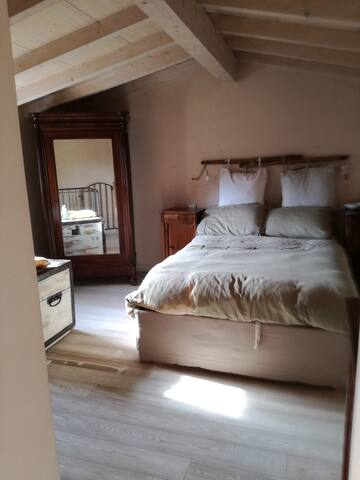 casa vacanza la rosa struttura indipendente vasca idromassaggio aria condizionata, non dotata di cucina, area esterna per grill e relax. immersa nel verde , parcheggio..
Quirky little stone house perfect for a couple. Its design was very well thought out, with independent air conditioning units on both floors, eerie little LED lights all around the floor and candles galore. We also appreciated the plug-and-play sound system in the bedroom. The surroundings / garden were surprisingly well maintained. Thanks Alessandro!
Maxime
2016-08-02T00:00:00Z
It's a lovely place, the jaccuzi is incredible, and Noce and his family have been absolutely welcoming with us! Thanks again for this dinner what we have sharing with you Noce, it's was a really good moment!
Capucine
2016-07-26T00:00:00Z
Great apt. Air conditioning was a blessing. Car parking space outside. 25-40 mins drive to all the places you could wish to drive to.
ray
2015-08-21T00:00:00Z
Quaint little building and very clean but not quite what we were expecting. Self catering was difficult as there was there was only a BBQ area and no refrigeration available.
Grant
2015-06-10T00:00:00Z
Superbe endroit perdu au milieu des montagnes italiennes, rien de mieux pour un couple , le jacuzz fait la diff !
Raphaëlle
2015-05-17T00:00:00Z
hôte fantastique, le logement est parfait pour une escapade en amoureux. L'endroit est calme et non loin de tous les endroits plus touristiques. Je recommande à 200%. Fantastic host, the accomodation is perfect for a romantic getaway. The location is calm and close to all the more touristic areas. I recommend strongly this place.
Stephane
2016-04-21T00:00:00Z
Io e la mia ragazza abbiamo trovato questa casetta.. direi FAVOLOSO tutto.. posto meraviglioso.. vasca idromassaggio strepitosa... un posto unico, davvero romantico! Carmen e' stata gentilissima! STRA CONSIGLIATA!
Gabriele
2017-04-02T00:00:00Z
Parola d'ordine RELAX. Appena arrivati il proprietario Alessandro ci ha accolti con grande simpatia, ci ha illustrato l'appartamentino e dato consigli utili sul luogo, sui ristoranti da provare e i posti da vedere. L'appartamento ci piace definirlo una tana, ma di lusso. La vasca idromassaggio è la chicca che rende questo posto unico. Consigliatissimo per chi ha bisogno di staccare e godersi giornate in vero relax. Dunque 10 e lode a location, pulizia e atmosfera!
Stefano
2017-02-19T00:00:00Z
Room Type
Entire home/apt
---
Property Type
House
---
Accommodates
2
---
Bedrooms
genova, Liguria, Italy
ciao a tutti quello che amo di più di casa mia è la tranquillità che la rende favolosa e l'ideale per passare momenti sereni.L'interno a mio gusto è caldo e accogliente stanza con letto matrimoniale e bagno in appartamento condiviso, zona tranquilla immersa nel verde posto auto privato. 30 min a piedi dal centro storico e dal mare un ottimo sistema per stare in forma.
la mia casa è piccola ma accogliente è il posto ideale per rilassarsi e organizzare la propria vacanza. La stanza dell'ospite è tranquillissima e confortevole.
sono sulle colline di CHIAVARI ma nello stesso tempo vicino al centro, alla autostrada e alla stazione
Danila and Lorenzo were warm and kind host's. We felt very welcome and had some nice little talks with them. Our room and the bath were very clean and the view was fantastic!
Till Jonathan
2016-10-01T00:00:00Z
What a wonderful first experience of Italian hospitality! We arrived late and were welcomed by Danila and her husband, Lorenzo, as though we we're friends coming to visit. We stayed up late laughing exchanging stories over a few glasses of chilled Lambrusco. We had a wonderful night sleep and we felt like we were at home. Their home was warm, cozy and clean, and we felt right at home. In the morning we were greeted with lovely homemade cake and jams, made by Danila herself, and delicious coffee as well! What a great way to start our journey on the road again, along with maps and directions to the sights we were seeing that day. It's too bad we we're just passing through, we would have loved to had stayed longer. Oh, and if you love animals, you will love Arturo the big lovable dog! Thanks again for everything Danila.
Marie and Steve
2016-04-02T00:00:00Z
Staying with Lorenzo and Danila was wonderful! We had a tough time finding the house (only because of my own navigational troubles) and Lorenzo met us at the train station to guide us back to the house. They were both so friendly and welcoming. There was a nice restaurant that we walked to and though they were closed, it was a nice walk in the neighborhood after a long day of travel. Thank you so much Lorenzo, Danila, and Betina!
Katie
2016-10-08T00:00:00Z
Under our roadtrip from Budapest till Barcelona we stayed many places with air bnb but Danila's home we liked most! She and Lorenzo , her husband are amazingly nice and full of life people. We really enjoyed to talk with them. The bed is so confortable, and they waited us with a lot of breakfast next day. I can just recommend them!!:)
emoke
2016-04-02T00:00:00Z
We were travelling with my mother from Portofino to Cinque terre and needed to stay for one night. But as soon as we arrived at Danila and Lorenzo's house, we had a desire to stay for a week! Amazing people! Beautiful nature, proper Italian hospitality! Room is very clean and cosy. Do not hesitate to book this property. It is a little bit far from the station, but Lorenzo picked us up at the station and after, if you want to go in the town, its a walking distance in a stunning countryside. Definitely will come back! Grazie mille Danila and Lorenzo!
Alexandra
2017-04-05T00:00:00Z
Dani's house is a beautiful a she is. She and her husband Lorenzo are lovely and close persons. We also love their old dog Arturo. Even though our stay was short they made us feel like at home. I strongly recommend. Grazie Mile!
Patricia
2016-08-11T00:00:00Z
Danila and Lorenzo have a lovely cozy home and they are so warm and welcoming. They did everything they could to make us welcome, and they supplied secure parking for our motorbikes too. We would not hesitate to return to their lovely home.
Pete
2016-06-18T00:00:00Z
This was our best Airbnb experience yet. We regretted that we only stayed for one night! We had great fun staying in this house, and we really enjoyed the music and the 'drums'! Also Danila and her daughter make great pizza's. Not to mention it's a beautiful house in a great location.
Joren
2016-08-05T00:00:00Z
Room Type
Private room
---
Property Type
House
---
Accommodates
2
---
Bedrooms
Chiavari, Liguria, Italy
Casa di campagna con vista meravigliosa sul mare con giardino a oliveto
If you're looking for a bucolic retreat to relax and enjoy nature this is the place for you. Beautiful in all seasons, in the summer you can enjoy the beaches along the coast, in other seasons beautiful walks in the hills. The house is a rural house recently renovated, attached to another houses and surrounded by a ligurian style terraced garden, with olive trees, lemon trees, fig trees. In the summer you'll have the singing of the crickets as the perfect soundtrack of your mediterreanean holiday. There is only one private bedroom but it sleeps 5 people. There is a private bedroom with a double bed and a single bed and a mezzanine with a sofabed. The kitchen is all missmatched but has everything you need: gas kitchen stove with 4 rings, oven, fridge, toaster, standing mixer, etc... There is a terrace with a table outside for you outdoor meals, or a table in the kitchen. The bathroom has a bath and shower. We provide linen and towels. Please note that the house is quite isolated, so it can be difficult to move without a car. Also the road arrives at 200m from the house, so you need to walk the last path by foot. This means you don't have the noise of cars close by but means you have to carry your suitcases for a couple of minutes! I go often by myself by train and walk the little country paths uphill (very steep) even with suitcases, and don't mind it but please make sure you're up to it. It's obviously tougher uphill (takes me 20 min) than downhill (15 mins). There are buses from the village of San Pietro (which is a 10 min walk) to Chiavari but they are not very frequent. A taxi from the train station in Chiavari is 20€ if needed. Local shop is quite basic but has nice fruit and vegetable and delivers shopping if needed! There is a steep walk (20min downhill 30 min uphill) down to Zoagli which is on the sea and has a train station. By train or by car you can visit in less than an hour the Cinque Terre, Portofino, Camogli, Sestri Levante, Genova... you will find loads of tourist information in the house and we'll be happy to advise you about the area.
Really nice place and fantastic view.
Lukas
2016-10-16T00:00:00Z
Our family had a truly lovely stay at Massimo's place. The house was perfect for us, the view is spectacular, the house is very well appointed with everything you need and Caterina made sure we had some provisions when we arrived to cook up a quick meal for the kids. The photos of the house and surrounds is 100% accurate, this place is paradise. When we initially arrived we got a little lost from the car park to the house and some friendly locals assisted (we didn't have a mobile on us so it's no fault of the owner!). The walk to the house from the car park is about 3 minutes but the destination is so worth it. It is in great proximity to explore the coast and Zoagli is a lovely town. We were all so sad to leave and I would definitely recommend this place to everyone!
Lucinda
2013-05-14T00:00:00Z
We had a wonderful stay in this apartment in mid October. The apartment was had everything we needed and is in a beautiful spot overlooking the coast. The walk to the house from the road is charming and it was a really peaceful place to spend a few days. Handy spot for touring this coastline, trains are really useful but a car is also a must to get to the house. Caterina was very helpful and kind, and made sure we had everything we needed. We were really grateful for finding us a travel cot for our baby. There was also some food in the fridge for for us on arrival which was kind. Good directions were provided to help find the house. Would recommend. Thank you for a great holiday.
Rachel
2014-10-23T00:00:00Z
Me and my friends had a great time at Caterinas place. Its well equipped and offers the most amazing view over Portofino bay. We were able to park our car a few minutes by walk from the house which worked perfect. Zoagli is a cute village with fantastic rocky beach and clear, clean water. We would definitely come back!
Lo
2015-07-20T00:00:00Z
We stayed in the house with a view over Portofino in the beginning of july 2013 and enjoyed it very much. The house with its amazing view over the sea is very lovely. If you want to visit a restaurant in the evening you should go by car.
Cecilia
2013-07-10T00:00:00Z
Amazing spot with super views across the bay. The small stone house is perched high above Ziogli. There are a maze of small stony paths which pick their way steeply up through the olive groves. Make sure you arrive in daylight, have good foot-ware and a light enough rucksack (a wheely cabin bag wont work) if coming by train. Driving up is easy and the house is about 200m on from the road along another walking path. The house itself is surrounded by olive and fruit trees. Inside it is really nicely done with a mezzanine and rustic furniture. Be aware that the access for the main bedroom is through the secondary sleeping area. Caterina was very nice, helpful and gave clear directions. all in all it is a great place to get away from it all, read and relax.
Nick
2012-09-27T00:00:00Z
Everything was perfect. The house, the garden, the amazing view (early morning is wonderful), the fireplace and the beds. We was 4 friends (22-25 years old) from France. We stayed 2 nights and 3 days in the Massimo's house. His daughter (who speak fluent french) called us to be sure that's everything was perfect and to give us some advices about Portofino & Zoagli. We spent our nights around good bottles of wine, ham and cheese. It was a very nice stay and an unforgettable trip in Italia. Thanks a million !
Paul Emmanuel
2013-03-26T00:00:00Z
Our stay at Massimos and Caterinas house in Zoagli was beautiful. You have an awesome view above the sea and through the beautiful garden. Massimo was very friendly and even brought us some food for breakfast. Zoagli is a nice point to have some trips in the region by car or train such as Cinque Terre, Rapallo or Portofino. Our three nights here were great - we would definitely come back!
Erwin
2014-04-21T00:00:00Z
Room Type
Entire home/apt
---
Property Type
House
---
Accommodates
5
---
Bedrooms
Zoagli, Liguria, Italy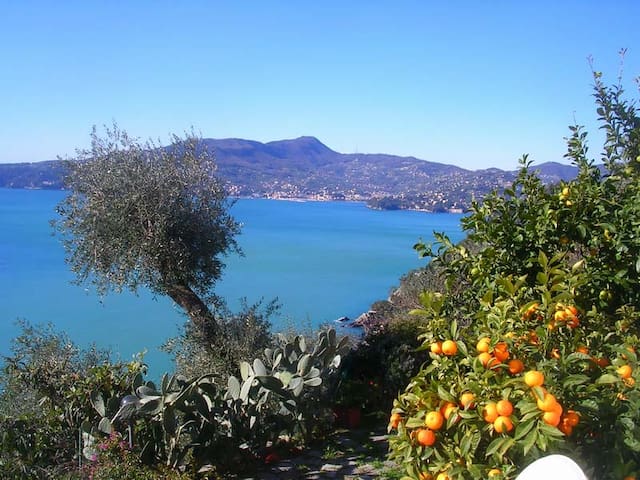 Come enjoy the relaxation of your house in the hills, a few steps from the sea but with the flavor of healthy life, away from the traffic but close to the Cinque Terre! In the heart of Tigullio, where hospitality is at home and everywhere smells of d
There is a place where the boundaries between different worlds are just faded out. A place where the asperities of the countryside meet with the blending character of the sea. Where you can adjust your seat and let yourself go in a trip inside another trip, made of that human and natural landscapes you are looking for. And if this isn't enough, come to enjoy the richness of the traditional kitchen we prepare ourselves, or just enjoy it in one of the welcoming and friendly restaurant you can find here around. Take your time to feel the comfort you need, listening at the sound of nature surrounding the place. Or if you prefer, enjoy the comfort of the privacy of your room, watching your favorite TV series of movies on NETFLIX!
easy to find location with big comfortable house with private parking, gorgeous view of the town and the sea, with the very picturesque Cinque Terre at just a 30 minute drive, i highly recommend it!
martino
2017-01-05T00:00:00Z
Amazing view! Quite a drive up a windy road but well worth it. Comfortable room and greeted to a friendly breakfast with Fabio the next morning.
Lauren
2015-09-03T00:00:00Z
Fabio is a most welcoming host kind and would do anything to help or improve your stay. He is very funny and nothing is too much trouble.
Debbie
2016-10-01T00:00:00Z
My impression of staying in this house decided on two parts: PLUSES: Nice view, fresh air, beautiful city MINUSES : 1. Fabio wasn't at home, his mother didn't speak English at all, so we were not able to get any information! 2. In the room we didn't find any discrimination about: public transport, kitchen (we didn't understand if it was possible to use it or not), washing machine (the same as kitchen) - we couldn't ask Fabio's mother- she didn't understand (((( 3. We were staying there for 3 nights, and we have internet only one day!!!! In this case we were not able to book railway tickets, to check-in to the flight, and chat with Houston from another city. 4. Fabio's mother gave us the keys only from our room. One day we had early train about 5:50am so we had to leave the front door opened (((.... 5. In our room we even didn't have trash box((((, cups or glasses to drink a water I didn't recommend this place (((
Kateryna
2017-04-05T00:00:00Z
We were made very welcome at Fabio's house on the hill, it was a beautiful place to stay and the photos do not give justice to the view from the house. Fabio and his mother were most welcoming and helpful giving us lifts when we asked! We enjoyed our first air BnB experience greatly and recommend this place to all.
Will
2016-10-22T00:00:00Z
His house was great, the view, the space, the rooms! Fabio is really funny, we had directly a beer with each other and talked about everything. For sure recommend!
Casper
2016-04-24T00:00:00Z
Fabio has a beautiful house with a nice view. I recommend !
Tina
2016-06-05T00:00:00Z
Had an amazing stay with Fabio! He did everything he could do make sure we had a perfect time there. We didn't have a car, and Fabio would drive us to and from the train station whenever we needed. Incredibly helpful, and breakfast/coffee in the morning was perfect.
Michael
2016-02-26T00:00:00Z
Room Type
Private room
---
Property Type
House
---
Accommodates
4
---
Bedrooms
San Salvatore, Liguria, Italy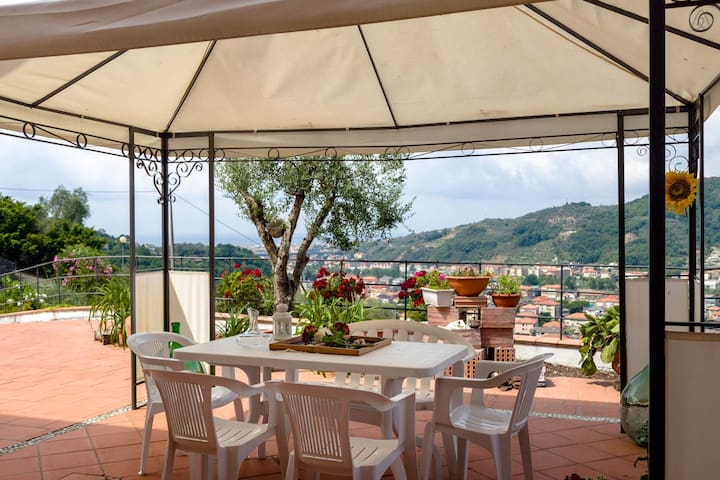 A place of dreams in the hitherto almost unknown Val Graveglia. A house looking onto an enchanted valley, southwards towards the Ligurian sea lying over the lush green, uncontaminated hills.
Here, in this natural environment, pervaded by peace and quiet, it is easy for anyone to be filled by a profound sense of freedom and renewed vigour. The farm and its spacious terraces open out onto a splendid view of the horizon: here each sunset is not only a wonder to see, but also an experience.
An oasis of peace to finally do as you please Buried in nature as it is you can find a life style going at a natural, steadier and quieter pace, still in keeping with the seasons.
The accomodationt is very beautiful. The area of the flat is a little bit far off, but very relaxing and quiet. nPaola is very warm and welcoming host, who provided us with a lot of Information about the area, beaches and Restaurants. It was a great vacation!
Anna
2015-08-02T00:00:00Z
The house is a beautiful and quiet with lovely spacious split-level terraces and overwhelming views into mountain landscape and small villages. We loved to have breakfast on the terrace in view of rolling hills and slept terrificly in the bedroom. Paola was genuinely friendly, helpful and courteous host. She accommodated our later than predicted arrival and was responsive to our requests during the stay. We had a wonderful time!
Annette
2016-08-08T00:00:00Z
Fantastic vacation. Paola is a very kind host and the location is beautiful. A peaceful place on earth. Thank you Paola.
Jerome & Naphie
2016-08-23T00:00:00Z
Nous avons passé 9 jours chez Paola. L'endroit est tout simplement magique. La maison se trouve haut dans les collines, avec une vue à couper le souffle, loin des tumultes des plages mais en même temps son emplacement permet de visiter en une journée Gênes, Portofino, Portovenere, 5 Terres et autres merveilles de la côte de Ligurie. Les plages de Lavagna se trouvent à 20-25 minutes en voiture. La maison est très propre et décorée avec beaucoup de goût. Paola est une hôte très accueillante et chaleureuse et on se sent vraiment bien chez elle.
Victoria
2016-07-19T00:00:00Z
L'appartement est au rez de chaussée de la maison de campagne de Paola, il y a juste au dessus un autre appartement en location. L'endroit est isolé et calme en pleine nature. Il faut 25 min en voiture pour atteindre le côte. Paola est très accueillante, elle nous a même dépanné le soir de notre arrivée avec de quoi nous préparer à manger! L'appartement est spacieux et joliment décoré. Les espaces extérieurs sont agréables pour prendre le petit déjeuner ou faire la sieste au soleil et la vue est magnifique. Nous recommandons vivement!!
Nathalie
2015-09-07T00:00:00Z
Sympathique accueil et bonnes explications pour les lieux à découvrir ainsi que pour se déplacer . Paolo parlant français cela facilite les échanges. Appartement tranquille mais route étroite pour s'y rendre dommage !
Annie
2016-08-16T00:00:00Z
L'appartement est agréable, la décoration est de bon gout avec des meubles chinés et repeints. L'endroit est extrêmement calme, la route est sinueuse sur quelques km, mais la vue est vraiment splendide sur les montagnes. Il faut 20 bonnes minutes en voiture pour trouver le premier commerce et la mer est à peine plus loin. Par contre, il n'y a pas 2 chambres mais bien 1 seule chambre + le canapé lit dans la pièce principale. La zone est assez centrale est permet de visiter en journée Gênes, Rapallo, Les Cinq Terre... Paola est très accueillante, parle très bien le français et nous a donné beaucoup d'informations concernant les visites à faire et les bons restaurants de la région.
Christelle
2015-08-23T00:00:00Z
Nous recommandons vivement cette maison car nous y avons passé un excellent séjour. La maison, le jardin et le cadre sont magnifiques et la vue sur la montagne à couper le souffle. Situé au calme dans les hauteurs au bout d'une route sinuant dans les montagnes, le site permet d'atteindre la côte et les plages en vingt minutes et de visiter à la journée Pise, Gène, Florence, Portofino, etc. De plus les conseils avisés et la gentillesse de Paola (qui parle français) nous ont permis de découvrir la richesse de cette région et de profiter pleinement de nos vacances.
Peggy
2015-08-15T00:00:00Z
Room Type
Entire home/apt
---
Property Type
House
---
Accommodates
3
---
Bedrooms
Terisso, Liguria, Italy
The house is part of a villa surrounded by olive trees, with a wide garden watching the sea. Relax and privacy are assured. 2 bedrooms, 2 bathrooms, big living room with open space kitchen opening into the garden and a wonderful barbecue zone. At 3KM from Chiavari historical center, Casa Gelsomino, is the perfect choice, for whom wants to relax in silence just few minutes form the beach. It is also the perfect deprature point to go to Cinque Terre by train, Portofino, Camogli and Genova. If you like trekking you can also reach in less than 1 hour trekking paths at 5900ft in Aveto Park. Also Lucca and Pisa are close venues for a daytrip. The host with strong experience in hospitality will provide you all the comforts to spend a beautiful stay in the Italian Riviera.
Greet house. Lovend the view and the overall stay!
Frederik
2015-09-05T00:00:00Z
Really great and relaxing home. The garden and it's stunning view is very suitable for children (we came with our 14 months old daughter). The moonlight reflecting on the sea at night is unforgettable. The kitchen and living room are very cosy, the sleeping rooms clean and quiet. Chiavari is perfectly located for trips to Zoagli, Cinque Terre, Sestri Levante, Camogli (a must!) and to Portofino or San Fruttuose by boat. There's also a hiking trail just around the corner (linking the 5 towers of the hillside villages). Chiavari has all the shops, bars and restaurants you'll need, though the city takes some time getting used too. Christian's father Enrico was very helpfull and friendly, providing everything to make our holiday worthwile. Price-wise this house isn't cheap, but no holiday houses in Italy are. Only remark: make sure you know how to drive up- and certainly downhill. The Ligurian hills and roads are to be taken very seriously :).
Felix
2013-09-22T00:00:00Z
Hello, we spent 1 week at Christian's place (couple & 2 kids). The place is great for a family. There is a beautiful garden with a sea view, exactly as shown on the pictures. Nice terrace to have lunch and dinner. Car is mandatory! The place is perfect to visit the area (Sestri Levante, Santa Margherita, Cinque Terre, etc). Chiavari is a very nice little town, with an authentic italian feel and less turistic than Sestri Levante. There is a fresh food market every morning until 13.00 and shopping for clothes is great as well. For the beach, I would recommend to go to Sestri Levante (Baia del Silenzio). I can only recommend Christian's place.
cecile
2014-06-05T00:00:00Z
We 've have been warmly welcomed by Christian's family,. They gave us a lot of advice to do some sightseeing in the region. Despite a weather not so good, we could enjoyed the garden, really perfect for children (we have a 15 month boy) ! The house was very convienient and spacious, the living room is very nice with a large window. The house is a perfect place for holidays, central to many places (Zoagli and its nice walkpath, Genova, Cinque Terre, Pisa and Lucca...). We wil enjoy to come back one day.
Cath
2013-05-05T00:00:00Z
Great place, wonderfull house and very helpfull owner
Emre
2016-06-07T00:00:00Z
Wir hatten wunderbare 2 Wochen in der Casa Gelsomino. Corrado war ein zuvorkommender, rücksichtsvoller und hilfbereiter Gastgeber, kleine technische Probleme wurden umgehend gelöst. Die Unterkunft ist ruhig gelegen mit einem herrlichen Blick auf Chiavari und das Meer. Zu bedenken ist nur, dass alle Wege mit dem Auto erledigt werden müssen.
Thilo
2016-07-17T00:00:00Z
Ontvangst prima. Huis voldeed deels aan de beschrijving. ligt onder aan een weg met een stijgings-dalings % van maar liefst 20 %. Affiniteit met autorijden in de bergen zeer wenselijk, geldt overigens voor de hele streek. Meubels zeer gedateerd en de getoonde buitenset was al helemaal niet aanwezig...erg jammer. Plastic is not always fantastic!. Concreet renovatie wenselijk, gaf de verhuurder ook aan. Ook de BBQ plaats was prima, maar leuk had het geweest als er een schoon rooster zou staan en een complete BBQ kit..!!
Danny
2016-06-24T00:00:00Z
Sehr schönes Haus in sehr schöner Umgebung.Die Ausstattung des Hauses ist gehoben, alles Nötige ist vorhanden. Man ist auf das Auto angewiesen und hat eine lange Anfahrt mit engen und kurvigen Straßen bis zum Haus zu nehmen. Das Umland ist touristisch sehr interessant, die Küste sehr authentisch und italienisch. Zu empfehlen, um einen entspannten Urlaub in Ligurien zu verleben. Grazie a voi, Enrico e Christian.
José
2013-08-14T00:00:00Z
Room Type
Entire home/apt
---
Property Type
House
---
Accommodates
4
---
Bedrooms
Leivi, Liguria, Italy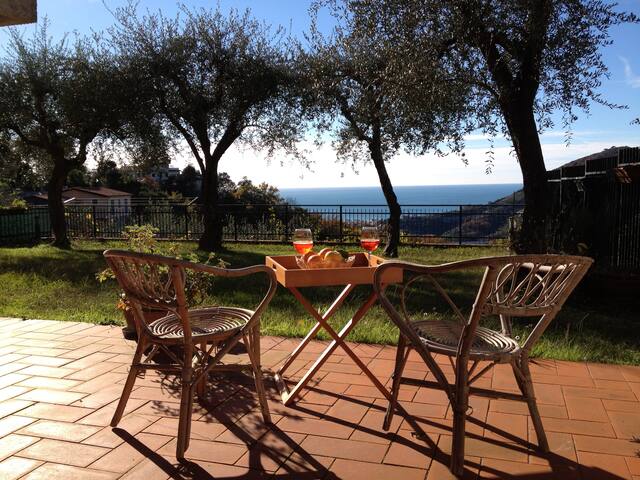 Ingresso indipendente a 1,5 km dal mare(2 bici ad uso gratuito degli ospiti) e grazie alle foto offerte da airbnb ora potete vedere come é la casa realmente.( per favore rispetto dei vicini no rumori notturni soprattutto nel cortile grazie.2
Molto fresco anche in piena estate é composto di una cucina abitabile é un salottino che diventa camera da letto in un minuto aprendo un divano letto 2 posti comodi ed abbassando un letto singolo.bagno con doccia ( boiler con15 min d'acqua calda) e finestra.L'appartamento di circa 35-40 mq é molto luminoso grazie a 3 finestre e 2 porte a vetro.Ampio cortile con tavolo ed ombrellone dove potete cenare e fare colazione( a pranzo si sta meglio in (URL HIDDEN) cortile é chiuso da un (URL HIDDEN) casa é in perfetto ordine
Posizione strategica e facile da raggiunger
The bilocale of Andrea was perfect for us, as well as the Lavagna town with its typically italian spirit. Andrea gave us some tips and was very welcoming! Grazie!
Michaela
2016-05-30T00:00:00Z
The flat was clean and well thought. The flat is very well situated to visit Cinque Terre and Genova. Andrea was very nice and very accomodating. We had a lovely stay.
Mathilde
2015-08-31T00:00:00Z
Andrea's place was just as in pictures. Everything was clean, tidy and on it's place. We've had everything that we needed to stay at his place for a week. But, there were some things that weren't the best: - the parking near the house is only available for you between 8pm - 8am, after that you shouldn't park your car on the street, and should park somewhere else (Andreas told us that the parking near the Church - around 400m from the place) - is free of charge, and it was, we've been using it, but not always there are free spaces, and the second place where he's told us that we can freely park our car was parking near the beach, which is around 1,5-2km from the place, so it's not so convenient), - although the flat was clean, there was some smell, similar to those that you can discover in churches - the dampness which smelled like a wet stones or rock, and unfortunately we've had the allergy to that smell, which made us buy some medicines for allergy, so we could normally use the space. I think that if these 2 things were different, it would be 10/10 experience for us. Andrea was a great host, always wanted to help. He's been patient when waiting for us (while we're late) and I'm sure that for most of guests it will be one of the best place to stay in Lavagna.
Piotr
2016-07-17T00:00:00Z
Andrea is a very welcoming and available host. The apartment was very clean and very functional. Everything was done to make us feel our best. We were pleasantly surprised to be greeted with a bowl of fruits and a reserve of pastas. Andrea is keen to answer questions from people he receives and makes your stay as pleasant as possible. The only downside is that the apartment is located near a busy road. The sea is about 15 minutes by feet and there is a free parking where you can easily park nearby. Andréa est un hôte très accueillant et disponible. L'appartement était très propre et est très fonctionnel. Tout est fait pour qu'on s'y sente le mieux possible. Nous avons eu l'agréable surprise d'être accueillie avec un saladier de fruits et une réserve de pâtes. Andréa est soucieux de répondre aux questions des personnes qu'il reçoit et de rendre votre séjour le plus agréable possible. Le seul bémol de l'appartement est qu'il se trouve près d'une route passante. La mer se situe à environ 15 minutes à pieds et il y a un parking gratuit où on peut facilement se garer à proximité.
Perrine
2015-08-24T00:00:00Z
A nice, small, charming place with a terrace to sit outside in the sun. It is also no problem to walk to the port or center by foot. The contact was very obliging and friendly. I'm looking forward to stay there on an other visit.
Janine
2016-05-17T00:00:00Z
We stayed in the flat for 2 days in mid-May. The flat is very small but cosy and in 20min walking distance to the centre or 25mins till Chiavari centre in the other side of the river. We couldn't really use inner yard as there were repair work going on for the house opposite the flat (2-3 meters away) and everything outside was a bit dusty. Good that we were awake early - otherwise we would have to wake up with cement mixer sound. :) And unfortunately the sofa bed was extremely uncomfortable. It's not straight (your head and legs are higher than you body) and you feel quite broken in the morning. The host barely speaks any English but was very friendly.
Parsla
2016-05-26T00:00:00Z
Andrea è stato molto disponibile e gentilissimo per l'orario del check-in. Casa perfetta come appoggio per il mare posizione comoda sia dalla uscita autostradale e 2km dal mare. Che insieme alle bici cortesemente lasciate in comodato ci vuole ben poco.
Alessandro
2016-08-29T00:00:00Z
Andrea si e rivelato un host estremamente cortese disponibile e simpatico tanto da mettere a disposizione 2 biciclette gratuitamente per muoverci piu agilmente. L'appartamento adorabile ad un passo dall'autostrada e strategico, molto carino e pulito torneremo sicuramente. Consigliatissimo
Flavia
2016-09-01T00:00:00Z
Room Type
Entire home/apt
---
Property Type
House
---
Accommodates
3
---
Bedrooms
Lavagna, Liguria, Italy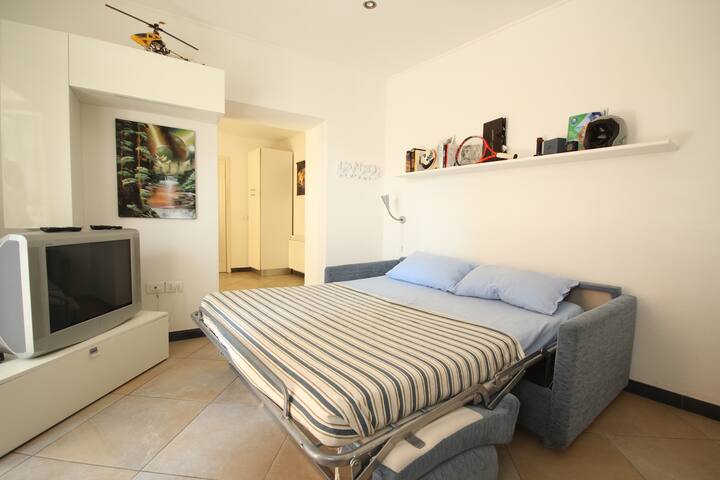 Elegant private room with en suite bathroom and splendid views of the Ligurian countryside and mountains. Strategically positioned to easily reach the gems of the Tigullian Gulf such as Portofino, Santa Margherita Ligure, Sestri Levante, Genova and The Cinque Terre. Also situated a 5 minute walk away from one of the most well-known restaurants of the area. The room is equipped with a small fridge, a microwave and a kettle.
Rustic, elegant and cosy independent bedroom with en suite bathroom. Looking out on beautiful panoramic views of the Ligurian countryside and mountains. You'll love the room and peaceful location for its warm intimacy, amazing scenery and strategic position: 10 minutes by car from Chiavari town, beaches, train and bus station and 1 hour from the mountains which offer, at Santo Stefano D'Aveto, well equipped ski slopes in Winter and breathtaking walks in Summer. It is also 5 minutes' walk from one of the most renowned restaurants in the area! The room is suitable for couples, lone adventurers and furry friends and is open all­year­round. It is strategically located a stone's throw from the beaches of Chiavari and the Liguria Riviera. It allows guests to easily reach the beauties of the Tigullio Gulf, such as Portofino, Santa Marghertita Ligure, Sestri Levante, Genoa and the Cinque Terre. The location allows guests to choose from a diverse range of activities to satisfy all tastes: relaxing in the pretty towns of the Tigullio Gulf; food tasting; cultural visits; days at the beach, snorkelling; shopping; walking and hiking; horse riding lessons; hang gliding; canoe and boat excursions; and much more ...
The house is immersed in nature and guarantees a peaceful stay.
The Villa Primula is a marvelous place in the middle of the wood ;) ! We really enjoyed to stay in this house! Thank you Alfonso, Amanda and Marco for your warm welcome and your kindness. Your valuable tips were perfect. We highly recommend ++++
Marie
2016-08-21T00:00:00Z
A perfect hideaway in the hills above Chiavari and a great location for visiting Rapallo, Portofino and the Cinque Terre. Alfonso and Amanda were friendly and helpful hosts with lots of local knowledge and tips.
Elizabeth
2016-08-24T00:00:00Z
Amazing room on the hills of rapallo! 10 min to be on the beach, a nice bar close to the house and a delicious resturant 5 min from from the house! We will be back to enjoy liguria again. Thx!
Andrea
2016-08-23T00:00:00Z
Incredible beautiful place and very hospitable people.
Eugénie
2016-09-09T00:00:00Z
Bon accueil, logement propre avec petite terrasse au calme. Logement situé un peu loin de Portofino pour ceux qui veulent y aller. Alfonso a été un hôte sympathique et à l'écoute. Je recommande!
Hadrien
2016-08-27T00:00:00Z
Alfonso et sa compagne Amanda sont des hotes exceptionnels. Extremement gentils et accueillants nous nous sommes vite sentis comme chez nous. L'endroit est calme avec un joli panorama sur la montagne. Ideal pour se reposer. Nous avons egalement ete tres bien conseilles pour le restaurant. Nous gardons un tres bon souvenir de notre passage a Leivi. Je recommande sans hesiter ce Air B&B. Merci Laura et Pierrick
Laura
2016-10-01T00:00:00Z
Accueil sympathique et agréable. La chambre est très confortable et préserve l'intimité de tous grâce à un espace totalement privatif avec une super terrasse. Les oiseaux chantent merveilleusement bien.
Eric
2016-09-11T00:00:00Z
Alfonso et Amanda nous ont très bien accueillis Le logement est conforme aux photos donc pas de mauvaise surprise Propreté impeccable, le calme, la vue magnifique, la proximité des lieux touristiques ( les cinq terres et Portofino ) ainsi que Chiavari ( à 6km) font de ce logement un point de chute très intéressant. Nos hôtes nous ont bien renseignés sur les possibilités de randonnées Nous avons aussi bien apprécié leur discrétion
Jean Claude
2016-09-24T00:00:00Z
Room Type
Private room
---
Property Type
House
---
Accommodates
2
---
Bedrooms
Leivi, Liguria, Italy
WIFI presente. We can offer you INTERNET KEY Per bimbi piccoli: lettino e rialza sedia Giochi e Libri per adulti e bimbi
NEW apartment, furnished and equipped to craft chiavarese EVERYTHING you need for a relaxing holiday: television with satellite TV, washing machine, microwave oven, refrigerator, freezer, bun warmer, food processor, iron and ironing board, hairdryer, sets of dishes and glasses, cutlery, pots, kitchen linens, as well as sponges and various detergents. Requested in advance (with modest contribution) you can have linen, towels and beach towels from home. Upon your arrival you will find a "sweet surprise of Welcome" ... to satisfy your breakfast. It's important to remember that is suitable for a family of 4 PEOPLE MAX, because the available beds are a bed and a sofa bed in the area "open space", as you can see from the photos on the site. The shower room and beautiful kitchen, large and bright, are separated from the open. It is located in the residential and elegant of "Rocks", surrounded by greenery, readily accessible to strollers and convenient to all services, a 7-minute walk from the charming old town and, above 100 meters from the beaches, free or private. Nearby there are shops of all kinds. The entrance to the cottage is independent with attached a nice green space with table and chairs. Throughout the district there are municipal parking lots, no fee, the bus stop is just a few meters from the house and the train station is 10-minute walk. In Casetta is absolutely NO SMOKING and, unfortunately, for various reasons, can not be absolutely accommodate animals. Our philosophy is to satisfy Our Guests: make them feel at "home", but above all we want the holiday to remain engraved in the heart as a happy memory, giving reason to return and, maybe, "spread the word" ...
Residential area, elegant, quiet a few steps from the sea ...
Margherita's place was lovely, with a quiet patio perfect to enjoy breakfast. Location is very convenient - close to the beach and a short walk to the city center. There is a small grocery store nearby. Margherita and her husband were very available . L'appartamento di Margherita é molto carino, con un bel giardino tranquillo perfetto per fare colazione. L'ubicazione é molto conveniente - vicina alla spiaggia e si può raggiungere il centro con una breve camminata. C'é un mini Market a due passi. Margherita e suo marito sono molto disponibili.
Cristina
2016-09-11T00:00:00Z
Margherita was very friendly, pleasant and nice. She does whatever has to be done to make the stay wonderful. Even we have meet us, we trusted each other. The house was very clean and perfect for me and my wife. We would not hesitate to book again for the next time we drive to Chiavari.
Roland
2016-09-04T00:00:00Z
Poor quality/price relation - uncomfortable beds, dark bedroom at the basement level, 'garden' totally visible to neighbours and - what is worst - horrible noise from a workshop located next to the appartment - starting at 8 am each morning! Good points: overall cleaniness; kitchen equipment; new bathroom.
Anna
2016-06-25T00:00:00Z
Margherita è un Host molto disponibile, che ha cercato di facilitare il nostro arrivo tenendoci persino il posto auto! La casa rispecchia esattamente la descrizione dell'annuncio e l'abbiamo trovata molto pulita. Ottima posizione ad un paio di minuti dal mare, abbiamo molto apprezzato lo spazio esterno con tavolo. Negozi a meno di un minuto di distanza, molto comodi. Margherita è stata molto disponibile durante tutto il soggiorno.
Gabriella
2016-08-27T00:00:00Z
La casa di Margherita é come da descrizione: a due passi dal mare, attrezzata di tutto, pulita, luminosa e con un bello spazio all'aperto dove poter mangiare. Margherita é stata una host impeccabile, sempre disponibile e facendoci davvero sentire come se fossimo a casa, anche con gentilezze che non le erano richieste. Consigliatissima la casa, consigliatissima Margherita. Grazie per il piacevole soggiorno!
Emily
2015-06-30T00:00:00Z
Margherita und ihr Mann sind sehr freundliche und zuvorkommende Gastgeber. Sie waren sehr flexibel im check-in und check-out, immer ansprechbar und hilfsbereit. Die Wohnung war sehr sauber und mit allem ausgestattet was man braucht. In dem kleinen Garten konnte man gemütlich essen. Praktisch war, dass man sich die Sachen durch das Küchenfenster reichen konnte. Die Küche ist ebenfalls großzügig. Handtücher hatte man mehr als genug. Um die Ecke ist überall kostenloses Parken. Läden gibt es ebenfalls um die Ecke. In ca. 5 Minuten zu Fuß erreicht man einen hübschen und sauberen Kiesstrand mit sehr klarem Wasser. Aufgrund der steinernen Wellenbrecher-Abgrenzung kann man sehr gut schwimmen und man wird nicht hinaus getrieben. Das Stadtzentrum und der kleine Bahnhof sind ebenfalls in wenigen Minuten fußläufig erreichbar. Chiavari ist eine gemütliche kleine Stadt mit hübscher Fußgängerzone. Grazie a' Margherita e suo marito!
Carolina
2015-10-01T00:00:00Z
Gentilissimi ed ospitali, l'appartamento molto accogliente e pulito, tutto perfetto. Da tornarci assolutamente!
marco
2016-07-11T00:00:00Z
Accoglienza super. Siamo stati molto bene, la casa offre tutto l occorrente per passare uno splendido we di relax e margherita e suo marito sono gentilissimi.
Nina
2014-06-23T00:00:00Z
Room Type
Entire home/apt
---
Property Type
House
---
Accommodates
4
---
Bedrooms
Chiavari, Liguria, Italy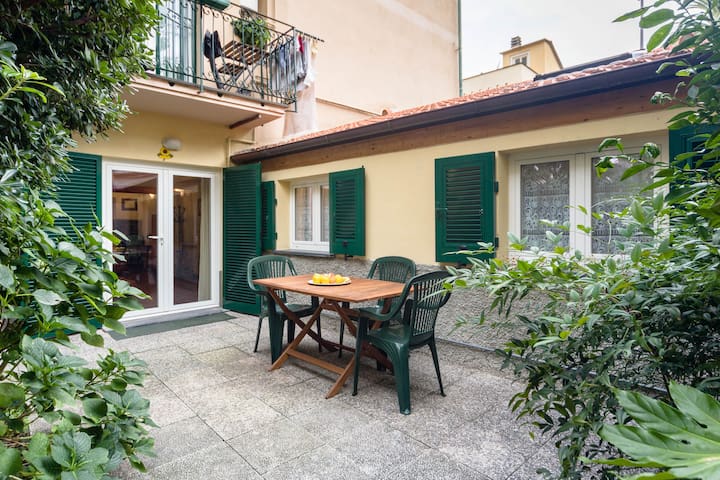 "La Casetta" is a charming house villa in the Italian Riviera (Liguria) with stunning seaview and ligurian terrace gardens with olive, lemon and grapefruit trees. Sleeps comfortably 6 people.
At street level there is a private parking garage for a small vehicle like Polo from Volkswagen. In front of it there is an outdoor private parking space for a medium size car. 14 steps will take you up to the first level of the house, there you have a large living room/dining room with a full size sofa-bed, a fireplace, a full kitchen with table and a bathroom with shower. At that same level there are two exterior tiled terraces where you can dine and enjoy the beautiful view. On the top floor of the house there are two large bedrooms, one with a king size bed and one with a king size sofa-bed and a full bathroom with bathtub. Both bedrooms have spectacular water views. The two air conditioning units are located on the top floor in each bedroom. The tiled terraces as well the top gardens are ideal for relaxing after the beach and dining al fresco: they are equipped with wooden tables, benches, hammock, deckchairs and a barbeque area. Owners live in the area and will come occasionally to take care of property, water plants and gardens, they will notify guests ahead of time. The position of the house is ideal for hiking tours to Portofino Natural Park, Cinque Terre ( about 45 minutes by train ) or other daily excursions along the Ligurian Riviera. Tourist and hiking maps are available for guests. In addition we will provide a list of local restaurants that offer typical ligurian recipes. The house is a few minutes drive from the train station (1,5 km) and from Zoagli (2km), a picturesque village with a spectacular promenade along the coastline with views from the Portofino Promontory to Sestri Levante Promontory. From the promenade you can also observe the rich marine environment. "La Casetta" is about 15/20 minutes brisk walk downhill from Zoagli. It can be easily reached from Genoa Cristoforo Colombo Airport (km. 35 away), from the Pisa Galileo Galilei airport (km 113 ) Milano Linate (km. 125 ) or Milano Malpensa Airport ( km 150). The closest public beach is a pebble beach in Zoagli. Sandy beaches can be found along the coast from Chiavari (5 Km away) to Sestri Levante, (15km. away). More beaches are further east towards Cinque Terre (approx. 30 km) A car will be needed during the stay. There are several steps to access the main level of the house and additional steps to reach the garden terraces above. Owner is fluent in English and French and Italian. A longer stay may be available depending on availability, please contact owner if interested.
A 3 minuti di auto a Zoagli e 5 a Rapallo o Chiavari La "Casetta" è ben situata per ben usufruire di tutte le attrattive e bellezze del Golfo del Tigullio nella Riviera ligure di Levante.
The host canceled this reservation 61 days before arrival. This is an automated posting.
Cristina
2017-03-26T00:00:00Z
Alessandra is a very nice person. She awaited us in the house and when we arrived she welcomed us warmly and showed us around. There was a welcome bottle of wine in the fridge and some basic products for the next day breakfast. Alessandra advised us of the best restaurants, places to visit and all the practicalities and told us the history of the house, which belonged to her father. The house is cosy, with nice old furniture, pictures and books, but the best thing about it is the magnificent view. Especially from the olive terraces above it. We liked to spend our afternoons sitting in the deck chairs in the shade of the old olive trees, sipping wine and watching the sailboats. The only inconvenience is the distance from the seaside. We had to walk for about 20 minutes or drive. But then the landscape compensates for this.
Rafal
2016-08-09T00:00:00Z
Alessandra is the best! So kind and her home is wonderful!
James
2015-08-14T00:00:00Z
We have had a beautiful time at Alessandras place! Everything was exactly as the description said it. The house and the garden are gorgeous and Alessandra is one of the best organised hosts I have ever met! I can highly recommend her place and would come back any time!
sophie
2016-08-22T00:00:00Z
Our experience in Alessandra's home was wonderful. My son actually said "I want to live here forever". Alessandra was very helpful and made my family feel at home.
Joe
2015-08-24T00:00:00Z
Un panorama indimenticabile, soggiornare qui è stato un piacere, la terrazza e il giardino sono il vero plus di questa casa. Lo consiglio a chi ha davvero voglia di immergersi nel territorio a 360°, la casa è in una posizione strategica ma bisogna prendere in considerazione l'idea di spostarsi con macchina/treno/battello per raggiungere varie mete e spiagge. Alessandra è gentilissima e ci ha dato tanti consigli su come muoverci, cosa fare e dove andare. Apprezzatissimo!
Michela
2016-08-14T00:00:00Z
Ospite squisito, Alessandra ci ha accolto benissimo ed e' venuta prontamente incontro a una richiesta di cambiamento programma. L'abitazione e' fedele alla descrizione e siamo rimasti molto ben impressionati dalla zona del Tigullio che e' bellissima
Paola
2016-02-02T00:00:00Z
La 'Casetta' è il posto perfetto per rilassarsi e godersi un'ottima vista sul mare. È curata e non manca proprio nulla. Alessandra è molto gentile, disponibile e attenta ad ogni esigenza dei suoi ospiti. Torneremo sicuramente molto presto!
Sara
2016-06-06T00:00:00Z
Room Type
Entire home/apt
---
Property Type
House
---
Accommodates
6
---
Bedrooms
Zoagli, Liguria, Italy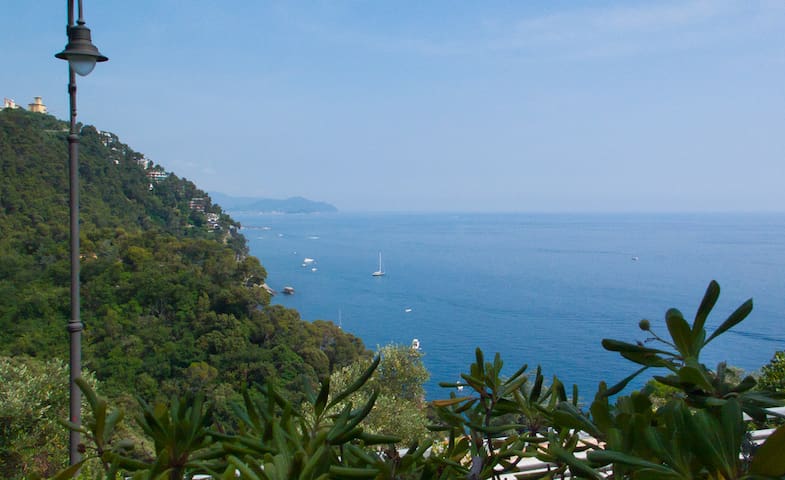 Cozy maisonette apartment, with an incredible view of Portofino, a private small garden and a car park, just a few minutes walk to the train station, Zoagli center and its beach.
Cozy maisonette apartment, with independent access and an incredible view of the Gulf of Tigullio and Portofino. The guests will have access to the entire apartment and its little garden. It is ideal for couples looking for privacy or families and friends in search of a unique coastal vacation. The apartment has: - A living room furnished with good care, - An equipped kitchen, - 3 bedrooms, the first one with a king size bed, the second one a single bed, and the third a bunk bed for two with the possibility to place an additional bed. - 2 bathrooms, both with shower. - Private small garden - Private parking space for a sigle car Facing the south, the rooms of our apartment are always bright and the small garden is equipped with a slate table where the hosts can enjoy lovely meals. The beach and Zoagli's town center is just five minutes walk downhill, through the Antica Romana street. The apartment is also a strategic and convinient solution near the more famous and picturesque villages of Portofino (30min by car) and Cinque Terre (1h by car).
Matilde and her sister gave us a wonderful welcome. They clearly explained everything about the apartment. Everything was far better than we expected. They made restaurant recommendations and places to visit. The apartment is adorable, tidy and has a breathtaking view. The garden is beautiful and scented with loads of blooming jasmine. The location is superb. It is within walking distance to the beach and town! We will definitely return again and again!!!! Thank you Matilde!!!!
Maureen
2016-06-13T00:00:00Z
Matilde and Ludovica are perfect hosts! They did everything to make us feel welcomed in the flat. The flat is not too big but it was perfect for our needs. We loved the privacy and the small garden with the view over the bay. The house seemed most of the time empty. But if there are neighbors around it can be a bit noisy because of the thin walls. Unfortunately at this time of year (November) most places like restaurants are closed. But it's only a few minutes drive to Rapallo or Chiavari where life is going on in the wintertime. There is a train station nearby but we would recommend to bring your own car to be mobile. We will definitely come back and looking forward to!
Michael
2016-11-04T00:00:00Z
The apartment is very spacious and confortable, and fully equipped. The view therefrom is grgeous. We were welcomed by Matilde's mother who came from Genova and gave us full and accurate explanations regarding everything that might be needed. There is a dinig area that is very comfortable. The neighbourhood is nice and silent and the location is excellent. We enjoyed our 4 nights stay very much!
Ron
2016-04-20T00:00:00Z
Matilde gave us useful hints before our arrival and her mother welcomed us very warmhearted. The apartment has a charming little private garden, which we liked a lot and it is well located to reach the train station. The space itself would deserve some modernization (kitchen equipment, etc.) and be prepared a little bit more for off season temperatures. All in all we enjoyed our stay and I recommend Matilde's apartment.
Andras
2016-03-29T00:00:00Z
We got very warm welcome from them,even we was lated at check-in time,they was so kind and friendly!
SOMTHIDA
2016-04-08T00:00:00Z
Beautiful apartment, great location and wonderful owners! We had a stressful journey there (broken down car!) but they were very helpful and kind. A great location.
Naomi
2015-09-28T00:00:00Z
Great Accommodation! Nice location / view! Clean! Perfect!
Aneta
2016-05-10T00:00:00Z
Estuvimos 3 semanas y fué una exoeriencia encantadora. Zoagli es un punto estratégico para conocer todos los lugares de la costa de la Liguria. Desde Porto Fino a Cinque Terre. La casa es muy bonita, bién decorada y está en excelentes condiciones. Todo muy limpio y bién cuidado. Tiene un patio encantador, con linda vista al mar y mesa para cenar afuera, como era verano y hacía calor, pasamos mucho tiempo en el patio. Tiene un estacionamiento privado, lo cual es muy útil porque es muy difícil encontrar estacionamiento en la zona. Matilde y Ludovica, su madre fueron excelentes anfitrionas, muy preocupadas de todo y muy simpáticas. Tuvimos un problema con internet y Matilde acudió rápido y lo solucionó. Volvería de todas maneras. Gracias por todo.
Marcia
2016-07-20T00:00:00Z
Room Type
Entire home/apt
---
Property Type
House
---
Accommodates
6
---
Bedrooms
Zoagli, Liguria, Italy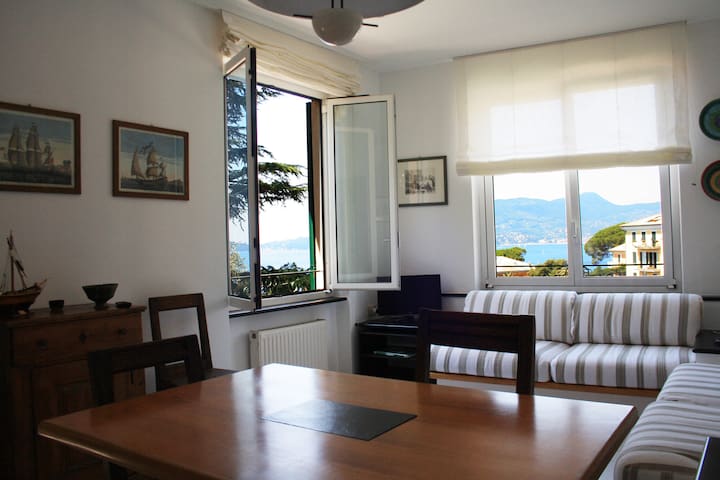 Country house with garden in Leivi (Villaoneto district) in a calm atmosphere. It has 2 rooms, 4 beds and a sofa bed, a bathroom, an open space with kitchen, sofa and a international TV. The terrace offers a view towards the coast (15 min far away). NEW! From spring 2017 it would be available Wifi connexion
Casetta di campagna a Leivi (frazione Villaoneto) immersa nel verde e nella pace. Si compone di 2 stanze, un bagno al primo piano e un open space con angolo cottura al piano terra. Terrazza vista mare con sdraio.
Villaoneto is a suburb of Leivi where it is possible to get relaxed in the nature after a day at the beach or a promenade.
The apartment is the old family house in the middle of the hills surrounded by a lovely garden and wine yard. The most quite, relaxed and solitary place with the most amazing few you could wish for. One needs an own car to reach it and the drive on the narrow is streets is an experience by itself. Shops, very good restaurants, beaches and things to visit are very well reachable by car. If one likes a place where no other people are in the way then this is the perfect retreat!
Benjamin
2016-09-11T00:00:00Z
Matteo's place was incredible, we've spent there nearly a week and didn't want to leave. The area where we stayed was nice and the places around as well :-) Everything was just perfect. Thanks a lot :-)
Marta
2016-09-19T00:00:00Z
Matteo was very kind and flexible. He picked me up at the train station, explained me the busses etc. Then he drive us up to Villa Oneto with his car, so we didn't need to take the bus. The House is very clean, confortable and got everything you need. It is very Quiet up there and all 4 nights we slept wonderful. One day we hiked over the hill to Zoagli for a swim, theres a nice little path, it takes you 1 and a half hour and the sea in Zoagli was very clean. And there plenty of maps and information brochures around and matteo even printed us a hiking map out. In Lavagna (5min by train vom Chiavari) you can rent 125 ccm Moto-Scooter for two people, for 50.- a day. It's at Falcone-motos, just next to the train station of Lavagna. I can highly recommend the place of Matteo.
Niklaus
2016-07-06T00:00:00Z
We spent here 6 beautiful days during our honeymoon. The house is so tiny, comfortable and has an excellent view to the mountains,valleies and a see. Well equipped house with spacious living room and kitchen. There is a nice terrace to have dinner with view. Mattheo the owner is fast, kind and friendly there was easy to move in and out. Good for couples or families but worth to come by car or moto because is on the hill.
Koltai
2016-07-02T00:00:00Z
Grande maison de famille chargée d'histoire, cette maison est fort pratique, spacieuse et bien équipée. La maman de Matteo nous a bien accueilli, et nous sommes resté en contact avec Matteo pour les conseils touristiques (même si de nombreuses documentations sont disponibles dans la location). Fin octobre, la météo ne nous a malheureusement pas permis de profiter des extérieurs. Chiavari est extrêmement bien située entre les 5 terres, Portofino, ou même Gênes. Comme dans de nombreuses villes Italiennes, le clocher sonne les heures, même la nuit, il ne faut donc pas avoir le sommeil trop léger. La route d'accès est sinueuse, mais le point de vue vaut le détour. Je recommande cette location.
philippe
2016-10-28T00:00:00Z
Room Type
Entire home/apt
---
Property Type
House
---
Accommodates
6
---
Bedrooms
Leivi, Liguria, Italy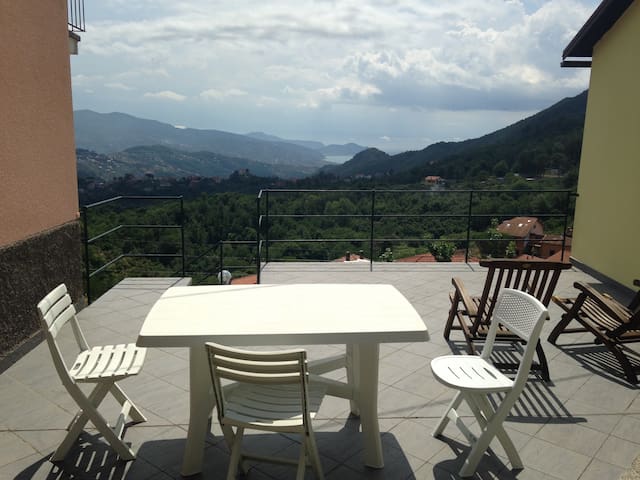 Viletta in tipico stile Ligure sulla tranquilla collina di Sant'Ambrgio di Zoagli (a 5 min. da Rapallo / 10 min. da Portofino) dotata di ampio giardino immerso nel verde con vista mare sul bellissimo golfo di Portofino.
The host canceled this reservation 13 days before arrival. This is an automated posting.
Johannes Mario
2016-09-07T00:00:00Z
La maison était top! Elle est en hauteur avec une superbe vue sur la mer. Belle petite terrasse pour manger dehors. Dans la maison, attention quand même aux marches de l'escalier pour la mezzanine : bois assez fragile, on a cassé une marche! Pietro était présent pour nous accueillir et nous a gentiment fait un petit tour de Rapallo et Zoagli en voiture en nous indiquant les choses à voir!
didier
2015-08-02T00:00:00Z
Unser Urlaub in Zoagli Ezra Pound No 10 war wunderbar. Das Haus ist traumhaft gelegen und die Aussicht auf den Golf von Portofino ist phänomenal. Dafür nimmt man gerne den serpentinenreichen Anstieg in Kauf. Wir haben es genossen die verschiedenen Plätze im Garten zu belegen. Our holidays in Zoagli Ezra Pound No 10 was wonderful. The house is fantastically located and the view of the gulf of Portofino is phenomenal. But one likes to take the serpentine rich increase in buying. We enjoyed the different places to occupy in the garden.
Jan F.
2016-05-28T00:00:00Z
Room Type
Entire home/apt
---
Property Type
House
---
Accommodates
6
---
Bedrooms
Zoagli, Liguria, Italy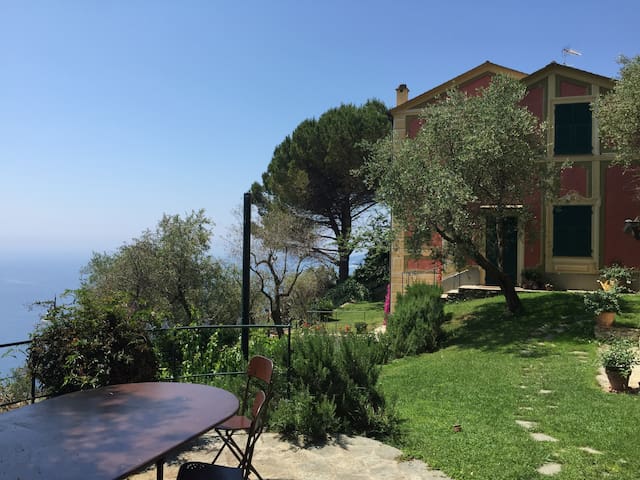 Camera con bagno in una casa rurale immersa nel verde a 6 chilometri dal Mar Tirreno (10 min in auto o 15 min col bus), fra Portofino e le Cinque Terre. Piccola prima colazione inclusa. La domenica solo 4 bus ci collegano in 20 minuti a Chiavari stazione ma sono a disposizione con la mia auto.
I can reccomended it. They are all very friendly and the apartment is lovely.
Anette
2016-08-20T00:00:00Z
Nice place. Amazing view. Riccardo was very nice and helpfull. Great place to go to rest and enjoy the nature.
JuanJo
2016-06-29T00:00:00Z
Riccardo è una persona davvero piacevole e disponibile, le fotografie erano chiare e siamo arrivate senza problemi al suo b&b. Il panorama molto bello e situato in un posto strategico. Ci sono delle cose che vanno sicuramente migliorate e cambiate. Grazie mille per la disponibilità e simpatia!
Susanna
2016-08-01T00:00:00Z
Riccardo byl velmi pohostinný a milý. Dům je asi 20 min autem od moře v klidném prostředí a s krásným výhledem, což jsme ocenili. Pokoj byl čistý a příjemný.
Katerina
2016-07-22T00:00:00Z
Riccardo è stato molto gentile e disponibile, la sua casa è molto bella, si raggiunge il mare in 10 minuti e soprattutto molto pulita la stanza e i servizi. Soggiorno breve, ma piacevole!
Amalia
2016-08-08T00:00:00Z
Très bon accueil, toujours à disposition et de bon conseil.
Morgan
2016-07-17T00:00:00Z
Un soggiorno tranquillo in un'atmosfera rurale e magica.
Daniele
2016-06-20T00:00:00Z
все понравилось, рады очень тому, что не ошиблись с выбором. all is super/ we was glad for stay with Ricardo
Aisha
2016-08-07T00:00:00Z
Room Type
Private room
---
Property Type
House
---
Accommodates
3
---
Bedrooms
Camposasco, Liguria, Italy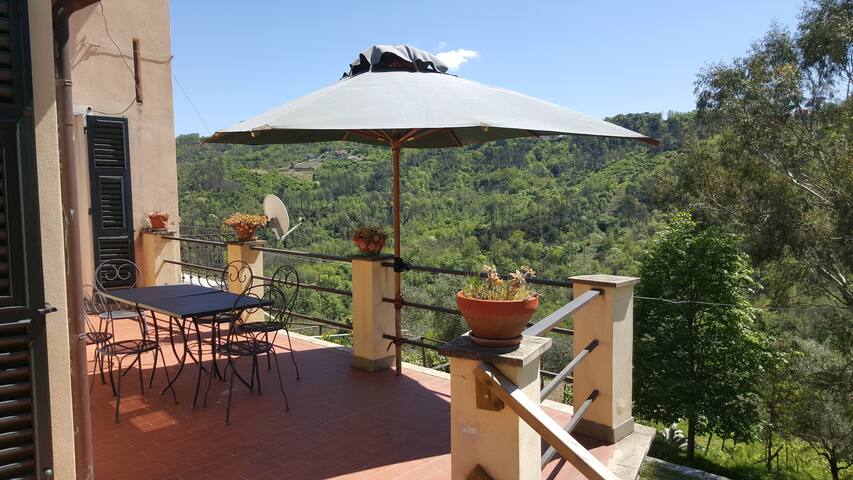 La "Casa del Minatore" si trova vicino alle vecchie cave di ardesia di Orero alle spalle di Lavagna sulla costa della riviera ligure, vicina alle Cinque Terre e Portofino. Disposta su tre piani, al primo piano con entrata dal giardino, il soggiorno con la cucina, al piano terra una camera singola con wc e doccia, al terzo piano mansardato la camera matrimoniale, wc. All'esterno un piacevole pergolato dove poter pranzare con forno a legna e una zona verde per il relax.
Casa di campagna costruita in pietra ristrutturata recentemente.
Piccolo villaggio nel verde con silenzio e tranquillità
Nous avons été très bien accueillis par Alessandro et sa charmante famille. Le logement est plongé dans la luxuriante végétation de la campagne, au calme, à l'écart de la cohue de la côte bien qu'étant à portée de voitures des plages et des lieux à visiter. Il faut bien être conscient qu'une voiture est indispensable donc. L'équipement de la cuisine est sommaire, mais toutefois suffisant.
Yacine
2016-07-30T00:00:00Z
Room Type
Entire home/apt
---
Property Type
House
---
Accommodates
6
---
Bedrooms
Orero, Liguria, Italy
1

–

18

of

137 Home Rentals
Enter dates to see full pricing. Additional fees apply. Taxes may be added.