Cucina super attrezzata, angolo Book Crossing, wi-fi gratuito, prodotti di benvenuto , luminosa , accogliente e vicinissima alla fermata della metro Re di Roma . A pochi passi dalle Basilica di San Giovanni in Laterano e dalle vie delle shopping...
Appartamento accogliente e luminoso, al terzo piano con ascensore, con portiere e cortile interno. Ideale per la tua vacanza romana o per il tuo viaggio di lavoro. Composto da una cucina super attrezzata , salone con divano che si trasforma in comodo letto matrimoniale, scrivania con pc e wi-fi gratuito , angolo bookcrossing, stanza da letto matrimoniale e bagno con doccia. A due passi dalla fermata della metropolitana Re di Roma e a dieci minuti a piedi dalla bellissima Basilica di San Giovanni in Laterano , a 4 fermate di metro dalla Stazione Termini. Ottimi prodotti di benvenuto.
A pochi passi dalla Basilica di San Giovanni Laterano . Nel quartiere potrai trovare : bar, ristoranti, pizzerie, supermercati, parrucchieri, farmacie, negozi per il tuo shopping e tutte le mattine un caratteristico mercato rionale.
As other reviewers have stated, apartment looks just as good as in photos. Such a great place! Don't let the graffiti in the neighborhood outside worry you, we felt very safe in that neighborhood and especially in the apartment. It's a little outside of central Rome which can be inconvenient if you aren't using public transport. But with a metro pass we could get around very quickly! Comfortable bed, plenty of towels, and a washing machine! Francesca was very helpful with recommendations and check in was a breeze.
Jamie
2017-03-07T00:00:00Z
We have a great firt Airbnb expérience thanks to Francesca. The flat was great with good location.I appreciated Francesca availability and advices regarding good restaurants. I Will book It again.
Rokhaya
2016-11-24T00:00:00Z
The apartment is exactly as described. Francesca's attention to detail is fantastic. It is in a great location and we walked to the Colloseum in around 20mins. There are lots of shops and restaurants nearby. We would definitely book again if back in Rome.
L Esley
2017-04-05T00:00:00Z
A very nice space in a great neighborhood. Comfortable with plenty of room! Also in a great location to go see all of the sights.
Joe
2016-10-13T00:00:00Z
Francesca was very welcoming and was always quick to respond to any questions. Her apartment was the perfect size for 4 people and it looks exactly as you see in the pictures. The bus stop is right around the corner and there's a grocery store a couple blocks away. This was a comfortable and convenient location and my number one pick on our European vacation.
Jessica
2016-09-29T00:00:00Z
The apartment was great! Located in a nice neighbourhood and about a 5 minute walk to the tube station. It was breezy and roomy and clean! Was fantastic to see a nice bottle of wine and extras for us! Francesca was awesome she text us a day before our arrival to help arrange a private car to pick us up straight from the airport and had someone meet us to show us to the apartment and talk us through a map and tour suggestions! Francesca also helped us arrange a private car back to the airport it was so easy and a great help!
Ben
2016-09-23T00:00:00Z
we had a great time in rome! the appartement was excellent, location is great (metro 5min). francesca provided more than we expected, like coffee, pasta, jam, bread and fruits :-) thank you very much!
Harald
2016-11-04T00:00:00Z
Francesca's place was great. Nicoletta was there to met us on time and even helped us out when we had issues working the washing machine. The apartment itself is great, spacious and clean. Close to both Re di Roma and Lodi metro stations, great location and nice a quiet.
Amanda
2016-10-21T00:00:00Z
Room Type
Entire home/apt
---
Property Type
House
---
Accommodates
4
---
Bedrooms
Roma, Lazio, Italy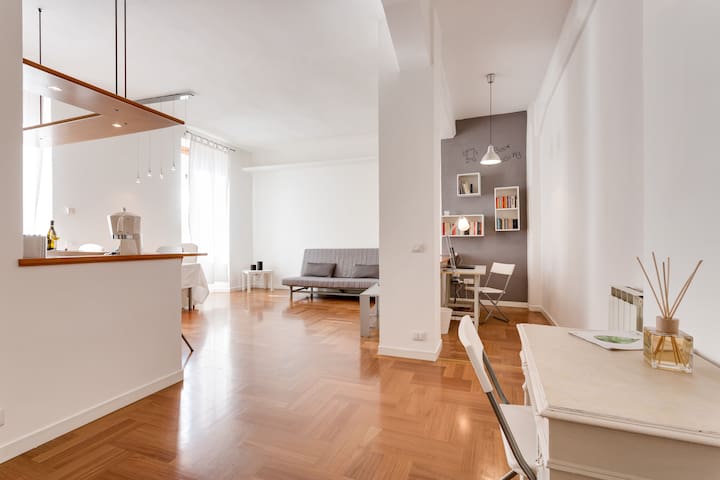 Holiday home " the Place" in the heart of Rome , the " place " where you get to share ideal to discover one of the most magical cities in the world. Cozy, warm and well-connected . Choose your " place " !
The structure of the apartment "The Place" , on two floors, is welcoming and refined , full of living spaces and fill. A living room with a kitchenette and loft cleverly devised fill the first floor of The Place . Going down a small wooden staircase leads to the lower floor , which opens onto a spacious master bedroom , with large closet and TV . Next to the bathroom sanitaryware and shower.
The Place is in San Giovanni ( near the Basilica ) , central district . On foot you can easily reach the Colosseum, the Circus Maximus and the Baths of Caracalla . The area is served by shops, bars , restaurants , laundries and pharmacies. A few steps away are the beautiful municipal parks (Villa and Celimontana and Villa Scipioni ) .
A very fantastic experience, it is very suitable for young people!
Jingyi
2015-04-30T00:00:00Z
Staying atThe Place was a great choice. The Place (capital P, with good reason) is a cozy and cool apartment, conveniently positioned to get into town. It is clean and has everything you need, even some back-up food and sweets (which we gratefully ate, sorry ;) Communication was terrific; efficient, quick, kind. Just be aware of some additional costs, like cleaning fee and city tax (mandatory everywhere in Rome), which are minimal, and definitely worth paying, considering what you get. Stay at The Place. Really, you won't regret it. I recommend it 100%
Arno
2014-09-01T00:00:00Z
Valerio and Anastasia were great hosts. They allowed us a late check-in (around 9 pm) with no problem, and we were delayed about a half hour and they waited up. Thank you! The place is compact but functional—perfect for two people. We loved the decor, and the location. It's about a 15 minute walk to Colosseum. Easy access to subway. Grocery store nearby. Best gelato only two blocks down via Gallia toward San Giovanni!
Erin
2014-09-16T00:00:00Z
Super cute place.. Decorations were cute and funny! They had a good collection of quirky posters help Americans feel at home. Place was spacious and clean. The hosts welcomed us with wine and fresh water. They had a cork board with business cards and menus for restaurants they recommended and a map to help us get around. The wifi worked better than the holiday Inn we had stayed at for a few days before. The bathroom had complimentary travel size shampoos and all the necessary items. The only thing I would suggest is having the front door fixed. Our host mentioned that we had to pull up on it to get it to open and it seemed easy enough at first but upon arriving back after the first day in the city we could not get it to open and it was a bit frustrating after a long day. We tried for about ten minutes and then texted them to help us. The host was quick to respond and was on her way to help but luckily a neighbor knew of the problem and helped us after seeing us struggle. He said a lot of guests struggle with the door. He opened it rather quickly and showed us a trick to make it work. The next day we got it to work on our own. Other than that.. cute place and we enjoyed our stay
Felicia
2017-03-18T00:00:00Z
We had a great time in the place!! You can tell it's not only a business but the host V&A treat every guest as their friends. They are Extremely helpful too!! ( they text us to check back see whether we need any help, and Valerio came to the place to assist in just a blink! That was really impressive! The place looked the same as shown in the pictures! Fully equipped kitchen, toilets! Beautiful decoration! I love it so much! I feel like it was our honour and our luck to have a chance to stay there! Thanks V&A
Christal
2015-07-14T00:00:00Z
We had a great time at The Place. The colloseum is within walking distance (15 min) and the private parking is great. We liked the interior and feeling of The Place, a perfect place to stay during a trip to Rome. Valerio is a great host and is ver helpfull. Definetly recomend this place!
Kirsten
2016-09-23T00:00:00Z
The apartment is a very cool space, I really enjoyed my time there, and it is very easy walking distance to attractions and transportation. Valerio was very welcoming and available for any need. I definitely recommend this place to stay while in Rome :)
Nicole
2015-10-26T00:00:00Z
This is a great cozy apartment walking distance to the center. Great design as well. Good choice to stay. Valerio was cool to wait for us at 11 pm.
Vitaly
2015-05-19T00:00:00Z
Room Type
Entire home/apt
---
Property Type
House
---
Accommodates
3
---
Bedrooms
Rome, Lazio, Italy
The room features a hardwood floor. There's also a mezzanine with a wardrobe you can partially use. Toilet with shower also in the room. No time limits to return back home, since you'll find me awake even in the late night.
It is an amazing house, whose location is near the metro station, and only 10 min walk to the Colosseum. Manuela is a nice host, providing us with everything we need, and kindly solved my problem!
Xiang
2016-05-15T00:00:00Z
Manuela was absolutely lovely! The minute we entered her house it felt like a home away from home! The room is really big and it comes with an ensuite bathroom which was really really clean! We only had 1,5 days in rome but we ended up sitting and chatting with manuela almost the whole day! Stay at her place! Great location, great host!
Hannah
2016-05-06T00:00:00Z
Manuela`s apartment is located in a very good location, just five minutes from the metro . The place is very clean, cozy and has a private bathroom. Manuela was a very good hostess and I recommend staying at her home because the quality and price are worth it. Manuela thanks again¡¡¡
maria paula
2016-06-04T00:00:00Z
Manuela and her husband are nice persons. We came early and they let us drop our luggage. The place itself is very close to the metro stop (Manzoni), less than 5 minutes walk. The place is located at the ground floor building with an open space in front of it, very quiet and cozy. The room is very clean and very spacious for 2 people. You can find food, convenient store, and bar easily around the place. It was a great experience for us. Very recommended place. Grazie Manuela :)
Arief Eko
2016-09-30T00:00:00Z
Manuela is an amazing person who takes care for her guest perfectly! She has great energy and welcomed us extremely nice. Her place is spacious and located in the beautiful neighbourhood, just a few steps from Collosseum. The garden around the building is breath-taking and just made for having a coffee in the morning! I would reccommend this place for everyone who come to Rome for a short trip, because the locatino saves you much time on travels, as well as for the ones who plan longer trips , because it is like living in the secret gardenstill being just in the heart of Rome!
Dominika
2016-04-18T00:00:00Z
Manuela was very kind to us and her place was a nice distance from the colosseum. We had our own bathroom in our room which was really nice, would definitely stay again.
Maisie
2017-04-10T00:00:00Z
Manuela and her husband are such kind and generous hosts! She helped us get to her home no problem and we were welcomed with a big bottle of chilled water and an assortment of delicious candies :P The room is as described and is very spacious, clean and beautiful. We loved that there was a little grocery store and coffee shop just a couple minutes from her front door! She's in a great location to take the metro to the colosseum - very easy to navigate ! We loved staying here and would stay again when we come back to Rome !!!
Bree
2016-07-25T00:00:00Z
Manuela and her husband are so kind and wonderful hosts! The reviews say it all accurately. They were so kind to leave water and a few candies for us on arrival which goes a long way with a little gesture. We didn't get to have a meal with them, but definitely will stay with them next time I'm back! Close enough to walk to everywhere and they know enough English to have no language barrier.
Mark
2017-04-08T00:00:00Z
Room Type
Private room
---
Property Type
House
---
Accommodates
2
---
Bedrooms
Roma, Lazio, Italy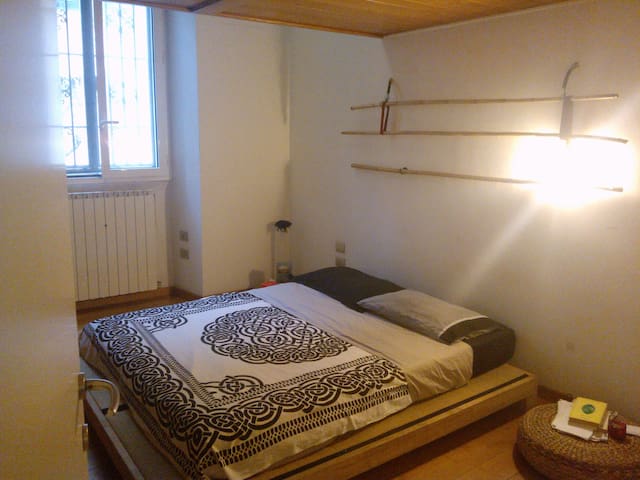 Appartamento ristrutturato nel 2014 vicino a 2 fermate della Metro A, autobus e stazione taxi. 4° piano con ascensore. 3 camere da letto (2 matrimoniali, 1 singola), divanoletto in soggiorno, bagno con doccia, lavatrice, lavastoviglie, sapone, asciugacapelli. WiFi gratuito.
Appartamento molto spazioso (116 mq) con due balconi, un affaccio su strada e uno verso il cortile interno (molto silenzioso). Cucina con forno, frigo, surgelatore, lavastoviglie, completamente accessoriata. Biancheria da letto, asciugamani, sapone per le mani, asciugacapelli, ferro da stiro tutto incluso.
Situata in posizione centrale, ideale per un soggiorno turistico, è ottimamente servita da mezzi pubblici che permettono di raggiungere velocemente i principali monumenti di interesse storico e religioso, A piedi (5-10 minuti) troverete 2 fermate della Metro A, la fermata di San Giovanni, e quella di Re di Roma nell'omonima e splendida piazza. Colosseo raggiungibile con autobus diretto in 15 minuti.
It was without a doubt an amazing apartment!!! Perfect location, the area was great and tranquil, less than 10 minutes walk away from 2 metro stations, near to bus station and close to a supermarket and bakery. The apartment is very clean, fully equipped with a perfect decoration as it is presented on the photos and it seems to be recently renovated. Susanna was a great host, very kind and available at any time. An excellent apartment that I definitely recommend it. Thank you :-)
Konstantina
2016-04-06T00:00:00Z
Susanna was a great host and we had a wonderful time at the apartment. I would recommend it to anyone looking to explore Rome
Ishmael
2016-08-12T00:00:00Z
Susanna was a great host, she was really responsive to all our enquires. She was kind enough to wait us, although we were 45 min late. Her apartment it's really spacious, even for 7 people. The apartment has a great location, nearby you can find cafes, supermarkets etc. We had a wonderful time in her apartment. I would recommend it to anyone visiting Rome
Sever
2017-02-20T00:00:00Z
Very nice host. Just a beautiful apartment in the center of Roma, very clean and very lightfull. The subway is not far and we all love the place. Thanks Susanna for your kindness
Clémence
2016-04-29T00:00:00Z
Susanna is a great host! Great contact with response time even with a minutes. The apartment is newly renovated in good location. It was a pleasure to live for couple days in Rome in Susanna's place.
Łukasz
2016-05-25T00:00:00Z
We hebben een geweldig verblijf gehad in Rome. Fantastisch appartement goed gelegen in leuke buurt.
Gerard
2017-03-03T00:00:00Z
Accueil chaleureux, Susanna avait même planifié le taxi pour nous à l arrivée . Bel appartement très propre, lumineux et calme
Marcie
2016-05-31T00:00:00Z
El barrio muy bien ubicado y bien conectado a la red de transporte público con muchas atracciones que se puede ir caminando. El anuncio estaba correcto. El recibimiento de Sussana fue un poco apresurado.
Ricardo
2016-07-10T00:00:00Z
Room Type
Entire home/apt
---
Property Type
House
---
Accommodates
7
---
Bedrooms
Roma, Lazio, Italy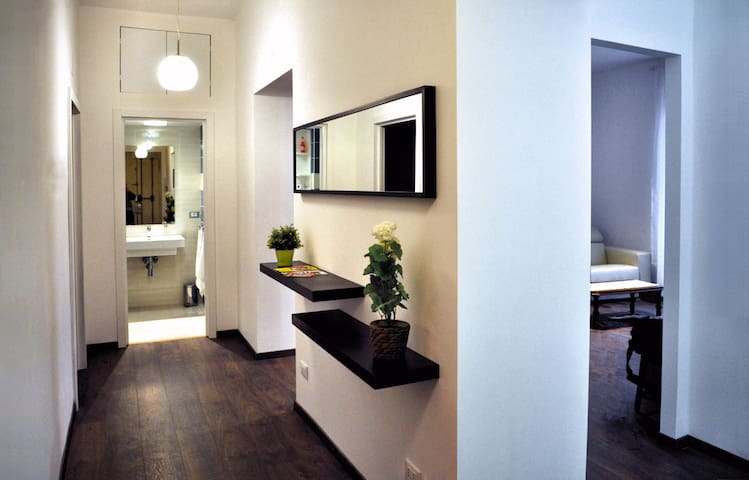 L'appartamento e' a soli 10 minuti a piedi dal Colosseo, vicino alle maggiori attrazioni della città,a 5 min a piedi dalla metro di San Giovanni . Il quartiere e' ricco di pub, ristoranti e negozi ! In casa troverai un' atmosfera accogliente, vivrai un'esperienza indimenticabile e potrai contare sulla mia disponibilità .
The host canceled this reservation 23 days before arrival. This is an automated posting.
Manu
2017-03-21T00:00:00Z
Posizone ottima, in centro ma non nel cuore del traffico romano; fermate dei bus e della metro A a pochi minuti a piedi. Disponibilità e pulizia impeccabili. Ho passato due settimane all'insegna del buon umore e dell'arte a portata di mano. ASSOLUTAMENTE CONSIGLIATO, se potessi tornerei subito anche e sopratutto per i ragazzi in casa!
Pamela
2016-09-24T00:00:00Z
Room Type
Private room
---
Property Type
House
---
Accommodates
2
---
Bedrooms
Roma, Lazio, Italy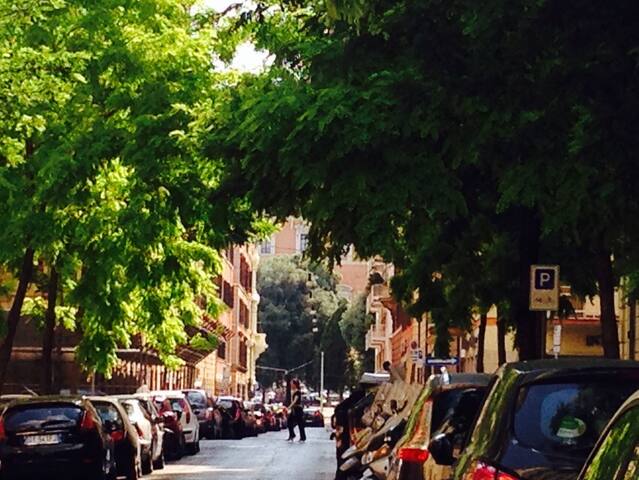 You will love my house for his quiet and privacy . Haven of peace at the doors of the historical center, the big terrace is confortable and perfect for quite breakfast and relaxing time after a long walking day.my wish is to make you fell home :) 5 minutes from the metro and connected with many busses. you can easy walk to Colosseo and Circo Massimo in 20 minutes.
Charming and sunny with terrace! This beautiful and welcoming 2 level apartment is in a nineteenth century building with a original ceiling brick in the kitchen. in the terrace area you will enjoy quiete and relaxing breakfast and meal under the shade of an ancient Pine Maritime tree typical of the Lazio region. located in the central area of Rome, 20 minute walking from Colosseo and Circo Massimo. Very well connected with busses and subway. The bedroom has a duble bed with one of the 2 bathroom next to it. The couch in the living easily open as a duble size bed :) the other bathroom of the apt in located next to the living. The house has a private entrance, and NO street sound you can hear from it, really quiete and relaxing atmosphere. A fresh open market is behind the corner as shops and nice restaurant and wine bars. Wi-Fi, AC, TV, washing machine available.
the neighbour is central and nice to visit. we have many nice and new restaurants around the apartment, also great ice cream places and tiramisù. you can enjoy a walk down the ancian wall of the city or Villa Celimontana. good connection to Via Appia Antica and the Catacombs area.
Veronica was a very generous and hospitable host. Her directions and communication was not only quick and easy but, extremely helpful with anything we needed. Her home is amazing!!! And has everything you require. Veronica's neighbor hood was fantastic, small local shops 2 minutes away and bigger cafes and restaurants 5 minutes. A walk to the colosseum was only 20 minutes. We loved Veronica's place!!!!
Jennifer
2016-10-28T00:00:00Z
Veronica is a lovely host, very friendly and helpful. Her flat is in a good location, very quiet but close to a useful street of shops and great gelato places. The flat itself is neat, well-equipped and has beautiful old features. The patio table was used every day. It's about 20 mins walk to the Colosseum and 10 mins to the nearest tube station, so very useful for getting around. We would recommend Veronica's flat to anyone visiting Rome.
Hannah-Marie
2016-05-29T00:00:00Z
We had such a great stay at Veronica's apartment. We couldn't ask for a more accommodating and gracious host. The space is clean and spacious, perfect for a small family such as ours --- super comfortable bed! The apartment is just a short walk from the subway and the Colosseum. Veronica went above and beyond what was expected in terms of communication, help and advice. Thank you again.
Karen
2013-04-23T00:00:00Z
Fantastic place to stay. I highly recommend it! Very safe neighbourhood and close to all the main sights. We ended up just walking everywhere to enjoy the scenery! Thanks again for a wonderful stay.
Lucinda
2017-01-02T00:00:00Z
Our experience with Veronica and her apartment was great. She was there to greet us after a long flight from Canada, gave us information about the neighbourhood and had a welcome bottle of wine waiting for us. My wife and I were travelling with our 20 year old niece, so the 2 bathrooms were very convenient. We ate outside on the terrace one night and everything was within easy walking distance (I and my wife are 60 and 57). We walked to the Vatican, and everywhere in between. There were good restaurants in the neighbourhood and a fantastic local market a few minutes away. Veronica arranged a taxi to pick us up to take us to the train station on our last day. We hope to return next year with our nephew and definitely would return to Veronica's if it was available.
Mark
2013-09-18T00:00:00Z
Veronica was a lovely host, she was very friendly & took her time to answer all our questions. We loved being in a local neighborhood away from tourists and crowds. It was totally worth being away from the center of town. The area had some tasty restaurants and fashionable shops. The apartment was clean & spacious. We would absolutely stay here again.
Cheryl
2017-01-16T00:00:00Z
Veronica is a very nice and attentive host, the apartment is spacious, clean, calm, and close to bus and metro stations. It is a good place to stay to visit Roma. We could not really enjoyed the terrace as we were there during winter, but it must be very good during summer! We had a very nice time, thanks a lot again Veronica
Sophie
2016-12-04T00:00:00Z
Veronica was waiting for us on arrival. The location was great we were able to walk or take the Metro everywhere. The airline lost out luggage for 3 days she was so helpful in getting back.
teresa
2014-09-15T00:00:00Z
Room Type
Entire home/apt
---
Property Type
House
---
Accommodates
4
---
Bedrooms
Rome, Lazio, Italy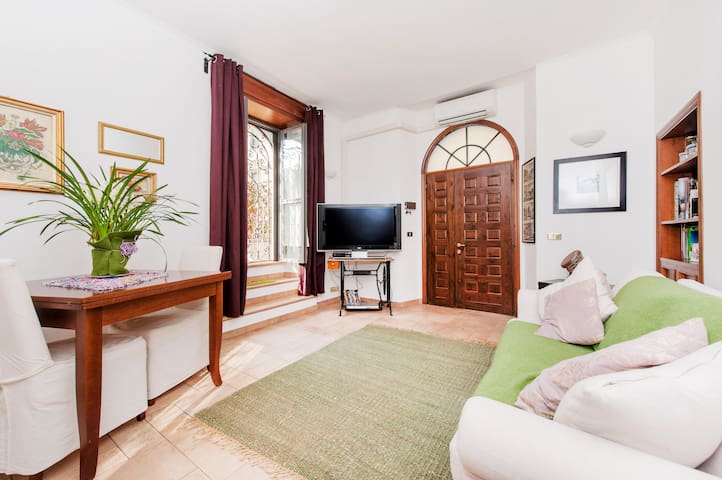 Private room 15sm with private bathroom, for a max of 4 people with a double bunk bed. There is no kitchen but in the locala area thete are a lots of restaurants, bars and locals for the night.
Private room 15 sm ( bathroom and 4 beds ) ideal for groups of friends near Termini station , the Colosseum , San Giovanni , Santa Croce in Gerusalemme. There is no kitchen, but in the area there are a lots of bars, conventioned restaurants, night locals and markets. City tax to pay 3,50 per person per night, is not included
Lots of Local Bar Restaurants and Market!!
Good deal for the price you pay. The place is located near bus stations and walkable distance from metro and train stations. The neighborhood can be a little scary at night. Francesco offered to pick us up from the airport at night for 10 euro a person and even took is to the local store to buy some food and toiletries. The room had fast wifi, TV, towels, a giant double-decker bed, a mini fridge, and a bathroom with shower, sink, and toilet. The only problem we had was that it was really cold during the nighttime (we went during end of February). Other than that, our stay was great.
Jennifer
2017-02-27T00:00:00Z
Francesco was very welcoming and the place itself was comfortable. Easy access to the Metro but the local area did not feel safe. The apartment was secure and clean. Wifi worked great. Overall good experience at the room but felt a little unsafe within the neighborhood at night.
Brittan
2016-10-26T00:00:00Z
good
Yeonjae
2016-05-19T00:00:00Z
Francesco is very friendly and helped us a lot. Location is great, very close to the Termini. Room is cosy and clean. Before departure we have a little problem with the key and lock. So it will be great, when Francesco can change a new lock. :)
萌苏塔
2016-09-19T00:00:00Z
Very nice apartment on a nice street. Very easy to get around Rome.
Justine
2016-05-17T00:00:00Z
If we ever had any issues, he was very easy to reach.
Monilola
2016-10-23T00:00:00Z
Francesco was very nice and explained everything very clearly. The listing was exactly as it is posted.
Rachel
2016-05-12T00:00:00Z
Staying with Francesco was great! He arrived on time to the airport and was very kind to us. The room was nice and the beds were comfortable. I would recommend staying with him :)
Donna
2016-06-05T00:00:00Z
Room Type
Private room
---
Property Type
House
---
Accommodates
4
---
Bedrooms
Roma, Lazio, Italy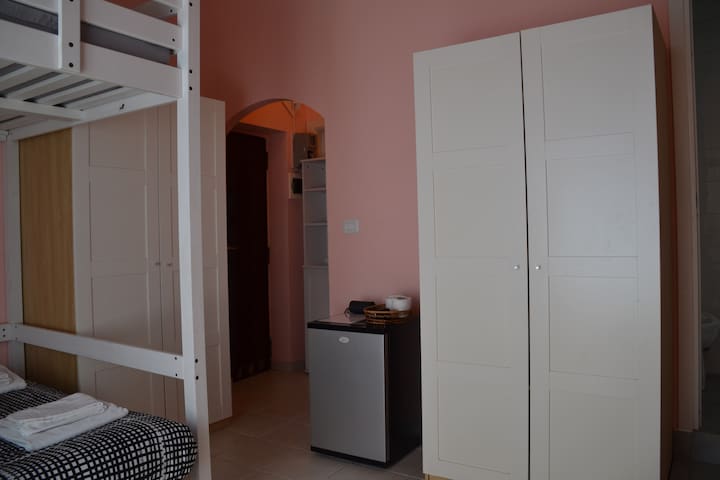 HOUSE IS IN A STRATEGIC POSITION DISTANCE FROM COLOSSEO IS 15 MIN DISTANCE FROM METRO S.GIOVANNI IS 2 MIN QUIET HIGH FLOOR WITH ELEVATOR FREE INTERNET AND AIR CONDITIONING IF YOU WANT: BABY BED AND BABY CHAIR YOU CAN ASK TRANSFER AIRPORT-ROME PRICE TRANSFER DEPENDS BY TIME AND NUMBER OF PEOPLE IN FRONT PALACE THERE IS PARKING COVERED AND CONTROLLED BY GUARDIANS THE PARKING IS NOT INCLUDED IN THE PRICE NEAR PALACE : RESTAURANT, BAR, POST OFFICE, MARKET, PHARMACY, BANK, SHOPPING CENTER
THE HOUSE IS NEW. THE APARTMENT HAS AN ELEGANT HALL. ONE PRIVATE SUITE WITH SMART TV ( FOR 2 PEOPLE). THE LIVING ROOM WITH SOFA-BED ( FOR 2 PEOPLE ) THE SOFA BED IS : ( 1,40 X 2,00 METERS ) THE KITCHEN AND ONE BATHROOM. IN CASE OF FAMILY WITH LITTLE BABY YOU CAN REQUEST A BED FOR CHILDREN AND A BABY CHAIR YOU CAN ASK FOR TRANSFER (ROMA - AIRPORT) THE PRICE DEPENDS ON THE NUMBER OF PEOPLE AND WHAT TIME IN FRONT OF THE BUILDING, THERE IS A PARKING, COVERED AND CONTROLLED BY GUARDIANS. (THE PARKING IS NOT INCLUDED IN THE PRICE) LA CASA E' NUOVA. L'APPARTAMENTO HA UN ELEGANTE INGRESSO. UNA SUITE PRIVATA CON SMART TV PER DUE PERSONE. SALONE CON DIVANO LETTO IL DIVANO LETTO E' ( 1,40 X 2,00 METRI). ANGOLO COTTURA E BAGNO. IN CASO DI FAMIGLIA CON BAMBINO PICCOLO E' POSSIBILE RICHIEDERE UN LETTO PER BAMBINI E UN SEGGIOLONE E' POSSIBILE CHIEDERE IL SERVIZIO TRASPORTO ( ROMA - AEROPORTO) IL PREZZO DIPENDE DAL NUMERO DELLE PERSONE E DALL'ORARIO E' PRESENTE UN PARCHEGGIO, COPERTO E CONTROLLATO DA GUARDIANI. ( IL PARCHEGGIO NON E' COMPRESO NEL PREZZO) LA MAISON EST NEUVE. L'APPARTEMENT A UNE ENTRÉE ÉLÉGANTE. UNE SUITE PRIVÉE AVEC SMART TV POUR DEUX PERSONNES. SALON AVEC SOFA LIT LE LIT SOFA EST (1,40 X 2,00 MÈTRES). CUISINE ET SALLE DE BAIN. SI VOUS AVEZ UN PETIT ENFANT VOUS POUVEZ DEMANDER UN LIT POUR LES ENFANTS ET UNE CHAISE POUR ENFANT VOUS POUVEZ DEMANDER TRANSFERT (ROMA - AIRPORT) LE PRIX DEPEND DU NOMBRE DE PERSONNES ET QUELLE HEURE EN FACE DE L'IMMEUBLE NOUS AVONS UN PARKING, COUVERTE ET CONTRÔLÉ PAR GARDIENS. (Le parking n'est pas gratuit) LA CASA ES NUEVA. EL APARTAMENTO TIENE UNA ENTRADA ELEGANTE. UNA SUITE PRIVADA CON SMART TV PARA DOS PERSONAS. SALON CON SOFA CAMA LA CAMA SOFA ES (1,40 X 2,00 METROS). COCINA Y BAÑO. I TIENE UN NIÑO PEQUEÑO USTED PUEDE SOLICITAR UNA CAMA PARA LOS NIÑOS Y UNA SILLA PARA NIÑO PUEDE SOLICITAR MÁQUINA DE SERVICIO (ROMA - AEROPUERTO ) (EL PRECIO DEPENDE DEL NÚMERO DE PERSONAS Y QUE HORA) FRENTE AL edificio tenemos un garaje, cubierto y CONTROLADO POR LOS GUARDIANES. (El parking no incluido en el precio)
THE APARTMENT IS LOCATED NEAR THE MOST IMPORTANT BASILICAS OF ROME: THE CHURCH OF SAN GIOVANNI. THE DISTANCE FROM THE BUS STOP AND METRO SAINT JOHN IS ONLY 2 MINUTES. THE DISTANCE WITH THE BUS FROM THE COLISEUM IS 15 MINUTES. THE DISTANCE FROM '' TERMINI'' STATION IS ONLY 3 STOPS WITH METRO (ABOUT 10 MINUTES). GREAT LOCATION FOR TRANSPORT, SHOPS, MARKET AND POINTS FIRST EMERGENCY. THE APARTMENT IS LOCATED IN A STREET VERY QUIET AND SILENT WITHOUT TRAFFIC NOISE IL BILOCALE SI TROVA PRESSO UNA DELLE BASILICHE PIU' IMPORTANTI DI ROMA : LA BASILICA DI SAN GIOVANNI. LA DISTANZA DALLA FERMATA DELLA METRO DI SAN GIOVANNI E' DI 2 MINUTI . LA DISTANZA CON IL BUS DAL COLOSSEO E' 15 MINUTI. LA DISTANZA DALLA STAZIONE TERMINI SONO 3 FERMATE DI METRO CIRCA 10 MINUTI. OTTIMA POSIZIONE PER TRASPORTI, NEGOZI, MARKET E PUNTI DI PRIMO SOCCORSO. IL BILOCALE E' SITUATO IN UNA VIA INTERNA LONTANO DAL TRAFFICO E DAI RUMORI. L'APPARTEMENT EST SITUÉ PRÈS UNE ÉGLISE IMPORTANT ET TRES CELEBRE DE ROME: L'ÉGLISE DE SAN GIOVANNI. LA DISTANCE DE L'ARRÊT DE BUS ET DE MÉTRO SAINT JOHN EST SEULEMENT 2 MINUTES. LA DISTANCE DE LA COLISEUM, AVEC BUS est à 15 minutes. LA DISTANCE DE LA GARE ''TERMINI '' EST SEULEMENT 3 ARRÊTS AVEC METRO (ENVIRON 10 MINUTES). EXCELLENT EMPLACEMENT POUR LE TRANSPORT, COMMERCES, MARCHÉ ET PREMIERS POINTS D'URGENCE L'APPARTEMENT EST SITUÉ DANS UNE RUE TRÈS CALME ET SILENCIEUX SANS BRUIT DU TRAFIC EL APARTAMENTO ESTÁ SITUADO CERCA DE UNA IGLESIA MUY IMPORTANTE Y MUY FAMOSA: SAN GIOVANNI LA DISTANCIA DE LA PARADA DE METROPOLITANA DE SAN GIOVANNI ES DE 2 MINUTOS. LA DISTANCIA DESDE EL COLISEO CON EL AUTOBÚS, A 15 MINUTOS. LA DISTANCIA DESDE LA ESTACIÓN DE TREN '' TERMINI '' ESTÁN 3 PARADAS DE METRO, APROXIMADAMENTE 10 MINUTOS. BUENA POSICIÓN PARA HACER TRANSPORTE, TIENDAS, EL MERCADO Y PUESTOS DE SOCORRO. EL APARTAMENTO ESTÁ SITUADO EN UN CAMINO EN EL INTERIOR, LEJOS DEL TRÁFICO Y EL RUIDO.
The apartment is centrally located in Rome, two blocks away from the Metro train, close to two supermarkets, pharmacy and one mercato. Taxis are convenient and nearby. Colesseum is about 15 minute walk and just breath taking. The apartment is well kept, fully equipped with new kitchen and bathroom. The new washing machine was not installed yet but Marco arranged an alternative service and worked out perfectly. Host, Marco was spot on with communication, accommodating and punctual. Marco also offered car service for 35 Euros which was a great offer. Taxis would of charged 45 Euros. I highly recommend staying at this apartment during your stay in Rome.
Jane
2017-01-01T00:00:00Z
This apartment is wonderfully located, about a 1 minute walk to the metro. Made our trip to Rome very easy. Marco was wonderful and was waiting outside the apartment when we got there. He made sure we knew how to use everything (air conditioning, oven, etc). The apartment is nice. There is one bedroom and the sofa opens up into a comfortable bed. I will definitely book this apartment again next time! Thanks Marco!
Kiersten
2015-06-09T00:00:00Z
Marco was a wonderful host. He gave us a lot of help with how to get around the city and to the major attractions. His apartment was wonderful, very clean, and comfortable. He left water, juice, and snacks for our convenience. The apartment is very safe with two locked doors into the building, and it is in a good neighborhood. I have never had to sign a form when staying at an airBnB, so that was different. I would recommend staying at Marco's apartment.
Trae
2015-06-13T00:00:00Z
I think Marco is the best host I've ever had. He came to meet my mother and I at the subway station, which was less than a two minute walk from the apartment. He was very pleasant and organized and gave us a great overview of the apartment, surrounding areas, and how to get to where we wanted to go. The apartment was great and had an elevator! Overall, I enjoyed my stay and would definitely recommend this place.
Charlotte
2016-10-09T00:00:00Z
Was really nice to stay in Marco's place. The apartment was very clean. We arrive very late because our flight was delayed but he waited for us, always if I have a doubt he was answering my messages and we feel very comfortable there. The location is really good! I really recommend this place!
Faby
2015-08-07T00:00:00Z
Marco has excellent communication! He took all the burden on himself to communicate properly. 5 stars. He picked us up from the airport and explained everything on the way to the apartment! 5 stars. He had a ready file, which had every detail a tourist would need. 5 stars. Location of the apartment is amazing! Just 2 mins walk to metro, bus station and tram stop! 5 stars. Marco was helpful, and a PERFECT HOST. Really recommend this apartment!
Samir
2016-08-17T00:00:00Z
A very smart place for visit rome. very close to the tube, and to the famous monument. Marco is gentle and friendly
Cristian
2015-05-02T00:00:00Z
Marco's apartment in Rome is less than 2 blocks away from the metro station. Marco has everything in the apartment well organized and tidy. The apartment has everything you need for your stay and some snacks Marco left for us. There's a supermarket also within two blocks from the apartment. Marco replies to any of your questions within minutes, so that was really helpful to move around the city.
Elio
2016-06-01T00:00:00Z
Room Type
Entire home/apt
---
Property Type
House
---
Accommodates
4
---
Bedrooms
Roma, Lazio, Italy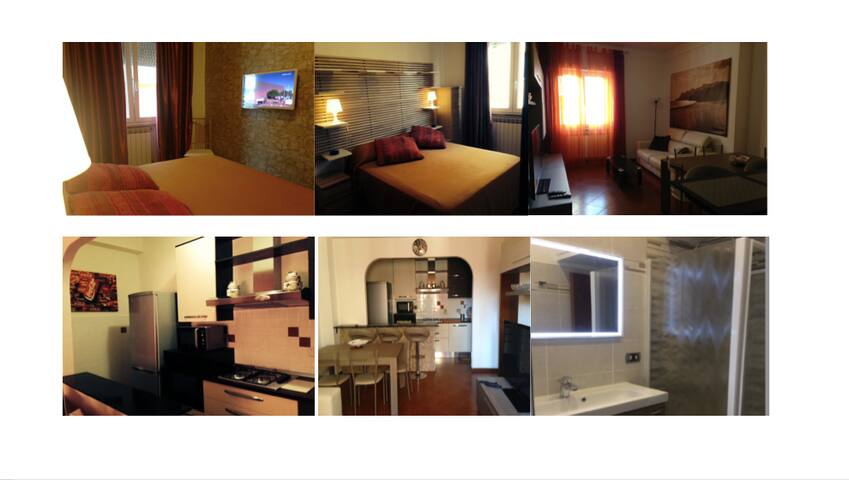 Casa Vacanze Emma è una casa molto spaziosa e confortevole munita di ingresso indipendente facilmente accessibile ai disabili,gli animali sono i benvenuti.Vicinissima alla fermata metro A Re di Roma da cui si possono raggiungere i centri storici.
The apartment was very clean and spacious. Bed and sofa bed comfortable and very clean. conveniently located at the Re di Roma station. Supermarkets in less than a block. Communication with host was excellent. Only bear in mind that kitchen stove is a hot plate if you plan to make complicated dishes. the kitchen sink is near the bathroom and not at the kitchen area. We did not mind as we had only few meals. You get to Rome to eat at fantastic restaurants probably not to cook. Apartment at ground level and very quiet. Air conditioning and washer work perfectly.
susana brugada
2016-08-03T00:00:00Z
Alfredo was kind enough to wait for us until 10:00 pm - our flight to Rome was delayed and the whole travel from Fuimincino airport to the city is quite long. My family and I stayed for 3 nights - it's spacious and a good size for 4 people. The apartment is located on the ground floor of the building but it's okay since it has iron grids on its windows. It has an inner balcony accessible from the bedroom. However it can be dark inside especially if the weather is bad but we didn't stay much inside nevertheless. Kitchen however isn't very well equipped despite the fact it's in a separate room. For example, the sink and the hot plates are in a tiny box room right next to bathroom. There is no sink in the kitchen and only a small table with no chairs (there is a big dining table in the living room). The sofa is big and perfect for two people. The neighbourhood seems quiet and friendly so no problem with safety. The apartment is not in the ideal center but it's location is nice - 4 stations with the red line of the metro from Termini. The station is called Re di Roma, named after the beautiful piazza just 100 menters away from the apartment. There are non stop markets and pizza restaurants at the piazza so no problem finding food anytime. I would recommend it since it's a good value :)
Marina
2016-10-25T00:00:00Z
This is a very good base for a short stay in Rome. It is close to a metro, so access to areas for sightseeing is easy. The apartment does not get a lot of natural light, so it can seem dark. Overall, the description provided by the host is correct.
Wendy
2016-10-31T00:00:00Z
Alfredo was very helpful when our flight was delayed during arrival and help us when leaving as well. Overall a very good experience
Athmar
2016-08-15T00:00:00Z
Our host was very friendly and welcomed us as agreed. The apartment is really close to the metro. The apartment is on the ground floor, a bit dark but big and spacious. Some of the towels were not very clean, but there were enough clean towels for us. There is a big square nearby with shops and food corners. It is a nice place to stay when visiting Rome. :)
D
2016-05-11T00:00:00Z
Great host, waited for us till late in night for checkin. Also, helped us with local information. House exactly as described. Conveniently located close to bus & metros. We a family with 2 kids found the neighborhood safe.
Pramod
2016-06-13T00:00:00Z
Apartment is fantastic, very spacious and comfortable. Location is very good and it is easy to reach all important sites of the city with the metro station only 5mins away. Alfredo's team members were waiting to receive us very late after midnight. They are fantastic hosts and extremely quick in communicating to every query. However, there were some small things which we noted and which could be improved. Wi-Fi internet was not that strong and somehow it allowed us to only connect to 3 devices simultaneously. Cooking is not really possible in the kitchen as the equipment is suitable only for very light cooking. Dish washing soap was missing, making it a bit difficult to clean up after using. In spite of this, we enjoyed our stay and we will definitely recommend this place.
Rachna & Ankit
2016-09-28T00:00:00Z
Alfredo is very helpful and responds very quickly. We even received a reply at 9 PM in the night. In a new place it's very helpful when you receive a prompt reply. Overall the location and surrounding is pretty decent. The rooms are quite spacious. I feel it's a value for money stay. The kitchen is not a big one but that's clear from the description and pictures. It was not a requirement for us and it met all our needs. Overall we were happy.
Shatabda
2016-10-07T00:00:00Z
Room Type
Entire home/apt
---
Property Type
House
---
Accommodates
4
---
Bedrooms
Roma, Lazio, Italy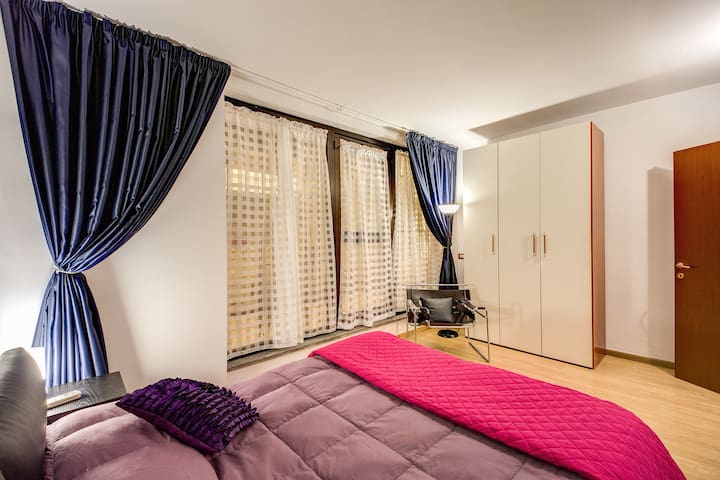 Il mio alloggio è vicino a Basilica di San Giovanni in Laterano Colosseo Via Sannio Via Appia Nuova Scala Santa Basilica di Santa Croce in Gerusalemme Ti piacerà il mio alloggio per questi motivi: posizione e i soffitti alti. Il mio alloggio è adatto a coppie e famiglie (con bambini).
Anita Guest House Roma è un appartamento accogliente e luminoso, al primo piano di una antica palazzina romana, con cortile interno, composto da una cucina attrezzata per tutte le tue esigenze, salone con divano letto matrimoniale, wi-fi gratuito, angolo bookcrossing, stanza da letto matrimoniale, camera con due letti singoli e bagno con doccia. A solo 200 metri dalla fermata della metropolitana A di San Giovanni, a 50 metri dalla Basilica di San Giovanni in Laterano e a 3 fermate di metro dalla Stazione Termini. Ottimi prodotti di benvenuto.
A solo 50 metri dalla Basilica di San Giovanni Laterano. Nel quartiere potrai trovare : bar, ristoranti, pizzerie, supermercati, parrucchieri, farmacie, negozi per il tuo shopping e tutte le mattine un caratteristico mercato rionale.
Room Type
Entire home/apt
---
Property Type
House
---
Accommodates
6
---
Bedrooms
Roma, Lazio, Italy
We are located in the heart of Rome, just a short walk from remains of Ancient Rome the Coliseum and Basilica di San Giovanni. A marvellous ten minute walk will take you to all of the main historical, cultural and entertainment attractions.
All the rooms have air conditioning, Satellite TV, Cable TV, direct line telephone and Internet wireless connexion. Each room have en suite private bathroom with shower and hairdryer. For the suite have been also added a small garden for private use.
Como chegar Estamos na Via Francesco Berni, 7 no coração de Roma muito próximo ao Coliseu, Basilica San Giovanni in Laterano, Santa Maria Maggiore e Santa Croce em Gerusalemme. A poucos minutos dos principais monumentos e pontos turísticos e a 100 metros da estação de metrô Manzoni.
Room Type
Entire home/apt
---
Property Type
House
---
Accommodates
8
---
Bedrooms
Roma, Lazio, Italy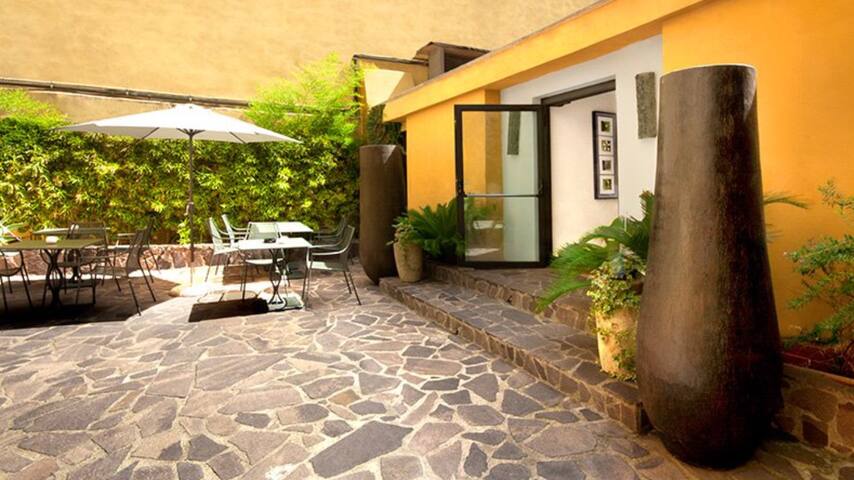 Lovely apartment located nearby S. Giovanni just outside the ancient Roman walls. The Metro station of S.Giovanni is at a walkable distance and you'll be easily connected with the rest of the city.
Beautiful apartment with private entrance with a bedroom , living room (with two sofabed), kitchen, and bathroom. The Metro station of S.Giovanni is at a walkable distance and you'll be easily connected with the rest of the city (just 3 stops from train station Roma Termini ).
The district offers the choise to buy fresh vegetable with th big local market or the standard supermarket both at only two minutes walking. Easy parking free or private
The neighbourhood was very nice and the flat was like we imagined from the photos. It's in a quiet street but close to public transport so ideal if you want to explore the city. We walked everywhere from from the flat, and if you enjoy exploring a city by walking, then this is the prefect place to do that too.
Lena
2015-10-04T00:00:00Z
Luca was a great host. He welcomed us to his flat, explained everything, he is very nice and friendly. We were even welcomed with a bottle of wine :). The flat is very nice, exactly as in the photo (maybe bigger in reality). There is plenty of space (we were 3 people, but 6 can fit in as well). It is fully equiped, one can use the kitchen for cooking. We had oil, salt, pepper, tea etc. and even pasta- this was very nice. Also, we had everything needed for the bathroom ( towels, soap etc.) The location of the flat is very good as it is close to a metro station (which is super important for Rome's long distances). Also it has a market and a supermarket very close by so it is very convenient. We had a great time in Luca's flat. Unfortunately the Wifi did not work, but apart from that everything was great. Also, we chose a very hot period of the year and there is no air conditioning. Overall, I fully recommend Luca's flat. You will have a great time there! :)
geo p
2015-08-09T00:00:00Z
Lovley quite and save place to stay. Communication with the host was good. Water presure of the shower was really good.
Kajîn
2016-11-13T00:00:00Z
Great clean flat in a quiet neighborhood, the hosts were delightful, we had an amazing time in Roma!
Romain
2016-05-02T00:00:00Z
The place it's exactly as you see in the pictures, nice location , near to the metro station.
Diego
2016-09-26T00:00:00Z
Well located apartment, near San Giovanni Metro station, restaurants, coffee shops and pastecciaras. Walking to the Colesseum take 25 to 30 minutes. Still, just far enough for a quiet neighborhood. The apartment was clean and practical. Could accommodate 6 but is more suitable for 3. Perfect for travelers looking for a place to sleep, have breakfast and spend the day out in Rome.
Yves
2015-10-31T00:00:00Z
Luca was a great host to us. The communication was very easy, even we never met him in real person. The Flat is based in a nice area, therfore we had a lovely stay.
Daniel
2015-09-23T00:00:00Z
The house is in a very good location. It is in a quite side-street and windows are into the courtyeard, so it is quite in there. Everything was very clean.
Ondrej
2016-10-09T00:00:00Z
Room Type
Entire home/apt
---
Property Type
House
---
Accommodates
7
---
Bedrooms
Roma, Lazio, Italy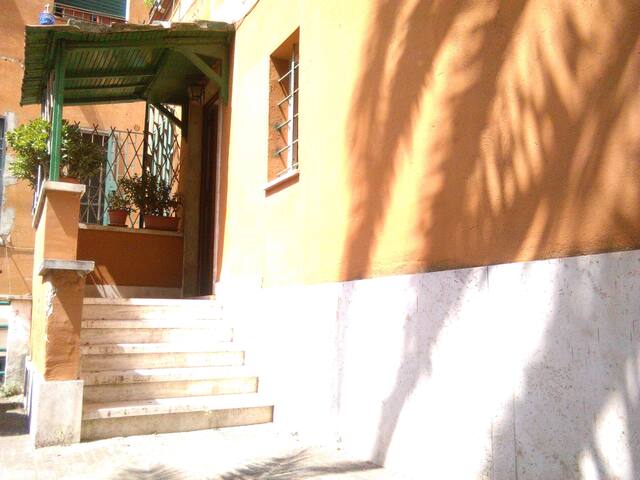 La nostra casa è situata in centro storico a due passi dalla metropolitana e a 15 minuti a piedi dal Colosseo e da Termini station. Una camera disegnata da artisti molto originale può ospitare fino a 5 persone. Il bagno è in camera. Adatta per famiglie o gruppi di amici. Cucina condivisa comoda e accogliente, romantico terrazzo sui tetti di Roma. Noi siamo una simpatica famiglia con due figli è un piccolo cane e abitiamo nella casa al piano di sotto. Vi aspettiamo!
Creato da artisti affaccia su un verde giardino.
Strada molto tranquilla ed alberata, in centro con tutti i servizi, supermercati, ristoranti, gelaterie, caffè, tabacchi tutto e' a portata di mano.
It was of good size, clean, organized, the bed was comfy, and the bathroom always had hot water. There was a kitchen upstairs that you could use.
Ban
2016-12-30T00:00:00Z
Very nice, cosy place with nice kitchen upstairs in an open space and terrace with a view. 20 min walk from Coliseum and 5 from metro Manzoni. Supermarket and nice small reastaurants are included to the closiest area. You enjoy staying at Francesca's house.
Marina
2017-04-03T00:00:00Z
Everything was great. Francescavtyg is a very nice and friendly host. The apartment is comfortable and pleasant. I recommend to everyone!!
Burçin
2017-04-08T00:00:00Z
very good location and nice people
Faris
2017-02-18T00:00:00Z
Persona gentile, luogo senza ruido. Vicino alla stazione di termini
Alvaro
2017-03-04T00:00:00Z
Ottimo servizio, vicino alla stazione
Paola
2017-02-21T00:00:00Z
El apartamento es muy limpio y lindo, bien ubicado, acorde a las fotos y más bonito en realidad, buenas camas y buen sector .
Luisa
2017-04-11T00:00:00Z
Room Type
Private room
---
Property Type
House
---
Accommodates
5
---
Bedrooms
Roma, Lazio, Italy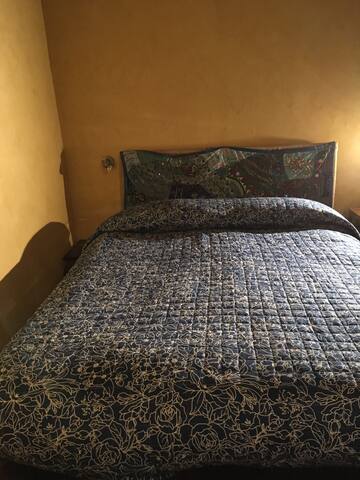 Space triple room with tv, coffee maker and private bathroom Rome city tax to Pay at check in time
I was with my family a few days in Roma, it was a lovely place cozy clean and Pamela so charming!!! I highly recommend it and for sure I will back.
Renzo
2016-06-26T00:00:00Z
good place!! near to center station. the host was very friendly and she help us a lot
Georgios
2016-07-07T00:00:00Z
She is so kind and we had so good day :) It was comfortable, and clean. And toilet is so important point to choose the room for me, it is also clean!
NAYEON
2016-07-09T00:00:00Z
Really beautiful space -- especially since we had the whole apartment to ourselves! Beds were comfortable and clean. Bathroom was functional and clean. Location was good. Really everything you could ask for. NOTE: You will be required to pay an additional fee of 3.50€ per person, per night, which is a requirement of BNBs in Rome. We didn't see this in the listing, so it was a surprise to us. Two nights, 3 people = 21€
Jackie
2016-06-19T00:00:00Z
Good good good But i can't cook
도훈
2016-07-22T00:00:00Z
Really clean apartment and easy access to metro and bus!
Yirong
2016-06-12T00:00:00Z
Excelente experiencia, el lugar es como en las fotografías, limpio y ordenado. Cercano a la estación del metro y se llega de manera fácil a casi todo. El trato muy amable y con un anfitrión siempre dista a ayudarnos
Eleonora
2016-06-15T00:00:00Z
비행기가 연착되어 늦게 도착하였는데도 체크인할때까지 기다려주셨습니다. Late check in fee가 20유로 추가되긴 하지만 친절하게 맞아 주셨고 시설도 좋았습니다
Yena
2016-07-05T00:00:00Z
Room Type
Private room
---
Property Type
House
---
Accommodates
3
---
Bedrooms
Roma, Lazio, Italy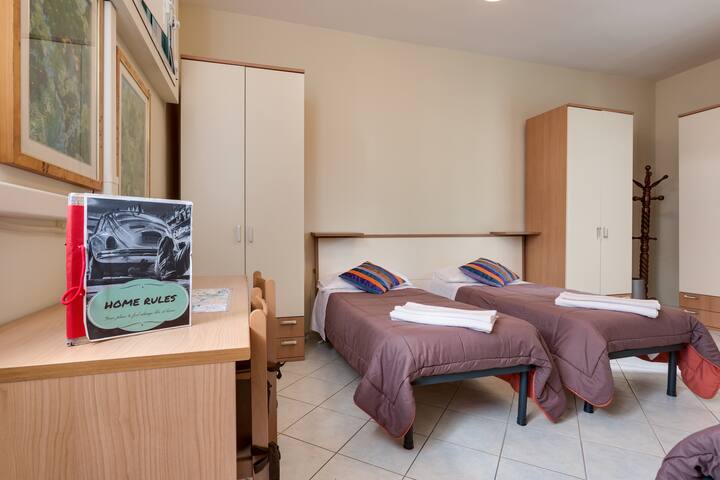 Recently renovated charming, central, historic, cozy building Villa with a private garden, built around 1940. LGBT friendly, family friendly and dog friendly, we offer in a homely, warm and calm atmosphere, different areas dedicated to Hospitality and Fine Arts. Our Villa provides: charming interiors, bathroom en suites, comforts, living area, attic, fully equipped kitchen, dining room. A bright terrace/solarium and a wonderful furnished private garden are also available to our guests.
The Meltinsounds Space - Colosseum Historical Villa, welcomes you in recently renovated charming, historic, cozy building Villa, with a private exclusive garden and backyard, built around 1940. LGBT friendly, family friendly and dog friendly in a homely, warm and calm atmosphere. Nearby you can easily access: Metro subway stop A - Manzoni, Main Train station Termini; Museums, Restaurants, the San Giovanni Basilica, the Colosseum, City Center, Cafés, shops and public Gardens. We organize in our Villa venue: Touristic Lease, Cocktails, small concerts and events, readings, Wine and Gourmet Tastings. We aim to cater for all your needs to make sure your stay is as homely, enjoyable and as memorable as possible. Kindly note, we are a non-smoking structure. You can be rest assured of a very warm welcome whether you are here for business or taking in a show, or just a well earned break, look no further for a great value place to stay.
Nearby you can easily access: Metro subway stop A - Manzoni, Main Train station Termini; Museums, Restaurants, the San Giovanni Basilica, the Colosseum, City Center, Cafés, shops and public Gardens.
Great place! Easy access to public transportation. Host was very responsive and home was well kept and clean. Definitely a place I would stay again.
Karen
2017-03-11T00:00:00Z
A great place to stay.
Vicky
2016-10-10T00:00:00Z
We had 9 people stay at the property for 3 nights/4 days and we had the best facilities and adequate space for all of us. spacious rooms with en suite and a nice kitchen for all 9 of us. I would definitely recommend. FANTASTIC
Christopher
2017-02-28T00:00:00Z
Room Type
Entire home/apt
---
Property Type
House
---
Accommodates
11
---
Bedrooms
Roma, Lazio, Italy
Room with queen-size bed, in a central area, well connected, bright and very quiet, with views of the inner courtyard. excellent location to visit Rome and return to rest.
third-floor apartment in the central area, in San Giovanni, Appio Latino, well connected to historical sites of Rome, ideal for those who want to easily visit the capital and enjoy a truly rich and relaxing holiday at the same time. cozy, bright, quiet, well-heated in the winter months, the 'apartment consists of two bedrooms, the yellow room with a queen bed and the window, and the blue room with futon bed, with double opening window and a lovely outdoor terrace where you can dine, sunbathe, have a drink, relax in the beautiful days of 'year: a rarity for Rome; modern kitchen and living room with dishwasher, bathroom and entrance. The house is located in a large building of the 30s with concierge, very quiet and peaceful, and the whole 'apartment overlooks a large courtyard, clean and cared for with green areas, joined by three inputs on roads, well connected and served.
Supermarket open until 21, night bakery near home, tiramisu, many delicious ice cream shops, close to neighborhoods with clubs and bars, close to the wonderful Caffarella park, huge and full of surprising farms !! Near the Appia Antica, super walk in good weather and the Aqueduct Park.
Diana was a wonderful host, and the room was as described! When I first arrived Diana helped me understand the metro system and she provided me with a list of numbers to call in an emergency, local restaurants and grocery stores. She also had towels for me and my friend, as well as coffee, tea, jam and toast. Her apartment was clean and comfortable and I felt very at home there. The metro is not expensive at all and I used it to travel around Rome. For those who prefer walking, the apartment is a little south of the city and it took me 30-40 minutes to walk to the Colosseum. The immediate area is very pleasant, and there are some great cafes and gelato shops nearby. I would definitely recommend this room to anyone looking for a relaxing stay that avoids the commotion of tourists!
Monika
2015-04-09T00:00:00Z
We stayed in this property for 6 days and it was excellent.the description matches the (URL HIDDEN) can use internet, bathroom,kitchen and everything in it.the owner is a very nice girl.easy going and very helpful .she can provide you with information about the city,the transport and will make you feel welcome.i can recommend this property to anyone who needs a place in Rome. thank you Diana.
Lubomir
2015-04-21T00:00:00Z
Diana was a great host and her apartment is really nice. It was clean and had everything we needed. The location is really nice, approximately 3 minutes to the "Re di Roma" metro station and 7 minutes to the "San Giovanni". Moreover, my friend's phone was stolen in the metro. Diana went to the police after we left Rome, to gave her contacts, in case the police will find it. Thank you again, Diana!
Darina
2015-03-09T00:00:00Z
Everything was perfect for us. The flat was easy to find. We enjoyed the old-fashioned, funny lift of the building. In our room we found a letter by Diana with valuable tips. It was very quiet at night and the bed was comfortable, so that we could sleep exceptionally well. Everything was very clean and orderly. Diana is a very nice and respectful person. Though we hardly made use of it, as Rome has a lot of nice and not too expensive restaurants to offer, you can use her kitchen, which is very well equipped. The flat is not far from the center, but outside the touristic area, which was very good for us.
Beate
2015-06-04T00:00:00Z
Pour notre premier séjour à Rome, nous avons passé 4 nuits chez Diana qui est une hôtesse très agréable. L'appartement est bien situé (à 2 pas du métro), la chambre est spacieuse et très propre. Nous avons également beaucoup apprécié les conseils de Diana et ses bonnes adresses.
Tiphaine
2015-04-28T00:00:00Z
Accoglienza davvero unica. Diana é stata carinissima e molto disponibile. Casa molto Bella e in posizione ottima per visitare Roma. Esperienza fantastica
Matteo
2015-01-02T00:00:00Z
Diana a su nous accueillir parfaitement malgré un avion arrivé tardivement dans la nuit. L'hébergement est conforme aux photographies, calme, agréable et le lit très confortable. Ce dernier détail n'est pas négligeable quand on marche 10h/j dans les rues de Rome! L'appart est idéalement situé, puisque le métro est à 1 minute. Diana est très sympathique, discrète et sa bonne maîtrise du français nous a simplifiée la communication. Grâce a ses conseils nous avons pu choisir le meilleur trajet pour rejoindre notre avion du retour. En somme, notre séjour s'est super bien passé, l'offre de Diana y a contribué! L'offre de Diana est idéale pour un couple souhaitant visiter Rome, allez-y les yeux fermés! Emilien et Julie
EMILIEN
2015-06-17T00:00:00Z
Le séjour chez Diana fut des plus agréable , lieux propres avec tout ce qu'il faut à disposition . L'appartement est bien situé , calme et sa propriétaire très gentille ! Notre séjour restera un très bon souvenir !
Nicolas
2015-03-15T00:00:00Z
Room Type
Private room
---
Property Type
House
---
Accommodates
2
---
Bedrooms
Roma, Lazio, Italy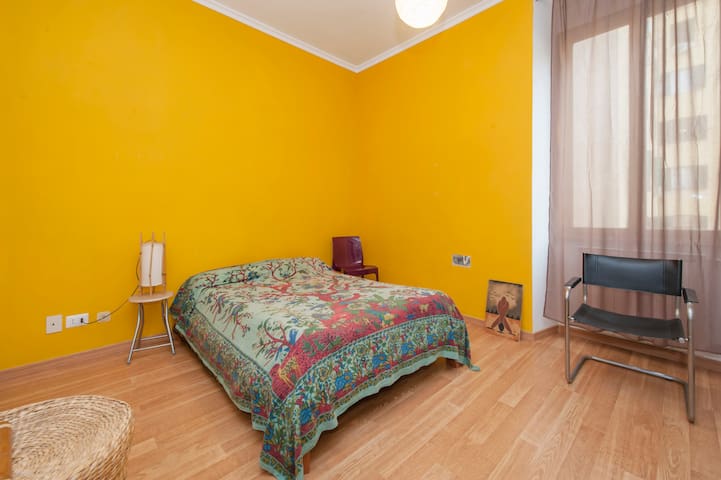 Space room with private bathroom with shower. Rome city tax to Pay at check in time
Great experience and really nice room and house.
Giacomo
2016-12-29T00:00:00Z
This was a great place to stay! we had just one night to spend in Rome so we enjoyed the convenience of the room and our host made everything easy.
(EMAIL HIDDEN)
2016-07-03T00:00:00Z
Pamela and her apartment are great. The listing is for one of the three private bedrooms with private bathrooms. The private bathroom is inside the private bedroom. The bedrooms each have their own lock and key. The apartment is very clean and has a lot of space. There is a TV (but we did not use it) and the private bathroom was great. Pamela was a great host. She does not live in the apartment but we met her during check-in. She is easy to communicate with and very nice. She gave us a map and suggestions for things to do and see in Rome. We enjoyed our time a lot and we would stay here again when we come back!
Kevin
2017-03-15T00:00:00Z
Muy bueno el lugar, muy cómodo para trasladarse y muy buena onda Pamela! Lo súper recomiendo!!
Renata
2016-07-07T00:00:00Z
Room Type
Private room
---
Property Type
House
---
Accommodates
2
---
Bedrooms
Roma, Lazio, Italy
Appartamento al terzo piano di un edificio Umbertino ( fine 800), da poco restaurato, con affaccio sui giardini della Scala Santa e vista su piazza di San Giovanni in Laterano. Il Colosseo e' raggiungibile ,a piedi, in 5 minuti. Metro bus sotto casa
It was my first visit to Rome, and not very familiar with the area. Alessandro was friendly initially. We communicated prior my arrival that I would arrive 2 or 3 hours early. He said it was okay. When I arrived at the airport, I realized what was listed on Airbnb was not an address but a general area. Several texts to Alessandro, but no response. I had the driver to call him. Then he told me the place was not available for several hours as he stated the check in time was listed. I was disappointed as I checked with him that if it was okay to arrive early and he said yes. The next disappointment was the Internet. It was slow and you must stay in certain area to get the Internet. Also, the Internet is not available 24 hours, but from 7AM to 10PM. Maybe this is the hours for the host to go to bed, but as a traveler, I may go to bed late or need the Internet at night. Last concern was the heat. It was rather cold and there was no way to adjust the heat. So get ready to wear the jacket 24/7. Due to the host is not English speaker, it creates some challenges with our communication. As for the condo location, it is in the center, but it is a bit far from the happening areas. The condo inside is clean and cozy, but outside the building is not so much. I thought I was in a bad area initially. For cooking, this is not the place to make a meal except sandwich or instant noodles.
Ben
2015-11-27T00:00:00Z
Room Type
Entire home/apt
---
Property Type
House
---
Accommodates
2
---
Bedrooms
Roma, Lazio, Italy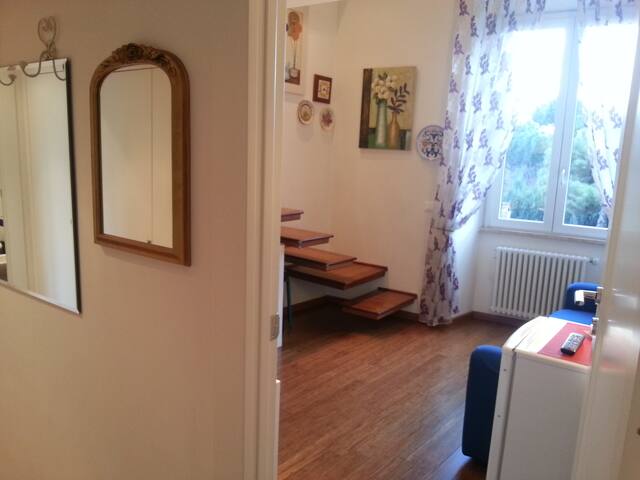 Roma - Airbnb
:
Average

4.67

out of

5

stars from

549

guest reviews