Nice 4.5-room upstairs apartment with large terrace to rent for holidays or temporary stay.
Seengen is situated on the north end of Lake Hallwil, in a beautiful and partially-protected landscape with a view of the Alps. Despite its rural character, it offers visitors numerous shops and excellent restaurants. Seengen is a hub of diverse recreational activities in the local area. With its central location and access to the highway and public transportation systems, day trips can be readily made to tourist attractions and major cities in german-speaking Switzerland.
I've booked Stacey's place for some colleagues of mine. Her home is clean and cosy. She is a very good host, and left them some drinks into the fridge! They felt as good as at home, Thank you Stacey!
Anna
2016-12-15T00:00:00Z
Stacey and her husband have made our stay wonderful. As soon as we arrived they show us in a Seengen map where to find the main shops, restaurants, pharmacies and some places to visit around. The house is fully equipped (dishwasher, towels, linen, barbecue in the terrace, kitchen, frigde, parking space) and it has amazing views to the lake and town. We really recommend this place if you are looking for a nice, green and quiet environment. Seengen is well connected by road to other cities and lovely towns (It takes 45 min to get Zurich). Stacey and This are great host and their house is very confortable, clean and well mainteined; as well you will have your own space and independence to enjoy your holiday. I hope you enjoy your stay with them as much as we did it :)
Silvia
2016-07-24T00:00:00Z
Very Nice people and a very Nice house with a wonderfull view. I recommend it !
matthieu
2016-06-06T00:00:00Z
Wir wohnten drei Wochen in der wunderschönen Wohnung in Seengen mit zwei kleinen Kindern. Die Wohnung ist ideal für Familien, es hat einen Spielplatz gleich in der Überbauung und es ist nicht weit ins Dorf, wo es auch Spielplätze und den nahen See gibt. Die Wohnung selbst ist mit allem ausgestattet was man sich wünschen kann und die Gastgeber sind super nett, hilfsbereit und unkompliziert. Der Ausblick aus der Stube oder der Terrasse ist einfach atemberaubend, man will gar nicht mehr weg! Gerne kommen wir wieder nach Seengen und freuen uns auch die Gastgeber wieder zu sehen.
Mirjam
2016-05-23T00:00:00Z
Stacey und This sind sehr unkompliziert und hilfsbereit. Wir haben sehr gute fünf Wochen in Seengen verbracht. Die Wohnung ist mit einer gelungenen Mischung aus modern und rustikal eingerichtet. Einen Kleiderschrank mehr wäre super. Die Mitbenutzung von Waschmaschine und Trockner ist hilfreich. Positiv ist, dass es eine Photovoltaikanlage für die Stromproduktion hat. Die Dachterrasse ist genial und die Aussicht fantastisch. Es ist schön ruhig im Quartier und an die Kirchenglocken gewöhnt man sich schnell. Es hat sogar eine eigene Garage für das Auto. Der See und Einkaufsmöglichkeiten sind nahe und auch zu den Autobahnen kommt man in wenigen Minuten. Fazit: Sehr empfehlenswert!
Daniel
2016-09-11T00:00:00Z
Stacey ist eine tolle Gastgeberin und hat uns sogar ein Willkommensgetränk in den Kühlschrank gestellt. Die Wohnung hat alles was man braucht und noch mehr. Sogar ein Grill steht auf der Terrasse bereit und man kann den super Ausblick beim grillen genießen.
Frank
2016-04-30T00:00:00Z
Auch beim zweiten Besuch war alles top!
Daniel
2016-03-25T00:00:00Z
Stacey ist nett aber auch irgendwie unsehbar
cindy
2016-10-19T00:00:00Z
Room Type
Entire home/apt
---
Property Type
Apartment
---
Accommodates
5
---
Bedrooms
Seengen, Aargau, Switzerland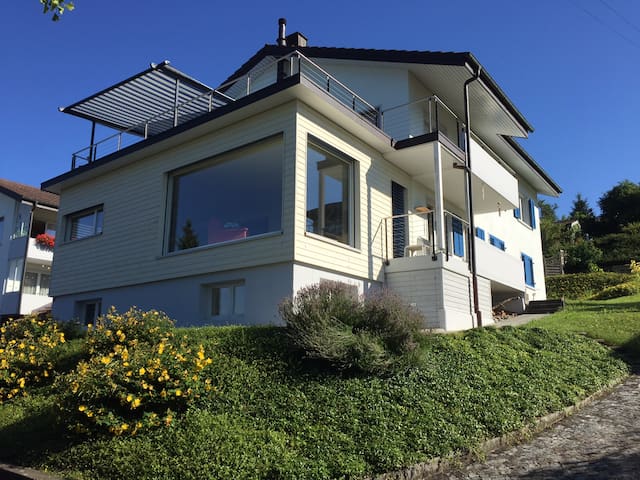 Modern new built apartment in Boniswil close to the lake of hallwil. Spend some cosy nights during winter with your family onle one hour from the ski area. Celebrate christmas in Switzerland.
No Pets allowed in this Apartement Building
Lake of Hallwil is a good spot for a walk, there are nice restaurants around the lake. There is a nice pizza restaurant only one block away. Aarau, the capital of Aargau, is a nice place to have a drink or go out for dinner. If you have a car make sure you go skiing in the close ski areas.
Everything great, we extend our staying.
Ines
2017-03-31T00:00:00Z
Roland and his familly are really nice people, who are ready to help you with youre stay. Apartment is great and clean.
Ines
2017-03-18T00:00:00Z
Room Type
Entire home/apt
---
Property Type
Apartment
---
Accommodates
4
---
Bedrooms
Hallwil, Aargau, Switzerland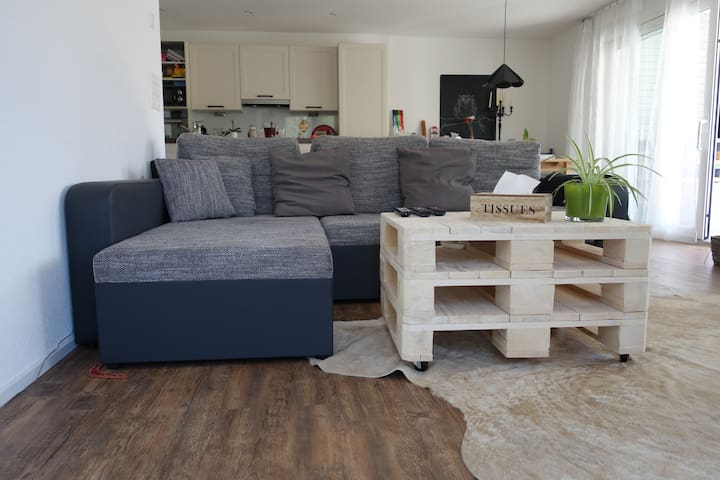 beautiful, bright and spacious penthouse with views of the mountains. • near the bus station, Coop and Badi • about 7 minutes by car from the motorway (Lenzburg) • about 30 minutes by car or train to Zurich city • about 10 minutes by car to the Hallwilersee • Size approx 90m² / (bedrooms: 35m²) • outside parking and cellar case Take it go well in the beautiful Aargau with the perfectly located apartment!
Room Type
Entire home/apt
---
Property Type
Apartment
---
Accommodates
2
---
Bedrooms
Villmergen, Aargau, Switzerland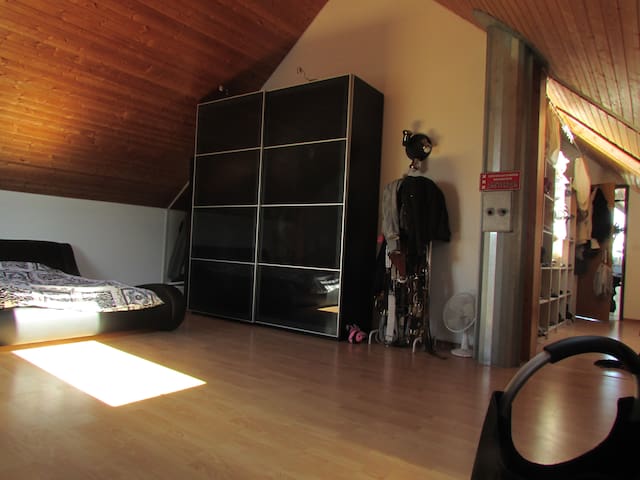 Perfect connections to Lucerne, Berne, Basel, Zurich etc. either by train or by car. Train station is in a 3 minutes walking distance from my house. I also offer my guests a ride from and to Zurich with my private car ... you are welcome!
My apartment is on the 4th floor and is an oasis for conversation, relaxation, rest and sleep ... The lake can be reached in 5 minutes on foot and nearby are very good restaurants you are welcome
Lake Restaurant's Ship Train Mountains
Ronny was very responsive and a kind host. I enjoyed at Ronny place very much. I definitely recommend his place for other guests.
Hee Soo (Christine)
2016-10-28T00:00:00Z
Just a couple of footsteps away from publictransports u ll find a great host open for your traveller-needs
Tognetta
2017-03-02T00:00:00Z
Ronny made me feel at home straight away. I arrived early but he came and greeted me and welcomed me into his beautiful home. Ronny is such a kind person, and you can tell that he loves hosting guests. He made sure I had everything I needed. He even supplied me with an adapter, sparkling water and chocolate in my room. It was such an enjoyable stay! I really felt comfortable and at peace in his home. His home is beautiful and pristine. My mouth actually dropped when I saw the view from the bedroom, it was breathtaking. The rest of his apartment is so lovely and warm. If you ever come to Switzerland, I recommend staying here! Ronny is a delight to meet! It such amazing value and so close to Zurich and Lucerne. And birrwil itself is absolutely stunning so you might not even want to leave!
Madalaine
2016-12-31T00:00:00Z
The room is perfect with amazing view. everything in the apartment clean and organized. The area is quite with very beautiful (URL HIDDEN) very easy to reach it by public transportation. Ronny he is the best Airbnb host i met very friendly and helpful . I enjoyed to stay in his apartment. If you lucky will met his sun Noah and you will have delicious pan cake breakfast with German coffee☺ المنطقة جميلة جدا والشقة تطل على منظر جميل جدا للبحيرة، الشقة نظيفة جدا ومنظمة كل شيئ مرتب وفي مكانه، بسهولة يمكن الوصل إليها من زيورخ عن طريق القطار ، انا فعلا سعدت بالإقامة في شقة روني ، الرجل خدوم ويرد على كل استفساراتك في اي وقت ويكون دائما على تواصل معك. أصبح لي صديق في سويسرا شكرا يا روني على الوقت الجميل وشكرا على الكتاب.
Abdulrhman
2016-09-17T00:00:00Z
Ronny was a very kind host. He made sure I was collected at the airport safely. His home has an incredible view and is very comfortable for guests. The room is nice and private with it's own closet, so you have a place to hang your clothes if you stay for a long time. The apartment is cosy and very neat. Ronny was a brilliant host. He made sure I got safely to my next destination and went out of his way to make me feel as comfortable as possible. He introduced me to some of his friends and they were also very welcoming. My experience in Switzerland was a real adventure. One that I will not forget. I will definitely return to Birrwil.
Lea-Ann
2016-02-17T00:00:00Z
Really nice place, beautiful view and incredible host. Thank you Ronny for your kindness and hospitality! See you next time in Switzerland or in Brussels. Oly
Olivier
2016-08-01T00:00:00Z
The best Airbnb experience I've ever had!!! It was amazing!!! Very clean and warm house with an fabulous lake view, particularly the bed was soooo comfortable and it was like the bed in a 5 star rated hotel!! Everything around you was quite and peaceful! I enjoyed the starry night and the morning sunshine, actually I don't want to leave...Ronny is a very helpful and warmhearted guy who loves art very much! BTW, he is really handsome, haha~Besides, it is very convenient to get there and the lovely regional train station is just located in front of the house!! 讲真,这真的是一段奇妙的时光。住在这里感觉时间都静止了。每晚看湖面上的星光点点,映着天空的北斗七星,简直不能太享受!早晨远处传来的牛铃的声音和投射在房间温暖的阳光让你想要一直在这里住下去!要是自己在瑞士也有这样一处住所就好啦哇!!这里有你关于瑞士的一切幻想!!房东嘛,没得说。高富帅一枚哈哈。真的是住的最舒服的几晚。交通也很方便,苏黎世什么的很快能到。想深入体验瑞士人民生活的,这里也许是你最好的选择之一!!对了,小房东此番还特意下载了(SENSITIVE CONTENTS HIDDEN)哈哈,大家可以问他要(SENSITIVE CONTENTS HIDDEN)号啦啦啦~爱你,爱你的小房子 Ronny!
Mengxiao
2016-09-12T00:00:00Z
Ronny is a Superhost. He is really nice & friendly gentleman. His place is the perfect place to stay in switzerland with beautiful lake side view & neat & clean spacious room. He is very convial,friendly & pragmatic & always ready to help. His hospitallity is impeccable. I would love to invite him for a stay at my house in Dubai or India & recommend him as an outstanding host. Thank you Ronny .
Mohammad
2016-09-25T00:00:00Z
Room Type
Private room
---
Property Type
Apartment
---
Accommodates
2
---
Bedrooms
Birrwil, Aargau, Switzerland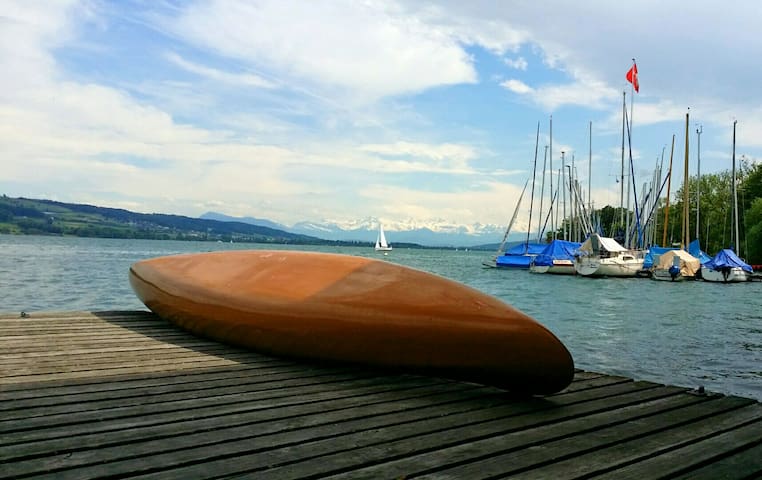 Perfectly situated between Zurich and Lucerne (40 min). This lovely, cozy and airy apartment sits above a crystal clear lake. I live and work nearby so I can do:Airport pick up, give you tips, stock the fridge and help with any questions you have.
Please write me directly as I have had Problems with this site. (EMAIL HIDDEN)
Very scenic and quiet. Great Restaurants nearby and near the local train/bus station.
Room Type
Entire home/apt
---
Property Type
Apartment
---
Accommodates
4
---
Bedrooms
Birrwil, Aargau, Switzerland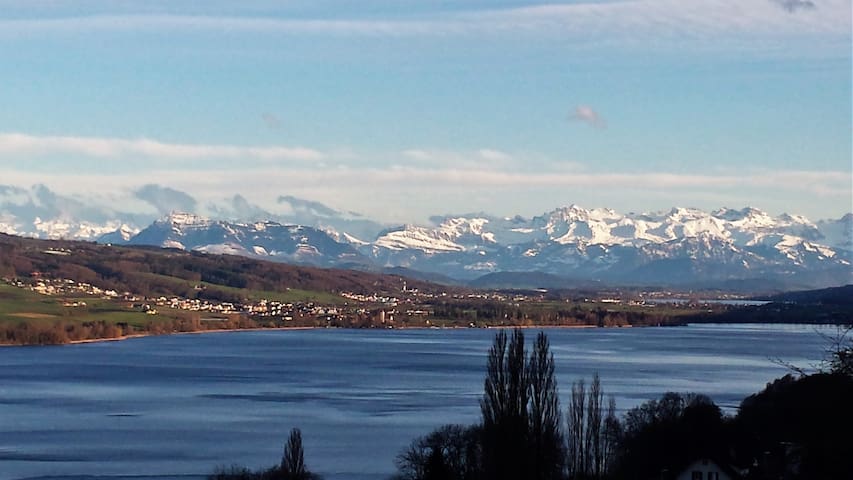 Nice apartment, for a perfect stay for your holidays or business trip. Seengen is near from Zurich, Basel, Luzern. (URL HIDDEN) Wonderful Apartment is furnished with designer furniture. Very nice view to Hallwilersee and Innerschweizer alpes. Closed to a restaurant with local menu.
Lovely clean apartment
Doug
2017-04-03T00:00:00Z
El apartamento estaba perfecto, con todo lo indispensable para vivir una família de 4. Limpio, cómodo, super nuevo... El entorno espectacular, con vistas al lago de Seengen y con un parque para los niños del que no querían salir! Muy recomendable para una familia con niños, sin duda. Katharina muy amable y servicial, localizable y pendiente en todo momento.
Alba
2016-08-16T00:00:00Z
Room Type
Entire home/apt
---
Property Type
Apartment
---
Accommodates
4
---
Bedrooms
Seengen, Aargau, Switzerland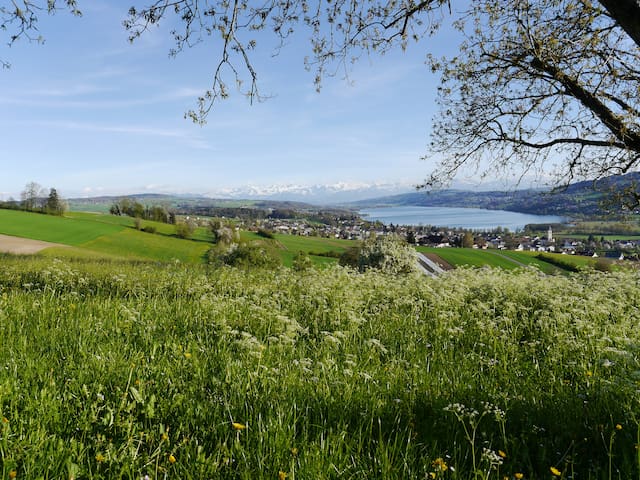 Sehr grosser Wohn/schlafraum (54 m2), 2 Doppelbetten, Tisch ausziehbar (16Pers.), neu gebaut, wunderbare Bergsicht, mit Bad, gut eingerichteter Küche, Chemineofen, Wohnung: Total 80 m2, Schwimmteich und Park, gr. Trampolin,Tischtennis, Garten , genügend Parkplätze, (Sauna /Aufpreis)
Sehr ruhig gelegen , mit schöner Aussicht auf See und Berge. Ttrampolin und Schwimmteich zur freien Benützung
Ist ruhig und feundlich
We loved our stay. The place is very large and has a nice kitchen and a bedroom area separated by a screen. There is a breathtaking view from the terrace that overlooks the mountains and a view of the nearby lake from the garden and the swimming pond. Urs is a great host who made us feel very much at home.
German
2016-06-26T00:00:00Z
Stayed for 2 nights. Overall good experience. Pros: Place is relatively big. Can easily fit 4 peeps. Breath taking views from the place. Hosts were nice. Cons: It's little far from Zurich and the drive to the place is tricky as its on the mountain. Almost took an hour to get here from Zurich and Interlakenhoheweg is also 1.5 hrs. One of the beds is not very comfy and Internet was very lousy as we could barely connect.
Amit
2016-05-20T00:00:00Z
Very very nice house!! a beautiful view of the mountains! We will definitely come back. P.S. Urs has nice garden and swimming pool:)
An
2015-09-16T00:00:00Z
Really great place! The hosts were very helpful and welcoming. Clean and comfortable. Fully equipped kitchen.
Jason
2015-11-02T00:00:00Z
Wonderful house in a beautiful spot!
Kiri
2016-06-19T00:00:00Z
Urs' flat is very clean and quiet. He is pleasant and helpful.
zhe
2015-09-30T00:00:00Z
Thank you Urs for your host. We really enjoy the situation and the landscape. I hope we can meet again.
Joe
2016-05-28T00:00:00Z
The space was very nice, and the gardens were beautiful. However Urs was very terse. When we asked for the wifi information, we were told we could only use it for a little bit of time. It would "be harmful to us" to keep the internet on overnight. Alas it never worked. And although the checkout time was listed as flexible so we planned to go to church at 10 am and leave after, he told us we had to leave by 11 -- without any explanation.
Richelle
2016-06-20T00:00:00Z
Room Type
Private room
---
Property Type
Apartment
---
Accommodates
4
---
Bedrooms
Aesch, Luzern, Switzerland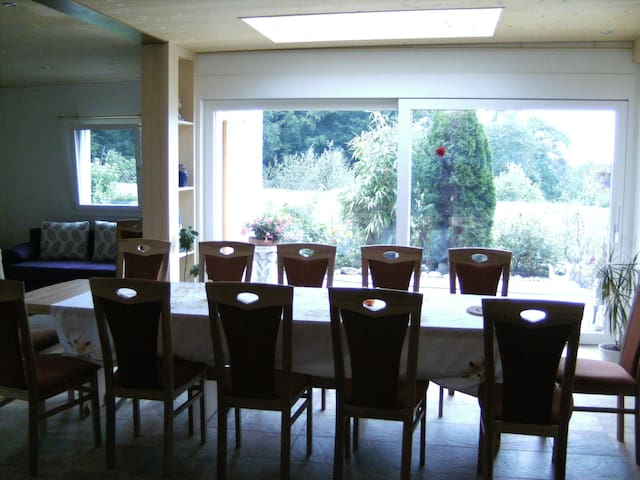 The apartment is located in Beinwil am See above the lake Hallwilersee between Zürich and Luzern. In about 7 minutes you reach the train station in the town from here. You just need about 50 minutes to Luzern and 1 hour to Zürich. The region is rural with much of fields ond forests and two lakes. . Meine Unterkunft ist gut für paare.
The house is large and is placed in a very quiet neighborhood. It contains everything is needed, and Thomas is very helpful
Alessio
2017-01-31T00:00:00Z
Room Type
Entire home/apt
---
Property Type
Apartment
---
Accommodates
2
---
Bedrooms
Beinwil am See, Aargau, Switzerland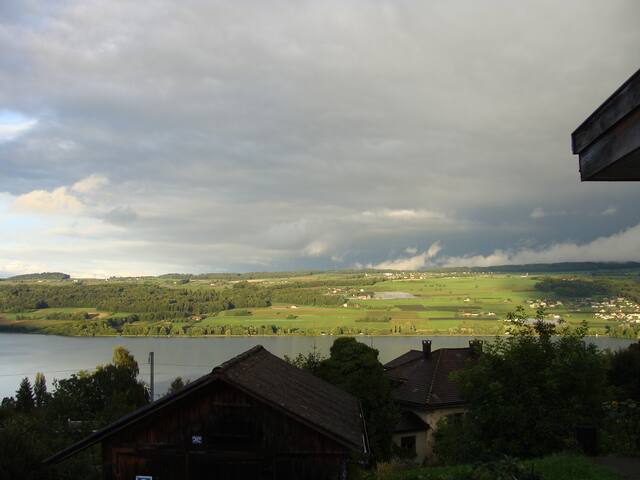 The apartment has been furnished with lots of charm and high quality. The kitchen has everything you need for cooking, baking and serving. In addition, all important kitchen appliances such as toaster, water cooker, Raclette, SmoothyMixer, ...) are there. Always available are spices, olive oil, tea, Nespresso. Bicycles (also for children) and standup paddle can be rented.
1 - 5 people (1x King size bed & 1xSofa double bed in the large tower room, 1x Sofa-Singlebed in the living area, 1x Babybed - if desired). Living area 54m2, bathroom, kitchen, living and dining area on the ground floor, bedroom on the first floor, own terrace with grill, own cellar 20m2 with laundry, spacious garage plus parking.
Shopping possibilites like Volg are open 365 days (until 8pm) and offer a good selection of food and daily needs.
fabienne and her husband were a great host, very welcoming and accommodating. The location was ideal and I had fabulous time! Thanks for everything, I can recommend it!
Amir
2016-08-16T00:00:00Z
Fabienne was friendly and great. The house is very easy to find. Just for the amenities as it is mentioned on amenities that breakfast is provided but only coffee and tea are available. The house has technically 1 bedroom and 1 living room that the host considered as a bedroom.
Raymond
2016-08-01T00:00:00Z
This place is great: clean, comfortable and has everything you need. The kitchen is fully equipped so that we were able to do our own cooking - the cupboard is already stocked with cooking essentials such as spices and olive oil. Wifi, TV, everything is there and is in top condition. It can sometimes feel awkward to stay in "other people's home" so I appreciated that this is an annex to Fabienne and her family's house that is only used for guests, not for the family itself. Really a great place that we highly recommend.
Jutta
2016-07-05T00:00:00Z
She's so friendly and helpful.everything was great .. She provided us with our needs
Esmail
2016-08-05T00:00:00Z
We like the beautifully furnished small house. The location is other aspect of the house. Clear view of clean and beautiful lake can be seen. Few kilometres away from Mount Pilatus and Lucern city, on the way driving can observe the beautiful views of villages and farms .
Upahar
2016-08-20T00:00:00Z
The host is friendly, the house near lake, good for cycling and running.
曉梅
2016-09-07T00:00:00Z
The house is located at a very beautiful location. The rooms are small but very cozy. Fabienne was very helpful and went out of the way to help us.
VIJAIKUMAR
2016-09-11T00:00:00Z
The perfect place for exploring central Switzerland. The place would be great for a couple or a small family. The apartment had been recently renovated and was well stocked. Fabienne and her husband Sven are excellent hosts in that they were very helpful with information, provided information, they even gave us a ride from the train station one day although it is walking distance. We highly recommend the place.
Tom
2016-08-12T00:00:00Z
Room Type
Entire home/apt
---
Property Type
Apartment
---
Accommodates
5
---
Bedrooms
Beinwil am See, Aargau, Switzerland
The charming HITrental chapel bridge apartments offer an astounding view of the river Reuss and the world famous chapel bridge. It's an unique and amazing opportunity to wake up and be able to see one of the most photographed locations of Switzerland
Saturn II. Look down and you see the sparkling, clean glacier water of the Reuss river flow by. Located in a historic building in the heart of the city this accommodation offers sleeping places for 4 persons and includes a fully-equipped kitchen as well as comfortable living area and 47m2. Of course the apartment is equipped with a fully functional bathroom and free WIFI and a flat screen TV and even a Nespresso coffee maker. Additionally, there are washing facilities located on the second floor of the building which are also free of charge. Finally you are provided with towels and bed linen, which are not changed during your stay. Against a small fee you can even book an extra cleaning service In short, the apartment boast an excellent price-performance ratio which offers everything – from a unique location to a stunning view – to make you feel "en route at home". The beautiful and bright HITrental chapel bridge apartments offer a stunning view on the river Reuss and the world famous chapel bridge as well as the architectural interesting Jesuitenkirche across the river. Have a look at the sparkling, clean glacier water flowing by in the Reuss river in front of your accommodation. Located in the heart of the historic town Lucerne, many sightseeing highlights as the old town itself are within walking distance. The world famous chapel bridge is just right outside the building and even the Gletschergarten and the Löwendenkmal are less than a ten-minute walk away. The same holds for the lake – including the station for the public lake cruise boats – which you can reach in 2 minutes on foot. Also the train station is within walking distance (550m) and from there you have hourly connections to cities such as Zurich, Interlaken or Engelberg. Also the Pilatus can be reached in an hour by public transportation. As a special highlight there is a traditional market right outside the house every Saturday. Finally, there are many shopping facilities nearby, starting with groceries – Migros, Manor or Coop – and ending with high end brands like Cartier or Svarowski or Bucherer Uhren, where all the famous Swiss watches can be bought. In short, the surroundings offer everything for you to enjoy life in the heart of the beautiful city of Lucerne.
Room Type
Entire home/apt
---
Property Type
Apartment
---
Accommodates
4
---
Bedrooms
Luzern, Luzern, Switzerland
My house is near the old town Bremgarten, in 30 minutes you are in Zurich. Forest, river, and nature are just around the corner. Many different shops within walking distance. The studio features a kitchenette with microwave, toaster, kettle, coffee maker, sink. (Without oven).
Room Type
Entire home/apt
---
Property Type
Apartment
---
Accommodates
3
---
Bedrooms
Bremgarten, Aargau, Switzerland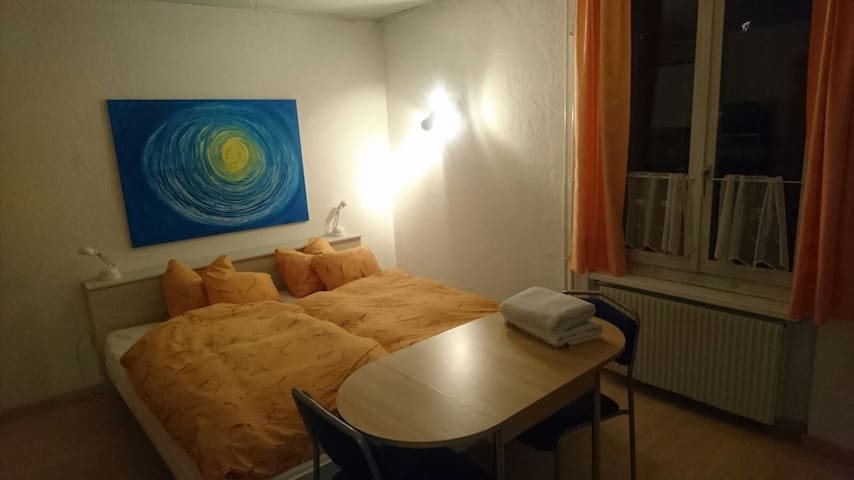 It's located on the Aargauer Seetal. Near the train station and Buss (3 minutes on foot). Ideal for Wanderfögel or bikers! Close to nature and still fast in the city. Equipped with a beautiful balcony with a great view, it is a cozy place to linger.
Super close to the train station and great price for outside of Zurich. Safe area and comfortable room. Bring earplugs because the clock tower likes to go off often! Christian was very responsive and accommodating!
Andy
2016-05-08T00:00:00Z
Christian's flat was clean and confortable. Only he was difficult to find him.
Carlo
2015-03-04T00:00:00Z
All was good. Christian friendly and nice guy, he have independent systems for the entrance to the apartment, and it's comfortable. And I think it's best price dial for this area.
Tima
2015-10-07T00:00:00Z
Christian is a friendly host, the place was clean and our stay was good at his place in Seon. We stayed in Seon for 5 nights for it's proximity to Zurich, Lucern and interlaken. I underestimated the location as the Seon is a town and there aren't any good restaurants nearby, so you have to go Zurich central which is a 30m train ride.
Arun
2016-04-27T00:00:00Z
We stayed one night here, the apartment is as described very comfortable and excellent value for money. We arrived very late but our host Christian was very accommodating and arranged for a lovely gentleman to meet us and welcome us. He was very inviting and friendly making us feel at home. Highly recommend staying here won't find better value for money.
Brooke & Brett
2016-08-22T00:00:00Z
It was okay. I will not say good but the privacy at christian house is something which is not expected as the room way lies through hall. Room bed sheets, pillows and cots are not good too for a comfortable sleep. And also the sheets are not clean and good.
kanika
2015-09-04T00:00:00Z
Christian was nice and kind and offered us eggs :) the room was quite dirty and it seemed like the sheets werent changed though. but overall it was ok!
Marcus
2015-08-19T00:00:00Z
Christian is a nice person. Our communications were crisp and to the point. Moving in and out of Seon was convenient. He gave us access to the house even in his absence which is an important feature for travellers.
Deepa
2015-08-16T00:00:00Z
Room Type
Private room
---
Property Type
Apartment
---
Accommodates
2
---
Bedrooms
5703 Seon, Aargau, Switzerland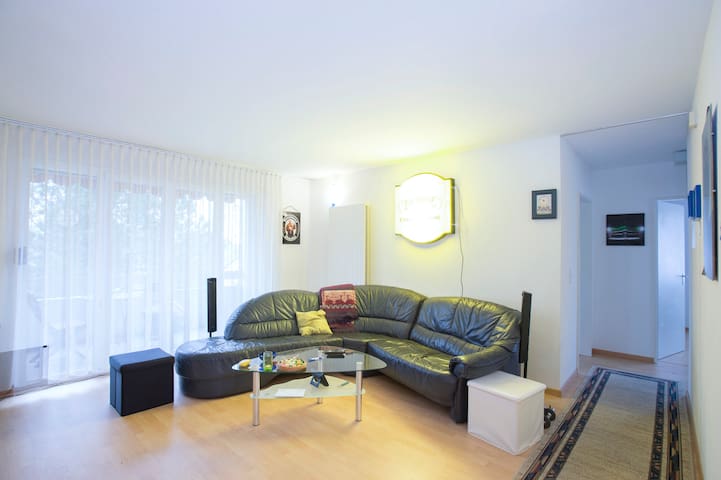 Meine Unterkunft ... ...ist in der Nähe vom Hallwilersee, Nachtleben, öffentlicher Verkehr. Du wirst meine Unterkunft lieben wegen der Gemütlichkeit, hohe Decken und die zentrale Lage. Meine Unterkunft ist gut für Paare, Alleinreisende, Abenteurer und Geschäftsreisende. Nostalgie vereint mit modernstem Standard -> und Wellness inklusive ! Lass dich überraschen !!
Denkmalgeschütztes Liebhaberpbjekt mit superluxus Ausstattung
Ruhig und malerisch trotzdem sehr zentral ! Schnell am See und in fünf verschiedenen Städten , Luzern, Aarau , Lenzburg, Baden und Zürich
Alles gut, bin wieder gekommen.
Tatjana
2017-02-16T00:00:00Z
Zwar hat man nur ein Zimmer in dieser Wohnung und somit keine eigene Unterkunft, aber es ist sehr, sehr großzügig. Man hat ein eigenes Bad und wenn man will auch ein eigenes Wohnzimmer. Auf dem überdachten Balkon kann man rauchen. Mir hat besonders gut die Kombination von modernem Ambiente und historischem Gebäude gefallen. Christiane und Patrick sind sehr gute Gastgeber - bereit zum Plaudern oder auch rücksichtsvoll, wenn man arbeiten muss und keine Störung braucht. Sie sind offen und bereit, sich auf persönliche Wünsche und Bedürfnisse einzustellen. Ich komme gerne wieder!
Tatjana
2017-01-27T00:00:00Z
Room Type
Private room
---
Property Type
Apartment
---
Accommodates
3
---
Bedrooms
Seon, Aargau, Switzerland
Light flooded rooms. Centrally located. After Zurich, Aarau, train and Lucerne in about 30 minutes.
A large and bright room with a double bed awaits you here. You are given for the sole use a modern bathroom with toilet. They may share the use of the living room and the large balcony. The apartment gives you easy access with elevator. The apartment is also wheelchair accessible. If you come by car, it has a parking space for you. You live in a quiet area in the countryside in 5630 Muri AG. Near the center. there are about 15 minutes walk to the train station. Shopping nearby. Muri is a rural area. You can go walking, cycling ect. extremly interesting is the monastery and the monastery museum. Muri-culture with concerts, exhibitions, theater ect. Swimming pool, sports court ect. From Zurich, Aarau, Lucerne, train we are approximately 30 min. Away.
Uber-chic, spacious, spotlessly clean, modern retreat in a charming Swiss village that has restos, shops, must-see historic Abbey with incredible art and acoustics. Train within a few minutes walk. Accessible to everything you could possibly want to see in the city of Zurich, plus 40 min train ride from airport. Rita is amazingly kind and a wonderful hostess. Plently of privacy, peaceful and stunningly beautiful location.
Tamara
2016-05-30T00:00:00Z
My parents stayed with Rita for 3 nights when they came to visit me in switzerland. I could not have wished for a more perfect place. Rita is such a warm and friendly person. Really does her best to make you feel right at home!! And her place is absolutely beautiful, my parents had a wonderful time staying with her, highly recommend!!
Rianne
2015-04-27T00:00:00Z
Thank you very much for the warm reception. Modern and beautiful housing
Abdullah
2015-09-29T00:00:00Z
What a great visit! Rita is a wonderful host and her home is amazing. Beautiful, spotless, and comfortable apartment in the countryside - very convienent to Zurich and Luczern. Rita was a very inviting host, and even invited us to join her for a delicious and very special meal. I would not hesitate to recommend her as a host.
Jeremy
2015-10-03T00:00:00Z
It was a beautiful luxurious place to stay. A practical home for a wheelchair user. The private bathroom was ideal. Rita thanks for the nice days!
Bertina
2016-09-24T00:00:00Z
Rita was an amazing host! She picked us up from the train station as well as dropped us off. She gave us traditional muri cakes and good breakfasts. We had a wonderful time with her! The place is absolutely amazing and the bed is sooooo comfy! Just perfect!
Sydnee
2014-07-16T00:00:00Z
After a long train journey, all the way from the Netherlands, I got a warm welcome from Rita and her dog. My first impression of Müri, the house and offcourse my room were really good. The house looks really new and is very clean. Nice view of the Alps. Müri is a cozy village, but it's also nice to see bigger places like Luzern and Zürich. Rita is a helpfull and nice person. I even could improve my German! Thank you for everything!
Kimberley
2014-01-09T00:00:00Z
Very very beautiful apartment to spend my time in, and a wonderful location in the countryside just outside of Zurich. Rita was always accommodating and spent the time to talk and help where she could.
Phillip
2014-05-29T00:00:00Z
Room Type
Private room
---
Property Type
Apartment
---
Accommodates
2
---
Bedrooms
Muri, Aargau, Switzerland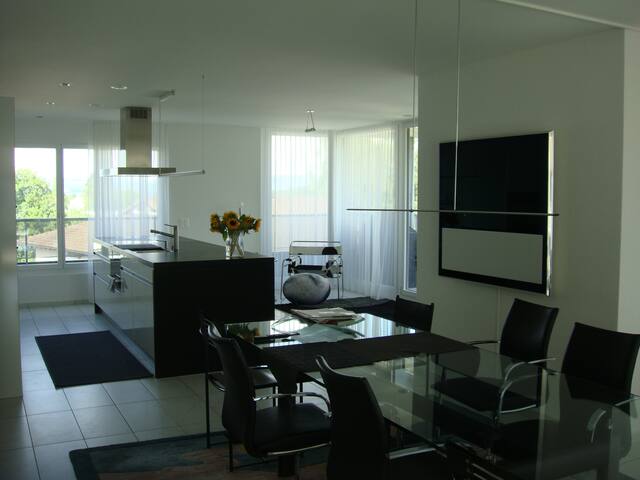 My house is near the city center Bremgarten.
Room Type
Private room
---
Property Type
Apartment
---
Accommodates
1
---
Bedrooms
Bremgarten, Aargau, Switzerland
Bedroom in the near of Lucerne (50min with the Train) and Zurich (40min with the Train)
Room Type
Private room
---
Property Type
Apartment
---
Accommodates
2
---
Bedrooms
Boniswil, Aargau, Switzerland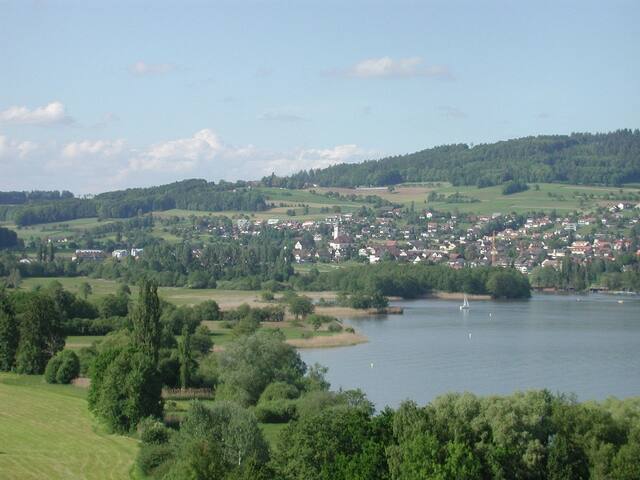 Meine Unterkunft Liegt in der Nähe der Reuss, wo es viele Wander und Bade Möglichkeiten gibt. Sie besteht aus einem Wohnraum mit integrierter Küche. ca. 23m2 und einem Schlafzimmer ca. 12m2, es hat komfortables Bett 140 x 200 und einen grossen Schrank. Das Sofa im Wohnzimmer kann zu einem Bett umgebaut werden. 140 x 200. Du wirst meine Unterkunft lieben wegen der Gemütlichkeit und absoluten Ruhe. Meine Unterkunft ist gut für paare, Alleinreisende Abenteurer, Geschäftsreisende und Familien.
Sehr ruhige Lage und doch mitten drin.
Room Type
Entire home/apt
---
Property Type
Apartment
---
Accommodates
4
---
Bedrooms
Fischbach-Göslikon, Aargau, Switzerland
This spacious apartment (90 m2) in Villmergen is 200 metres from the Dottikon-Dintikon Train Station and 2 km from Lenzburg. It features a balcony and offers free WiFi and free underground parking. The Apartment features 2 bedrooms, a kitchenette with a dining area, a bathroom, and spacious living area.
Modern Apartment with a balcony and fully equiped kitchen, can accomodate up to 5 persons. A bus stop is 100 metres away, and the closest restaurant and shops are within 200 metres. It is 18 km to Aarau and 30 km to Zurich. Transfers to and from Zurich Airport are available on request and at an additional cost. The natural and thermal Spa Aquarena is 15 km away and features a 600 m² spa area with hot thermal springs, steam sauna, indoor and outdoor pools, solarium and a spacious relaxation area with winter garden and a restaurant.
Very quiet area. Convenient location to easily access Zürich, Aargau, Basel, Luzern and Zug.
The apartment was exactly as described, and a perfect accommodation for our stay. We couldn't have asked for a better situation, given that my mother-in-law is in a town just a few kilometers away.
Marla
2014-12-29T00:00:00Z
Andrey is a great host!!! The apartment is very spacious, clean and comfy. We really enjoy the neighborhood and we walk to the supermarket...a great excercise breathing a wonderful air. The apartment is inside of a quiet condo so you can hear the crikets outside. We hope to come back soon!!!
Loreto
2015-09-11T00:00:00Z
Andrey's house was very nice and clean and we stayed really comfortably. Everything went good. Thanks Andrey!
Laura Quagliuolo
2014-01-18T00:00:00Z
The reservation was canceled 4 days before arrival. This is an automated posting.
Sylvia
2014-05-31T00:00:00Z
Andrey was a wonderful host, very helpful. The place was exactly as described, very clean and well appointed.
Julianne
2014-09-29T00:00:00Z
Room Type
Entire home/apt
---
Property Type
Apartment
---
Accommodates
5
---
Bedrooms
Villmergen, Aargau, Switzerland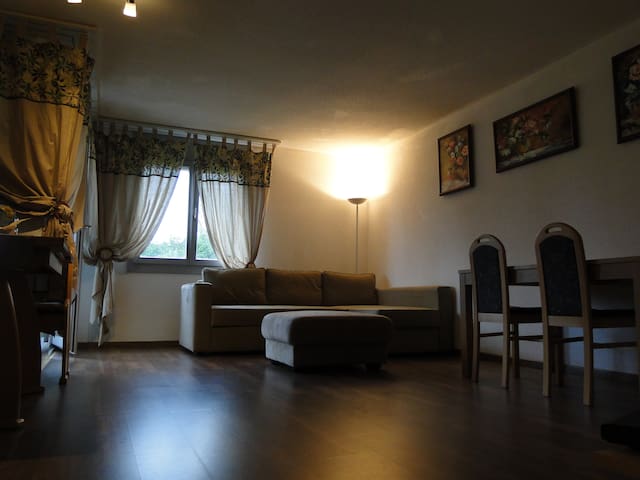 1

–

18

of

20 Apartment Rentals
Enter dates to see full pricing. Additional fees apply. Taxes may be added.